Quotes & Sayings About Sisters In Christ
Enjoy reading and share 53 famous quotes about Sisters In Christ with everyone.
Top Sisters In Christ Quotes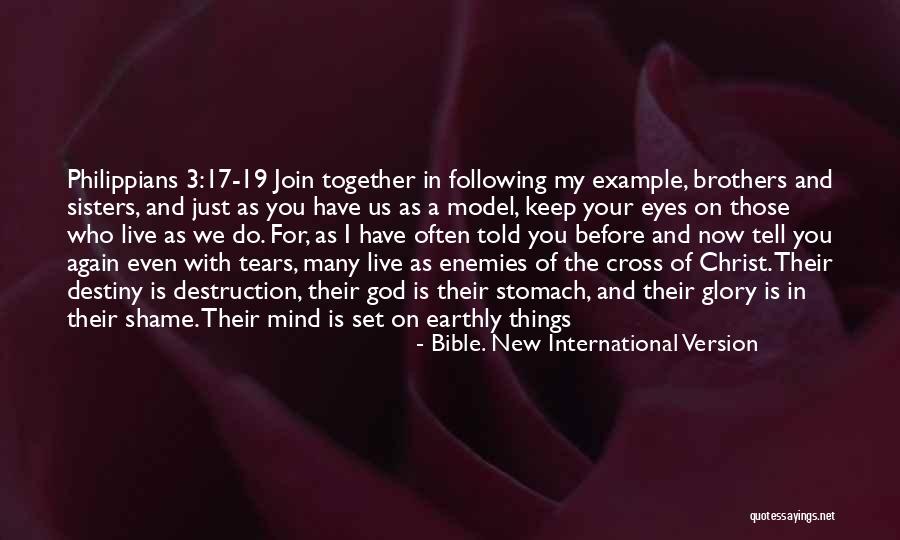 Philippians 3:17-19 Join together in following my example, brothers and sisters, and just as you have us as a model, keep your eyes on those who live as we do. For, as I have often told you before and now tell you again even with tears, many live as enemies of the cross of Christ. Their destiny is destruction, their god is their stomach, and their glory is in their shame. Their mind is set on earthly things — Bible. New International Version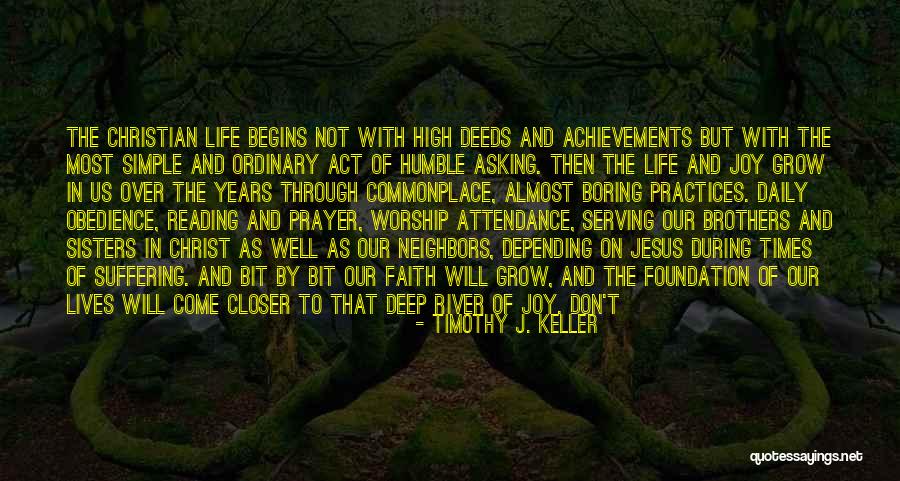 The Christian life begins not with high deeds and achievements but with the most simple and ordinary act of humble asking. Then the life and joy grow in us over the years through commonplace, almost boring practices. Daily obedience, reading and prayer, worship attendance, serving our brothers and sisters in Christ as well as our neighbors, depending on Jesus during times of suffering. And bit by bit our faith will grow, and the foundation of our lives will come closer to that deep river of joy. Don't — Timothy J. Keller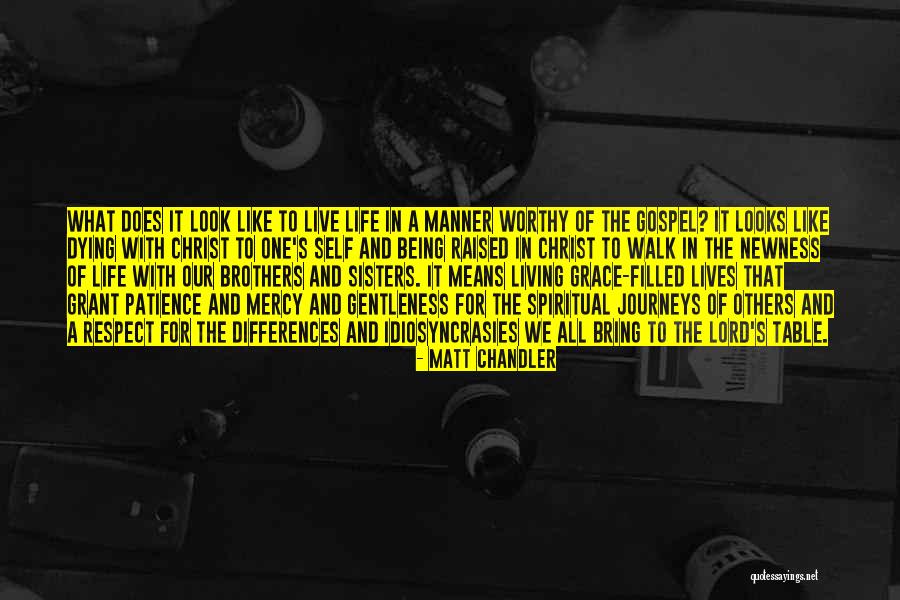 What does it look like to live life in a manner worthy of the gospel? It looks like dying with Christ to one's self and being raised in Christ to walk in the newness of life with our brothers and sisters. It means living grace-filled lives that grant patience and mercy and gentleness for the spiritual journeys of others and a respect for the differences and idiosyncrasies we all bring to the Lord's table. — Matt Chandler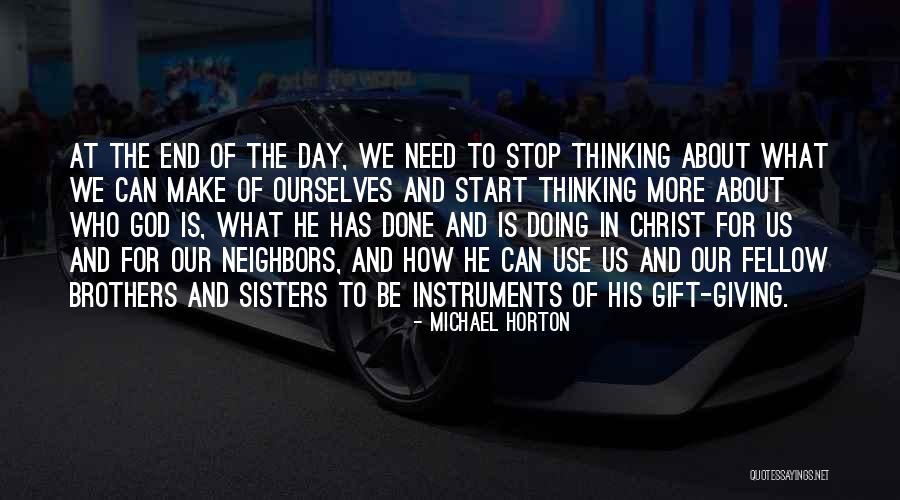 At the end of the day, we need to stop thinking about what we can make of ourselves and start thinking more about who God is, what he has done and is doing in Christ for us and for our neighbors, and how he can use us and our fellow brothers and sisters to be instruments of his gift-giving. — Michael Horton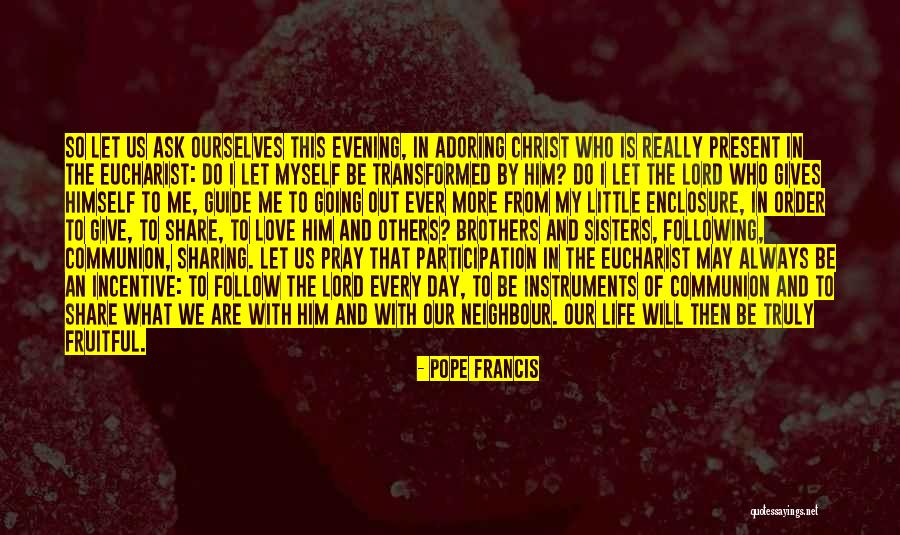 So let us ask ourselves this evening, in adoring Christ who is really present in the Eucharist: do I let myself be transformed by him? Do I let the Lord who gives himself to me, guide me to going out ever more from my little enclosure, in order to give, to share, to love him and others? Brothers and sisters, following, communion, sharing. Let us pray that participation in the Eucharist may always be an incentive: to follow the Lord every day, to be instruments of communion and to share what we are with him and with our neighbour. Our life will then be truly fruitful. — Pope Francis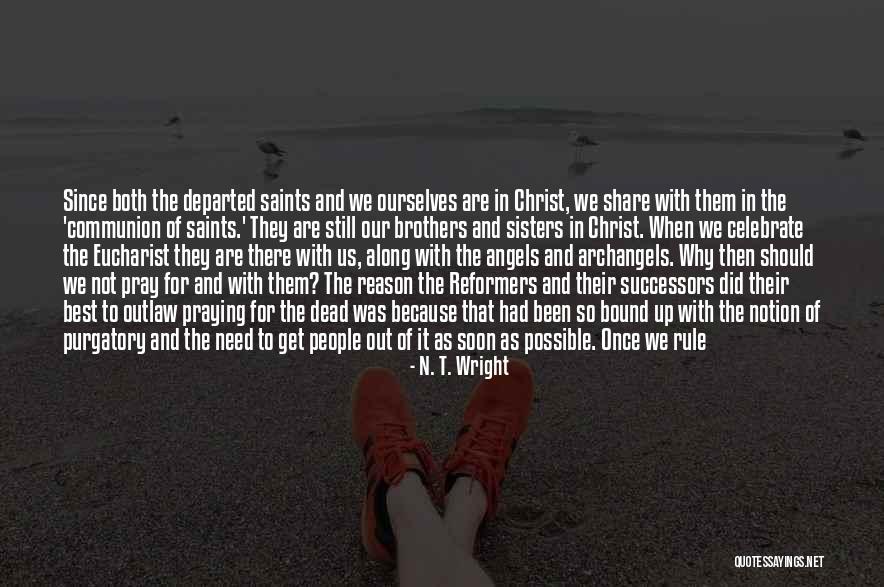 Since both the departed saints and we ourselves are in Christ, we share with them in the 'communion of saints.' They are still our brothers and sisters in Christ. When we celebrate the Eucharist they are there with us, along with the angels and archangels. Why then should we not pray for and with them? The reason the Reformers and their successors did their best to outlaw praying for the dead was because that had been so bound up with the notion of purgatory and the need to get people out of it as soon as possible. Once we rule out purgatory, I see no reason why we should not pray for and with the dead and every reason why we should - not that they will get out of purgatory but that they will be refreshed and filled with God's joy and peace. Love passes into prayer; we still love them; why not hold them, in that love, before God? — N. T. Wright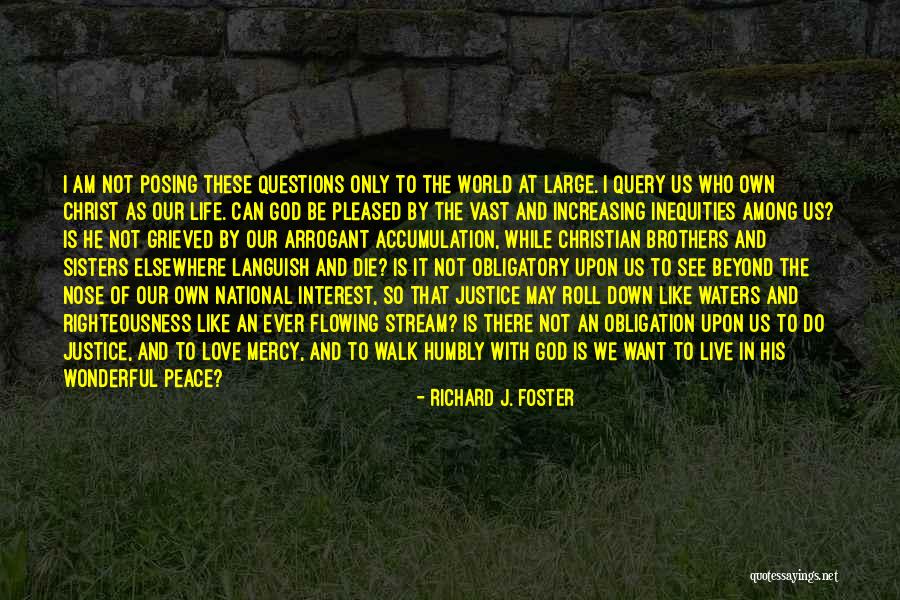 I am not posing these questions only to the world at large. I query us who own Christ as our life. Can God be pleased by the vast and increasing inequities among us? Is he not grieved by our arrogant accumulation, while Christian brothers and sisters elsewhere languish and die? Is it not obligatory upon us to see beyond the nose of our own national interest, so that justice may roll down like waters and righteousness like an ever flowing stream? Is there not an obligation upon us to do justice, and to love mercy, and to walk humbly with God is we want to live in his wonderful peace? — Richard J. Foster
My dear brothers and sisters,* how can you claim to have faith in our glorious Lord Jesus Christ if you favor some people over others? 2 For example, suppose someone comes into your meeting* dressed in fancy clothes and expensive jewelry, and another comes in who is poor and dressed in dirty clothes. 3 If you give special attention and a good seat to the rich person, but you say to the poor one, "You can stand over there, or else sit on the floor" - well, 4 doesn't this discrimination show that your judgments are guided by evil motives? — Anonymous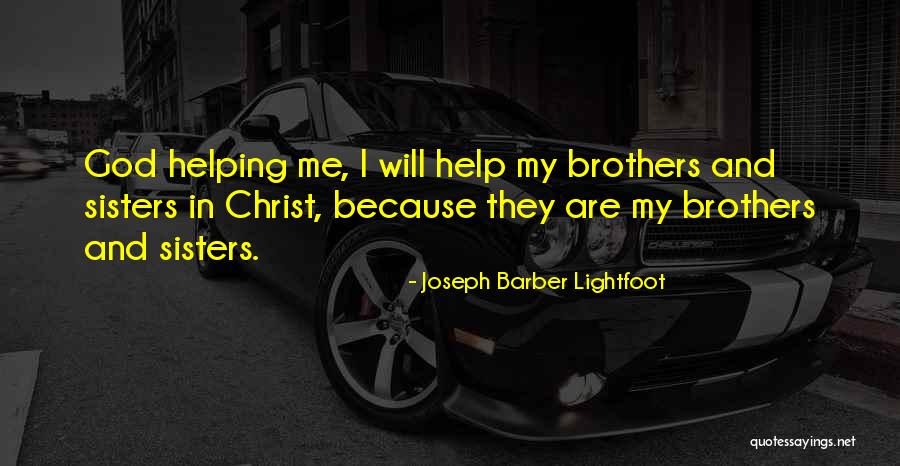 God helping me, I will help my brothers and sisters in Christ, because they are my brothers and sisters. — Joseph Barber Lightfoot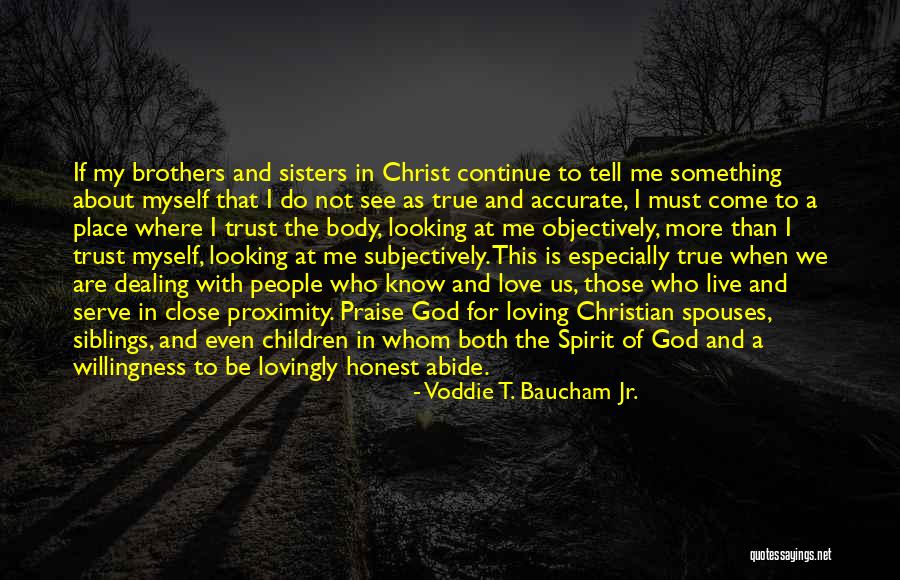 If my brothers and sisters in Christ continue to tell me something about myself that I do not see as true and accurate, I must come to a place where I trust the body, looking at me objectively, more than I trust myself, looking at me subjectively. This is especially true when we are dealing with people who know and love us, those who live and serve in close proximity. Praise God for loving Christian spouses, siblings, and even children in whom both the Spirit of God and a willingness to be lovingly honest abide. — Voddie T. Baucham Jr.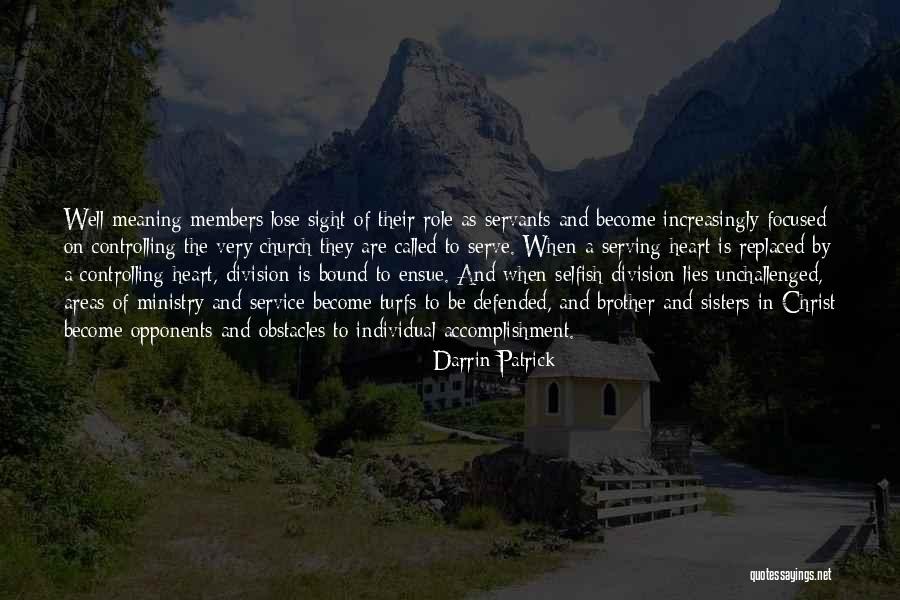 Well-meaning members lose sight of their role as servants and become increasingly focused on controlling the very church they are called to serve. When a serving heart is replaced by a controlling heart, division is bound to ensue. And when selfish division lies unchallenged, areas of ministry and service become turfs to be defended, and brother and sisters in Christ become opponents and obstacles to individual accomplishment. — Darrin Patrick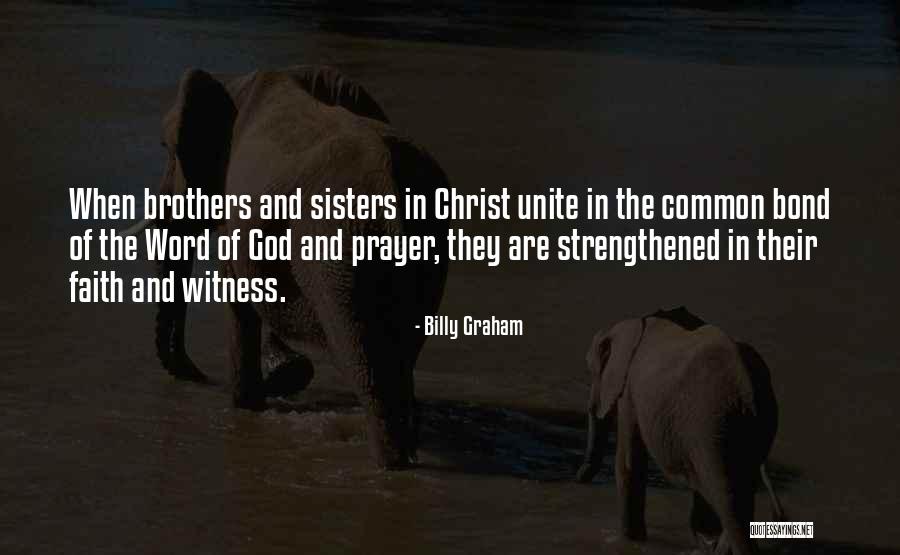 When brothers and sisters in Christ unite in the common bond of the Word of God and prayer, they are strengthened in their faith and witness. — Billy Graham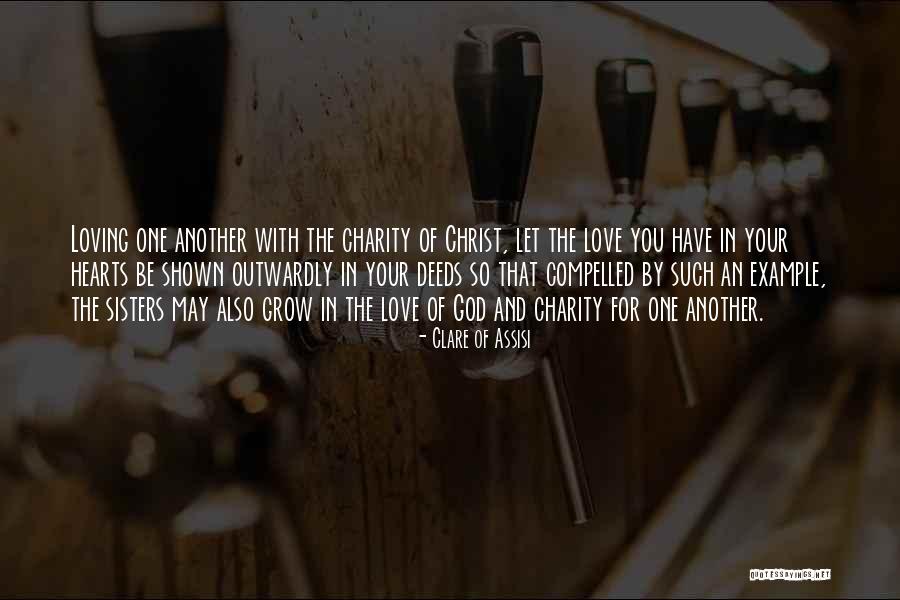 Loving one another with the charity of Christ, let the love you have in your hearts be shown outwardly in your deeds so that compelled by such an example, the sisters may also grow in the love of God and charity for one another. — Clare Of Assisi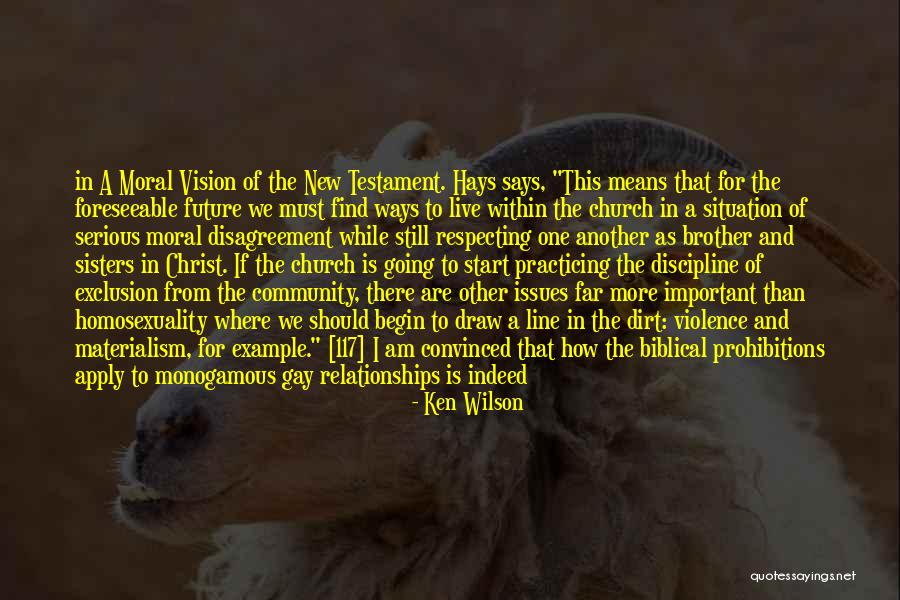 in A Moral Vision of the New Testament. Hays says, "This means that for the foreseeable future we must find ways to live within the church in a situation of serious moral disagreement while still respecting one another as brother and sisters in Christ. If the church is going to start practicing the discipline of exclusion from the community, there are other issues far more important than homosexuality where we should begin to draw a line in the dirt: violence and materialism, for example." [117] I am convinced that how the biblical prohibitions apply to monogamous gay relationships is indeed a disputable matter and that the teaching of Romans 14-15 should guide our response. — Ken Wilson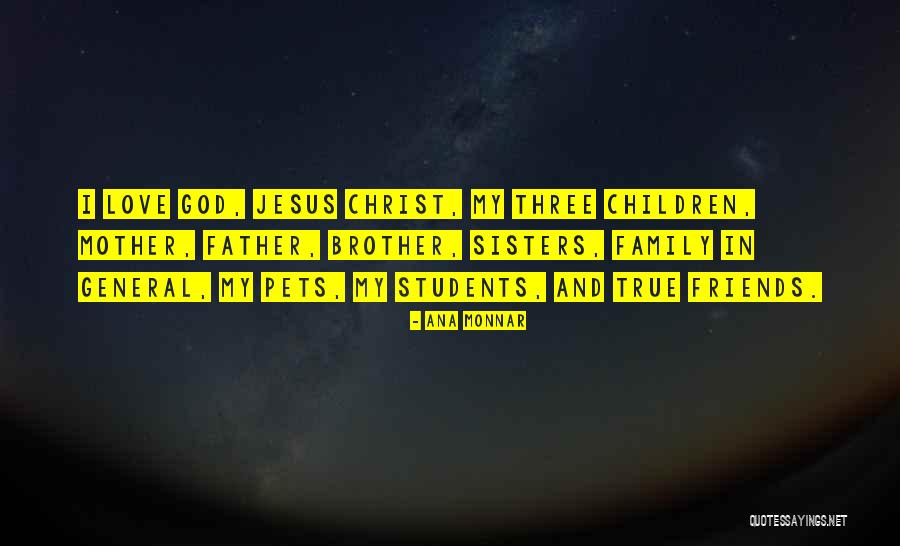 I love God, Jesus Christ, my three children, mother, father, brother, sisters, family in general, my pets, my students, and true friends. — Ana Monnar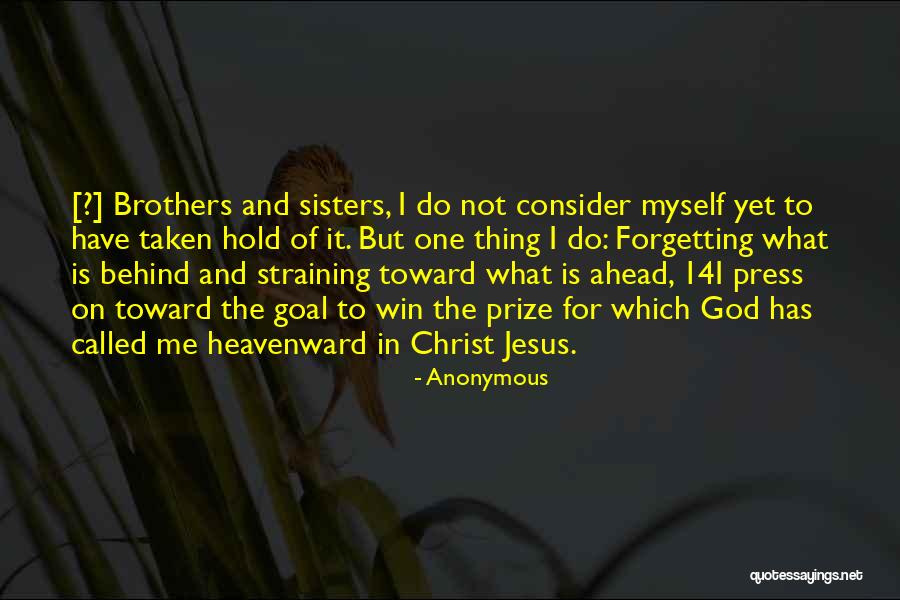 [?] Brothers and sisters, I do not consider myself yet to have taken hold of it. But one thing I do: Forgetting what is behind and straining toward what is ahead, 14I press on toward the goal to win the prize for which God has called me heavenward in Christ Jesus. — Anonymous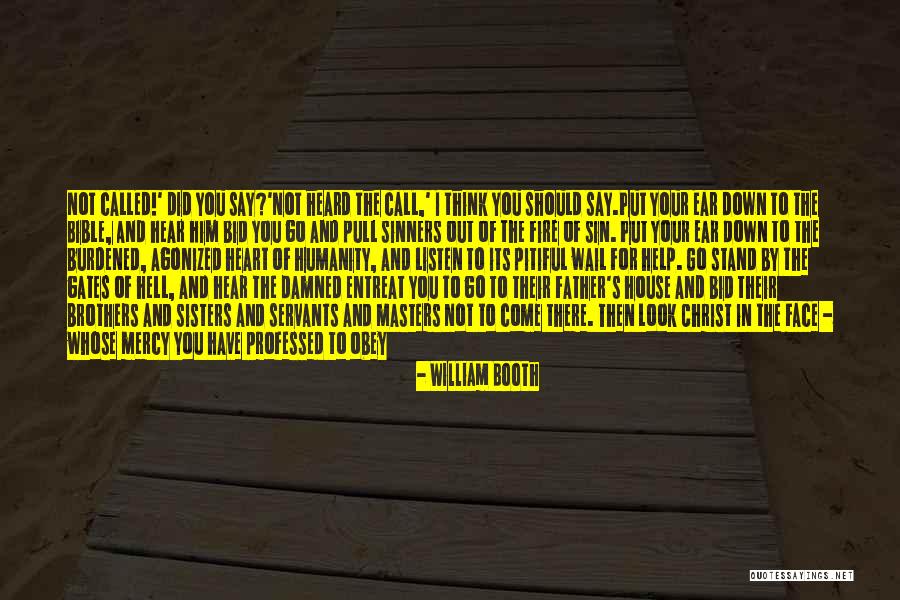 Not called!' did you say?
'Not heard the call,' I think you should say.
Put your ear down to the Bible, and hear Him bid you go and pull sinners out of the fire of sin. Put your ear down to the burdened, agonized heart of humanity, and listen to its pitiful wail for help. Go stand by the gates of hell, and hear the damned entreat you to go to their father's house and bid their brothers and sisters and servants and masters not to come there. Then look Christ in the face - whose mercy you have professed to obey - and tell Him whether you will join heart and soul and body and circumstances in the march to publish His mercy to the world. — William Booth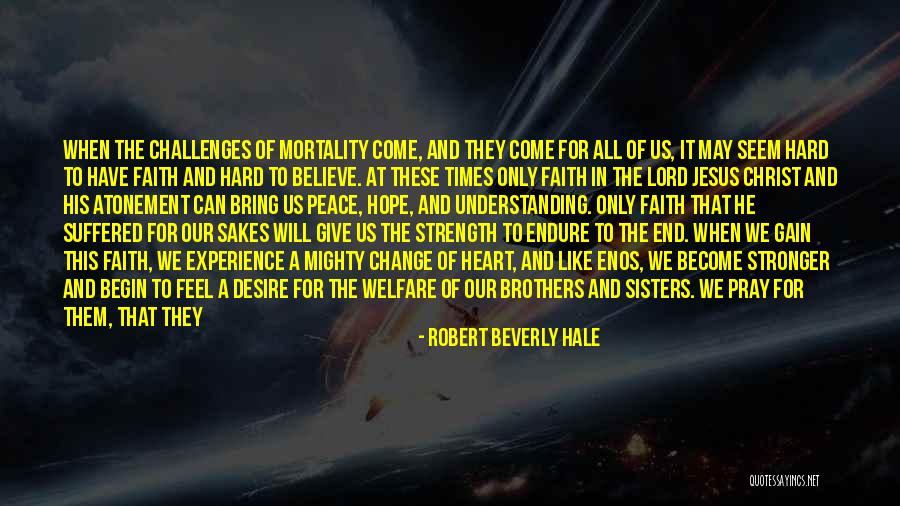 When the challenges of mortality come, and they come for all of us, it may seem hard to have faith and hard to believe. At these times only faith in the Lord Jesus Christ and His Atonement can bring us peace, hope, and understanding. Only faith that He suffered for our sakes will give us the strength to endure to the end. When we gain this faith, we experience a mighty change of heart, and like Enos, we become stronger and begin to feel a desire for the welfare of our brothers and sisters. We pray for them, that they too will be lifted and strengthened through faith on the Atonement of our Savior Jesus Christ. — Robert Beverly Hale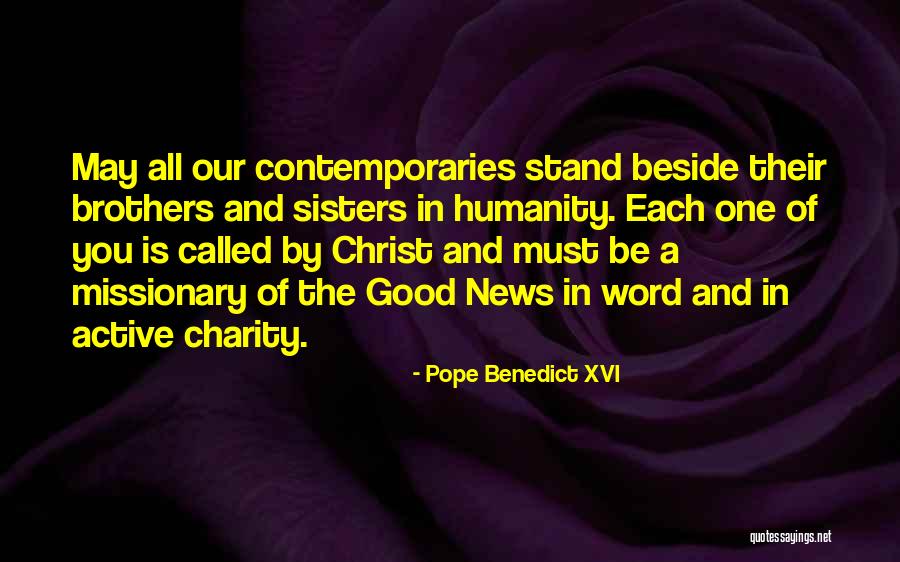 May all our contemporaries stand beside their brothers and sisters in humanity. Each one of you is called by Christ and must be a missionary of the Good News in word and in active charity. — Pope Benedict XVI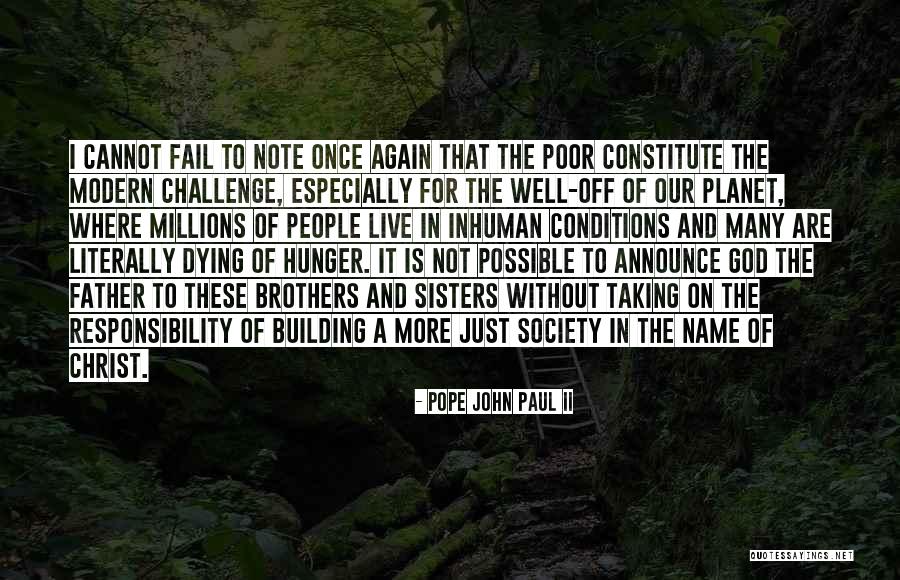 I cannot fail to note once again that the poor constitute the modern challenge, especially for the well-off of our planet, where millions of people live in inhuman conditions and many are literally dying of hunger. It is not possible to announce God the Father to these brothers and sisters without taking on the responsibility of building a more just society in the name of Christ. — Pope John Paul II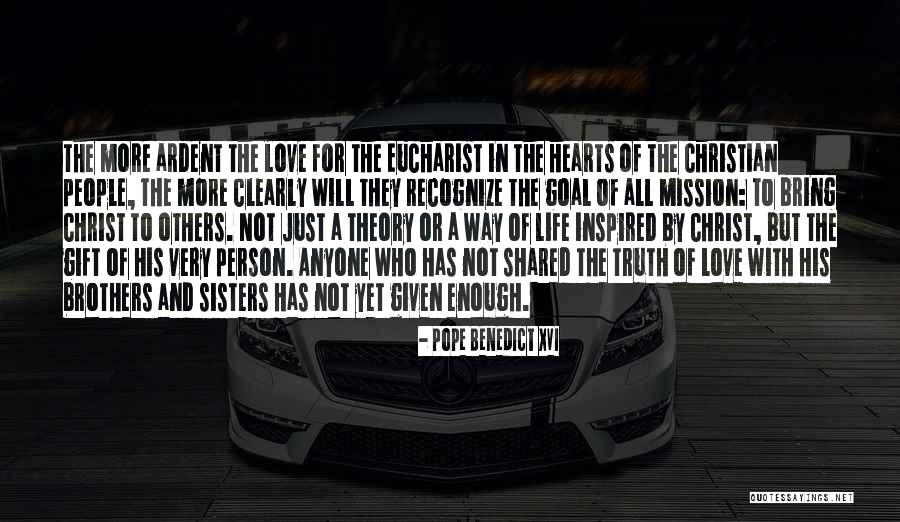 The more ardent the love for the Eucharist in the hearts of the Christian people, the more clearly will they recognize the goal of all mission: to bring Christ to others. Not just a theory or a way of life inspired by Christ, but the gift of his very person. Anyone who has not shared the truth of love with his brothers and sisters has not yet given enough. — Pope Benedict XVI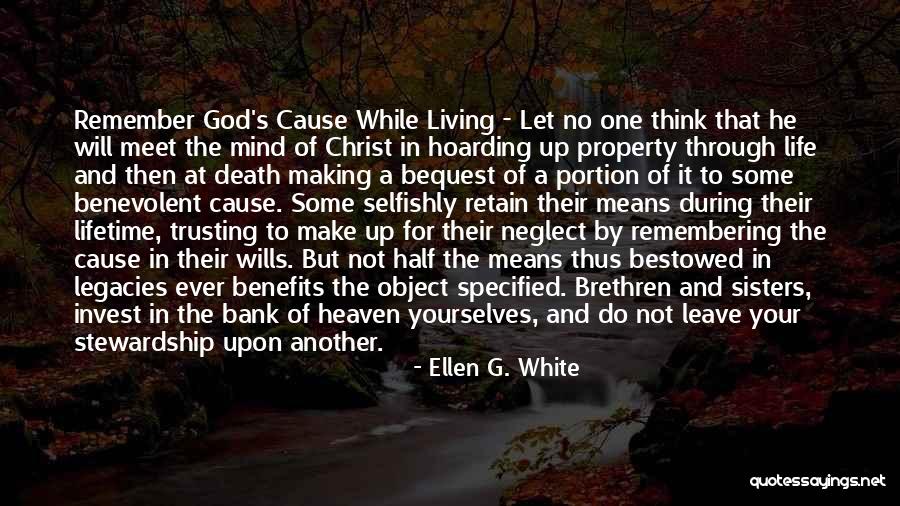 Remember God's Cause While Living - Let no one think that he will meet the mind of Christ in hoarding up property through life and then at death making a bequest of a portion of it to some benevolent cause. Some selfishly retain their means during their lifetime, trusting to make up for their neglect by remembering the cause in their wills. But not half the means thus bestowed in legacies ever benefits the object specified. Brethren and sisters, invest in the bank of heaven yourselves, and do not leave your stewardship upon another. — Ellen G. White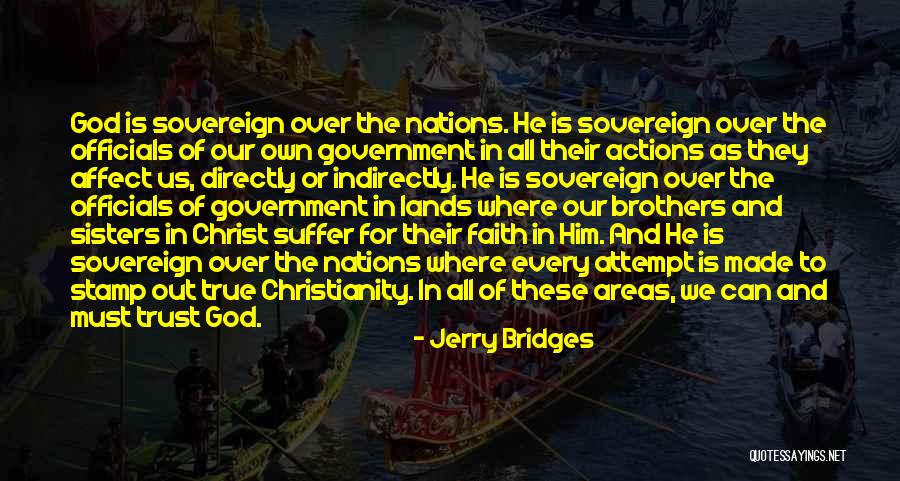 God is sovereign over the nations. He is sovereign over the officials of our own government in all their actions as they affect us, directly or indirectly. He is sovereign over the officials of government in lands where our brothers and sisters in Christ suffer for their faith in Him. And He is sovereign over the nations where every attempt is made to stamp out true Christianity. In all of these areas, we can and must trust God. — Jerry Bridges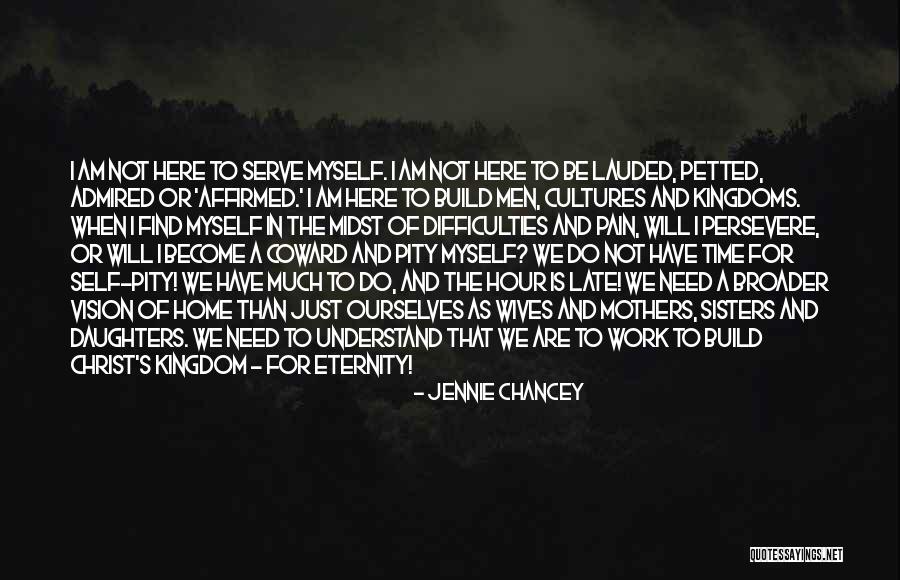 I am not here to serve myself. I am not here to be lauded, petted, admired or 'affirmed.' I am here to build men, cultures and kingdoms. When I find myself in the midst of difficulties and pain, will I persevere, or will I become a coward and pity myself? We do not have time for self-pity! We have much to do, and the hour is late! We need a broader vision of home than just ourselves as wives and mothers, sisters and daughters. We need to understand that we are to work to build Christ's kingdom - for eternity! — Jennie Chancey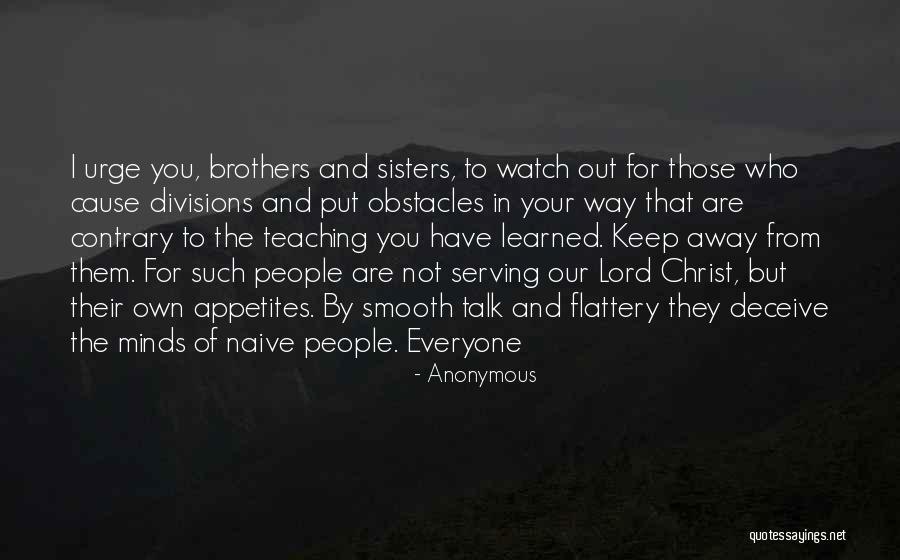 I urge you, brothers and sisters, to watch out for those who cause divisions and put obstacles in your way that are contrary to the teaching you have learned. Keep away from them. For such people are not serving our Lord Christ, but their own appetites. By smooth talk and flattery they deceive the minds of naive people. Everyone — Anonymous
Today Saint Paul has told us that in Christ we have become God's adopted children, brothers and sisters in Christ. This is who we are. This is our identity. — Pope Francis
I have seen miracles in my time, my brothers and sisters. The greatest miracle of all, I believe, is the transformation that comes into the life of a man or a woman who accepts the restored gospel of Jesus Christ and tries to live it in his or her life. — Gordon B. Hinckley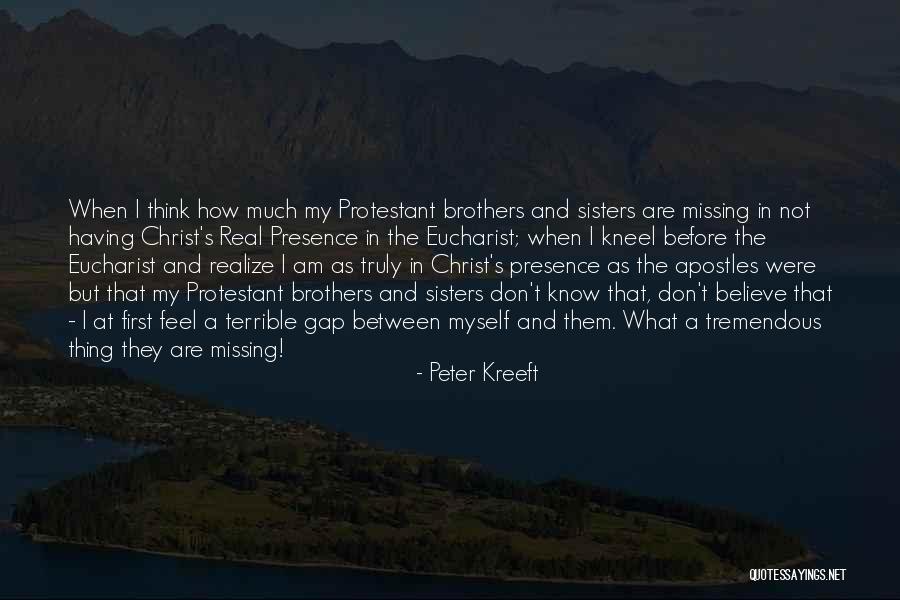 When I think how much my Protestant brothers and sisters are missing in not having Christ's Real Presence in the Eucharist; when I kneel before the Eucharist and realize I am as truly in Christ's presence as the apostles were but that my Protestant brothers and sisters don't know that, don't believe that - I at first feel a terrible gap between myself and them. What a tremendous thing they are missing! — Peter Kreeft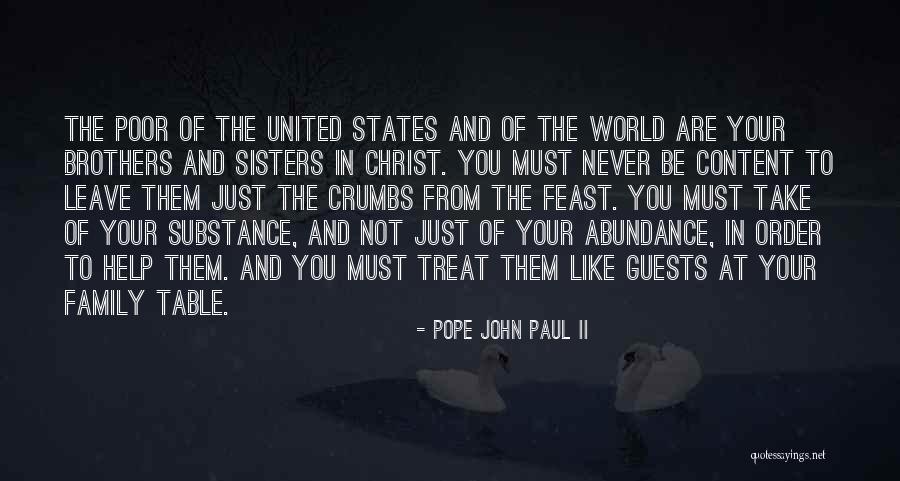 The poor of the United States and of the world are your brothers and sisters in Christ. You must never be content to leave them just the crumbs from the feast. You must take of your substance, and not just of your abundance, in order to help them. And you must treat them like guests at your family table. — Pope John Paul II
Brothers and sisters in Christ, it must never be forgotten that we have a great intercessor that prays for us around the clock. Heb. 7:25 states, "Therefore He is also able to save to the uttermost those who come to God through Him, since He always lives to make intercession for them" (emphasis added). The days ahead are made much sweeter, even in the face of coming persecutions, when we know in our heart of hearts that our Savior peers daily into our lives praying and strengthening us to stand till the end of our call of service. — Michael L. Henderson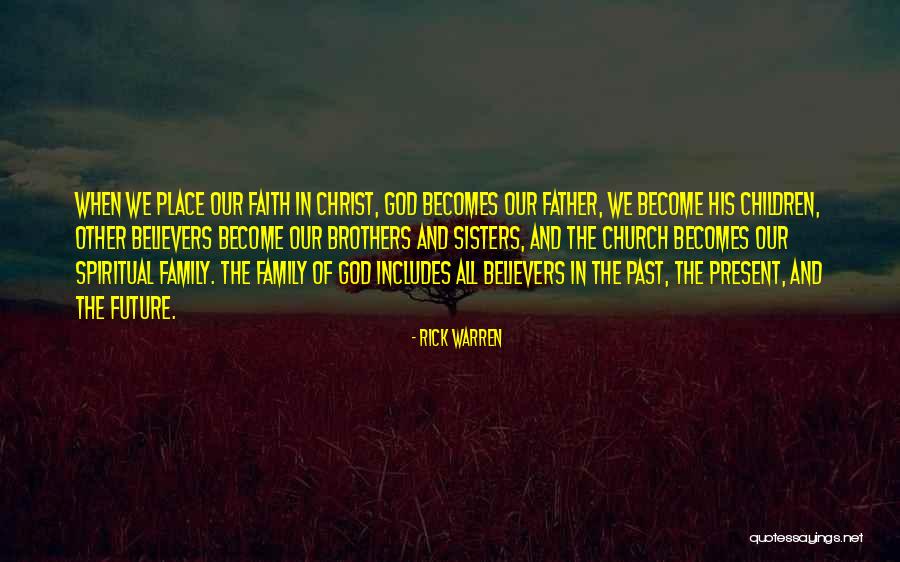 When we place our faith in Christ, God becomes our Father, we become his children, other believers become our brothers and sisters, and the church becomes our spiritual family. The family of God includes all believers in the past, the present, and the future. — Rick Warren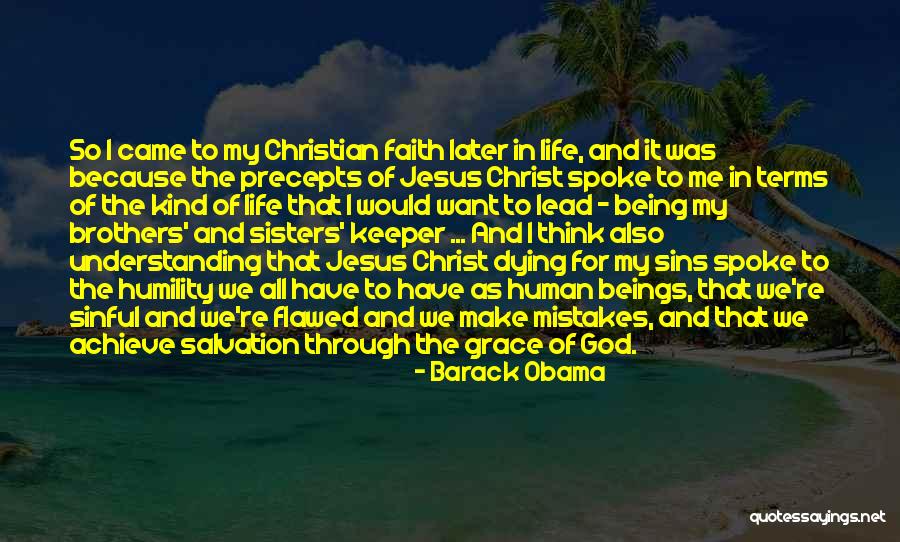 So I came to my Christian faith later in life, and it was because the precepts of Jesus Christ spoke to me in terms of the kind of life that I would want to lead - being my brothers' and sisters' keeper ... And I think also understanding that Jesus Christ dying for my sins spoke to the humility we all have to have as human beings, that we're sinful and we're flawed and we make mistakes, and that we achieve salvation through the grace of God. — Barack Obama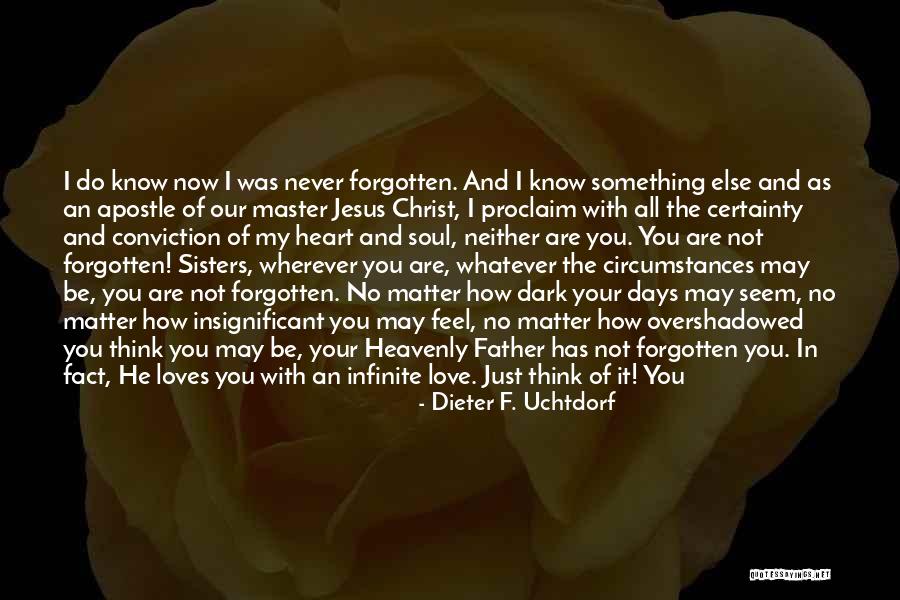 I do know now I was never forgotten. And I know something else and as an apostle of our master Jesus Christ, I proclaim with all the certainty and conviction of my heart and soul, neither are you. You are not forgotten! Sisters, wherever you are, whatever the circumstances may be, you are not forgotten. No matter how dark your days may seem, no matter how insignificant you may feel, no matter how overshadowed you think you may be, your Heavenly Father has not forgotten you. In fact, He loves you with an infinite love. Just think of it! You are known and remembered by the most majestic, powerful and glorious Being in the universe. You are loved by the King of infinite space and everlasting time. He who created and knows the stars knows you and your name. You are the daughters of His kingdom! — Dieter F. Uchtdorf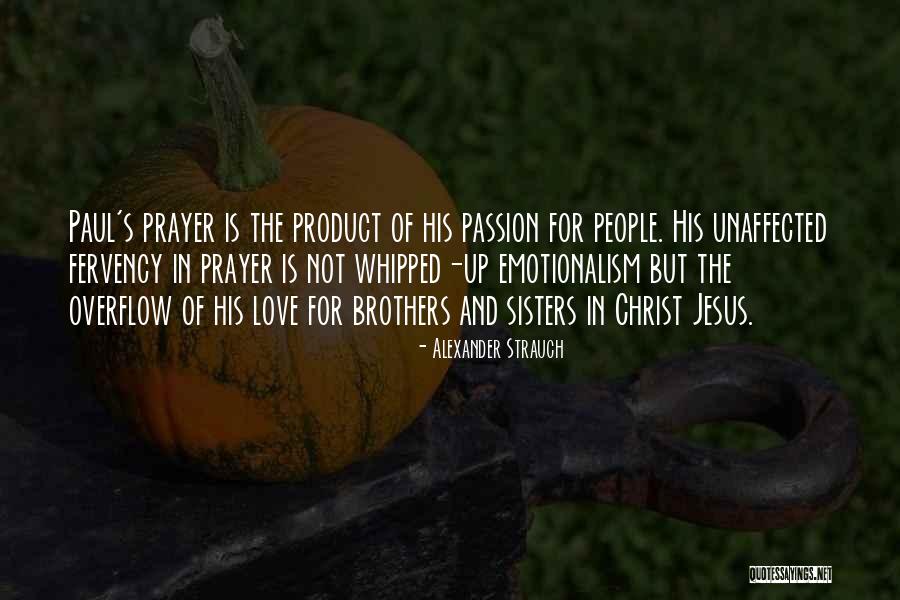 Paul's prayer is the product of his passion for people. His unaffected fervency in prayer is not whipped-up emotionalism but the overflow of his love for brothers and sisters in Christ Jesus. — Alexander Strauch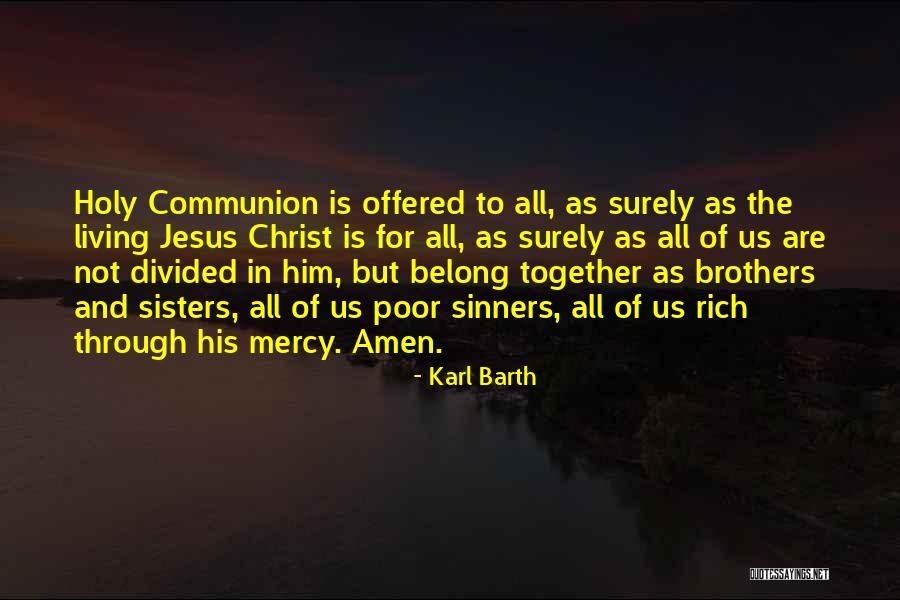 Holy Communion is offered to all, as surely as the living Jesus Christ is for all, as surely as all of us are not divided in him, but belong together as brothers and sisters, all of us poor sinners, all of us rich through his mercy. Amen. — Karl Barth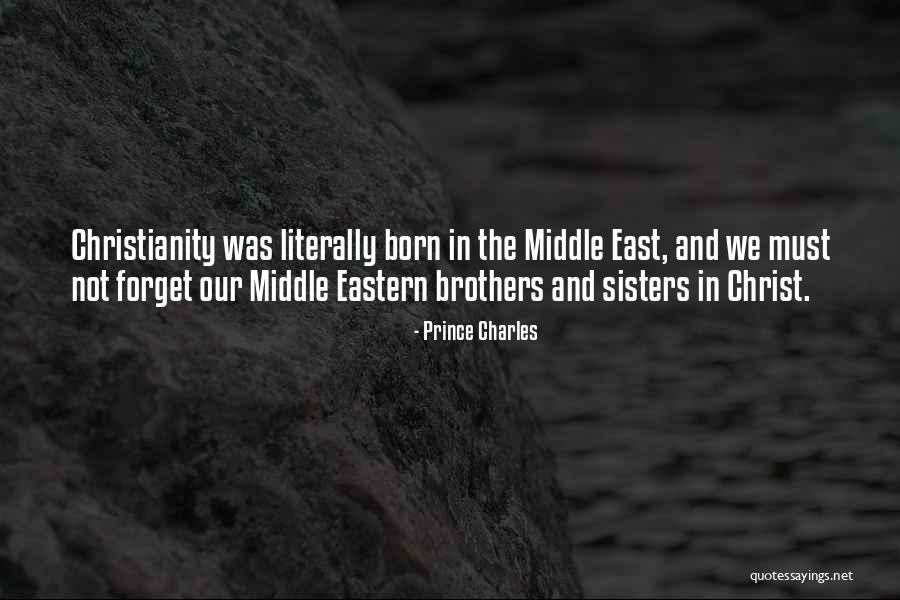 Christianity was literally born in the Middle East, and we must not forget our Middle Eastern brothers and sisters in Christ. — Prince Charles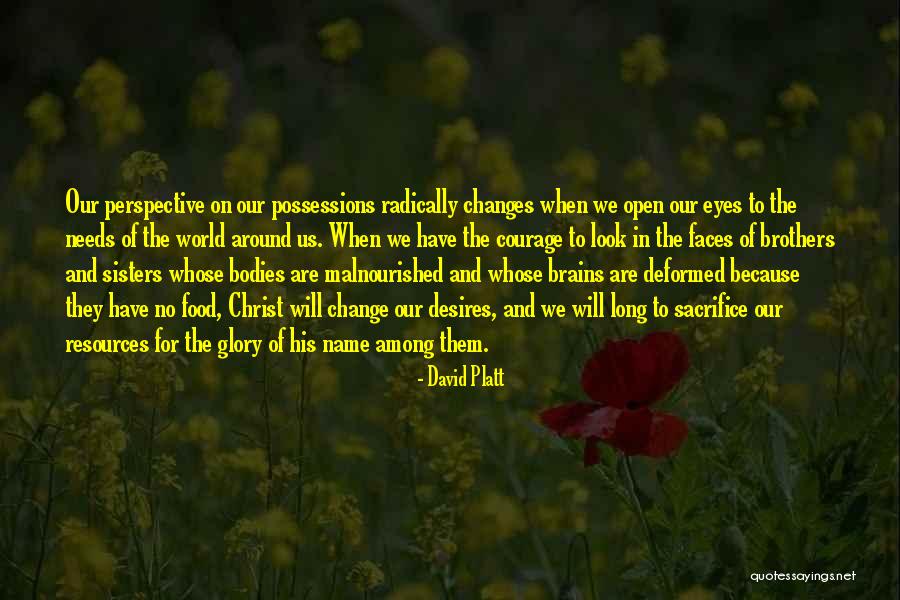 Our perspective on our possessions radically changes when we open our eyes to the needs of the world around us. When we have the courage to look in the faces of brothers and sisters whose bodies are malnourished and whose brains are deformed because they have no food, Christ will change our desires, and we will long to sacrifice our resources for the glory of his name among them. — David Platt
Being a member of a church means realizing that we are responsible for helping the brothers and sisters around us to grow as disciples of Jesus. In the same way, they are responsible for helping us. We desperately need each other in the daily fight to follow Christ in a world that's full of sin. — David Platt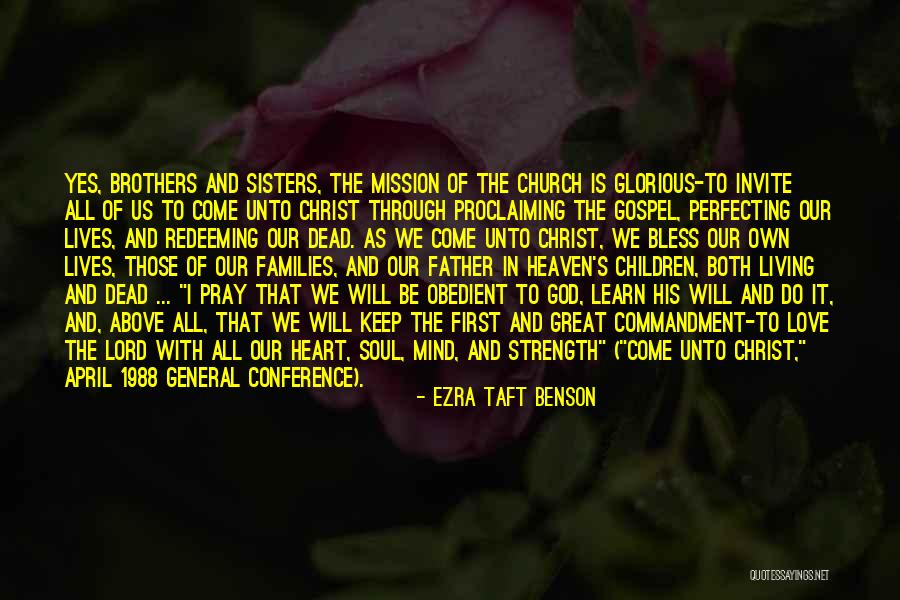 Yes, brothers and sisters, the mission of the Church is glorious-to invite all of us to come unto Christ through proclaiming the gospel, perfecting our lives, and redeeming our dead. As we come unto Christ, we bless our own lives, those of our families, and our Father in Heaven's children, both living and dead ...
"I pray that we will be obedient to God, learn His will and do it, and, above all, that we will keep the first and great commandment-to love the Lord with all our heart, soul, mind, and strength" ("Come Unto Christ," April 1988 General Conference). — Ezra Taft Benson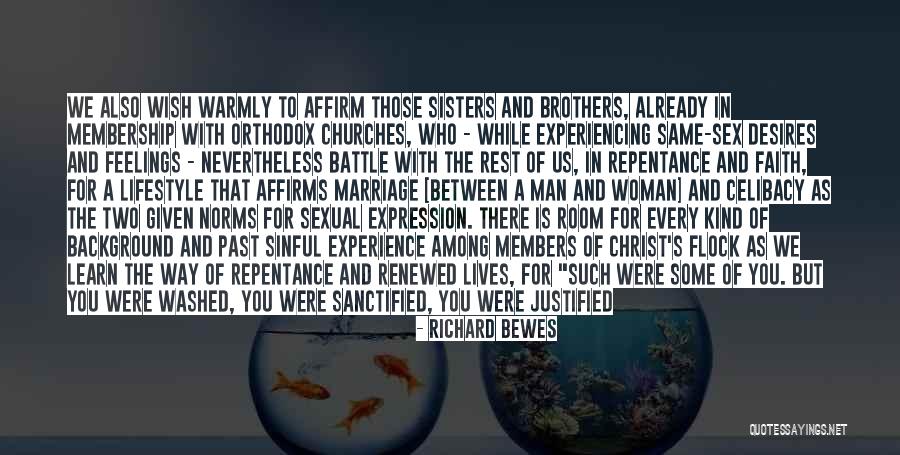 We also wish warmly to affirm those sisters and brothers, already in membership with orthodox churches, who - while experiencing same-sex desires and feelings - nevertheless battle with the rest of us, in repentance and faith, for a lifestyle that affirms marriage [between a man and woman] and celibacy as the two given norms for sexual expression. There is room for every kind of background and past sinful experience among members of Christ's flock as we learn the way of repentance and renewed lives, for "such were some of you. But you were washed, you were sanctified, you were justified in the name of the Lord Jesus Christ and by the Spirit of our God" (1 Corinthians 6:11).
This is true inclusivity. — Richard Bewes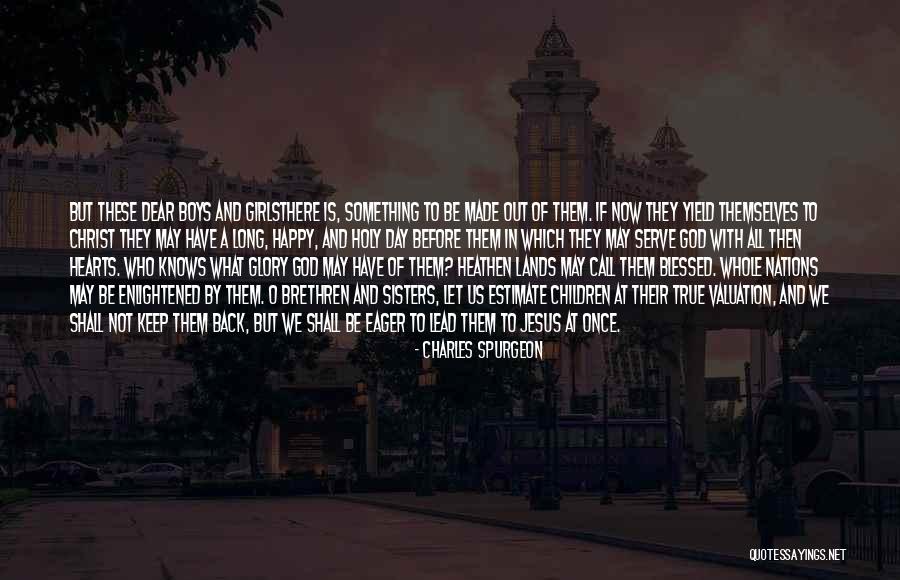 But these dear boys and girls
there is, something to be made out of them. If now they yield themselves to Christ they may have a long, happy, and holy day before them in which they may serve God with all then hearts. Who knows what glory God may have of them? Heathen lands may call them blessed. Whole nations may be enlightened by them. O brethren and sisters, let us estimate children at their true valuation, and we shall not keep them back, but we shall be eager to lead them to Jesus at once. — Charles Spurgeon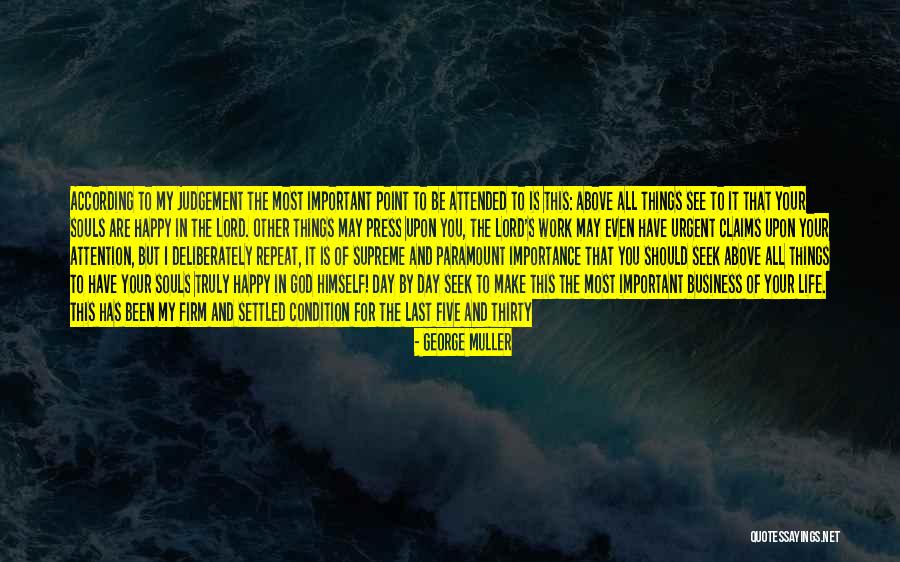 According to my judgement the most important point to be attended to is this: above all things see to it that your souls are happy in the Lord. Other things may press upon you, the Lord's work may even have urgent claims upon your attention, but I deliberately repeat, it is of supreme and paramount importance that you should seek above all things to have your souls truly happy in God Himself! Day by day seek to make this the most important business of your life. This has been my firm and settled condition for the last five and thirty years. For the first four years after my conversion I knew not its vast importance, but now after much experience I specially commend this point to the notice of my younger brethren and sisters in Christ: the secret of all true effectual service is joy in God, having experimental acquaintance and fellowship with God Himself. — George Muller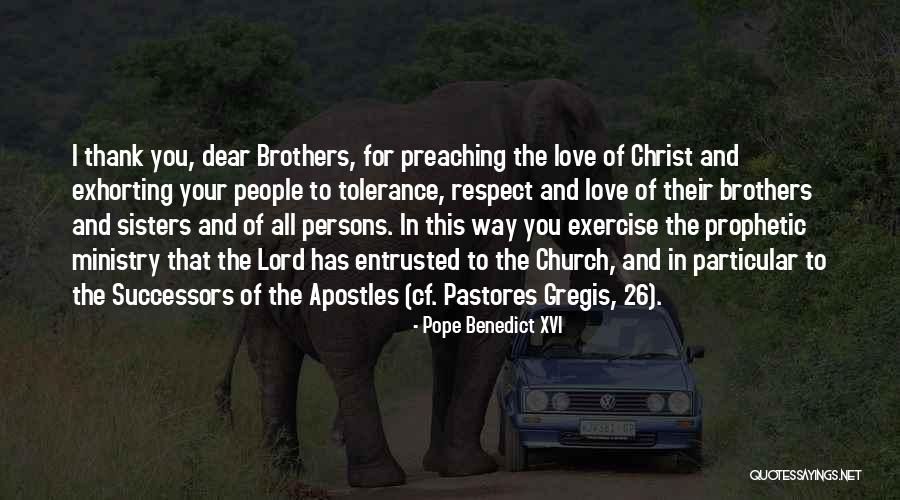 I thank you, dear Brothers, for preaching the love of Christ and exhorting your people to tolerance, respect and love of their brothers and sisters and of all persons. In this way you exercise the prophetic ministry that the Lord has entrusted to the Church, and in particular to the Successors of the Apostles (cf. Pastores Gregis, 26). — Pope Benedict XVI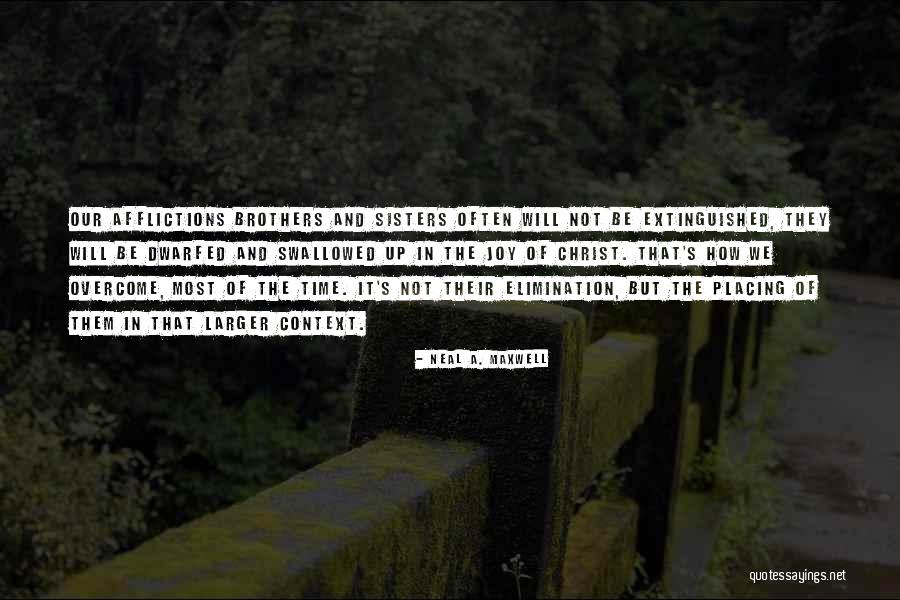 Our afflictions brothers and sisters often will not be extinguished, they will be dwarfed and swallowed up in the joy of Christ. That's how we overcome, most of the time. It's not their elimination, but the placing of them in that larger context. — Neal A. Maxwell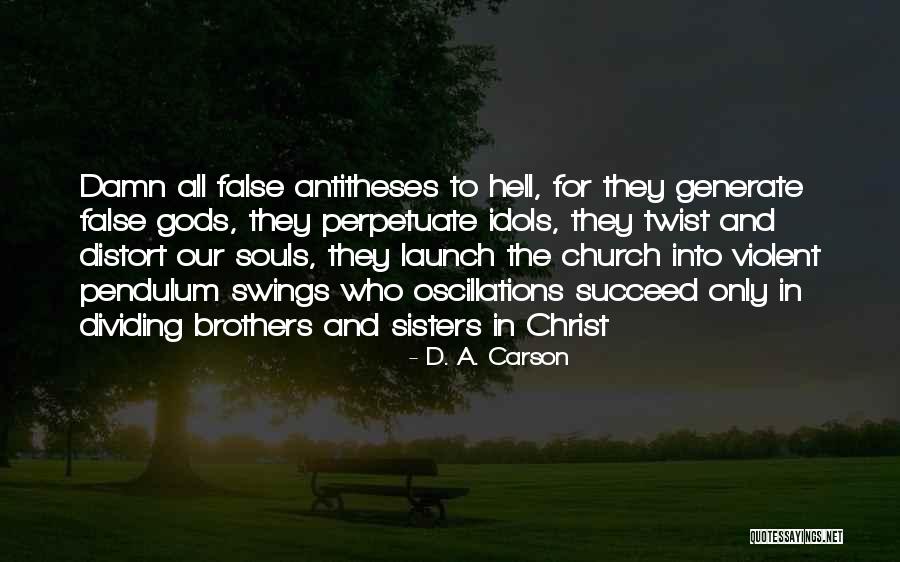 Damn all false antitheses to hell, for they generate false gods, they perpetuate idols, they twist and distort our souls, they launch the church into violent pendulum swings who oscillations succeed only in dividing brothers and sisters in Christ — D. A. Carson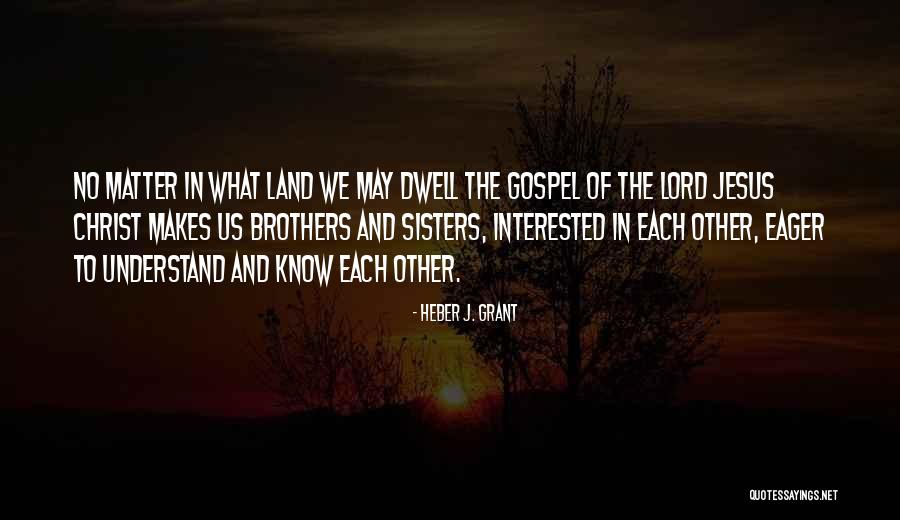 No matter in what land we may dwell the Gospel of the Lord Jesus Christ makes us brothers and sisters, interested in each other, eager to understand and know each other. — Heber J. Grant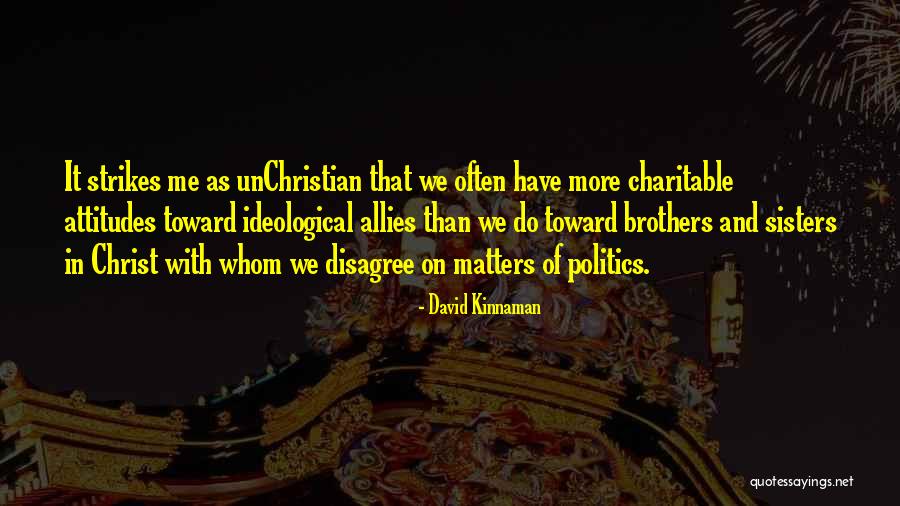 It strikes me as unChristian that we often have more charitable attitudes toward ideological allies than we do toward brothers and sisters in Christ with whom we disagree on matters of politics. — David Kinnaman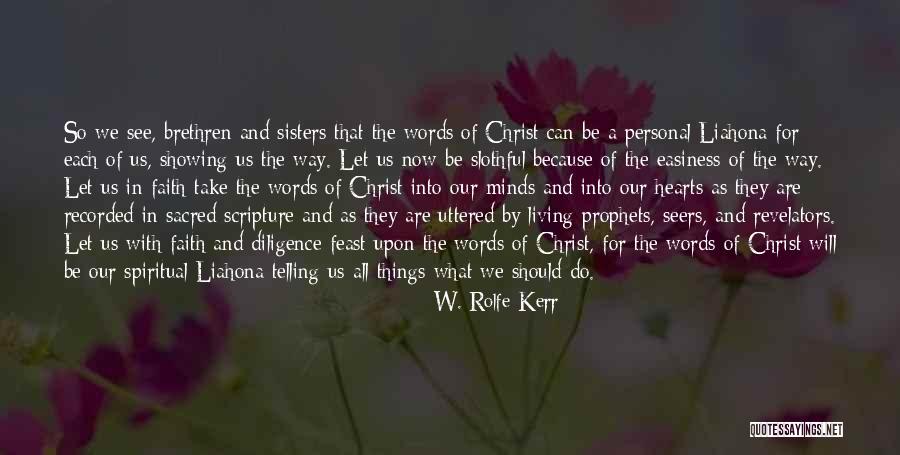 So we see, brethren and sisters that the words of Christ can be a personal Liahona for each of us, showing us the way. Let us now be slothful because of the easiness of the way. Let us in faith take the words of Christ into our minds and into our hearts as they are recorded in sacred scripture and as they are uttered by living prophets, seers, and revelators. Let us with faith and diligence feast upon the words of Christ, for the words of Christ will be our spiritual Liahona telling us all things what we should do. — W. Rolfe Kerr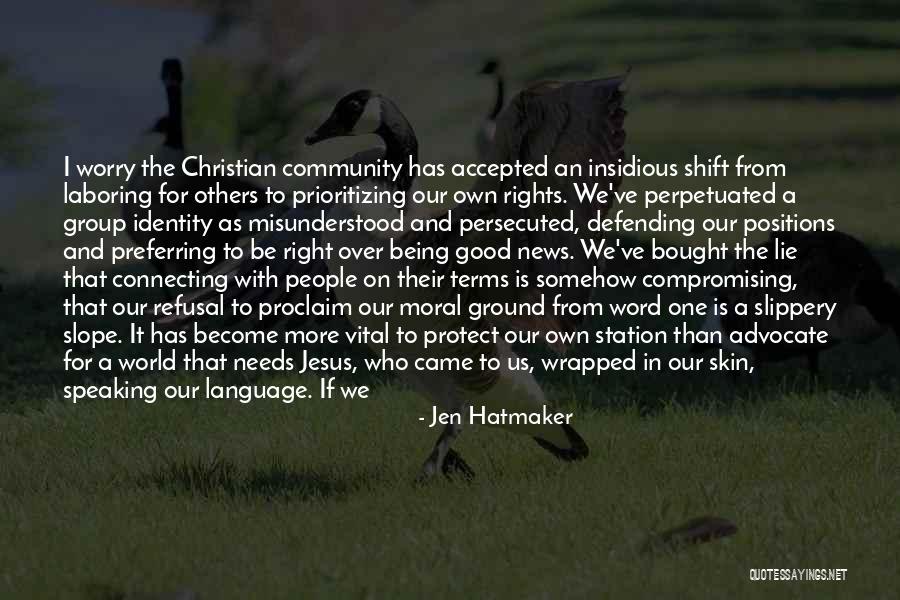 I worry the Christian community has accepted an insidious shift from laboring for others to prioritizing our own rights. We've perpetuated a group identity as misunderstood and persecuted, defending our positions and preferring to be right over being good news. We've bought the lie that connecting with people on their terms is somehow compromising, that our refusal to proclaim our moral ground from word one is a slippery slope. It has become more vital to protect our own station than advocate for a world that needs Jesus, who came to us, wrapped in our skin, speaking our language. If we were not too beneath Christ, who died for us while we were still sinners, then how dare we take a superior position over any other human being? How lovely is a faith community that goes forth as loving sisters and brothers rather than angry defenders and separatists. — Jen Hatmaker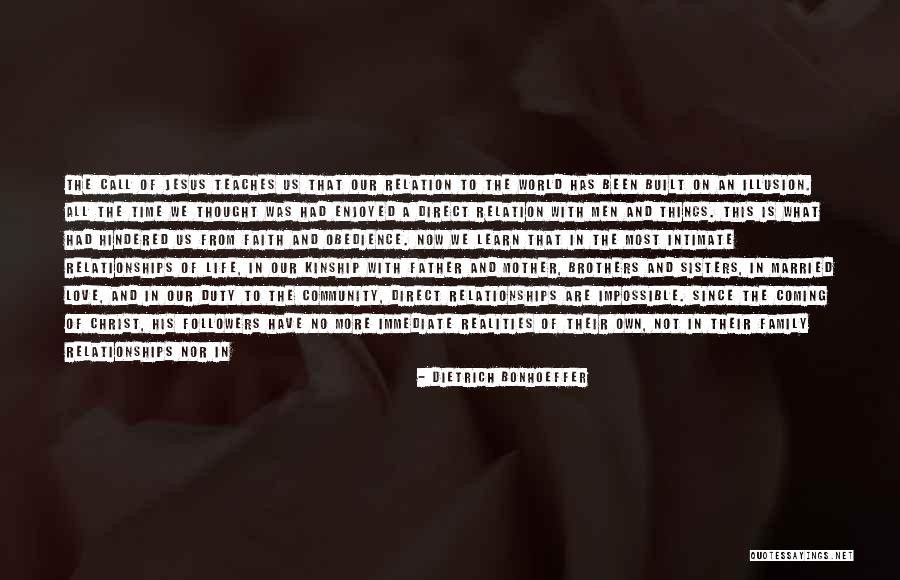 The call of Jesus teaches us that our relation to the world has been built on an illusion. All the time we thought was had enjoyed a direct relation with men and things. This is what had hindered us from faith and obedience. Now we learn that in the most intimate relationships of life, in our kinship with father and mother, brothers and sisters, in married love, and in our duty to the community, direct relationships are impossible. Since the coming of Christ, his followers have no more immediate realities of their own, not in their family relationships nor in the ties with their nation nor in the relationships formed in the process of living. Between father and son, husband and wife, the individual and the nation, stands Christ the Mediator, whether they are able to recognize him or not. We cannot establish direct contact outside ourselves except through him, through his word, and through our following of him. To think otherwise is to deceive ourselves. — Dietrich Bonhoeffer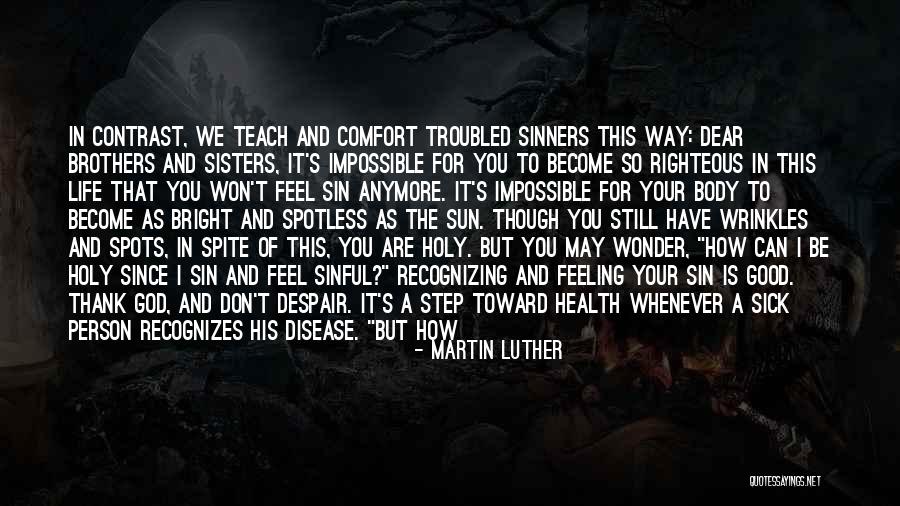 In contrast, we teach and comfort troubled sinners this way: Dear brothers and sisters, it's impossible for you to become so righteous in this life that you won't feel sin anymore. It's impossible for your body to become as bright and spotless as the sun. Though you still have wrinkles and spots, in spite of this, you are holy. But you may wonder, "How can I be holy since I sin and feel sinful?" Recognizing and feeling your sin is good. Thank God, and don't despair. It's a step toward health whenever a sick person recognizes his disease. "But how can I be freed from sin?" you wonder. Run to Christ, the Physician who heals the brokenhearted (Psalm 147:3). He makes sinners holy. — Martin Luther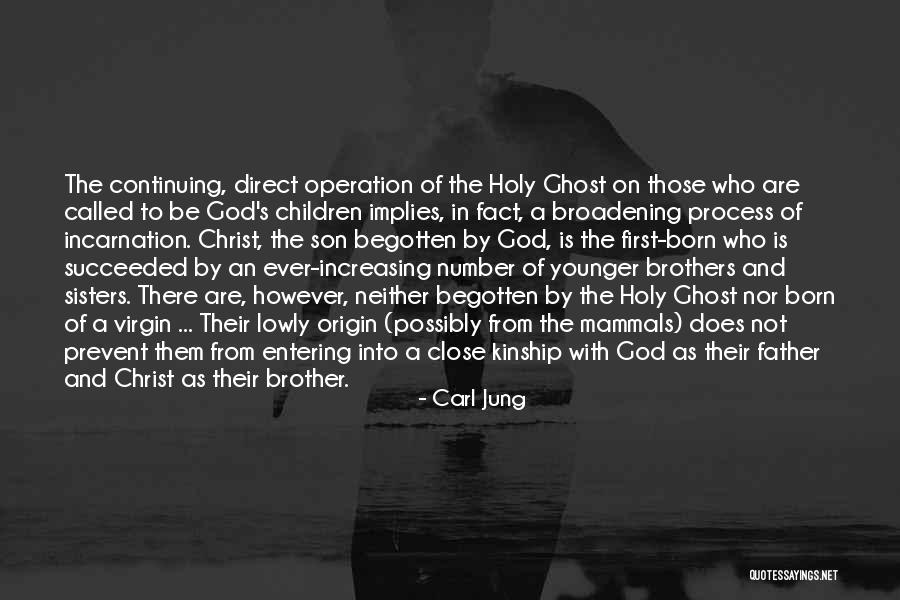 The continuing, direct operation of the Holy Ghost on those who are called to be God's children implies, in fact, a broadening process of incarnation. Christ, the son begotten by God, is the first-born who is succeeded by an ever-increasing number of younger brothers and sisters. There are, however, neither begotten by the Holy Ghost nor born of a virgin ... Their lowly origin (possibly from the mammals) does not prevent them from entering into a close kinship with God as their father and Christ as their brother. — Carl Jung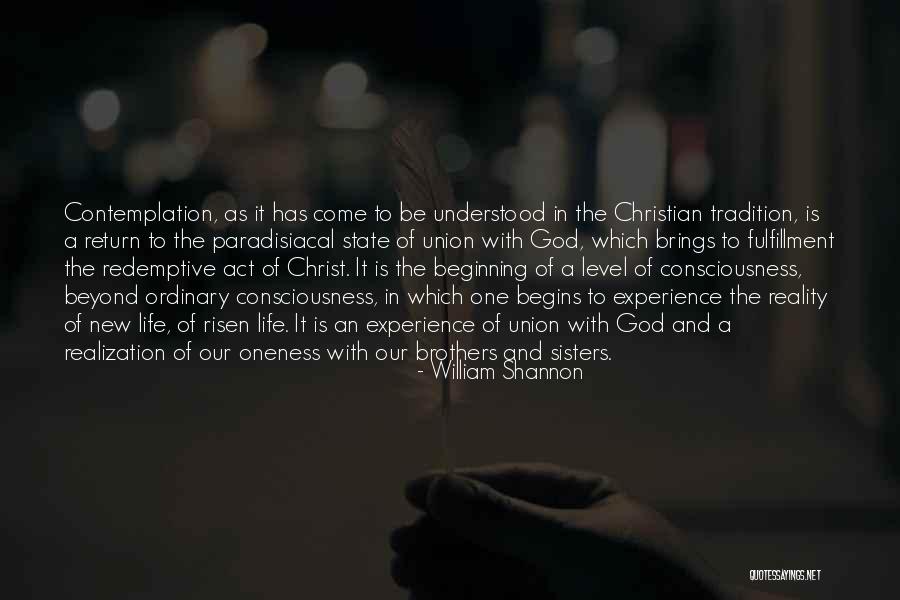 Contemplation, as it has come to be understood in the Christian tradition, is a return to the paradisiacal state of union with God, which brings to fulfillment the redemptive act of Christ. It is the beginning of a level of consciousness, beyond ordinary consciousness, in which one begins to experience the reality of new life, of risen life. It is an experience of union with God and a realization of our oneness with our brothers and sisters. — William Shannon