Quotes & Sayings About Shotgun Shells
Enjoy reading and share 8 famous quotes about Shotgun Shells with everyone.
Top Shotgun Shells Quotes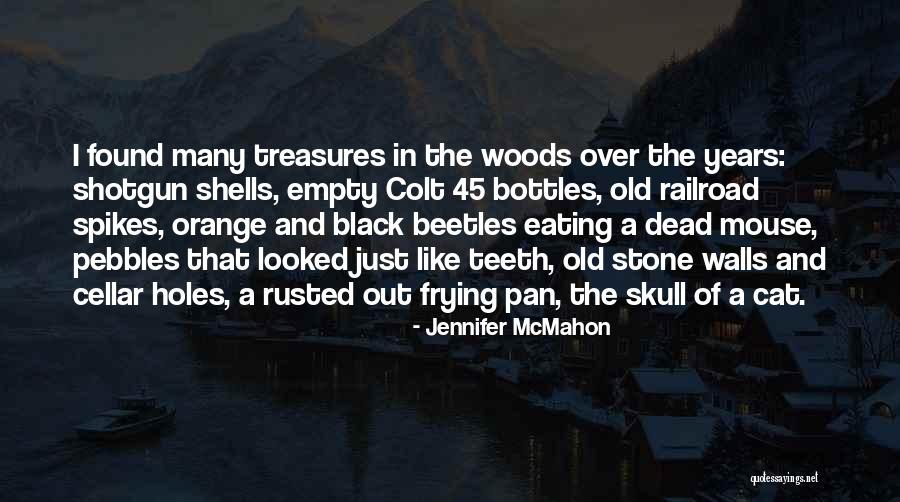 I found many treasures in the woods over the years: shotgun shells, empty Colt 45 bottles, old railroad spikes, orange and black beetles eating a dead mouse, pebbles that looked just like teeth, old stone walls and cellar holes, a rusted out frying pan, the skull of a cat. — Jennifer McMahon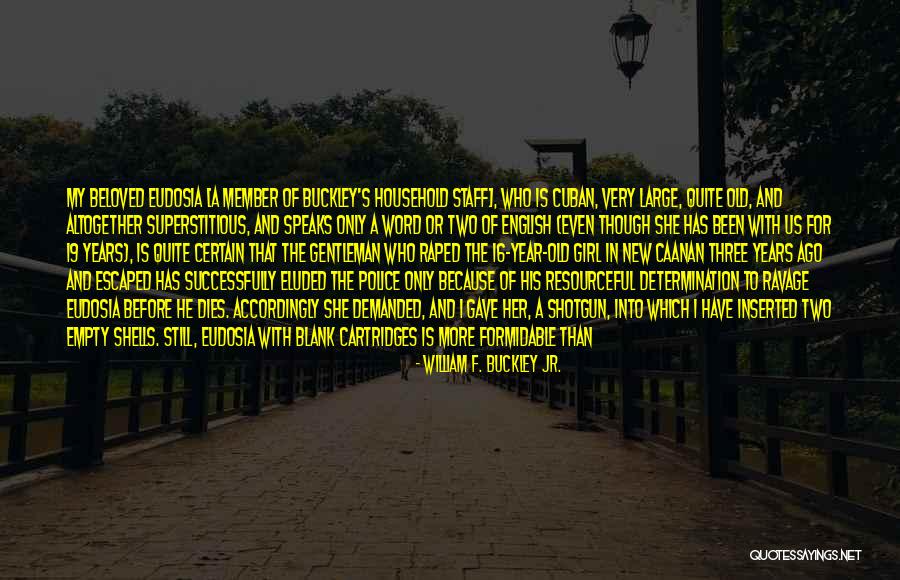 My beloved Eudosia [a member of Buckley's household staff], who is Cuban, very large, quite old, and altogether superstitious, and speaks only a word or two of English (even though she has been with us for 19 years), is quite certain that the gentleman who raped the 16-year-old girl in New Caanan three years ago and escaped has successfully eluded the police only because of his resourceful determination to ravage Eudosia before he dies. Accordingly she demanded, and I gave her, a shotgun, into which I have inserted two empty shells. Still, Eudosia with blank cartridges is more formidable than Eugene McCarthy with The Bomb. — William F. Buckley Jr.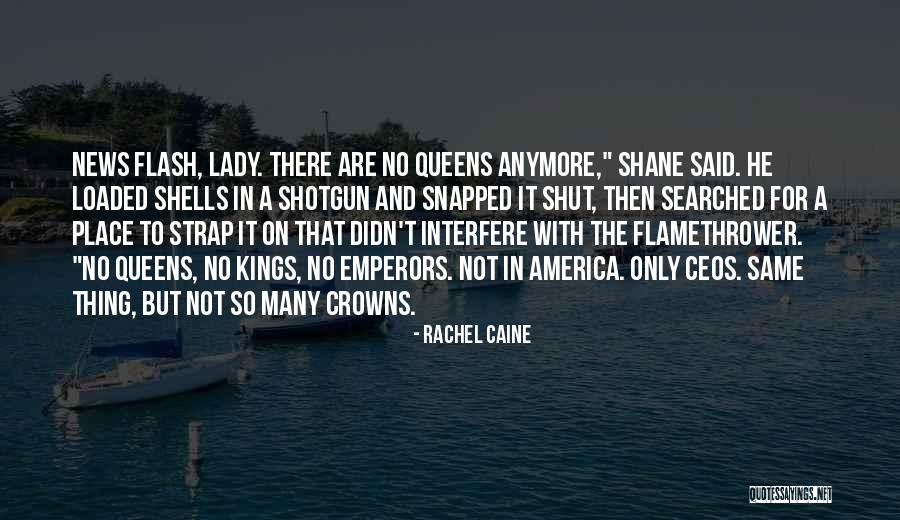 News flash, lady. There are no queens anymore," Shane said. He loaded shells in a shotgun and snapped it shut, then searched for a place to strap it on that didn't interfere with the flamethrower. "No queens, no kings, no emperors. Not in America. Only CEOs. Same thing, but not so many crowns. — Rachel Caine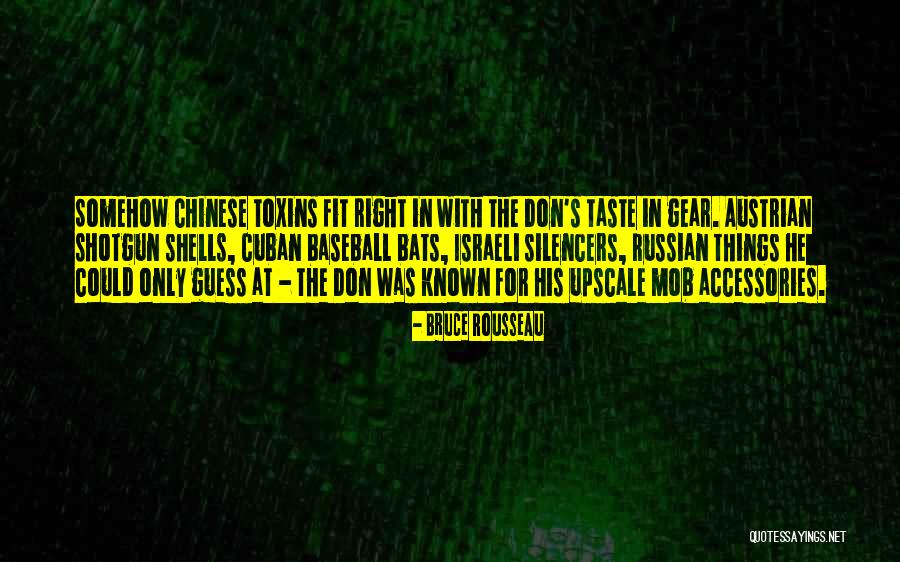 Somehow Chinese toxins fit right in with the Don's taste in gear. Austrian shotgun shells, Cuban baseball bats, Israeli silencers, Russian things he could only guess at - the Don was known for his upscale mob accessories. — Bruce Rousseau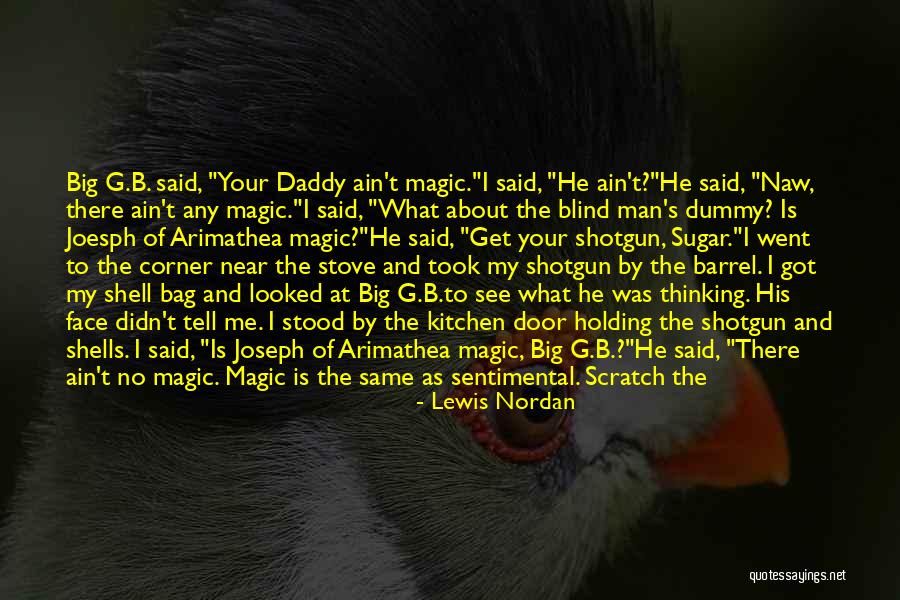 Big G.B. said, "Your Daddy ain't magic."
I said, "He ain't?"
He said, "Naw, there ain't any magic."
I said, "What about the blind man's dummy? Is Joesph of Arimathea magic?"
He said, "Get your shotgun, Sugar."
I went to the corner near the stove and took my shotgun by the barrel. I got my shell bag and looked at Big G.B.to see what he was thinking. His face didn't tell me. I stood by the kitchen door holding the shotgun and shells. I said, "Is Joseph of Arimathea magic, Big G.B.?"
He said, "There ain't no magic. Magic is the same as sentimental. Scratch the surface of sentimental and you know what you find?
Nazis and the Ku Klux Klan. Magic is German in nature and evil and not real. Scratch magic, Sugar, and you're looking for death. — Lewis Nordan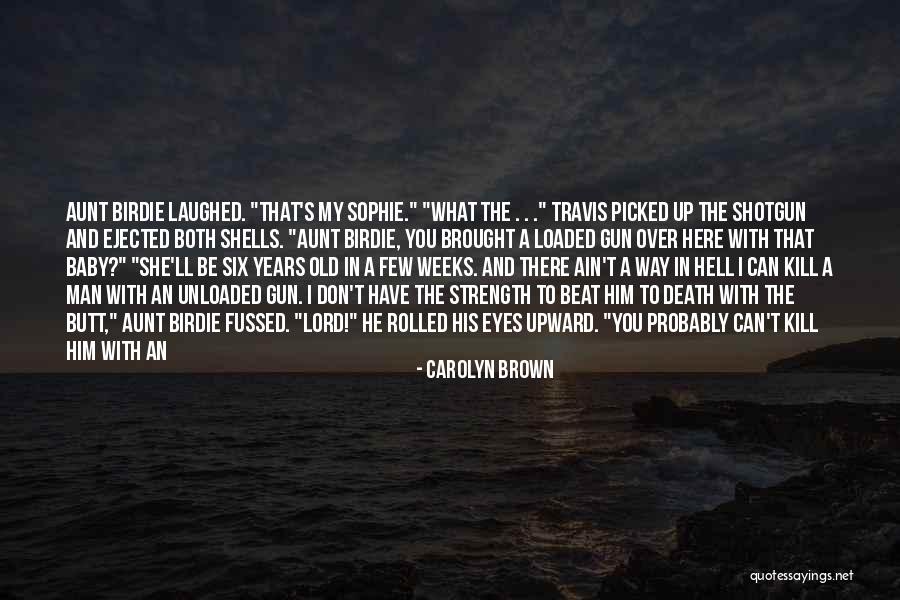 Aunt Birdie laughed. "That's my Sophie." "What the . . ." Travis picked up the shotgun and ejected both shells. "Aunt Birdie, you brought a loaded gun over here with that baby?" "She'll be six years old in a few weeks. And there ain't a way in hell I can kill a man with an unloaded gun. I don't have the strength to beat him to death with the butt," Aunt Birdie fussed. "Lord!" He rolled his eyes upward. "You probably can't kill him with an — Carolyn Brown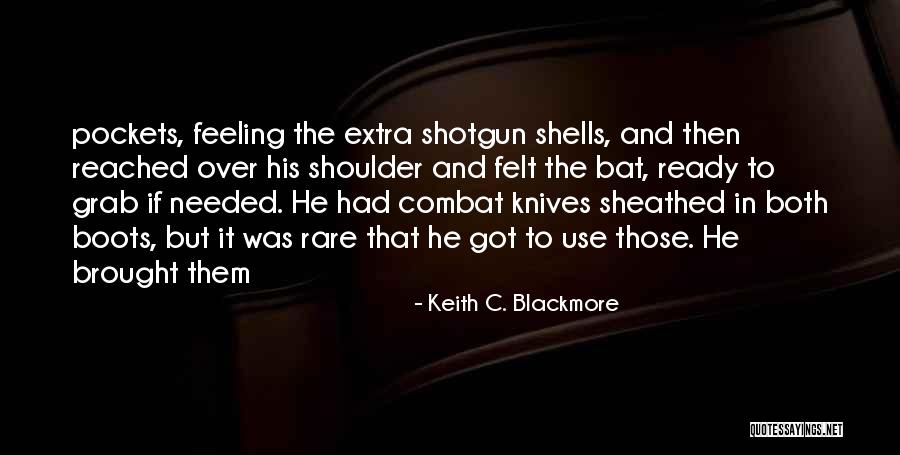 pockets, feeling the extra shotgun shells, and then reached over his shoulder and felt the bat, ready to grab if needed. He had combat knives sheathed in both boots, but it was rare that he got to use those. He brought them — Keith C. Blackmore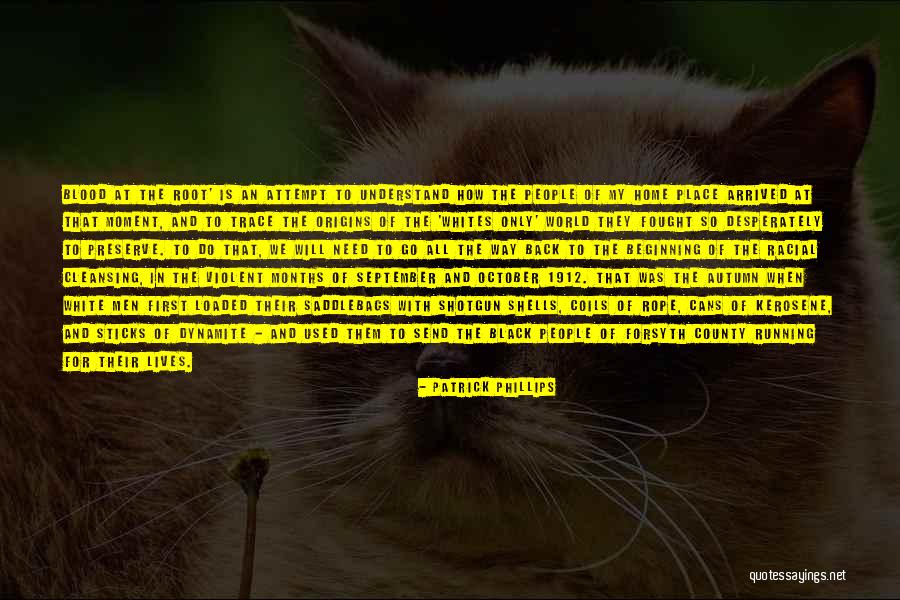 Blood at the Root' is an attempt to understand how the people of my home place arrived at that moment, and to trace the origins of the 'whites only' world they fought so desperately to preserve. To do that, we will need to go all the way back to the beginning of the racial cleansing, in the violent months of September and October 1912. That was the autumn when white men first loaded their saddlebags with shotgun shells, coils of rope, cans of kerosene, and sticks of dynamite - and used them to send the black people of Forsyth County running for their lives. — Patrick Phillips