Seed Sown Quotes & Sayings
Enjoy reading and share 60 famous quotes about Seed Sown with everyone.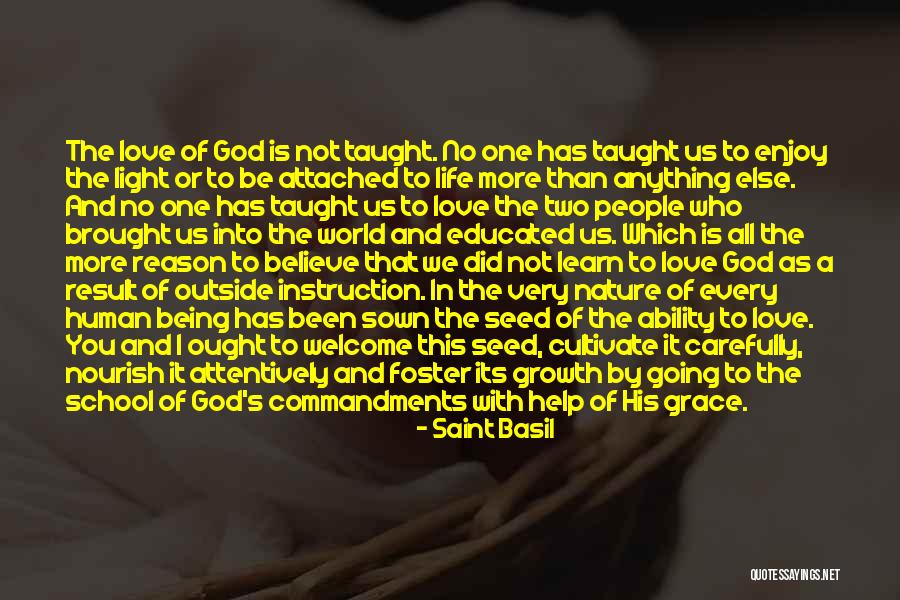 The love of God is not taught. No one has taught us to enjoy the light or to be attached to life more than anything else. And no one has taught us to love the two people who brought us into the world and educated us. Which is all the more reason to believe that we did not learn to love God as a result of outside instruction. In the very nature of every human being has been sown the seed of the ability to love. You and I ought to welcome this seed, cultivate it carefully, nourish it attentively and foster its growth by going to the school of God's commandments with help of His grace. — Saint Basil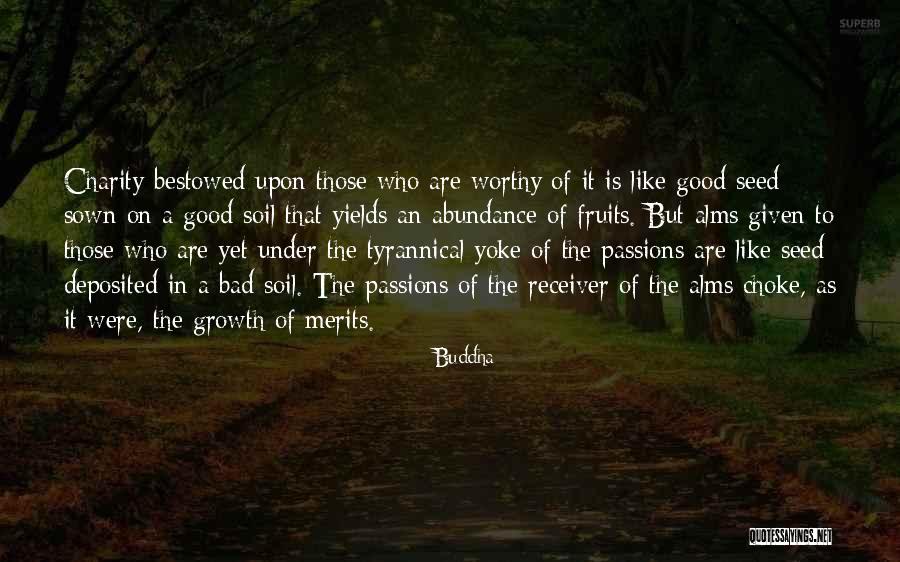 Charity bestowed upon those who are worthy of it is like good seed sown on a good soil that yields an abundance of fruits. But alms given to those who are yet under the tyrannical yoke of the passions are like seed deposited in a bad soil. The passions of the receiver of the alms choke, as it were, the growth of merits. — Buddha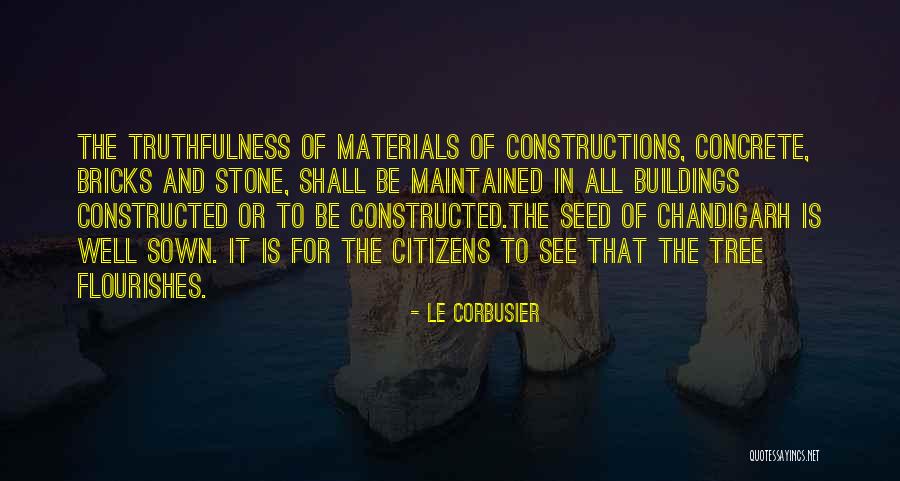 The truthfulness of materials of constructions, concrete, bricks and stone, shall be maintained in all buildings constructed or to be constructed.The seed of Chandigarh is well sown. It is for the citizens to see that the tree flourishes. — Le Corbusier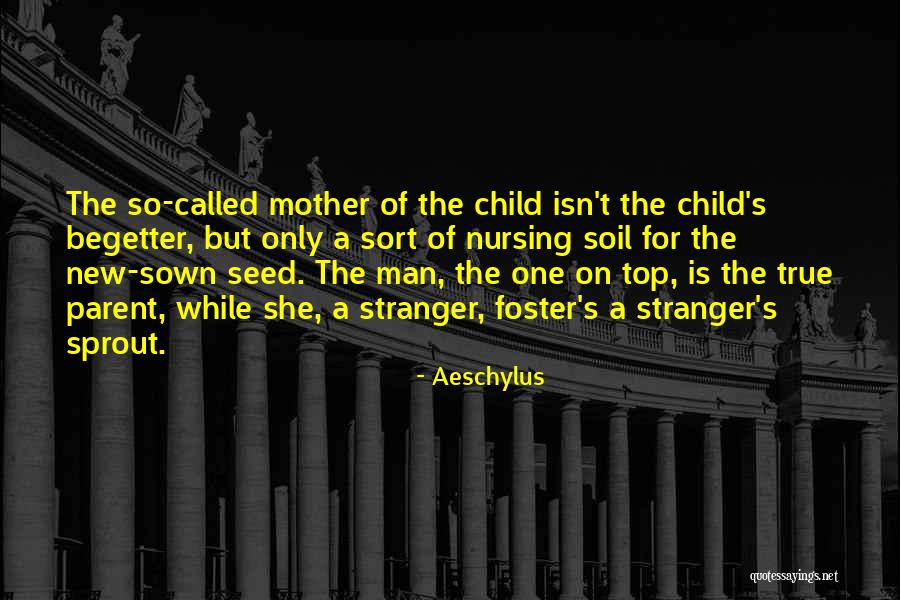 The so-called mother of the child isn't the child's begetter, but only a sort of nursing soil for the new-sown seed. The man, the one on top, is the true parent, while she, a stranger, foster's a stranger's sprout. — Aeschylus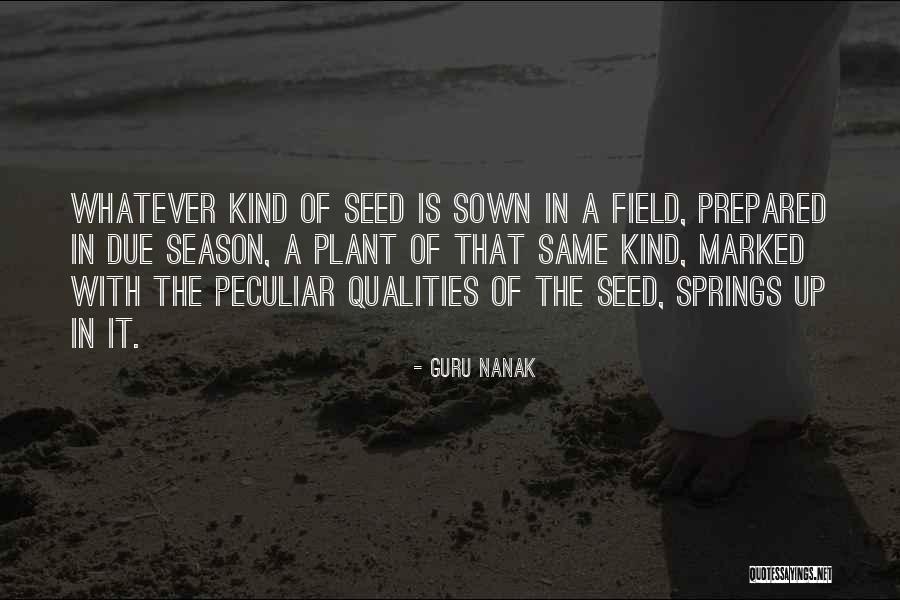 Whatever kind of seed is sown in a field, prepared in due season, a plant of that same kind, marked with the peculiar qualities of the seed, springs up in it. — Guru Nanak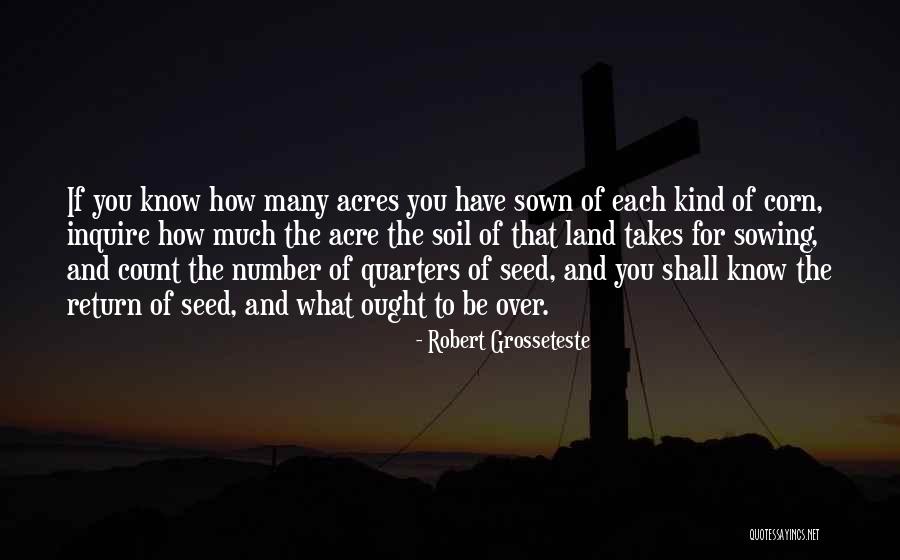 If you know how many acres you have sown of each kind of corn, inquire how much the acre the soil of that land takes for sowing, and count the number of quarters of seed, and you shall know the return of seed, and what ought to be over. — Robert Grosseteste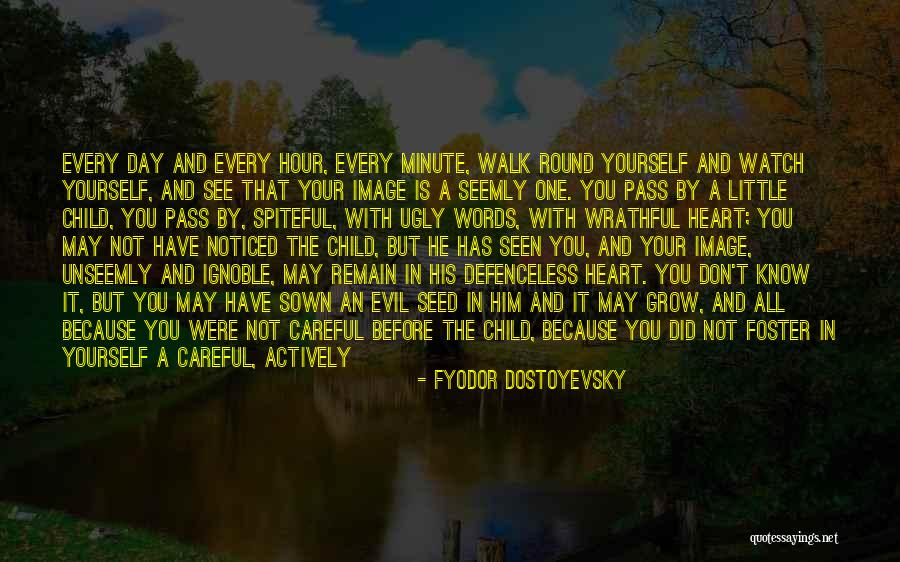 Every day and every hour, every minute, walk round yourself and watch yourself, and see that your image is a seemly one. You pass by a little child, you pass by, spiteful, with ugly words, with wrathful heart; you may not have noticed the child, but he has seen you, and your image, unseemly and ignoble, may remain in his defenceless heart. You don't know it, but you may have sown an evil seed in him and it may grow, and all because you were not careful before the child, because you did not foster in yourself a careful, actively benevolent love. Brothers, love is a teacher; but one must know how to acquire it, for it is hard to acquire, it is dearly bought, it is won slowly by long labour. For we must love not only occasionally, for a moment, but for ever. Everyone can love occasionally, even the wicked can. — Fyodor Dostoyevsky
The God who is ever uttering himself in the changeful profusions of nature; who takes millions of years to form a soul that shall understand him and be blessed; who never needs to be, and never is, in haste; who welcomes the simplest thought of truth or beauty as the return for seed he has sown upon the old fallows of eternity, who rejoices in the response of a faltering moment to the age-long cry of his wisdom in the streets; the God of music, of painting, of building, the Lord of Hosts, the God of mountains and oceans; whose laws go forth from one unseen point of wisdom, and thither return without an atom of loss; the God of history working in time unto christianity; this God is the God of little children, and he alone can be perfectly, abandonedly simple and devoted. — George MacDonald
And now the minister prayed. A good, generous prayer it was, and went into details: it pleaded for the church, and the little children of the church; for the other churches of the village; for the village itself; for the county; for the State; for the State officers; for the United States; for the churches of the United States; for Congress; for the President; for the officers of the Government; for poor sailors, tossed by stormy seas; for the oppressed millions groaning under the heel of European monarchies and Oriental despotisms; for such as have the light and the good tidings, and yet have not eyes to see nor ears to hear withal; for the heathen in the far islands of the sea; and closed with a supplication that the words he was about to speak might find grace and favor, and be as seed sown in fertile ground, yielding in time a grateful harvest of good. Amen. — Mark Twain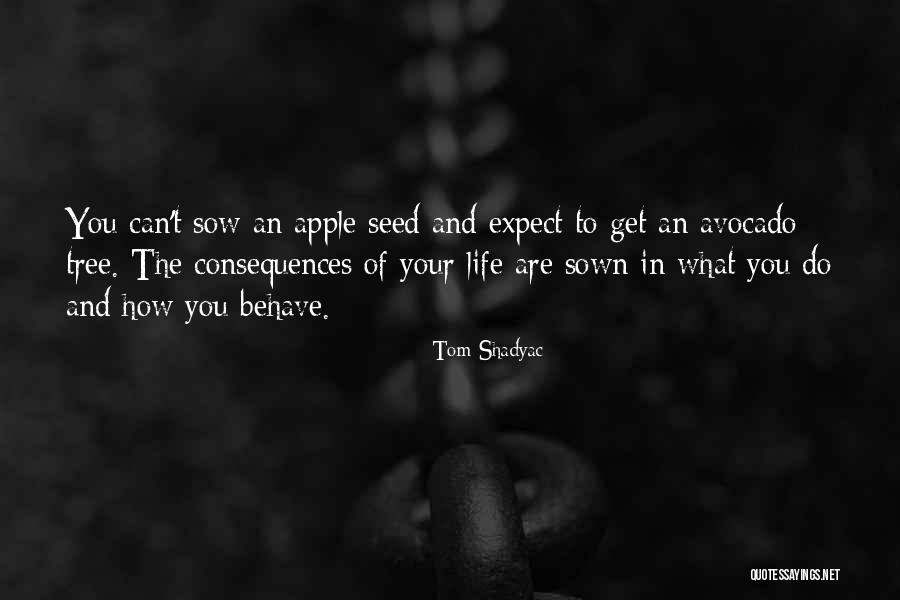 You can't sow an apple seed and expect to get an avocado tree. The consequences of your life are sown in what you do and how you behave. — Tom Shadyac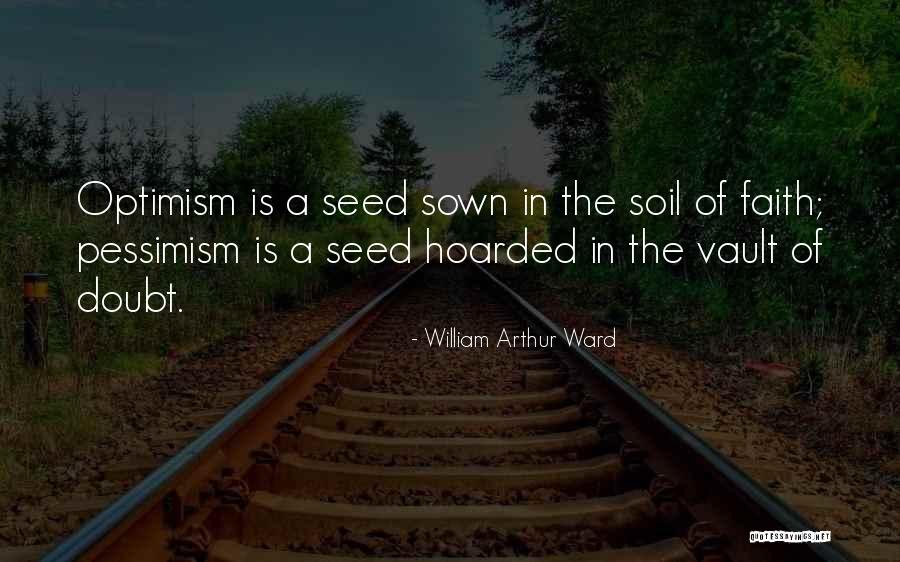 Optimism is a seed sown in the soil of faith; pessimism is a seed hoarded in the vault of doubt. — William Arthur Ward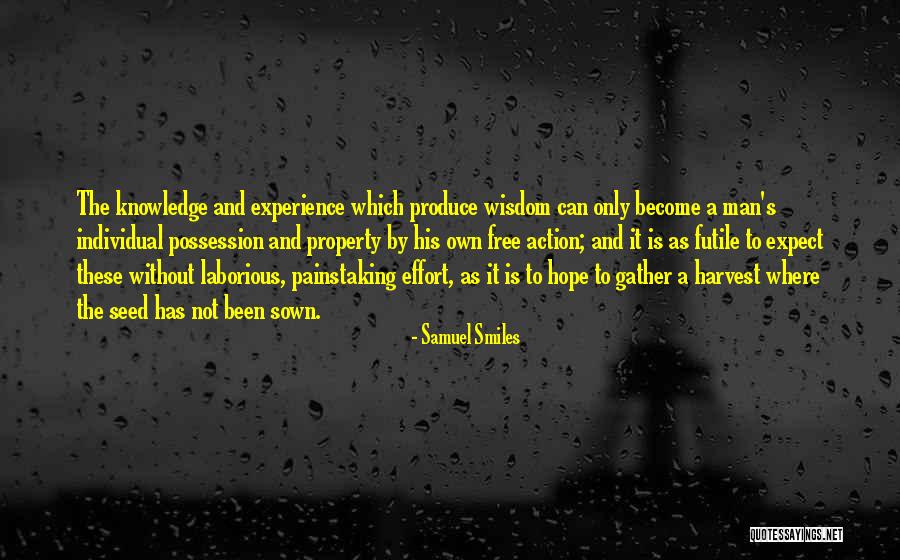 The knowledge and experience which produce wisdom can only become a man's individual possession and property by his own free action; and it is as futile to expect these without laborious, painstaking effort, as it is to hope to gather a harvest where the seed has not been sown. — Samuel Smiles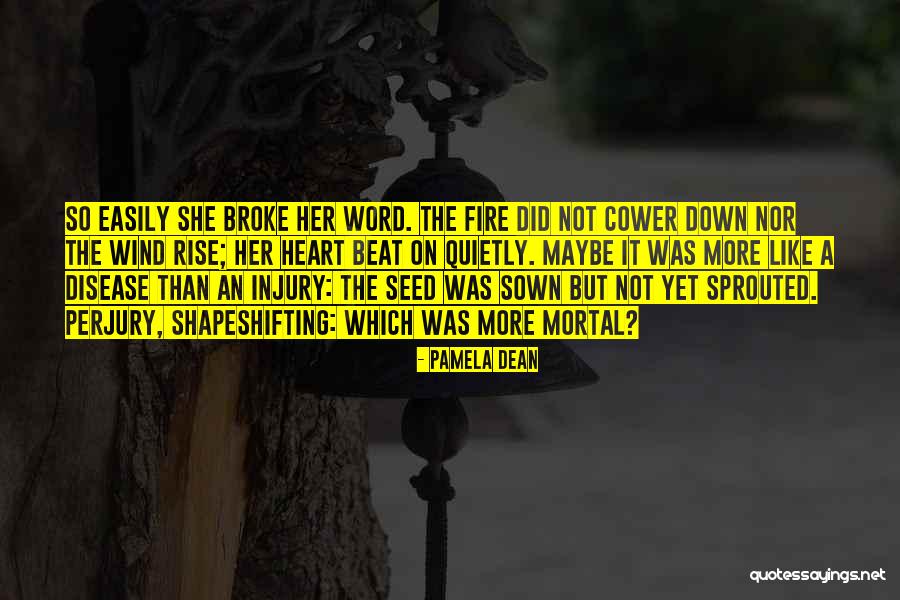 So easily she broke her word. The fire did not cower down nor the wind rise; her heart beat on quietly. Maybe it was more like a disease than an injury: the seed was sown but not yet sprouted. Perjury, shapeshifting: which was more mortal? — Pamela Dean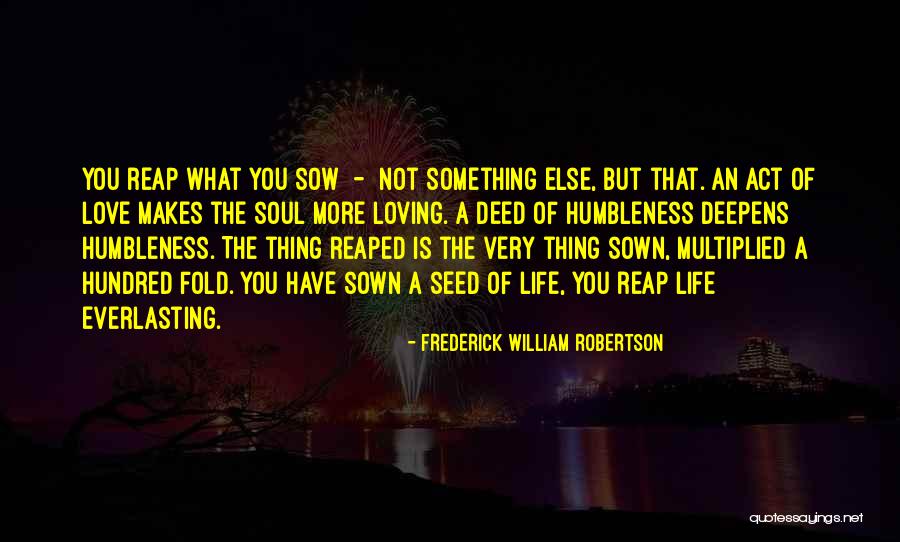 You reap what you sow - not something else, but that. An act of love makes the soul more loving. A deed of humbleness deepens humbleness. The thing reaped is the very thing sown, multiplied a hundred fold. You have sown a seed of life, you reap life everlasting. — Frederick William Robertson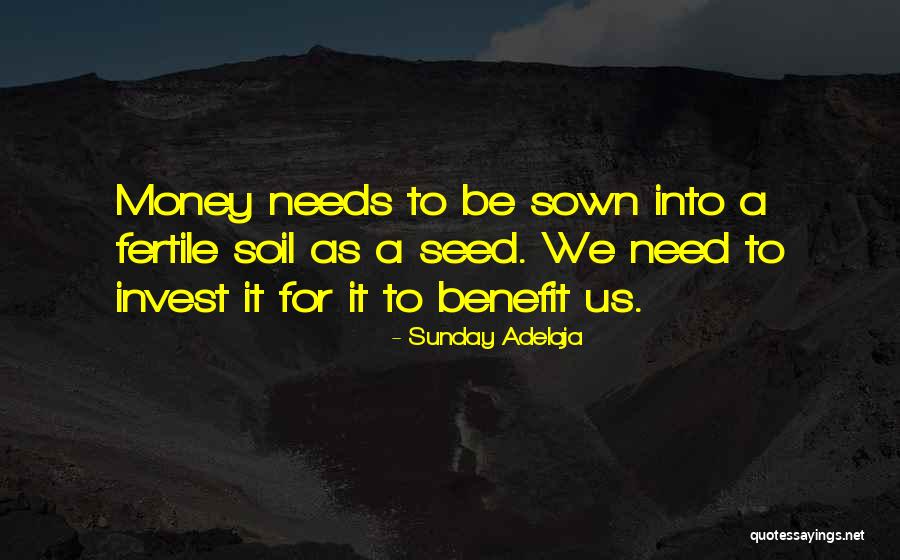 Money needs to be sown into a fertile soil as a seed. We need to invest it for it to benefit us. — Sunday Adelaja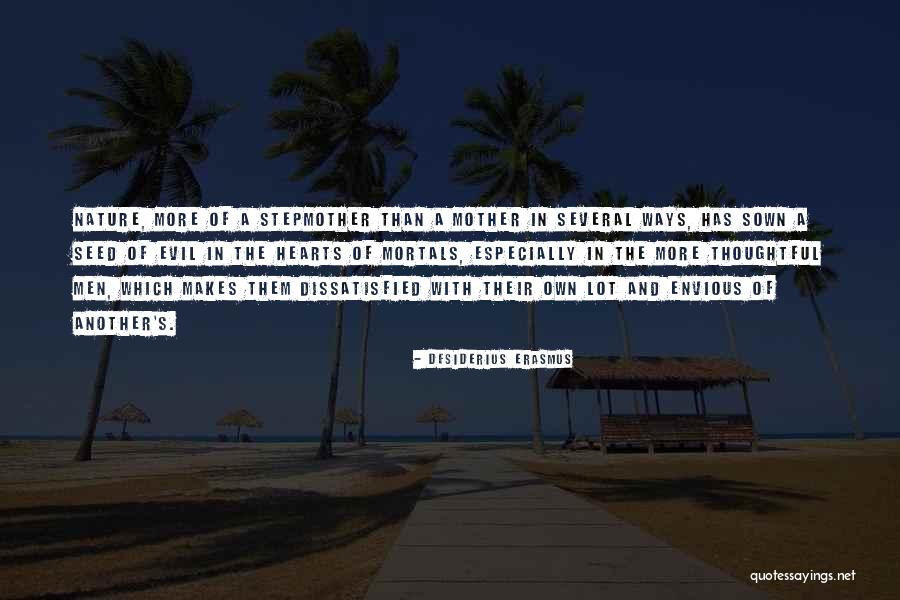 Nature, more of a stepmother than a mother in several ways, has sown a seed of evil in the hearts of mortals, especially in the more thoughtful men, which makes them dissatisfied with their own lot and envious of another's. — Desiderius Erasmus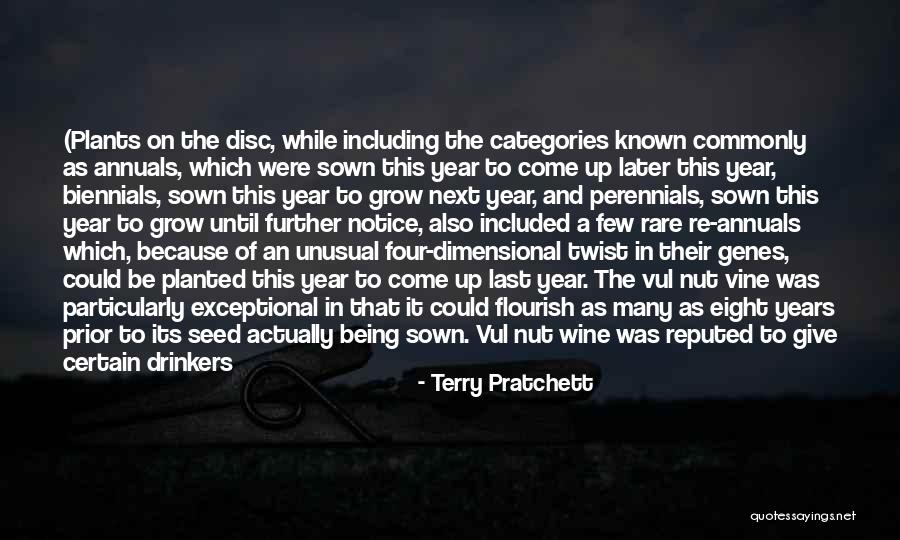 (Plants on the disc, while including the categories known commonly as annuals, which were sown this year to come up later this year, biennials, sown this year to grow next year, and perennials, sown this year to grow until further notice, also included a few rare re-annuals which, because of an unusual four-dimensional twist in their genes, could be planted this year to come up last year. The vul nut vine was particularly exceptional in that it could flourish as many as eight years prior to its seed actually being sown. Vul nut wine was reputed to give certain drinkers an insight into the future which was, from the nut's point of view, the past. Strange but true.) — Terry Pratchett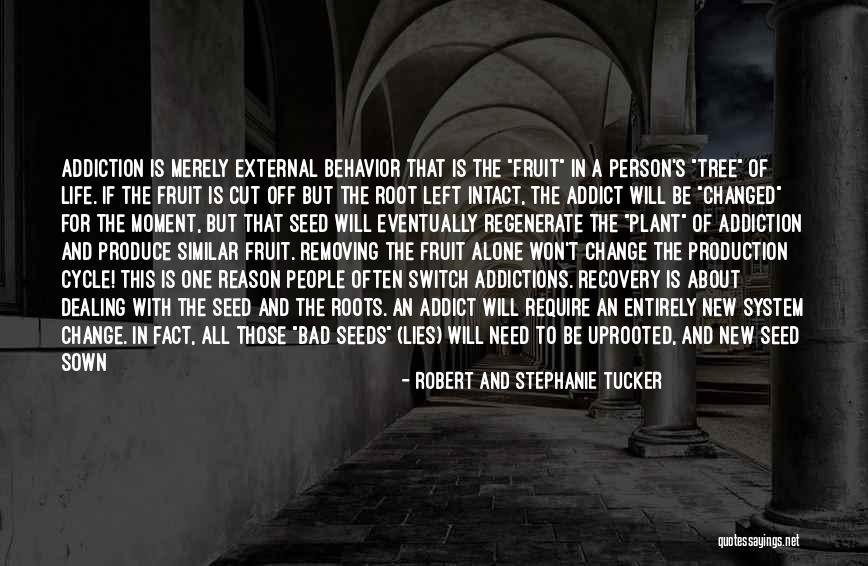 Addiction is merely external behavior that is the "fruit" in a person's "tree" of life. If the fruit is cut off but the root left intact, the addict will be "changed" for the moment, but that seed will eventually regenerate the "plant" of addiction and produce similar fruit. Removing the fruit alone won't change the production cycle! This is one reason people often switch addictions. Recovery is about dealing with the seed and the roots. An addict will require an entirely new system change. In fact, all those "bad seeds" (lies) will need to be uprooted, and new seed sown in order to establish the production of God's fruit - fruit that leads to abundant life in Him. — Robert And Stephanie Tucker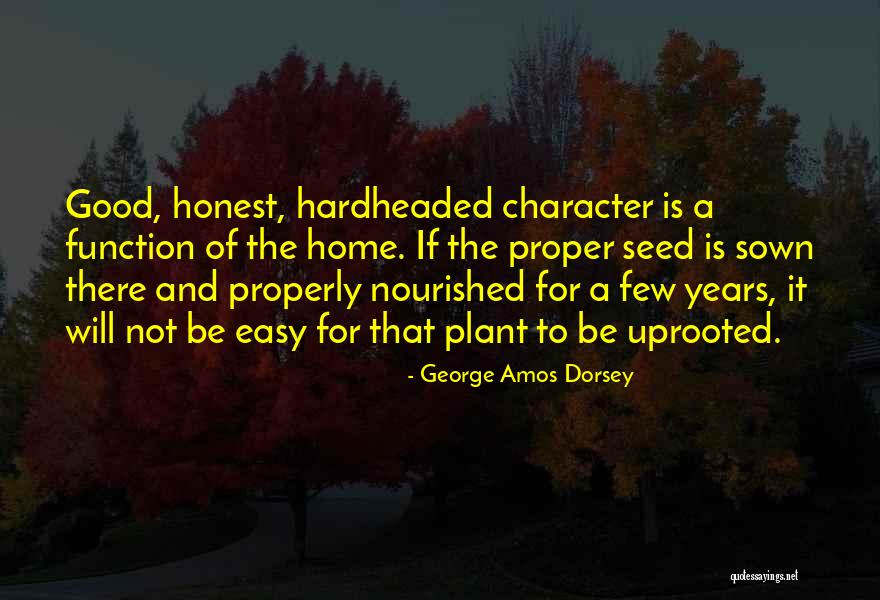 Good, honest, hardheaded character is a function of the home. If the proper seed is sown there and properly nourished for a few years, it will not be easy for that plant to be uprooted. — George Amos Dorsey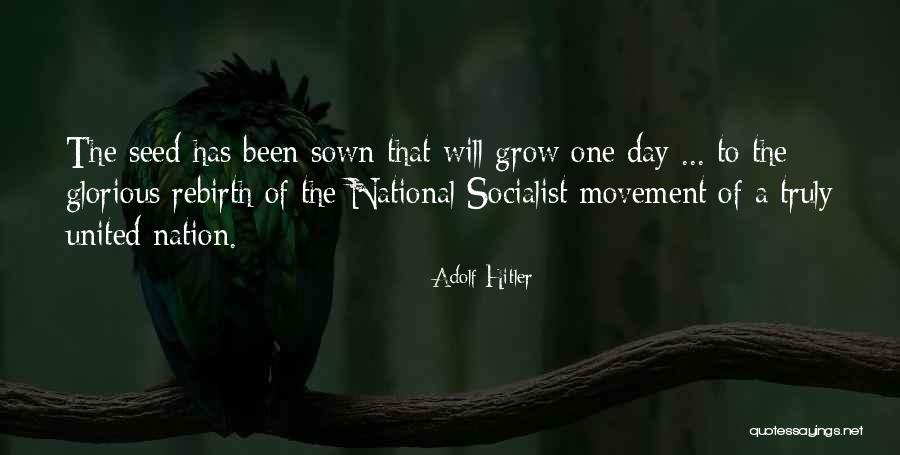 The seed has been sown that will grow one day ... to the glorious rebirth of the National Socialist movement of a truly united nation. — Adolf Hitler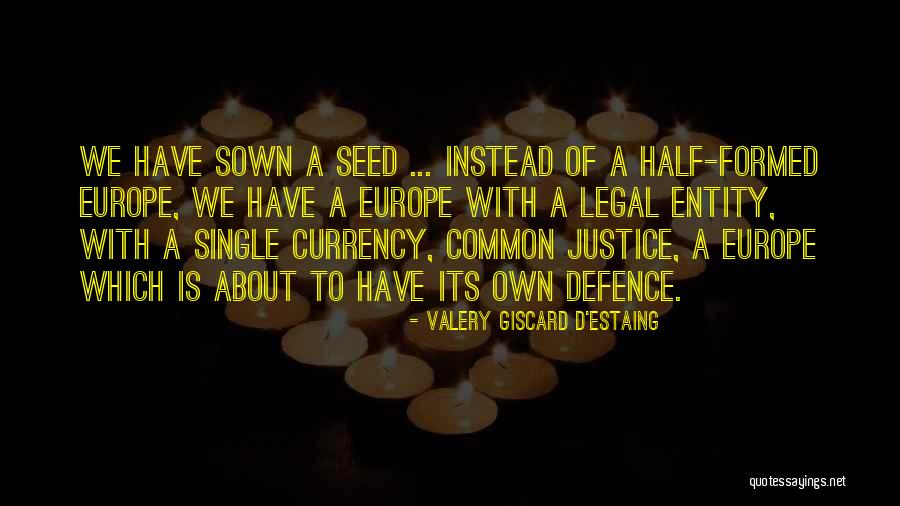 We have sown a seed ... Instead of a half-formed Europe, we have a Europe with a legal entity, with a single currency, common justice, a Europe which is about to have its own defence. — Valery Giscard D'Estaing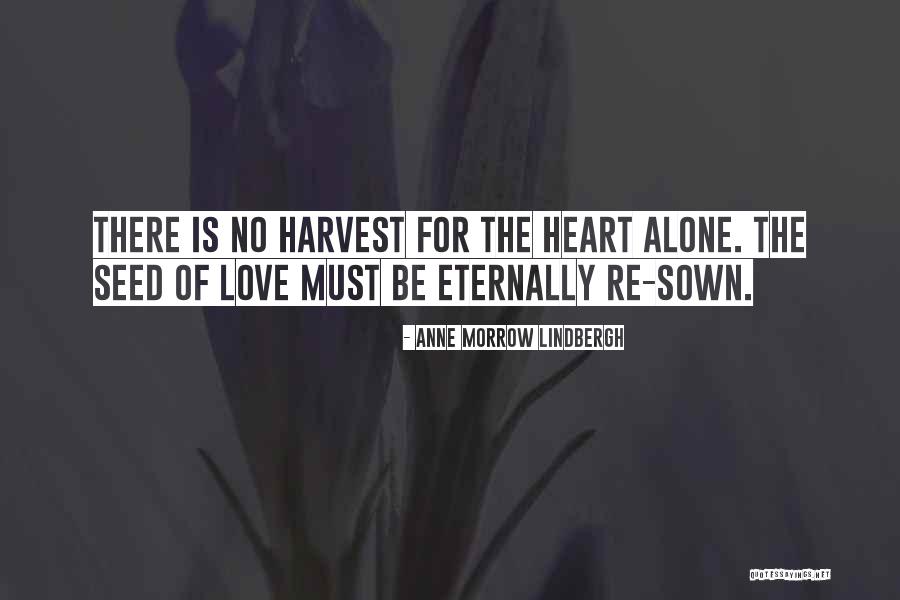 There is no harvest for the heart alone. The seed of love must be eternally re-sown. — Anne Morrow Lindbergh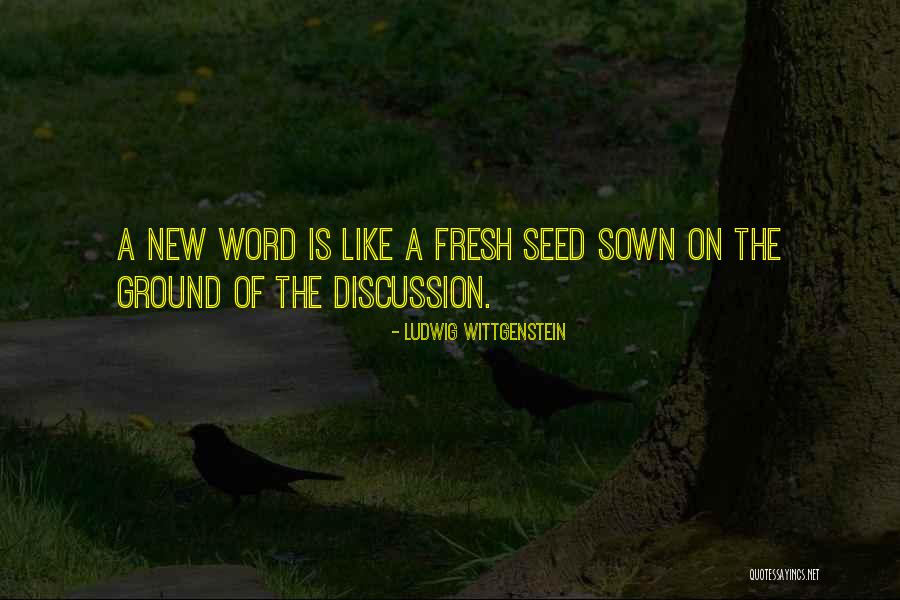 A new word is like a fresh seed sown on the ground of the discussion. — Ludwig Wittgenstein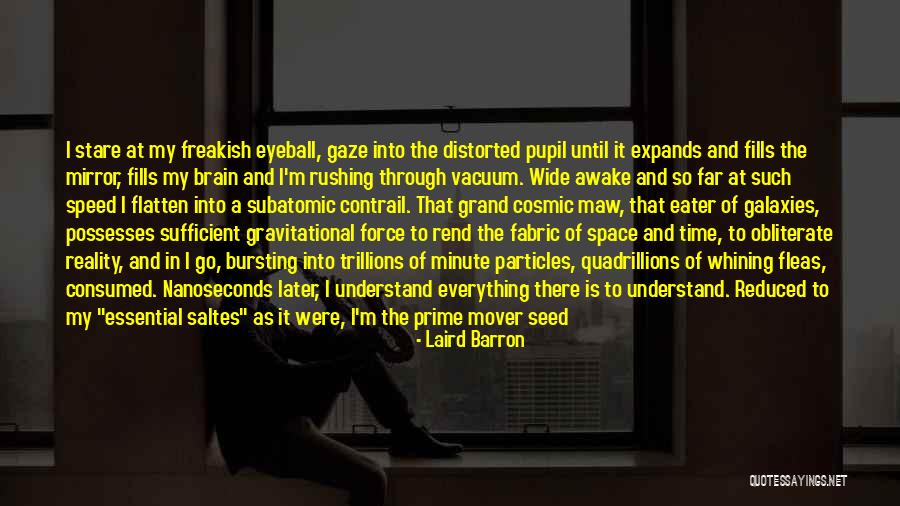 I stare at my freakish eyeball, gaze into the distorted pupil until it expands and fills the mirror, fills my brain and I'm rushing through vacuum. Wide awake and so far at such speed I flatten into a subatomic contrail. That grand cosmic maw, that eater of galaxies, possesses sufficient gravitational force to rend the fabric of space and time, to obliterate reality, and in I go, bursting into trillions of minute particles, quadrillions of whining fleas, consumed. Nanoseconds later, I understand everything there is to understand. Reduced to my "essential saltes" as it were, I'm the prime mover seed that gets sown after the heat death of the universe when the Ouroboros swallows itself and the cycle begins anew with a big bang. — Laird Barron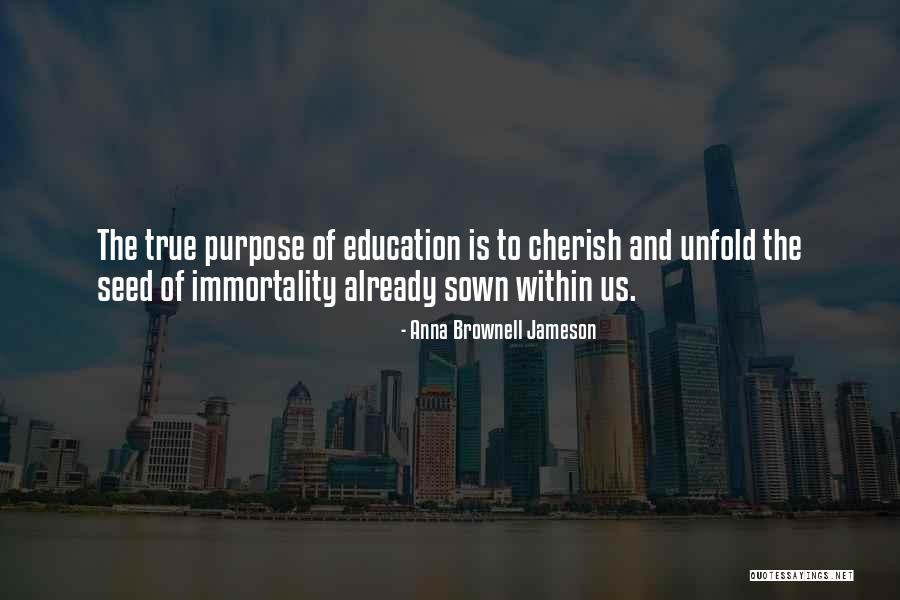 The true purpose of education is to cherish and unfold the seed of immortality already sown within us. — Anna Brownell Jameson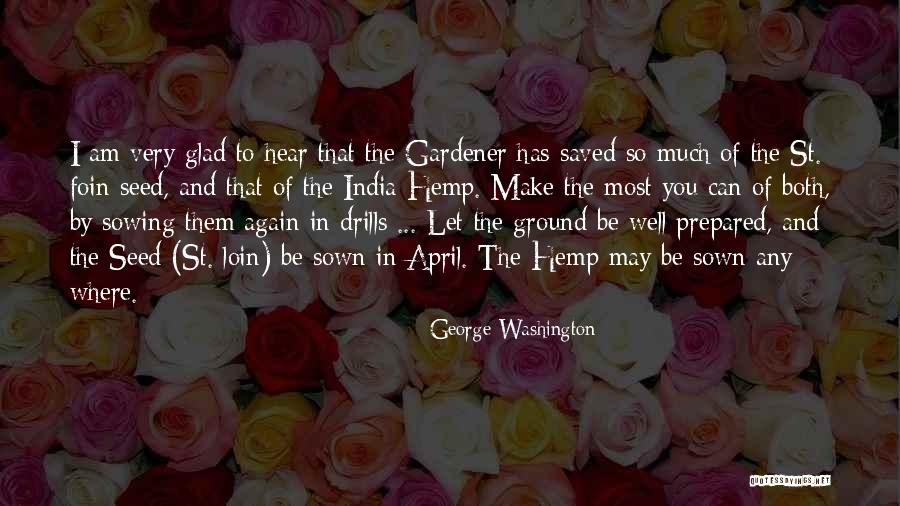 I am very glad to hear that the Gardener has saved so much of the St. foin seed, and that of the India Hemp. Make the most you can of both, by sowing them again in drills ... Let the ground be well prepared, and the Seed (St. loin) be sown in April. The Hemp may be sown any where. — George Washington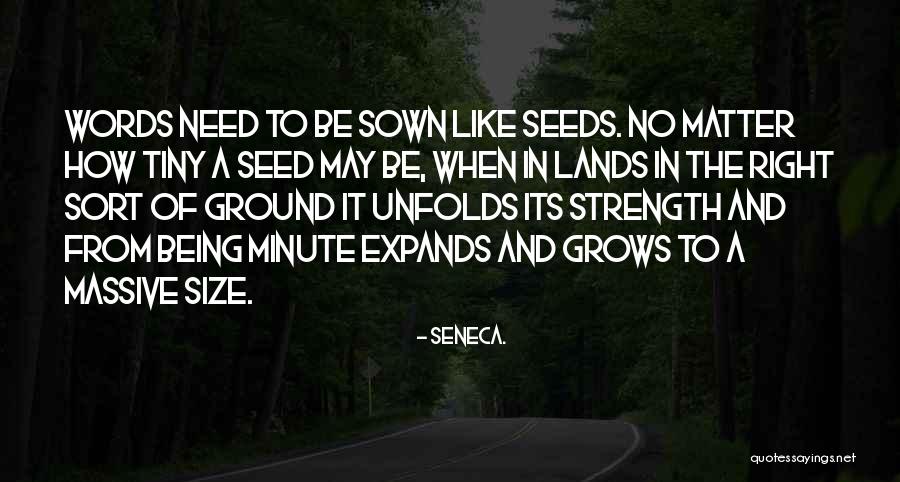 Words need to be sown like seeds. No matter how tiny a seed may be, when in lands in the right sort of ground it unfolds its strength and from being minute expands and grows to a massive size. — Seneca.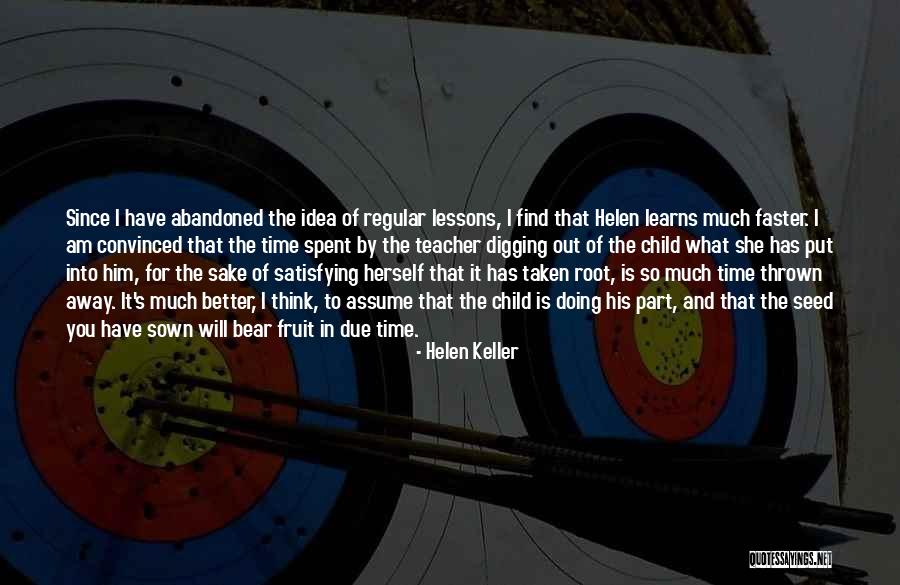 Since I have abandoned the idea of regular lessons, I find that Helen learns much faster. I am convinced that the time spent by the teacher digging out of the child what she has put into him, for the sake of satisfying herself that it has taken root, is so much time thrown away. It's much better, I think, to assume that the child is doing his part, and that the seed you have sown will bear fruit in due time. — Helen Keller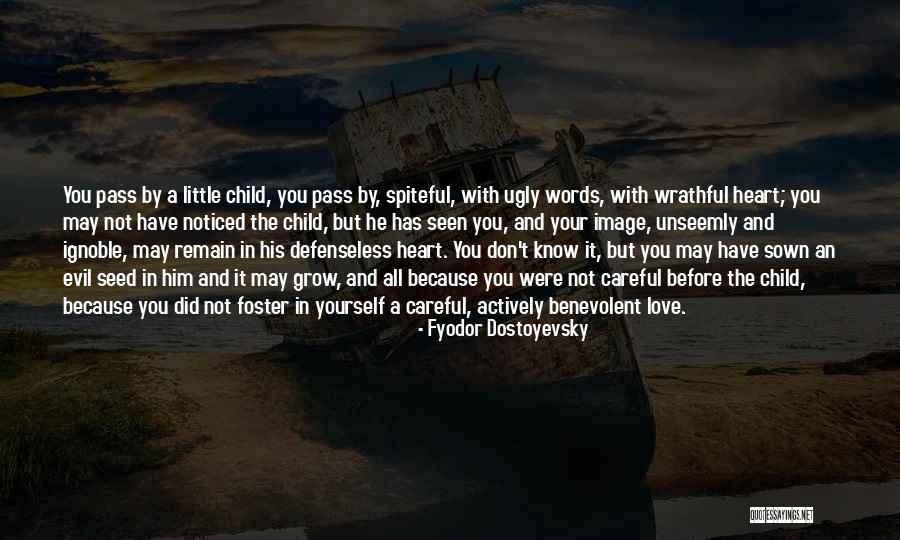 You pass by a little child, you pass by, spiteful, with ugly words, with wrathful heart; you may not have noticed the child, but he has seen you, and your image, unseemly and ignoble, may remain in his defenseless heart. You don't know it, but you may have sown an evil seed in him and it may grow, and all because you were not careful before the child, because you did not foster in yourself a careful, actively benevolent love. — Fyodor Dostoyevsky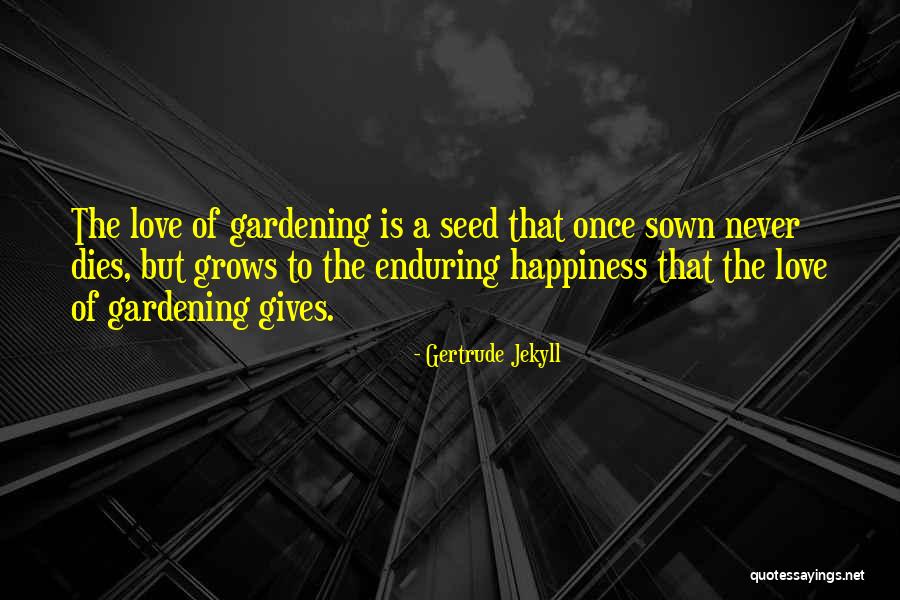 The love of gardening is a seed that once sown never dies, but grows to the enduring happiness that the love of gardening gives. — Gertrude Jekyll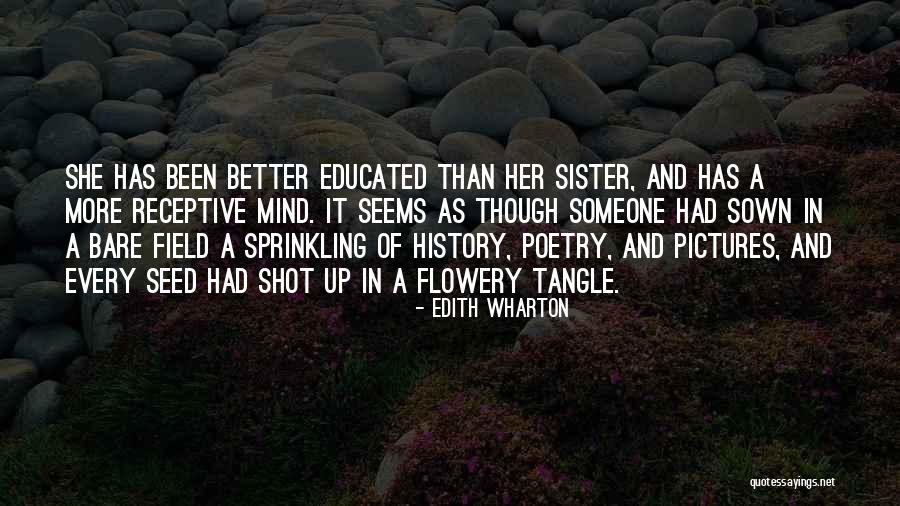 She has been better educated than her sister, and has a more receptive mind. It seems as though someone had sown in a bare field a sprinkling of history, poetry, and pictures, and every seed had shot up in a flowery tangle. — Edith Wharton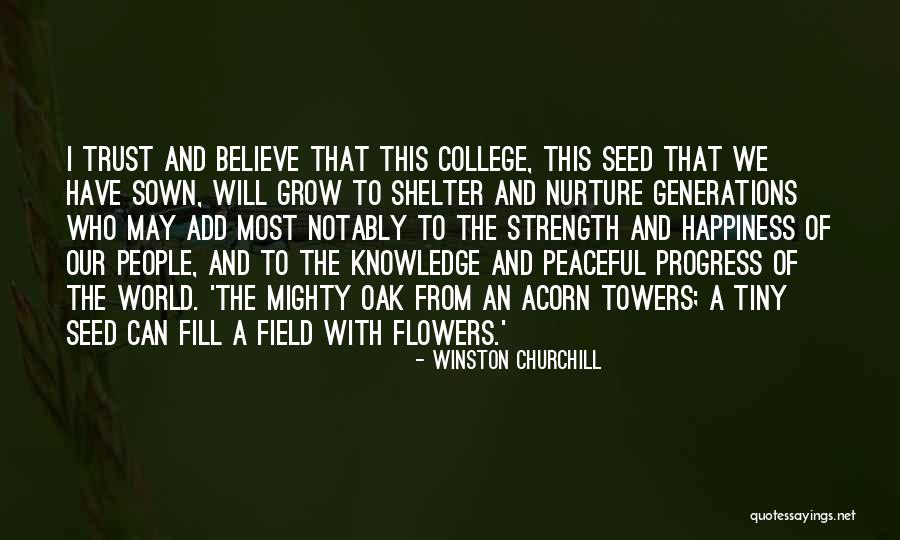 I trust and believe that this College, this seed that we have sown, will grow to shelter and nurture generations who may add most notably to the strength and happiness of our people, and to the knowledge and peaceful progress of the world. 'The mighty oak from an acorn towers; A tiny seed can fill a field with flowers.' — Winston Churchill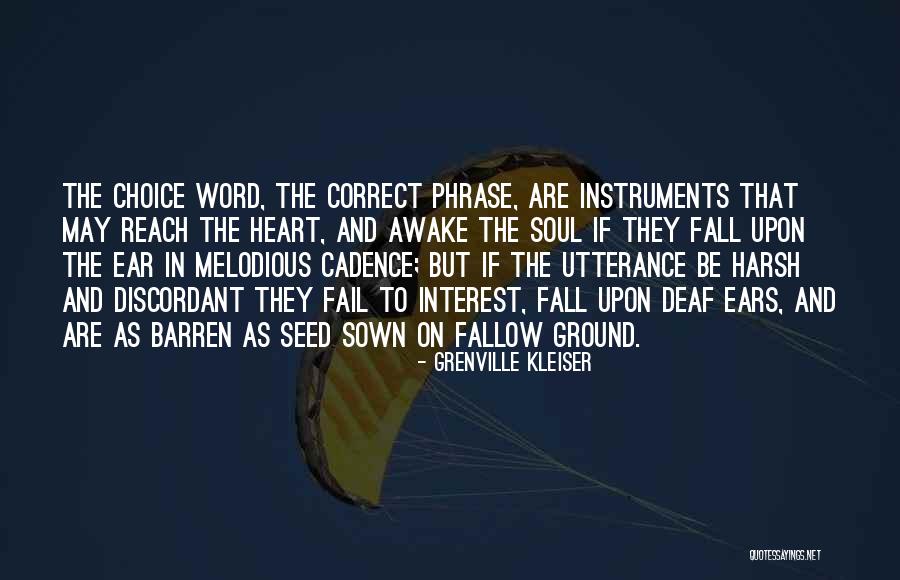 The choice word, the correct phrase, are instruments that may reach the heart, and awake the soul if they fall upon the ear in melodious cadence; but if the utterance be harsh and discordant they fail to interest, fall upon deaf ears, and are as barren as seed sown on fallow ground. — Grenville Kleiser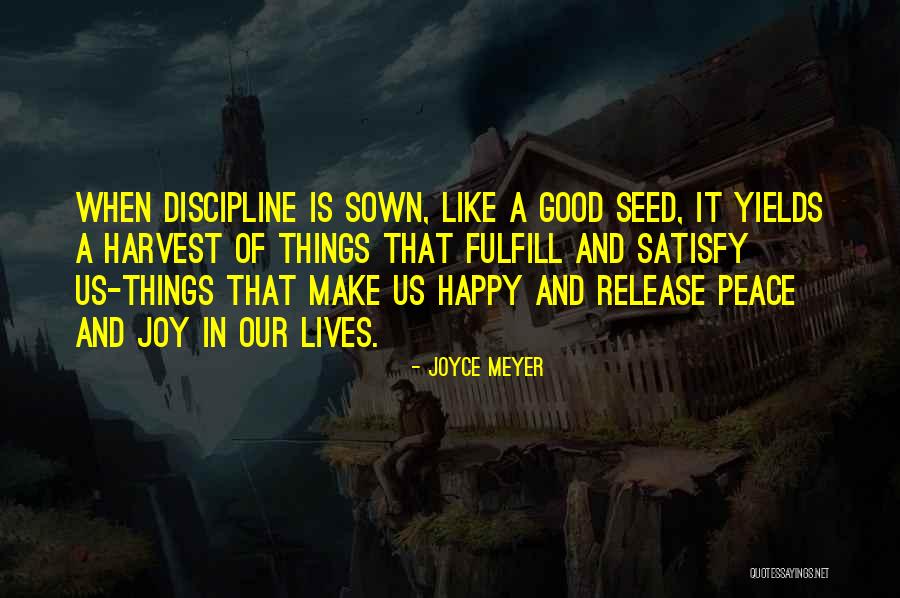 When discipline is sown, like a good seed, it yields a harvest of things that fulfill and satisfy us-things that make us happy and release peace and joy in our lives. — Joyce Meyer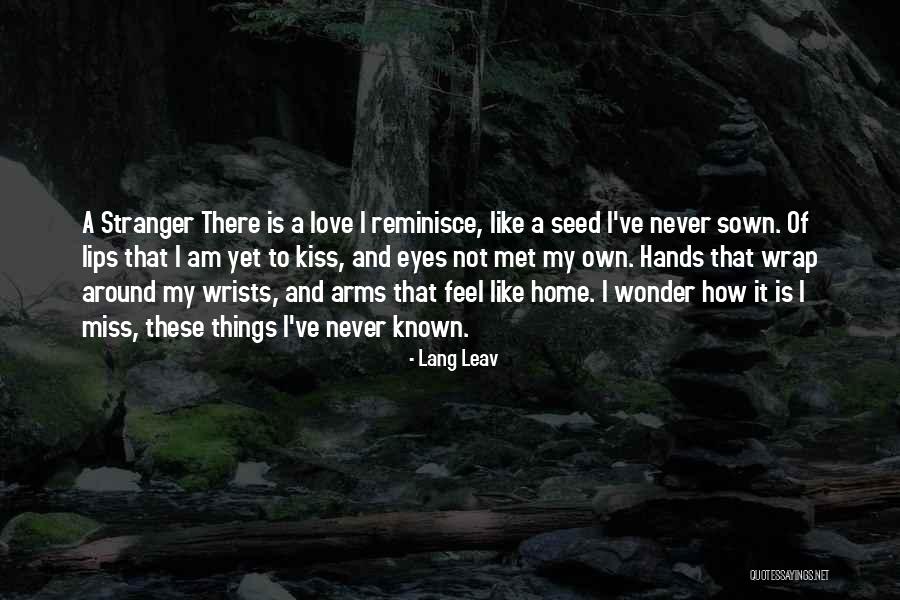 A Stranger There is a love I reminisce, like a seed I've never sown. Of lips that I am yet to kiss, and eyes not met my own. Hands that wrap around my wrists, and arms that feel like home. I wonder how it is I miss, these things I've never known. — Lang Leav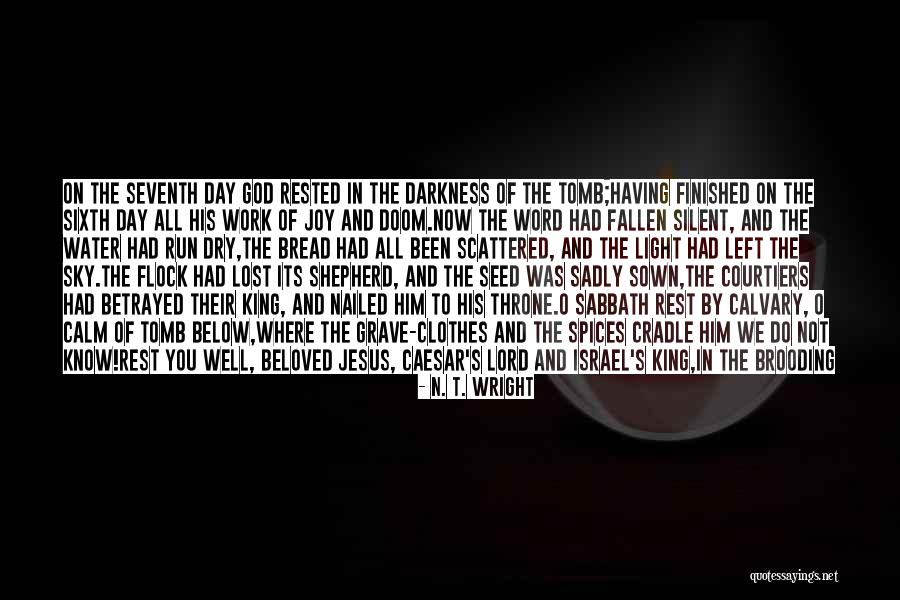 On the seventh day God rested
in the darkness of the tomb;
Having finished on the sixth day
all his work of joy and doom.
Now the Word had fallen silent,
and the water had run dry,
The bread had all been scattered,
and the light had left the sky.
The flock had lost its shepherd,
and the seed was sadly sown,
The courtiers had betrayed their king,
and nailed him to his throne.
O Sabbath rest by Calvary,
O calm of tomb below,
Where the grave-clothes and the spices
cradle him we do not know!
Rest you well, beloved Jesus,
Caesar's Lord and Israel's King,
In the brooding of the Spirit,
in the darkness of the spring. — N. T. Wright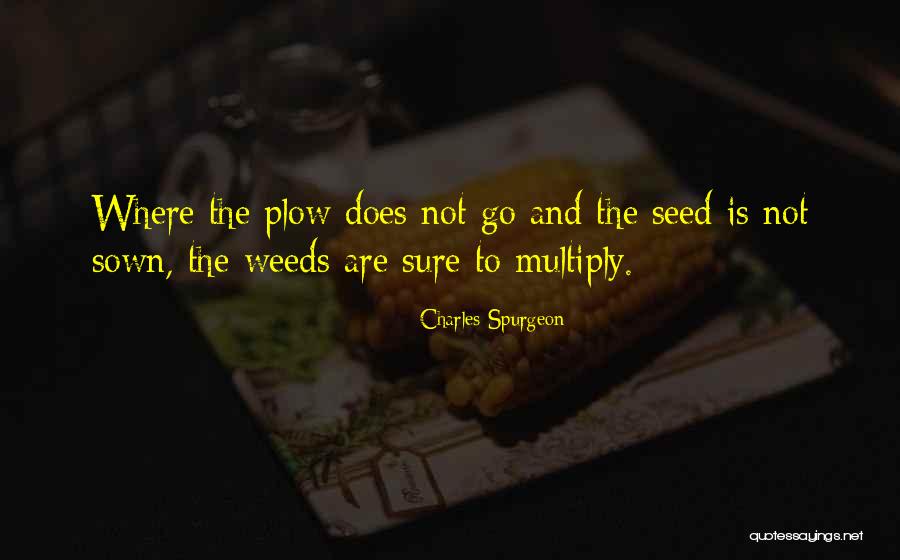 Where the plow does not go and the seed is not sown, the weeds are sure to multiply. — Charles Spurgeon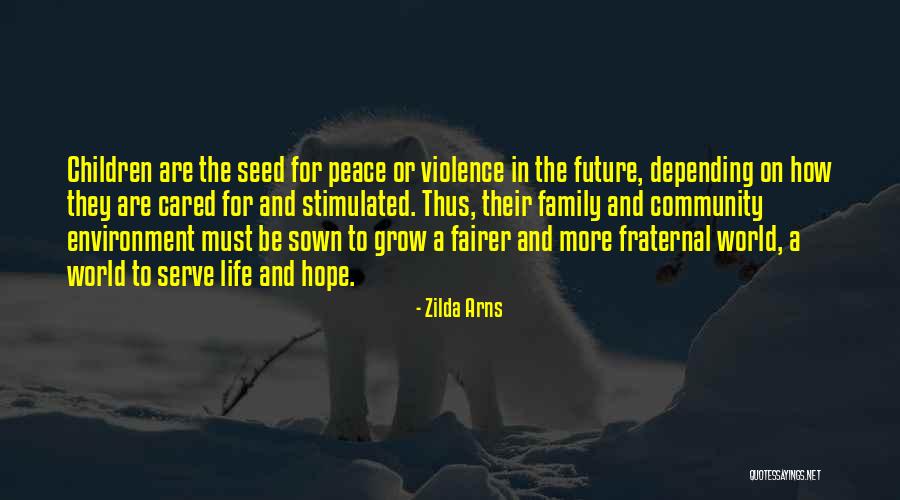 Children are the seed for peace or violence in the future, depending on how they are cared for and stimulated. Thus, their family and community environment must be sown to grow a fairer and more fraternal world, a world to serve life and hope. — Zilda Arns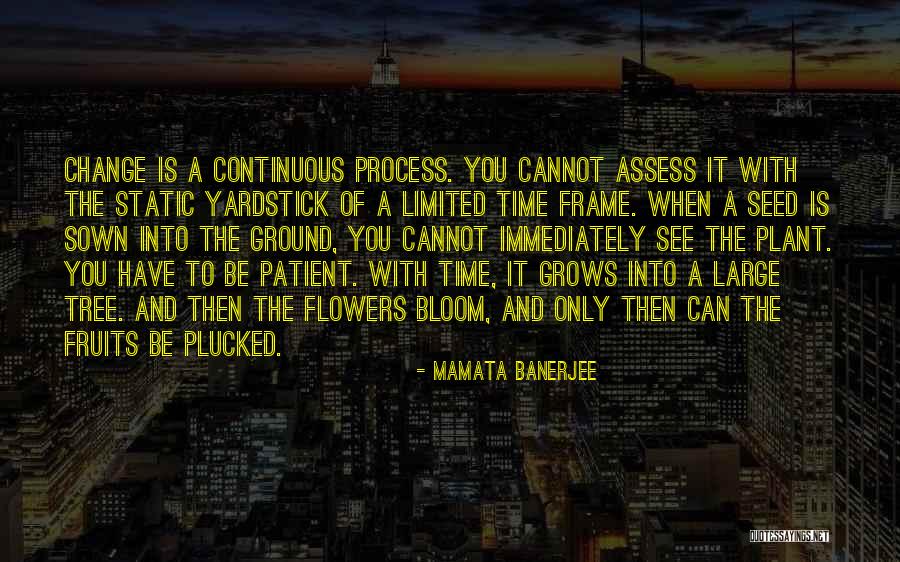 Change is a continuous process. You cannot assess it with the static yardstick of a limited time frame. When a seed is sown into the ground, you cannot immediately see the plant. You have to be patient. With time, it grows into a large tree. And then the flowers bloom, and only then can the fruits be plucked. — Mamata Banerjee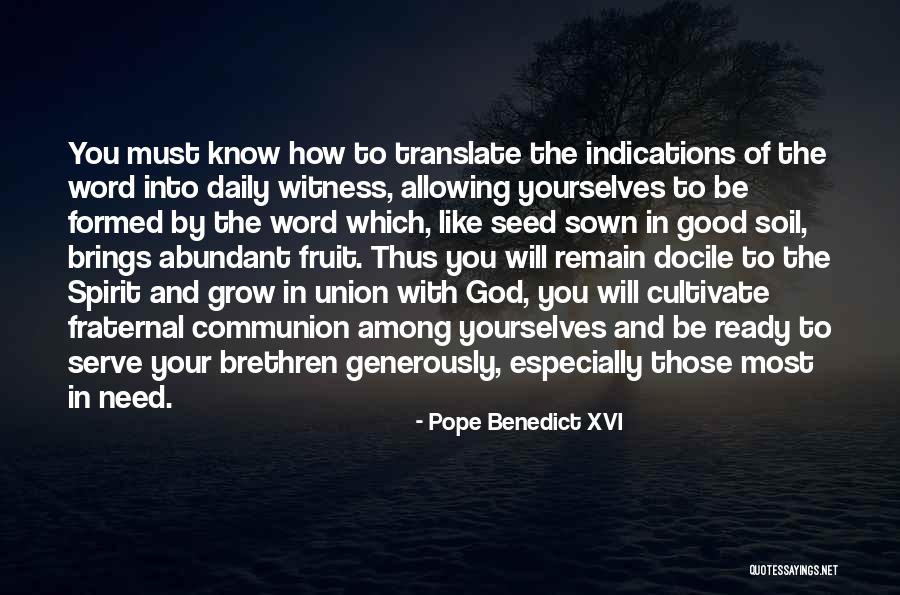 You must know how to translate the indications of the word into daily witness, allowing yourselves to be formed by the word which, like seed sown in good soil, brings abundant fruit. Thus you will remain docile to the Spirit and grow in union with God, you will cultivate fraternal communion among yourselves and be ready to serve your brethren generously, especially those most in need. — Pope Benedict XVI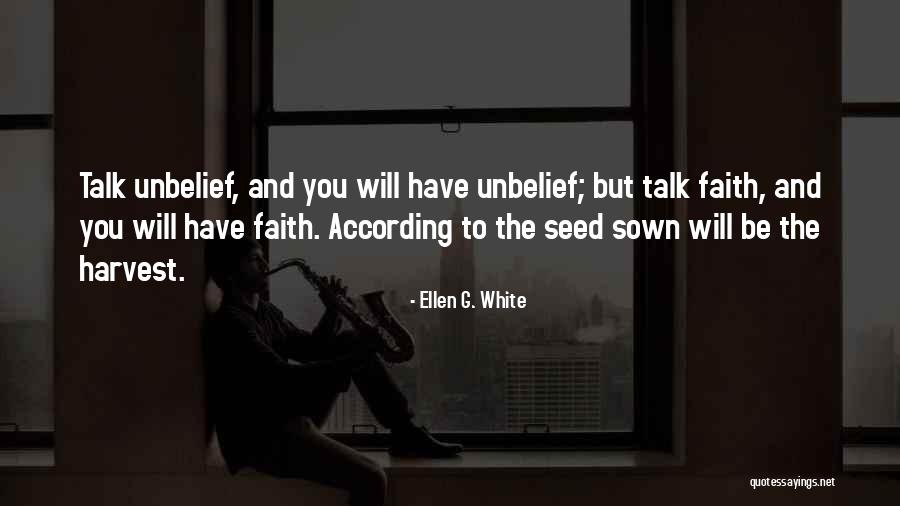 Talk unbelief, and you will have unbelief; but talk faith, and you will have faith. According to the seed sown will be the harvest. — Ellen G. White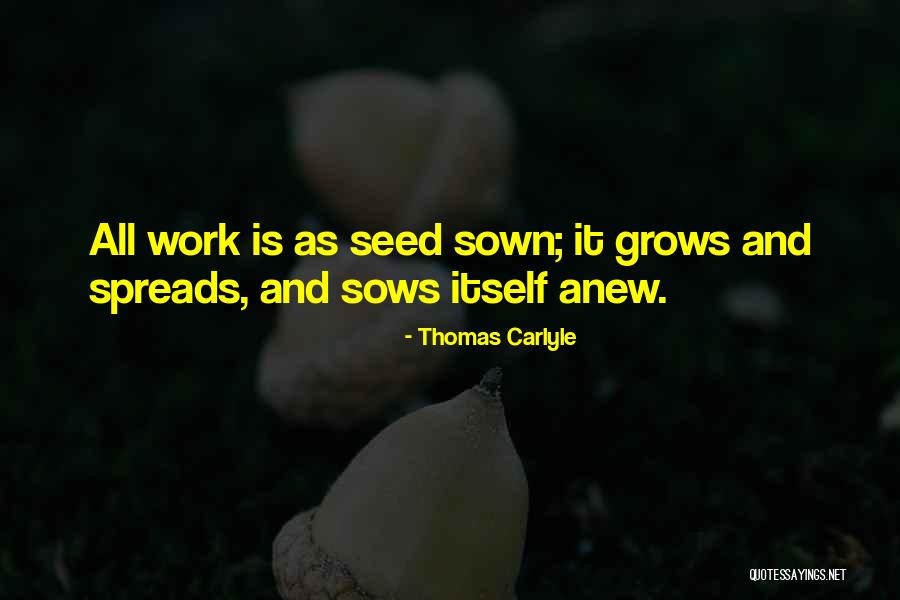 All work is as seed sown; it grows and spreads, and sows itself anew. — Thomas Carlyle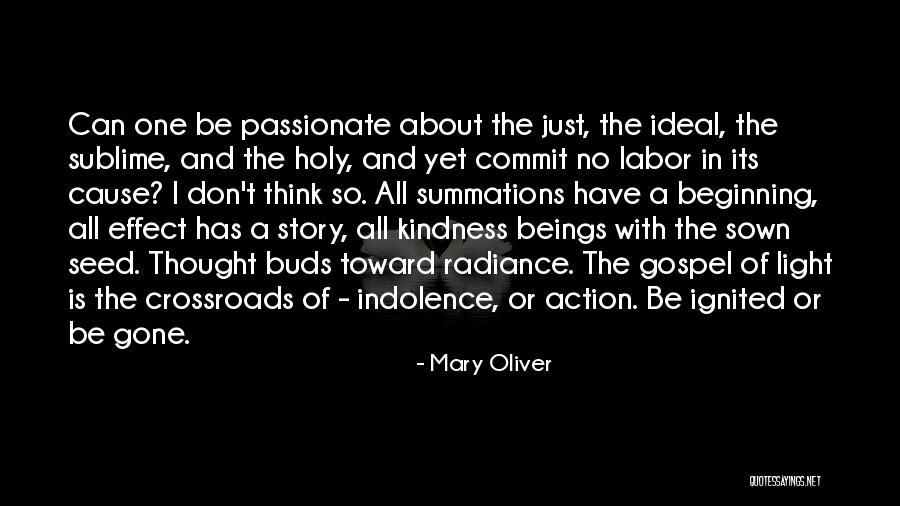 Can one be passionate about the just, the ideal, the sublime, and the holy, and yet commit no labor in its cause? I don't think so. All summations have a beginning, all effect has a story, all kindness beings with the sown seed. Thought buds toward radiance. The gospel of light is the crossroads of - indolence, or action. Be ignited or be gone. — Mary Oliver
In an active life is sown the seed of wisdom ... And age, if it has not esteem, has nothing. — Edward Young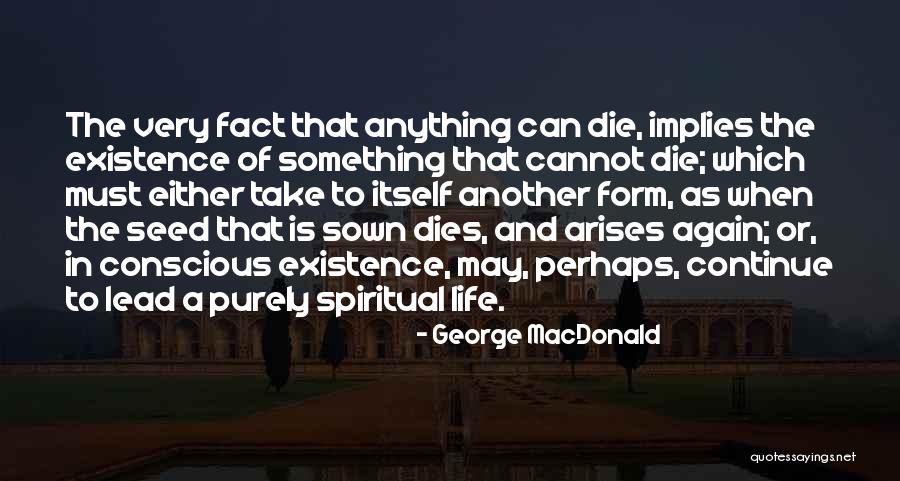 The very fact that anything can die, implies the existence of something that cannot die; which must either take to itself another form, as when the seed that is sown dies, and arises again; or, in conscious existence, may, perhaps, continue to lead a purely spiritual life. — George MacDonald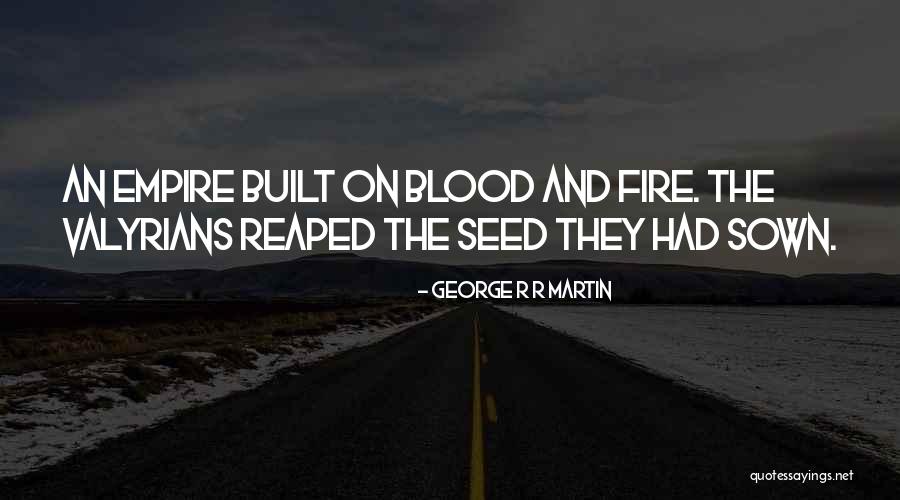 An empire built on blood and fire. The Valyrians reaped the seed they had sown. — George R R Martin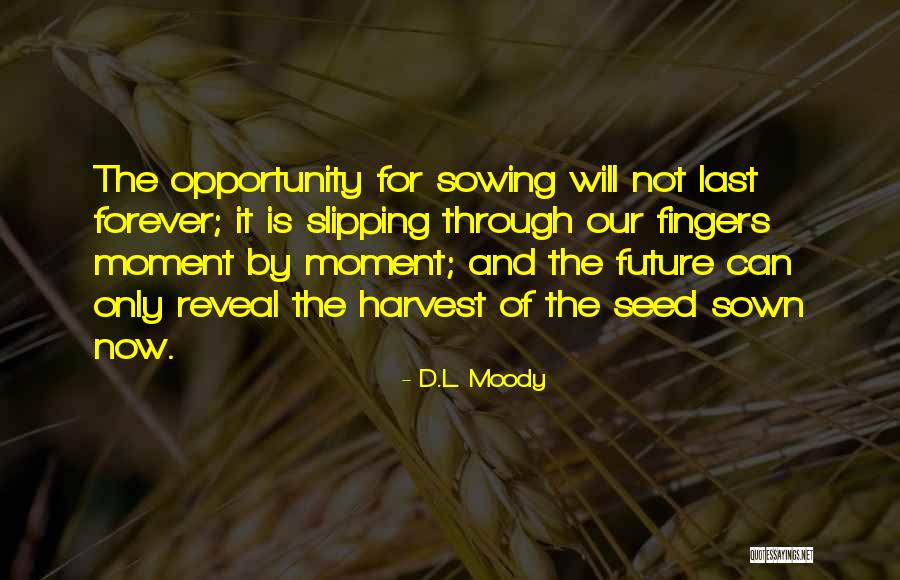 The opportunity for sowing will not last forever; it is slipping through our fingers moment by moment; and the future can only reveal the harvest of the seed sown now. — D.L. Moody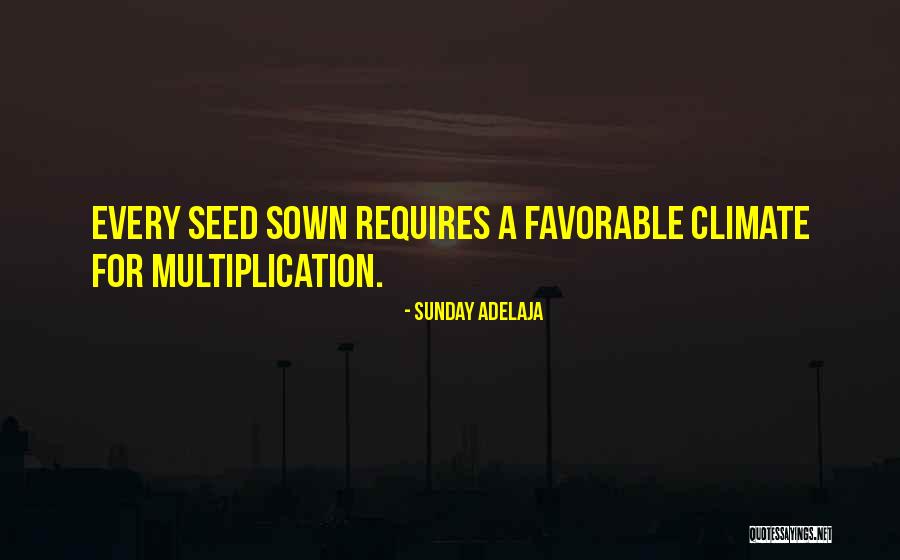 Every seed sown requires a favorable climate for multiplication. — Sunday Adelaja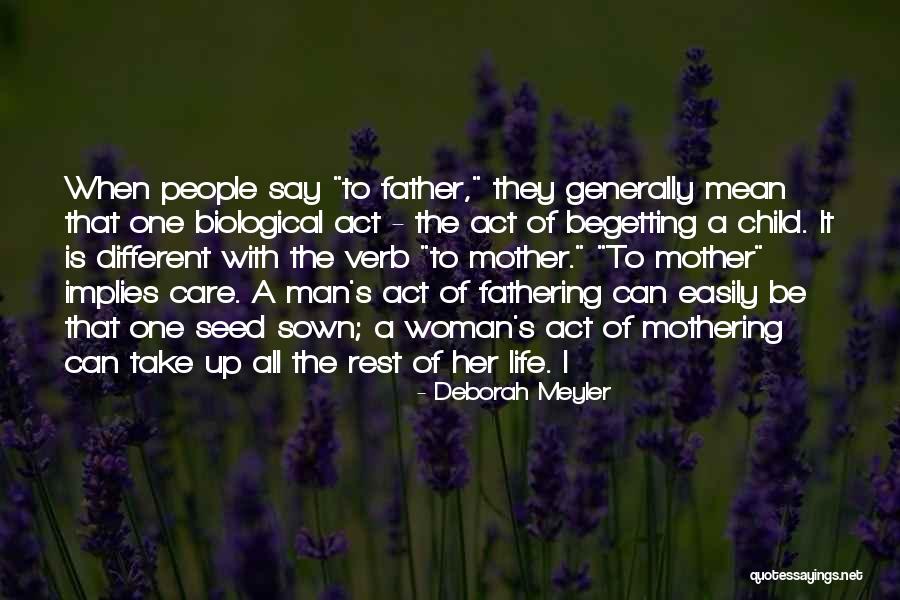 When people say "to father," they generally mean that one biological act - the act of begetting a child. It is different with the verb "to mother." "To mother" implies care. A man's act of fathering can easily be that one seed sown; a woman's act of mothering can take up all the rest of her life. I — Deborah Meyler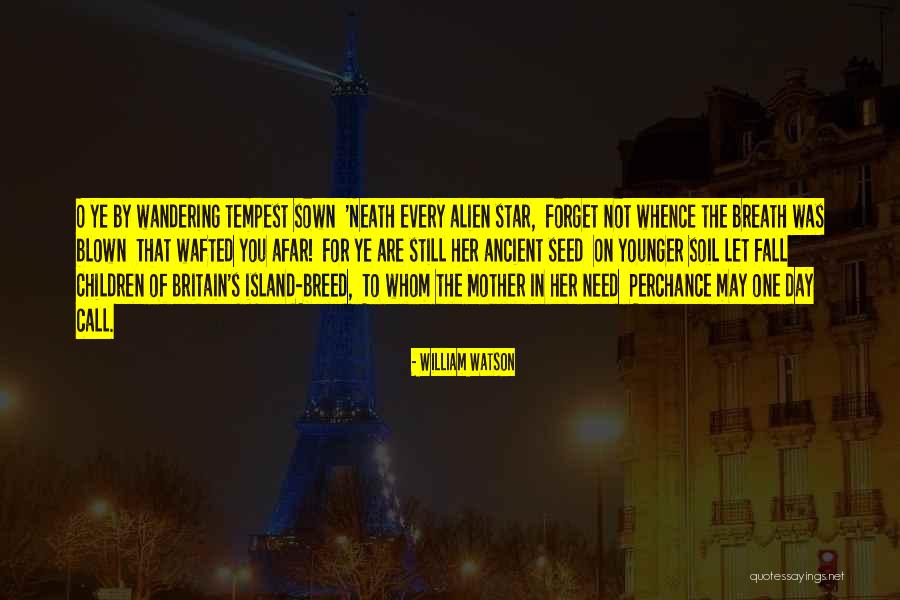 O ye by wandering tempest sown
'Neath every alien star,
Forget not whence the breath was blown
That wafted you afar!
For ye are still her ancient seed
On younger soil let fall
Children of Britain's island-breed,
To whom the Mother in her need
Perchance may one day call. — William Watson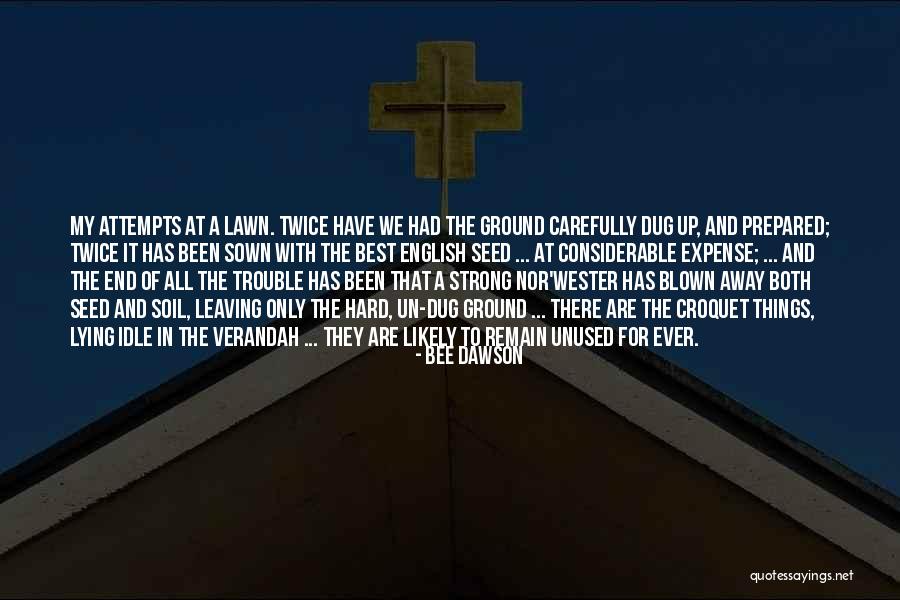 My attempts at a lawn. Twice have we had the ground carefully dug up, and prepared; twice it has been sown with the best English seed ... at considerable expense; ... and the end of all the trouble has been that a strong nor'wester has blown away both seed and soil, leaving only the hard, un-dug ground ... there are the croquet things, lying idle in the verandah ... they are likely to remain unused for ever. — Bee Dawson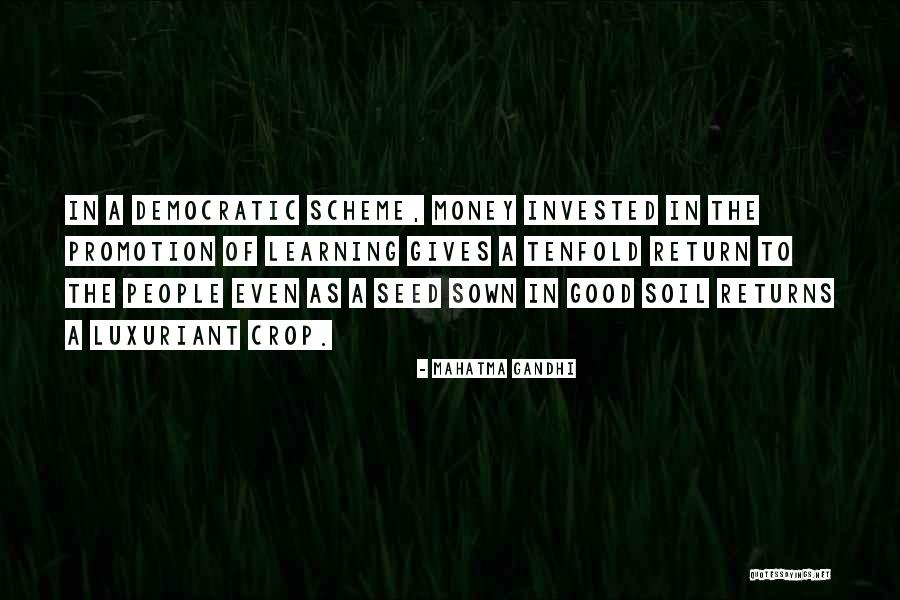 In a democratic scheme, money invested in the promotion of learning gives a tenfold return to the people even as a seed sown in good soil returns a luxuriant crop. — Mahatma Gandhi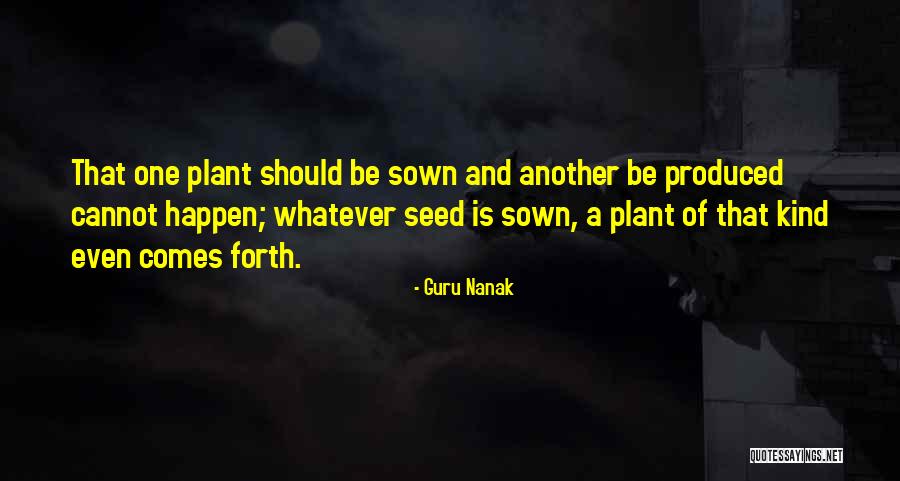 That one plant should be sown and another be produced cannot happen; whatever seed is sown, a plant of that kind even comes forth. — Guru Nanak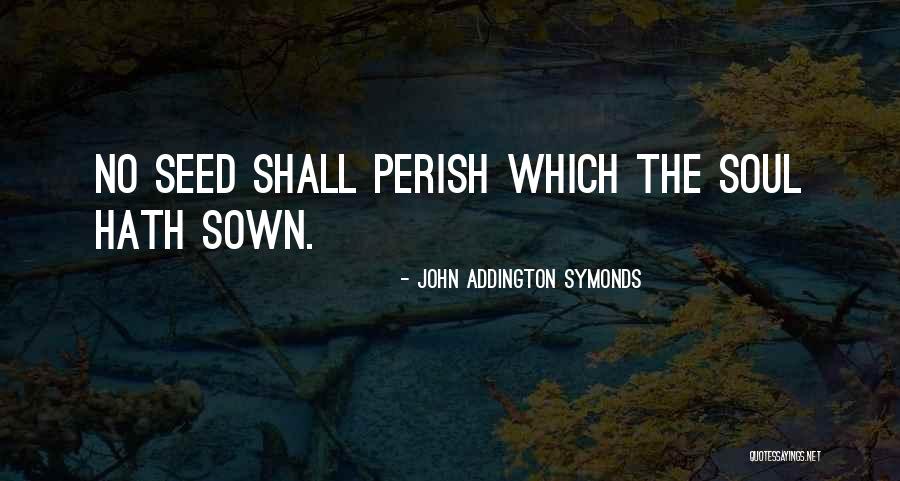 No seed shall perish which the soul hath sown. — John Addington Symonds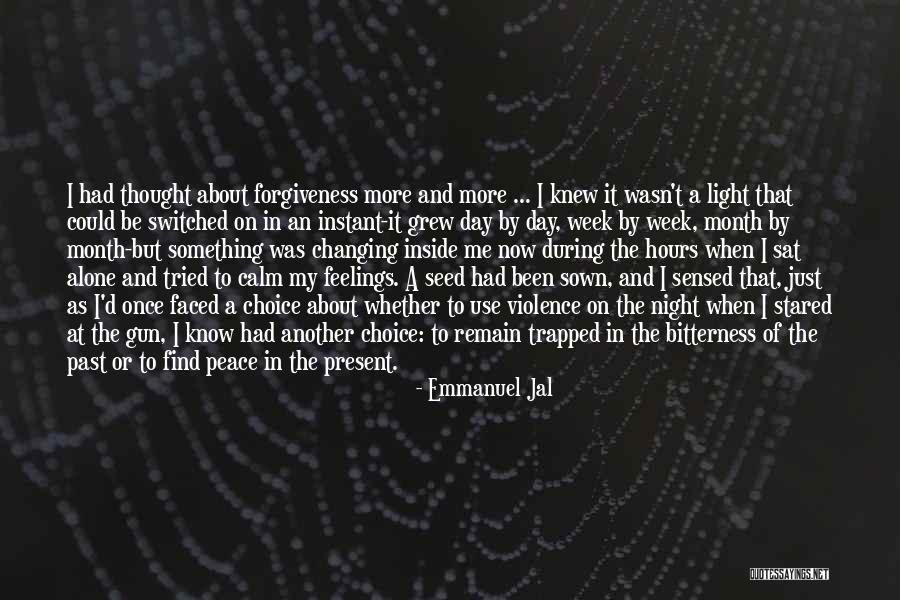 I had thought about forgiveness more and more ... I knew it wasn't a light that could be switched on in an instant-it grew day by day, week by week, month by month-but something was changing inside me now during the hours when I sat alone and tried to calm my feelings. A seed had been sown, and I sensed that, just as I'd once faced a choice about whether to use violence on the night when I stared at the gun, I know had another choice: to remain trapped in the bitterness of the past or to find peace in the present. — Emmanuel Jal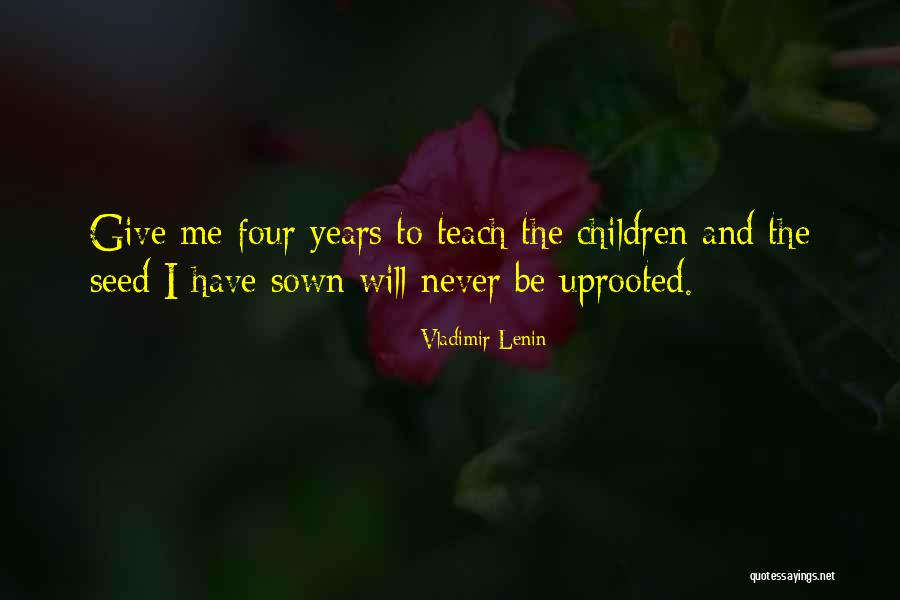 Give me four years to teach the children and the seed I have sown will never be uprooted. — Vladimir Lenin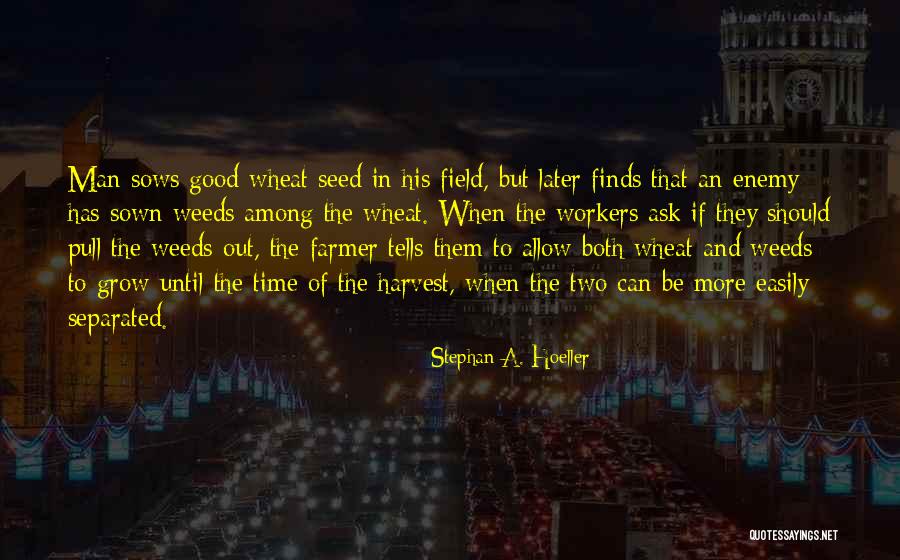 Man sows good wheat seed in his field, but later finds that an enemy has sown weeds among the wheat. When the workers ask if they should pull the weeds out, the farmer tells them to allow both wheat and weeds to grow until the time of the harvest, when the two can be more easily separated. — Stephan A. Hoeller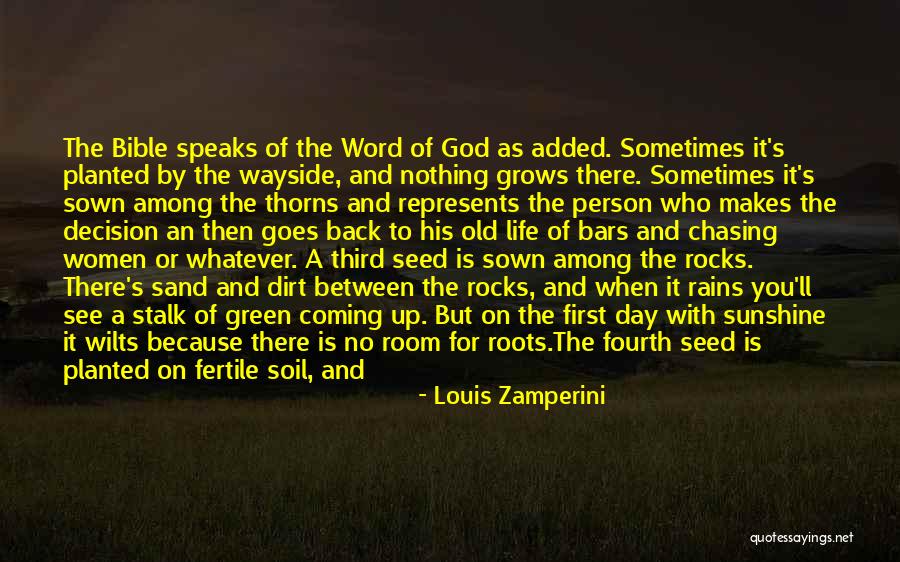 The Bible speaks of the Word of God as added. Sometimes it's planted by the wayside, and nothing grows there. Sometimes it's sown among the thorns and represents the person who makes the decision an then goes back to his old life of bars and chasing women or whatever. A third seed is sown among the rocks. There's sand and dirt between the rocks, and when it rains you'll see a stalk of green coming up. But on the first day with sunshine it wilts because there is no room for roots.
The fourth seed is planted on fertile soil, and finally it takes hold and has a chance to grow and live. That's what happened to me. — Louis Zamperini