Roll On Summer Quotes & Sayings
Enjoy reading and share 22 famous quotes about Roll On Summer with everyone.
Top Roll On Summer Quotes
Why I Am Happy
Now has come, an easy time. I let it
roll. There is a lake somewhere
so blue and far nobody owns it.
A wind comes by and a willow listens
gracefully.
I hear all this, every summer. I laugh
and cry for every turn of the world,
its terribly cold, innocent spin.
That lake stays blue and free; it goes
on and on.
And I know where it is. — William Stafford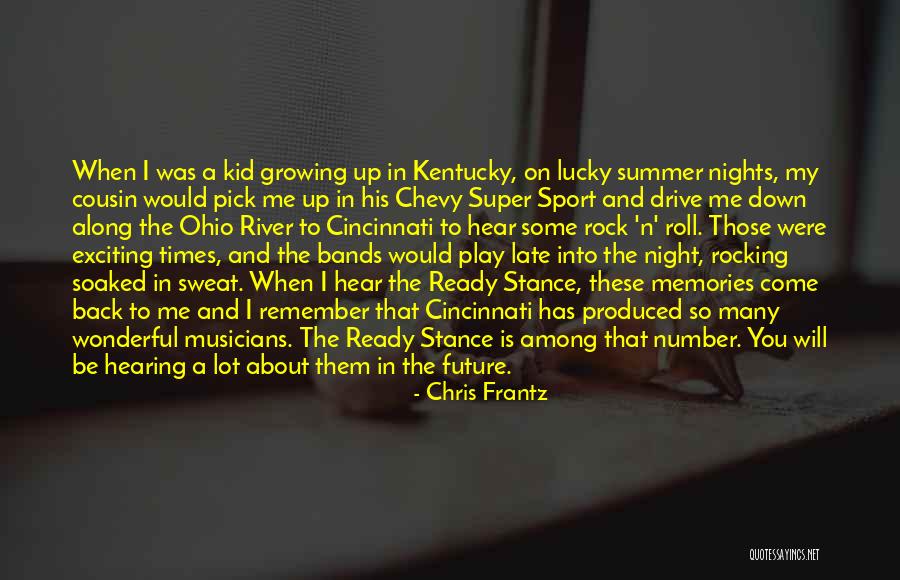 When I was a kid growing up in Kentucky, on lucky summer nights, my cousin would pick me up in his Chevy Super Sport and drive me down along the Ohio River to Cincinnati to hear some rock 'n' roll. Those were exciting times, and the bands would play late into the night, rocking soaked in sweat. When I hear the Ready Stance, these memories come back to me and I remember that Cincinnati has produced so many wonderful musicians. The Ready Stance is among that number. You will be hearing a lot about them in the future. — Chris Frantz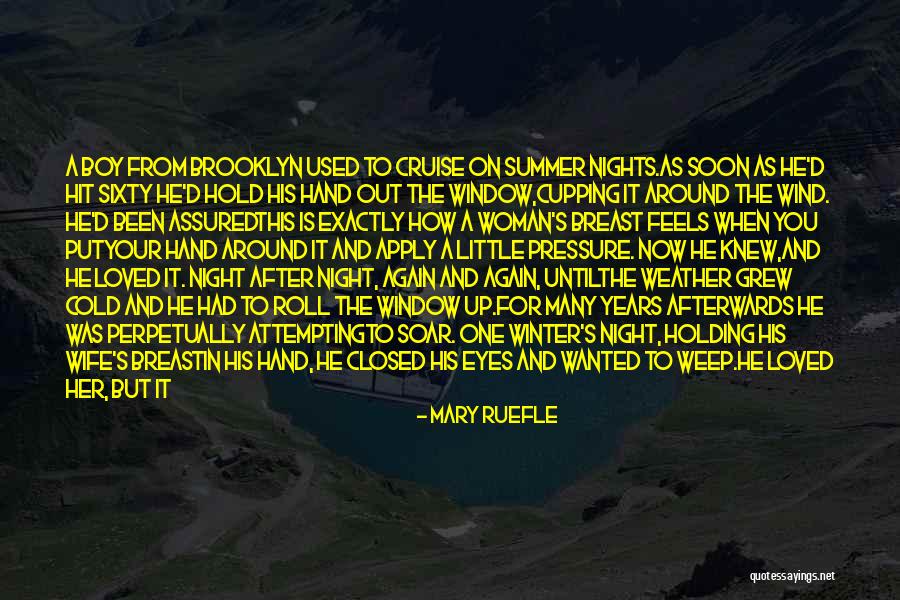 A boy from Brooklyn used to cruise on summer nights.
As soon as he'd hit sixty he'd hold his hand out the window,
cupping it around the wind. He'd been assured
this is exactly how a woman's breast feels when you put
your hand around it and apply a little pressure. Now he knew,
and he loved it. Night after night, again and again, until
the weather grew cold and he had to roll the window up.
For many years afterwards he was perpetually attempting
to soar. One winter's night, holding his wife's breast
in his hand, he closed his eyes and wanted to weep.
He loved her, but it was the wind he imagined now.
As he grew older, he loved the word etcetera and refused
to abbreviate it. He loved sweet white butter. He often
pretended to be playing the organ. On one of his last mornings,
he noticed the shape of his face molded in the pillow.
He shook it out, but the next morning it reappeared. — Mary Ruefle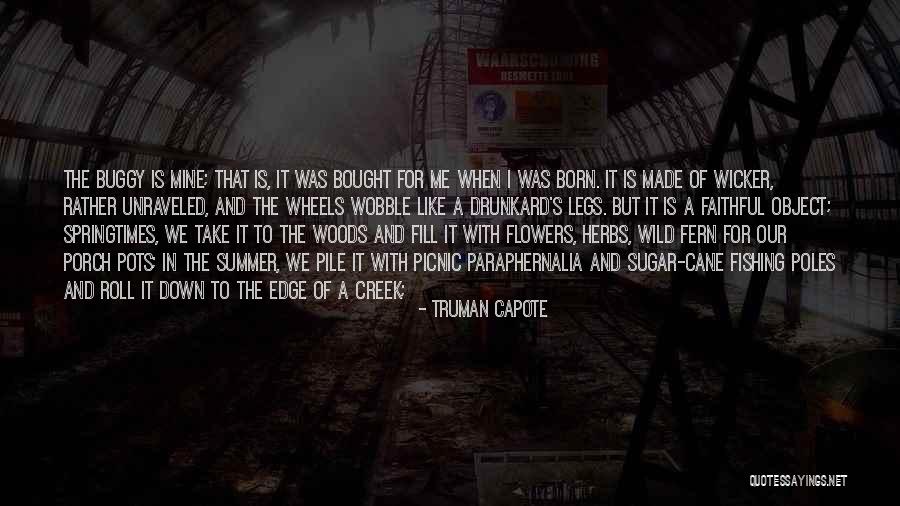 The buggy is mine; that is, it was bought for me when I was born. It is made of wicker, rather unraveled, and the wheels wobble like a drunkard's legs. But it is a faithful object; springtimes, we take it to the woods and fill it with flowers, herbs, wild fern for our porch pots; in the summer, we pile it with picnic paraphernalia and sugar-cane fishing poles and roll it down to the edge of a creek; — Truman Capote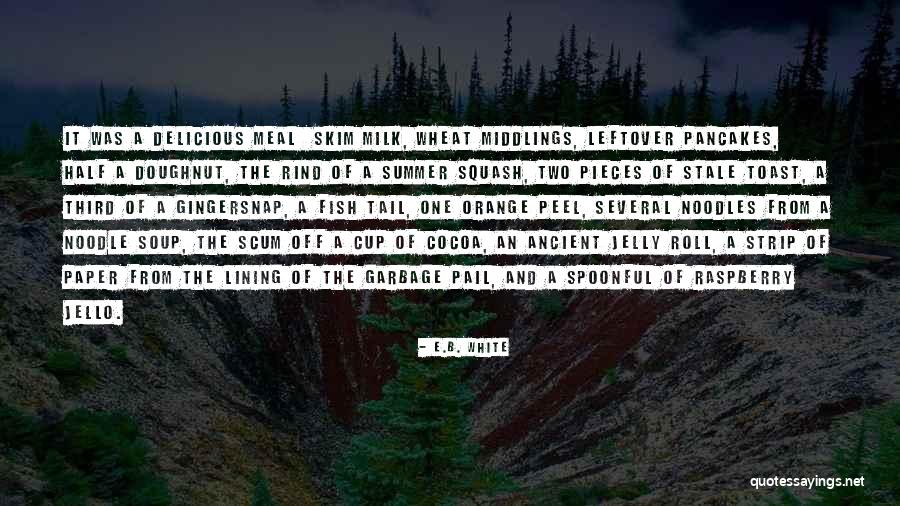 It was a delicious meal
skim milk, wheat middlings, leftover pancakes, half a doughnut, the rind of a summer squash, two pieces of stale toast, a third of a gingersnap, a fish tail, one orange peel, several noodles from a noodle soup, the scum off a cup of cocoa, an ancient jelly roll, a strip of paper from the lining of the garbage pail, and a spoonful of raspberry jello. — E.B. White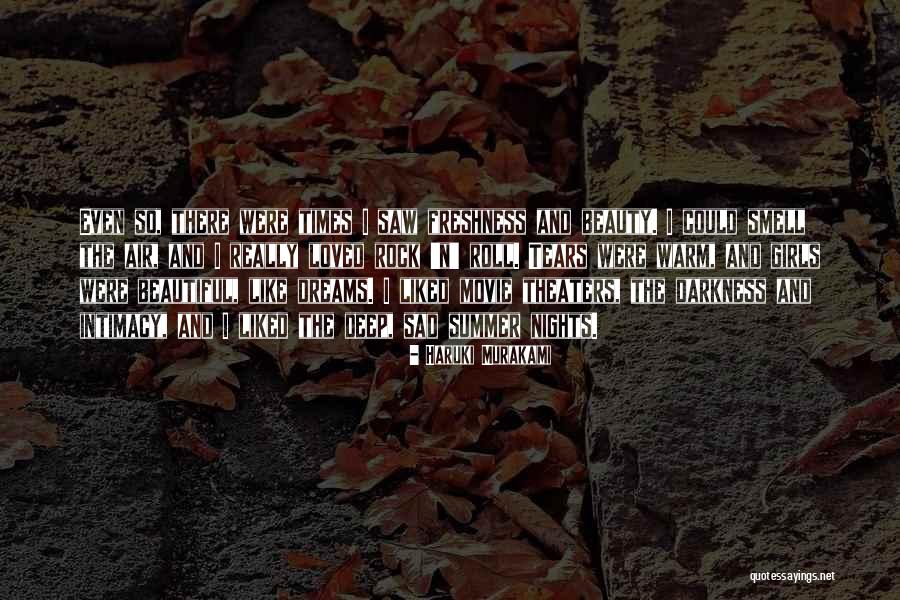 Even so, there were times I saw freshness and beauty. I could smell the air, and I really loved rock 'n' roll. Tears were warm, and girls were beautiful, like dreams. I liked movie theaters, the darkness and intimacy, and I liked the deep, sad summer nights. — Haruki Murakami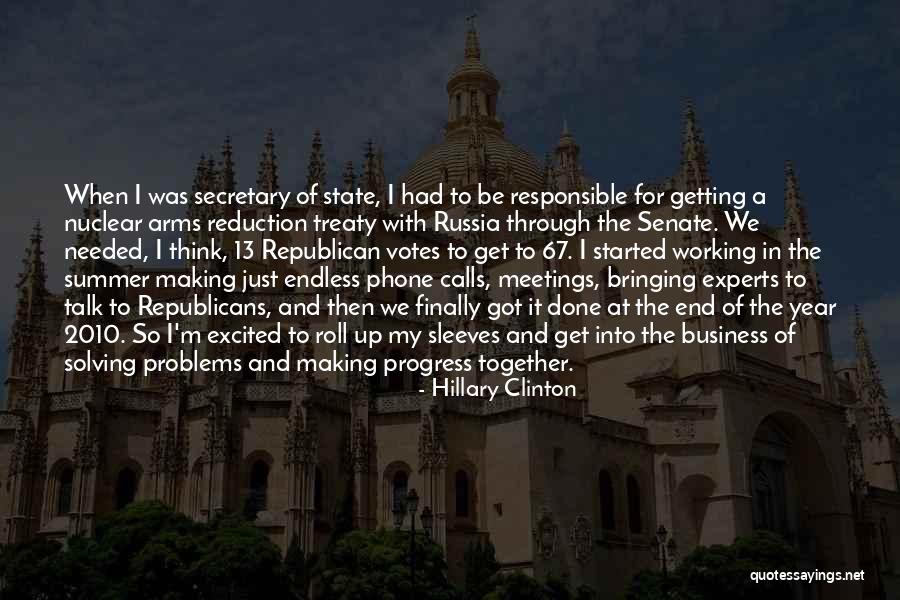 When I was secretary of state, I had to be responsible for getting a nuclear arms reduction treaty with Russia through the Senate. We needed, I think, 13 Republican votes to get to 67. I started working in the summer making just endless phone calls, meetings, bringing experts to talk to Republicans, and then we finally got it done at the end of the year 2010. So I'm excited to roll up my sleeves and get into the business of solving problems and making progress together. — Hillary Clinton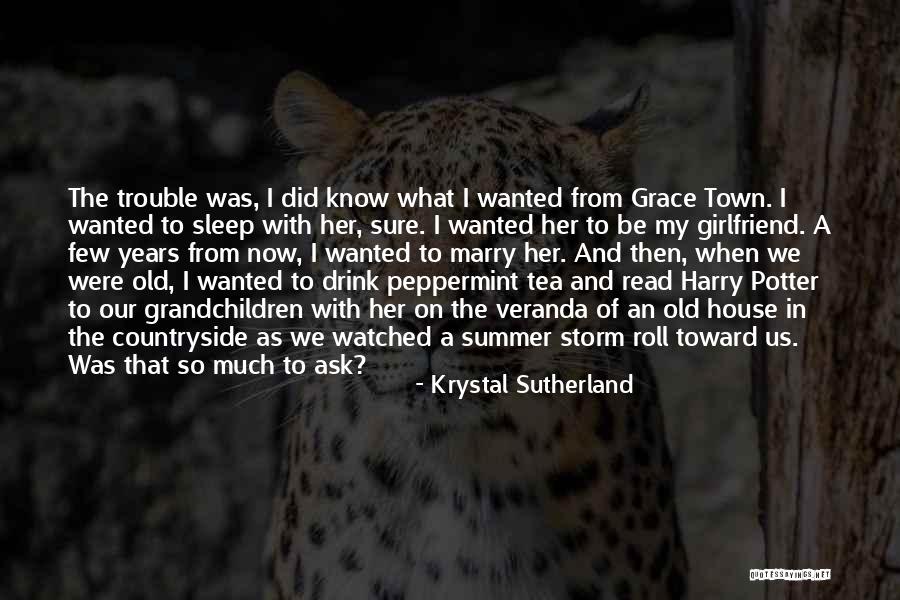 The trouble was, I did know what I wanted from Grace Town. I wanted to sleep with her, sure. I wanted her to be my girlfriend. A few years from now, I wanted to marry her. And then, when we were old, I wanted to drink peppermint tea and read Harry Potter to our grandchildren with her on the veranda of an old house in the countryside as we watched a summer storm roll toward us. Was that so much to ask? — Krystal Sutherland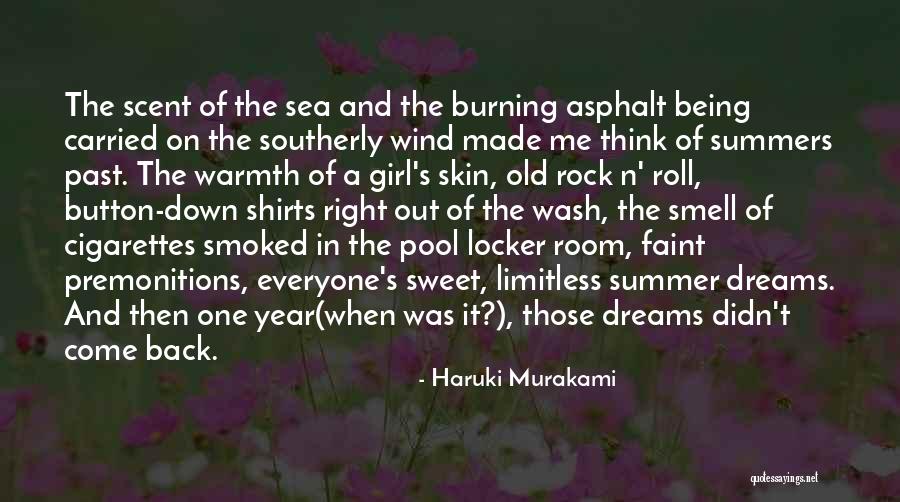 The scent of the sea and the burning asphalt being carried on the southerly wind made me think of summers past. The warmth of a girl's skin, old rock n' roll, button-down shirts right out of the wash, the smell of cigarettes smoked in the pool locker room, faint premonitions, everyone's sweet, limitless summer dreams. And then one year(when was it?), those dreams didn't come back. — Haruki Murakami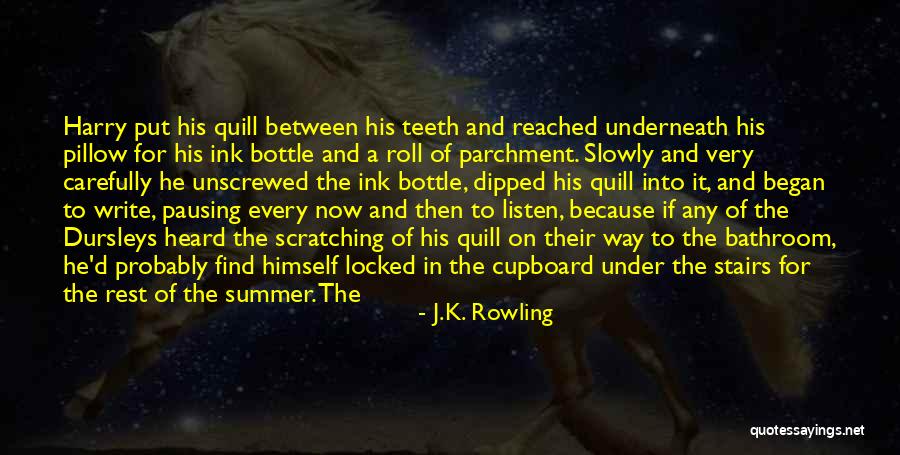 Harry put his quill between his teeth and reached underneath his pillow for his ink bottle and a roll of parchment. Slowly and very carefully he unscrewed the ink bottle, dipped his quill into it, and began to write, pausing every now and then to listen, because if any of the Dursleys heard the scratching of his quill on their way to the bathroom, he'd probably find himself locked in the cupboard under the stairs for the rest of the summer. The — J.K. Rowling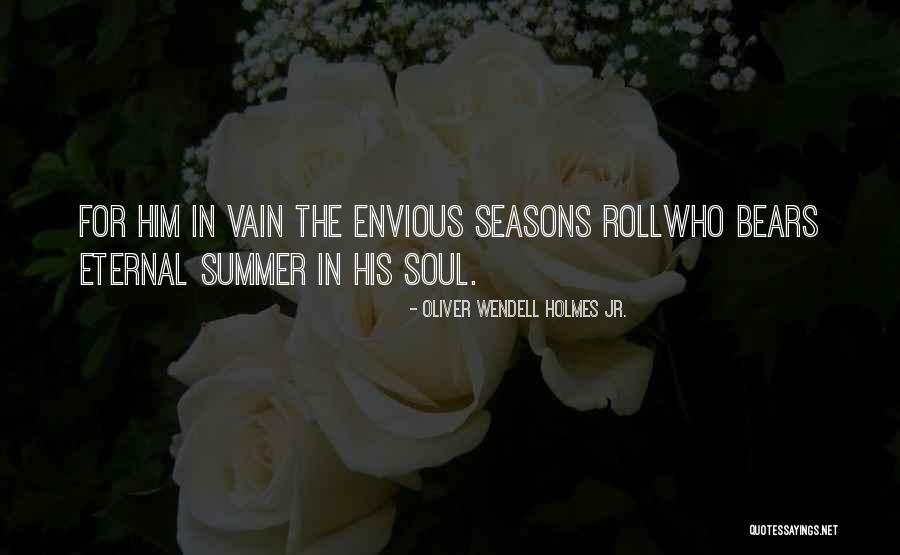 For him in vain the envious seasons roll
Who bears eternal summer in his soul. — Oliver Wendell Holmes Jr.
And maybe, just maybe, the ten hours of hot summer wind blowing past my face would dry the tears of pride which were beginning to roll down my cheeks. — Scott Hildreth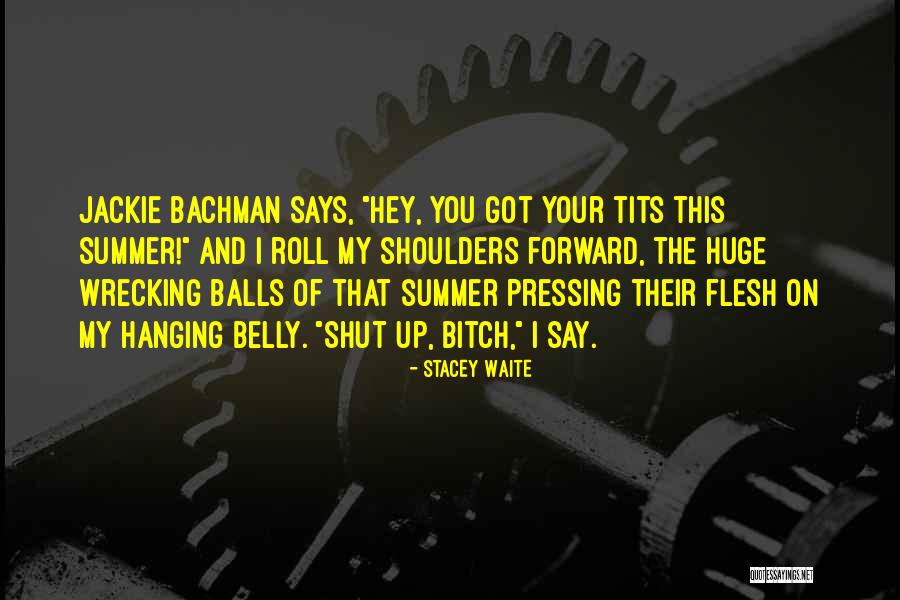 Jackie Bachman says, "Hey, you got your tits this summer!" And I roll my shoulders forward, the huge wrecking balls of that summer pressing their flesh on my hanging belly. "Shut up, bitch," I say. — Stacey Waite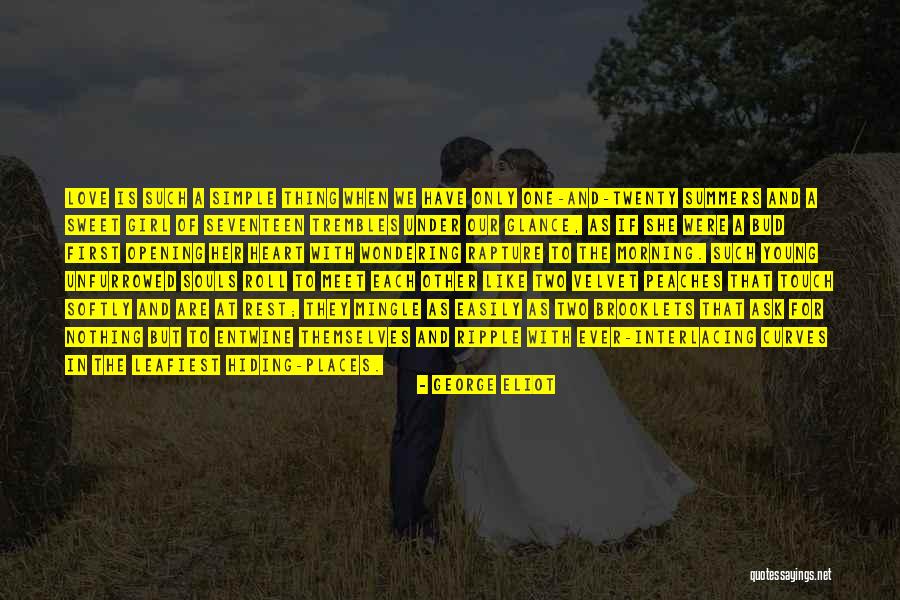 Love is such a simple thing when we have only one-and-twenty summers and a sweet girl of seventeen trembles under our glance, as if she were a bud first opening her heart with wondering rapture to the morning. Such young unfurrowed souls roll to meet each other like two velvet peaches that touch softly and are at rest; they mingle as easily as two brooklets that ask for nothing but to entwine themselves and ripple with ever-interlacing curves in the leafiest hiding-places. — George Eliot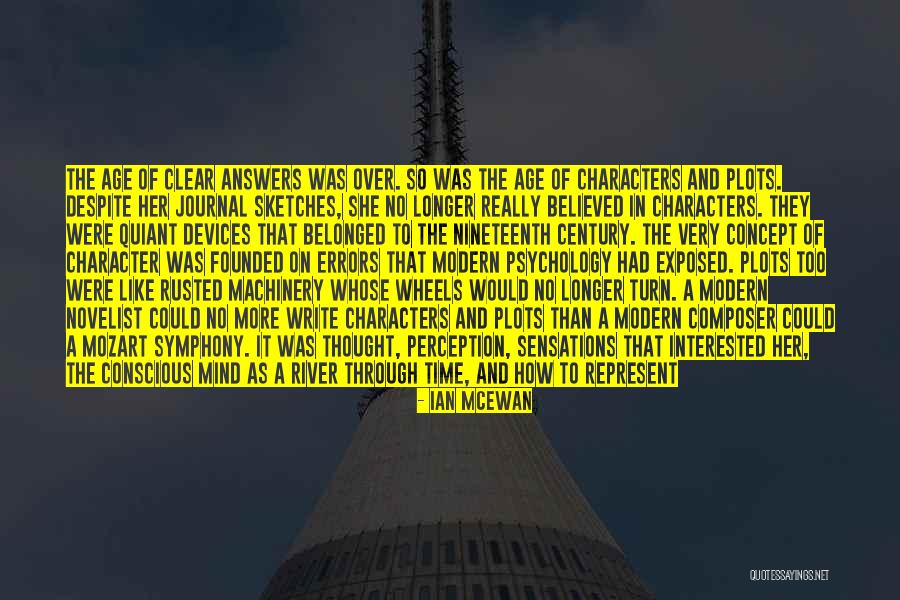 The age of clear answers was over. So was the age of characters and plots. Despite her journal sketches, she no longer really believed in characters. They were quiant devices that belonged to the nineteenth century. The very concept of character was founded on errors that modern psychology had exposed. Plots too were like rusted machinery whose wheels would no longer turn. A modern novelist could no more write characters and plots than a modern composer could a Mozart symphony. It was thought, perception, sensations that interested her, the conscious mind as a river through time, and how to represent its onward roll, as well as the tributaries that would swell it, and the obstacles that would divert it. If only she could reproduce the clear light of a summer's morning, the sensations of a child standing at a window, the curve and dip of a swallow's flight over a pool of water. The novel of the future would be unlike anything in the past. — Ian McEwan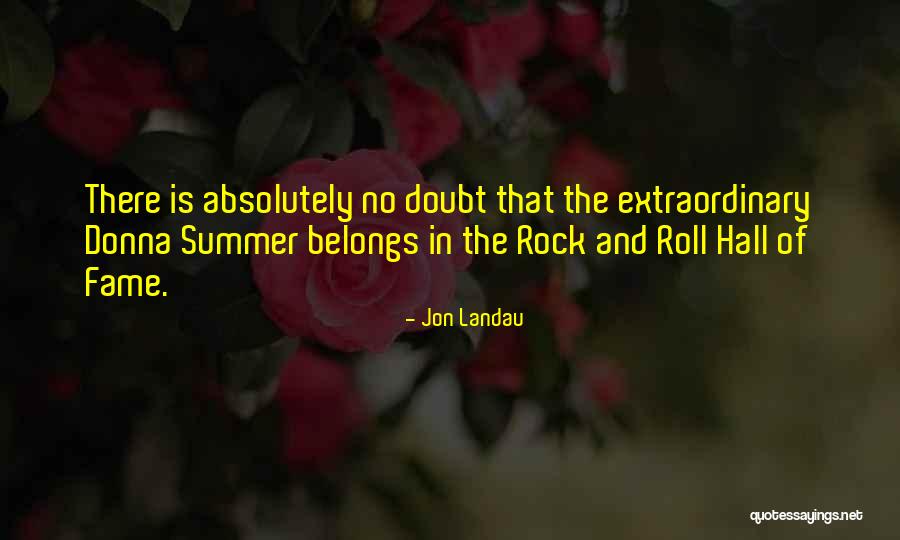 There is absolutely no doubt that the extraordinary Donna Summer belongs in the Rock and Roll Hall of Fame. — Jon Landau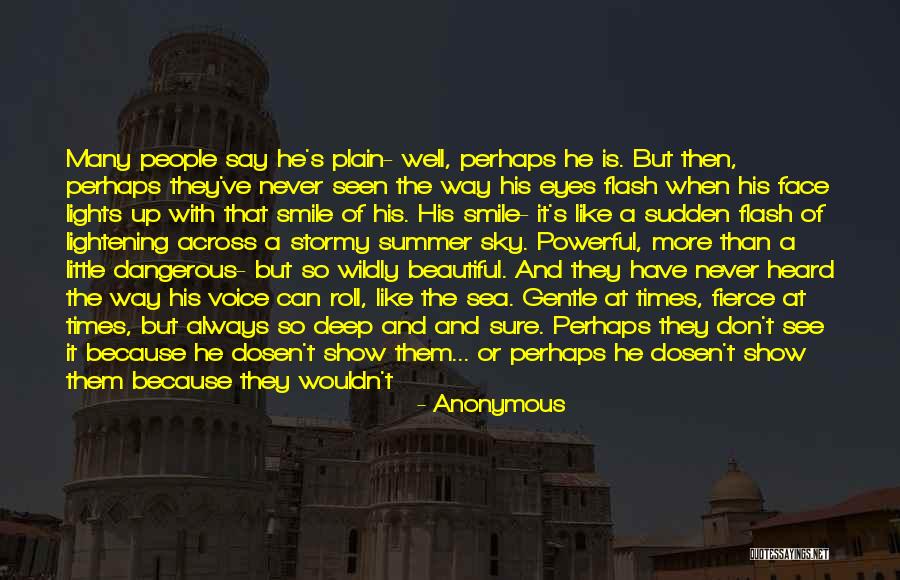 Many people say he's plain- well, perhaps he is. But then, perhaps they've never seen the way his eyes flash when his face lights up with that smile of his. His smile- it's like a sudden flash of lightening across a stormy summer sky. Powerful, more than a little dangerous- but so wildly beautiful. And they have never heard the way his voice can roll, like the sea. Gentle at times, fierce at times, but always so deep and and sure. Perhaps they don't see it because he dosen't show them... or perhaps he dosen't show them because they wouldn't see. But I do. And so, I can never think him plain. ~H.D. — Anonymous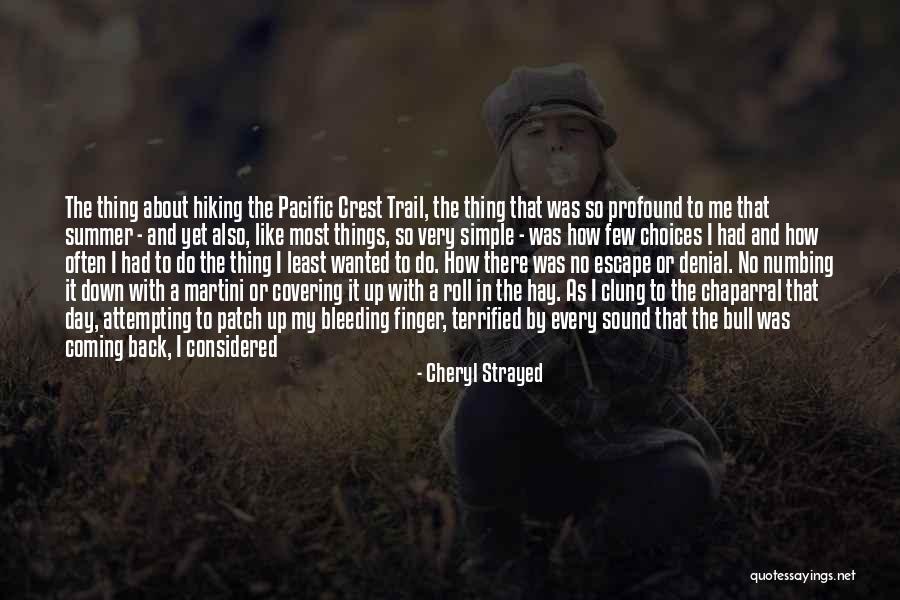 The thing about hiking the Pacific Crest Trail, the thing that was so profound to me that summer - and yet also, like most things, so very simple - was how few choices I had and how often I had to do the thing I least wanted to do. How there was no escape or denial. No numbing it down with a martini or covering it up with a roll in the hay. As I clung to the chaparral that day, attempting to patch up my bleeding finger, terrified by every sound that the bull was coming back, I considered my options. There were only two and they were essentially the same. I could go back in the direction I had come from, or I could go forward in the direction I intended to go. — Cheryl Strayed
The whiff of ocean on the southern breeze and the smell of burning asphalt brought back memories of summers past. It had seemed as though those sweet dreams of summer would last forever: the warmth of a girl's skin, an old rock 'n' roll song, freshly washed button-down shirt, the odor of cigarette smoke in a pool changing room, a fleeting premonition. Then one summer (when had it been?) the dreams had vanished, never to return. — Haruki Murakami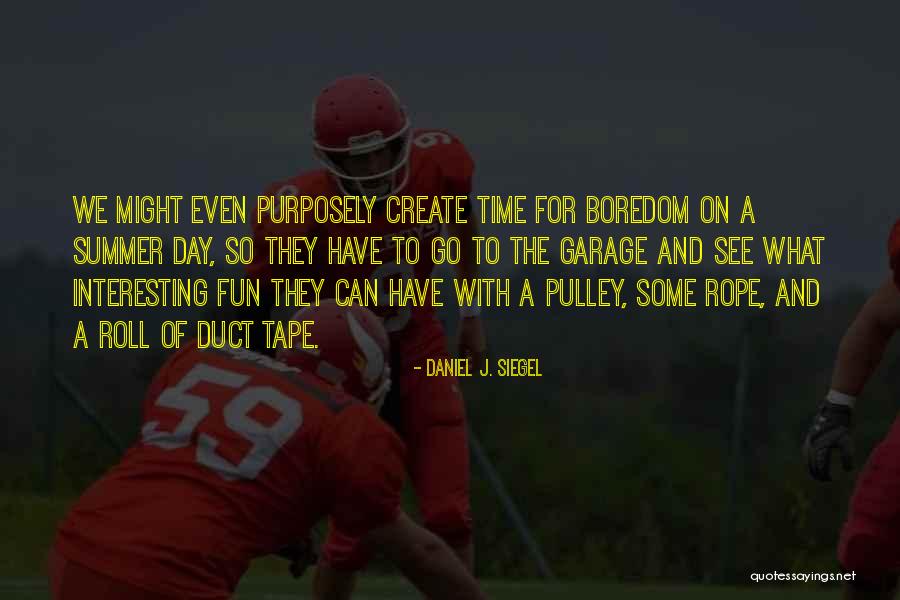 We might even purposely create time for boredom on a summer day, so they have to go to the garage and see what interesting fun they can have with a pulley, some rope, and a roll of duct tape. — Daniel J. Siegel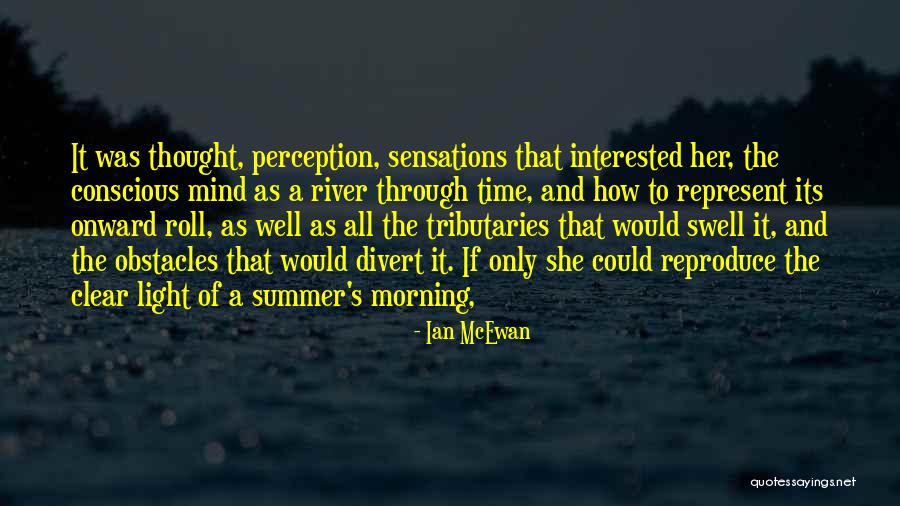 It was thought, perception, sensations that interested her, the conscious mind as a river through time, and how to represent its onward roll, as well as all the tributaries that would swell it, and the obstacles that would divert it. If only she could reproduce the clear light of a summer's morning, — Ian McEwan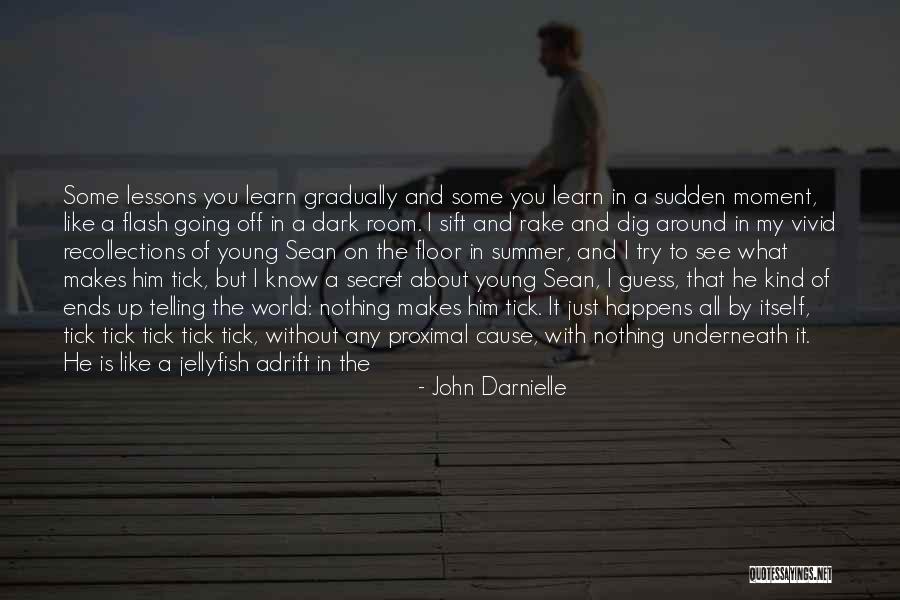 Some lessons you learn gradually and some you learn in a sudden moment, like a flash going off in a dark room. I sift and rake and dig around in my vivid recollections of young Sean on the floor in summer, and I try to see what makes him tick, but I know a secret about young Sean, I guess, that he kind of ends up telling the world: nothing makes him tick. It just happens all by itself, tick tick tick tick tick, without any proximal cause, with nothing underneath it. He is like a jellyfish adrift in the sea, throbbing quietly in the warm waves of the surf just off the highway where the dusty white vans with smoked windows and indistinct decals near their wheel hubs roll innocently past. — John Darnielle