Quotes & Sayings About Roles In Relationships
Enjoy reading and share 33 famous quotes about Roles In Relationships with everyone.
Top Roles In Relationships Quotes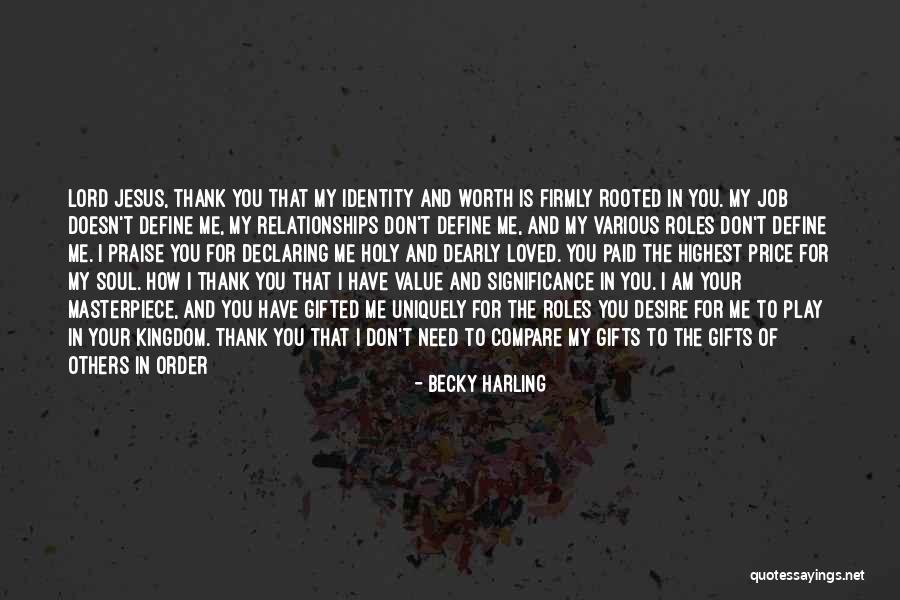 Lord Jesus, thank You that my identity and worth is firmly rooted in You. My job doesn't define me, my relationships don't define me, and my various roles don't define me. I praise You for declaring me holy and dearly loved. You paid the highest price for my soul. How I thank You that I have value and significance in You. I am Your masterpiece, and You have gifted me uniquely for the roles You desire for me to play in Your kingdom. Thank You that I don't need to compare my gifts to the gifts of others in order to feel special. In Your kingdom, I am a royal priest/priestess. I praise You that I am a coheir with Christ and have inherited every blessing through Him. (Col. 3:12; 1 Cor. 6:12; Eph. 2:10; Isa. 43:4; Rom. 8:17) — Becky Harling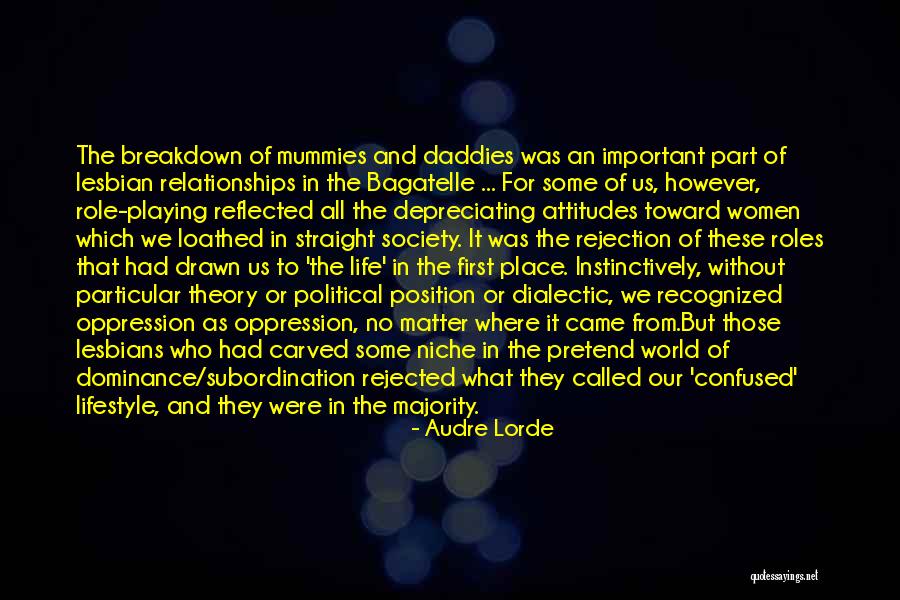 The breakdown of mummies and daddies was an important part of lesbian relationships in the Bagatelle ... For some of us, however, role-playing reflected all the depreciating attitudes toward women which we loathed in straight society. It was the rejection of these roles that had drawn us to 'the life' in the first place. Instinctively, without particular theory or political position or dialectic, we recognized oppression as oppression, no matter where it came from.
But those lesbians who had carved some niche in the pretend world of dominance/subordination rejected what they called our 'confused' lifestyle, and they were in the majority. — Audre Lorde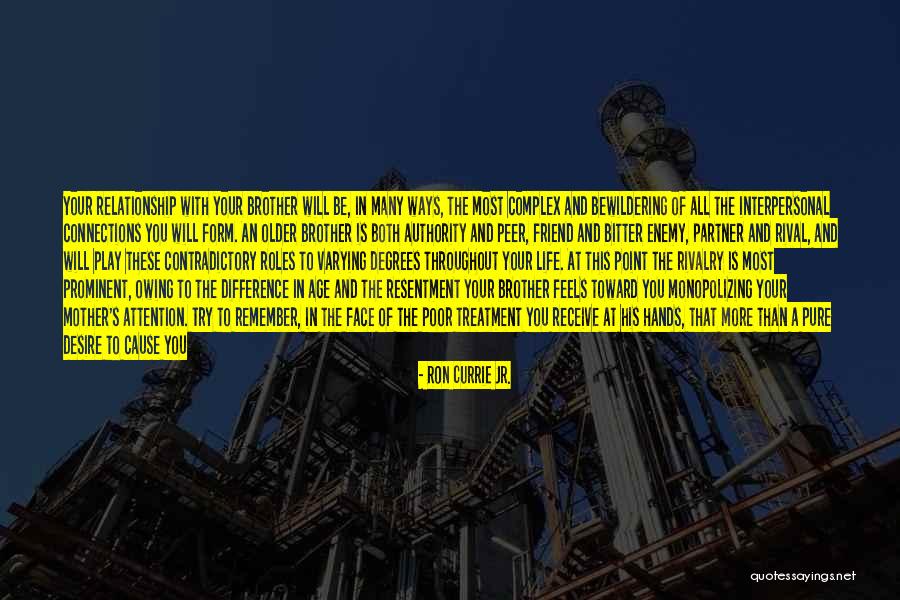 Your relationship with your brother will be, in many ways, the most complex and bewildering of all the interpersonal connections you will form. An older brother is both authority and peer, friend and bitter enemy, partner and rival, and will play these contradictory roles to varying degrees throughout your life. At this point the rivalry is most prominent, owing to the difference in age and the resentment your brother feels toward you monopolizing your mother's attention. Try to remember, in the face of the poor treatment you receive at his hands, that more than a pure desire to cause you harm or pain, this is an effort on his part to win back some of that attention, even if it's only through being scolded and punished. — Ron Currie Jr.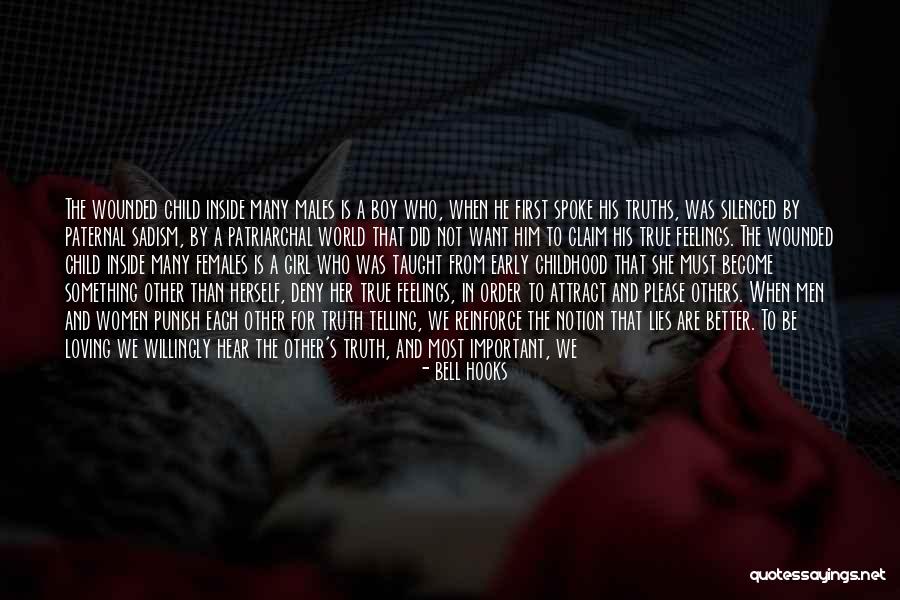 The wounded child inside many males is a boy who, when he first spoke his truths, was silenced by paternal sadism, by a patriarchal world that did not want him to claim his true feelings. The wounded child inside many females is a girl who was taught from early childhood that she must become something other than herself, deny her true feelings, in order to attract and please others. When men and women punish each other for truth telling, we reinforce the notion that lies are better. To be loving we willingly hear the other's truth, and most important, we affirm the value of truth telling. Lies may make people feel better, but they do not help them to know love. — Bell Hooks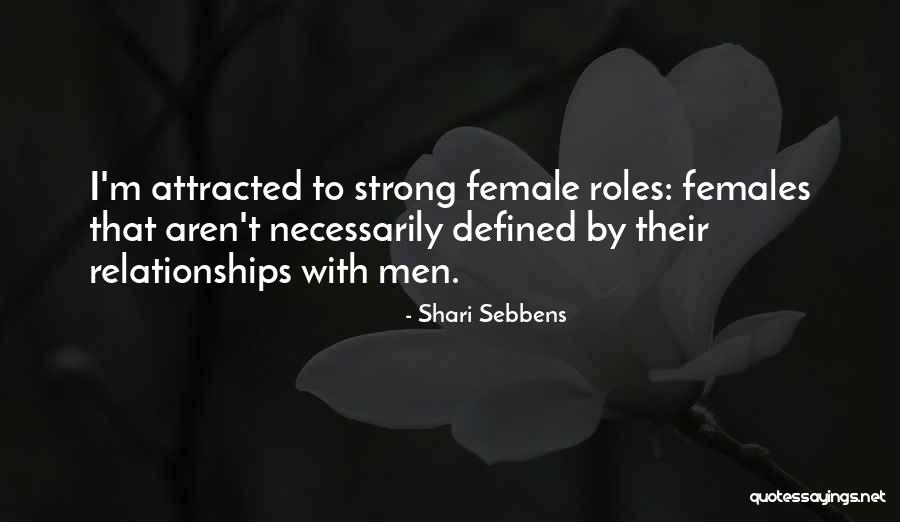 I'm attracted to strong female roles: females that aren't necessarily defined by their relationships with men. — Shari Sebbens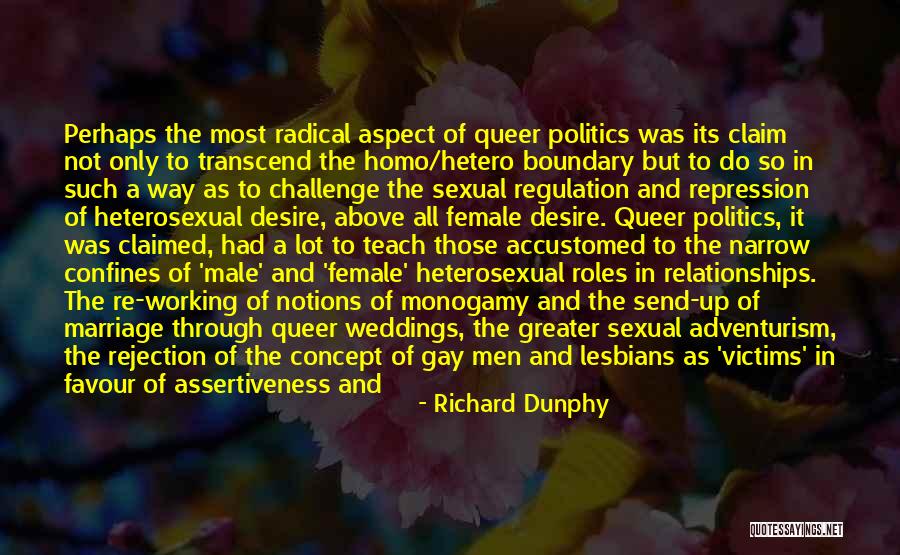 Perhaps the most radical aspect of queer politics was its claim not only to transcend the homo/hetero boundary but to do so in such a way as to challenge the sexual regulation and repression of heterosexual desire, above all female desire. Queer politics, it was claimed, had a lot to teach those accustomed to the narrow confines of 'male' and 'female' heterosexual roles in relationships. The re-working of notions of monogamy and the send-up of marriage through queer weddings, the greater sexual adventurism, the rejection of the concept of gay men and lesbians as 'victims' in favour of assertiveness and redefinition, and the emphasis on the creation of more egalitarian relationships in the domestic, sexual and social spheres, were all cited as examples of how queer could contribute to a new sexual agenda of empowerment. — Richard Dunphy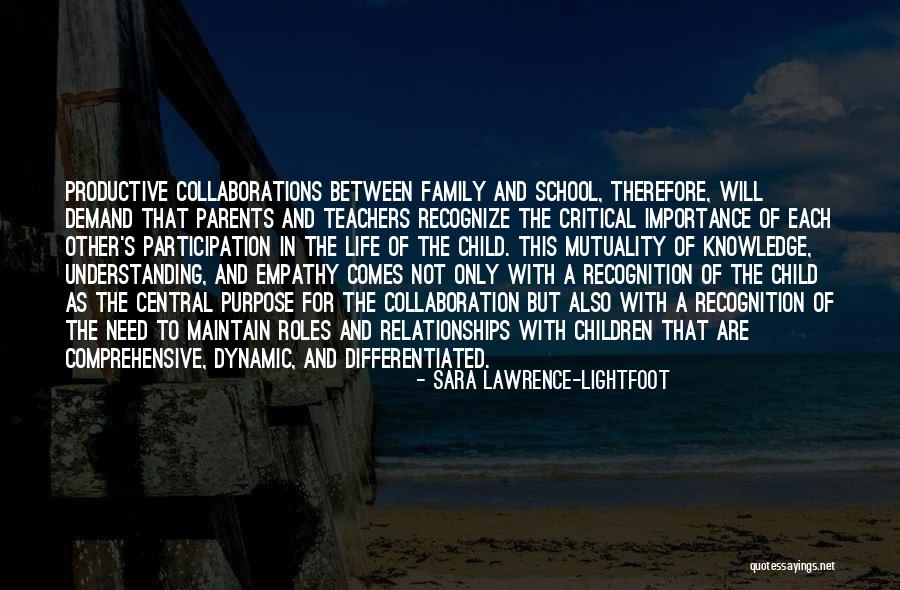 Productive collaborations between family and school, therefore, will demand that parents and teachers recognize the critical importance of each other's participation in the life of the child. This mutuality of knowledge, understanding, and empathy comes not only with a recognition of the child as the central purpose for the collaboration but also with a recognition of the need to maintain roles and relationships with children that are comprehensive, dynamic, and differentiated. — Sara Lawrence-Lightfoot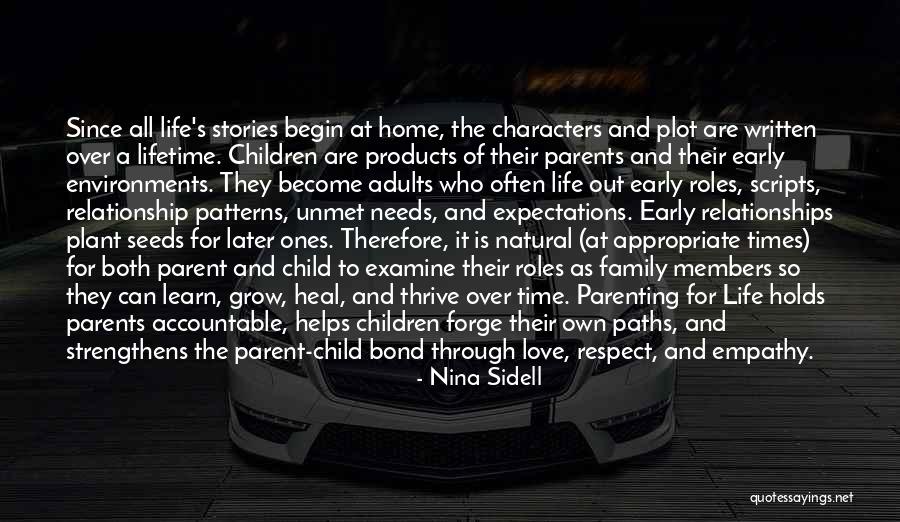 Since all life's stories begin at home, the characters and plot are written over a lifetime. Children are products of their parents and their early environments. They become adults who often life out early roles, scripts, relationship patterns, unmet needs, and expectations. Early relationships plant seeds for later ones. Therefore, it is natural (at appropriate times) for both parent and child to examine their roles as family members so they can learn, grow, heal, and thrive over time. Parenting for Life holds parents accountable, helps children forge their own paths, and strengthens the parent-child bond through love, respect, and empathy. — Nina Sidell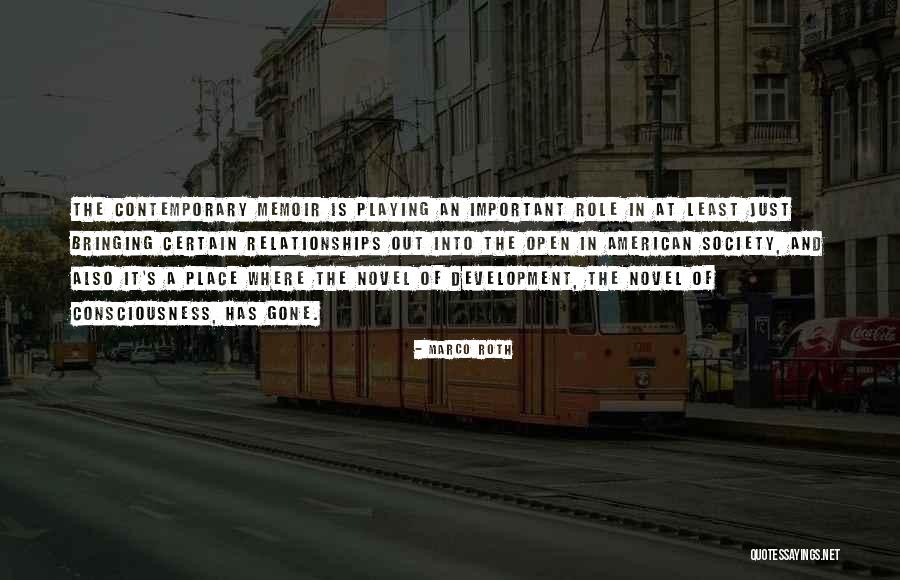 The contemporary memoir is playing an important role in at least just bringing certain relationships out into the open in American society, and also it's a place where the novel of development, the novel of consciousness, has gone. — Marco Roth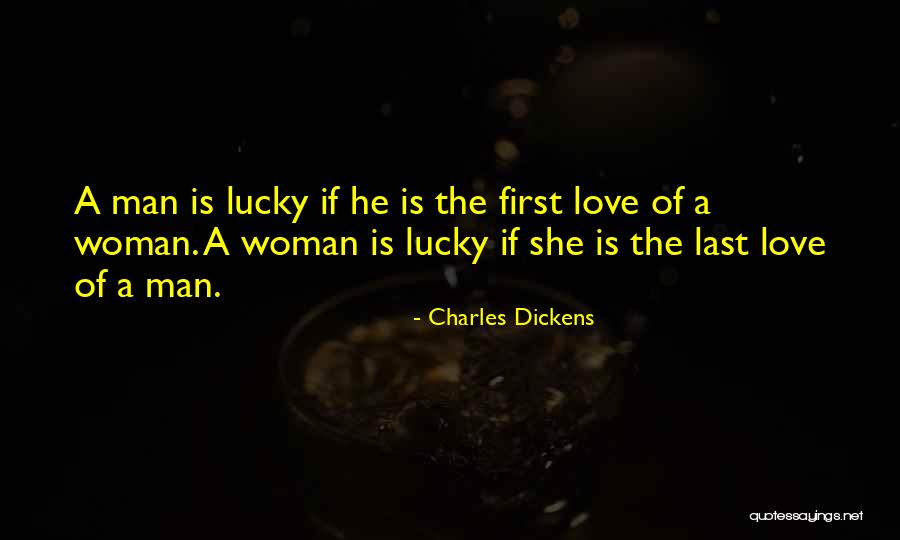 A man is lucky if he is the first love of a woman. A woman is lucky if she is the last love of a man. — Charles Dickens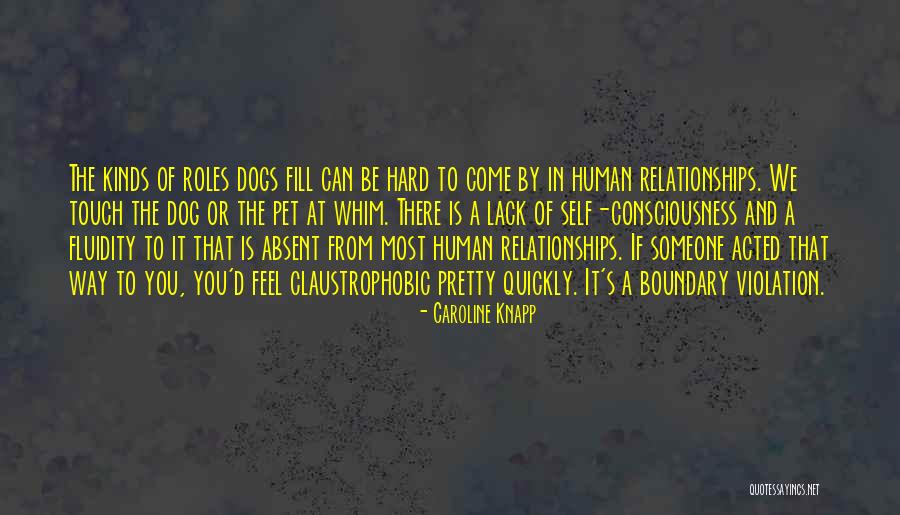 The kinds of roles dogs fill can be hard to come by in human relationships. We touch the dog or the pet at whim. There is a lack of self-consciousness and a fluidity to it that is absent from most human relationships. If someone acted that way to you, you'd feel claustrophobic pretty quickly. It's a boundary violation. — Caroline Knapp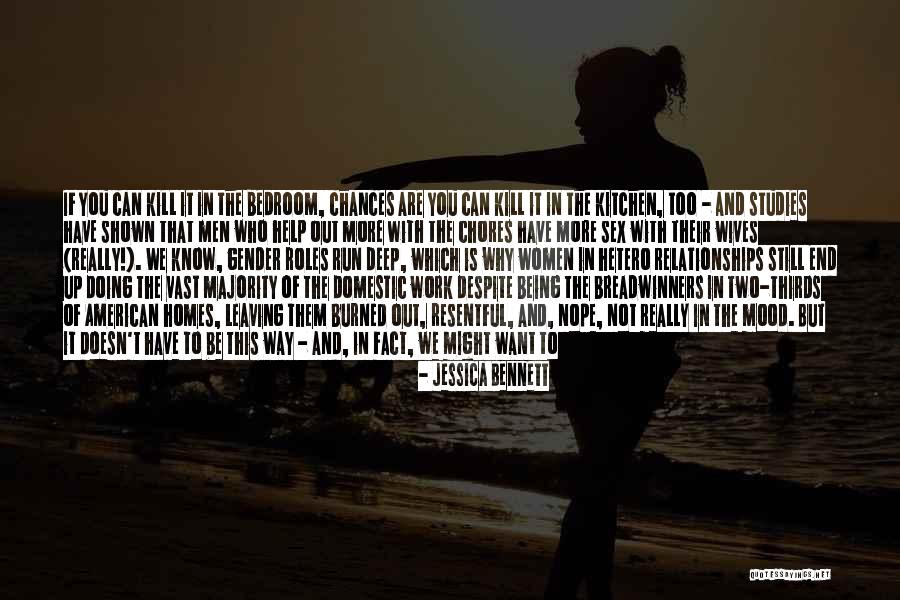 If you can kill it in the bedroom, chances are you can kill it in the kitchen, too - and studies have shown that men who help out more with the chores have more sex with their wives (really!). We know, gender roles run deep, which is why women in hetero relationships still end up doing the vast majority of the domestic work despite being the breadwinners in two-thirds of American homes, leaving them burned out, resentful, and, nope, not really in the mood. But it doesn't have to be this way - and, in fact, we might want to borrow a page from our LGBTQ sisters and brothers (or those who identify as neither): research shows they split chores, decisions, and finances more evenly — Jessica Bennett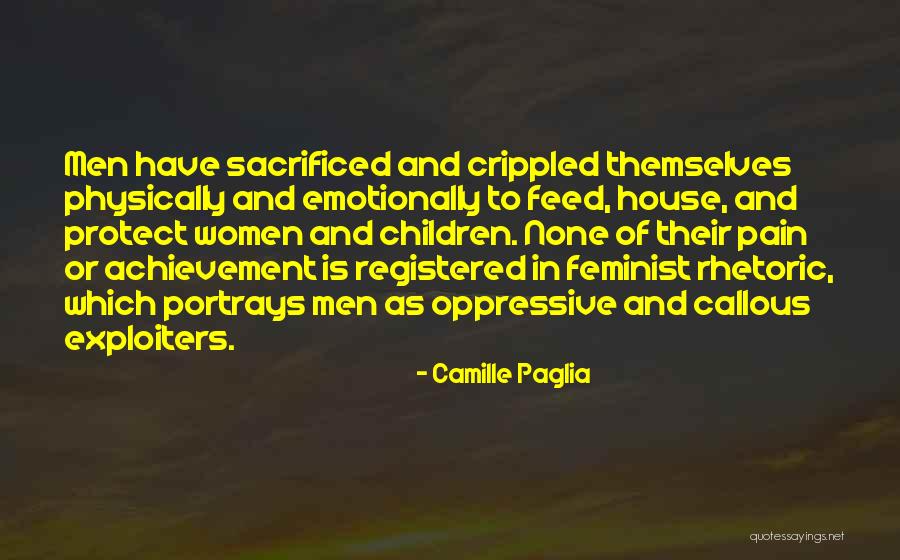 Men have sacrificed and crippled themselves physically and emotionally to feed, house, and protect women and children. None of their pain or achievement is registered in feminist rhetoric, which portrays men as oppressive and callous exploiters. — Camille Paglia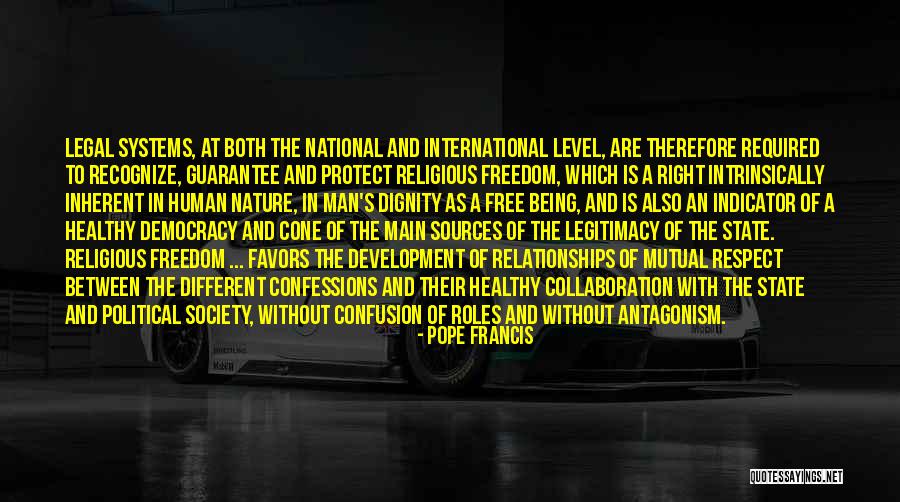 Legal systems, at both the national and international level, are therefore required to recognize, guarantee and protect religious freedom, which is a right intrinsically inherent in human nature, in man's dignity as a free being, and is also an indicator of a healthy democracy and cone of the main sources of the legitimacy of the State. Religious freedom ... favors the development of relationships of mutual respect between the different Confessions and their healthy collaboration with the State and political society, without confusion of roles and without antagonism. — Pope Francis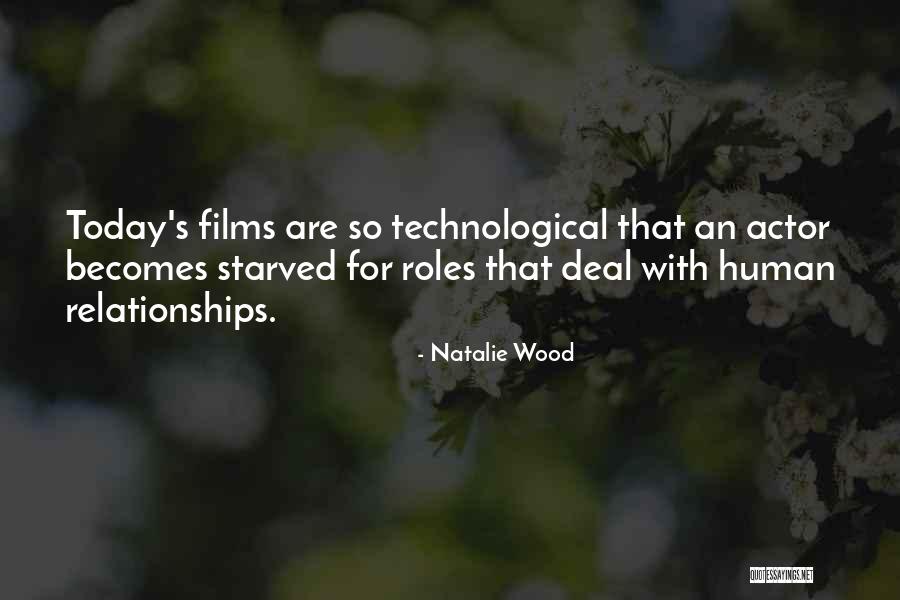 Today's films are so technological that an actor becomes starved for roles that deal with human relationships. — Natalie Wood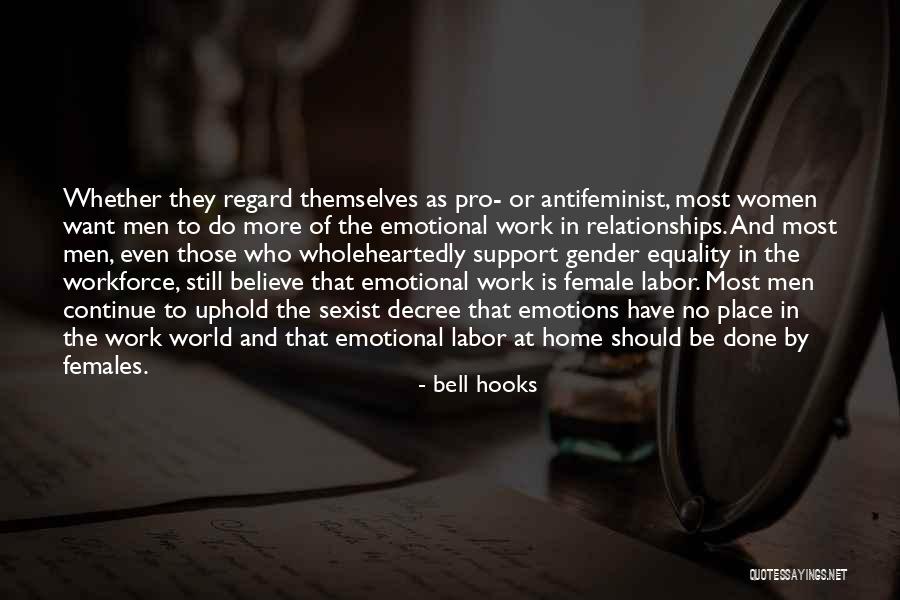 Whether they regard themselves as pro- or antifeminist, most women want men to do more of the emotional work in relationships. And most men, even those who wholeheartedly support gender equality in the workforce, still believe that emotional work is female labor. Most men continue to uphold the sexist decree that emotions have no place in the work world and that emotional labor at home should be done by females. — Bell Hooks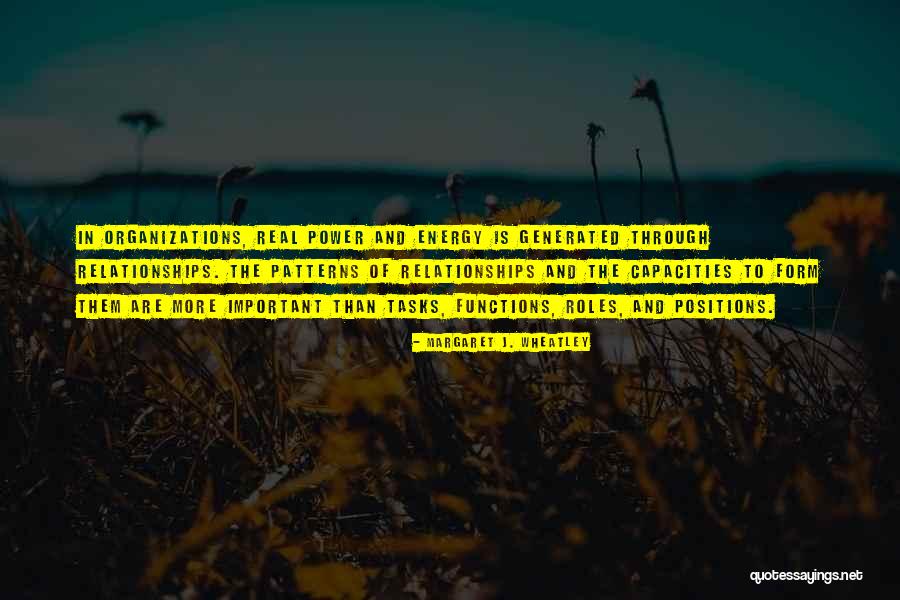 In organizations, real power and energy is generated through relationships. The patterns of relationships and the capacities to form them are more important than tasks, functions, roles, and positions. — Margaret J. Wheatley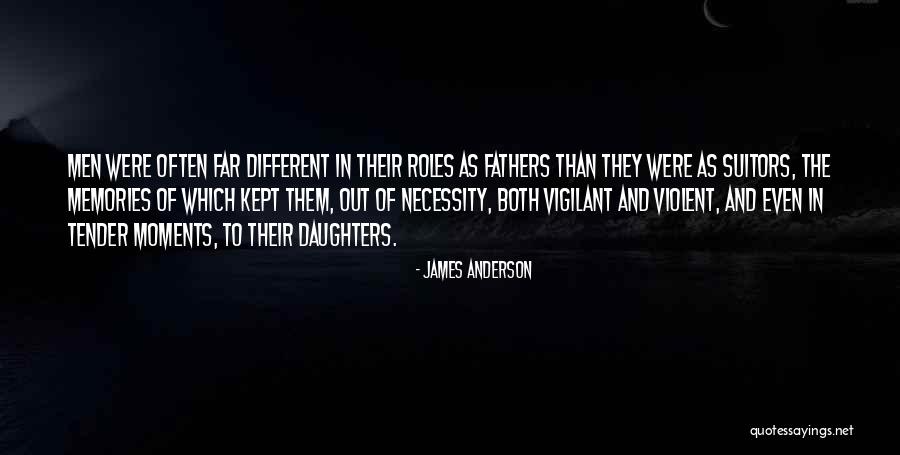 Men were often far different in their roles as fathers than they were as suitors, the memories of which kept them, out of necessity, both vigilant and violent, and even in tender moments, to their daughters. — James Anderson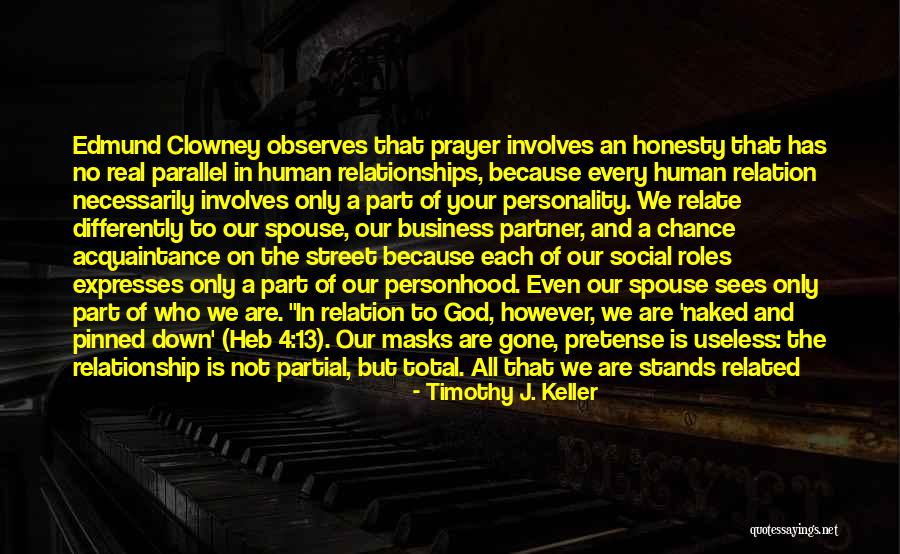 Edmund Clowney observes that prayer involves an honesty that has no real parallel in human relationships, because every human relation necessarily involves only a part of your personality. We relate differently to our spouse, our business partner, and a chance acquaintance on the street because each of our social roles expresses only a part of our personhood. Even our spouse sees only part of who we are. "In relation to God, however, we are 'naked and pinned down' (Heb 4:13). Our masks are gone, pretense is useless: the relationship is not partial, but total. All that we are stands related to our Maker and Redeemer."245 — Timothy J. Keller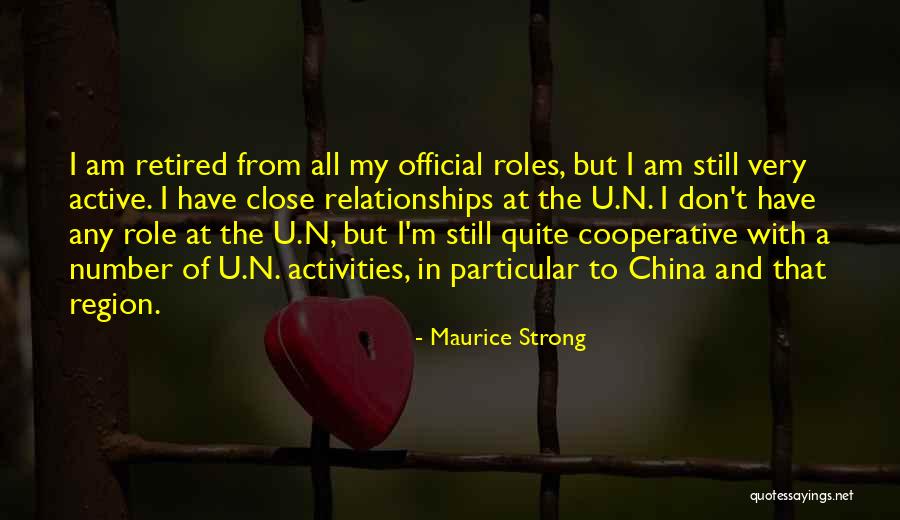 I am retired from all my official roles, but I am still very active. I have close relationships at the U.N. I don't have any role at the U.N, but I'm still quite cooperative with a number of U.N. activities, in particular to China and that region. — Maurice Strong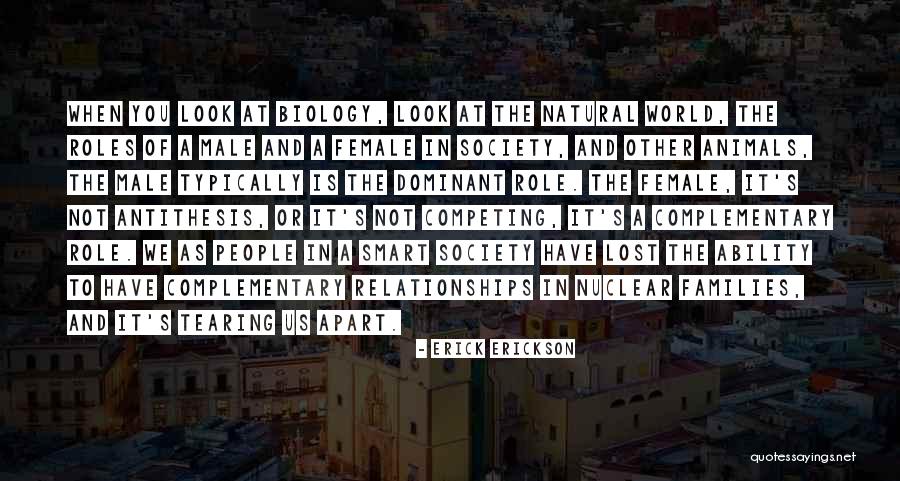 When you look at biology, look at the natural world, the roles of a male and a female in society, and other animals, the male typically is the dominant role. The female, it's not antithesis, or it's not competing, it's a complementary role. We as people in a smart society have lost the ability to have complementary relationships in nuclear families, and it's tearing us apart. — Erick Erickson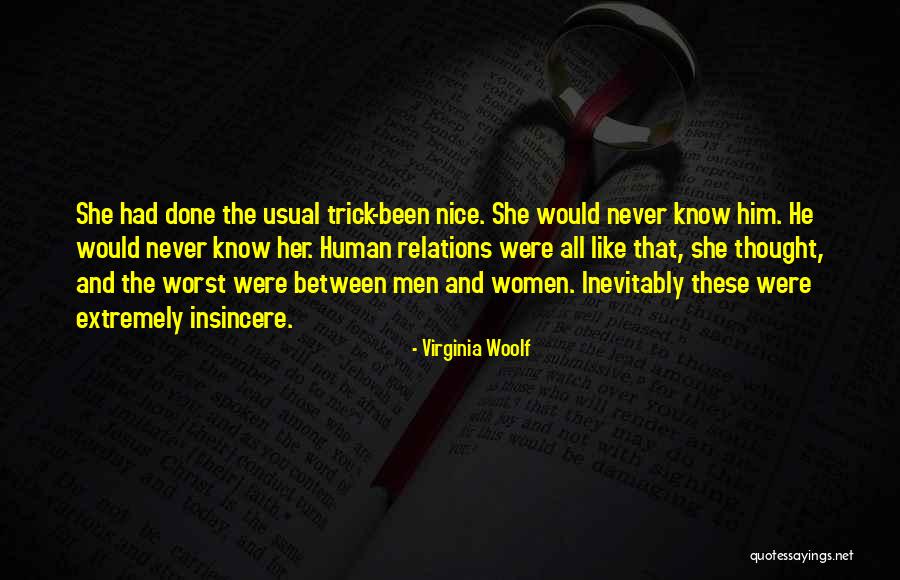 She had done the usual trick-been nice. She would never know him. He would never know her. Human relations were all like that, she thought, and the worst were between men and women. Inevitably these were extremely insincere. — Virginia Woolf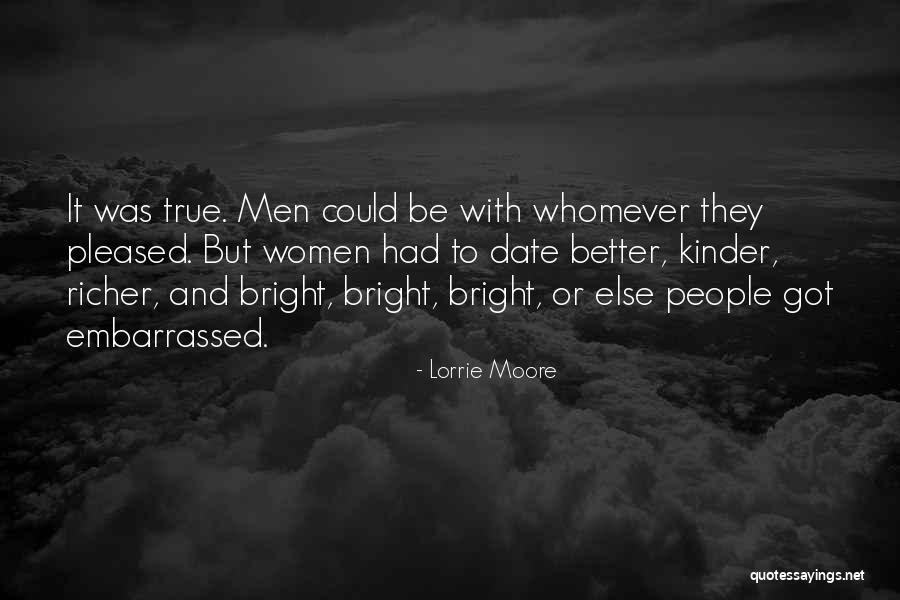 It was true. Men could be with whomever they pleased. But women had to date better, kinder, richer, and bright, bright, bright, or else people got embarrassed. — Lorrie Moore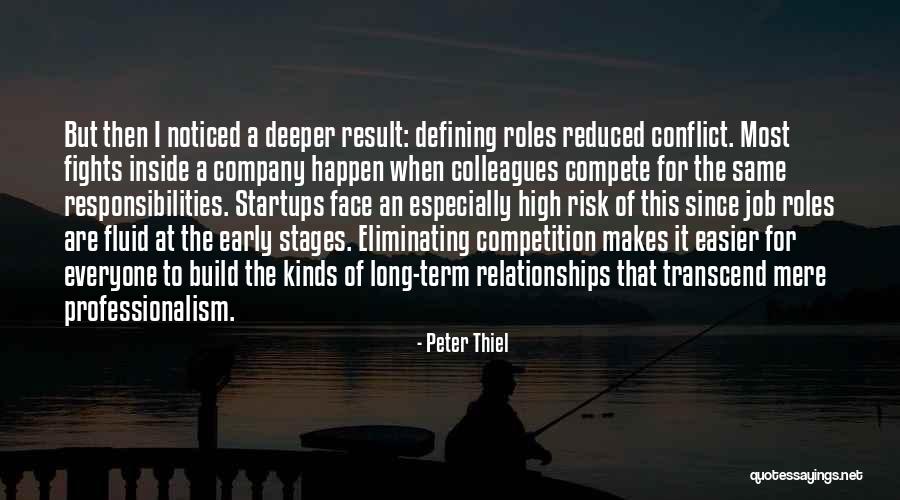 But then I noticed a deeper result: defining roles reduced conflict. Most fights inside a company happen when colleagues compete for the same responsibilities. Startups face an especially high risk of this since job roles are fluid at the early stages. Eliminating competition makes it easier for everyone to build the kinds of long-term relationships that transcend mere professionalism. — Peter Thiel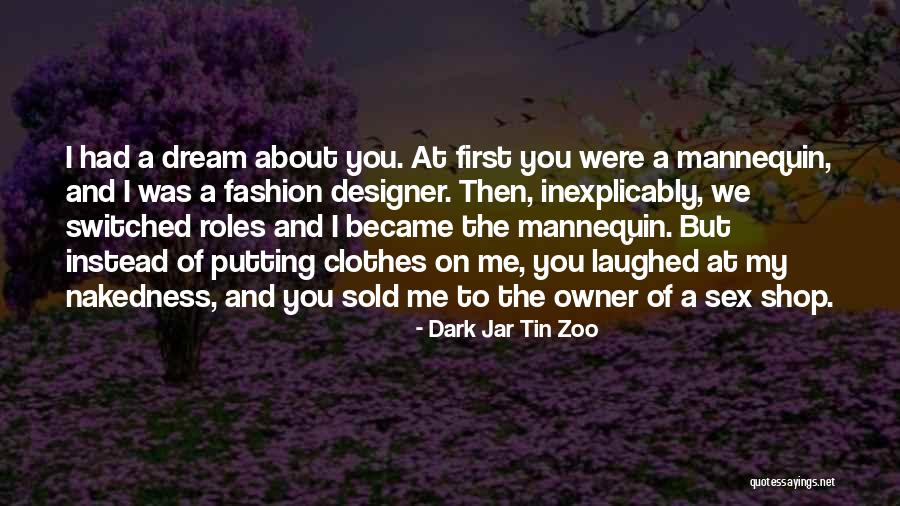 I had a dream about you. At first you were a mannequin, and I was a fashion designer. Then, inexplicably, we switched roles and I became the mannequin. But instead of putting clothes on me, you laughed at my nakedness, and you sold me to the owner of a sex shop. — Dark Jar Tin Zoo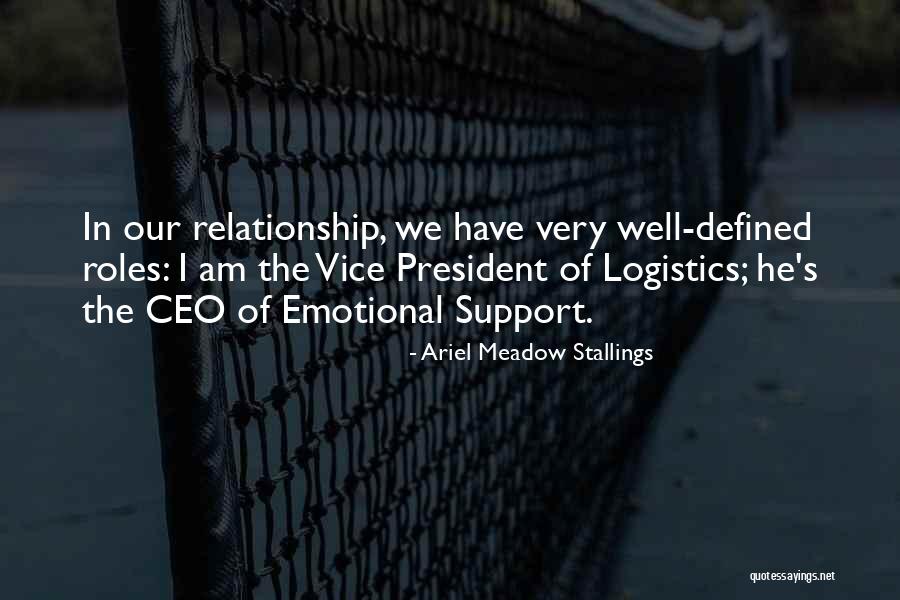 In our relationship, we have very well-defined roles: I am the Vice President of Logistics; he's the CEO of Emotional Support. — Ariel Meadow Stallings
What's universal is the texture of our relationships. It's evolving. Times are changing with the women's movement. Men's roles are being redefined and, in some ways, they're confused. — Terry McMillan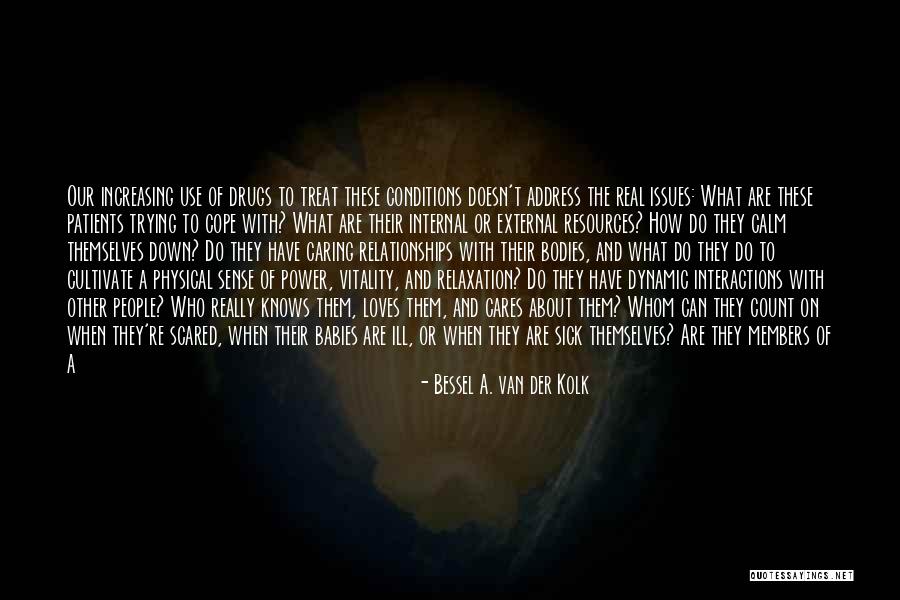 Our increasing use of drugs to treat these conditions doesn't address the real issues: What are these patients trying to cope with? What are their internal or external resources? How do they calm themselves down? Do they have caring relationships with their bodies, and what do they do to cultivate a physical sense of power, vitality, and relaxation? Do they have dynamic interactions with other people? Who really knows them, loves them, and cares about them? Whom can they count on when they're scared, when their babies are ill, or when they are sick themselves? Are they members of a community, and do they play vital roles in the lives of the people around them? What specific skills do they need to focus, pay attention, and make choices? Do they have a sense of purpose? What are they good at? How can we help them feel in charge of their lives? — Bessel A. Van Der Kolk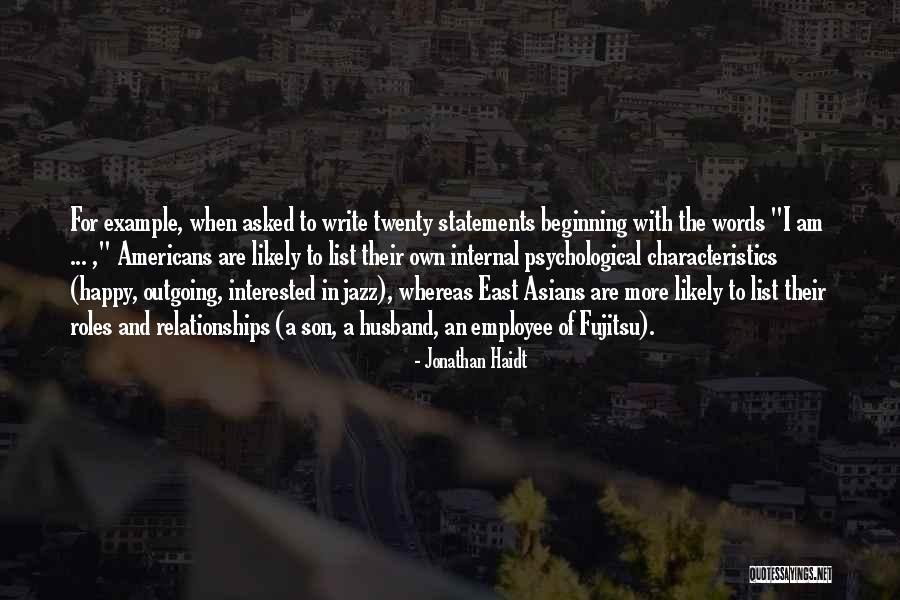 For example, when asked to write twenty statements beginning with the words "I am ... ," Americans are likely to list their own internal psychological characteristics (happy, outgoing, interested in jazz), whereas East Asians are more likely to list their roles and relationships (a son, a husband, an employee of Fujitsu). — Jonathan Haidt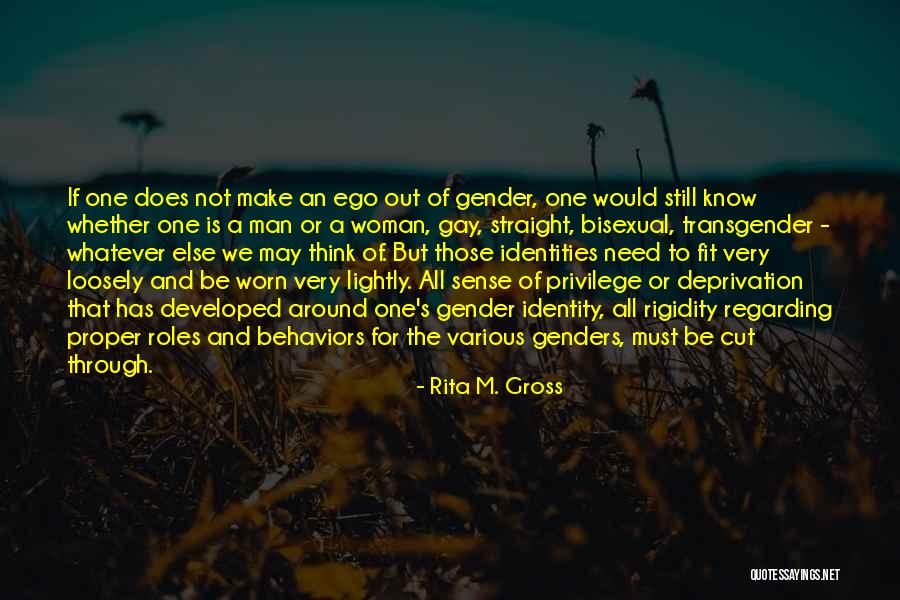 If one does not make an ego out of gender, one would still know whether one is a man or a woman, gay, straight, bisexual, transgender - whatever else we may think of. But those identities need to fit very loosely and be worn very lightly. All sense of privilege or deprivation that has developed around one's gender identity, all rigidity regarding proper roles and behaviors for the various genders, must be cut through. — Rita M. Gross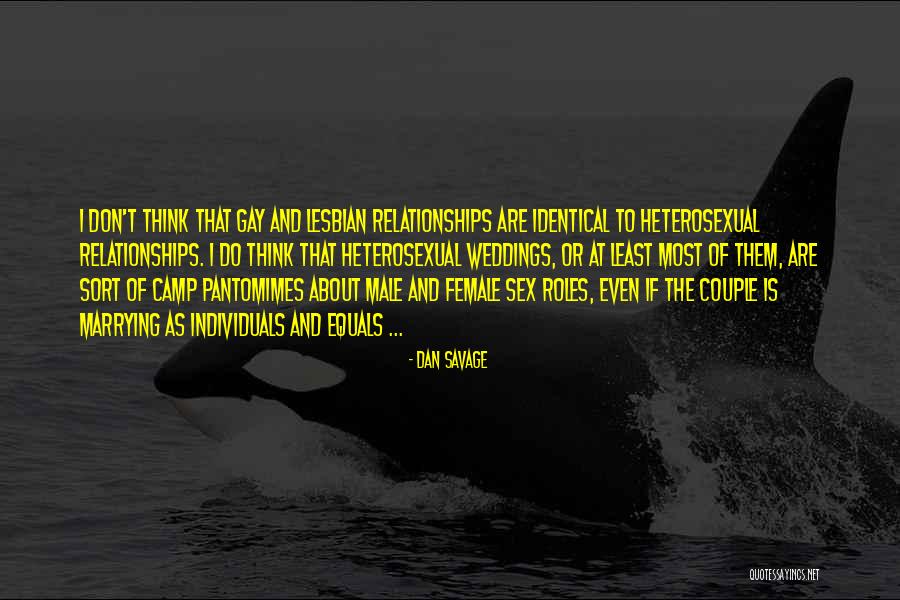 I don't think that gay and lesbian relationships are identical to heterosexual relationships. I do think that heterosexual weddings, or at least most of them, are sort of camp pantomimes about male and female sex roles, even if the couple is marrying as individuals and equals ... — Dan Savage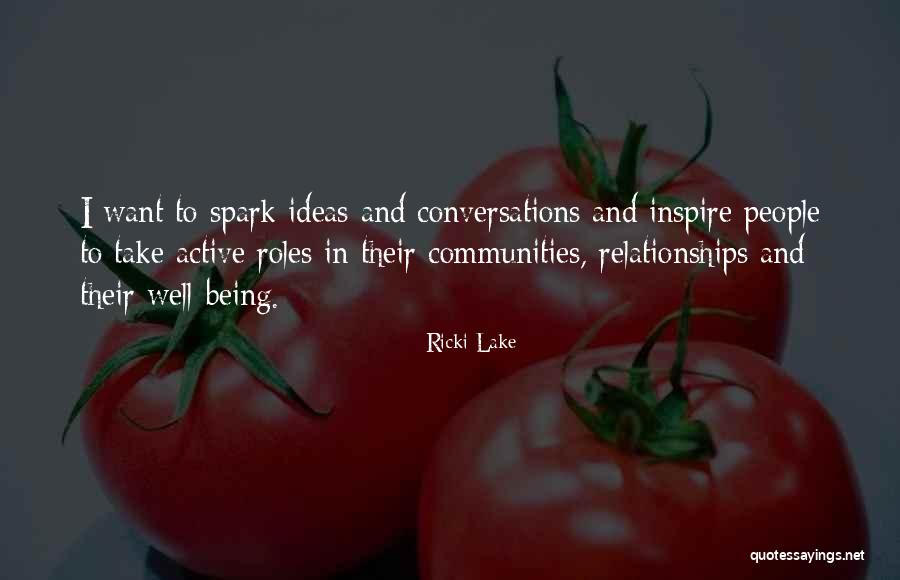 I want to spark ideas and conversations and inspire people to take active roles in their communities, relationships and their well-being. — Ricki Lake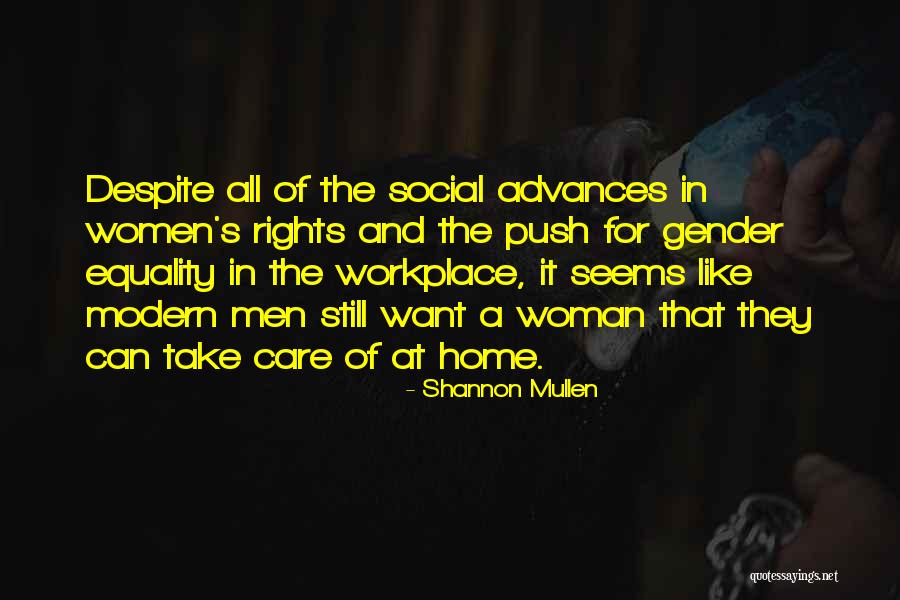 Despite all of the social advances in women's rights and the push for gender equality in the workplace, it seems like modern men still want a woman that they can take care of at home. — Shannon Mullen