Quotes & Sayings About Revolvers
Enjoy reading and share 25 famous quotes about Revolvers with everyone.
Top Revolvers Quotes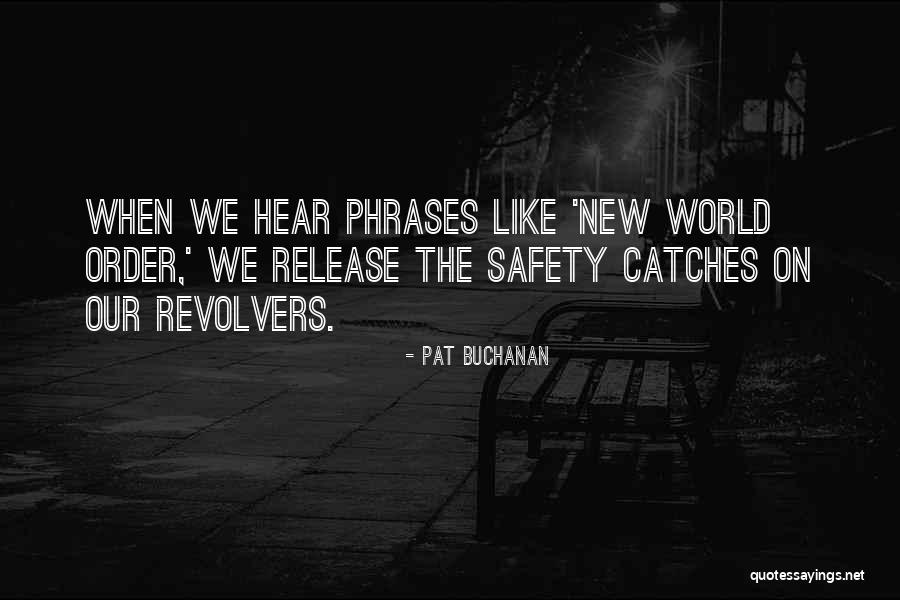 When we hear phrases like 'New World Order,' we release the safety catches on our revolvers. — Pat Buchanan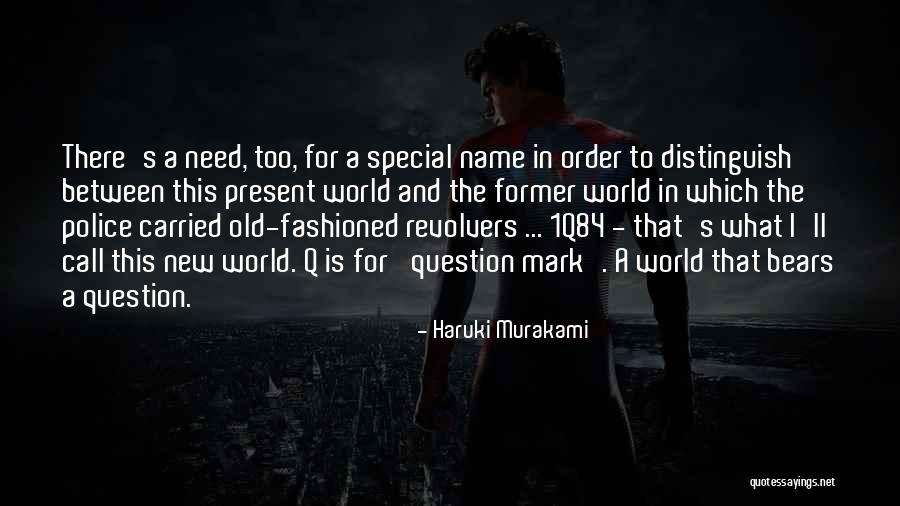 There's a need, too, for a special name in order to distinguish between this present world and the former world in which the police carried old-fashioned revolvers ... 1Q84 - that's what I'll call this new world. Q is for 'question mark'. A world that bears a question. — Haruki Murakami
They'd been told they would be meeting with only two members of the Triumvirate, but three people stood by the pool. Jesper knew the one-eyed girl in the red-and-blue kefta must be Genya Safin, and that meant the shockingly gorgeous girl with the thick fall of ebony hair was Zoya Nazyalensky. They were accompanied by a fox-faced man in his twenties wearing a teal frock coat, brown leather gloves, and an impressive set of Zemeni revolvers slung around his hips. If these people were what Ravka had to offer, maybe Jesper should consider a visit. — Leigh Bardugo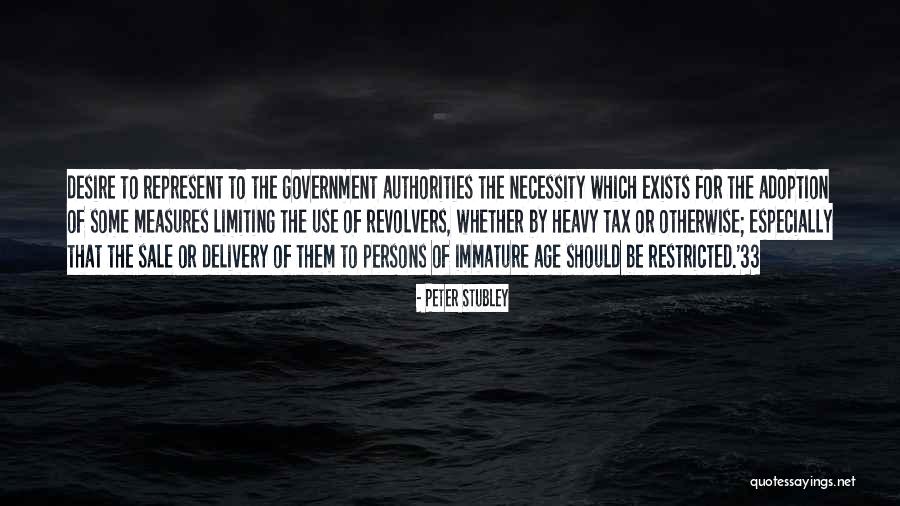 desire to represent to the government authorities the necessity which exists for the adoption of some measures limiting the use of revolvers, whether by heavy tax or otherwise; especially that the sale or delivery of them to persons of immature age should be restricted.'33 — Peter Stubley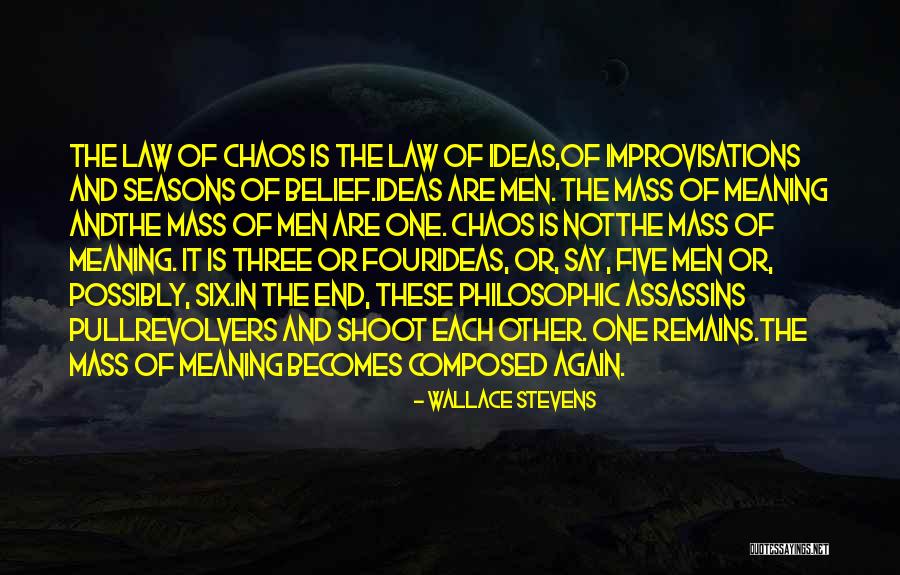 The law of chaos is the law of ideas,
Of improvisations and seasons of belief.
Ideas are men. The mass of meaning and
The mass of men are one. Chaos is not
The mass of meaning. It is three or four
Ideas, or, say, five men or, possibly, six.
In the end, these philosophic assassins pull
Revolvers and shoot each other. One remains.
The mass of meaning becomes composed again. — Wallace Stevens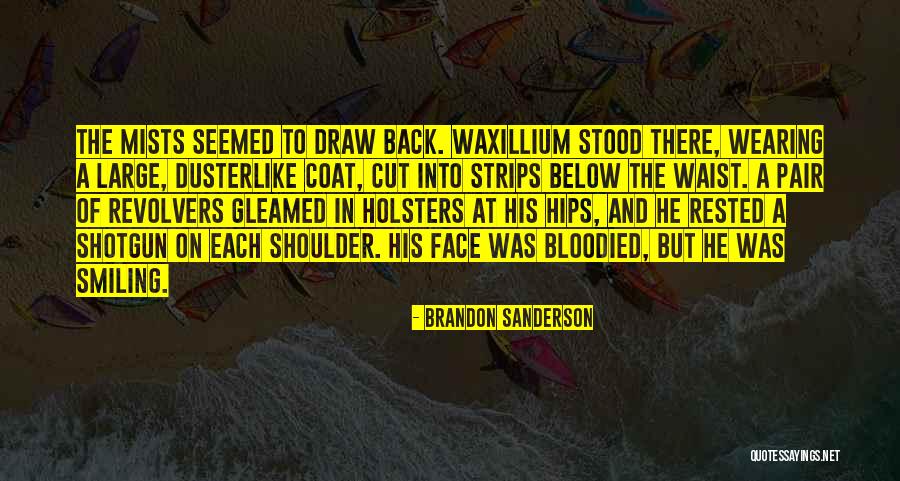 The mists seemed to draw back. Waxillium stood there, wearing a large, dusterlike coat, cut into strips below the waist. A pair of revolvers gleamed in holsters at his hips, and he rested a shotgun on each shoulder. His face was bloodied, but he was smiling. — Brandon Sanderson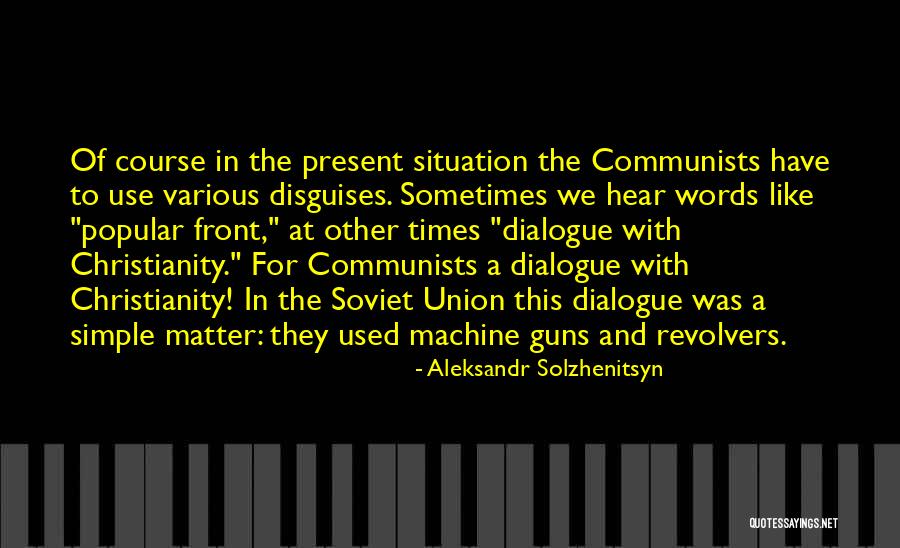 Of course in the present situation the Communists have to use various disguises. Sometimes we hear words like "popular front," at other times "dialogue with Christianity." For Communists a dialogue with Christianity! In the Soviet Union this dialogue was a simple matter: they used machine guns and revolvers. — Aleksandr Solzhenitsyn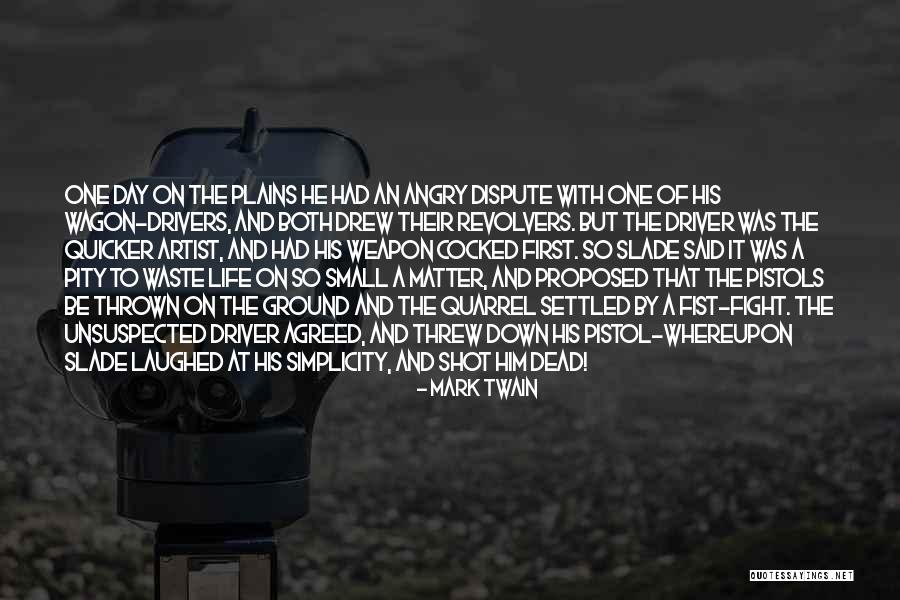 One day on the plains he had an angry dispute with one of his wagon-drivers, and both drew their revolvers. But the driver was the quicker artist, and had his weapon cocked first. So Slade said it was a pity to waste life on so small a matter, and proposed that the pistols be thrown on the ground and the quarrel settled by a fist-fight. The unsuspected driver agreed, and threw down his pistol-whereupon Slade laughed at his simplicity, and shot him dead! — Mark Twain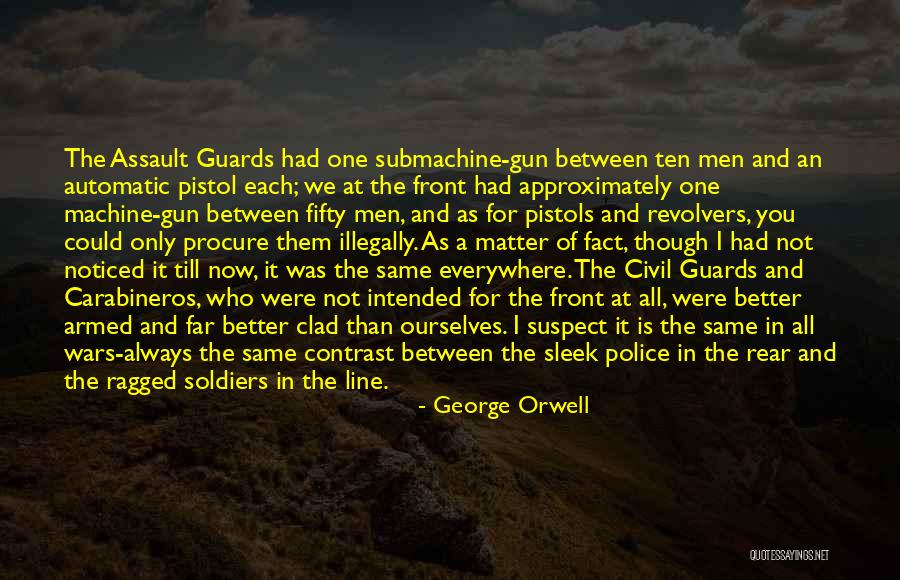 The Assault Guards had one submachine-gun between ten men and an automatic pistol each; we at the front had approximately one machine-gun between fifty men, and as for pistols and revolvers, you could only procure them illegally. As a matter of fact, though I had not noticed it till now, it was the same everywhere. The Civil Guards and Carabineros, who were not intended for the front at all, were better armed and far better clad than ourselves. I suspect it is the same in all wars-always the same contrast between the sleek police in the rear and the ragged soldiers in the line. — George Orwell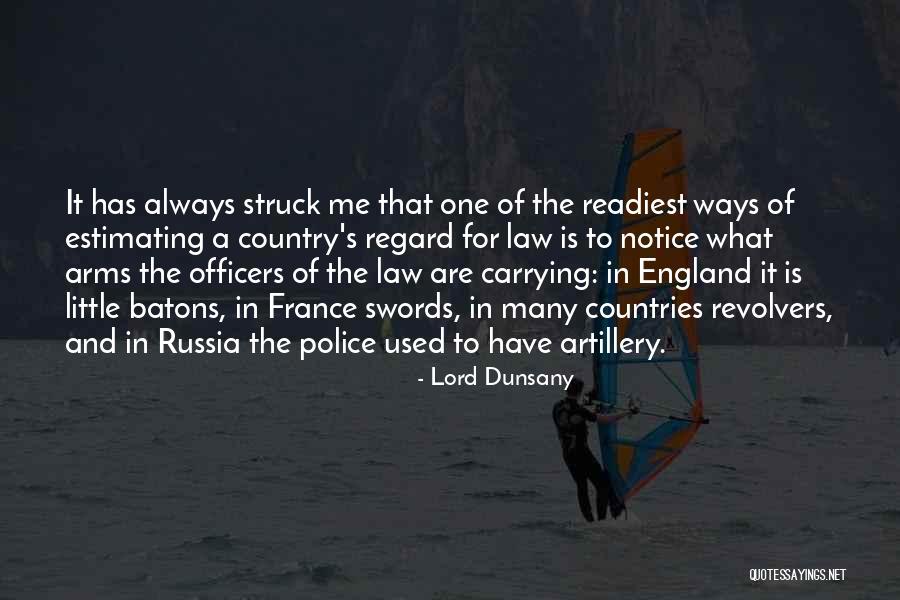 It has always struck me that one of the readiest ways of estimating a country's regard for law is to notice what arms the officers of the law are carrying: in England it is little batons, in France swords, in many countries revolvers, and in Russia the police used to have artillery. — Lord Dunsany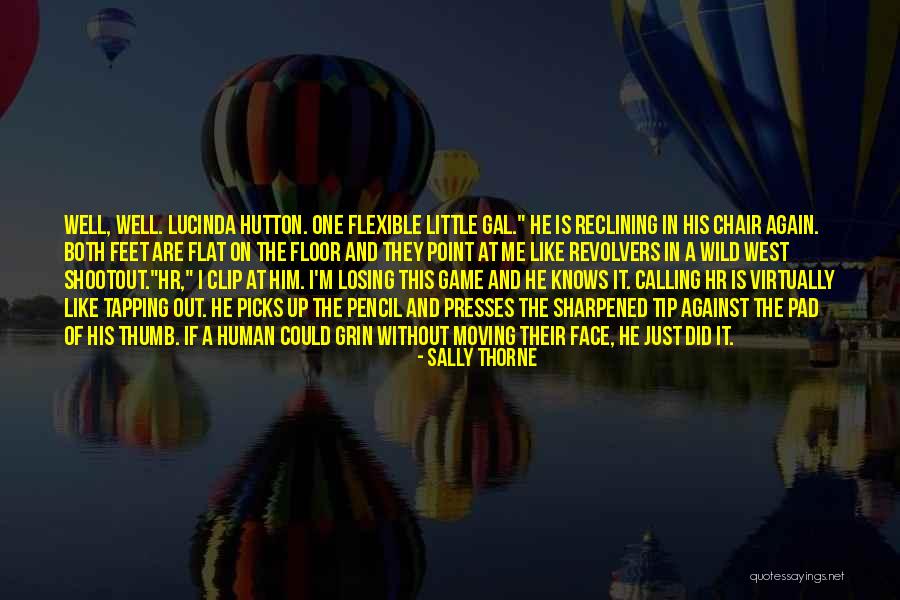 Well, well. Lucinda Hutton. One flexible little gal." He is reclining in his chair again. Both feet are flat on the floor and they point at me like revolvers in a Wild West shootout.

"HR," I clip at him. I'm losing this game and he knows it. Calling HR is virtually like tapping out. He picks up the pencil and presses the sharpened tip against the pad of his thumb. If a human could grin without moving their face, he just did it. — Sally Thorne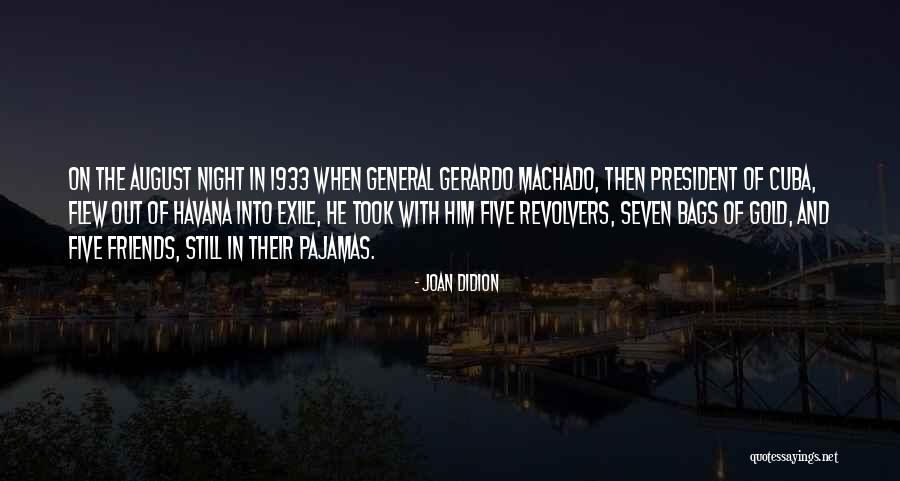 On the August night in 1933 when General Gerardo Machado, then president of Cuba, flew out of Havana into exile, he took with him five revolvers, seven bags of gold, and five friends, still in their pajamas. — Joan Didion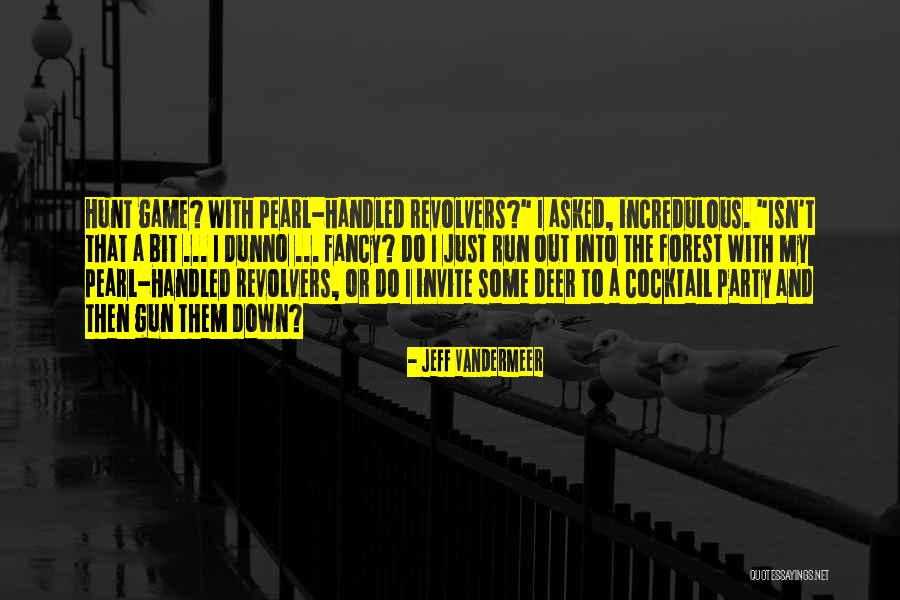 Hunt game? With pearl-handled revolvers?" I asked, incredulous. "Isn't that a bit ... I dunno ... fancy? Do I just run out into the forest with my pearl-handled revolvers, or do I invite some deer to a cocktail party and then gun them down? — Jeff VanderMeer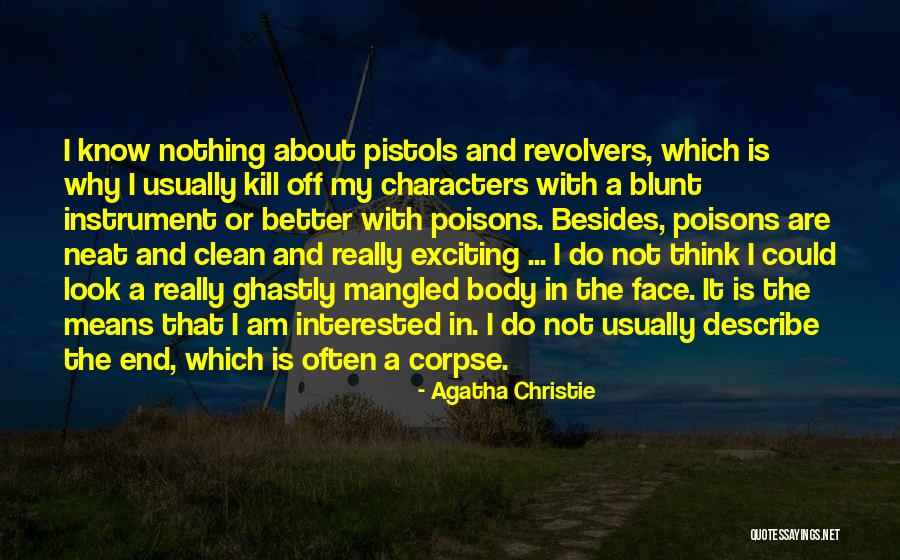 I know nothing about pistols and revolvers, which is why I usually kill off my characters with a blunt instrument or better with poisons. Besides, poisons are neat and clean and really exciting ... I do not think I could look a really ghastly mangled body in the face. It is the means that I am interested in. I do not usually describe the end, which is often a corpse. — Agatha Christie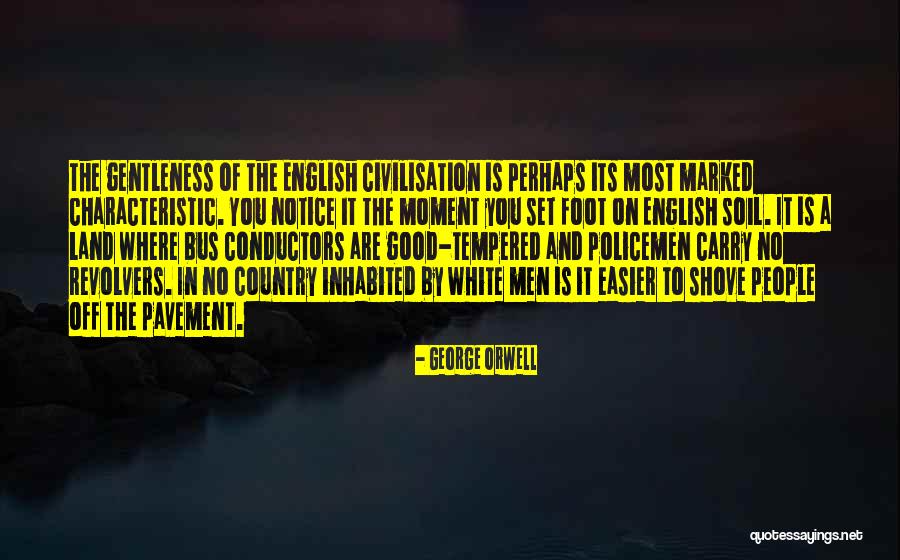 The gentleness of the English civilisation is perhaps its most marked characteristic. You notice it the moment you set foot on English soil. It is a land where bus conductors are good-tempered and policemen carry no revolvers. In no country inhabited by white men is it easier to shove people off the pavement. — George Orwell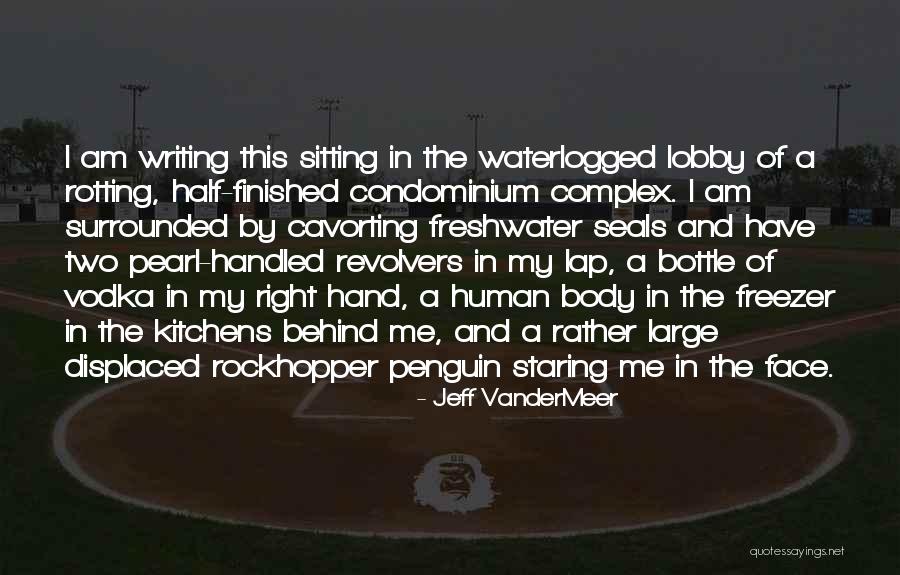 I am writing this sitting in the waterlogged lobby of a rotting, half-finished condominium complex. I am surrounded by cavorting freshwater seals and have two pearl-handled revolvers in my lap, a bottle of vodka in my right hand, a human body in the freezer in the kitchens behind me, and a rather large displaced rockhopper penguin staring me in the face. — Jeff VanderMeer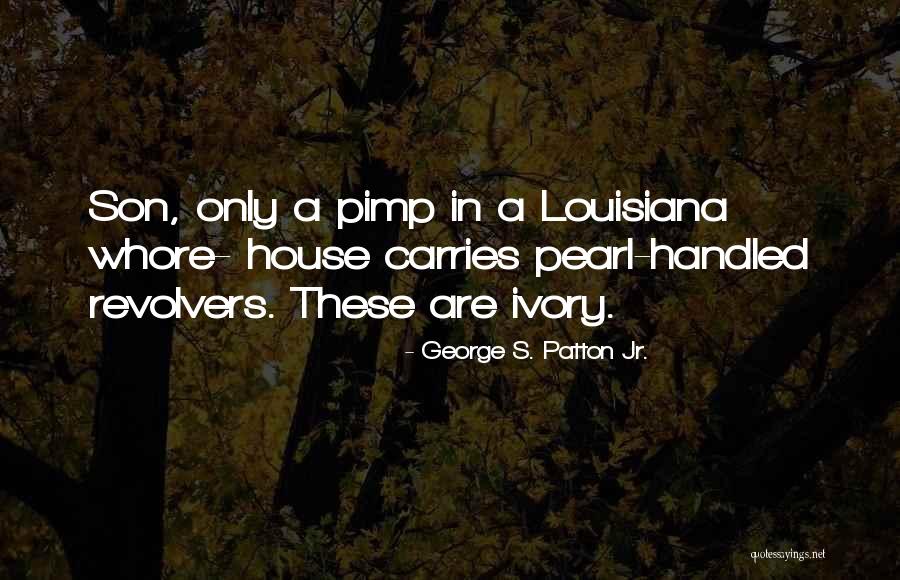 Son, only a pimp in a Louisiana whore- house carries pearl-handled revolvers. These are ivory. — George S. Patton Jr.
Rooster said, "Fill your hand, you son of a bitch!" and he took the reins in his teeth and pulled the other saddle revolver and drove his spurs into the flanks of his strong horse Bo and charged directly at the bandits. It was a sight to see. He held the revolvers wide on either side of the head of his plunging steed. The four bandits accepted the challenge and they likewise pulled their arms and charged their ponies ahead. — Charles Portis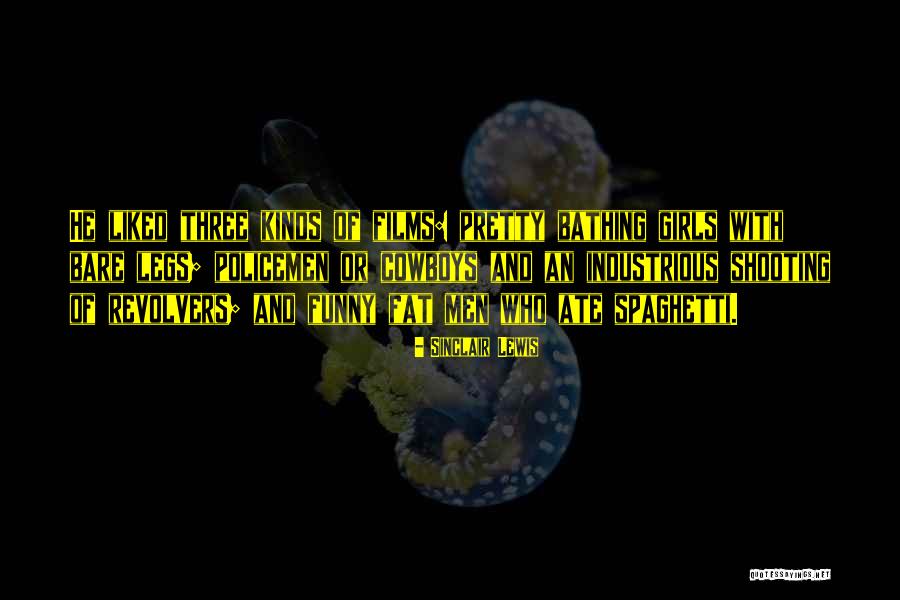 He liked three kinds of films: pretty bathing girls with bare legs; policemen or cowboys and an industrious shooting of revolvers; and funny fat men who ate spaghetti. — Sinclair Lewis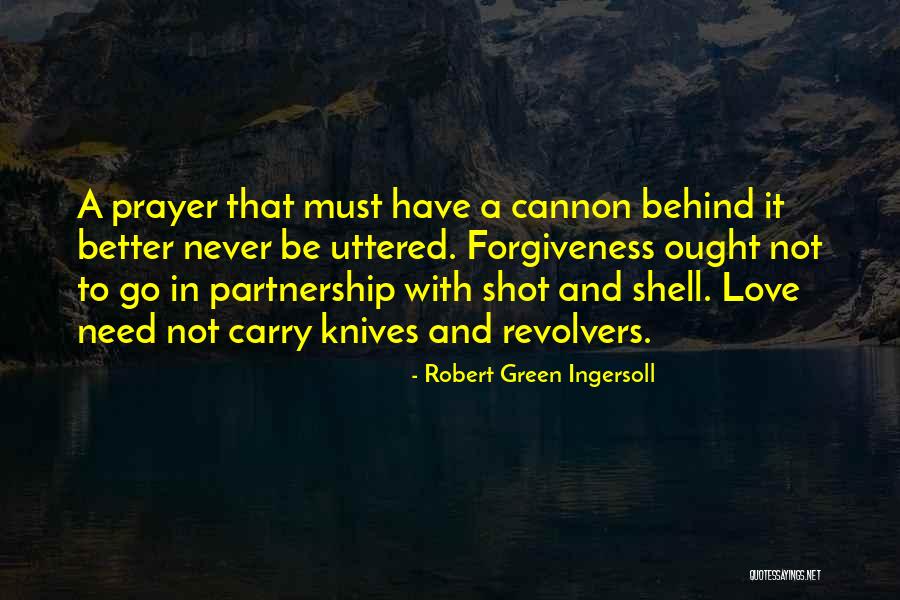 A prayer that must have a cannon behind it better never be uttered. Forgiveness ought not to go in partnership with shot and shell. Love need not carry knives and revolvers. — Robert Green Ingersoll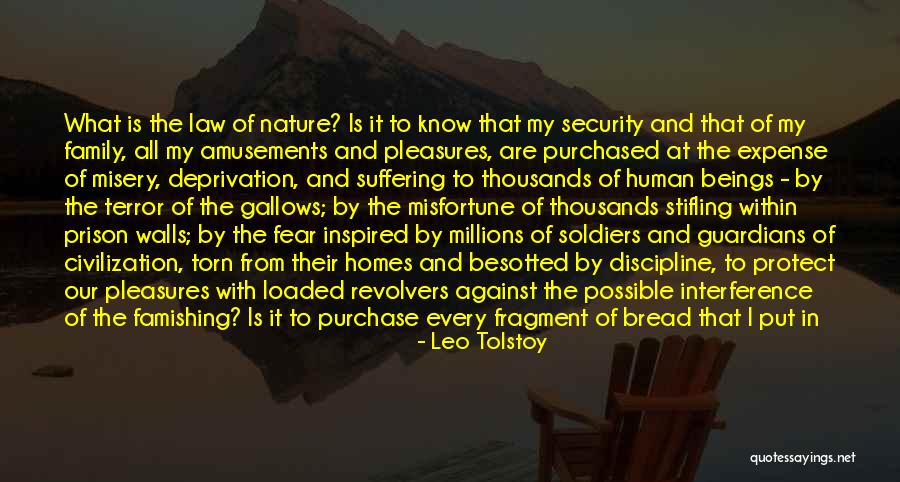 What is the law of nature? Is it to know that my security and that of my family, all my amusements and pleasures, are purchased at the expense of misery, deprivation, and suffering to thousands of human beings - by the terror of the gallows; by the misfortune of thousands stifling within prison walls; by the fear inspired by millions of soldiers and guardians of civilization, torn from their homes and besotted by discipline, to protect our pleasures with loaded revolvers against the possible interference of the famishing? Is it to purchase every fragment of bread that I put in my mouth and the mouths of my children by the numberless privations that are necessary to procure my abundance? Or is it to be certain that my piece of bread only belongs to me when I know that every one else has a share, and that no one starves while I eat? — Leo Tolstoy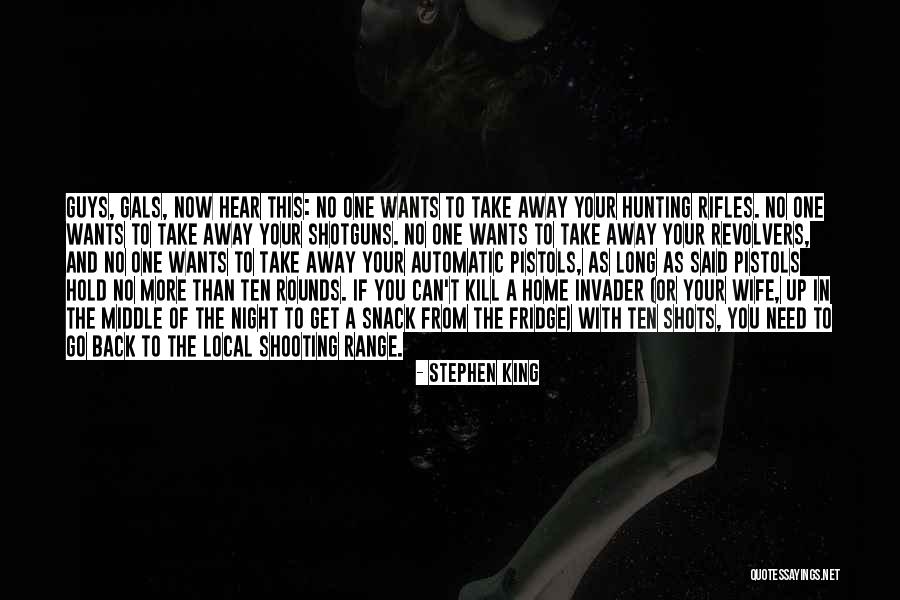 Guys, gals, now hear this: No one wants to take away your hunting rifles. No one wants to take away your shotguns. No one wants to take away your revolvers, and no one wants to take away your automatic pistols, as long as said pistols hold no more than ten rounds. If you can't kill a home invader (or your wife, up in the middle of the night to get a snack from the fridge) with ten shots, you need to go back to the local shooting range. — Stephen King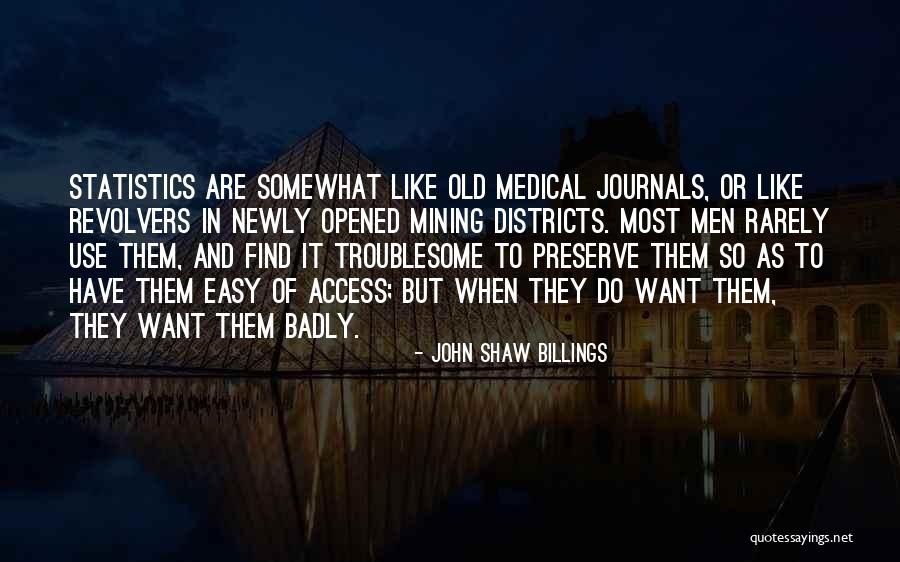 Statistics are somewhat like old medical journals, or like revolvers in newly opened mining districts. Most men rarely use them, and find it troublesome to preserve them so as to have them easy of access; but when they do want them, they want them badly. — John Shaw Billings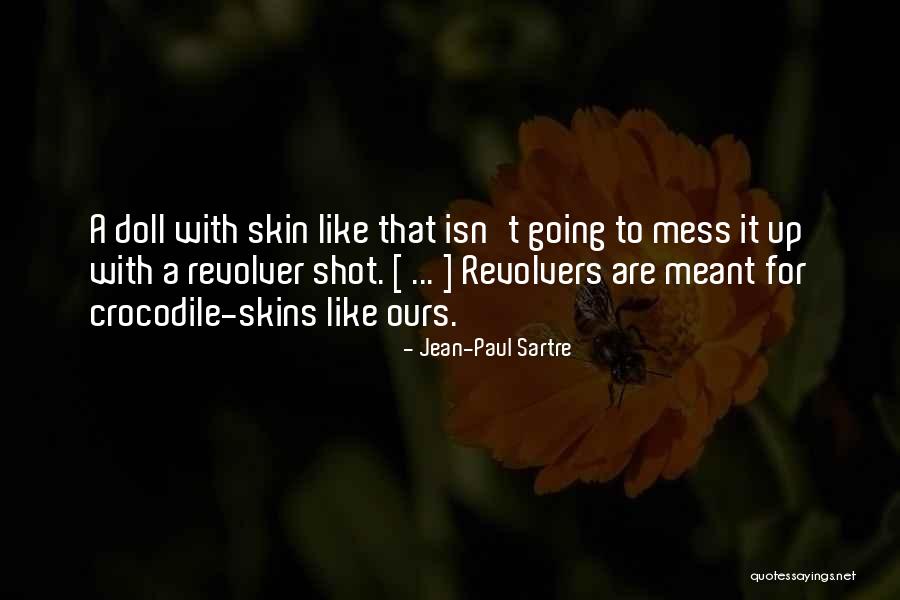 A doll with skin like that isn't going to mess it up with a revolver shot. [ ... ] Revolvers are meant for crocodile-skins like ours. — Jean-Paul Sartre