Relationship Mother Son Quotes & Sayings
Enjoy reading and share 17 famous quotes about Relationship Mother Son with everyone.
Top Relationship Mother Son Quotes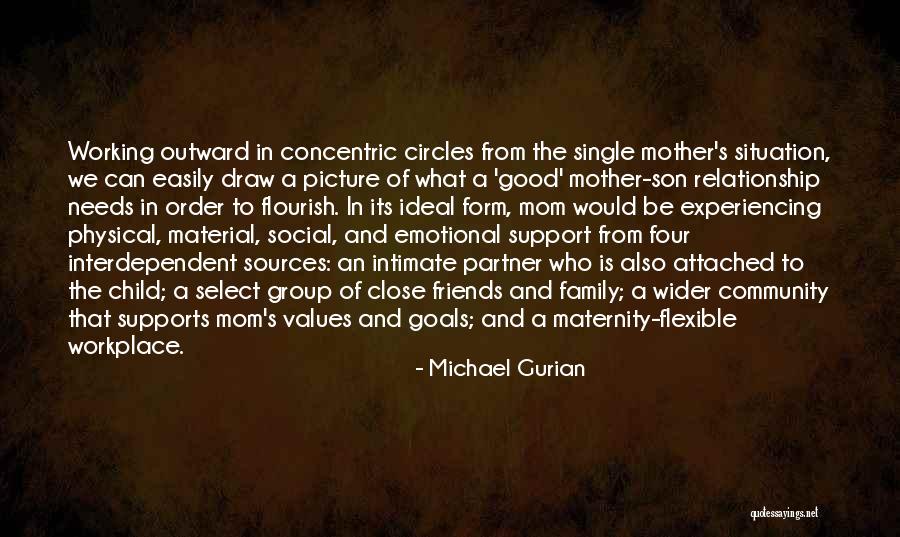 Working outward in concentric circles from the single mother's situation, we can easily draw a picture of what a 'good' mother-son relationship needs in order to flourish. In its ideal form, mom would be experiencing physical, material, social, and emotional support from four interdependent sources: an intimate partner who is also attached to the child; a select group of close friends and family; a wider community that supports mom's values and goals; and a maternity-flexible workplace. — Michael Gurian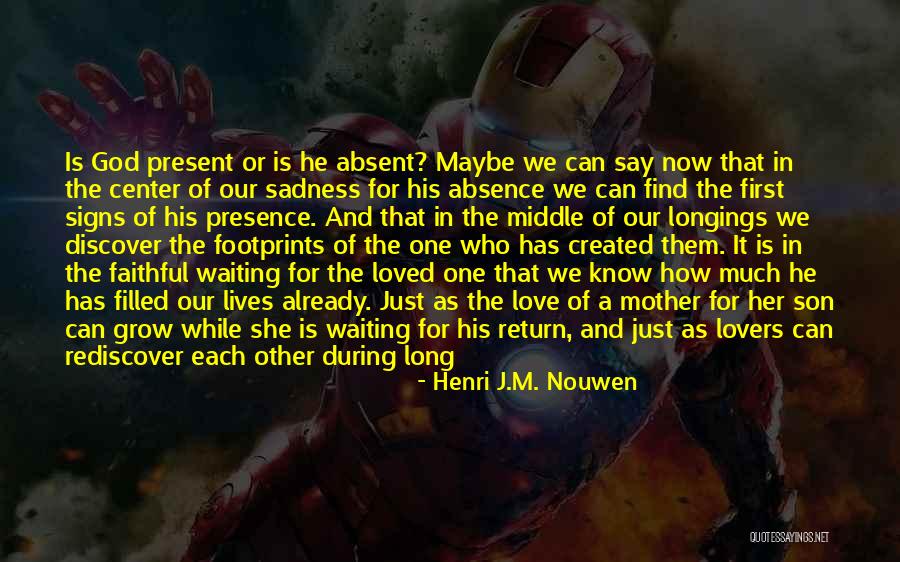 Is God present or is he absent? Maybe we can say now that in the center of our sadness for his absence we can find the first signs of his presence. And that in the middle of our longings we discover the footprints of the one who has created them. It is in the faithful waiting for the loved one that we know how much he has filled our lives already. Just as the love of a mother for her son can grow while she is waiting for his return, and just as lovers can rediscover each other during long periods of absence, so also our intimate relationship with God can become deeper and more mature while we wait patiently in expectation for his return. — Henri J.M. Nouwen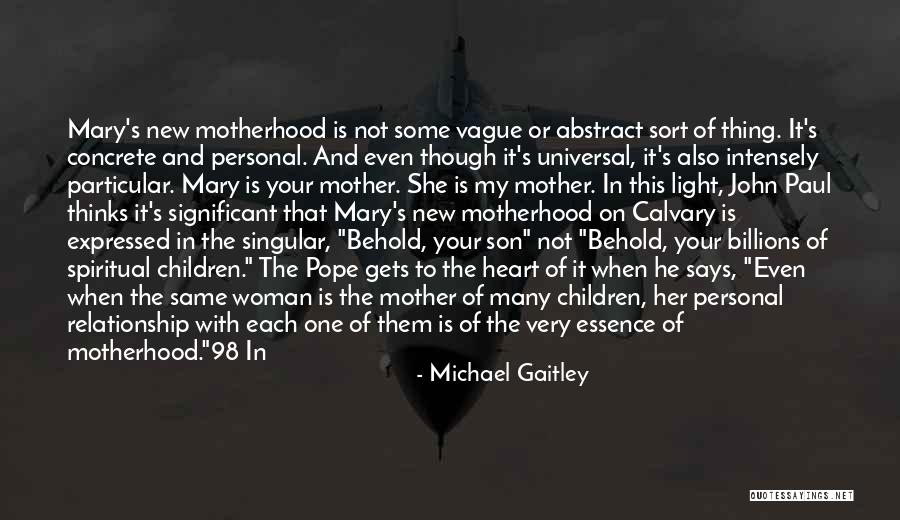 Mary's new motherhood is not some vague or abstract sort of thing. It's concrete and personal. And even though it's universal, it's also intensely particular. Mary is your mother. She is my mother. In this light, John Paul thinks it's significant that Mary's new motherhood on Calvary is expressed in the singular, "Behold, your son" not "Behold, your billions of spiritual children." The Pope gets to the heart of it when he says, "Even when the same woman is the mother of many children, her personal relationship with each one of them is of the very essence of motherhood."98 In short: Mary is uniquely, particularly, personally your mother and my mother, and she doesn't lose us in the crowd. — Michael Gaitley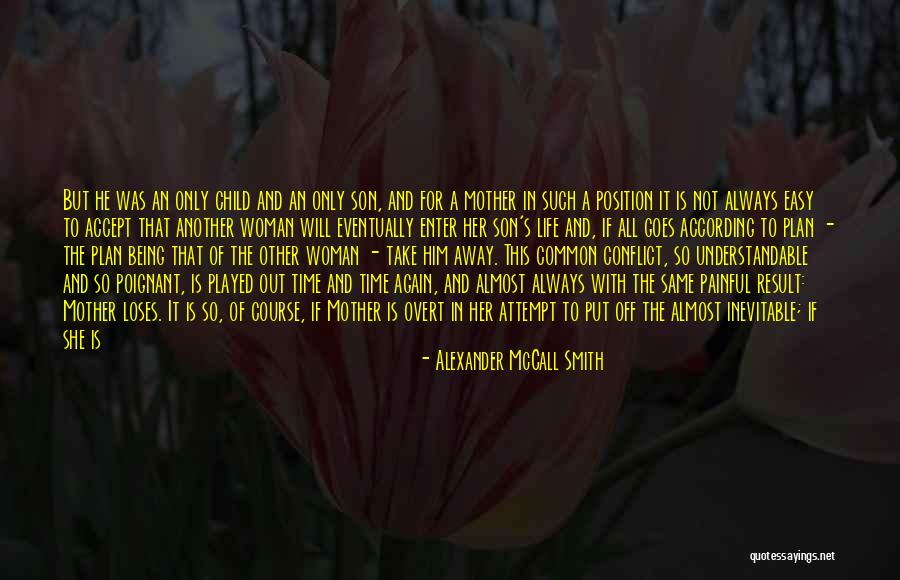 But he was an only child and an only son, and for a mother in such a position it is not always easy to accept that another woman will eventually enter her son's life and, if all goes according to plan - the plan being that of the other woman - take him away. This common conflict, so understandable and so poignant, is played out time and time again, and almost always with the same painful result: Mother loses. It is so, of course, if Mother is overt in her attempt to put off the almost inevitable; if she is covert, then she stands a chance, admittedly a remote one, of introducing into her son's mind a germ of doubt that the woman he has chosen might not be the right one for him. That takes skill, and boundless patience, but it is a course fraught with dangers for the relationship between mother and future daughter-in-law, let alone for that between mother and son. — Alexander McCall Smith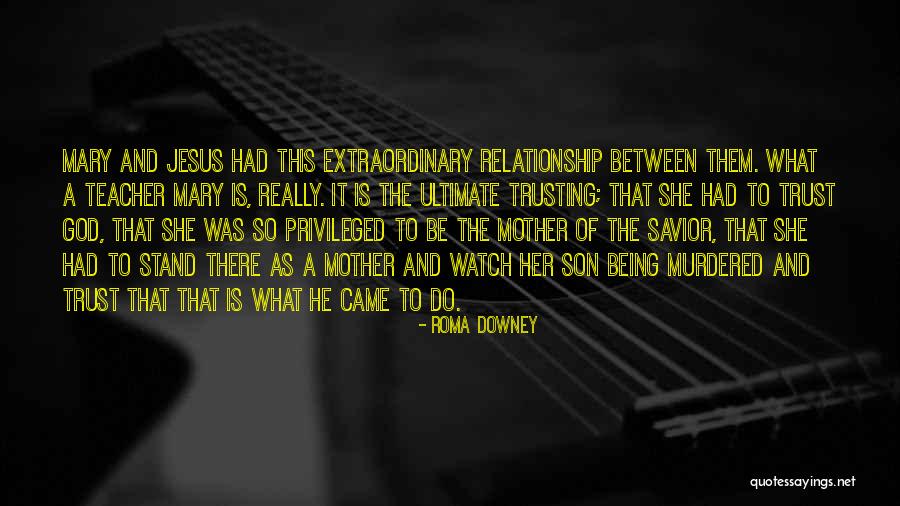 Mary and Jesus had this extraordinary relationship between them. What a teacher Mary is, really. It is the ultimate trusting; that she had to trust God, that she was so privileged to be the mother of the Savior, that she had to stand there as a mother and watch her son being murdered and trust that that is what he came to do. — Roma Downey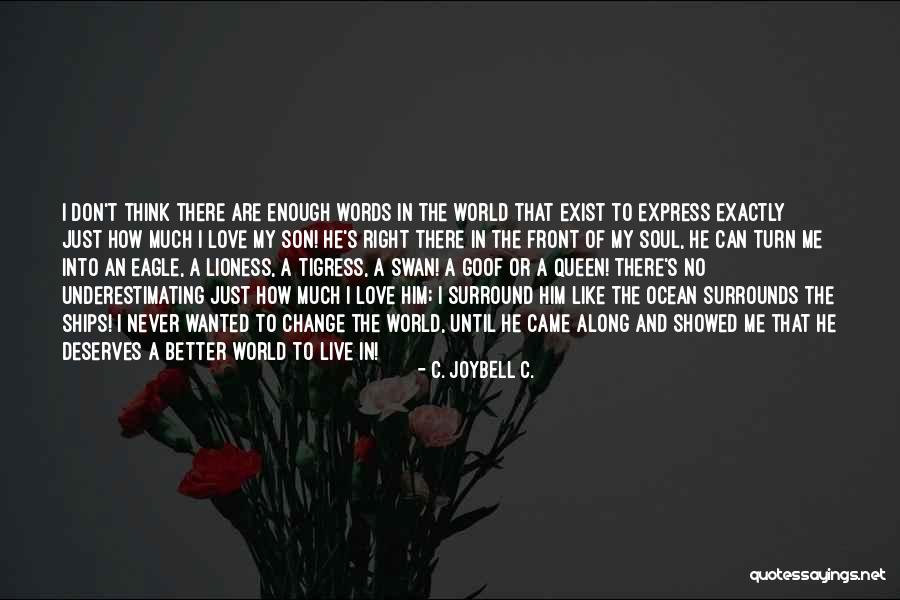 I don't think there are enough words in the world that exist to express exactly just how much I love my son! He's right there in the front of my soul, he can turn me into an eagle, a lioness, a tigress, a swan! A goof or a queen! There's no underestimating just how much I love him; I surround him like the ocean surrounds the ships! I never wanted to change the world, until he came along and showed me that he deserves a better world to live in! — C. JoyBell C.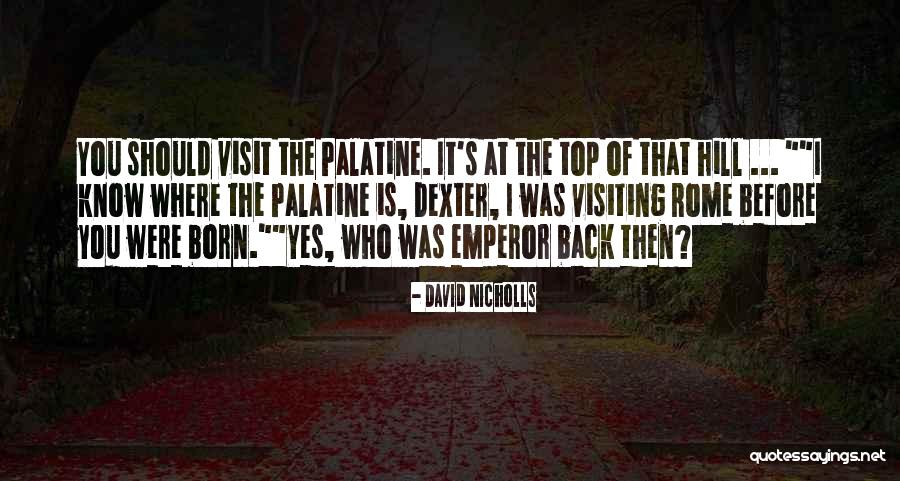 You should visit the Palatine. It's at the top of that hill ... "
"I know where the Palatine is, Dexter, I was visiting Rome before you were born."
"Yes, who was emperor back then? — David Nicholls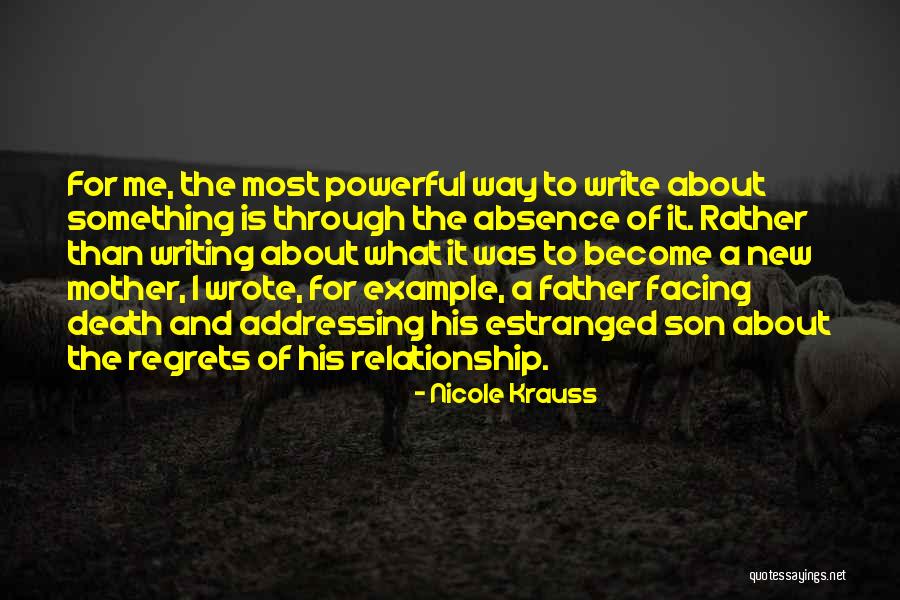 For me, the most powerful way to write about something is through the absence of it. Rather than writing about what it was to become a new mother, I wrote, for example, a father facing death and addressing his estranged son about the regrets of his relationship. — Nicole Krauss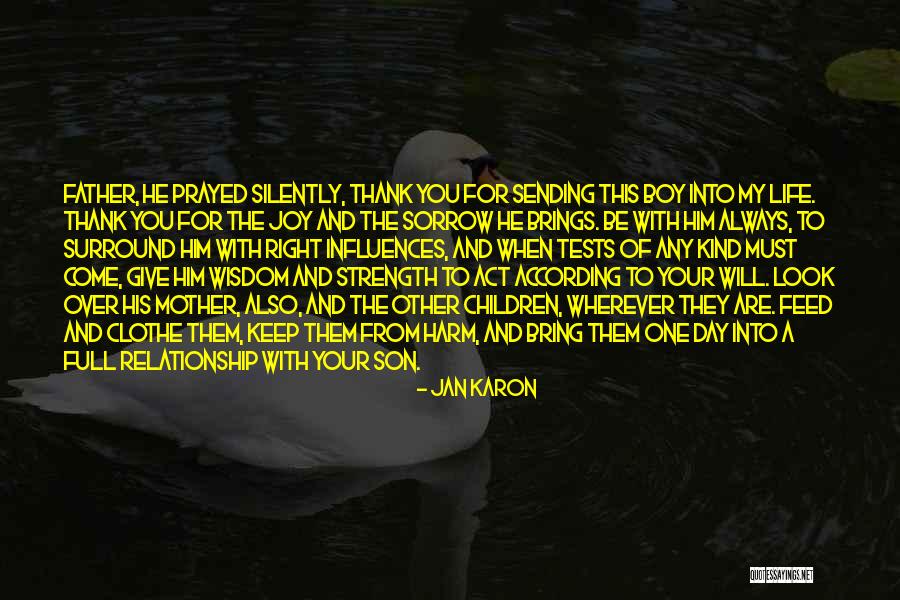 Father, he prayed silently, thank you for sending this boy into my life. Thank you for the joy and the sorrow he brings. Be with him always, to surround him with right influences, and when tests of any kind must come, give him wisdom and strength to act according to your will. Look over his mother, also, and the other children, wherever they are. Feed and clothe them, keep them from harm, and bring them one day into a full relationship with your Son. — Jan Karon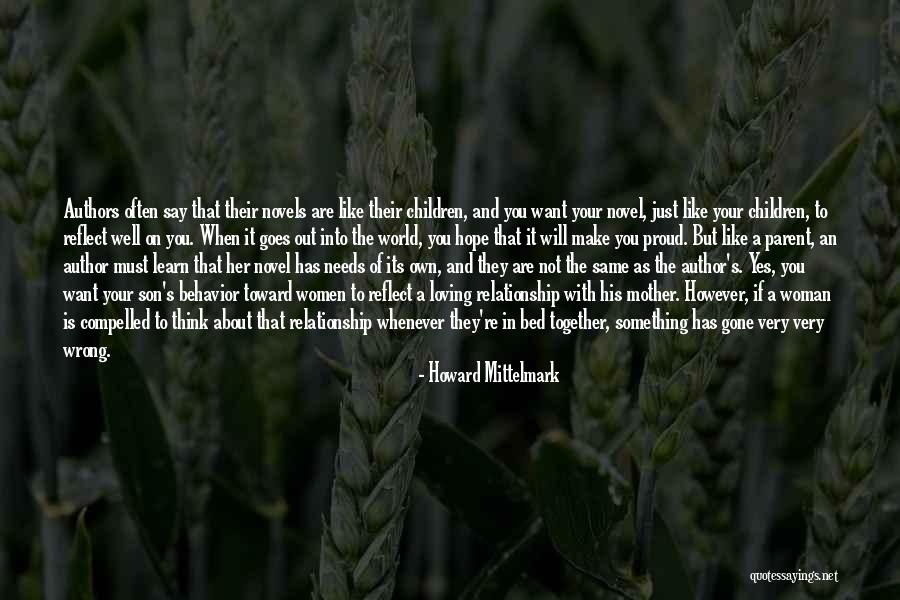 Authors often say that their novels are like their children, and you want your novel, just like your children, to reflect well on you. When it goes out into the world, you hope that it will make you proud. But like a parent, an author must learn that her novel has needs of its own, and they are not the same as the author's.
Yes, you want your son's behavior toward women to reflect a loving relationship with his mother. However, if a woman is compelled to think about that relationship whenever they're in bed together, something has gone very very wrong. — Howard Mittelmark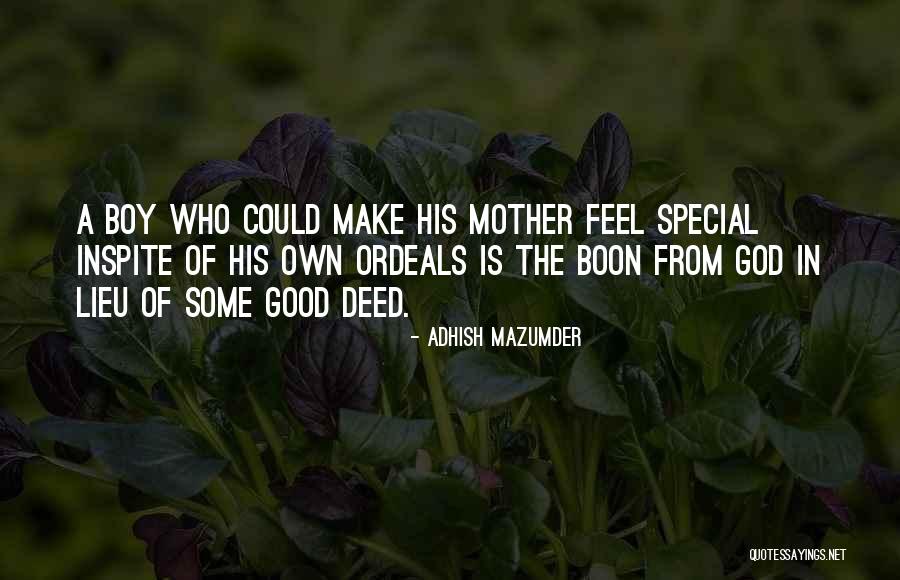 A boy who could make his mother feel special inspite of his own ordeals is the boon from God in lieu of some good deed. — Adhish Mazumder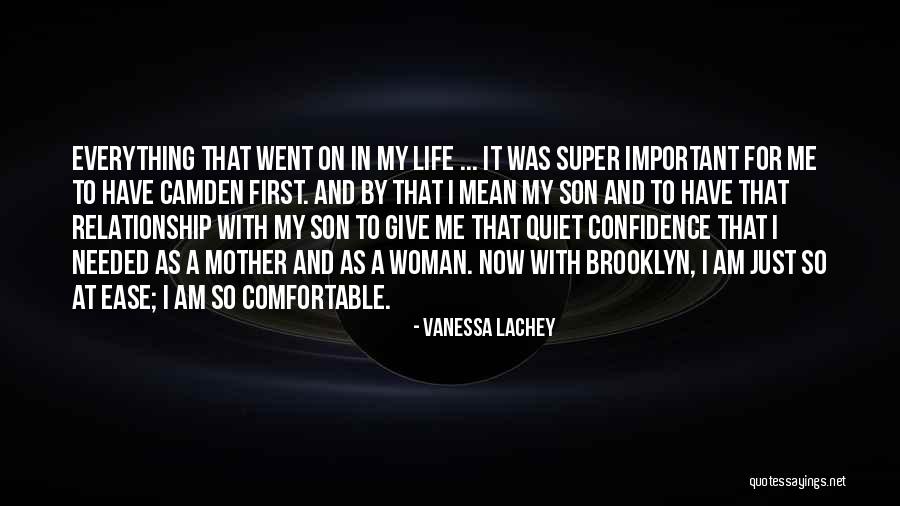 Everything that went on in my life ... it was super important for me to have Camden first. And by that I mean my son and to have that relationship with my son to give me that quiet confidence that I needed as a mother and as a woman. Now with Brooklyn, I am just so at ease; I am so comfortable. — Vanessa Lachey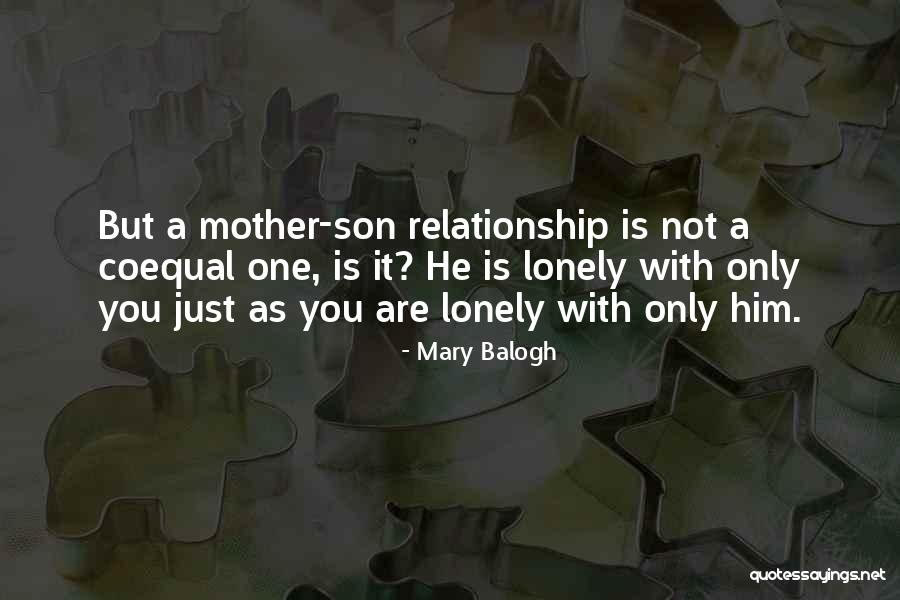 But a mother-son relationship is not a coequal one, is it? He is lonely with only you just as you are lonely with only him. — Mary Balogh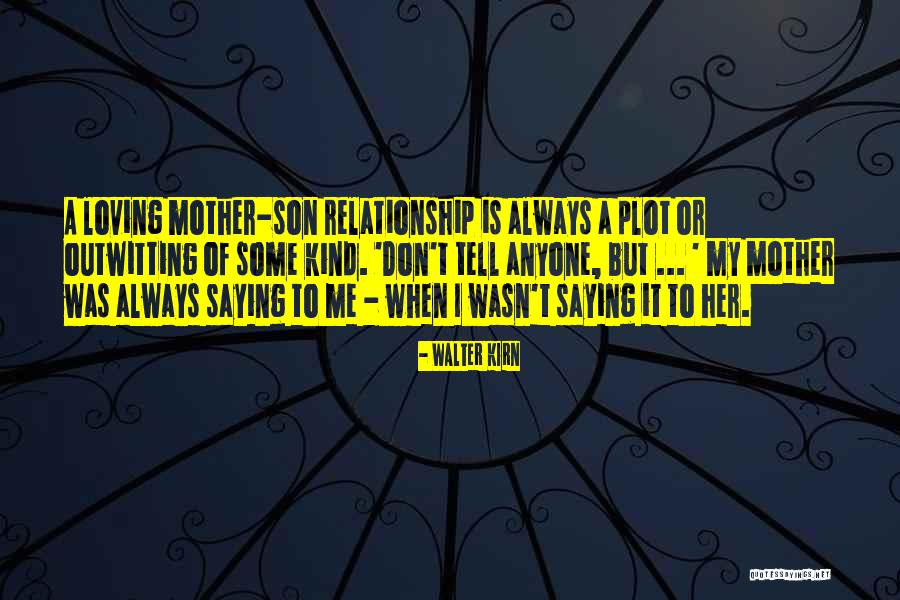 A loving mother-son relationship is always a plot or outwitting of some kind. 'Don't tell anyone, but ... ' my mother was always saying to me - when I wasn't saying it to her. — Walter Kirn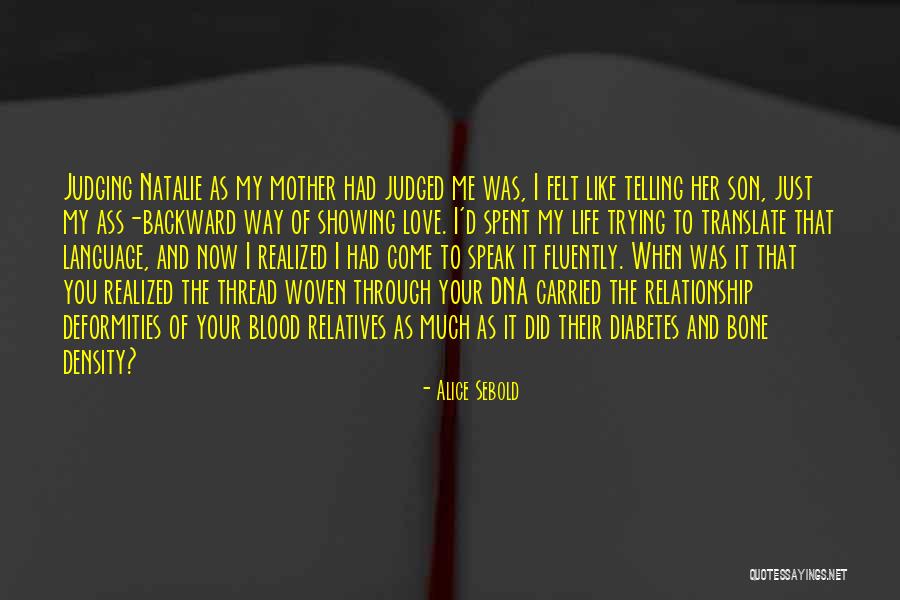 Judging Natalie as my mother had judged me was, I felt like telling her son, just my ass-backward way of showing love. I'd spent my life trying to translate that language, and now I realized I had come to speak it fluently. When was it that you realized the thread woven through your DNA carried the relationship deformities of your blood relatives as much as it did their diabetes and bone density? — Alice Sebold