Record Producer Quotes & Sayings
Enjoy reading and share 46 famous quotes about Record Producer with everyone.
Top Record Producer Quotes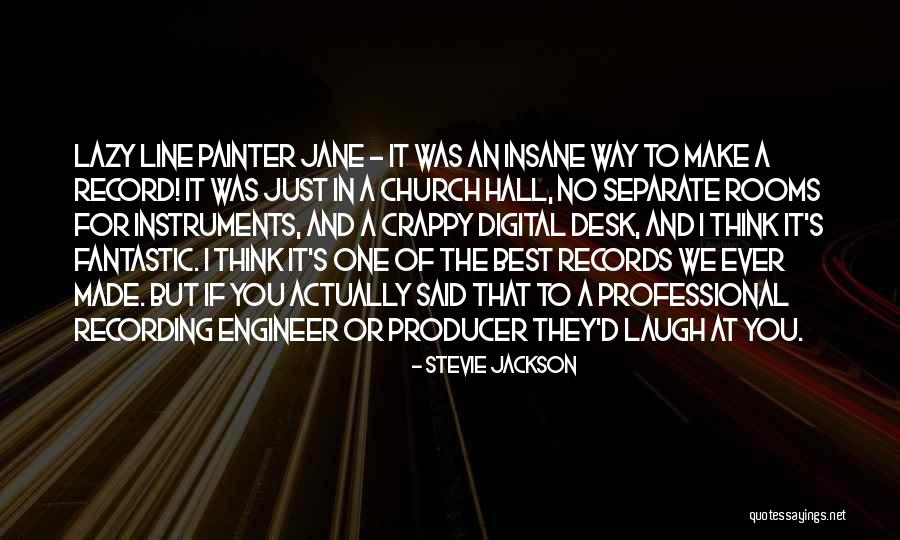 Lazy Line Painter Jane - it was an insane way to make a record! It was just in a church hall, no separate rooms for instruments, and a crappy digital desk, and I think it's fantastic. I think it's one of the best records we ever made. But if you actually said that to a professional recording engineer or producer they'd laugh at you. — Stevie Jackson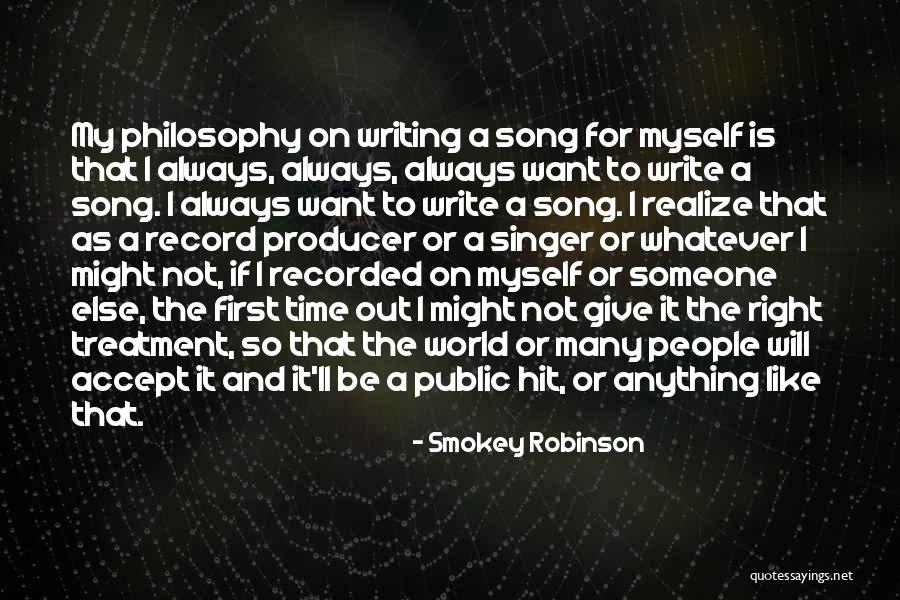 My philosophy on writing a song for myself is that I always, always, always want to write a song. I always want to write a song. I realize that as a record producer or a singer or whatever I might not, if I recorded on myself or someone else, the first time out I might not give it the right treatment, so that the world or many people will accept it and it'll be a public hit, or anything like that. — Smokey Robinson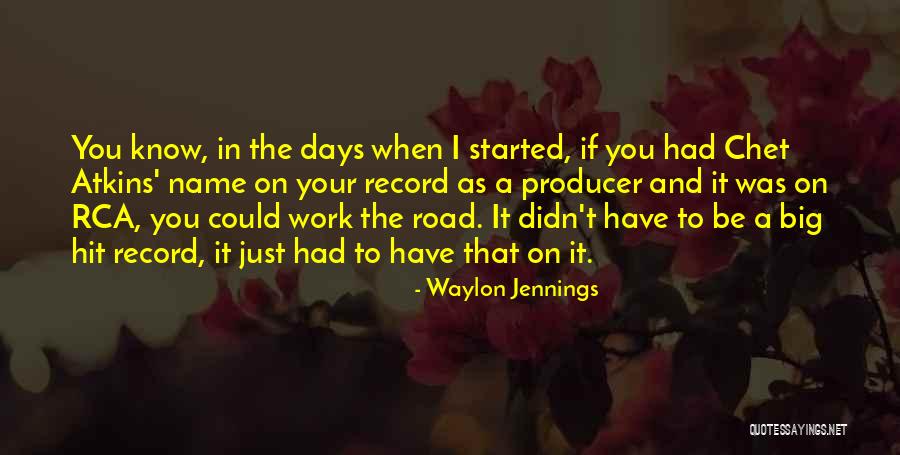 You know, in the days when I started, if you had Chet Atkins' name on your record as a producer and it was on RCA, you could work the road. It didn't have to be a big hit record, it just had to have that on it. — Waylon Jennings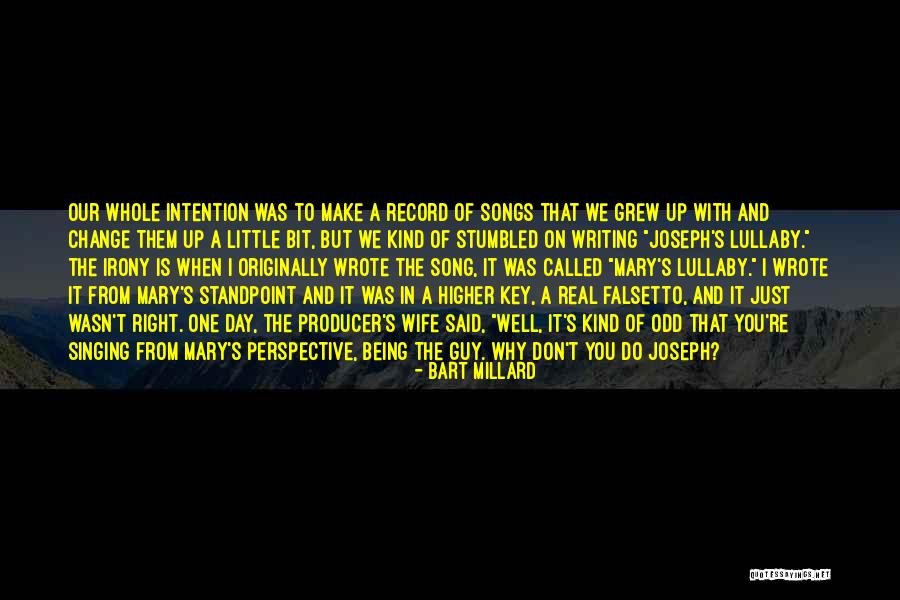 Our whole intention was to make a record of songs that we grew up with and change them up a little bit, but we kind of stumbled on writing "Joseph's Lullaby." The irony is when I originally wrote the song, it was called "Mary's Lullaby." I wrote it from Mary's standpoint and it was in a higher key, a real falsetto, and it just wasn't right. One day, the producer's wife said, "Well, it's kind of odd that you're singing from Mary's perspective, being the guy. Why don't you do Joseph? — Bart Millard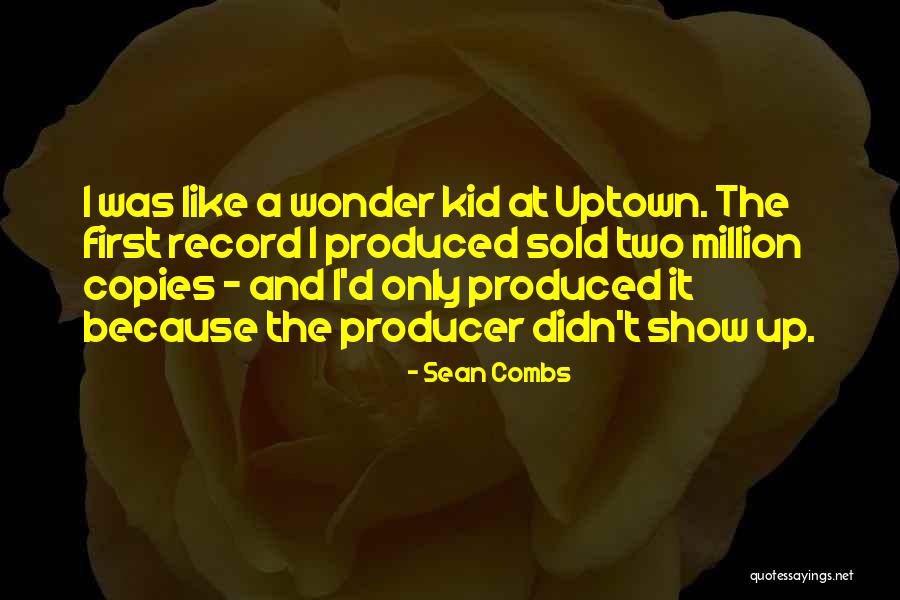 I was like a wonder kid at Uptown. The first record I produced sold two million copies - and I'd only produced it because the producer didn't show up. — Sean Combs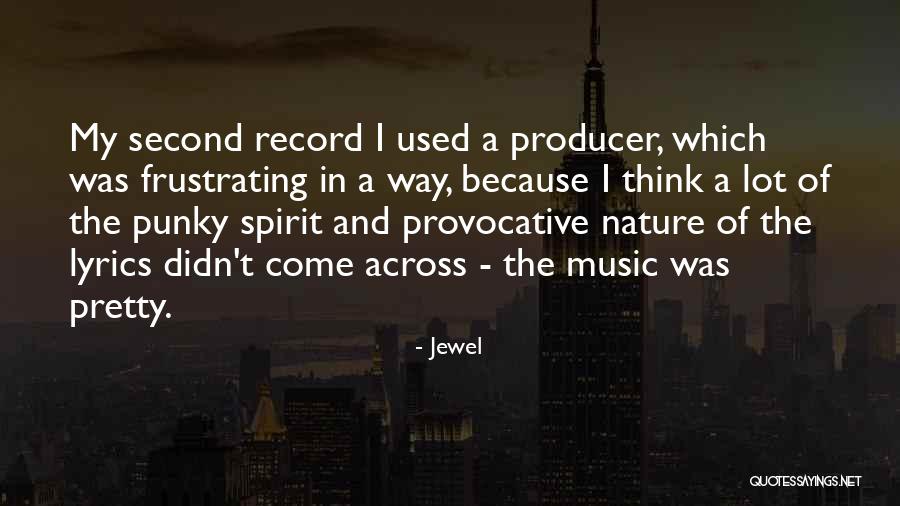 My second record I used a producer, which was frustrating in a way, because I think a lot of the punky spirit and provocative nature of the lyrics didn't come across - the music was pretty. — Jewel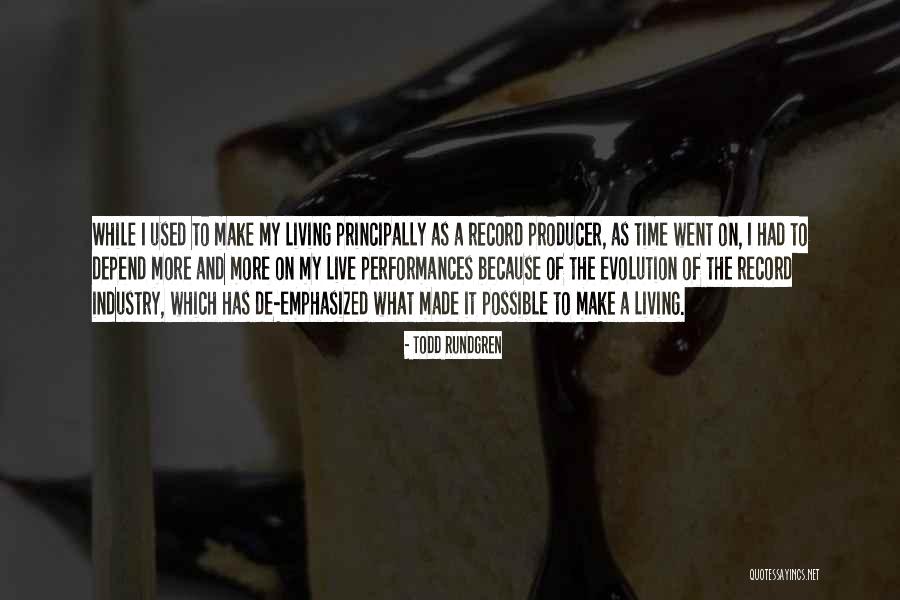 While I used to make my living principally as a record producer, as time went on, I had to depend more and more on my live performances because of the evolution of the record industry, which has de-emphasized what made it possible to make a living. — Todd Rundgren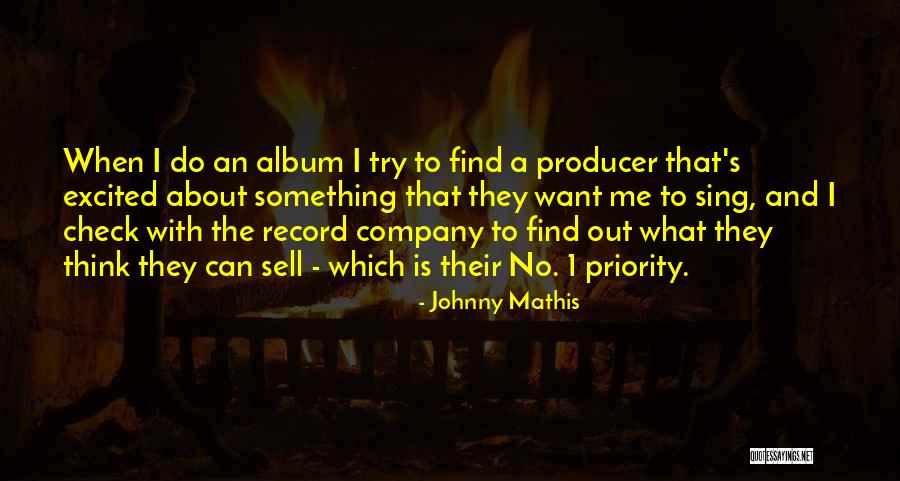 When I do an album I try to find a producer that's excited about something that they want me to sing, and I check with the record company to find out what they think they can sell - which is their No. 1 priority. — Johnny Mathis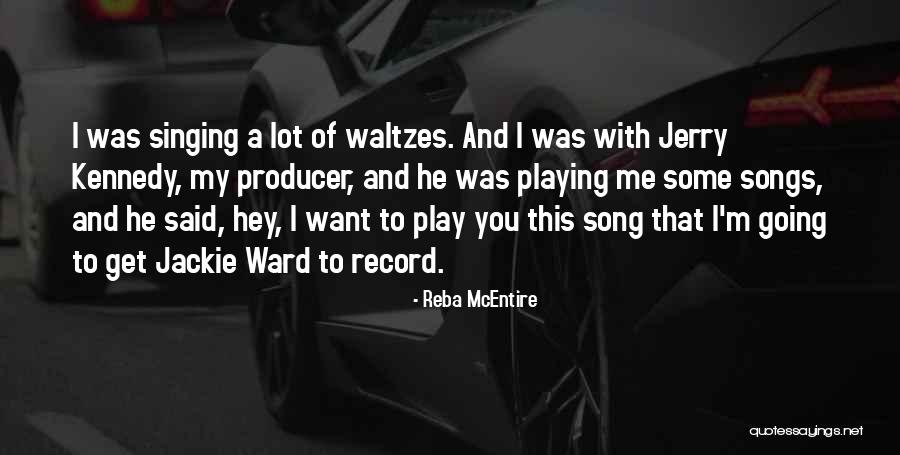 I was singing a lot of waltzes. And I was with Jerry Kennedy, my producer, and he was playing me some songs, and he said, hey, I want to play you this song that I'm going to get Jackie Ward to record. — Reba McEntire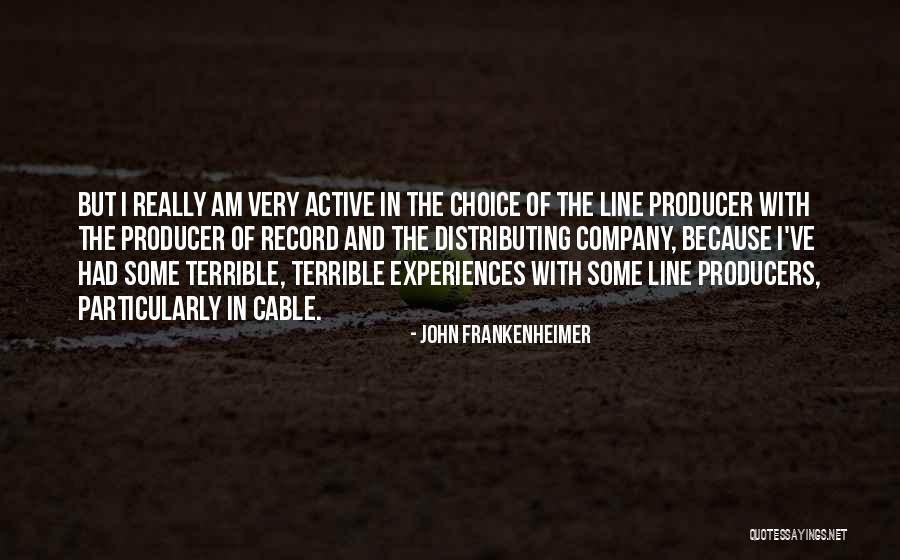 But I really am very active in the choice of the line producer with the producer of record and the distributing company, because I've had some terrible, terrible experiences with some line producers, particularly in cable. — John Frankenheimer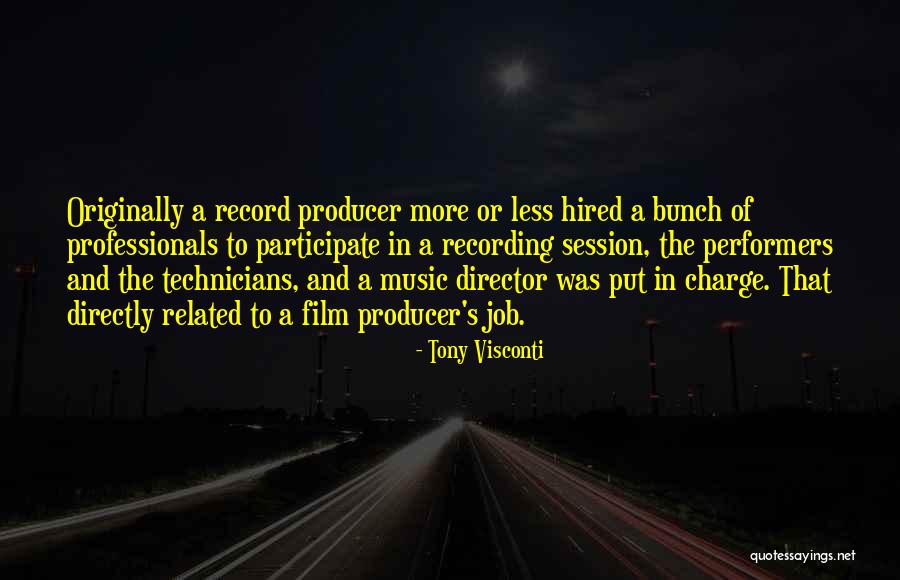 Originally a record producer more or less hired a bunch of professionals to participate in a recording session, the performers and the technicians, and a music director was put in charge. That directly related to a film producer's job. — Tony Visconti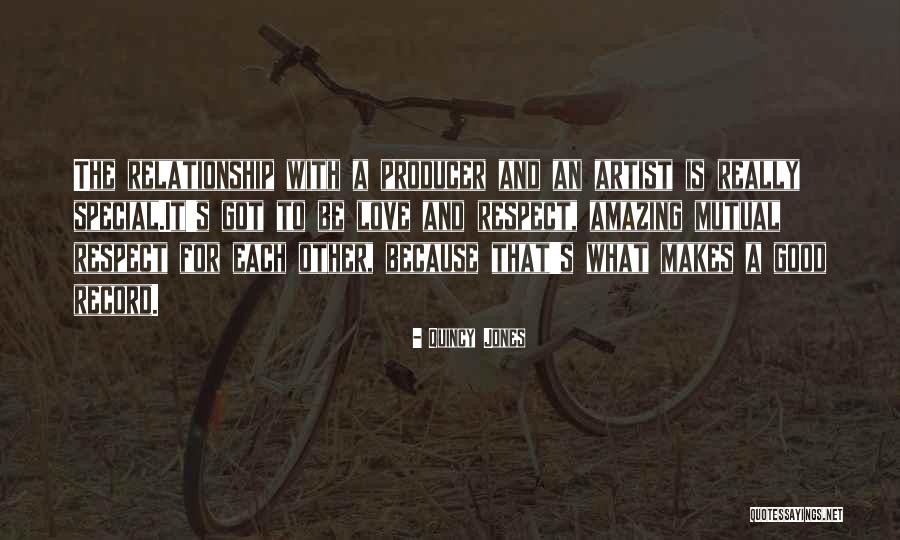 The relationship with a producer and an artist is really special.It's got to be love and respect, amazing mutual respect for each other, because that's what makes a good record. — Quincy Jones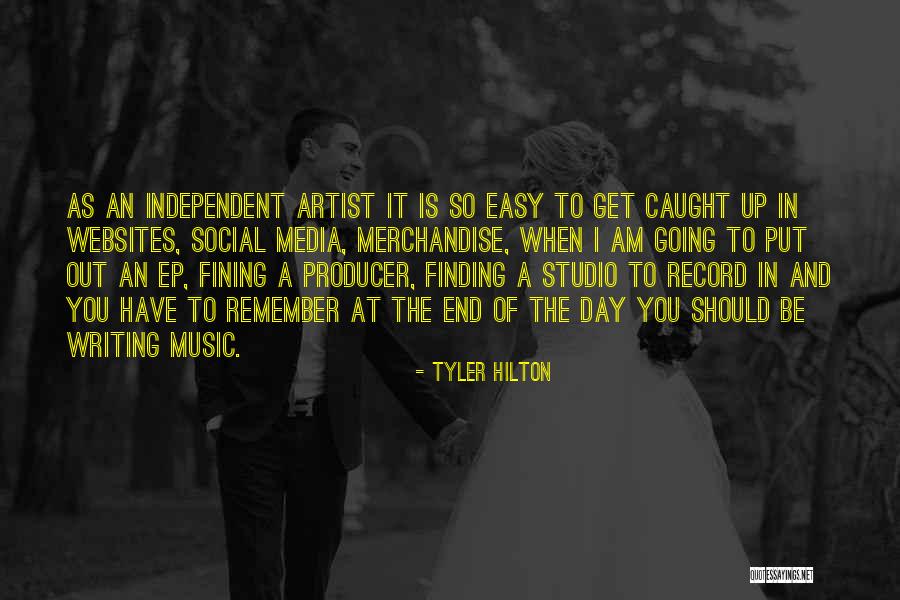 As an independent artist it is so easy to get caught up in websites, social media, merchandise, when I am going to put out an EP, fining a producer, finding a studio to record in and you have to remember at the end of the day you should be writing music. — Tyler Hilton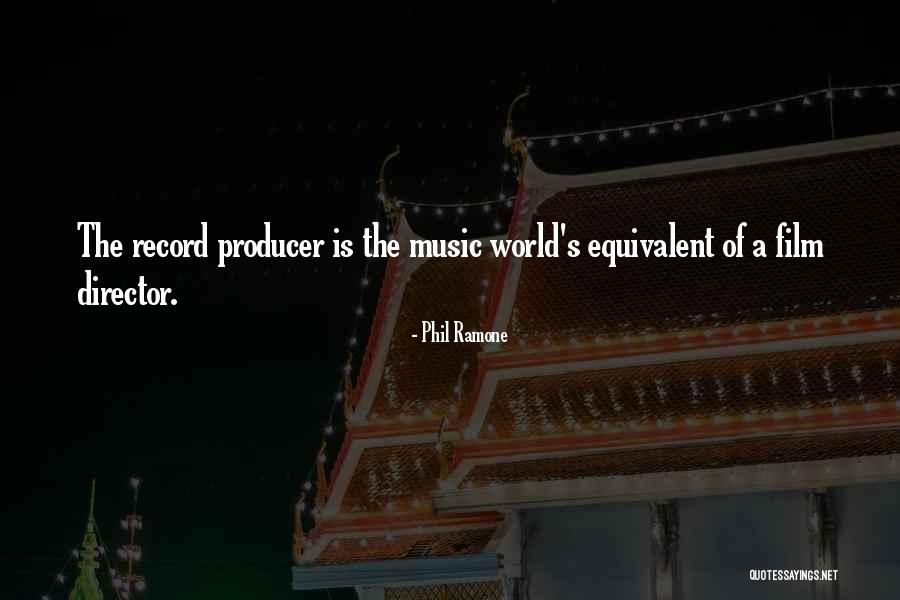 The record producer is the music world's equivalent of a film director. — Phil Ramone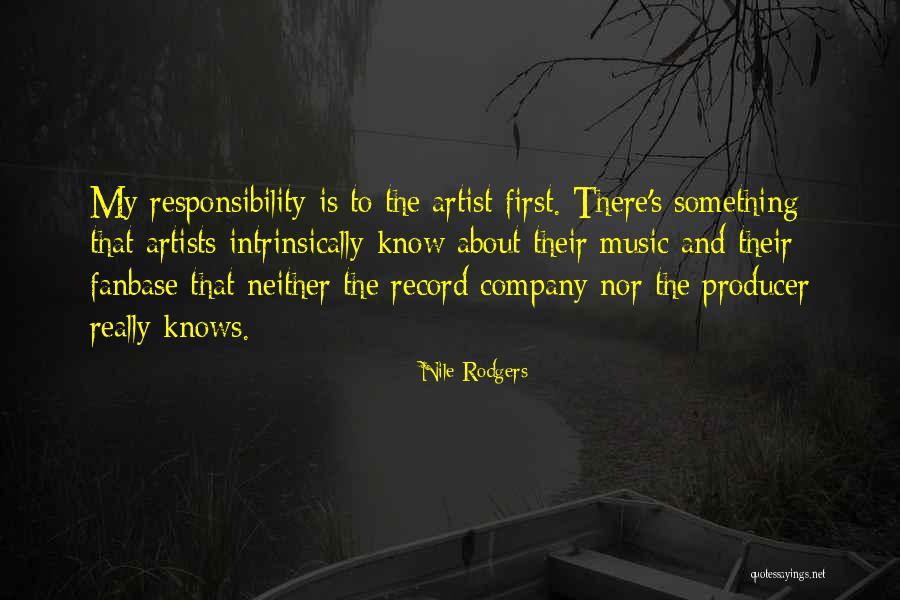 My responsibility is to the artist first. There's something that artists intrinsically know about their music and their fanbase that neither the record company nor the producer really knows. — Nile Rodgers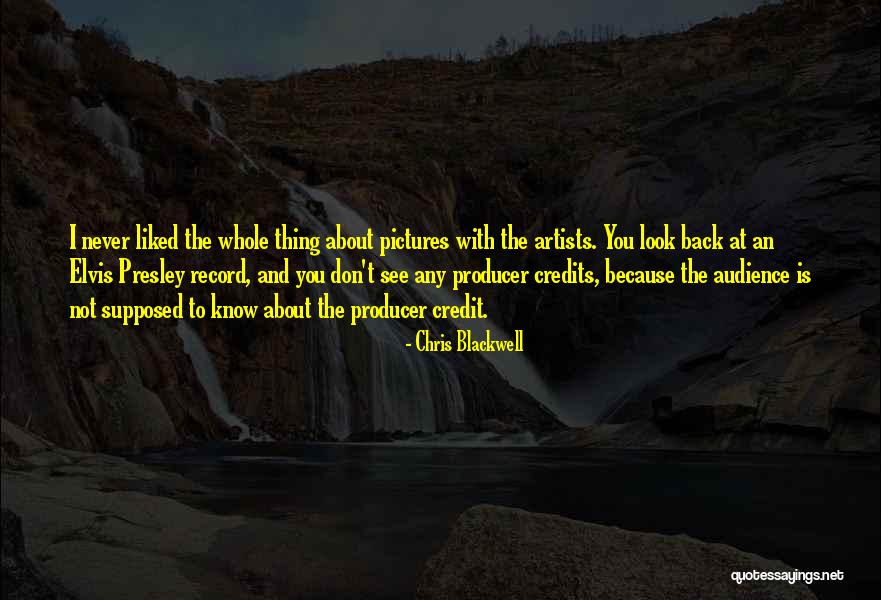 I never liked the whole thing about pictures with the artists. You look back at an Elvis Presley record, and you don't see any producer credits, because the audience is not supposed to know about the producer credit. — Chris Blackwell
My ambition was to be a record producer, and I had started doing that in the late '60s with my work with the MC5 and my friend Livingston Taylor. — Jon Landau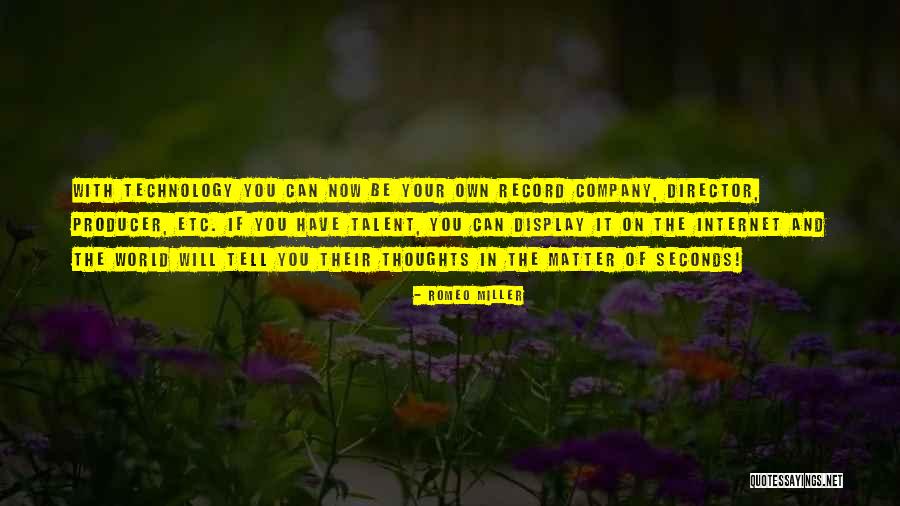 With technology you can now be your own record company, director, producer, etc. If you have talent, you can display it on the Internet and the world will tell you their thoughts in the matter of seconds! — Romeo Miller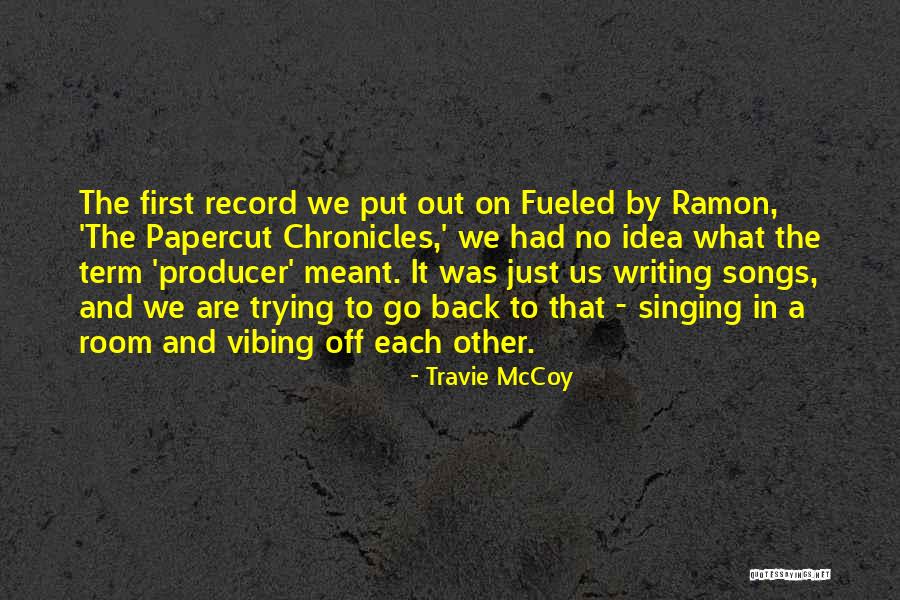 The first record we put out on Fueled by Ramon, 'The Papercut Chronicles,' we had no idea what the term 'producer' meant. It was just us writing songs, and we are trying to go back to that - singing in a room and vibing off each other. — Travie McCoy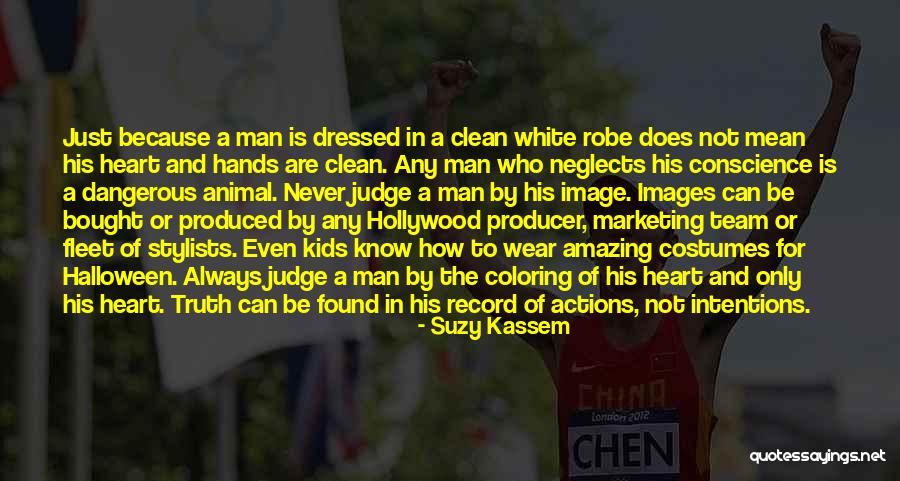 Just because a man is dressed in a clean white robe does not mean his heart and hands are clean. Any man who neglects his conscience is a dangerous animal. Never judge a man by his image. Images can be bought or produced by any Hollywood producer, marketing team or fleet of stylists. Even kids know how to wear amazing costumes for Halloween. Always judge a man by the coloring of his heart and only his heart. Truth can be found in his record of actions, not intentions. — Suzy Kassem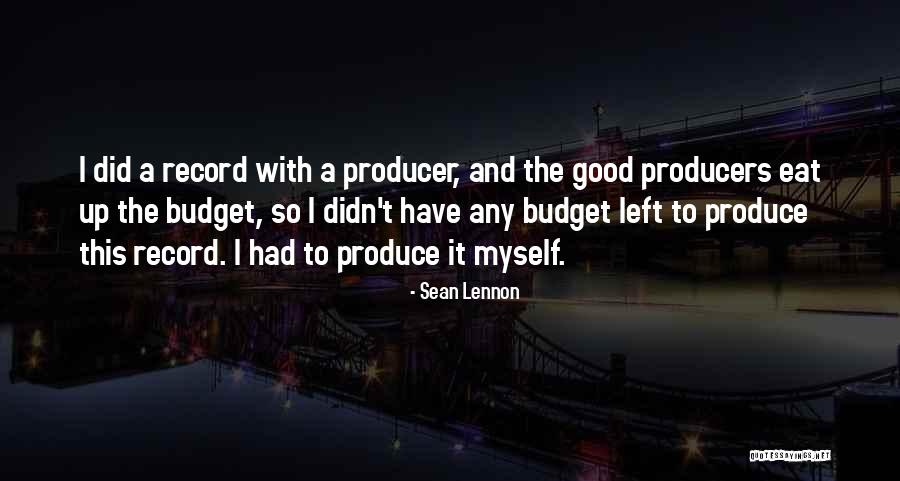 I did a record with a producer, and the good producers eat up the budget, so I didn't have any budget left to produce this record. I had to produce it myself. — Sean Lennon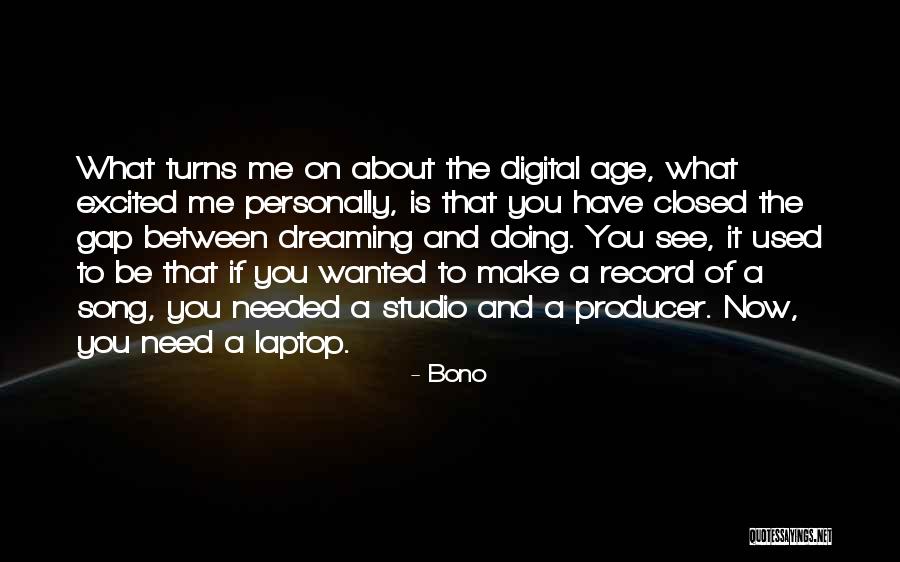 What turns me on about the digital age, what excited me personally, is that you have closed the gap between dreaming and doing. You see, it used to be that if you wanted to make a record of a song, you needed a studio and a producer. Now, you need a laptop. — Bono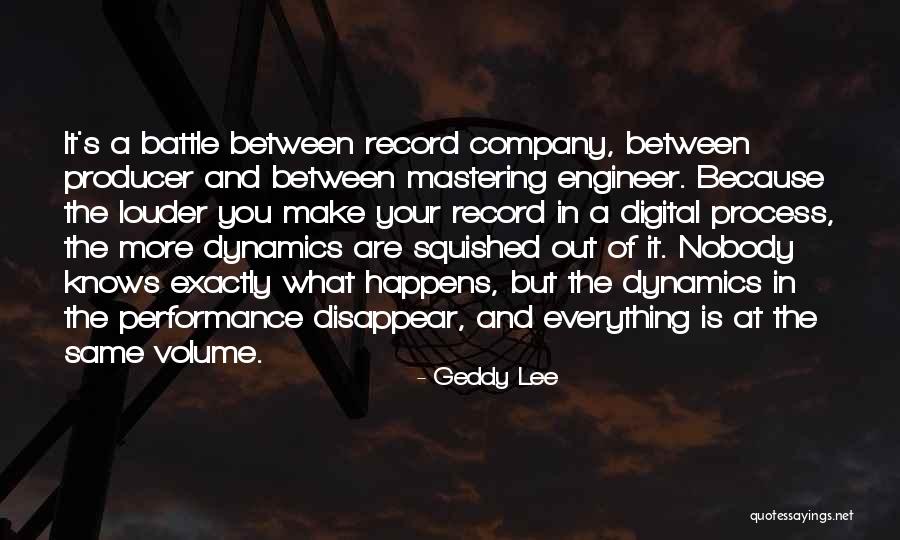 It's a battle between record company, between producer and between mastering engineer. Because the louder you make your record in a digital process, the more dynamics are squished out of it. Nobody knows exactly what happens, but the dynamics in the performance disappear, and everything is at the same volume. — Geddy Lee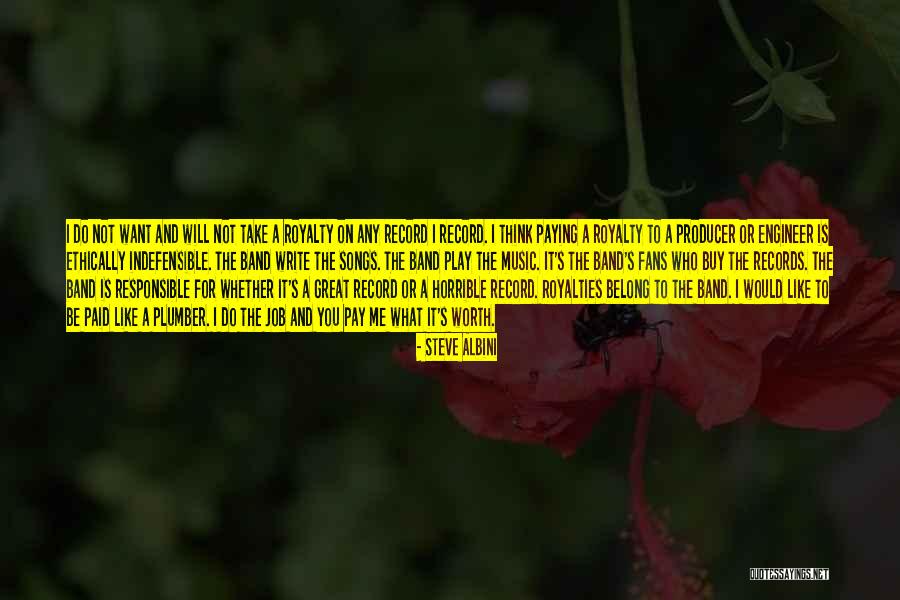 I do not want and will not take a royalty on any record I record. I think paying a royalty to a producer or engineer is ethically indefensible. The band write the songs. The band play the music. It's the band's fans who buy the records. The band is responsible for whether it's a great record or a horrible record. Royalties belong to the band. I would like to be paid like a plumber. I do the job and you pay me what it's worth. — Steve Albini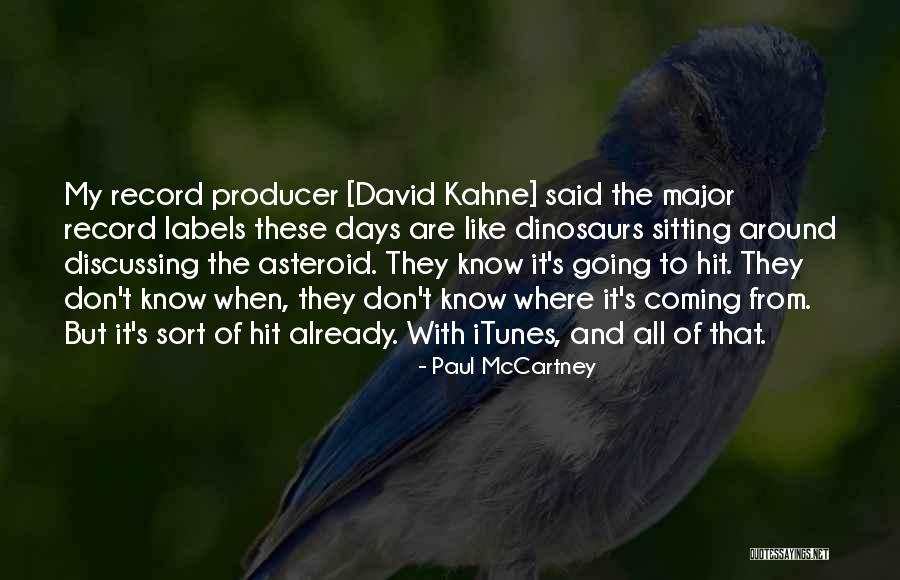 My record producer [David Kahne] said the major record labels these days are like dinosaurs sitting around discussing the asteroid. They know it's going to hit. They don't know when, they don't know where it's coming from. But it's sort of hit already. With iTunes, and all of that. — Paul McCartney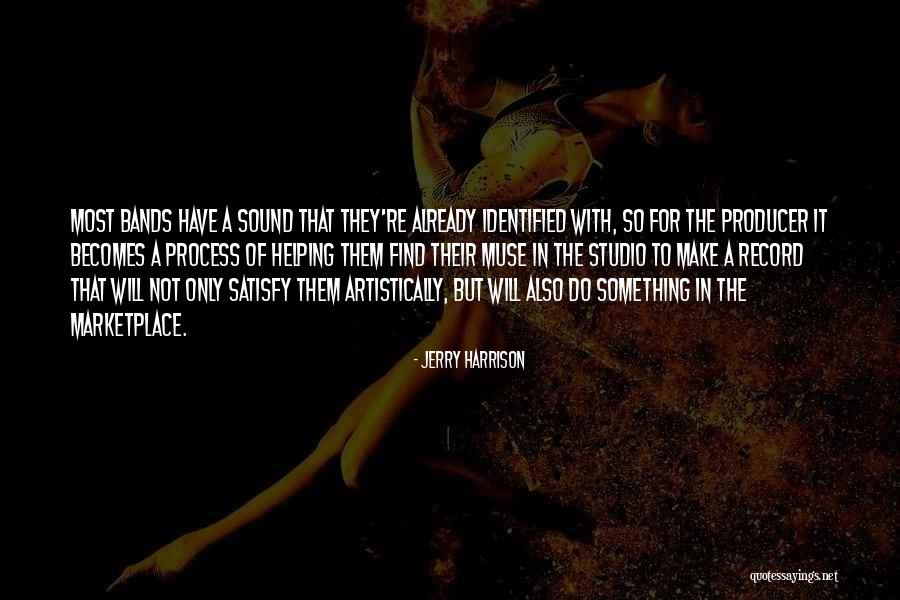 Most bands have a sound that they're already identified with, so for the producer it becomes a process of helping them find their muse in the studio to make a record that will not only satisfy them artistically, but will also do something in the marketplace. — Jerry Harrison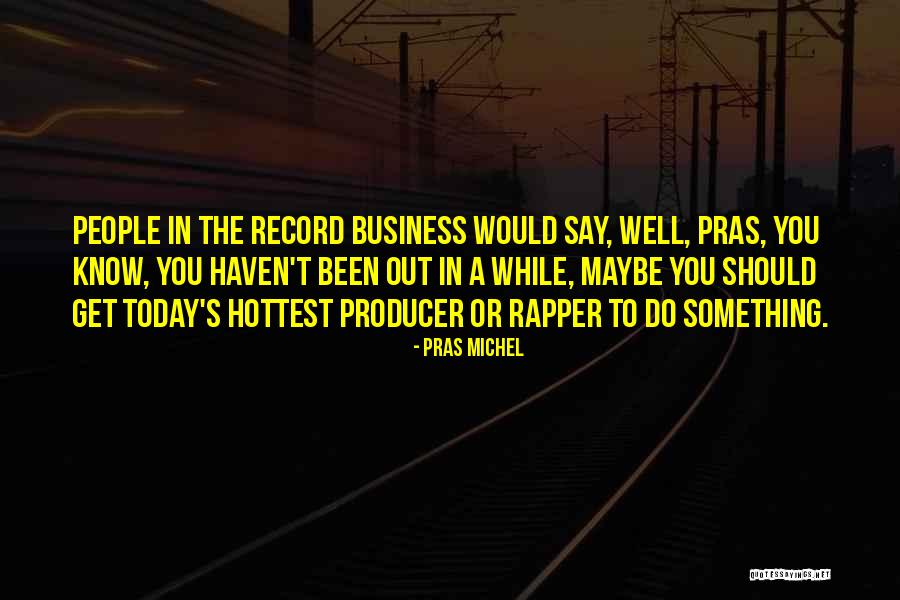 People in the record business would say, Well, Pras, you know, you haven't been out in a while, maybe you should get today's hottest producer or rapper to do something. — Pras Michel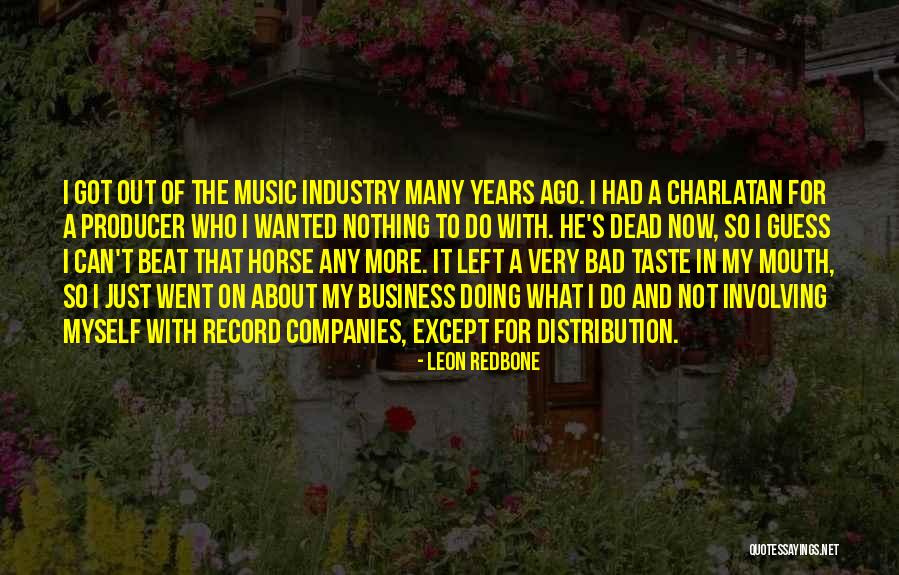 I got out of the music industry many years ago. I had a charlatan for a producer who I wanted nothing to do with. He's dead now, so I guess I can't beat that horse any more. It left a very bad taste in my mouth, so I just went on about my business doing what I do and not involving myself with record companies, except for distribution. — Leon Redbone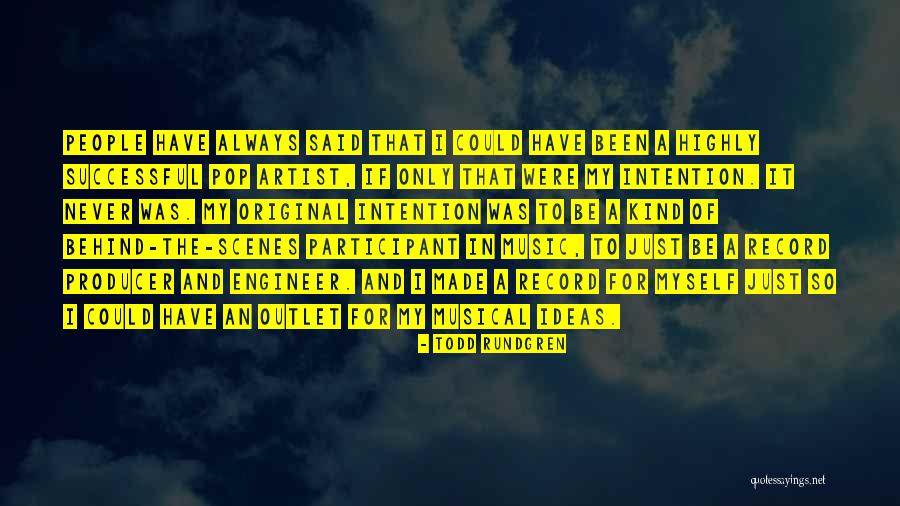 People have always said that I could have been a highly successful pop artist, if only that were my intention. It never was. My original intention was to be a kind of behind-the-scenes participant in music, to just be a record producer and engineer. And I made a record for myself just so I could have an outlet for my musical ideas. — Todd Rundgren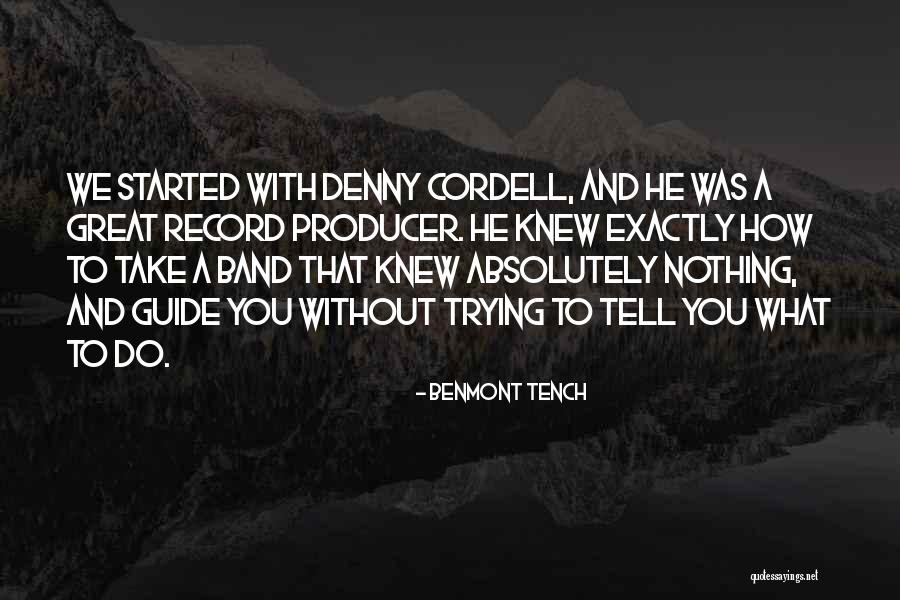 We started with Denny Cordell, and he was a great record producer. He knew exactly how to take a band that knew absolutely nothing, and guide you without trying to tell you what to do. — Benmont Tench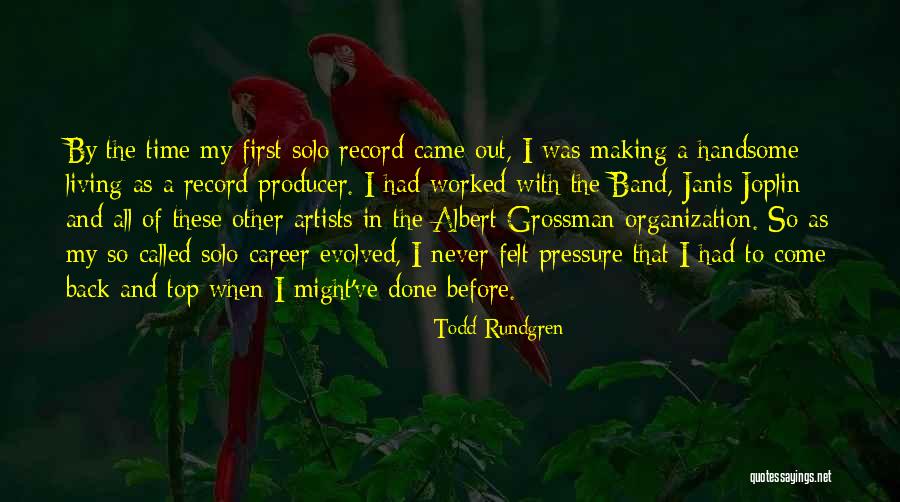 By the time my first solo record came out, I was making a handsome living as a record producer. I had worked with the Band, Janis Joplin and all of these other artists in the Albert Grossman organization. So as my so-called solo career evolved, I never felt pressure that I had to come back and top when I might've done before. — Todd Rundgren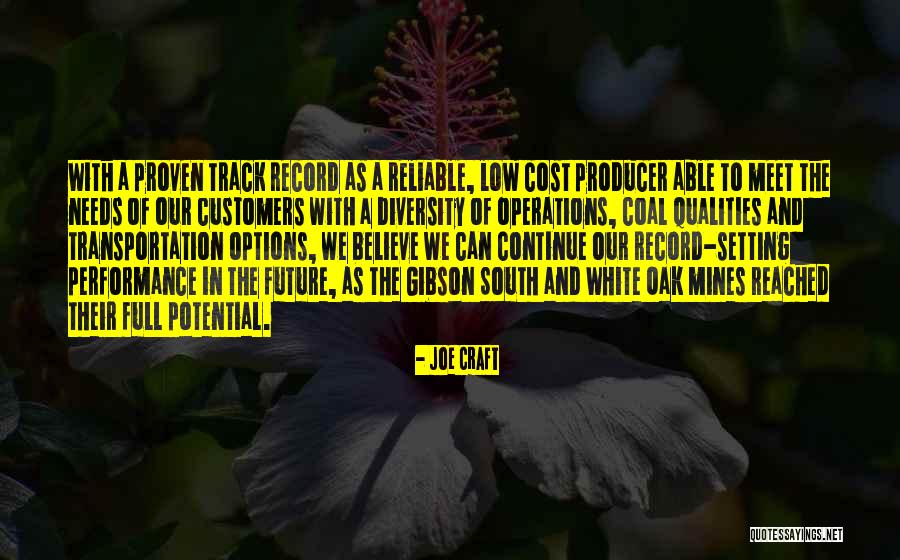 With a proven track record as a reliable, low cost producer able to meet the needs of our customers with a diversity of operations, coal qualities and transportation options, we believe we can continue our record-setting performance in the future, as the Gibson South and White Oak mines reached their full potential. — Joe Craft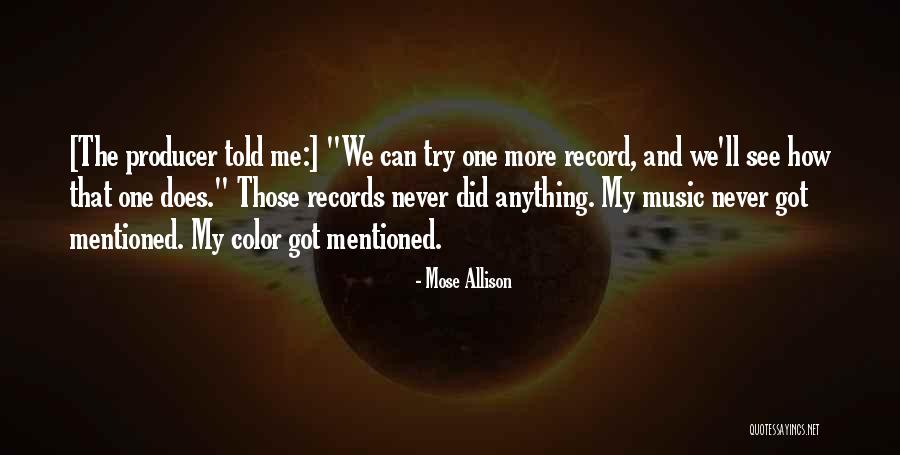 [The producer told me:] "We can try one more record, and we'll see how that one does." Those records never did anything. My music never got mentioned. My color got mentioned. — Mose Allison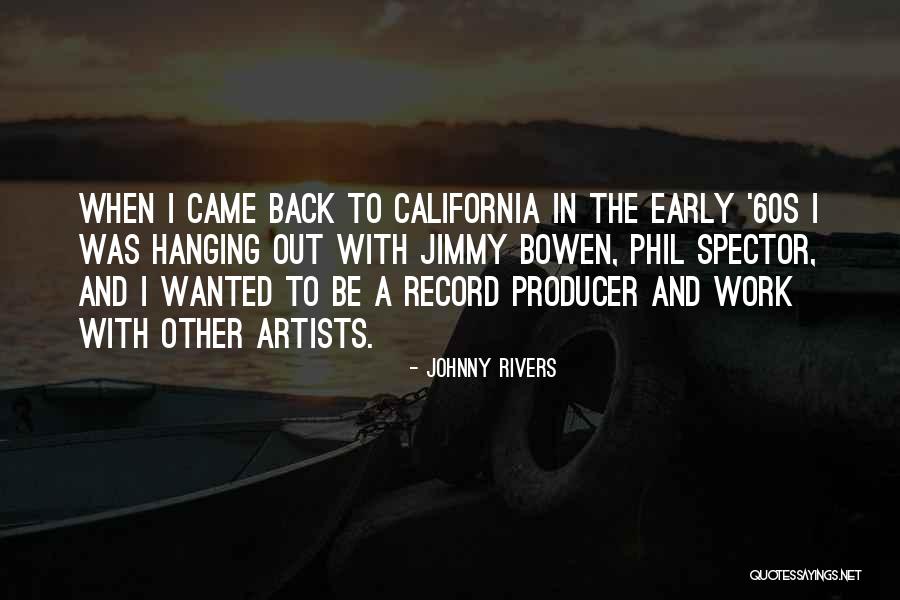 When I came back to California in the early '60s I was hanging out with Jimmy Bowen, Phil Spector, and I wanted to be a record producer and work with other artists. — Johnny Rivers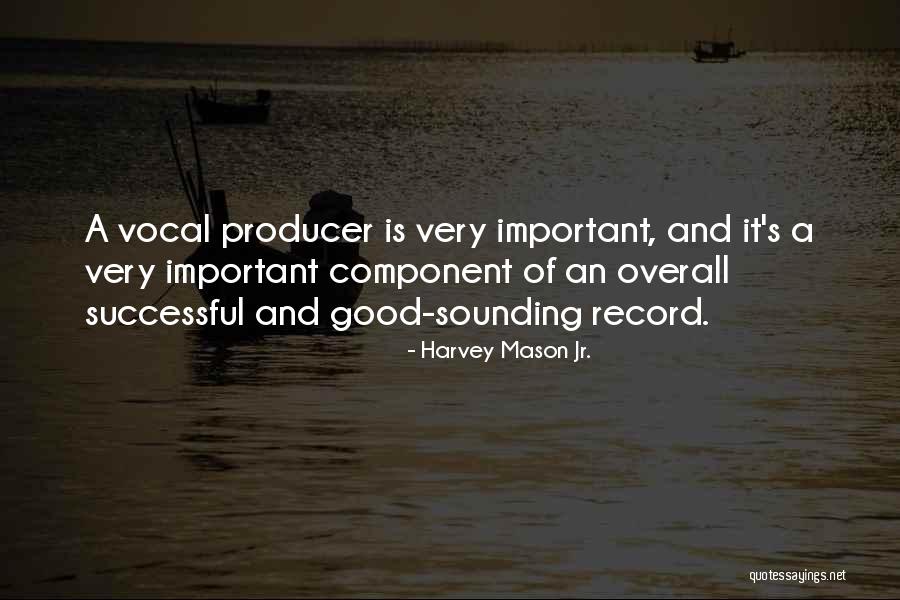 A vocal producer is very important, and it's a very important component of an overall successful and good-sounding record. — Harvey Mason Jr.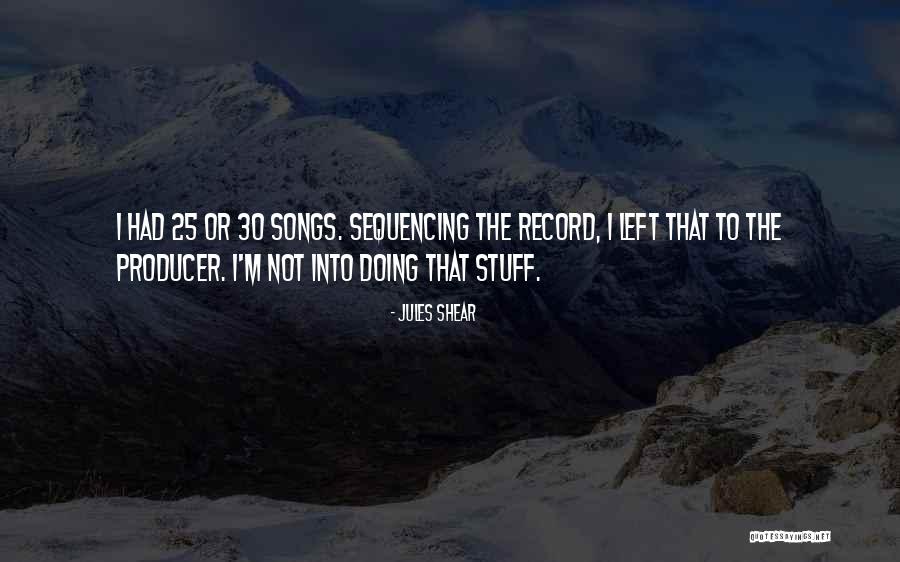 I had 25 or 30 songs. Sequencing the record, I left that to the producer. I'm not into doing that stuff. — Jules Shear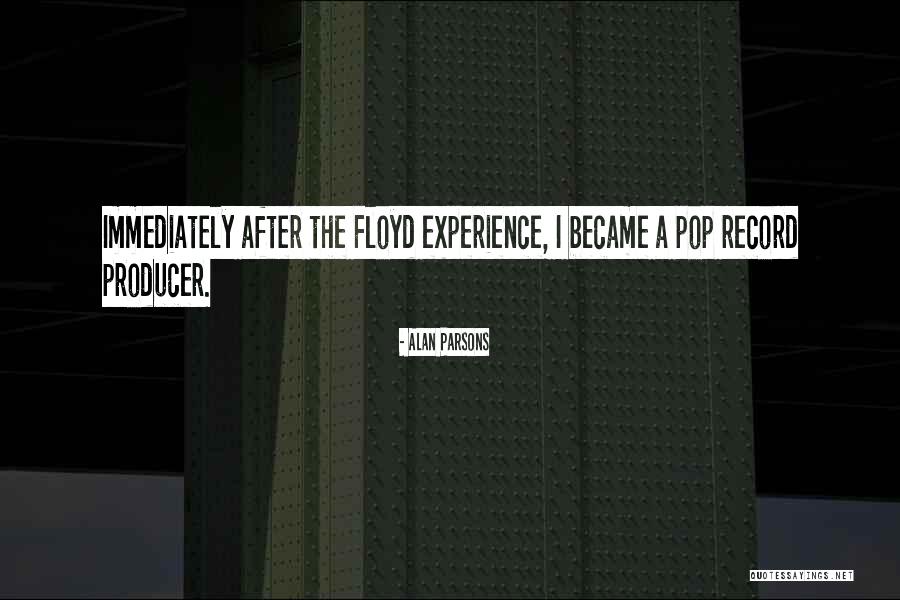 Immediately after the Floyd experience, I became a pop record producer. — Alan Parsons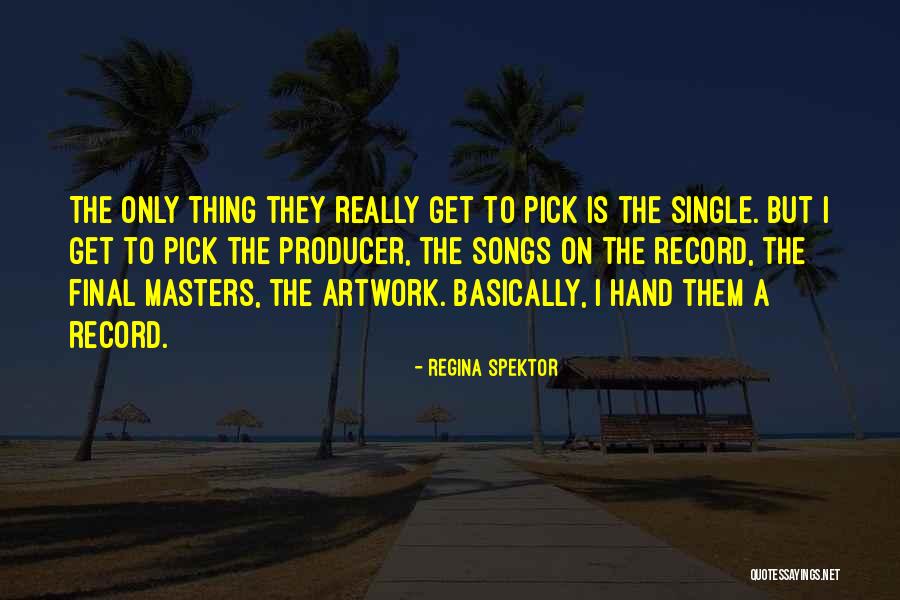 The only thing they really get to pick is the single. But I get to pick the producer, the songs on the record, the final masters, the artwork. Basically, I hand them a record. — Regina Spektor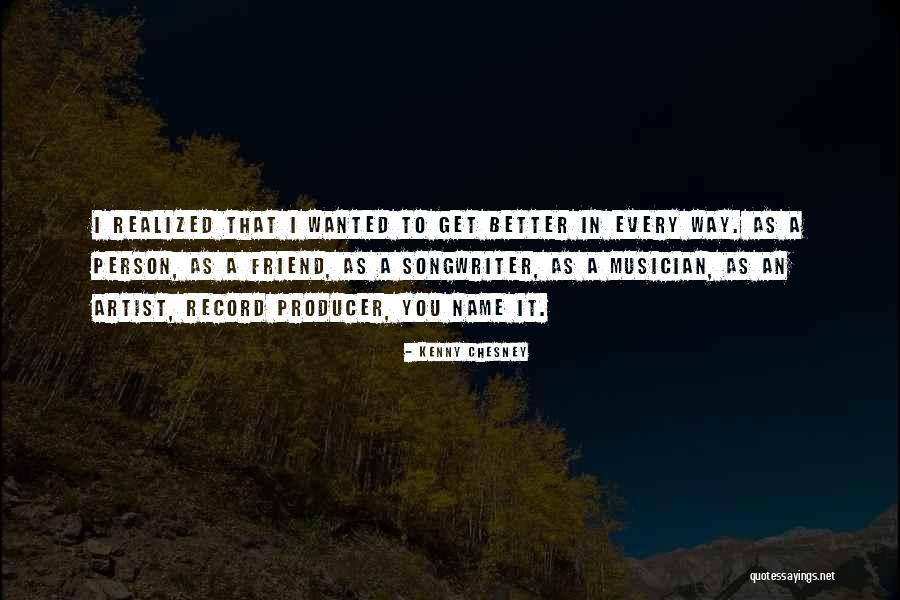 I realized that I wanted to get better in every way. As a person, as a friend, as a songwriter, as a musician, as an artist, record producer, you name it. — Kenny Chesney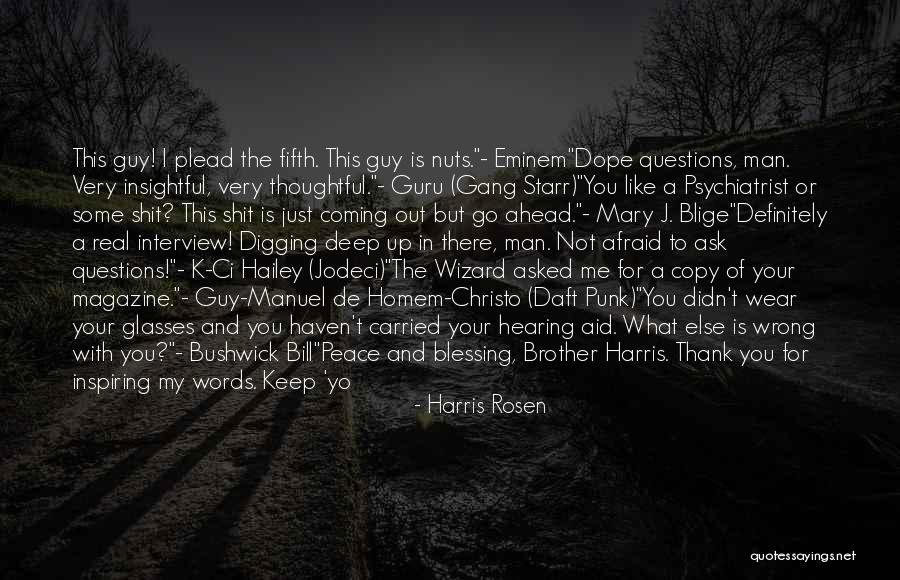 This guy! I plead the fifth. This guy is nuts."
- Eminem
"Dope questions, man. Very insightful, very thoughtful."
- Guru (Gang Starr)
"You like a Psychiatrist or some shit? This shit is just coming out but go ahead."
- Mary J. Blige
"Definitely a real interview! Digging deep up in there, man. Not afraid to ask questions!"
- K-Ci Hailey (Jodeci)
"The Wizard asked me for a copy of your magazine."
- Guy-Manuel de Homem-Christo (Daft Punk)
"You didn't wear your glasses and you haven't carried your hearing aid. What else is wrong with you?"
- Bushwick Bill
"Peace and blessing, Brother Harris. Thank you for inspiring my words. Keep 'yo balance."
- Erykah Badu
"Can I see that pen?"
- Bobby Brown
"What else do you want to know? Talk to me."
- Aaliyah — Harris Rosen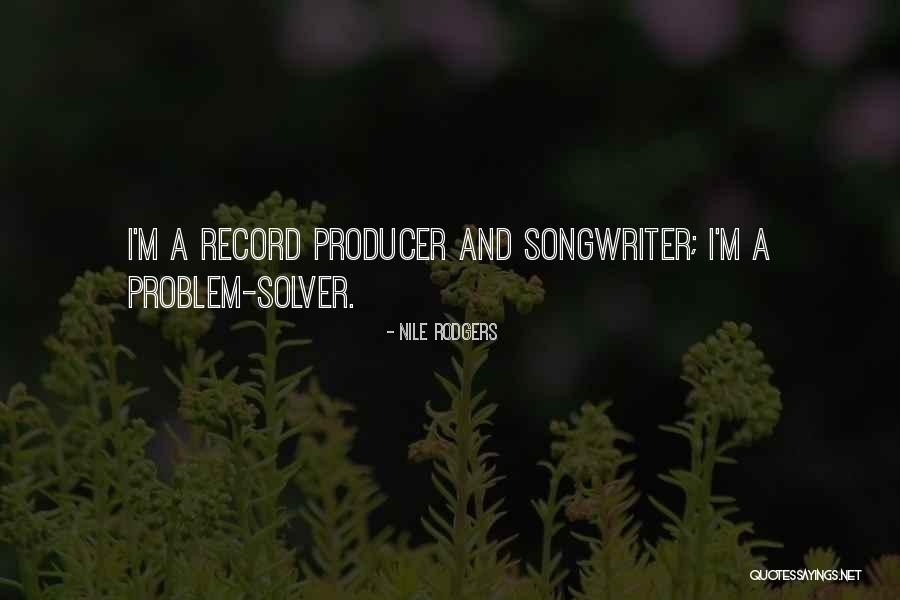 I'm a record producer and songwriter; I'm a problem-solver. — Nile Rodgers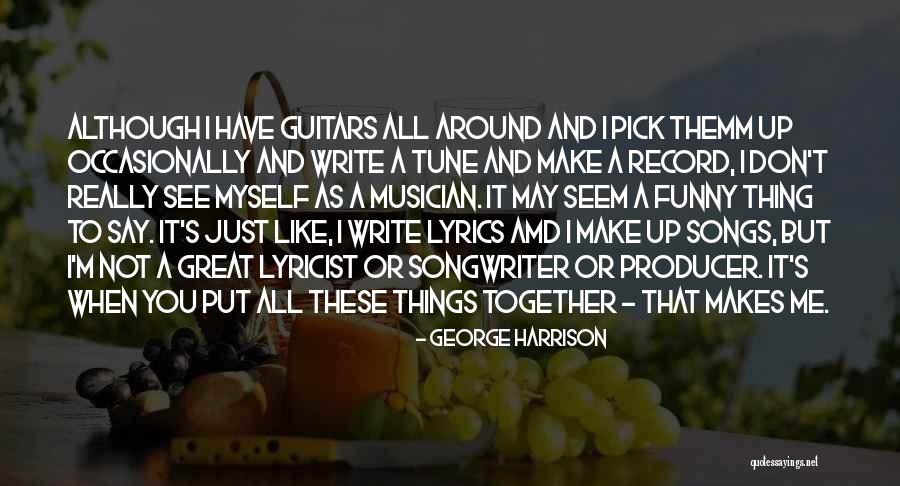 Although I have guitars all around and I pick themm up occasionally and write a tune and make a record, I don't really see myself as a musician. It may seem a funny thing to say. It's just like, I write lyrics amd I make up songs, but I'm not a great lyricist or songwriter or producer. It's when you put all these things together - that makes me. — George Harrison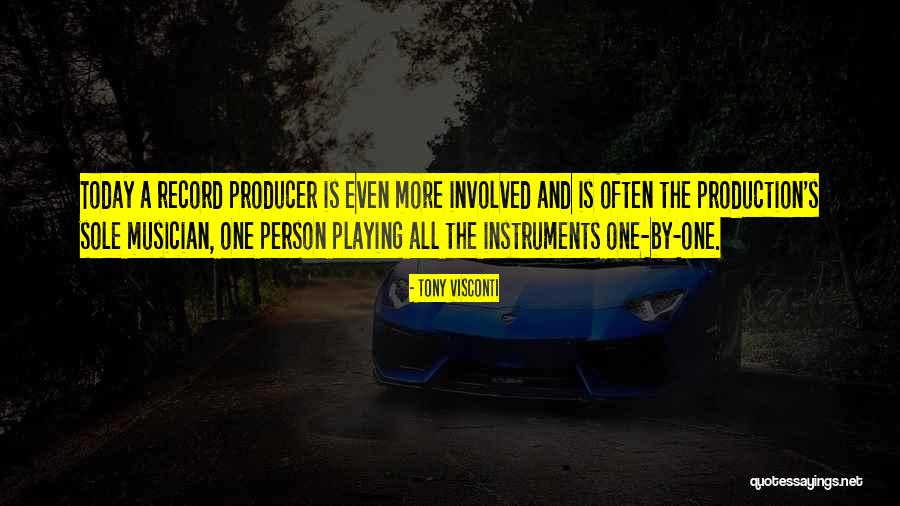 Today a record producer is even more involved and is often the production's sole musician, one person playing all the instruments one-by-one. — Tony Visconti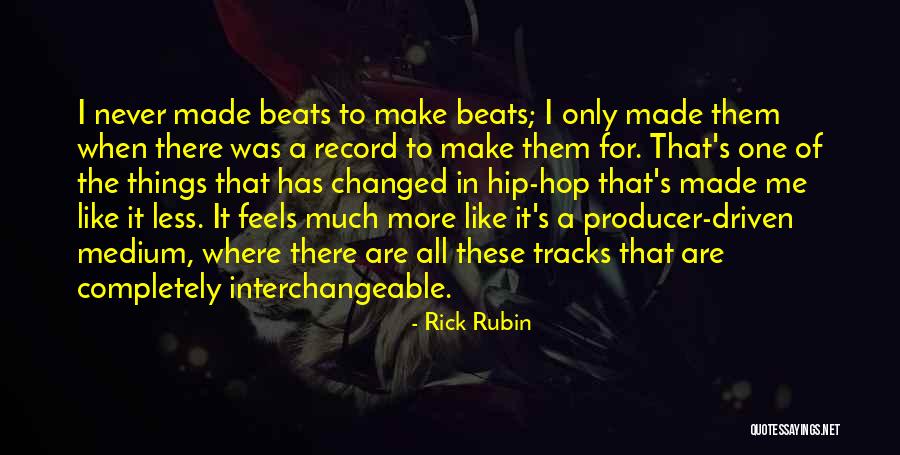 I never made beats to make beats; I only made them when there was a record to make them for. That's one of the things that has changed in hip-hop that's made me like it less. It feels much more like it's a producer-driven medium, where there are all these tracks that are completely interchangeable. — Rick Rubin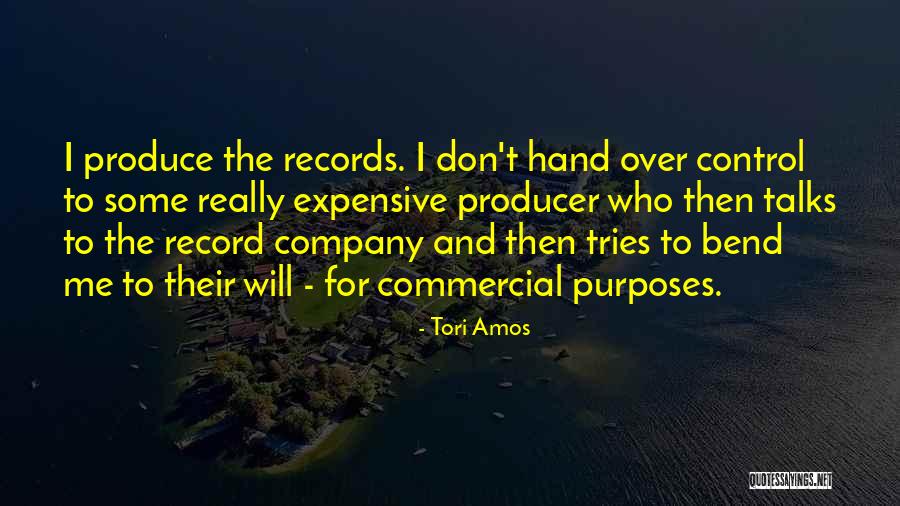 I produce the records. I don't hand over control to some really expensive producer who then talks to the record company and then tries to bend me to their will - for commercial purposes. — Tori Amos