Reasons To Love Someone Quotes & Sayings
Enjoy reading and share 43 famous quotes about Reasons To Love Someone with everyone.
Top Reasons To Love Someone Quotes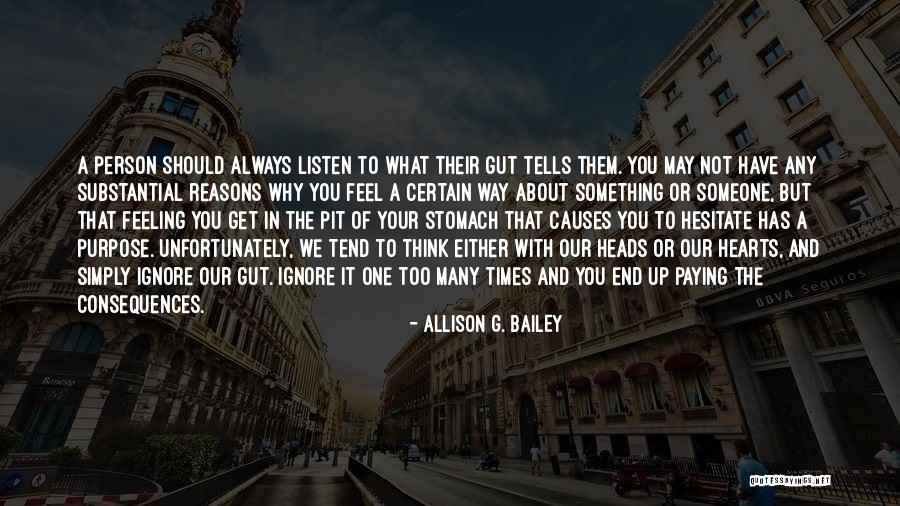 A person should always listen to what their gut tells them. You may not have any substantial reasons why you feel a certain way about something or someone, but that feeling you get in the pit of your stomach that causes you to hesitate has a purpose. Unfortunately, we tend to think either with our heads or our hearts, and simply ignore our gut. Ignore it one too many times and you end up paying the consequences. — Allison G. Bailey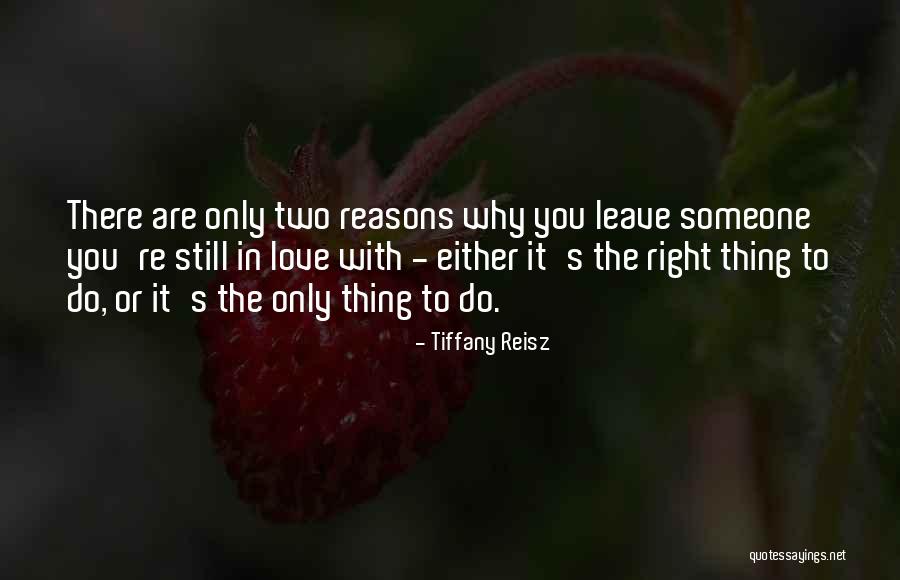 There are only two reasons why you leave someone you're still in love with - either it's the right thing to do, or it's the only thing to do. — Tiffany Reisz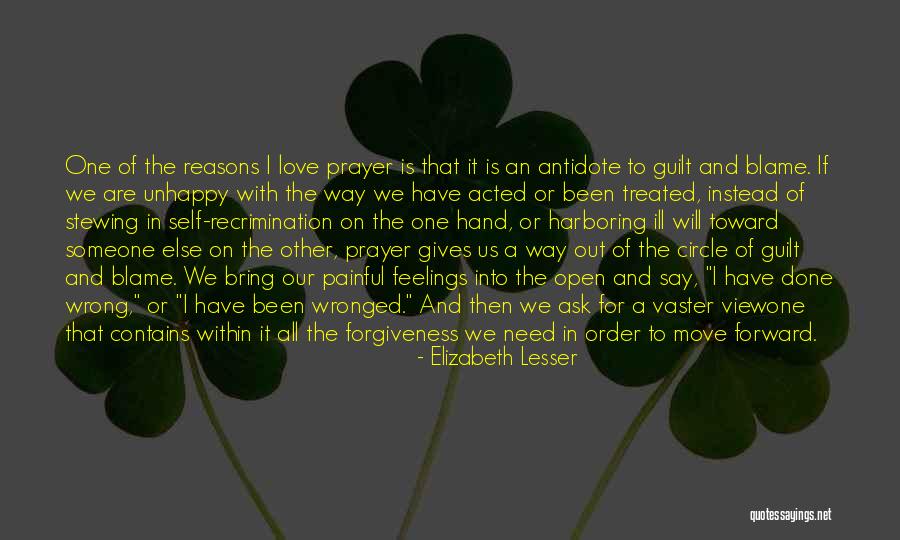 One of the reasons I love prayer is that it is an antidote to guilt and blame. If we are unhappy with the way we have acted or been treated, instead of stewing in self-recrimination on the one hand, or harboring ill will toward someone else on the other, prayer gives us a way out of the circle of guilt and blame. We bring our painful feelings into the open and say, "I have done wrong," or "I have been wronged." And then we ask for a vaster view
one that contains within it all the forgiveness we need in order to move forward. — Elizabeth Lesser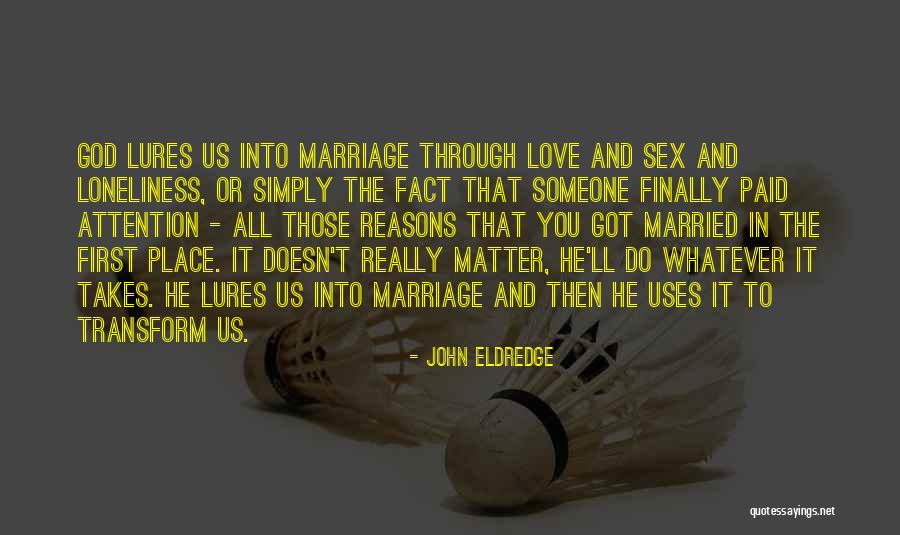 God lures us into marriage through love and sex and loneliness, or simply the fact that someone finally paid attention - all those reasons that you got married in the first place. It doesn't really matter, he'll do whatever it takes. He lures us into marriage and then he uses it to transform us. — John Eldredge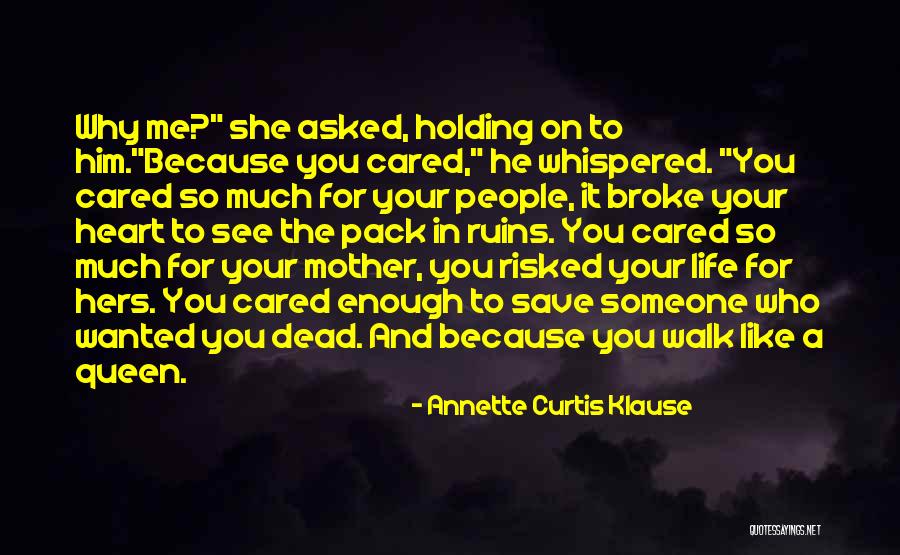 Why me?" she asked, holding on to him.
"Because you cared," he whispered. "You cared so much for your people, it broke your heart to see the pack in ruins. You cared so much for your mother, you risked your life for hers. You cared enough to save someone who wanted you dead. And because you walk like a queen. — Annette Curtis Klause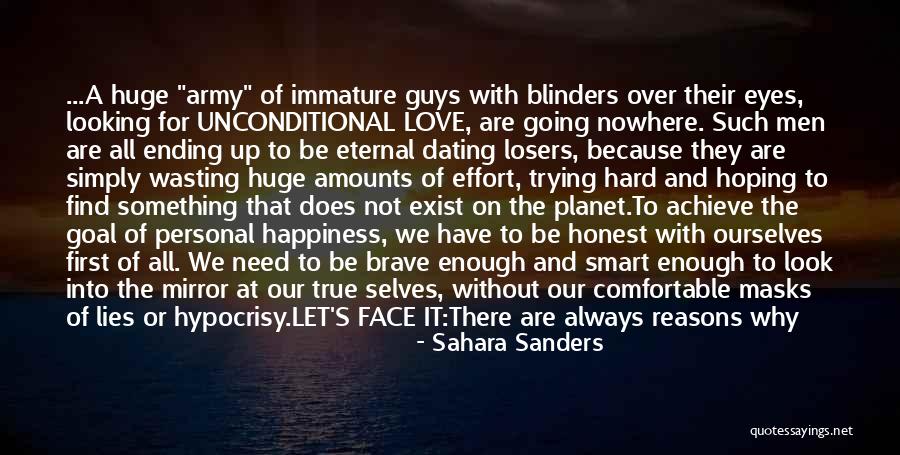 ...A huge "army" of immature guys with blinders over their eyes, looking for UNCONDITIONAL LOVE, are going nowhere. Such men are all ending up to be eternal dating losers, because they are simply wasting huge amounts of effort, trying hard and hoping to find something that does not exist on the planet.
To achieve the goal of personal happiness, we have to be honest with ourselves first of all. We need to be brave enough and smart enough to look into the mirror at our true selves, without our comfortable masks of lies or hypocrisy.

LET'S FACE IT:
There are always reasons why we feel love for another person; we don't love someone for no reason at all. We love them for the qualities they possess, which we admire; for those amazing, bright emotions they evoke from within ourselves; for the love and care that we so acceptingly receive from them; and for what good feelings we experience being around them, etc.

Be HONEST with yourself! — Sahara Sanders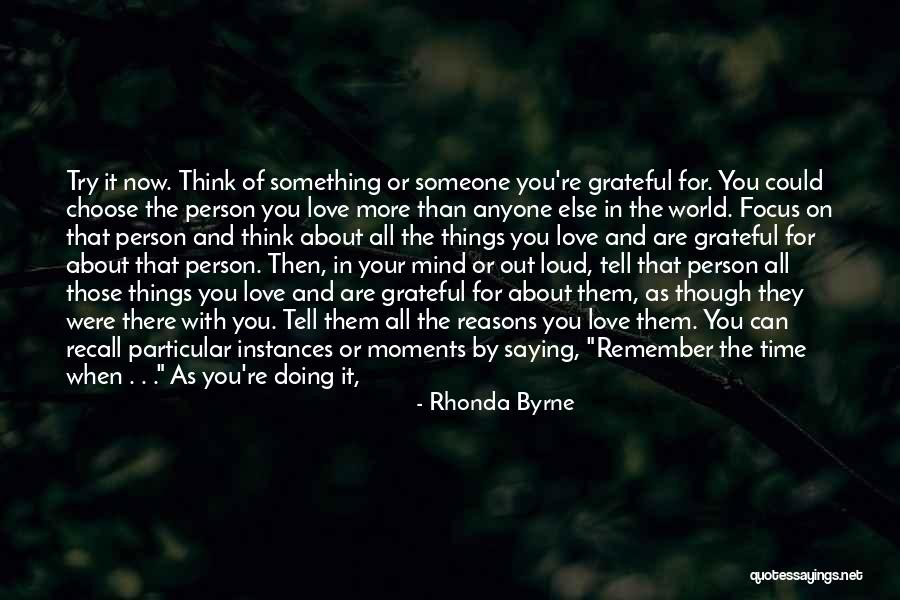 Try it now. Think of something or someone you're grateful for. You could choose the person you love more than anyone else in the world. Focus on that person and think about all the things you love and are grateful for about that person. Then, in your mind or out loud, tell that person all those things you love and are grateful for about them, as though they were there with you. Tell them all the reasons you love them. You can recall particular instances or moments by saying, "Remember the time when . . ." As you're doing it, feel the gratitude begin to fill your heart and body. The love you gave in that simple exercise must and will return to you in the relationship, and in your whole life. That is how easy it is to give love through gratitude. — Rhonda Byrne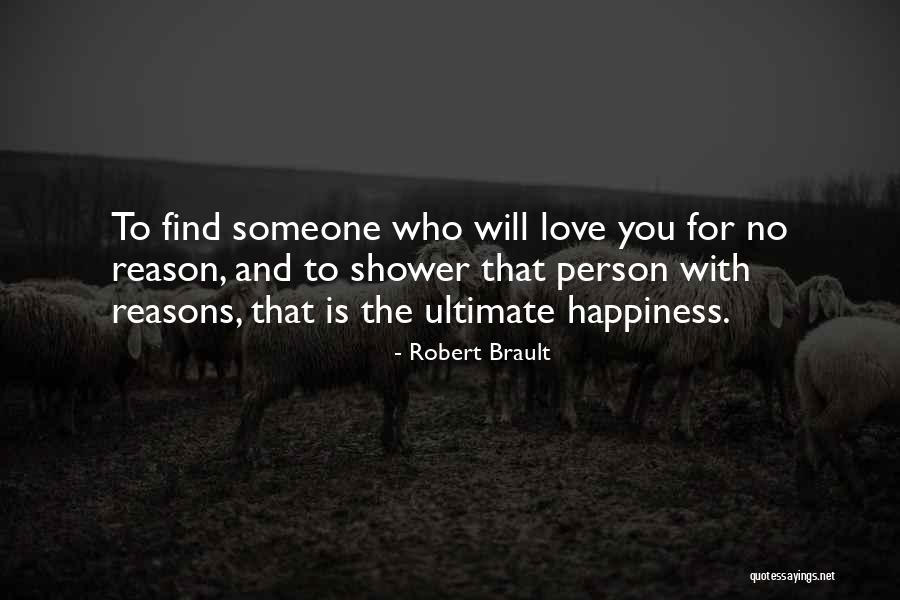 To find someone who will love you for no reason, and to shower that person with reasons, that is the ultimate happiness. — Robert Brault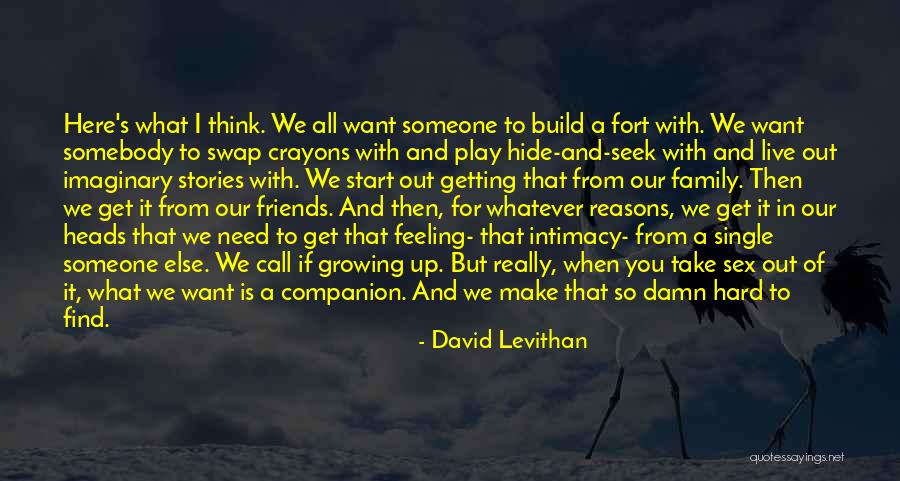 Here's what I think. We all want someone to build a fort with. We want somebody to swap crayons with and play hide-and-seek with and live out imaginary stories with. We start out getting that from our family. Then we get it from our friends. And then, for whatever reasons, we get it in our heads that we need to get that feeling- that intimacy- from a single someone else. We call if growing up. But really, when you take sex out of it, what we want is a companion. And we make that so damn hard to find. — David Levithan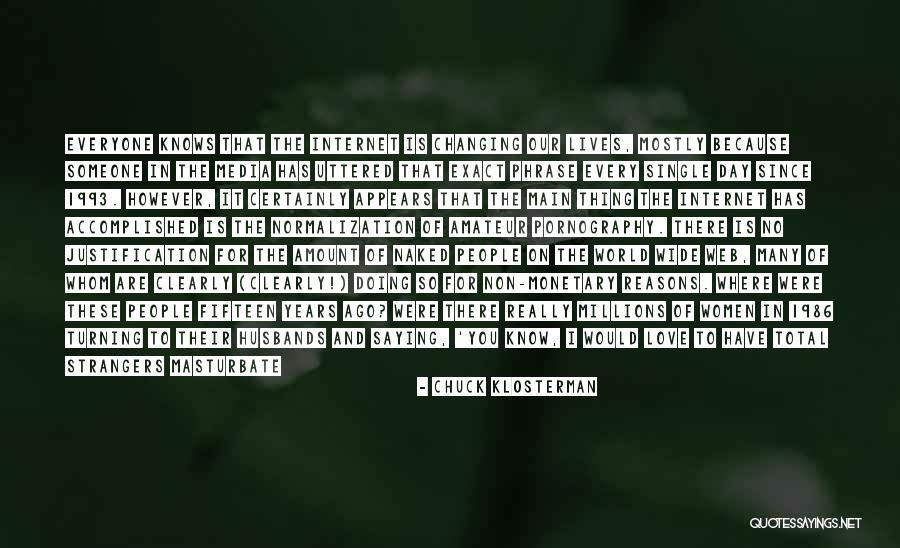 Everyone knows that the Internet is changing our lives, mostly because someone in the media has uttered that exact phrase every single day since 1993. However, it certainly appears that the main thing the Internet has accomplished is the normalization of amateur pornography. There is no justification for the amount of naked people on the World Wide Web, many of whom are clearly (clearly!) doing so for non-monetary reasons. Where were these people fifteen years ago? Were there really millions of women in 1986 turning to their husbands and saying, 'You know, I would love to have total strangers masturbate to images of me deep-throating a titanium dildo, but there's simply no medium for that kind of entertainment. I guess we'll just have to sit here and watch Falcon Crest again. — Chuck Klosterman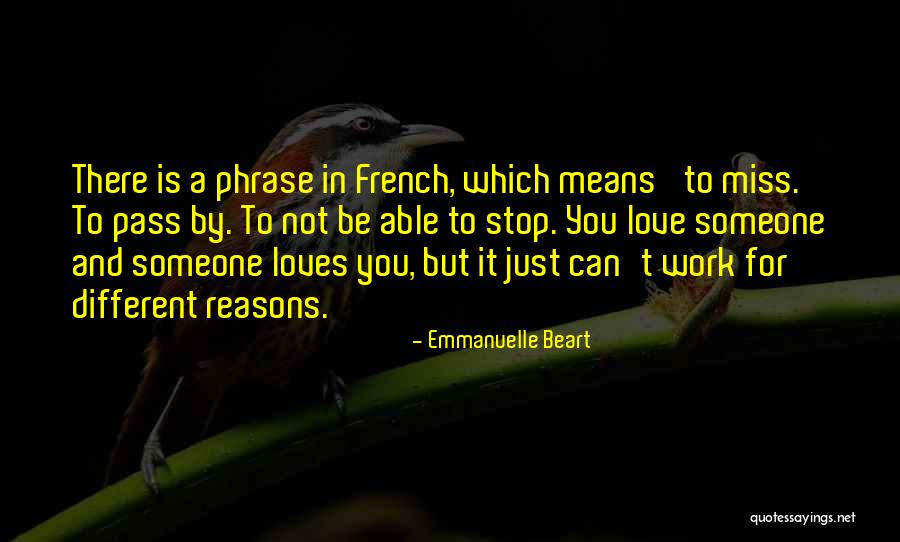 There is a phrase in French, which means 'to miss.' To pass by. To not be able to stop. You love someone and someone loves you, but it just can't work for different reasons. — Emmanuelle Beart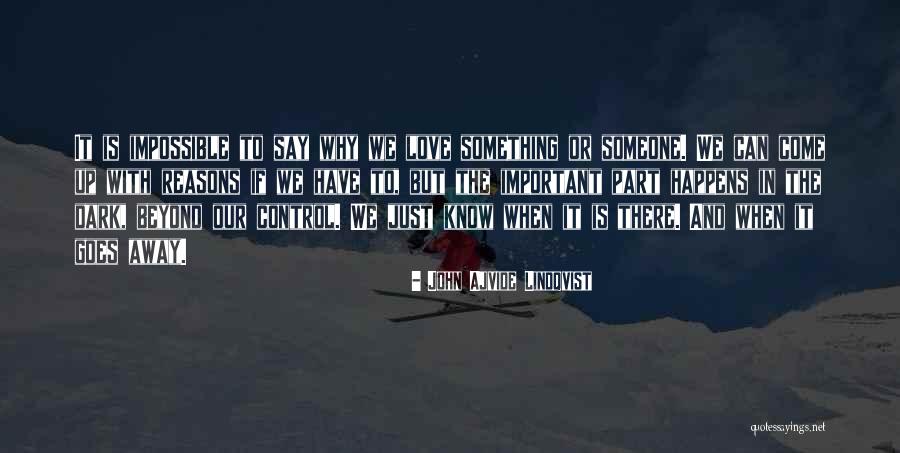 It is impossible to say why we love something or someone. We can come up with reasons if we have to, but the important part happens in the dark, beyond our control. We just know when it is there. And when it goes away. — John Ajvide Lindqvist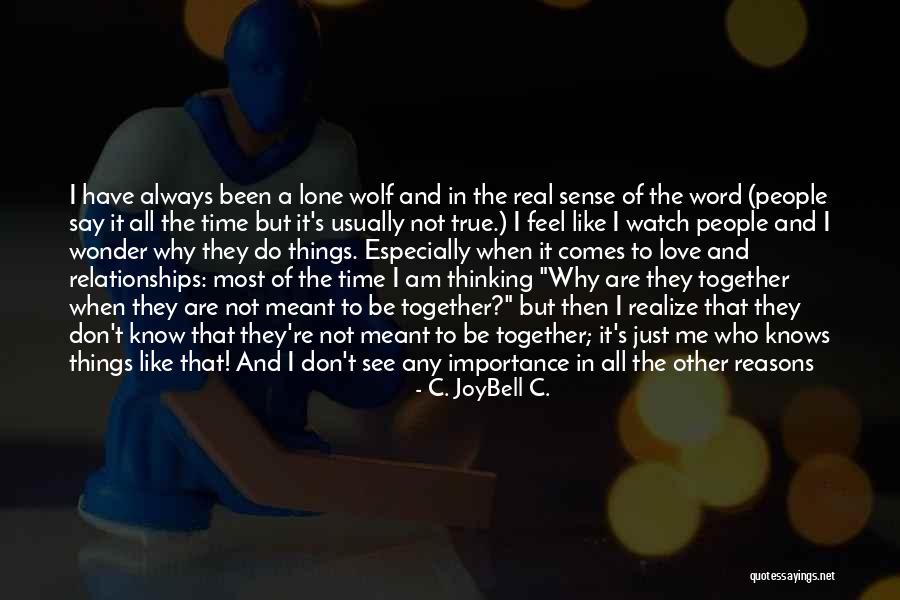 I have always been a lone wolf and in the real sense of the word (people say it all the time but it's usually not true.) I feel like I watch people and I wonder why they do things. Especially when it comes to love and relationships: most of the time I am thinking "Why are they together when they are not meant to be together?" but then I realize that they don't know that they're not meant to be together; it's just me who knows things like that! And I don't see any importance in all the other reasons why people usually want to be together - because it looks good, because it's convenient, because it's a fun game to play ... the only reason to be with someone is if you are meant for someone. You're a wolf and they're a wolf too and you look at each other and you say "You're my family, you're my home." Well, that's how I think. — C. JoyBell C.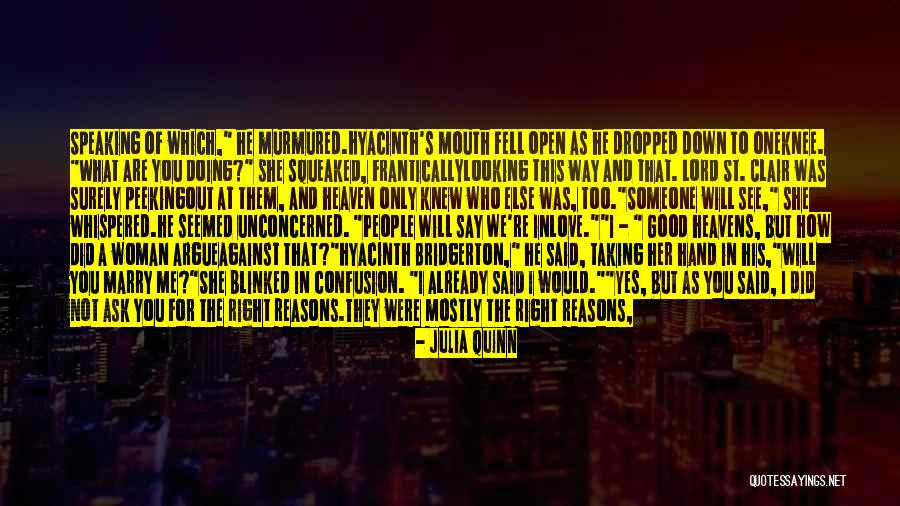 Speaking of which," he murmured.
Hyacinth's mouth fell open as he dropped down to one
knee. "What are you doing?" she squeaked, frantically
looking this way and that. Lord St. Clair was surely peeking
out at them, and heaven only knew who else was, too.
"Someone will see," she whispered.
He seemed unconcerned. "People will say we're in
love."
"I - " Good heavens, but how did a woman argue
against that?
"Hyacinth Bridgerton," he said, taking her hand in his,
"will you marry me?"
She blinked in confusion. "I already said I would."
"Yes, but as you said, I did not ask you for the right reasons.
They were mostly the right reasons, but not all."
"I - I - " She was stumbling on the words, choking on
the emotion.
He was staring up at her, his eyes glowing clear and
blue in the dim light of the streetlamps. "I am asking you
to marry me because I love you," he said — Julia Quinn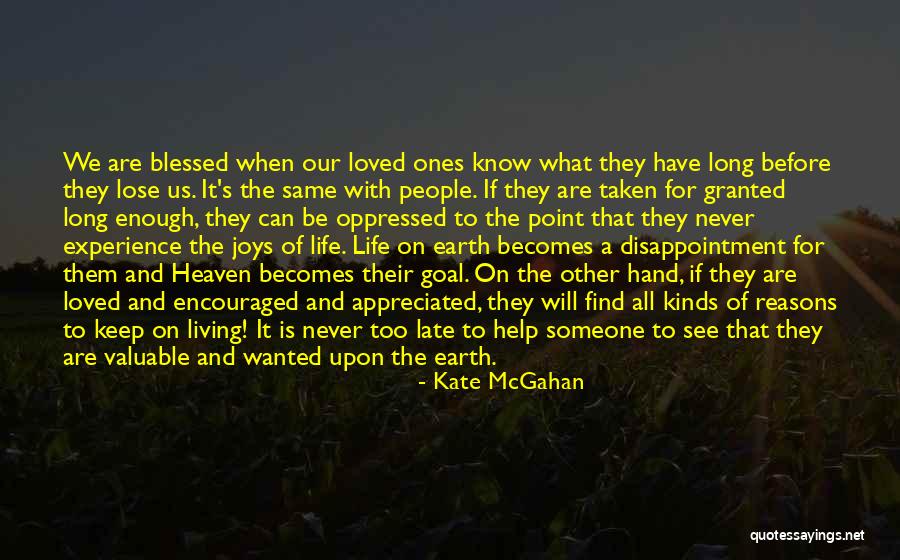 We are blessed when our loved ones know what they have long before they lose us. It's the same with people. If they are taken for granted long enough, they can be oppressed to the point that they never experience the joys of life. Life on earth becomes a disappointment for them and Heaven becomes their goal. On the other hand, if they are loved and encouraged and appreciated, they will find all kinds of reasons to keep on living! It is never too late to help someone to see that they are valuable and wanted upon the earth. — Kate McGahan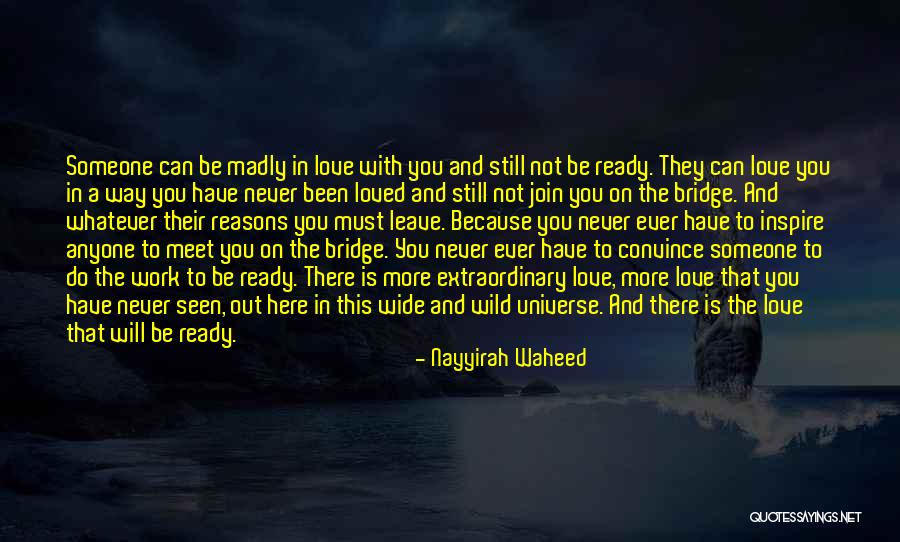 Someone can be madly in love with you and still not be ready. They can love you in a way you have never been loved and still not join you on the bridge. And whatever their reasons you must leave. Because you never ever have to inspire anyone to meet you on the bridge. You never ever have to convince someone to do the work to be ready. There is more extraordinary love, more love that you have never seen, out here in this wide and wild universe. And there is the love that will be ready. — Nayyirah Waheed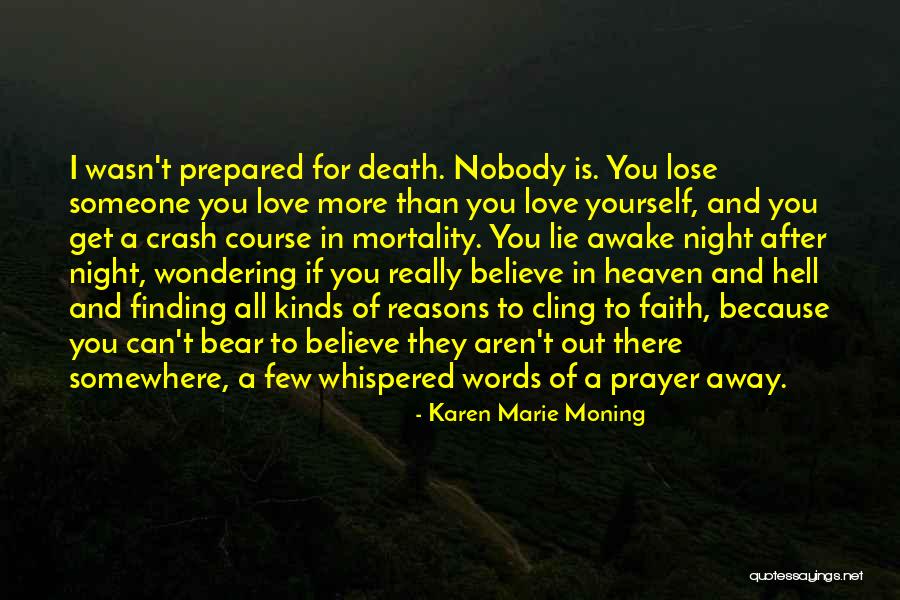 I wasn't prepared for death. Nobody is. You lose someone you love more than you love yourself, and you get a crash course in mortality. You lie awake night after night, wondering if you really believe in heaven and hell and finding all kinds of reasons to cling to faith, because you can't bear to believe they aren't out there somewhere, a few whispered words of a prayer away. — Karen Marie Moning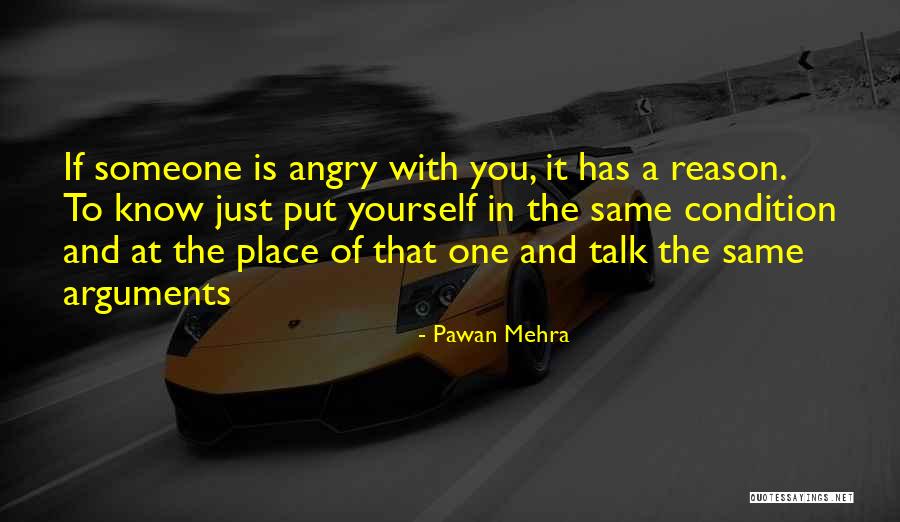 If someone is angry with you, it has a reason. To know just put yourself in the same condition and at the place of that one and talk the same arguments — Pawan Mehra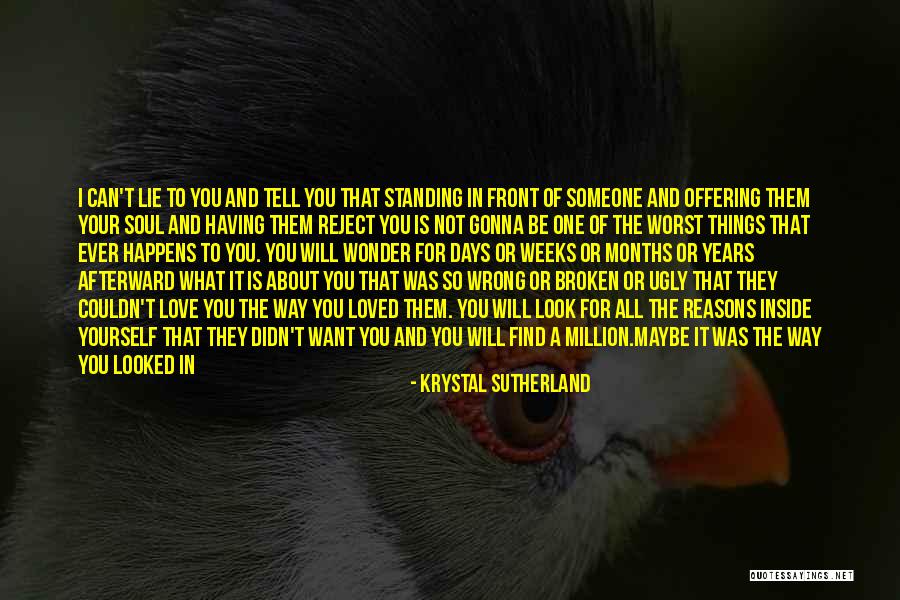 I can't lie to you and tell you that standing in front of someone and offering them your soul and having them reject you is not gonna be one of the worst things that ever happens to you. You will wonder for days or weeks or months or years afterward what it is about you that was so wrong or broken or ugly that they couldn't love you the way you loved them. You will look for all the reasons inside yourself that they didn't want you and you will find a million.
Maybe it was the way you looked in the mornings when you first woke up and hadn't showered. Maybe it was the way you were too available, because despite what everyone says, playing hard to get is still attractive.
Some days you will believe that every atom of your being is defective somehow. What you need to remember, as I remembered as I watched Grace Town leave, is that you are extraordinary. — Krystal Sutherland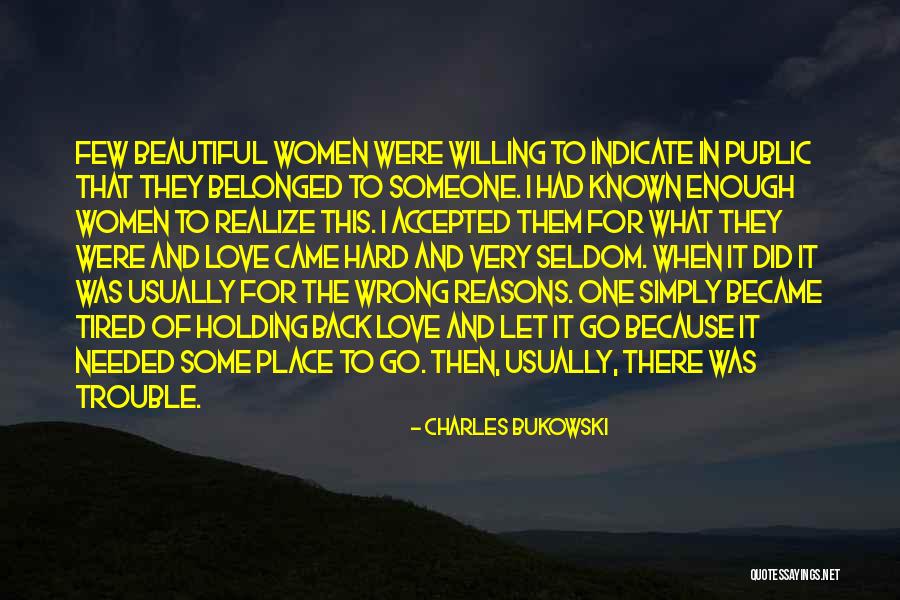 Few beautiful women were willing to indicate in public that they belonged to someone. I had known enough women to realize this. I accepted them for what they were and love came hard and very seldom. When it did it was usually for the wrong reasons. One simply became tired of holding back love and let it go because it needed some place to go. Then, usually, there was trouble. — Charles Bukowski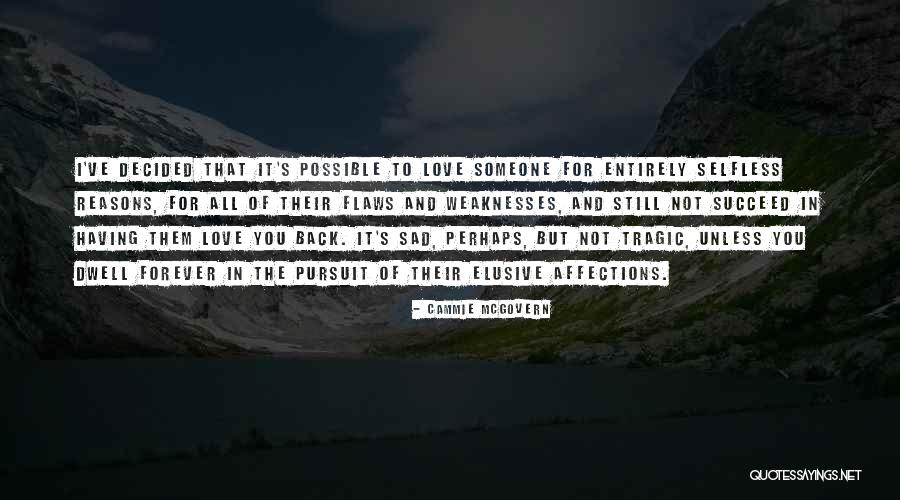 I've decided that it's possible to love someone for entirely selfless reasons, for all of their flaws and weaknesses, and still not succeed in having them love you back. It's sad, perhaps, but not tragic, unless you dwell forever in the pursuit of their elusive affections. — Cammie McGovern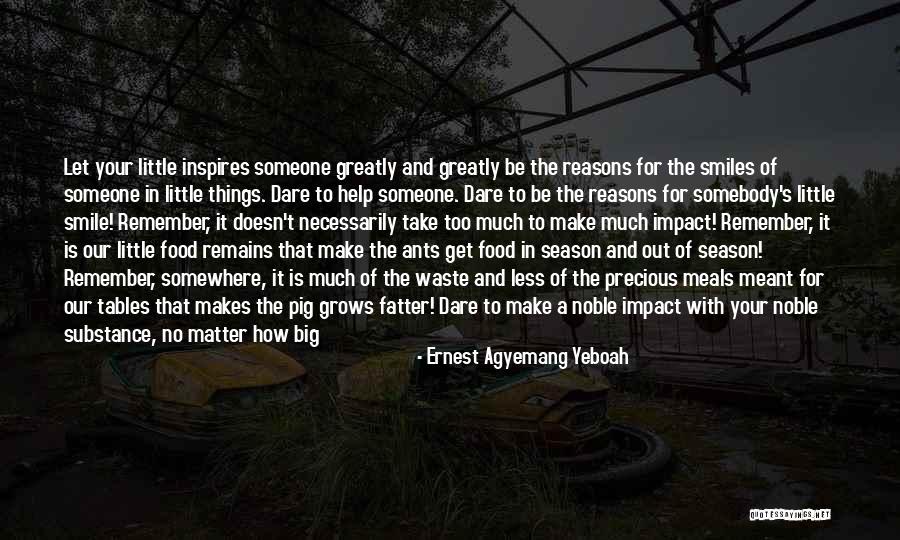 Let your little inspires someone greatly and greatly be the reasons for the smiles of someone in little things. Dare to help someone. Dare to be the reasons for somebody's little smile! Remember, it doesn't necessarily take too much to make much impact! Remember, it is our little food remains that make the ants get food in season and out of season! Remember, somewhere, it is much of the waste and less of the precious meals meant for our tables that makes the pig grows fatter! Dare to make a noble impact with your noble substance, no matter how big or small it is! Dare to cause a change that will forever be remembered, be it small or big! Dare to be the real reason for the relief of somebody. Their hearts await your impact! Their joy awaits your ignition! Take a step! Make real impact! — Ernest Agyemang Yeboah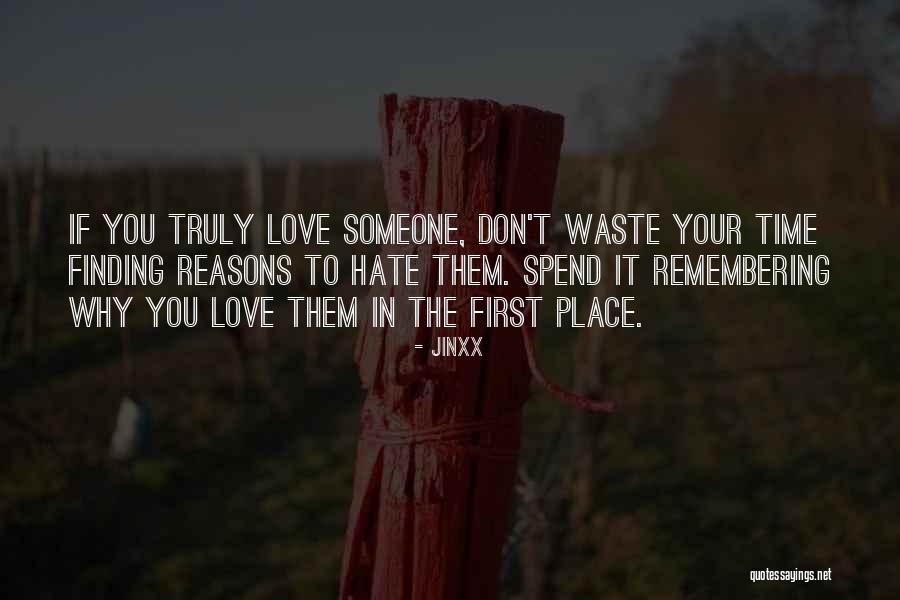 If you truly love someone, don't waste your time finding reasons to hate them. Spend it remembering why you love them in the first place. — Jinxx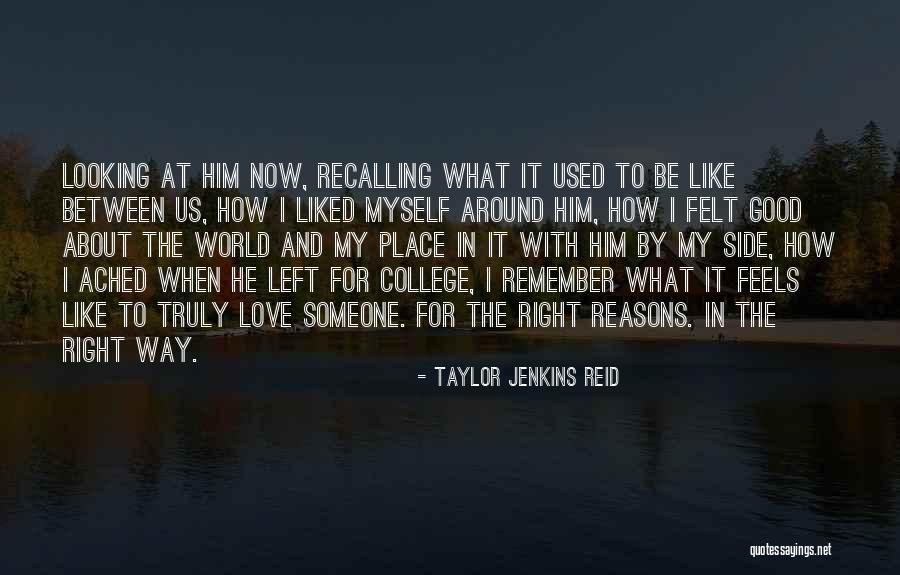 Looking at him now, recalling what it used to be like between us, how I liked myself around him, how I felt good about the world and my place in it with him by my side, how I ached when he left for college, I remember what it feels like to truly love someone. For the right reasons. In the right way. — Taylor Jenkins Reid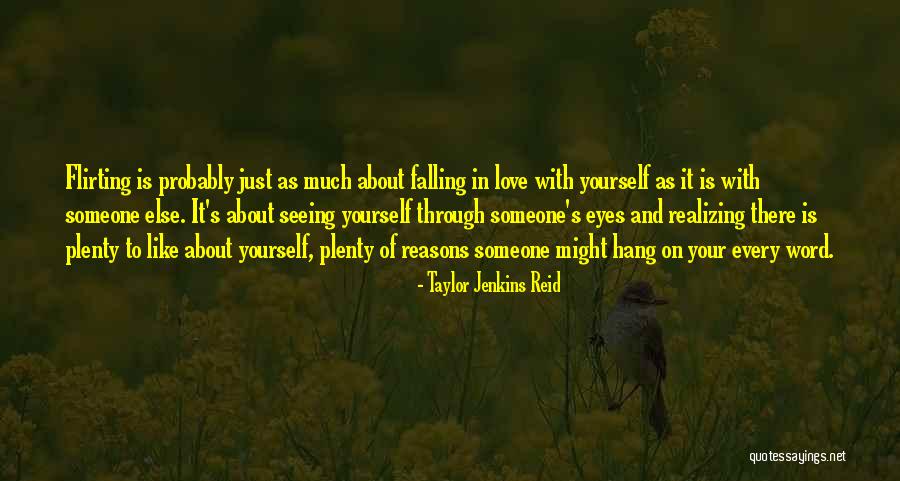 Flirting is probably just as much about falling in love with yourself as it is with someone else. It's about seeing yourself through someone's eyes and realizing there is plenty to like about yourself, plenty of reasons someone might hang on your every word. — Taylor Jenkins Reid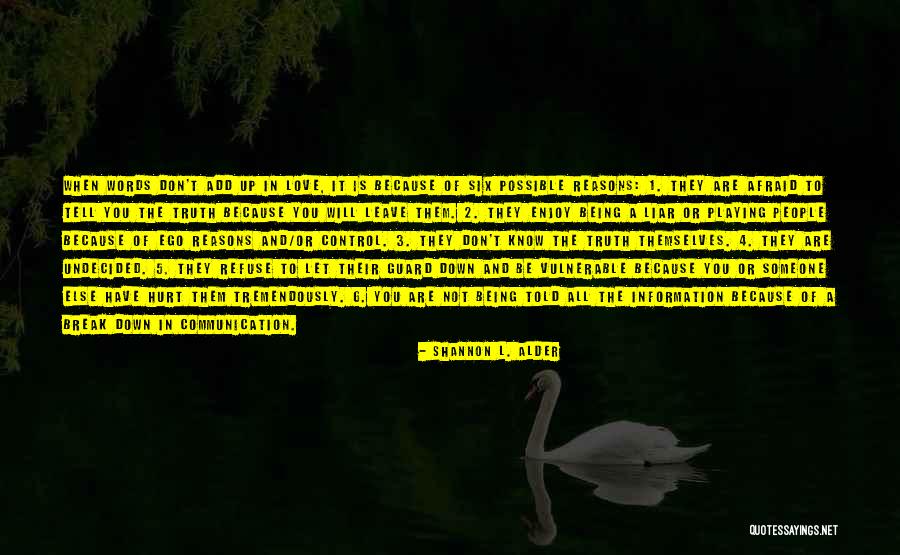 When words don't add up in love, it is because of six possible reasons:
1. They are afraid to tell you the truth because you will leave them.
2. They enjoy being a liar or playing people because of ego reasons and/or control.
3. They don't know the truth themselves.
4. They are undecided.
5. They refuse to let their guard down and be vulnerable because you or someone else have hurt them tremendously.
6. You are not being told all the information because of a break down in communication. — Shannon L. Alder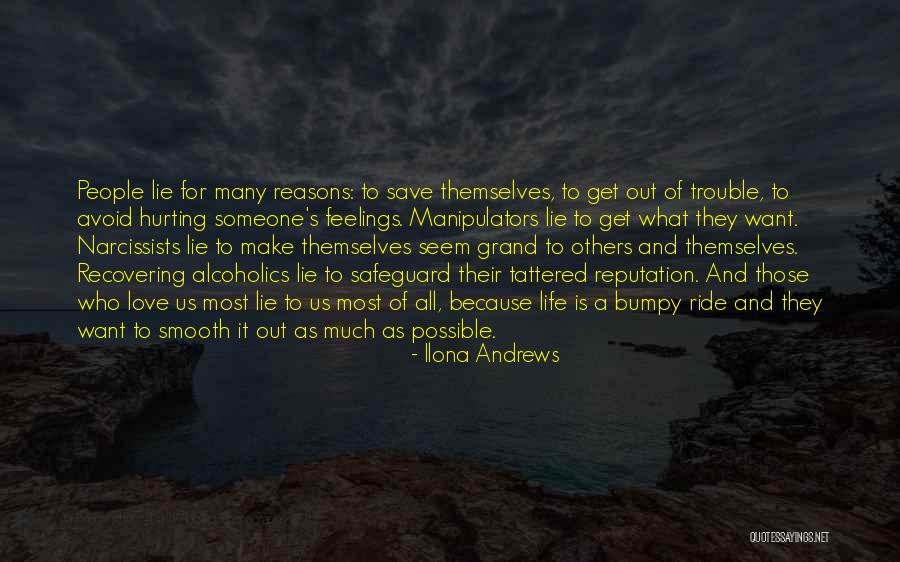 People lie for many reasons: to save themselves, to get out of trouble, to avoid hurting someone's feelings. Manipulators lie to get what they want. Narcissists lie to make themselves seem grand to others and themselves. Recovering alcoholics lie to safeguard their tattered reputation. And those who love us most lie to us most of all, because life is a bumpy ride and they want to smooth it out as much as possible. — Ilona Andrews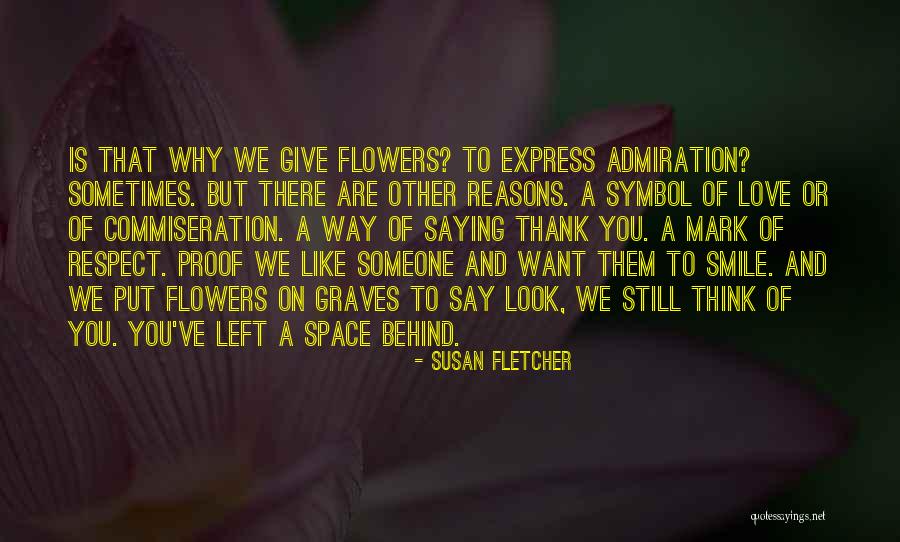 Is that why we give flowers? To express admiration? Sometimes. But there are other reasons. A symbol of love or of commiseration. A way of saying thank you. A mark of respect. Proof we like someone and want them to smile. And we put flowers on graves to say Look, we still think of you. You've left a space behind. — Susan Fletcher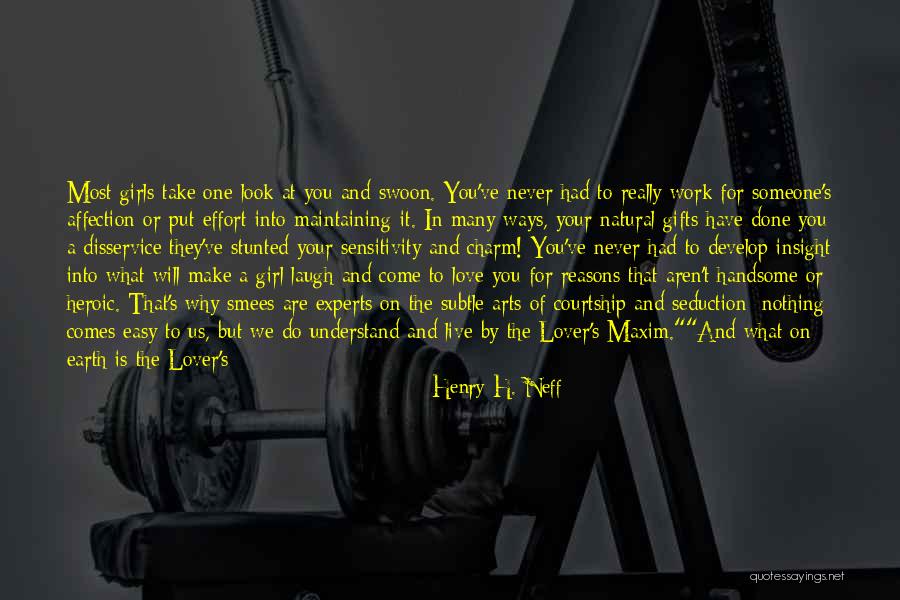 Most girls take one look at you and swoon. You've never had to really work for someone's affection or put effort into maintaining it. In many ways, your natural gifts have done you a disservice
they've stunted your sensitivity and charm! You've never had to develop insight into what will make a girl laugh and come to love you for reasons that aren't handsome or heroic. That's why smees are experts on the subtle arts of courtship and seduction; nothing comes easy to us, but we do understand and live by the Lover's Maxim."
"And what on earth is the Lover's Maxim?" asked Maz, feeling very uninformed.
The smee cleared his throat. "If you can't be handsome, be rich. If you can't be rich, be strong. If you cant be strong, be witty."
"But what if you can't be witty?" Max wondered.
"Learn the guitar. — Henry H. Neff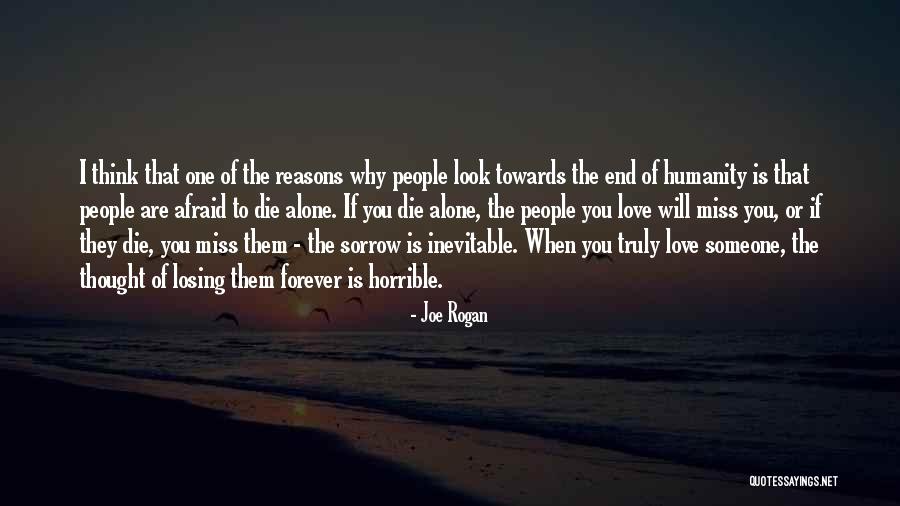 I think that one of the reasons why people look towards the end of humanity is that people are afraid to die alone. If you die alone, the people you love will miss you, or if they die, you miss them - the sorrow is inevitable. When you truly love someone, the thought of losing them forever is horrible. — Joe Rogan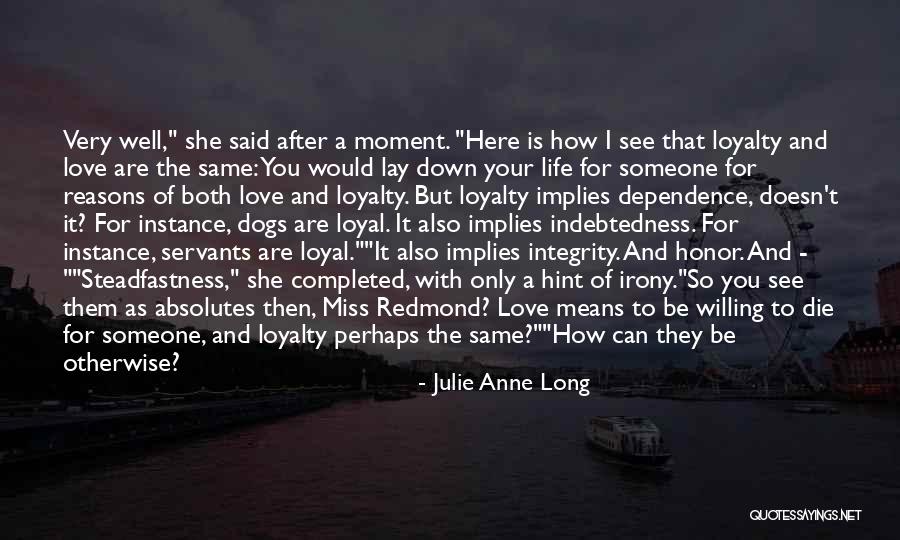 Very well," she said after a moment. "Here is how I see that loyalty and love are the same: You would lay down your life for someone for reasons of both love and loyalty. But loyalty implies dependence, doesn't it? For instance, dogs are loyal. It also implies indebtedness. For instance, servants are loyal."
"It also implies integrity. And honor. And - "
"Steadfastness," she completed, with only a hint of irony.
"So you see them as absolutes then, Miss Redmond? Love means to be willing to die for someone, and loyalty perhaps the same?"
"How can they be otherwise? — Julie Anne Long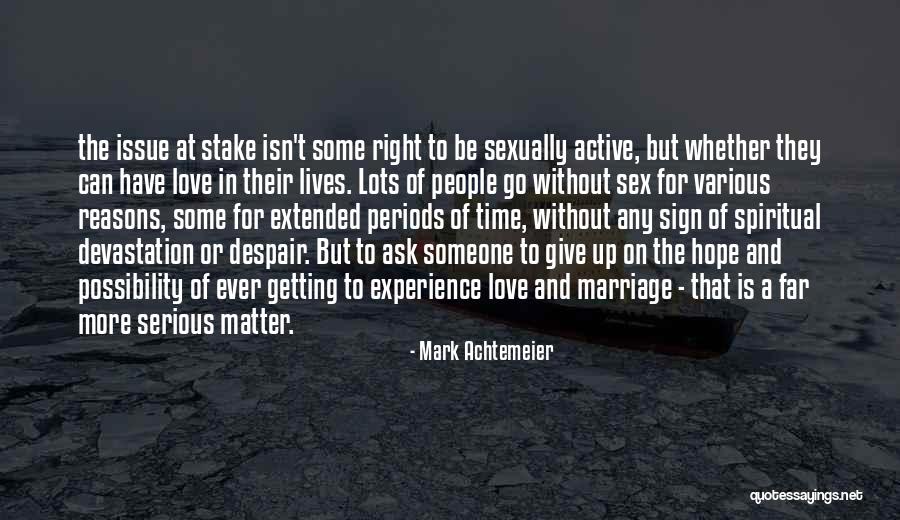 the issue at stake isn't some right to be sexually active, but whether they can have love in their lives. Lots of people go without sex for various reasons, some for extended periods of time, without any sign of spiritual devastation or despair. But to ask someone to give up on the hope and possibility of ever getting to experience love and marriage - that is a far more serious matter. — Mark Achtemeier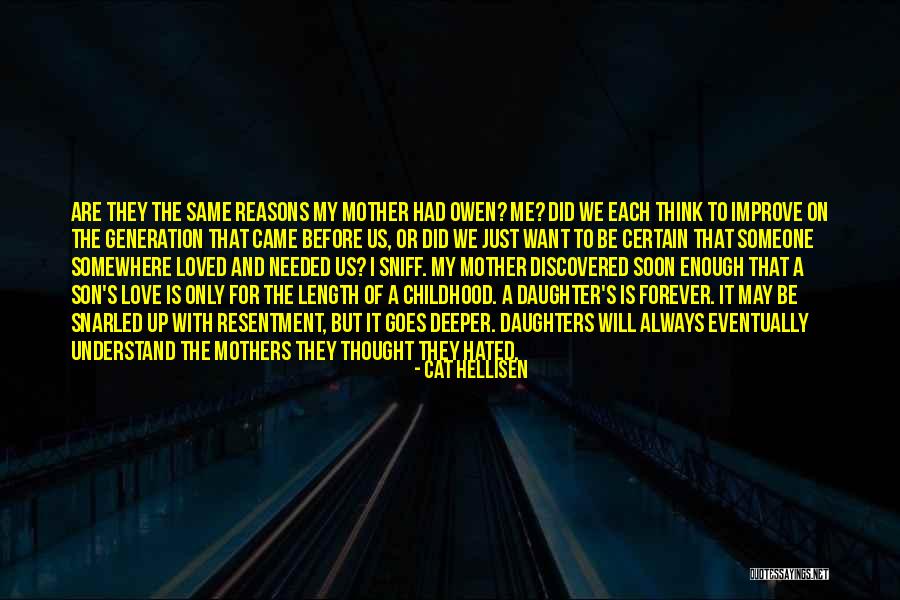 Are they the same reasons my mother had Owen? Me? Did we each think to improve on the generation that came before us, or did we just want to be certain that someone somewhere loved and needed us? I sniff. My mother discovered soon enough that a son's love is only for the length of a childhood. A daughter's is forever. It may be snarled up with resentment, but it goes deeper. Daughters will always eventually understand the mothers they thought they hated. — Cat Hellisen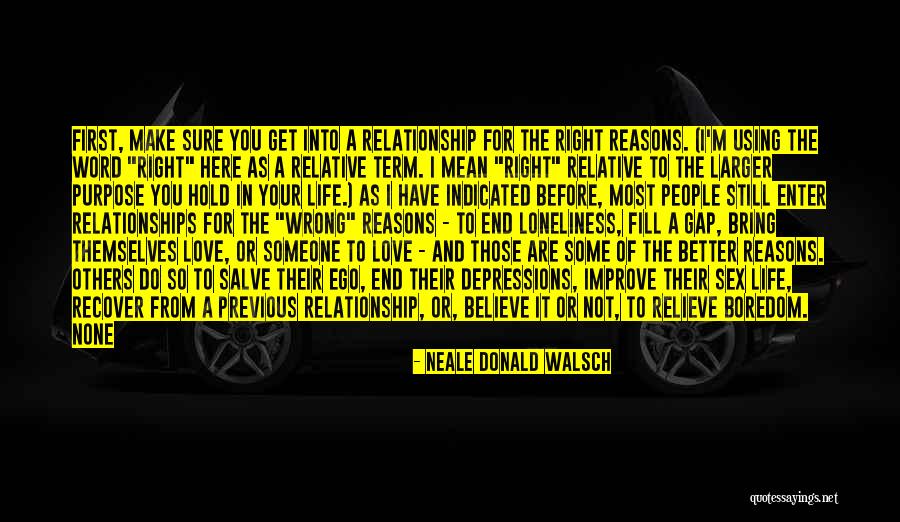 First, make sure you get into a relationship for the right reasons. (I'm using the word "right" here as a relative term. I mean "right" relative to the larger purpose you hold in your life.) As I have indicated before, most people still enter relationships for the "wrong" reasons - to end loneliness, fill a gap, bring themselves love, or someone to love - and those are some of the better reasons. Others do so to salve their ego, end their depressions, improve their sex life, recover from a previous relationship, or, believe it or not, to relieve boredom. None of these reasons will work, and unless something dramatic changes along the way, neither will the relationship. — Neale Donald Walsch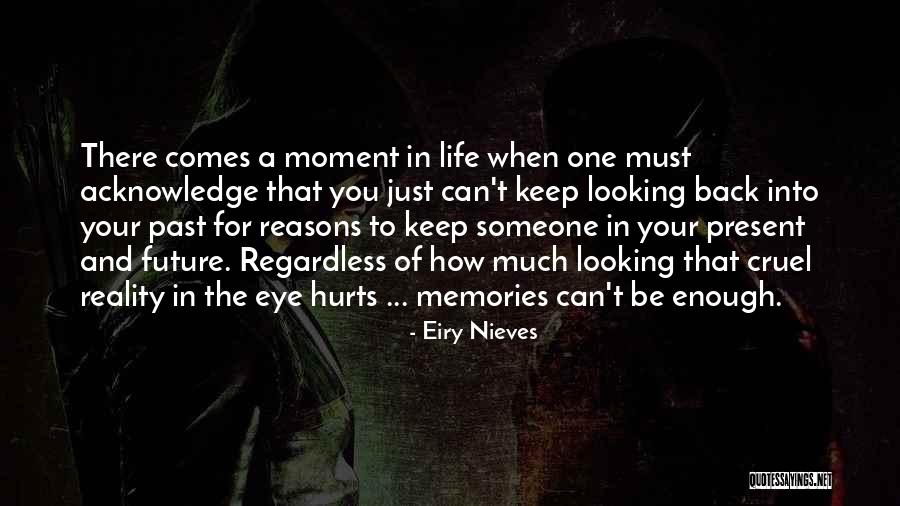 There comes a moment in life when one must acknowledge that you just can't keep looking back into your past for reasons to keep someone in your present and future. Regardless of how much looking that cruel reality in the eye hurts ... memories can't be enough. — Eiry Nieves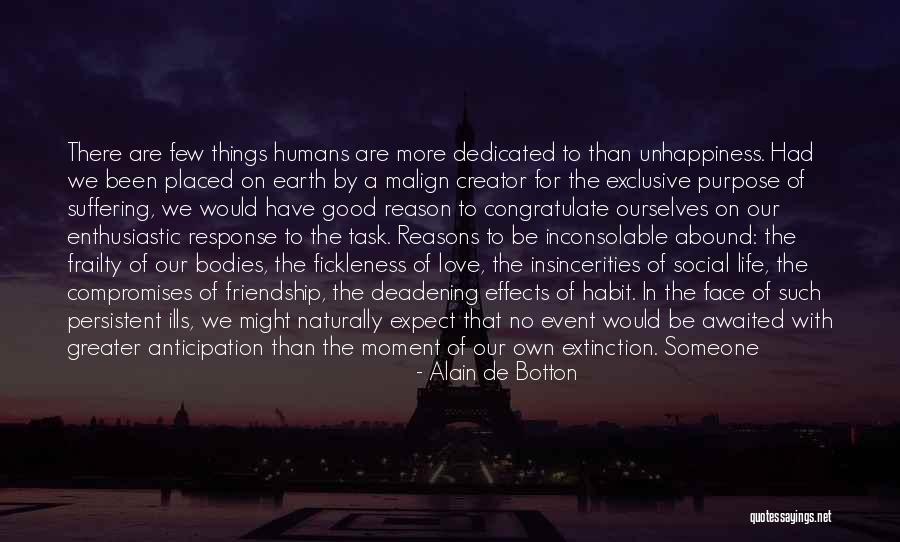 There are few things humans are more dedicated to than unhappiness. Had we been placed on earth by a malign creator for the exclusive purpose of suffering, we would have good reason to congratulate ourselves on our enthusiastic response to the task. Reasons to be inconsolable abound: the frailty of our bodies, the fickleness of love, the insincerities of social life, the compromises of friendship, the deadening effects of habit. In the face of such persistent ills, we might naturally expect that no event would be awaited with greater anticipation than the moment of our own extinction. Someone — Alain De Botton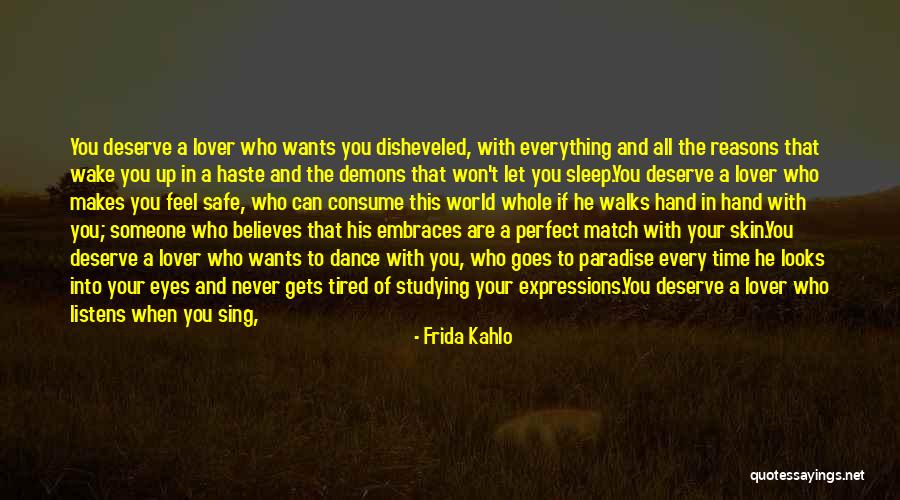 You deserve a lover who wants you disheveled, with everything and all the reasons that wake you up in a haste and the demons that won't let you sleep.
You deserve a lover who makes you feel safe, who can consume this world whole if he walks hand in hand with you; someone who believes that his embraces are a perfect match with your skin.
You deserve a lover who wants to dance with you, who goes to paradise every time he looks into your eyes and never gets tired of studying your expressions.
You deserve a lover who listens when you sing, who supports you when you feel shame and respects your freedom; who flies with you and isn't afraid to fall.
You deserve a lover who takes away the lies and brings you hope, coffee, and poetry. — Frida Kahlo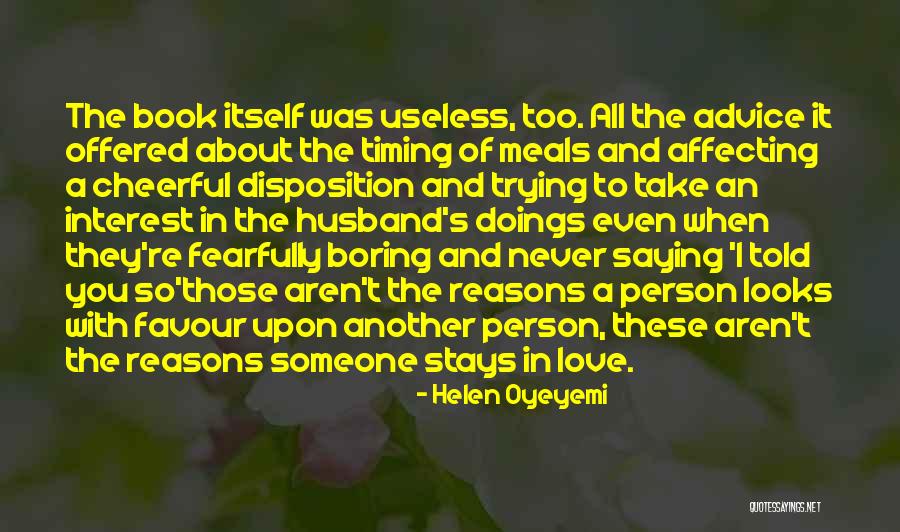 The book itself was useless, too. All the advice it offered about the timing of meals and affecting a cheerful disposition and trying to take an interest in the husband's doings even when they're fearfully boring and never saying 'I told you so'
those aren't the reasons a person looks with favour upon another person, these aren't the reasons someone stays in love. — Helen Oyeyemi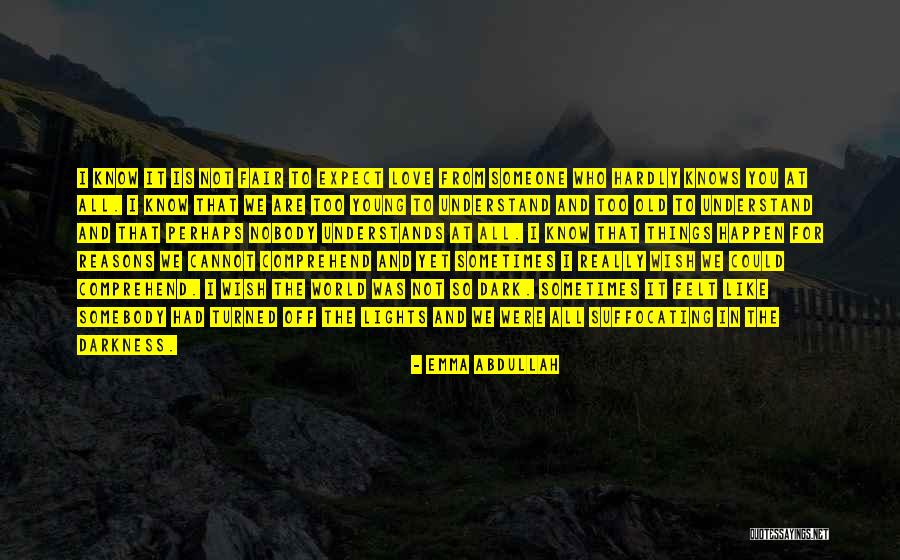 I know it is not fair to expect love from someone who hardly knows you at all. I know that we are too young to understand and too old to understand and that perhaps nobody understands at all. I know that things happen for reasons we cannot comprehend and yet sometimes I really wish we could comprehend. I wish the world was not so dark. Sometimes it felt like somebody had turned off the lights and we were all suffocating in the darkness. — Emma Abdullah
But if I've learned one thing, it's this: forgiveness is crucial. If you can't forgive someone you're mad at, that anger will poison you. You have to learn to let it go" ... "people have reasons for doing the things that they do, especially when they care about you. You may not always understand what they are, but if you can try to understand the person then you might see that they really care, despite what happened."
pg 100 Meredith to Vlad — Heather Brewer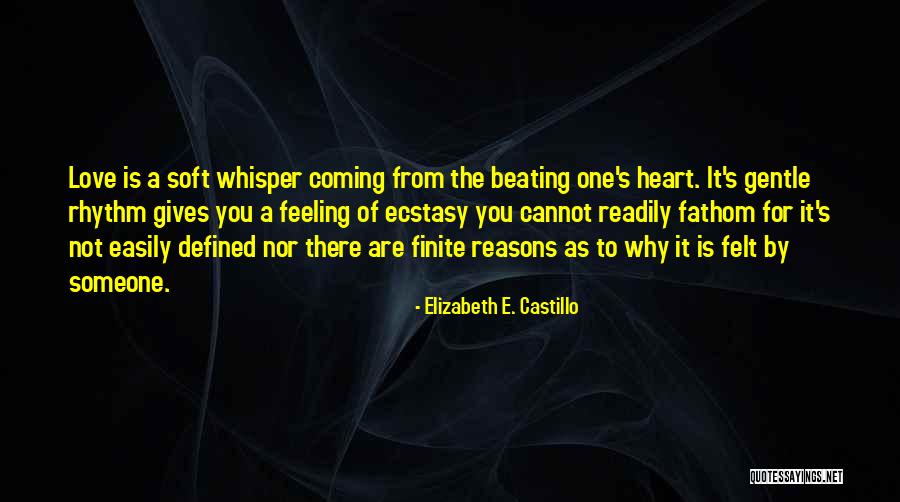 Love is a soft whisper coming from the beating one's heart. It's gentle rhythm gives you a feeling of ecstasy you cannot readily fathom for it's not easily defined nor there are finite reasons as to why it is felt by someone. — Elizabeth E. Castillo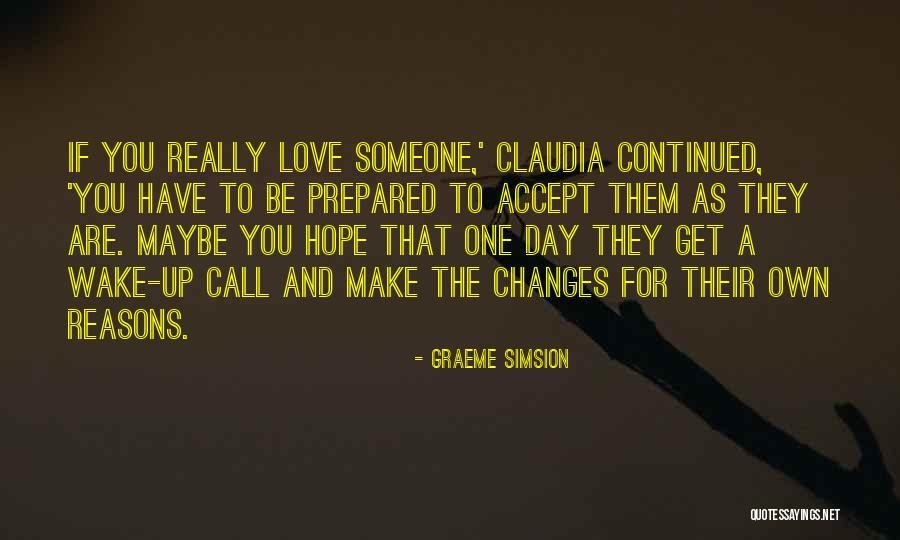 If you really love someone,' Claudia continued, 'you have to be prepared to accept them as they are. Maybe you hope that one day they get a wake-up call and make the changes for their own reasons. — Graeme Simsion