Raised By Mom Quotes & Sayings
Enjoy reading and share 39 famous quotes about Raised By Mom with everyone.
Top Raised By Mom Quotes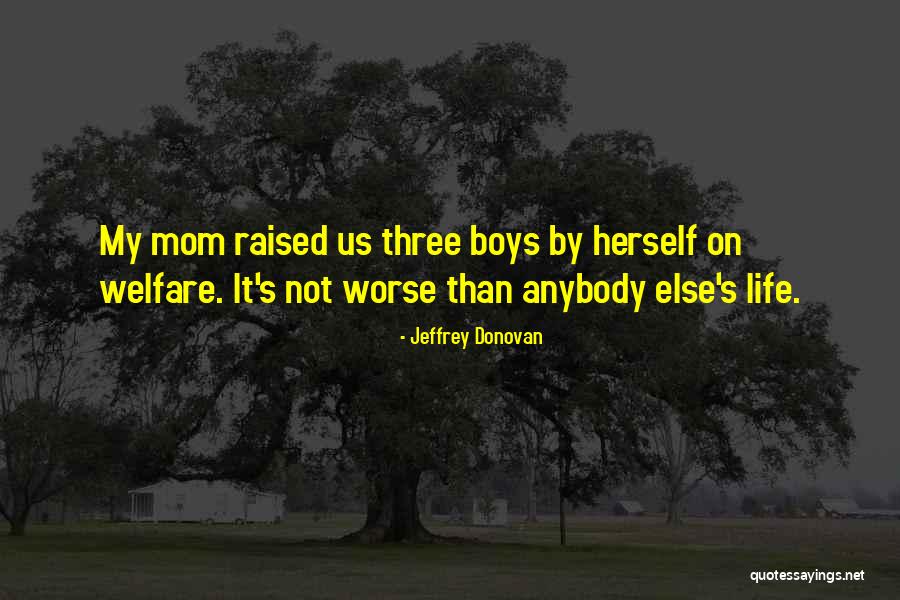 My mom raised us three boys by herself on welfare. It's not worse than anybody else's life. — Jeffrey Donovan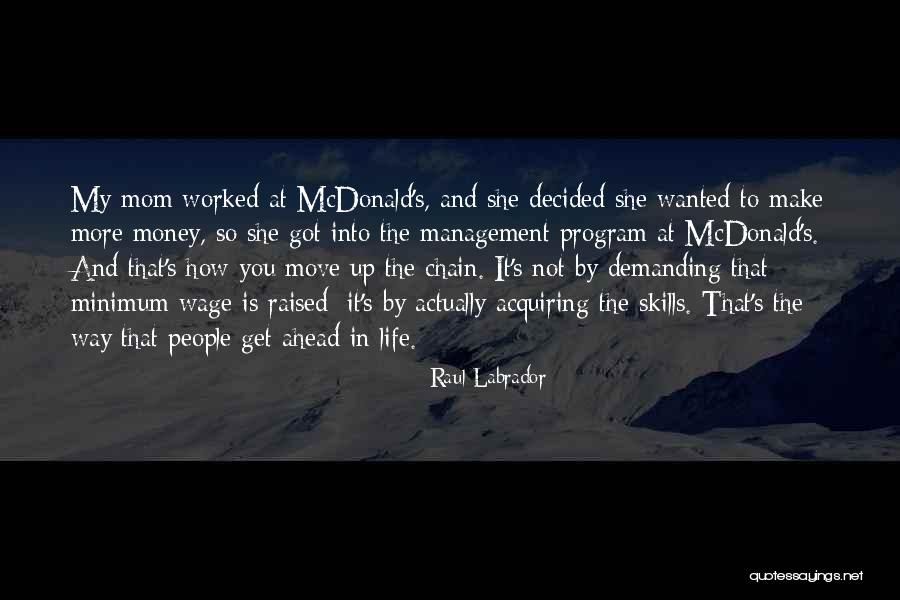 My mom worked at McDonald's, and she decided she wanted to make more money, so she got into the management program at McDonald's. And that's how you move up the chain. It's not by demanding that minimum wage is raised; it's by actually acquiring the skills. That's the way that people get ahead in life. — Raul Labrador
My mom is American, so I was raised in her household in my formative years. But as I got older, my pops tried to keep me involved with the culture by telling me the stories of the conflict between Ethiopia and Eritrea, how he came to America, and about our family back home, because all that side of my family, my aunties, grandparents, is in Africa. — Nipsey Hussle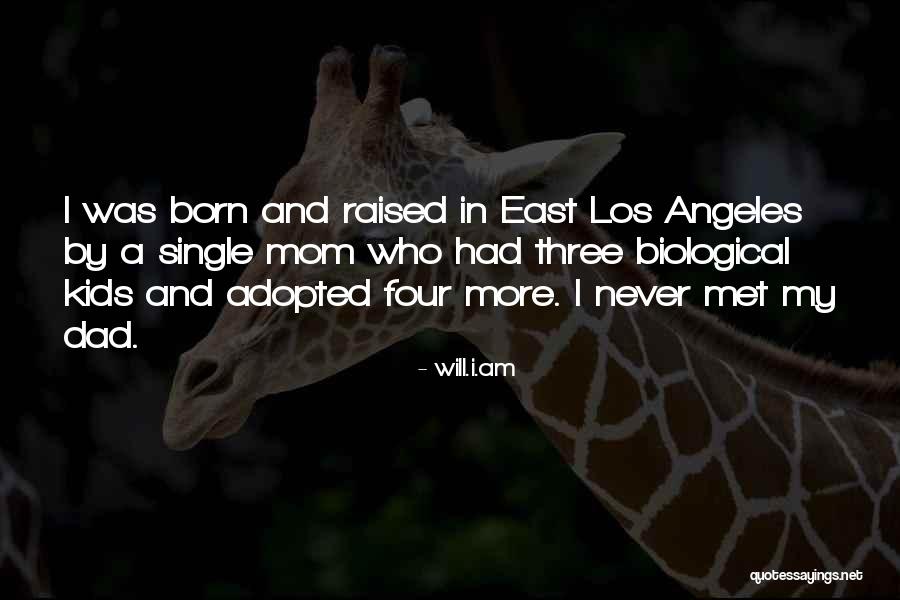 I was born and raised in East Los Angeles by a single mom who had three biological kids and adopted four more. I never met my dad. — Will.i.am
Noah nods right as Echo opens the door to the bedroom. She stretches her long sleeves over her fingertips. I swear under my breath. She's definitely hiding her scars again. The girl has had a messed-up life and last year she finally found the courage to not give a shit what people thought of her. Leave it to a mom to reappear in her kid's life and jack everything up. Echo and I would have been better off raised by wolves. — Katie McGarry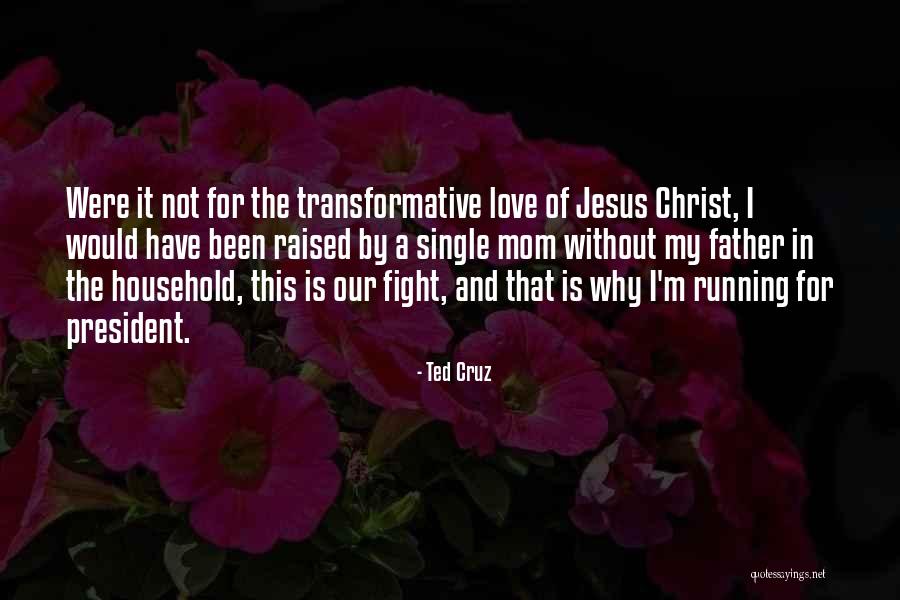 Were it not for the transformative love of Jesus Christ, I would have been raised by a single mom without my father in the household, this is our fight, and that is why I'm running for president. — Ted Cruz
These same ABCs couldn't speak Chinese and didn't care---but you don't have shit without your native tongue. African slaves were forced by threat of physical punishment to abandon their native languages, but a lot of us just gave ours up with a shrug---these Uncle Chans convinced us to assimilate, shut the fuck up, and play the part. What they didn't understand is that after your have the money and degrees, you can't buy your identity back. I wasn't worried about degrees, but I cared about my roots. Even if I hated what it meant to be an Asian in t he American wilderness, i respected the Chinese home I was raised in. Usually I wasn't so vocal about Asian identity, but without my parents around, I felt a sudden duty to say something myself. It's funny how annoying I thought my mom was, but as soon as she wasn't around, i carried the torch for her. — Eddie Huang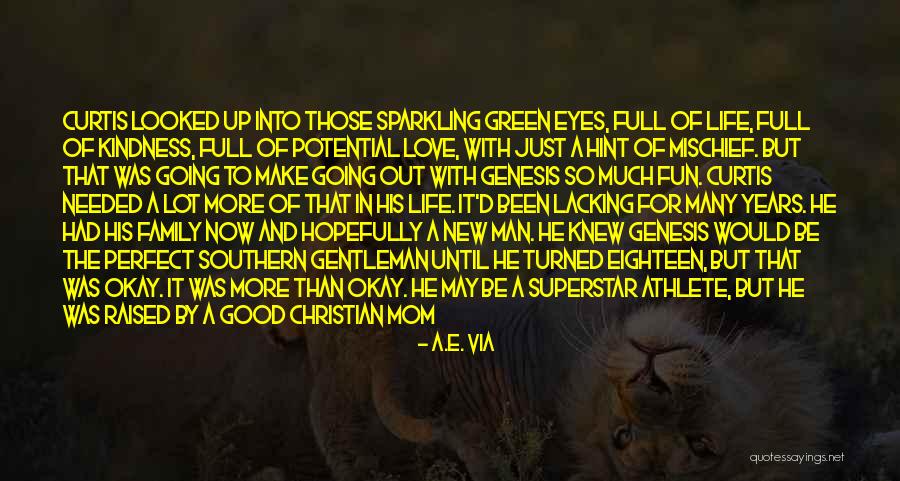 Curtis looked up into those sparkling green eyes, full of life, full of kindness, full of potential love, with just a hint of mischief. But that was going to make going out with Genesis so much fun. Curtis needed a lot more of that in his life. It'd been lacking for many years. He had his family now and hopefully a new man. He knew Genesis would be the perfect Southern gentleman until he turned eighteen, but that was okay. It was more than okay. He may be a superstar athlete, but he was raised by a good Christian mom who'd taught her sons well. Curtis was going to do everything he could to be a good match for Genesis Godfrey. "You're — A.E. Via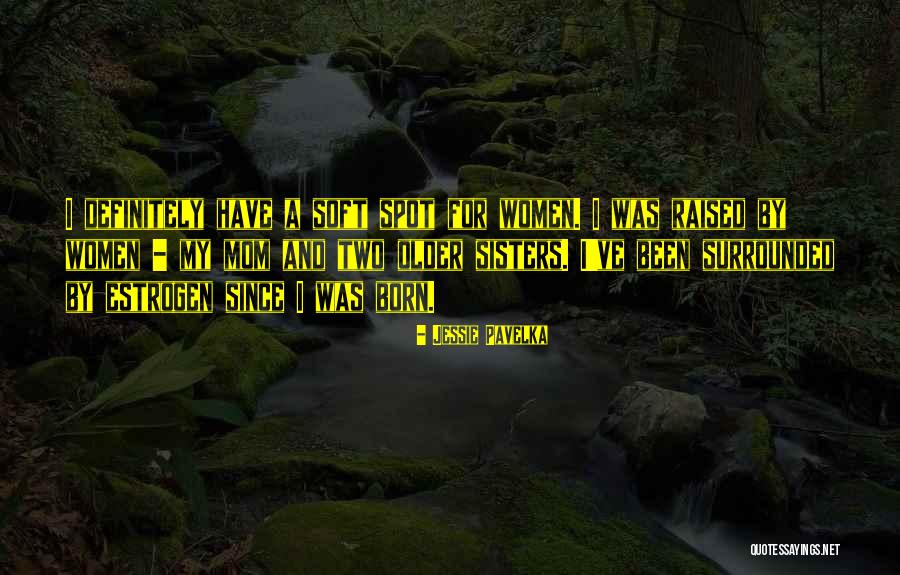 I definitely have a soft spot for women. I was raised by women - my mom and two older sisters. I've been surrounded by estrogen since I was born. — Jessie Pavelka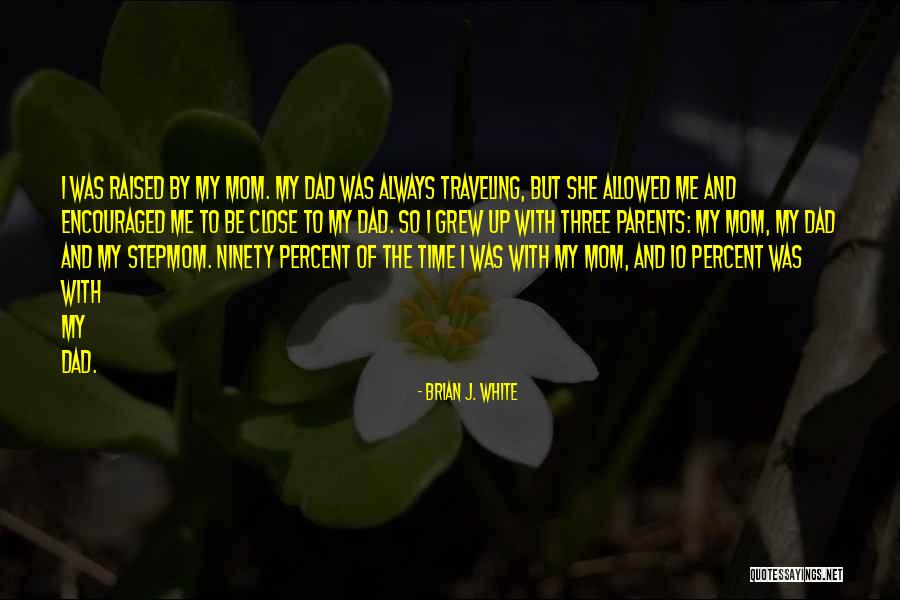 I was raised by my mom. My dad was always traveling, but she allowed me and encouraged me to be close to my dad. So I grew up with three parents: my mom, my dad and my stepmom. Ninety percent of the time I was with my mom, and 10 percent was with my dad. — Brian J. White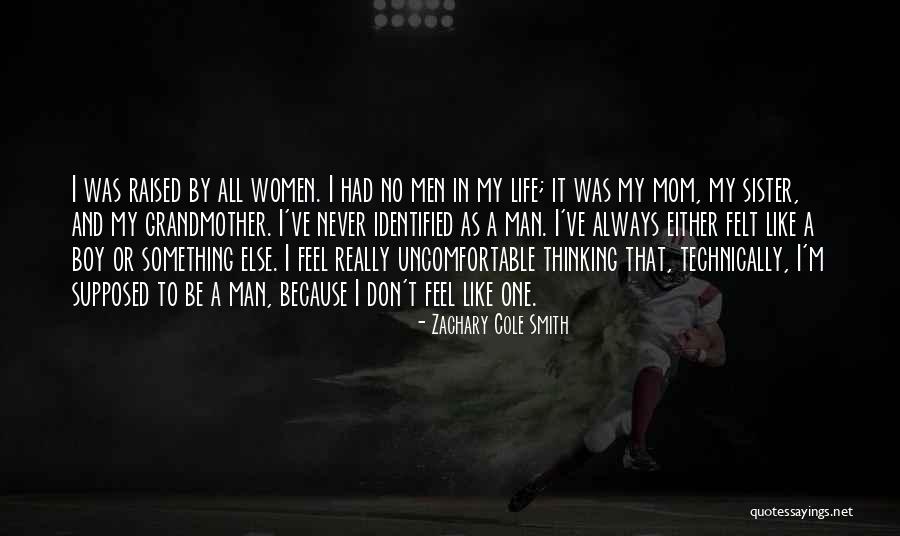 I was raised by all women. I had no men in my life; it was my mom, my sister, and my grandmother. I've never identified as a man. I've always either felt like a boy or something else. I feel really uncomfortable thinking that, technically, I'm supposed to be a man, because I don't feel like one. — Zachary Cole Smith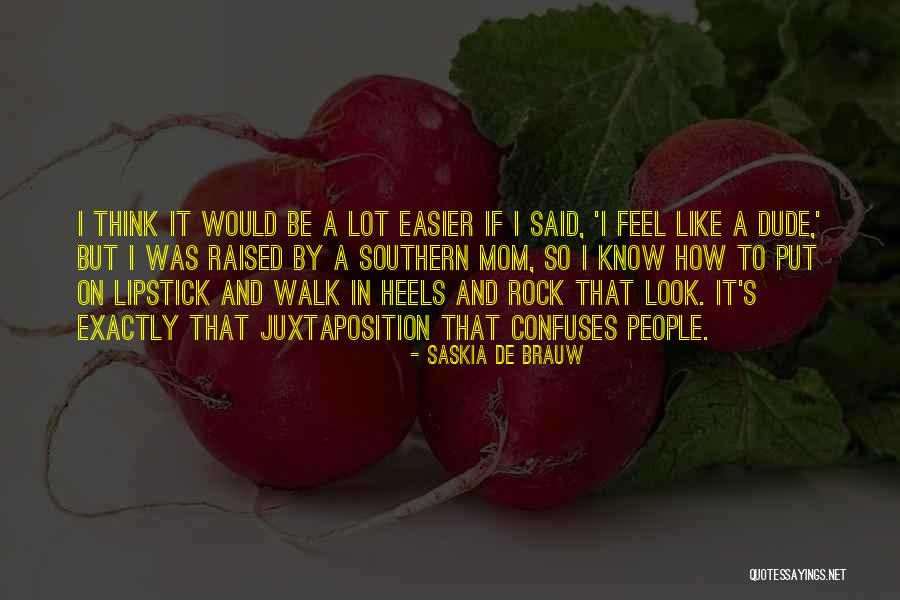 I think it would be a lot easier if I said, 'I feel like a dude,' but I was raised by a southern mom, so I know how to put on lipstick and walk in heels and rock that look. It's exactly that juxtaposition that confuses people. — Saskia De Brauw
I really wanted to be a mom. I didn't want my kids to be raised by a nanny, which would have been the case if I were working two movies in a year, you know? And I would have been hospitalized with fatigue. — Robin Wright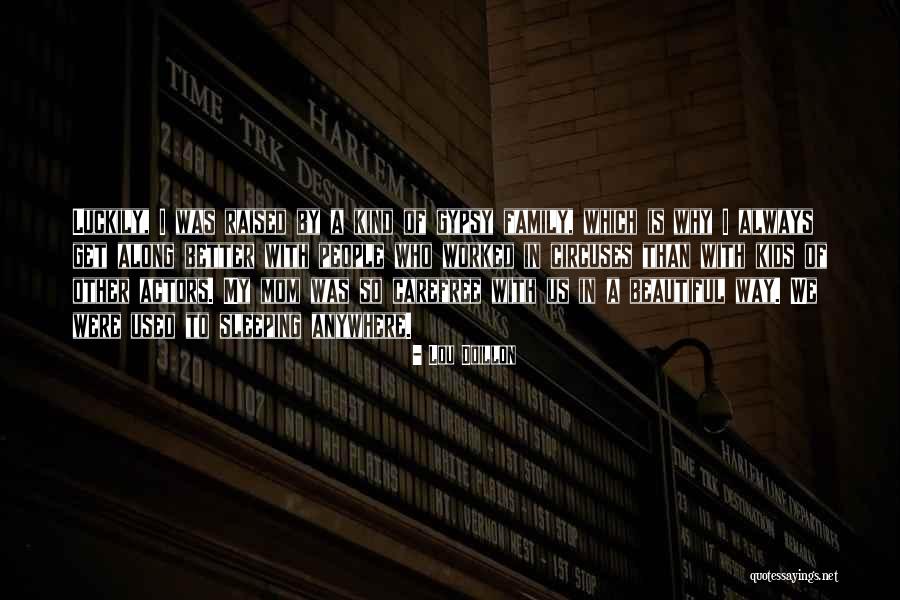 Luckily, I was raised by a kind of gypsy family, which is why I always get along better with people who worked in circuses than with kids of other actors. My mom was so carefree with us in a beautiful way. We were used to sleeping anywhere. — Lou Doillon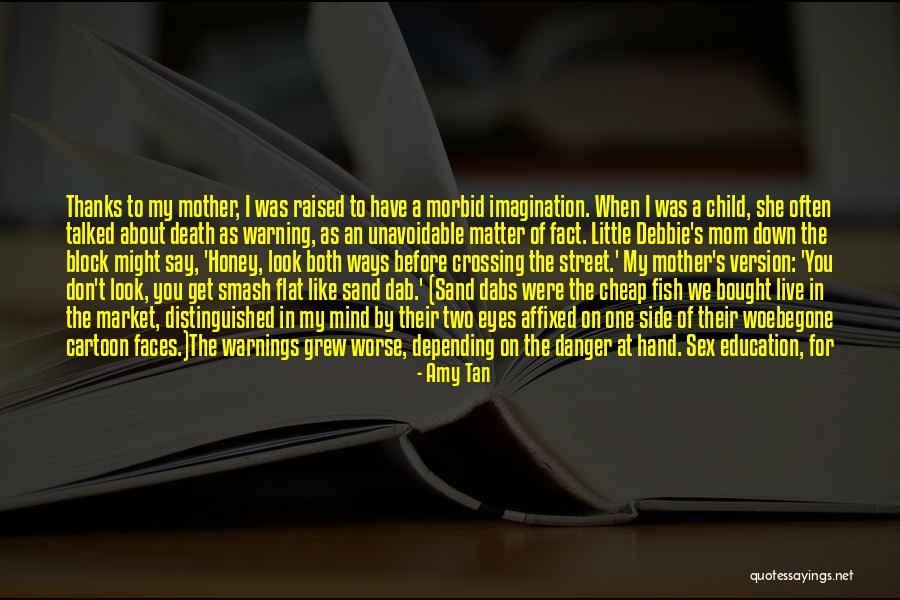 Thanks to my mother, I was raised to have a morbid imagination. When I was a child, she often talked about death as warning, as an unavoidable matter of fact. Little Debbie's mom down the block might say, 'Honey, look both ways before crossing the street.' My mother's version: 'You don't look, you get smash flat like sand dab.' (Sand dabs were the cheap fish we bought live in the market, distinguished in my mind by their two eyes affixed on one side of their woebegone cartoon faces.)
The warnings grew worse, depending on the danger at hand. Sex education, for example, consisted of the following advice: 'Don't ever let boy kiss you. You do, you can't stop. Then you have baby. You put baby in garbage can. Police find you, put you in jail, then you life over, better just kill youself. — Amy Tan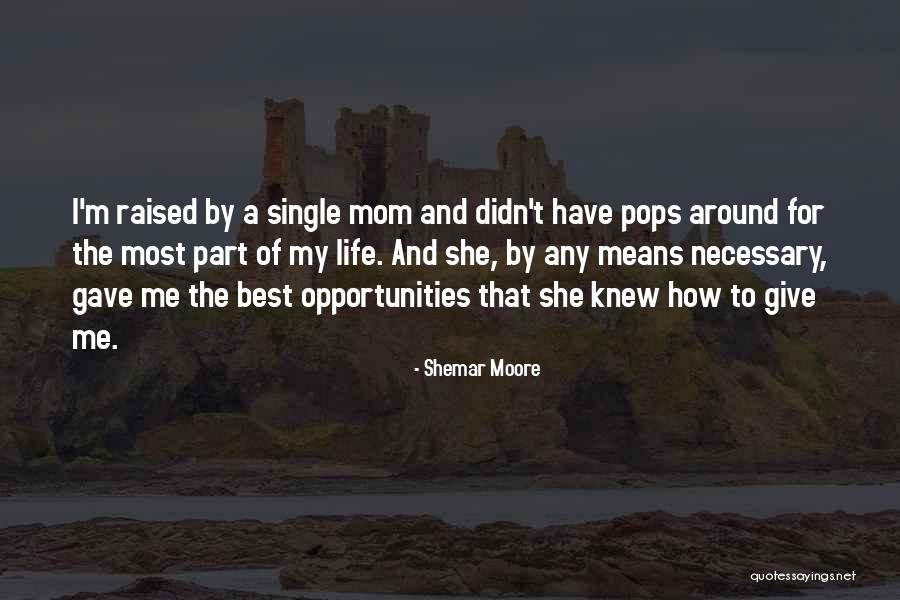 I'm raised by a single mom and didn't have pops around for the most part of my life. And she, by any means necessary, gave me the best opportunities that she knew how to give me. — Shemar Moore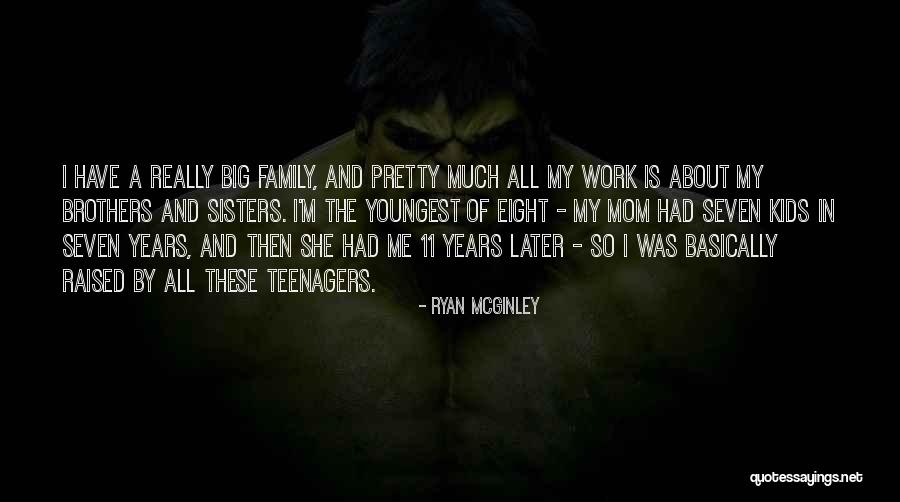 I have a really big family, and pretty much all my work is about my brothers and sisters. I'm the youngest of eight - my mom had seven kids in seven years, and then she had me 11 years later - so I was basically raised by all these teenagers. — Ryan McGinley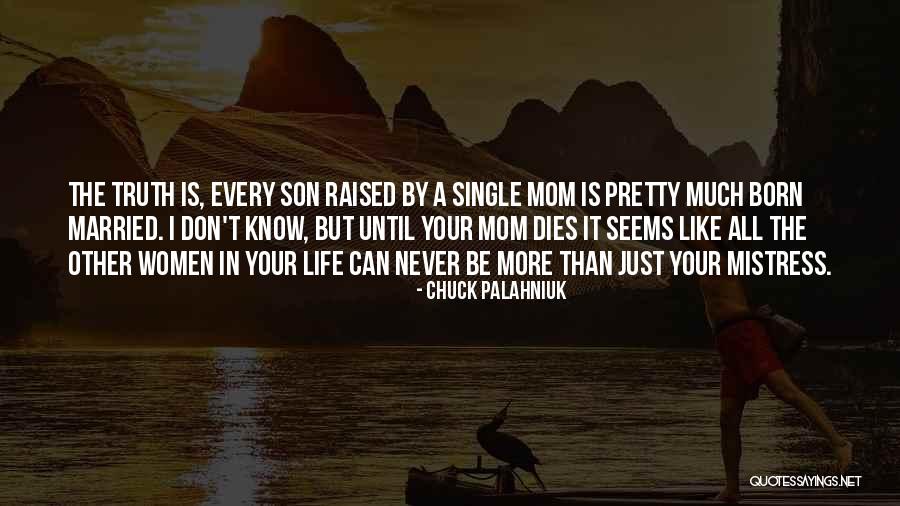 The truth is, every son raised by a single mom is pretty much born married. I don't know, but until your mom dies it seems like all the other women in your life can never be more than just your mistress. — Chuck Palahniuk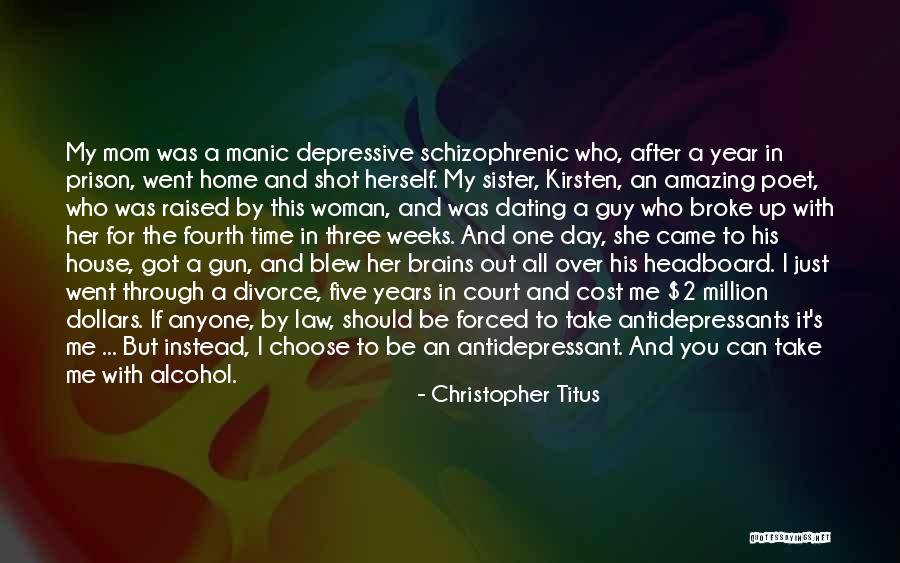 My mom was a manic depressive schizophrenic who, after a year in prison, went home and shot herself. My sister, Kirsten, an amazing poet, who was raised by this woman, and was dating a guy who broke up with her for the fourth time in three weeks. And one day, she came to his house, got a gun, and blew her brains out all over his headboard. I just went through a divorce, five years in court and cost me $2 million dollars. If anyone, by law, should be forced to take antidepressants it's me ... But instead, I choose to be an antidepressant. And you can take me with alcohol. — Christopher Titus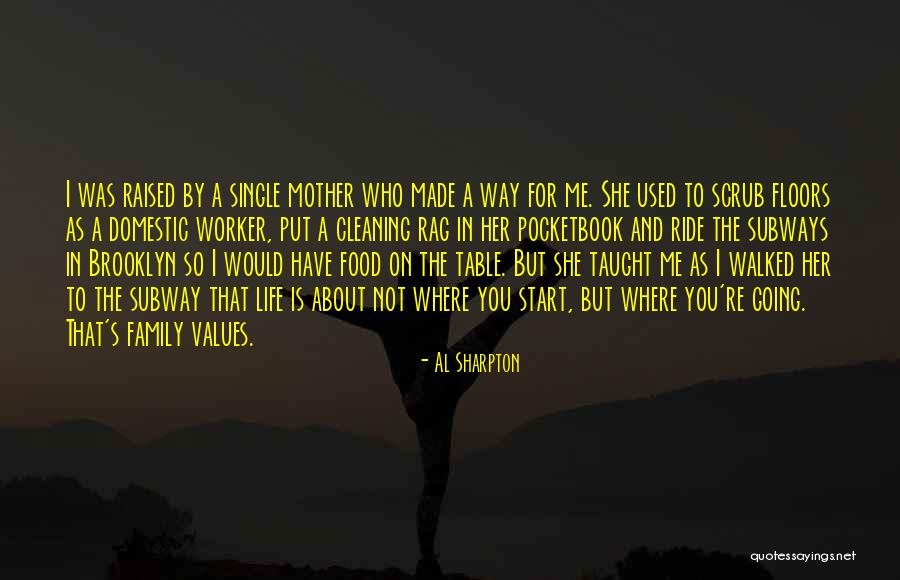 I was raised by a single mother who made a way for me. She used to scrub floors as a domestic worker, put a cleaning rag in her pocketbook and ride the subways in Brooklyn so I would have food on the table. But she taught me as I walked her to the subway that life is about not where you start, but where you're going. That's family values. — Al Sharpton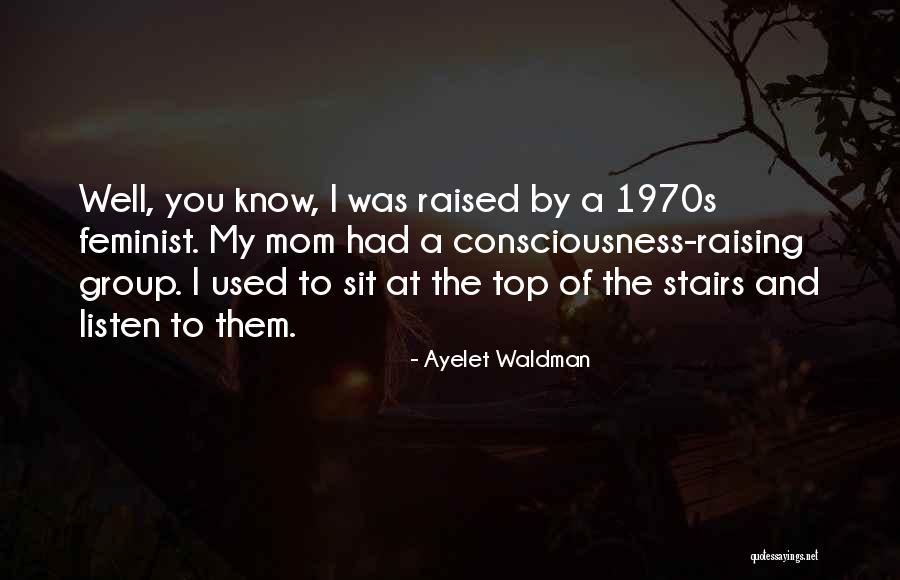 Well, you know, I was raised by a 1970s feminist. My mom had a consciousness-raising group. I used to sit at the top of the stairs and listen to them. — Ayelet Waldman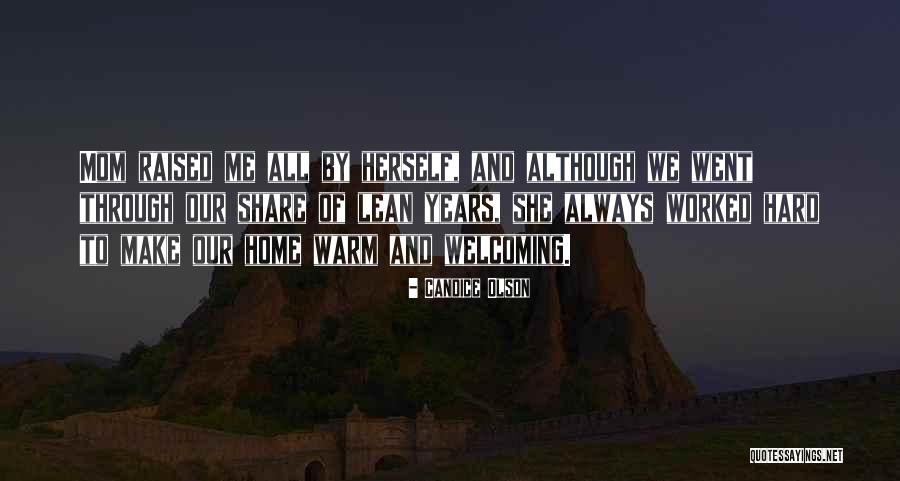 Mom raised me all by herself, and although we went through our share of lean years, she always worked hard to make our home warm and welcoming. — Candice Olson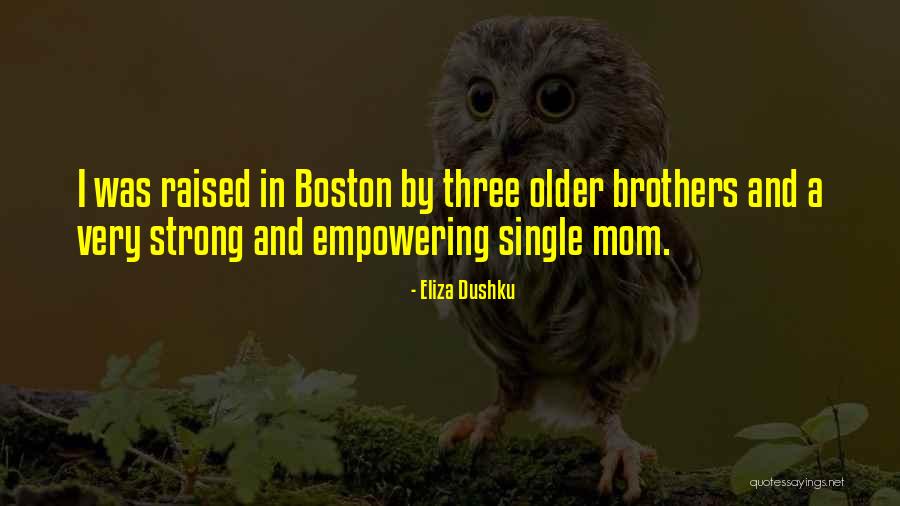 I was raised in Boston by three older brothers and a very strong and empowering single mom. — Eliza Dushku
My life has always been with my dad. Since I can remember, I was raised by my father my entire life. So he's kind of been that mom and father figure - always. — Apolo Ohno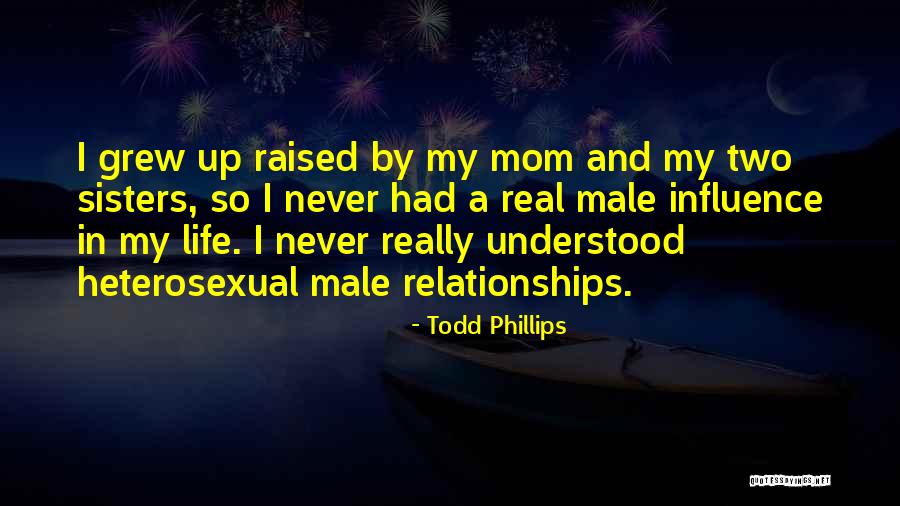 I grew up raised by my mom and my two sisters, so I never had a real male influence in my life. I never really understood heterosexual male relationships. — Todd Phillips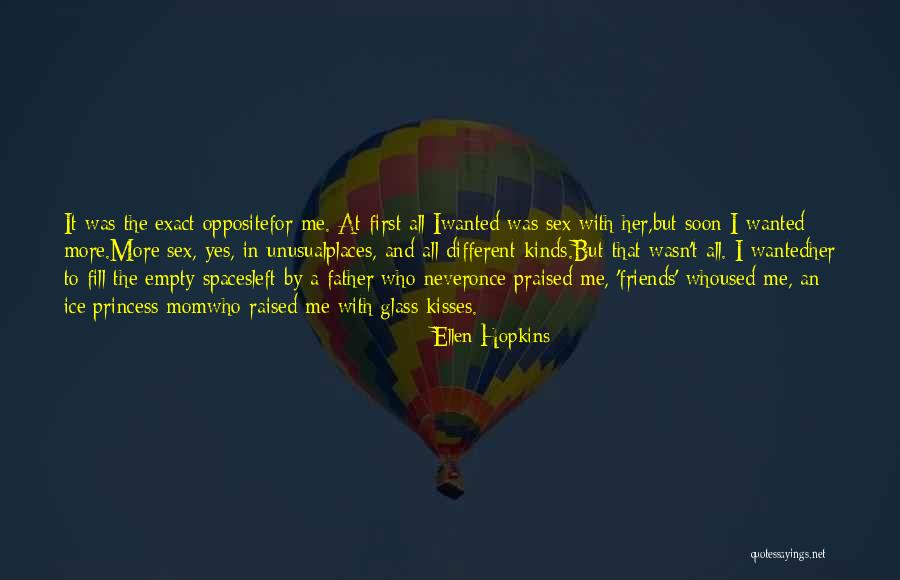 It was the exact opposite
for me. At first all I
wanted was sex with her,
but soon I wanted more.

More sex, yes, in unusual
places, and all different kinds.
But that wasn't all. I wanted
her to fill the empty spaces

left by a father who never
once praised me, 'friends' who
used me, an ice princess mom
who raised me with glass kisses. — Ellen Hopkins
I went to elementary school in L.A. I was born in L.A. My mother was from Redondo Beach. My father was French. He died six months before I was born, so my mother went home. I was born there. Not the childhood that most people think. Middle-class, raised by my mother. Single mom. — Philippe Cousteau Jr.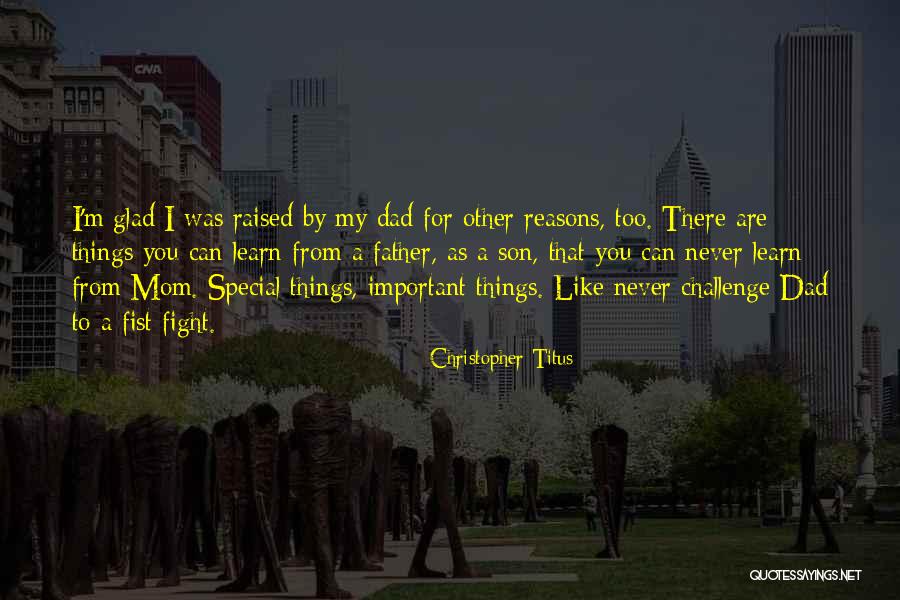 I'm glad I was raised by my dad for other reasons, too. There are things you can learn from a father, as a son, that you can never learn from Mom. Special things, important things. Like never challenge Dad to a fist fight. — Christopher Titus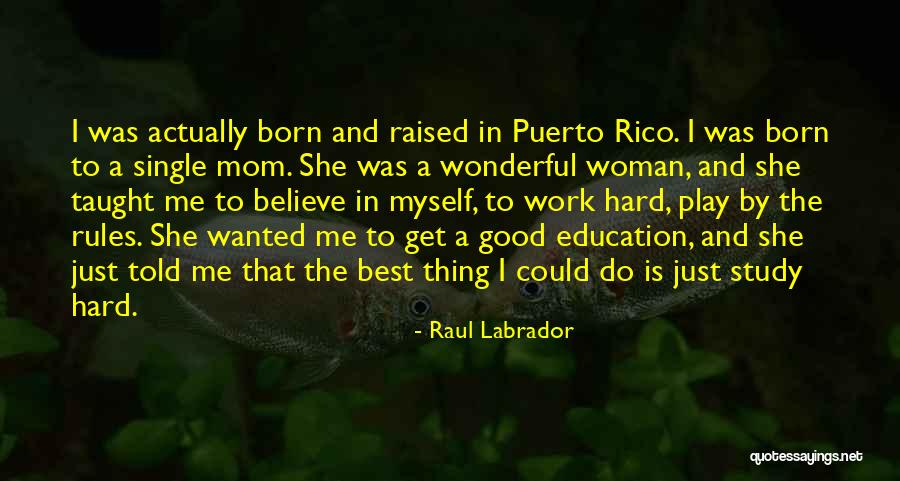 I was actually born and raised in Puerto Rico. I was born to a single mom. She was a wonderful woman, and she taught me to believe in myself, to work hard, play by the rules. She wanted me to get a good education, and she just told me that the best thing I could do is just study hard. — Raul Labrador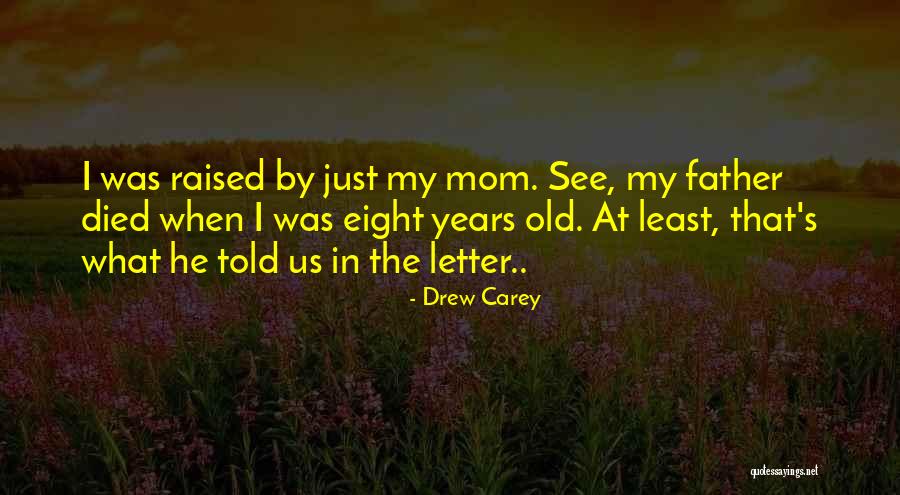 I was raised by just my mom. See, my father died when I was eight years old. At least, that's what he told us in the letter.. — Drew Carey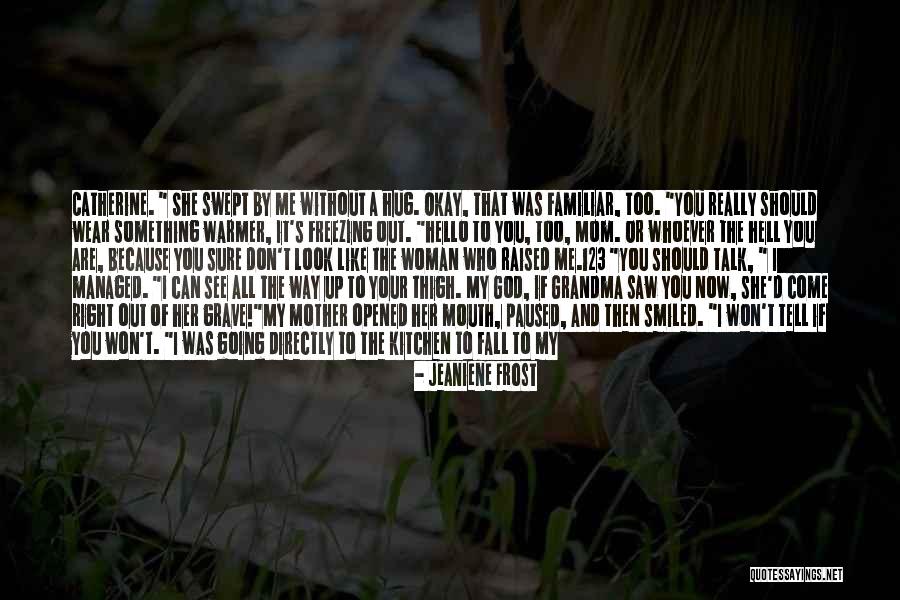 Catherine. " She swept by me without a hug. Okay, that was familiar, too. "You really should wear something warmer, it's freezing out. "
Hello to you, too, Mom. Or whoever the hell you are, because you sure don't look like the woman who raised me.
123 "You should talk, " I managed. "I can see all the way up to your thigh. My God, if Grandma saw you now, she'd come right out of her grave!"
My mother opened her mouth, paused, and then smiled. "I won't tell if you won't. "
I was going directly to the kitchen to fall to my knees in awe before Rodney. Lo and behold, he'd managed to give her a sense of humor, and here I'd figured that would take voodoo, several headless chickens, and a lot of gris-gris. — Jeaniene Frost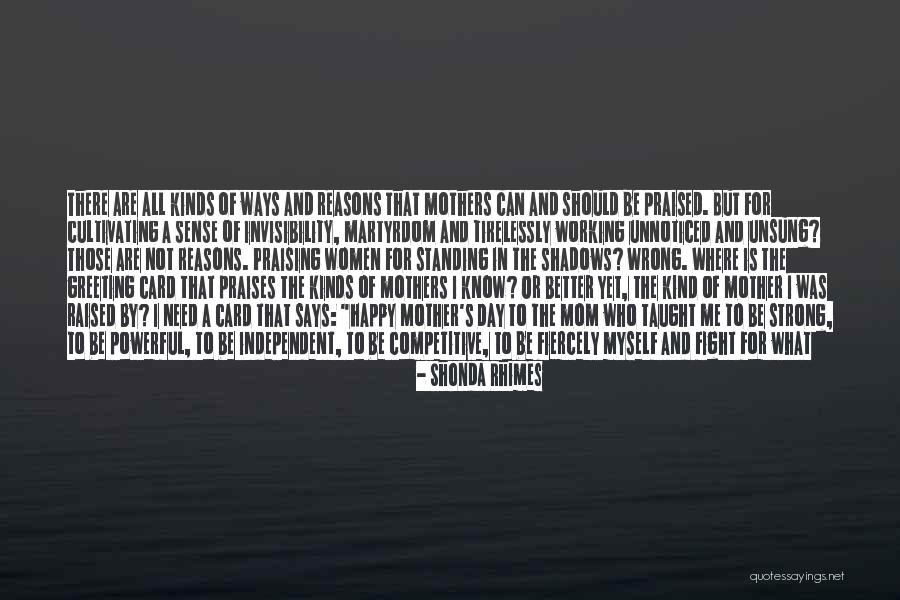 There are all kinds of ways and reasons that mothers can and should be praised. But for cultivating a sense of invisibility, martyrdom and tirelessly working unnoticed and unsung? Those are not reasons. Praising women for standing in the shadows? Wrong. Where is the greeting card that praises the kinds of mothers I know? Or better yet, the kind of mother I was raised by? I need a card that says: "Happy Mother's Day to the mom who taught me to be strong, to be powerful, to be independent, to be competitive, to be fiercely myself and fight for what I want." Or "Happy Birthday to a mother who taught me to argue when necessary, to raise my voice for my beliefs, to not back down when I know I am right." Or "Mom, thanks for teaching me to kick ass and take names at work. Get well soon." Or simply "Thank you, Mom, for teaching me how to make money and feel good about doing it. Merry Christmas. — Shonda Rhimes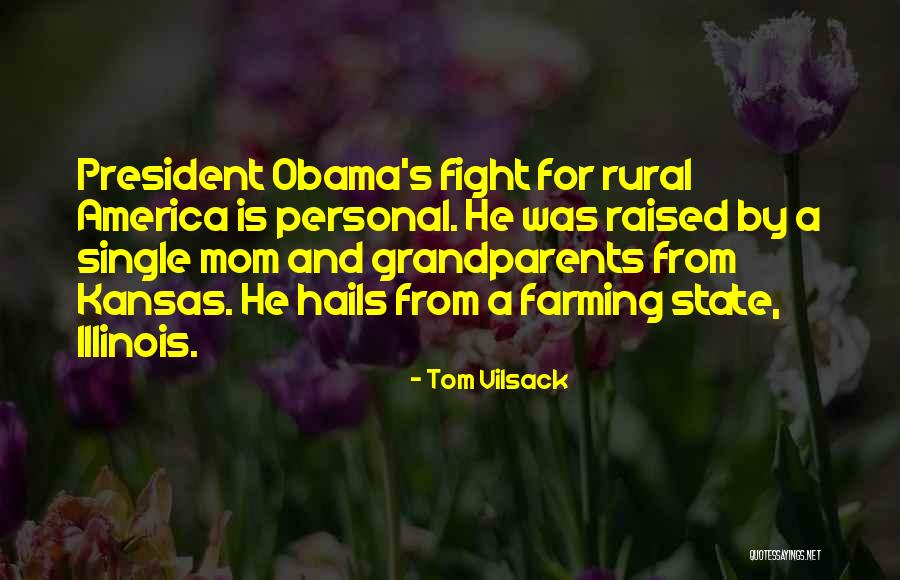 President Obama's fight for rural America is personal. He was raised by a single mom and grandparents from Kansas. He hails from a farming state, Illinois. — Tom Vilsack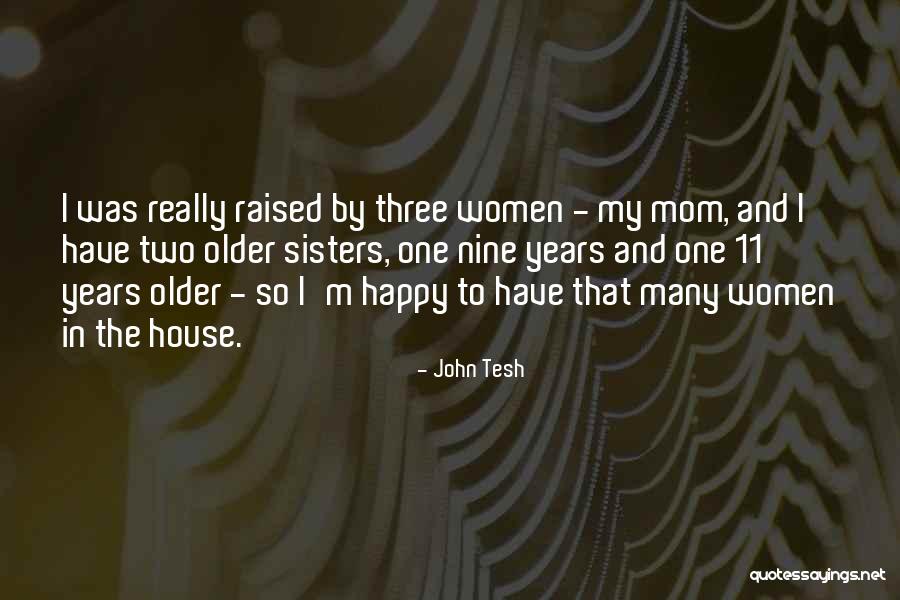 I was really raised by three women - my mom, and I have two older sisters, one nine years and one 11 years older - so I'm happy to have that many women in the house. — John Tesh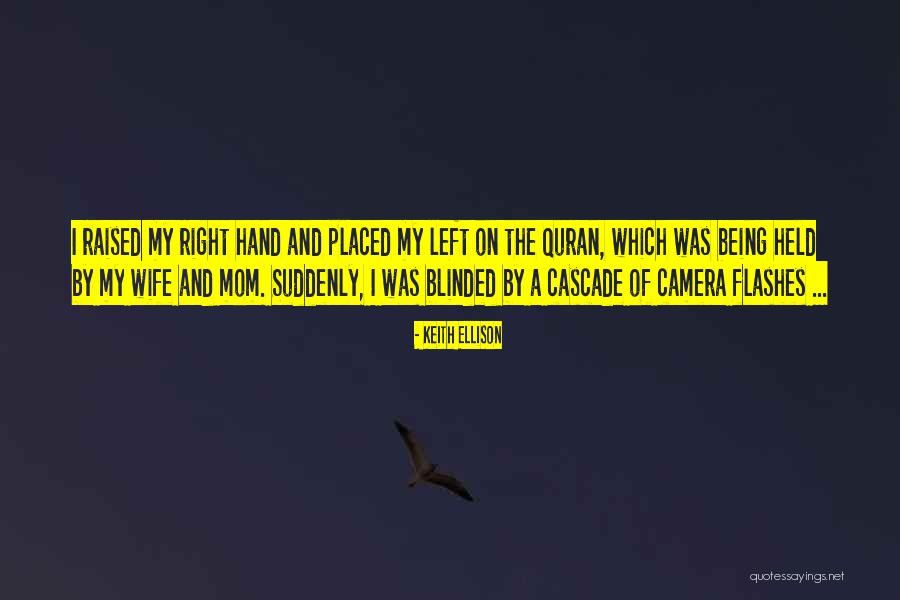 I raised my right hand and placed my left on the Quran, which was being held by my wife and mom. Suddenly, I was blinded by a cascade of camera flashes ... — Keith Ellison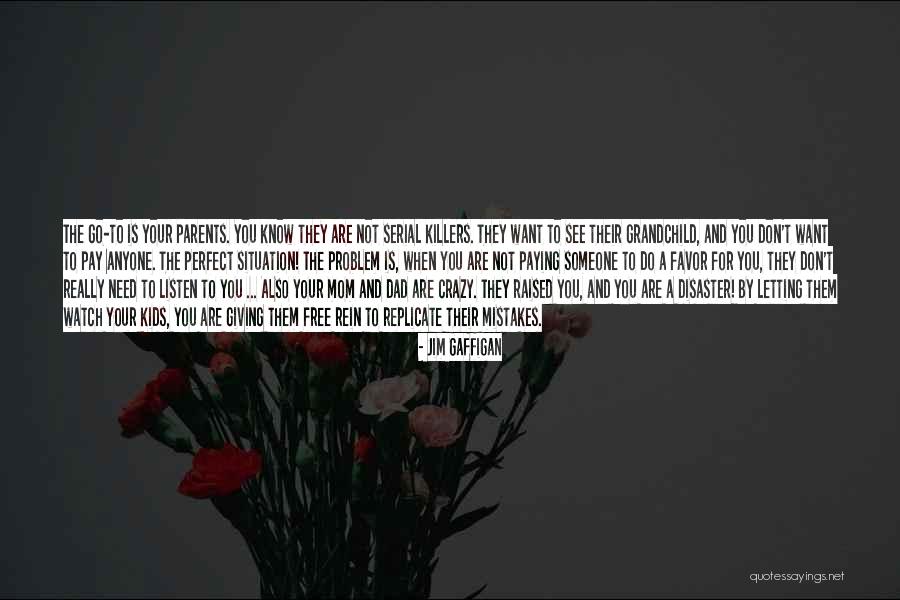 The go-to is your parents. You know they are not serial killers. They want to see their grandchild, and you don't want to pay anyone. The perfect situation! The problem is, when you are not paying someone to do a favor for you, they don't really need to listen to you ... Also your mom and dad are crazy. They raised you, and you are a disaster! By letting them watch your kids, you are giving them free rein to replicate their mistakes. — Jim Gaffigan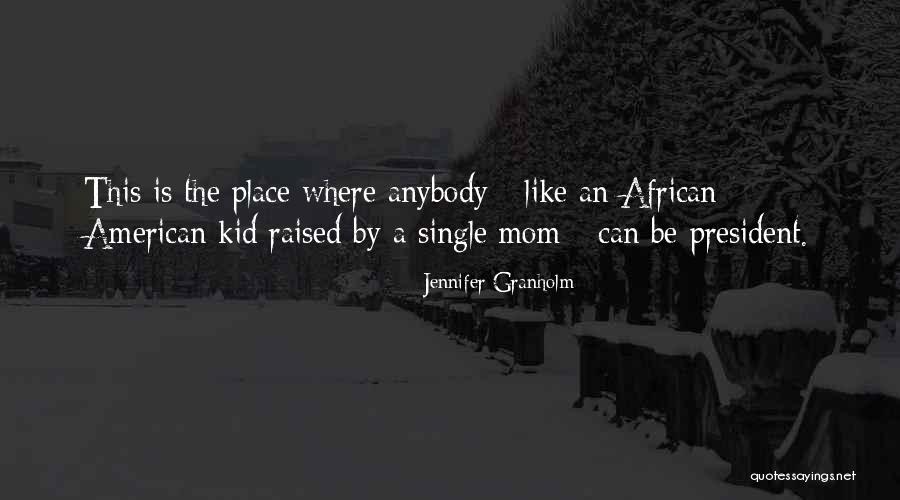 This is the place where anybody - like an African American kid raised by a single mom - can be president. — Jennifer Granholm
I knew you'd know," Mom said in a stabilizing, more confident, yet still husky voice. A smile broke across her face in the simple relief of her only remaining child not being shocked by the death of her youngest. She smiled genuinely, perhaps for the first time since cradling Dustin's body as the fire truck alarm blared towards the house in response to her 911 call. Her son had died that morning in her arms as she tried resuscitating him with her own breath, but the first indication of her daughter's reaction was calm. The child raised to expect death met the first moments of the news with seeming serenity. — Darcy Leech