Pure Joy And Happiness Quotes & Sayings
Enjoy reading and share 32 famous quotes about Pure Joy And Happiness with everyone.
Top Pure Joy And Happiness Quotes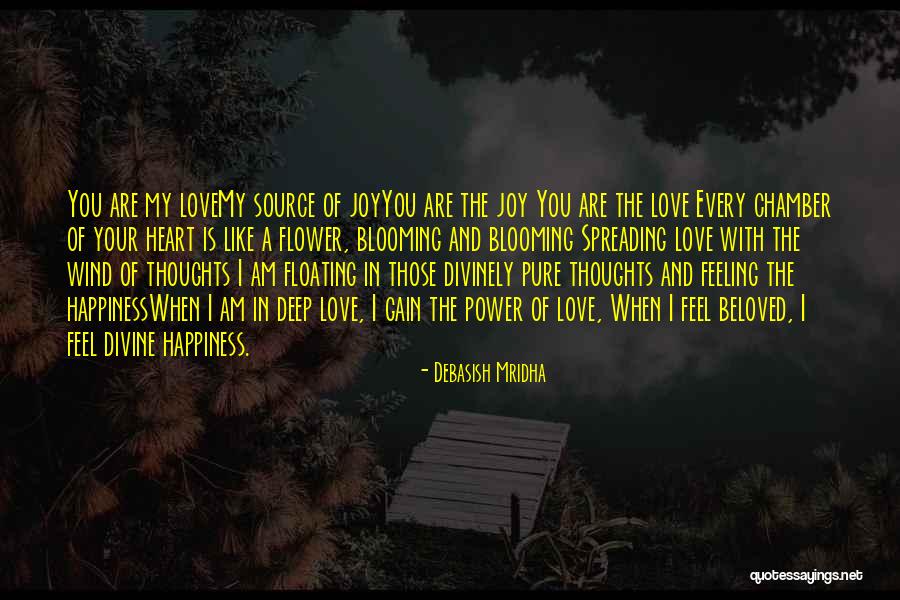 You are my love
My source of joy
You are the joy
You are the love
Every chamber of your heart is like a flower, blooming and blooming
Spreading love with the wind of thoughts
I am floating in those divinely pure thoughts and feeling the happiness
When I am in deep love, I gain the power of love,
When I feel beloved, I feel divine happiness. — Debasish Mridha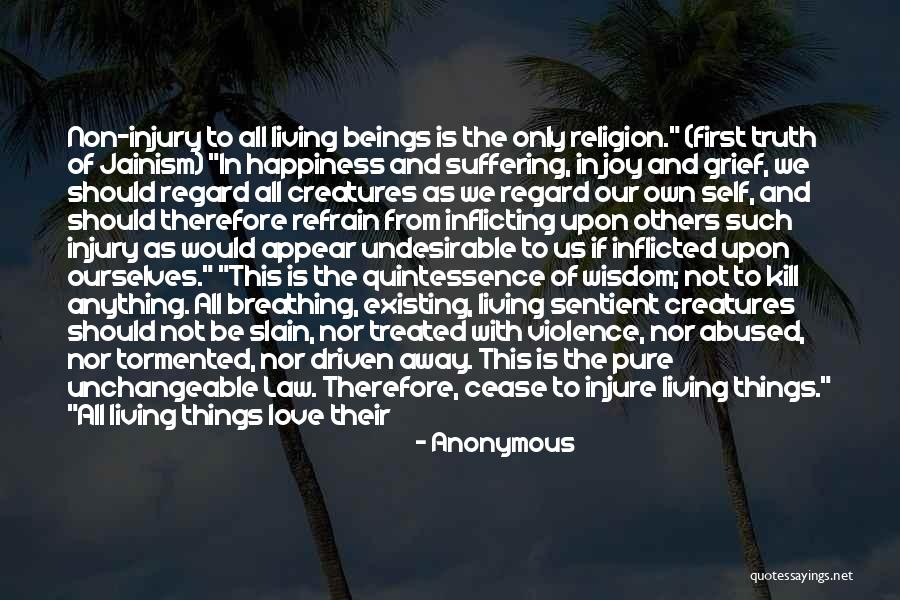 Non-injury to all living beings is the only religion." (first truth of Jainism) "In happiness and suffering, in joy and grief, we should regard all creatures as we regard our own self, and should therefore refrain from inflicting upon others such injury as would appear undesirable to us if inflicted upon ourselves." "This is the quintessence of wisdom; not to kill anything. All breathing, existing, living sentient creatures should not be slain, nor treated with violence, nor abused, nor tormented, nor driven away. This is the pure unchangeable Law. Therefore, cease to injure living things." "All living things love their life, desire pleasure and do not like pain; they dislike any injury to themselves; everybody is desirous of life and to every being, his life is very dear."
Yogashastra (Jain Scripture) (c. 500 BCE) — Anonymous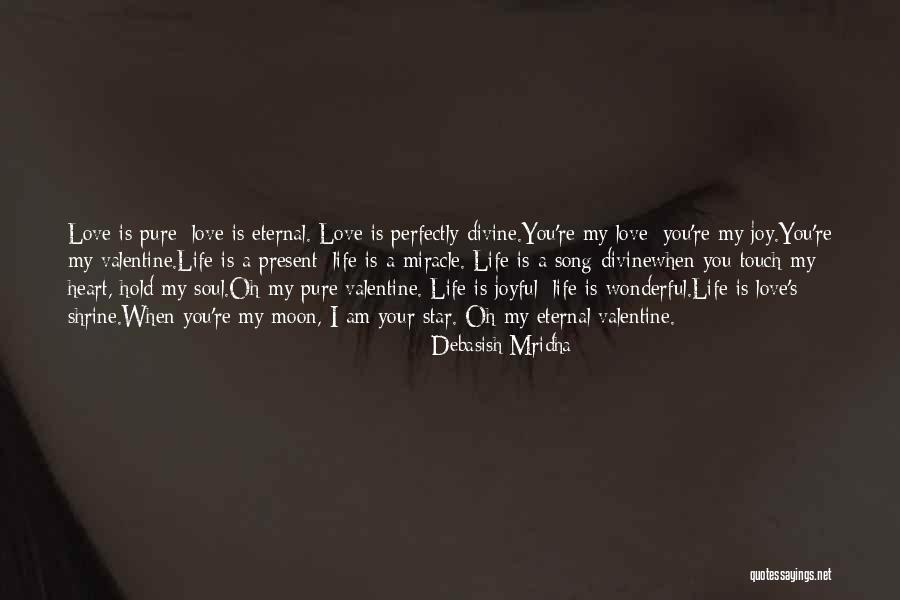 Love is pure; love is eternal.
Love is perfectly divine.
You're my love; you're my joy.
You're my valentine.

Life is a present; life is a miracle.
Life is a song divine
when you touch my heart, hold my soul.
Oh my pure valentine.

Life is joyful; life is wonderful.
Life is love's shrine.
When you're my moon, I am your star.
Oh my eternal valentine. — Debasish Mridha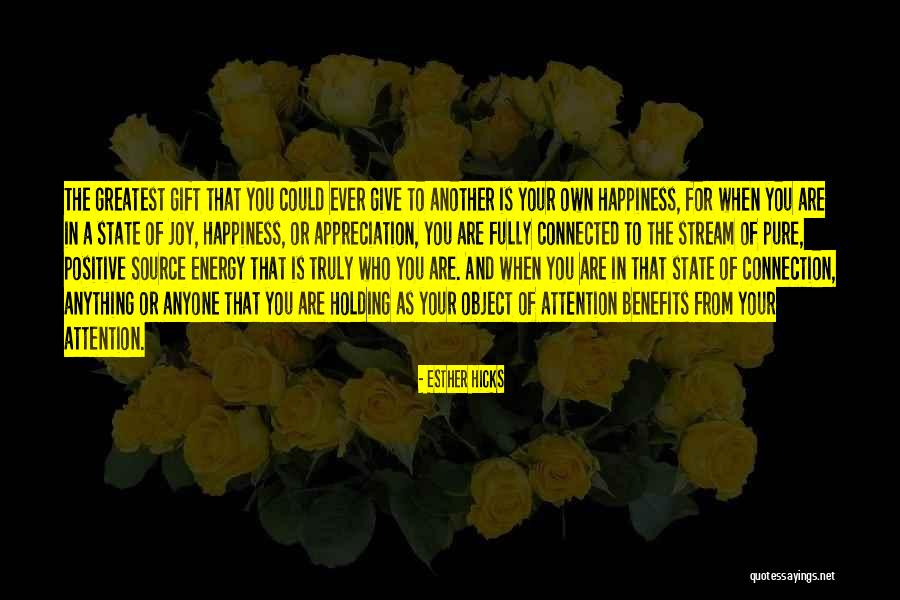 The greatest gift that you could ever give to another is your own happiness, for when you are in a state of joy, happiness, or appreciation, you are fully connected to the stream of pure, positive Source Energy that is truly who you are. And when you are in that state of connection, anything or anyone that you are holding as your object of attention benefits from your attention. — Esther Hicks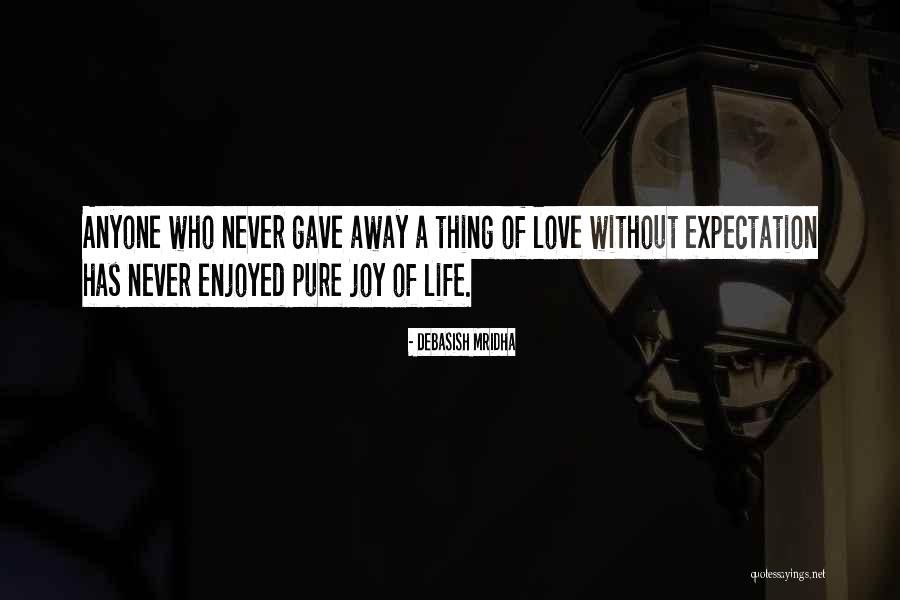 Anyone who never gave away a thing of love without expectation has never enjoyed pure joy of life. — Debasish Mridha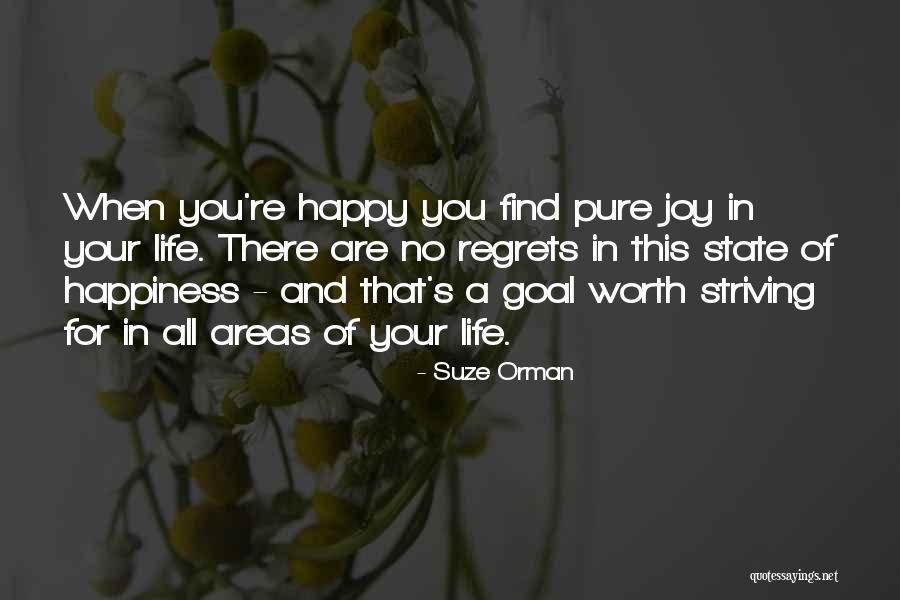 When you're happy you find pure joy in your life. There are no regrets in this state of happiness - and that's a goal worth striving for in all areas of your life. — Suze Orman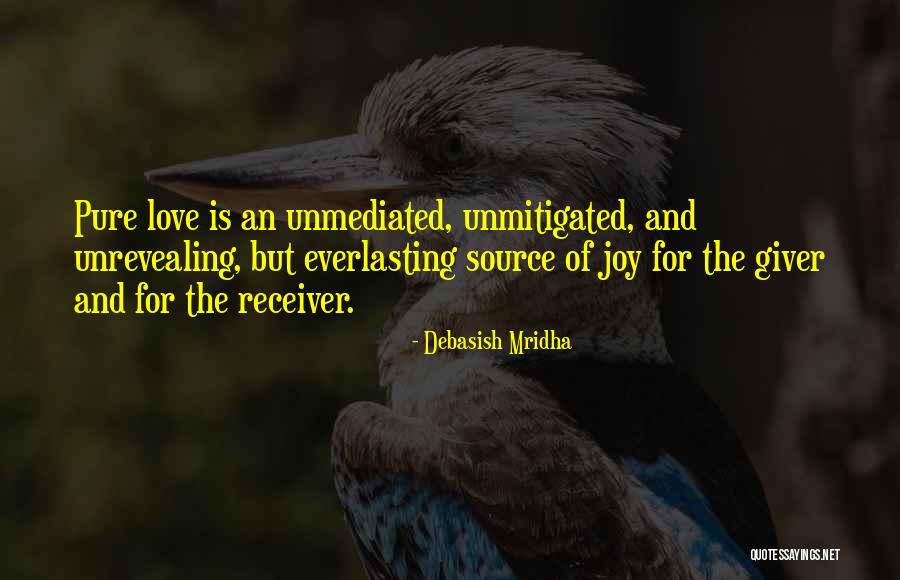 Pure love is an unmediated, unmitigated, and unrevealing, but everlasting source of joy for the giver and for the receiver. — Debasish Mridha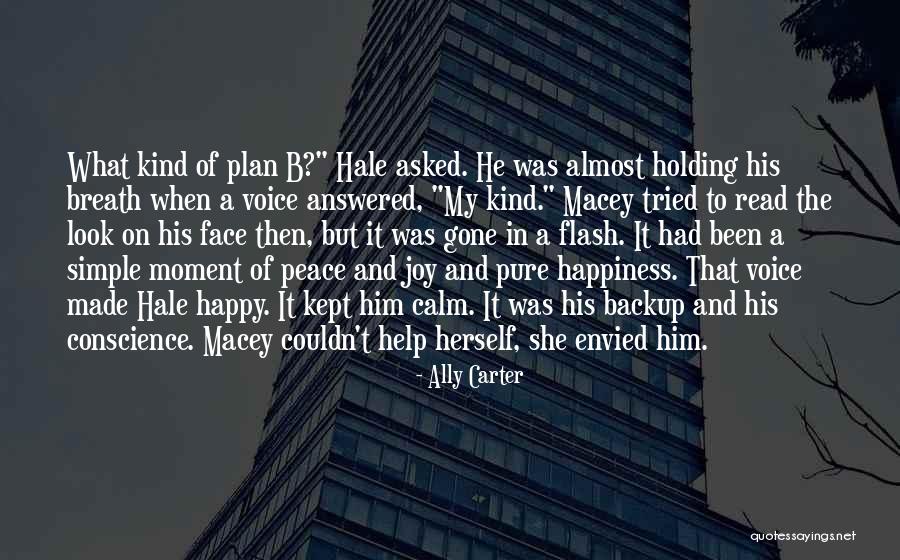 What kind of plan B?" Hale asked. He was almost holding his breath when a voice answered, "My kind." Macey tried to read the look on his face then, but it was gone in a flash. It had been a simple moment of peace and joy and pure happiness. That voice made Hale happy. It kept him calm. It was his backup and his conscience. Macey couldn't help herself, she envied him. — Ally Carter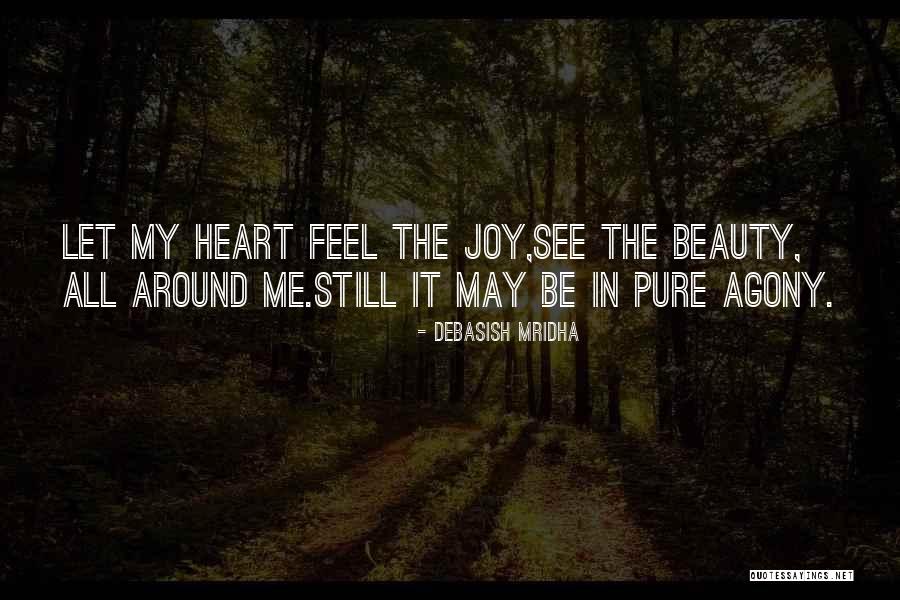 Let my heart feel the joy,
see the beauty, all around me.
Still it may be in pure agony. — Debasish Mridha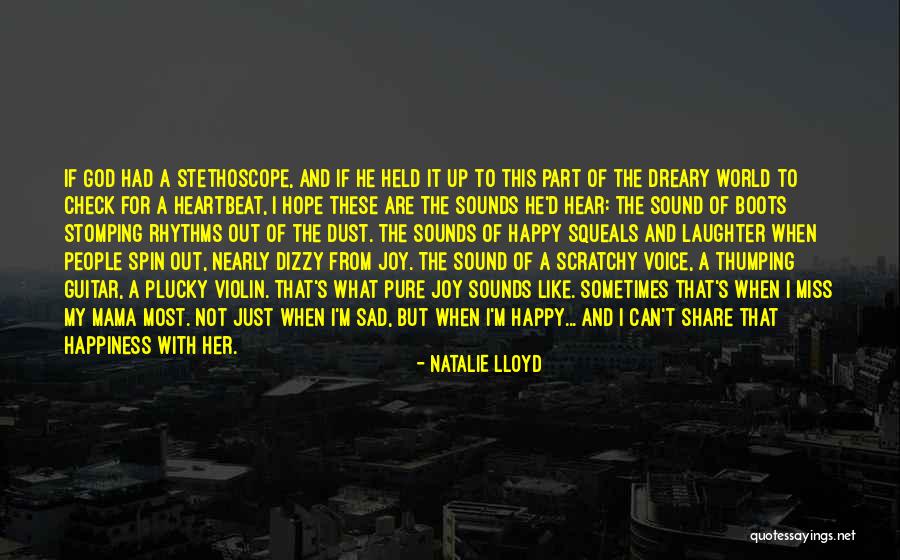 If God had a stethoscope, and if He held it up to this part of the dreary world to check for a heartbeat, I hope these are the sounds He'd hear: the sound of boots stomping rhythms out of the dust. The sounds of happy squeals and laughter when people spin out, nearly dizzy from joy. The sound of a scratchy voice, a thumping guitar, a plucky violin. That's what pure joy sounds like. Sometimes that's when I miss my mama most. Not just when I'm sad, but when I'm happy... and I can't share that happiness with her. — Natalie Lloyd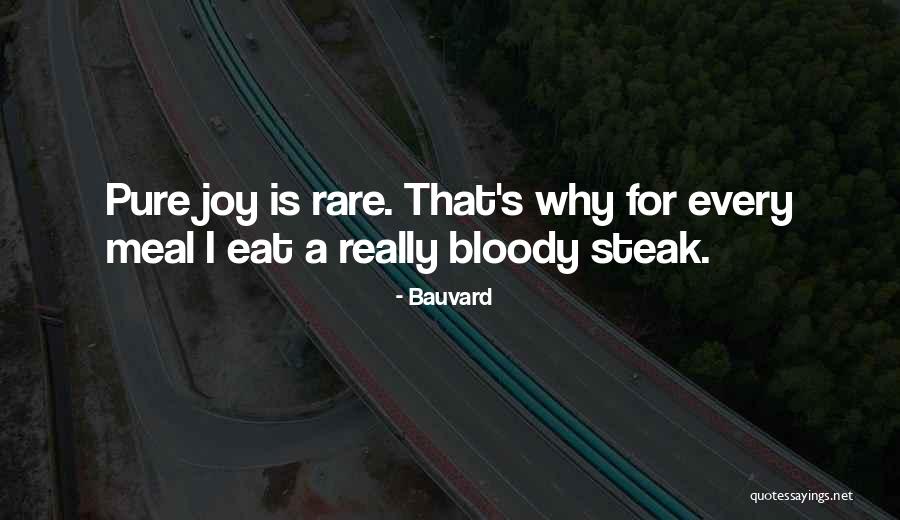 Pure joy is rare. That's why for every meal I eat a really bloody steak. — Bauvard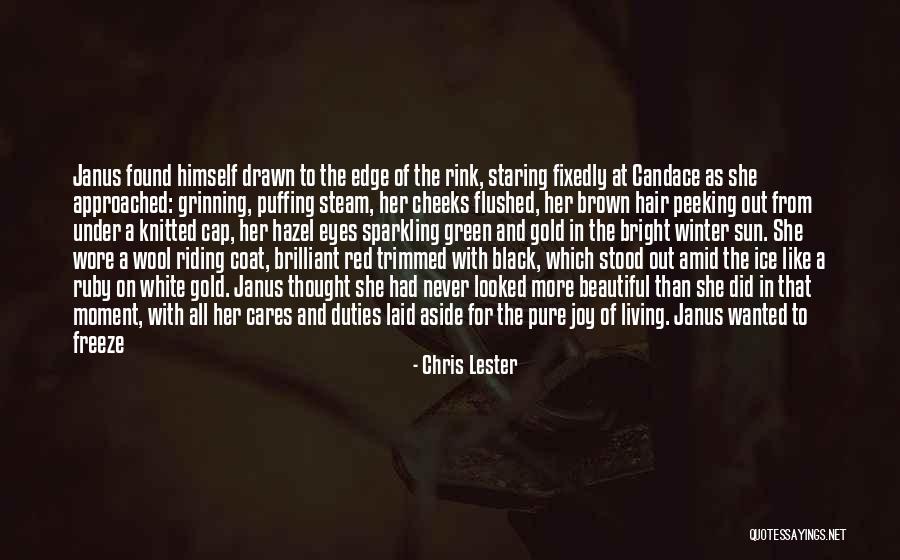 Janus found himself drawn to the edge of the rink, staring fixedly at Candace as she approached: grinning, puffing steam, her cheeks flushed, her brown hair peeking out from under a knitted cap, her hazel eyes sparkling green and gold in the bright winter sun. She wore a wool riding coat, brilliant red trimmed with black, which stood out amid the ice like a ruby on white gold. Janus thought she had never looked more beautiful than she did in that moment, with all her cares and duties laid aside for the pure joy of living. Janus wanted to freeze the moment in his memory and carry it forever: This is what happiness looks like. I never knew. — Chris Lester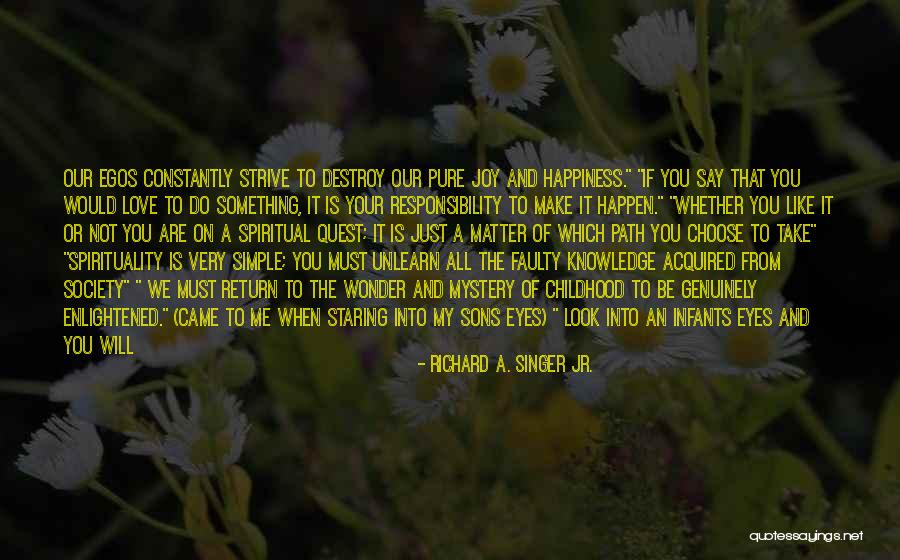 Our Egos constantly strive to destroy our pure joy and happiness."

"If you say that you would love to do something, it is your responsibility to make it happen."

"Whether you like it or not you are on a spiritual quest; it is just a matter of which path you choose to take"

"Spirituality is very simple; you must unlearn all the faulty knowledge acquired from society"

" We must return to the wonder and mystery of childhood to be genuinely enlightened." (Came to me when staring into my sons eyes)

" Look into an infants eyes and you will see the true nature of life"

" Death is inevitable, but life is optional. — Richard A. Singer Jr.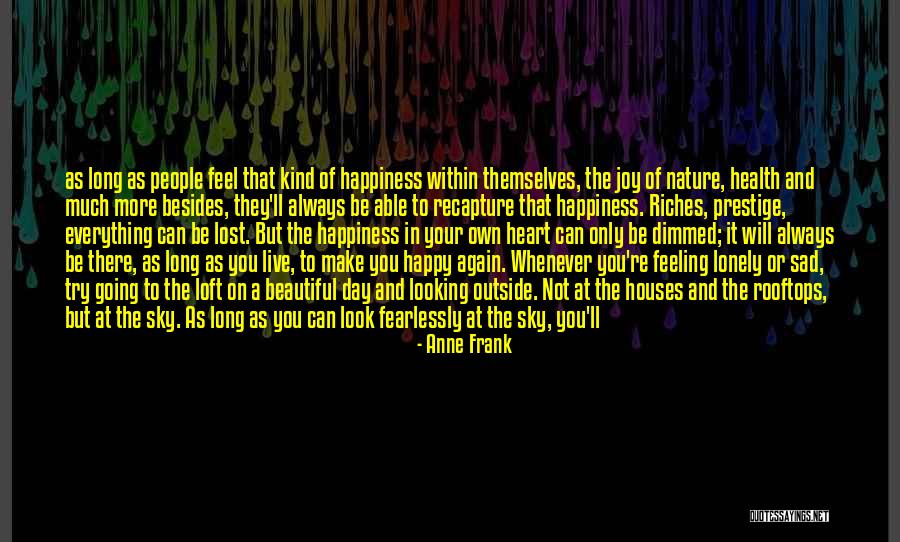 as long as people feel that kind of happiness within themselves, the joy of nature, health and much more besides, they'll always be able to recapture that happiness. Riches, prestige, everything can be lost. But the happiness in your own heart can only be dimmed; it will always be there, as long as you live, to make you happy again. Whenever you're feeling lonely or sad, try going to the loft on a beautiful day and looking outside. Not at the houses and the rooftops, but at the sky. As long as you can look fearlessly at the sky, you'll know that you're pure within and will find happiness once more. SUNDAY, — Anne Frank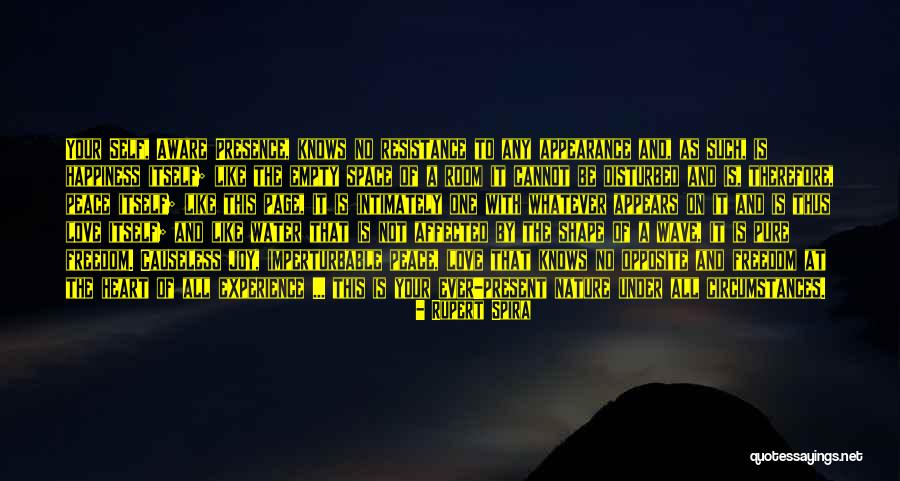 Your Self, Aware Presence, knows no resistance to any appearance and, as such, is happiness itself; like the empty space of a room it cannot be disturbed and is, therefore, peace itself; like this page, it is intimately one with whatever appears on it and is thus love itself; and like water that is not affected by the shape of a wave, it is pure freedom. Causeless joy, imperturbable peace, love that knows no opposite and freedom at the heart of all experience ... this is your ever-present nature under all circumstances. — Rupert Spira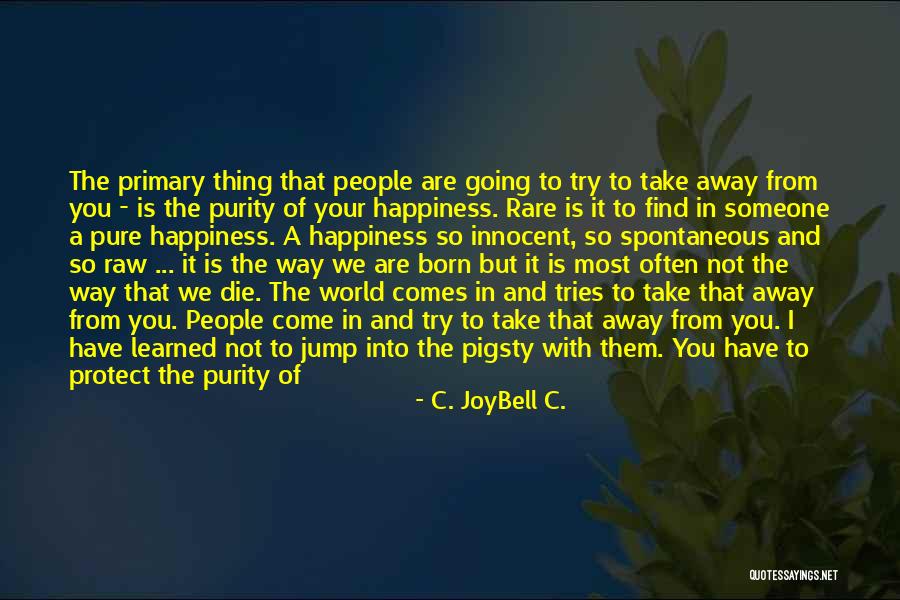 The primary thing that people are going to try to take away from you - is the purity of your happiness. Rare is it to find in someone a pure happiness. A happiness so innocent, so spontaneous and so raw ... it is the way we are born but it is most often not the way that we die. The world comes in and tries to take that away from you. People come in and try to take that away from you. I have learned not to jump into the pigsty with them. You have to protect the purity of your happiness and the innocence of your joy. People WILL try to take it away. Don't go there, don't let them. Keep what is yours. — C. JoyBell C.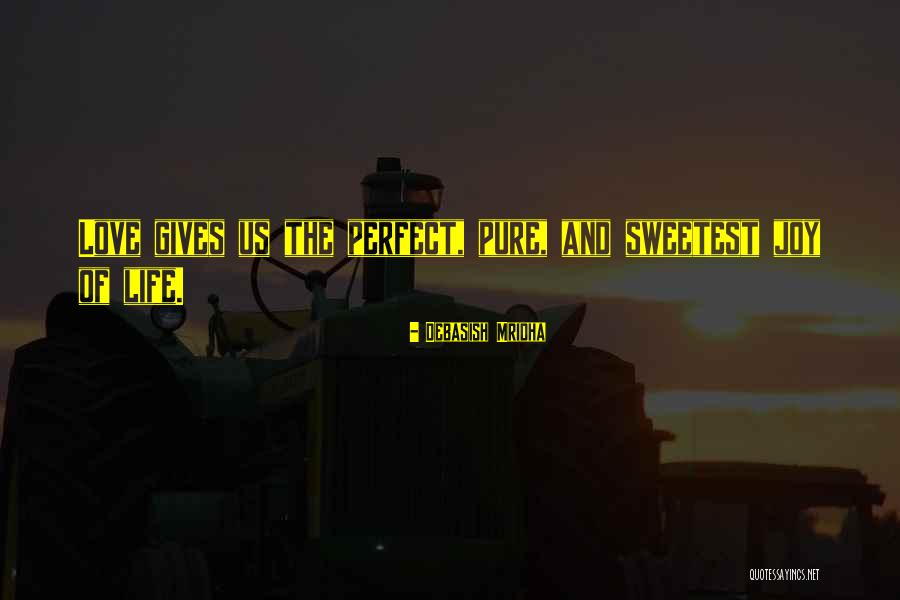 Love gives us the perfect, pure, and sweetest joy of life. — Debasish Mridha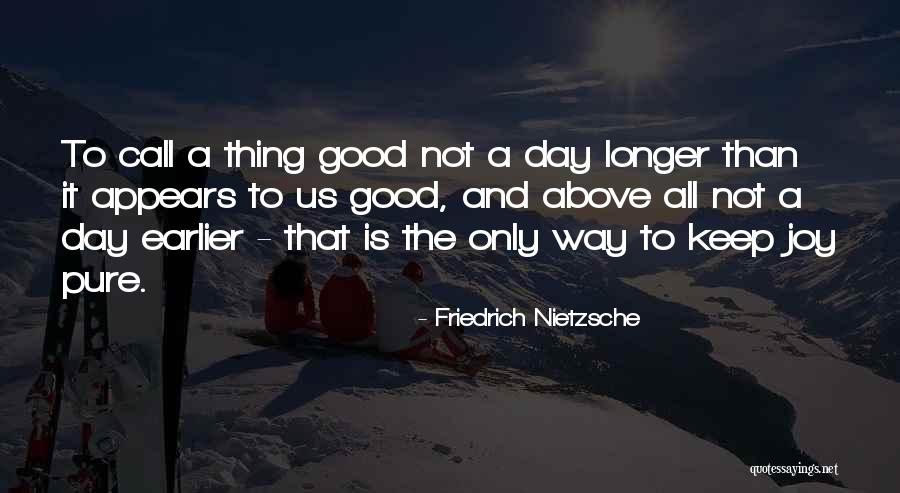 To call a thing good not a day longer than it appears to us good, and above all not a day earlier - that is the only way to keep joy pure. — Friedrich Nietzsche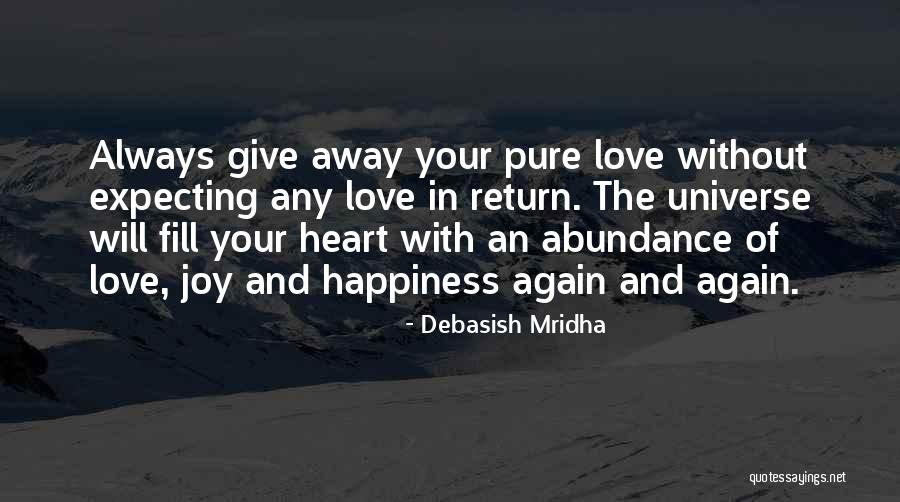 Always give away your pure love without expecting any love in return. The universe will fill your heart with an abundance of love, joy and happiness again and again. — Debasish Mridha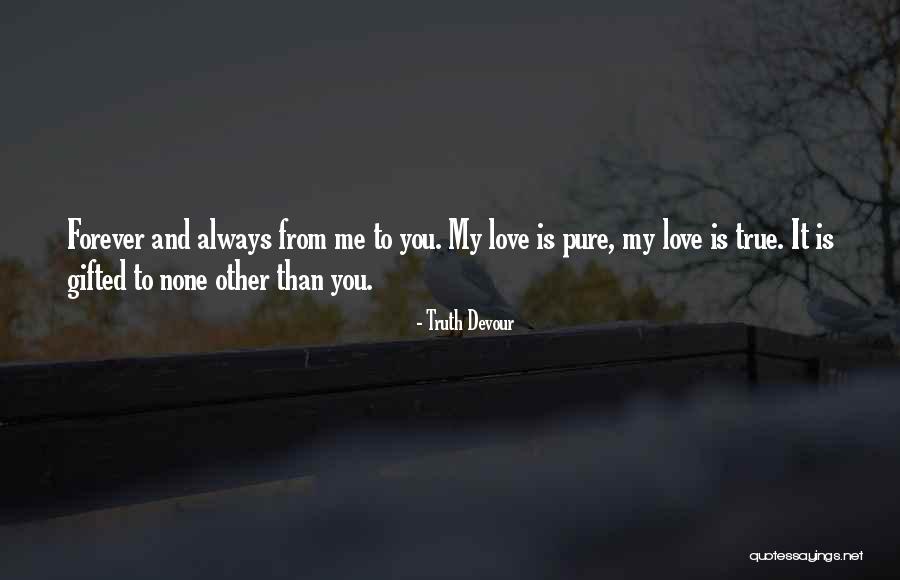 Forever and always from me to you. My love is pure, my love is true. It is gifted to none other than you. — Truth Devour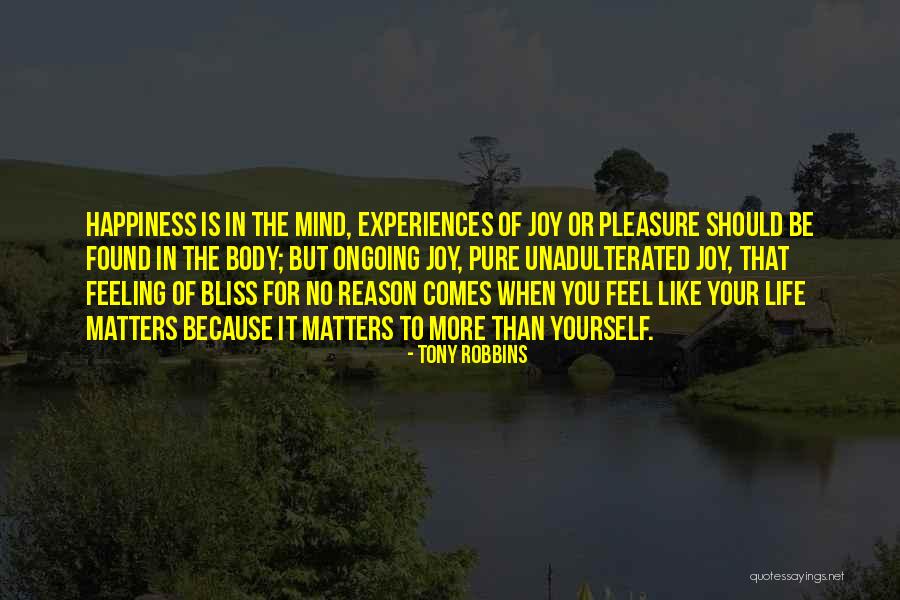 Happiness is in the mind, experiences of joy or pleasure should be found in the body; but ongoing joy, pure unadulterated joy, that feeling of bliss for no reason comes when you feel like your life matters because it matters to more than yourself. — Tony Robbins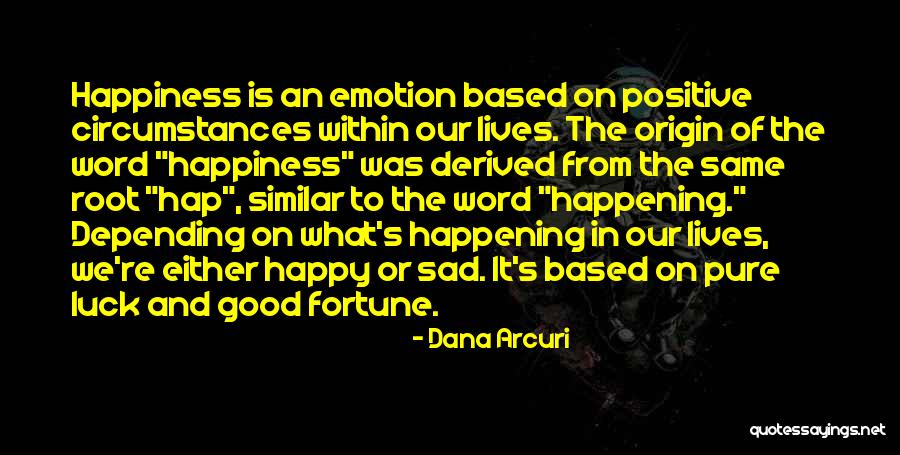 Happiness is an emotion based on positive circumstances within our lives. The origin of the word "happiness" was
derived from the same root "hap", similar to the word "happening." Depending on what's happening in our lives, we're either happy or sad. It's based on pure luck and good fortune. — Dana Arcuri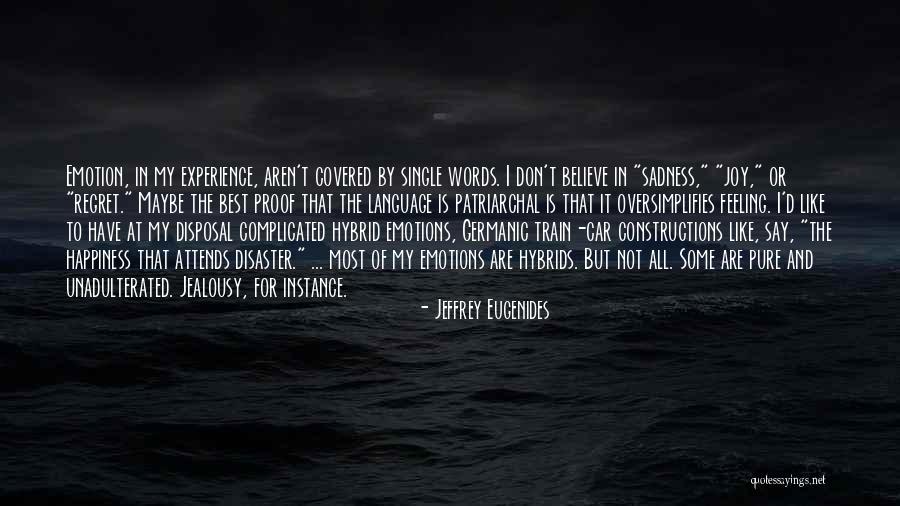 Emotion, in my experience, aren't covered by single words. I don't believe in "sadness," "joy," or "regret." Maybe the best proof that the language is patriarchal is that it oversimplifies feeling. I'd like to have at my disposal complicated hybrid emotions, Germanic train-car constructions like, say, "the happiness that attends disaster."
... most of my emotions are hybrids. But not all. Some are pure and unadulterated. Jealousy, for instance. — Jeffrey Eugenides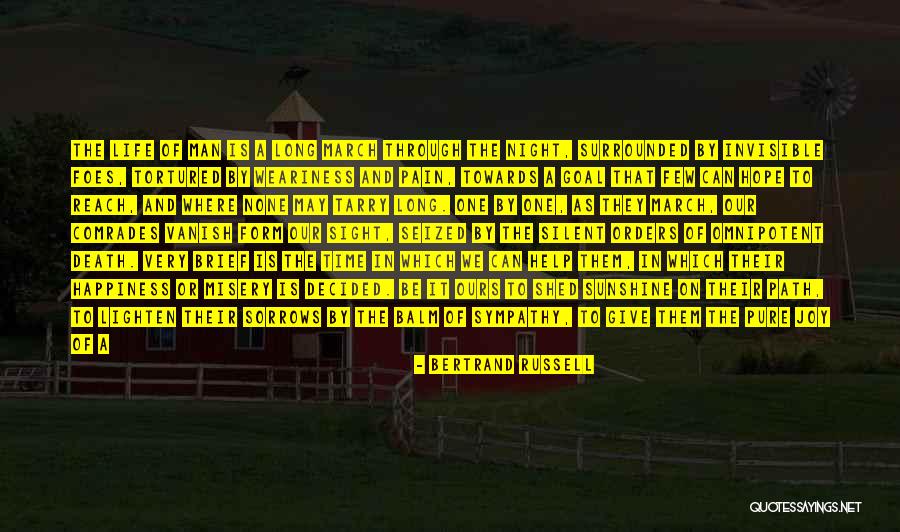 The life of Man is a long march through the night, surrounded by invisible foes, tortured by weariness and pain, towards a goal that few can hope to reach, and where none may tarry long. One by one, as they march, our comrades vanish form our sight, seized by the silent orders of omnipotent Death. Very brief is the time in which we can help them, in which their happiness or misery is decided. Be it ours to shed sunshine on their path, to lighten their sorrows by the balm of sympathy, to give them the pure joy of a never-tiring affection, to strengthen failing courage, to instill faith in times of despair. — Bertrand Russell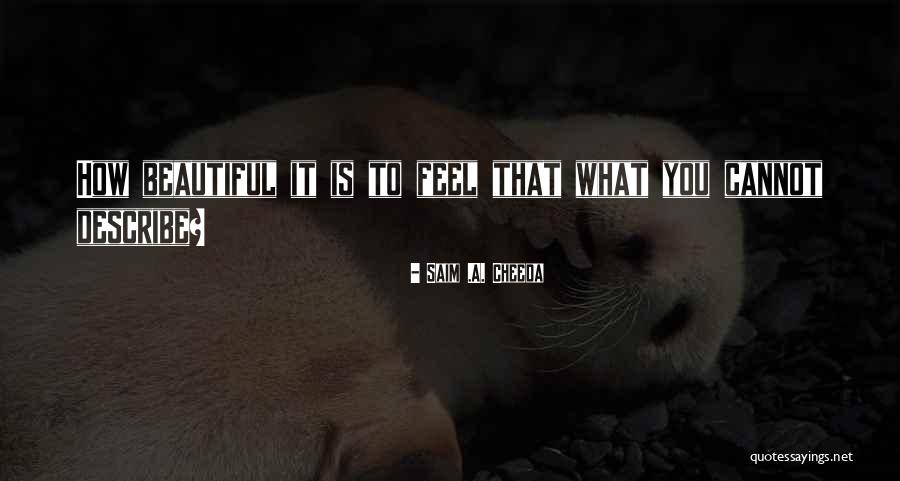 How beautiful it is to feel that what you cannot describe? — Saim .A. Cheeda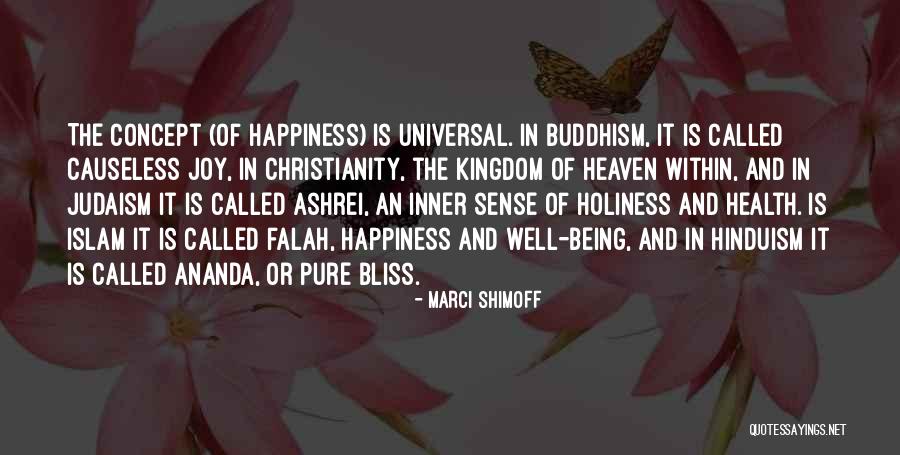 The concept (of happiness) is universal. In Buddhism, it is called causeless joy, in Christianity, the kingdom of heaven within, and in Judaism it is called ashrei, an inner sense of holiness and health. Is Islam it is called falah, happiness and well-being, and in Hinduism it is called ananda, or pure bliss. — Marci Shimoff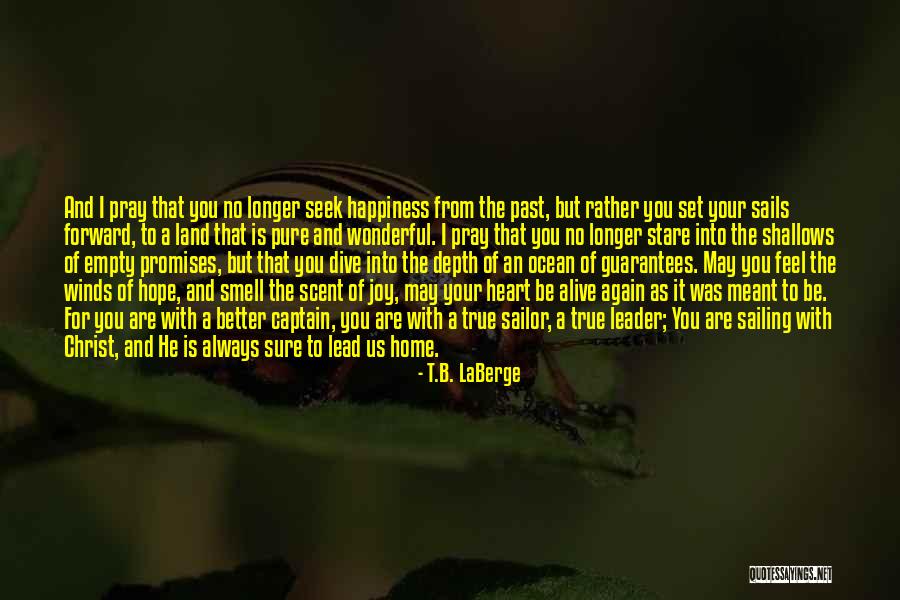 And I pray that you no longer seek happiness from the past, but rather you set your sails forward, to a land that is pure and wonderful. I pray that you no longer stare into the shallows of empty promises, but that you dive into the depth of an ocean of guarantees. May you feel the winds of hope, and smell the scent of joy, may your heart be alive again as it was meant to be. For you are with a better captain, you are with a true sailor, a true leader; You are sailing with Christ, and He is always sure to lead us home. — T.B. LaBerge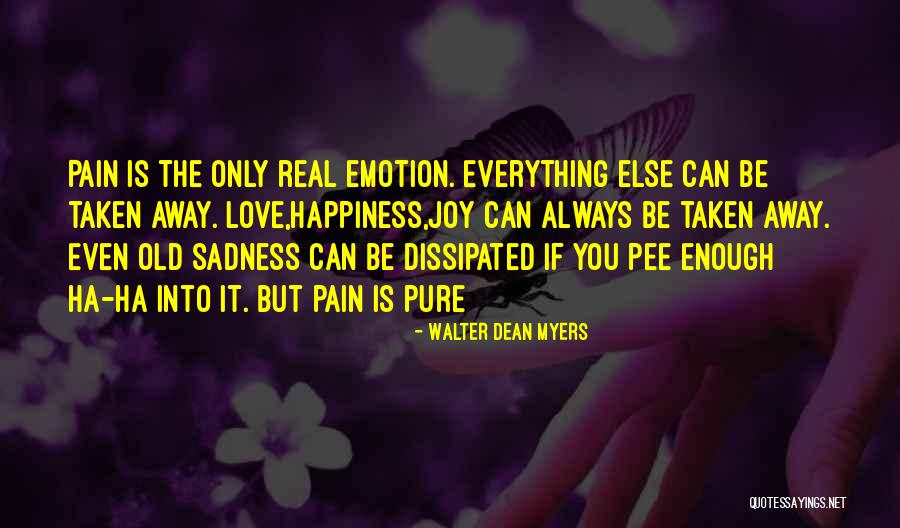 Pain is the only real emotion. Everything else can be taken away. Love,happiness,joy can always be taken away. Even old sadness can be dissipated if you pee enough ha-ha into it. But pain is pure — Walter Dean Myers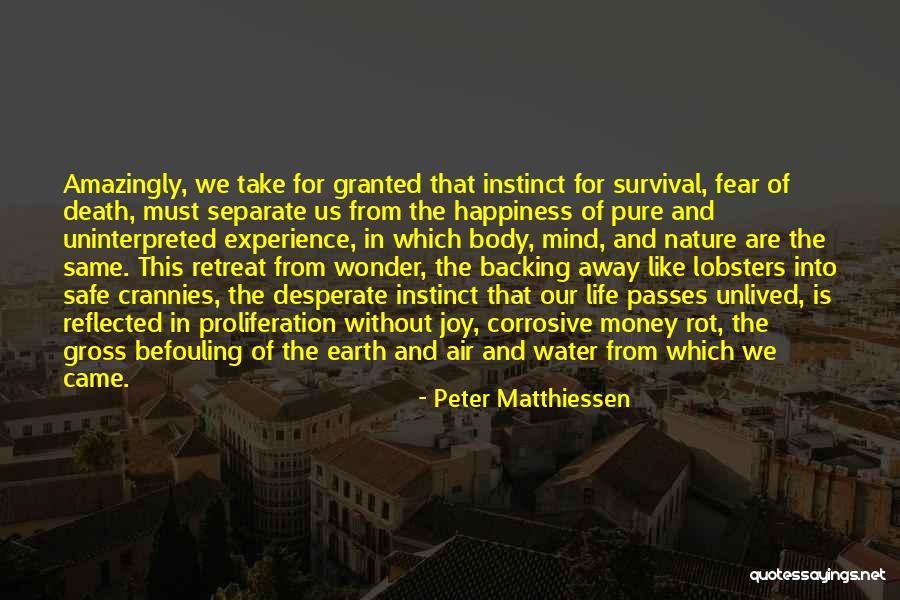 Amazingly, we take for granted that instinct for survival, fear of death, must separate us from the happiness of pure and uninterpreted experience, in which body, mind, and nature are the same. This retreat from wonder, the backing away like lobsters into safe crannies, the desperate instinct that our life passes unlived, is reflected in proliferation without joy, corrosive money rot, the gross befouling of the earth and air and water from which we came. — Peter Matthiessen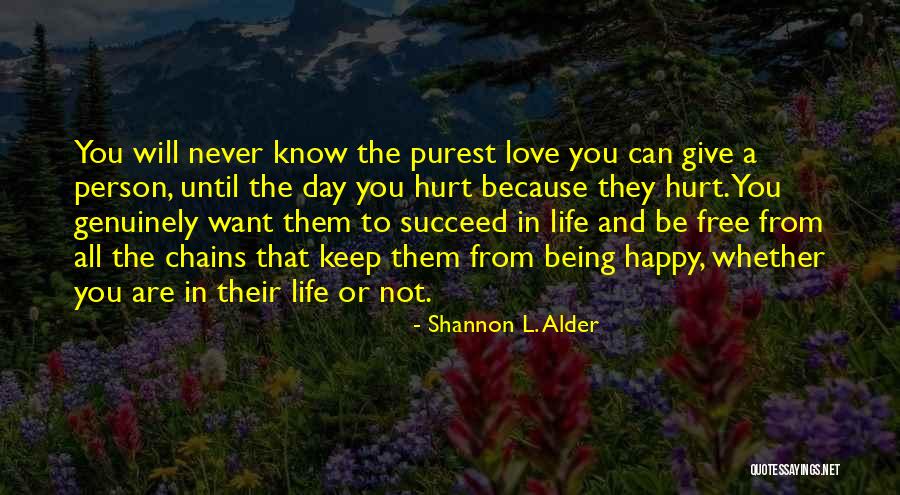 You will never know the purest love you can give a person, until the day you hurt because they hurt. You genuinely want them to succeed in life and be free from all the chains that keep them from being happy, whether you are in their life or not. — Shannon L. Alder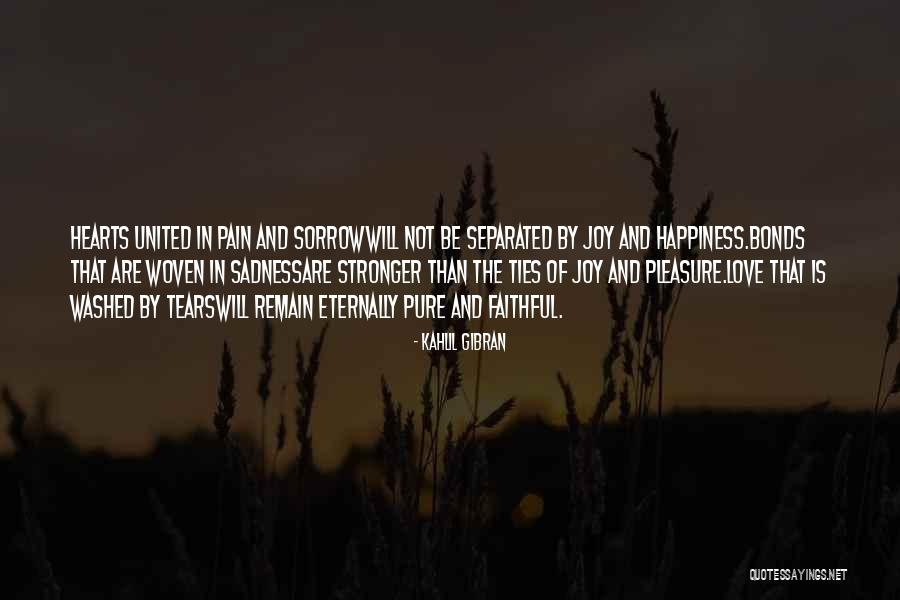 Hearts united in pain and sorrow
will not be separated by joy and happiness.
Bonds that are woven in sadness
are stronger than the ties of joy and pleasure.
Love that is washed by tears
will remain eternally pure and faithful. — Kahlil Gibran