Quotes & Sayings About Psychology By Psychologists
Enjoy reading and share 35 famous quotes about Psychology By Psychologists with everyone.
Top Psychology By Psychologists Quotes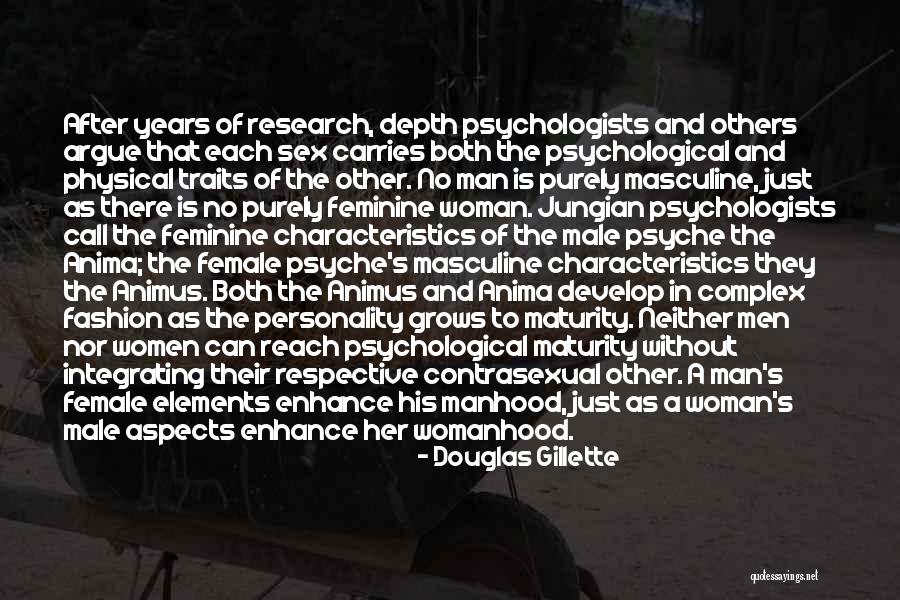 After years of research, depth psychologists and others argue that each sex carries both the psychological and physical traits of the other. No man is purely masculine, just as there is no purely feminine woman. Jungian psychologists call the feminine characteristics of the male psyche the Anima; the female psyche's masculine characteristics they the Animus.
Both the Animus and Anima develop in complex fashion as the personality grows to maturity. Neither men nor women can reach psychological maturity without integrating their respective contrasexual other. A man's female elements enhance his manhood, just as a woman's male aspects enhance her womanhood. — Douglas Gillette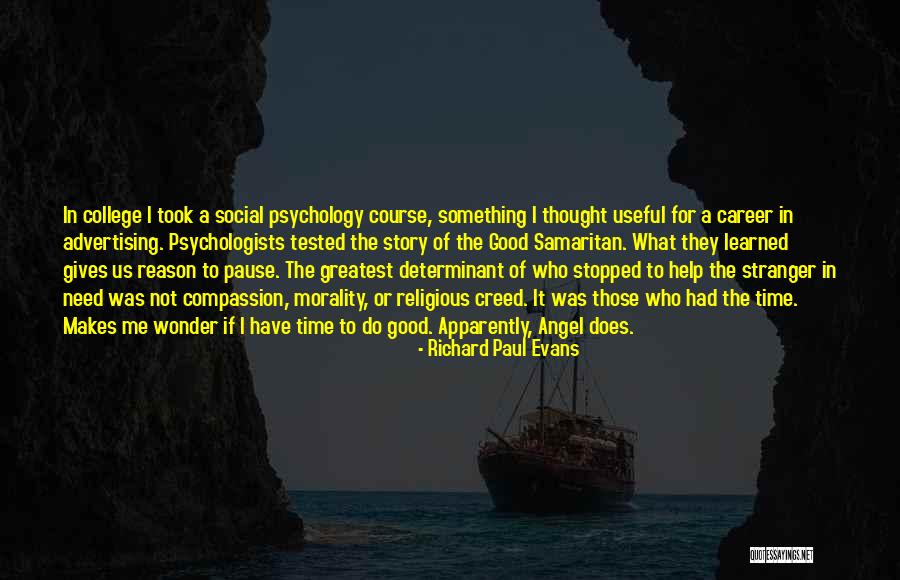 In college I took a social psychology course, something I thought useful for a career in advertising. Psychologists tested the story of the Good Samaritan. What they learned gives us reason to pause. The greatest determinant of who stopped to help the stranger in need was not compassion, morality, or religious creed. It was those who had the time. Makes me wonder if I have time to do good. Apparently, Angel does. — Richard Paul Evans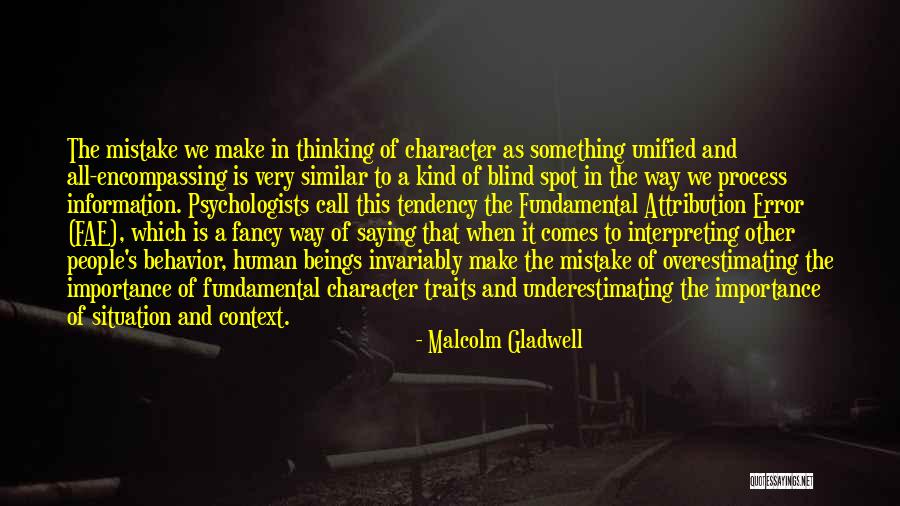 The mistake we make in thinking of character as something unified and all-encompassing is very similar to a kind of blind spot in the way we process information. Psychologists call this tendency the Fundamental Attribution Error (FAE), which is a fancy way of saying that when it comes to interpreting other people's behavior, human beings invariably make the mistake of overestimating the importance of fundamental character traits and underestimating the importance of situation and context. — Malcolm Gladwell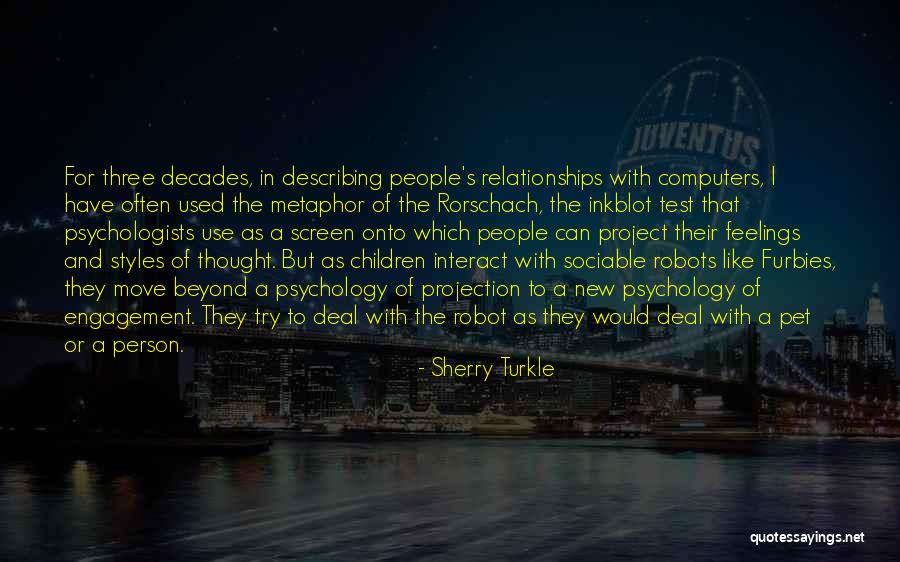 For three decades, in describing people's relationships with computers, I have often used the metaphor of the Rorschach, the inkblot test that psychologists use as a screen onto which people can project their feelings and styles of thought. But as children interact with sociable robots like Furbies, they move beyond a psychology of projection to a new psychology of engagement. They try to deal with the robot as they would deal with a pet or a person. — Sherry Turkle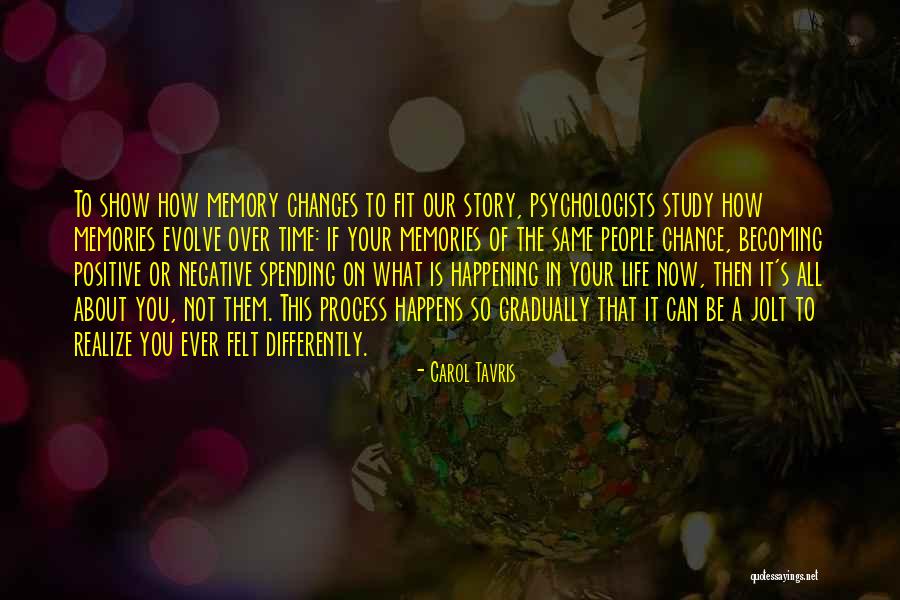 To show how memory changes to fit our story, psychologists study how memories evolve over time: if your memories of the same people change, becoming positive or negative spending on what is happening in your life now, then it's all about you, not them. This process happens so gradually that it can be a jolt to realize you ever felt differently. — Carol Tavris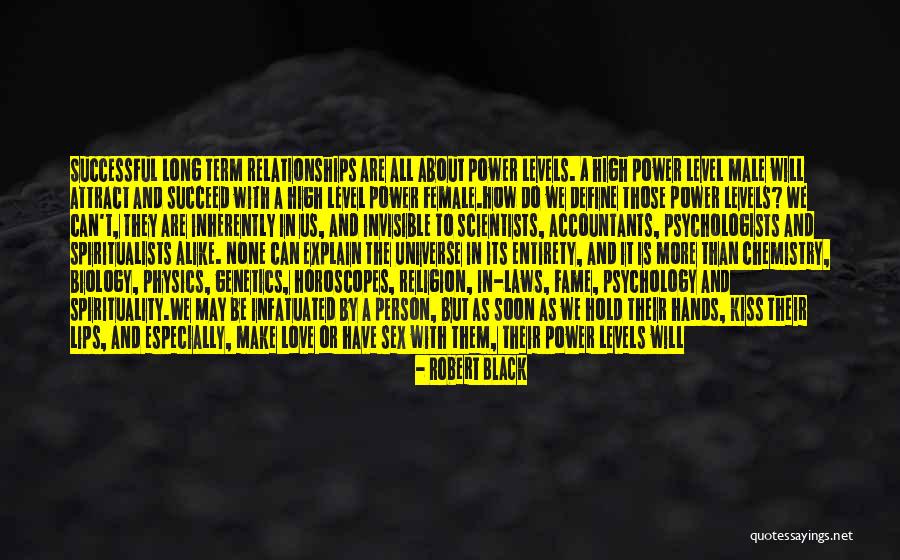 Successful long term relationships are all about power levels.
A high power level male will attract and succeed with a high level power female.
How do we define those power levels? We can't, they are inherently in us, and invisible to scientists, accountants, psychologists and spiritualists alike. None can explain the Universe in its entirety, and it is more than chemistry, biology, physics, genetics, horoscopes, religion, in-laws, fame, psychology and spirituality.
We may be infatuated by a person, but as soon as we hold their hands, kiss their lips, and especially, make love or have sex with them, their power levels will be instantly exposed. — Robert Black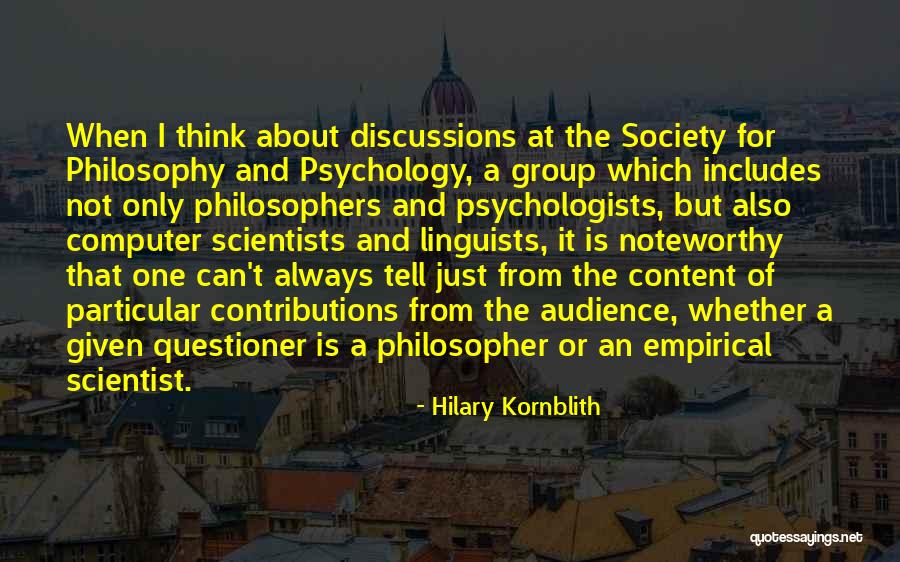 When I think about discussions at the Society for Philosophy and Psychology, a group which includes not only philosophers and psychologists, but also computer scientists and linguists, it is noteworthy that one can't always tell just from the content of particular contributions from the audience, whether a given questioner is a philosopher or an empirical scientist. — Hilary Kornblith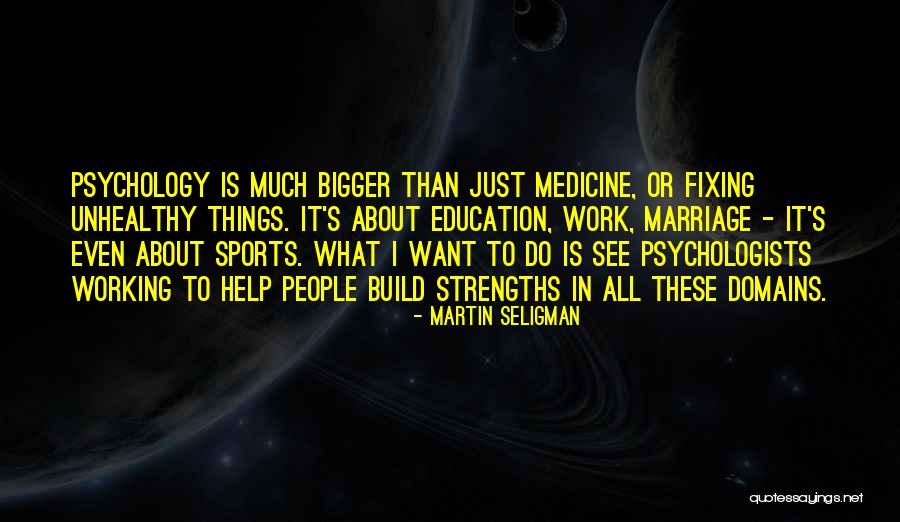 Psychology is much bigger than just medicine, or fixing unhealthy things. It's about education, work, marriage - it's even about sports. What I want to do is see psychologists working to help people build strengths in all these domains. — Martin Seligman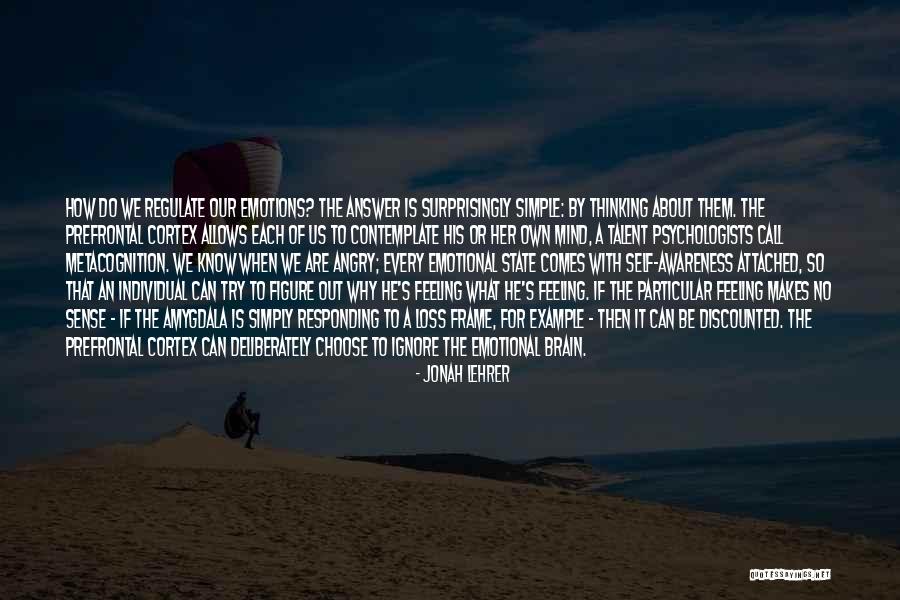 How do we regulate our emotions? The answer is surprisingly simple: by thinking about them. The prefrontal cortex allows each of us to contemplate his or her own mind, a talent psychologists call metacognition. We know when we are angry; every emotional state comes with self-awareness attached, so that an individual can try to figure out why he's feeling what he's feeling. If the particular feeling makes no sense - if the amygdala is simply responding to a loss frame, for example - then it can be discounted. The prefrontal cortex can deliberately choose to ignore the emotional brain. — Jonah Lehrer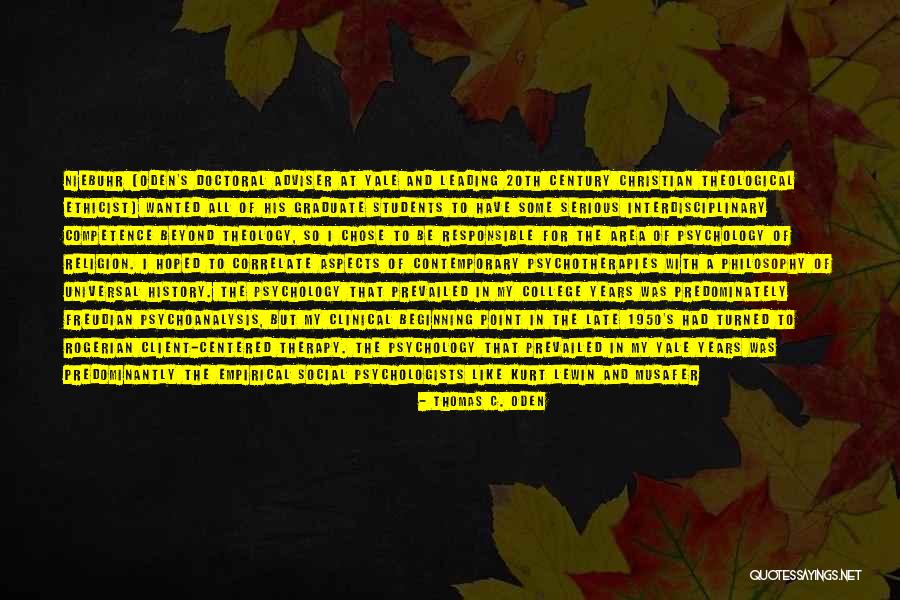 Niebuhr [Oden's Doctoral adviser at Yale and leading 20th century Christian theological ethicist] wanted all of his graduate students to have some serious interdisciplinary competence beyond theology, so I chose to be responsible for the area of psychology of religion. I hoped to correlate aspects of contemporary psychotherapies with a philosophy of universal history. The psychology that prevailed in my college years was predominately Freudian psychoanalysis, but my clinical beginning point in the late 1950's had turned to Rogerian client-centered therapy. The psychology that prevailed in my Yale years was predominantly the empirical social psychologists like Kurt Lewin and Musafer Sherif. I gradually assimilated those views in order to work on a critique of therapies and assess them all in relation to my major interest in the meaning of history. — Thomas C. Oden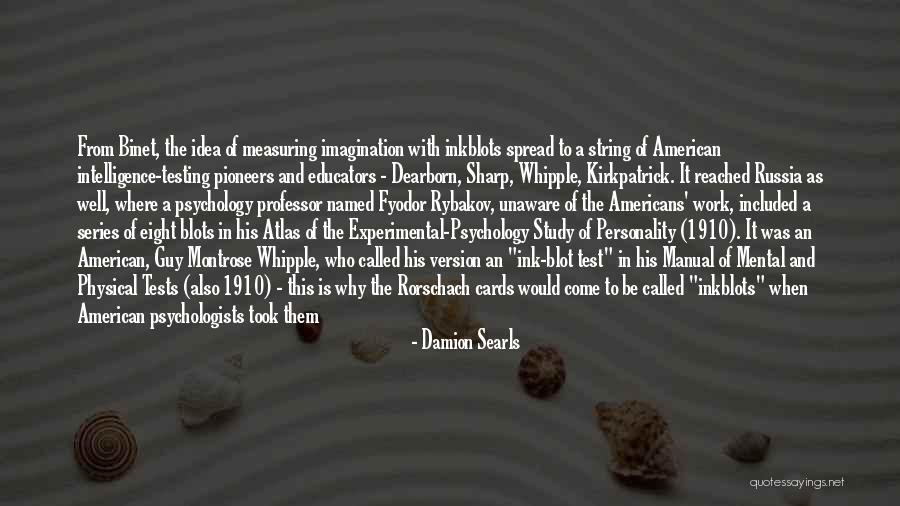 From Binet, the idea of measuring imagination with inkblots spread to a string of American intelligence-testing pioneers and educators - Dearborn, Sharp, Whipple, Kirkpatrick. It reached Russia as well, where a psychology professor named Fyodor Rybakov, unaware of the Americans' work, included a series of eight blots in his Atlas of the Experimental-Psychology Study of Personality (1910). It was an American, Guy Montrose Whipple, who called his version an "ink-blot test" in his Manual of Mental and Physical Tests (also 1910) - this is why the Rorschach cards would come to be called "inkblots" when American psychologists took them — Damion Searls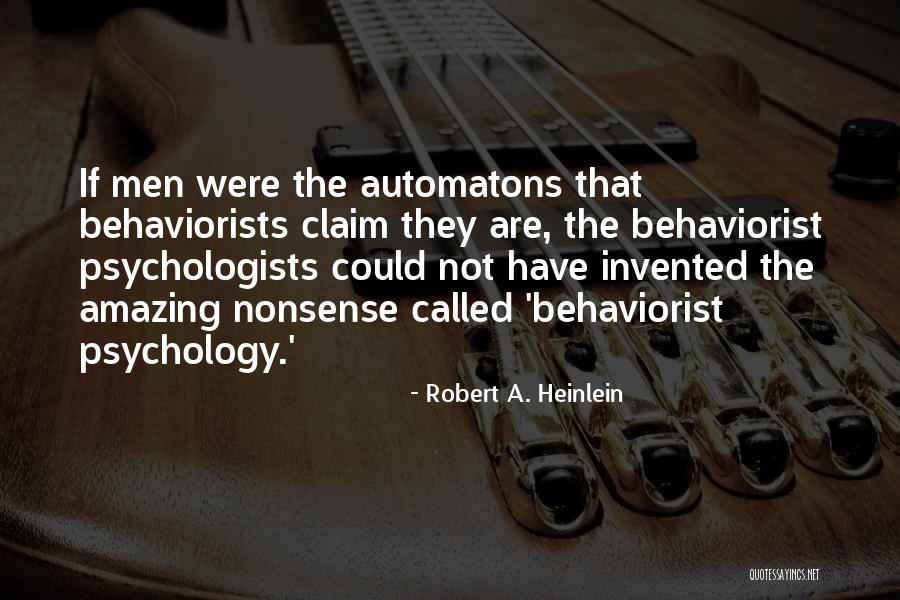 If men were the automatons that behaviorists claim they are, the behaviorist psychologists could not have invented the amazing nonsense called 'behaviorist psychology.' — Robert A. Heinlein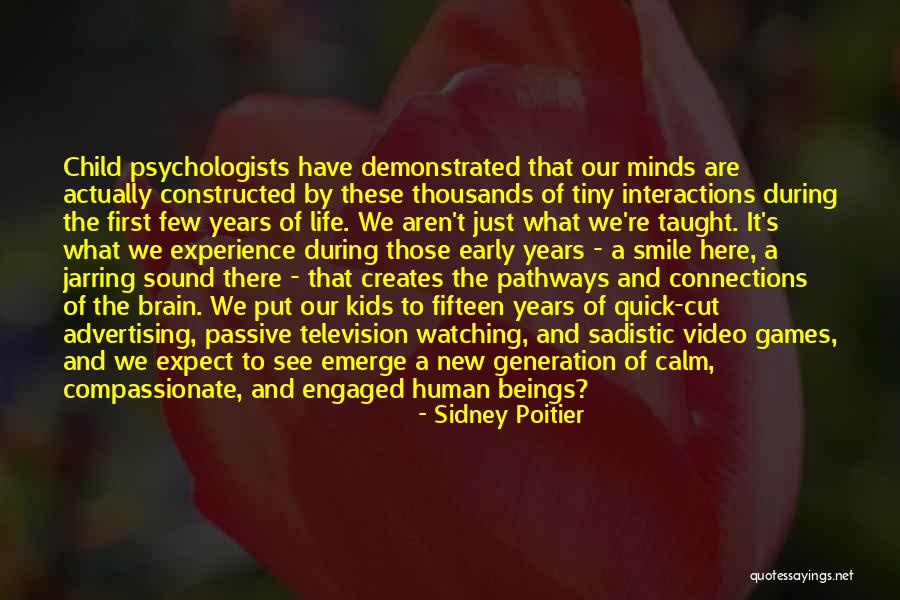 Child psychologists have demonstrated that our minds are actually constructed by these thousands of tiny interactions during the first few years of life. We aren't just what we're taught. It's what we experience during those early years - a smile here, a jarring sound there - that creates the pathways and connections of the brain. We put our kids to fifteen years of quick-cut advertising, passive television watching, and sadistic video games, and we expect to see emerge a new generation of calm, compassionate, and engaged human beings? — Sidney Poitier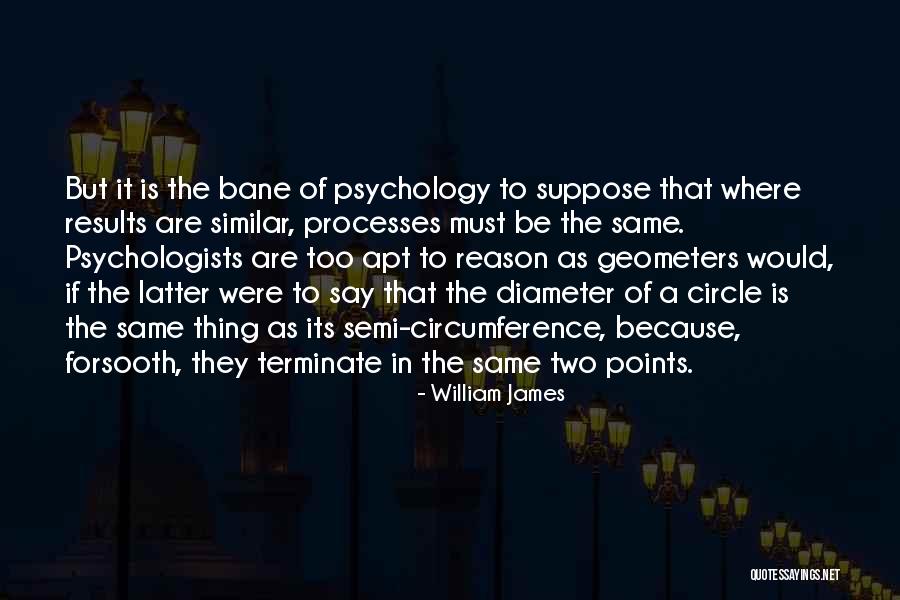 But it is the bane of psychology to suppose that where results are similar, processes must be the same. Psychologists are too apt to reason as geometers would, if the latter were to say that the diameter of a circle is the same thing as its semi-circumference, because, forsooth, they terminate in the same two points. — William James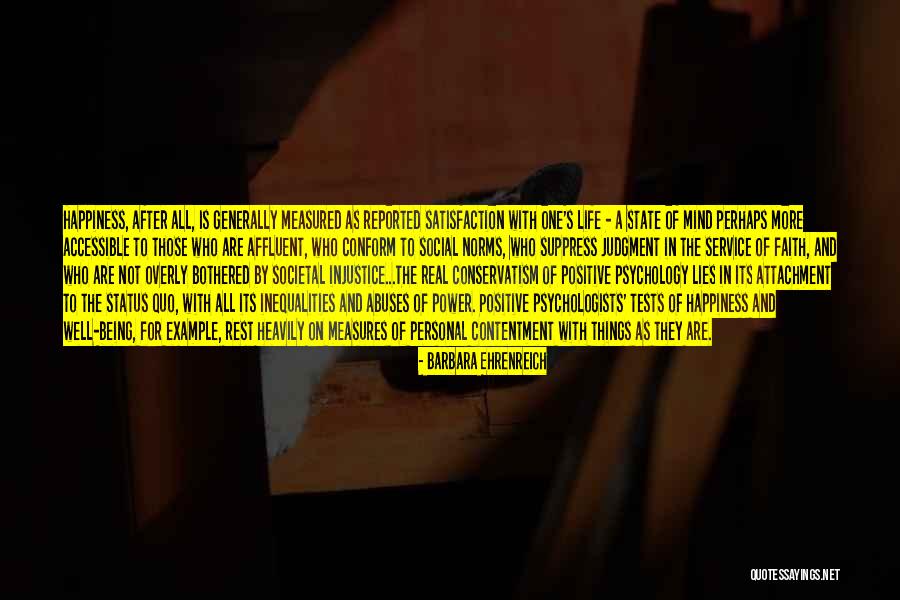 Happiness, after all, is generally measured as reported satisfaction with one's life - a state of mind perhaps more accessible to those who are affluent, who conform to social norms, who suppress judgment in the service of faith, and who are not overly bothered by societal injustice...The real conservatism of positive psychology lies in its attachment to the status quo, with all its inequalities and abuses of power. Positive psychologists' tests of happiness and well-being, for example, rest heavily on measures of personal contentment with things as they are. — Barbara Ehrenreich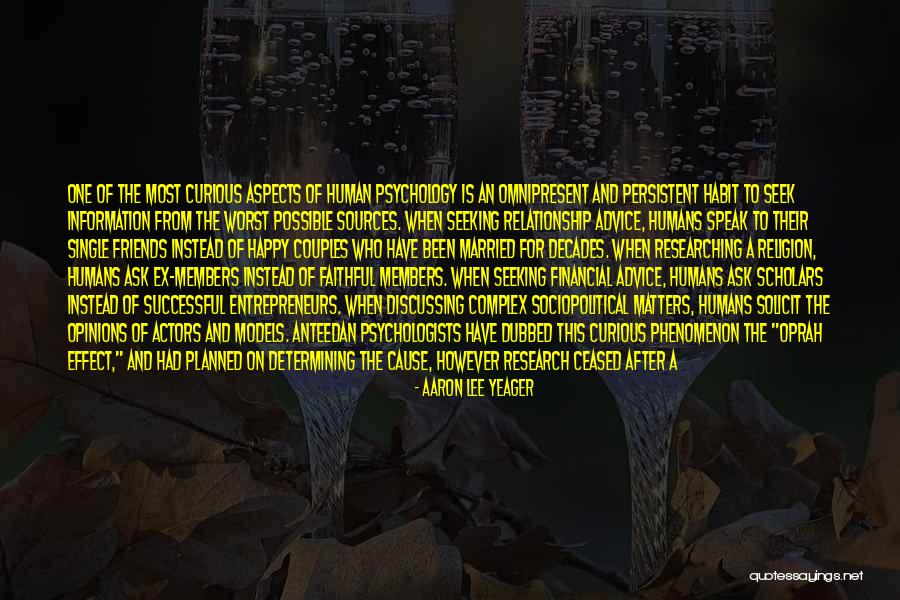 One of the most curious aspects of human psychology is an omnipresent and persistent habit to seek information from the worst possible sources. When seeking relationship advice, humans speak to their single friends instead of happy couples who have been married for decades. When researching a religion, humans ask ex-members instead of faithful members. When seeking financial advice, humans ask scholars instead of successful entrepreneurs. When discussing complex sociopolitical matters, humans solicit the opinions of actors and models. Anteedan Psychologists have dubbed this curious phenomenon the "Oprah Effect," and had planned on determining the cause, however research ceased after a financial scandal involving the team lead stealing money from the grant and eloping with an exotic dancer named Cinnamon. -A Tourists Guide to Earth, 2nd edition, page 184, Valium Press — Aaron Lee Yeager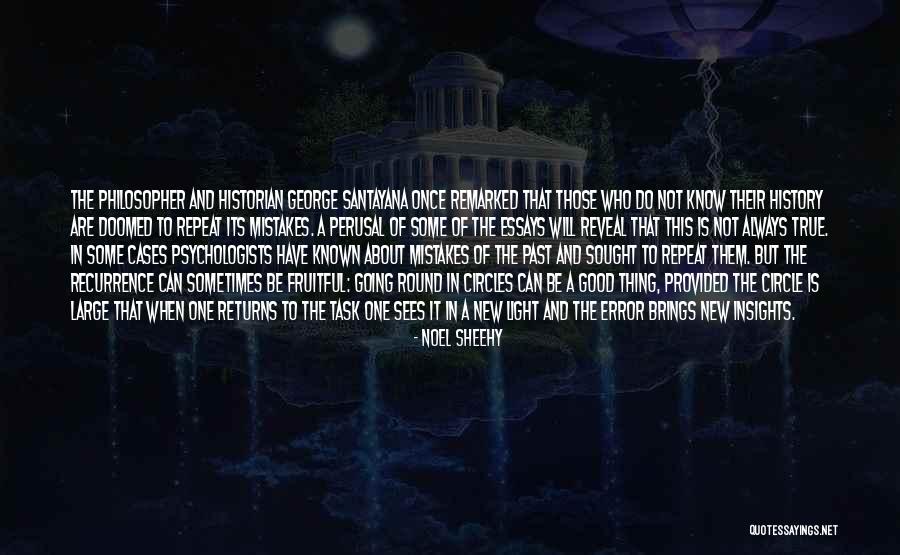 The philosopher and historian George Santayana once remarked that those who do not know their history are doomed to repeat its mistakes. A perusal of some of the essays will reveal that this is not always true. In some cases psychologists have known about mistakes of the past and sought to repeat them. But the recurrence can sometimes be fruitful: going round in circles can be a good thing, provided the circle is large that when one returns to the task one sees it in a new light and the error brings new insights. — Noel Sheehy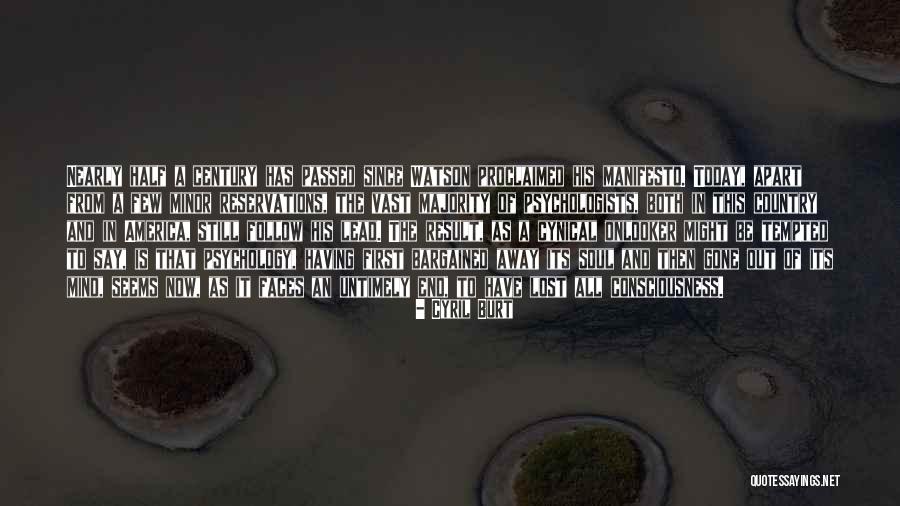 Nearly half a century has passed since Watson proclaimed his manifesto. Today, apart from a few minor reservations, the vast majority of psychologists, both in this country and in America, still follow his lead. The result, as a cynical onlooker might be tempted to say, is that psychology, having first bargained away its soul and then gone out of its mind, seems now, as it faces an untimely end, to have lost all consciousness. — Cyril Burt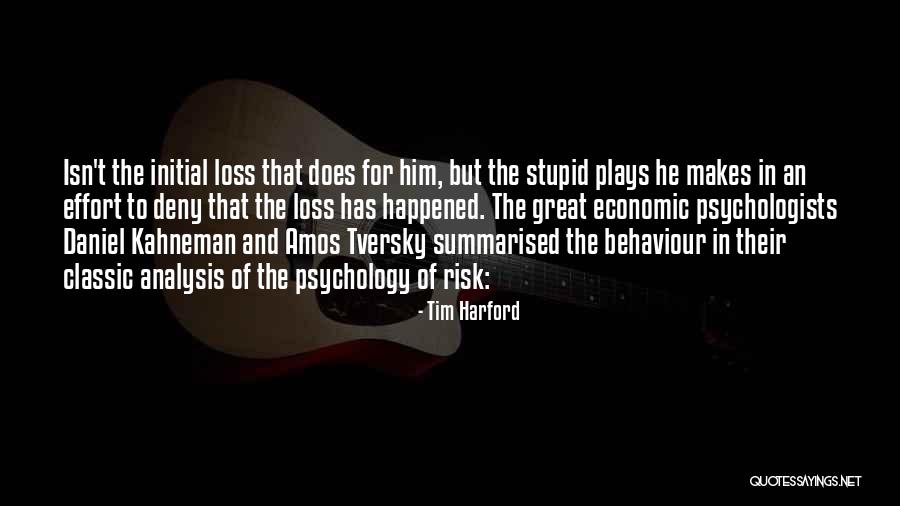 Isn't the initial loss that does for him, but the stupid plays he makes in an effort to deny that the loss has happened. The great economic psychologists Daniel Kahneman and Amos Tversky summarised the behaviour in their classic analysis of the psychology of risk: — Tim Harford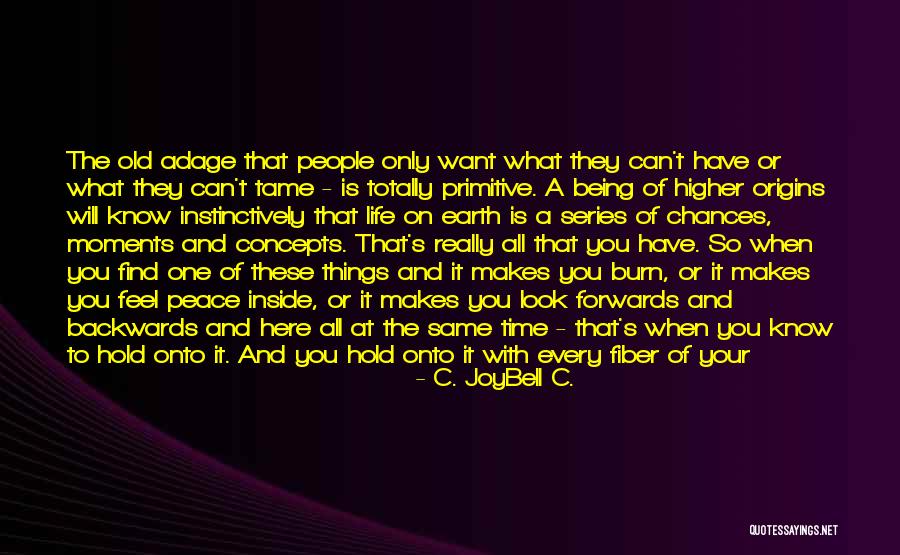 The old adage that people only want what they can't have or what they can't tame - is totally primitive. A being of higher origins will know instinctively that life on earth is a series of chances, moments and concepts. That's really all that you have. So when you find one of these things and it makes you burn, or it makes you feel peace inside, or it makes you look forwards and backwards and here all at the same time - that's when you know to hold onto it. And you hold onto it with every fiber of your being. Because it's in the holding on of these chances and moments and concepts that life is lived. Every other kind of living is only in vitro. I don't care what psychologists say today about how the human mind works. Because one day they will reach this pinnacle and they will see what I see and they will look upon the old ways as primitive. As long and gone. We do not wish to have what we can't have. We wish to burn in whatever flame we have stepped into. — C. JoyBell C.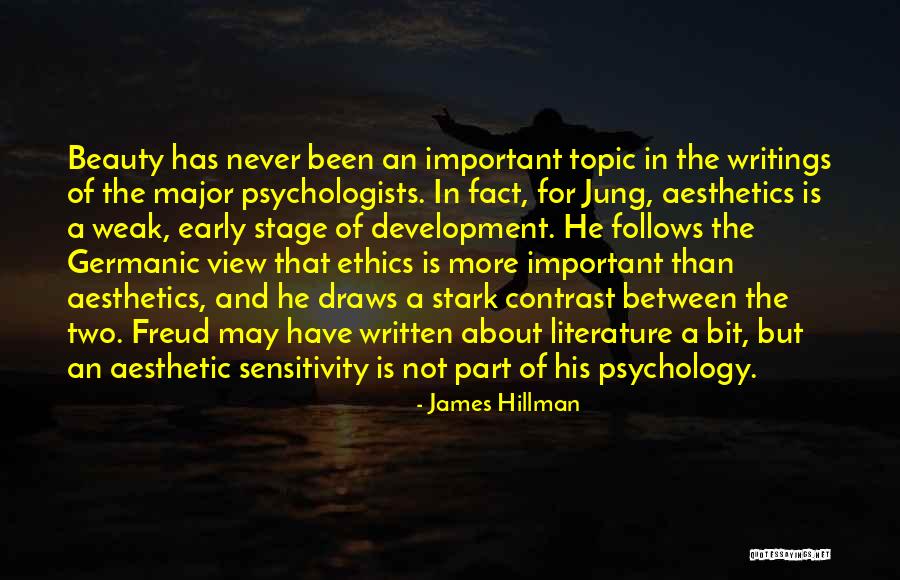 Beauty has never been an important topic in the writings of the major psychologists. In fact, for Jung, aesthetics is a weak, early stage of development. He follows the Germanic view that ethics is more important than aesthetics, and he draws a stark contrast between the two. Freud may have written about literature a bit, but an aesthetic sensitivity is not part of his psychology. — James Hillman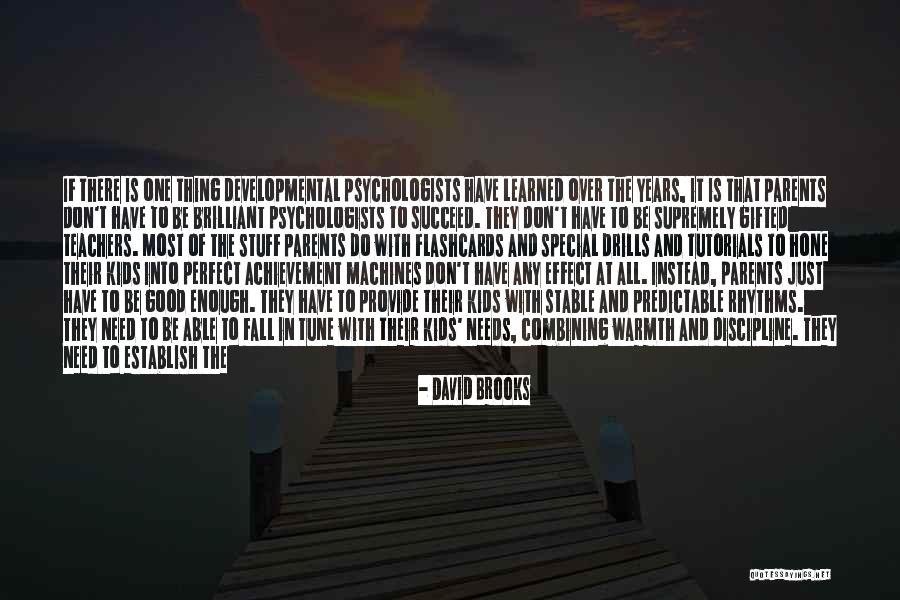 If there is one thing developmental psychologists have learned over the years, it is that parents don't have to be brilliant psychologists to succeed. They don't have to be supremely gifted teachers. Most of the stuff parents do with flashcards and special drills and tutorials to hone their kids into perfect achievement machines don't have any effect at all. Instead, parents just have to be good enough. They have to provide their kids with stable and predictable rhythms. They need to be able to fall in tune with their kids' needs, combining warmth and discipline. They need to establish the secure emotional bonds that kids can fall back upon in the face of stress. They need to be there to provide living examples of how to cope with the problems of the world so that their children can develop unconscious models in their heads. — David Brooks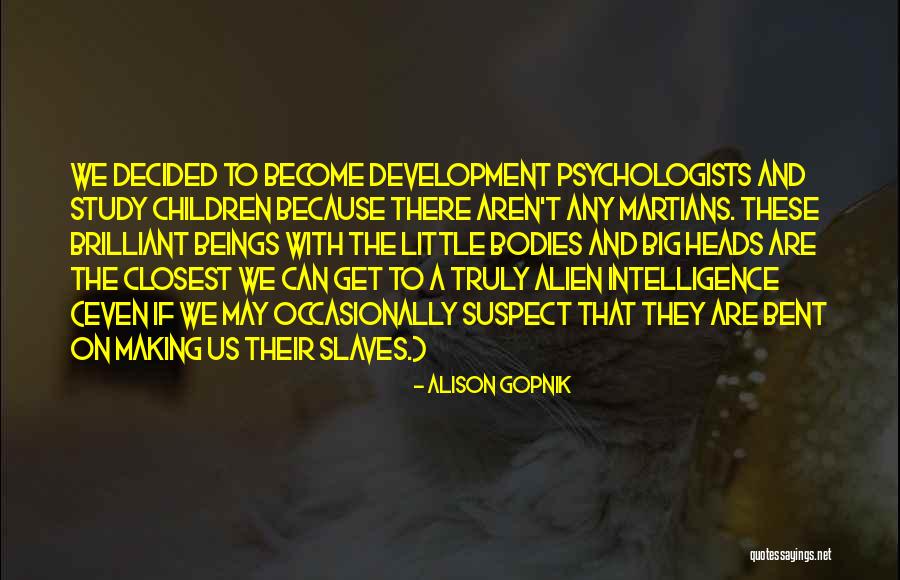 We decided to become development psychologists and study children because there aren't any Martians. These brilliant beings with the little bodies and big heads are the closest we can get to a truly alien intelligence (even if we may occasionally suspect that they are bent on making us their slaves.) — Alison Gopnik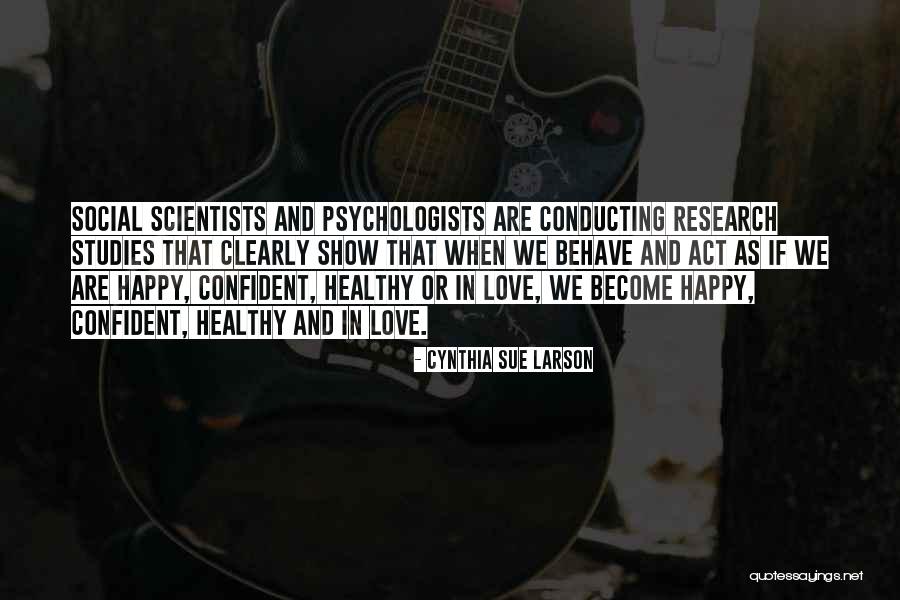 Social scientists and psychologists are conducting research studies that clearly show that when we behave and act as if we are happy, confident, healthy or in love, we become happy, confident, healthy and in love. — Cynthia Sue Larson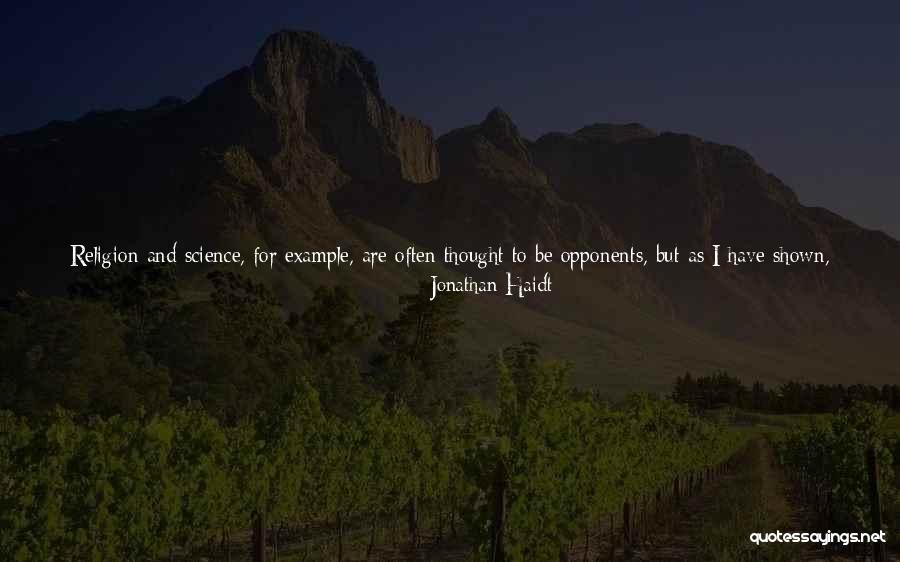 Religion and science, for example, are often thought to be opponents, but as I have shown, the insights of ancient religions and of modern science are both needed to reach a full understanding of human nature and the conditions of human satisfaction. The ancients may have known little about biology, chemistry, and physics, but many were good psychologists. Psychology and religion can benefit by taking each other seriously, or at least by agreeing to learn from each other while overlooking the areas of irreconcilable difference. — Jonathan Haidt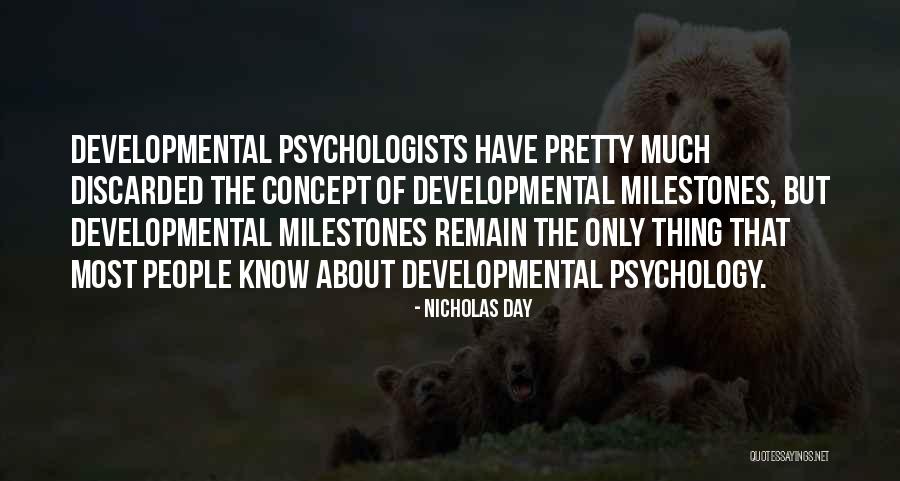 Developmental psychologists have pretty much discarded the concept of developmental milestones, but developmental milestones remain the only thing that most people know about developmental psychology. — Nicholas Day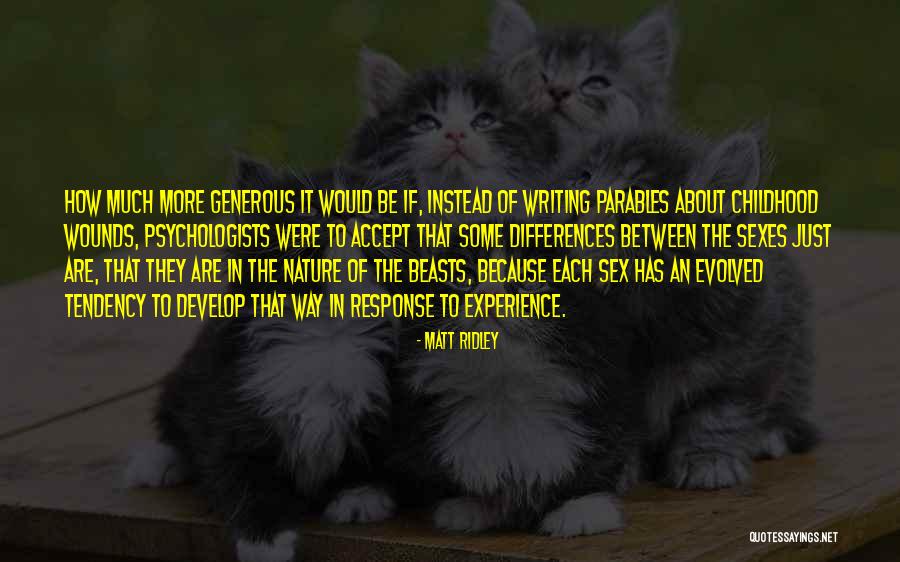 How much more generous it would be if, instead of writing parables about childhood wounds, psychologists were to accept that some differences between the sexes just are, that they are in the nature of the beasts, because each sex has an evolved tendency to develop that way in response to experience. — Matt Ridley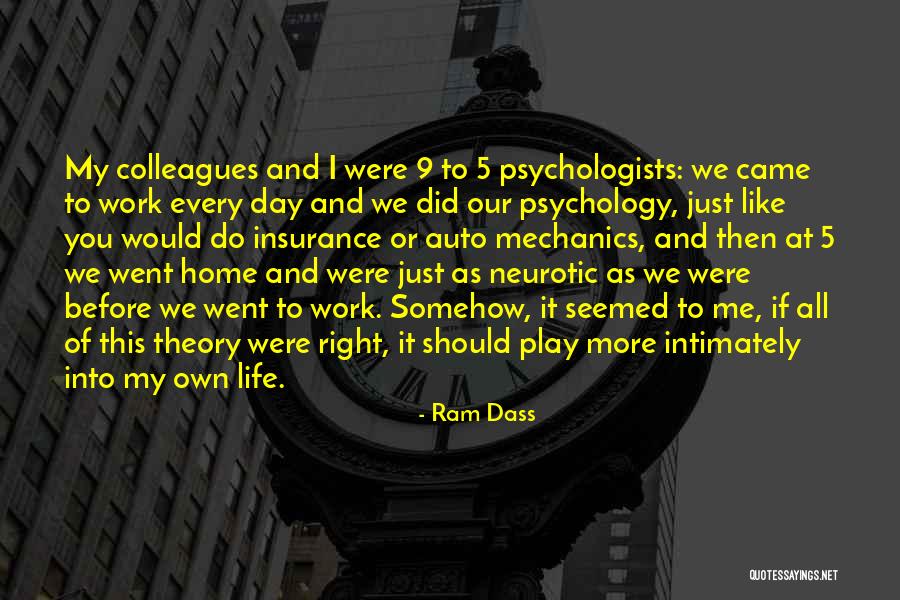 My colleagues and I were 9 to 5 psychologists: we came to work every day and we did our psychology, just like you would do insurance or auto mechanics, and then at 5 we went home and were just as neurotic as we were before we went to work. Somehow, it seemed to me, if all of this theory were right, it should play more intimately into my own life. — Ram Dass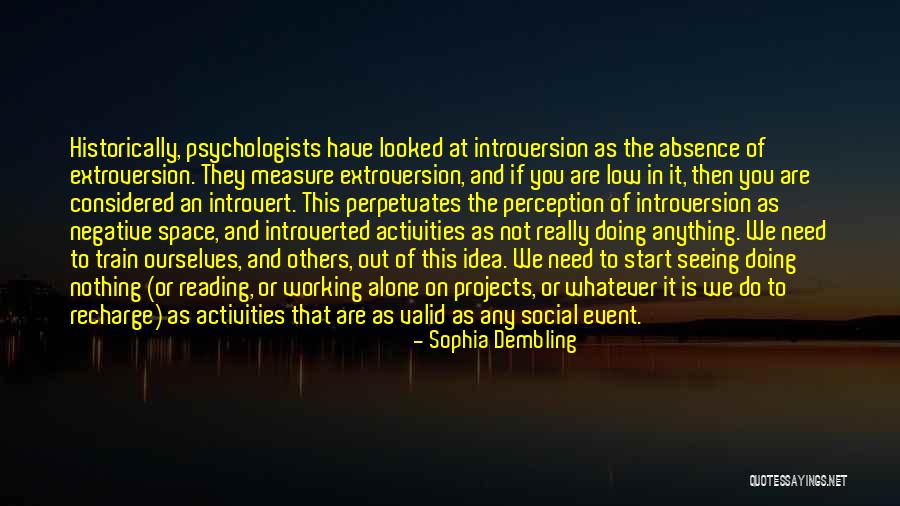 Historically, psychologists have looked at introversion as the absence of extroversion. They measure extroversion, and if you are low in it, then you are considered an introvert. This perpetuates the perception of introversion as negative space, and introverted activities as not really doing anything. We need to train ourselves, and others, out of this idea. We need to start seeing doing nothing (or reading, or working alone on projects, or whatever it is we do to recharge) as activities that are as valid as any social event. — Sophia Dembling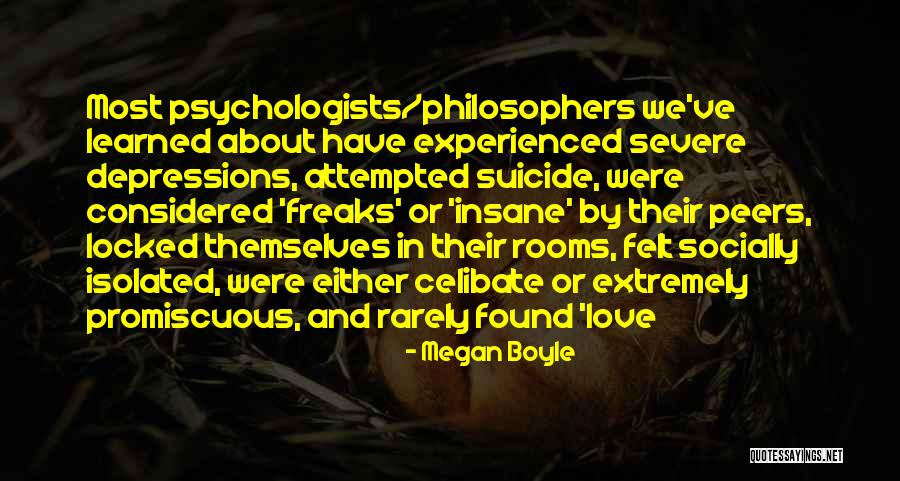 Most psychologists/philosophers we've learned about have experienced severe depressions, attempted suicide, were considered 'freaks' or 'insane' by their peers, locked themselves in their rooms, felt socially isolated, were either celibate or extremely promiscuous, and rarely found 'love — Megan Boyle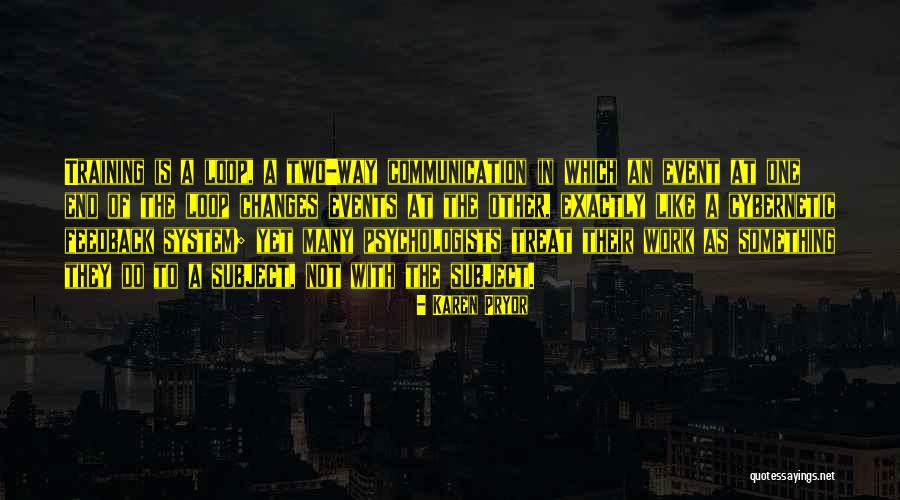 Training is a loop, a two-way communication in which an event at one end of the loop changes events at the other, exactly like a cybernetic feedback system; yet many psychologists treat their work as something they do to a subject, not with the subject. — Karen Pryor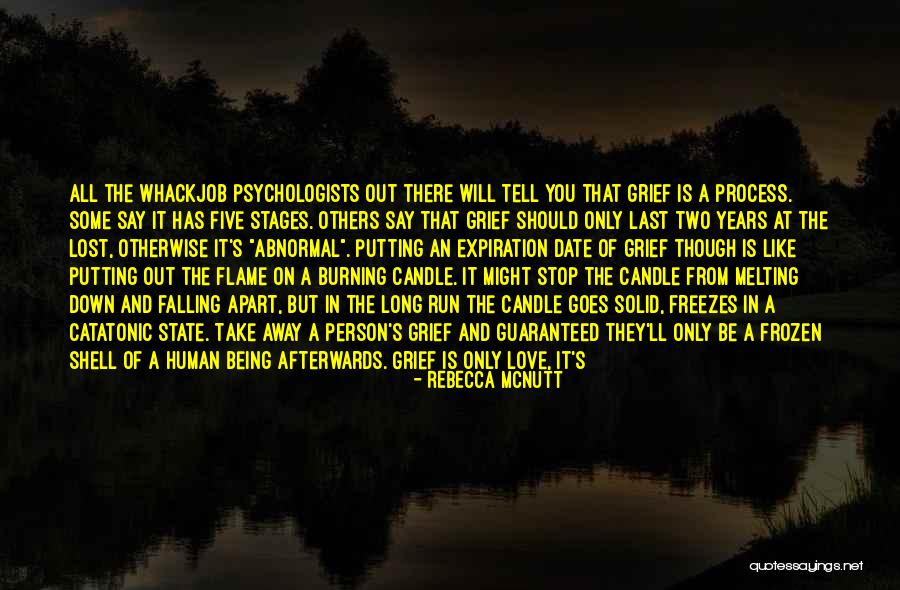 All the whackjob psychologists out there will tell you that grief is a process. Some say it has five stages. Others say that grief should only last two years at the lost, otherwise it's "abnormal". Putting an expiration date of grief though is like putting out the flame on a burning candle. It might stop the candle from melting down and falling apart, but in the long run the candle goes solid, freezes in a catatonic state. Take away a person's grief and guaranteed they'll only be a frozen shell of a human being afterwards. Grief is only love, it's nothing to hide or send away with happy pills and mother's little helpers. Grief is a lifeline connecting two people who are in different realms together, and it's a sign of loyalty and hope. — Rebecca McNutt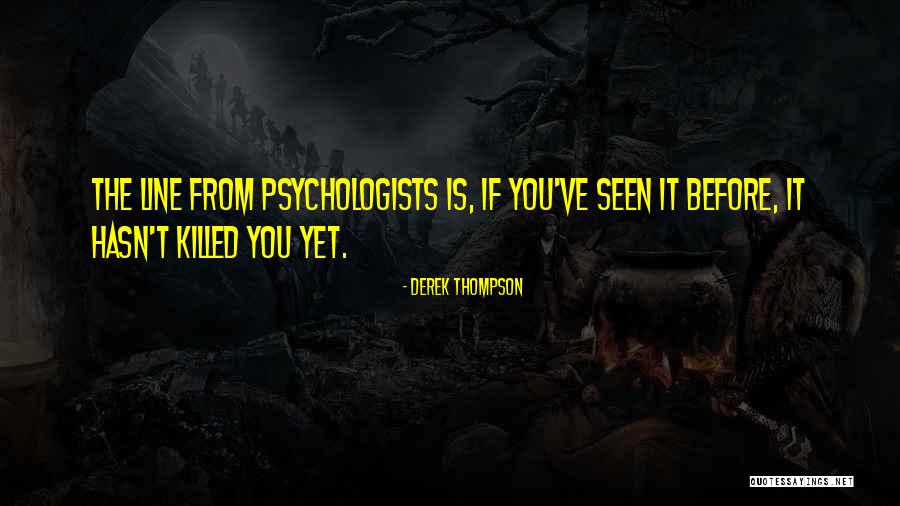 The line from psychologists is, if you've seen it before, it hasn't killed you yet. — Derek Thompson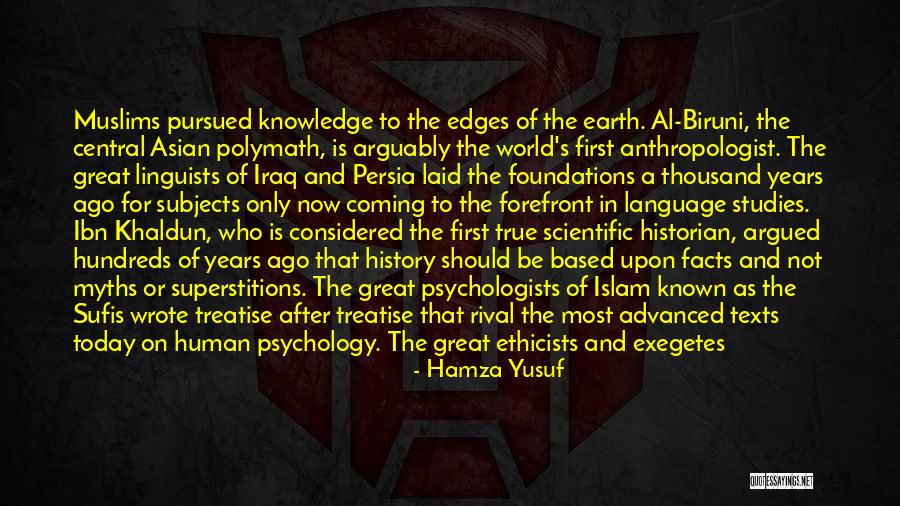 Muslims pursued knowledge to the edges of the earth. Al-Biruni, the central Asian polymath, is arguably the world's first anthropologist. The great linguists of Iraq and Persia laid the foundations a thousand years ago for subjects only now coming to the forefront in language studies. Ibn Khaldun, who is considered the first true scientific historian, argued hundreds of years ago that history should be based upon facts and not myths or superstitions. The great psychologists of Islam known as the Sufis wrote treatise after treatise that rival the most advanced texts today on human psychology. The great ethicists and exegetes of Islam's past left tomes that fill countless shelves in the great libraries of the world, and many more of their texts remain in manuscript form.
In the foreword of "Being Muslim. A Practical Guide" by Dr. Asad Tarsin. — Hamza Yusuf