Quotes & Sayings About Promises In The Bible
Enjoy reading and share 42 famous quotes about Promises In The Bible with everyone.
Top Promises In The Bible Quotes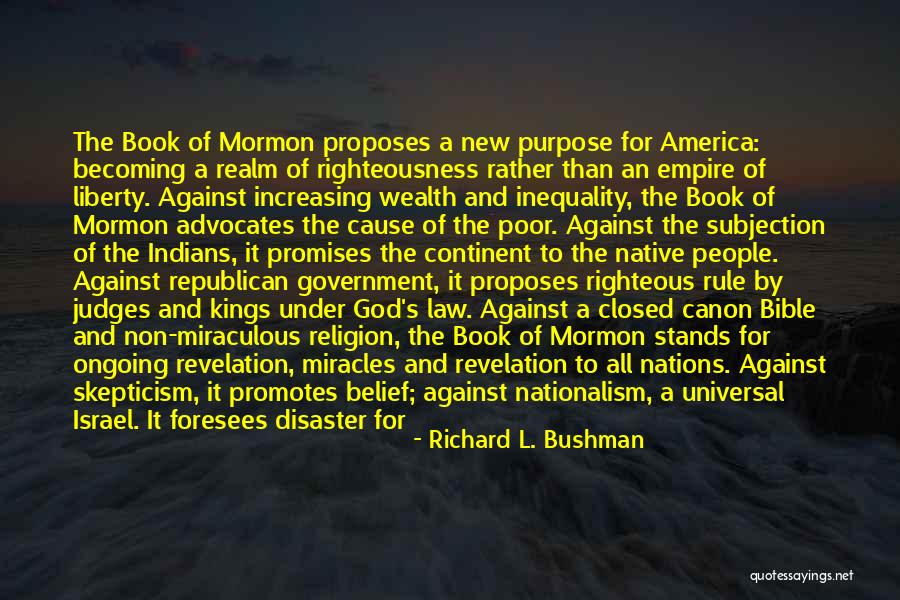 The Book of Mormon proposes a new purpose for America: becoming a realm of righteousness rather than an empire of liberty. Against increasing wealth and inequality, the Book of Mormon advocates the cause of the poor. Against the subjection of the Indians, it promises the continent to the native people. Against republican government, it proposes righteous rule by judges and kings under God's law. Against a closed canon Bible and non-miraculous religion, the Book of Mormon stands for ongoing revelation, miracles and revelation to all nations. Against skepticism, it promotes belief; against nationalism, a universal Israel. It foresees disaster for the nation if the love of riches, resistance to revelation, and Gentile civilization prevail over righteousness, revelation and Israel. — Richard L. Bushman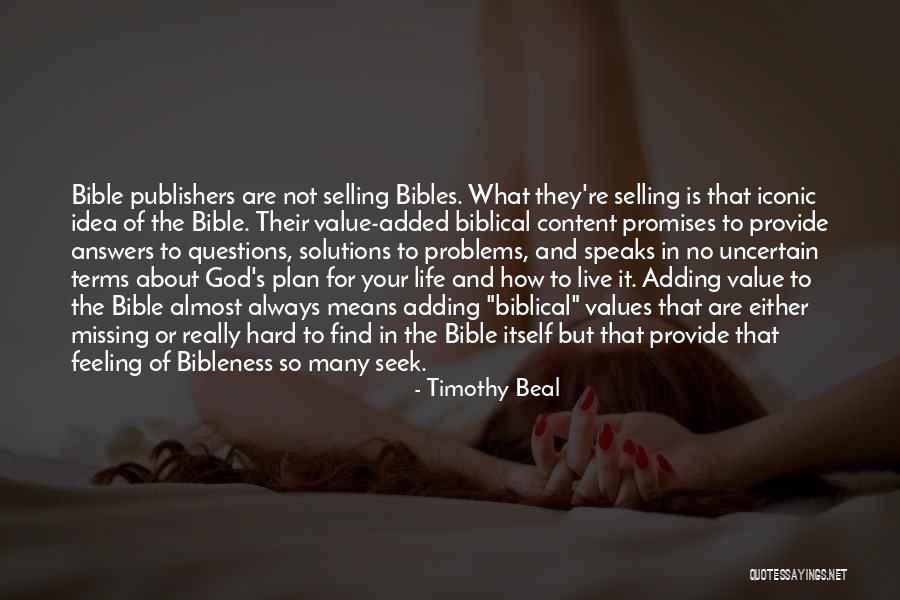 Bible publishers are not selling Bibles. What they're selling is that iconic idea of the Bible. Their value-added biblical content promises to provide answers to questions, solutions to problems, and speaks in no uncertain terms about God's plan for your life and how to live it. Adding value to the Bible almost always means adding "biblical" values that are either missing or really hard to find in the Bible itself but that provide that feeling of Bibleness so many seek. — Timothy Beal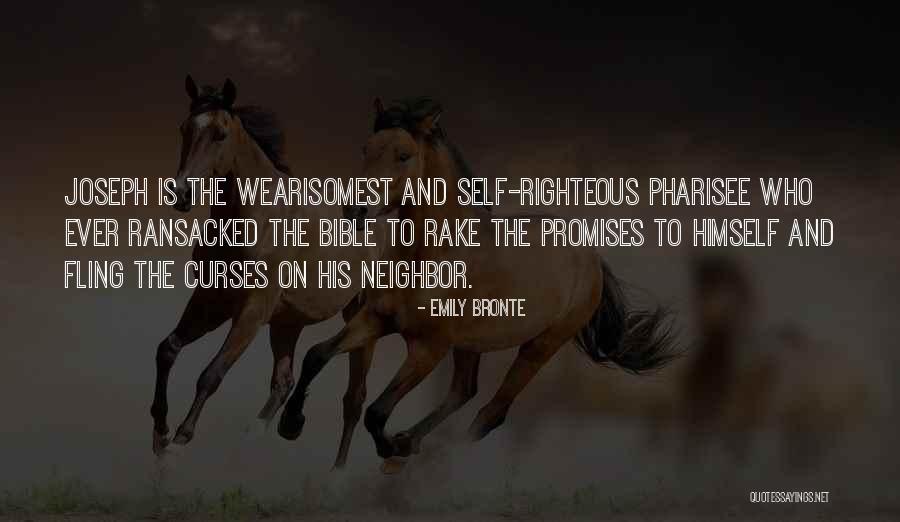 Joseph is the wearisomest and self-righteous Pharisee who ever ransacked the Bible to rake the promises to himself and fling the curses on his neighbor. — Emily Bronte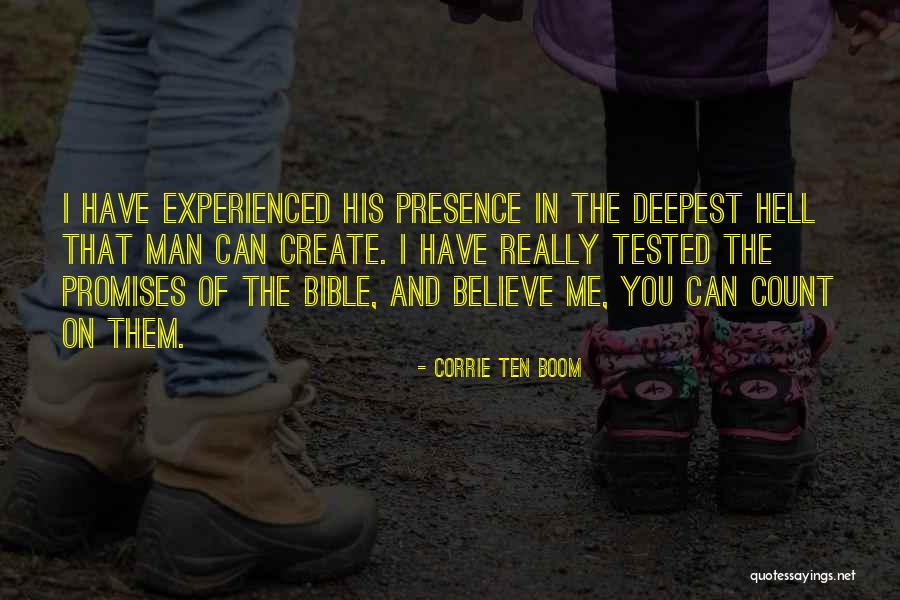 I have experienced His presence in the deepest hell that man can create. I have really tested the promises of the Bible, and believe me, you can count on them. — Corrie Ten Boom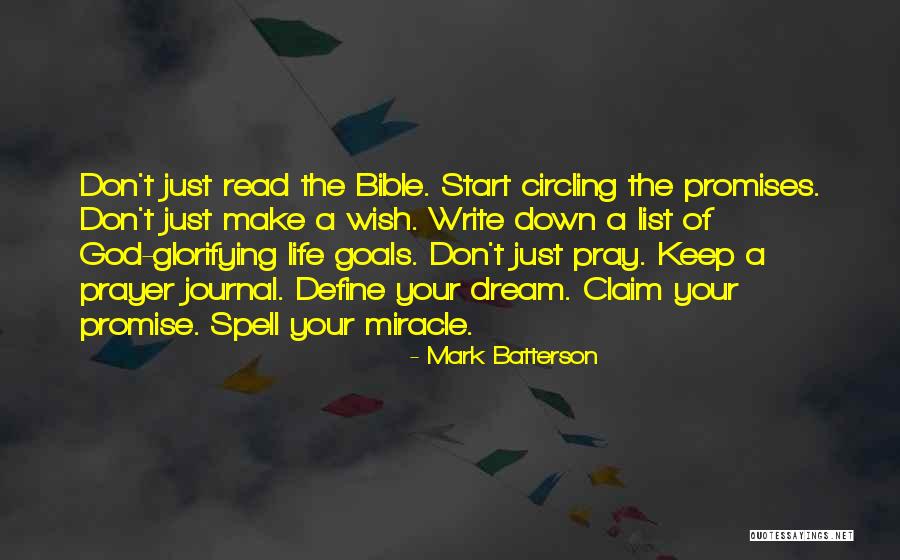 Don't just read the Bible. Start circling the promises. Don't just make a wish. Write down a list of God-glorifying life goals. Don't just pray. Keep a prayer journal. Define your dream. Claim your promise. Spell your miracle. — Mark Batterson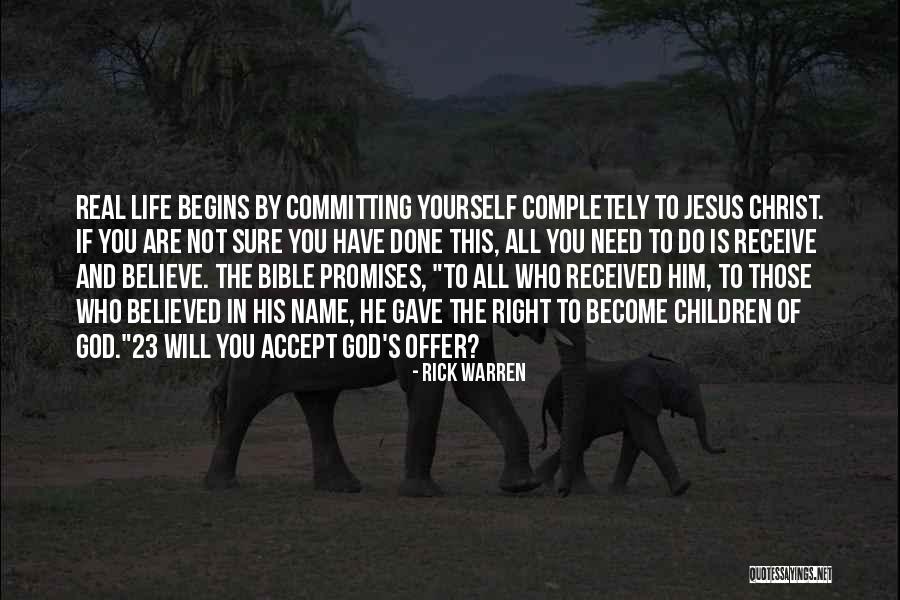 Real life begins by committing yourself completely to Jesus Christ. If you are not sure you have done this, all you need to do is receive and believe. The Bible promises, "To all who received him, to those who believed in his name, he gave the right to become children of God."23 Will you accept God's offer? — Rick Warren
The question is not "Will God grant you a do-over?" The Bible promises, "If we confess our sins, he is faithful and just and will forgive us our sins and purify us from all unrighteousness" (1 John 1:9). God is anxious to give you a do-over; the question is whether you're willing to reach out and ask for one. — Lee Strobel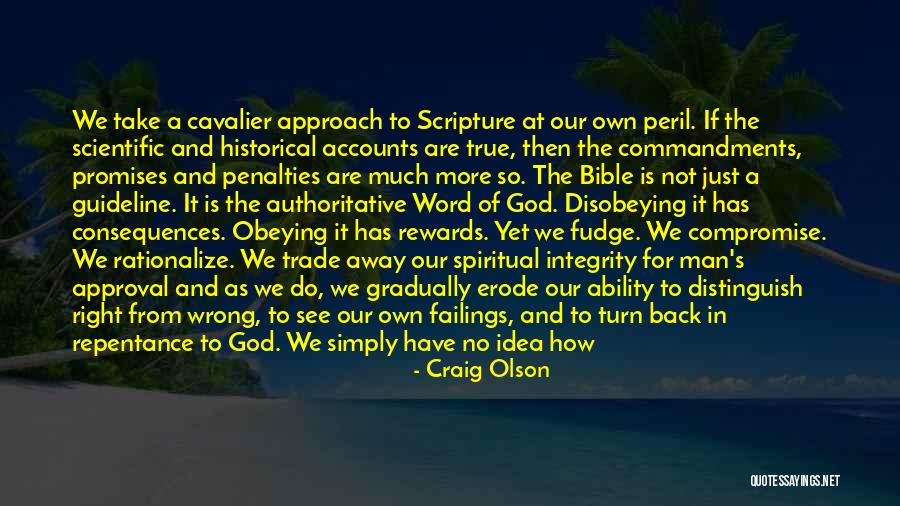 We take a cavalier approach to Scripture at our own peril. If the scientific and historical accounts are true, then the commandments, promises and penalties are much more so. The Bible is not just a guideline. It is the authoritative Word of God. Disobeying it has consequences. Obeying it has rewards. Yet we fudge. We compromise. We rationalize. We trade away our spiritual integrity for man's approval and as we do, we gradually erode our ability to distinguish right from wrong, to see our own failings, and to turn back in repentance to God. We simply have no idea how this cavalier attitude towards God's Word taints our witness and hinders the kingdom of God. — Craig Olson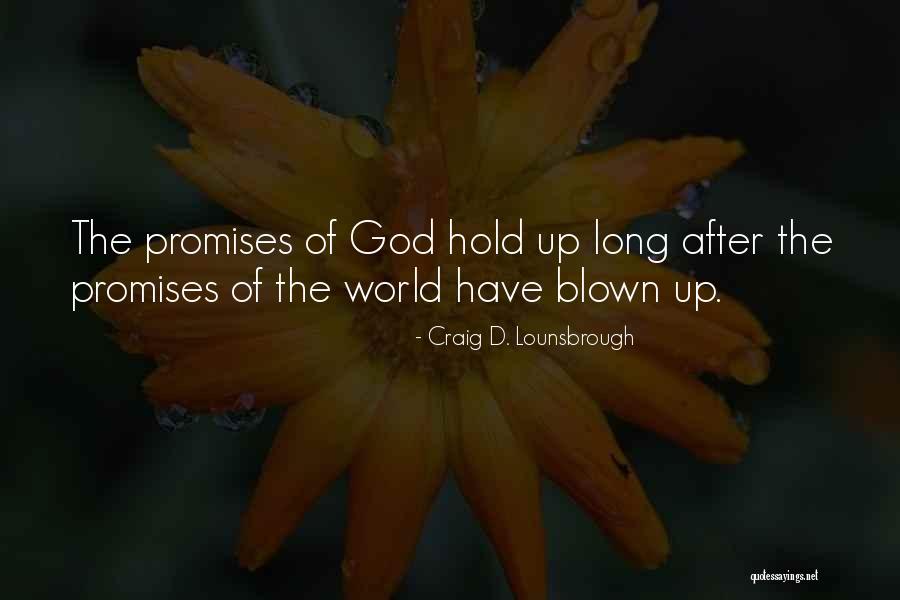 The promises of God hold up long after the promises of the world have blown up. — Craig D. Lounsbrough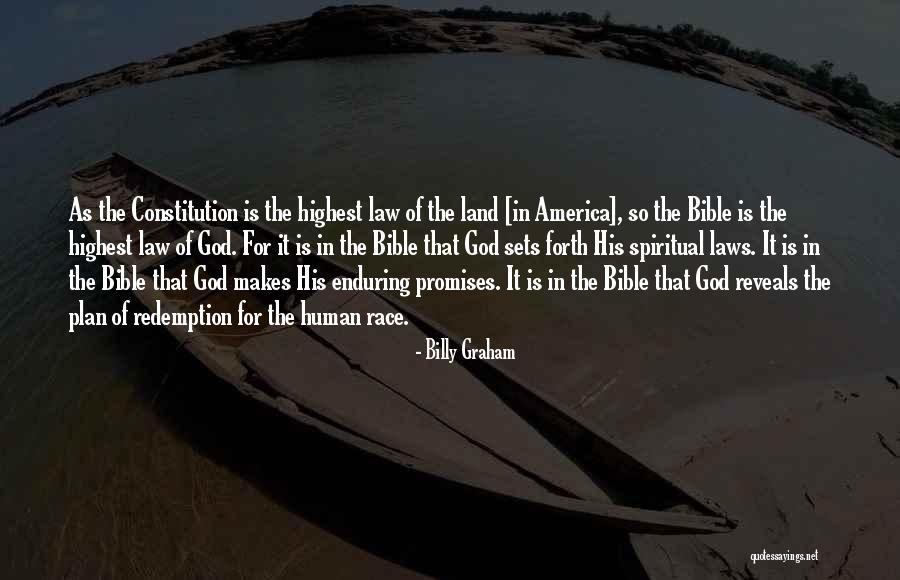 As the Constitution is the highest law of the land [in America], so the Bible is the highest law of God. For it is in the Bible that God sets forth His spiritual laws. It is in the Bible that God makes His enduring promises. It is in the Bible that God reveals the plan of redemption for the human race. — Billy Graham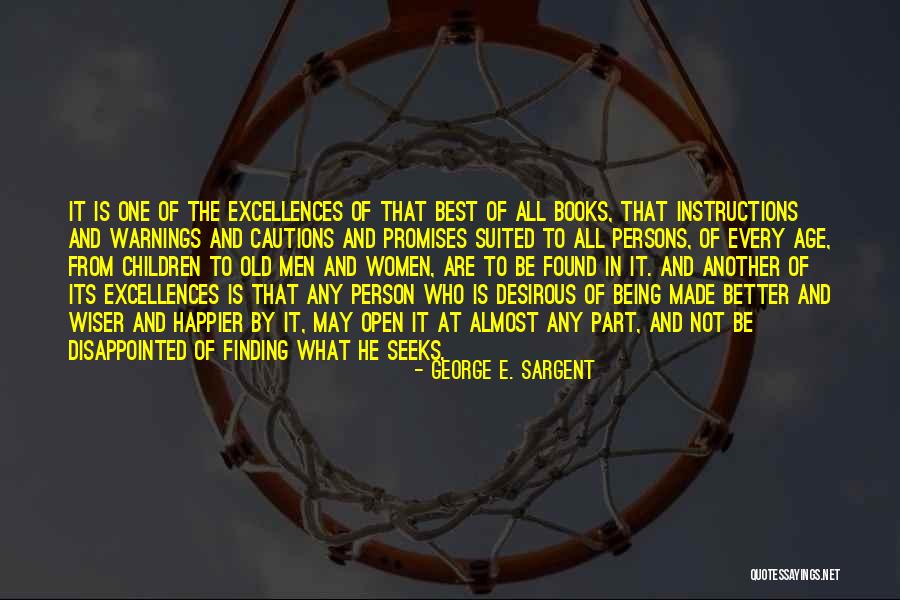 It is one of the excellences of that best of all books, that instructions and warnings and cautions and promises suited to all persons, of every age, from children to old men and women, are to be found in it. And another of its excellences is that any person who is desirous of being made better and wiser and happier by it, may open it at almost any part, and not be disappointed of finding what he seeks. — George E. Sargent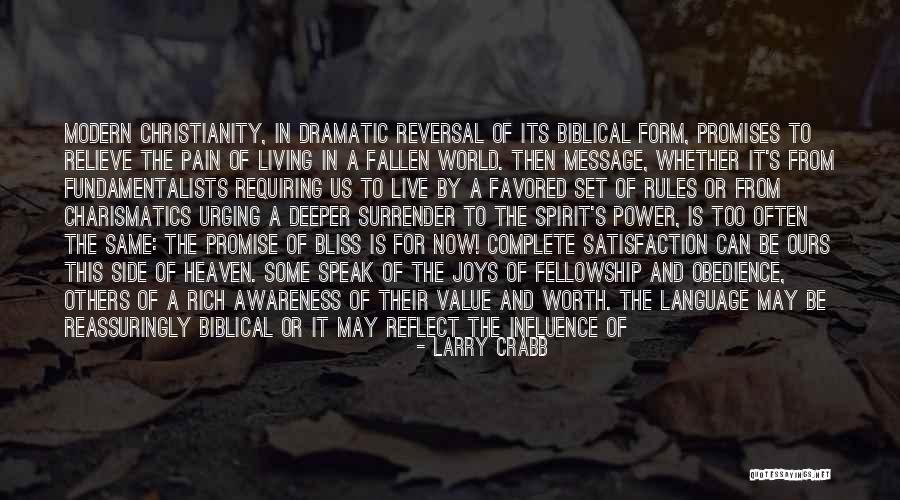 Modern Christianity, in dramatic reversal of its biblical form, promises to relieve the pain of living in a fallen world. Then message, whether it's from fundamentalists requiring us to live by a favored set of rules or from charismatics urging a deeper surrender to the Spirit's power, is too often the same: The promise of bliss is for now! Complete satisfaction can be ours this side of heaven. Some speak of the joys of fellowship and obedience, others of a rich awareness of their value and worth. The language may be reassuringly biblical or it may reflect the influence of current psychological thought. Either way, the point of living the Christian life has shifted from knowing and serving Christ till He returns to soothing, or at least learning to ignore, the ache in our soul. — Larry Crabb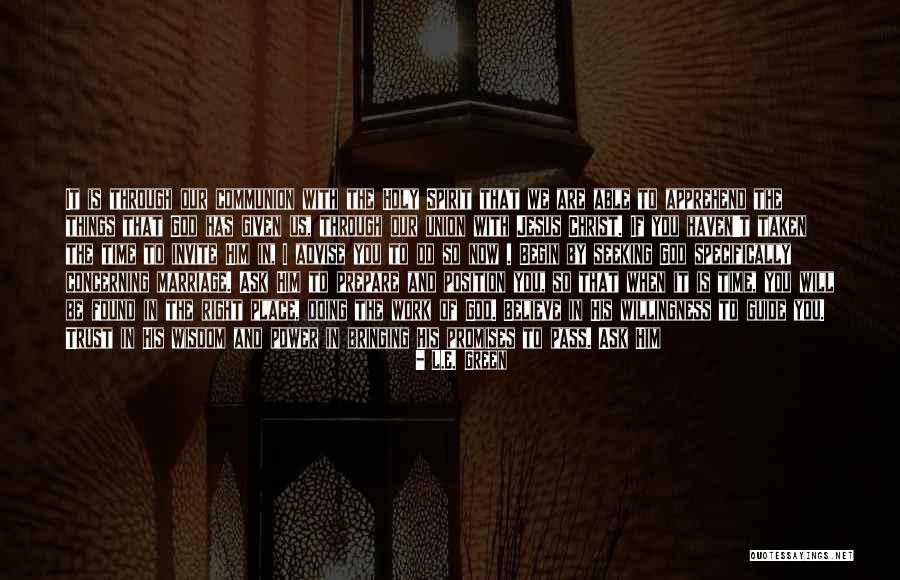 It is through our communion with the Holy Spirit that we are able to apprehend the things that God has given us, through our union with Jesus Christ. If you haven't taken the time to invite Him in, I advise you to do so now . Begin by seeking God specifically concerning marriage. Ask Him to prepare and position you, so that when it is time, you will be found in the right place, doing the work of God. Believe in His willingness to guide you. Trust in His wisdom and power in bringing His promises to pass. Ask Him to 'speak on' concerning your mate and your future. You may be surprised at how eager He is to answer. — L.E. Green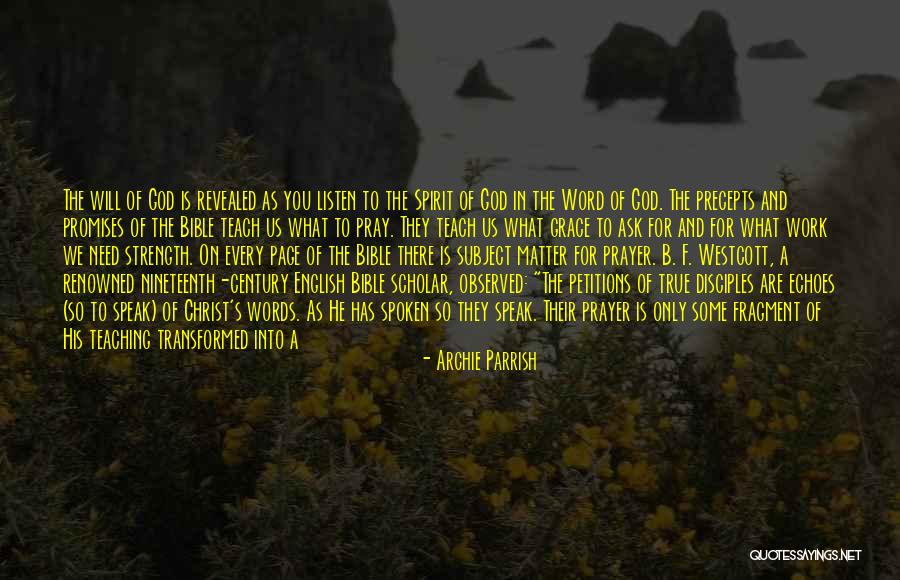 The will of God is revealed as you listen to the Spirit of God in the Word of God. The precepts and promises of the Bible teach us what to pray. They teach us what grace to ask for and for what work we need strength. On every page of the Bible there is subject matter for prayer. B. F. Westcott, a renowned nineteenth-century English Bible scholar, observed: "The petitions of true disciples are echoes (so to speak) of Christ's words. As He has spoken so they speak. Their prayer is only some fragment of His teaching transformed into a supplication, and so it will necessarily be heard."[50] One way to pray more effectively is to echo God's Word back to Him as you pray. We align our hearts with His heart as we pray His Words from our hearts. — Archie Parrish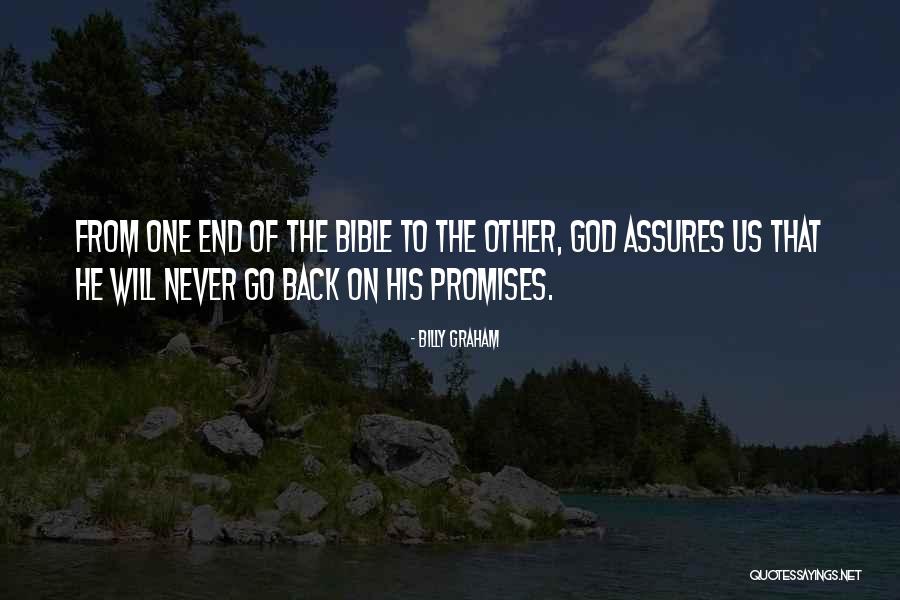 From one end of the Bible to the other, God assures us that He will never go back on His promises. — Billy Graham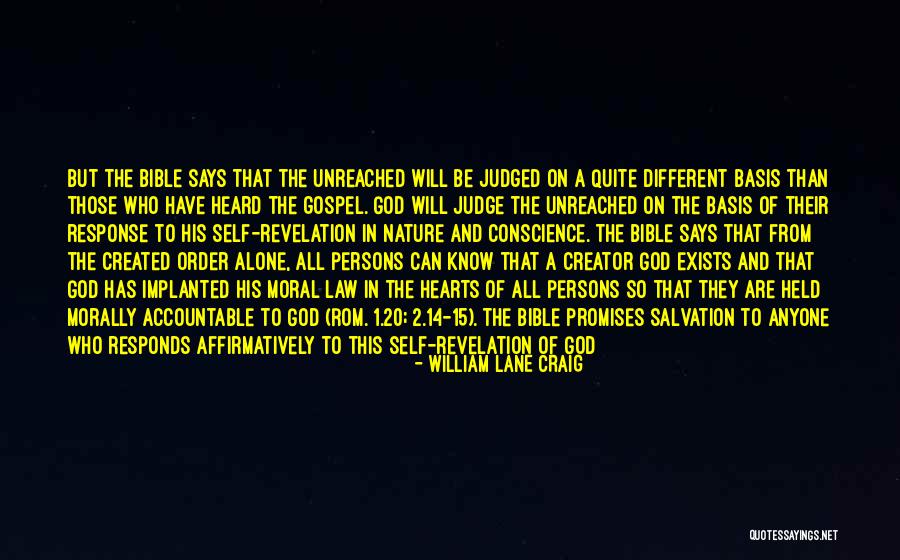 But the Bible says that the unreached will be judged on a quite different basis than those who have heard the gospel. God will judge the unreached on the basis of their response to His self-revelation in nature and conscience. The Bible says that from the created order alone, all persons can know that a Creator God exists and that God has implanted His moral law in the hearts of all persons so that they are held morally accountable to God (Rom. 1.20; 2.14-15). The Bible promises salvation to anyone who responds affirmatively to this self-revelation of God — William Lane Craig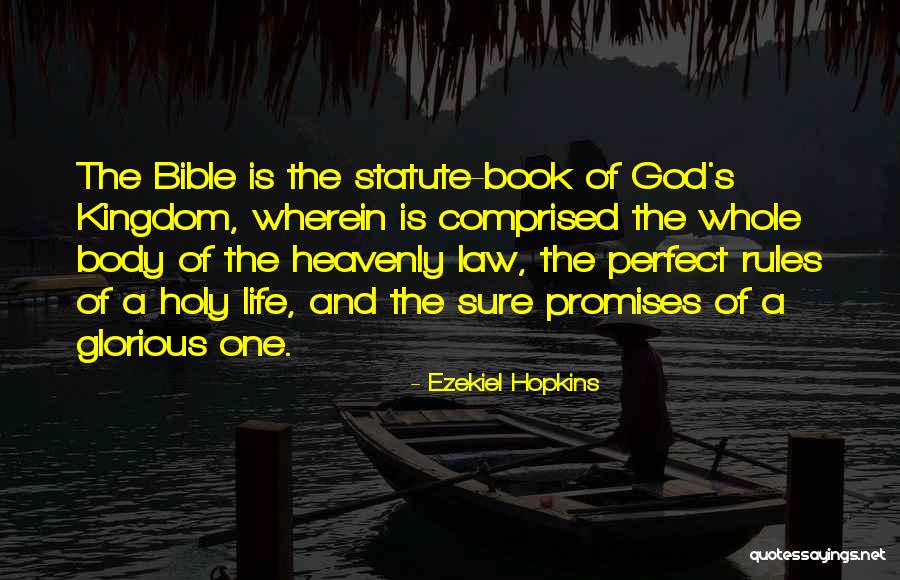 The Bible is the statute-book of God's Kingdom, wherein is comprised the whole body of the heavenly law, the perfect rules of a holy life, and the sure promises of a glorious one. — Ezekiel Hopkins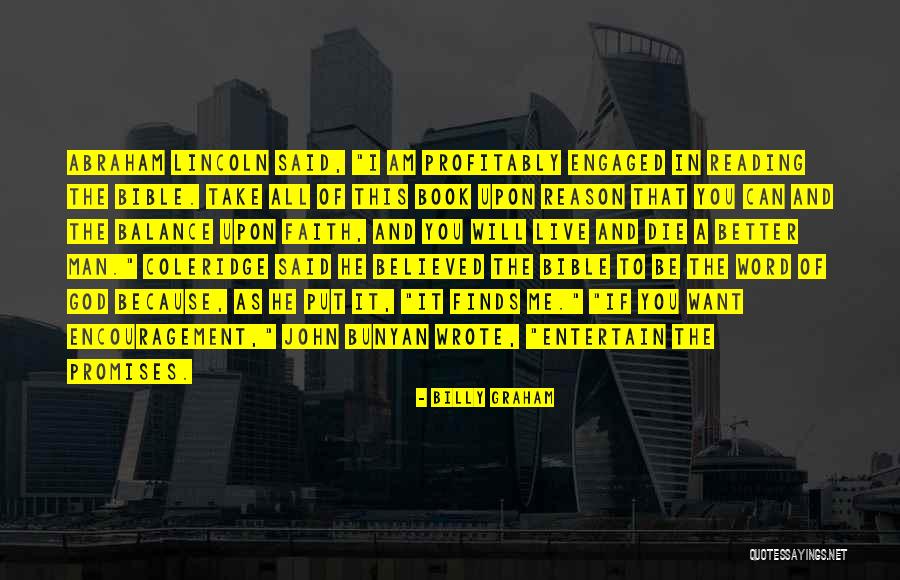 Abraham Lincoln said, "I am profitably engaged in reading the Bible. Take all of this Book upon reason that you can and the balance upon faith, and you will live and die a better man." Coleridge said he believed the Bible to be the Word of God because, as he put it, "It finds me." "If you want encouragement," John Bunyan wrote, "entertain the promises. — Billy Graham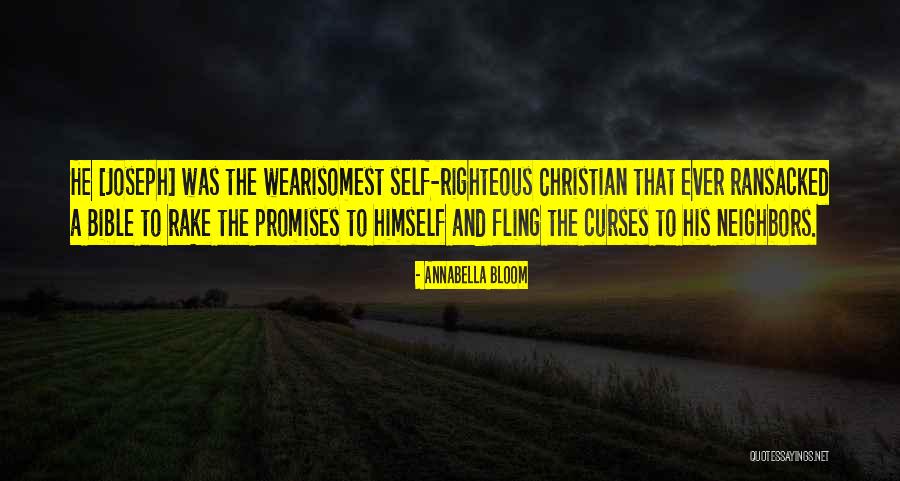 He [Joseph] was the wearisomest self-righteous Christian that ever ransacked a Bible to rake the promises to himself and fling the curses to his neighbors. — Annabella Bloom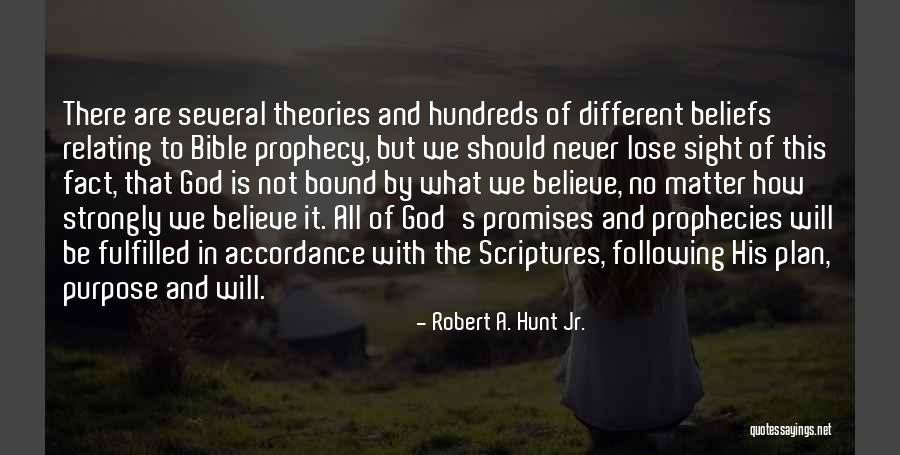 There are several theories and hundreds of different beliefs relating to Bible prophecy, but we should never lose sight of this fact, that God is not bound by what we believe, no matter how strongly we believe it. All of God's promises and prophecies will be fulfilled in accordance with the Scriptures, following His plan, purpose and will. — Robert A. Hunt Jr.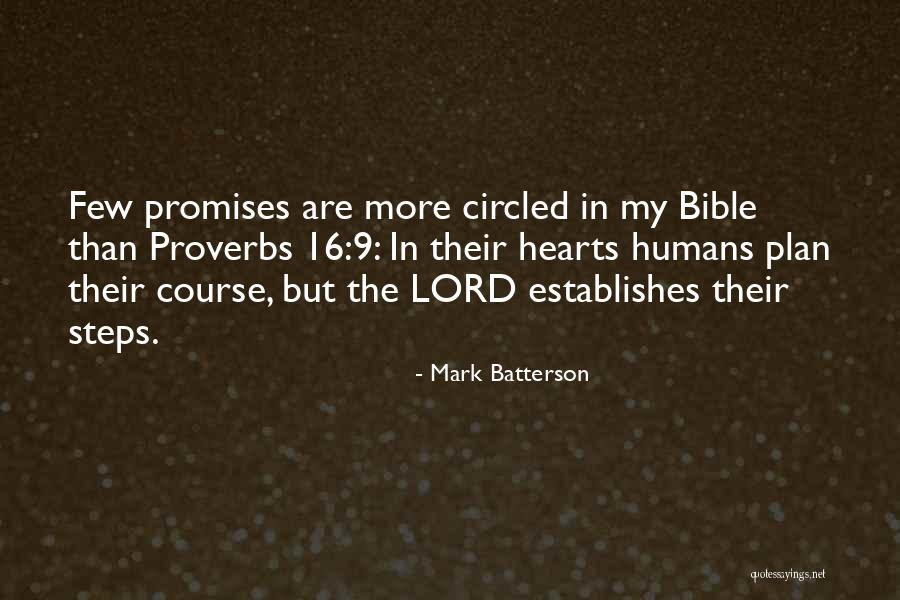 Few promises are more circled in my Bible than Proverbs 16:9: In their hearts humans plan their course, but the LORD establishes their steps. — Mark Batterson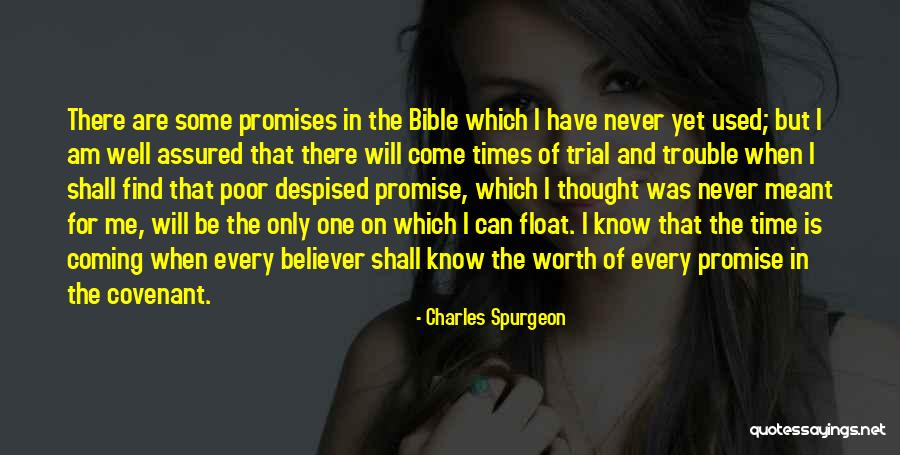 There are some promises in the Bible which I have never yet used; but I am well assured that there will come times of trial and trouble when I shall find that poor despised promise, which I thought was never meant for me, will be the only one on which I can float. I know that the time is coming when every believer shall know the worth of every promise in the covenant. — Charles Spurgeon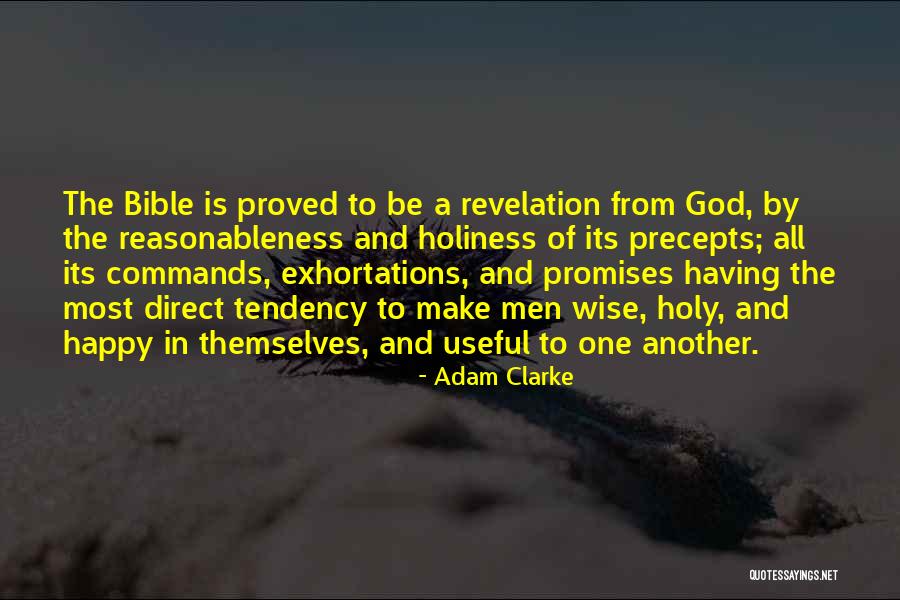 The Bible is proved to be a revelation from God, by the reasonableness and holiness of its precepts; all its commands, exhortations, and promises having the most direct tendency to make men wise, holy, and happy in themselves, and useful to one another. — Adam Clarke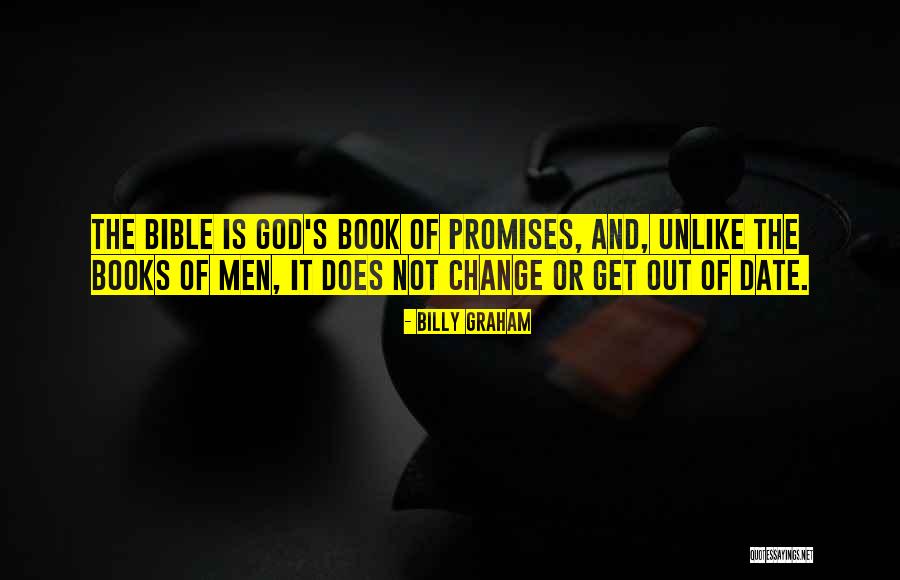 The Bible is God's book of promises, and, unlike the books of men, it does not change or get out of date. — Billy Graham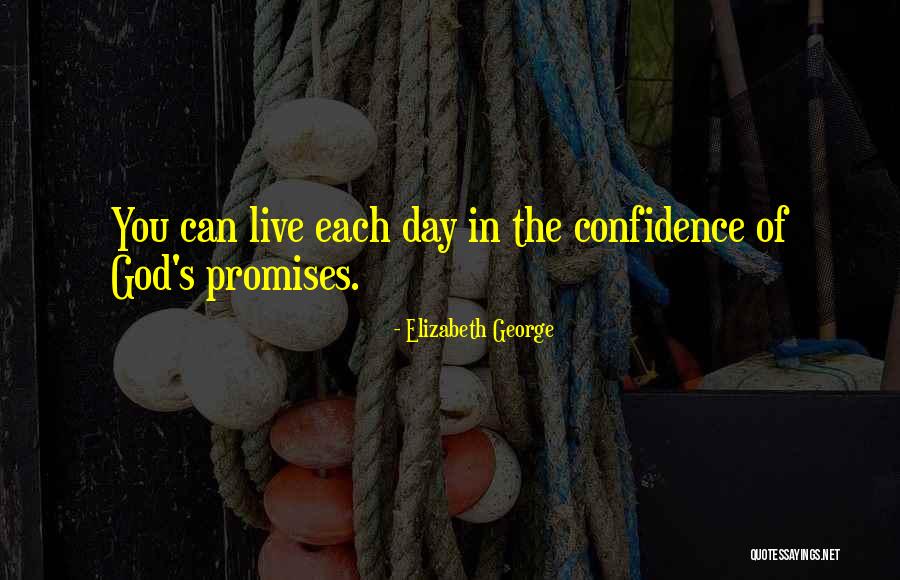 You can live each day in the confidence of God's promises. — Elizabeth George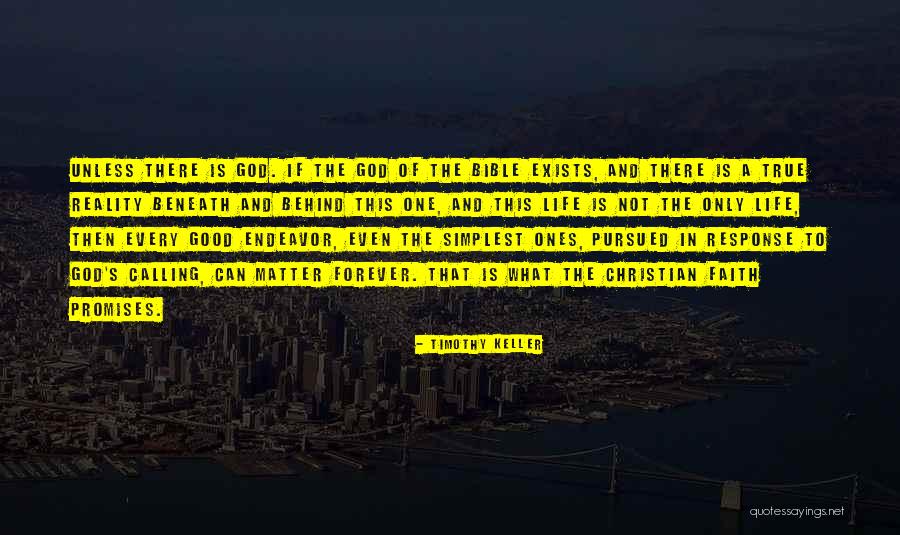 Unless there is God. If the God of the Bible exists, and there is a True Reality beneath and behind this one, and this life is not the only life, then every good endeavor, even the simplest ones, pursued in response to God's calling, can matter forever. That is what the Christian faith promises. — Timothy Keller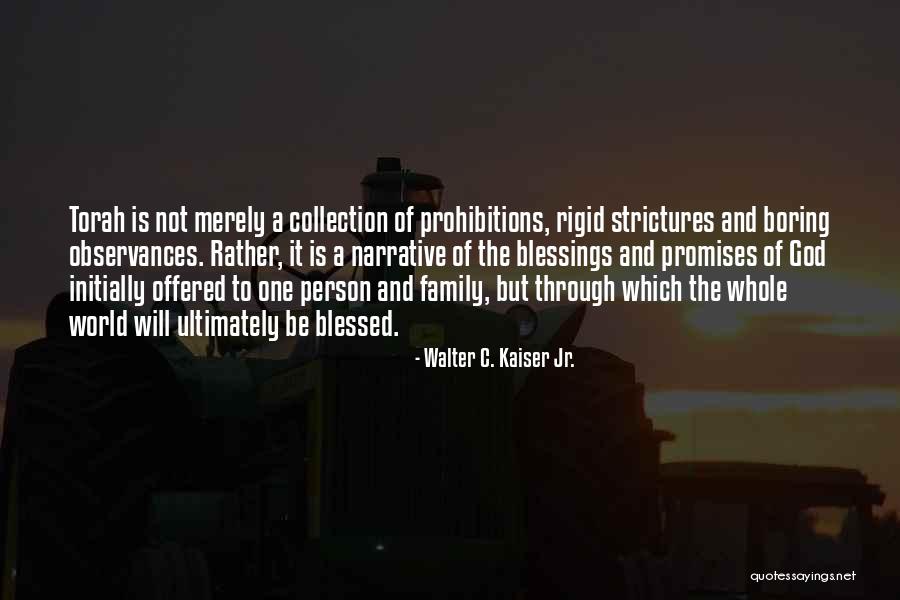 Torah is not merely a collection of prohibitions, rigid strictures and boring observances. Rather, it is a narrative of the blessings and promises of God initially offered to one person and family, but through which the whole world will ultimately be blessed. — Walter C. Kaiser Jr.
The best way to pray is to open the Bible and pray Scripture back to the Lord, claiming His promises and asking that He strengthen and guide [us] in obeying His Word. — Billy Graham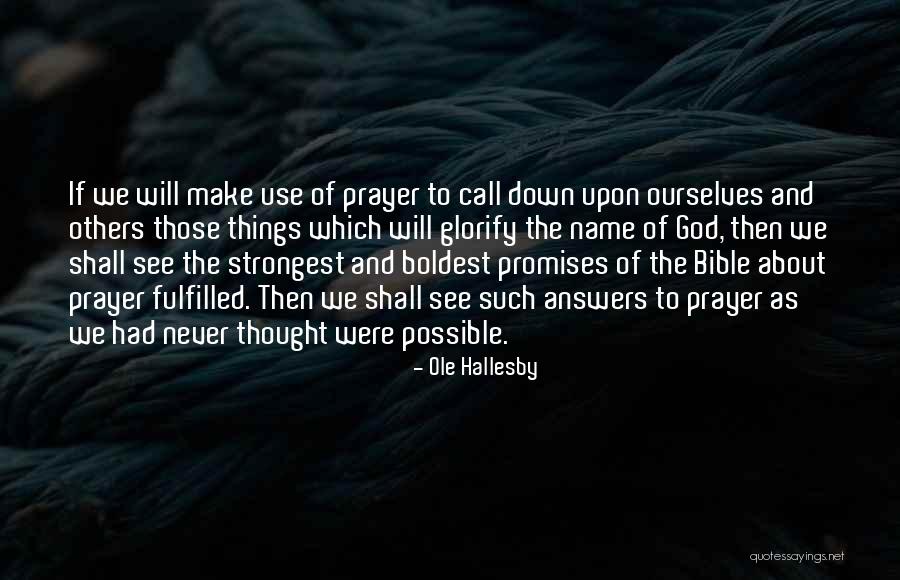 If we will make use of prayer to call down upon ourselves and others those things which will glorify the name of God, then we shall see the strongest and boldest promises of the Bible about prayer fulfilled. Then we shall see such answers to prayer as we had never thought were possible. — Ole Hallesby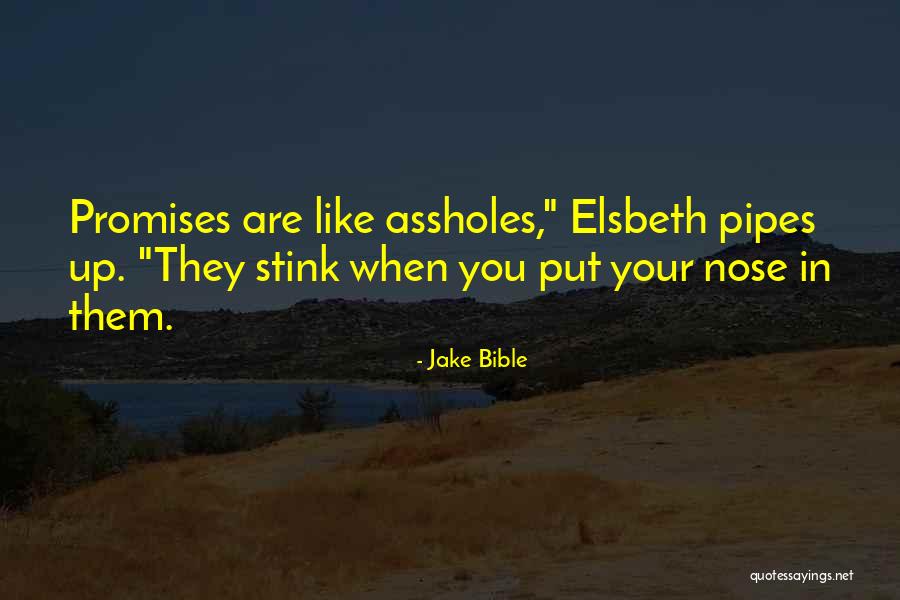 Promises are like assholes," Elsbeth pipes up. "They stink when you put your nose in them. — Jake Bible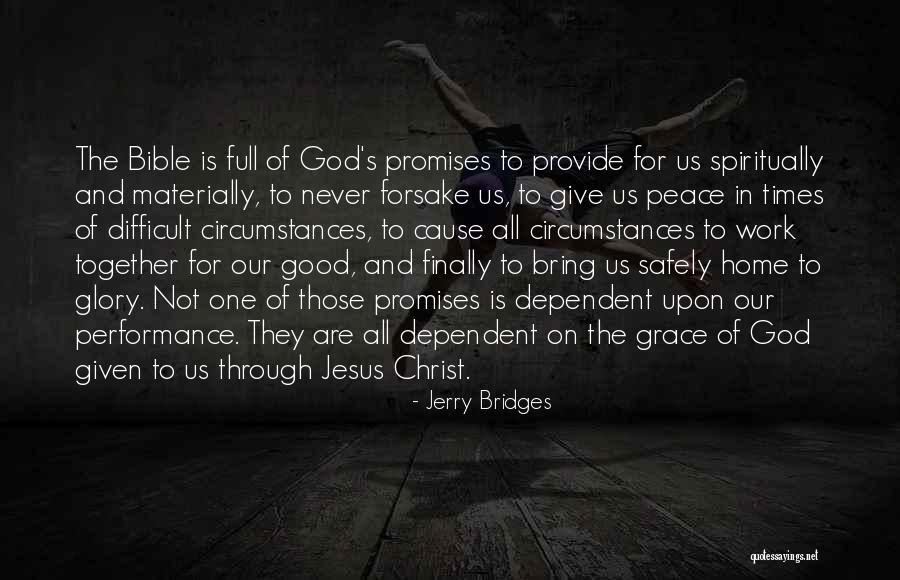 The Bible is full of God's promises to provide for us spiritually and materially, to never forsake us, to give us peace in times of difficult circumstances, to cause all circumstances to work together for our good, and finally to bring us safely home to glory. Not one of those promises is dependent upon our performance. They are all dependent on the grace of God given to us through Jesus Christ. — Jerry Bridges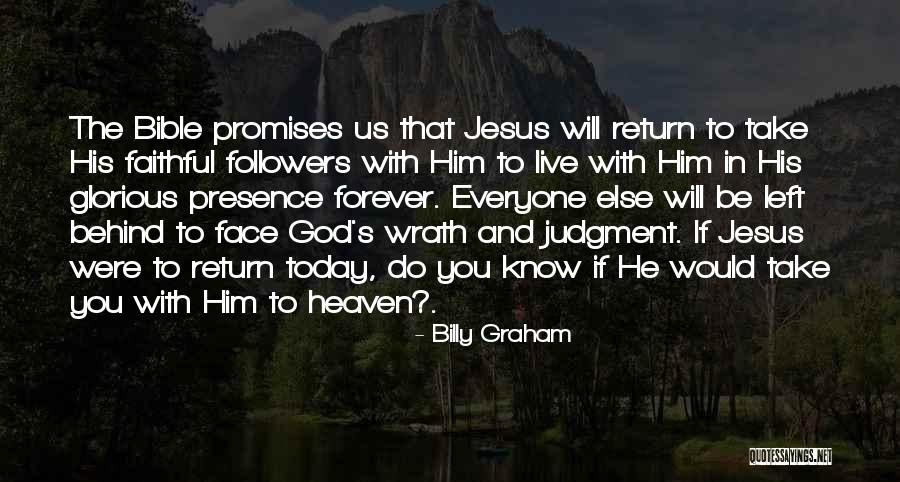 The Bible promises us that Jesus will return to take His faithful followers with Him to live with Him in His glorious presence forever. Everyone else will be left behind to face God's wrath and judgment. If Jesus were to return today, do you know if He would take you with Him to heaven?. — Billy Graham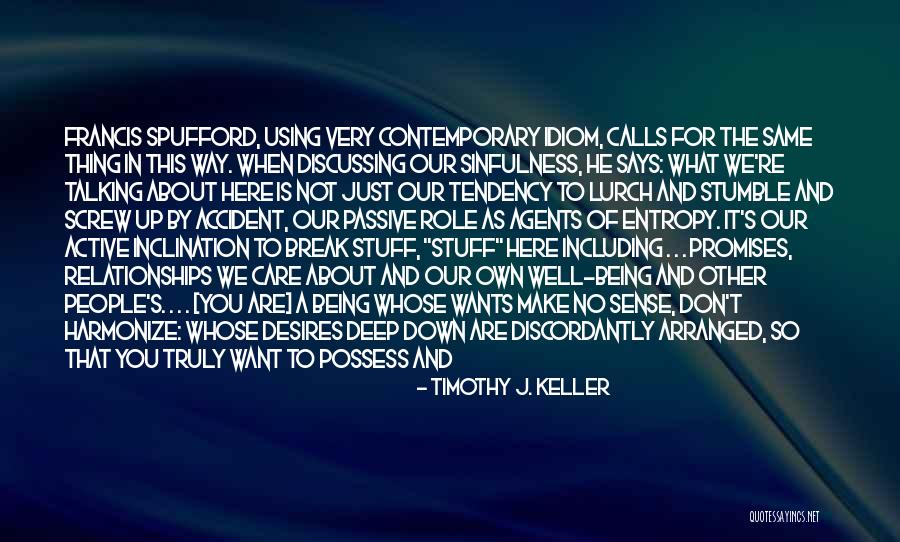 Francis Spufford, using very contemporary idiom, calls for the same thing in this way. When discussing our sinfulness, he says: What we're talking about here is not just our tendency to lurch and stumble and screw up by accident, our passive role as agents of entropy. It's our active inclination to break stuff, "stuff" here including . . . promises, relationships we care about and our own well-being and other people's. . . . [You are] a being whose wants make no sense, don't harmonize: whose desires deep down are discordantly arranged, so that you truly want to possess and you truly want not to at the very same time. You're equipped, you realize, more for farce (or even tragedy) than happy endings. . . . You're human, and that's where we live; that's our normal experience.180 Until we fully acknowledge the chaos within us that the Bible calls sin, we live in what Calvin calls "unreality. — Timothy J. Keller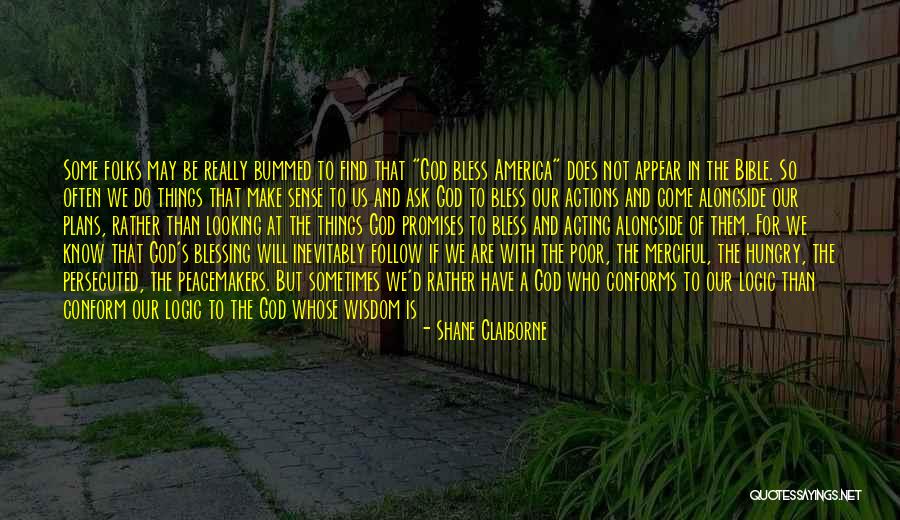 Some folks may be really bummed to find that "God bless America" does not appear in the Bible. So often we do things that make sense to us and ask God to bless our actions and come alongside our plans, rather than looking at the things God promises to bless and acting alongside of them. For we know that God's blessing will inevitably follow if we are with the poor, the merciful, the hungry, the persecuted, the peacemakers. But sometimes we'd rather have a God who conforms to our logic than conform our logic to the God whose wisdom is a stumbling block to the world of smart bombs and military intelligence. — Shane Claiborne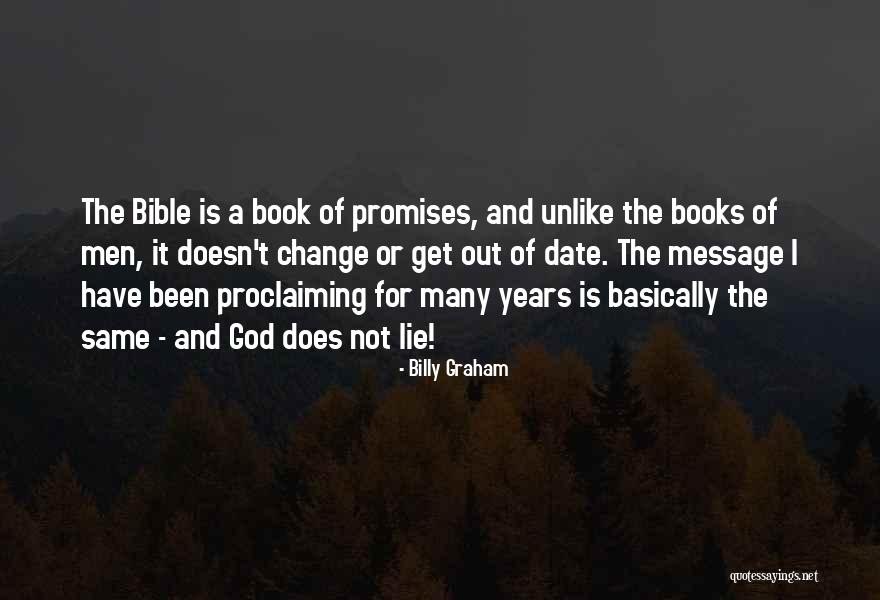 The Bible is a book of promises, and unlike the books of men, it doesn't change or get out of date. The message I have been proclaiming for many years is basically the same - and God does not lie! — Billy Graham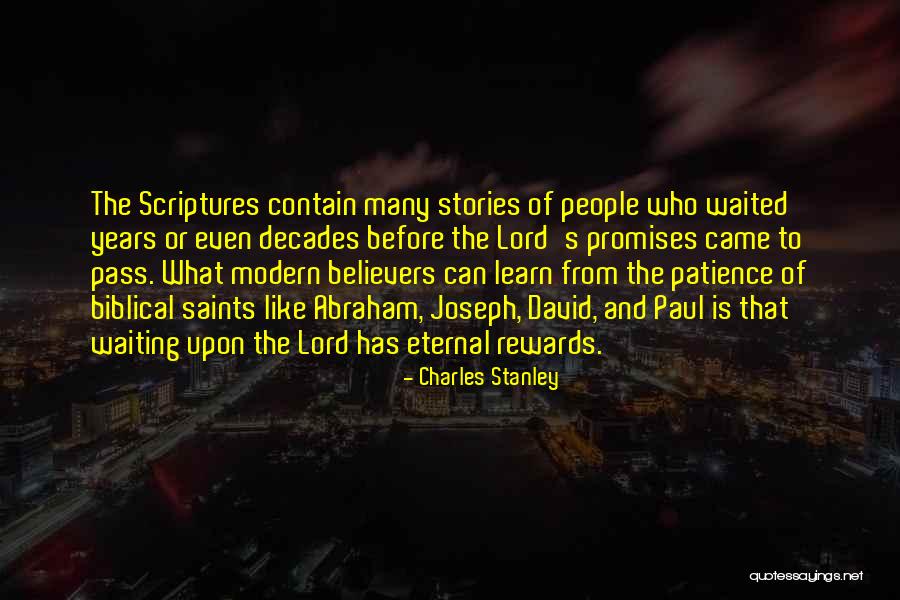 The Scriptures contain many stories of people who waited years or even decades before the Lord's promises came to pass. What modern believers can learn from the patience of biblical saints like Abraham, Joseph, David, and Paul is that waiting upon the Lord has eternal rewards. — Charles Stanley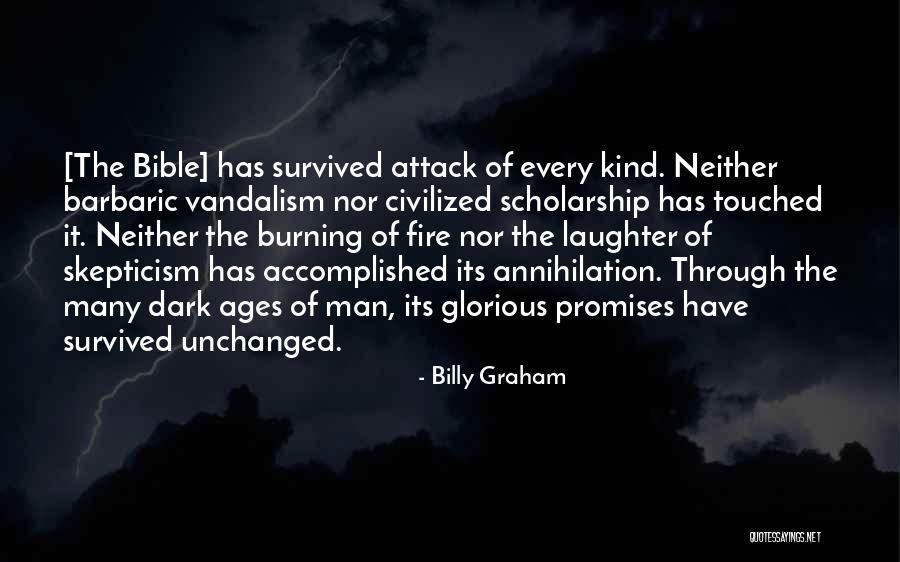 [The Bible] has survived attack of every kind. Neither barbaric vandalism nor civilized scholarship has touched it. Neither the burning of fire nor the laughter of skepticism has accomplished its annihilation. Through the many dark ages of man, its glorious promises have survived unchanged. — Billy Graham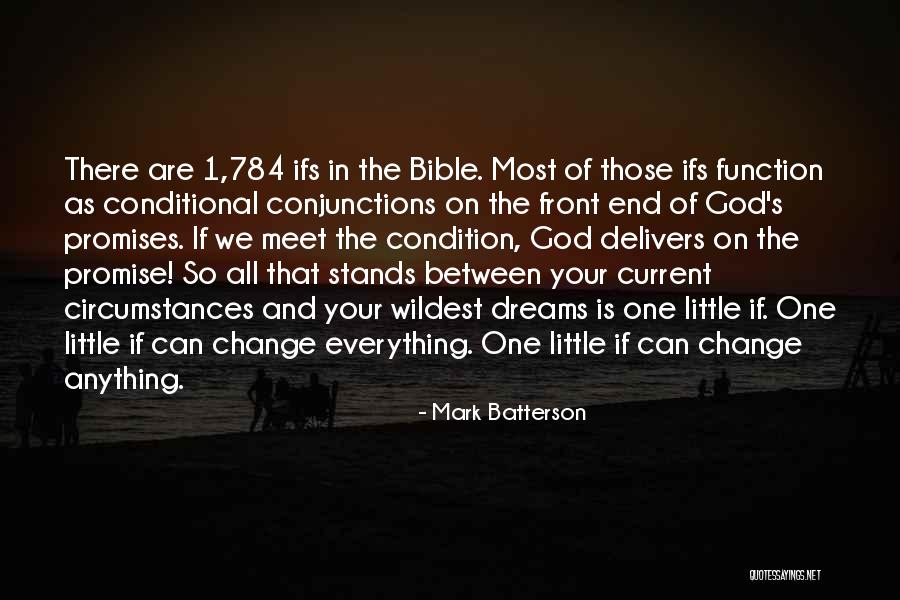 There are 1,784 ifs in the Bible. Most of those ifs function as conditional conjunctions on the front end of God's promises. If we meet the condition, God delivers on the promise! So all that stands between your current circumstances and your wildest dreams is one little if. One little if can change everything. One little if can change anything. — Mark Batterson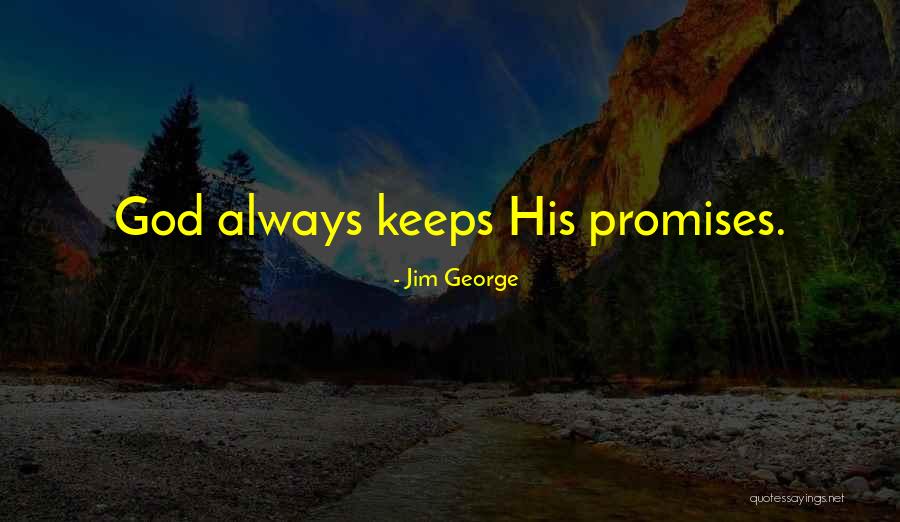 God always keeps His promises. — Jim George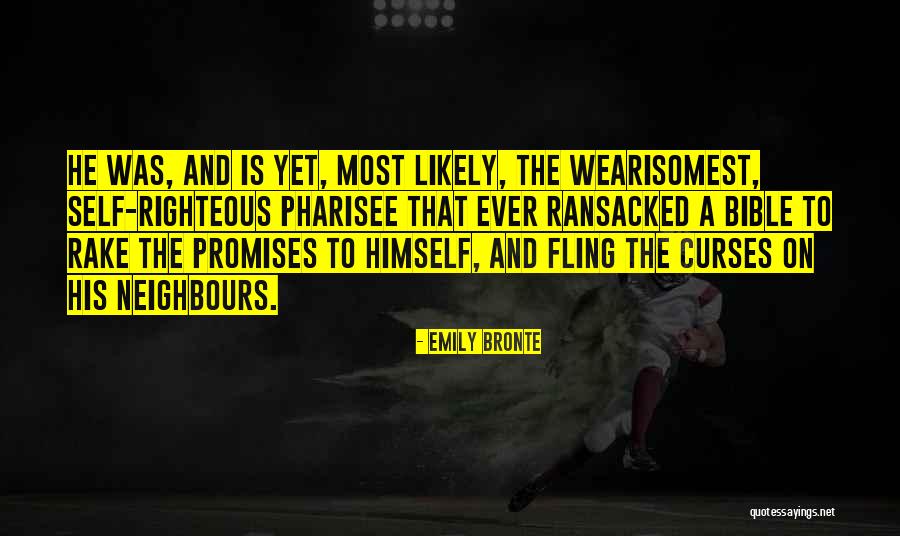 He was, and is yet, most likely, the wearisomest, self-righteous pharisee that ever ransacked a Bible to rake the promises to himself, and fling the curses on his neighbours. — Emily Bronte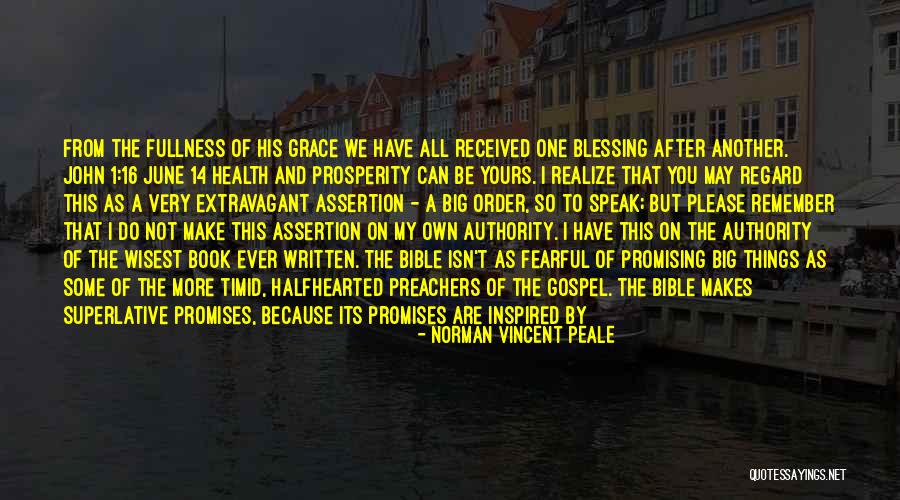 From the fullness of his grace we have all received one blessing after another. JOHN 1:16 JUNE 14 Health and prosperity can be yours. I realize that you may regard this as a very extravagant assertion - a big order, so to speak; but please remember that I do not make this assertion on my own authority. I have this on the authority of the wisest Book ever written. The Bible isn't as fearful of promising big things as some of the more timid, halfhearted preachers of the gospel. The Bible makes superlative promises, because its promises are inspired by a loving and omnipotent God. But the Bible is also very subtle. And it points out that the blessings of health and prosperity are not easily given or easily received. Parenthetically, I want to say that by prosperity, the Bible does not mean merely material affluence; it means to enter abundantly into the blessings of God's grace. And it tells us that health and prosperity come to us when our soul is in harmony with — Norman Vincent Peale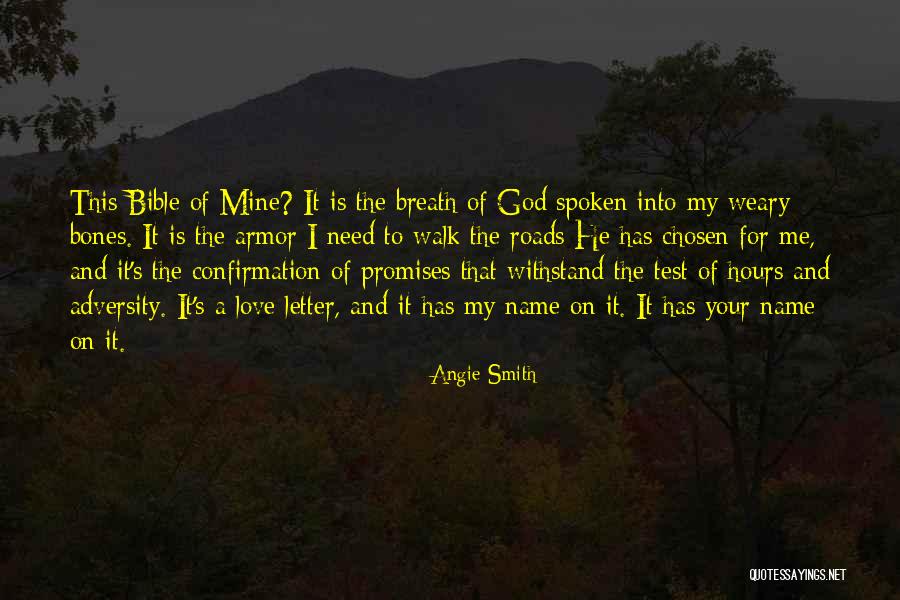 This Bible of Mine? It is the breath of God spoken into my weary bones. It is the armor I need to walk the roads He has chosen for me, and it's the confirmation of promises that withstand the test of hours and adversity.
It's a love letter, and it has my name on it.
It has your name on it. — Angie Smith