Quotes & Sayings About Princesses And Queens
Enjoy reading and share 12 famous quotes about Princesses And Queens with everyone.
Top Princesses And Queens Quotes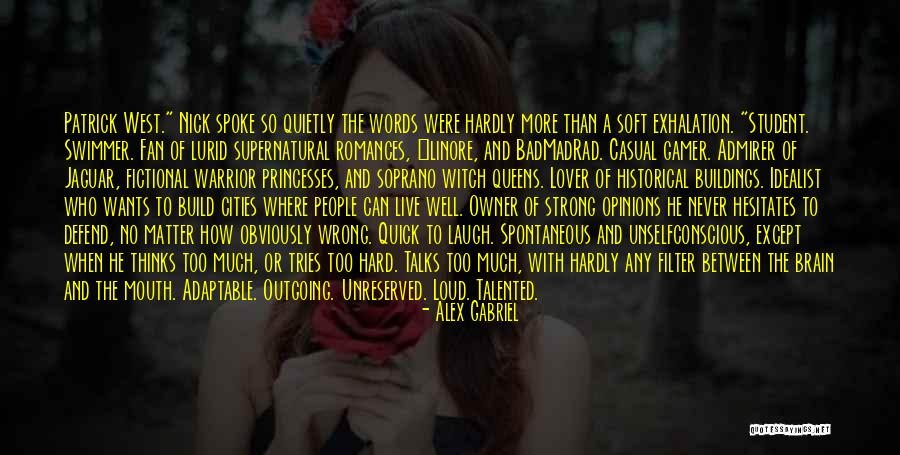 Patrick West." Nick spoke so quietly the words were hardly more than a soft exhalation. "Student. Swimmer. Fan of lurid supernatural romances, €linore, and BadMadRad. Casual gamer. Admirer of Jaguar, fictional warrior princesses, and soprano witch queens. Lover of historical buildings. Idealist who wants to build cities where people can live well. Owner of strong opinions he never hesitates to defend, no matter how obviously wrong. Quick to laugh. Spontaneous and unselfconscious, except when he thinks too much, or tries too hard. Talks too much, with hardly any filter between the brain and the mouth. Adaptable. Outgoing. Unreserved. Loud. Talented. Whole-hearted. Foolhardy. Stronger than he thinks. Wiser than he seems. — Alex Gabriel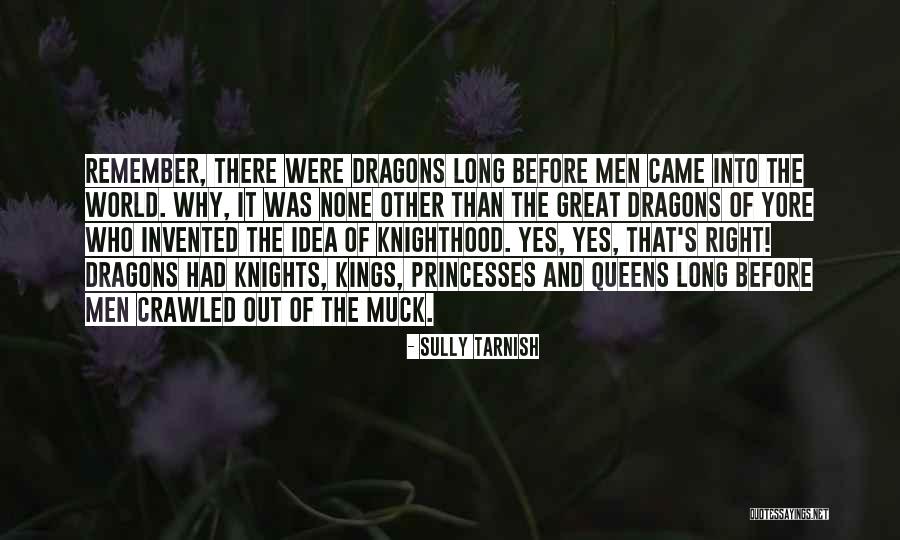 Remember, there were dragons long before men came into the world. Why, it was none other than The Great Dragons of Yore who invented the idea of knighthood. Yes, yes, that's right! Dragons had knights, Kings, princesses and queens long before men crawled out of the muck. — Sully Tarnish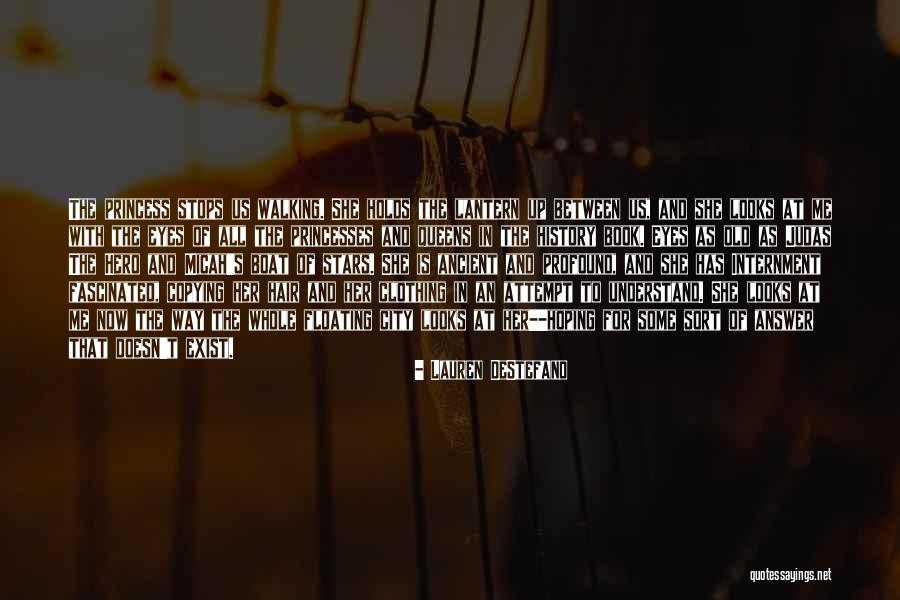 The princess stops us walking. She holds the lantern up between us, and she looks at me with the eyes of all the princesses and queens in the history book. Eyes as old as Judas The Hero and Micah's boat of stars. She is ancient and profound, and she has Internment fascinated, copying her hair and her clothing in an attempt to understand. She looks at me now the way the whole floating city looks at her--hoping for some sort of answer that doesn't exist. — Lauren DeStefano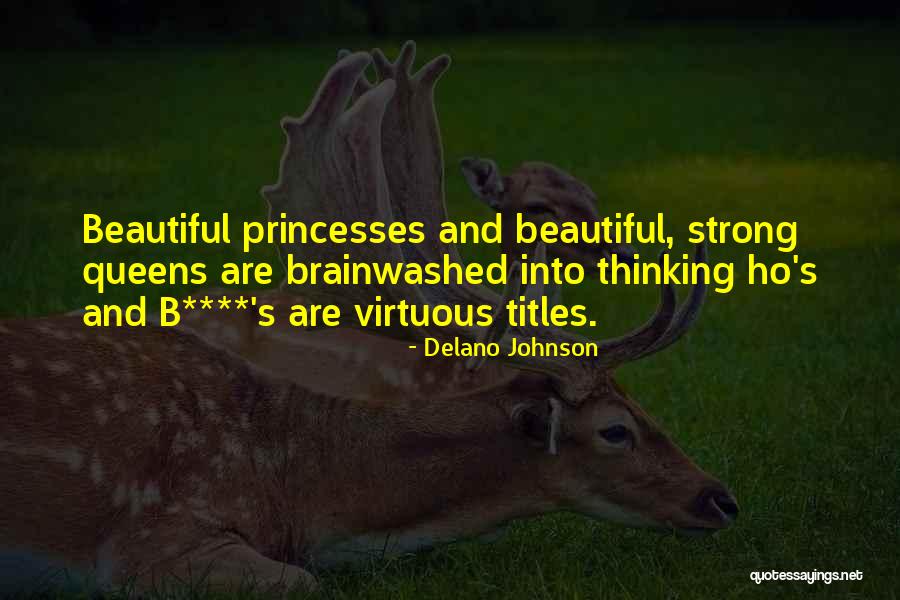 Beautiful princesses and beautiful, strong queens are brainwashed into thinking ho's and B****'s are virtuous titles. — Delano Johnson
Those of us who believe in princesses are often laughed at. But I believe the world needs princesses and dukes and queens and kings. We need people who glitter and shine and make a room silent with their entrance. We need them the same way we need ice cream and soccer and music and stories. Oh, how we need stories. — Beverly Bartlett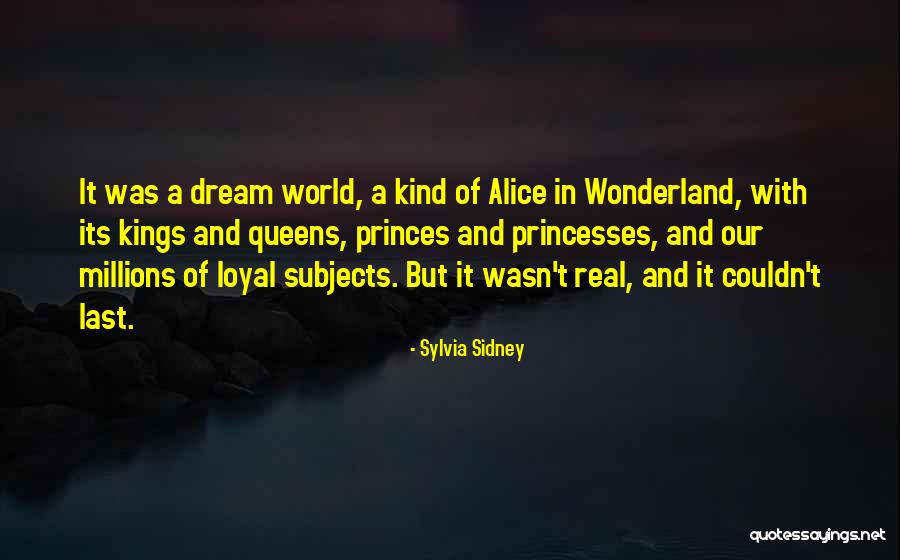 It was a dream world, a kind of Alice in Wonderland, with its kings and queens, princes and princesses, and our millions of loyal subjects. But it wasn't real, and it couldn't last. — Sylvia Sidney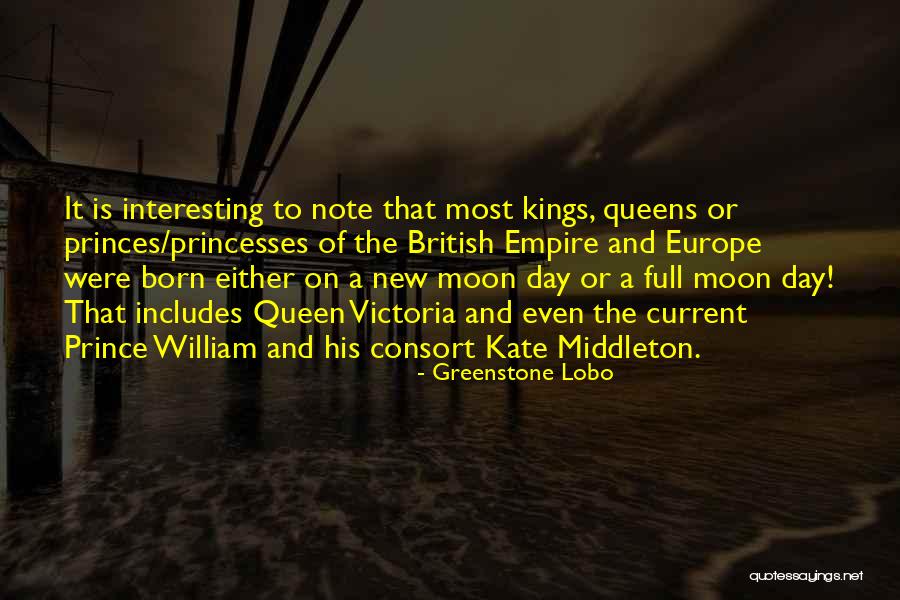 It is interesting to note that most kings, queens or princes/princesses of the British Empire and Europe were born either on a new moon day or a full moon day! That includes Queen Victoria and even the current Prince William and his consort Kate Middleton. — Greenstone Lobo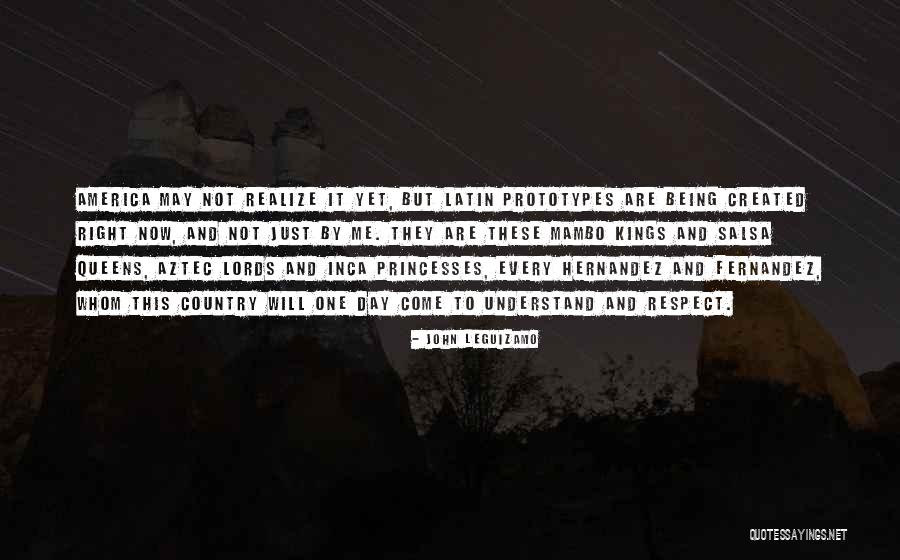 America may not realize it yet, but Latin prototypes are being created right now, and not just by me. They are these mambo kings and salsa queens, Aztec lords and Inca princesses, every Hernandez and Fernandez, whom this country will one day come to understand and respect. — John Leguizamo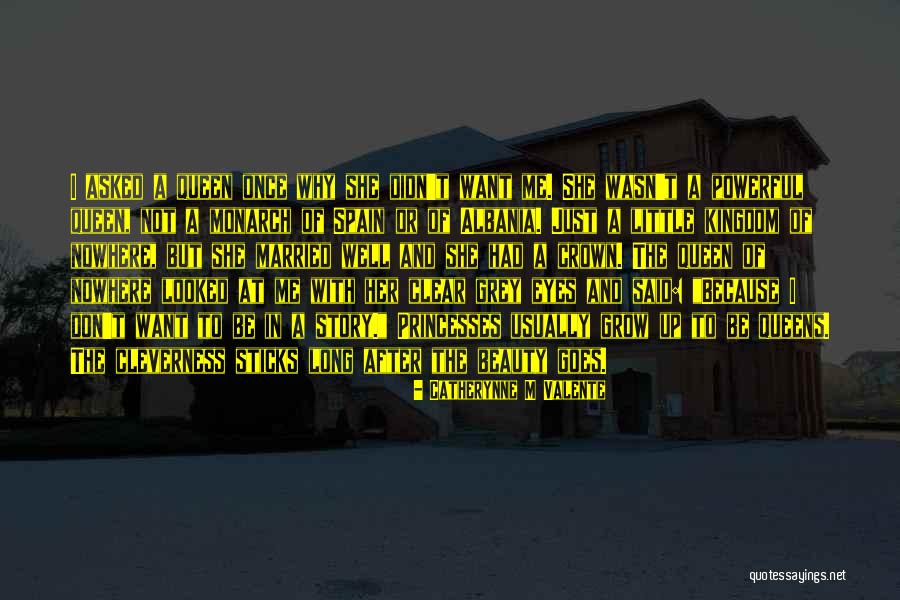 I asked a queen once why she didn't want me. She wasn't a powerful queen, not a monarch of Spain or of Albania. Just a little kingdom of nowhere, but she married well and she had a crown. The queen of nowhere looked at me with her clear grey eyes and said: "Because I don't want to be in a story." Princesses usually grow up to be queens. The cleverness sticks long after the beauty goes. — Catherynne M Valente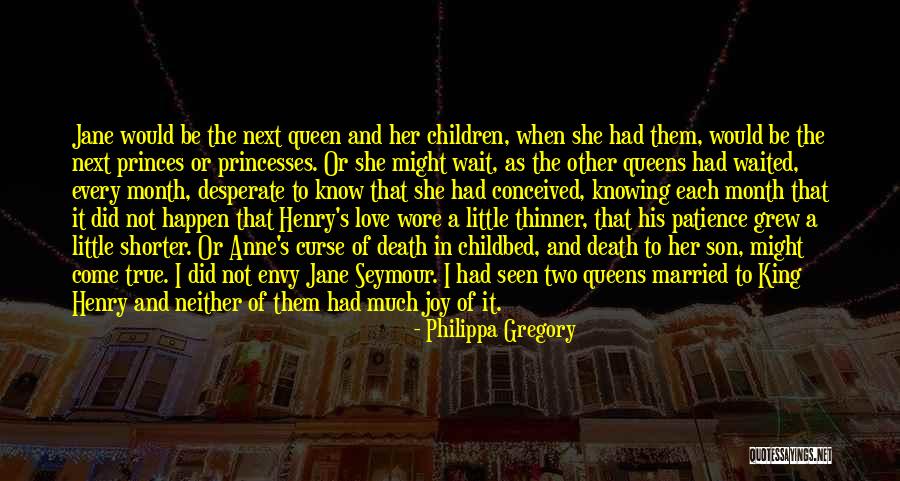 Jane would be the next queen and her children, when she had them, would be the next princes or princesses. Or she might wait, as the other queens had waited, every month, desperate to know that she had conceived, knowing each month that it did not happen that Henry's love wore a little thinner, that his patience grew a little shorter. Or Anne's curse of death in childbed, and death to her son, might come true. I did not envy Jane Seymour. I had seen two queens married to King Henry and neither of them had much joy of it. — Philippa Gregory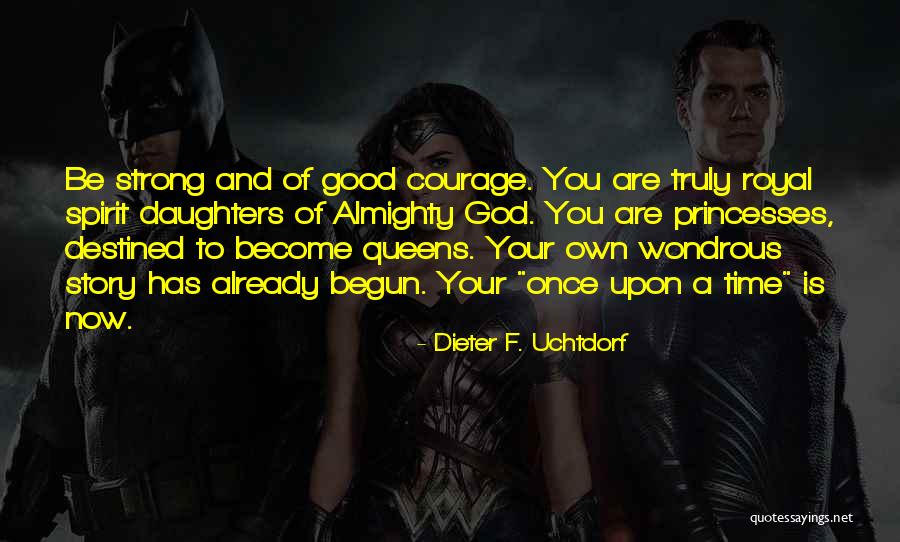 Be strong and of good courage. You are truly royal spirit daughters of Almighty God. You are princesses, destined to become queens. Your own wondrous story has already begun. Your "once upon a time" is now. — Dieter F. Uchtdorf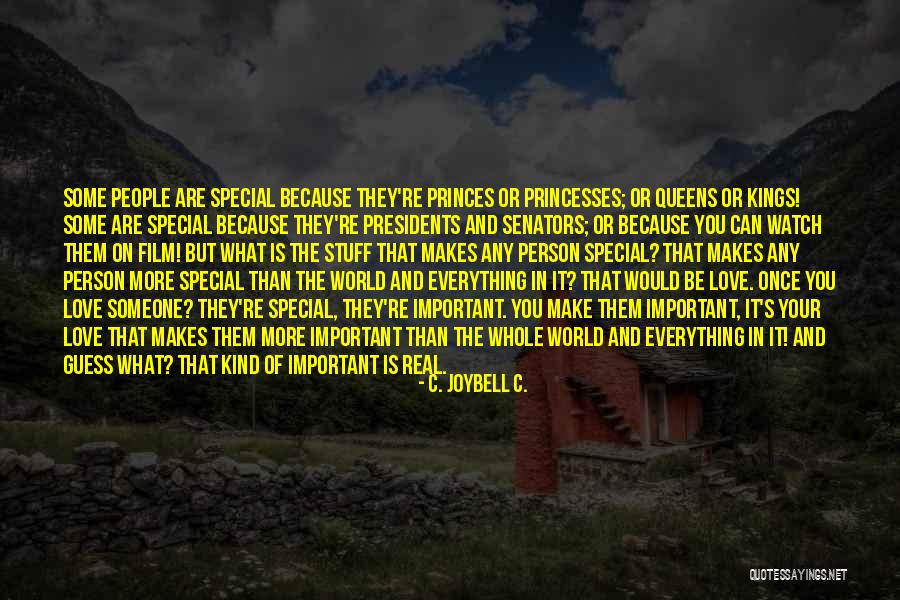 Some people are special because they're princes or princesses; or queens or kings! Some are special because they're presidents and senators; or because you can watch them on film! But what is the stuff that makes any person special? That makes any person more special than the world and everything in it? That would be love. Once you love someone? They're special, they're important. You make them important, it's your love that makes them more important than the whole world and everything in it! And guess what? That kind of important is real. — C. JoyBell C.