Quotes & Sayings About Pressure To Be Beautiful
Enjoy reading and share 31 famous quotes about Pressure To Be Beautiful with everyone.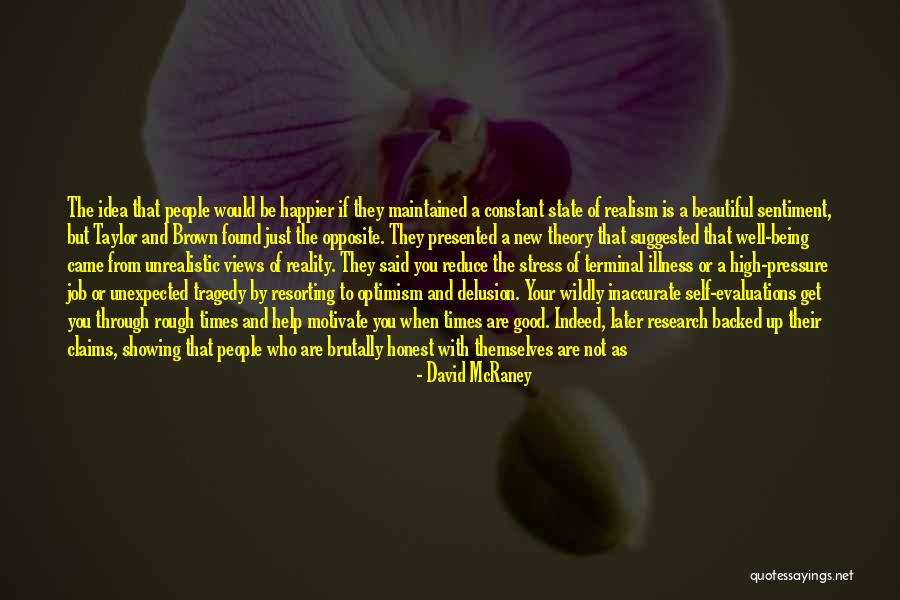 The idea that people would be happier if they maintained a constant state of realism is a beautiful sentiment, but Taylor and Brown found just the opposite. They presented a new theory that suggested that well-being came from unrealistic views of reality. They said you reduce the stress of terminal illness or a high-pressure job or unexpected tragedy by resorting to optimism and delusion. Your wildly inaccurate self-evaluations get you through rough times and help motivate you when times are good. Indeed, later research backed up their claims, showing that people who are brutally honest with themselves are not as happy day to day as people with unrealistic assumptions about their abilities. People who take credit for the times when things go their way but who put the blame on others when they stumble or fall are generally happier people. — David McRaney
Then," he says, "as my mind got functioning, everything was just beautiful. There was no right or wrong feeling, no social pressure. I believe that's what heaven's going to be like ... "
p 55 — Rachel Simon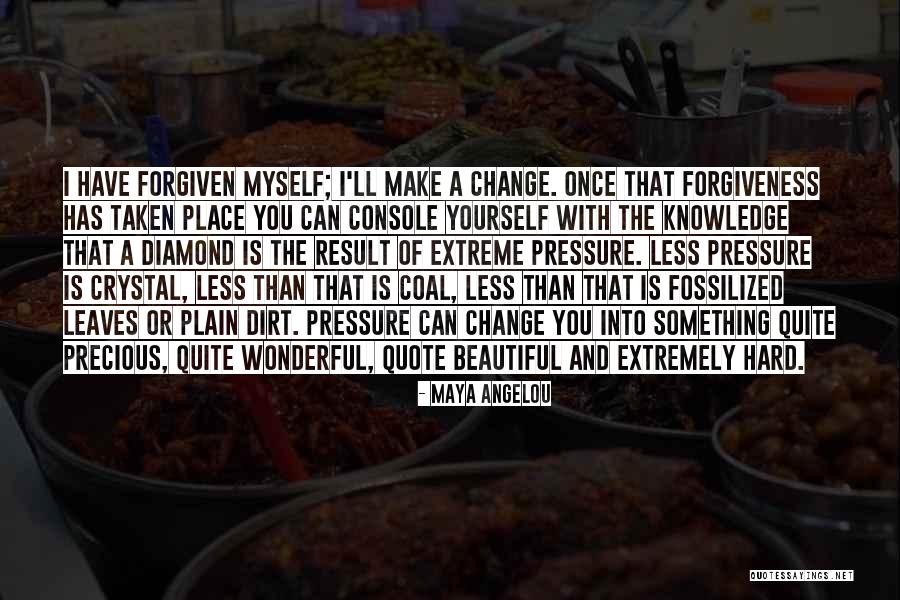 I have forgiven myself; I'll make a change. Once that forgiveness has taken place you can console yourself with the knowledge that a diamond is the result of extreme pressure. Less pressure is crystal, less than that is coal, less than that is fossilized leaves or plain dirt. Pressure can change you into something quite precious, quite wonderful, quote beautiful and extremely hard. — Maya Angelou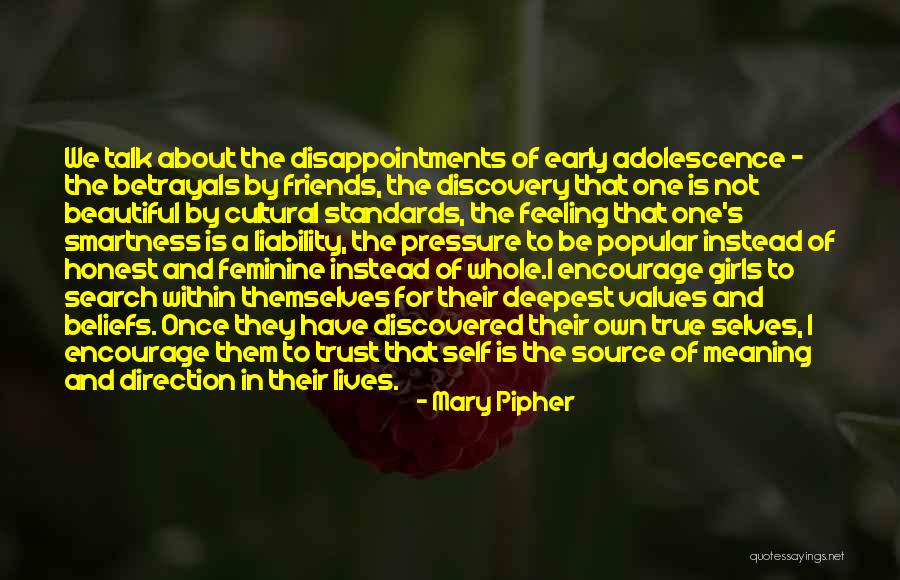 We talk about the disappointments of early adolescence - the betrayals by friends, the discovery that one is not beautiful by cultural standards, the feeling that one's smartness is a liability, the pressure to be popular instead of honest and feminine instead of whole.
I encourage girls to search within themselves for their deepest values and beliefs. Once they have discovered their own true selves, I encourage them to trust that self is the source of meaning and direction in their lives. — Mary Pipher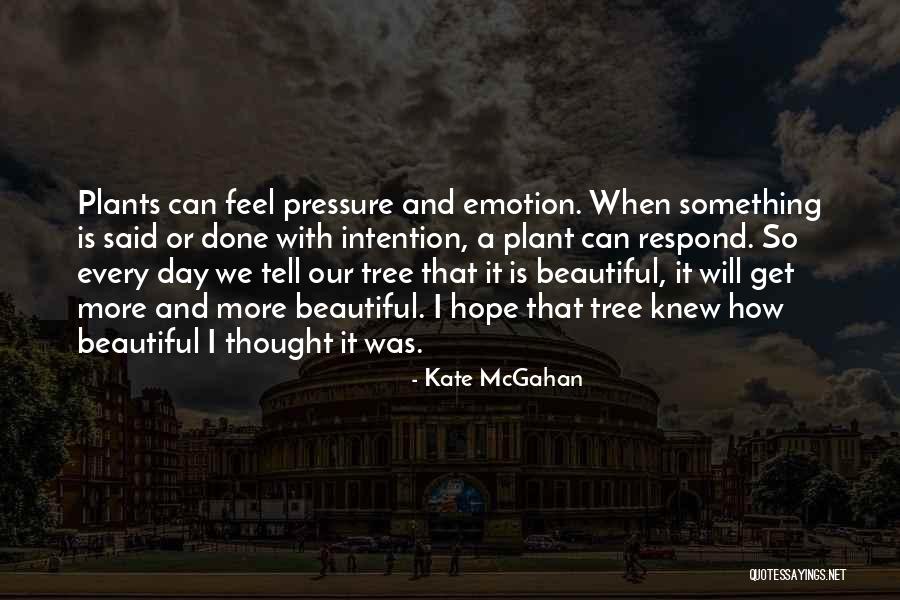 Plants can feel pressure and emotion. When something is said or done with intention, a plant can respond. So every day we tell our tree that it is beautiful, it will get more and more beautiful. I hope that tree knew how beautiful I thought it was. — Kate McGahan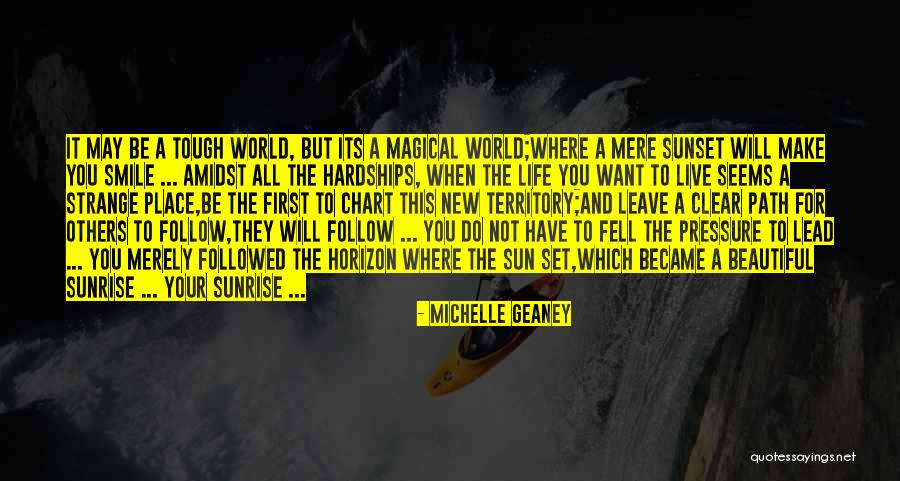 It may be a tough world, but its a magical world;
Where a mere sunset will make you smile ...
Amidst all the hardships,
When the life you want to live seems a strange place,
Be the first to chart this new territory;
And leave a clear path for others to follow,
They will follow ...
You do not have to fell the pressure to lead ...
You merely followed the horizon where the sun set,
which became a beautiful sunrise ...
Your Sunrise ... — Michelle Geaney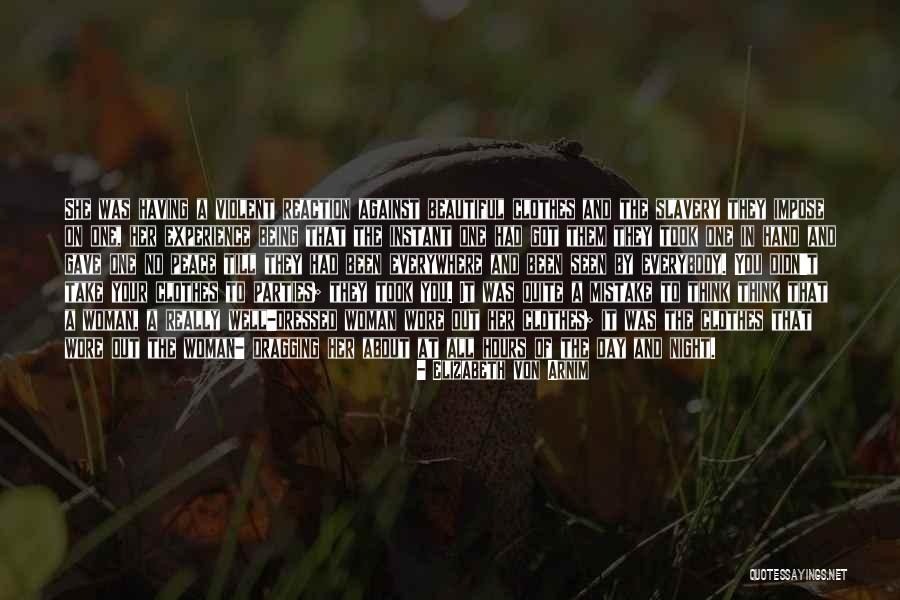 She was having a violent reaction against beautiful clothes and the slavery they impose on one, her experience being that the instant one had got them they took one in hand and gave one no peace till they had been everywhere and been seen by everybody. You didn't take your clothes to parties; they took you. It was quite a mistake to think think that a woman, a really well-dressed woman wore out her clothes; it was the clothes that wore out the woman- dragging her about at all hours of the day and night. — Elizabeth Von Arnim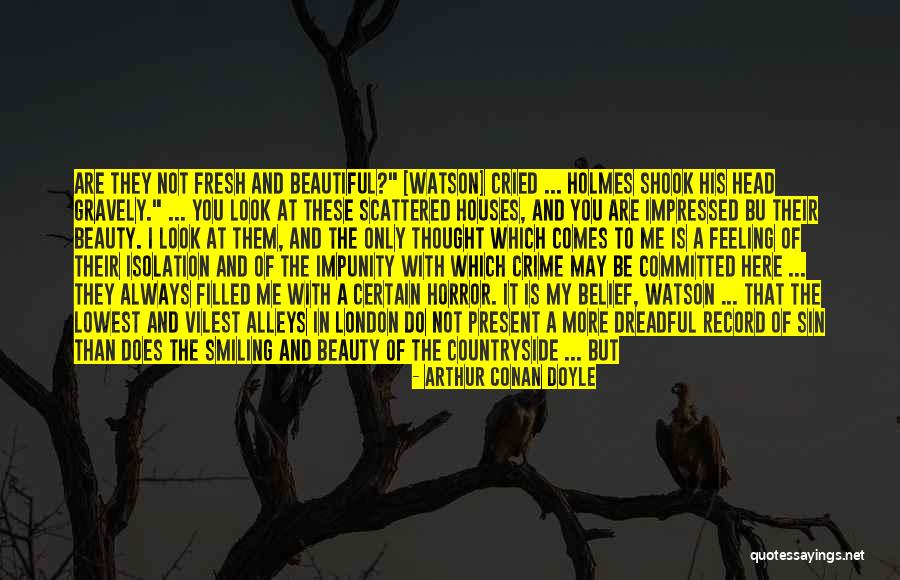 Are they not fresh and beautiful?" [Watson] cried ...
Holmes shook his head gravely.
" ... You look at these scattered houses, and you are impressed bu their beauty. I look at them, and the only thought which comes to me is a feeling of their isolation and of the impunity with which crime may be committed here ... They always filled me with a certain horror. It is my belief, Watson ... that the lowest and vilest alleys in London do not present a more dreadful record of sin than does the smiling and beauty of the countryside ... But the reason is obvious. The pressure of public opinion can do in the town what the law cannot accomplish. — Arthur Conan Doyle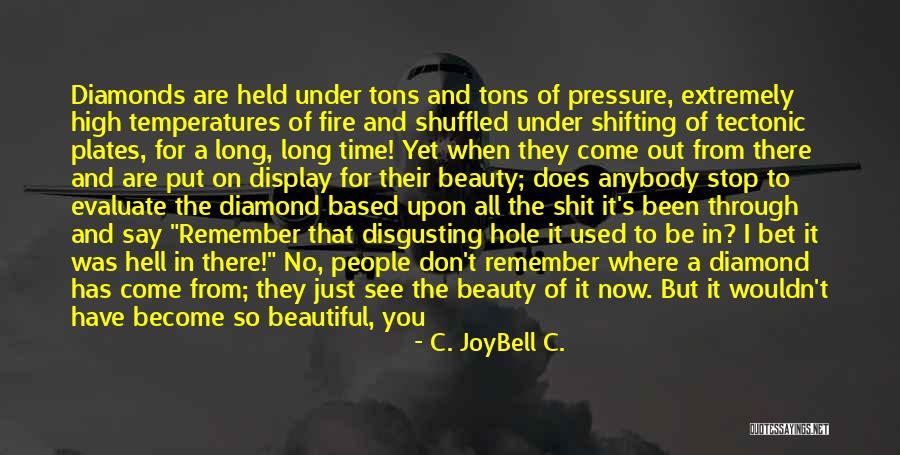 Diamonds are held under tons and tons of pressure, extremely high temperatures of fire and shuffled under shifting of tectonic plates, for a long, long time! Yet when they come out from there and are put on display for their beauty; does anybody stop to evaluate the diamond based upon all the shit it's been through and say "Remember that disgusting hole it used to be in? I bet it was hell in there!" No, people don't remember where a diamond has come from; they just see the beauty of it now. But it wouldn't have become so beautiful, you know, if not for all of that! So why should we look at other people, or at ourselves and evaluate them/ourselves based upon their/our pasts? Shouldn't we forget that? And only see the beauty that is in front of our eyes? Whatever it was, it made you beautiful! And that is what matters! — C. JoyBell C.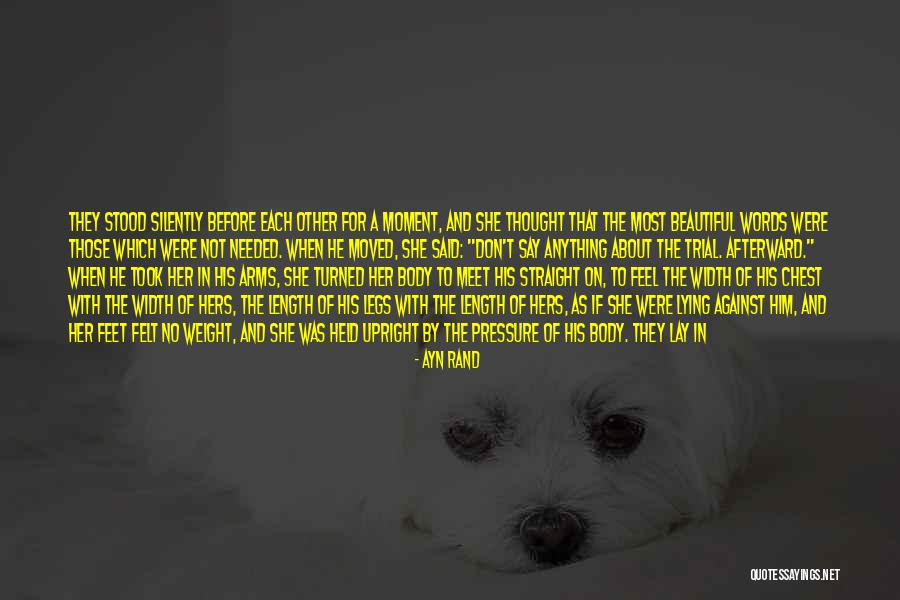 They stood silently before each other for a moment, and she thought that the most beautiful words were those which were not needed. When he moved, she said: "Don't say anything about the trial. Afterward." When he took her in his arms, she turned her body to meet his straight on, to feel the width of his chest with the width of hers, the length of his legs with the length of hers, as if she were lying against him, and her feet felt no weight, and she was held upright by the pressure of his body. They lay in bed together that night, and they did not know when they slept, the intervals of exhausted unconsciousness as intense an act of union as the convulsed meetings of their bodies. — Ayn Rand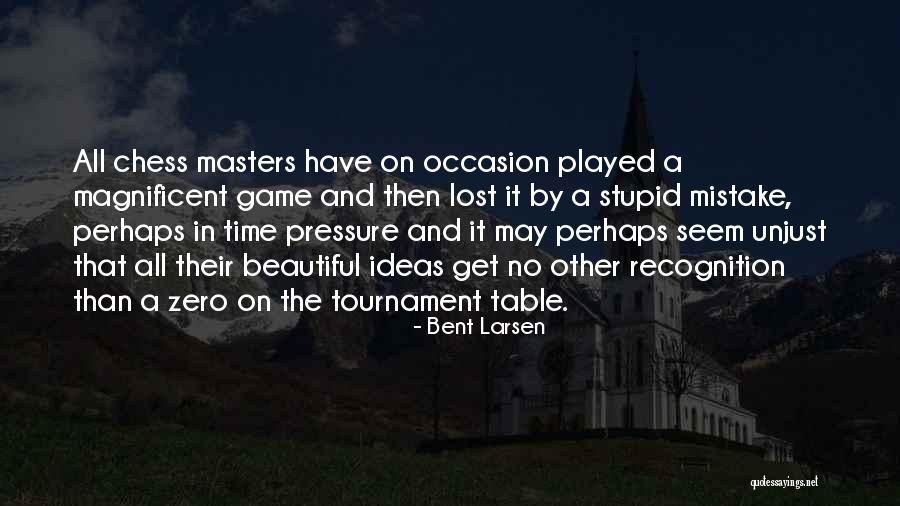 All chess masters have on occasion played a magnificent game and then lost it by a stupid mistake, perhaps in time pressure and it may perhaps seem unjust that all their beautiful ideas get no other recognition than a zero on the tournament table. — Bent Larsen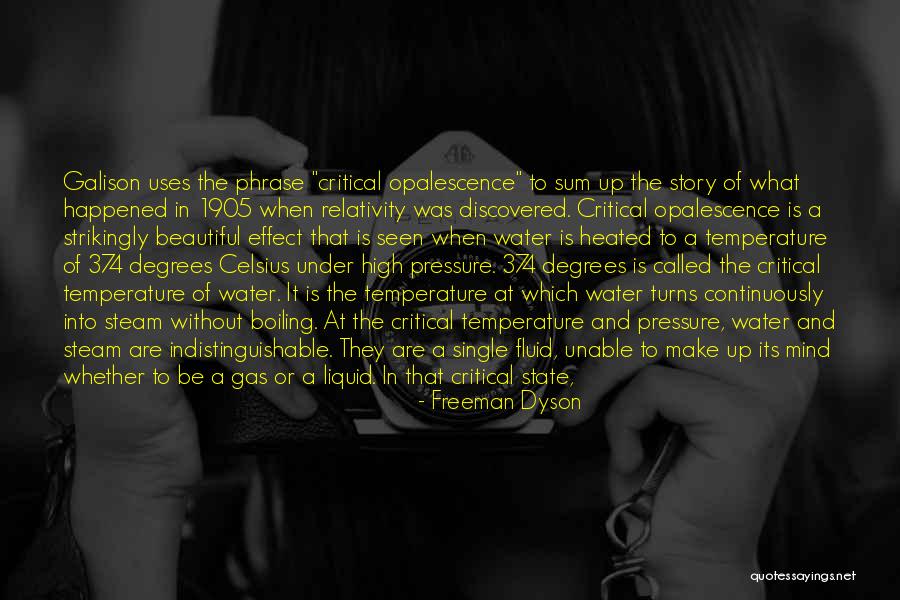 Galison uses the phrase "critical opalescence" to sum up the story of what happened in 1905 when relativity was discovered. Critical opalescence is a strikingly beautiful effect that is seen when water is heated to a temperature of 374 degrees Celsius under high pressure. 374 degrees is called the critical temperature of water. It is the temperature at which water turns continuously into steam without boiling. At the critical temperature and pressure, water and steam are indistinguishable. They are a single fluid, unable to make up its mind whether to be a gas or a liquid. In that critical state, the fluid is continually fluctuating between gas and liquid, and the fluctuations are seen visually as a multicolored sparkling. The sparkling is called opalescence because it is also seen in opal jewels which have a similar multicolored radiance. — Freeman Dyson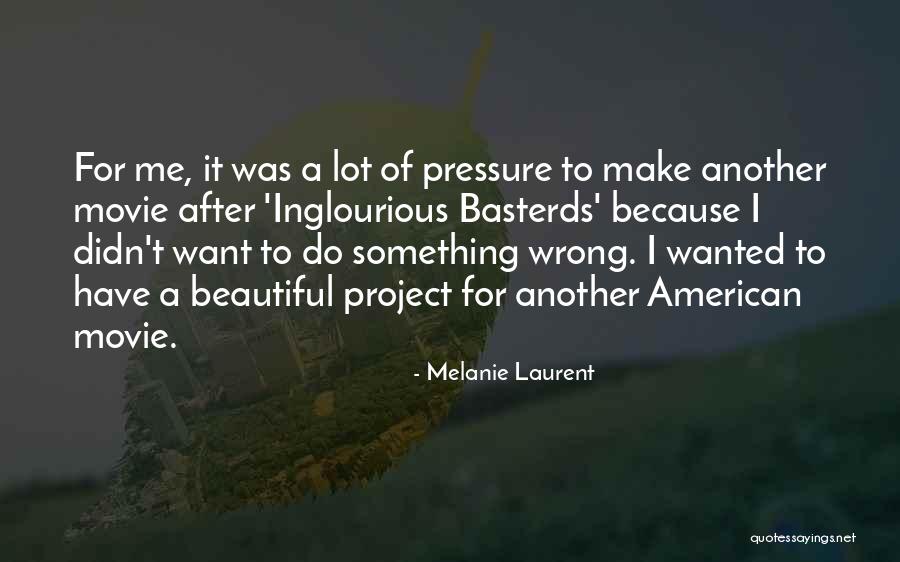 For me, it was a lot of pressure to make another movie after 'Inglourious Basterds' because I didn't want to do something wrong. I wanted to have a beautiful project for another American movie. — Melanie Laurent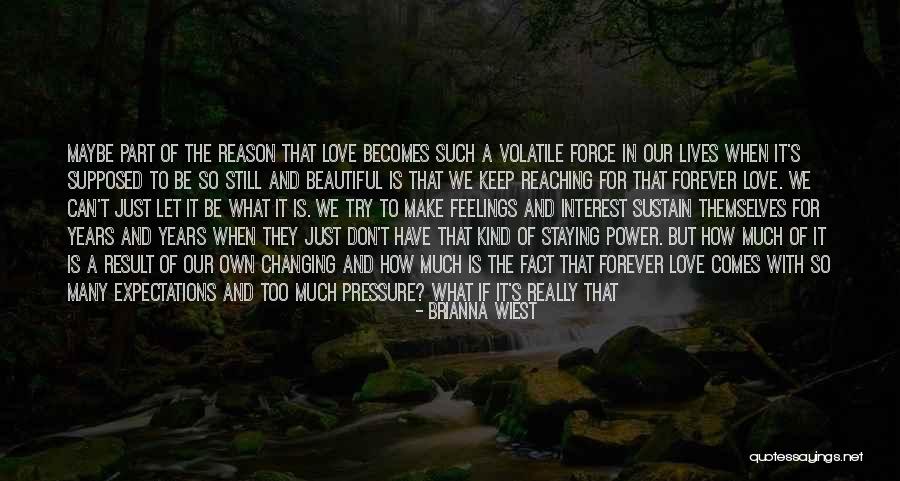 Maybe part of the reason that love becomes such a volatile force in our lives when it's supposed to be so still and beautiful is that we keep reaching for that forever love. We can't just let it be what it is. We try to make feelings and interest sustain themselves for years and years when they just don't have that kind of staying power. But how much of it is a result of our own changing and how much is the fact that forever love comes with so many expectations and too much pressure? What if it's really that nobody is to blame, other than whoever instilled in us the idea that "forever" was the ultimate kind of love? Because what if we stopped expecting and started just being. I think that's what scares people. I think they choose to not love someone because of what it means for the long-term instead of having any interspersed bits of love. But those bits might be all we ever have. It's out of them that the rest grows. — Brianna Wiest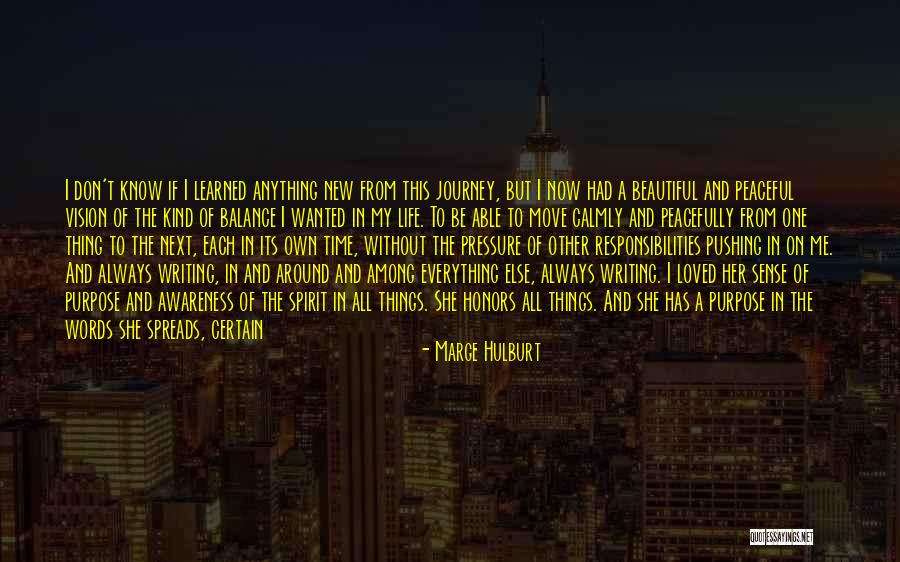 I don't know if I learned anything new from this journey, but I now had a beautiful and peaceful vision of the kind of balance I wanted in my life. To be able to move calmly and peacefully from one thing to the next, each in its own time, without the pressure of other responsibilities pushing in on me. And always writing, in and around and among everything else, always writing. I loved her sense of purpose and awareness of the spirit in all things. She honors all things. And she has a purpose in the words she spreads, certain words for certain people, and she watches, and she celebrates the blossoming that comes from her words. She has a rhythm for her everyday life which is productive and intentional, measured and life-giving. — Marge Hulburt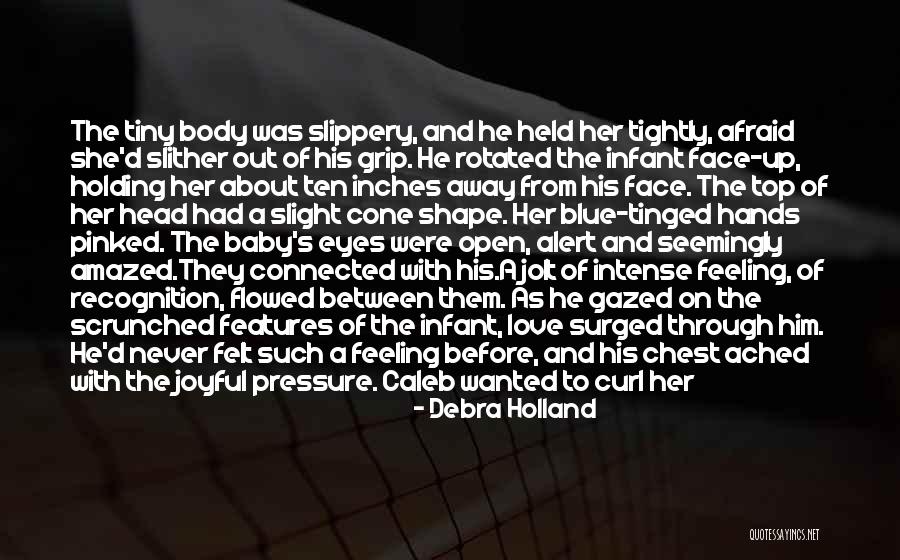 The tiny body was slippery, and he held her tightly, afraid she'd slither out of his grip. He rotated the infant face-up, holding her about ten inches away from his face. The top of her head had a slight cone shape. Her blue-tinged hands pinked. The baby's eyes were open, alert and seemingly amazed.
They connected with his.
A jolt of intense feeling, of recognition, flowed between them. As he gazed on the scrunched features of the infant, love surged through him. He'd never felt such a feeling before, and his chest ached with the joyful pressure. Caleb wanted to curl her to his chest and keep her safe. He pressed a kiss to her forehead, inhaling a scent that surprised him with its sweetness.
"My baby?" Maggie asked.
The infant broke eye contact with Caleb and turned her face toward the sound of her mother's voice. He blinked back moisture from his eyes and grinned. "You have a beautiful daughter. — Debra Holland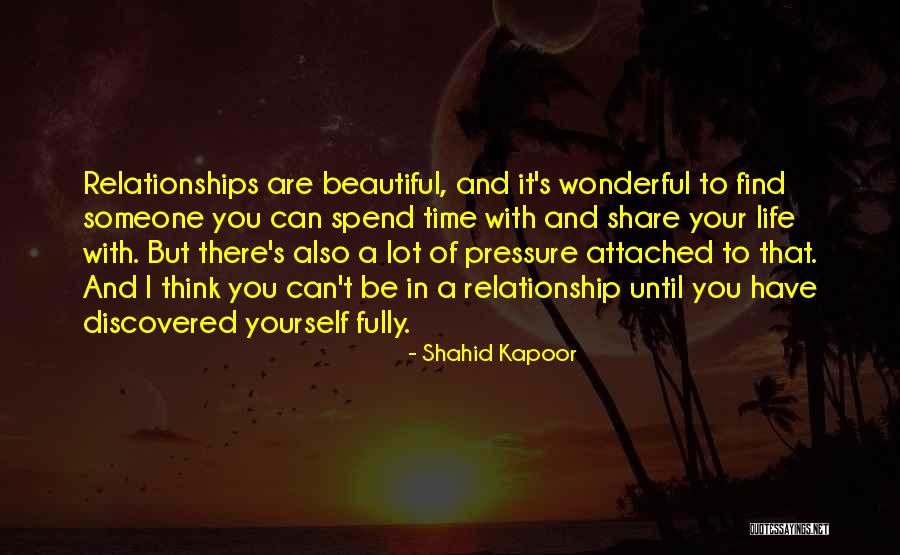 Relationships are beautiful, and it's wonderful to find someone you can spend time with and share your life with. But there's also a lot of pressure attached to that. And I think you can't be in a relationship until you have discovered yourself fully. — Shahid Kapoor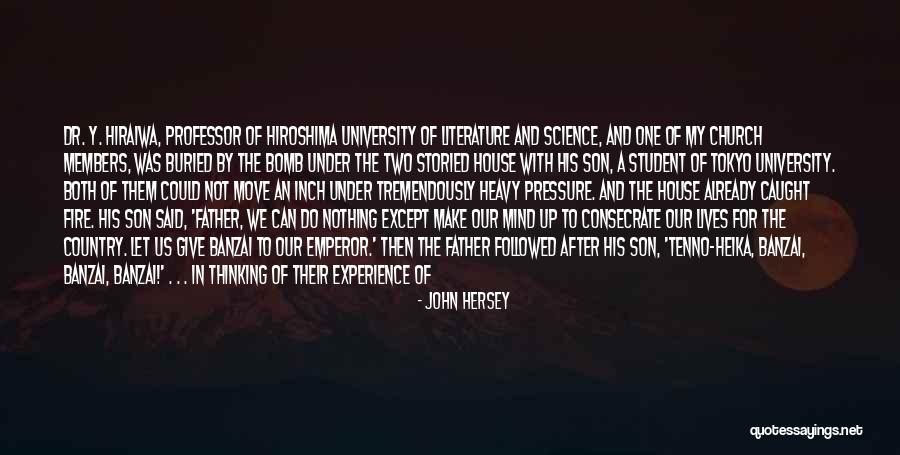 Dr. Y. Hiraiwa, professor of Hiroshima University of Literature and Science, and one of my church members, was buried by the bomb under the two storied house with his son, a student of Tokyo University. Both of them could not move an inch under tremendously heavy pressure. And the house already caught fire. His son said, 'Father, we can do nothing except make our mind up to consecrate our lives for the country. Let us give Banzai to our Emperor.' Then the father followed after his son, 'Tenno-heika, Banzai, Banzai, Banzai!' . . . In thinking of their experience of that time Dr. Hiraiwa repeated, 'What a fortunate that we are Japanese! It was my first time I ever tasted such a beautiful spirit when I decided to die for our Emperor. — John Hersey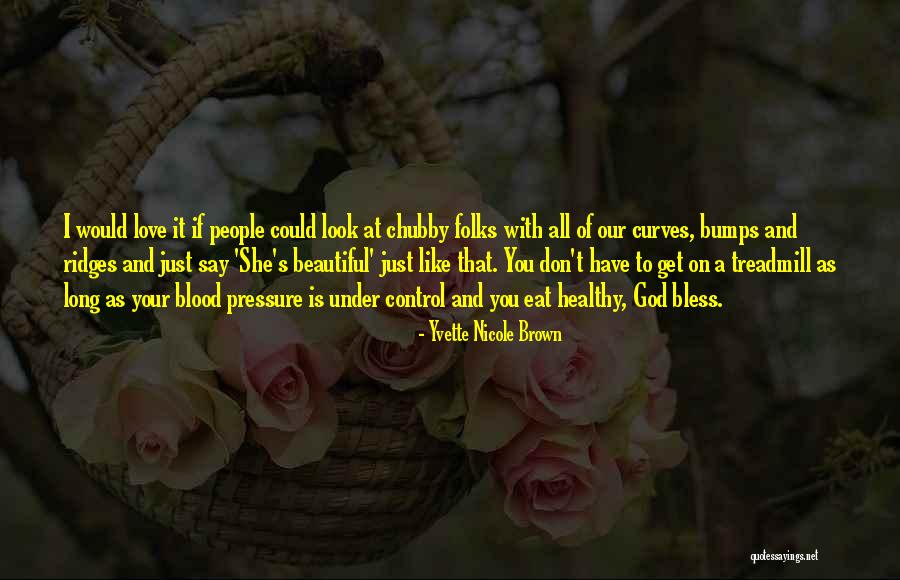 I would love it if people could look at chubby folks with all of our curves, bumps and ridges and just say 'She's beautiful' just like that. You don't have to get on a treadmill as long as your blood pressure is under control and you eat healthy, God bless. — Yvette Nicole Brown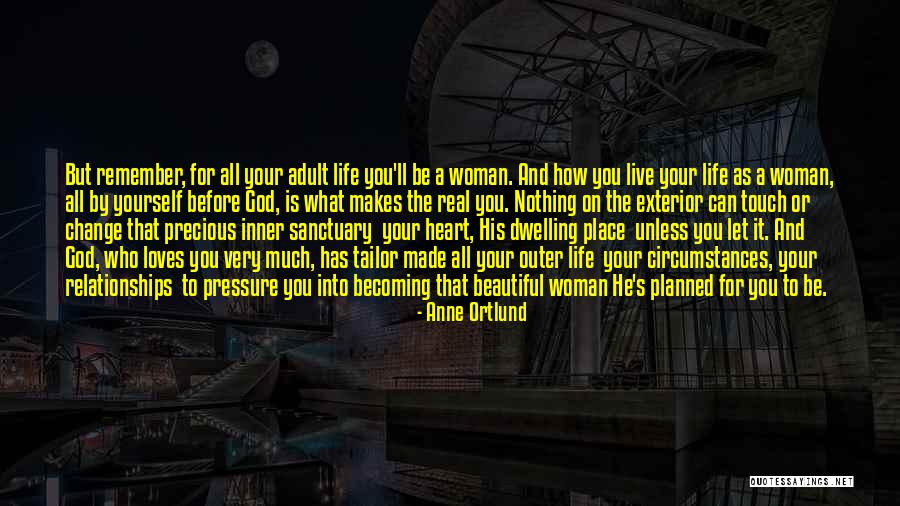 But remember, for all your adult life you'll be a woman. And how you live your life as a woman, all by yourself before God, is what makes the real you. Nothing on the exterior can touch or change that precious inner sanctuary
your heart, His dwelling place
unless you let it. And God, who loves you very much, has tailor made all your outer life
your circumstances, your relationships
to pressure you into becoming that beautiful woman He's planned for you to be. — Anne Ortlund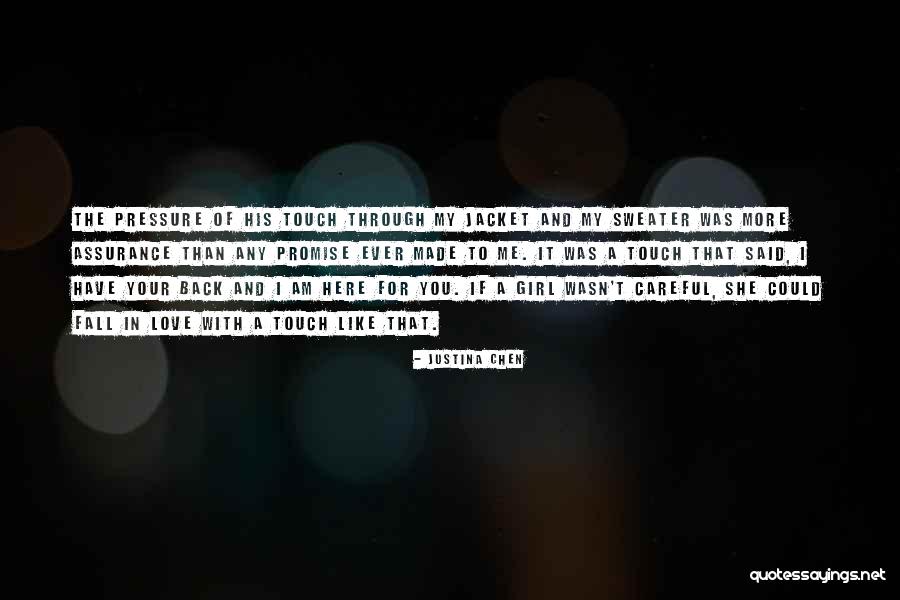 The pressure of his touch through my jacket and my sweater was more assurance than any promise ever made to me. It was a touch that said, I have your back and I am here for you. If a girl wasn't careful, she could fall in love with a touch like that. — Justina Chen
I don't have a lot of pressure on myself to be successful. I'm more of an artist. I just try to make myself more a part of the most beautiful painting as possible. And enjoy it. — Dean Potter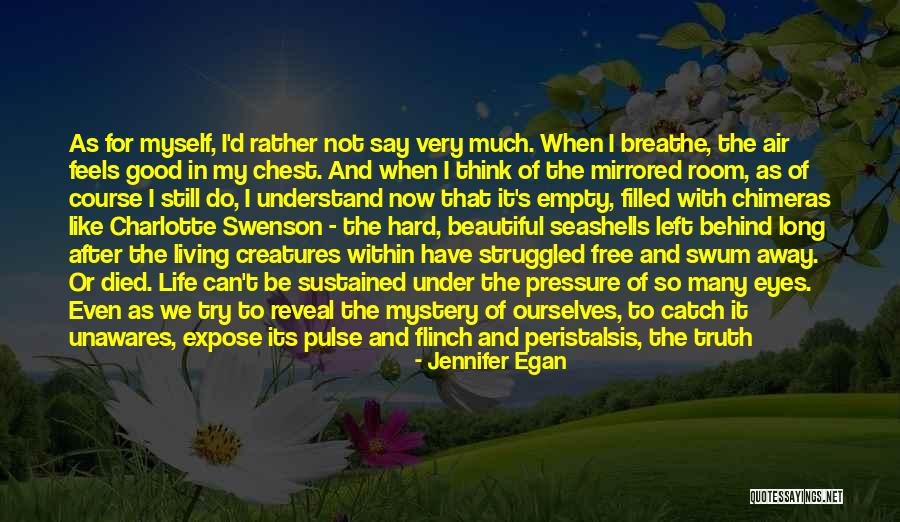 As for myself, I'd rather not say very much. When I breathe, the air feels good in my chest. And when I think of the mirrored room, as of course I still do, I understand now that it's empty, filled with chimeras like Charlotte Swenson - the hard, beautiful seashells left behind long after the living creatures within have struggled free and swum away. Or died. Life can't be sustained under the pressure of so many eyes. Even as we try to reveal the mystery of ourselves, to catch it unawares, expose its pulse and flinch and peristalsis, the truth has slipped away, burrowed further inside a dark, coiled privacy that replenishes itself like blood. It cannot be seen, much as one might wish to show it. It dies the instant it is touched by light. — Jennifer Egan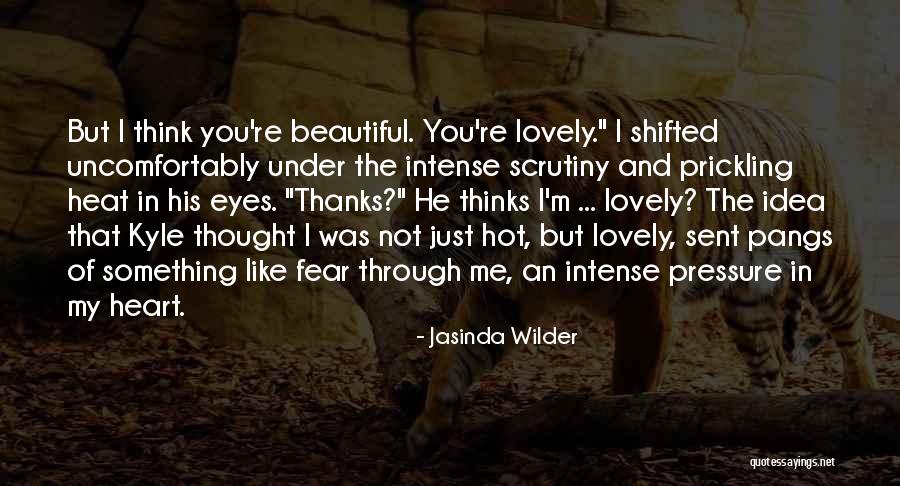 But I think you're beautiful. You're lovely." I shifted uncomfortably under the intense scrutiny and prickling heat in his eyes. "Thanks?" He thinks I'm ... lovely? The idea that Kyle thought I was not just hot, but lovely, sent pangs of something like fear through me, an intense pressure in my heart. — Jasinda Wilder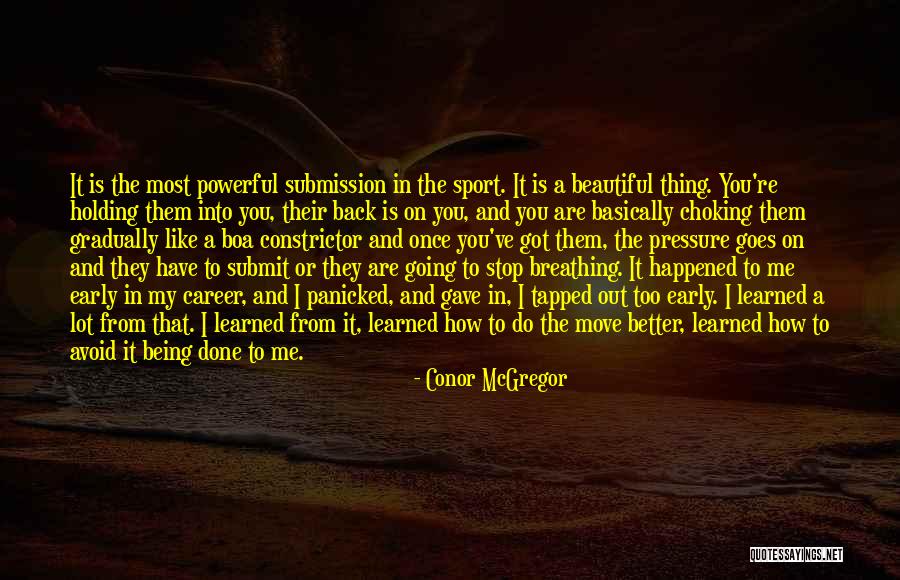 It is the most powerful submission in the sport. It is a beautiful thing. You're holding them into you, their back is on you, and you are basically choking them gradually like a boa constrictor and once you've got them, the pressure goes on and they have to submit or they are going to stop breathing. It happened to me early in my career, and I panicked, and gave in, I tapped out too early. I learned a lot from that. I learned from it, learned how to do the move better, learned how to avoid it being done to me. — Conor McGregor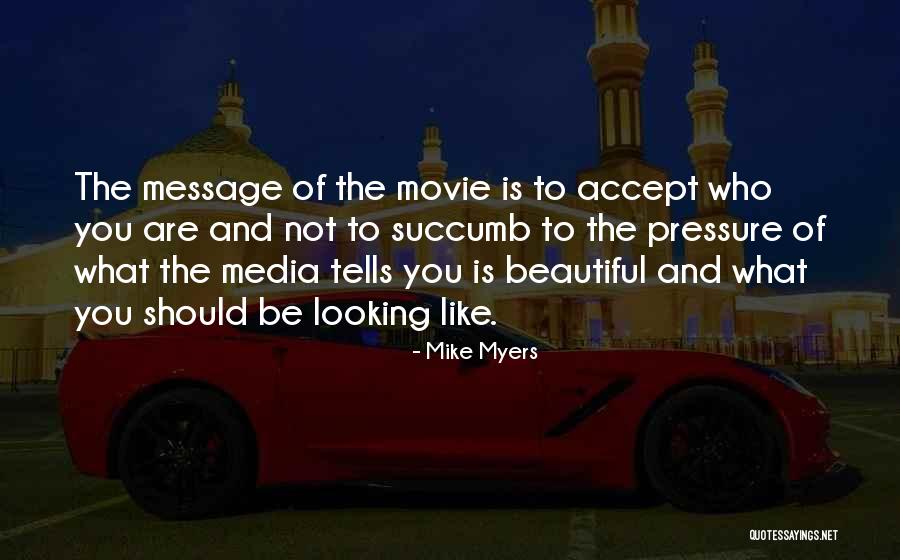 The message of the movie is to accept who you are and not to succumb to the pressure of what the media tells you is beautiful and what you should be looking like. — Mike Myers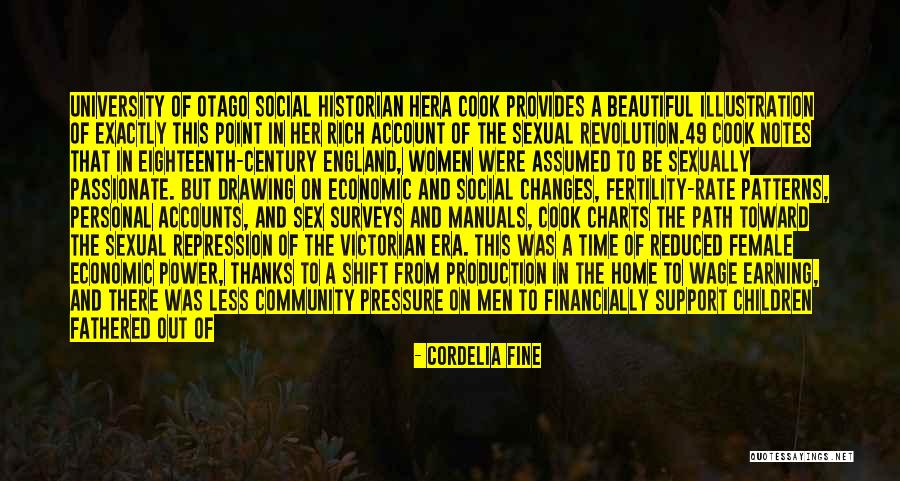 University of Otago social historian Hera Cook provides a beautiful illustration of exactly this point in her rich account of the sexual revolution.49 Cook notes that in eighteenth-century England, women were assumed to be sexually passionate. But drawing on economic and social changes, fertility-rate patterns, personal accounts, and sex surveys and manuals, Cook charts the path toward the sexual repression of the Victorian era. This was a time of reduced female economic power, thanks to a shift from production in the home to wage earning, and there was less community pressure on men to financially support children fathered out of wedlock. And so, in the absence of well-known, reliable birth control techniques, "women could not afford to enjoy sex. The risk made it too expensive a pleasure."50 — Cordelia Fine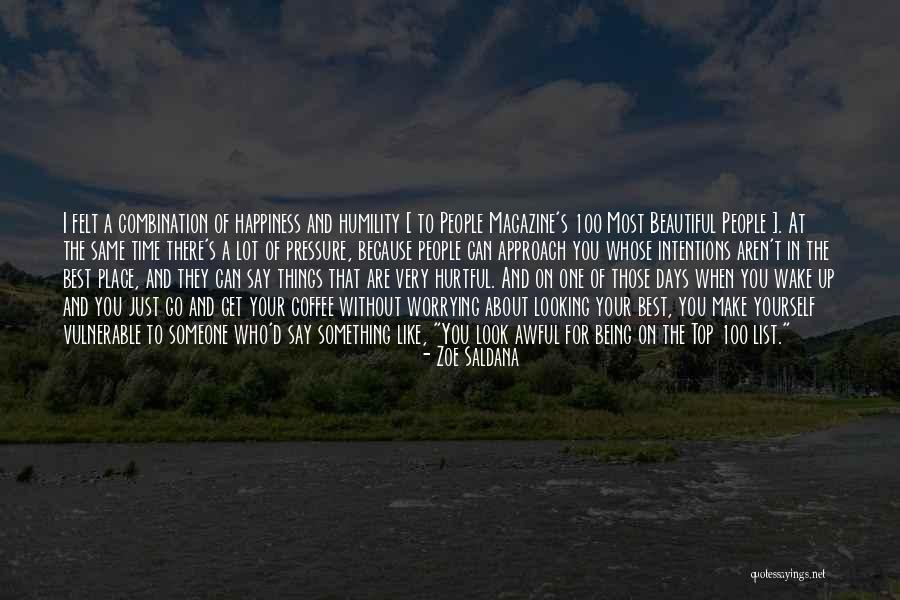 I felt a combination of happiness and humility [ to People Magazine's 100 Most Beautiful People ]. At the same time there's a lot of pressure, because people can approach you whose intentions aren't in the best place, and they can say things that are very hurtful. And on one of those days when you wake up and you just go and get your coffee without worrying about looking your best, you make yourself vulnerable to someone who'd say something like, "You look awful for being on the Top 100 list." — Zoe Saldana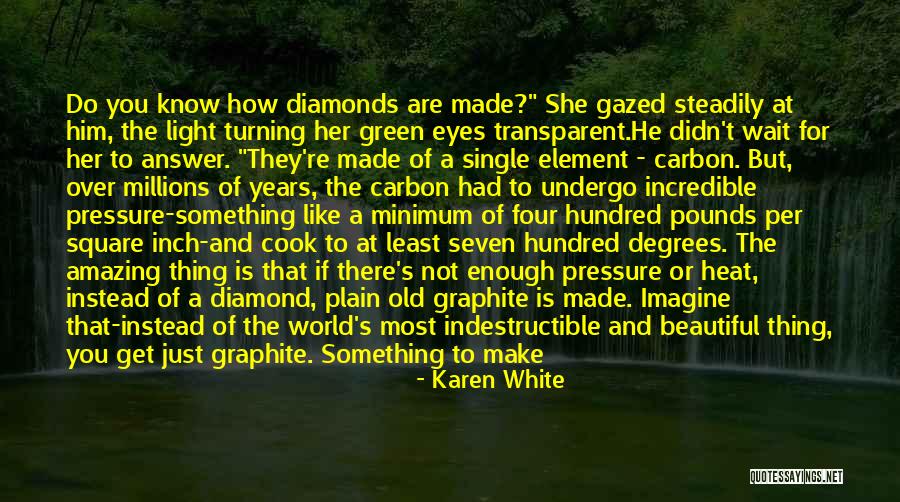 Do you know how diamonds are made?"
She gazed steadily at him, the light turning her green eyes transparent.
He didn't wait for her to answer. "They're made of a single element - carbon. But, over millions of years, the carbon had to undergo incredible pressure-something like a minimum of four hundred pounds per square inch-and cook to at least seven hundred degrees. The amazing thing is that if there's not enough pressure or heat, instead of a diamond, plain old graphite is made. Imagine that-instead of the world's most indestructible and beautiful thing, you get just graphite. Something to make pencils with. Sure, pencils are nice and useful. But they aren't diamonds. — Karen White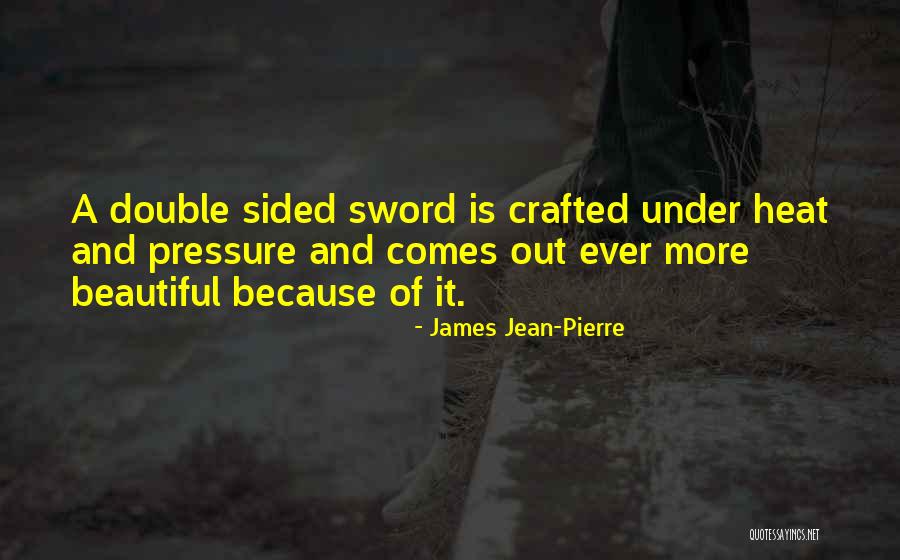 A double sided sword is crafted under heat and pressure and comes out ever more beautiful because of it. — James Jean-Pierre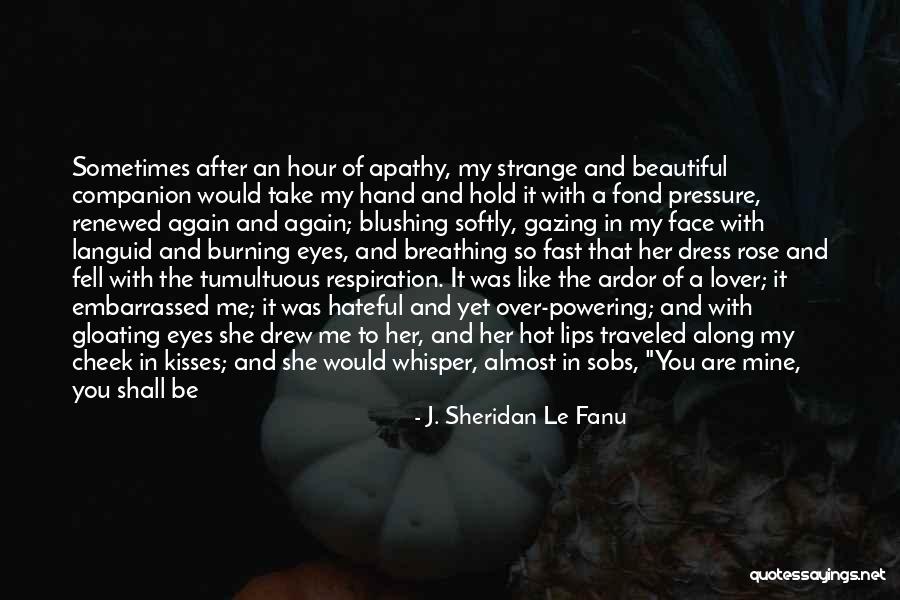 Sometimes after an hour of apathy, my strange and beautiful companion would take my hand and hold it with a fond pressure, renewed again and again; blushing softly, gazing in my face with languid and burning eyes, and breathing so fast that her dress rose and fell with the tumultuous respiration. It was like the ardor of a lover; it embarrassed me; it was hateful and yet over-powering; and with gloating eyes she drew me to her, and her hot lips traveled along my cheek in kisses; and she would whisper, almost in sobs, "You are mine, you shall be mine, you and I are one for ever." Then she had thrown herself back in her chair, with her small hands over her eyes, leaving me trembling. — J. Sheridan Le Fanu