Precipices Quotes & Sayings
Enjoy reading and share 46 famous quotes about Precipices with everyone.
Top Precipices Quotes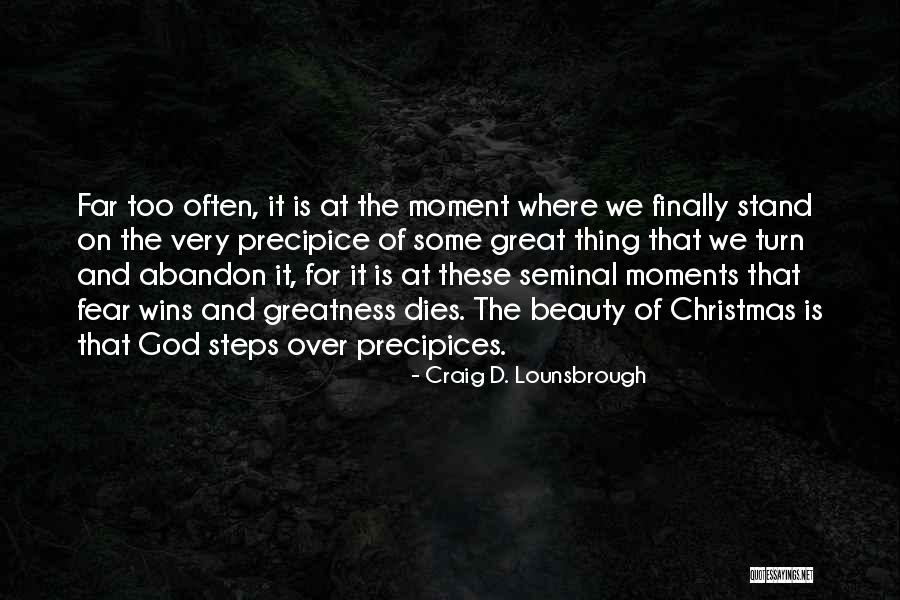 Far too often, it is at the moment where we finally stand on the very precipice of some great thing that we turn and abandon it, for it is at these seminal moments that fear wins and greatness dies. The beauty of Christmas is that God steps over precipices. — Craig D. Lounsbrough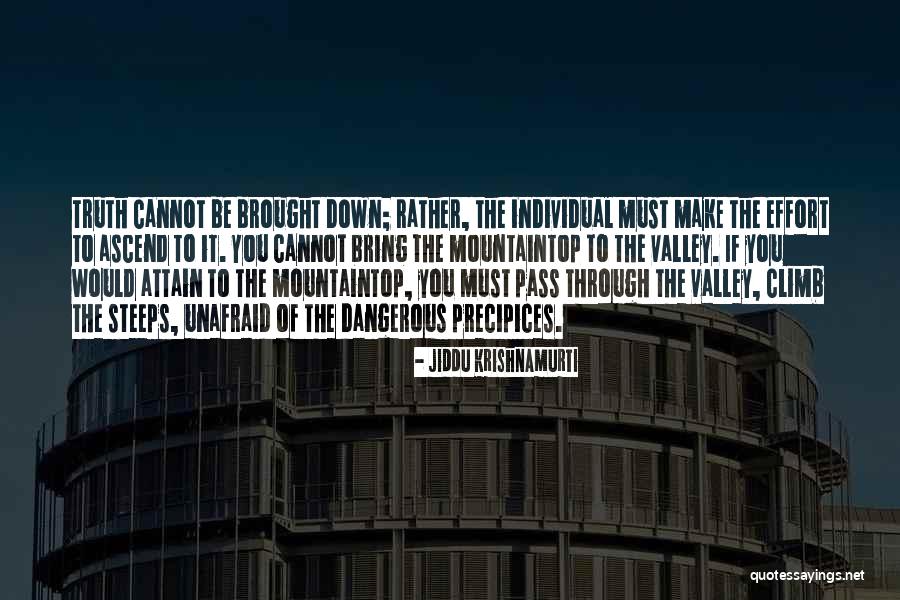 Truth cannot be brought down; rather, the individual must make the effort to ascend to it. You cannot bring the mountaintop to the valley. If you would attain to the mountaintop, you must pass through the valley, climb the steeps, unafraid of the dangerous precipices. — Jiddu Krishnamurti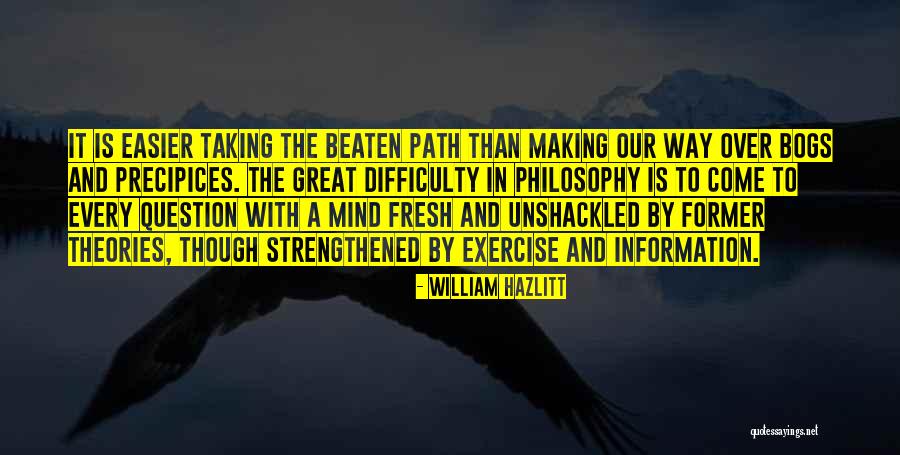 It is easier taking the beaten path than making our way over bogs and precipices. The great difficulty in philosophy is to come to every question with a mind fresh and unshackled by former theories, though strengthened by exercise and information. — William Hazlitt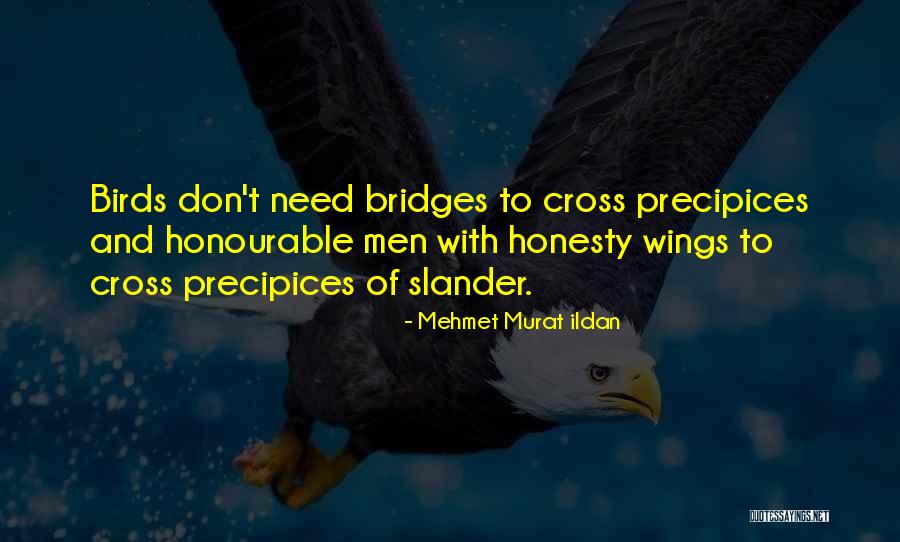 Birds don't need bridges to cross precipices and honourable men with honesty wings to cross precipices of slander. — Mehmet Murat Ildan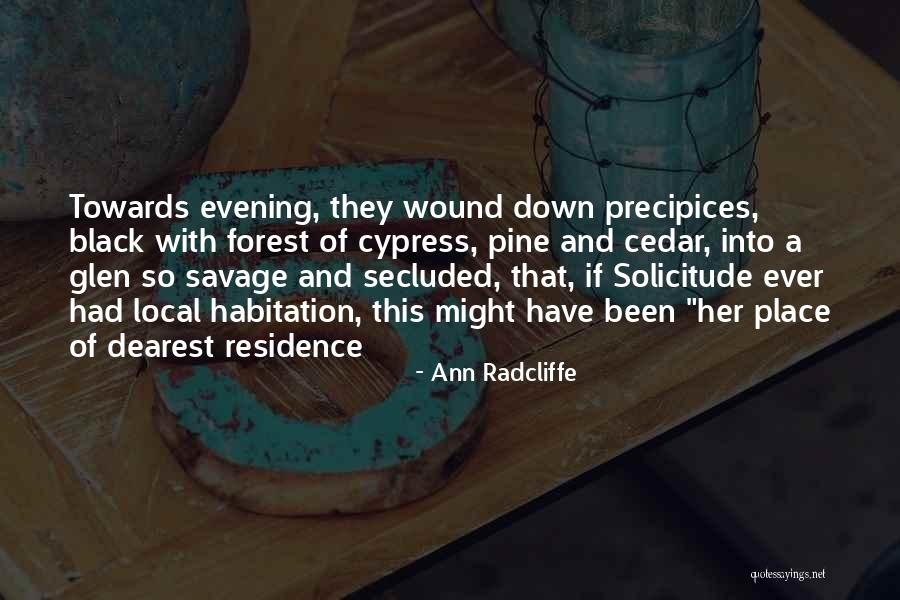 Towards evening, they wound down precipices, black with forest of cypress, pine and cedar, into a glen so savage and secluded, that, if Solicitude ever had local habitation, this might have been "her place of dearest residence — Ann Radcliffe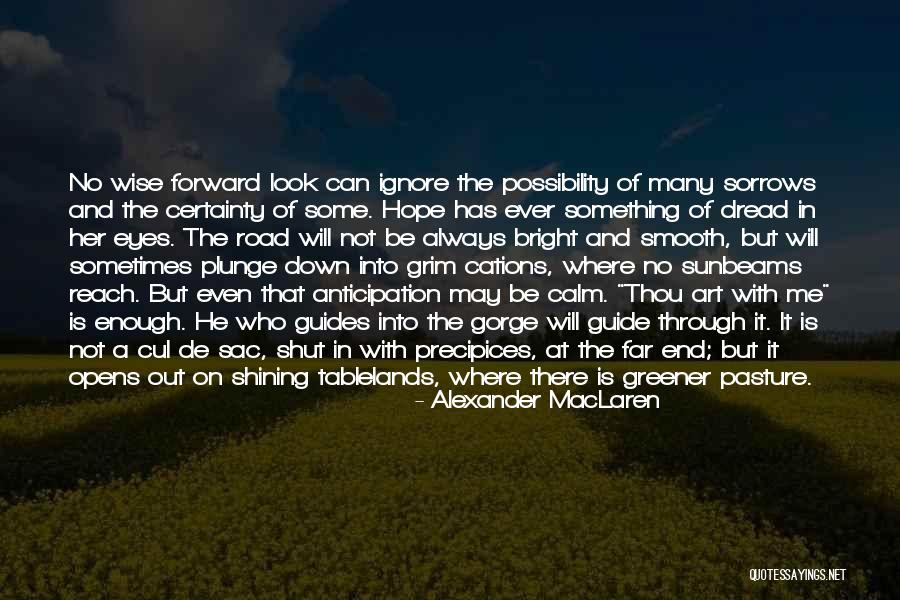 No wise forward look can ignore the possibility of many sorrows and the certainty of some. Hope has ever something of dread in her eyes. The road will not be always bright and smooth, but will sometimes plunge down into grim cations, where no sunbeams reach. But even that anticipation may be calm. "Thou art with me" is enough. He who guides into the gorge will guide through it. It is not a cul de sac, shut in with precipices, at the far end; but it opens out on shining tablelands, where there is greener pasture. — Alexander MacLaren
I love you," she murmured.
The words ... it was as though an entire sun had exploded in his chest.
He'd been ridiculous. His thrashing thoughts, his grand confusion and torment and helplessness
it was only love, had always been love, he supposed. It was no precipice he stood at, or rather precipices have little meaning when one finally acknowledges that one has wings. Connor stepped off.
"I love you, too."
Such grave, inadequate words for what it was he felt. — Julie Anne Long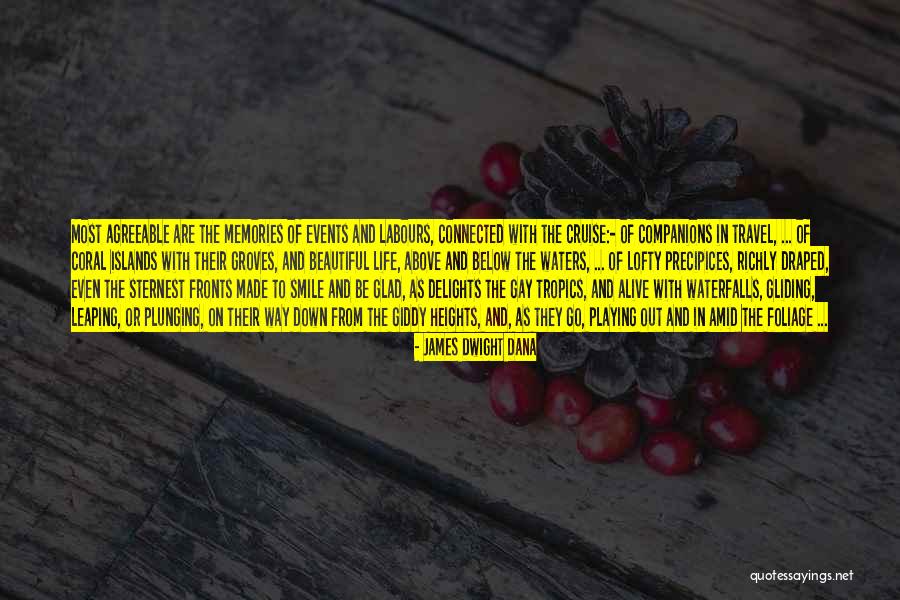 Most agreeable are the memories of events and labours, connected with the cruise:- of companions in travel, ... of coral islands with their groves, and beautiful life, above and below the waters, ... of lofty precipices, richly draped, even the sternest fronts made to smile and be glad, as delights the gay tropics, and alive with waterfalls, gliding, leaping, or plunging, on their way down from the giddy heights, and, as they go, playing out and in amid the foliage ... — James Dwight Dana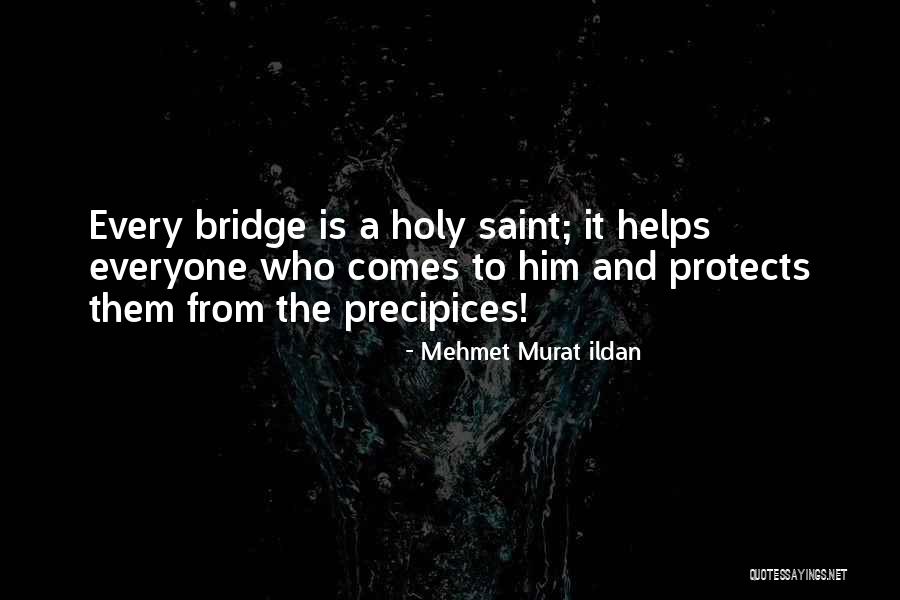 Every bridge is a holy saint; it helps everyone who comes to him and protects them from the precipices! — Mehmet Murat Ildan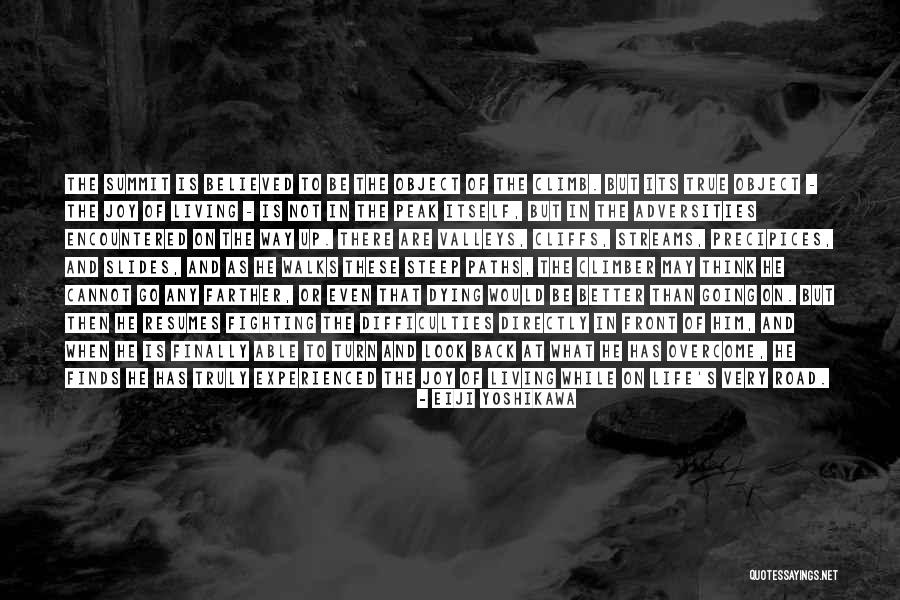 The summit is believed to be the object of the climb. But its true object - the joy of living - is not in the peak itself, but in the adversities encountered on the way up. There are valleys, cliffs, streams, precipices, and slides, and as he walks these steep paths, the climber may think he cannot go any farther, or even that dying would be better than going on. But then he resumes fighting the difficulties directly in front of him, and when he is finally able to turn and look back at what he has overcome, he finds he has truly experienced the joy of living while on life's very road. — Eiji Yoshikawa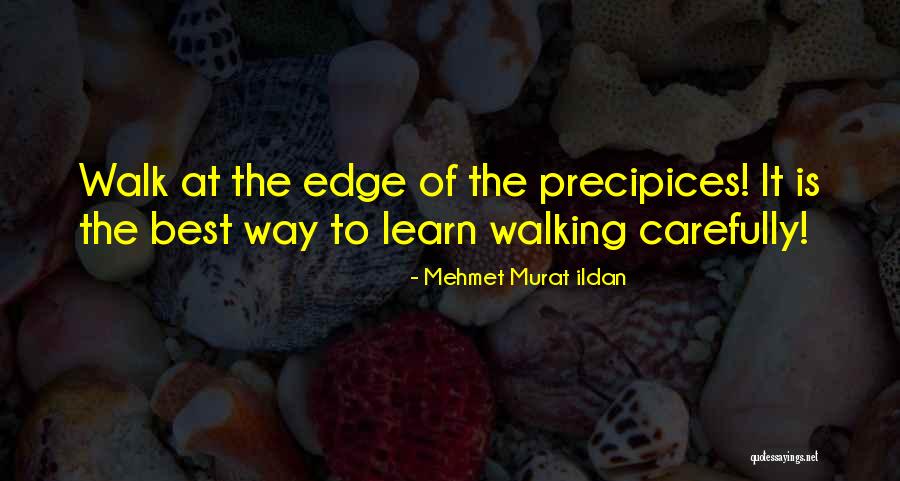 Walk at the edge of the precipices! It is the best way to learn walking carefully! — Mehmet Murat Ildan
Too often on such occasions one feels, as I feel so strongly with regard to poor old Stilton, that the kindly thing to do would be to seize the prospective bridegroom's trousers in one's teeth and draw him back from danger, as faithful dogs do to their masters on the edge of precipices on dark nights. — P.G. Wodehouse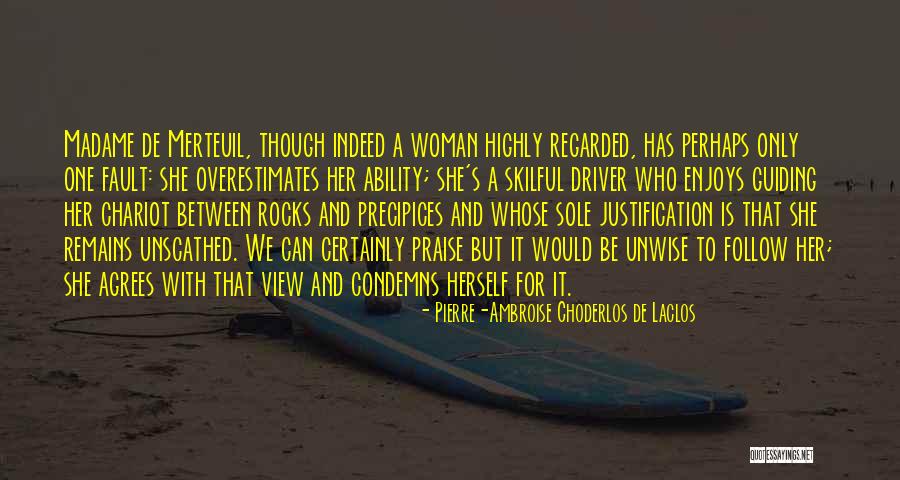 Madame de Merteuil, though indeed a woman highly regarded, has perhaps only one fault: she overestimates her ability; she's a skilful driver who enjoys guiding her chariot between rocks and precipices and whose sole justification is that she remains unscathed. We can certainly praise but it would be unwise to follow her; she agrees with that view and condemns herself for it. — Pierre-Ambroise Choderlos De Laclos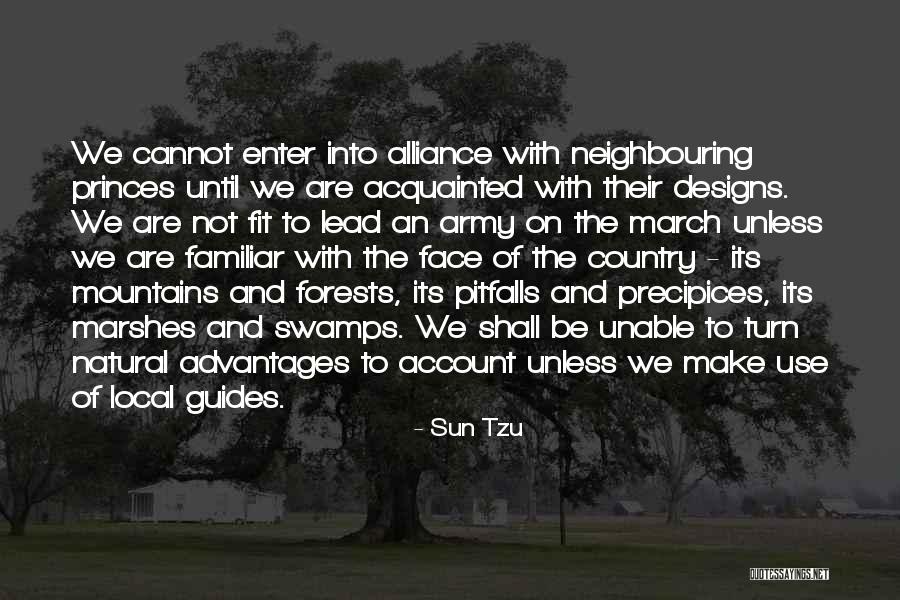 We cannot enter into alliance with neighbouring princes until we are acquainted with their designs. We are not fit to lead an army on the march unless we are familiar with the face of the country - its mountains and forests, its pitfalls and precipices, its marshes and swamps. We shall be unable to turn natural advantages to account unless we make use of local guides. — Sun Tzu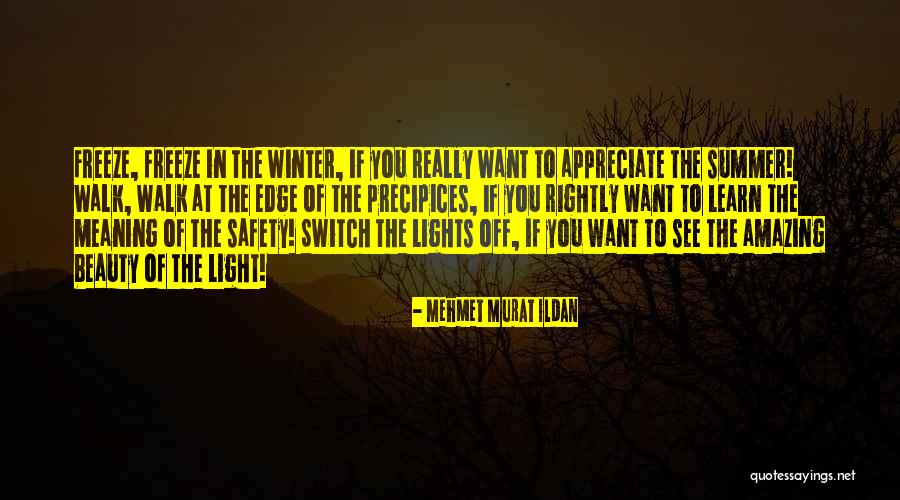 Freeze, freeze in the winter, if you really want to appreciate the summer! Walk, walk at the edge of the precipices, if you rightly want to learn the meaning of the safety! Switch the lights off, if you want to see the amazing beauty of the light! — Mehmet Murat Ildan
Lake George is without comparison, the most beautiful water I ever saw; formed by a contour of mountains into a basin ... finely interspersed with islands, its water limpid as crystal, and the mountain sides covered with rich groves ... down to the water-edge: here and there precipices of rock to checker the scene and save it from monotony. — Thomas Jefferson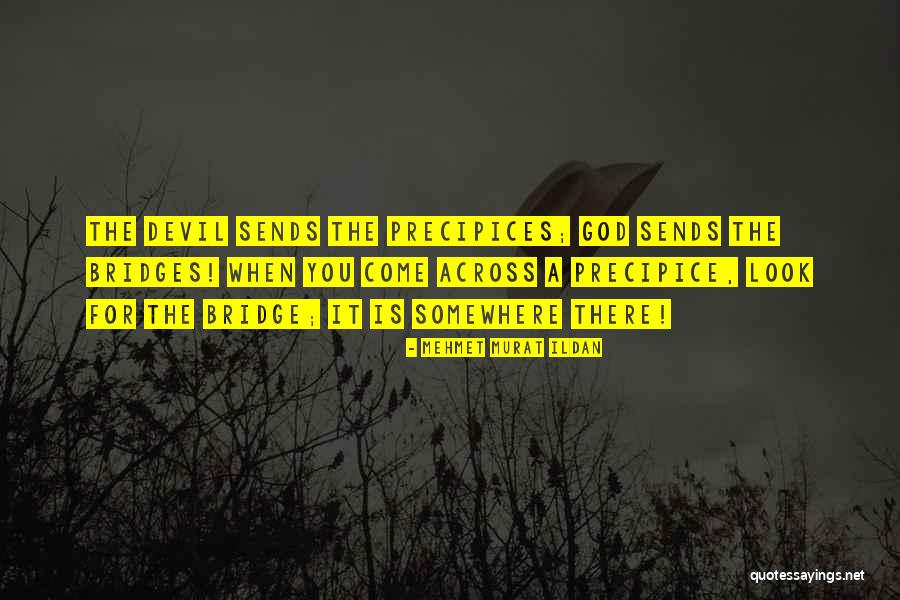 The Devil sends the precipices; God sends the bridges! When you come across a precipice, look for the bridge; it is somewhere there! — Mehmet Murat Ildan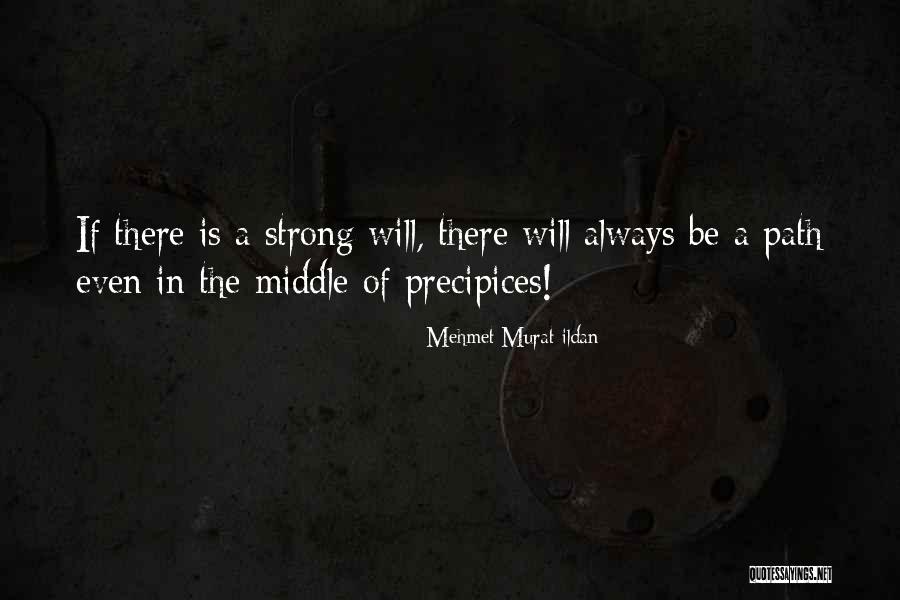 If there is a strong will, there will always be a path even in the middle of precipices! — Mehmet Murat Ildan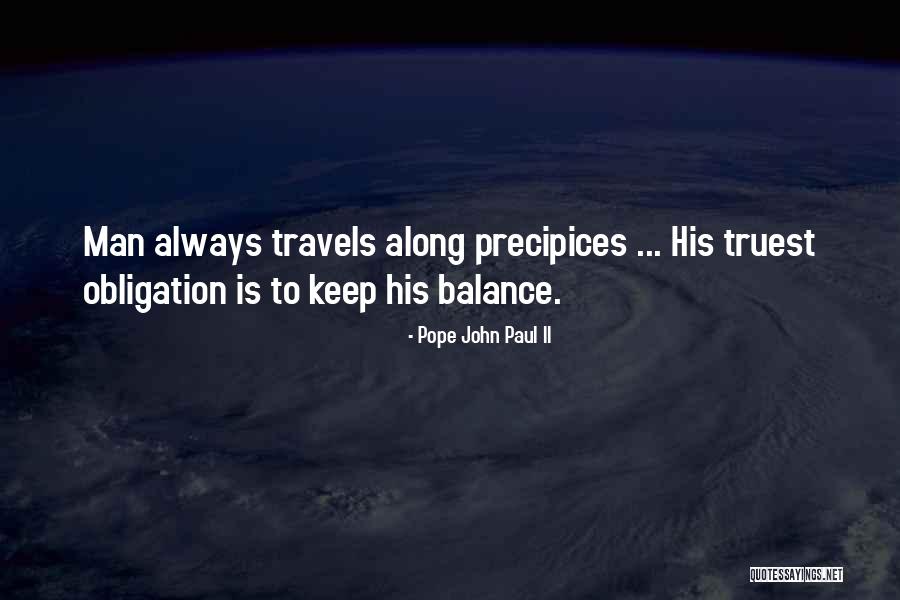 Man always travels along precipices ... His truest obligation is to keep his balance. — Pope John Paul II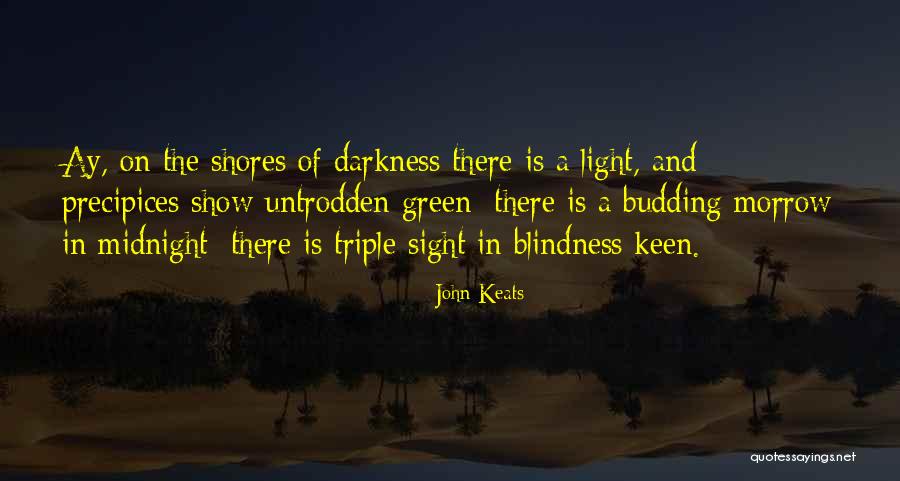 Ay, on the shores of darkness there is a light, and precipices show untrodden green; there is a budding morrow in midnight; there is triple sight in blindness keen. — John Keats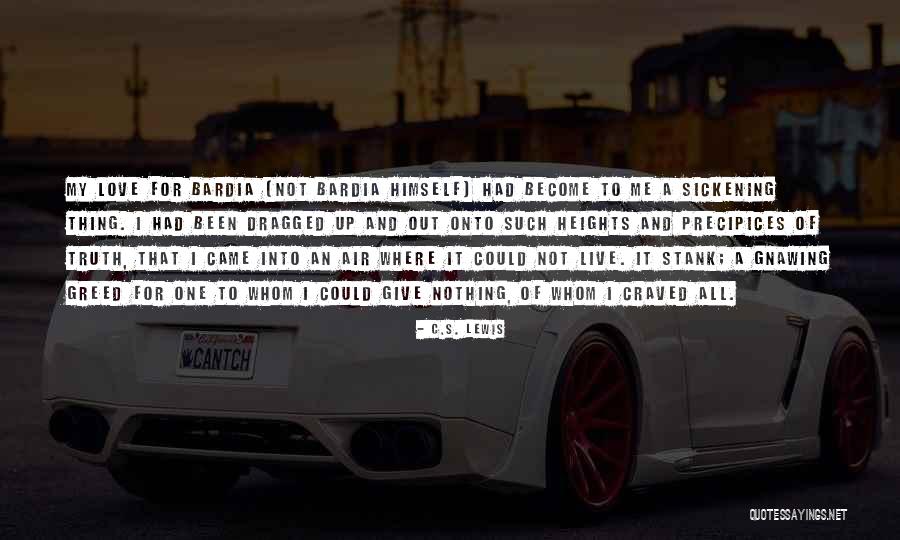 My love for Bardia (not Bardia himself) had become to me a sickening thing. I had been dragged up and out onto such heights and precipices of truth, that I came into an air where it could not live. It stank; a gnawing greed for one to whom I could give nothing, of whom I craved all. — C.S. Lewis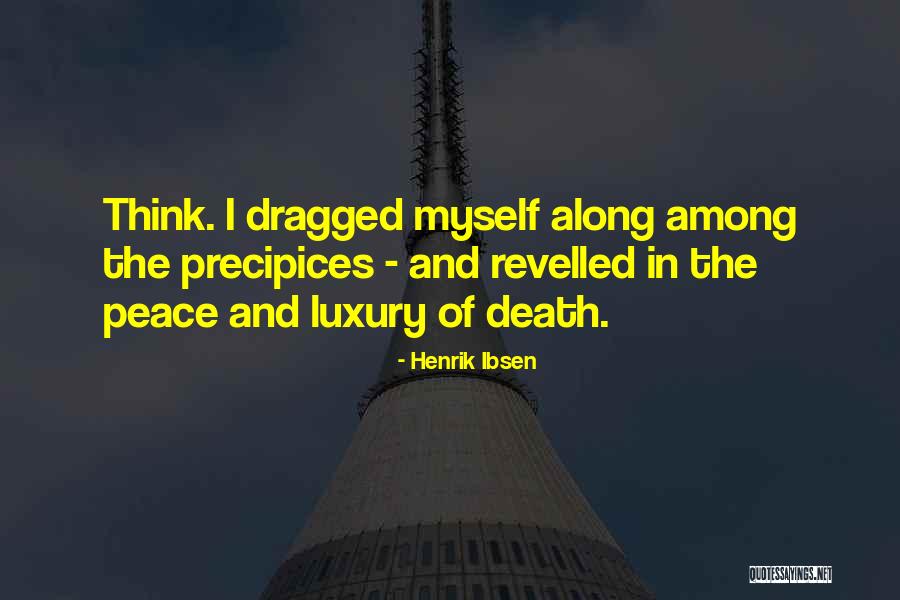 Think. I dragged myself along among the precipices - and revelled in the peace and luxury of death. — Henrik Ibsen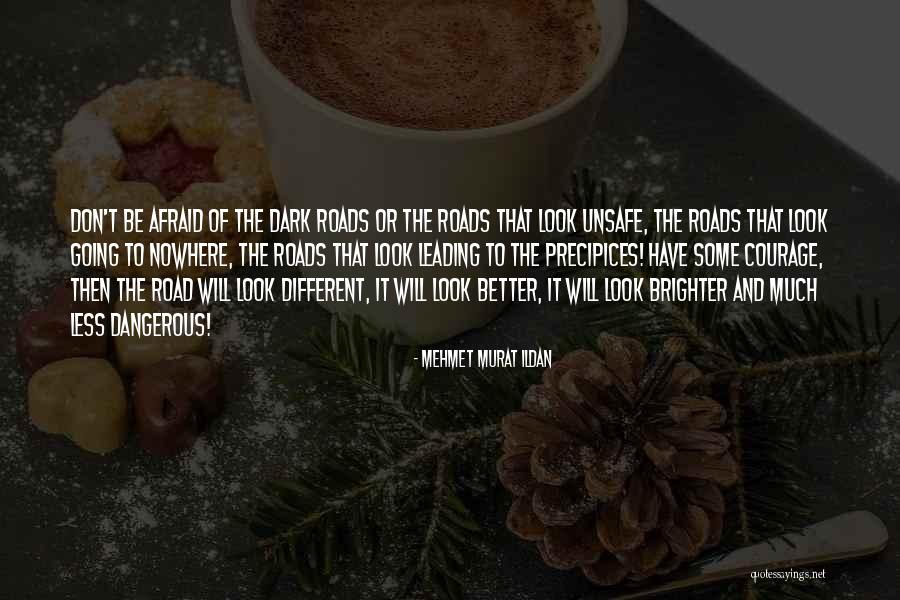 Don't be afraid of the dark roads or the roads that look unsafe, the roads that look going to nowhere, the roads that look leading to the precipices! Have some courage, then the road will look different, it will look better, it will look brighter and much less dangerous! — Mehmet Murat Ildan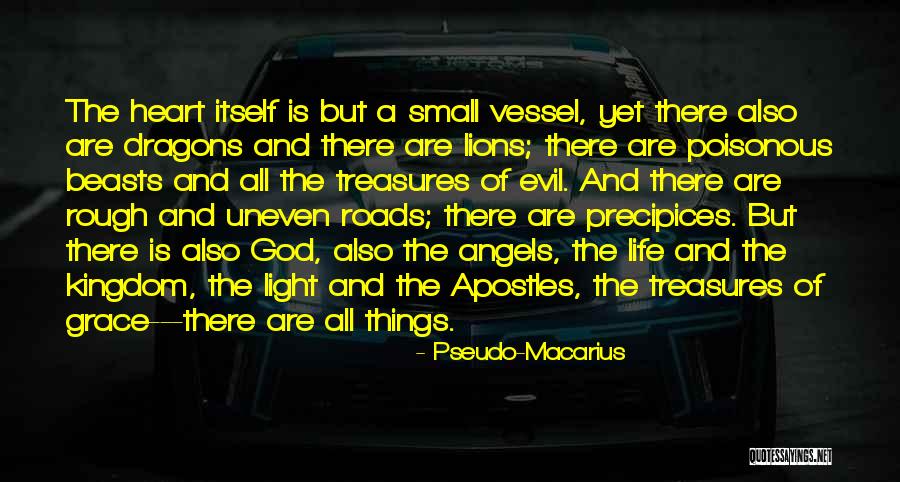 The heart itself is but a small vessel, yet there also are dragons and there are lions; there are poisonous beasts and all the treasures of evil. And there are rough and uneven roads; there are precipices. But there is also God, also the angels, the life and the kingdom, the light and the Apostles, the treasures of grace---there are all things. — Pseudo-Macarius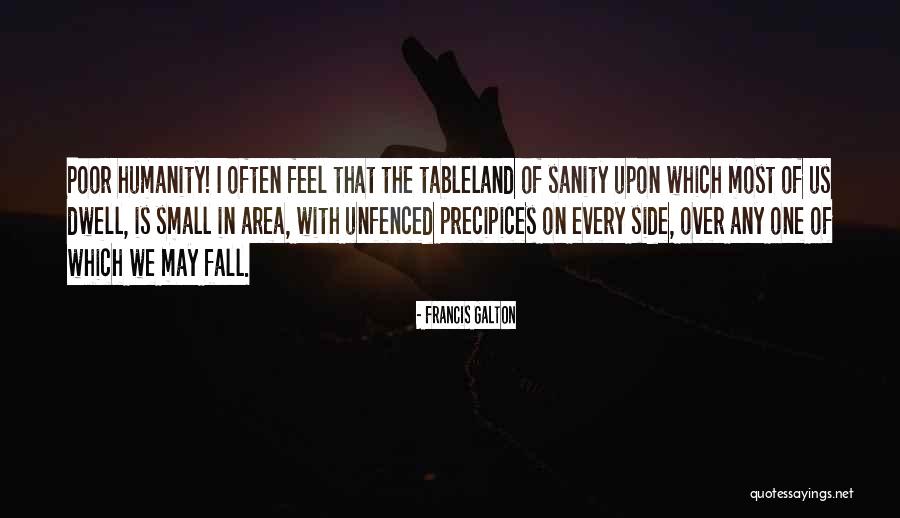 Poor humanity! I often feel that the tableland of sanity upon which most of us dwell, is small in area, with unfenced precipices on every side, over any one of which we may fall. — Francis Galton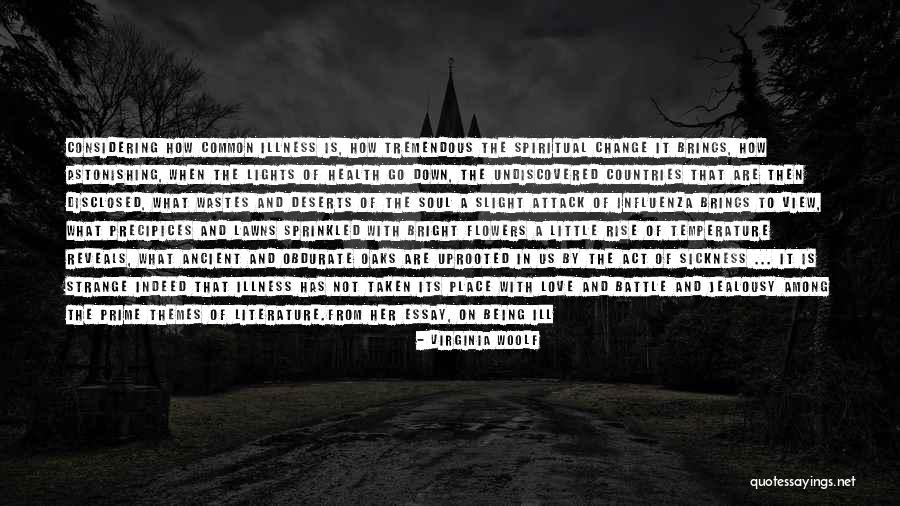 Considering how common illness is, how tremendous the spiritual change it brings, how astonishing, when the lights of health go down, the undiscovered countries that are then disclosed, what wastes and deserts of the soul a slight attack of influenza brings to view, what precipices and lawns sprinkled with bright flowers a little rise of temperature reveals, what ancient and obdurate oaks are uprooted in us by the act of sickness ... it is strange indeed that illness has not taken its place with love and battle and jealousy among the prime themes of literature.
from her essay, On Being Ill — Virginia Woolf
There is a sacred horror about everything grand. It is easy to admire mediocrity and hills; but whatever is too lofty, a genius as well as a mountain, an assembly as well as a masterpiece, seen too near, is appalling. Every summit seems an exaggeration. Climbing wearies. The steepnesses take away one's breath; we slip on the slopes, we are hurt by the sharp points which are its beauty; the foaming torrents betray the precipices, clouds hide the mountain tops; mounting is full of terror, as well as a fall. Hence, there is more dismay than admiration. People have a strange feeling of aversion to anything grand. They see abysses, they do not see sublimity; they see the monster, they do not see the prodigy. — Victor Hugo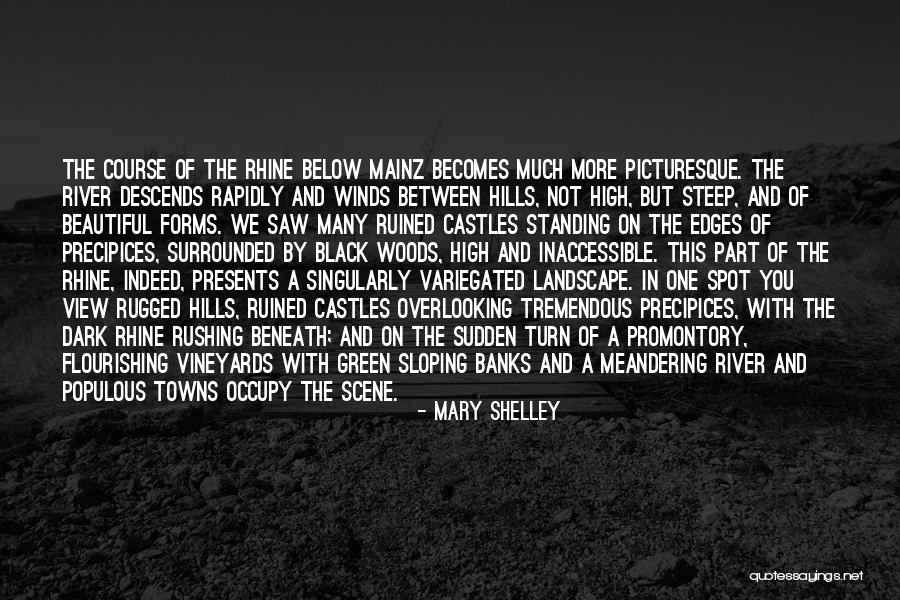 The course of the Rhine below Mainz becomes much more picturesque. The river descends rapidly and winds between hills, not high, but steep, and of beautiful forms. We saw many ruined castles standing on the edges of precipices, surrounded by black woods, high and inaccessible. This part of the Rhine, indeed, presents a singularly variegated landscape. In one spot you view rugged hills, ruined castles overlooking tremendous precipices, with the dark Rhine rushing beneath; and on the sudden turn of a promontory, flourishing vineyards with green sloping banks and a meandering river and populous towns occupy the scene. — Mary Shelley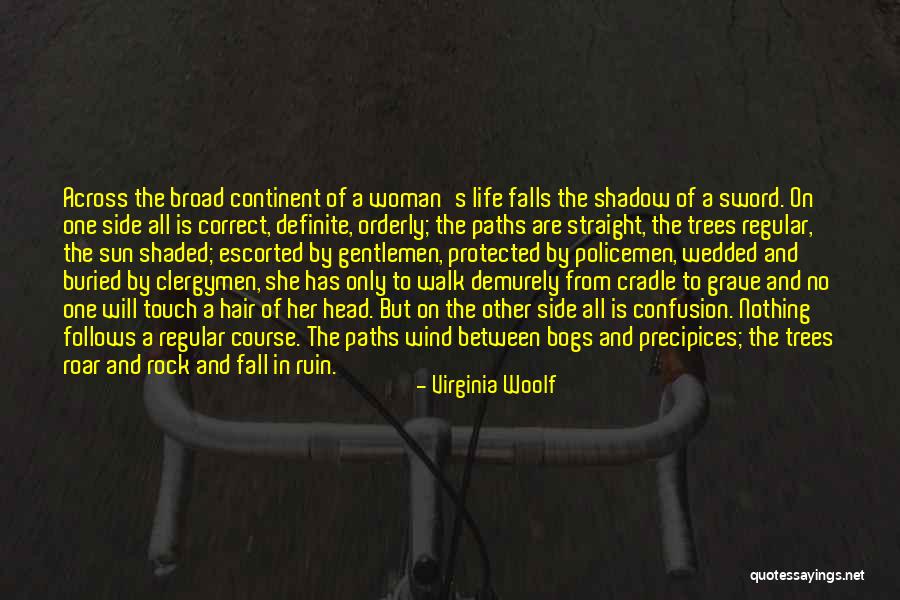 Across the broad continent of a woman's life falls the shadow of a sword. On one side all is correct, definite, orderly; the paths are straight, the trees regular, the sun shaded; escorted by gentlemen, protected by policemen, wedded and buried by clergymen, she has only to walk demurely from cradle to grave and no one will touch a hair of her head. But on the other side all is confusion. Nothing follows a regular course. The paths wind between bogs and precipices; the trees roar and rock and fall in ruin. — Virginia Woolf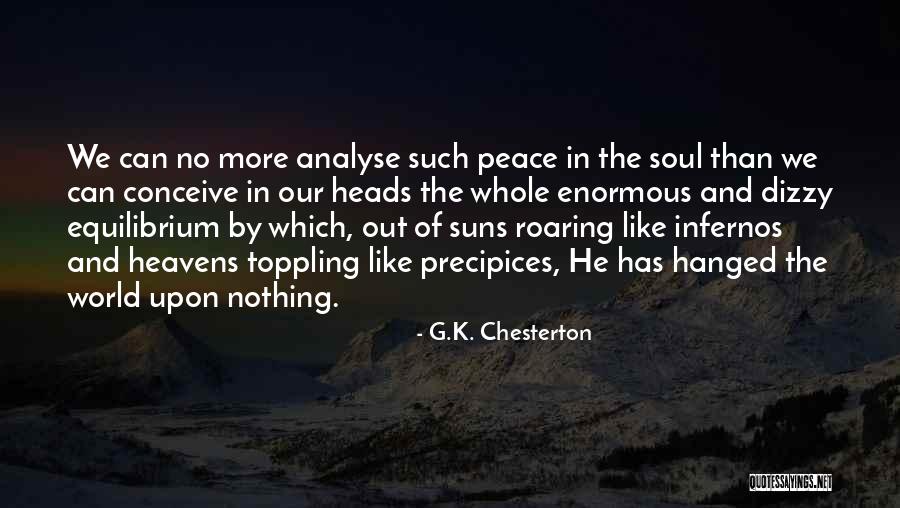 We can no more analyse such peace in the soul than we can conceive in our heads the whole enormous and dizzy equilibrium by which, out of suns roaring like infernos and heavens toppling like precipices, He has hanged the world upon nothing. — G.K. Chesterton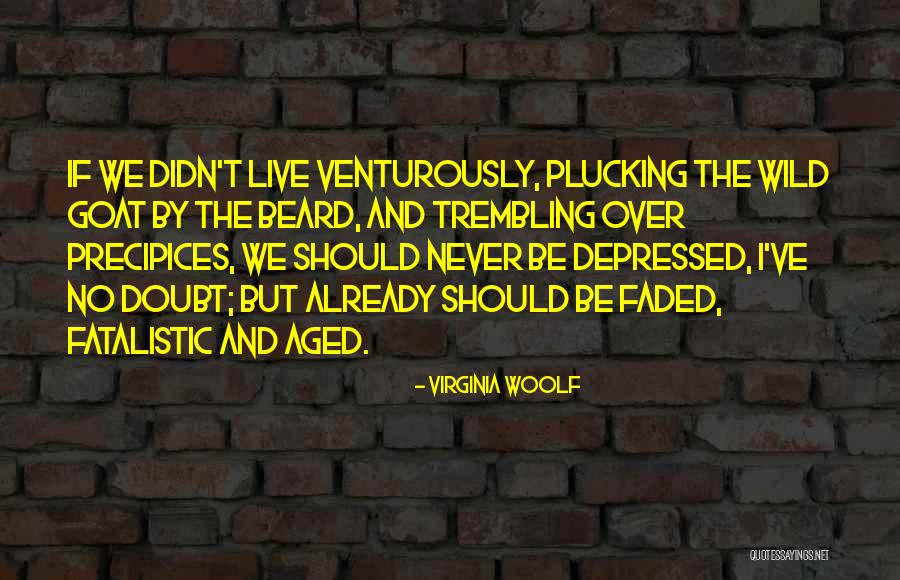 If we didn't live venturously, plucking the wild goat by the beard, and trembling over precipices, we should never be depressed, I've no doubt; but already should be faded, fatalistic and aged. — Virginia Woolf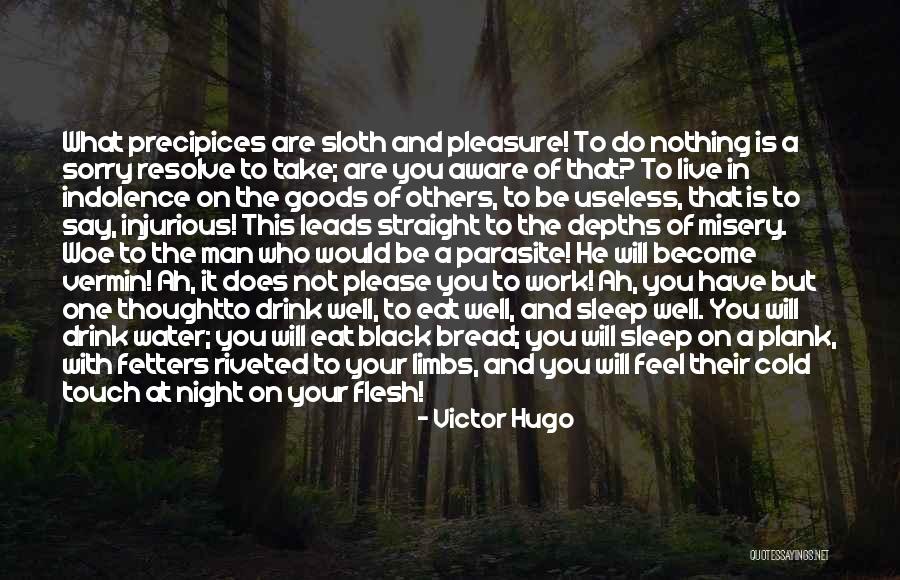 What precipices are sloth and pleasure! To do nothing is a sorry resolve to take; are you aware of that? To live in indolence on the goods of others, to be useless, that is to say, injurious! This leads straight to the depths of misery. Woe to the man who would be a parasite! He will become vermin! Ah, it does not please you to work! Ah, you have but one thought
to drink well, to eat well, and sleep well. You will drink water; you will eat black bread; you will sleep on a plank, with fetters riveted to your limbs, and you will feel their cold touch at night on your flesh! — Victor Hugo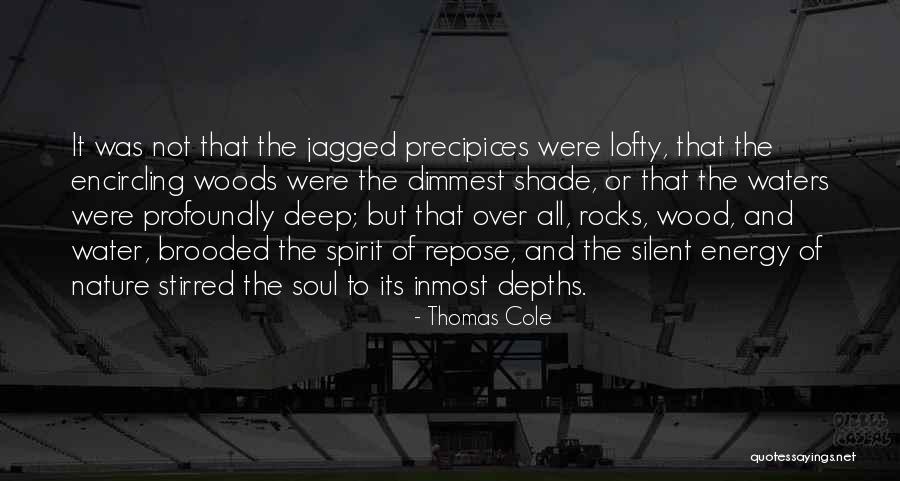 It was not that the jagged precipices were lofty, that the encircling woods were the dimmest shade, or that the waters were profoundly deep; but that over all, rocks, wood, and water, brooded the spirit of repose, and the silent energy of nature stirred the soul to its inmost depths. — Thomas Cole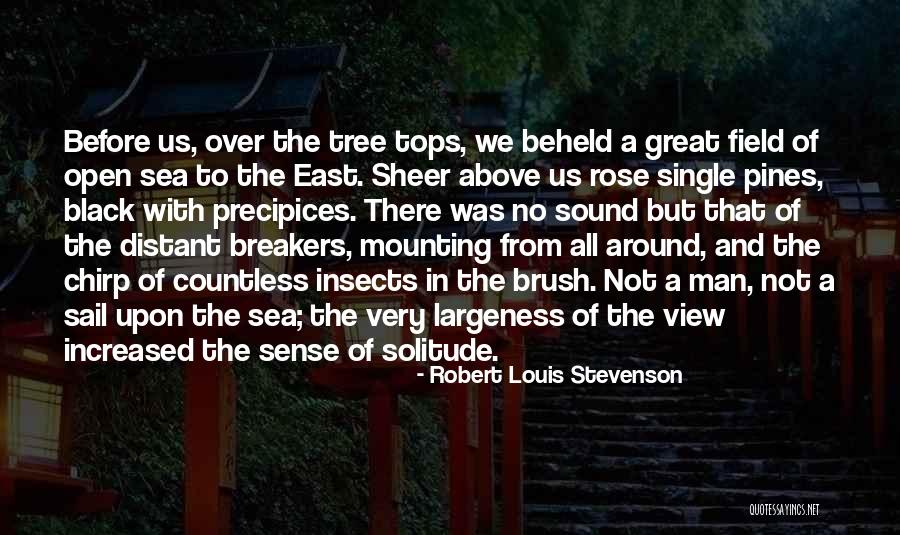 Before us, over the tree tops, we beheld a great field of open sea to the East. Sheer above us rose single pines, black with precipices. There was no sound but that of the distant breakers, mounting from all around, and the chirp of countless insects in the brush. Not a man, not a sail upon the sea; the very largeness of the view increased the sense of solitude. — Robert Louis Stevenson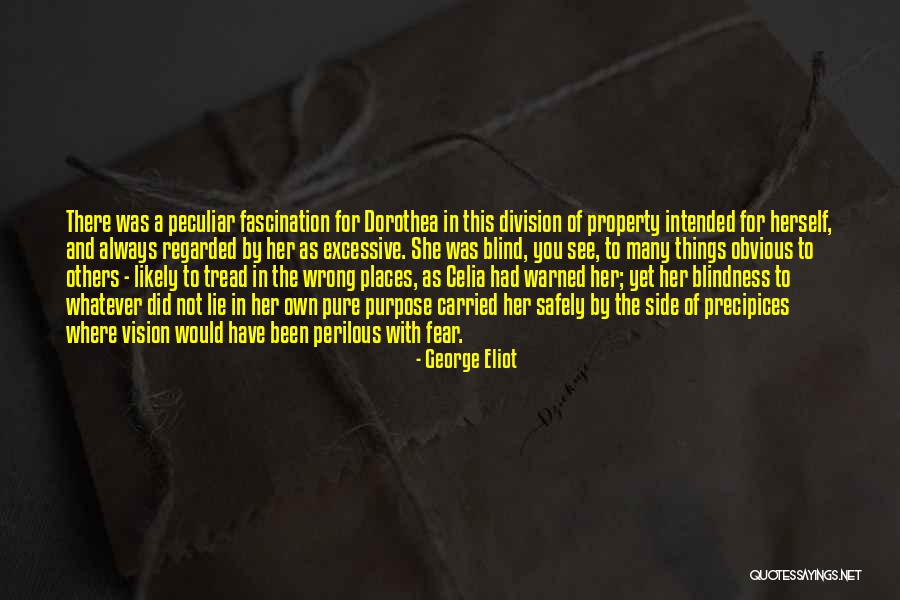 There was a peculiar fascination for Dorothea in this division of property intended for herself, and always regarded by her as excessive. She was blind, you see, to many things obvious to others - likely to tread in the wrong places, as Celia had warned her; yet her blindness to whatever did not lie in her own pure purpose carried her safely by the side of precipices where vision would have been perilous with fear. — George Eliot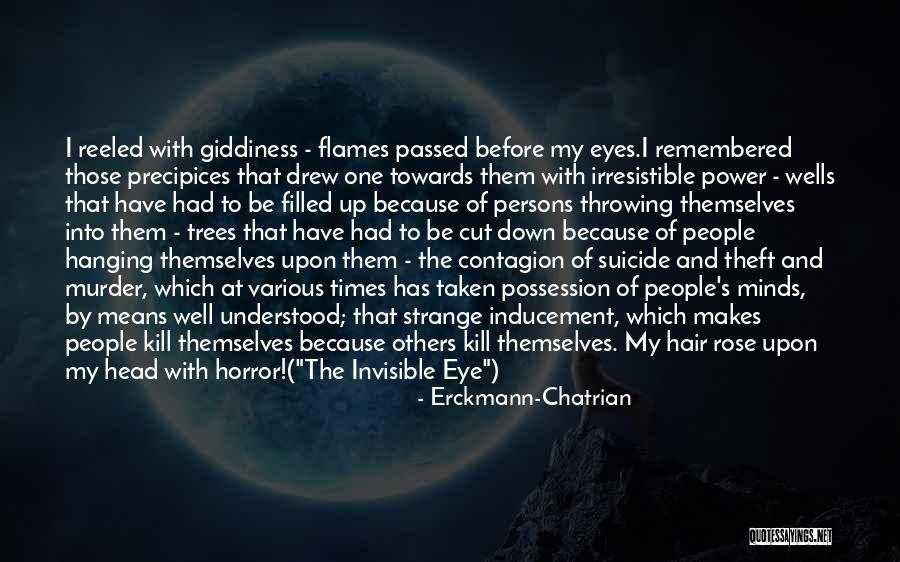 I reeled with giddiness - flames passed before my eyes.
I remembered those precipices that drew one towards them with irresistible power - wells that have had to be filled up because of persons throwing themselves into them - trees that have had to be cut down because of people hanging themselves upon them - the contagion of suicide and theft and murder, which at various times has taken possession of people's minds, by means well understood; that strange inducement, which makes people kill themselves because others kill themselves. My hair rose upon my head with horror!
("The Invisible Eye") — Erckmann-Chatrian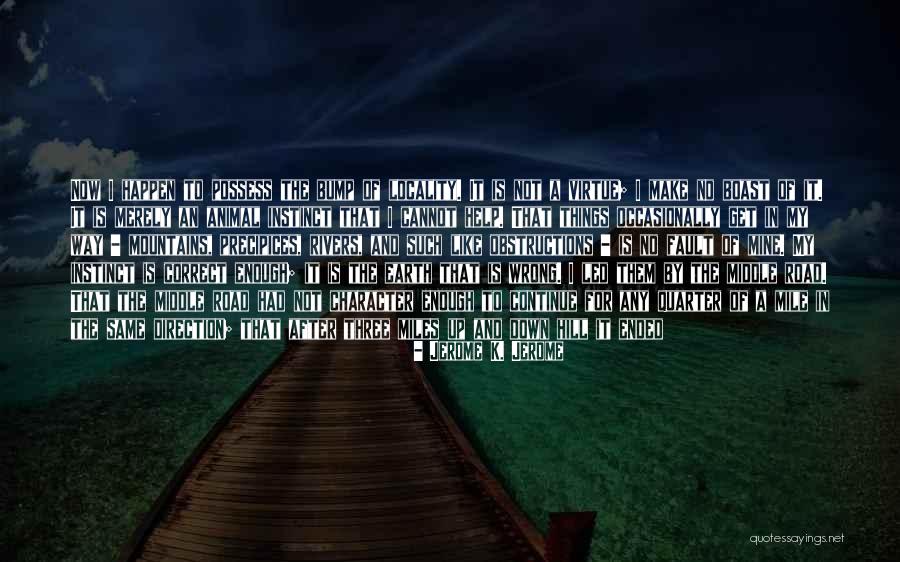 Now I happen to possess the bump of locality. It is not a virtue; I make no boast of it. It is merely an animal instinct that I cannot help. That things occasionally get in my way - mountains, precipices, rivers, and such like obstructions - is no fault of mine. My instinct is correct enough; it is the earth that is wrong. I led them by the middle road. That the middle road had not character enough to continue for any quarter of a mile in the same direction; that after three miles up and down hill it ended abruptly in a wasps' nest, was not a thing that should have been laid to my door. If the middle road had gone in the direction it ought to have done, it would have taken us to where we wanted to go, of that I am convinced. — Jerome K. Jerome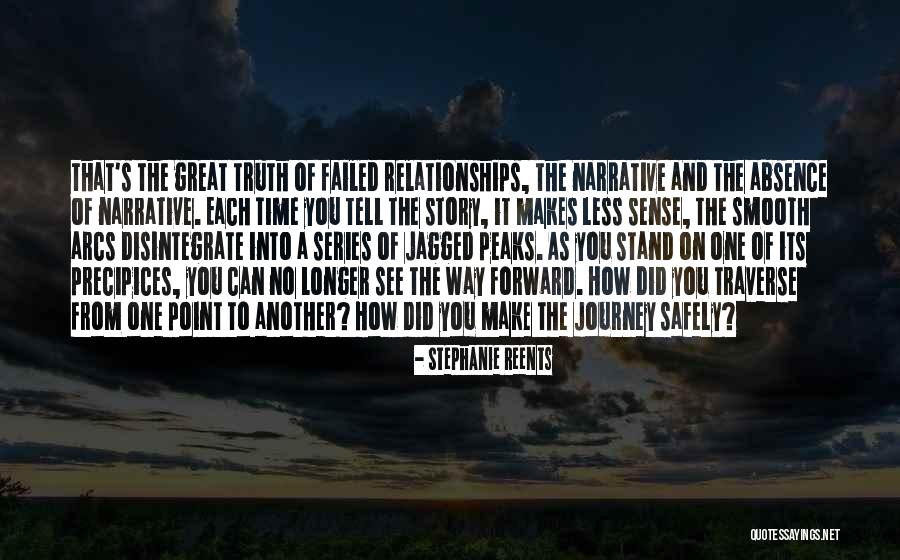 That's the great truth of failed relationships, the narrative and the absence of narrative. Each time you tell the story, it makes less sense, the smooth arcs disintegrate into a series of jagged peaks. As you stand on one of its precipices, you can no longer see the way forward. How did you traverse from one point to another? How did you make the journey safely? — Stephanie Reents
The truth is that the history of Mexico is a history in the image of its geography: abrupt and tortuous. Each historical period is like a plateau surrounded by tall mountains and separated from the other plateaus by precipices and divides. — Octavio Paz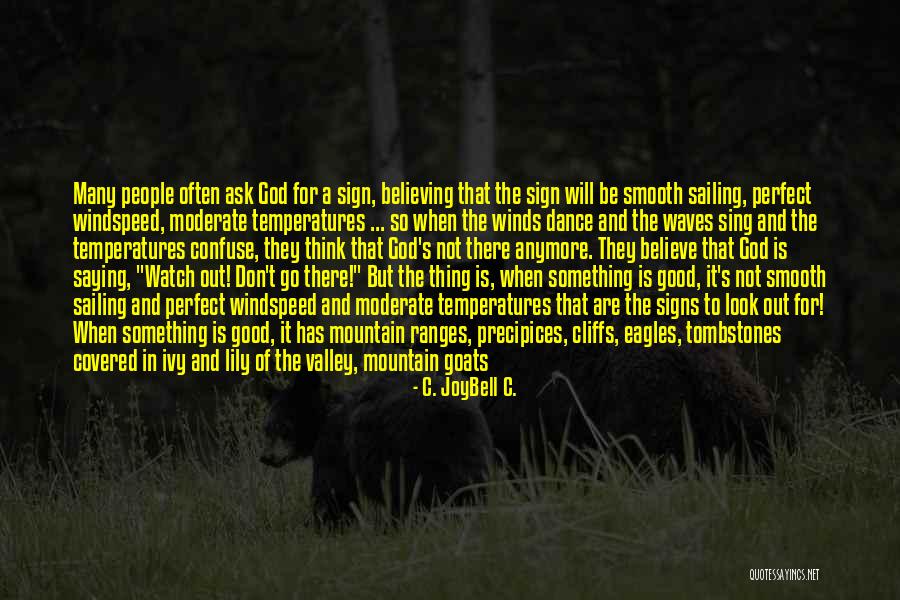 Many people often ask God for a sign, believing that the sign will be smooth sailing, perfect windspeed, moderate temperatures ... so when the winds dance and the waves sing and the temperatures confuse, they think that God's not there anymore. They believe that God is saying, "Watch out! Don't go there!" But the thing is, when something is good, it's not smooth sailing and perfect windspeed and moderate temperatures that are the signs to look out for! When something is good, it has mountain ranges, precipices, cliffs, eagles, tombstones covered in ivy and lily of the valley, mountain goats and a wind so close to the mouth of God that it shakes your flesh to its very core! So when they begin to hop on the precipices and hear the eagles' call - they think God isn't there! They think God is saying "Watch out!" They too often fail to traverse the ivy-encrusted tombstones, to tremble and quiver in beauty under God's breath. Don't run away. — C. JoyBell C.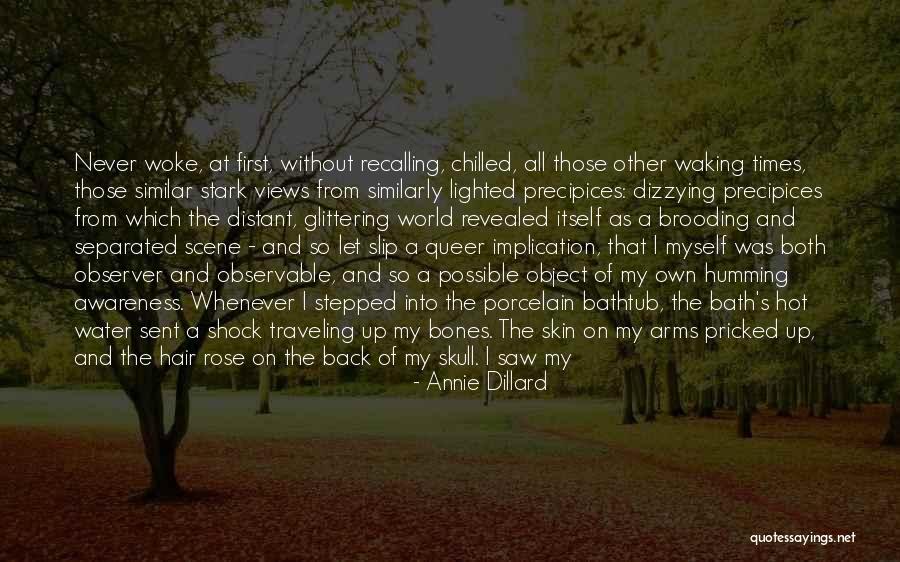 Never woke, at first, without recalling, chilled, all those other waking times, those similar stark views from similarly lighted precipices: dizzying precipices from which the distant, glittering world revealed itself as a brooding and separated scene - and so let slip a queer implication, that I myself was both observer and observable, and so a possible object of my own humming awareness. Whenever I stepped into the porcelain bathtub, the bath's hot water sent a shock traveling up my bones. The skin on my arms pricked up, and the hair rose on the back of my skull. I saw my own firm foot press the tub, and the pale shadows waver over it, as if I were looking down from the sky and remembering this scene forever. The skin on my face tightened, as it had always done whenever I stepped into the tub, and remembering it all drew a swinging line, loops connecting the dots, all the way back. You again. — Annie Dillard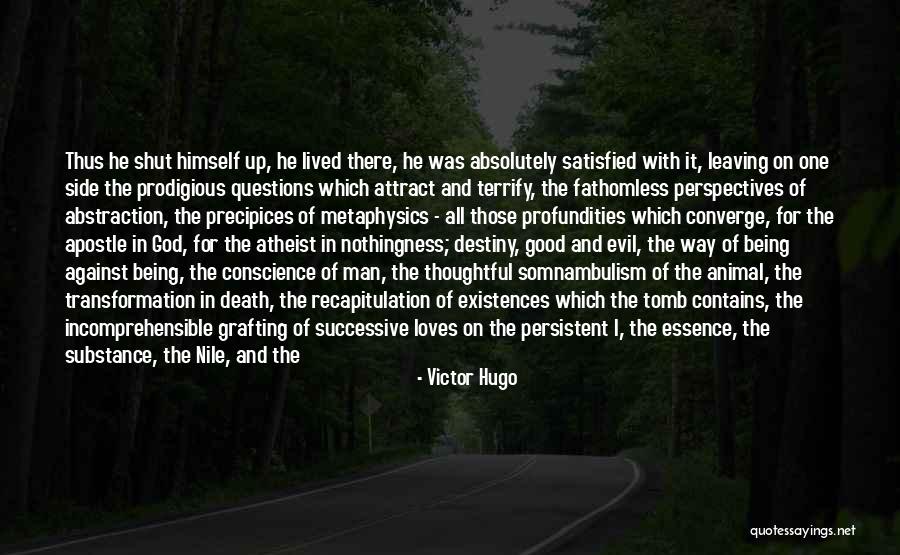 Thus he shut himself up, he lived there, he was absolutely satisfied with it, leaving on one side the prodigious questions which attract and terrify, the fathomless perspectives of abstraction, the precipices of metaphysics - all those profundities which converge, for the apostle in God, for the atheist in nothingness; destiny, good and evil, the way of being against being, the conscience of man, the thoughtful somnambulism of the animal, the transformation in death, the recapitulation of existences which the tomb contains, the incomprehensible grafting of successive loves on the persistent I, the essence, the substance, the Nile, and the Ens, the soul, nature, liberty, necessity; perpendicular problems, sinister obscurities, where lean the gigantic archangels of the human mind; formidable — Victor Hugo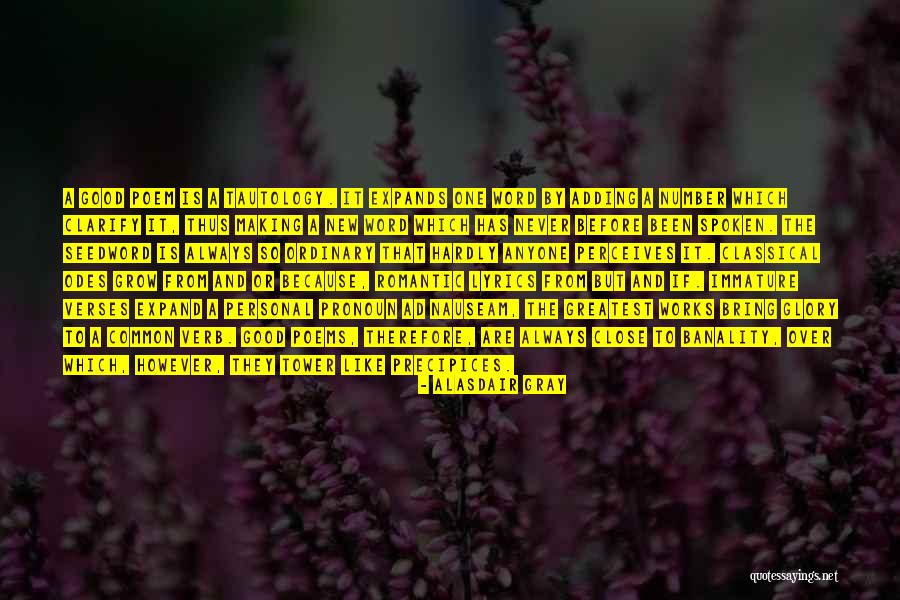 A good poem is a tautology. It expands one word by adding a number which clarify it, thus making a new word which has never before been spoken. The seedword is always so ordinary that hardly anyone perceives it. Classical odes grow from and or because, romantic lyrics from but and if. Immature verses expand a personal pronoun ad nauseam, the greatest works bring glory to a common verb. Good poems, therefore, are always close to banality, over which, however, they tower like precipices. — Alasdair Gray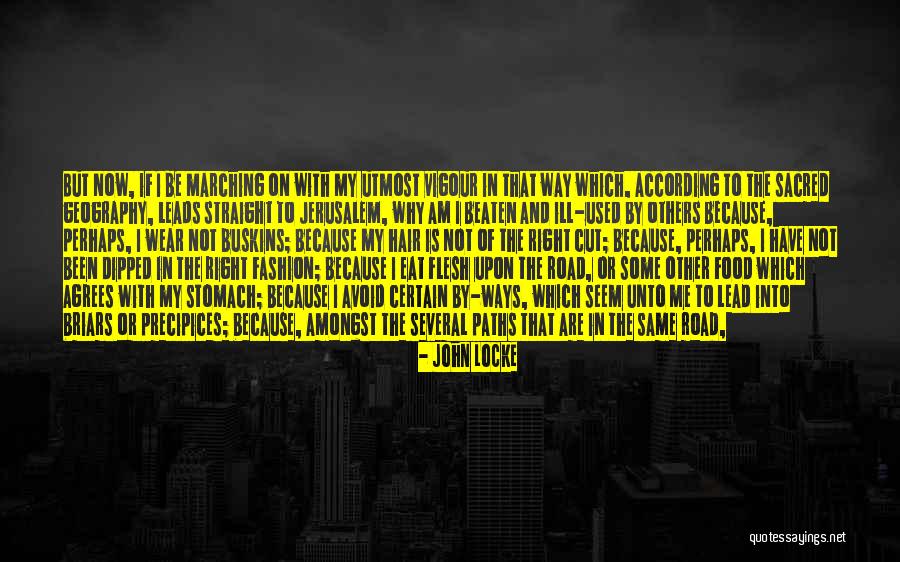 But now, if I be marching on with my utmost vigour in that way which, according to the sacred geography, leads straight to Jerusalem, why am I beaten and ill-used by others because, perhaps, I wear not buskins; because my hair is not of the right cut; because, perhaps, I have not been dipped in the right fashion; because I eat flesh upon the road, or some other food which agrees with my stomach; because I avoid certain by-ways, which seem unto me to lead into briars or precipices; because, amongst the several paths that are in the same road, I choose that to walk in which seems to be the straightest and cleanest; because I avoid to keep company with some travellers that are less grave and others that are more sour than they ought to be; or, in fine, because I follow a guide that either is, or is not, clothed in white, or crowned with a mitre? — John Locke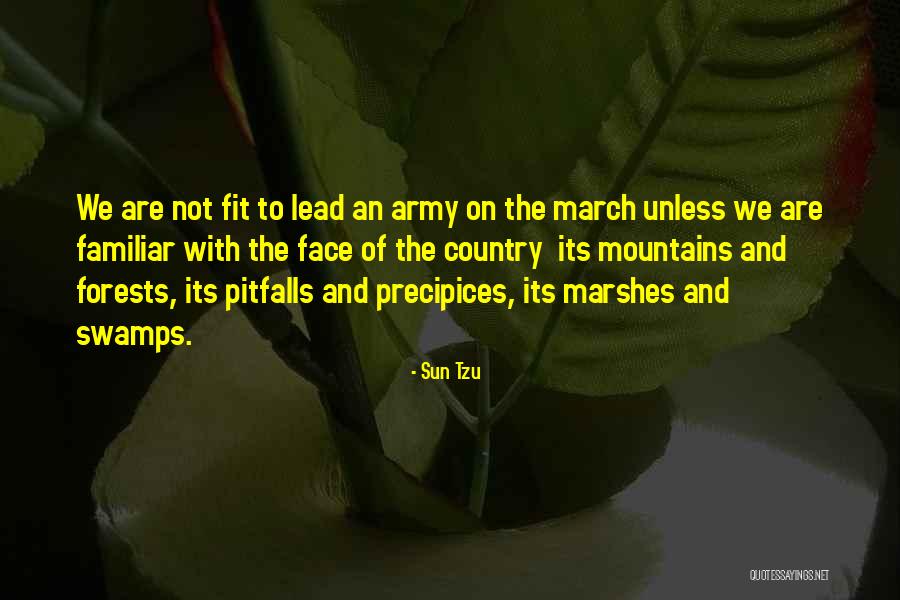 We are not fit to lead an army on the march unless we are familiar with the face of the country
its mountains and forests, its pitfalls and precipices, its marshes and swamps. — Sun Tzu