Pray Continually Quotes & Sayings
Enjoy reading and share 20 famous quotes about Pray Continually with everyone.
Top Pray Continually Quotes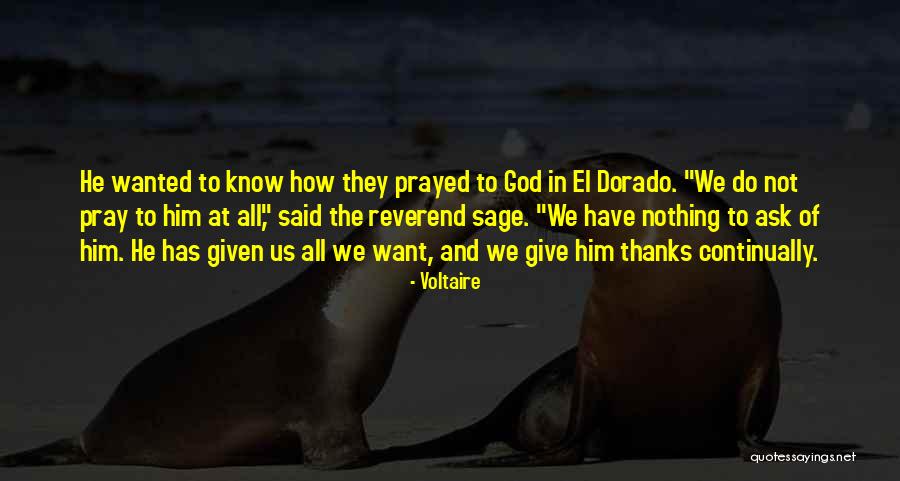 He wanted to know how they prayed to God in El Dorado. "We do not pray to him at all," said the reverend sage. "We have nothing to ask of him. He has given us all we want, and we give him thanks continually. — Voltaire
Perhaps you have noticed that even in the very lightest breeze you can hear the voice of the cottonwood tree; this we understand is its prayer to the Great Spirit, for not only men, but all things and all beings pray to Him continually in differing ways. — Black Elk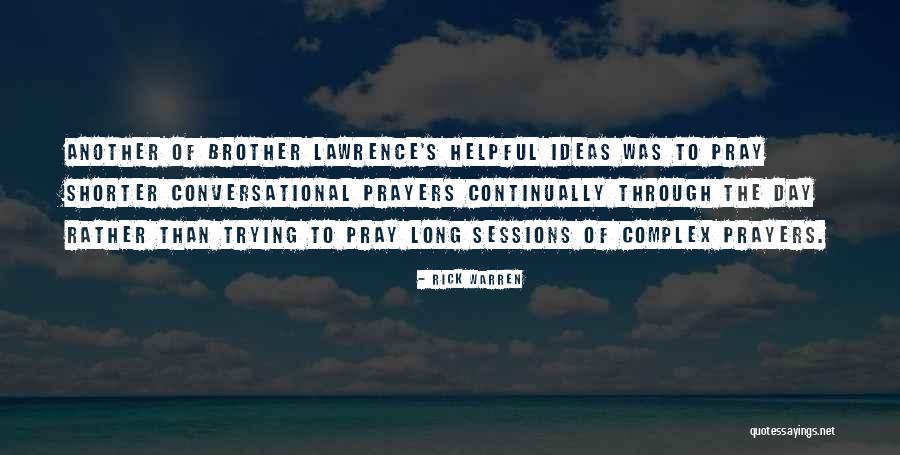 Another of Brother Lawrence's helpful ideas was to pray shorter conversational prayers continually through the day rather than trying to pray long sessions of complex prayers. — Rick Warren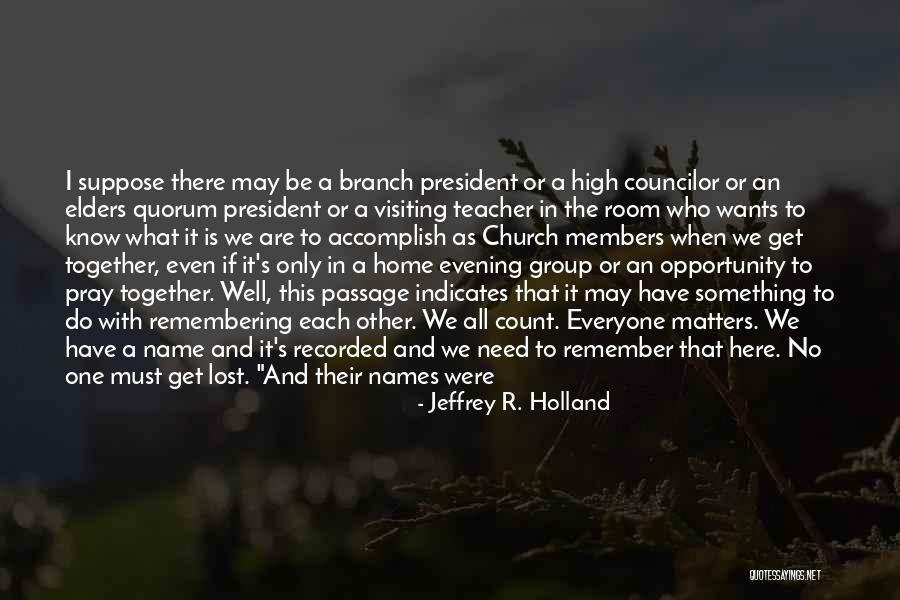 I suppose there may be a branch president or a high councilor or an elders quorum president or a visiting teacher in the room who wants to know what it is we are to accomplish as Church members when we get together, even if it's only in a home evening group or an opportunity to pray together. Well, this passage indicates that it may have something to do with remembering each other. We all count. Everyone matters. We have a name and it's recorded and we need to remember that here. No one must get lost. "And their names were taken, that they might be remembered and nourished by the good word of God ... to keep them continually watchful unto prayer, relying alone upon the merits of Christ ... to fast and to speak with one another concerning the welfare of their souls ... to observe that there should be no iniquity among them"
what a great thought about meetings and what they are supposed to do, what a Sunday School class can be, what a scriptural discussion in an apartment can be. — Jeffrey R. Holland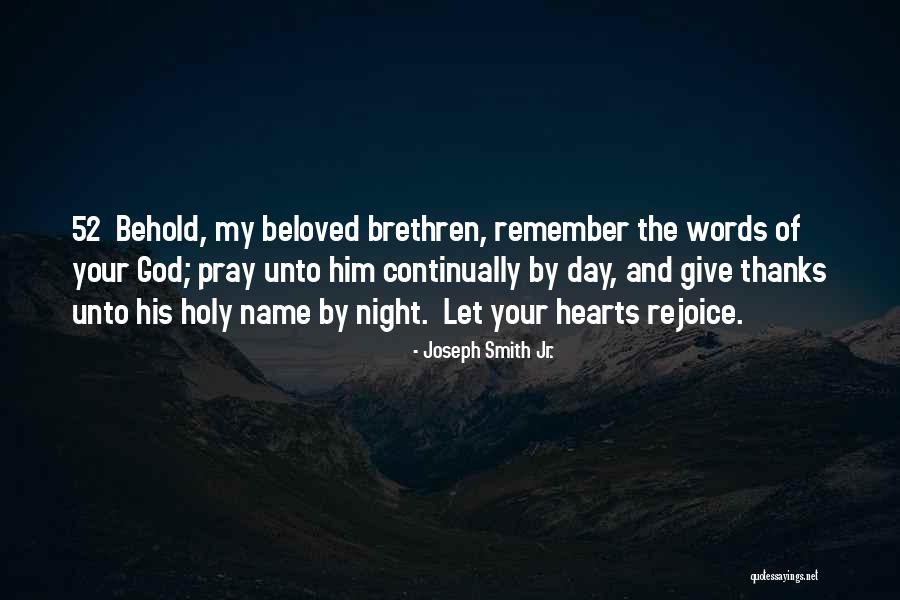 52 Behold, my beloved brethren, remember the words of your God; pray unto him continually by day, and give thanks unto his holy name by night. Let your hearts rejoice. — Joseph Smith Jr.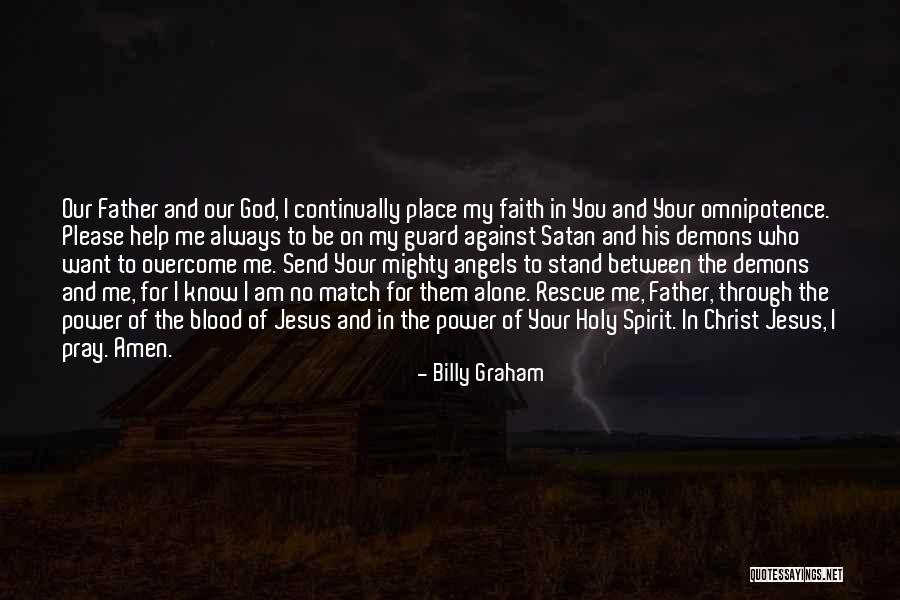 Our Father and our God, I continually place my faith in You and Your omnipotence. Please help me always to be on my guard against Satan and his demons who want to overcome me. Send Your mighty angels to stand between the demons and me, for I know I am no match for them alone. Rescue me, Father, through the power of the blood of Jesus and in the power of Your Holy Spirit. In Christ Jesus, I pray. Amen. — Billy Graham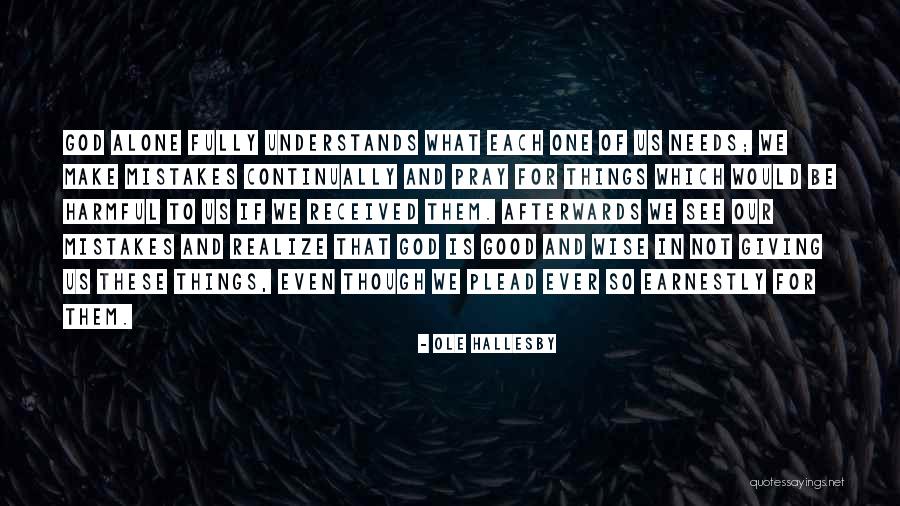 God alone fully understands what each one of us needs; we make mistakes continually and pray for things which would be harmful to us if we received them. Afterwards we see our mistakes and realize that God is good and wise in not giving us these things, even though we plead ever so earnestly for them. — Ole Hallesby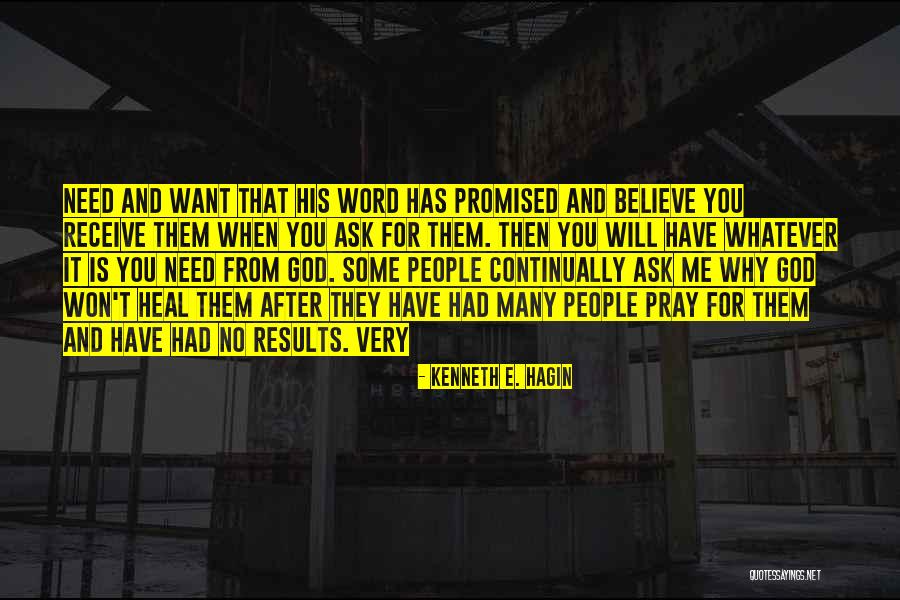 need and want that His Word has promised and believe you receive them when you ask for them. Then you will have whatever it is you need from God. Some people continually ask me why God won't heal them after they have had many people pray for them and have had no results. Very — Kenneth E. Hagin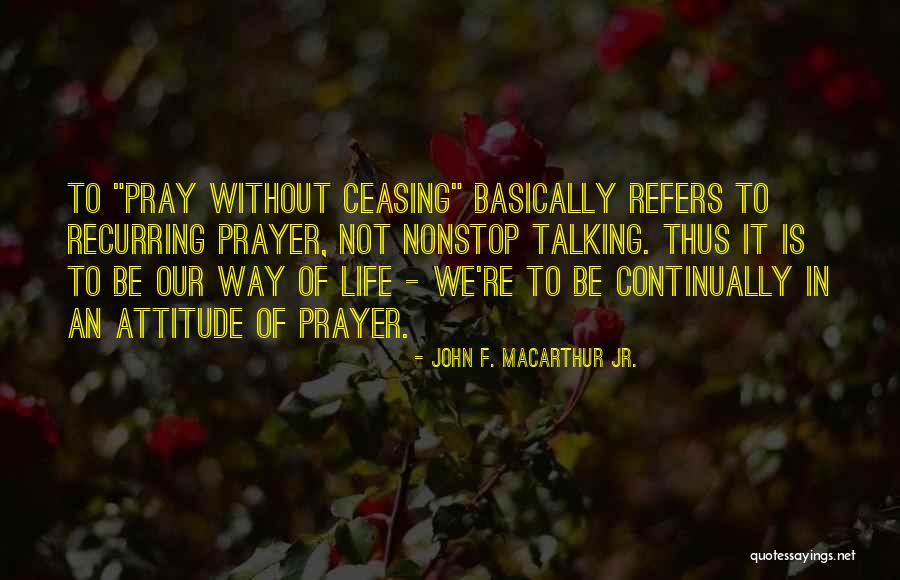 To "pray without ceasing" basically refers to recurring prayer, not nonstop talking. Thus it is to be our way of life - we're to be continually in an attitude of prayer. — John F. MacArthur Jr.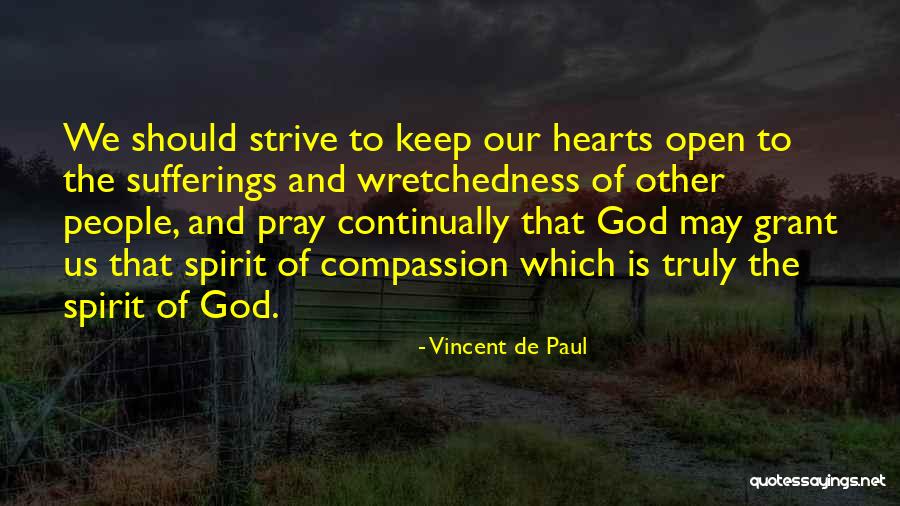 We should strive to keep our hearts open to the sufferings and wretchedness of other people, and pray continually that God may grant us that spirit of compassion which is truly the spirit of God. — Vincent De Paul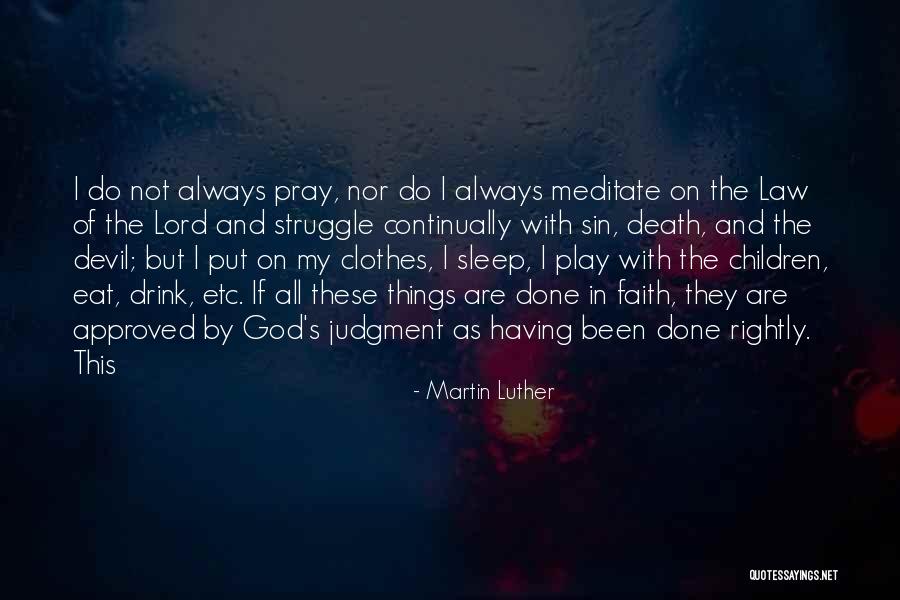 I do not always pray, nor do I always meditate on the Law of the Lord and struggle continually with sin, death, and the devil; but I put on my clothes, I sleep, I play with the children, eat, drink, etc. If all these things are done in faith, they are approved by God's judgment as having been done rightly. This — Martin Luther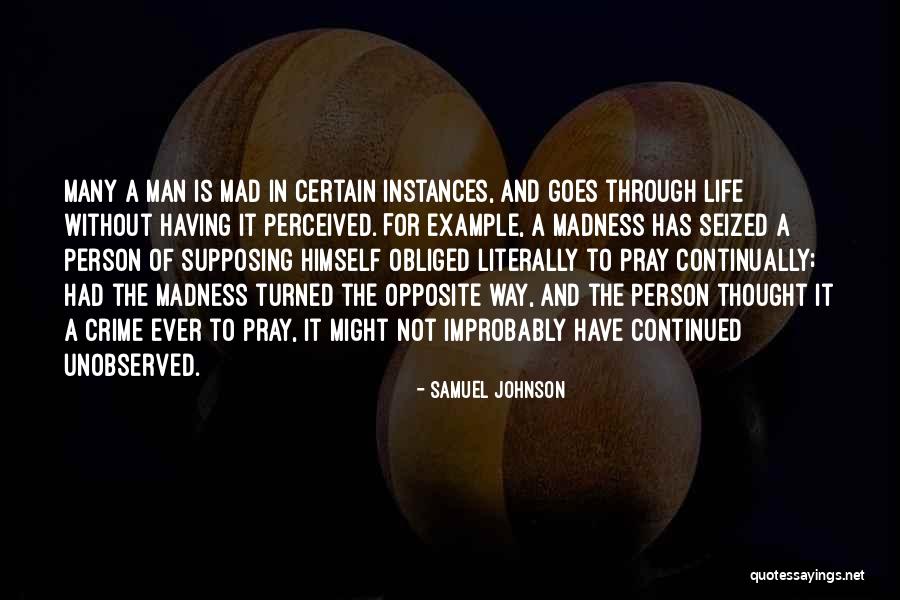 Many a man is mad in certain instances, and goes through life without having it perceived. For example, a madness has seized a person of supposing himself obliged literally to pray continually; had the madness turned the opposite way, and the person thought it a crime ever to pray, it might not improbably have continued unobserved. — Samuel Johnson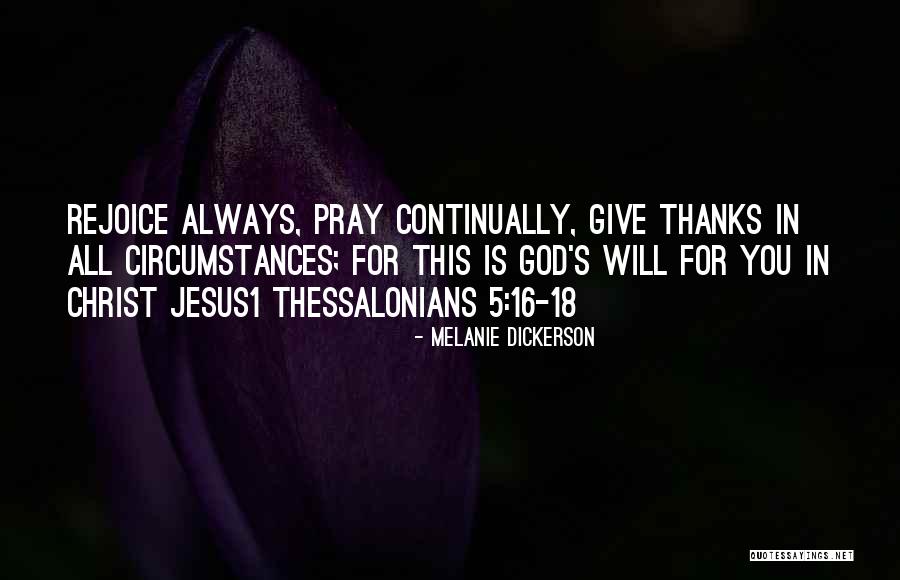 Rejoice always, pray continually, give thanks in all circumstances; for this is God's will for you in Christ Jesus
1 Thessalonians 5:16-18 — Melanie Dickerson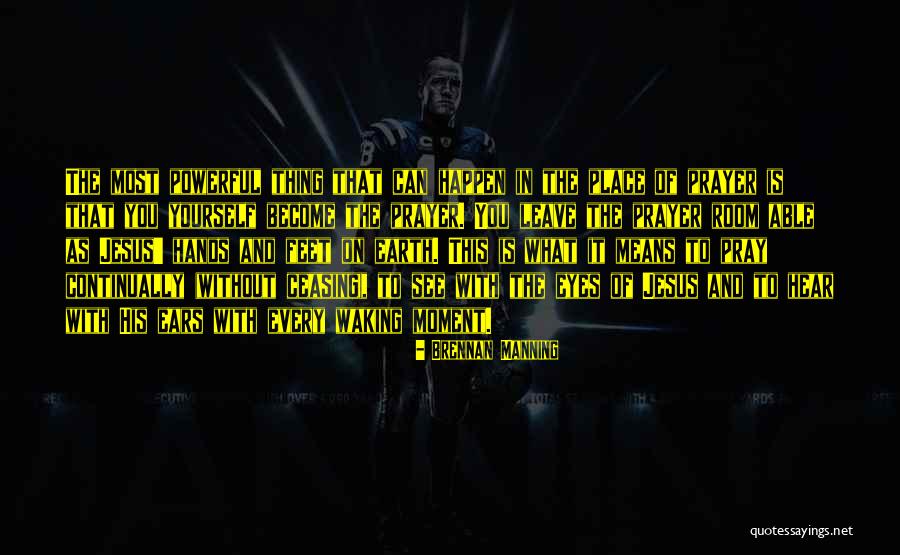 The most powerful thing that can happen in the place of prayer is that you yourself become the prayer. You leave the prayer room able as Jesus' hands and feet on earth. This is what it means to pray continually (without ceasing), to see with the eyes of Jesus and to hear with His ears with every waking moment. — Brennan Manning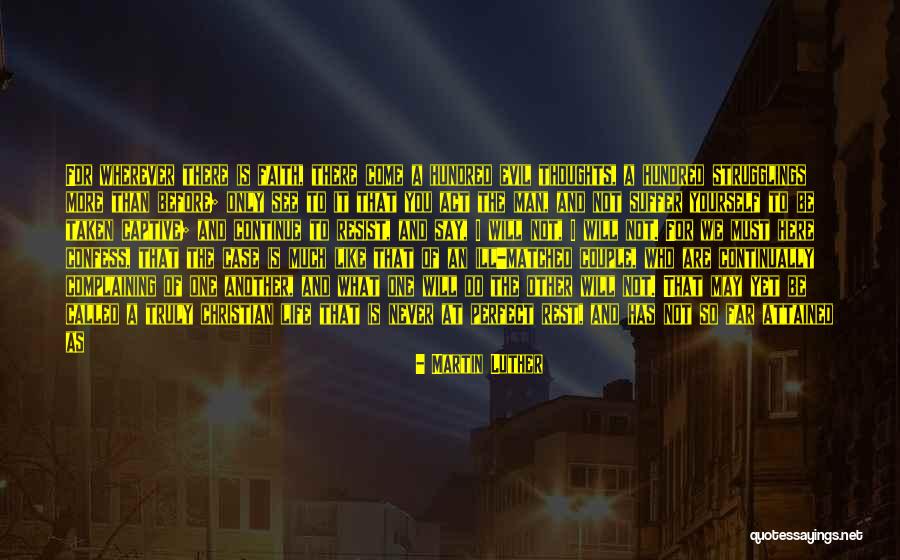 For wherever there is faith, there come a hundred evil thoughts, a hundred strugglings more than before; only see to it that you act the man, and not suffer yourself to be taken captive; and continue to resist, and say, I will not, I will not. For we must here confess, that the case is much like that of an ill-matched couple, who are continually complaining of one another, and what one will do the other will not. That may yet be called a truly christian life that is never at perfect rest, and has not so far attained as to feel no sin, provided that sin be felt, indeed, but not favored. Thus we are to fast, pray, labor, to subdue and suppress lust. So that you are not to imagine that you are to become such a saint as these fools speak of. While flesh and blood continue, so long sin remains; wherefore it is ever to be struggled against. Whoever has not learned this by his own experience, must not boast that he is a Christian. — Martin Luther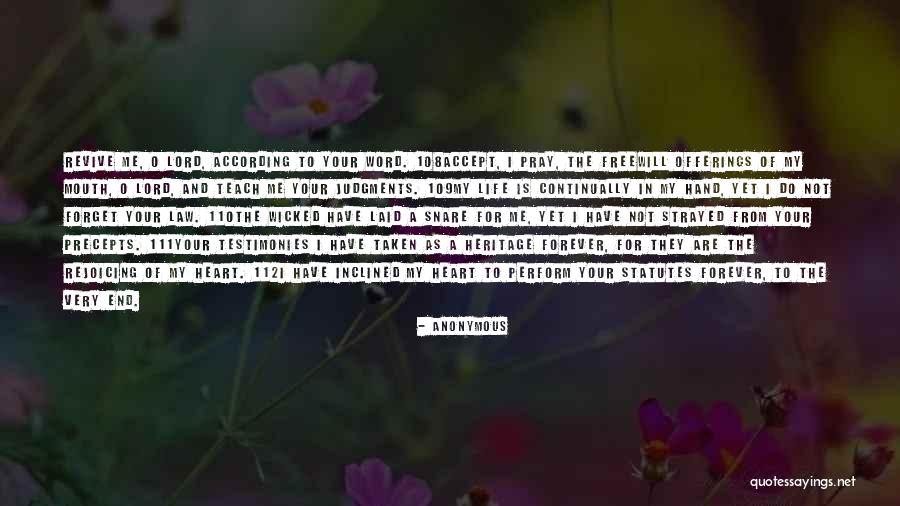 Revive me, O LORD, according to Your word. 108Accept, I pray, the freewill offerings of my mouth, O LORD, And teach me Your judgments. 109My life is continually in my hand, Yet I do not forget Your law. 110The wicked have laid a snare for me, Yet I have not strayed from Your precepts. 111Your testimonies I have taken as a heritage forever, For they are the rejoicing of my heart. 112I have inclined my heart to perform Your statutes Forever, to the very end. — Anonymous
As you pray for your children, you will find it to be an unending habit of your heart. Being able to positively affect your children in prayer will keep you in close contact with them and actively involved in their lives, even after they leave home. And it will continually contribute to your joy as a parent! — Stormie O'martian
Be joyful always; pray continually; give thanks in all circumstances, for this is God's will for you in Christ Jesus. — Anonymous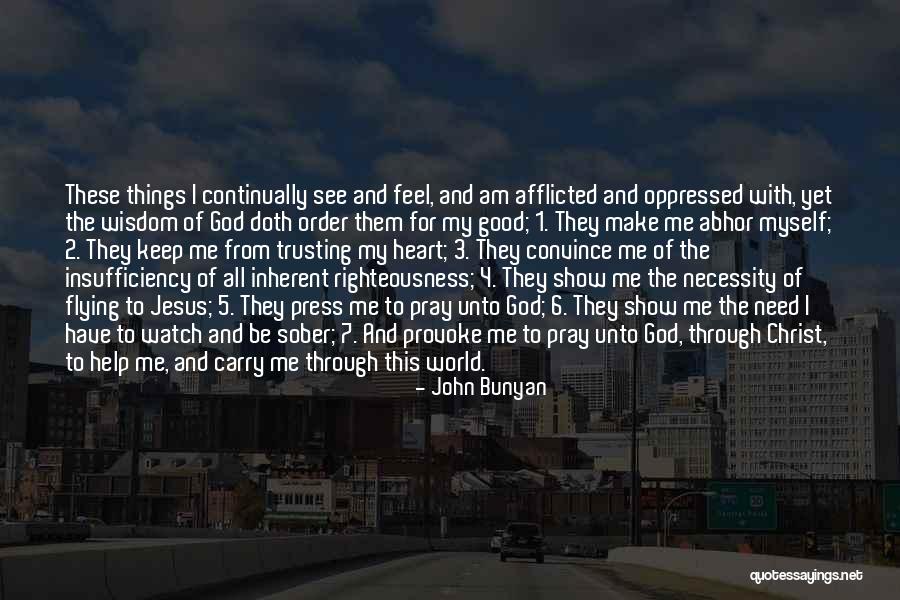 These things I continually see and feel, and am afflicted and oppressed with, yet the wisdom of God doth order them for my good; 1. They make me abhor myself; 2. They keep me from trusting my heart; 3. They convince me of the insufficiency of all inherent righteousness; 4. They show me the necessity of flying to Jesus; 5. They press me to pray unto God; 6. They show me the need I have to watch and be sober; 7. And provoke me to pray unto God, through Christ, to help me, and carry me through this world. — John Bunyan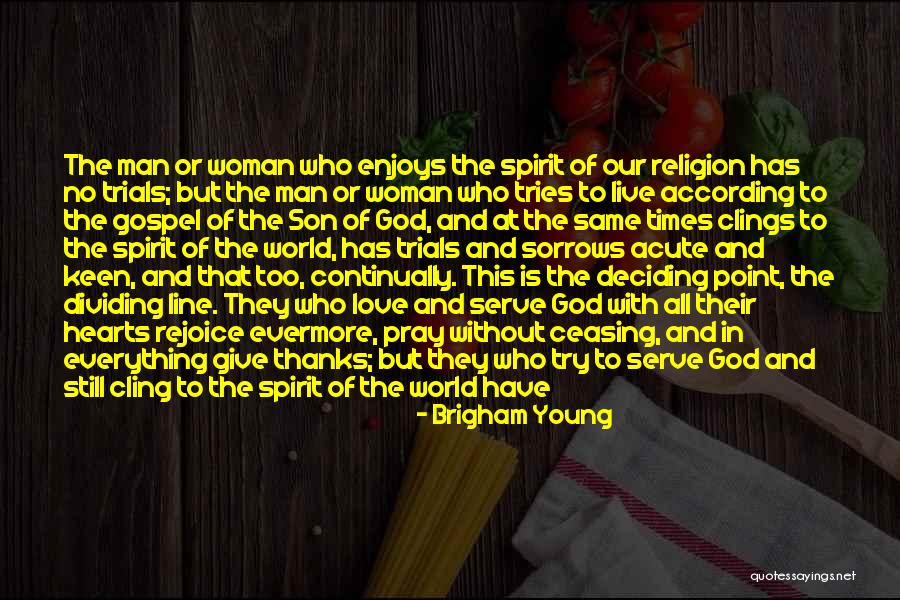 The man or woman who enjoys the spirit of our religion has no trials; but the man or woman who tries to live according to the gospel of the Son of God, and at the same times clings to the spirit of the world, has trials and sorrows acute and keen, and that too, continually. This is the deciding point, the dividing line. They who love and serve God with all their hearts rejoice evermore, pray without ceasing, and in everything give thanks; but they who try to serve God and still cling to the spirit of the world have got on two yokes
the yoke of Jesus and the yoke of the devil, and they will have plenty to do. They will have a warfare inside and outside, and the labor will be very galling, for they are directly in opposition one to the other. — Brigham Young