Powerful Word Of God Quotes & Sayings
Enjoy reading and share 32 famous quotes about Powerful Word Of God with everyone.
Top Powerful Word Of God Quotes
Beautiful Lies is a book every woman should read. Jennifer Strickland weaves the powerful story of her life throughout each chapter while emphasizing transformational truths from God's Word. Her vulnerability, exquisite writing style, and practical take-home applications make this book the ideal choice for personal or for small group use. — Carol Kent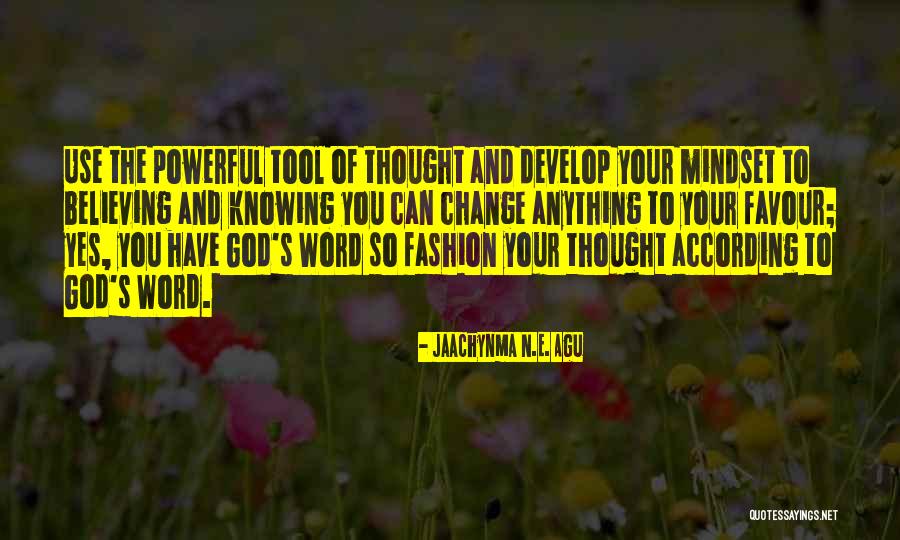 Use the powerful tool of thought and develop your mindset to believing and knowing you can change anything to your favour; yes, you have God's Word so fashion your thought according to God's Word. — Jaachynma N.E. Agu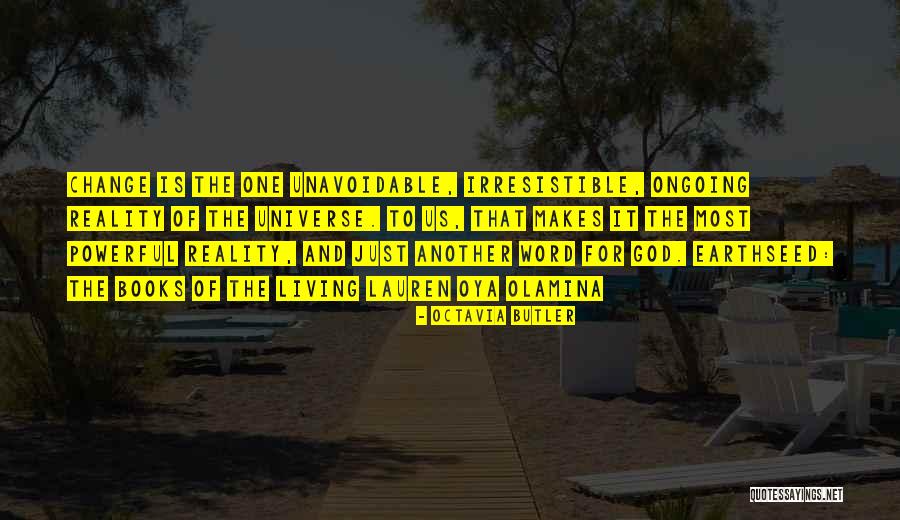 Change is the one unavoidable, irresistible, ongoing reality of the universe. To us, that makes it the most powerful reality, and just another word for God. Earthseed: The Books of the Living Lauren Oya Olamina — Octavia Butler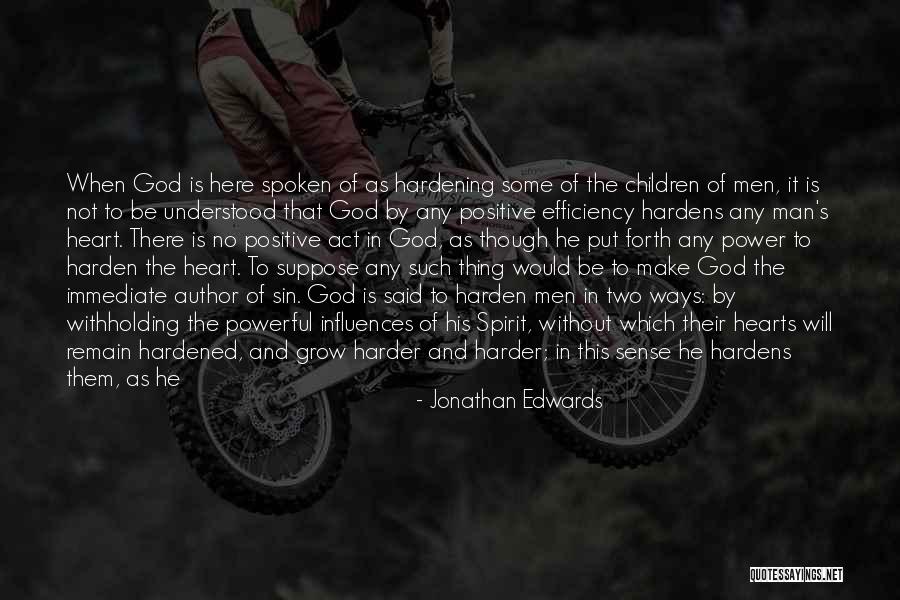 When God is here spoken of as hardening some of the children of men, it is not to be understood that God by any positive efficiency hardens any man's heart. There is no positive act in God, as though he put forth any power to harden the heart. To suppose any such thing would be to make God the immediate author of sin. God is said to harden men in two ways: by withholding the powerful influences of his Spirit, without which their hearts will remain hardened, and grow harder and harder; in this sense he hardens them, as he leaves them to hardness. And again, by ordering those things in his providence which, through the abuse of their corruption, become the occasion of their hardening. Thus God sends his word and ordinances to men which, by their abuse, prove an occasion of their hardening. — Jonathan Edwards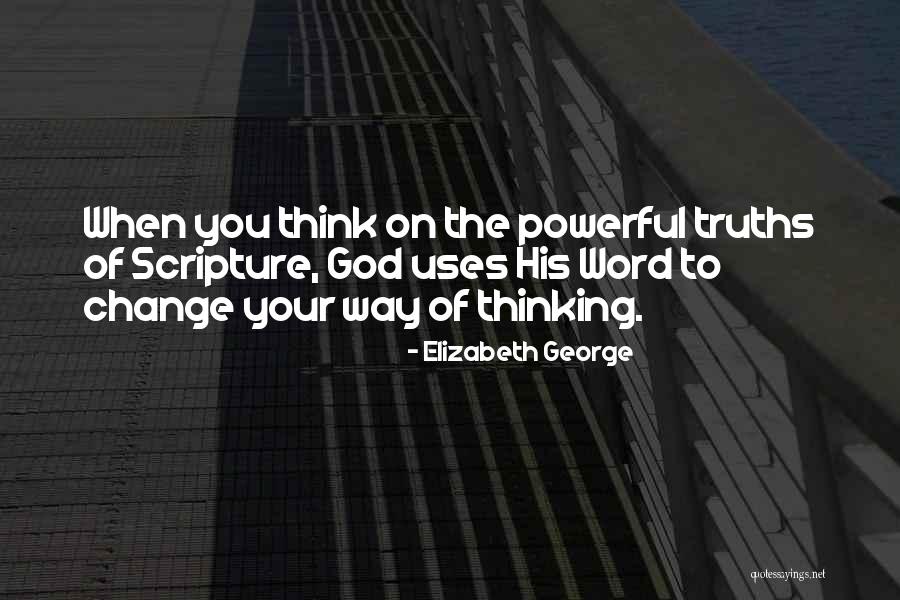 When you think on the powerful truths of Scripture, God uses His Word to change your way of thinking. — Elizabeth George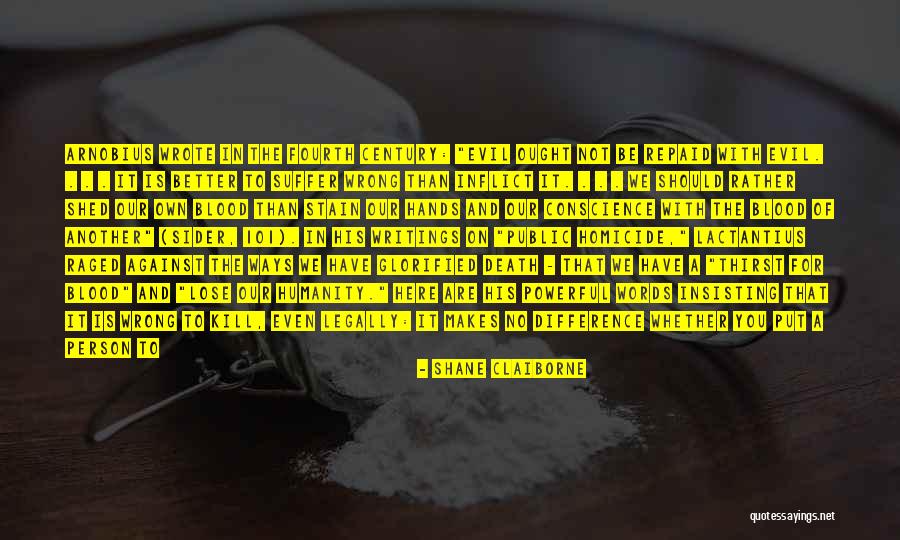 Arnobius wrote in the fourth century: "Evil ought not be repaid with evil. . . . It is better to suffer wrong than inflict it. . . . We should rather shed our own blood than stain our hands and our conscience with the blood of another" (Sider, 101). In his writings on "public homicide," Lactantius raged against the ways we have glorified death - that we have a "thirst for blood" and "lose our humanity." Here are his powerful words insisting that it is wrong to kill, even legally: It makes no difference whether you put a person to death by word or rather by sword, since it is the act of putting to death itself which is prohibited. . . . There ought to be no exception at all but that it is always unlawful to put to death a person who God willed to be a sacred creature. (Sider, 110) He goes on to say that when we kill, even legally execute, "the bloodshed stains the conscience. — Shane Claiborne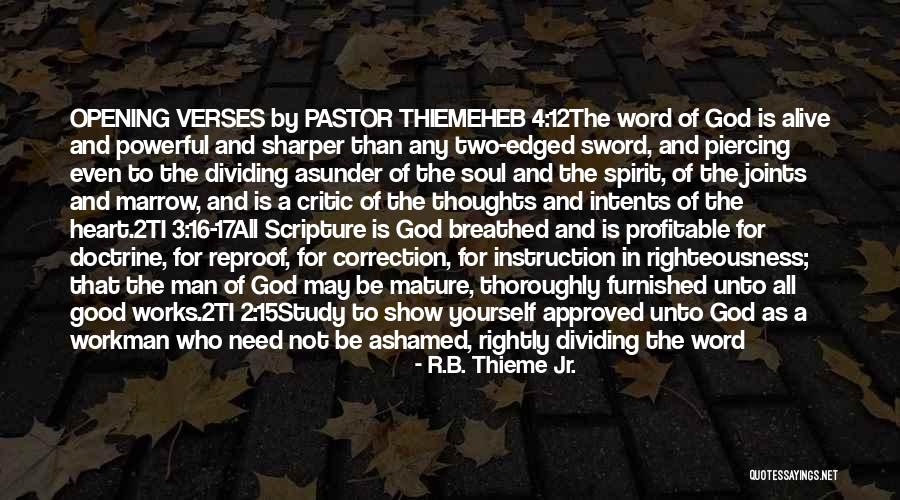 OPENING VERSES by PASTOR THIEME

HEB 4:12
The word of God is alive and powerful and sharper than any two-edged sword, and piercing even to the dividing asunder of the soul and the spirit, of the joints and marrow, and is a critic of the thoughts and intents of the heart.

2TI 3:16-17
All Scripture is God breathed and is profitable for doctrine, for reproof, for correction, for instruction in righteousness; that the man of God may be mature, thoroughly furnished unto all good works.

2TI 2:15
Study to show yourself approved unto God as a workman who need not be ashamed, rightly dividing the word of truth. — R.B. Thieme Jr.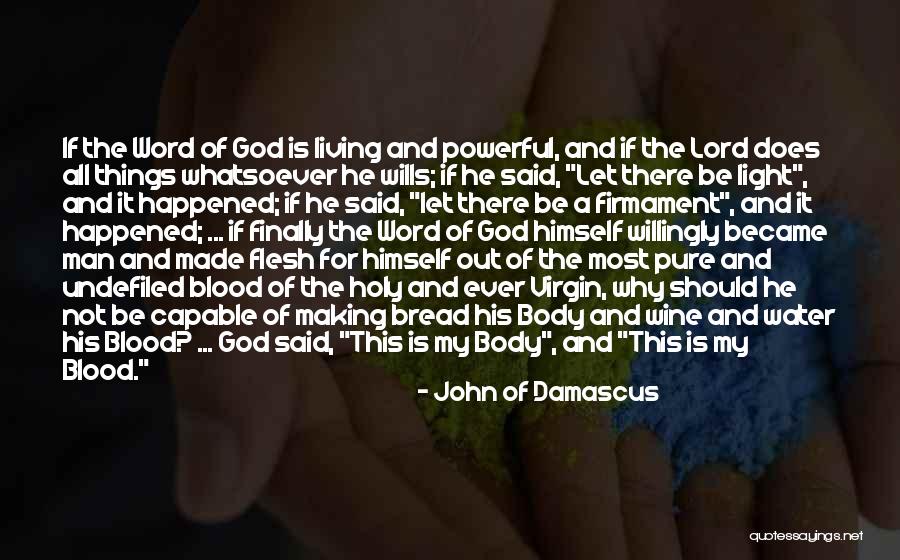 If the Word of God is living and powerful, and if the Lord does all things whatsoever he wills; if he said, "Let there be light", and it happened; if he said, "let there be a firmament", and it happened; ... if finally the Word of God himself willingly became man and made flesh for himself out of the most pure and undefiled blood of the holy and ever Virgin, why should he not be capable of making bread his Body and wine and water his Blood? ... God said, "This is my Body", and "This is my Blood." — John Of Damascus
3 The Son is the radiance of God's glory and the exact expression of His nature, sustaining all things by His powerful word. After making purification for sins, He sat down at the right hand of the Majesty on high.4 So He — Anonymous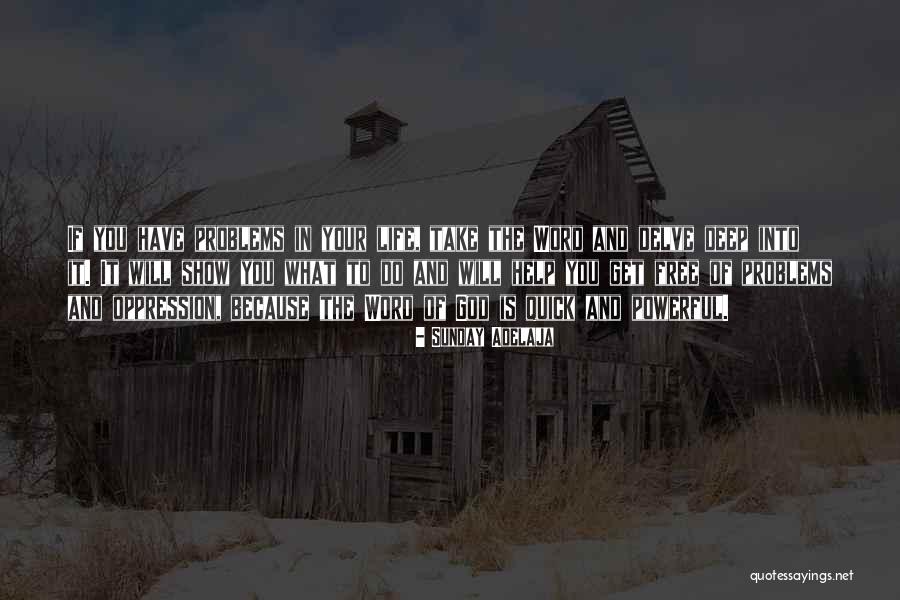 If you have problems in your life, take the Word and delve deep into it. It will show you what to do and will help you get free of problems and oppression, because the Word of God is quick and powerful. — Sunday Adelaja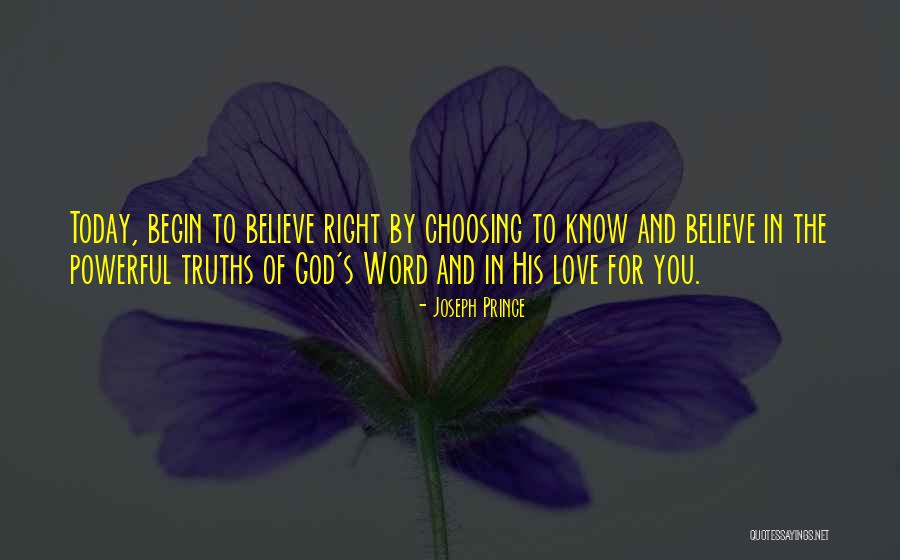 Today, begin to believe right by choosing to know and believe in the powerful truths of God's Word and in His love for you. — Joseph Prince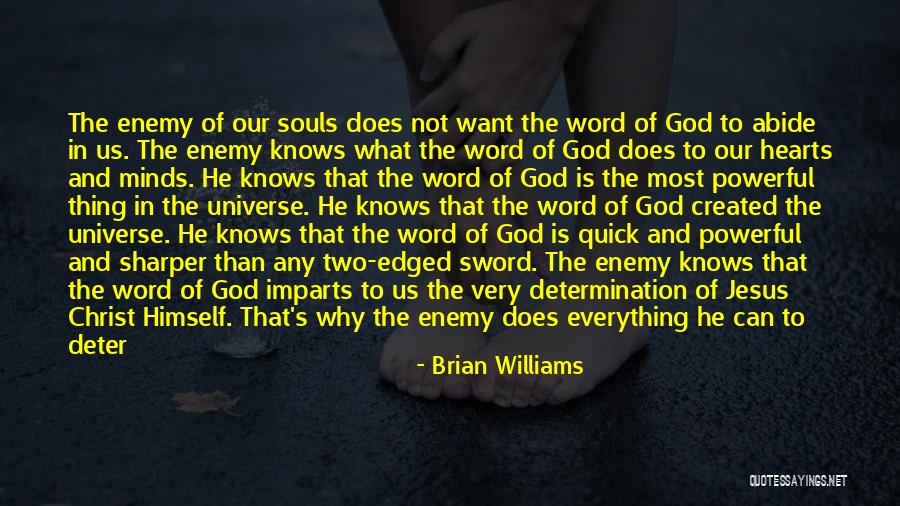 The enemy of our souls does not want the word of God to abide in us. The enemy knows what the word of God does to our hearts and minds. He knows that the word of God is the most powerful thing in the universe. He knows that the word of God created the universe. He knows that the word of God is quick and powerful and sharper than any two-edged sword. The enemy knows that the word of God imparts to us the very determination of Jesus Christ Himself. That's why the enemy does everything he can to deter you from the word. The enemy is terrified of the word of God. He knows that when the word of God abides in you, he becomes the victim, and you become the victor OVER HIM! — Brian Williams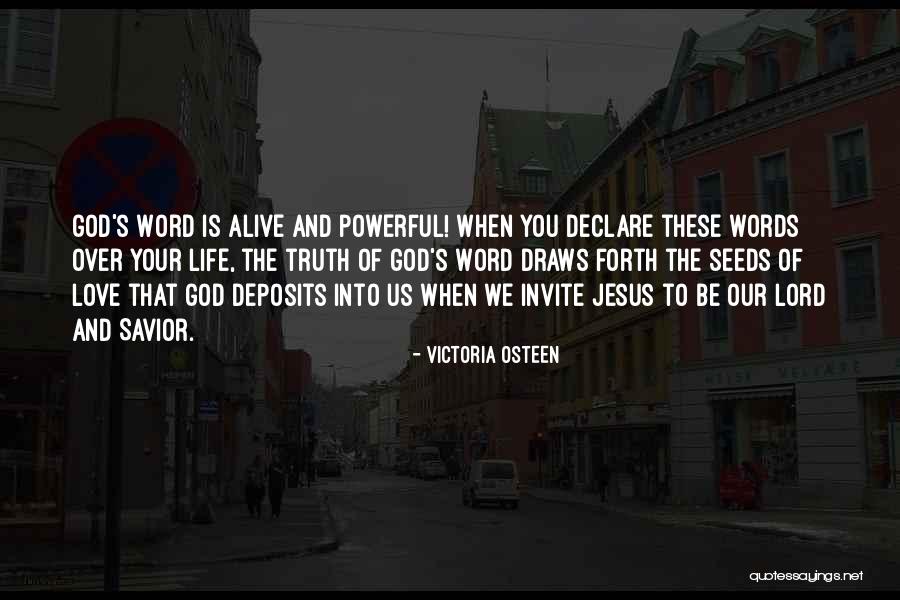 God's Word is alive and powerful! When you declare these words over your life, the truth of God's Word draws forth the seeds of love that God deposits into us when we invite Jesus to be our Lord and Savior. — Victoria Osteen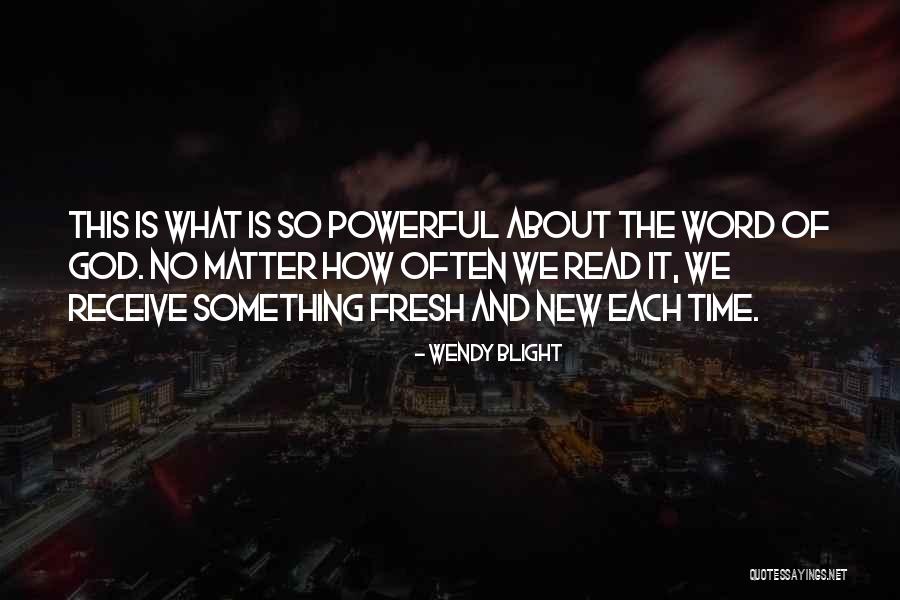 This is what is so powerful about the Word of God. No matter how often we read it, we receive something fresh and new each time. — Wendy Blight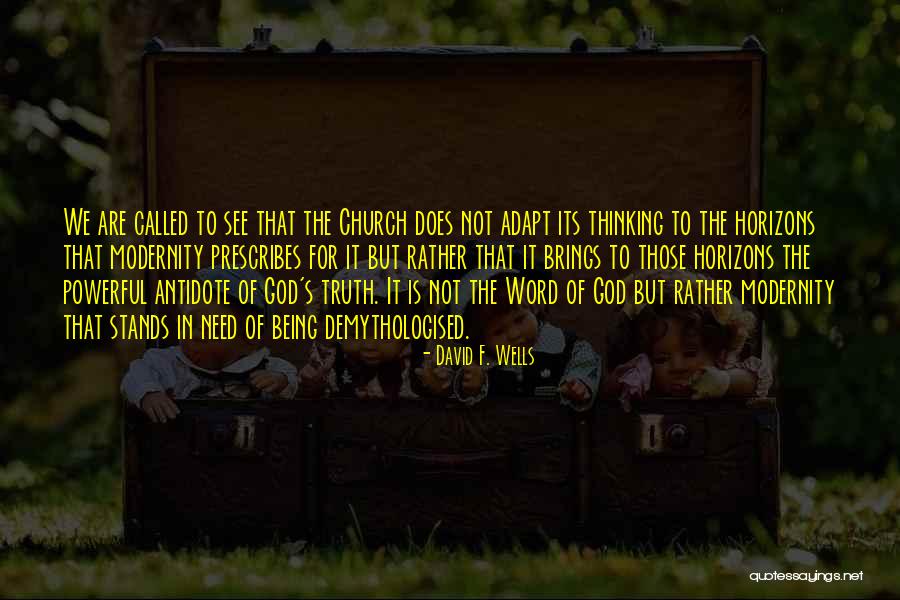 We are called to see that the Church does not adapt its thinking to the horizons that modernity prescribes for it but rather that it brings to those horizons the powerful antidote of God's truth. It is not the Word of God but rather modernity that stands in need of being demythologised. — David F. Wells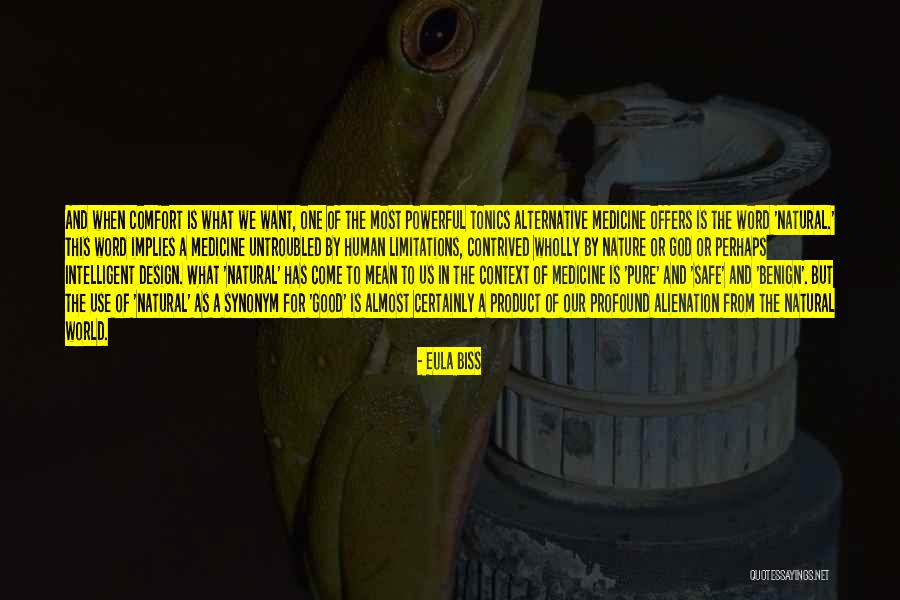 And when comfort is what we want, one of the most powerful tonics alternative medicine offers is the word 'natural.' This word implies a medicine untroubled by human limitations, contrived wholly by nature or God or perhaps intelligent design. What 'natural' has come to mean to us in the context of medicine is 'pure' and 'safe' and 'benign'. But the use of 'natural' as a synonym for 'good' is almost certainly a product of our profound alienation from the natural world. — Eula Biss
The depiction of the divine family is one of the key expressions of the greatest word of power, the Unpronounceable Name of God, or Tetragrammaton. This fourfold name is comprised of the Hebrew letters Yod, Heh, Vav, Heh corresponding respectively to the Father, Mother, Son, and Daughter. The correct pronunciation of Tetragrammaton, which was said to be immensely powerful and capable of destroying the universe, has been lost for centuries. Significantly, if the Yod, symbolising God the Father, is removed from this name, we are left with Heh Vav Heh, which spells Eve, the first woman of the Book of Genesis and some of the Gnostic texts. — Sorita D'este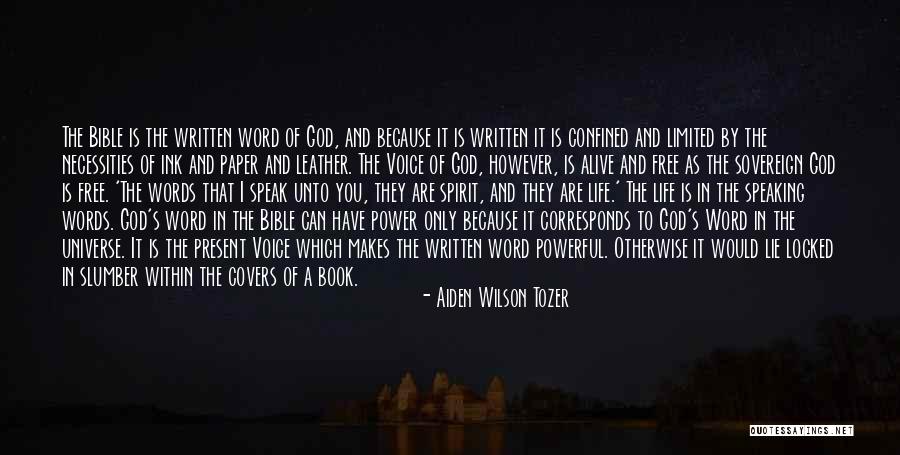 The Bible is the written word of God, and because it is written it is confined and limited by the necessities of ink and paper and leather. The Voice of God, however, is alive and free as the sovereign God is free. 'The words that I speak unto you, they are spirit, and they are life.' The life is in the speaking words. God's word in the Bible can have power only because it corresponds to God's Word in the universe. It is the present Voice which makes the written word powerful. Otherwise it would lie locked in slumber within the covers of a book. — Aiden Wilson Tozer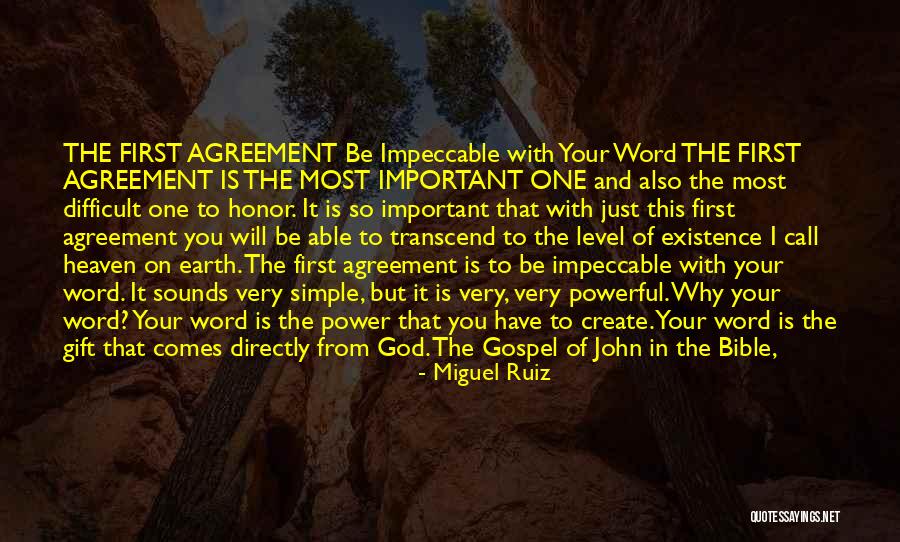 THE FIRST AGREEMENT Be Impeccable with Your Word THE FIRST AGREEMENT IS THE MOST IMPORTANT ONE and also the most difficult one to honor. It is so important that with just this first agreement you will be able to transcend to the level of existence I call heaven on earth. The first agreement is to be impeccable with your word. It sounds very simple, but it is very, very powerful. Why your word? Your word is the power that you have to create. Your word is the gift that comes directly from God. The Gospel of John in the Bible, speaking of the creation of the universe, says, "In the beginning was the word, and the word was with God, and the word is God." Through the word you express your creative power. It is through the word that you manifest everything. Regardless of what language you speak, your intent manifests through the word. What you dream, what you feel, and what you really are, will all be manifested through the word. — Miguel Ruiz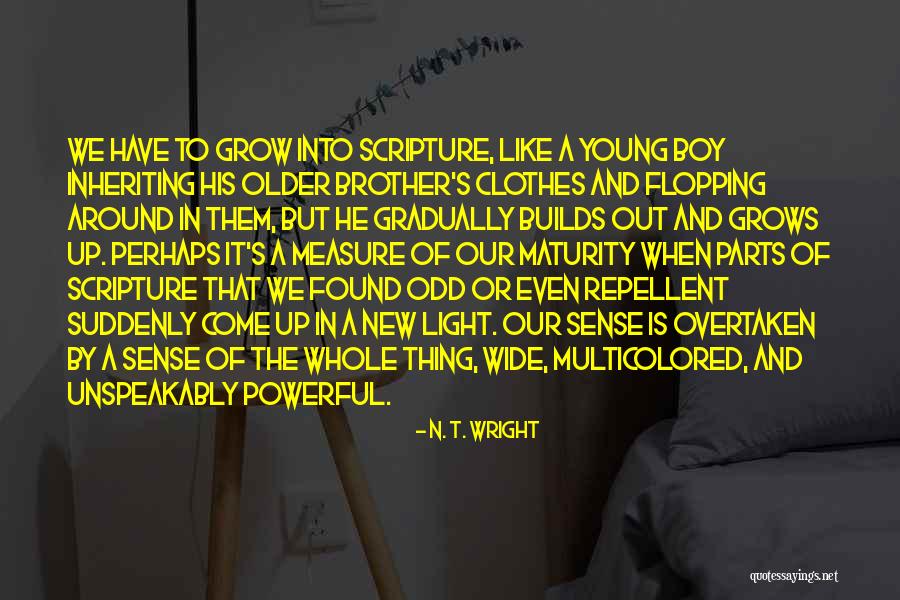 We have to grow into Scripture, like a young boy inheriting his older brother's clothes and flopping around in them, but he gradually builds out and grows up. Perhaps it's a measure of our maturity when parts of Scripture that we found odd or even repellent suddenly come up in a new light. Our sense is overtaken by a sense of the whole thing, wide, multicolored, and unspeakably powerful. — N. T. Wright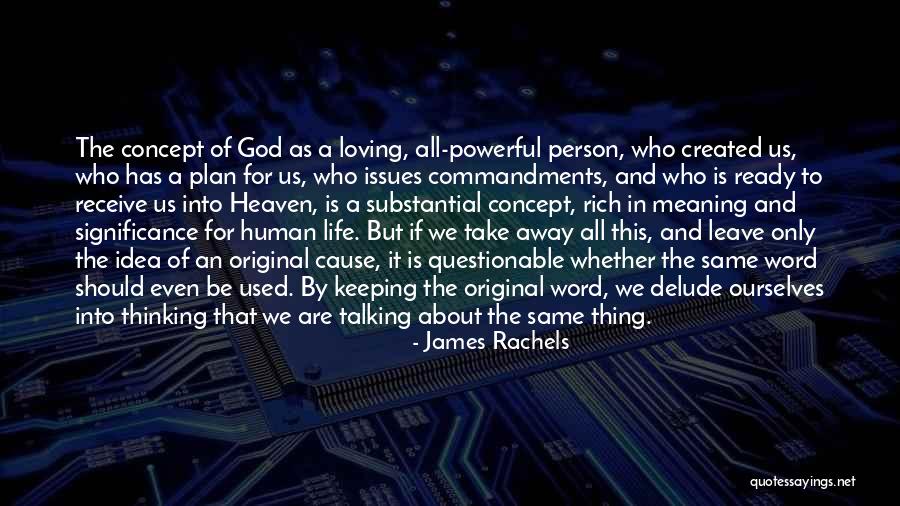 The concept of God as a loving, all-powerful person, who created us, who has a plan for us, who issues commandments, and who is ready to receive us into Heaven, is a substantial concept, rich in meaning and significance for human life. But if we take away all this, and leave only the idea of an original cause, it is questionable whether the same word should even be used. By keeping the original word, we delude ourselves into thinking that we are talking about the same thing. — James Rachels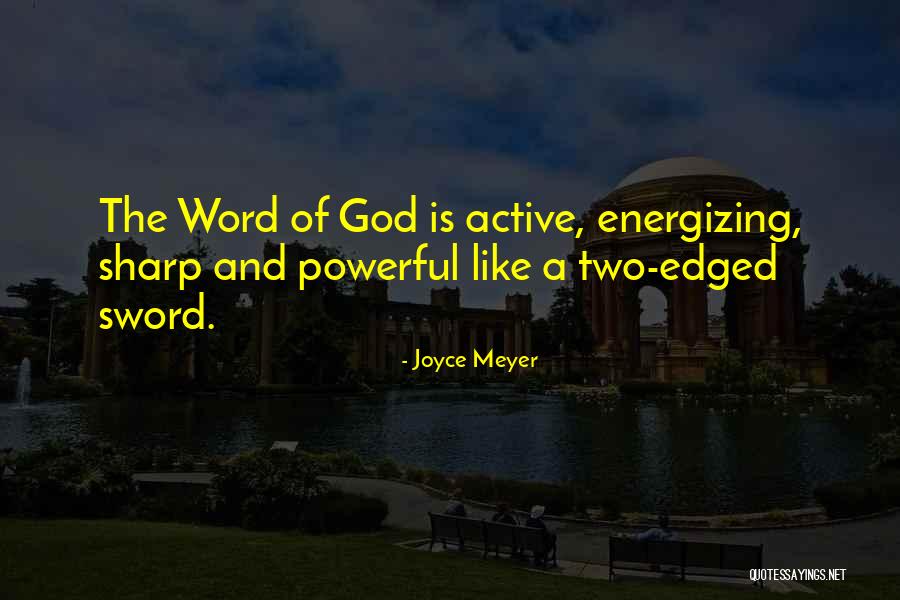 The Word of God is active, energizing, sharp and powerful like a two-edged sword. — Joyce Meyer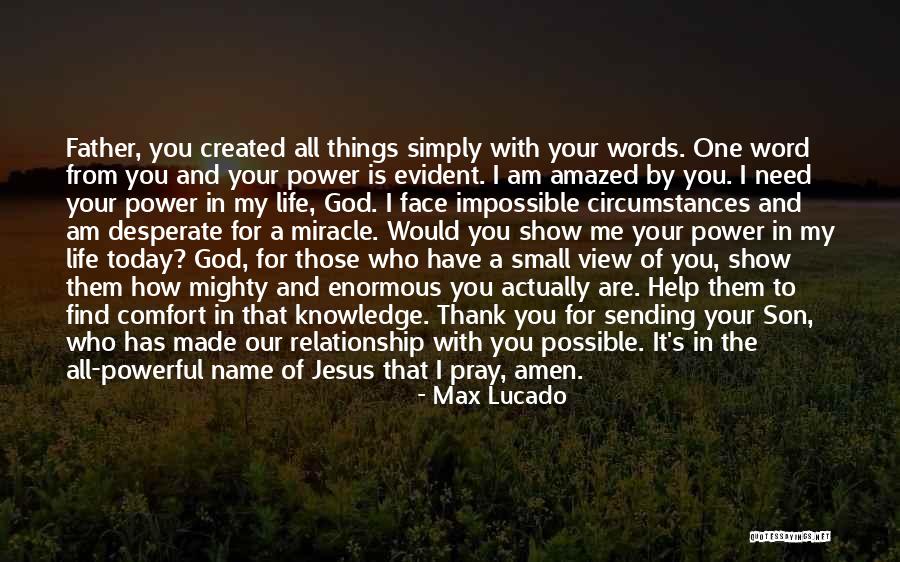 Father, you created all things simply with your words. One word from you and your power is evident. I am amazed by you. I need your power in my life, God. I face impossible circumstances and am desperate for a miracle. Would you show me your power in my life today? God, for those who have a small view of you, show them how mighty and enormous you actually are. Help them to find comfort in that knowledge. Thank you for sending your Son, who has made our relationship with you possible. It's in the all-powerful name of Jesus that I pray, amen. — Max Lucado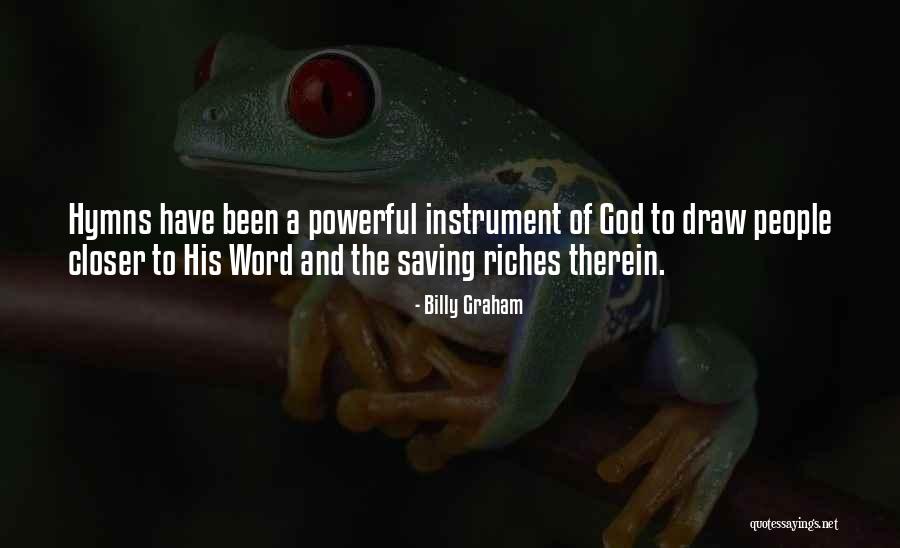 Hymns have been a powerful instrument of God to draw people closer to His Word and the saving riches therein. — Billy Graham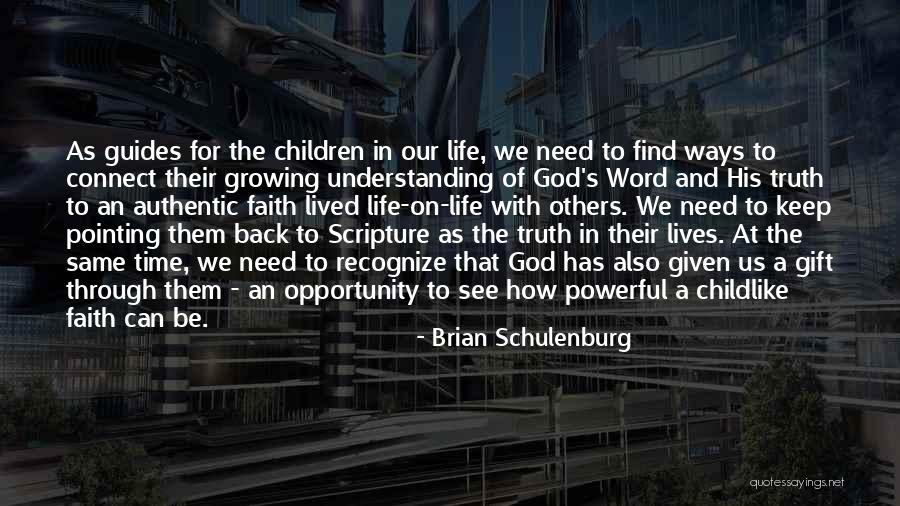 As guides for the children in our life, we need to find ways to connect their growing understanding of God's Word and His truth to an authentic faith lived life-on-life with others. We need to keep pointing them back to Scripture as the truth in their lives. At the same time, we need to recognize that God has also given us a gift through them - an opportunity to see how powerful a childlike faith can be. — Brian Schulenburg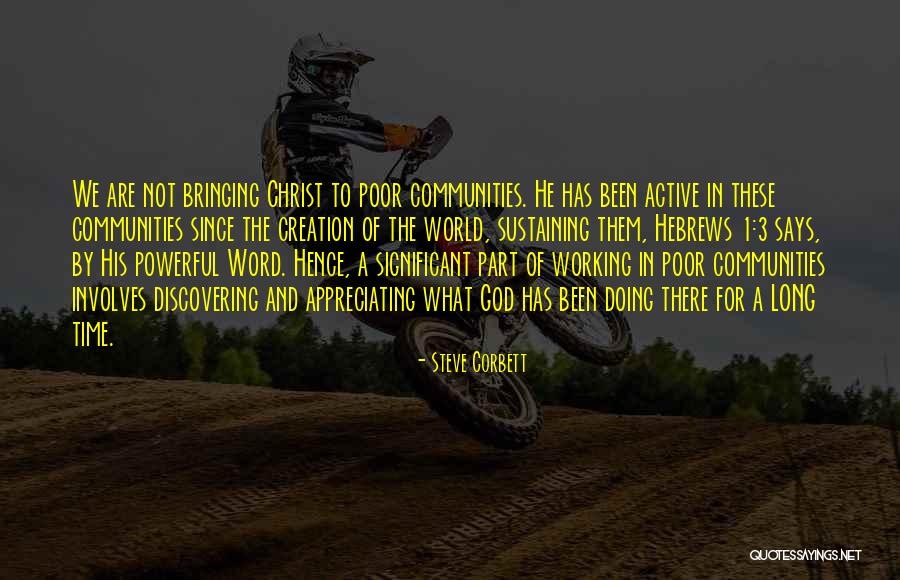 We are not bringing Christ to poor communities. He has been active in these communities since the creation of the world, sustaining them, Hebrews 1:3 says, by His powerful Word. Hence, a significant part of working in poor communities involves discovering and appreciating what God has been doing there for a LONG time. — Steve Corbett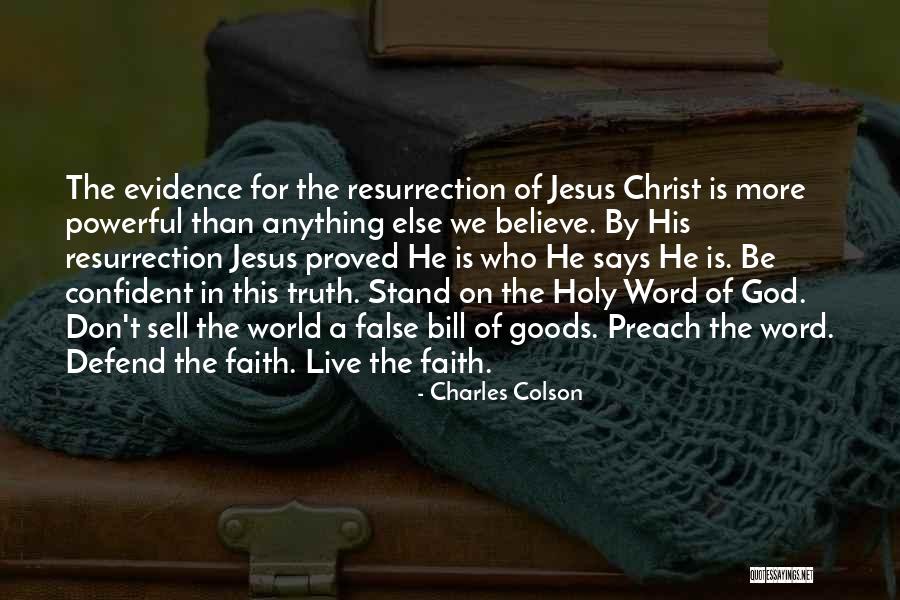 The evidence for the resurrection of Jesus Christ is more powerful than anything else we believe. By His resurrection Jesus proved He is who He says He is. Be confident in this truth. Stand on the Holy Word of God. Don't sell the world a false bill of goods. Preach the word. Defend the faith. Live the faith. — Charles Colson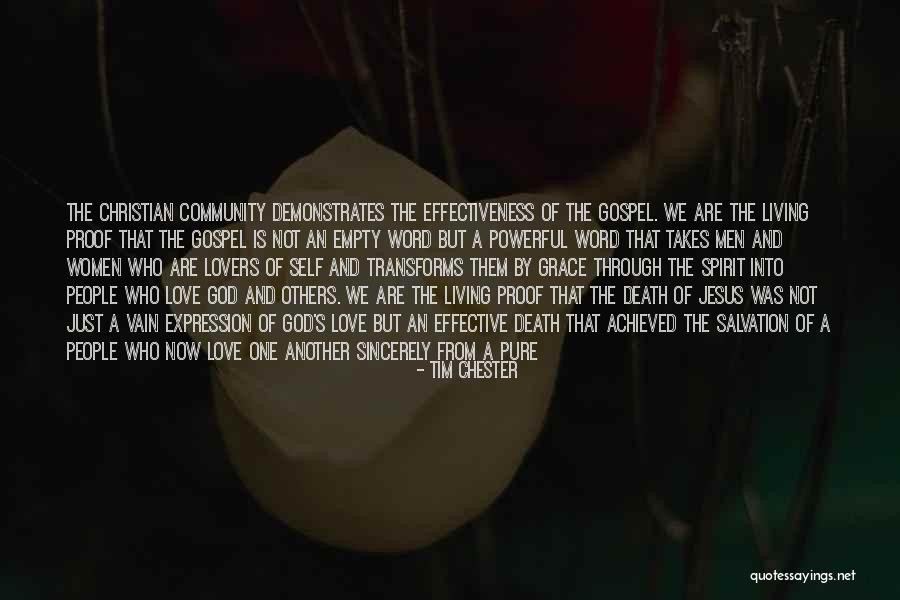 The Christian community demonstrates the effectiveness of the gospel. We are the living proof that the gospel is not an empty word but a powerful word that takes men and women who are lovers of self and transforms them by grace through the Spirit into people who love God and others. We are the living proof that the death of Jesus was not just a vain expression of God's love but an effective death that achieved the salvation of a people who now love one another sincerely from a pure — Tim Chester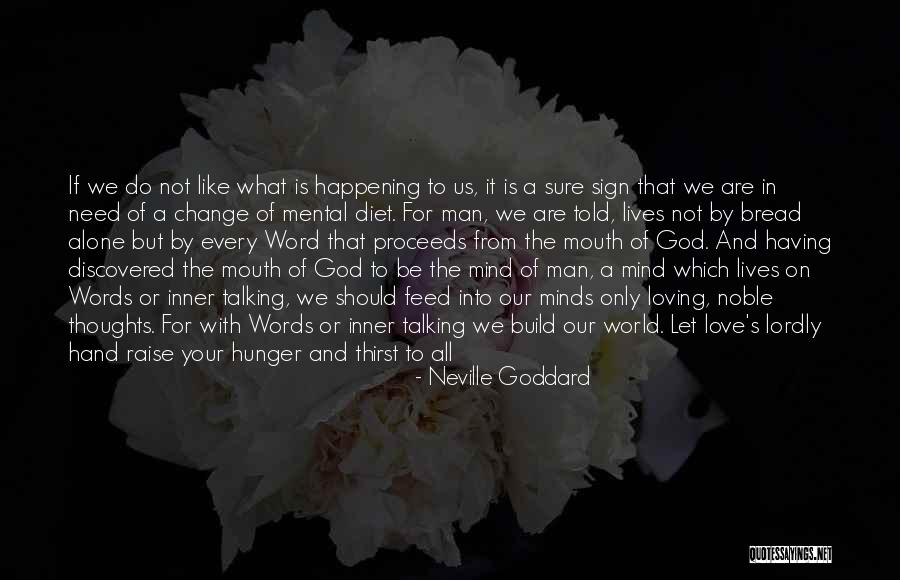 If we do not like what is happening to us, it is a sure sign that we are in need of a change of mental diet. For man, we are told, lives not by bread alone but by every Word that proceeds from the mouth of God. And having discovered the mouth of God to be the mind of man, a mind which lives on Words or inner talking, we should feed into our minds only loving, noble thoughts. For with Words or inner talking we build our world. Let love's lordly hand raise your hunger and thirst to all that is noble and of good report, and let your mind starve e'er you raise your hand to a cup love did not fill or a bowl love did not bless. That you may never again have to say, What have I said? What have I done, O All Powerful Human Word? — Neville Goddard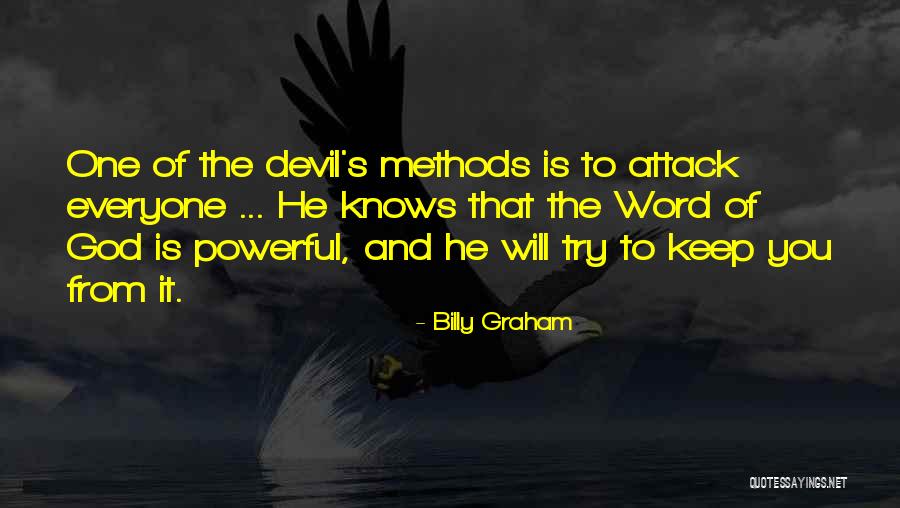 One of the devil's methods is to attack everyone ... He knows that the Word of God is powerful, and he will try to keep you from it. — Billy Graham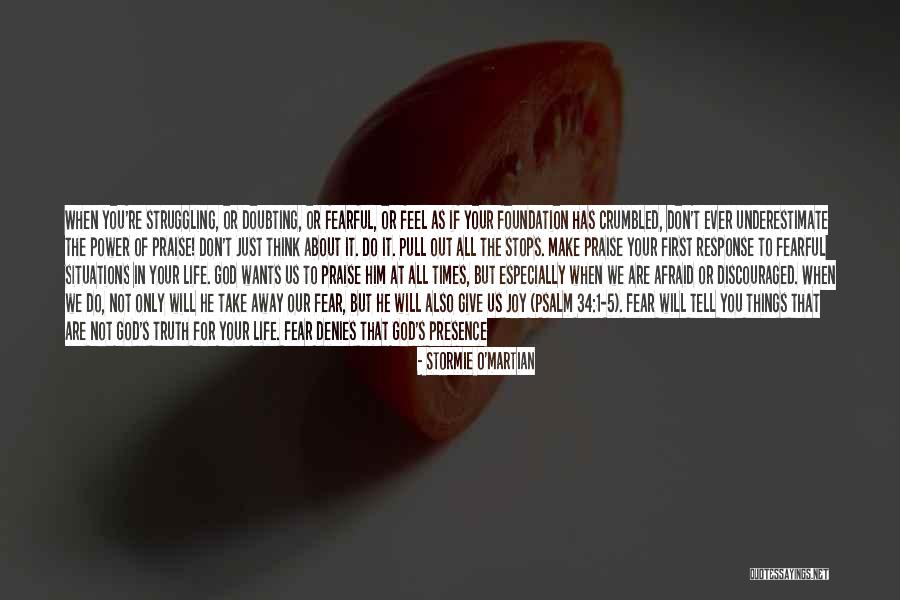 When you're struggling, or doubting, or fearful, or feel as if your foundation has crumbled, don't ever underestimate the power of praise! Don't just think about it. Do it. Pull out all the stops. Make praise your first response to fearful situations in your life. God wants us to praise Him at all times, but especially when we are afraid or discouraged. When we do, not only will He take away our fear, but He will also give us joy (Psalm 34:1-5). Fear will tell you things that are not God's truth for your life. Fear denies that God's presence is powerful and fully active in your life. It cancels all hope and faith in God's desire to work in your behalf. But the truth is that faith, prayer, praise, and the Word of God will conquer your every fear. — Stormie O'martian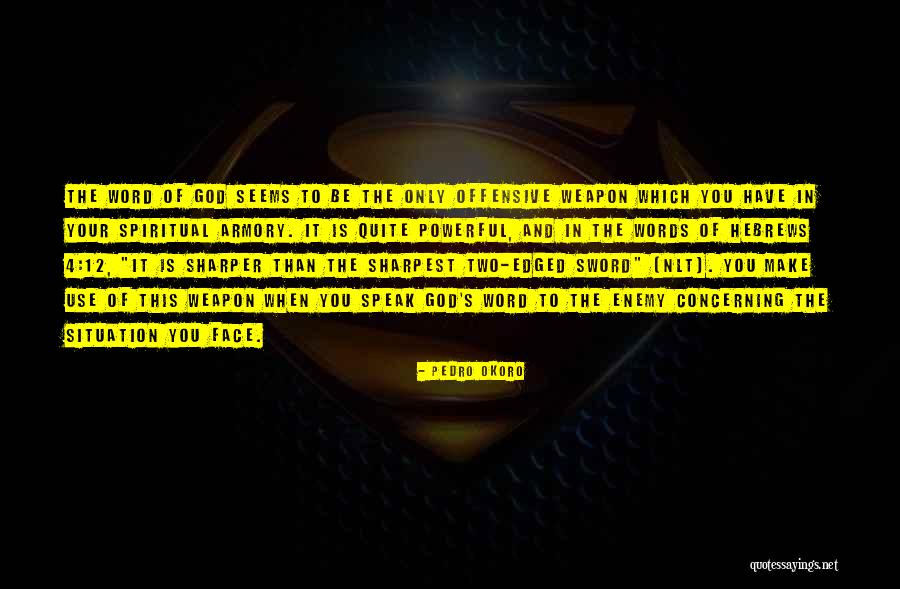 The Word of God seems to be the only offensive weapon which you have in your spiritual armory. It is quite powerful, and in the words of Hebrews 4:12, "It is sharper than the sharpest two-edged sword" (NLT). You make use of this weapon when you speak God's Word to the Enemy concerning the situation you face. — Pedro Okoro