Quotes & Sayings About Physical Beauty Vs. Inner Beauty
Enjoy reading and share 10 famous quotes about Physical Beauty Vs. Inner Beauty with everyone.
Top Physical Beauty Vs. Inner Beauty Quotes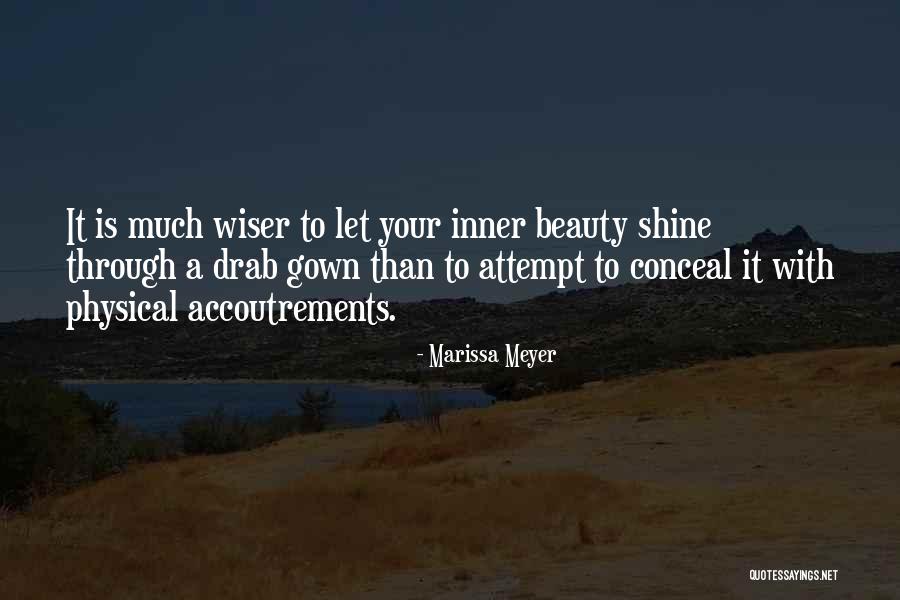 It is much wiser to let your inner beauty shine through a drab gown than to attempt to conceal it with physical accoutrements. — Marissa Meyer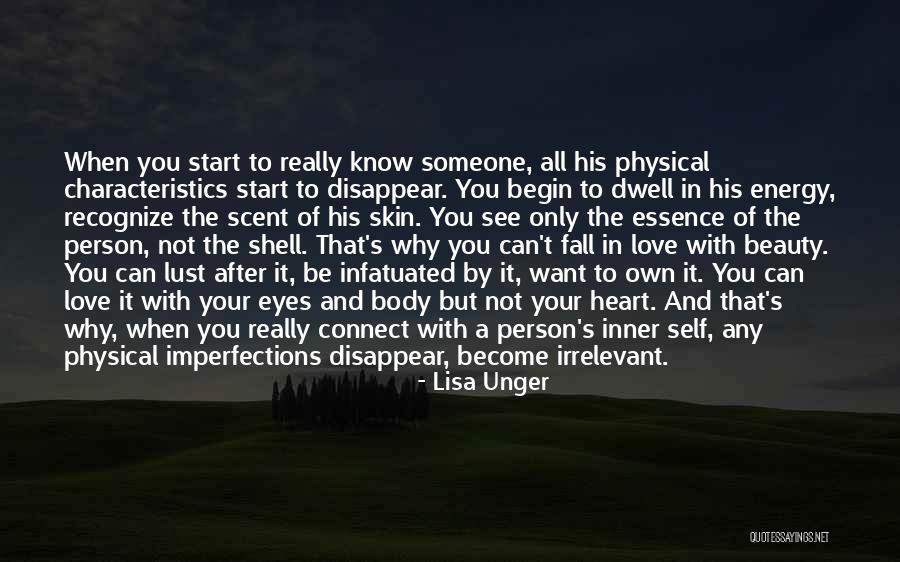 When you start to really know someone, all his physical characteristics start to disappear. You begin to dwell in his energy, recognize the scent of his skin. You see only the essence of the person, not the shell. That's why you can't fall in love with beauty. You can lust after it, be infatuated by it, want to own it. You can love it with your eyes and body but not your heart. And that's why, when you really connect with a person's inner self, any physical imperfections disappear, become irrelevant. — Lisa Unger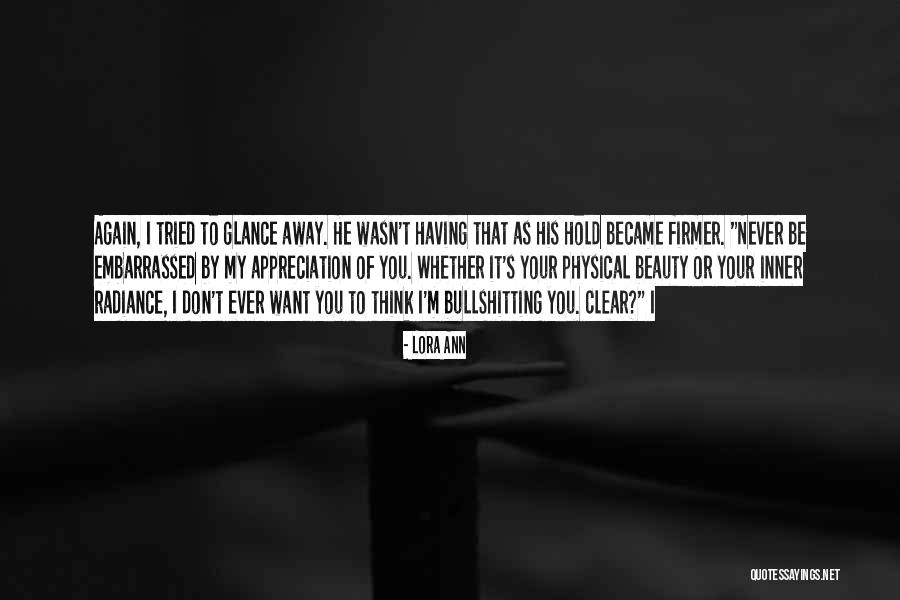 Again, I tried to glance away. He wasn't having that as his hold became firmer. "Never be embarrassed by my appreciation of you. Whether it's your physical beauty or your inner radiance, I don't ever want you to think I'm bullshitting you. Clear?" I — Lora Ann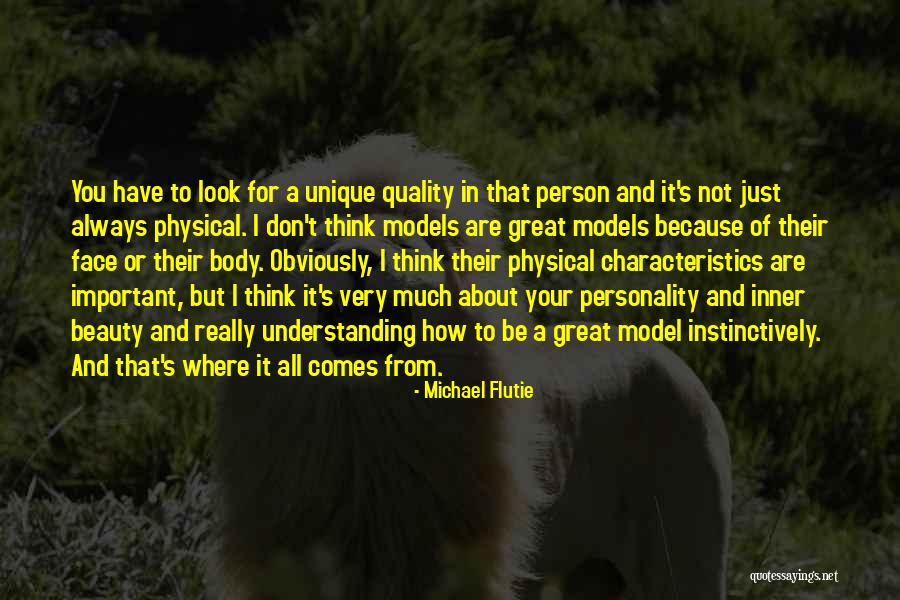 You have to look for a unique quality in that person and it's not just always physical. I don't think models are great models because of their face or their body. Obviously, I think their physical characteristics are important, but I think it's very much about your personality and inner beauty and really understanding how to be a great model instinctively. And that's where it all comes from. — Michael Flutie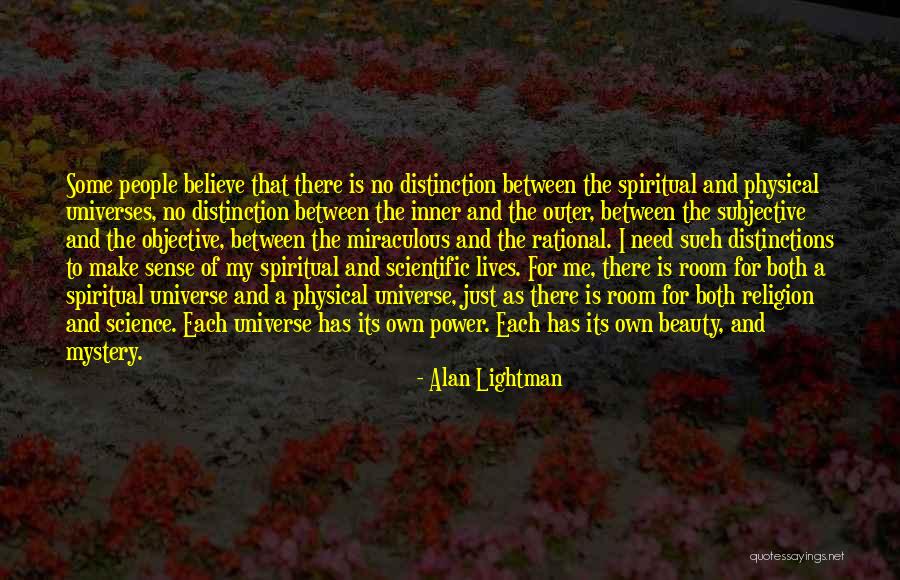 Some people believe that there is no distinction between the spiritual and physical universes, no distinction between the inner and the outer, between the subjective and the objective, between the miraculous and the rational. I need such distinctions to make sense of my spiritual and scientific lives. For me, there is room for both a spiritual universe and a physical universe, just as there is room for both religion and science. Each universe has its own power. Each has its own beauty, and mystery. — Alan Lightman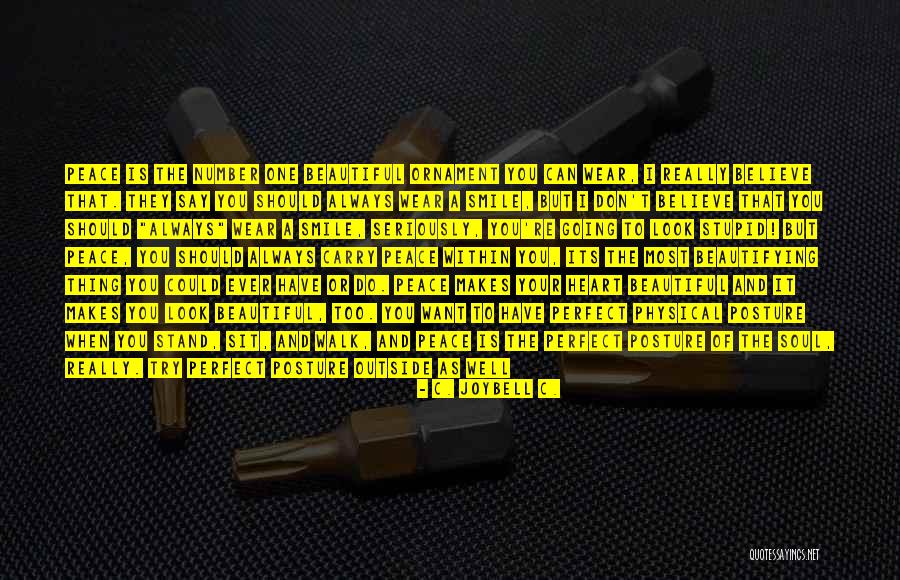 Peace is the number one beautiful ornament you can wear, I really believe that. They say you should always wear a smile, but I don't believe that you should "always" wear a smile, seriously, you're going to look stupid! But peace, you should always carry peace within you, its the most beautifying thing you could ever have or do. Peace makes your heart beautiful and it makes you look beautiful, too. You want to have perfect physical posture when you stand, sit, and walk, and peace is the perfect posture of the soul, really. Try perfect posture outside as well as inside. Peace creates grace and grace gives peace. — C. JoyBell C.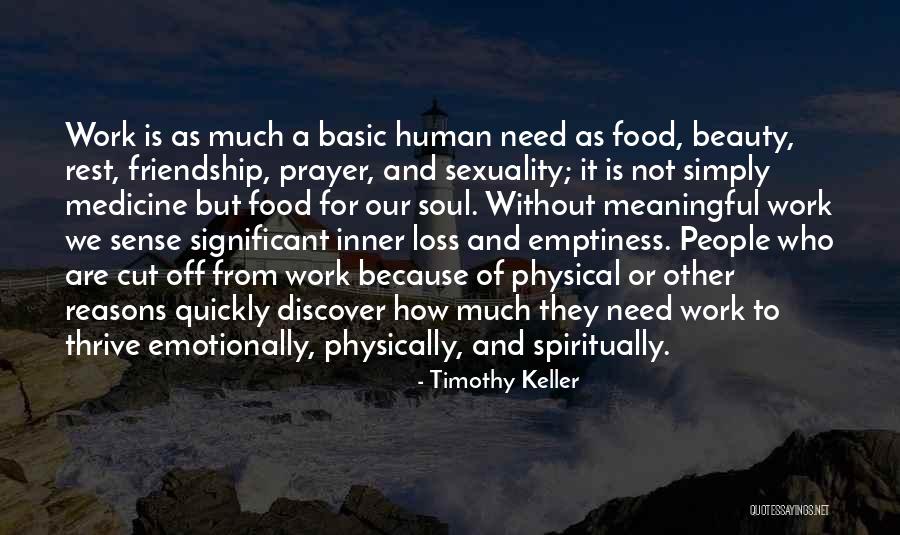 Work is as much a basic human need as food, beauty, rest, friendship, prayer, and sexuality; it is not simply medicine but food for our soul. Without meaningful work we sense significant inner loss and emptiness. People who are cut off from work because of physical or other reasons quickly discover how much they need work to thrive emotionally, physically, and spiritually. — Timothy Keller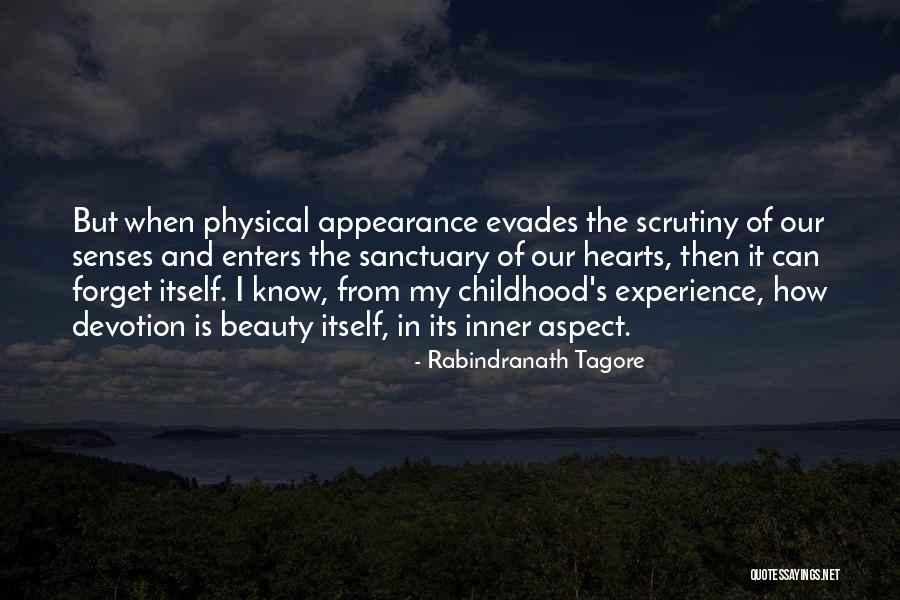 But when physical appearance evades the scrutiny of our senses and enters the sanctuary of our hearts, then it can forget itself. I know, from my childhood's experience, how devotion is beauty itself, in its inner aspect. — Rabindranath Tagore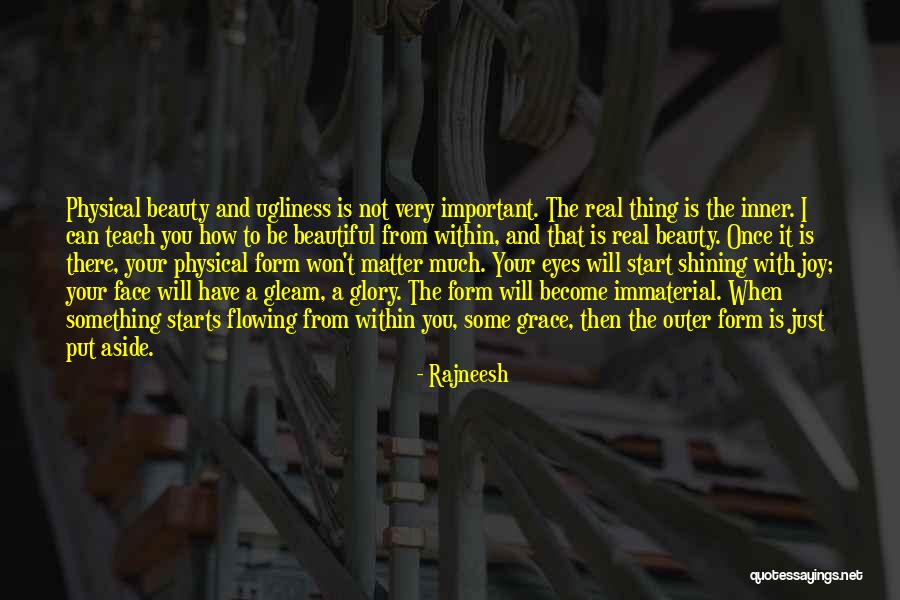 Physical beauty and ugliness is not very important. The real thing is the inner. I can teach you how to be beautiful from within, and that is real beauty. Once it is there, your physical form won't matter much. Your eyes will start shining with joy; your face will have a gleam, a glory. The form will become immaterial. When something starts flowing from within you, some grace, then the outer form is just put aside. — Rajneesh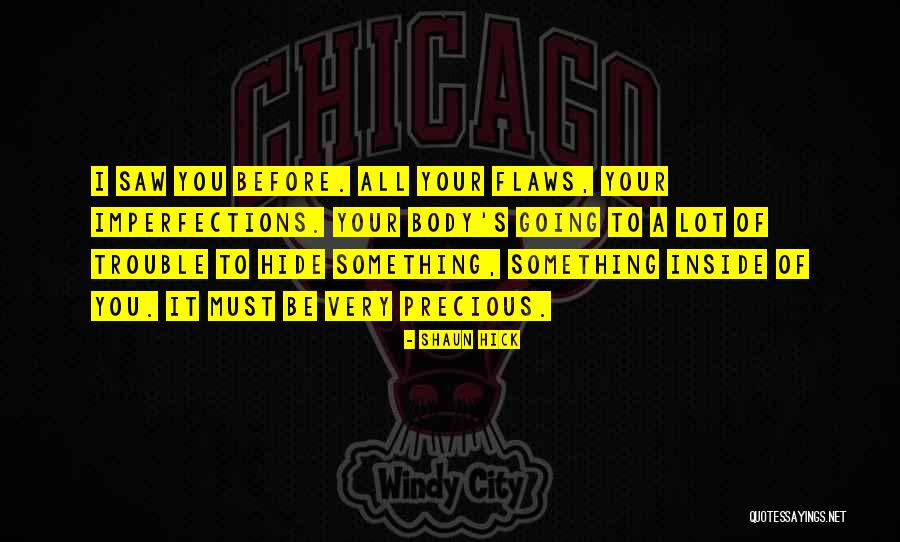 I saw you before. All your flaws, your imperfections. Your body's going to a lot of trouble to hide something, something inside of you. It must be very precious. — Shaun Hick