Quotes & Sayings About Photos And Life
Enjoy reading and share 55 famous quotes about Photos And Life with everyone.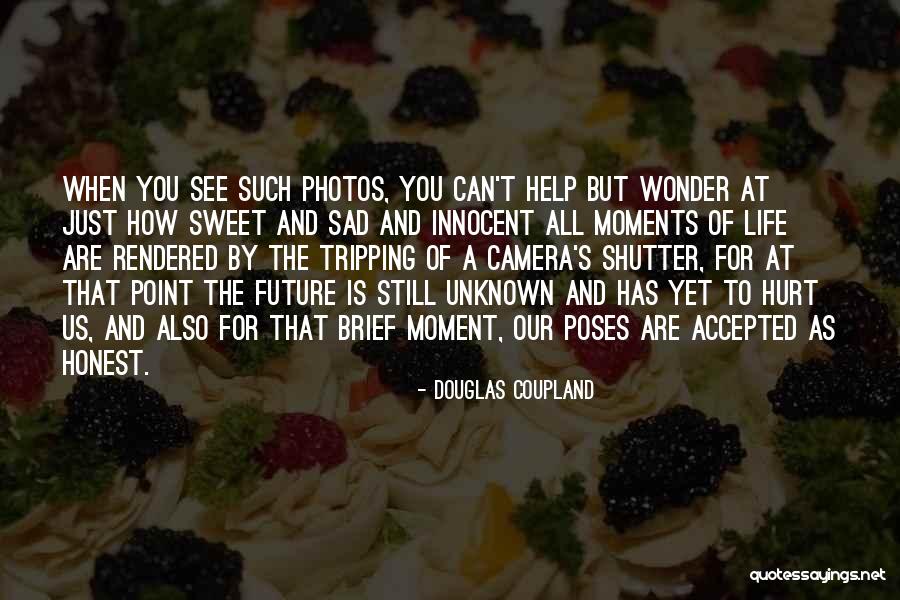 When you see such photos, you can't help but wonder at just how sweet and sad and innocent all moments of life are rendered by the tripping of a camera's shutter, for at that point the future is still unknown and has yet to hurt us, and also for that brief moment, our poses are accepted as honest. — Douglas Coupland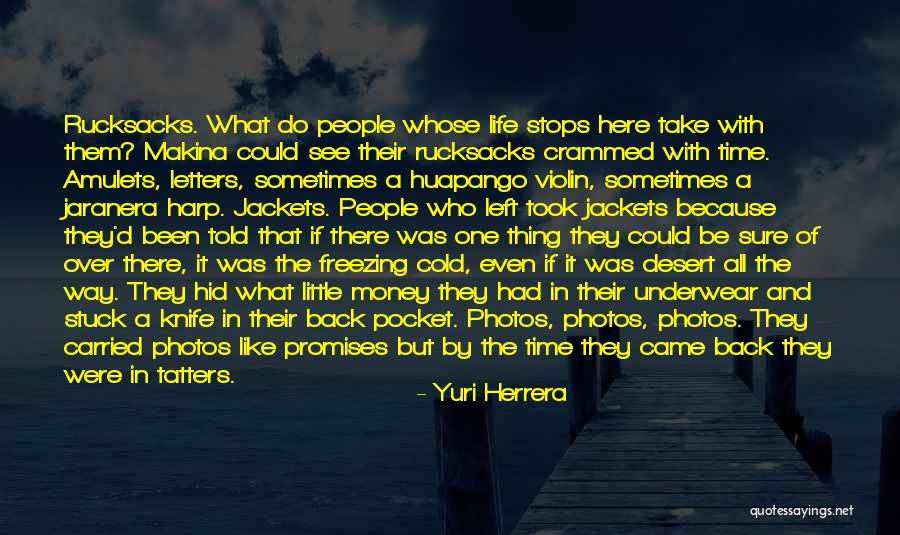 Rucksacks. What do people whose life stops here take with them? Makina could see their rucksacks crammed with time. Amulets, letters, sometimes a huapango violin, sometimes a jaranera harp. Jackets. People who left took jackets because they'd been told that if there was one thing they could be sure of over there, it was the freezing cold, even if it was desert all the way. They hid what little money they had in their underwear and stuck a knife in their back pocket. Photos, photos, photos. They carried photos like promises but by the time they came back they were in tatters. — Yuri Herrera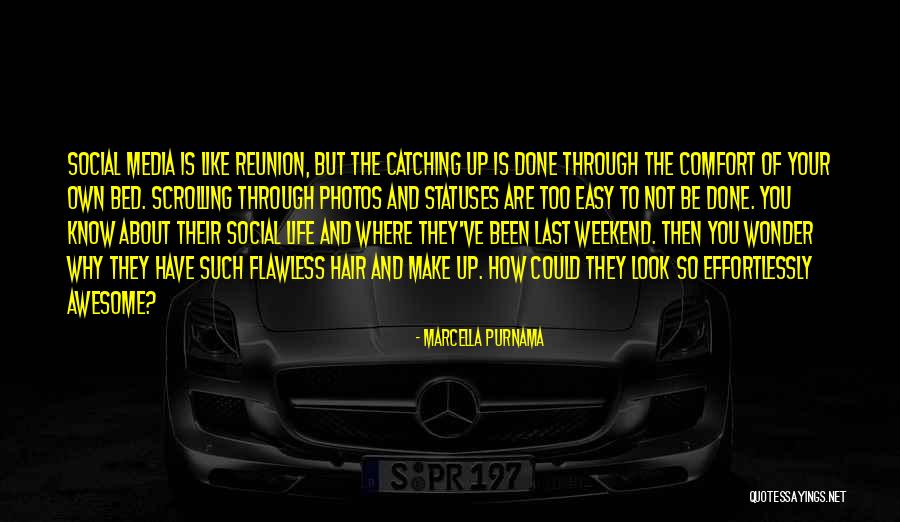 Social media is like reunion, but the catching up is done through the comfort of your own bed. Scrolling through photos and statuses are too easy to not be done. You know about their social life and where they've been last weekend. Then you wonder why they have such flawless hair and make up. How could they look so effortlessly awesome? — Marcella Purnama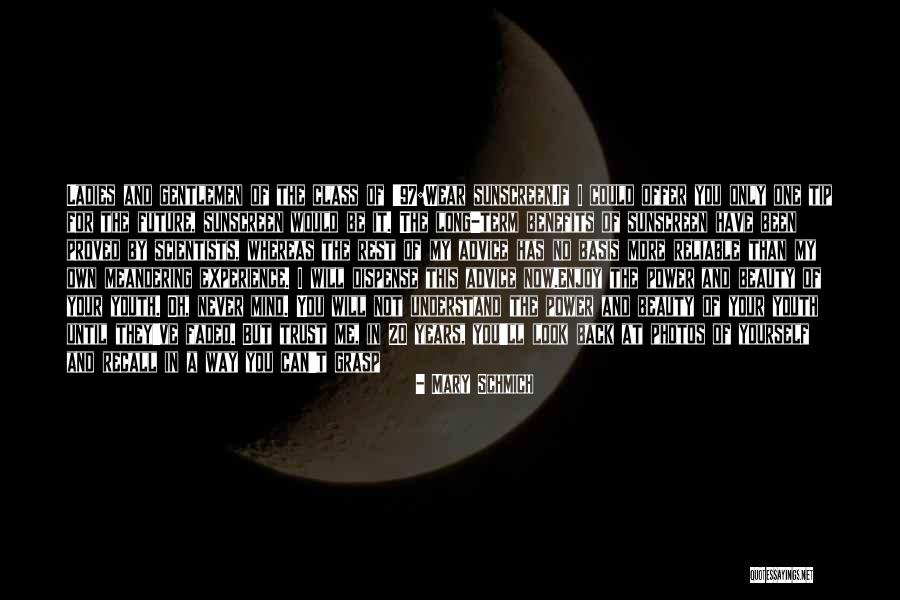 Ladies and gentlemen of the class of '97:
Wear sunscreen.
If I could offer you only one tip for the future, sunscreen would be it. The long-term benefits of sunscreen have been proved by scientists, whereas the rest of my advice has no basis more reliable than my own meandering experience. I will dispense this advice now.
Enjoy the power and beauty of your youth. Oh, never mind. You will not understand the power and beauty of your youth until they've faded. But trust me, in 20 years, you'll look back at photos of yourself and recall in a way you can't grasp now how much possibility lay before you and how fabulous you really looked. You are not as fat as you imagine.
Don't worry about the future. Or worry, but know that worrying is as effective as trying to solve an algebra equation by chewing bubble gum. The real troubles in your life are apt to be things that never crossed your worried mind, the kind that blindside you at 4 p.m. on some idle Tuesday. — Mary Schmich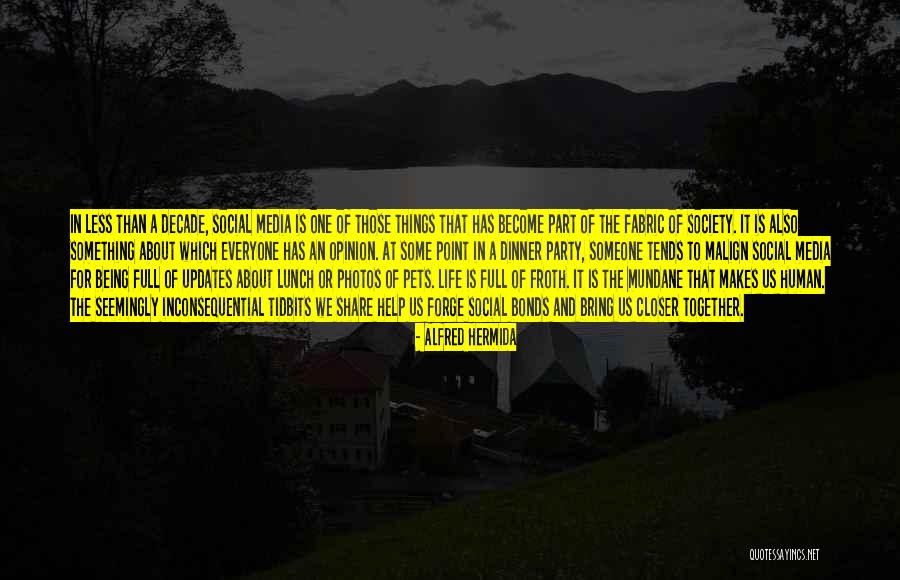 In less than a decade, social media is one of those things that has become part of the fabric of society. It is also something about which everyone has an opinion. At some point in a dinner party, someone tends to malign social media for being full of updates about lunch or photos of pets. Life is full of froth. It is the mundane that makes us human. The seemingly inconsequential tidbits we share help us forge social bonds and bring us closer together. — Alfred Hermida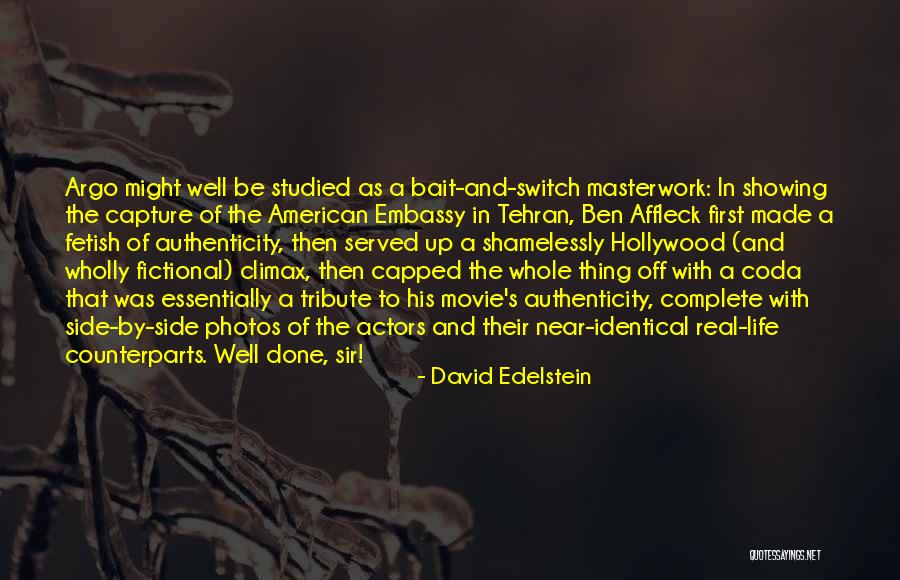 Argo might well be studied as a bait-and-switch masterwork: In showing the capture of the American Embassy in Tehran, Ben Affleck first made a fetish of authenticity, then served up a shamelessly Hollywood (and wholly fictional) climax, then capped the whole thing off with a coda that was essentially a tribute to his movie's authenticity, complete with side-by-side photos of the actors and their near-identical real-life counterparts. Well done, sir! — David Edelstein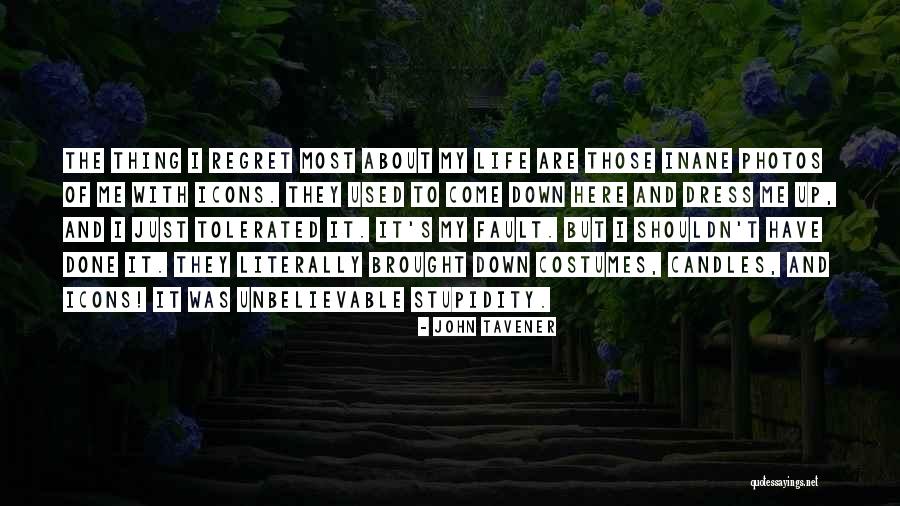 The thing I regret most about my life are those inane photos of me with icons. They used to come down here and dress me up, and I just tolerated it. It's my fault. But I shouldn't have done it. They literally brought down costumes, candles, and icons! It was unbelievable stupidity. — John Tavener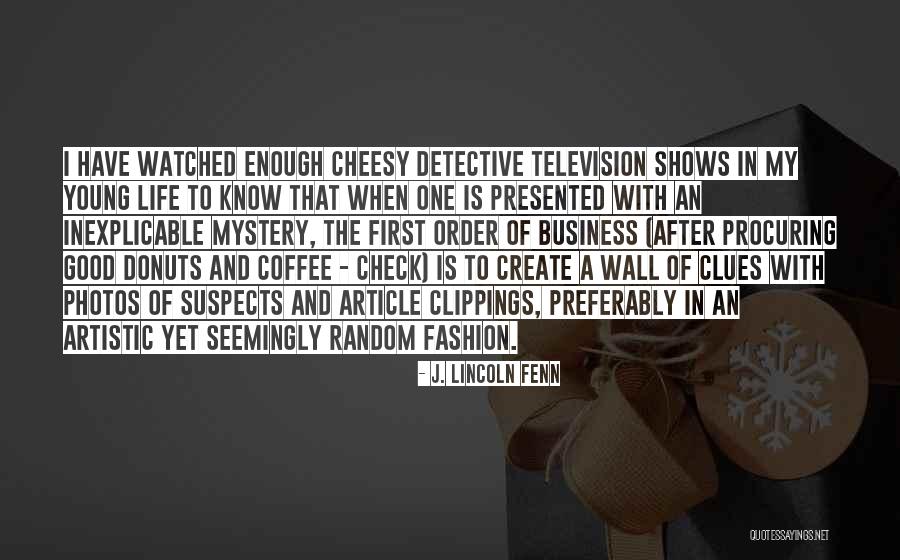 I have watched enough cheesy detective television shows in my young life to know that when one is presented with an inexplicable mystery, the first order of business (after procuring good donuts and coffee - check) is to create a wall of clues with photos of suspects and article clippings, preferably in an artistic yet seemingly random fashion. — J. Lincoln Fenn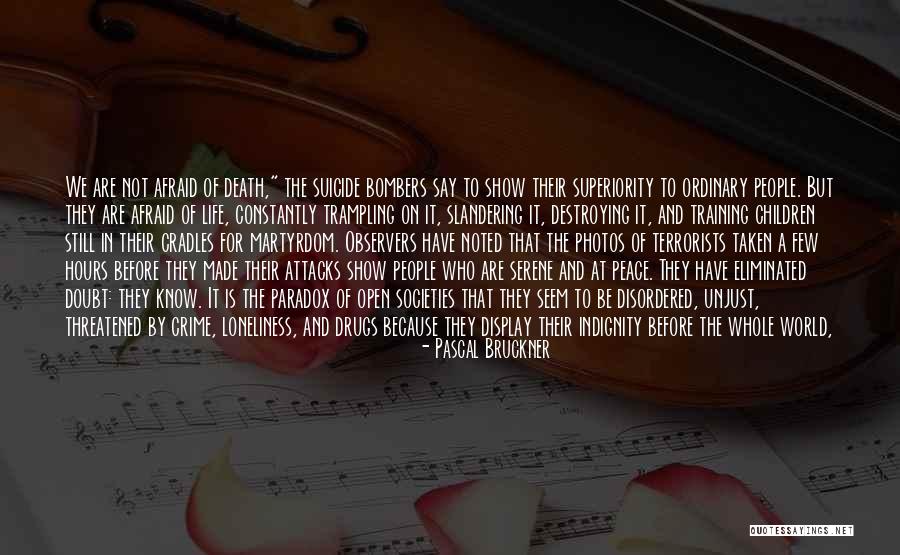 We are not afraid of death," the suicide bombers say to show their superiority to ordinary people. But they are afraid of life, constantly trampling on it, slandering it, destroying it, and training children still in their cradles for martyrdom. Observers have noted that the photos of terrorists taken a few hours before they made their attacks show people who are serene and at peace. They have eliminated doubt: they know. It is the paradox of open societies that they seem to be disordered, unjust, threatened by crime, loneliness, and drugs because they display their indignity before the whole world, never ceasing to admit their defects, whereas other, more oppressive societies seem harmonious because the press and the opposition are muzzled.
"Where there are no visible conflicts, there is no freedom," Montesquieu said. — Pascal Bruckner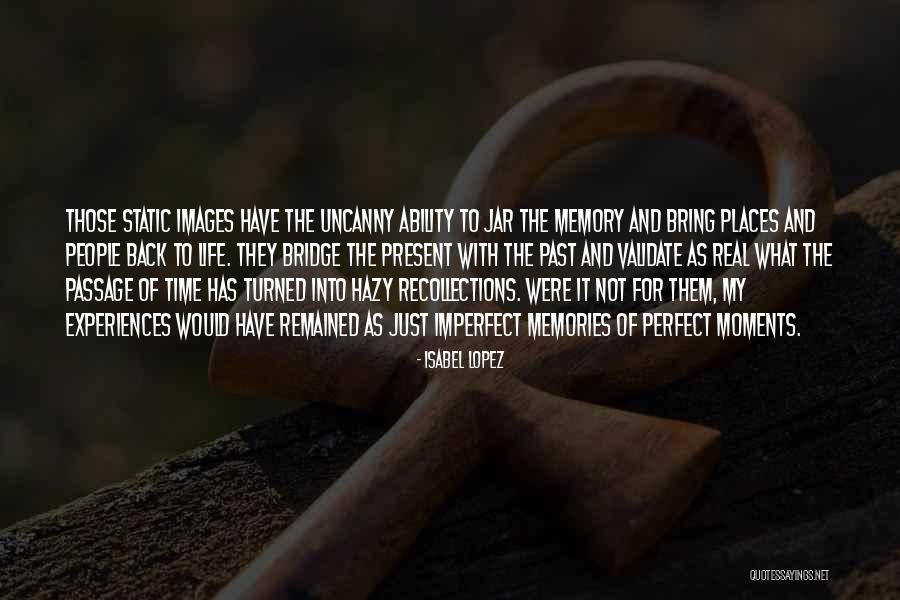 Those static images have the uncanny ability to jar the memory and bring places and people back to life. They bridge the present with the past and validate as real what the passage of time has turned into hazy recollections. Were it not for them, my experiences would have remained as just imperfect memories of perfect moments. — Isabel Lopez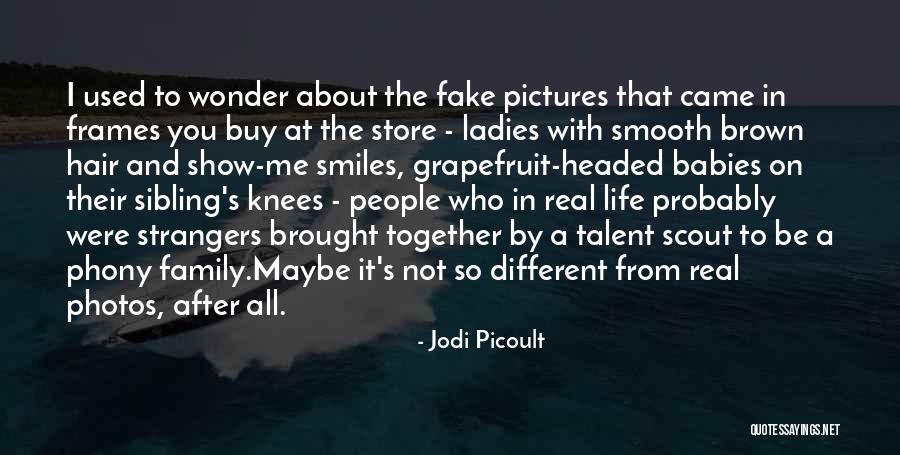 I used to wonder about the fake pictures that came in frames you buy at the store - ladies with smooth brown hair and show-me smiles, grapefruit-headed babies on their sibling's knees - people who in real life probably were strangers brought together by a talent scout to be a phony family.

Maybe it's not so different from real photos, after all. — Jodi Picoult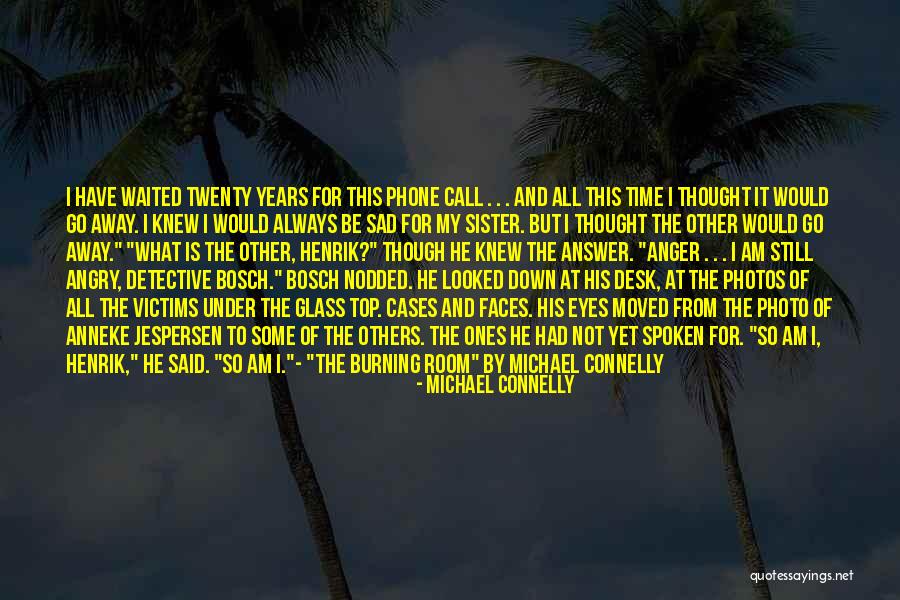 I have waited twenty years for this phone call . . . and all this time I thought it would go away. I knew I would always be sad for my sister. But I thought the other would go away."

"What is the other, Henrik?" Though he knew the answer.

"Anger . . . I am still angry, Detective Bosch."

Bosch nodded. He looked down at his desk, at the photos of all the victims under the glass top. Cases and faces. His eyes moved from the photo of Anneke Jespersen to some of the others. The ones he had not yet spoken for.

"So am I, Henrik," he said. "So am I."

- "The Burning Room" by Michael Connelly — Michael Connelly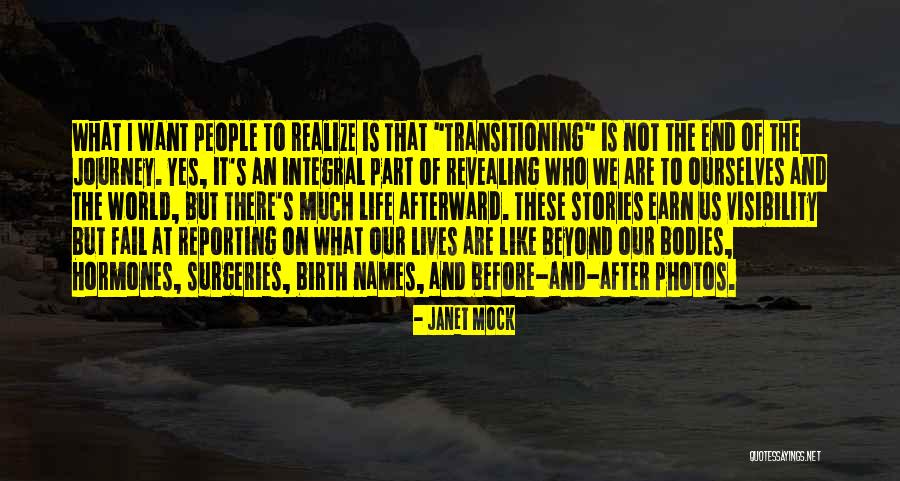 What I want people to realize is that "transitioning" is not the end of the journey. Yes, it's an integral part of revealing who we are to ourselves and the world, but there's much life afterward. These stories earn us visibility but fail at reporting on what our lives are like beyond our bodies, hormones, surgeries, birth names, and before-and-after photos. — Janet Mock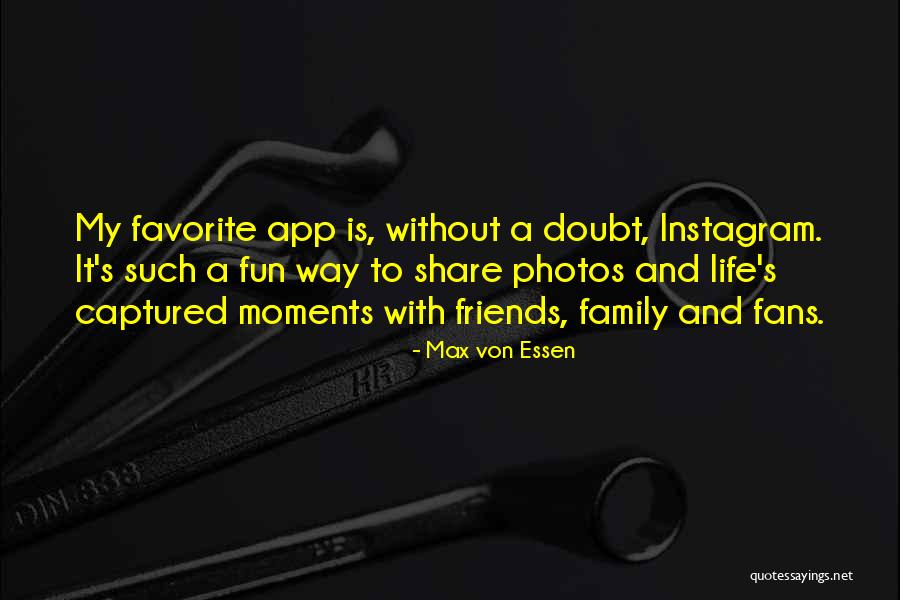 My favorite app is, without a doubt, Instagram. It's such a fun way to share photos and life's captured moments with friends, family and fans. — Max Von Essen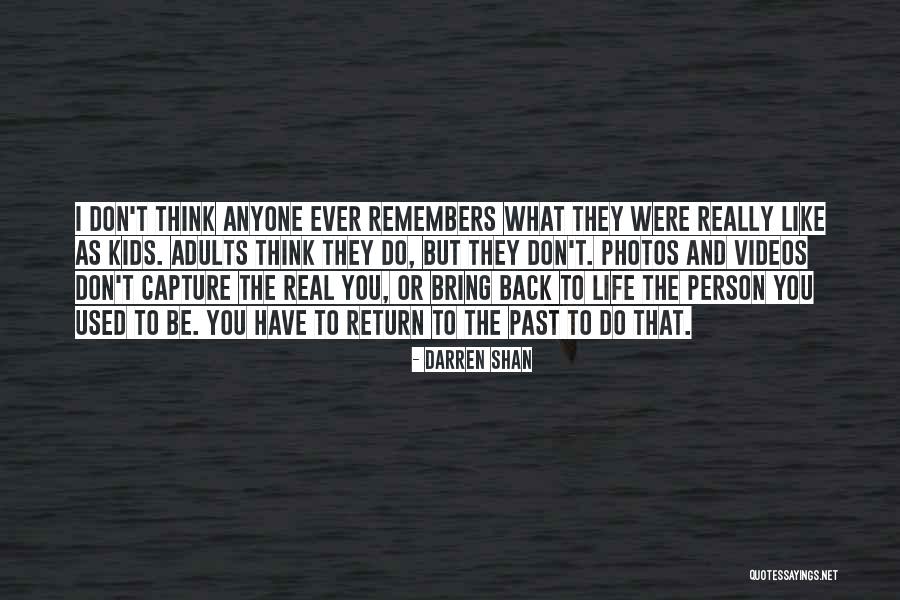 I don't think anyone ever remembers what they were really like as kids. Adults think they do, but they don't. Photos and videos don't capture the real you, or bring back to life the person you used to be. You have to return to the past to do that. — Darren Shan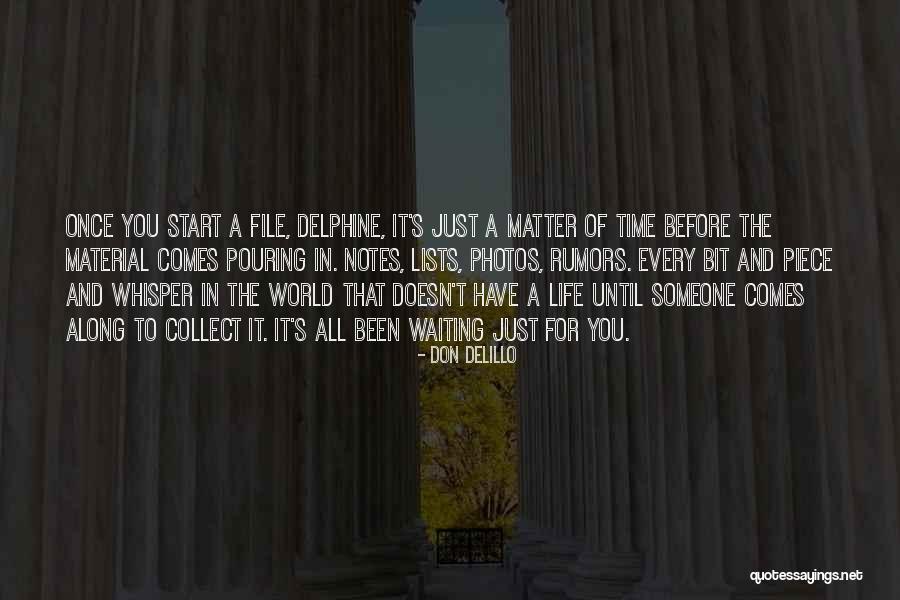 Once you start a file, Delphine, it's just a matter of time before the material comes pouring in. Notes, lists, photos, rumors. Every bit and piece and whisper in the world that doesn't have a life until someone comes along to collect it. It's all been waiting just for you. — Don DeLillo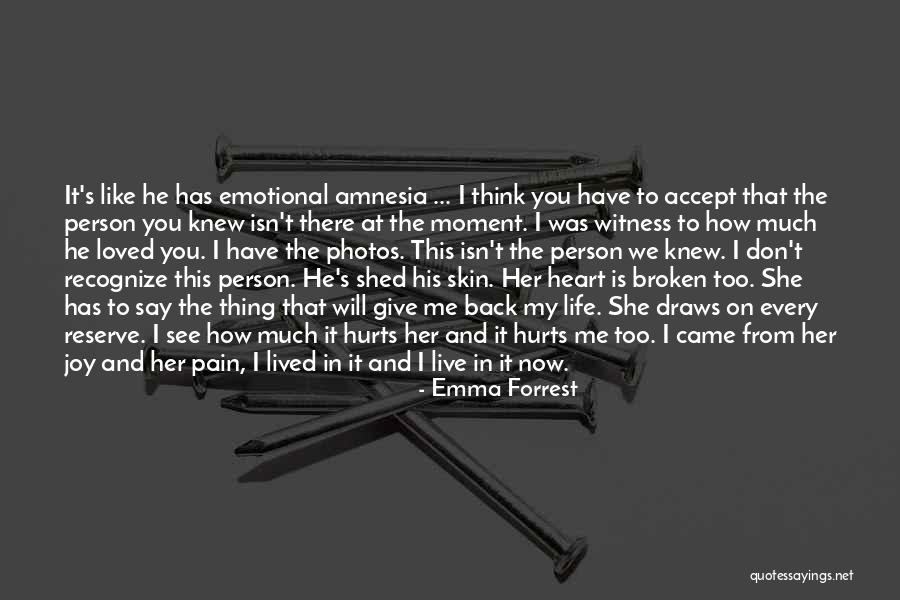 It's like he has emotional amnesia ... I think you have to accept that the person you knew isn't there at the moment. I was witness to how much he loved you. I have the photos. This isn't the person we knew. I don't recognize this person. He's shed his skin. Her heart is broken too. She has to say the thing that will give me back my life. She draws on every reserve. I see how much it hurts her and it hurts me too. I came from her joy and her pain, I lived in it and I live in it now. — Emma Forrest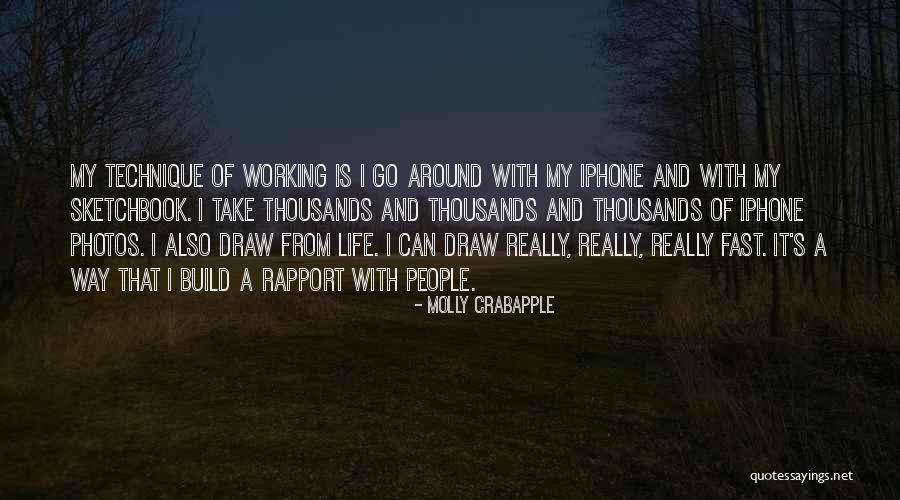 My technique of working is I go around with my iPhone and with my sketchbook. I take thousands and thousands and thousands of iPhone photos. I also draw from life. I can draw really, really, really fast. It's a way that I build a rapport with people. — Molly Crabapple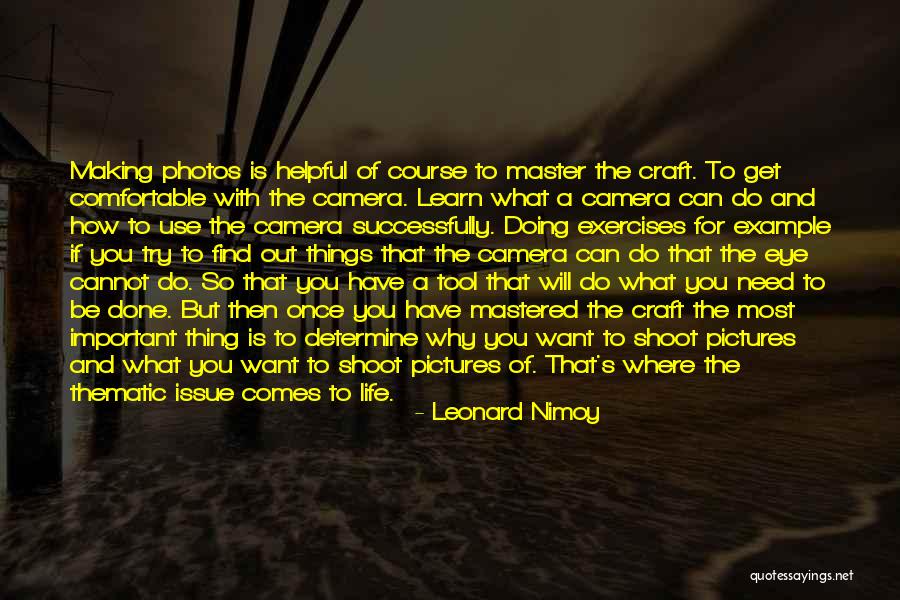 Making photos is helpful of course to master the craft. To get comfortable with the camera. Learn what a camera can do and how to use the camera successfully. Doing exercises for example if you try to find out things that the camera can do that the eye cannot do. So that you have a tool that will do what you need to be done. But then once you have mastered the craft the most important thing is to determine why you want to shoot pictures and what you want to shoot pictures of. That's where the thematic issue comes to life. — Leonard Nimoy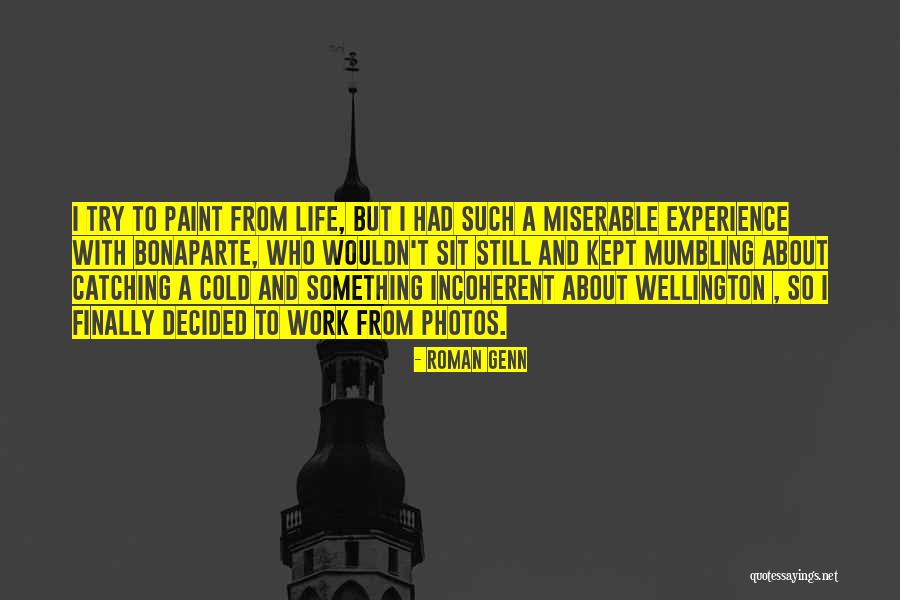 I try to paint from life, but I had such a miserable experience with Bonaparte, who wouldn't sit still and kept mumbling about catching a cold and something incoherent about Wellington , so I finally decided to work from photos. — Roman Genn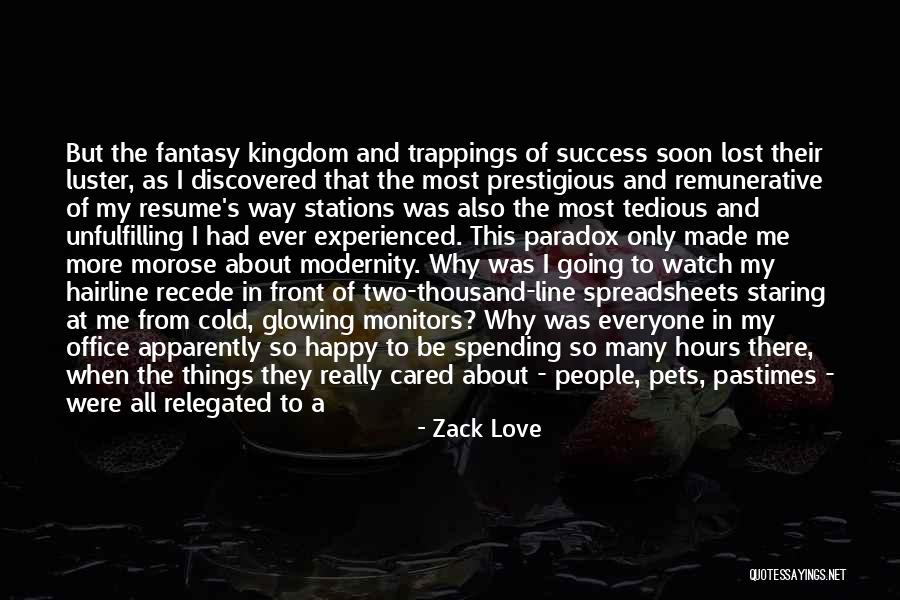 But the fantasy kingdom and trappings of success soon lost their luster, as I discovered that the most prestigious and remunerative of my resume's way stations was also the most tedious and unfulfilling I had ever experienced. This paradox only made me more morose about modernity. Why was I going to watch my hairline recede in front of two-thousand-line spreadsheets staring at me from cold, glowing monitors? Why was everyone in my office apparently so happy to be spending so many hours there, when the things they really cared about - people, pets, pastimes - were all relegated to a few photographs on their desks? That seemed to be the formula: spend the best years of your life in an office with photos of what you really care about. — Zack Love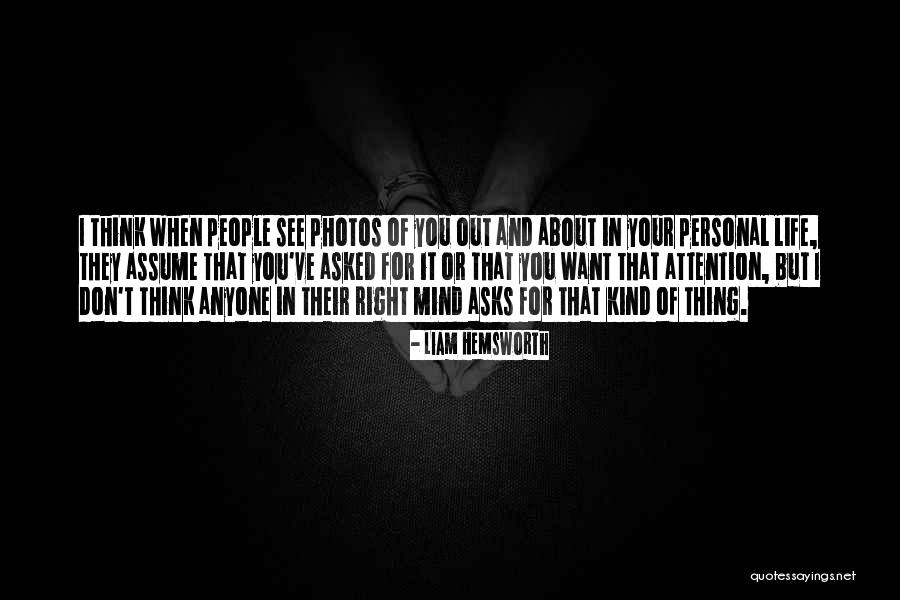 I think when people see photos of you out and about in your personal life, they assume that you've asked for it or that you want that attention, but I don't think anyone in their right mind asks for that kind of thing. — Liam Hemsworth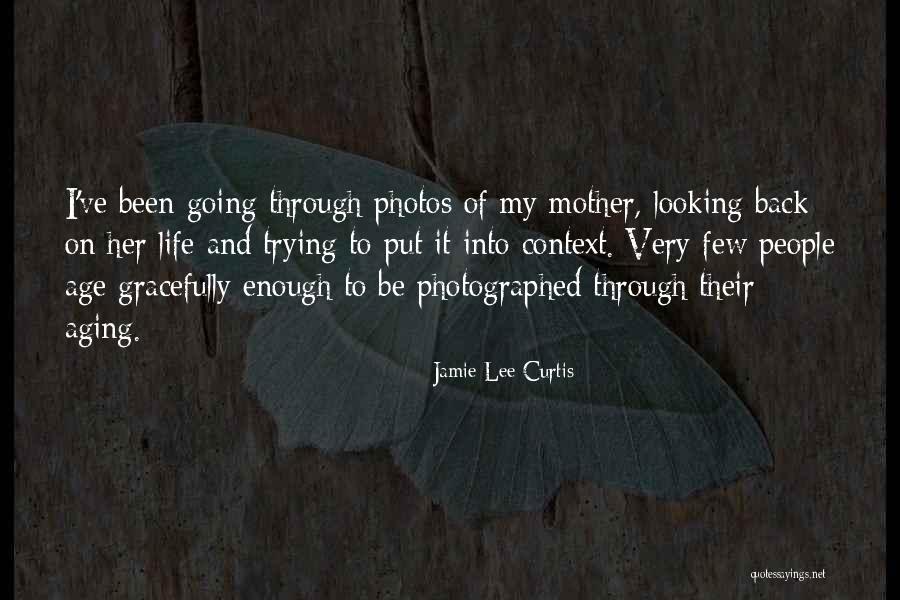 I've been going through photos of my mother, looking back on her life and trying to put it into context. Very few people age gracefully enough to be photographed through their aging. — Jamie Lee Curtis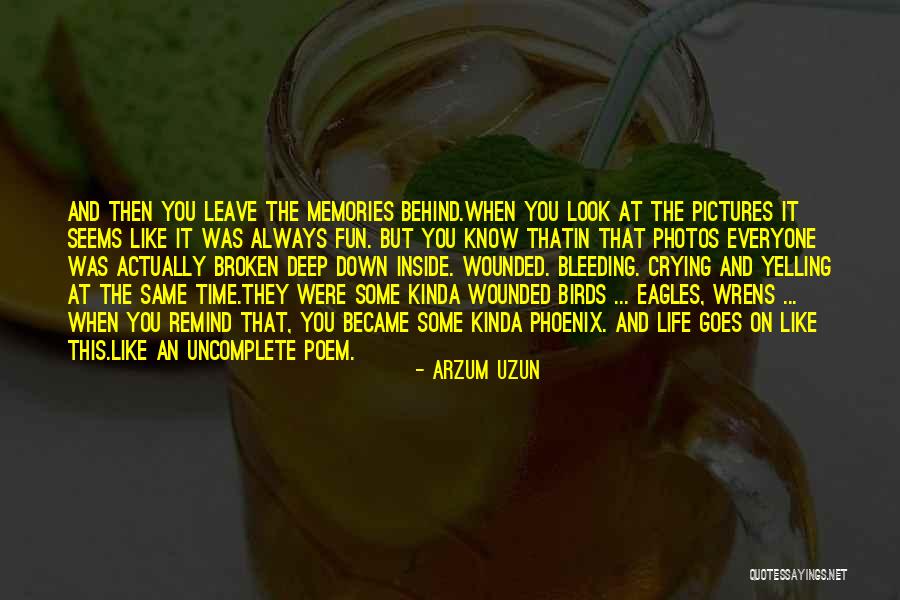 And then you leave the memories behind.
When you look at the pictures
It seems like it was always fun.
But you know that
in that photos everyone was actually broken deep down inside.
Wounded.
Bleeding.
Crying and yelling at the same time.
They were some kinda wounded birds ...
Eagles, wrens ...
When you remind that,
you became some kinda phoenix.
And life goes on like this.
like an uncomplete poem. — Arzum Uzun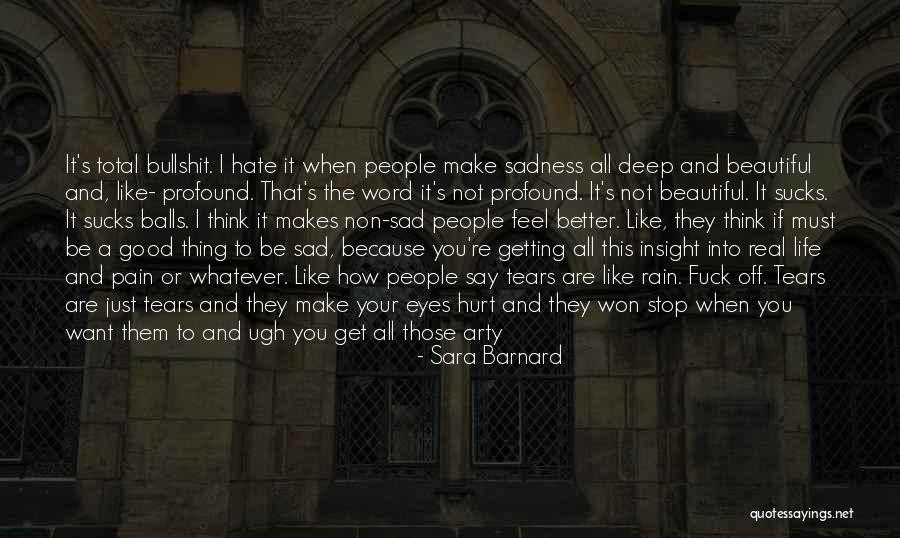 It's total bullshit. I hate it when people make sadness all deep and beautiful and, like- profound. That's the word it's not profound. It's not beautiful. It sucks. It sucks balls. I think it makes non-sad people feel better. Like, they think if must be a good thing to be sad, because you're getting all this insight into real life and pain or whatever. Like how people say tears are like rain. Fuck off. Tears are just tears and they make your eyes hurt and they won stop when you want them to and ugh you get all those arty photos of girls crying - it's always girls, have you noticed?- and it's so beautiful and tasteful and moving. When the reality is your face goes all blotchy and your nose runs and you can taste it every time you breathe'
'Taste what?'
'It. Pain. Sadness. I'm just saying that sadness isn't beautiful and if it looks that way, it's a lie. — Sara Barnard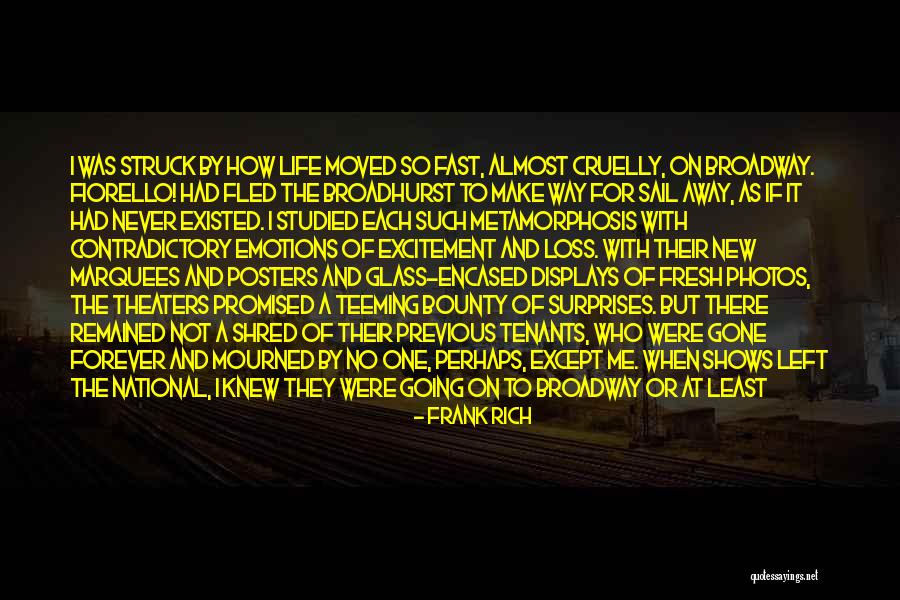 I was struck by how life moved so fast, almost cruelly, on Broadway. Fiorello! had fled the Broadhurst to make way for Sail Away, as if it had never existed. I studied each such metamorphosis with contradictory emotions of excitement and loss. With their new marquees and posters and glass-encased displays of fresh photos, the theaters promised a teeming bounty of surprises. But there remained not a shred of their previous tenants, who were gone forever and mourned by no one, perhaps, except me. When shows left the National, I knew they were going on to Broadway or at least to another town on the road. Where did the plays that left New York go? — Frank Rich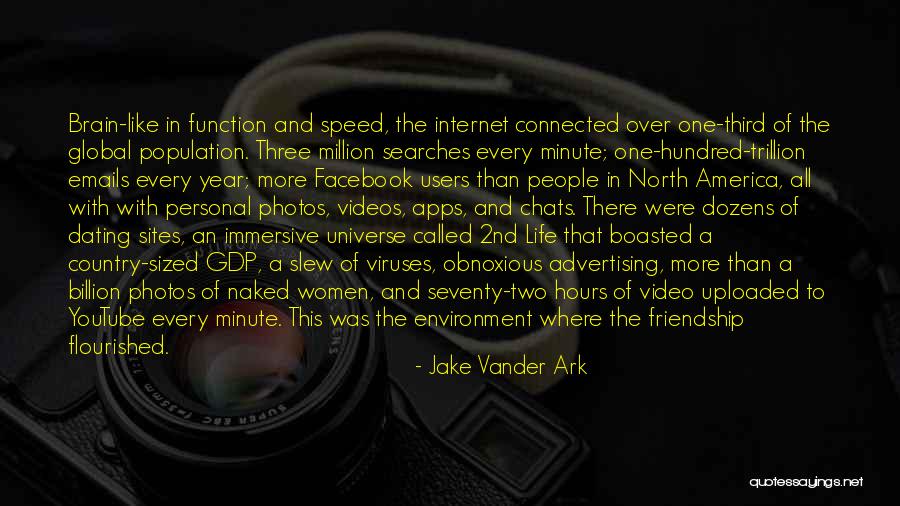 Brain-like in function and speed, the internet connected over one-third of the global population. Three million searches every minute; one-hundred-trillion emails every year; more Facebook users than people in North America, all with with personal photos, videos, apps, and chats. There were dozens of dating sites, an immersive universe called 2nd Life that boasted a country-sized GDP, a slew of viruses, obnoxious advertising, more than a billion photos of naked women, and seventy-two hours of video uploaded to YouTube every minute. This was the environment where the friendship flourished. — Jake Vander Ark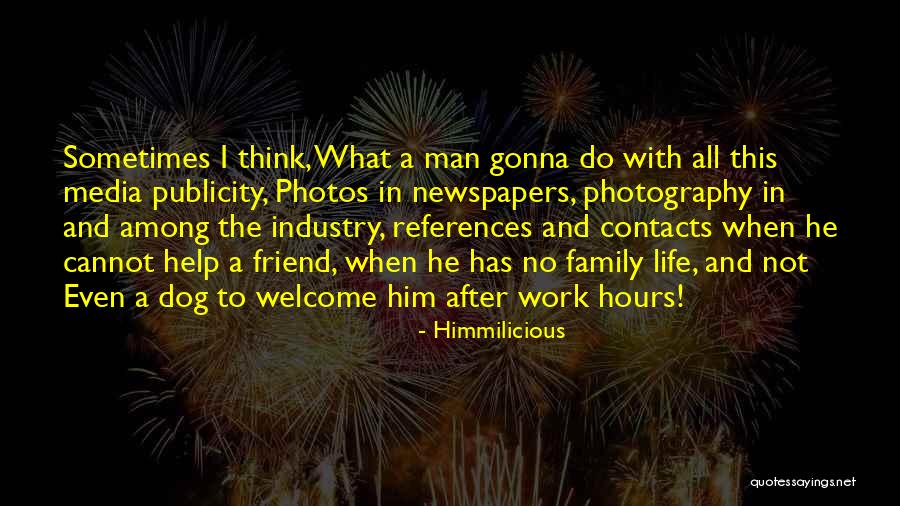 Sometimes I think, What a man gonna do with all this media publicity, Photos in newspapers, photography in and among the industry, references and contacts when he cannot help a friend, when he has no family life, and not Even a dog to welcome him after work hours! — Himmilicious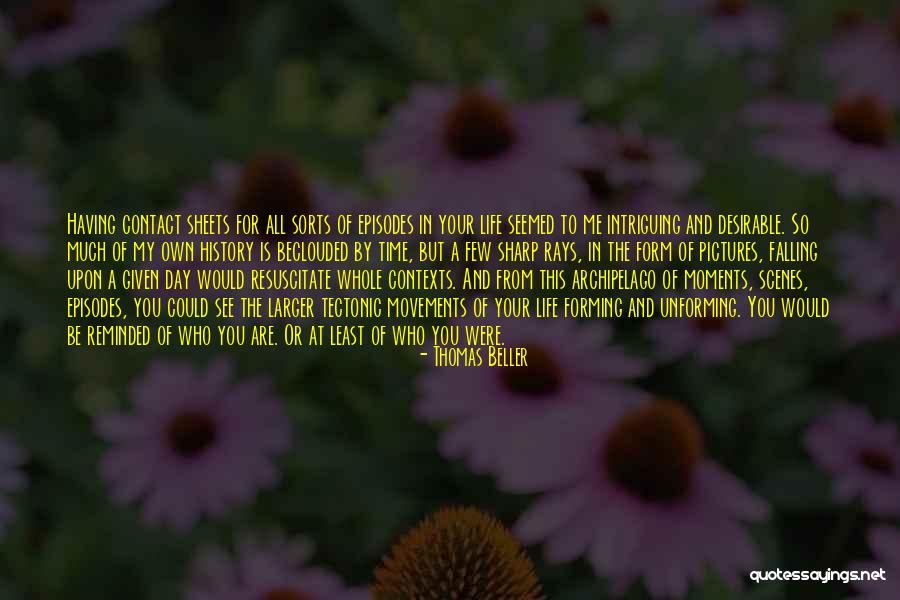 Having contact sheets for all sorts of episodes in your life seemed to me intriguing and desirable. So much of my own history is beclouded by time, but a few sharp rays, in the form of pictures, falling upon a given day would resuscitate whole contexts. And from this archipelago of moments, scenes, episodes, you could see the larger tectonic movements of your life forming and unforming. You would be reminded of who you are. Or at least of who you were. — Thomas Beller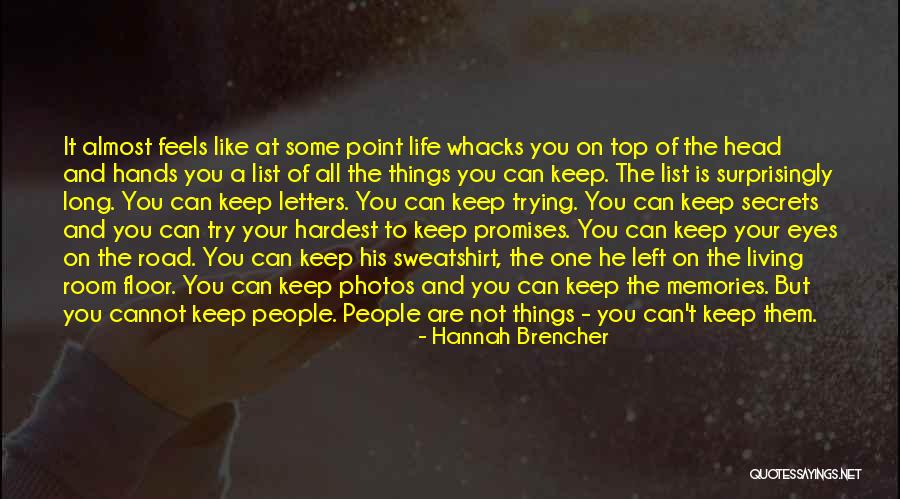 It almost feels like at some point life whacks you on top of the head and hands you a list of all the things you can keep. The list is surprisingly long. You can keep letters. You can keep trying. You can keep secrets and you can try your hardest to keep promises. You can keep your eyes on the road. You can keep his sweatshirt, the one he left on the living room floor. You can keep photos and you can keep the memories. But you cannot keep people. People are not things - you can't keep them. — Hannah Brencher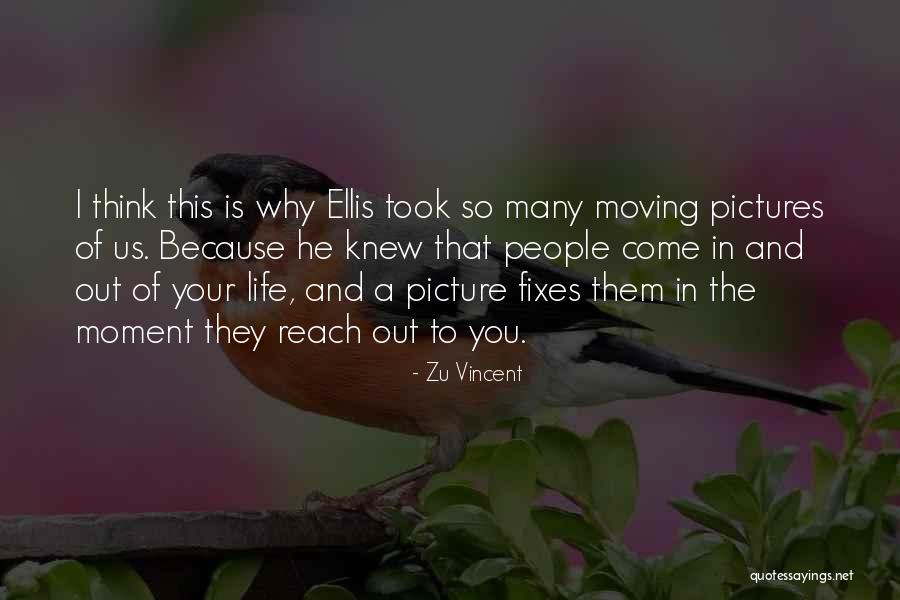 I think this is why Ellis took so many moving pictures of us. Because he knew that people come in and out of your life, and a picture fixes them in the moment they reach out to you. — Zu Vincent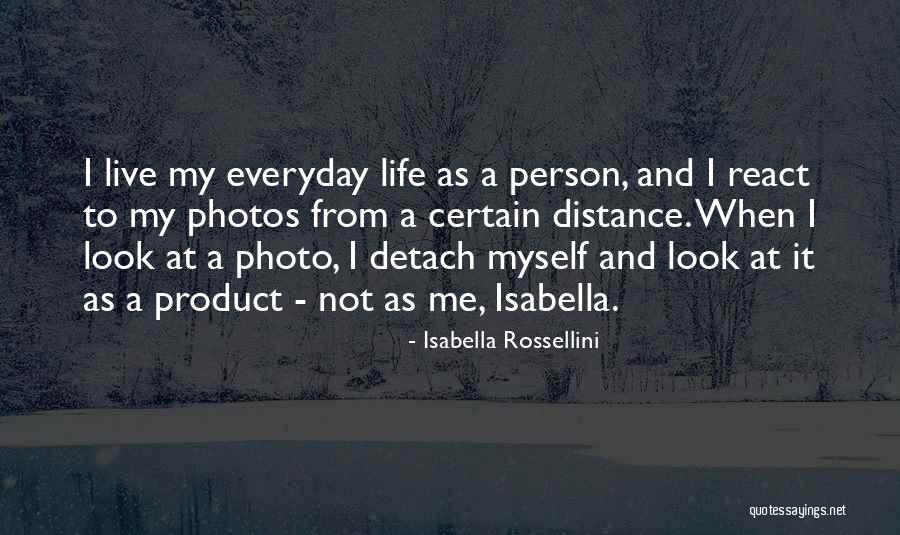 I live my everyday life as a person, and I react to my photos from a certain distance. When I look at a photo, I detach myself and look at it as a product - not as me, Isabella. — Isabella Rossellini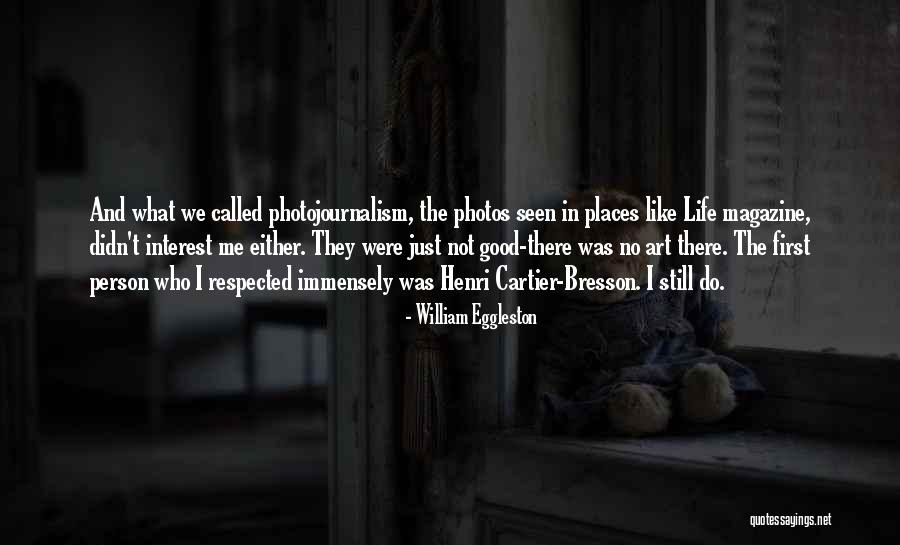 And what we called photojournalism, the photos seen in places like Life magazine, didn't interest me either. They were just not good-there was no art there. The first person who I respected immensely was Henri Cartier-Bresson. I still do. — William Eggleston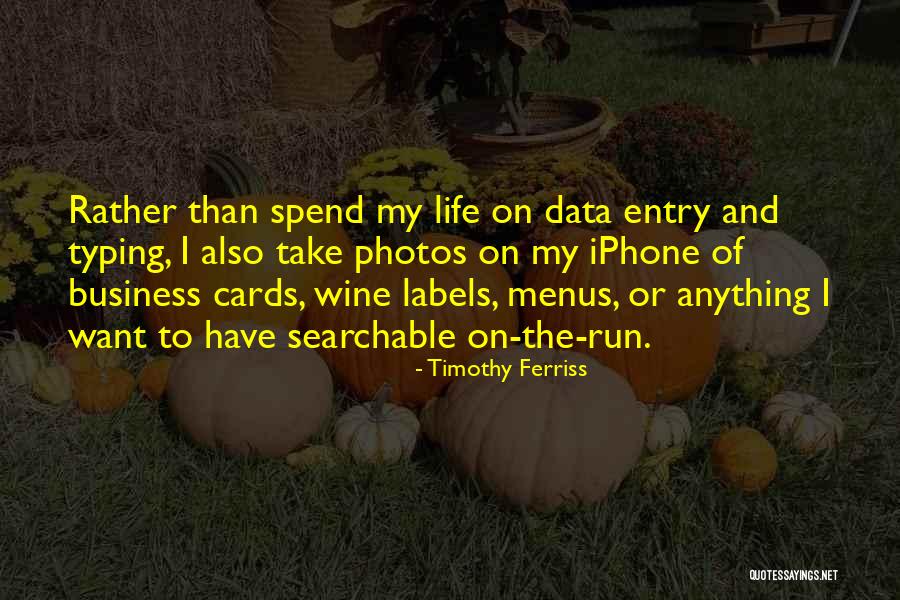 Rather than spend my life on data entry and typing, I also take photos on my iPhone of business cards, wine labels, menus, or anything I want to have searchable on-the-run. — Timothy Ferriss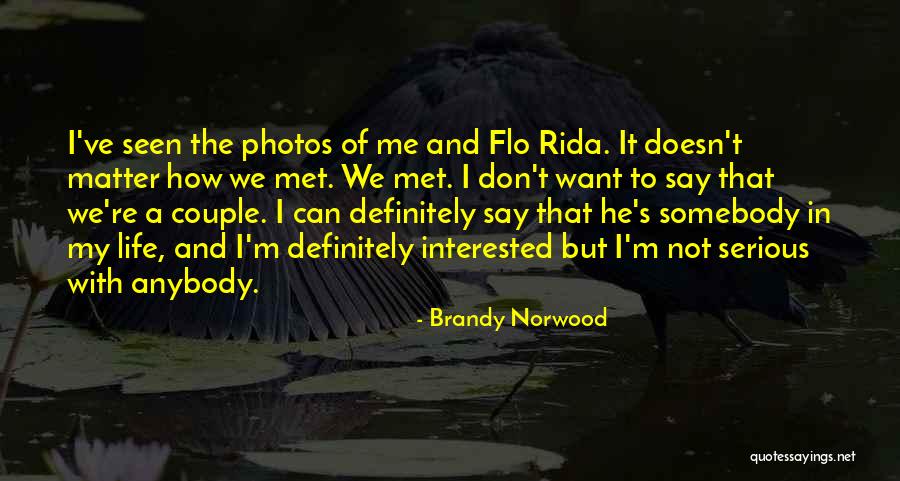 I've seen the photos of me and Flo Rida. It doesn't matter how we met. We met. I don't want to say that we're a couple. I can definitely say that he's somebody in my life, and I'm definitely interested but I'm not serious with anybody. — Brandy Norwood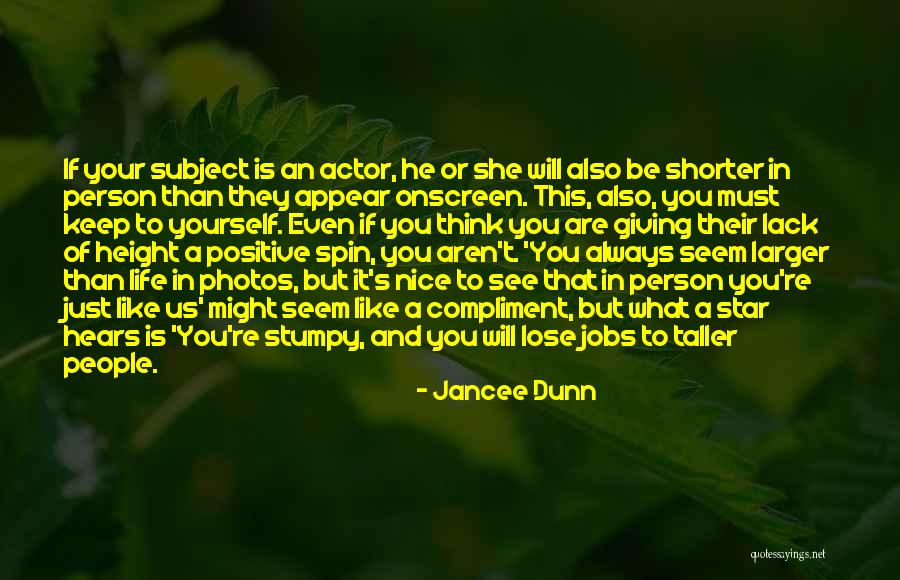 If your subject is an actor, he or she will also be shorter in person than they appear onscreen. This, also, you must keep to yourself. Even if you think you are giving their lack of height a positive spin, you aren't. 'You always seem larger than life in photos, but it's nice to see that in person you're just like us' might seem like a compliment, but what a star hears is 'You're stumpy, and you will lose jobs to taller people. — Jancee Dunn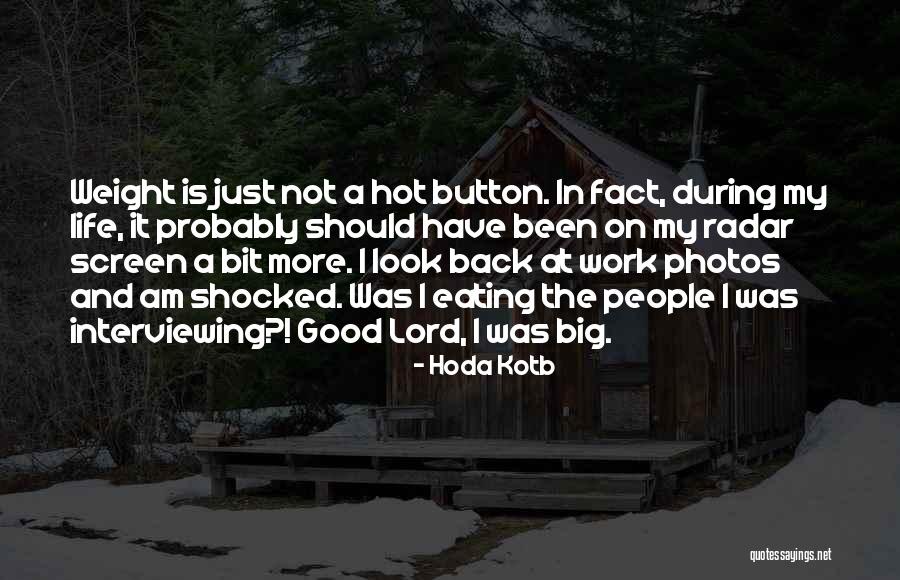 Weight is just not a hot button. In fact, during my life, it probably should have been on my radar screen a bit more. I look back at work photos and am shocked. Was I eating the people I was interviewing?! Good Lord, I was big. — Hoda Kotb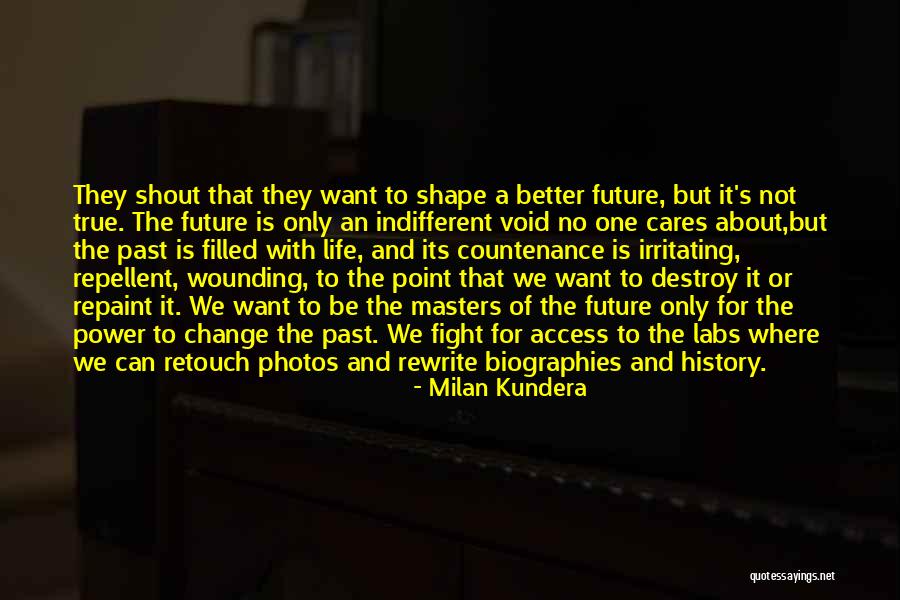 They shout that they want to shape a better future, but it's not true. The future is only an indifferent void no one cares about,but the past is filled with life, and its countenance is irritating, repellent, wounding, to the point that we want to destroy it or repaint it. We want to be the masters of the future only for the power to change the past. We fight for access to the labs where we can retouch photos and rewrite biographies and history. — Milan Kundera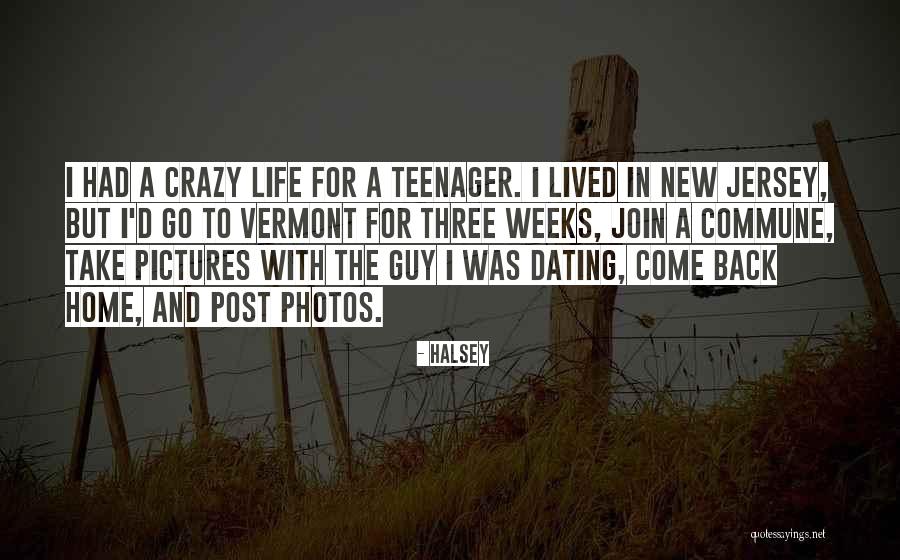 I had a crazy life for a teenager. I lived in New Jersey, but I'd go to Vermont for three weeks, join a commune, take pictures with the guy I was dating, come back home, and post photos. — Halsey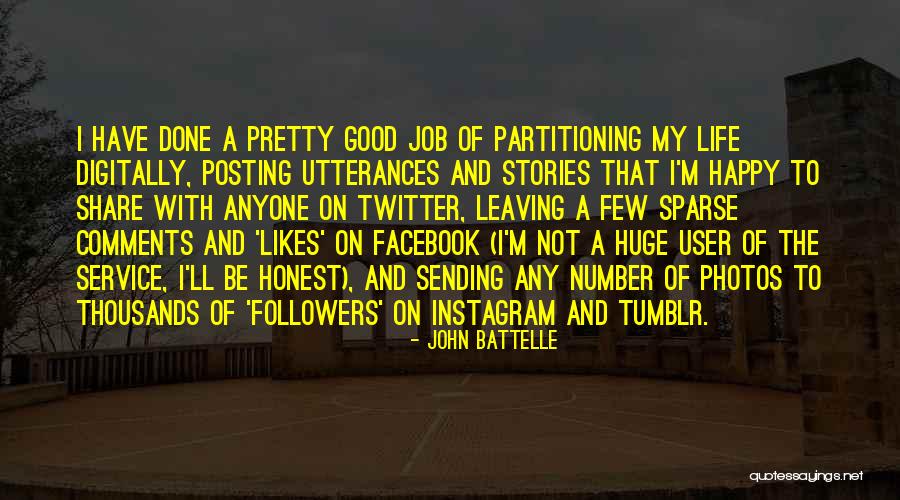 I have done a pretty good job of partitioning my life digitally, posting utterances and stories that I'm happy to share with anyone on Twitter, leaving a few sparse comments and 'Likes' on Facebook (I'm not a huge user of the service, I'll be honest), and sending any number of photos to thousands of 'followers' on Instagram and Tumblr. — John Battelle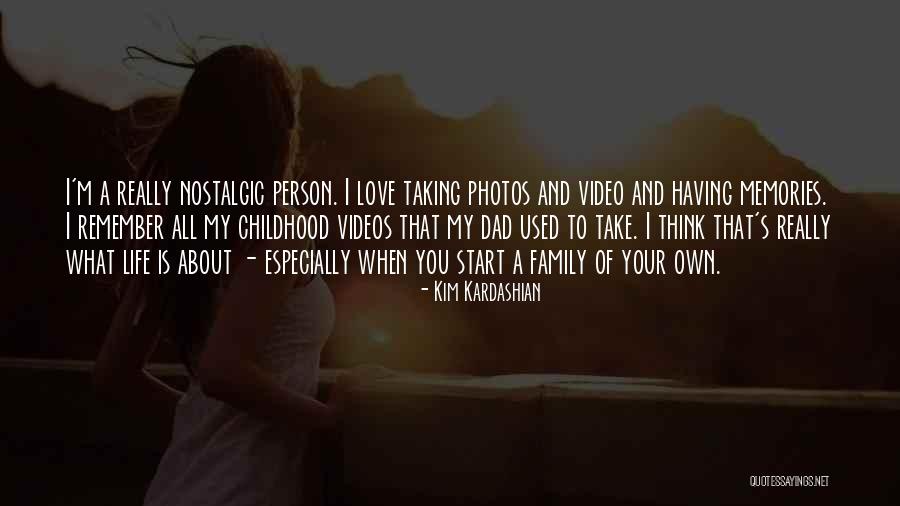 I'm a really nostalgic person. I love taking photos and video and having memories. I remember all my childhood videos that my dad used to take. I think that's really what life is about - especially when you start a family of your own. — Kim Kardashian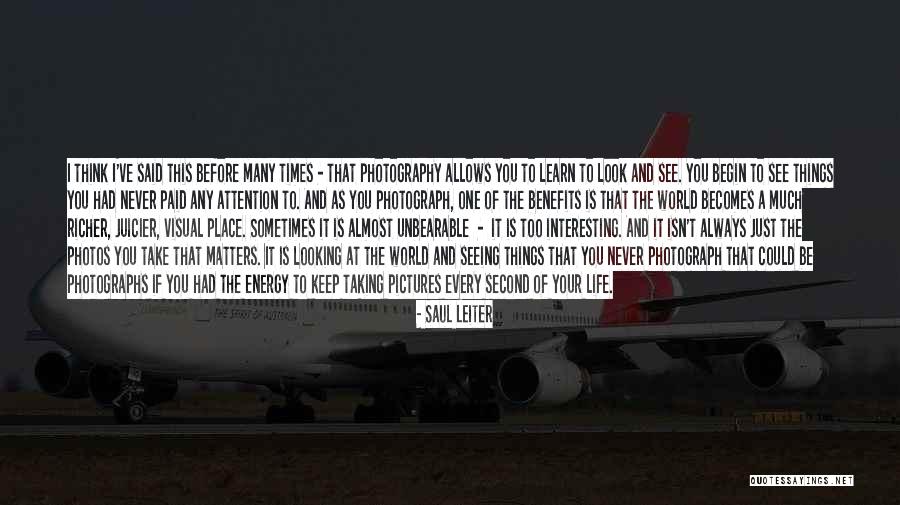 I think I've said this before many times - that photography allows you to learn to look and see. You begin to see things you had never paid any attention to. And as you photograph, one of the benefits is that the world becomes a much richer, juicier, visual place. Sometimes it is almost unbearable - it is too interesting. And it isn't always just the photos you take that matters. It is looking at the world and seeing things that you never photograph that could be photographs if you had the energy to keep taking pictures every second of your life. — Saul Leiter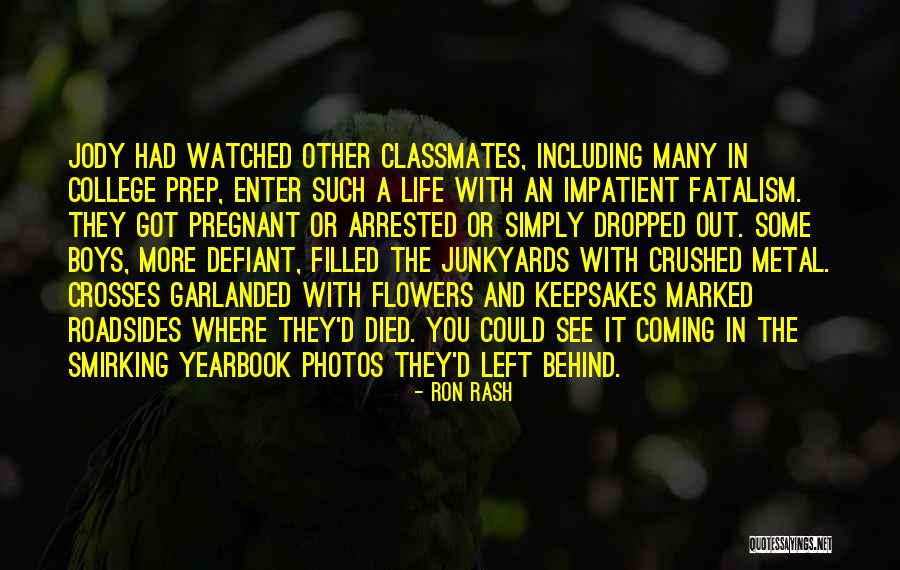 Jody had watched other classmates, including many in college prep, enter such a life with an impatient fatalism. They got pregnant or arrested or simply dropped out. Some boys, more defiant, filled the junkyards with crushed metal. Crosses garlanded with flowers and keepsakes marked roadsides where they'd died. You could see it coming in the smirking yearbook photos they'd left behind. — Ron Rash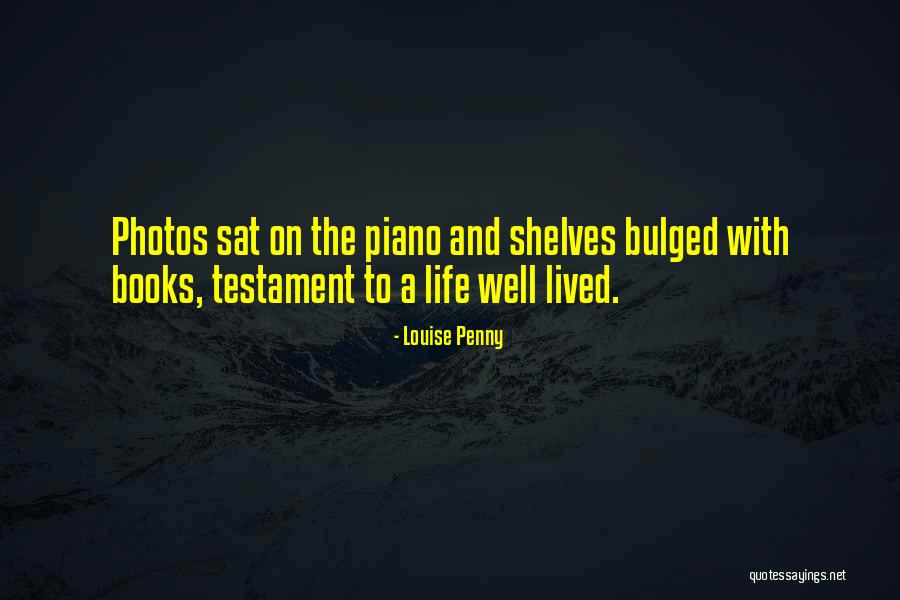 Photos sat on the piano and shelves bulged with books, testament to a life well lived. — Louise Penny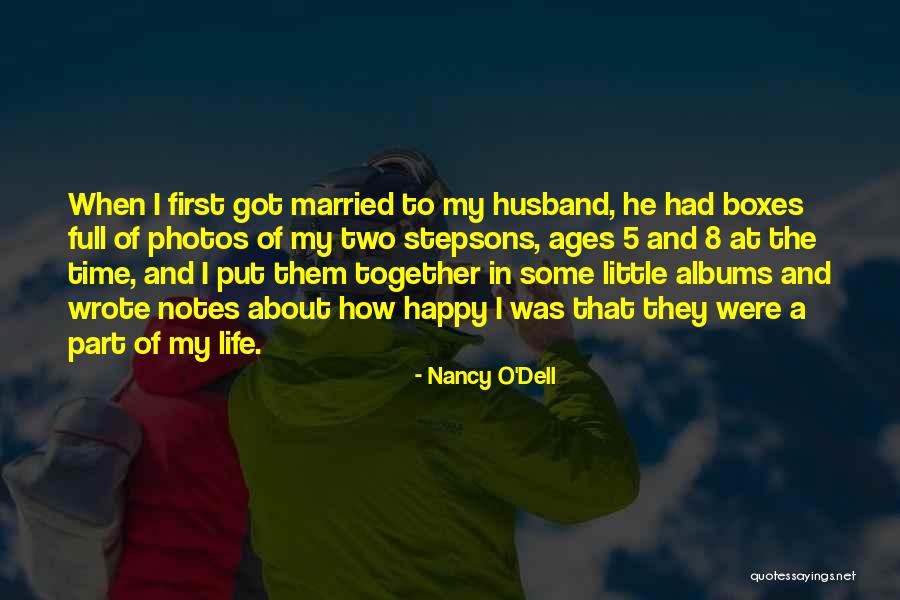 When I first got married to my husband, he had boxes full of photos of my two stepsons, ages 5 and 8 at the time, and I put them together in some little albums and wrote notes about how happy I was that they were a part of my life. — Nancy O'Dell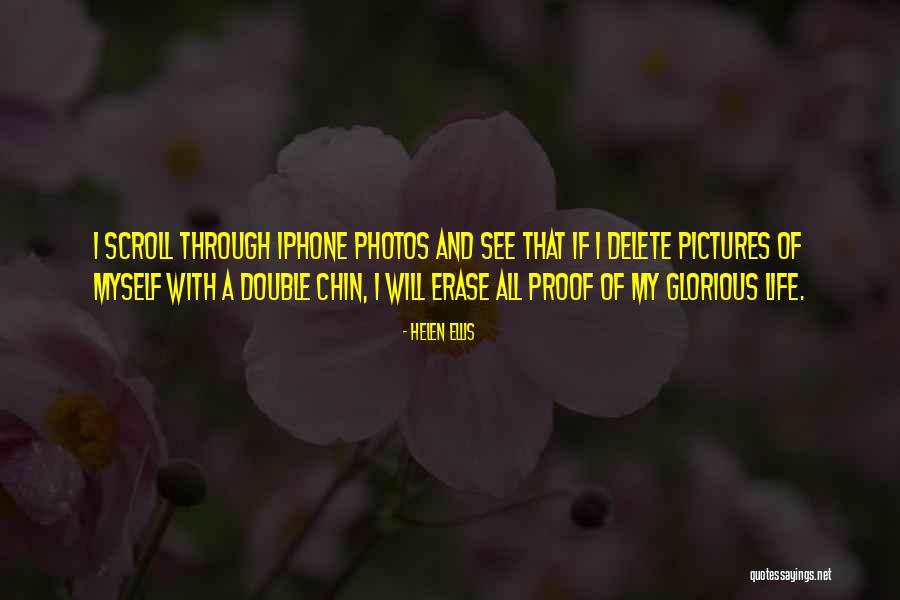 I scroll through iPhone photos and see that if I delete pictures of myself with a double chin, I will erase all proof of my glorious life. — Helen Ellis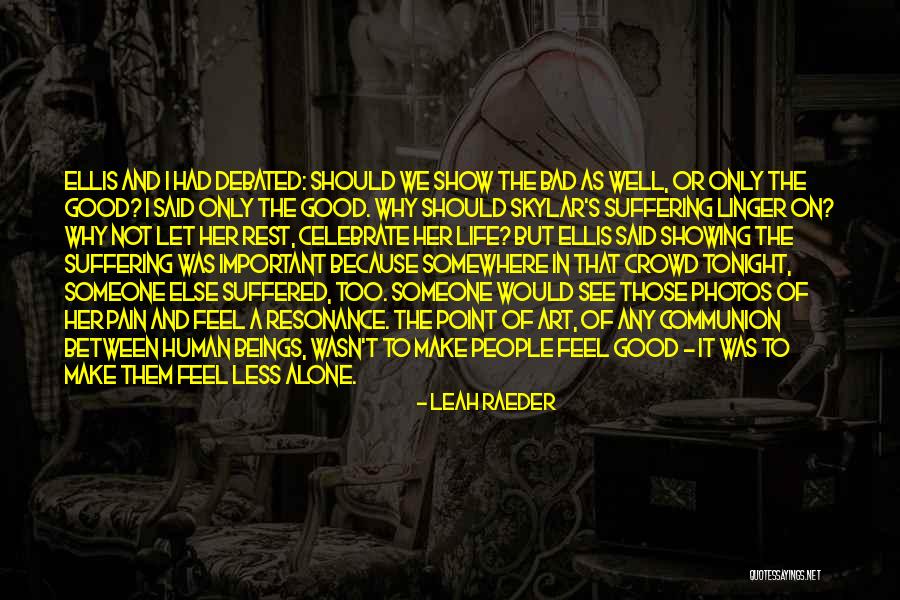 Ellis and I had debated: Should we show the bad as well, or only the good? I said only the good. Why should Skylar's suffering linger on? Why not let her rest, celebrate her life? But Ellis said showing the suffering was important because somewhere in that crowd tonight, someone else suffered, too. Someone would see those photos of her pain and feel a resonance. The point of art, of any communion between human beings, wasn't to make people feel good - it was to make them feel less alone. — Leah Raeder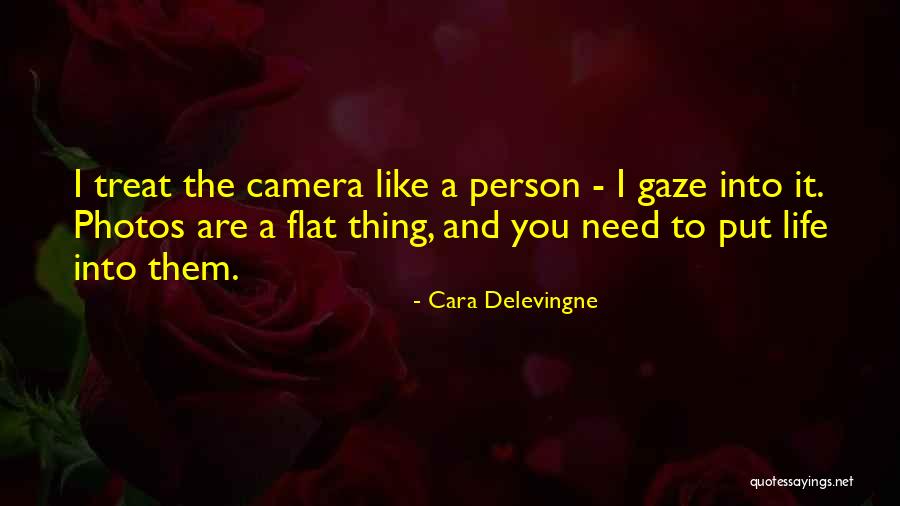 I treat the camera like a person - I gaze into it. Photos are a flat thing, and you need to put life into them. — Cara Delevingne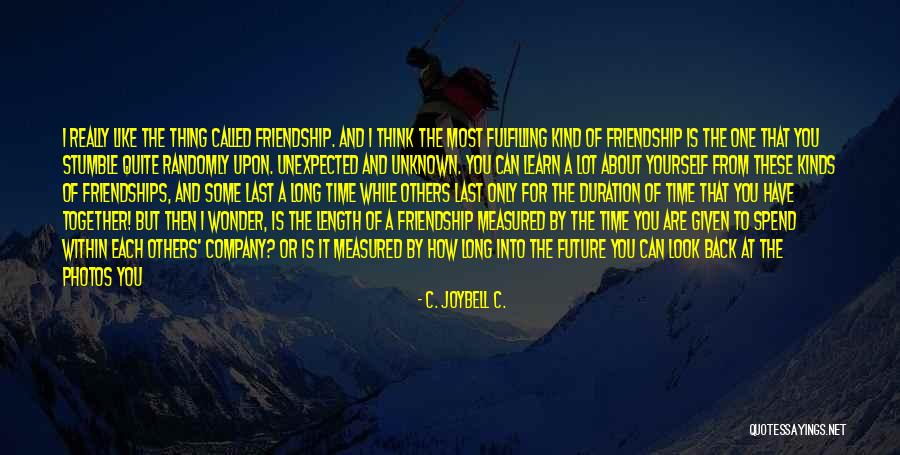 I really like the thing called friendship. And I think the most fulfilling kind of friendship is the one that you stumble quite randomly upon. Unexpected and unknown. You can learn a lot about yourself from these kinds of friendships, and some last a long time while others last only for the duration of time that you have together! But then I wonder, is the length of a friendship measured by the time you are given to spend within each others' company? Or is it measured by how long into the future you can look back at the photos you took, look back and replay the adventures and the laughter in your head; still feeling like it was one of the "bestest" times of your life? Because if it's the latter, I have a thousand friends! — C. JoyBell C.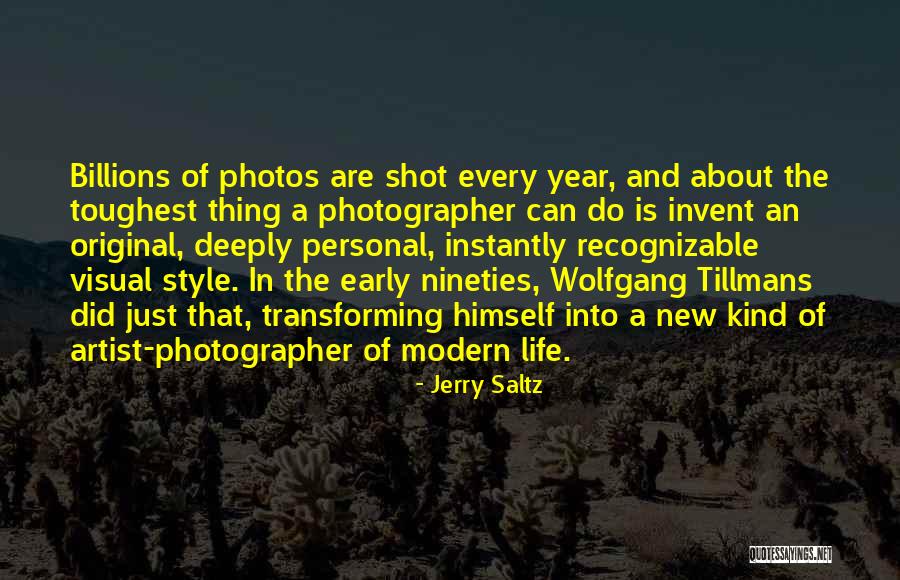 Billions of photos are shot every year, and about the toughest thing a photographer can do is invent an original, deeply personal, instantly recognizable visual style. In the early nineties, Wolfgang Tillmans did just that, transforming himself into a new kind of artist-photographer of modern life. — Jerry Saltz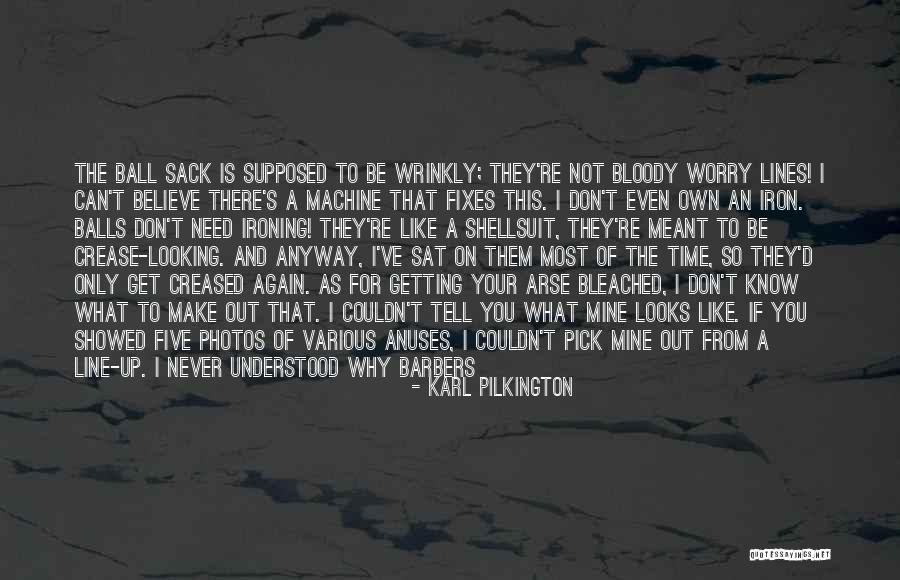 The ball sack is supposed to be wrinkly; they're not bloody worry lines! I can't believe there's a machine that fixes this. I don't even own an iron. Balls don't need ironing! They're like a shellsuit, they're meant to be crease-looking. And anyway, I've sat on them most of the time, so they'd only get creased again. As for getting your arse bleached, I don't know what to make out that. I couldn't tell you what mine looks like. If you showed five photos of various anuses, I couldn't pick mine out from a line-up. I never understood why barbers used to show me the back of my head in a mirror after a quick trim, so I certainly wouldn't worry about the colour of my anus. I'd say if you're worrying about the colour of your anus, things must be good, as you can't have proper worries in your life. — Karl Pilkington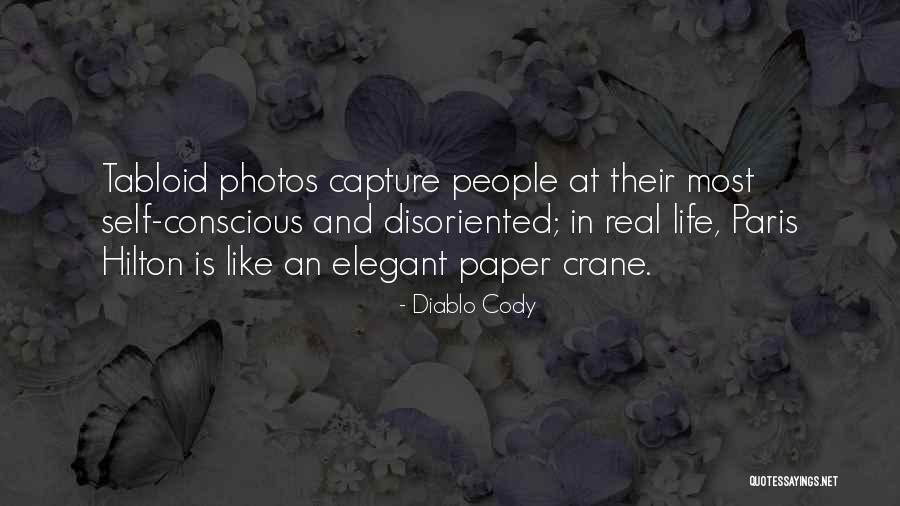 Tabloid photos capture people at their most self-conscious and disoriented; in real life, Paris Hilton is like an elegant paper crane. — Diablo Cody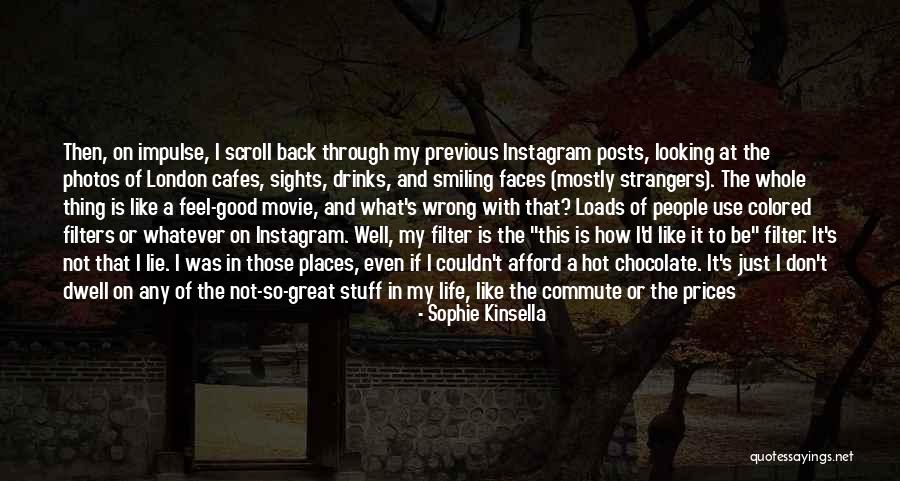 Then, on impulse, I scroll back through my previous Instagram posts, looking at the photos of London cafes, sights, drinks, and smiling faces (mostly strangers). The whole thing is like a feel-good movie, and what's wrong with that? Loads of people use colored filters or whatever on Instagram. Well, my filter is the "this is how I'd like it to be" filter. It's not that I lie. I was in those places, even if I couldn't afford a hot chocolate. It's just I don't dwell on any of the not-so-great stuff in my life, like the commute or the prices or having to keep all my stuff in a hammock. Let alone vanilla-whey-coated eggs and abnoxious lechy flatmates. And the point is, it's something to aspire to, something to hope for. One day my life will match my Instagram posts. One day. — Sophie Kinsella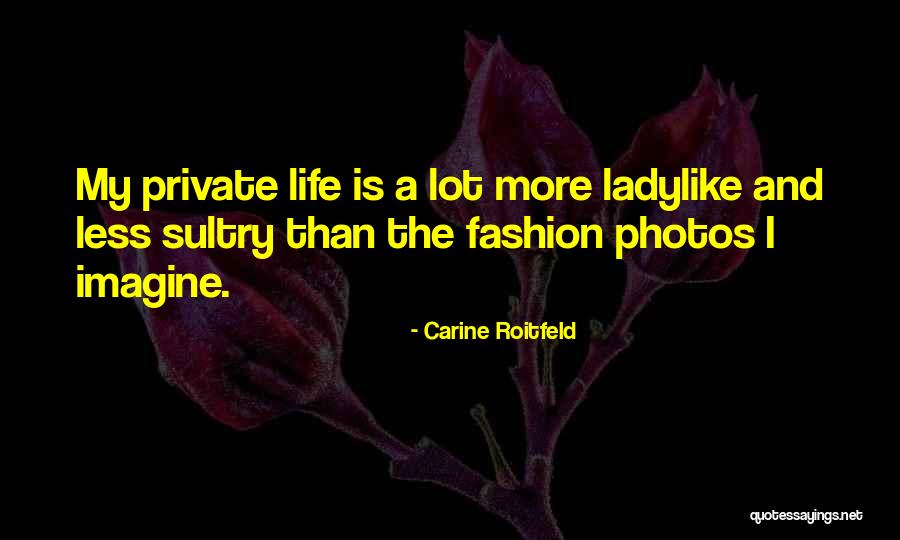 My private life is a lot more ladylike and less sultry than the fashion photos I imagine. — Carine Roitfeld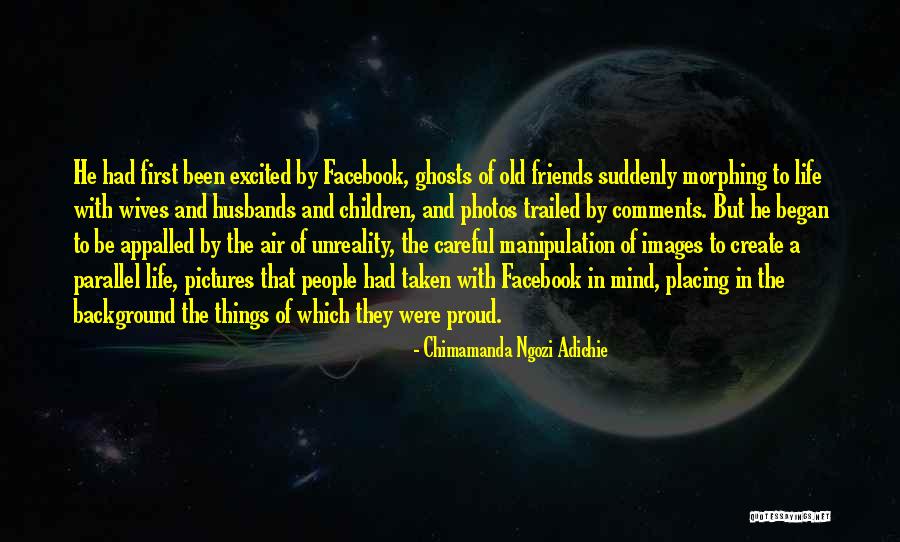 He had first been excited by Facebook, ghosts of old friends suddenly morphing to life with wives and husbands and children, and photos trailed by comments. But he began to be appalled by the air of unreality, the careful manipulation of images to create a parallel life, pictures that people had taken with Facebook in mind, placing in the background the things of which they were proud. — Chimamanda Ngozi Adichie