Peace Required Quotes & Sayings
Enjoy reading and share 52 famous quotes about Peace Required with everyone.
Top Peace Required Quotes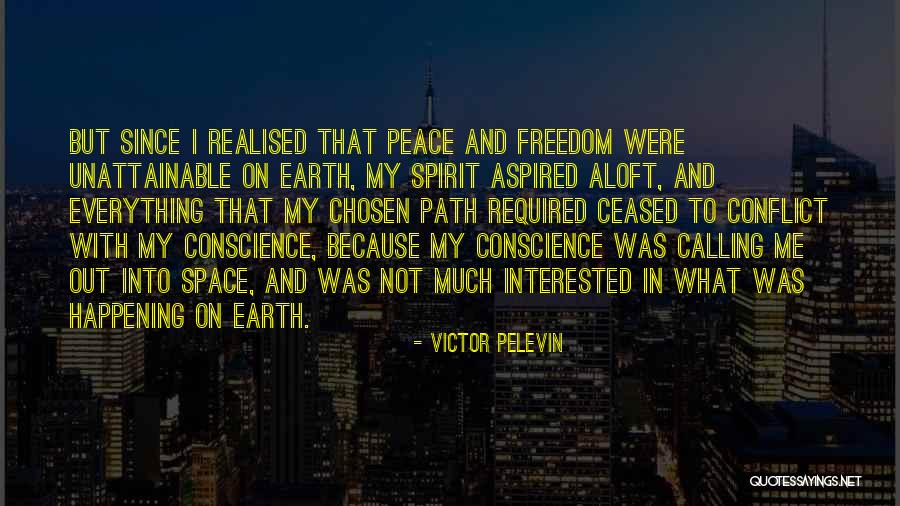 But since I realised that peace and freedom were unattainable on earth, my spirit aspired aloft, and everything that my chosen path required ceased to conflict with my conscience, because my conscience was calling me out into space, and was not much interested in what was happening on earth. — Victor Pelevin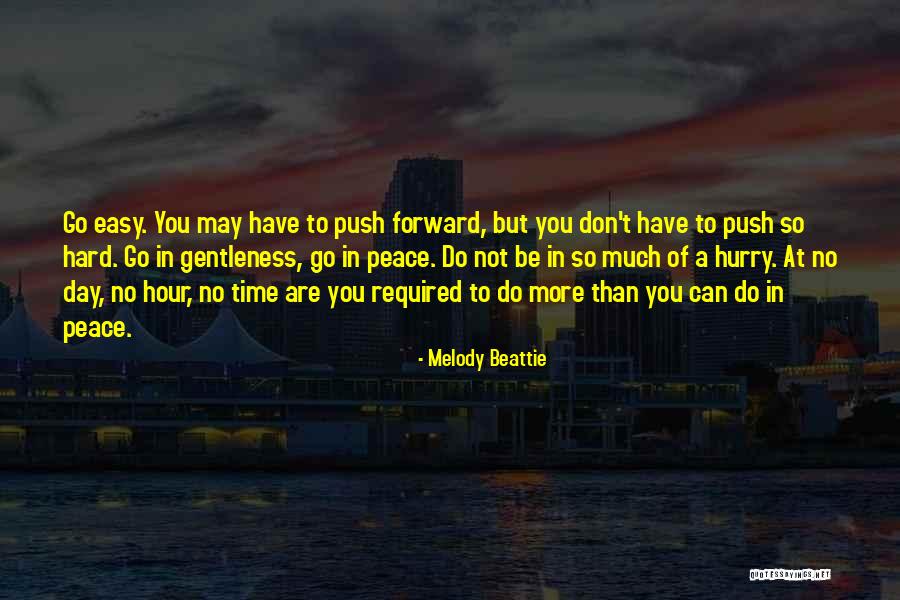 Go easy. You may have to push forward, but you don't have to push so hard. Go in gentleness, go in peace. Do not be in so much of a hurry. At no day, no hour, no time are you required to do more than you can do in peace. — Melody Beattie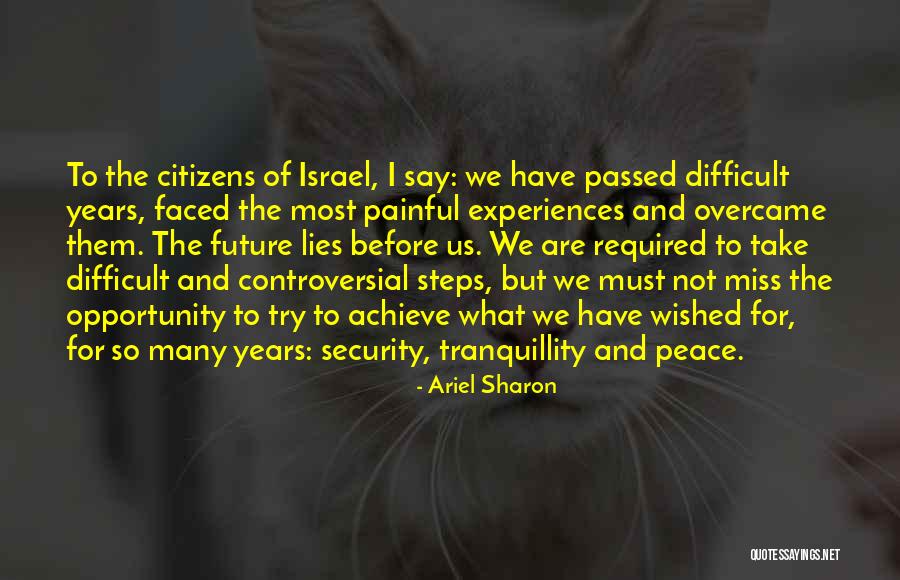 To the citizens of Israel, I say: we have passed difficult years, faced the most painful experiences and overcame them. The future lies before us. We are required to take difficult and controversial steps, but we must not miss the opportunity to try to achieve what we have wished for, for so many years: security, tranquillity and peace. — Ariel Sharon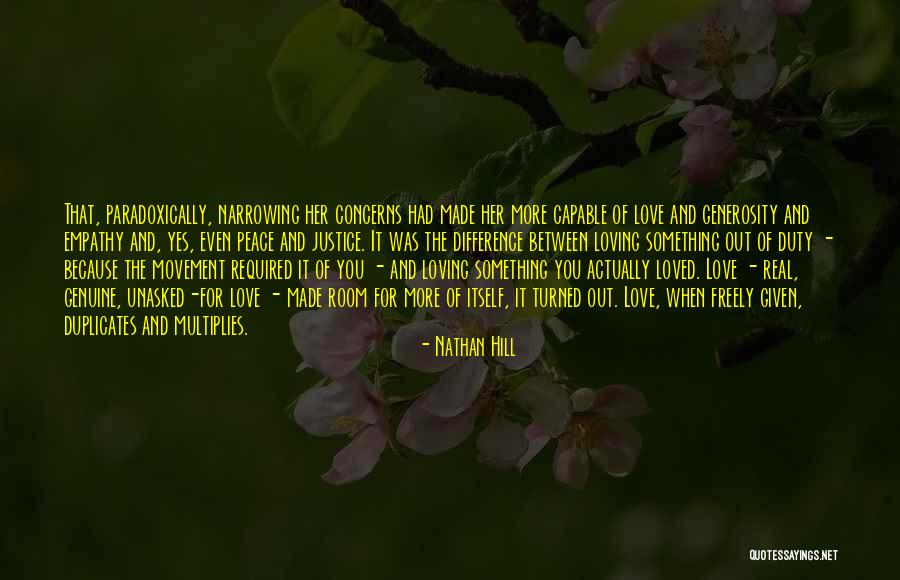 That, paradoxically, narrowing her concerns had made her more capable of love and generosity and empathy and, yes, even peace and justice. It was the difference between loving something out of duty - because the movement required it of you - and loving something you actually loved. Love - real, genuine, unasked-for love - made room for more of itself, it turned out. Love, when freely given, duplicates and multiplies. — Nathan Hill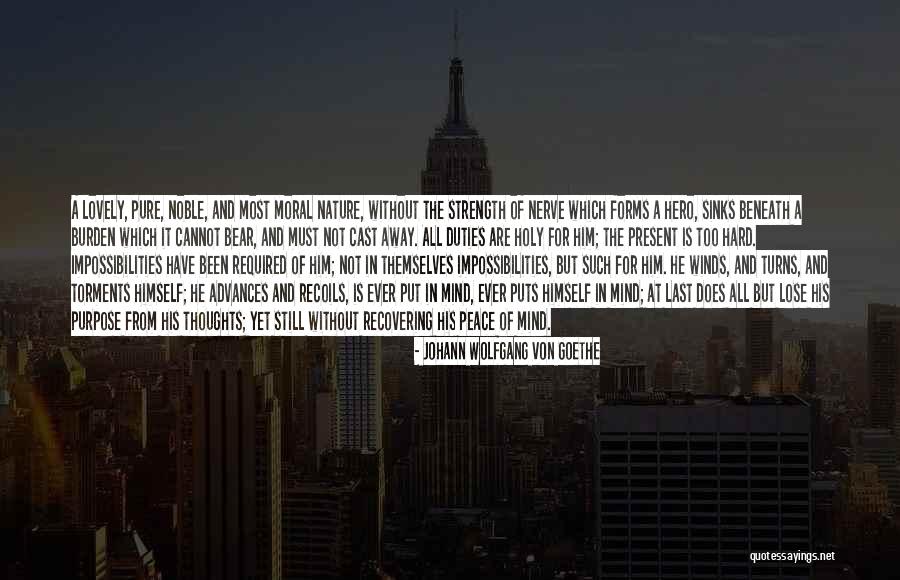 A lovely, pure, noble, and most moral nature, without the strength of nerve which forms a hero, sinks beneath a burden which it cannot bear, and must not cast away. All duties are holy for him; the present is too hard. Impossibilities have been required of him; not in themselves impossibilities, but such for him. He winds, and turns, and torments himself; he advances and recoils, is ever put in mind, ever puts himself in mind; at last does all but lose his purpose from his thoughts; yet still without recovering his peace of mind. — Johann Wolfgang Von Goethe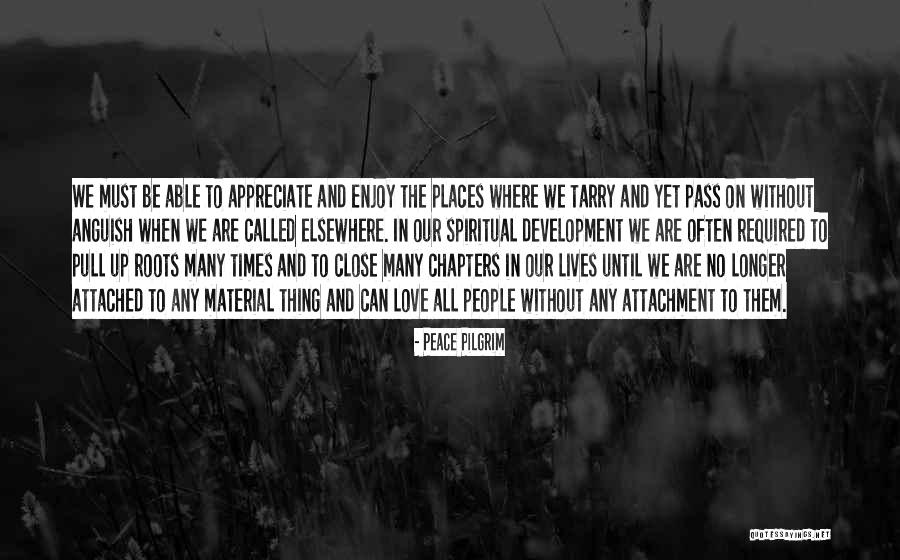 We must be able to appreciate and enjoy the places where we tarry and yet pass on without anguish when we are called elsewhere. In our spiritual development we are often required to pull up roots many times and to close many chapters in our lives until we are no longer attached to any material thing and can love all people without any attachment to them. — Peace Pilgrim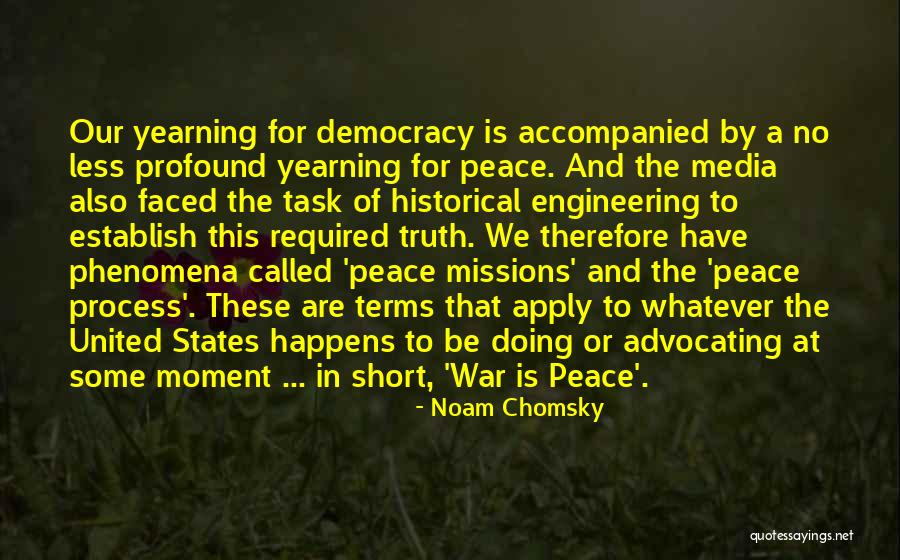 Our yearning for democracy is accompanied by a no less profound yearning for peace. And the media also faced the task of historical engineering to establish this required truth. We therefore have phenomena called 'peace missions' and the 'peace process'. These are terms that apply to whatever the United States happens to be doing or advocating at some moment ... in short, 'War is Peace'. — Noam Chomsky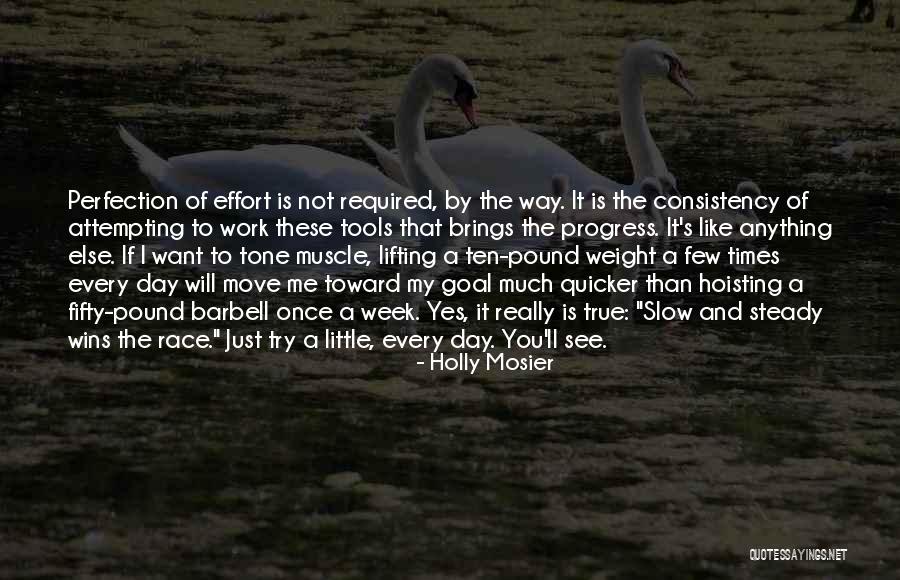 Perfection of effort is not required, by the way. It is the consistency of attempting to work these tools that brings the progress. It's like anything else. If I want to tone muscle, lifting a ten-pound weight a few times every day will move me toward my goal much quicker than hoisting a fifty-pound barbell once a week. Yes, it really is true: "Slow and steady wins the race." Just try a little, every day. You'll see. — Holly Mosier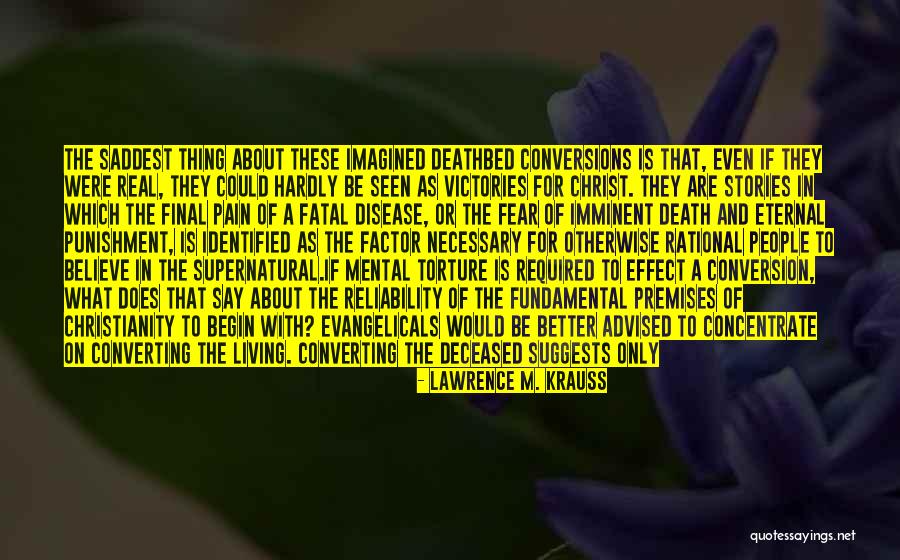 The saddest thing about these imagined deathbed conversions is that, even if they were real, they could hardly be seen as victories for Christ. They are stories in which the final pain of a fatal disease, or the fear of imminent death and eternal punishment, is identified as the factor necessary for otherwise rational people to believe in the supernatural.

If mental torture is required to effect a conversion, what does that say about the reliability of the fundamental premises of Christianity to begin with? Evangelicals would be better advised to concentrate on converting the living. Converting the deceased suggests only that they can't convince those who can argue back. They should let the dead rest in peace. — Lawrence M. Krauss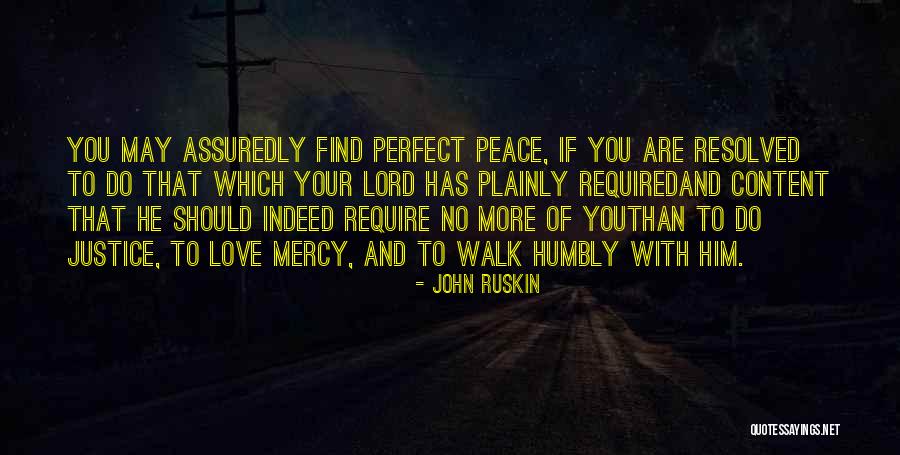 You may assuredly find perfect peace, if you are resolved to do that which your Lord has plainly required
and content that He should indeed require no more of you
than to do justice, to love mercy, and to walk humbly with Him. — John Ruskin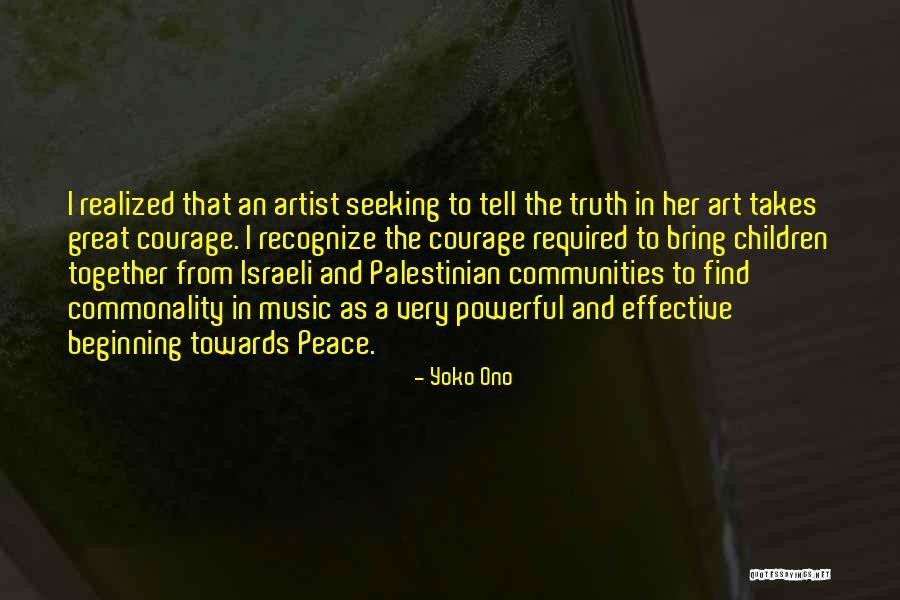 I realized that an artist seeking to tell the truth in her art takes great courage. I recognize the courage required to bring children together from Israeli and Palestinian communities to find commonality in music as a very powerful and effective beginning towards Peace. — Yoko Ono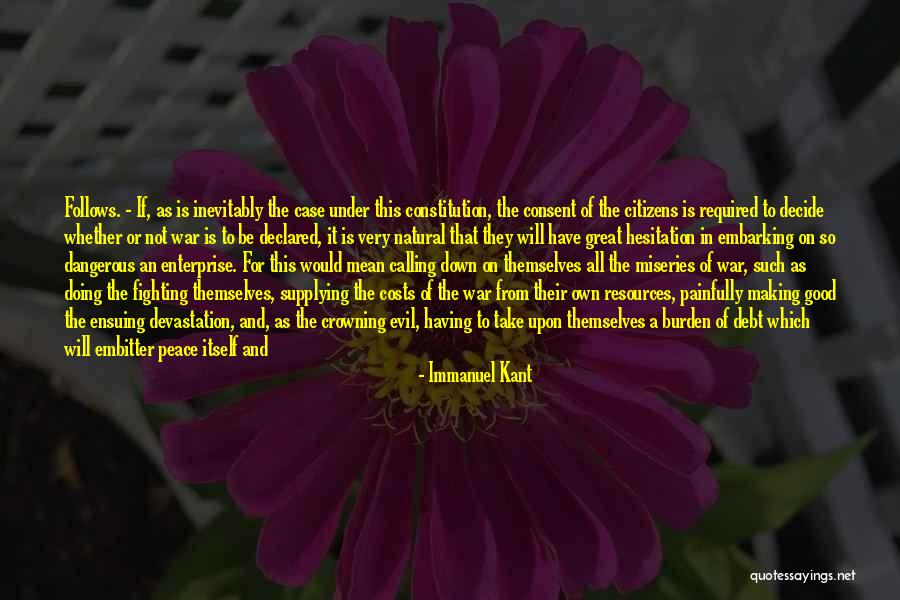 Follows. - If, as is inevitably the case under this constitution, the consent of the citizens is required to decide whether or not war is to be declared, it is very natural that they will have great hesitation in embarking on so dangerous an enterprise. For this would mean calling down on themselves all the miseries of war, such as doing the fighting themselves, supplying the costs of the war from their own resources, painfully making good the ensuing devastation, and, as the crowning evil, having to take upon themselves a burden of debt which will embitter peace itself and which can never be paid off on account of the constant threat of new wars. — Immanuel Kant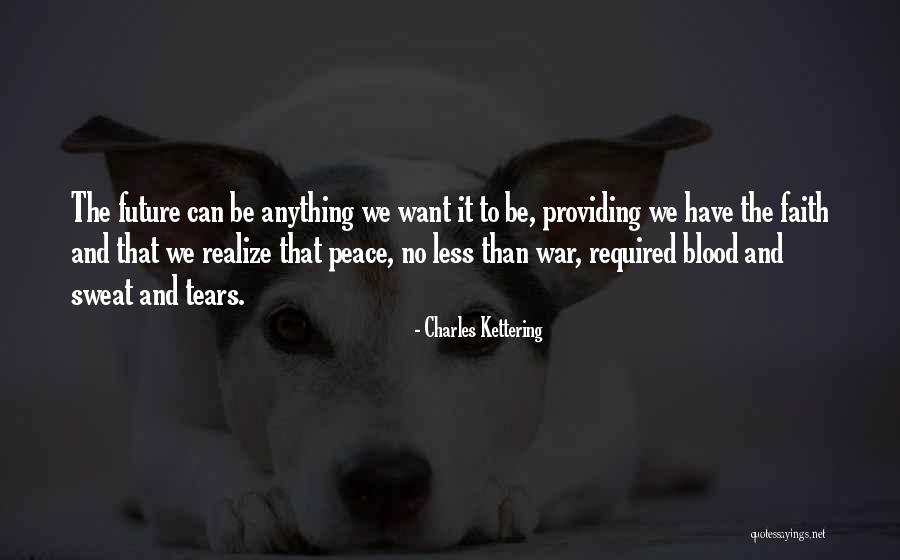 The future can be anything we want it to be, providing we have the faith and that we realize that peace, no less than war, required blood and sweat and tears. — Charles Kettering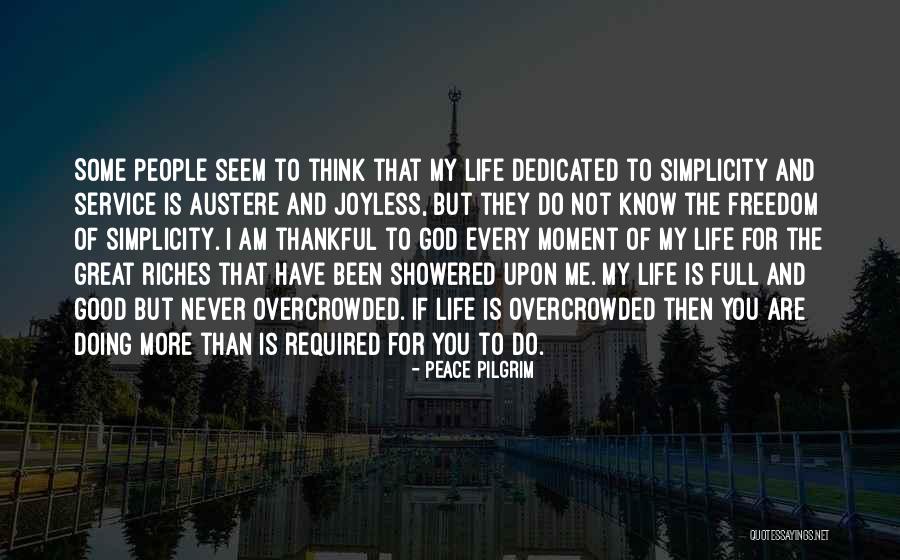 Some people seem to think that my life dedicated to simplicity and service is austere and joyless, but they do not know the freedom of simplicity. I am thankful to God every moment of my life for the great riches that have been showered upon me. My life is full and good but never overcrowded. If life is overcrowded then you are doing more than is required for you to do. — Peace Pilgrim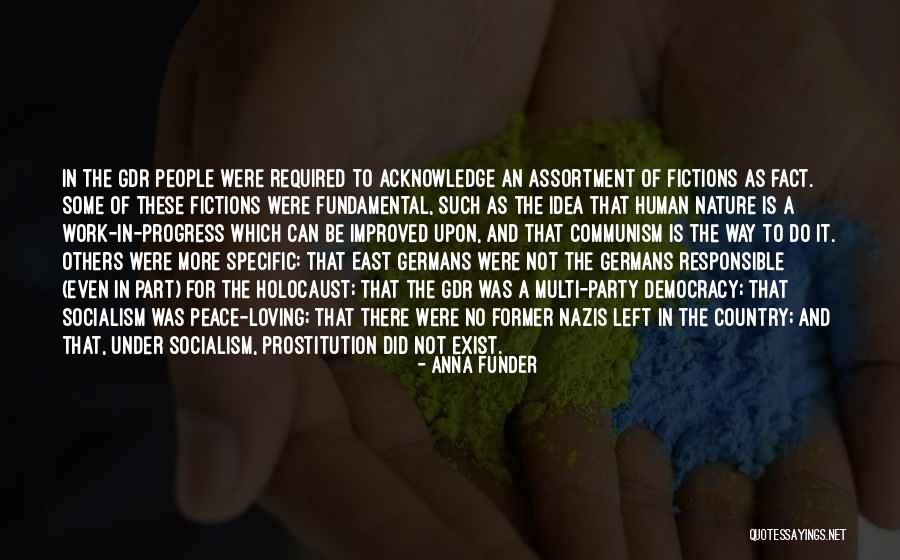 In the GDR people were required to acknowledge an assortment of fictions as fact. Some of these fictions were fundamental, such as the idea that human nature is a work-in-progress which can be improved upon, and that Communism is the way to do it. Others were more specific: that East Germans were not the Germans responsible (even in part) for the Holocaust; that the GDR was a multi-party democracy; that socialism was peace-loving; that there were no former Nazis left in the country; and that, under socialism, prostitution did not exist. — Anna Funder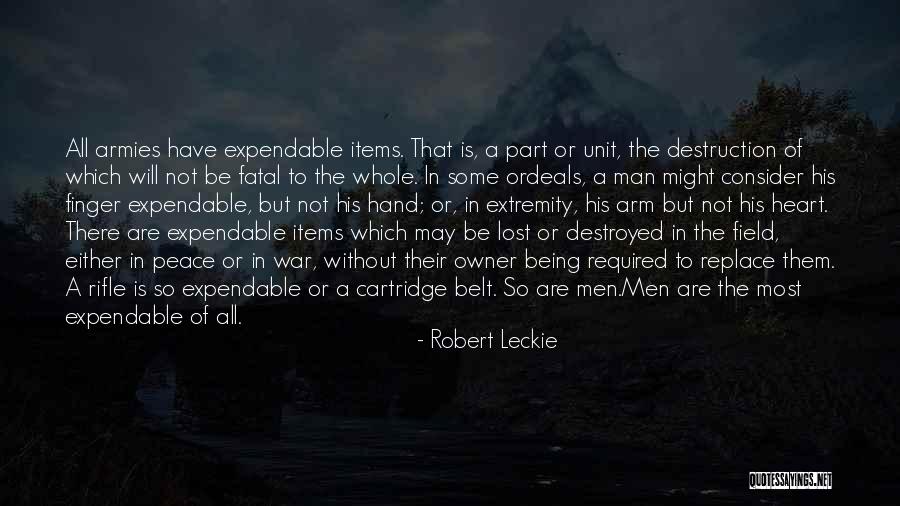 All armies have expendable items. That is, a part or unit, the destruction of which will not be fatal to the whole. In some ordeals, a man might consider his finger expendable, but not his hand; or, in extremity, his arm but not his heart. There are expendable items which may be lost or destroyed in the field, either in peace or in war, without their owner being required to replace them. A rifle is so expendable or a cartridge belt. So are men.

Men are the most expendable of all. — Robert Leckie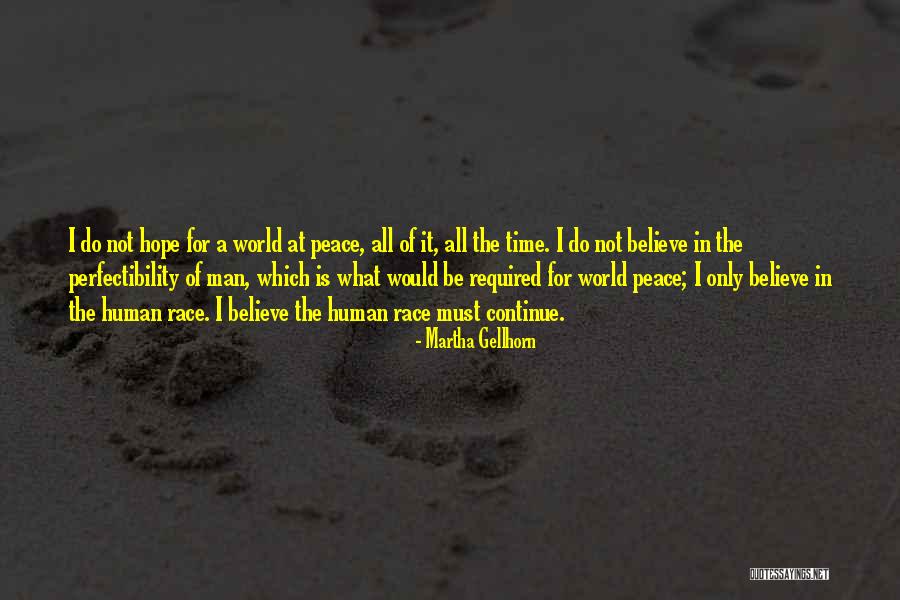 I do not hope for a world at peace, all of it, all the time. I do not believe in the perfectibility of man, which is what would be required for world peace; I only believe in the human race. I believe the human race must continue. — Martha Gellhorn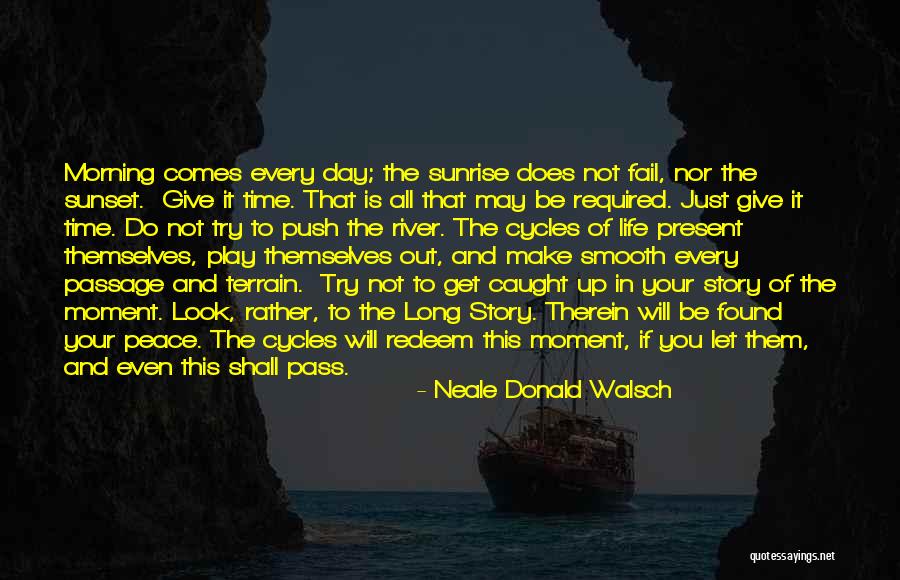 Morning comes every day; the sunrise does not fail, nor the sunset.
Give it time. That is all that may be required. Just give it time. Do not try to push the river. The cycles of life present themselves, play themselves out, and make smooth every passage and terrain.
Try not to get caught up in your story of the moment. Look, rather, to the Long Story. Therein will be found your peace. The cycles will redeem this moment, if you let them, and even this shall pass. — Neale Donald Walsch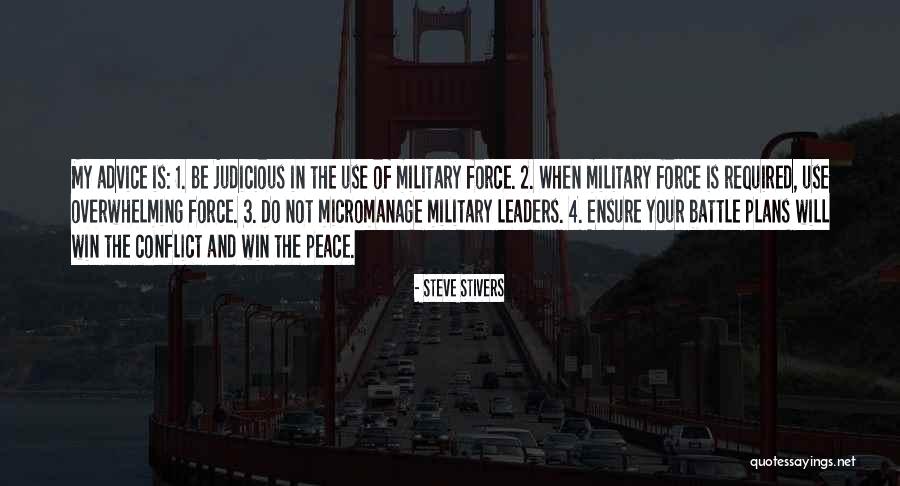 My advice is: 1. Be judicious in the use of military force. 2. When military force is required, use overwhelming force. 3. Do not micromanage military leaders. 4. Ensure your battle plans will win the conflict and win the peace. — Steve Stivers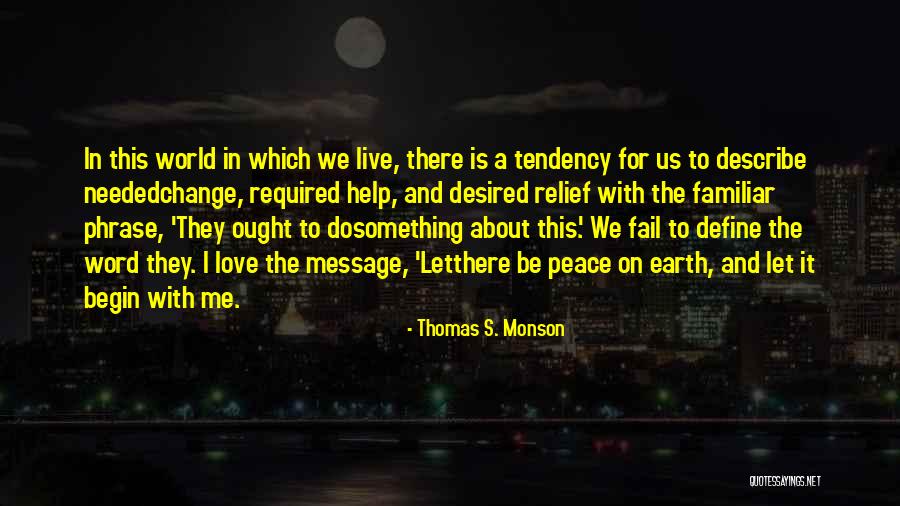 In this world in which we live, there is a tendency for us to describe needed
change, required help, and desired relief with the familiar phrase, 'They ought to do
something about this.' We fail to define the word they. I love the message, 'Let
there be peace on earth, and let it begin with me. — Thomas S. Monson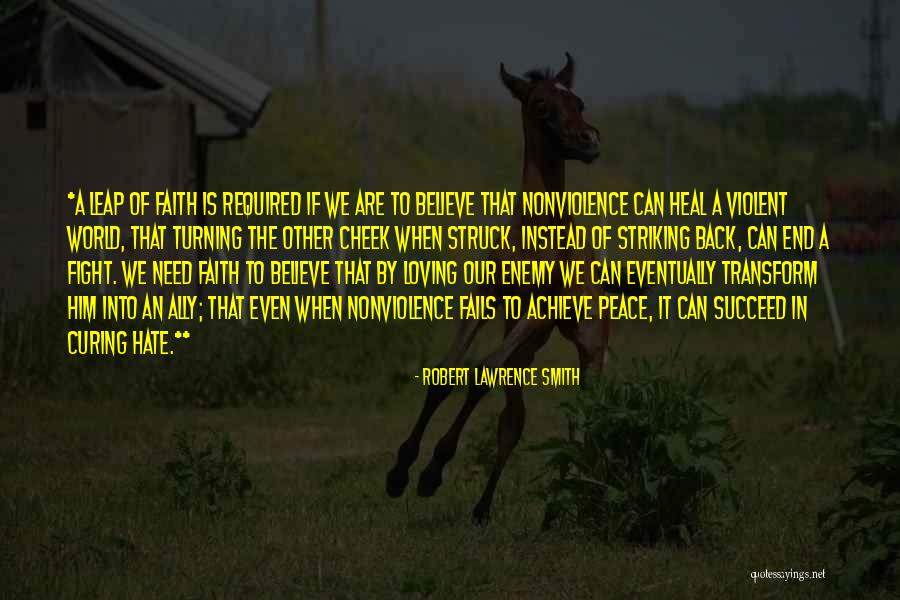 *A leap of faith is required if we are to believe that nonviolence can heal a violent world, that turning the other cheek when struck, instead of striking back, can end a fight. We need faith to believe that by loving our enemy we can eventually transform him into an ally; that even when nonviolence fails to achieve peace, it can succeed in curing hate.** — Robert Lawrence Smith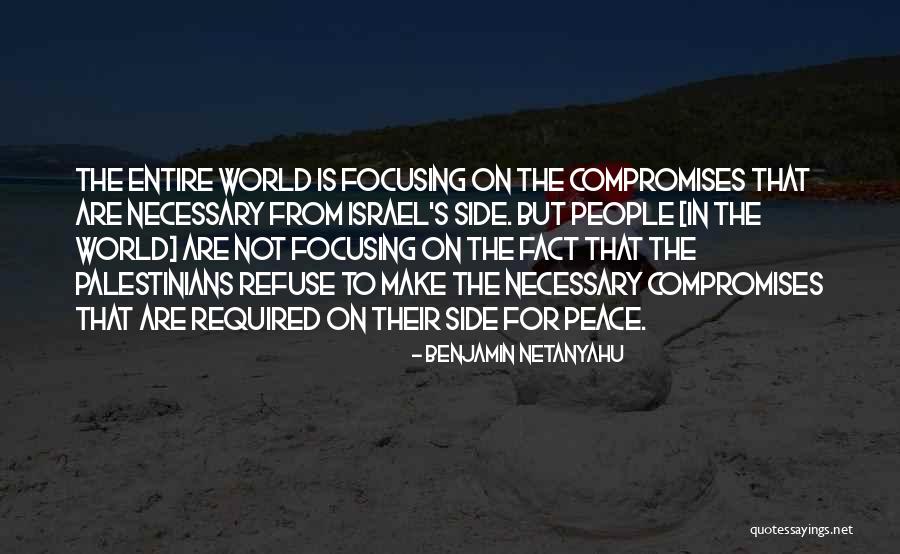 The entire world is focusing on the compromises that are necessary from Israel's side. But people [in the world] are not focusing on the fact that the Palestinians refuse to make the necessary compromises that are required on their side for peace. — Benjamin Netanyahu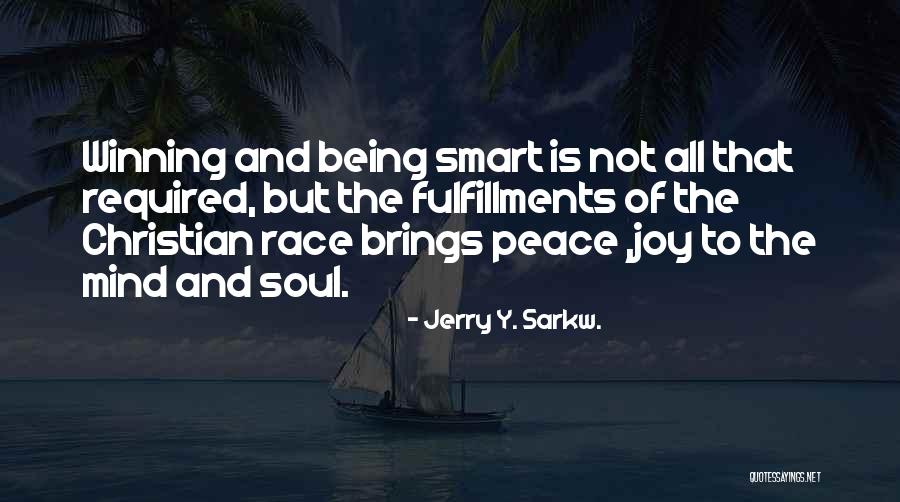 Winning and being smart is not all that required, but the fulfillments of the Christian race brings peace ,joy to the mind and soul. — Jerry Y. Sarkw.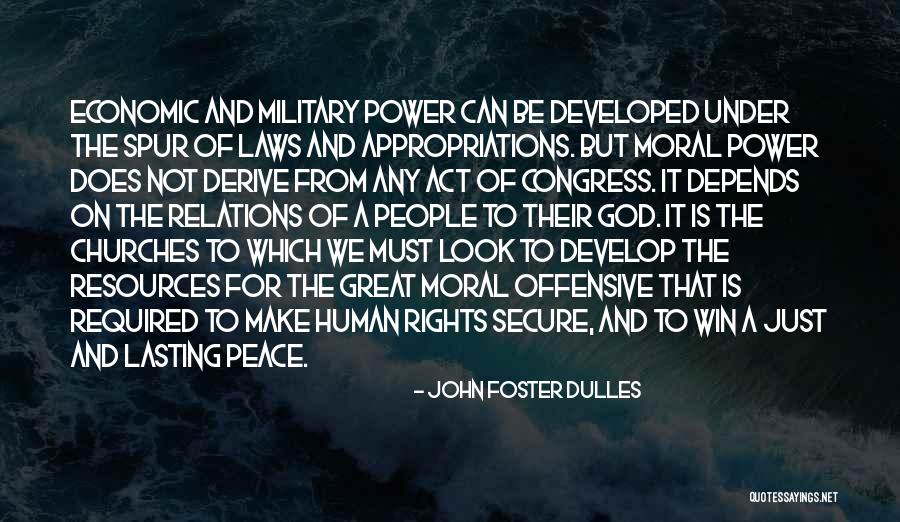 Economic and military power can be developed under the spur of laws and appropriations. But moral power does not derive from any act of Congress. It depends on the relations of a people to their God. It is the churches to which we must look to develop the resources for the great moral offensive that is required to make human rights secure, and to win a just and lasting peace. — John Foster Dulles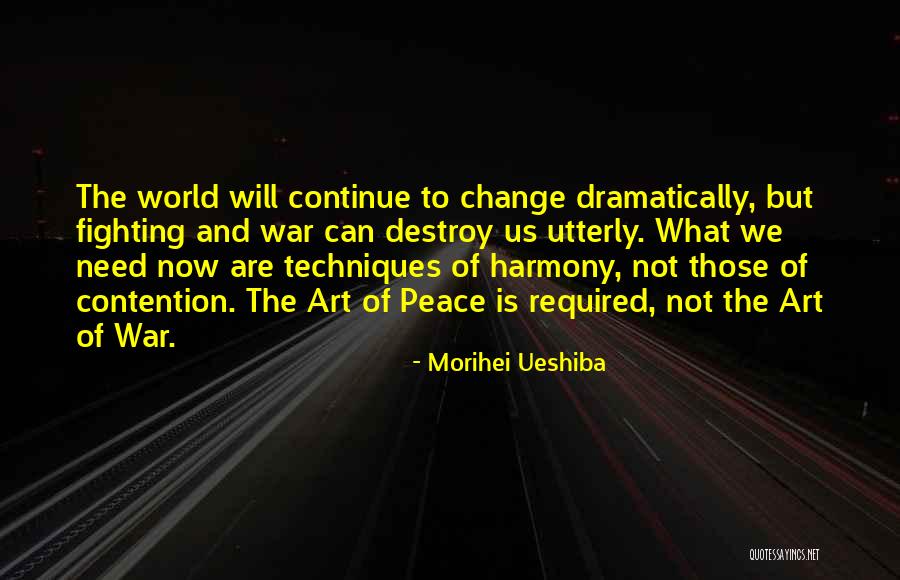 The world will continue to change dramatically, but fighting and war can destroy us utterly. What we need now are techniques of harmony, not those of contention. The Art of Peace is required, not the Art of War. — Morihei Ueshiba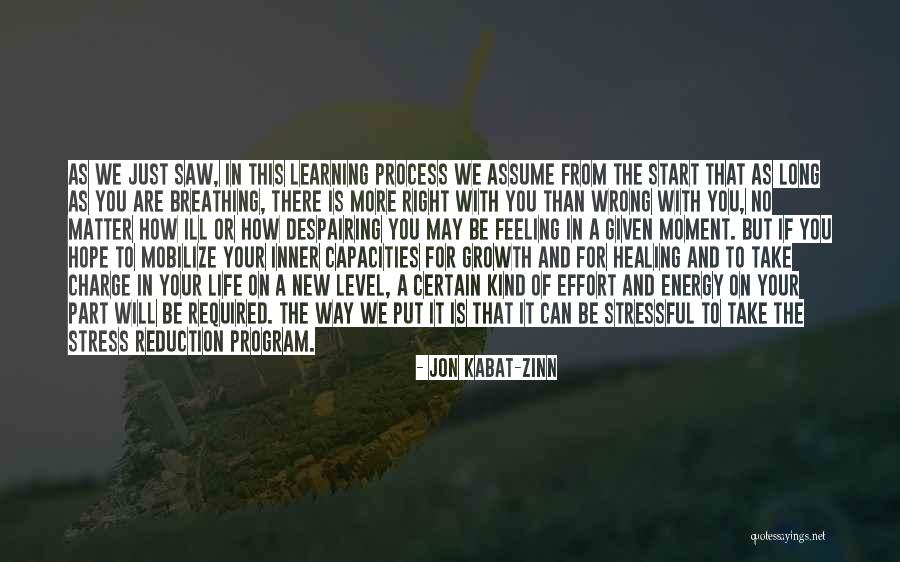 As we just saw, in this learning process we assume from the start that as long as you are breathing, there is more right with you than wrong with you, no matter how ill or how despairing you may be feeling in a given moment. But if you hope to mobilize your inner capacities for growth and for healing and to take charge in your life on a new level, a certain kind of effort and energy on your part will be required. The way we put it is that it can be stressful to take the stress reduction program. I sometimes explain this by saying that there are times when you have to light one fire to put out another. There are no drugs that will make you immune to stress or to pain, or that will by themselves magically solve your life's problems or promote healing. It will take conscious effort on your part to move in a direction of healing, inner peace, and well-being. This means learning to work with the very stress and pain that are causing you to suffer. — Jon Kabat-Zinn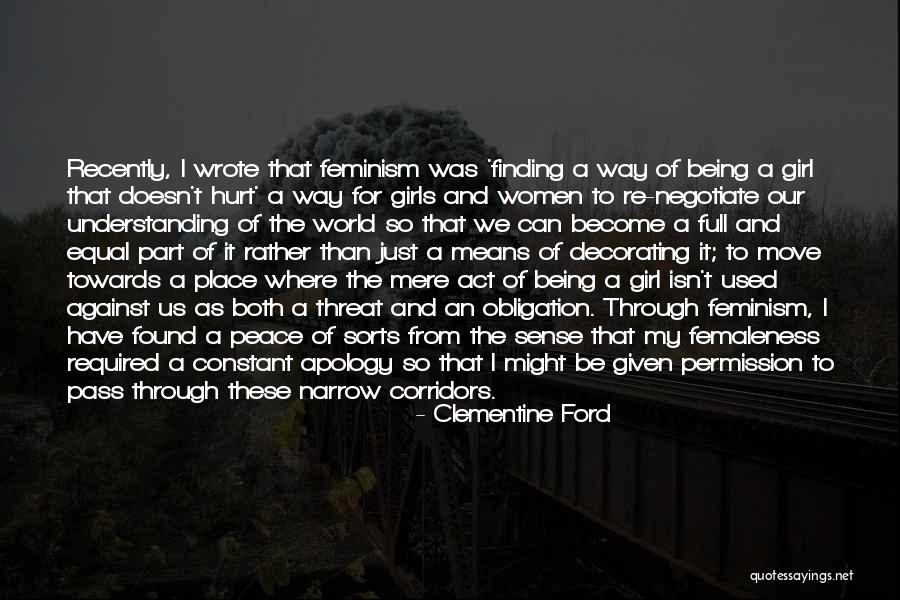 Recently, I wrote that feminism was 'finding a way of being a girl that doesn't hurt' a way for girls and women to re-negotiate our understanding of the world so that we can become a full and equal part of it rather than just a means of decorating it; to move towards a place where the mere act of being a girl isn't used against us as both a threat and an obligation. Through feminism, I have found a peace of sorts from the sense that my femaleness required a constant apology so that I might be given permission to pass through these narrow corridors. — Clementine Ford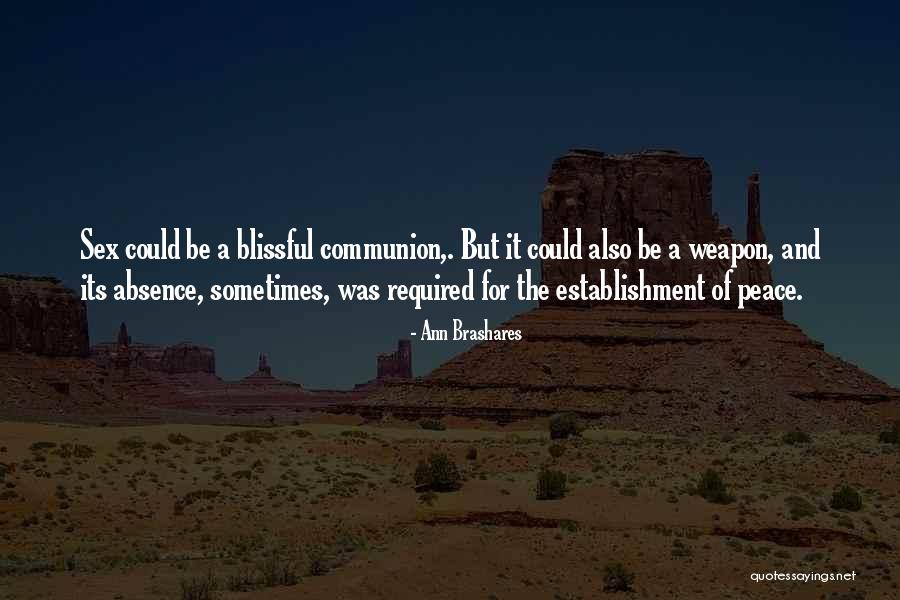 Sex could be a blissful communion,. But it could also be a weapon, and its absence, sometimes, was required for the establishment of peace. — Ann Brashares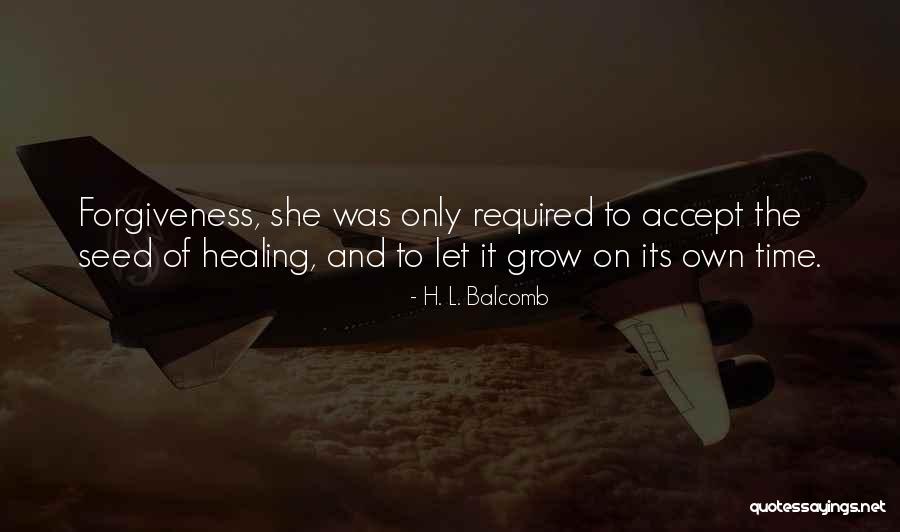 Forgiveness, she was only required to accept the seed of healing, and to let it grow on its own time. — H. L. Balcomb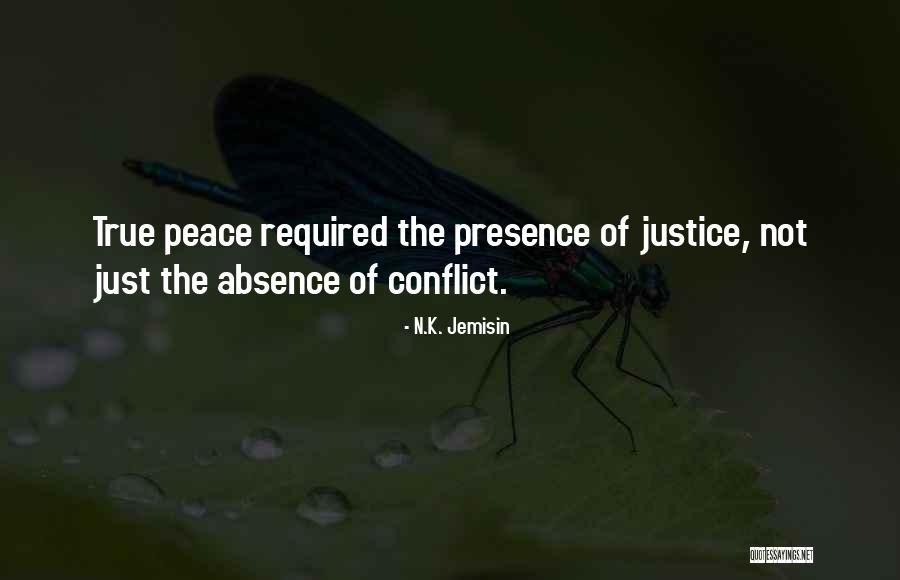 True peace required the presence of justice, not just the absence of conflict. — N.K. Jemisin
Indeed, valour and honour alike required that we should own as enemies in war only such as prove worthy of being friends in peace. — Inazo Nitobe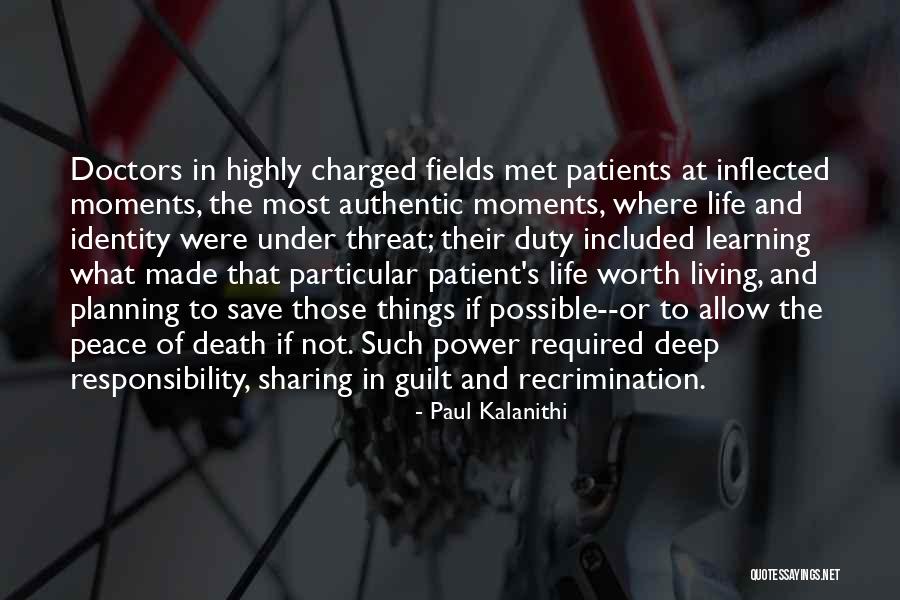 Doctors in highly charged fields met patients at inflected moments, the most authentic moments, where life and identity were under threat; their duty included learning what made that particular patient's life worth living, and planning to save those things if possible--or to allow the peace of death if not. Such power required deep responsibility, sharing in guilt and recrimination. — Paul Kalanithi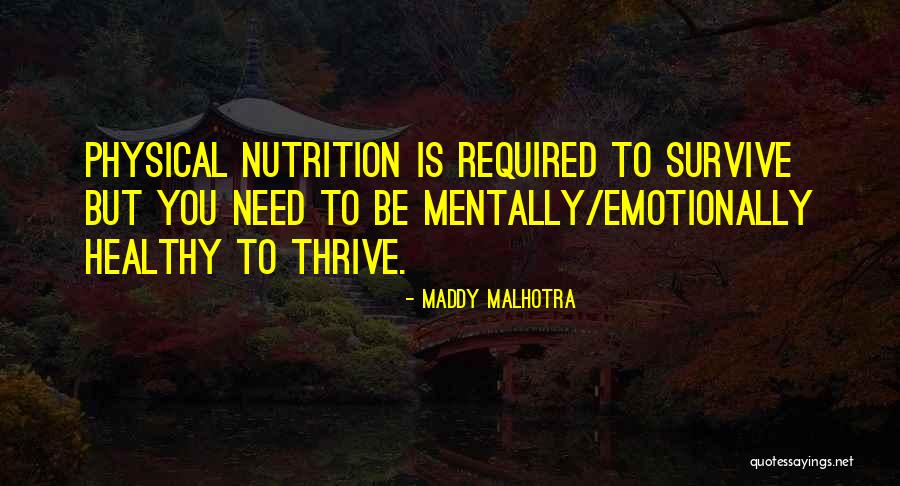 Physical nutrition is required to survive but you need to be mentally/emotionally healthy to thrive. — Maddy Malhotra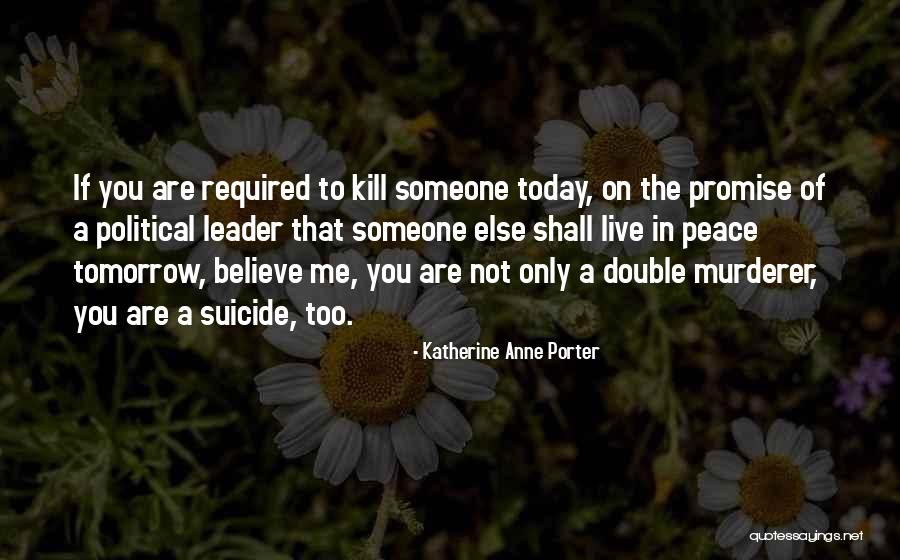 If you are required to kill someone today, on the promise of a political leader that someone else shall live in peace tomorrow, believe me, you are not only a double murderer, you are a suicide, too. — Katherine Anne Porter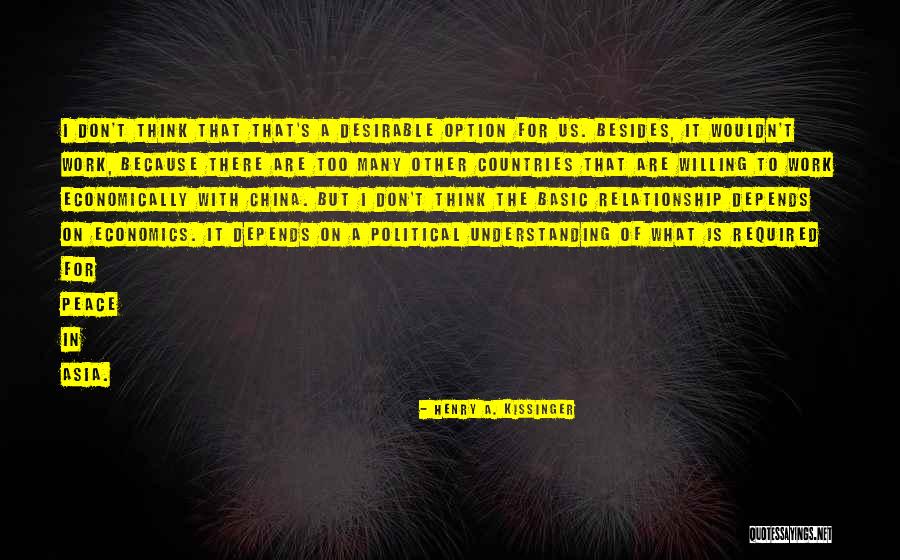 I don't think that that's a desirable option for us. Besides, it wouldn't work, because there are too many other countries that are willing to work economically with China. But I don't think the basic relationship depends on economics. It depends on a political understanding of what is required for peace in Asia. — Henry A. Kissinger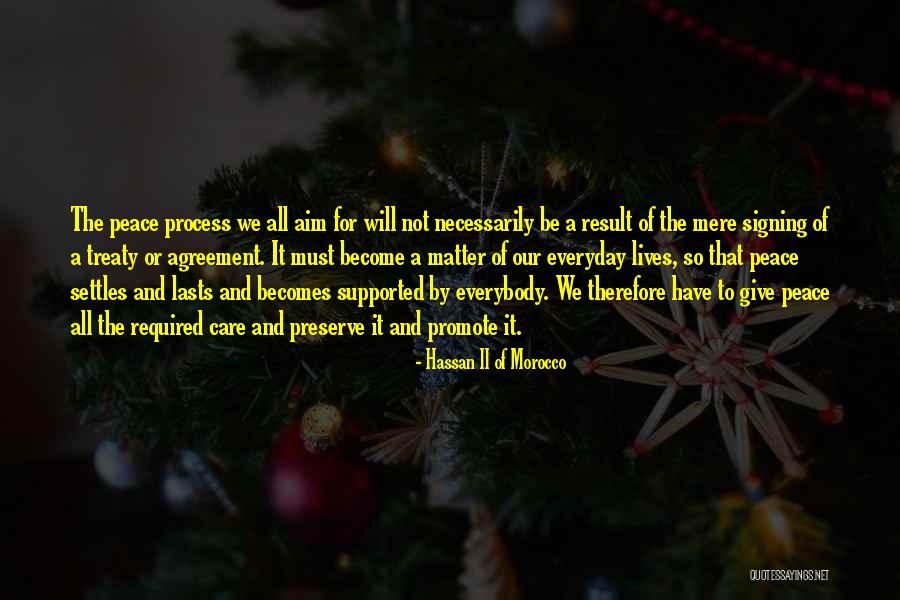 The peace process we all aim for will not necessarily be a result of the mere signing of a treaty or agreement. It must become a matter of our everyday lives, so that peace settles and lasts and becomes supported by everybody. We therefore have to give peace all the required care and preserve it and promote it. — Hassan II Of Morocco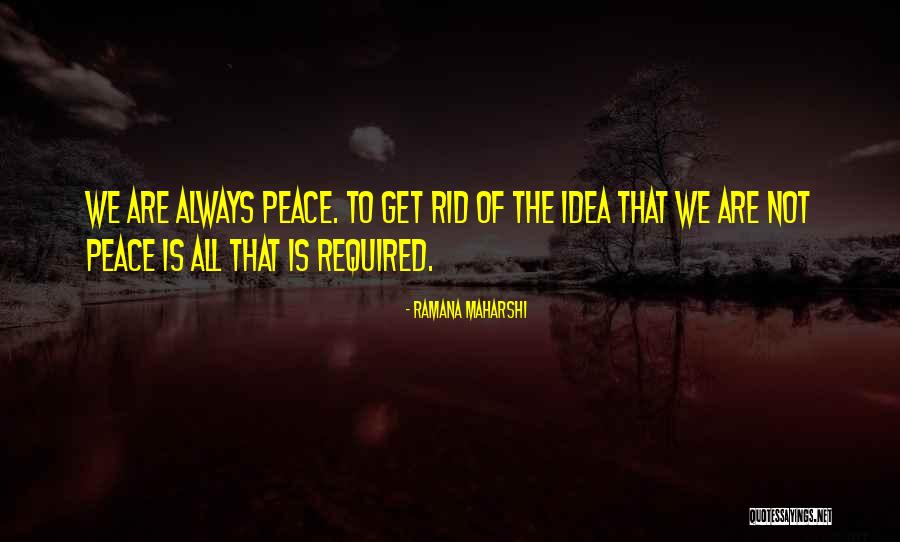 We are always peace. To get rid of the idea that we are not peace is all that is required. — Ramana Maharshi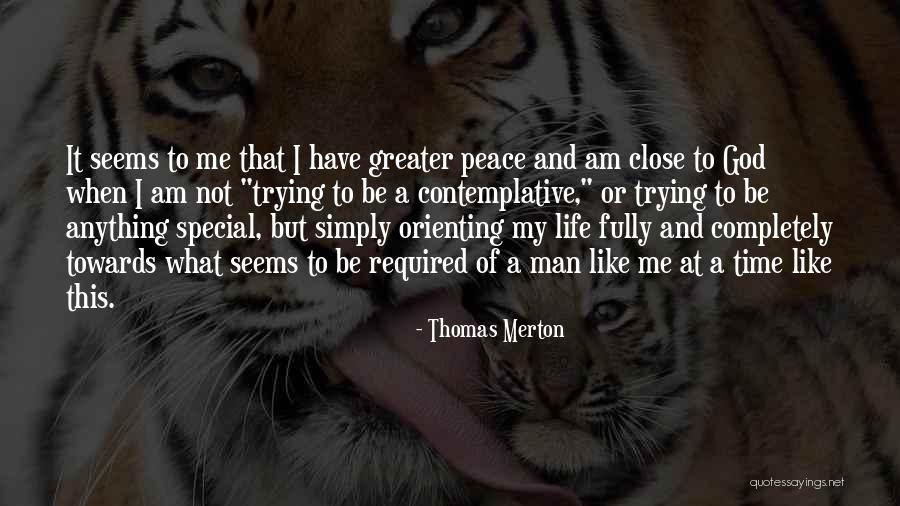 It seems to me that I have greater peace and am close to God when I am not "trying to be a contemplative," or trying to be anything special, but simply orienting my life fully and completely towards what seems to be required of a man like me at a time like this. — Thomas Merton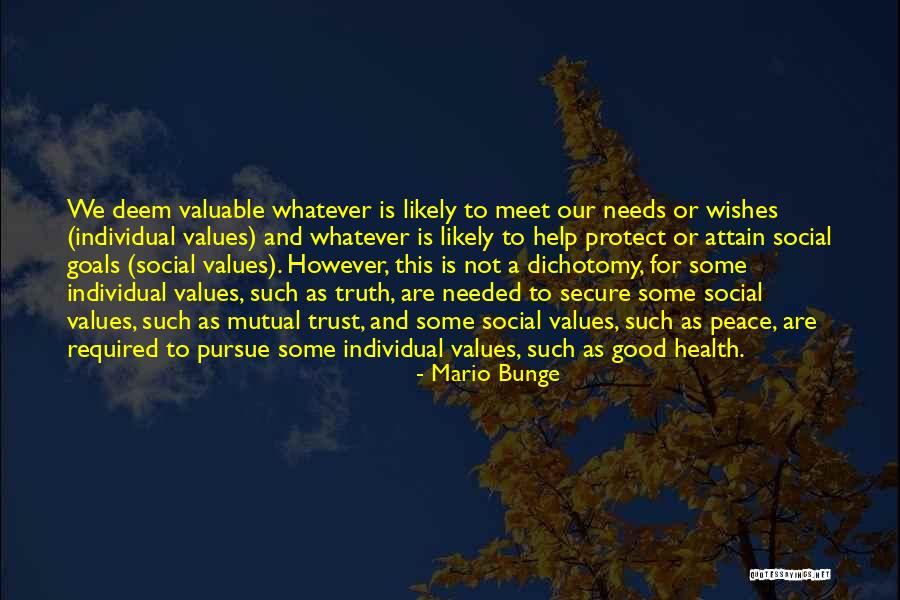 We deem valuable whatever is likely to meet our needs or wishes (individual values) and whatever is likely to help protect or attain social goals (social values). However, this is not a dichotomy, for some individual values, such as truth, are needed to secure some social values, such as mutual trust, and some social values, such as peace, are required to pursue some individual values, such as good health. — Mario Bunge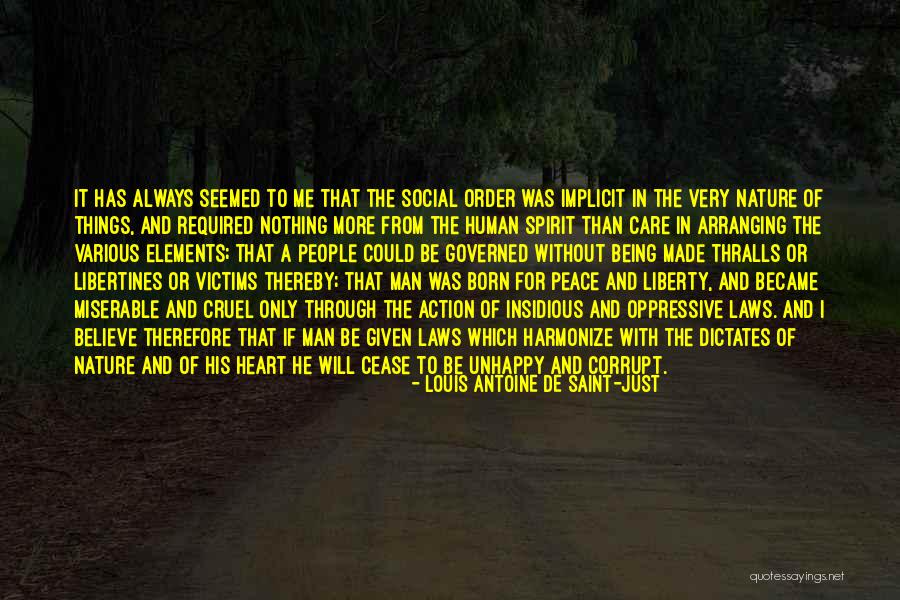 It has always seemed to me that the social order was implicit in the very nature of things, and required nothing more from the human spirit than care in arranging the various elements; that a people could be governed without being made thralls or libertines or victims thereby; that man was born for peace and liberty, and became miserable and cruel only through the action of insidious and oppressive laws. And I believe therefore that if man be given laws which harmonize with the dictates of nature and of his heart he will cease to be unhappy and corrupt. — Louis Antoine De Saint-Just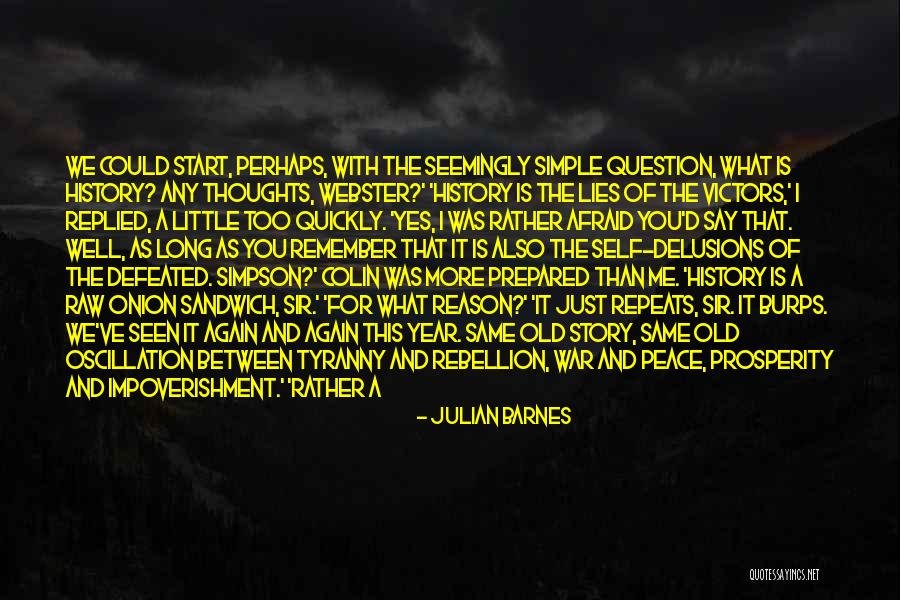 We could start, perhaps, with the seemingly simple question, What is History? Any thoughts, Webster?' 'History is the lies of the victors,' I replied, a little too quickly. 'Yes, I was rather afraid you'd say that. Well, as long as you remember that it is also the self-delusions of the defeated. Simpson?' Colin was more prepared than me. 'History is a raw onion sandwich, sir.' 'For what reason?' 'It just repeats, sir. It burps. We've seen it again and again this year. Same old story, same old oscillation between tyranny and rebellion, war and peace, prosperity and impoverishment.' 'Rather a lot for a sandwich to contain, wouldn't you say?' We laughed far more than was required, with an end-of-term hysteria. 'Finn?' '"History is that certainty produced at the point where the imperfections of memory meet the inadequacies of documentation." ' 'Is it, indeed? Where did you find that?' 'Lagrange, sir. Patrick Lagrange. He's French. — Julian Barnes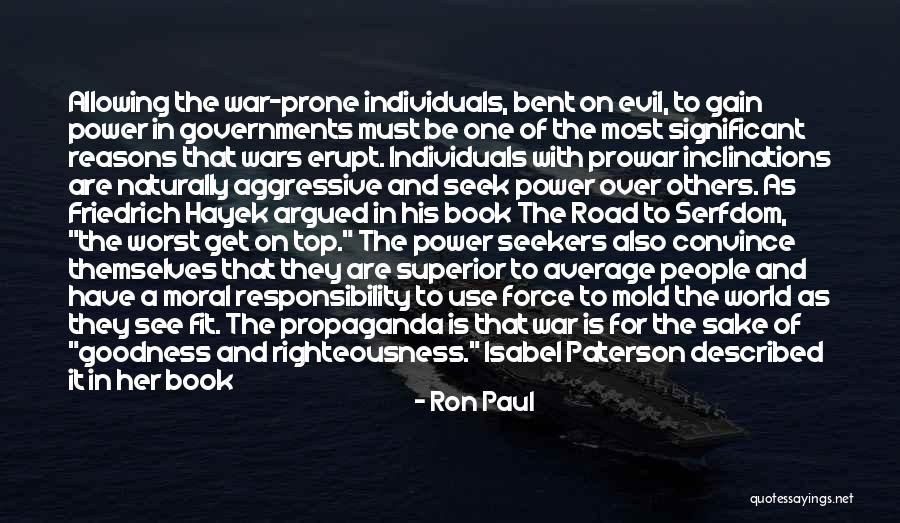 Allowing the war-prone individuals, bent on evil, to gain power in governments must be one of the most significant reasons that wars erupt. Individuals with prowar inclinations are naturally aggressive and seek power over others. As Friedrich Hayek argued in his book The Road to Serfdom, "the worst get on top." The power seekers also convince themselves that they are superior to average people and have a moral responsibility to use force to mold the world as they see fit. The propaganda is that war is for the sake of "goodness and righteousness." Isabel Paterson described it in her book The God of the Machine as "the humanitarian with a guillotine." Those who are more prone to peace tend to be complacent and to not resist the propaganda required to mobilize otherwise peaceful people to fight and die for the lies told and the false noble goals proposed by the self-appointed moral leaders. — Ron Paul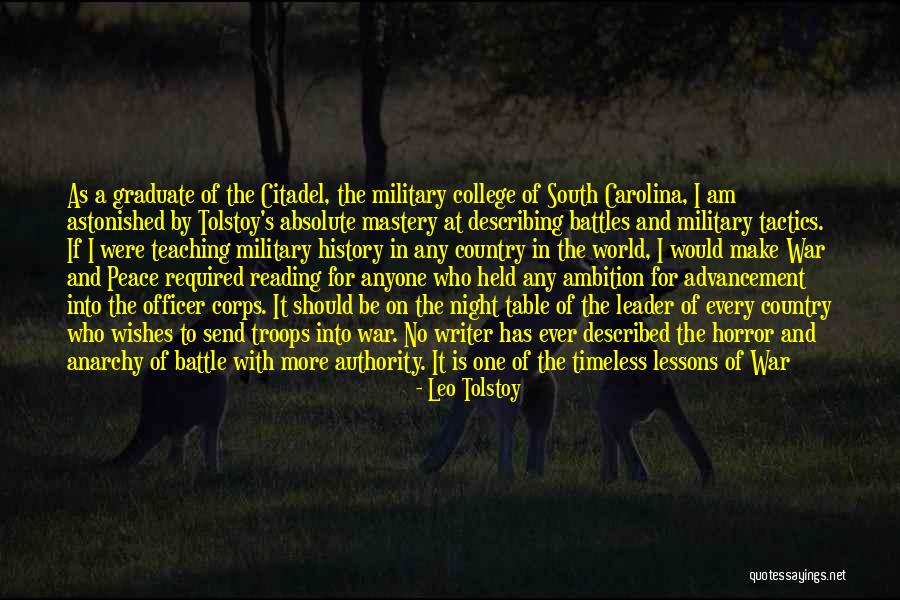 As a graduate of the Citadel, the military college of South Carolina, I am astonished by Tolstoy's absolute mastery at describing battles and military tactics. If I were teaching military history in any country in the world, I would make War and Peace required reading for anyone who held any ambition for advancement into the officer corps. It should be on the night table of the leader of every country who wishes to send troops into war. No writer has ever described the horror and anarchy of battle with more authority. It is one of the timeless lessons of War and Peace that no one, not Napoleon, nor the Tsar, nor the Russian general Katuzov, has any idea how a war is going to turn out once it is unleashed. Napoleon — Leo Tolstoy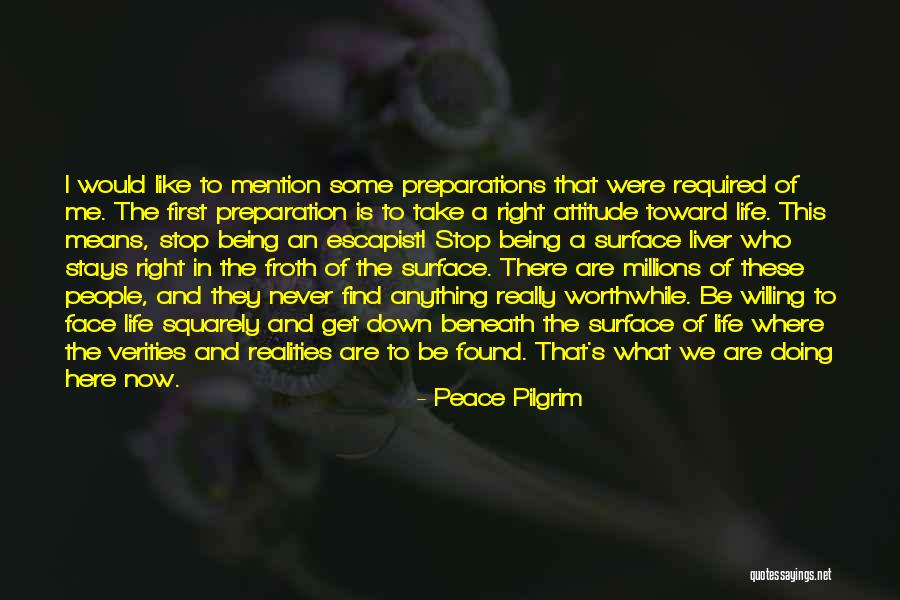 I would like to mention some preparations that were required of me. The first preparation is to take a right attitude toward life. This means, stop being an escapist! Stop being a surface liver who stays right in the froth of the surface. There are millions of these people, and they never find anything really worthwhile. Be willing to face life squarely and get down beneath the surface of life where the verities and realities are to be found. That's what we are doing here now. — Peace Pilgrim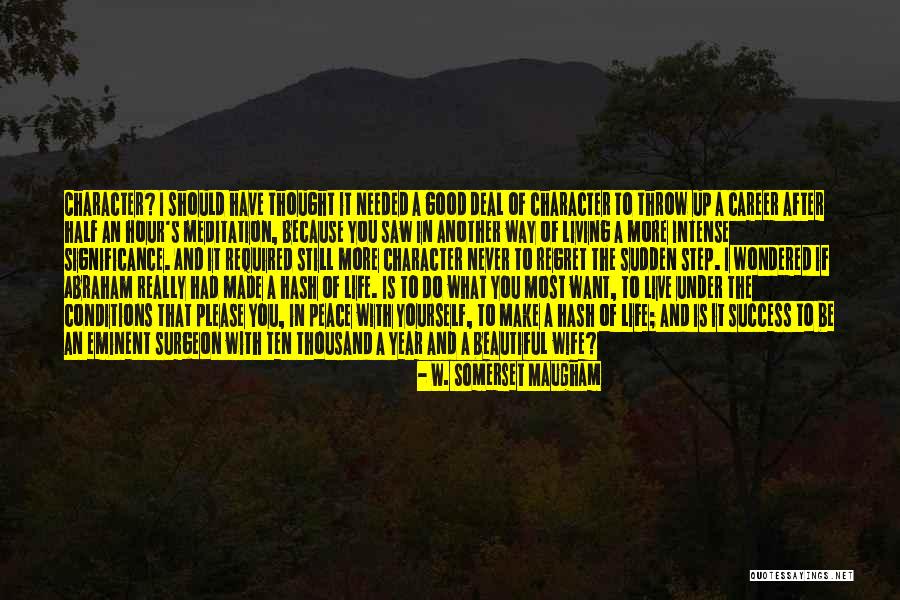 Character? I should have thought it needed a good deal of character to throw up a career after half an hour's meditation, because you saw in another way of living a more intense significance. And it required still more character never to regret the sudden step.
I wondered if Abraham really had made a hash of life. Is to do what you most want, to live under the conditions that please you, in peace with yourself, to make a hash of life; and is it success to be an eminent surgeon with ten thousand a year and a beautiful wife? I suppose it depends on what meaning you attach to life, the claim which you acknowledge to society, and the claim of the individual. But again I held my tongue, for who am I to argue with a knight? — W. Somerset Maugham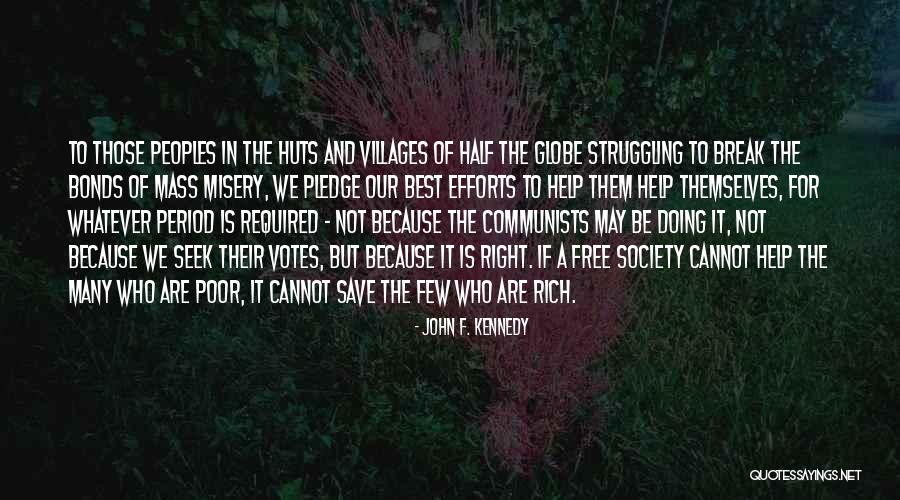 To those peoples in the huts and villages of half the globe struggling to break the bonds of mass misery, we pledge our best efforts to help them help themselves, for whatever period is required - not because the Communists may be doing it, not because we seek their votes, but because it is right. If a free society cannot help the many who are poor, it cannot save the few who are rich. — John F. Kennedy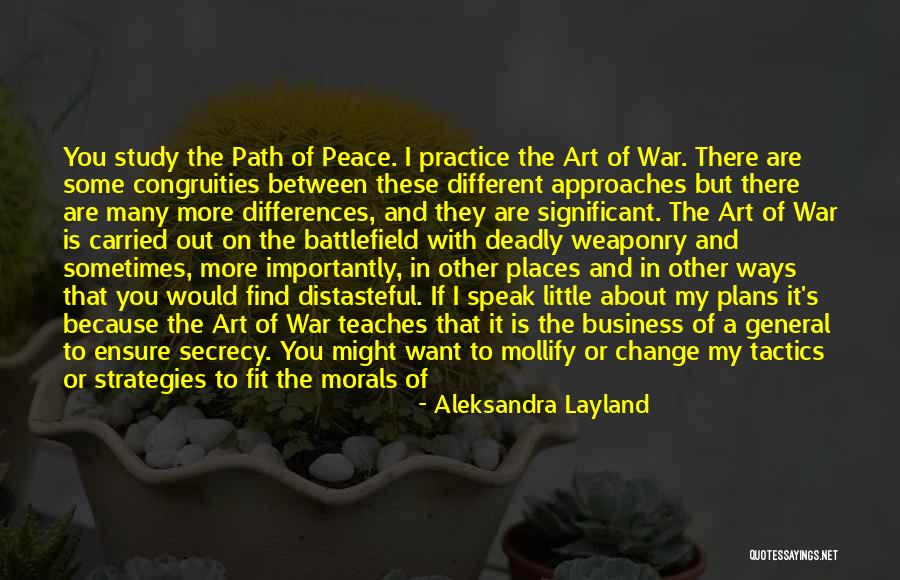 You study the Path of Peace. I practice the Art of War. There are some congruities between these different approaches but there are many more differences, and they are significant. The Art of War is carried out on the battlefield with deadly weaponry and sometimes, more importantly, in other places and in other ways that you would find distasteful. If I speak little about my plans it's because the Art of War teaches that it is the business of a general to ensure secrecy. You might want to mollify or change my tactics or strategies to fit the morals of your peacetime world and I'd be shackled and hampered in seeing the victory won as it should be, as quickly as possible, with as little fighting as possible, and at the lowest cost possible. You cannot bear the consequences of battle and you don't know the resources required. I do. — Aleksandra Layland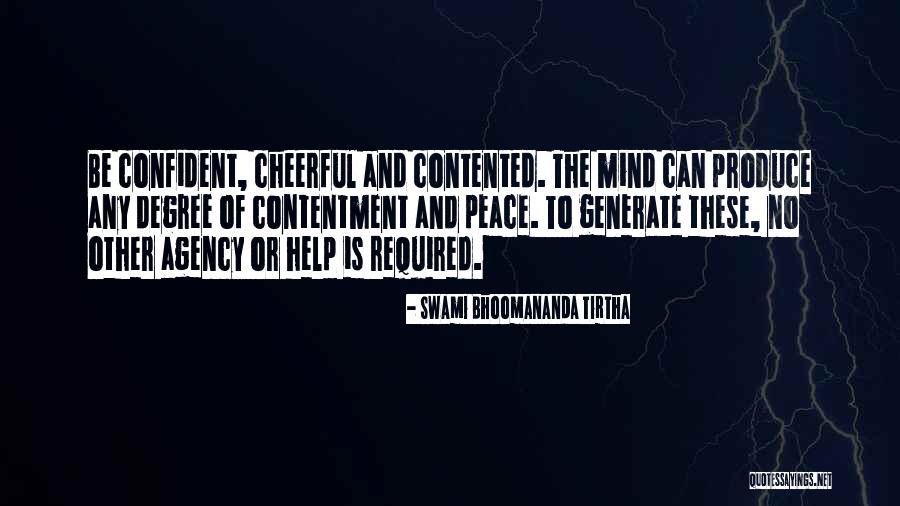 Be confident, cheerful and contented. The mind can produce any degree of contentment and peace. To generate these, no other agency or help is required. — Swami Bhoomananda Tirtha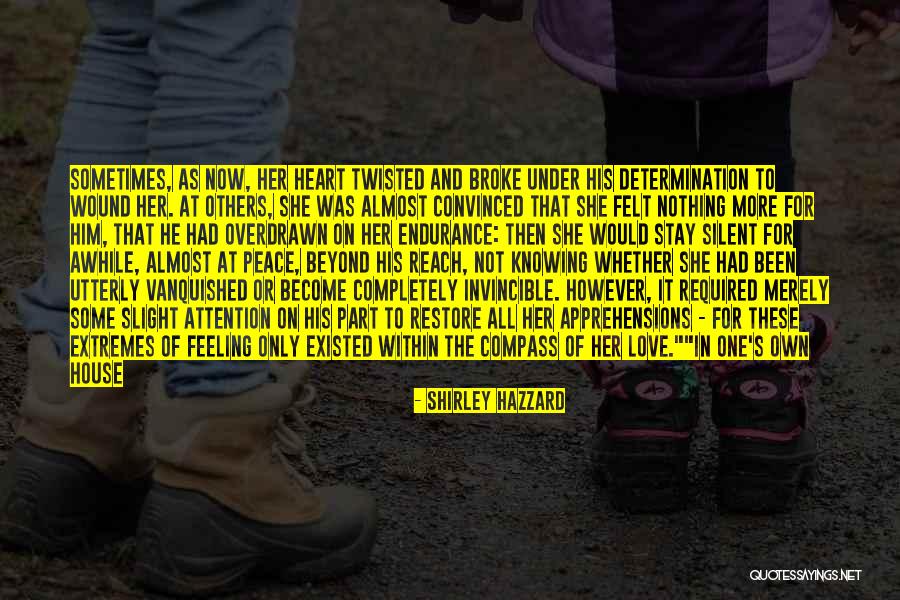 Sometimes, as now, her heart twisted and broke under his determination to wound her. At others, she was almost convinced that she felt nothing more for him, that he had overdrawn on her endurance: then she would stay silent for awhile, almost at peace, beyond his reach, not knowing whether she had been utterly vanquished or become completely invincible. However, it required merely some slight attention on his part to restore all her apprehensions - for these extremes of feeling only existed within the compass of her love."
"In One's Own House — Shirley Hazzard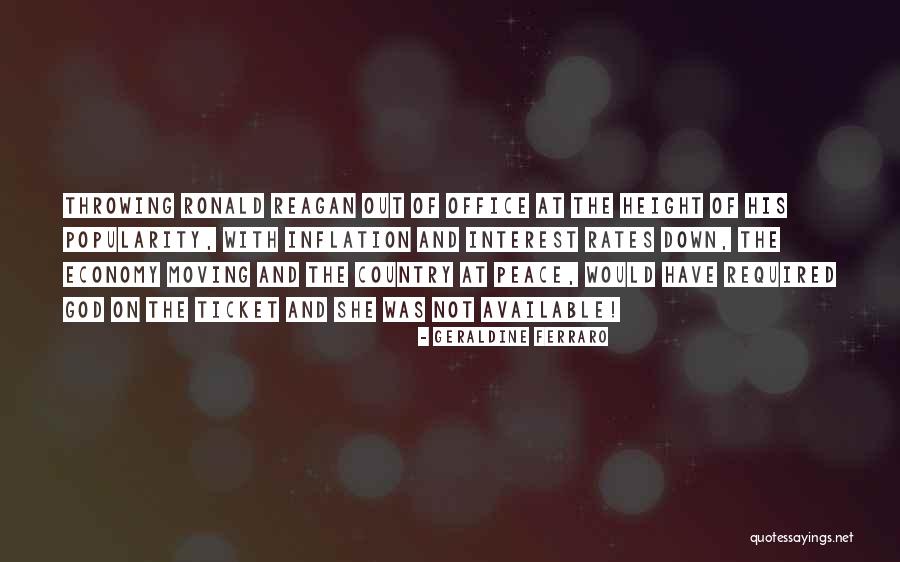 Throwing Ronald Reagan out of office at the height of his popularity, with inflation and interest rates down, the economy moving and the country at peace, would have required God on the ticket and She was not available! — Geraldine Ferraro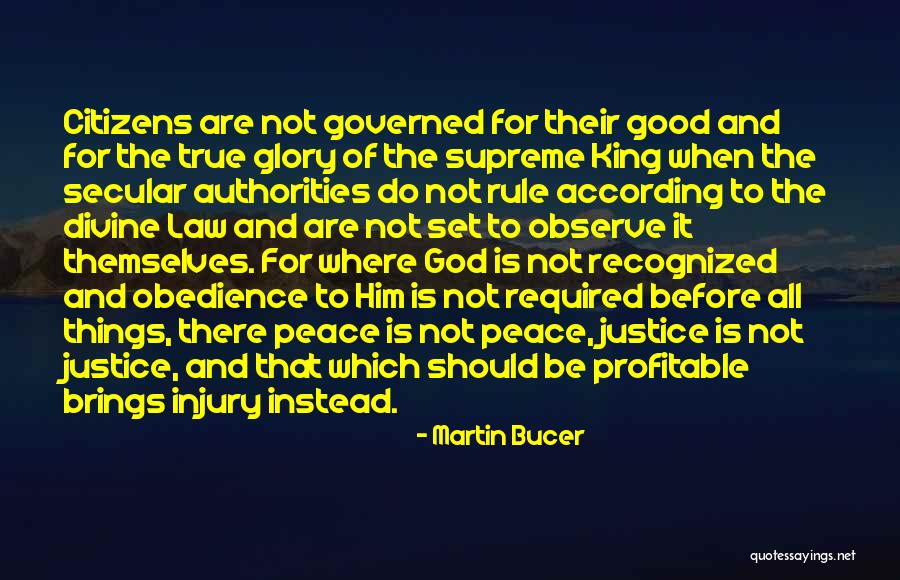 Citizens are not governed for their good and for the true glory of the supreme King when the secular authorities do not rule according to the divine Law and are not set to observe it themselves. For where God is not recognized and obedience to Him is not required before all things, there peace is not peace, justice is not justice, and that which should be profitable brings injury instead. — Martin Bucer
Therefore, doing the Stations of the Cross was still more laborious than consoling, and required a sacrifice. It was much the same with all my devotions. They did not come easily or spontaneously, and they very seldom brought with them any strong sensible satisfaction. Nevertheless the work of performing them ended in a profound and fortifying peace: a peace that was scarcely perceptible, but which deepened and which, as my passions subsided, became more and more real, more and more sure, and finally stayed with me permanently. — Thomas Merton