Patience And Faith In God Quotes & Sayings
Enjoy reading and share 38 famous quotes about Patience And Faith In God with everyone.
Top Patience And Faith In God Quotes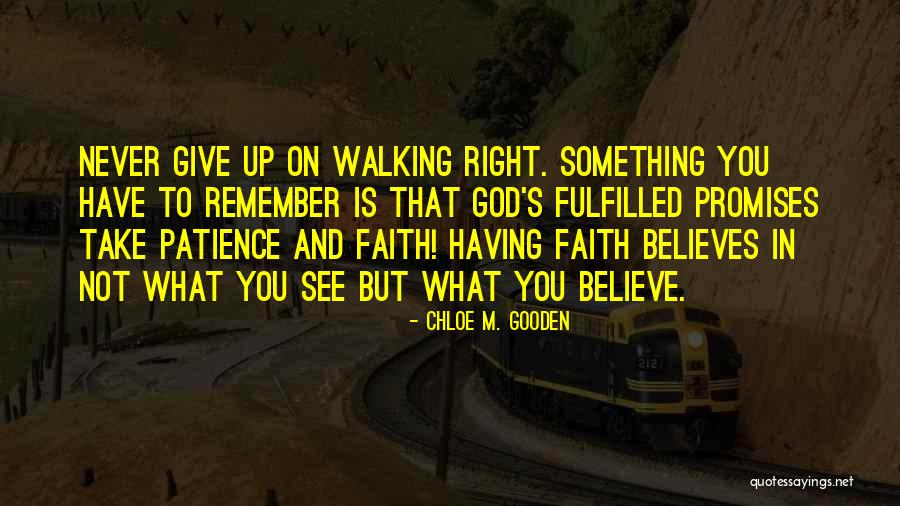 Never give up on walking right. Something you have to remember is that God's fulfilled promises take patience and faith! Having faith believes in not what you SEE but what you BELIEVE. — Chloe M. Gooden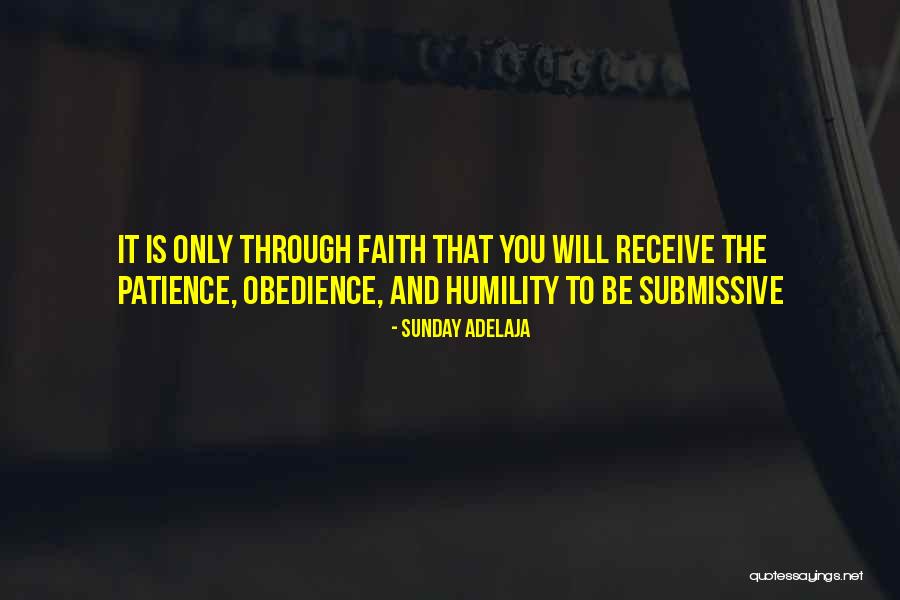 It is only through faith that you will receive the patience, obedience, and humility to be submissive — Sunday Adelaja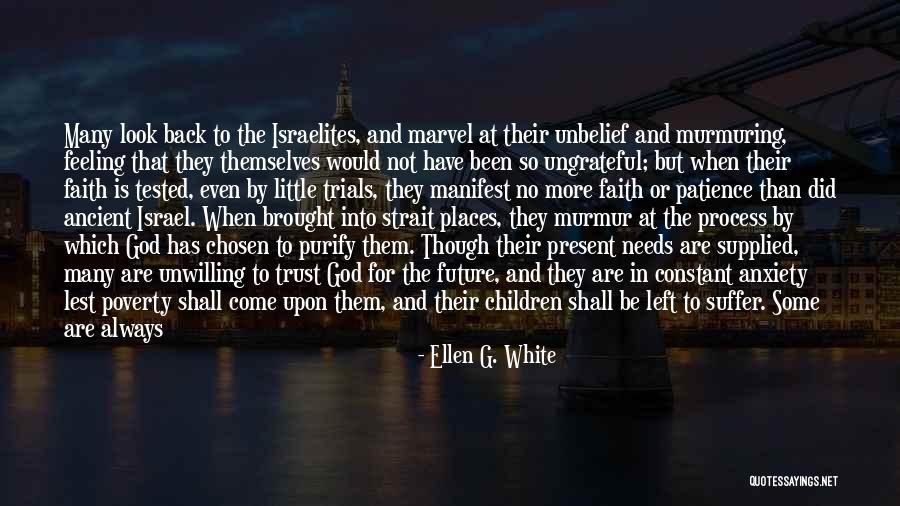 Many look back to the Israelites, and marvel at their unbelief and murmuring, feeling that they themselves would not have been so ungrateful; but when their faith is tested, even by little trials, they manifest no more faith or patience than did ancient Israel. When brought into strait places, they murmur at the process by which God has chosen to purify them. Though their present needs are supplied, many are unwilling to trust God for the future, and they are in constant anxiety lest poverty shall come upon them, and their children shall be left to suffer. Some are always anticipating evil or magnifying the difficulties that really exist, so that their eyes are blinded to the many blessings which demand their gratitude. The obstacles they encounter, [294] instead of leading them to seek help from God, the only Source of strength, separate them from him, because they awaken unrest and repining. — Ellen G. White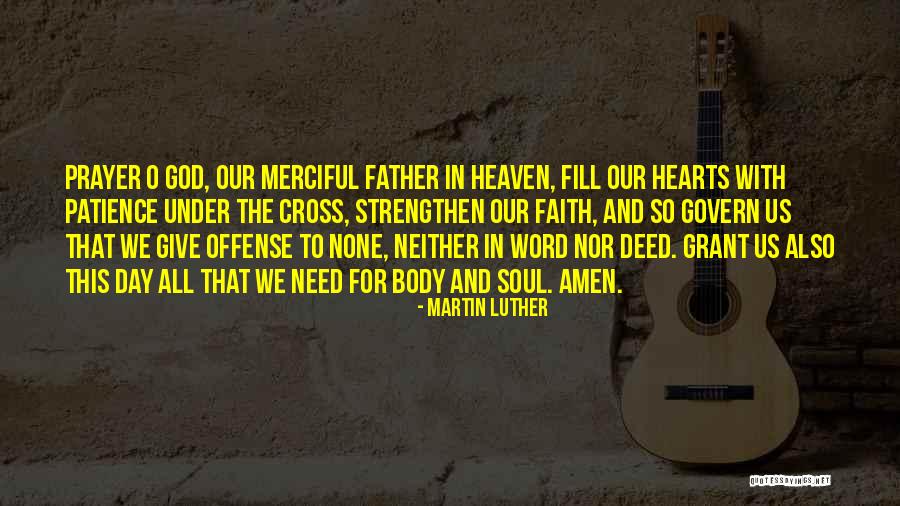 PRAYER O God, our merciful Father in heaven, fill our hearts with patience under the cross, strengthen our faith, and so govern us that we give offense to none, neither in word nor deed. Grant us also this day all that we need for body and soul. Amen. — Martin Luther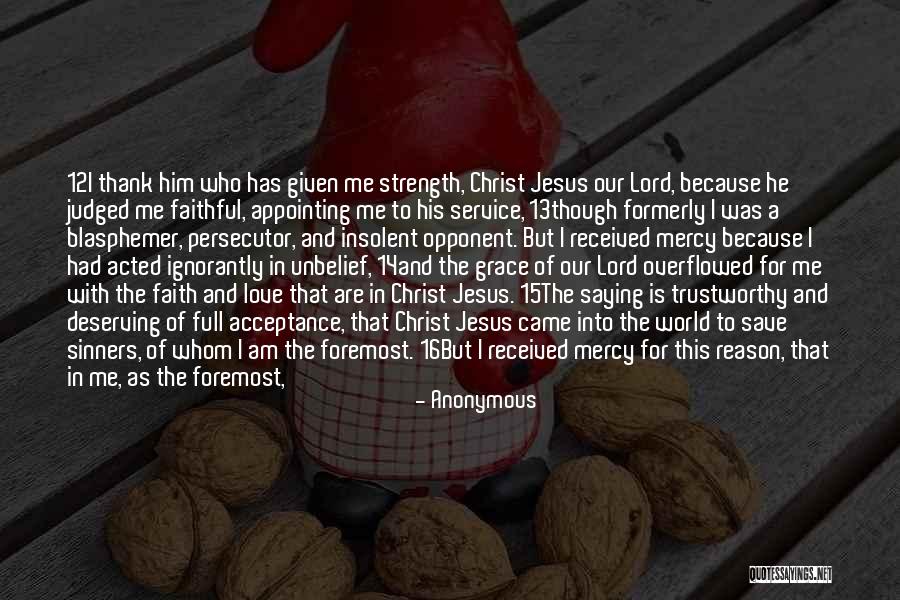 12I thank him who has given me strength, Christ Jesus our Lord, because he judged me faithful, appointing me to his service, 13though formerly I was a blasphemer, persecutor, and insolent opponent. But I received mercy because I had acted ignorantly in unbelief, 14and the grace of our Lord overflowed for me with the faith and love that are in Christ Jesus. 15The saying is trustworthy and deserving of full acceptance, that Christ Jesus came into the world to save sinners, of whom I am the foremost. 16But I received mercy for this reason, that in me, as the foremost, Jesus Christ might display his perfect patience as an example to those who were to believe in him for eternal life. 17To the King of the ages, immortal, invisible, the only God, be honor and glory forever and ever. [4] Amen. — Anonymous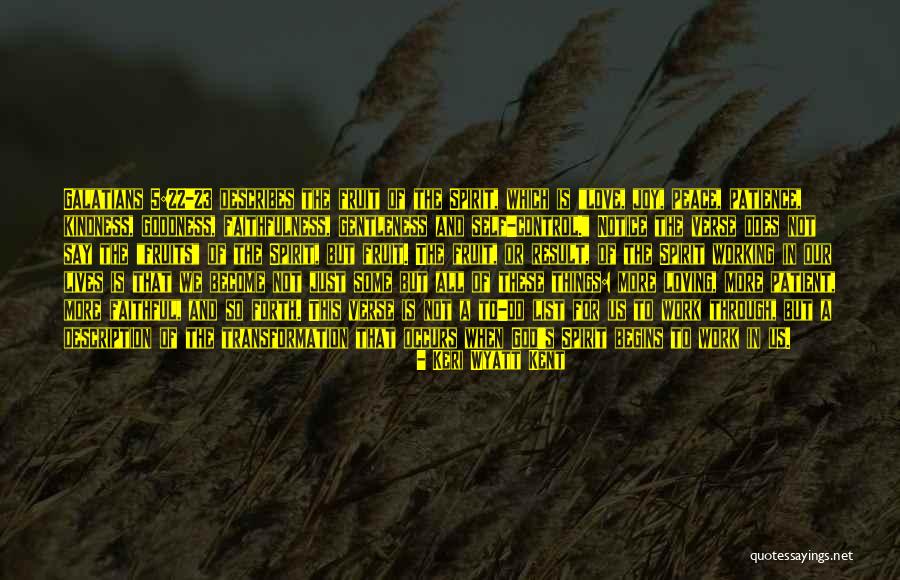 Galatians 5:22-23 describes the fruit of the Spirit, which is "love, joy, peace, patience, kindness, goodness, faithfulness, gentleness and self-control." Notice the verse does not say the "fruits" of the Spirit, but fruit. The fruit, or result, of the Spirit working in our lives is that we become not just some but all of these things: more loving, more patient, more faithful, and so forth. This verse is not a to-do list for us to work through, but a description of the transformation that occurs when God's Spirit begins to work in us. — Keri Wyatt Kent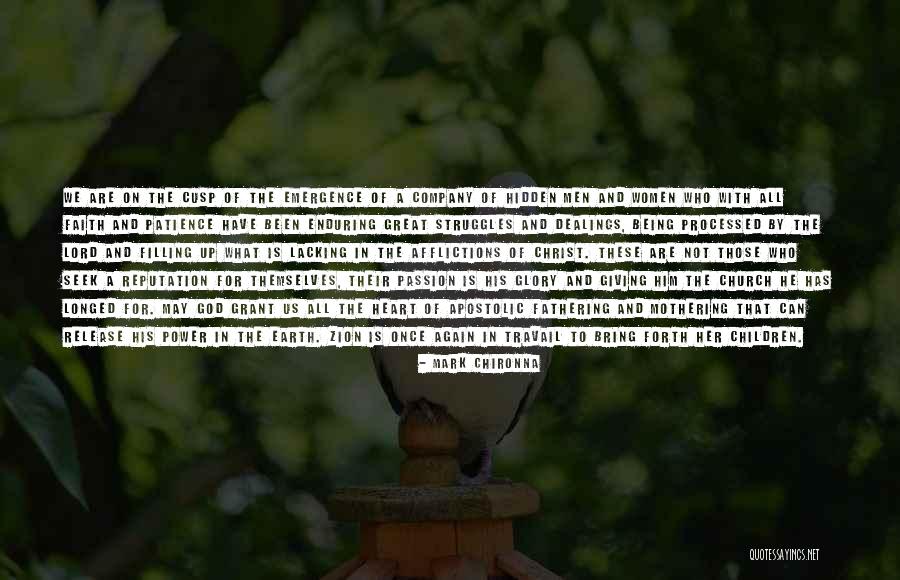 We are on the cusp of the emergence of a company of hidden men and women who with all faith and patience have been enduring great struggles and dealings, being processed by the Lord and filling up what is lacking in the afflictions of Christ. These are not those who seek a reputation for themselves, their passion is His glory and giving Him the church He has longed for. May God grant us all the heart of apostolic fathering and mothering that can release His power in the earth. Zion is once again in travail to bring forth her children. — Mark Chironna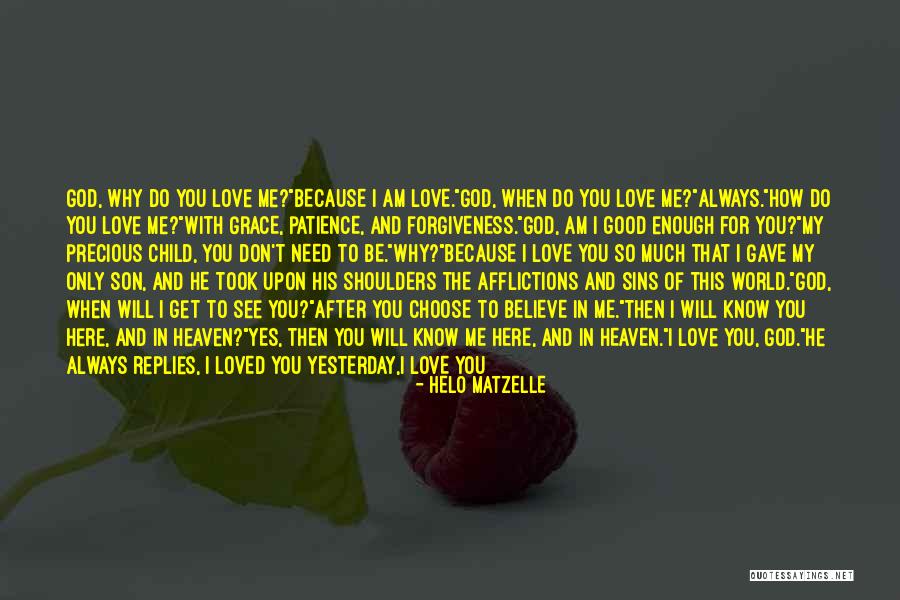 God, why do You love me?"
BECAUSE I AM LOVE.
"God, when do You love me?"
ALWAYS.
"How do You love me?"
WITH GRACE, PATIENCE, AND FORGIVENESS.
"God, am I good enough for You?"
MY PRECIOUS CHILD, YOU DON'T NEED TO BE.
"Why?"
BECAUSE I LOVE YOU SO MUCH THAT I GAVE MY ONLY SON, AND HE TOOK UPON HIS SHOULDERS THE AFFLICTIONS AND SINS OF THIS WORLD.
"God, when will I get to see You?"
AFTER YOU CHOOSE TO BELIEVE IN ME.
"Then I will know You here, and in Heaven?"
YES, THEN YOU WILL KNOW ME HERE, AND IN HEAVEN.
"I love you, God."
He always replies,
I LOVED YOU YESTERDAY,
I LOVE YOU TODAY,
AND I WILL LOVE YOU TOMORROW.
~ excerpt from "Halo Found Hope" Chapter 21, HOPE FOUND — Helo Matzelle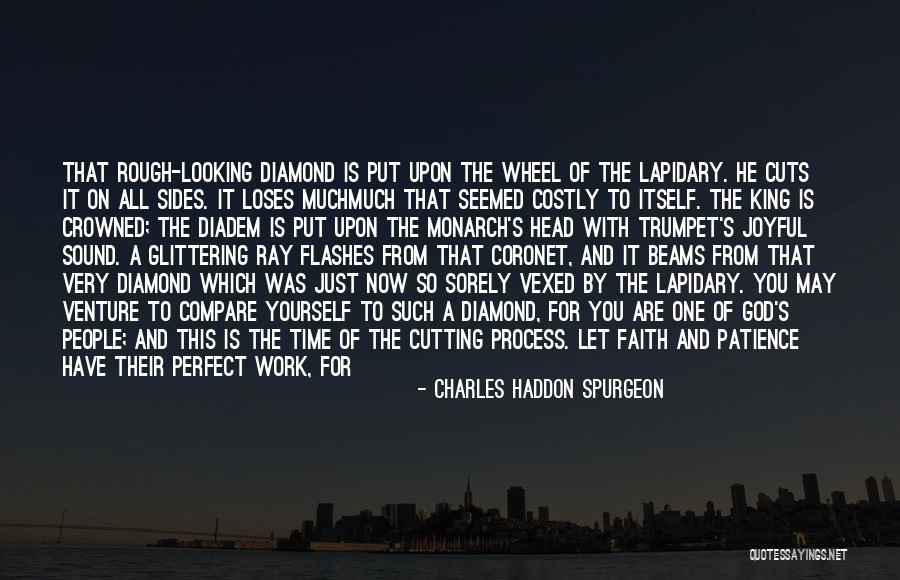 That rough-looking diamond is put upon the wheel of the lapidary. He cuts it on all sides. It loses much
much that seemed costly to itself. The king is crowned; the diadem is put upon the monarch's head with trumpet's joyful sound. A glittering ray flashes from that coronet, and it beams from that very diamond which was just now so sorely vexed by the lapidary. You may venture to compare yourself to such a diamond, for you are one of God's people; and this is the time of the cutting process. Let faith and patience have their perfect work, for in the day when the crown shall be set upon the head of the King, Eternal, Immortal, Invisible, one ray of glory shall stream from you. "They shall be mine," saith the Lord, "in the day when I make up my jewels." "Better is the end of a thing than the beginning thereof. — Charles Haddon Spurgeon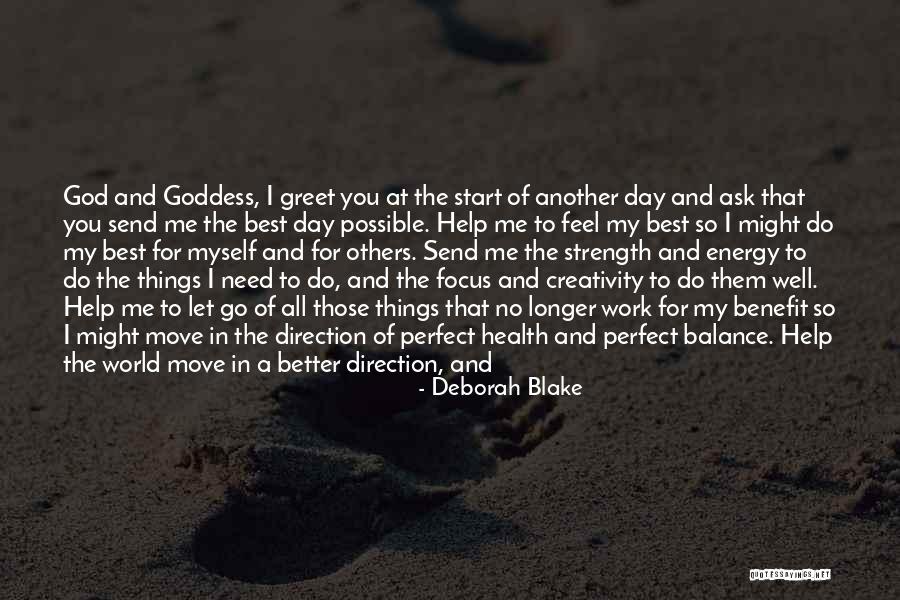 God and Goddess, I greet you at the start of another day and ask that you send me the best day possible. Help me to feel my best so I might do my best for myself and for others. Send me the strength and energy to do the things I need to do, and the focus and creativity to do them well. Help me to let go of all those things that no longer work for my benefit so I might move in the direction of perfect health and perfect balance. Help the world move in a better direction, and watch over me and those I love. Please send me prosperity and healing, patience and wisdom, serenity and faith. ... So mote it be. — Deborah Blake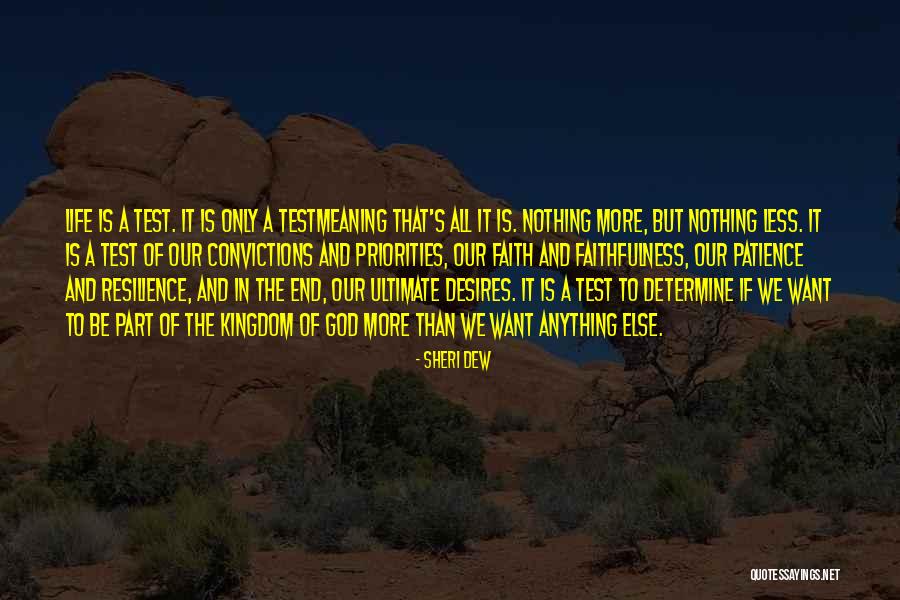 Life is a test. It is only a test
meaning that's all it is. Nothing more, but nothing less. It is a test of our convictions and priorities, our faith and faithfulness, our patience and resilience, and in the end, our ultimate desires. It is a test to determine if we want to be part of the kingdom of God more than we want anything else. — Sheri Dew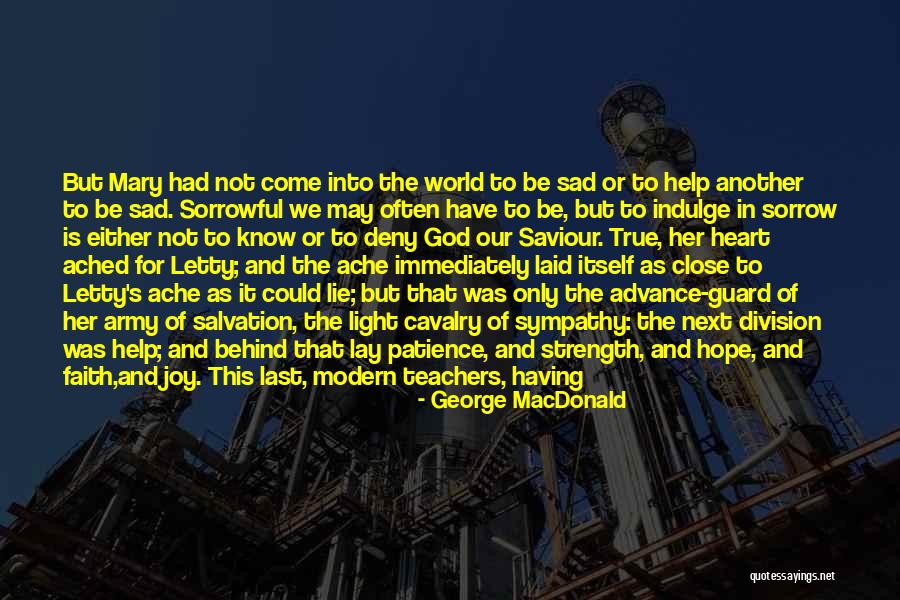 But Mary had not come into the world to be sad or to help another to be sad. Sorrowful we may often have to be, but to indulge in sorrow is either not to know or to deny God our Saviour. True, her heart ached for Letty; and the ache immediately laid itself as close to Letty's ache as it could lie; but that was only the advance-guard of her army of salvation, the light cavalry of sympathy: the next division was help; and behind that lay patience, and strength, and hope, and faith,and joy. This last, modern teachers, having failed to regard it as a virtue, may well decline to regard as a duty; but he is a poor Christian indeed in whom joy has not at least a growing share, and Mary was not a poor Christian--at least, for the time she had been learning, and as Christians go in the present aeon of their history. — George MacDonald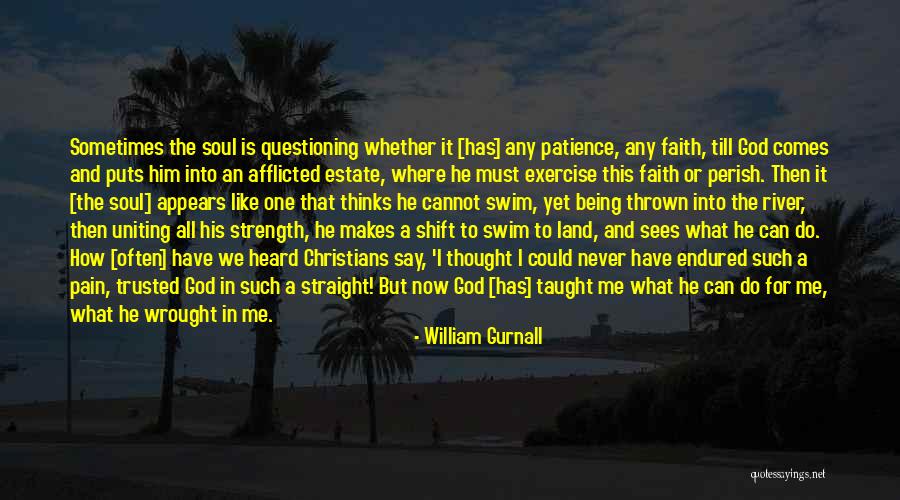 Sometimes the soul is questioning whether it [has] any patience, any faith, till God comes and puts him into an afflicted estate, where he must exercise this faith or perish. Then it [the soul] appears like one that thinks he cannot swim, yet being thrown into the river, then uniting all his strength, he makes a shift to swim to land, and sees what he can do. How [often] have we heard Christians say, 'I thought I could never have endured such a pain, trusted God in such a straight! But now God [has] taught me what he can do for me, what he wrought in me. — William Gurnall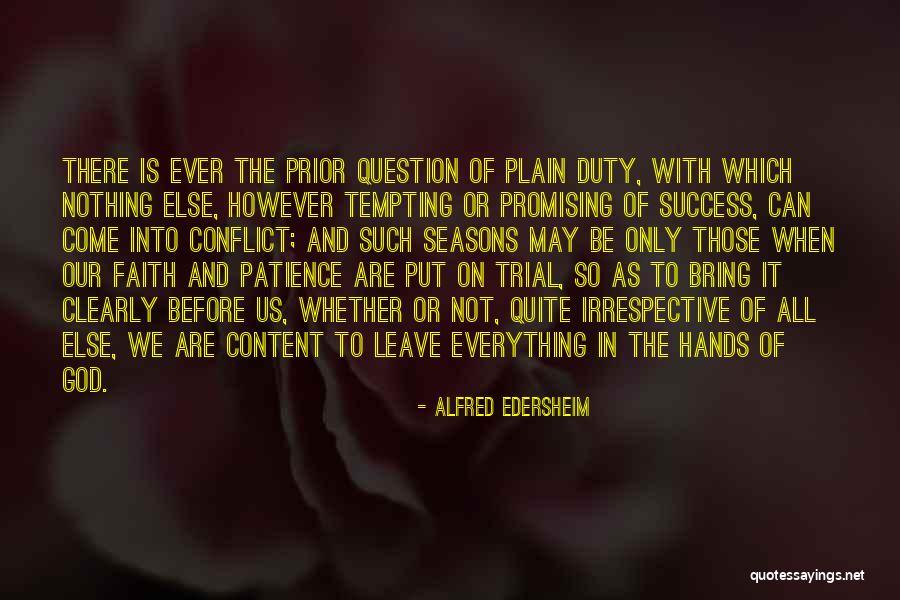 There is ever the prior question of plain duty, with which nothing else, however tempting or promising of success, can come into conflict; and such seasons may be only those when our faith and patience are put on trial, so as to bring it clearly before us, whether or not, quite irrespective of all else, we are content to leave everything in the hands of God. — Alfred Edersheim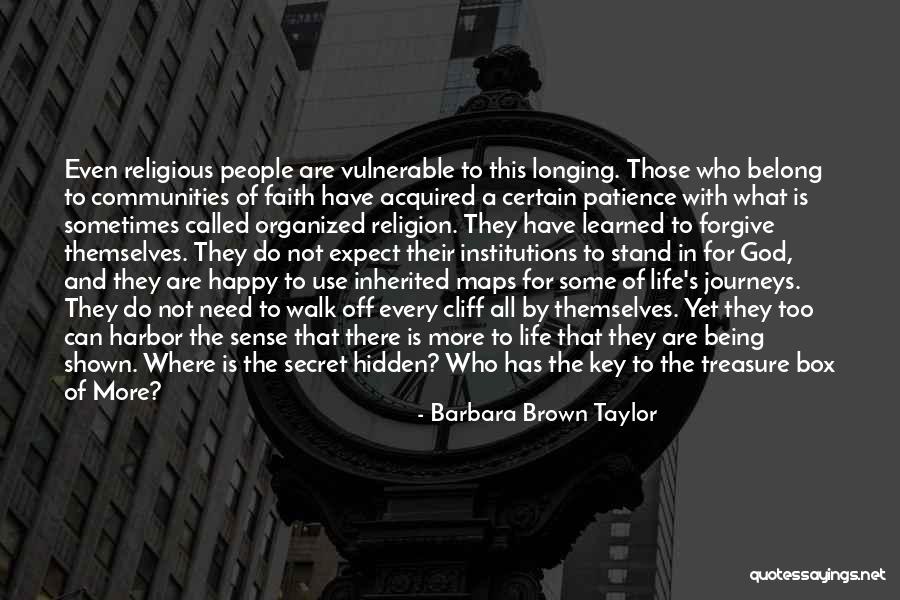 Even religious people are vulnerable to this longing. Those who belong to communities of faith have acquired a certain patience with what is sometimes called organized religion. They have learned to forgive themselves. They do not expect their institutions to stand in for God, and they are happy to use inherited maps for some of life's journeys. They do not need to walk off every cliff all by themselves. Yet they too can harbor the sense that there is more to life that they are being shown. Where is the secret hidden? Who has the key to the treasure box of More? — Barbara Brown Taylor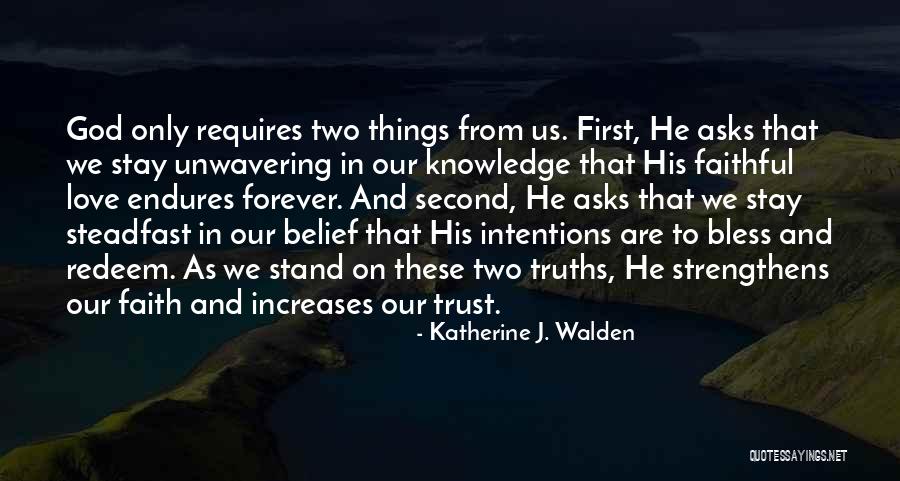 God only requires two things from us. First, He asks that we stay unwavering in our knowledge that His faithful love endures forever. And second, He asks that we stay steadfast in our belief that His intentions are to bless and redeem. As we stand on these two truths, He strengthens our faith and increases our trust. — Katherine J. Walden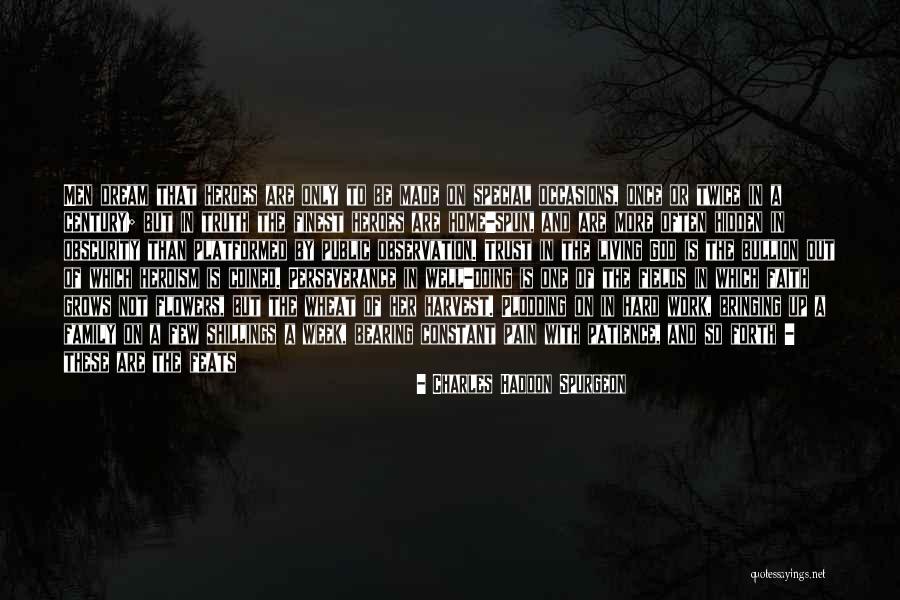 Men dream that heroes are only to be made on special occasions, once or twice in a century; but in truth the finest heroes are home-spun, and are more often hidden in obscurity than platformed by public observation. Trust in the living God is the bullion out of which heroism is coined. Perseverance in well-doing is one of the fields in which faith grows not flowers, but the wheat of her harvest. Plodding on in hard work, bringing up a family on a few shillings a week, bearing constant pain with patience, and so forth - these are the feats of valour through which God is glorified by the rank and file of His believing people. — Charles Haddon Spurgeon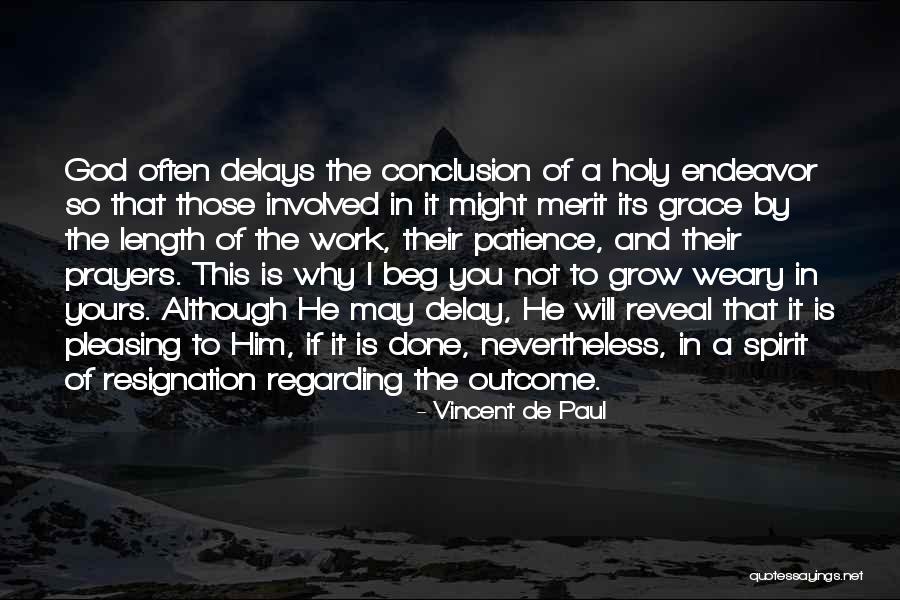 God often delays the conclusion of a holy endeavor so that those involved in it might merit its grace by the length of the work, their patience, and their prayers. This is why I beg you not to grow weary in yours. Although He may delay, He will reveal that it is pleasing to Him, if it is done, nevertheless, in a spirit of resignation regarding the outcome. — Vincent De Paul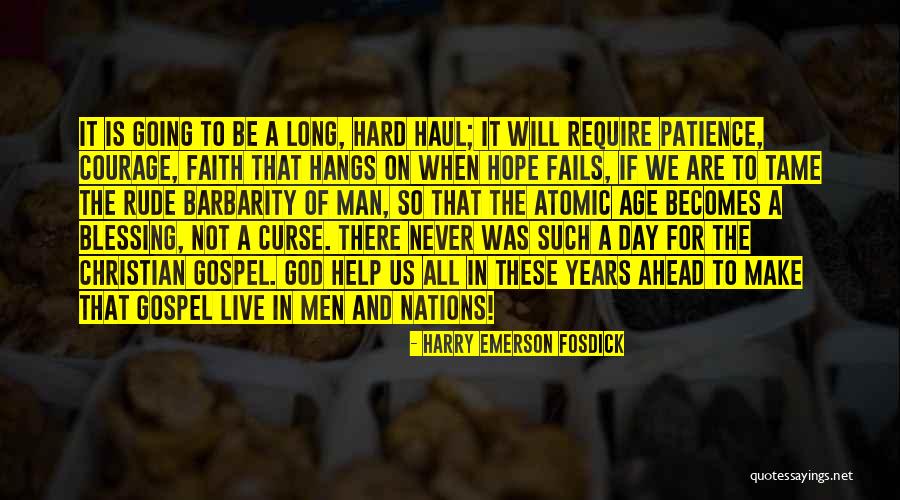 It is going to be a long, hard haul; it will require patience, courage, faith that hangs on when hope fails, if we are to tame the rude barbarity of man, so that the atomic age becomes a blessing, not a curse. There never was such a day for the Christian gospel. God help us all in these years ahead to make that gospel live in men and nations! — Harry Emerson Fosdick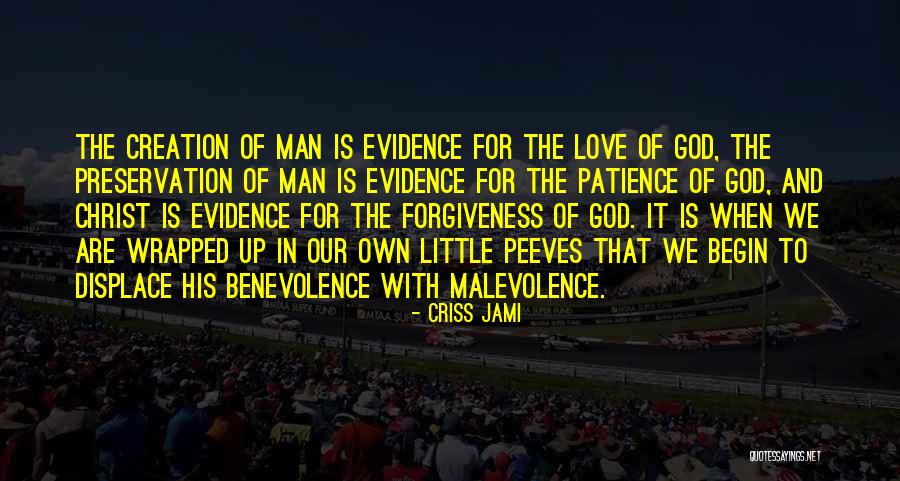 The creation of man is evidence for the love of God, the preservation of man is evidence for the patience of God, and Christ is evidence for the forgiveness of God. It is when we are wrapped up in our own little peeves that we begin to displace His benevolence with malevolence. — Criss Jami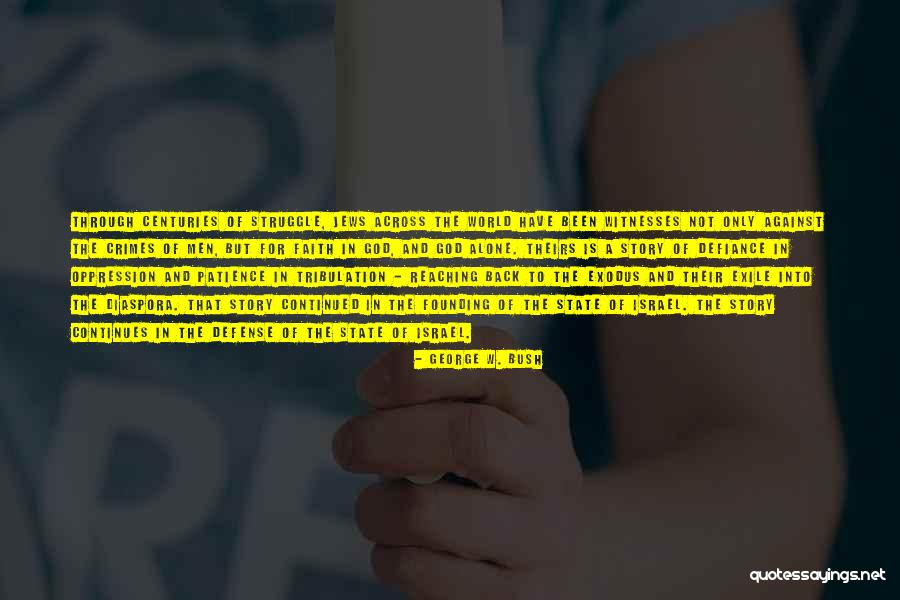 Through centuries of struggle, Jews across the world have been witnesses not only against the crimes of men, but for faith in God, and God alone. Theirs is a story of defiance in oppression and patience in tribulation - reaching back to the exodus and their exile into the diaspora. That story continued in the founding of the State of Israel. The story continues in the defense of the State of Israel. — George W. Bush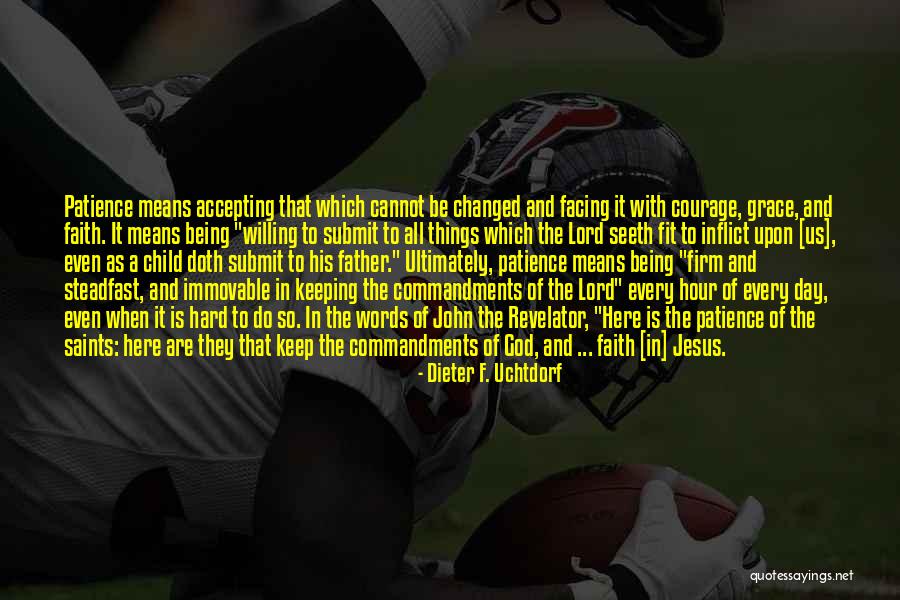 Patience means accepting that which cannot be changed and facing it with courage, grace, and faith. It means being "willing to submit to all things which the Lord seeth fit to inflict upon [us], even as a child doth submit to his father." Ultimately, patience means being "firm and steadfast, and immovable in keeping the commandments of the Lord" every hour of every day, even when it is hard to do so. In the words of John the Revelator, "Here is the patience of the saints: here are they that keep the commandments of God, and ... faith [in] Jesus. — Dieter F. Uchtdorf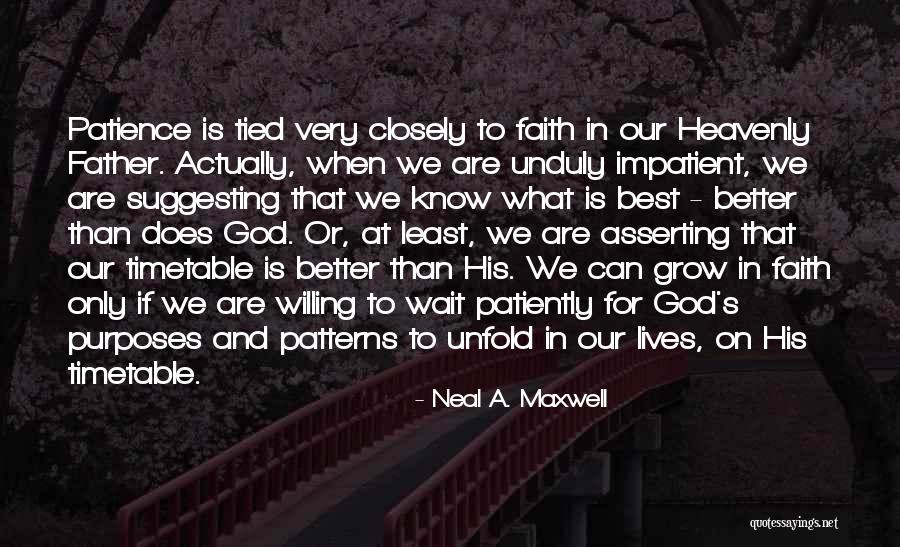 Patience is tied very closely to faith in our Heavenly Father. Actually, when we are unduly impatient, we are suggesting that we know what is best - better than does God. Or, at least, we are asserting that our timetable is better than His. We can grow in faith only if we are willing to wait patiently for God's purposes and patterns to unfold in our lives, on His timetable. — Neal A. Maxwell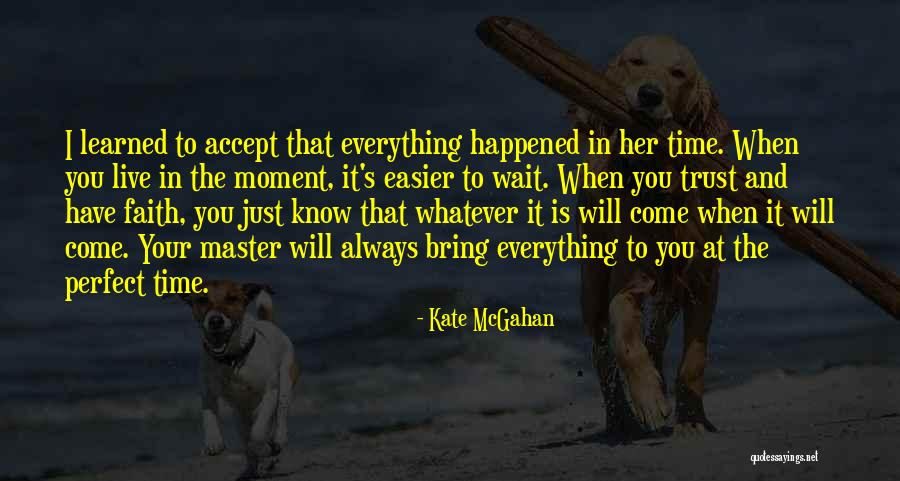 I learned to accept that everything happened in her time. When you live in the moment, it's easier to wait. When you trust and have faith, you just know that whatever it is will come when it will come. Your master will always bring everything to you at the perfect time. — Kate McGahan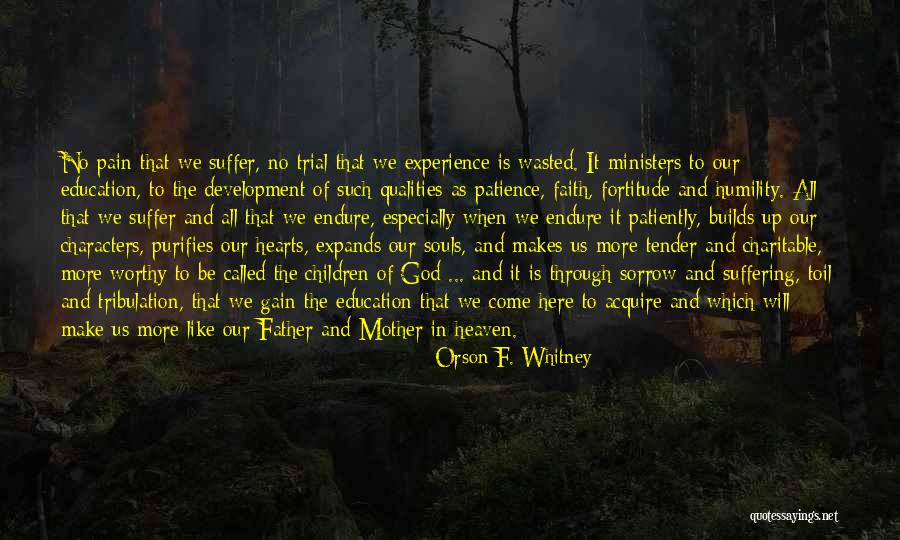 No pain that we suffer, no trial that we experience is wasted. It ministers to our education, to the development of such qualities as patience, faith, fortitude and humility. All that we suffer and all that we endure, especially when we endure it patiently, builds up our characters, purifies our hearts, expands our souls, and makes us more tender and charitable, more worthy to be called the children of God ... and it is through sorrow and suffering, toil and tribulation, that we gain the education that we come here to acquire and which will make us more like our Father and Mother in heaven. — Orson F. Whitney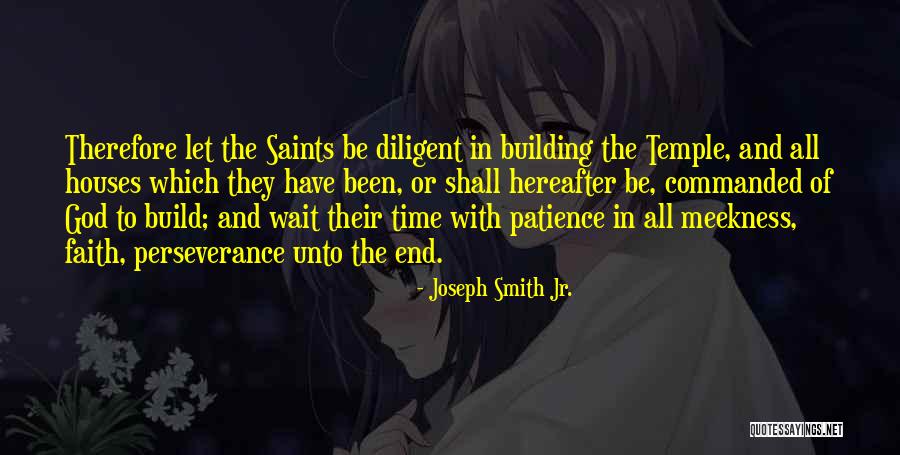 Therefore let the Saints be diligent in building the Temple, and all houses which they have been, or shall hereafter be, commanded of God to build; and wait their time with patience in all meekness, faith, perseverance unto the end. — Joseph Smith Jr.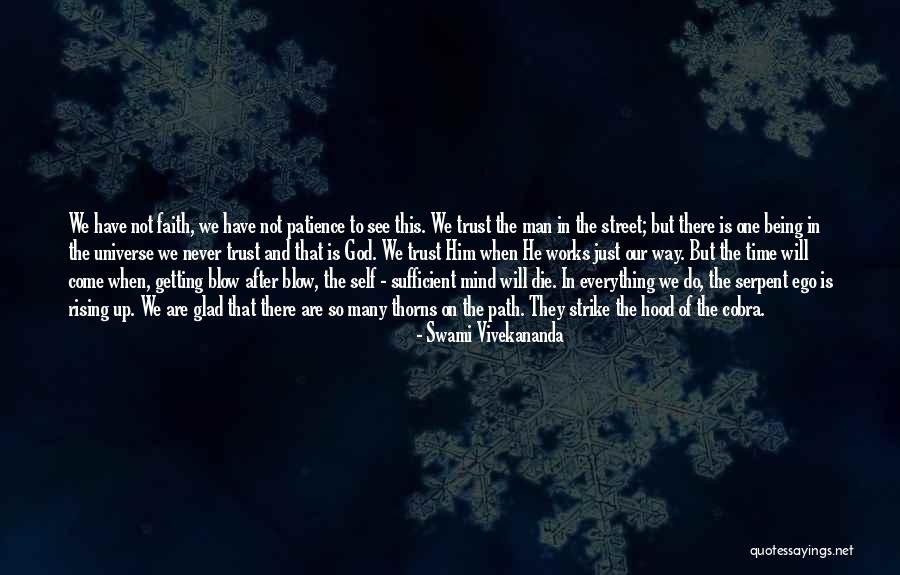 We have not faith, we have not patience to see this. We trust the man in the street; but there is one being in the universe we never trust and that is God. We trust Him when He works just our way. But the time will come when, getting blow after blow, the self - sufficient mind will die. In everything we do, the serpent ego is rising up. We are glad that there are so many thorns on the path. They strike the hood of the cobra. — Swami Vivekananda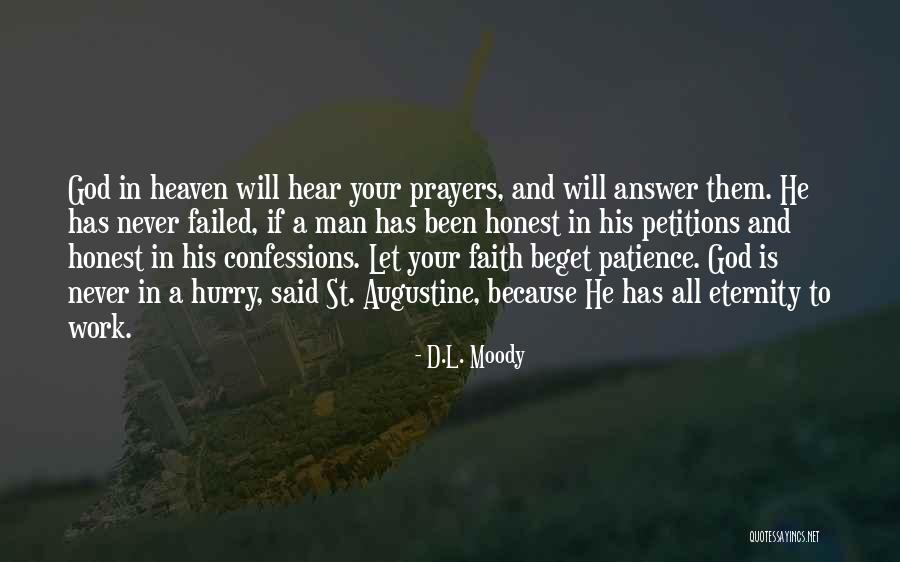 God in heaven will hear your prayers, and will answer them. He has never failed, if a man has been honest in his petitions and honest in his confessions. Let your faith beget patience. God is never in a hurry, said St. Augustine, because He has all eternity to work. — D.L. Moody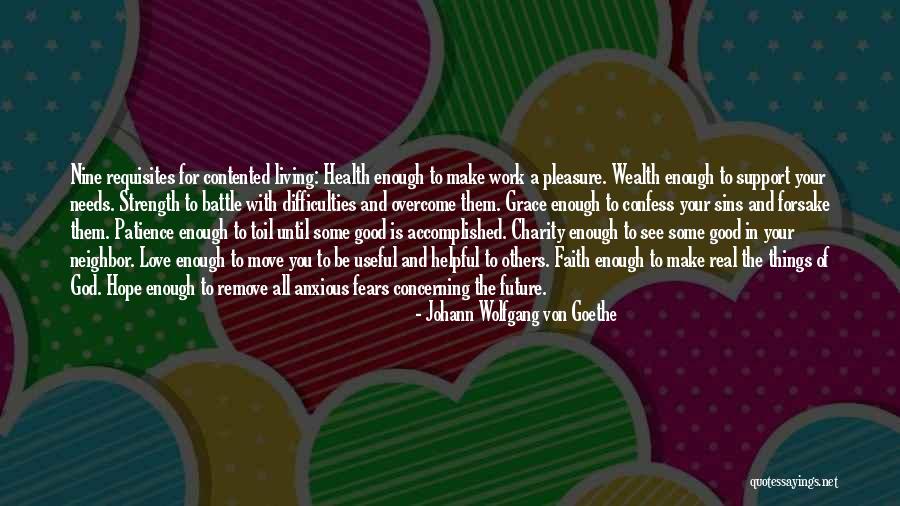 Nine requisites for contented living: Health enough to make work a pleasure. Wealth enough to support your needs. Strength to battle with difficulties and overcome them. Grace enough to confess your sins and forsake them. Patience enough to toil until some good is accomplished. Charity enough to see some good in your neighbor. Love enough to move you to be useful and helpful to others. Faith enough to make real the things of God. Hope enough to remove all anxious fears concerning the future. — Johann Wolfgang Von Goethe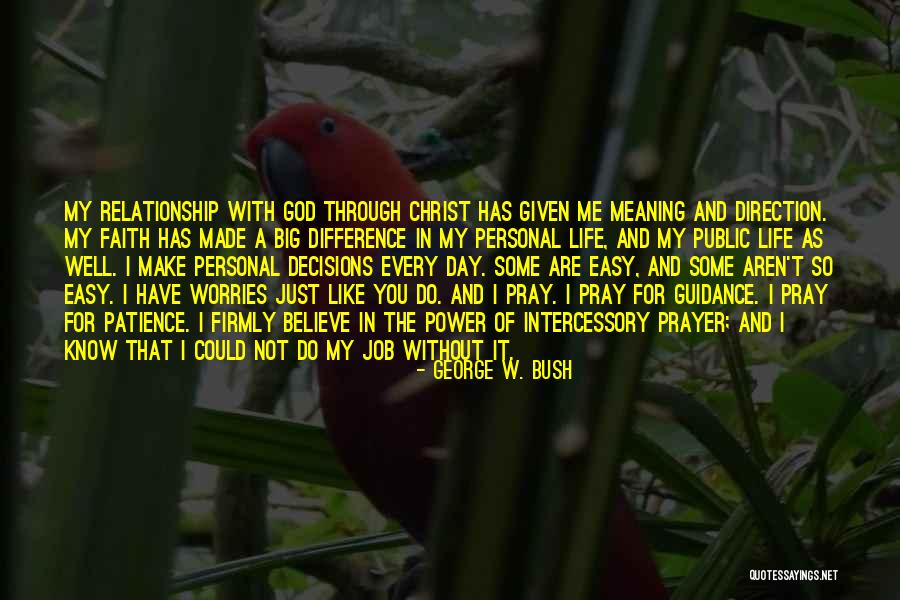 My relationship with God through Christ has given me meaning and direction. My faith has made a big difference in my personal life, and my public life as well. I make personal decisions every day. Some are easy, and some aren't so easy. I have worries just like you do. And I pray. I pray for guidance. I pray for patience. I firmly believe in the power of intercessory prayer; and I know that I could not do my job without it. — George W. Bush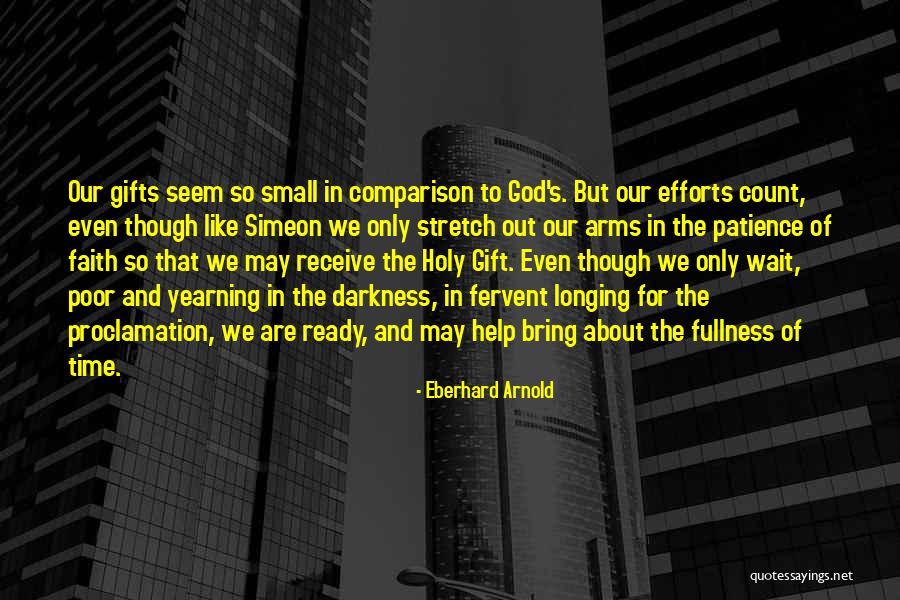 Our gifts seem so small in comparison to God's. But our efforts count, even though like Simeon we only stretch out our arms in the patience of faith so that we may receive the Holy Gift. Even though we only wait, poor and yearning in the darkness, in fervent longing for the proclamation, we are ready, and may help bring about the fullness of time. — Eberhard Arnold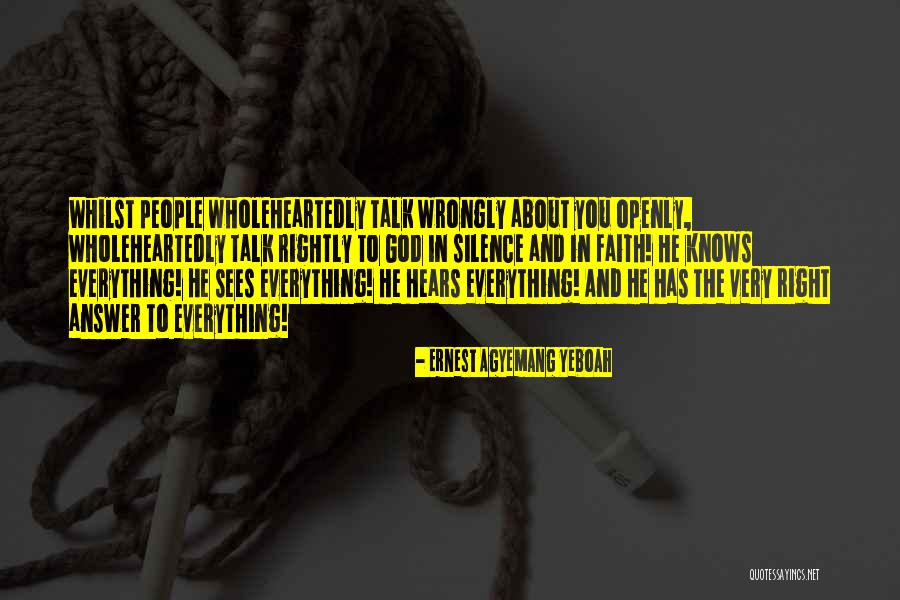 Whilst people wholeheartedly talk wrongly about you openly, wholeheartedly talk rightly to God in silence and in faith! He knows everything! He sees everything! He hears everything! And He has the very right answer to everything! — Ernest Agyemang Yeboah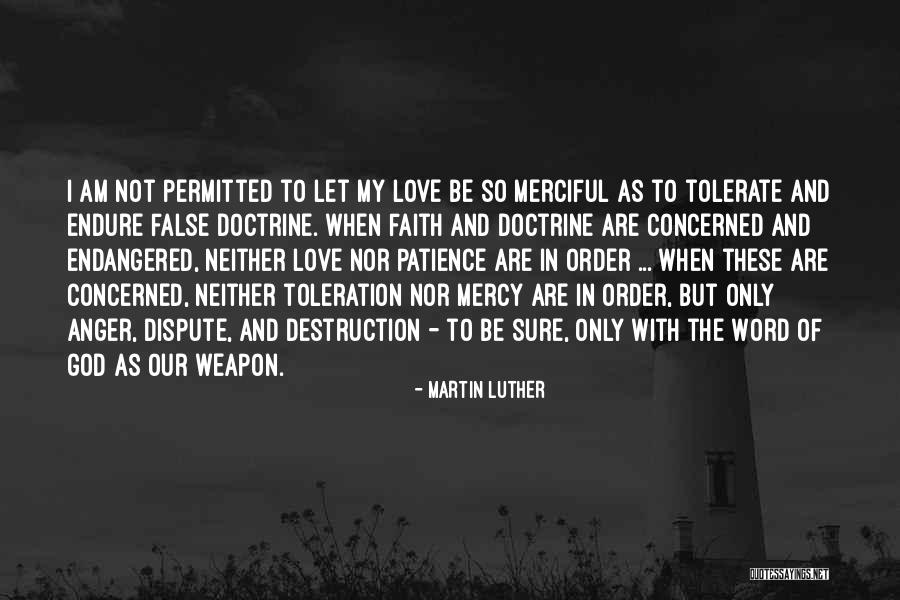 I am not permitted to let my love be so merciful as to tolerate and endure false doctrine. When faith and doctrine are concerned and endangered, neither love nor patience are in order ... when these are concerned, neither toleration nor mercy are in order, but only anger, dispute, and destruction - to be sure, only with the Word of God as our weapon. — Martin Luther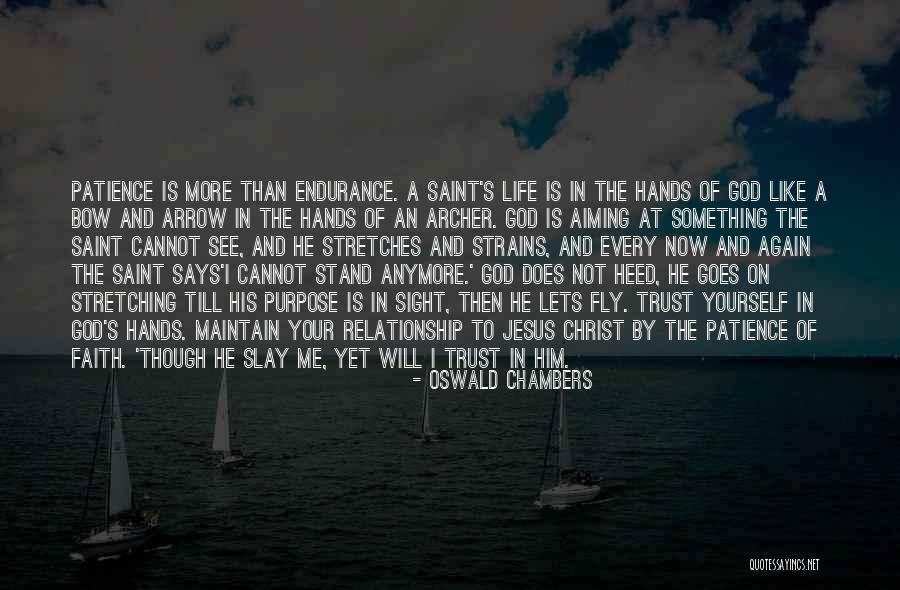 Patience is more than endurance. A saint's life is in the hands of God like a bow and arrow in the hands of an archer. God is aiming at something the saint cannot see, and He stretches and strains, and every now and again the saint says
'I cannot stand anymore.' God does not heed, He goes on stretching till His purpose is in sight, then He lets fly. Trust yourself in God's hands. Maintain your relationship to Jesus Christ by the patience of faith. 'Though He slay me, yet will I trust in Him. — Oswald Chambers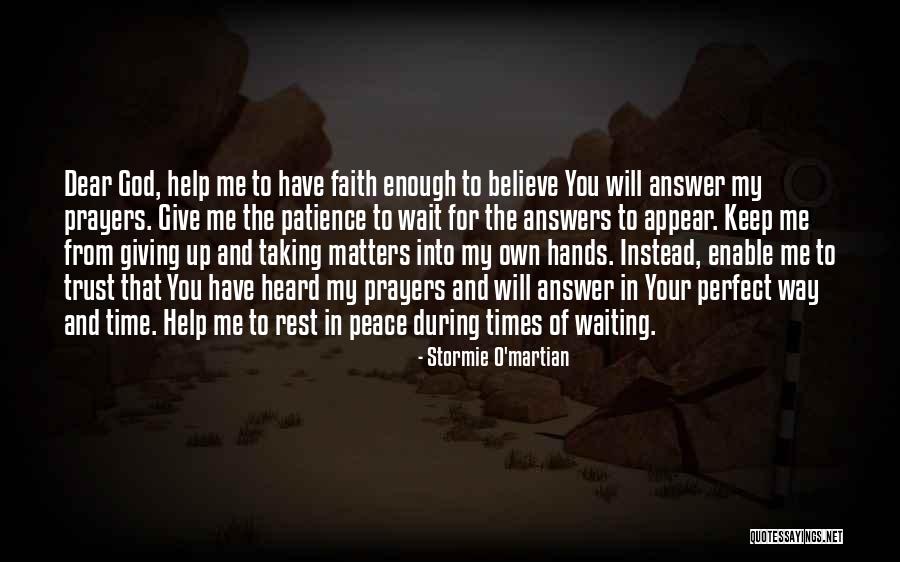 Dear God, help me to have faith enough to believe You will answer my prayers. Give me the patience to wait for the answers to appear. Keep me from giving up and taking matters into my own hands. Instead, enable me to trust that You have heard my prayers and will answer in Your perfect way and time. Help me to rest in peace during times of waiting. — Stormie O'martian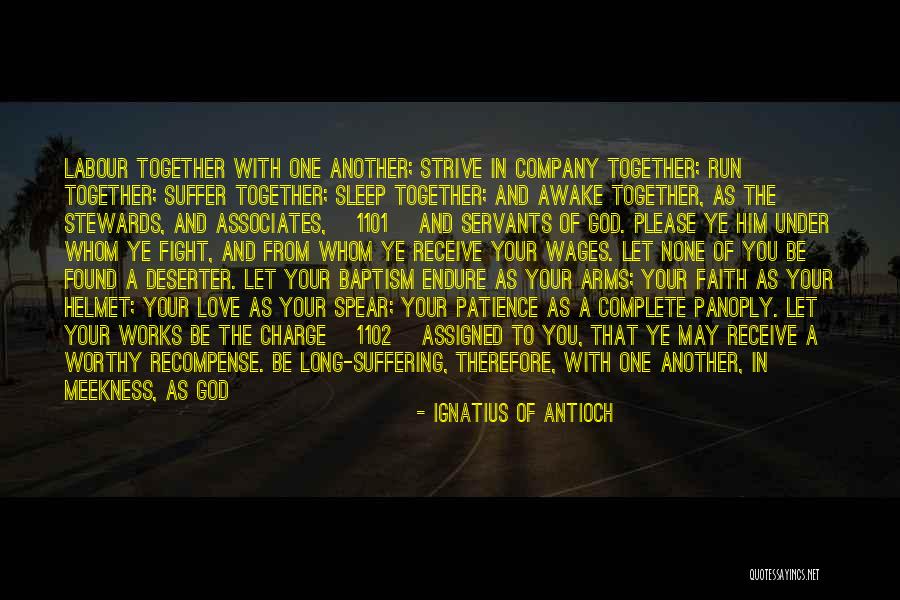 Labour together with one another; strive in company together; run together; suffer together; sleep together; and awake together, as the stewards, and associates, [1101] and servants of God. Please ye Him under whom ye fight, and from whom ye receive your wages. Let none of you be found a deserter. Let your baptism endure as your arms; your faith as your helmet; your love as your spear; your patience as a complete panoply. Let your works be the charge [1102] assigned to you, that ye may receive a worthy recompense. Be long-suffering, therefore, with one another, in meekness, as God is towards you. May I have joy of you for ever! [1103] Give — Ignatius Of Antioch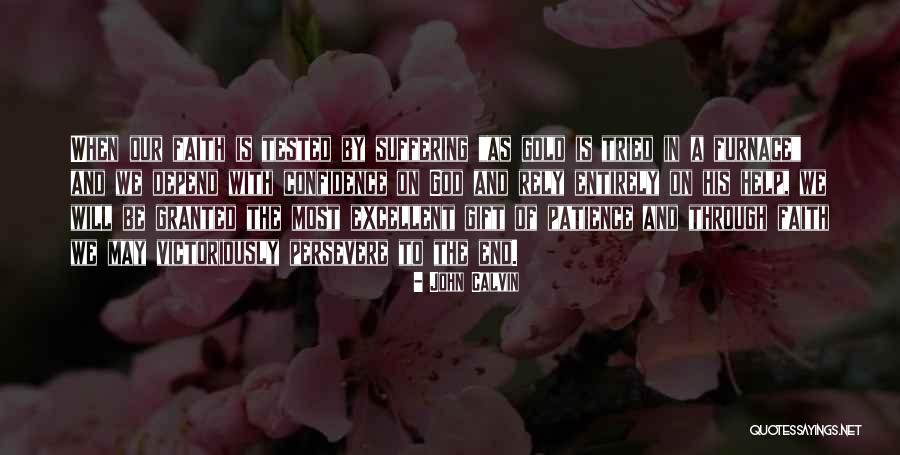 When our faith is tested by suffering "as gold is tried in a furnace" and we depend with confidence on God and rely entirely on his help, we will be granted the most excellent gift of patience and through faith we may victoriously persevere to the end. — John Calvin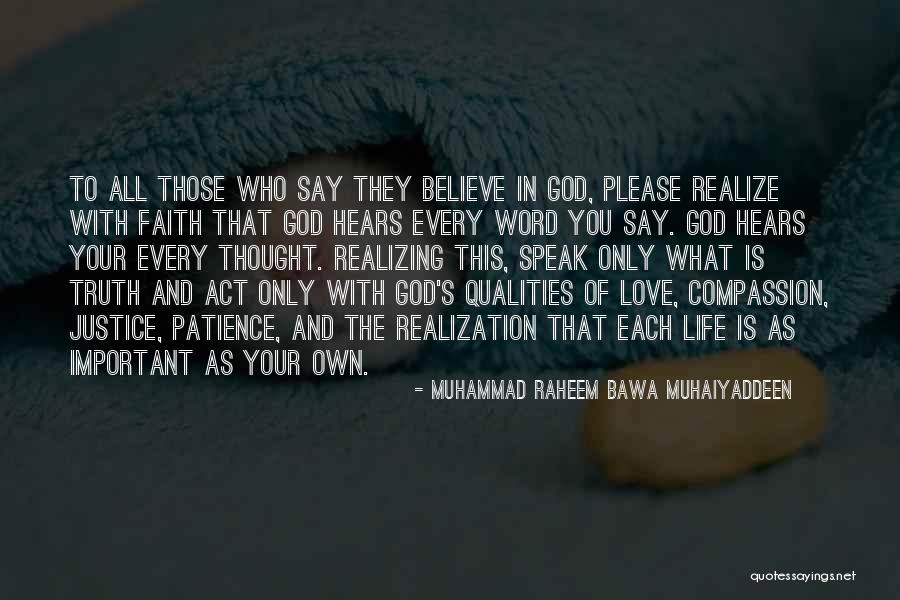 To all those who say they believe in God, please realize with faith that God hears every word you say. God hears your every thought. Realizing this, speak only what is truth and act only with God's qualities of love, compassion, justice, patience, and the realization that each life is as important as your own. — Muhammad Raheem Bawa Muhaiyaddeen