Opportunity And Adversity Quotes & Sayings
Enjoy reading and share 34 famous quotes about Opportunity And Adversity with everyone.
Top Opportunity And Adversity Quotes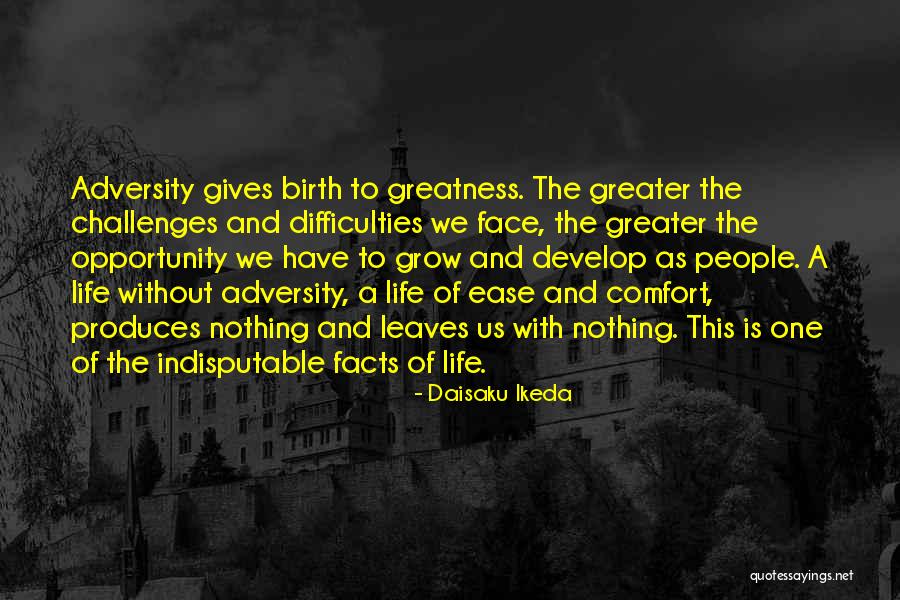 Adversity gives birth to greatness. The greater the challenges and difficulties we face, the greater the opportunity we have to grow and develop as people. A life without adversity, a life of ease and comfort, produces nothing and leaves us with nothing. This is one of the indisputable facts of life. — Daisaku Ikeda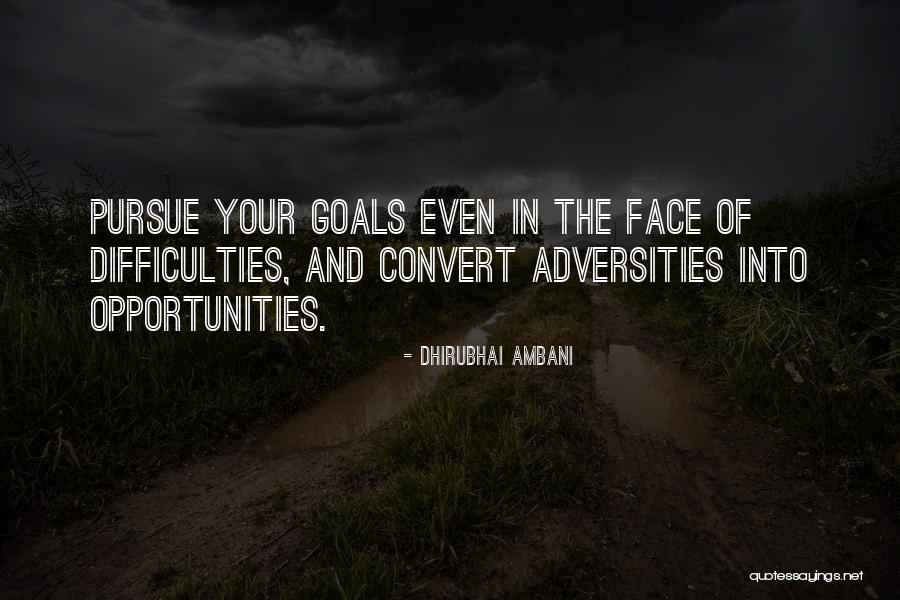 Pursue your goals even in the face of difficulties, and convert adversities into opportunities. — Dhirubhai Ambani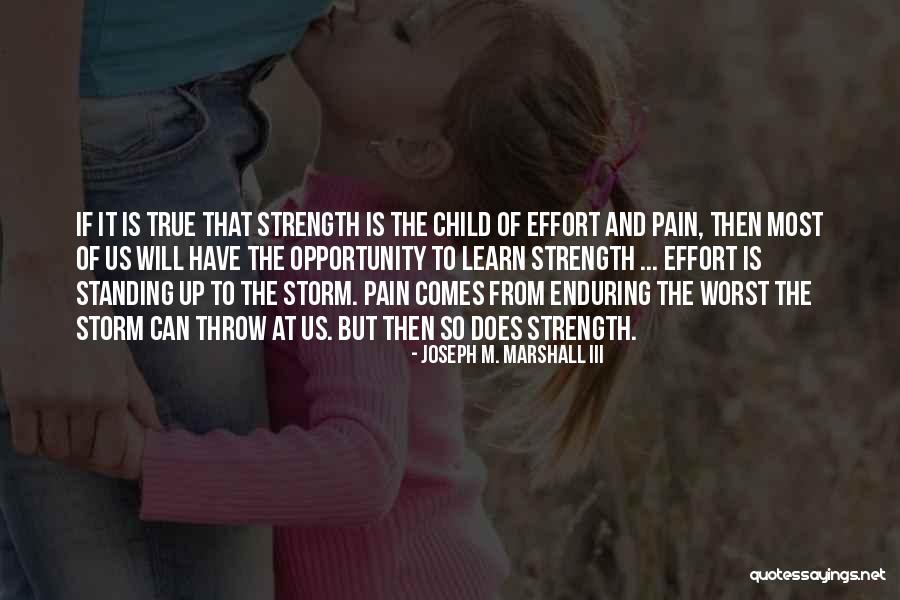 If it is true that strength is the child of effort and pain, then most of us will have the opportunity to learn strength ... Effort is standing up to the storm. Pain comes from enduring the worst the storm can throw at us. But then so does strength. — Joseph M. Marshall III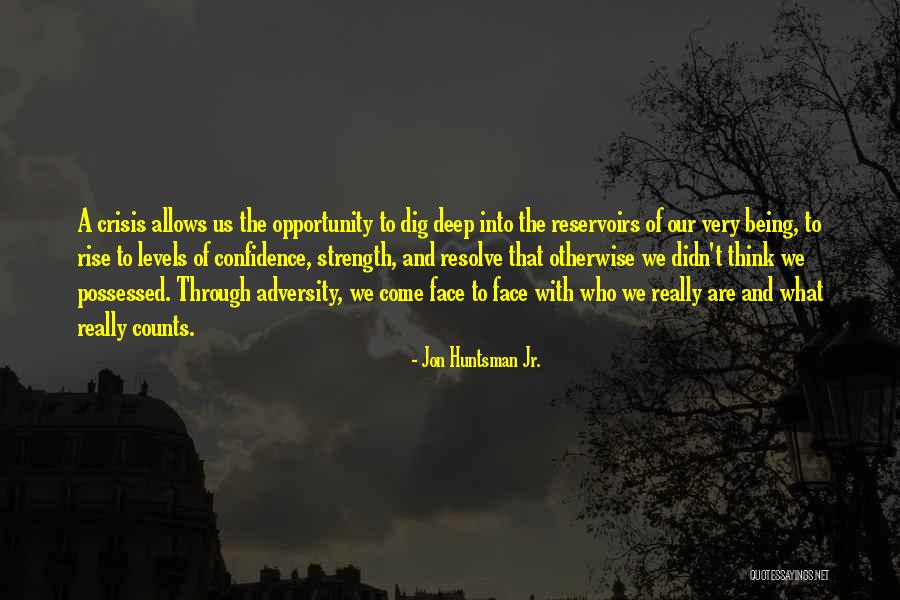 A crisis allows us the opportunity to dig deep into the reservoirs of our very being, to rise to levels of confidence, strength, and resolve that otherwise we didn't think we possessed. Through adversity, we come face to face with who we really are and what really counts. — Jon Huntsman Jr.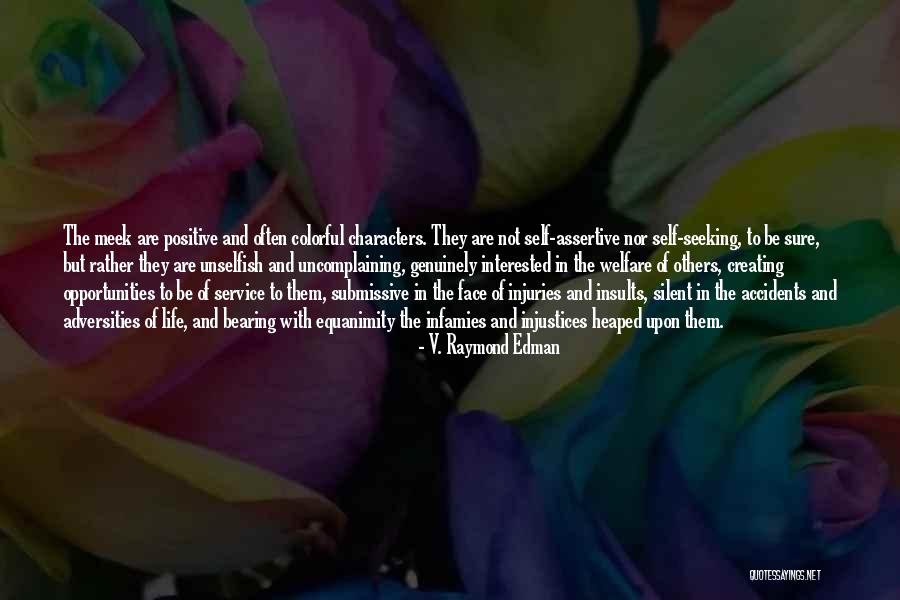 The meek are positive and often colorful characters. They are not self-assertive nor self-seeking, to be sure, but rather they are unselfish and uncomplaining, genuinely interested in the welfare of others, creating opportunities to be of service to them, submissive in the face of injuries and insults, silent in the accidents and adversities of life, and bearing with equanimity the infamies and injustices heaped upon them. — V. Raymond Edman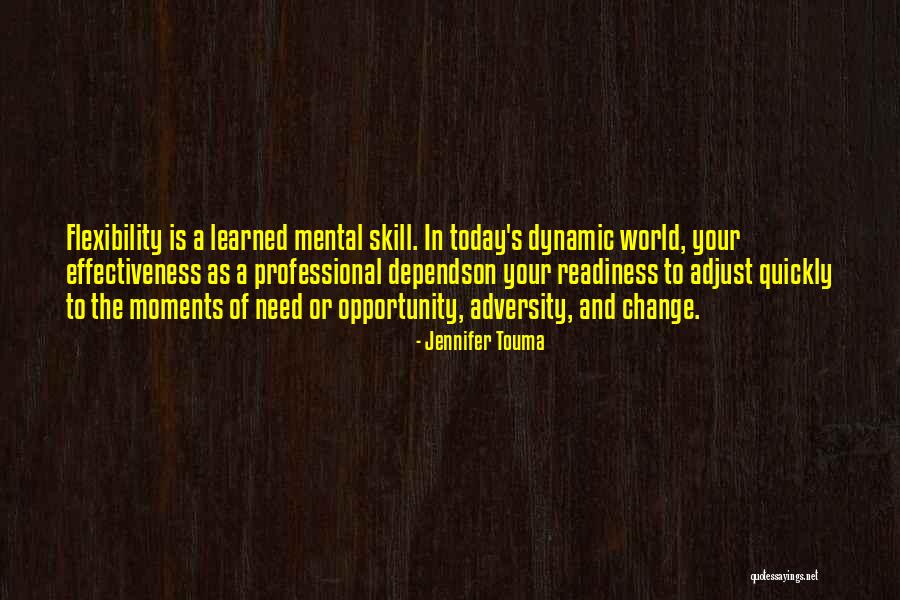 Flexibility is a learned mental skill. In today's dynamic world, your effectiveness as a professional depends
on your readiness to adjust quickly to the moments of need or opportunity, adversity, and change. — Jennifer Touma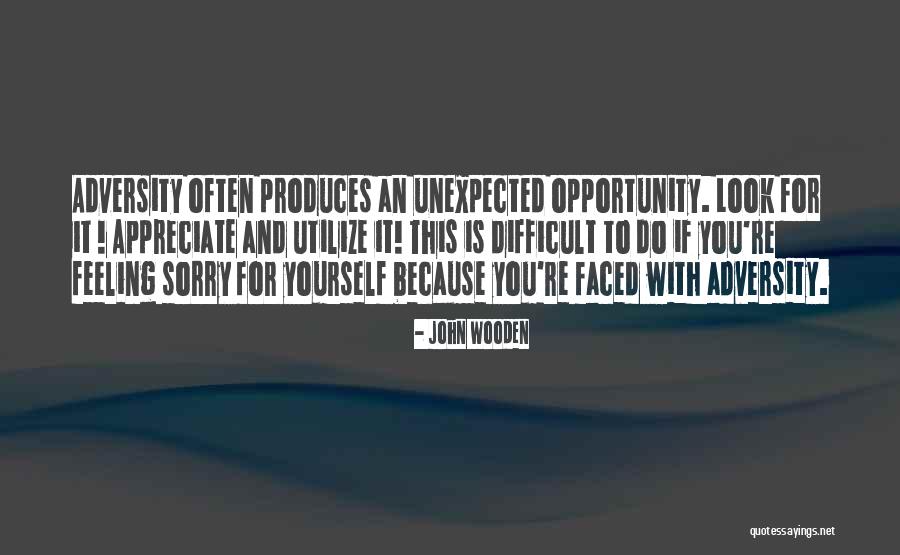 Adversity often produces an unexpected opportunity. Look for it ! Appreciate and utilize it! This is difficult to do if you're feeling sorry for yourself because you're faced with adversity. — John Wooden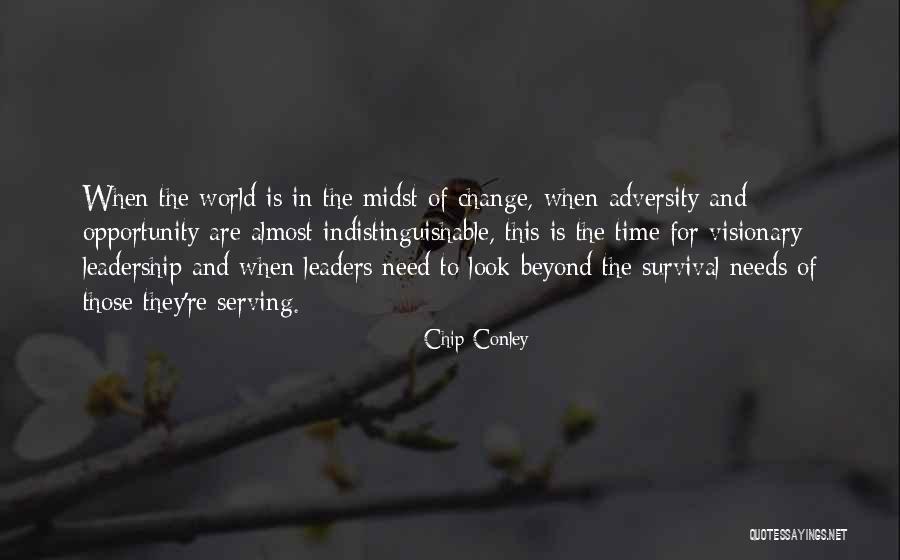 When the world is in the midst of change, when adversity and opportunity are almost indistinguishable, this is the time for visionary leadership and when leaders need to look beyond the survival needs of those they're serving. — Chip Conley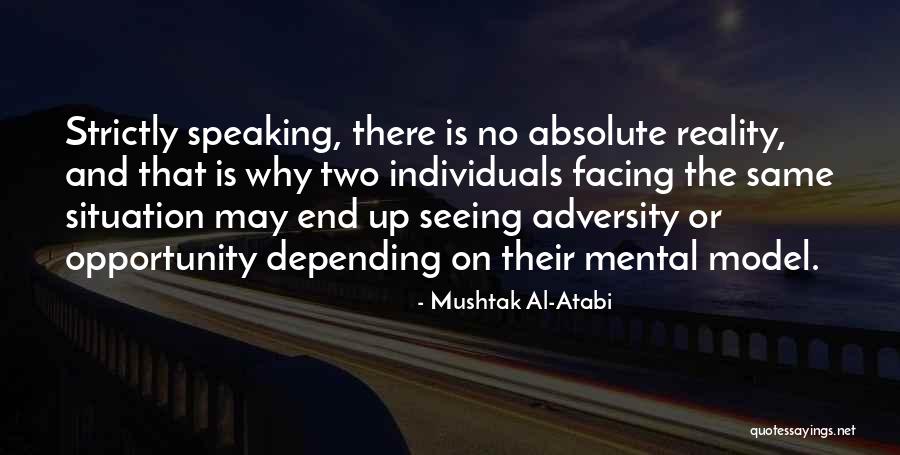 Strictly speaking, there is no absolute reality, and that is why two individuals facing the same situation may end up seeing adversity or opportunity depending on their mental model. — Mushtak Al-Atabi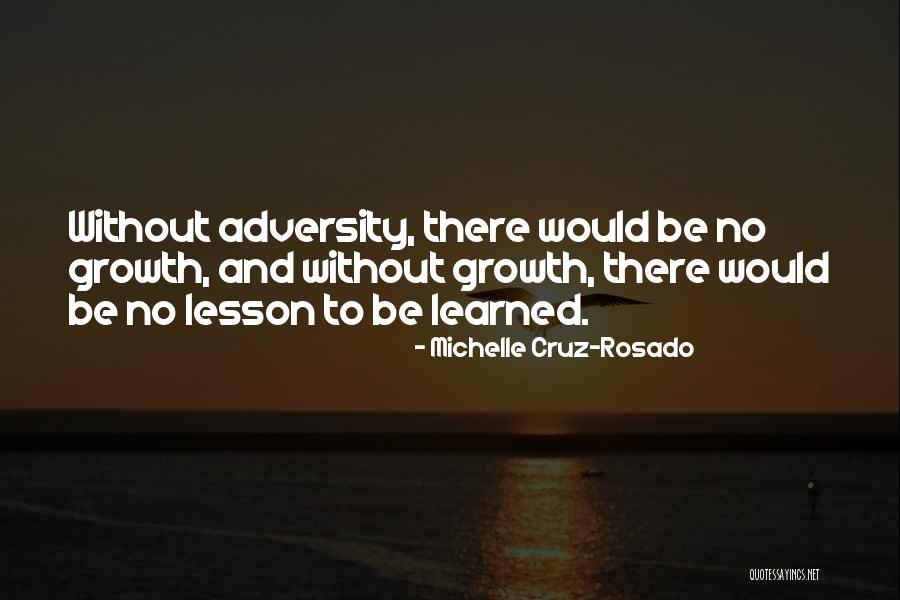 Without adversity, there would be no growth, and without growth, there would be no lesson to be learned. — Michelle Cruz-Rosado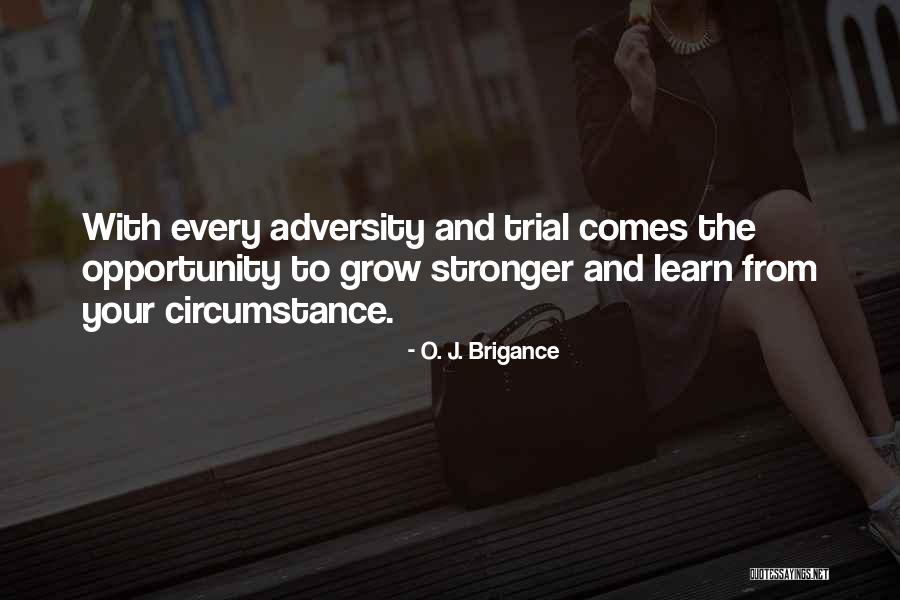 With every adversity and trial comes the opportunity to grow stronger and learn from your circumstance. — O. J. Brigance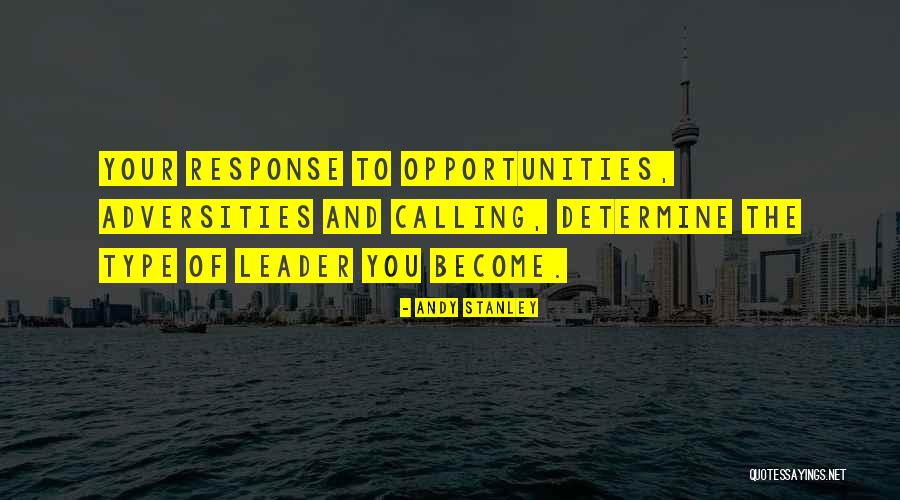 Your response to opportunities, adversities and calling, determine the type of leader you become. — Andy Stanley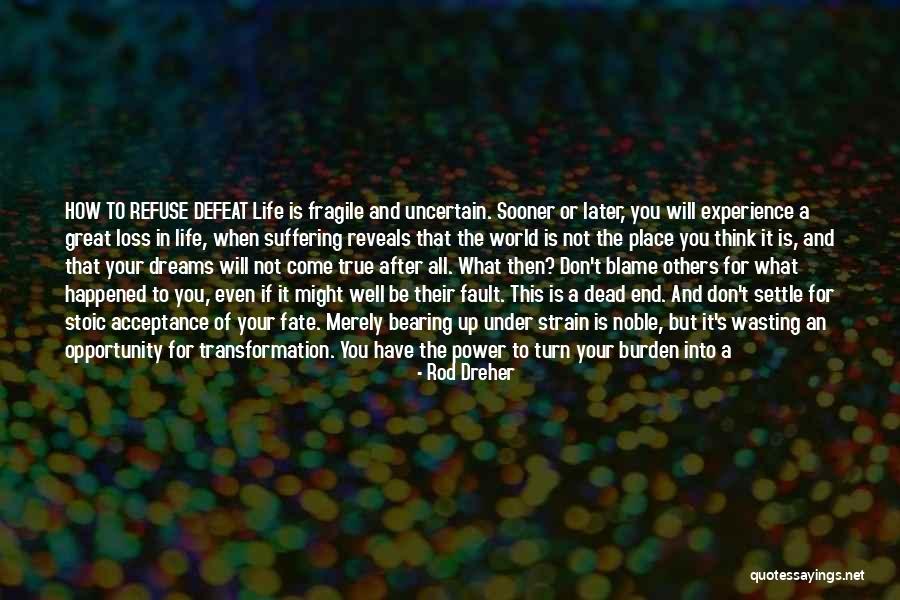 HOW TO REFUSE DEFEAT Life is fragile and uncertain. Sooner or later, you will experience a great loss in life, when suffering reveals that the world is not the place you think it is, and that your dreams will not come true after all. What then? Don't blame others for what happened to you, even if it might well be their fault. This is a dead end. And don't settle for stoic acceptance of your fate. Merely bearing up under strain is noble, but it's wasting an opportunity for transformation. You have the power to turn your burden into a blessing. What if this pain, this heartbreak, this failure, was given to you to help you find your true self? Make adversity work for you by launching a quest inside your own heart. Find the dragons hiding there, slay them, and bring back the treasure that will help you live well. — Rod Dreher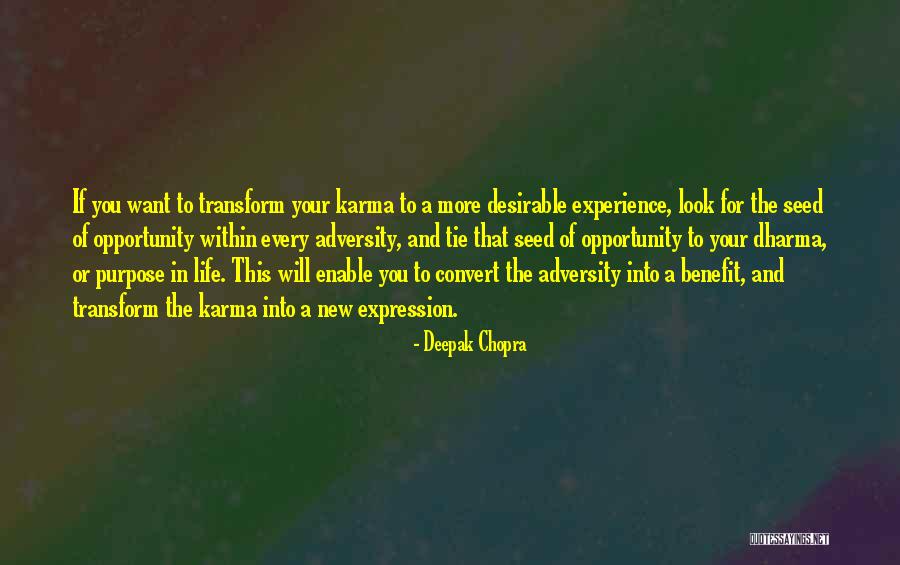 If you want to transform your karma to a more desirable experience, look for the seed of opportunity within every adversity, and tie that seed of opportunity to your dharma, or purpose in life. This will enable you to convert the adversity into a benefit, and transform the karma into a new expression. — Deepak Chopra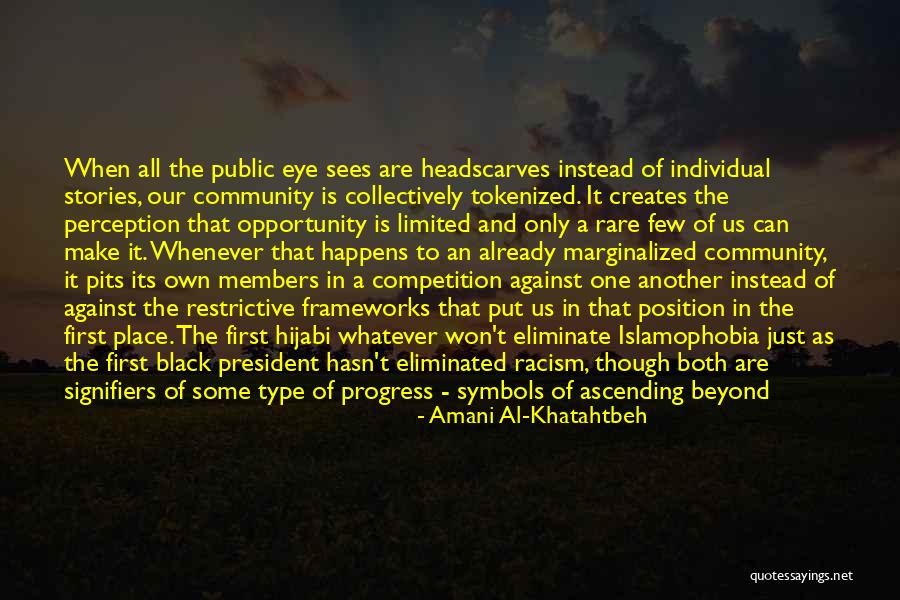 When all the public eye sees are headscarves instead of individual stories, our community is collectively tokenized. It creates the perception that opportunity is limited and only a rare few of us can make it. Whenever that happens to an already marginalized community, it pits its own members in a competition against one another instead of against the restrictive frameworks that put us in that position in the first place. The first hijabi whatever won't eliminate Islamophobia just as the first black president hasn't eliminated racism, though both are signifiers of some type of progress - symbols of ascending beyond adversity. — Amani Al-Khatahtbeh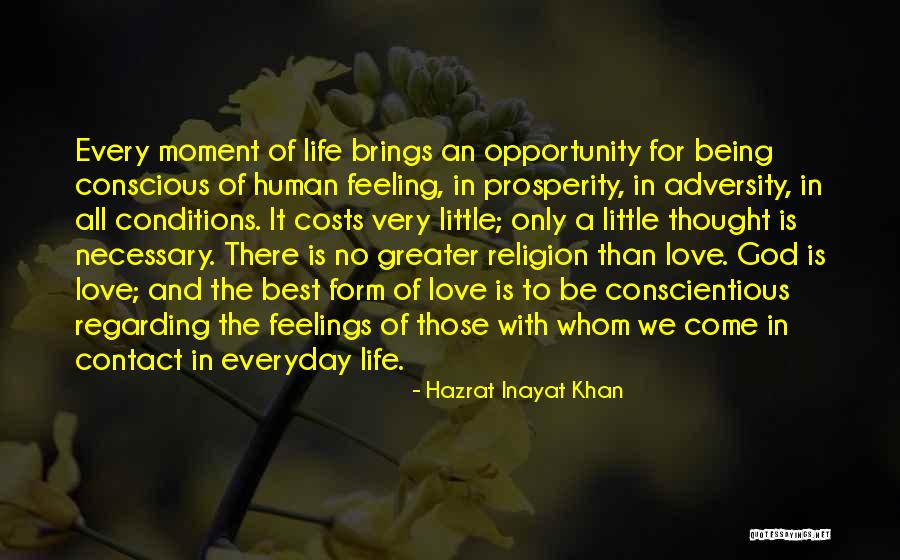 Every moment of life brings an opportunity for being conscious of human feeling, in prosperity, in adversity, in all conditions. It costs very little; only a little thought is necessary. There is no greater religion than love. God is love; and the best form of love is to be conscientious regarding the feelings of those with whom we come in contact in everyday life. — Hazrat Inayat Khan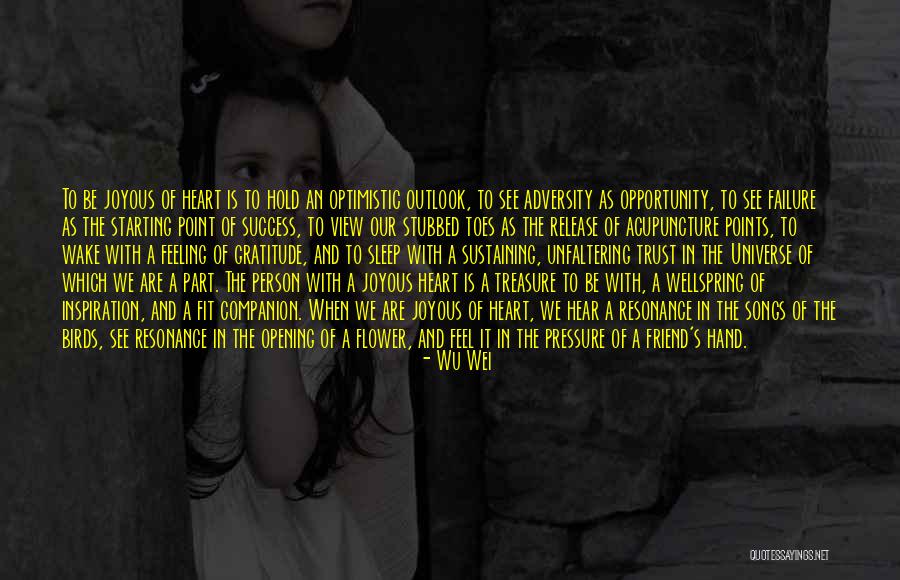 To be joyous of heart is to hold an optimistic outlook, to see adversity as opportunity, to see failure as the starting point of success, to view our stubbed toes as the release of acupuncture points, to wake with a feeling of gratitude, and to sleep with a sustaining, unfaltering trust in the Universe of which we are a part. The person with a joyous heart is a treasure to be with, a wellspring of inspiration, and a fit companion. When we are joyous of heart, we hear a resonance in the songs of the birds, see resonance in the opening of a flower, and feel it in the pressure of a friend's hand. — Wu Wei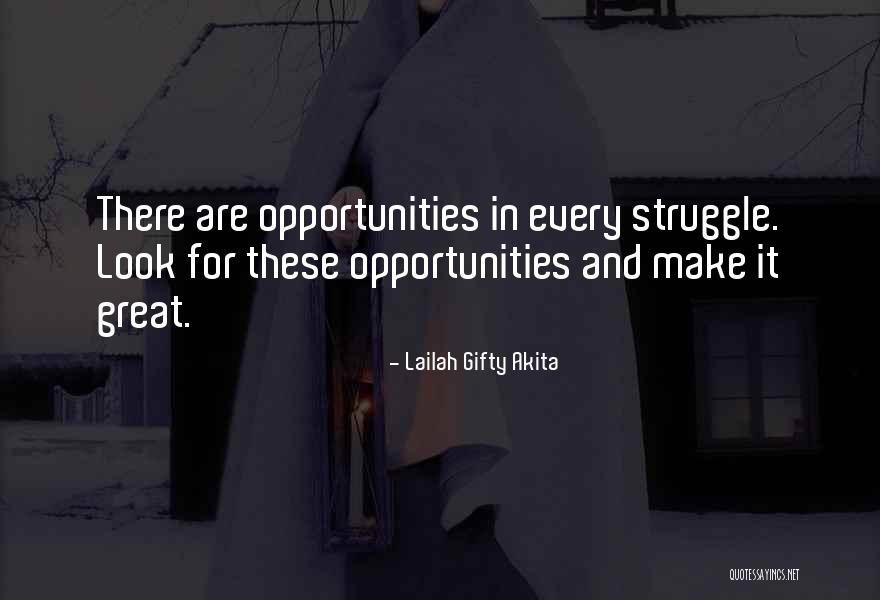 There are opportunities in every struggle. Look for these opportunities and make it great. — Lailah Gifty Akita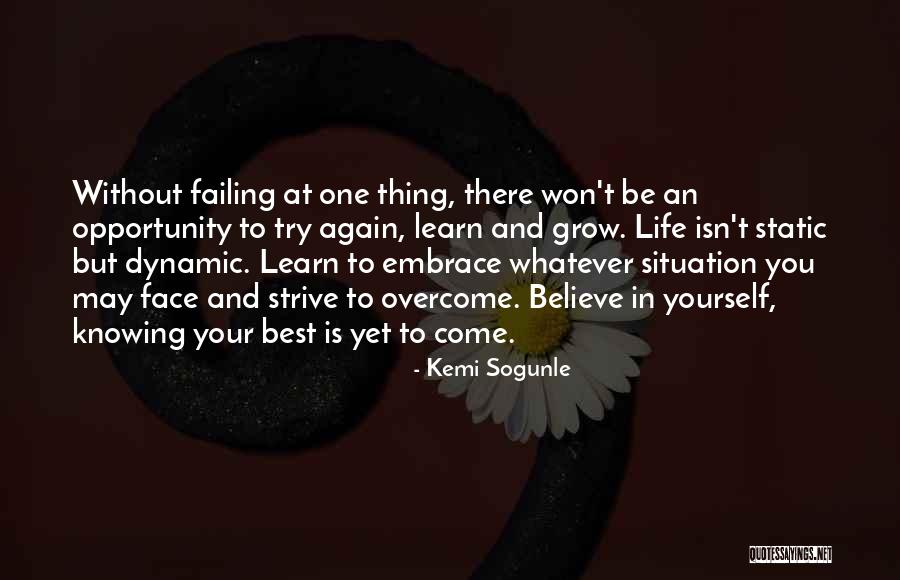 Without failing at one thing, there won't be an opportunity to try again, learn and grow. Life isn't static but dynamic. Learn to embrace whatever situation you may face and strive to overcome. Believe in yourself, knowing your best is yet to come. — Kemi Sogunle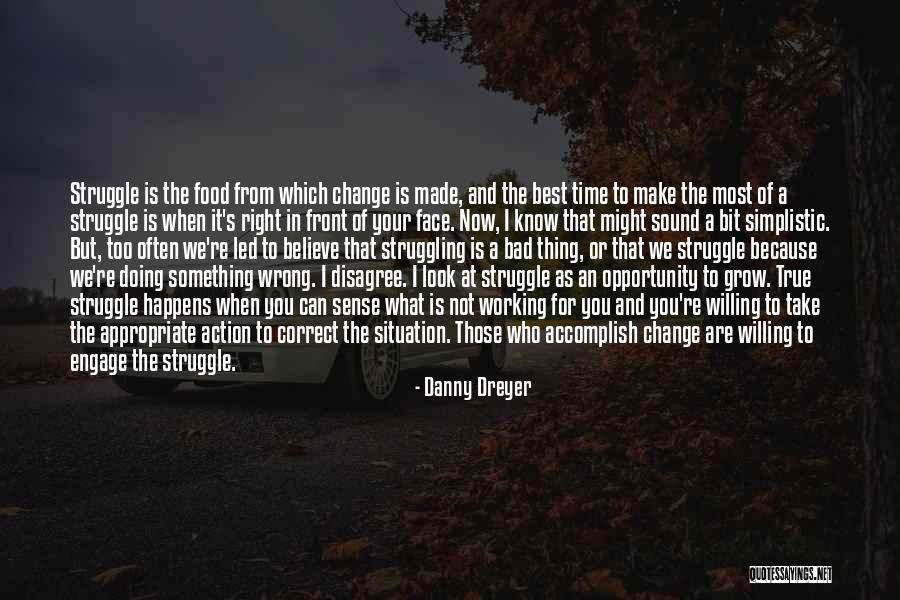 Struggle is the food from which change is made, and the best time to make the most of a struggle is when it's right in front of your face.
Now, I know that might sound a bit simplistic. But, too often we're led to believe that struggling is a bad thing, or that we struggle because we're doing something wrong.
I disagree. I look at struggle as an opportunity to grow. True struggle happens when you can sense what is not working for you and you're willing to take the appropriate action to correct the situation. Those who accomplish change are willing to engage the struggle. — Danny Dreyer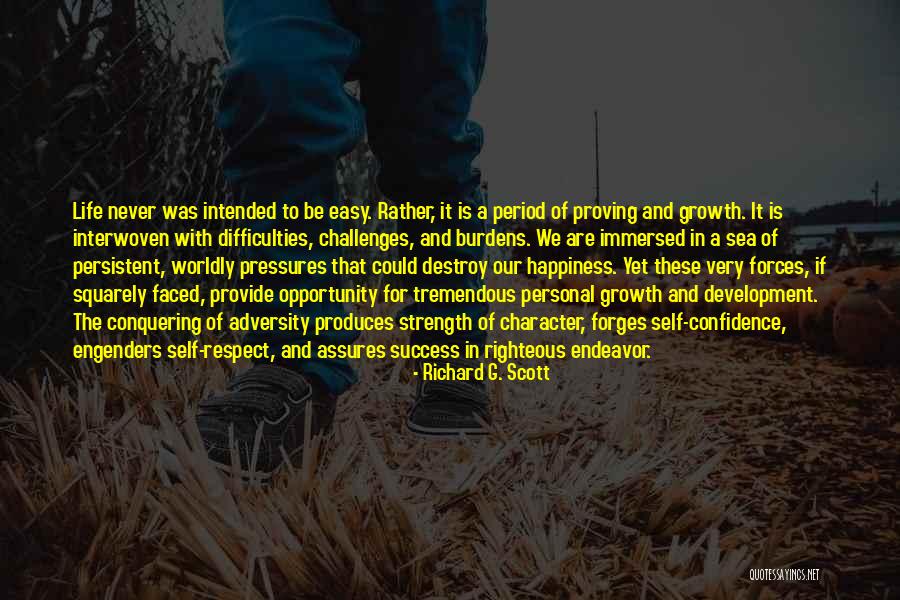 Life never was intended to be easy. Rather, it is a period of proving and growth. It is interwoven with difficulties, challenges, and burdens. We are immersed in a sea of persistent, worldly pressures that could destroy our happiness. Yet these very forces, if squarely faced, provide opportunity for tremendous personal growth and development. The conquering of adversity produces strength of character, forges self-confidence, engenders self-respect, and assures success in righteous endeavor. — Richard G. Scott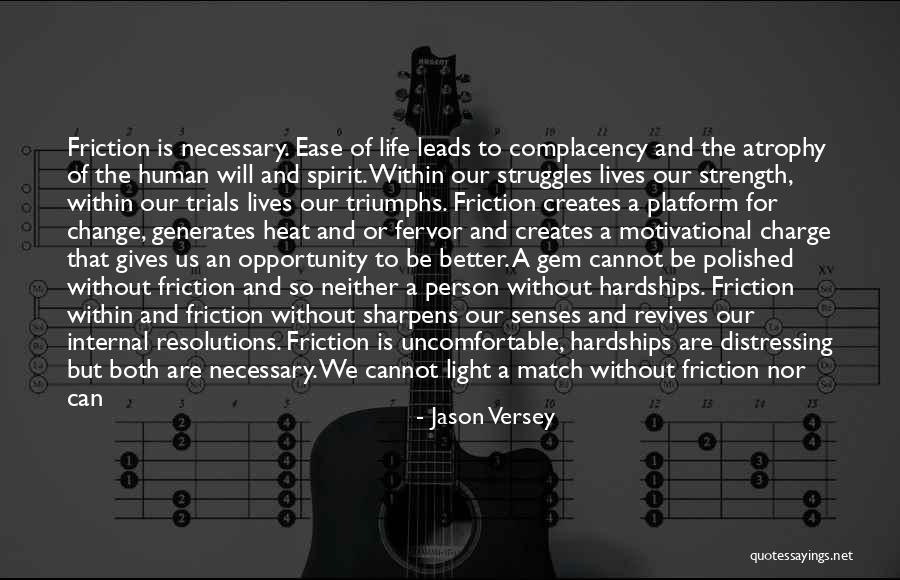 Friction is necessary. Ease of life leads to complacency and the atrophy of the human will and spirit. Within our struggles lives our strength, within our trials lives our triumphs. Friction creates a platform for change, generates heat and or fervor and creates a motivational charge that gives us an opportunity to be better. A gem cannot be polished without friction and so neither a person without hardships. Friction within and friction without sharpens our senses and revives our internal resolutions. Friction is uncomfortable, hardships are distressing but both are necessary. We cannot light a match without friction nor can we hone steal. Uncomfortable as it may be, our adversity ultimately lights a fire and sharpens our very will to flourish. Today, let us not be discouraged, let us not be bitter in our suffering rather let us be encouraged as we look to our trials as a medium that will eventually make us better. — Jason Versey
Pain and adversity are powerful vehicles to promote personal growth. Nothing helps you learn, grow, and evolve more quickly. Nothing offers you as big an opportunity to reclaim more of your authentic power as a person. — Richard Bach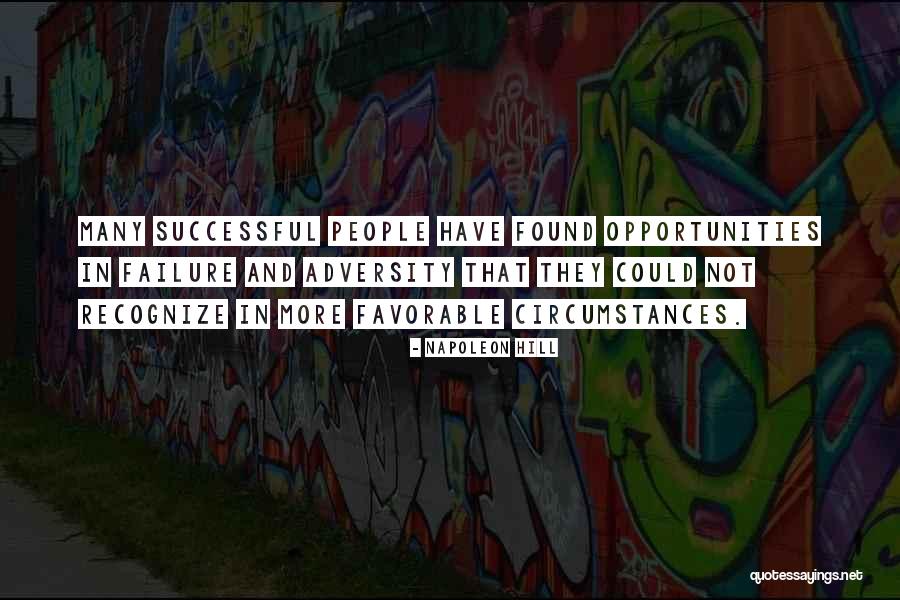 Many successful people have found opportunities in failure and adversity that they could not recognize in more favorable circumstances. — Napoleon Hill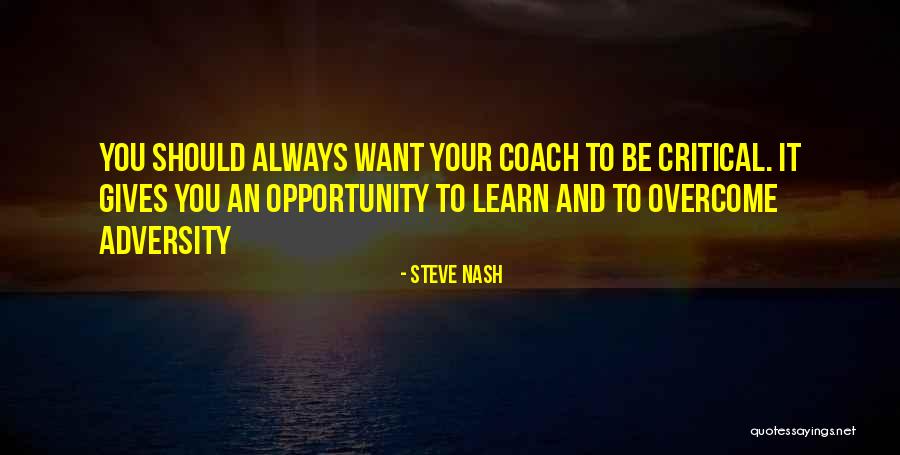 You should always want your coach to be critical. It gives you an opportunity to learn and to overcome adversity — Steve Nash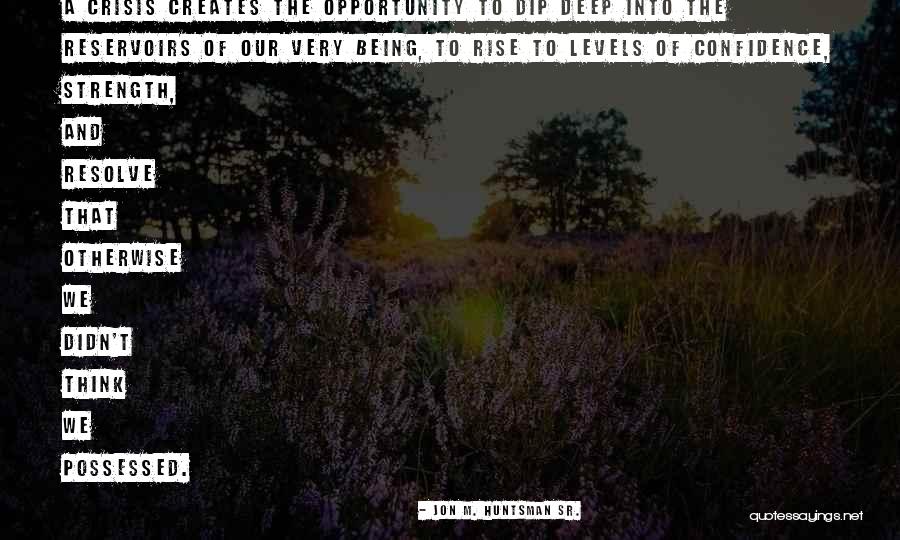 A crisis creates the opportunity to dip deep into the reservoirs of our very being, to rise to levels of confidence, strength, and resolve that otherwise we didn't think we possessed. — Jon M. Huntsman Sr.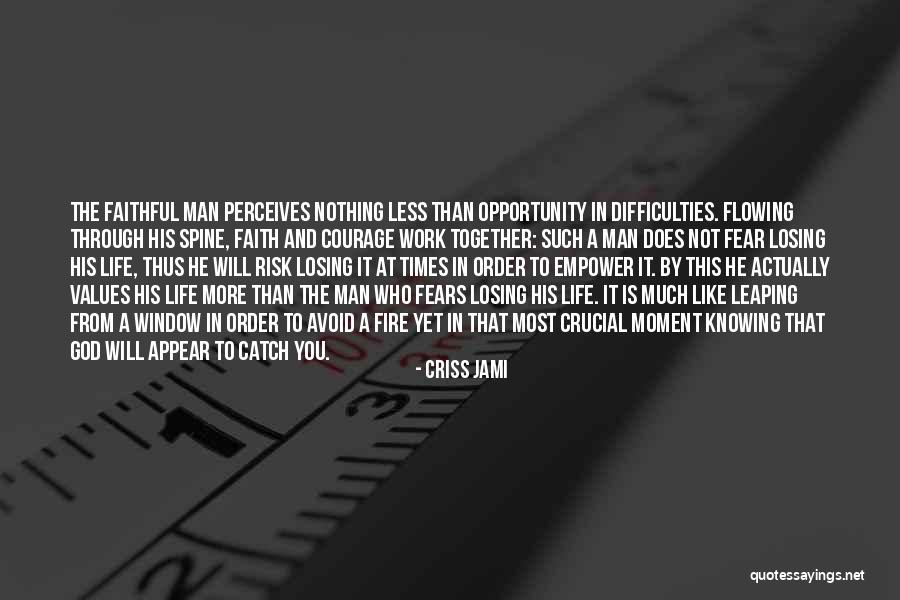 The faithful man perceives nothing less than opportunity in difficulties. Flowing through his spine, faith and courage work together: Such a man does not fear losing his life, thus he will risk losing it at times in order to empower it. By this he actually values his life more than the man who fears losing his life. It is much like leaping from a window in order to avoid a fire yet in that most crucial moment knowing that God will appear to catch you. — Criss Jami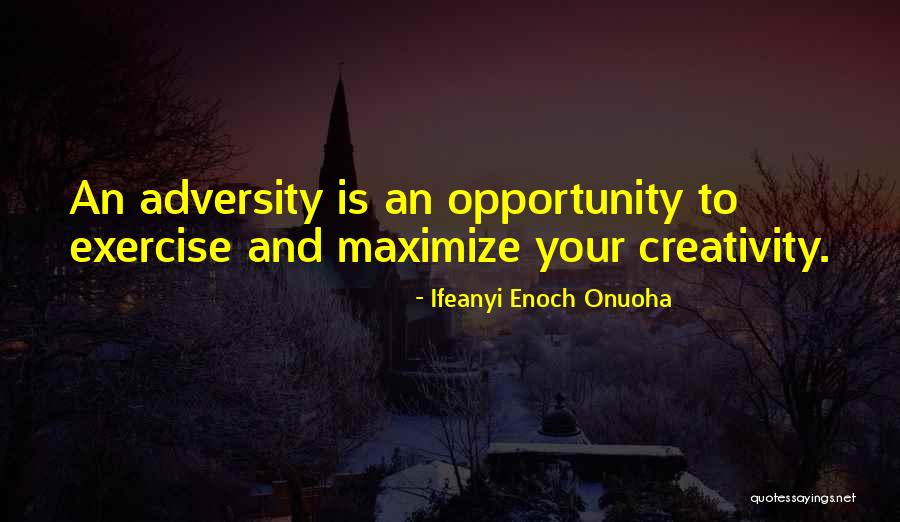 An adversity is an opportunity to exercise and maximize your creativity. — Ifeanyi Enoch Onuoha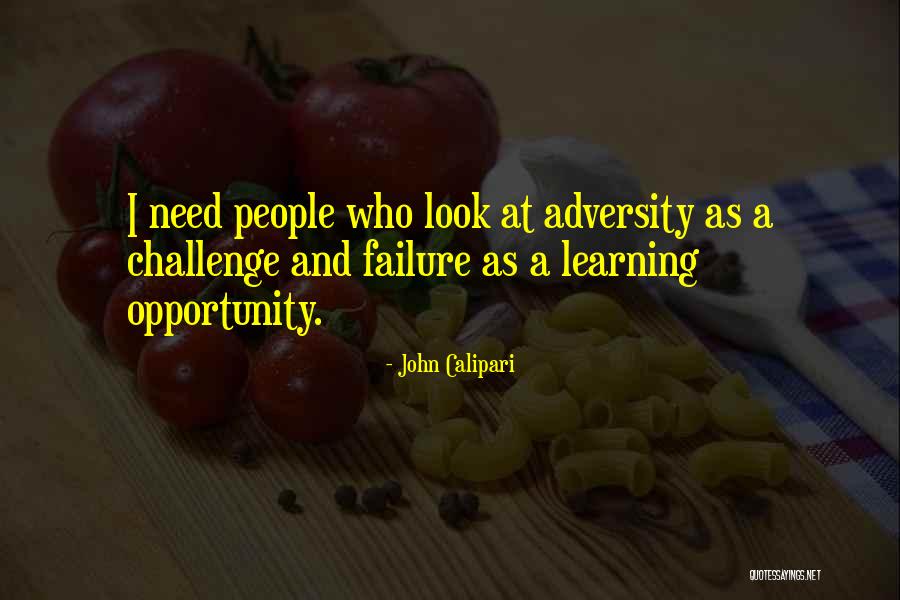 I need people who look at adversity as a challenge and failure as a learning opportunity. — John Calipari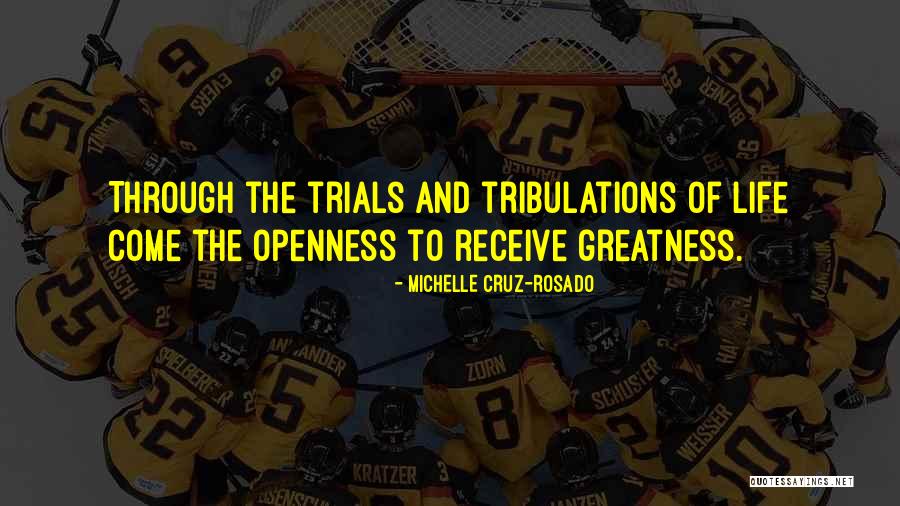 Through the trials and tribulations of life come the openness to receive greatness. — Michelle Cruz-Rosado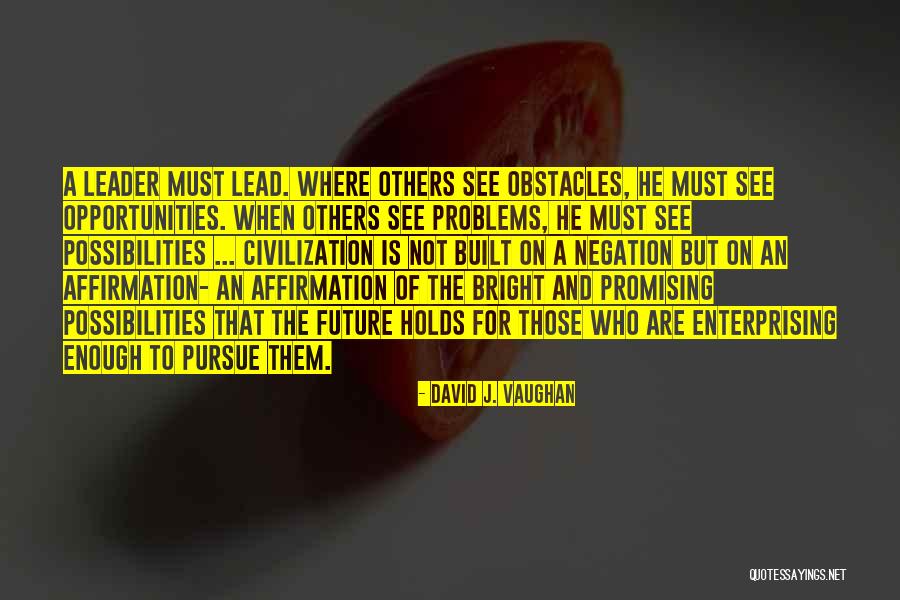 A leader must lead. Where others see obstacles, he must see opportunities. When others see problems, he must see possibilities ... Civilization is not built on a negation but on an affirmation- an affirmation of the bright and promising possibilities that the future holds for those who are enterprising enough to pursue them. — David J. Vaughan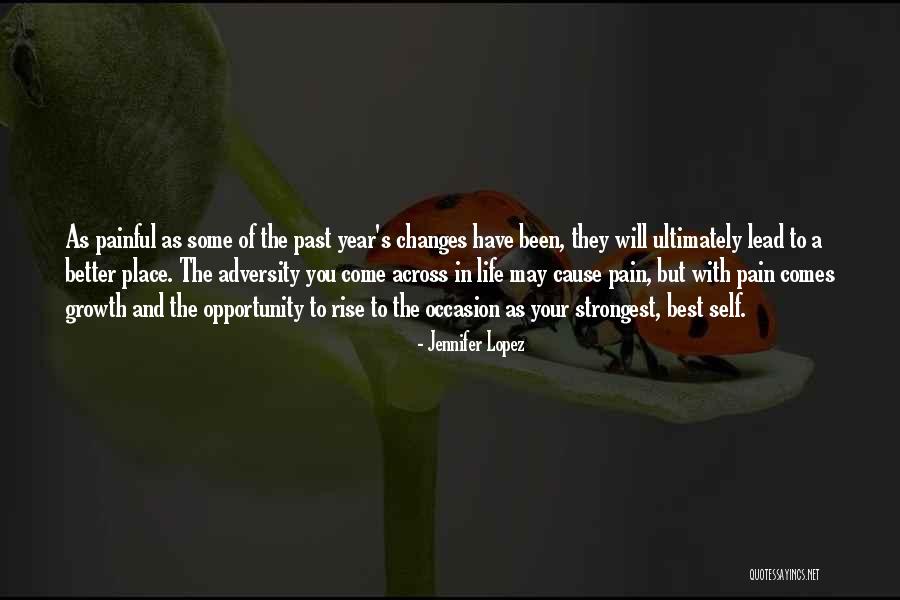 As painful as some of the past year's changes have been, they will ultimately lead to a better place. The adversity you come across in life may cause pain, but with pain comes growth and the opportunity to rise to the occasion as your strongest, best self. — Jennifer Lopez