Only God Loves Me Quotes & Sayings
Enjoy reading and share 30 famous quotes about Only God Loves Me with everyone.
Top Only God Loves Me Quotes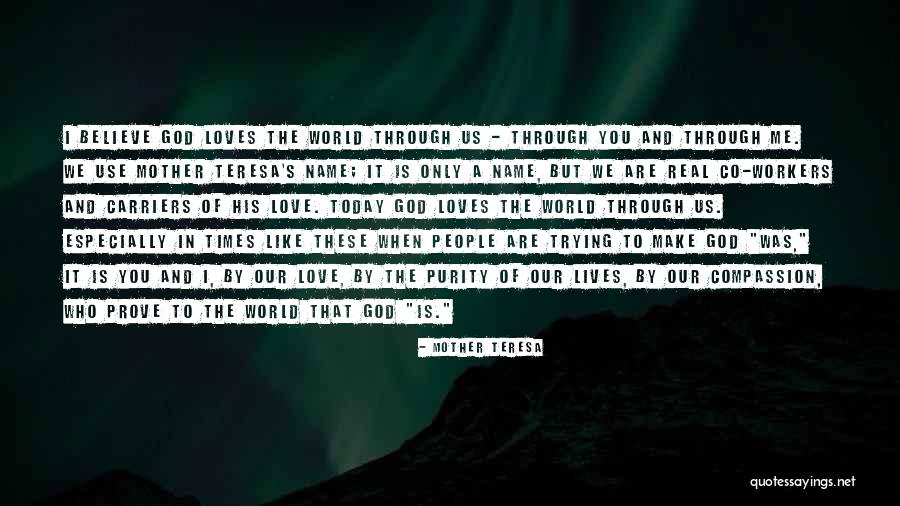 I believe God loves the world through us - through you and through me. We use Mother Teresa's name; it is only a name, but we are real co-workers and carriers of His love. Today God loves the world through us. Especially in times like these when people are trying to make God "was," it is you and I, by our love, by the purity of our lives, by our compassion, who prove to the world that God "is." — Mother Teresa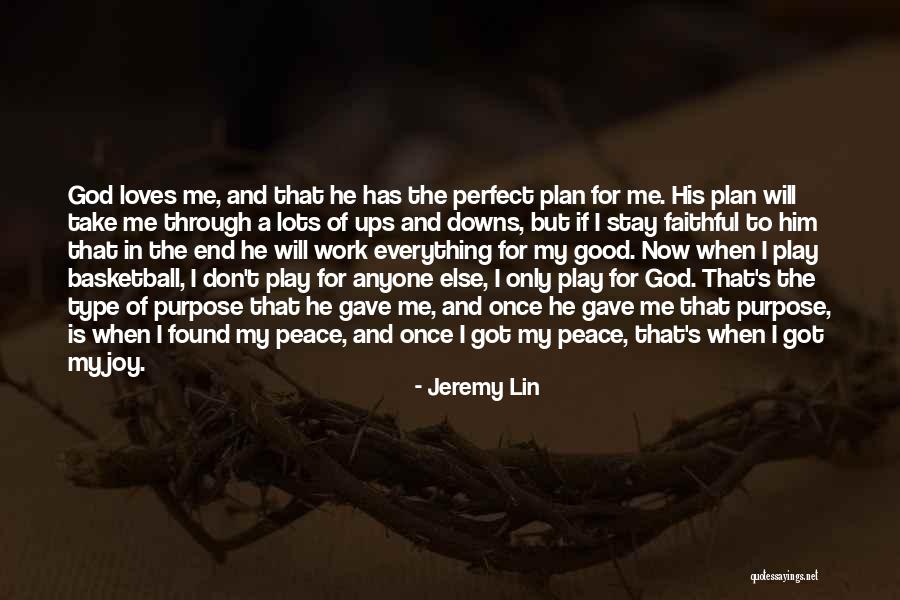 God loves me, and that he has the perfect plan for me. His plan will take me through a lots of ups and downs, but if I stay faithful to him that in the end he will work everything for my good. Now when I play basketball, I don't play for anyone else, I only play for God. That's the type of purpose that he gave me, and once he gave me that purpose, is when I found my peace, and once I got my peace, that's when I got my joy. — Jeremy Lin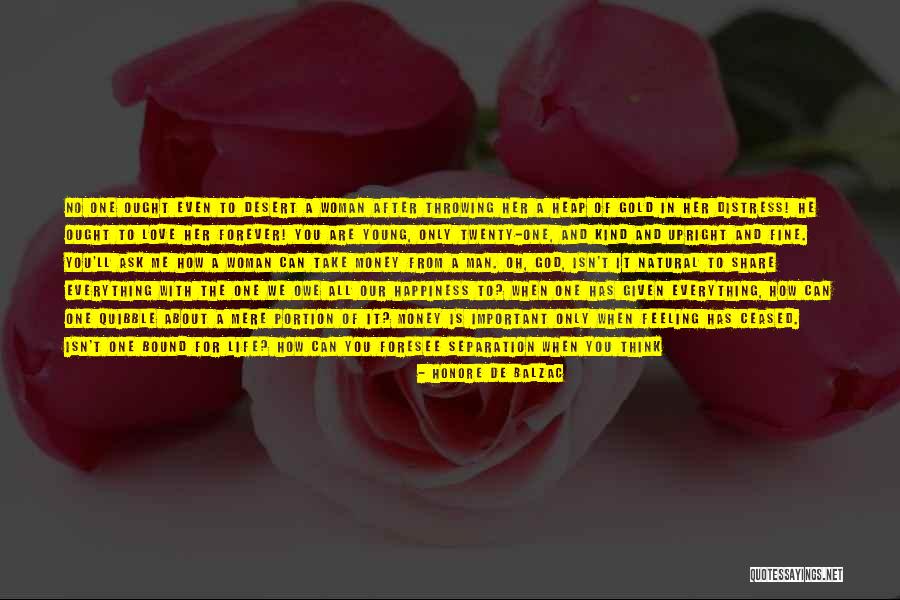 No one ought even to desert a woman after throwing her a heap of gold in her distress! He ought to love her forever! You are young, only twenty-one, and kind and upright and fine. You'll ask me how a woman can take money from a man. Oh, God, isn't it natural to share everything with the one we owe all our happiness to? When one has given everything, how can one quibble about a mere portion of it? Money is important only when feeling has ceased. Isn't one bound for life? How can you foresee separation when you think someone loves you? When a man swears eternal love
how can there be any separate concerns in that case? — Honore De Balzac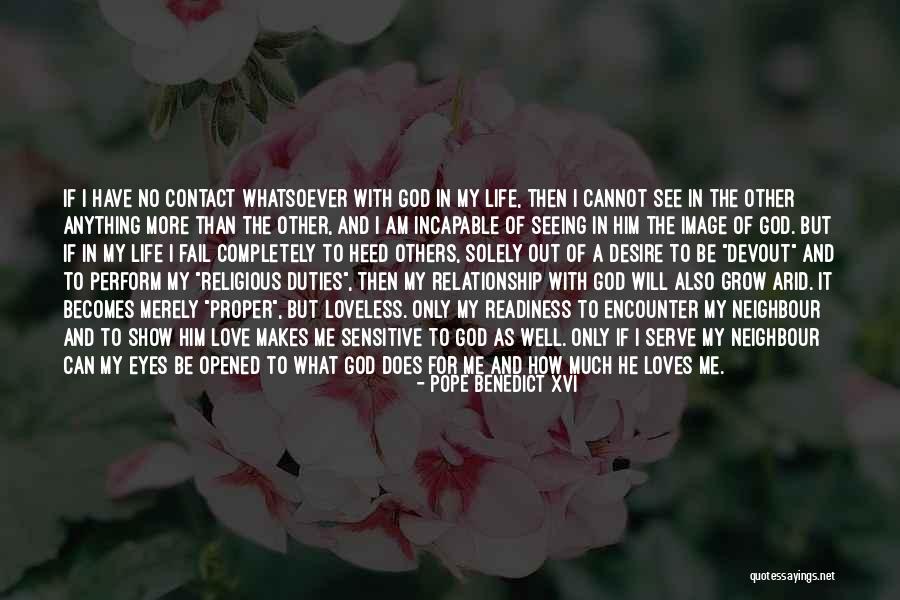 If I have no contact whatsoever with God in my life, then I cannot see in the other anything more than the other, and I am incapable of seeing in him the image of God. But if in my life I fail completely to heed others, solely out of a desire to be "devout" and to perform my "religious duties", then my relationship with God will also grow arid. It becomes merely "proper", but loveless. Only my readiness to encounter my neighbour and to show him love makes me sensitive to God as well. Only if I serve my neighbour can my eyes be opened to what God does for me and how much he loves me. — Pope Benedict XVI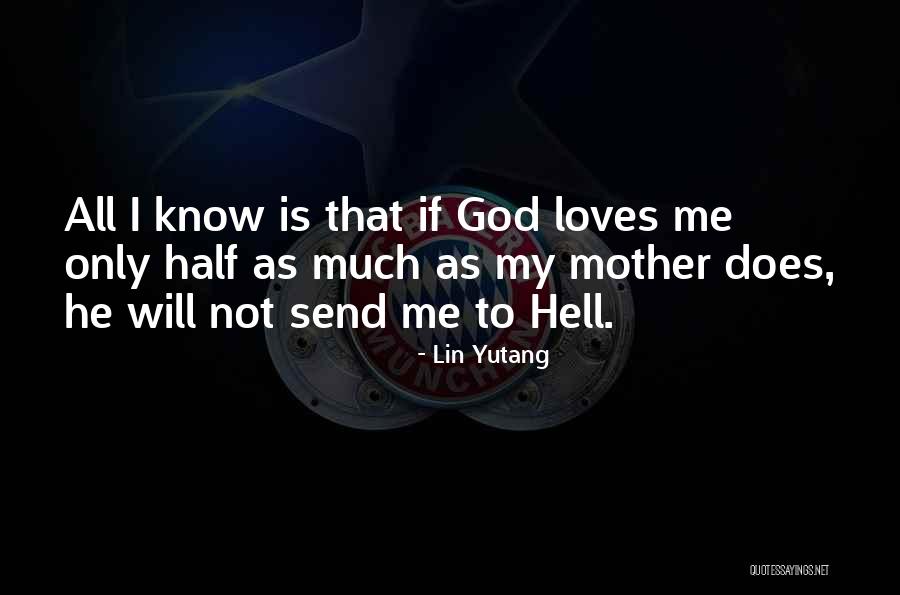 All I know is that if God loves me only half as much as my mother does, he will not send me to Hell. — Lin Yutang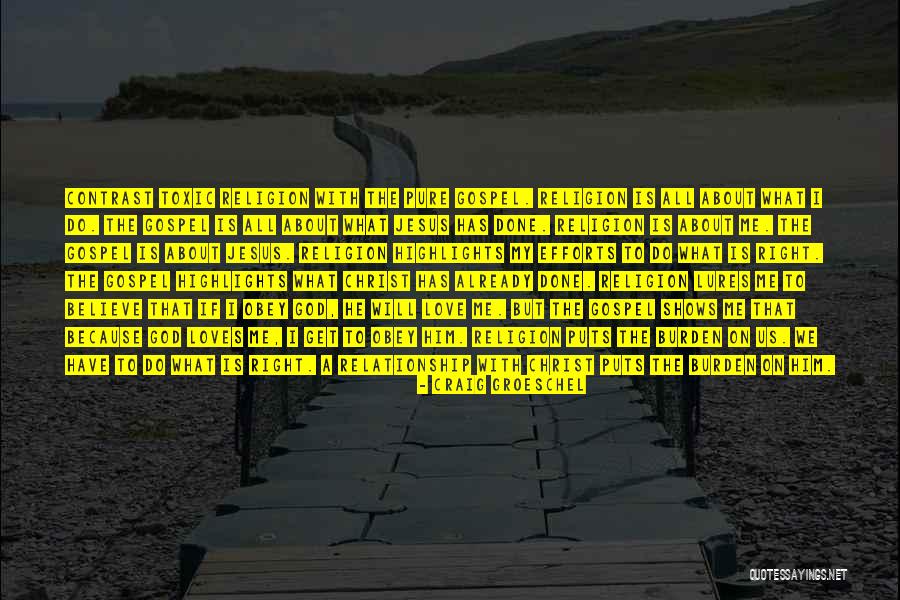 Contrast toxic religion with the pure gospel. Religion is all about what I do. The gospel is all about what Jesus has done. Religion is about me. The gospel is about Jesus. Religion highlights my efforts to do what is right. The gospel highlights what Christ has already done. Religion lures me to believe that if I obey God, he will love me. But the gospel shows me that because God loves me, I get to obey him. Religion puts the burden on us. We have to do what is right. A relationship with Christ puts the burden on him. And because of what he did for us, we get to do what is right. Instead of an obligation, our right living is a response to his gift. Giving Christ our whole lives is the only reasonable response to such love. There nothing more we need to do. Nothing ... — Craig Groeschel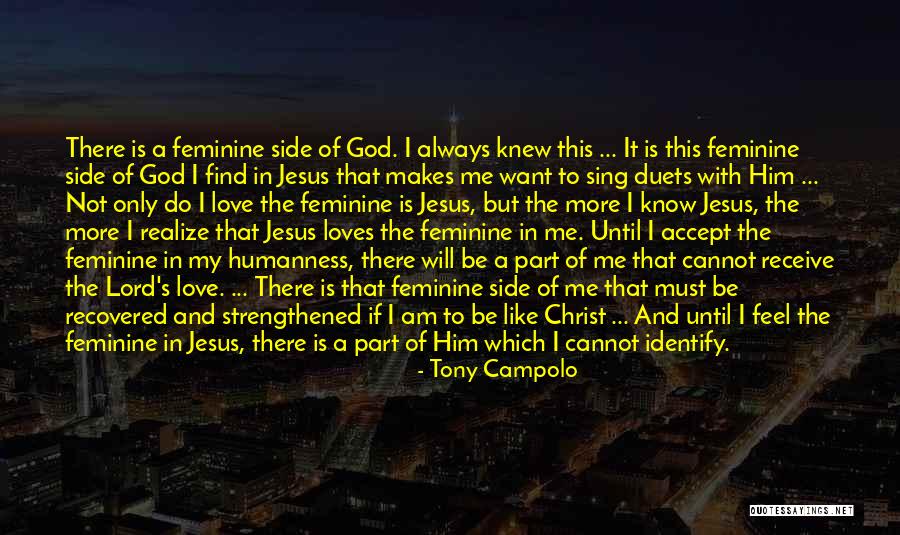 There is a feminine side of God. I always knew this ... It is this feminine side of God I find in Jesus that makes me want to sing duets with Him ... Not only do I love the feminine is Jesus, but the more I know Jesus, the more I realize that Jesus loves the feminine in me. Until I accept the feminine in my humanness, there will be a part of me that cannot receive the Lord's love. ... There is that feminine side of me that must be recovered and strengthened if I am to be like Christ ... And until I feel the feminine in Jesus, there is a part of Him which I cannot identify. — Tony Campolo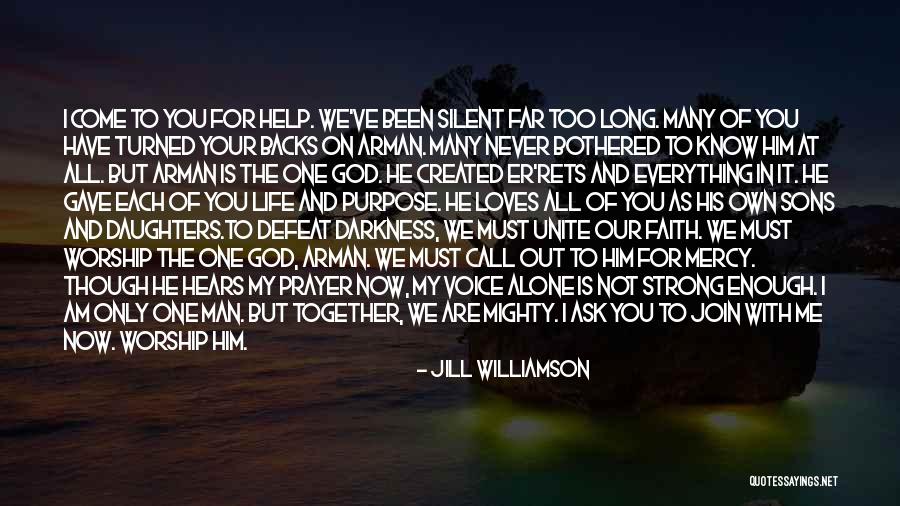 I come to you for help. We've been silent far too long. Many of you have turned your backs on Arman. Many never bothered to know Him at all. But Arman is the One God. He created Er'Rets and everything in it. He gave each of you life and purpose. He loves all of you as His own sons and daughters.
To defeat Darkness, we must unite our faith. We must worship the One God, Arman. We must call out to Him for mercy. Though He hears my prayer now, my voice alone is not strong enough. I am only one man. But together, we are mighty. I ask you to join with me now. Worship Him. — Jill Williamson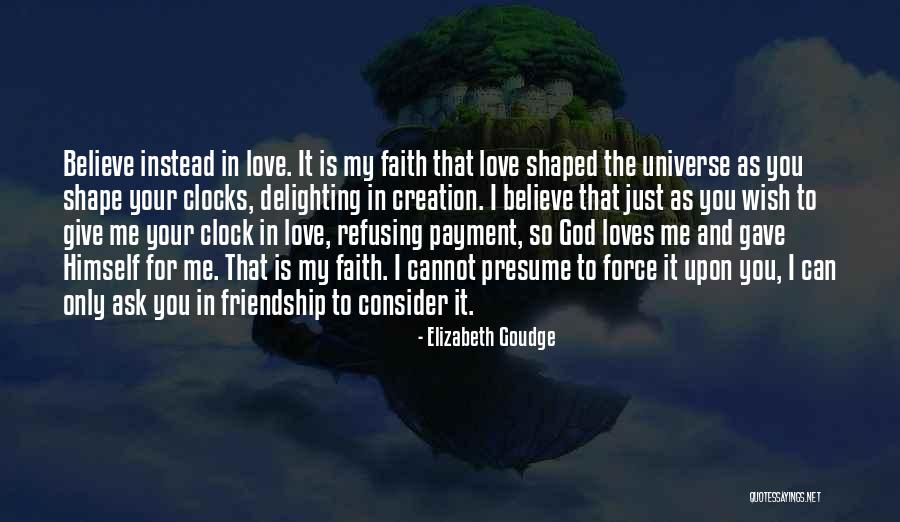 Believe instead in love. It is my faith that love shaped the universe as you shape your clocks, delighting in creation. I believe that just as you wish to give me your clock in love, refusing payment, so God loves me and gave Himself for me. That is my faith. I cannot presume to force it upon you, I can only ask you in friendship to consider it. — Elizabeth Goudge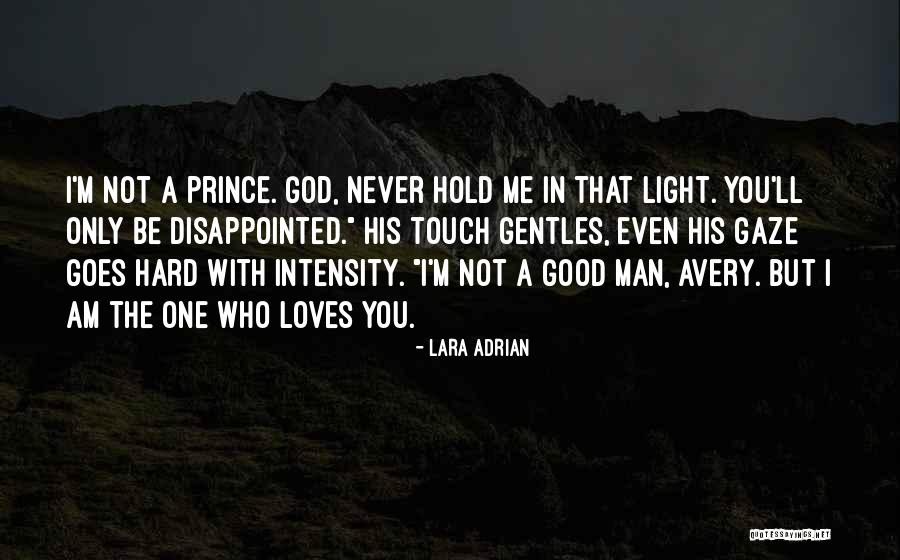 I'm not a prince. God, never hold me in that light. You'll only be disappointed." His touch gentles, even his gaze goes hard with intensity. "I'm not a good man, Avery. But I am the one who loves you. — Lara Adrian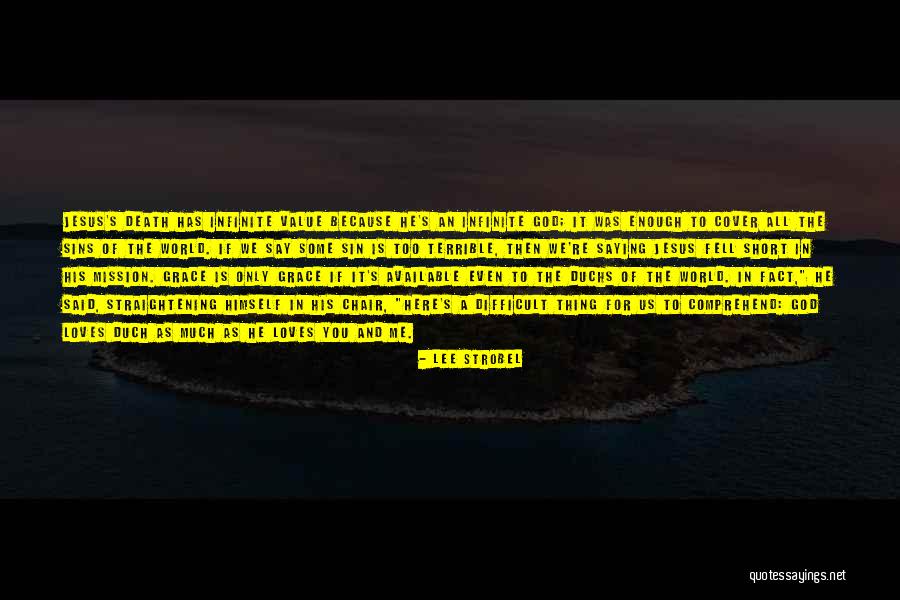 Jesus's death has infinite value because he's an infinite God; it was enough to cover all the sins of the world. If we say some sin is too terrible, then we're saying Jesus fell short in his mission. Grace is only grace if it's available even to the Duchs of the world. In fact," he said, straightening himself in his chair, "here's a difficult thing for us to comprehend: God loves Duch as much as he loves you and me. — Lee Strobel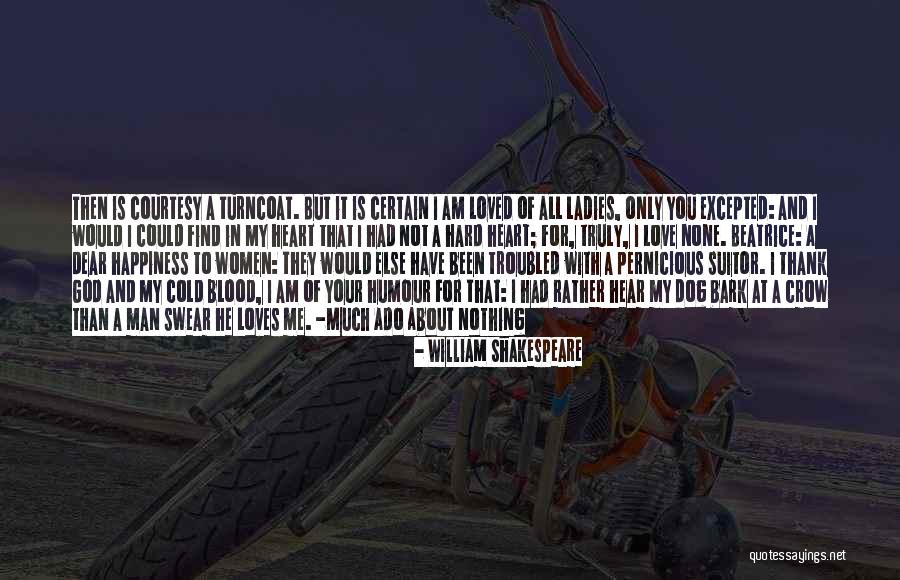 Then is courtesy a turncoat. But it is certain I am loved of all ladies, only you excepted: and I would I could find in my heart that I had not a hard heart; for, truly, I love none.
Beatrice: A dear happiness to women: they would else have been troubled with a pernicious suitor. I thank God and my cold blood, I am of your humour for that: I had rather hear my dog bark at a crow than a man swear he loves me. -Much Ado About Nothing — William Shakespeare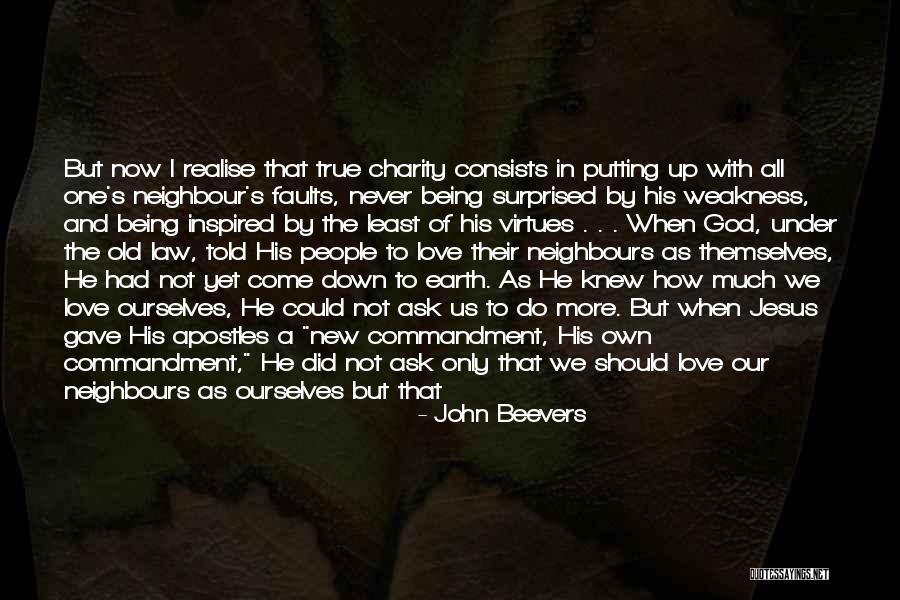 But now I realise that true charity consists in putting up with all one's neighbour's faults, never being surprised by his weakness, and being inspired by the least of his virtues . . . When God, under the old law, told His people to love their neighbours as themselves, He had not yet come down to earth. As He knew how much we love ourselves, He could not ask us to do more. But when Jesus gave His apostles a "new commandment, His own commandment," He did not ask only that we should love our neighbours as ourselves but that we should love them as He loves them and as He will love them to the end of time. O Jesus, I know You command nothing that is impossible. You know how weak and imperfect I am, and You know only too well that I could never love the other nuns as You love them if You Yourself did not love them within me. — John Beevers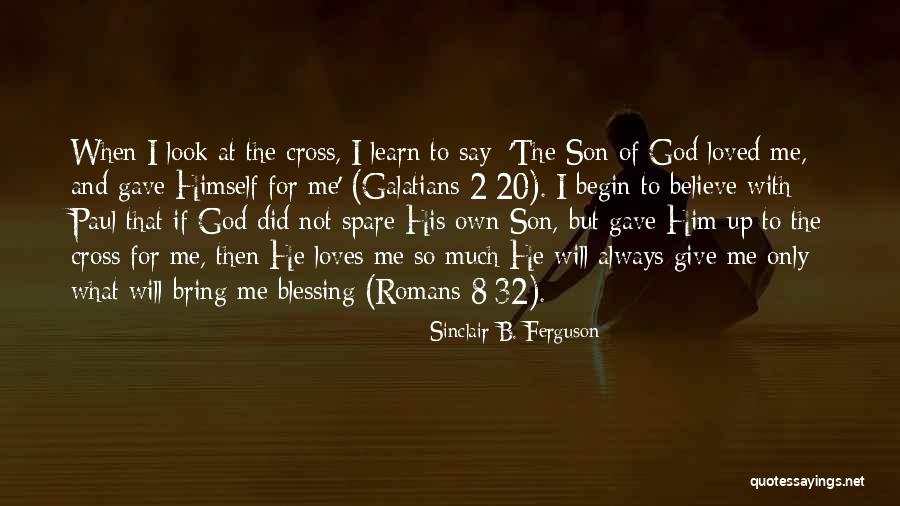 When I look at the cross, I learn to say: 'The Son of God loved me, and gave Himself for me' (Galatians 2:20). I begin to believe with Paul that if God did not spare His own Son, but gave Him up to the cross for me, then He loves me so much He will always give me only what will bring me blessing (Romans 8:32). — Sinclair B. Ferguson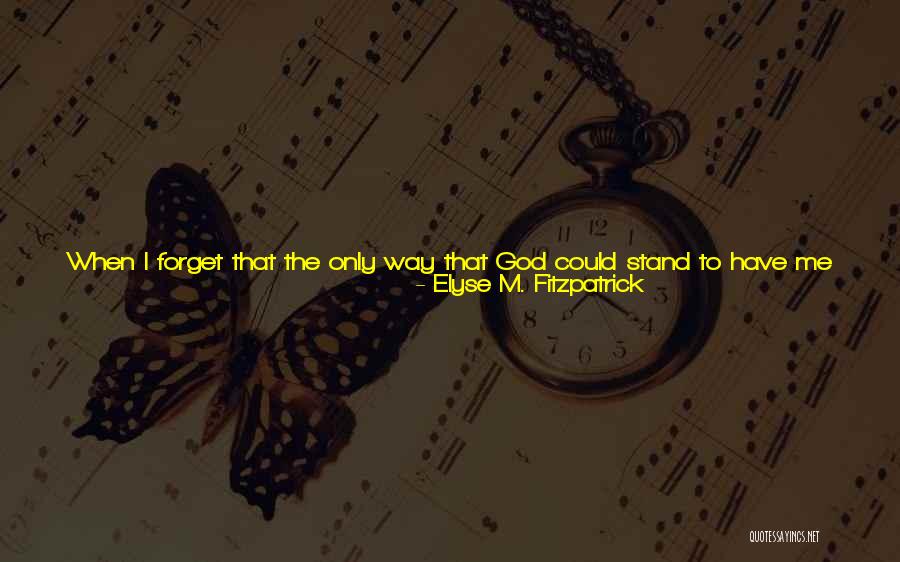 When I forget that the only way that God could stand to have me in his family was by crushing the Son he loves-that without the perfect record of someone else I could not stand before his judicious holiness, that on my own I do not have within me either the desire or the power to please God-I am tempted to believe that I'm really pretty good. And although I might need a nip or tuck, if I try hard enough, I can accomplish all he has called me to. It's when we forget the gospel, when we think we're not really all that bad, not so much in need, not so far from Christlikeness, that pride, arrogance, and the inevitable guilt crush hope and faith. — Elyse M. Fitzpatrick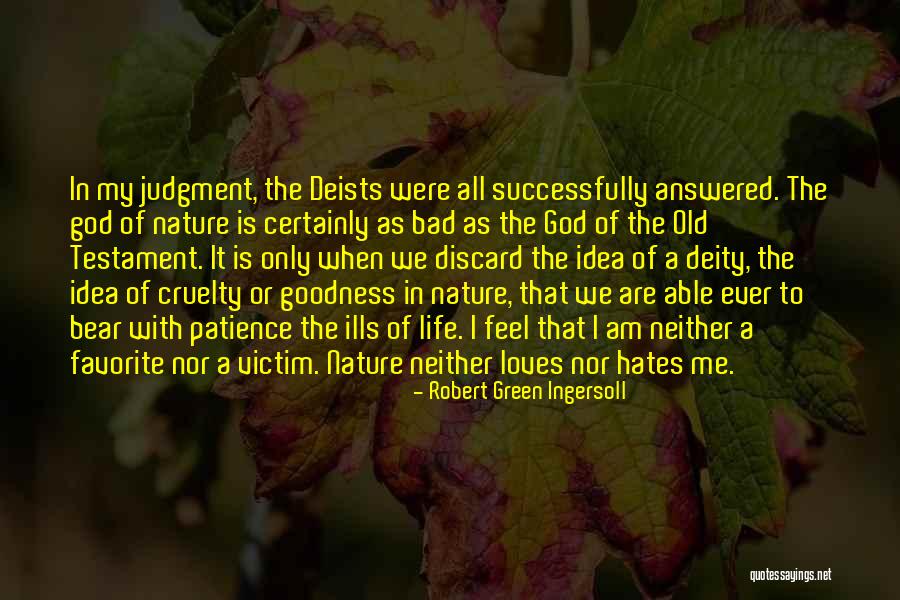 In my judgment, the Deists were all successfully answered. The god of nature is certainly as bad as the God of the Old Testament. It is only when we discard the idea of a deity, the idea of cruelty or goodness in nature, that we are able ever to bear with patience the ills of life. I feel that I am neither a favorite nor a victim. Nature neither loves nor hates me. — Robert Green Ingersoll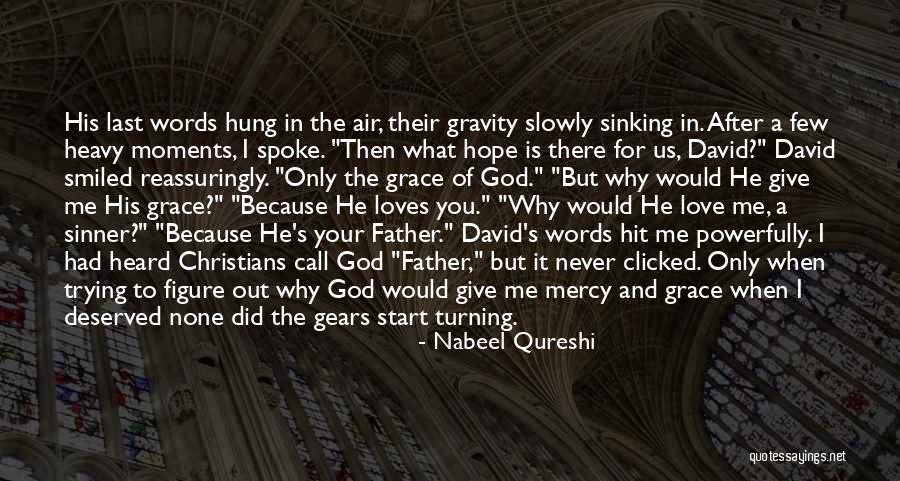 His last words hung in the air, their gravity slowly sinking in. After a few heavy moments, I spoke. "Then what hope is there for us, David?" David smiled reassuringly. "Only the grace of God." "But why would He give me His grace?" "Because He loves you." "Why would He love me, a sinner?" "Because He's your Father." David's words hit me powerfully. I had heard Christians call God "Father," but it never clicked. Only when trying to figure out why God would give me mercy and grace when I deserved none did the gears start turning. — Nabeel Qureshi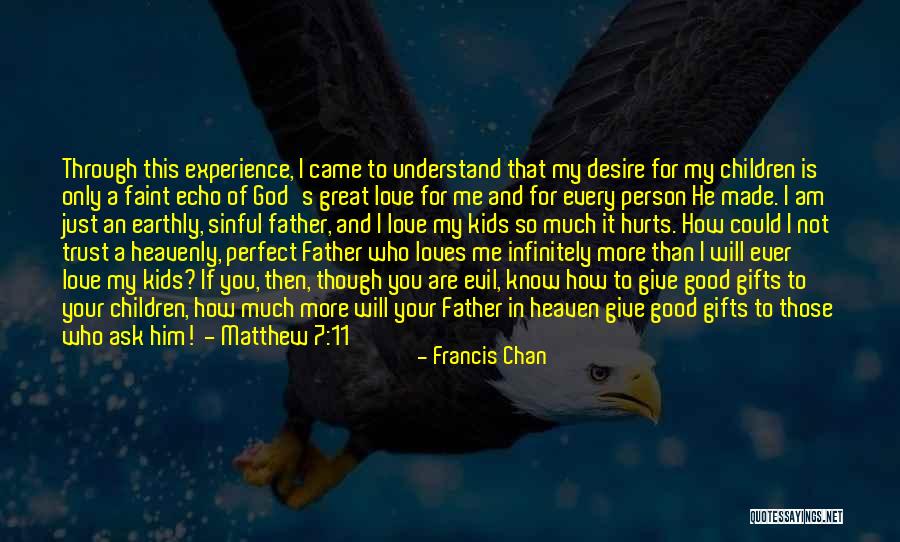 Through this experience, I came to understand that my desire for my children is only a faint echo of God's great love for me and for every person He made. I am just an earthly, sinful father, and I love my kids so much it hurts. How could I not trust a heavenly, perfect Father who loves me infinitely more than I will ever love my kids? If you, then, though you are evil, know how to give good gifts to your children, how much more will your Father in heaven give good gifts to those who ask him! - Matthew 7:11 — Francis Chan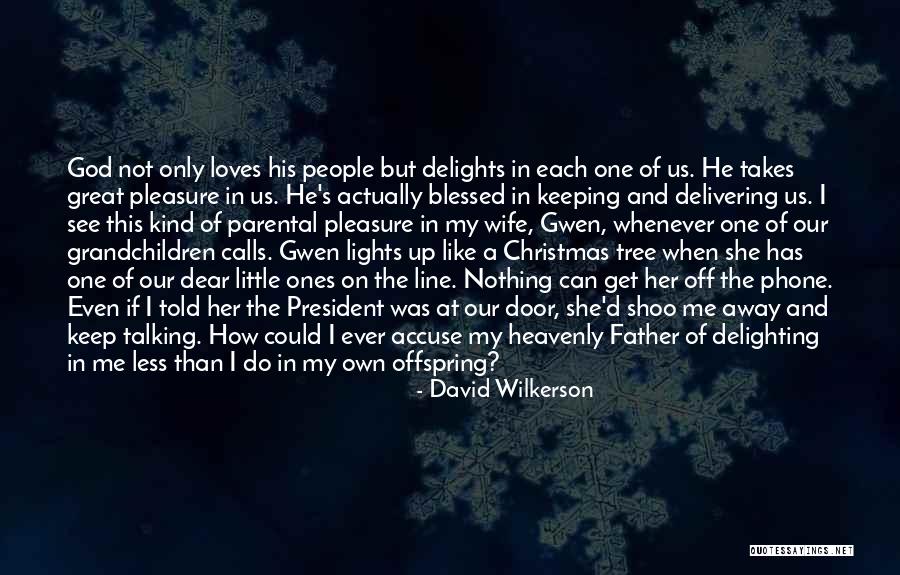 God not only loves his people but delights in each one of us. He takes great pleasure in us. He's actually blessed in keeping and delivering us. I see this kind of parental pleasure in my wife, Gwen, whenever one of our grandchildren calls. Gwen lights up like a Christmas tree when she has one of our dear little ones on the line. Nothing can get her off the phone. Even if I told her the President was at our door, she'd shoo me away and keep talking. How could I ever accuse my heavenly Father of delighting in me less than I do in my own offspring? — David Wilkerson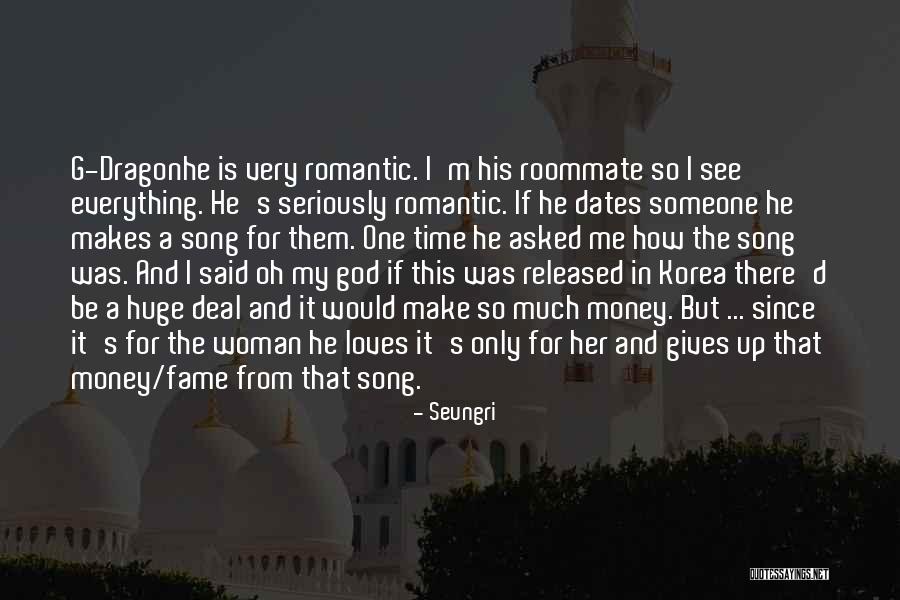 G-Dragonhe is very romantic. I'm his roommate so I see everything. He's seriously romantic. If he dates someone he makes a song for them. One time he asked me how the song was. And I said oh my god if this was released in Korea there'd be a huge deal and it would make so much money. But ... since it's for the woman he loves it's only for her and gives up that money/fame from that song. — Seungri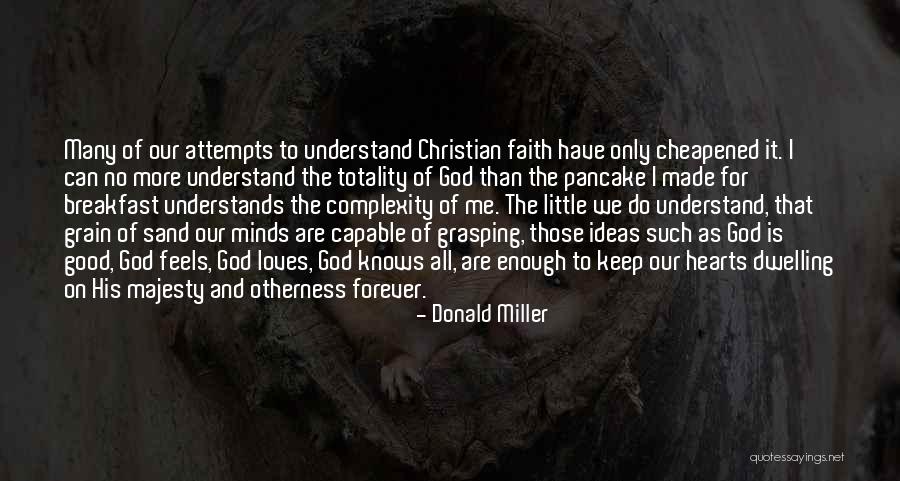 Many of our attempts to understand Christian faith have only cheapened it. I can no more understand the totality of God than the pancake I made for breakfast understands the complexity of me. The little we do understand, that grain of sand our minds are capable of grasping, those ideas such as God is good, God feels, God loves, God knows all, are enough to keep our hearts dwelling on His majesty and otherness forever. — Donald Miller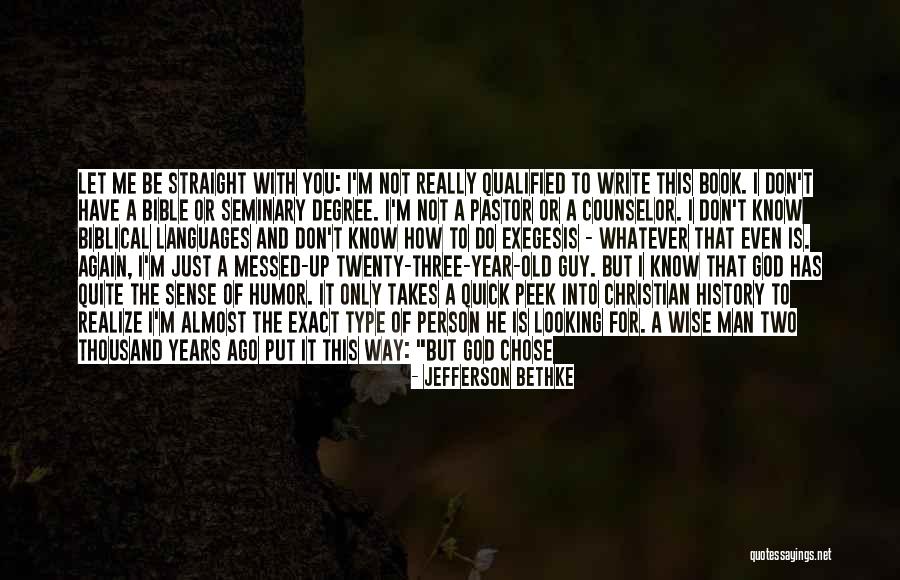 Let me be straight with you: I'm not really qualified to write this book. I don't have a Bible or seminary degree. I'm not a pastor or a counselor. I don't know biblical languages and don't know how to do exegesis - whatever that even is. Again, I'm just a messed-up twenty-three-year-old guy. But I know that God has quite the sense of humor. It only takes a quick peek into Christian history to realize I'm almost the exact type of person he is looking for. A wise man two thousand years ago put it this way: "But God chose what is foolish in the world to shame the wise; God chose what is weak in the world to shame the strong."1 Paul tells us that God loves using people who are useless by worldly standards - because then he gets all the credit. A crooked stick can still draw a straight line, and a messed-up dude like me can still write about an awesome God. I've tasted grace and can't help but tell others about it. — Jefferson Bethke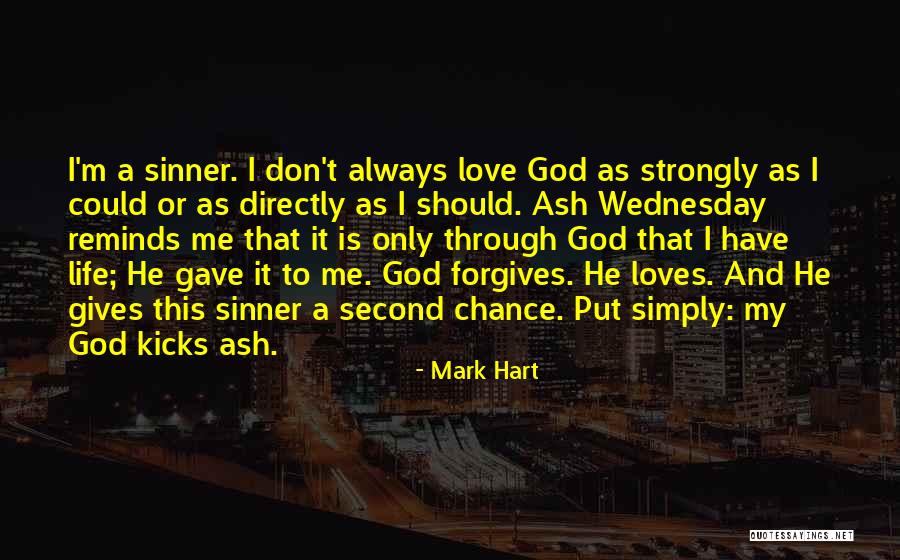 I'm a sinner. I don't always love God as strongly as I could or as directly as I should. Ash Wednesday reminds me that it is only through God that I have life; He gave it to me. God forgives. He loves. And He gives this sinner a second chance. Put simply: my God kicks ash. — Mark Hart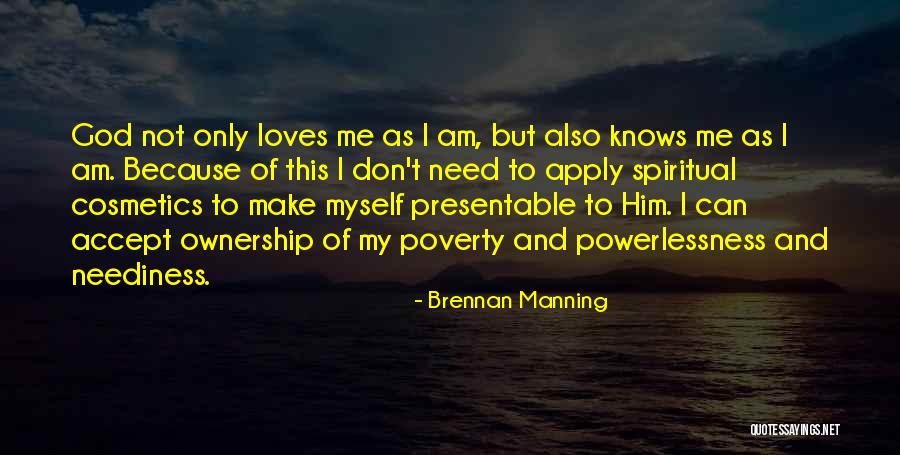 God not only loves me as I am, but also knows me as I am. Because of this I don't need to apply spiritual cosmetics to make myself presentable to Him. I can accept ownership of my poverty and powerlessness and neediness. — Brennan Manning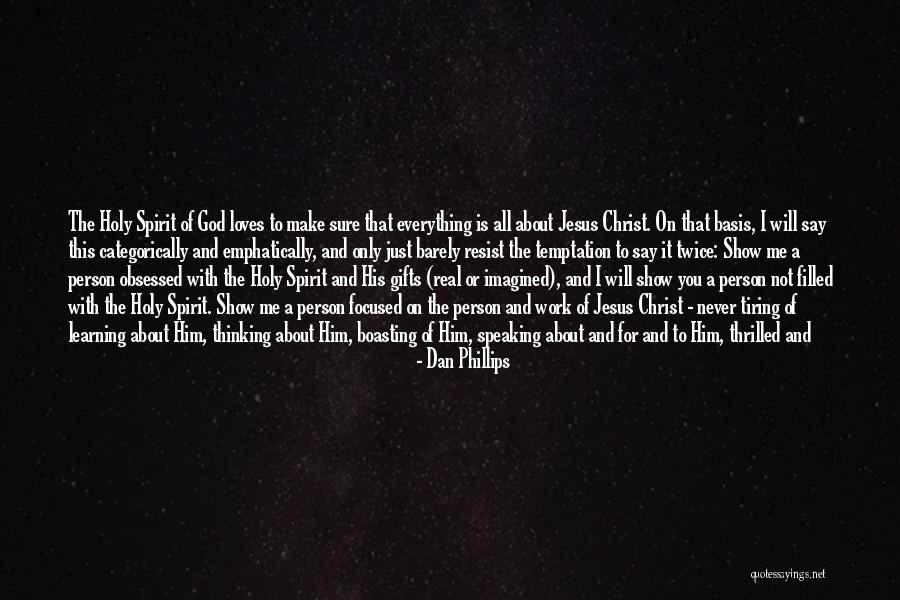 The Holy Spirit of God loves to make sure that everything is all about Jesus Christ. On that basis, I will say this categorically and emphatically, and only just barely resist the temptation to say it twice: Show me a person obsessed with the Holy Spirit and His gifts (real or imagined), and I will show you a person not filled with the Holy Spirit. Show me a person focused on the person and work of Jesus Christ - never tiring of learning about Him, thinking about Him, boasting of Him, speaking about and for and to Him, thrilled and entranced with His perfections and beauty, finding ways to serve and exalt Him, tirelessly exploring ways to spend and be spent for Him, growing in character to be more and more like Him - and I will show you a person who is filled with the Holy Spirit. — Dan Phillips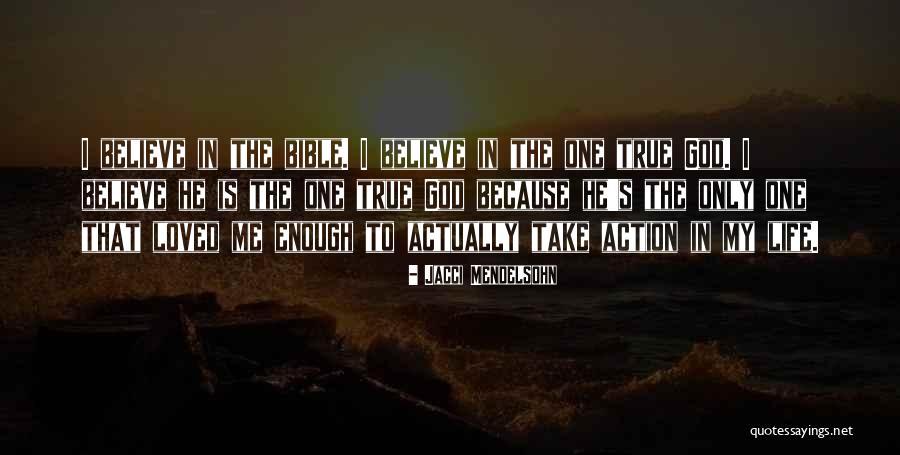 I believe in the bible. I believe in the one true God. I believe he is the one true God because he's the only one that loved me enough to actually take action in my life. — Jacci Mendelsohn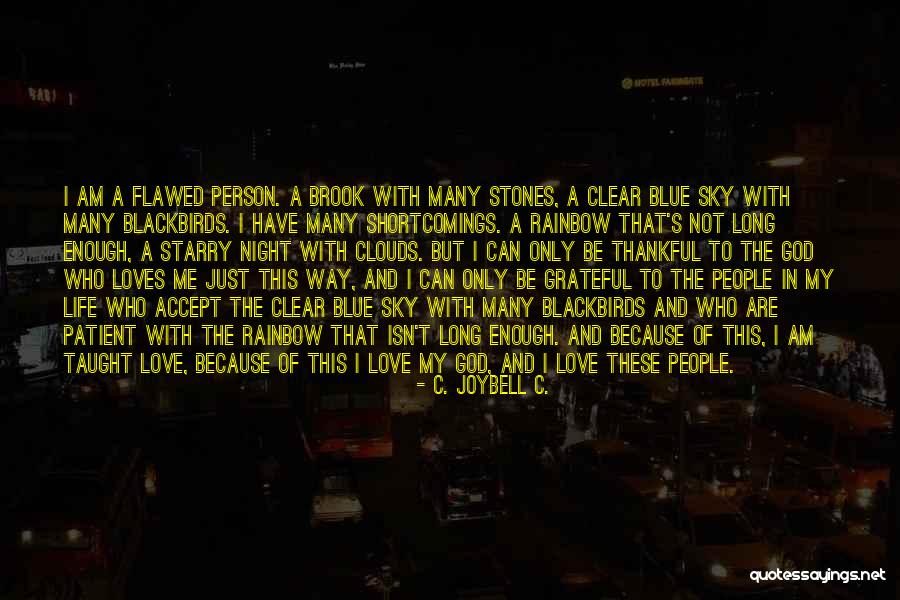 I am a flawed person. A brook with many stones, a clear blue sky with many blackbirds. I have many shortcomings. A rainbow that's not long enough, a starry night with clouds. But I can only be thankful to the God who loves me just this way, and I can only be grateful to the people in my life who accept the clear blue sky with many blackbirds and who are patient with the rainbow that isn't long enough. And because of this, I am taught love, because of this I love my God, and I love these people. — C. JoyBell C.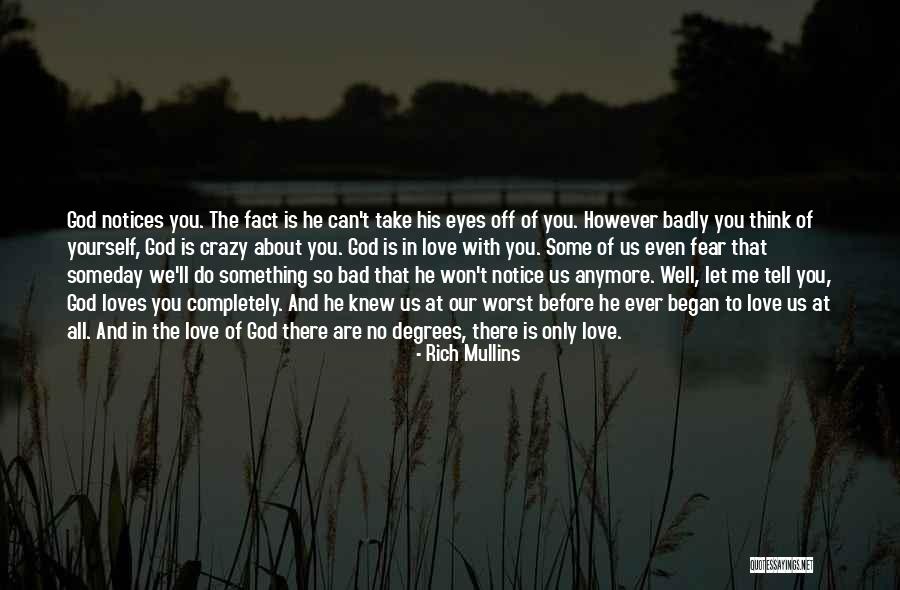 God notices you. The fact is he can't take his eyes off of you. However badly you think of yourself, God is crazy about you. God is in love with you. Some of us even fear that someday we'll do something so bad that he won't notice us anymore. Well, let me tell you, God loves you completely. And he knew us at our worst before he ever began to love us at all. And in the love of God there are no degrees, there is only love. — Rich Mullins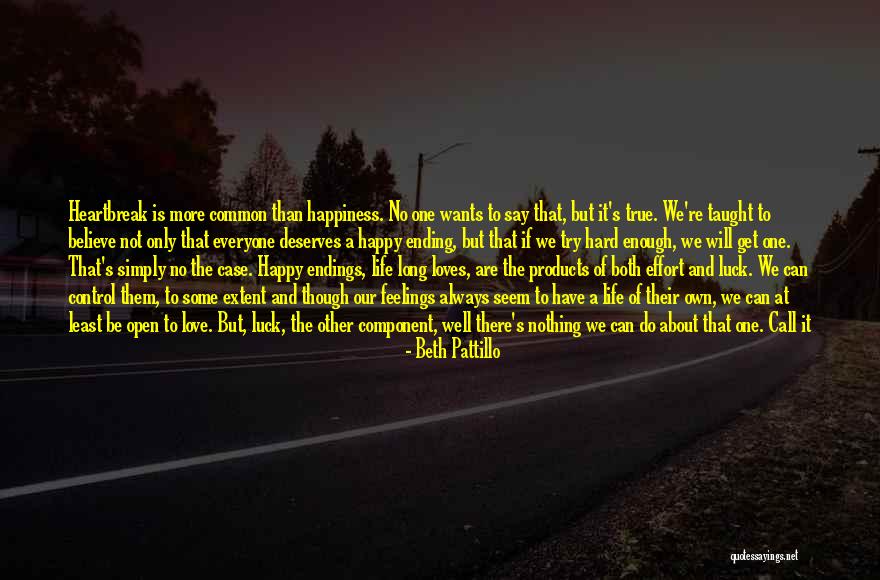 Heartbreak is more common than happiness. No one wants to say that, but it's true. We're taught to believe not only that everyone deserves a happy ending, but that if we try hard enough, we will get one. That's simply no the case. Happy endings, life long loves, are the products of both effort and luck. We can control them, to some extent and though our feelings always seem to have a life of their own, we can at least be open to love. But, luck, the other component, well there's nothing we can do about that one. Call it God's plan or predestination or divine intervention, but we're all at its mercy. And sometimes God isn't very merciful. Jane taught me that. — Beth Pattillo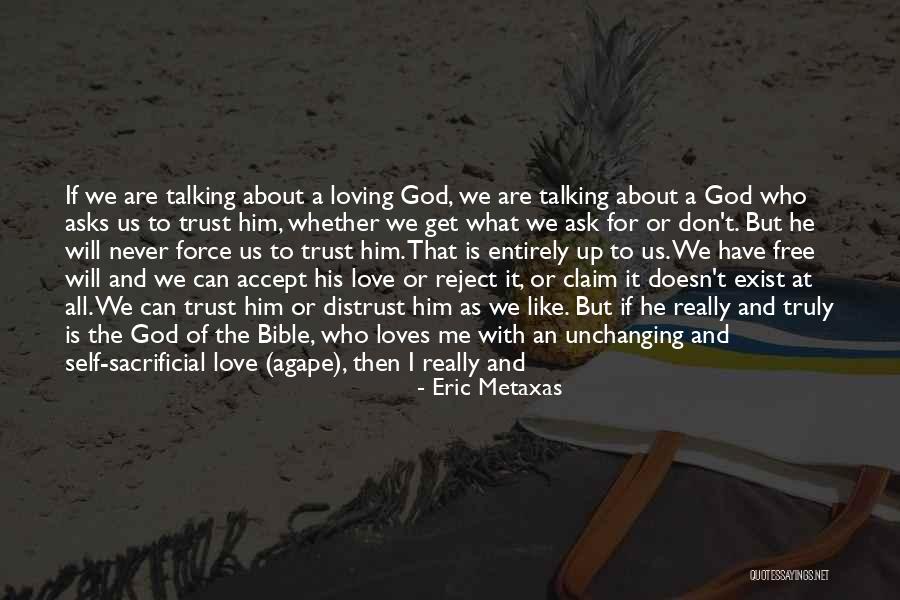 If we are talking about a loving God, we are talking about a God who asks us to trust him, whether we get what we ask for or don't. But he will never force us to trust him. That is entirely up to us. We have free will and we can accept his love or reject it, or claim it doesn't exist at all. We can trust him or distrust him as we like. But if he really and truly is the God of the Bible, who loves me with an unchanging and self-sacrificial love (agape), then I really and truly can trust him in all circumstances, which is tremendously freeing. In fact, I can go one step further than trusting him. To use a biblical phrase, I can rejoice in him. But is only possible if we really do know that God has our best interests at heart at all times. Of course, we have to decide on our own whether we believe that. But if we come to see that, that is true and do allow ourselves to believe it, we are precisely where he created us to be: in his loving hands. — Eric Metaxas