One Of The Worst Things In Life Quotes & Sayings
Enjoy reading and share 62 famous quotes about One Of The Worst Things In Life with everyone.
Top One Of The Worst Things In Life Quotes
There is something within our biological structure that screams out and says it is morally wrong for the old to outlive the young. This is one of the times when God doesn't seem to make sense. This is the worst that life gets. — Rick Atkinson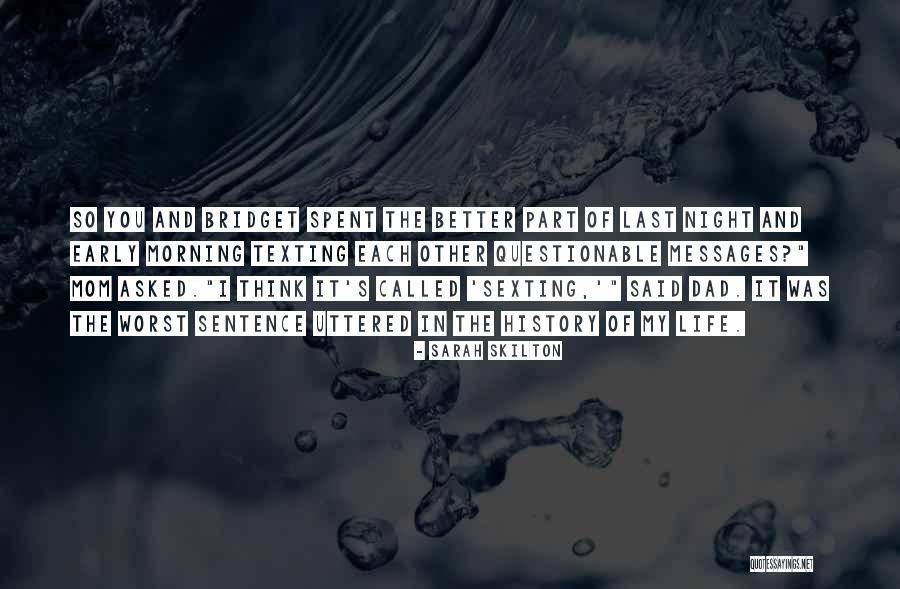 So you and Bridget spent the better part of last night and early morning texting each other questionable messages?" Mom asked.
"I think it's called 'sexting,'" said Dad. It was the worst sentence uttered in the history of my life. — Sarah Skilton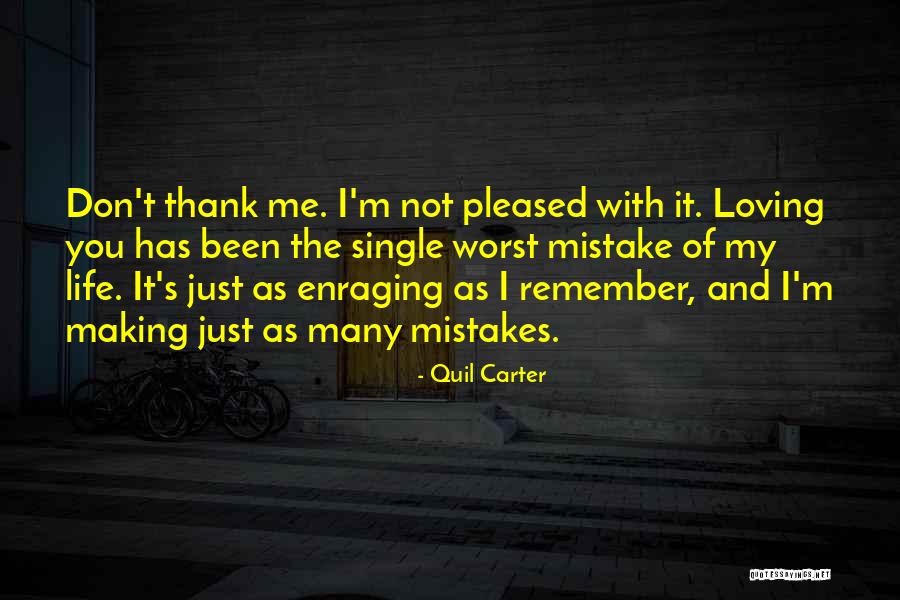 Don't thank me. I'm not pleased with it. Loving you has been the single worst mistake of my life. It's just as enraging as I remember, and I'm making just as many mistakes. — Quil Carter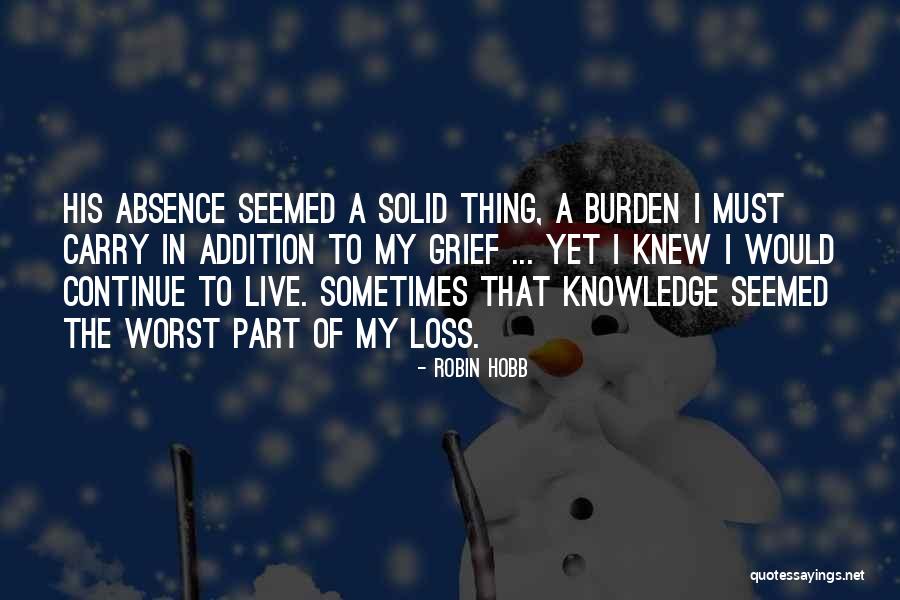 His absence seemed a solid thing, a burden I must carry in addition to my grief ... Yet I knew I would continue to live. Sometimes that knowledge seemed the worst part of my loss. — Robin Hobb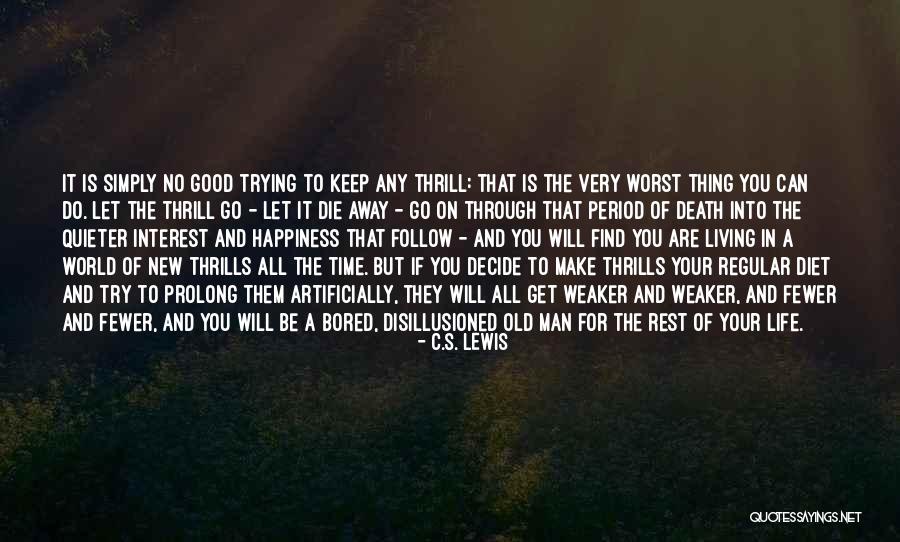 It is simply no good trying to keep any thrill: that is the very worst thing you can do. Let the thrill go - let it die away - go on through that period of death into the quieter interest and happiness that follow - and you will find you are living in a world of new thrills all the time. But if you decide to make thrills your regular diet and try to prolong them artificially, they will all get weaker and weaker, and fewer and fewer, and you will be a bored, disillusioned old man for the rest of your life. — C.S. Lewis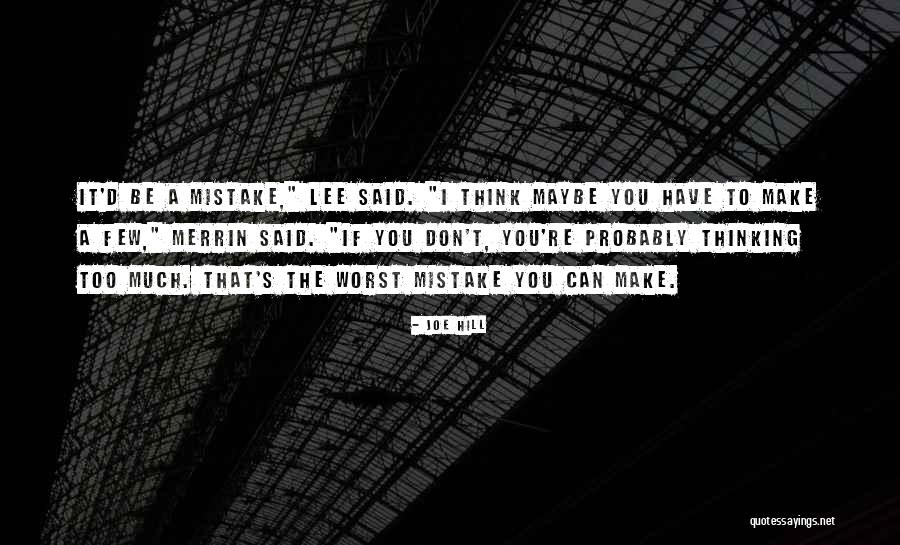 It'd be a mistake," Lee said. "I think maybe you have to make a few," Merrin said. "If you don't, you're probably thinking too much. That's the worst mistake you can make. — Joe Hill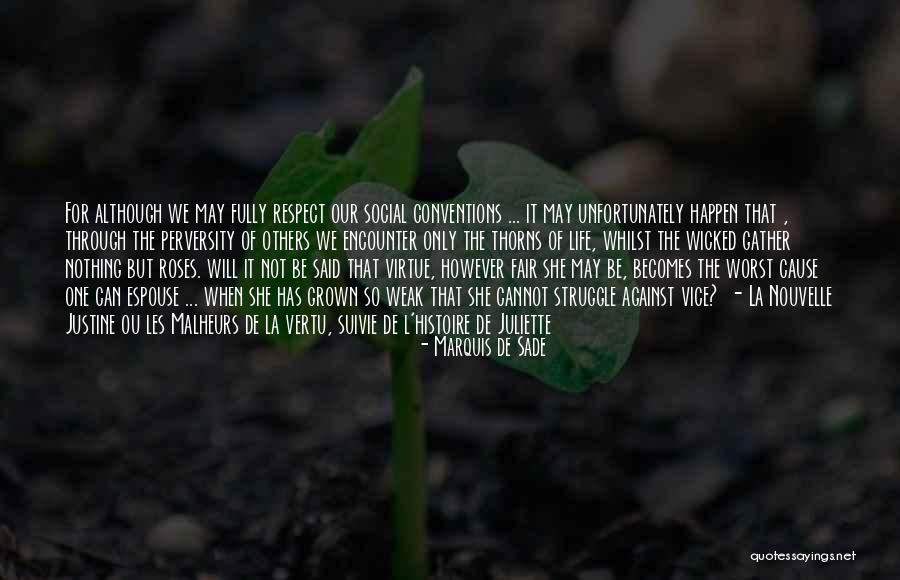 For although we may fully respect our social conventions ... it may unfortunately happen that , through the perversity of others we encounter only the thorns of life, whilst the wicked gather nothing but roses.
will it not be said that virtue, however fair she may be, becomes the worst cause one can espouse ... when she has grown so weak that she cannot struggle against vice?
- La Nouvelle Justine ou les Malheurs de la vertu, suivie de l'histoire de Juliette — Marquis De Sade
It's like when someone dies, the initial stages of grief seem to be the worst. But in some ways, it's sadder as time goes by and you consider how much they've missed in your life. In the world. — Emily Giffin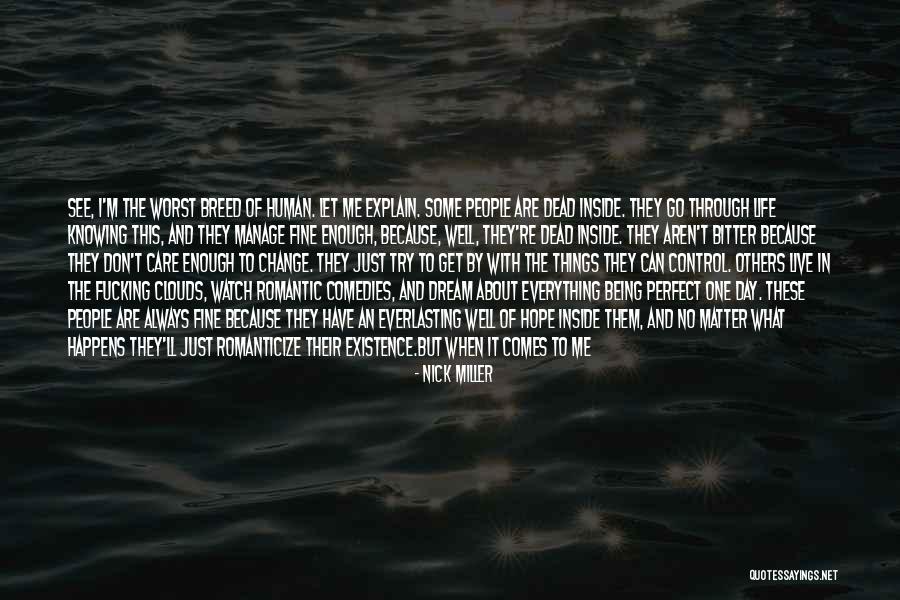 See, I'm the worst breed of human. Let me explain. Some people are dead inside. They go through life knowing this, and they manage fine enough, because, well, they're dead inside. They aren't bitter because they don't care enough to change. They just try to get by with the things they can control. Others live in the fucking clouds, watch romantic comedies, and dream about everything being perfect one day. These people are always fine because they have an everlasting well of hope inside them, and no matter what happens they'll just romanticize their existence.
But when it comes to me ... I'm someone who's mostly dead inside but still has a little hope for something extraordinary, which, as I said, is the worst breed of human, because it means that I know everything is bullshit, but that I secretly hope for the day when it might not be. The tension makes me wish I were just completely dead inside. It would makes things much easier for me. — Nick Miller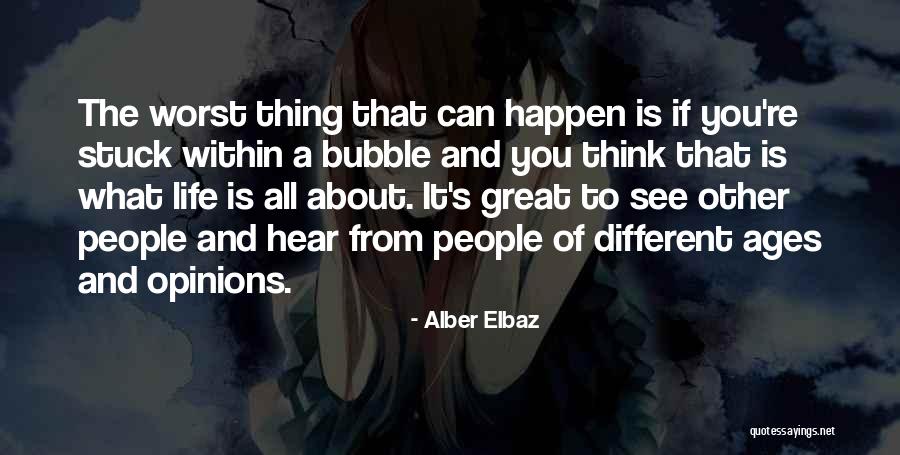 The worst thing that can happen is if you're stuck within a bubble and you think that is what life is all about. It's great to see other people and hear from people of different ages and opinions. — Alber Elbaz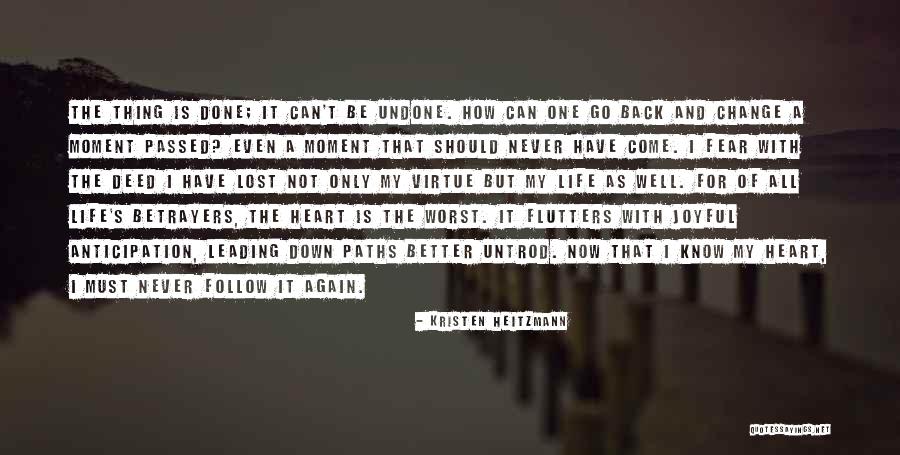 The thing is done; it can't be undone. How can one go back and change a moment passed? Even a moment that should never have come. I fear with the deed I have lost not only my virtue but my life as well. For of all life's betrayers, the heart is the worst. It flutters with joyful anticipation, leading down paths better untrod. Now that I know my heart, I must never follow it again. — Kristen Heitzmann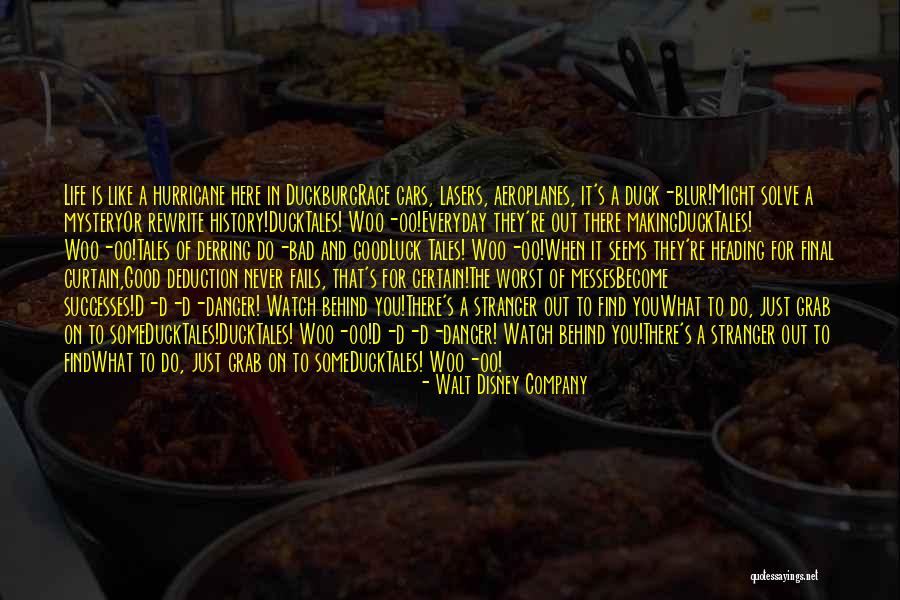 Life is like a hurricane here in Duckburg
Race cars, lasers, aeroplanes, it's a duck-blur!
Might solve a mystery
Or rewrite history!

DuckTales! Woo-oo!
Everyday they're out there making
DuckTales! Woo-oo!
Tales of derring do-bad and good
Luck Tales! Woo-oo!

When it seems they're heading for final curtain,
Good deduction never fails, that's for certain!
The worst of messes
Become successes!

D-d-d-danger! Watch behind you!
There's a stranger out to find you
What to do, just grab on to some
DuckTales!

DuckTales! Woo-oo!

D-d-d-danger! Watch behind you!
There's a stranger out to find
What to do, just grab on to some
DuckTales! Woo-oo! — Walt Disney Company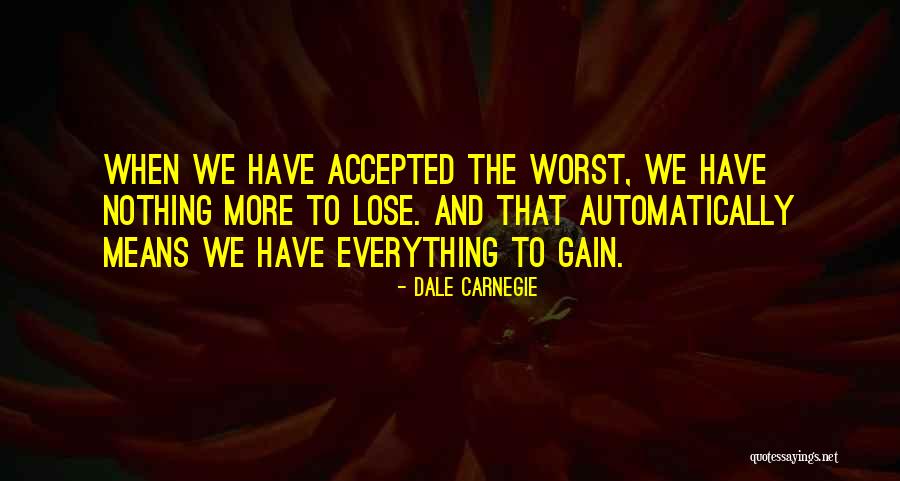 When we have accepted the worst, we have nothing more to lose. And that automatically means we have everything to gain. — Dale Carnegie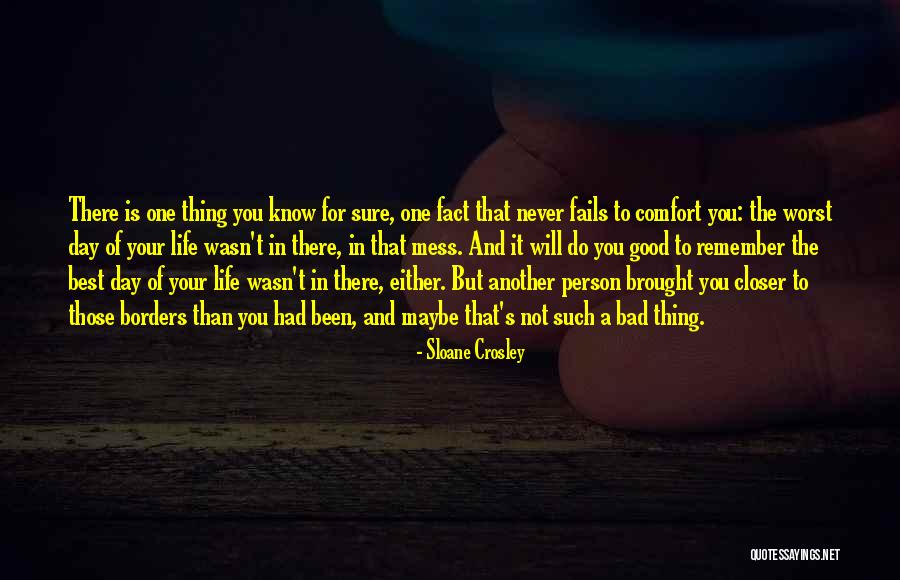 There is one thing you know for sure, one fact that never fails to comfort you: the worst day of your life wasn't in there, in that mess. And it will do you good to remember the best day of your life wasn't in there, either. But another person brought you closer to those borders than you had been, and maybe that's not such a bad thing. — Sloane Crosley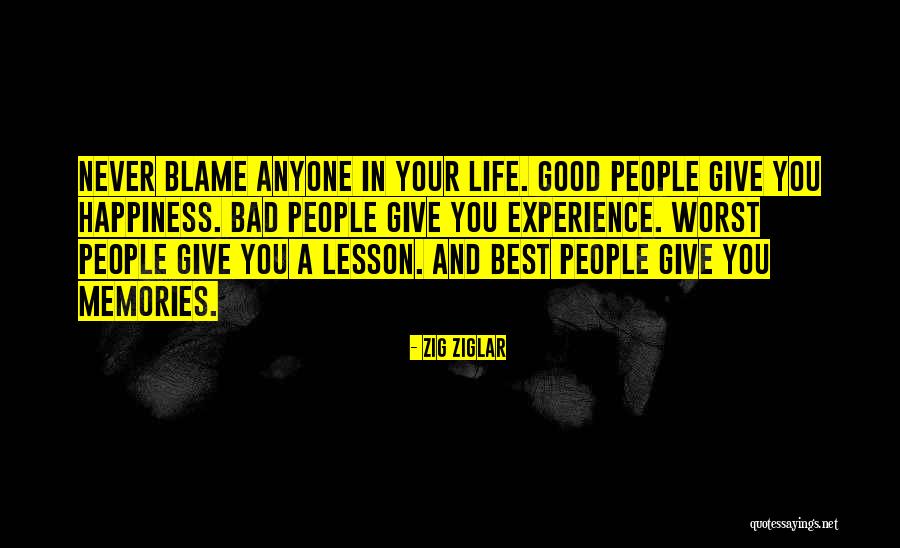 Never blame anyone in your life. Good people give you happiness. Bad people give you experience. Worst people give you a lesson. And best people give you memories. — Zig Ziglar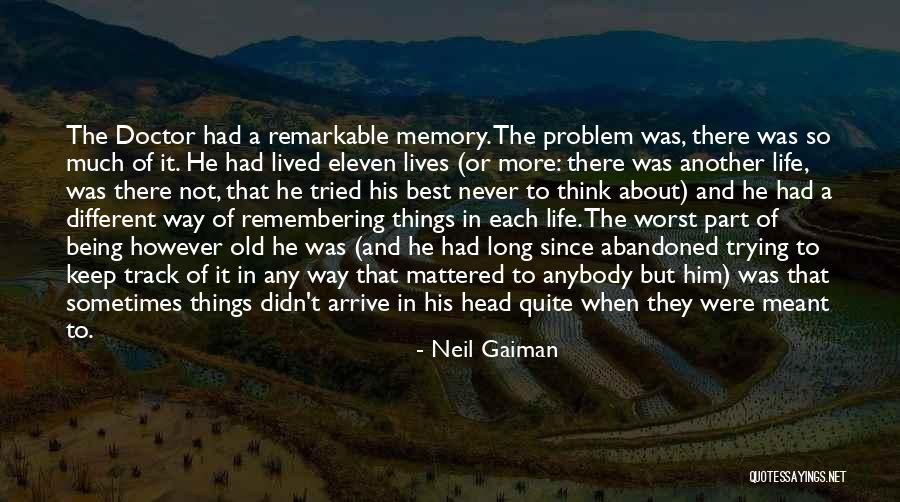 The Doctor had a remarkable memory. The problem was, there was so much of it. He had lived eleven lives (or more: there was another life, was there not, that he tried his best never to think about) and he had a different way of remembering things in each life.
The worst part of being however old he was (and he had long since abandoned trying to keep track of it in any way that mattered to anybody but him) was that sometimes things didn't arrive in his head quite when they were meant to. — Neil Gaiman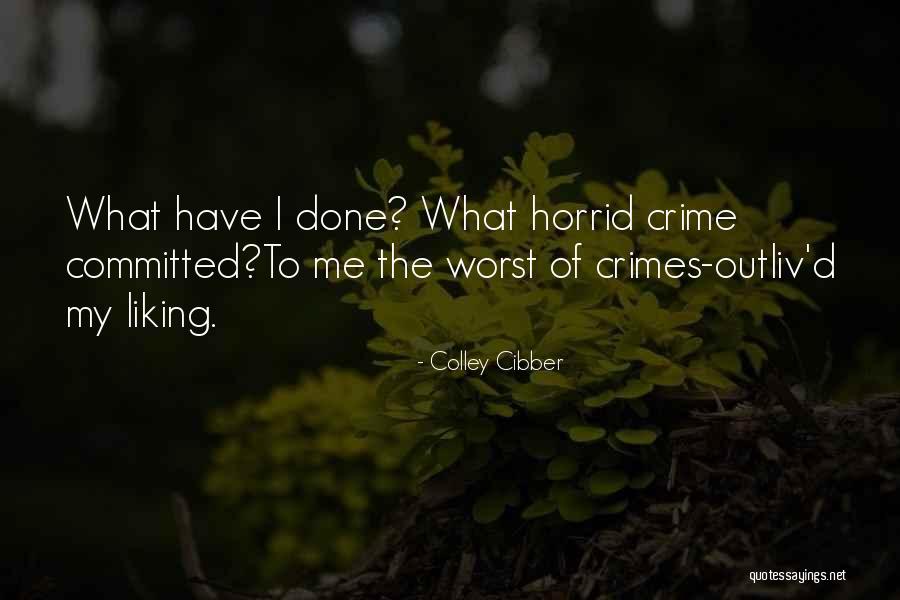 What have I done? What horrid crime committed?
To me the worst of crimes-outliv'd my liking. — Colley Cibber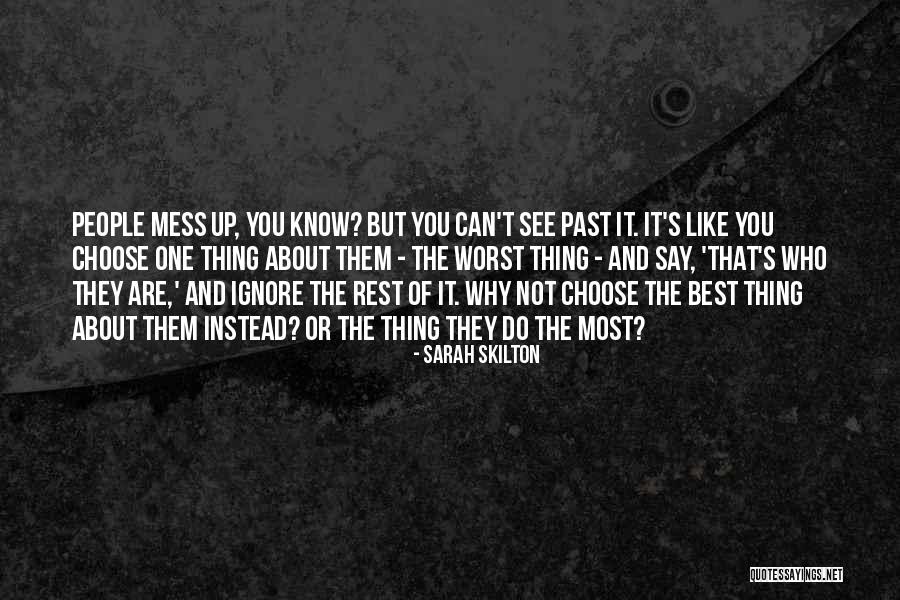 People mess up, you know? But you can't see past it. It's like you choose one thing about them - the worst thing - and say, 'That's who they are,' and ignore the rest of it. Why not choose the best thing about them instead? Or the thing they do the most? — Sarah Skilton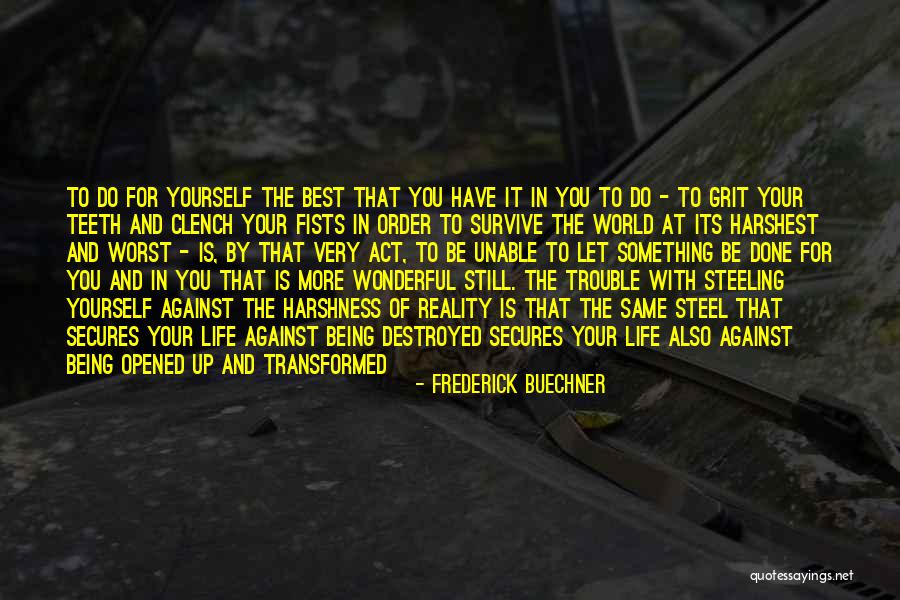 To do for yourself the best that you have it in you to do - to grit your teeth and clench your fists in order to survive the world at its harshest and worst - is, by that very act, to be unable to let something be done for you and in you that is more wonderful still. The trouble with steeling yourself against the harshness of reality is that the same steel that secures your life against being destroyed secures your life also against being opened up and transformed — Frederick Buechner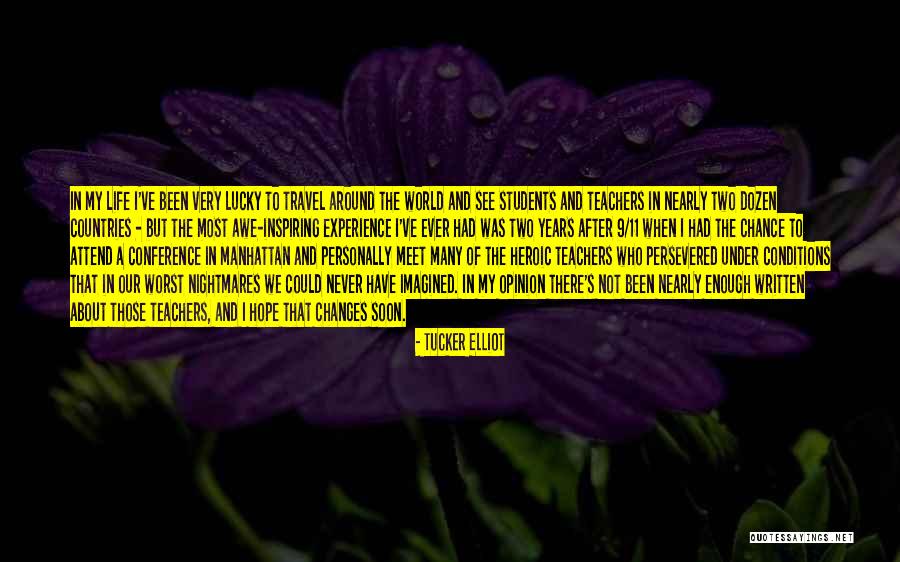 In my life I've been very lucky to travel around the world and see students and teachers in nearly two dozen countries - but the most awe-inspiring experience I've ever had was two years after 9/11 when I had the chance to attend a conference in Manhattan and personally meet many of the heroic teachers who persevered under conditions that in our worst nightmares we could never have imagined. In my opinion there's not been nearly enough written about those teachers, and I hope that changes soon. — Tucker Elliot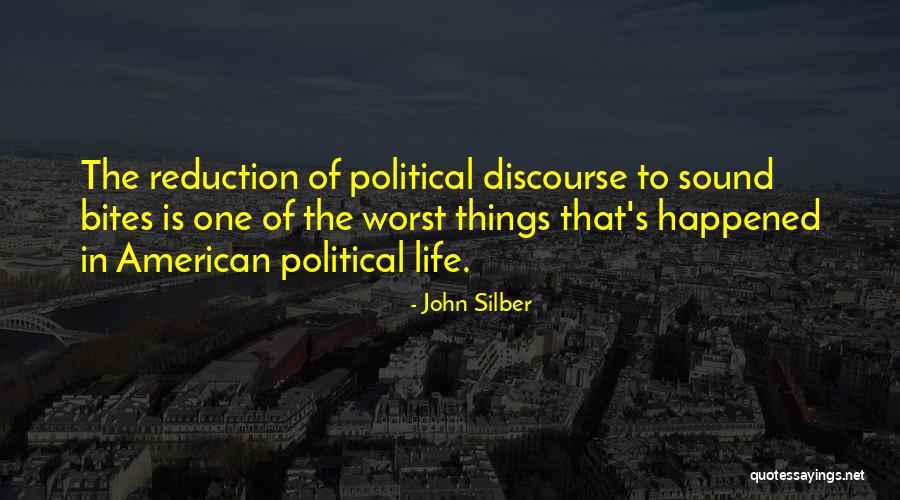 The reduction of political discourse to sound bites is one of the worst things that's happened in American political life. — John Silber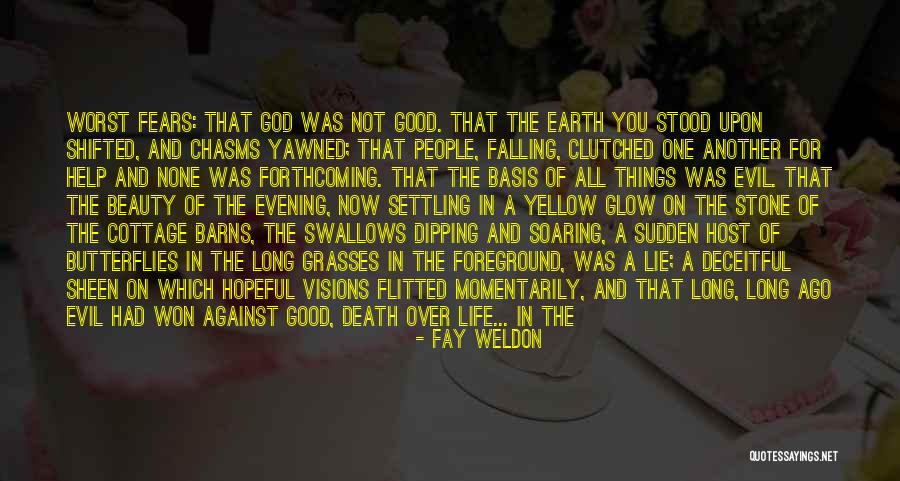 Worst fears: That God was not good. That the earth you stood upon shifted, and chasms yawned; that people, falling, clutched one another for help and none was forthcoming. That the basis of all things was evil. That the beauty of the evening, now settling in a yellow glow on the stone of The Cottage barns, the swallows dipping and soaring, a sudden host of butterflies in the long grasses in the foreground, was a lie; a deceitful sheen on which hopeful visions flitted momentarily, and that long, long ago evil had won against good, death over life... in the glow of the sun against the stone walls, as well as in the dancing of butterflies- that in this she had been mocked. — Fay Weldon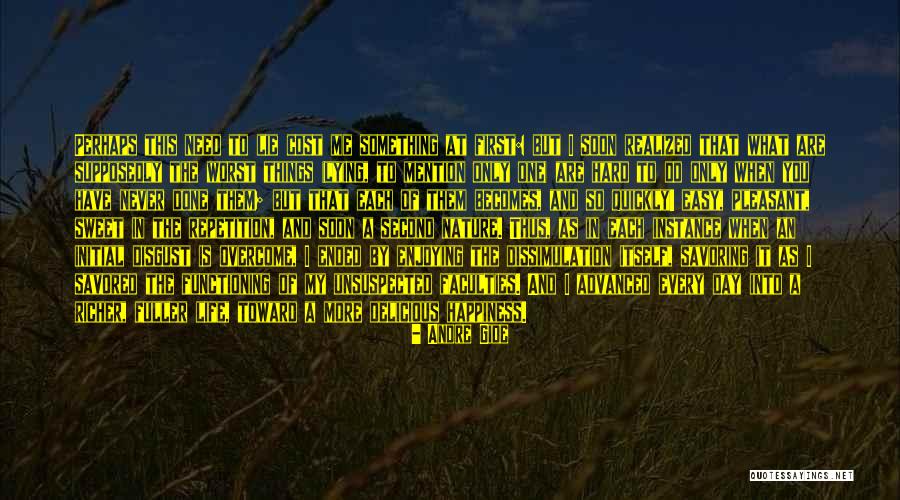 Perhaps this need to lie cost me something at first: but I soon realized that what are supposedly the worst things (lying, to mention only one) are hard to do only when you have never done them; but that each of them becomes, and so quickly! easy, pleasant, sweet in the repetition, and soon a second nature. Thus, as in each instance when an initial disgust is overcome, I ended by enjoying the dissimulation itself, savoring it as I savored the functioning of my unsuspected faculties. And I advanced every day into a richer, fuller life, toward a more delicious happiness. — Andre Gide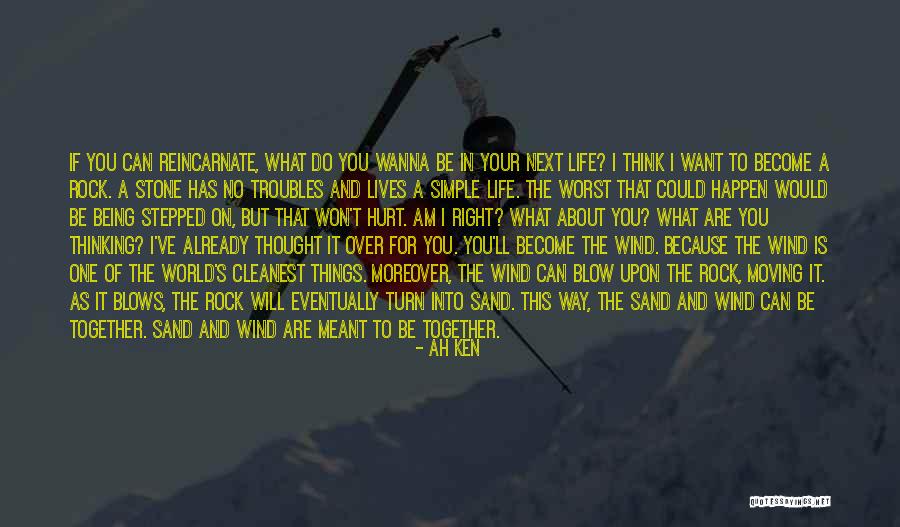 If you can reincarnate, what do you wanna be in your next life? I think I want to become a rock. A stone has no troubles and lives a simple life. The worst that could happen would be being stepped on, but that won't hurt. Am I right? What about you? What are you thinking? I've already thought it over for you. You'll become the wind. Because the wind is one of the world's cleanest things. Moreover, the wind can blow upon the rock, moving it. As it blows, the rock will eventually turn into sand. This way, the sand and wind can be together. Sand and wind are meant to be together. — Ah Ken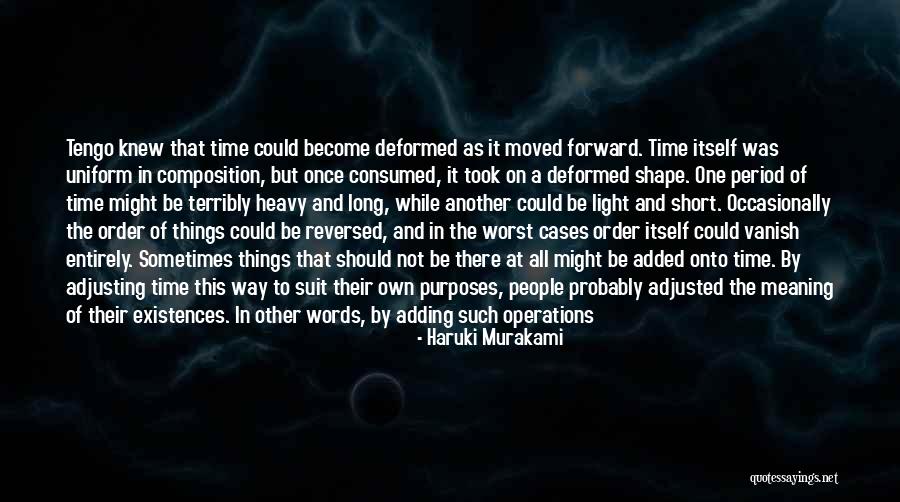 Tengo knew that time could become deformed as it moved forward. Time itself was uniform in composition, but once consumed, it took on a deformed shape. One period of time might be terribly heavy and long, while another could be light and short. Occasionally the order of things could be reversed, and in the worst cases order itself could vanish entirely. Sometimes things that should not be there at all might be added onto time. By adjusting time this way to suit their own purposes, people probably adjusted the meaning of their existences. In other words, by adding such operations to time, they were able - but just barely - to preserve their own sanity. Surely, if a person had to accept the time through which he had just passed uniformly in the given order, his nerves could not bear the strain. Such a life, Tengo felt, would be sheer torture. — Haruki Murakami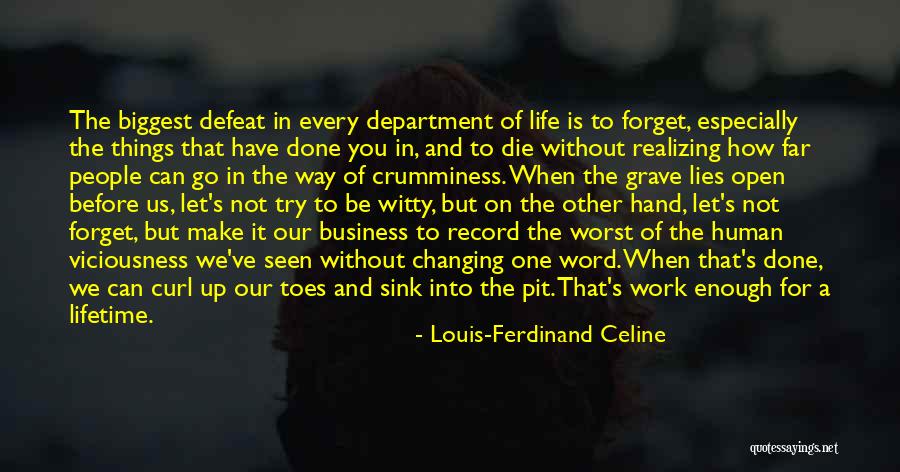 The biggest defeat in every department of life is to forget, especially the things that have done you in, and to die without realizing how far people can go in the way of crumminess. When the grave lies open before us, let's not try to be witty, but on the other hand, let's not forget, but make it our business to record the worst of the human viciousness we've seen without changing one word. When that's done, we can curl up our toes and sink into the pit. That's work enough for a lifetime. — Louis-Ferdinand Celine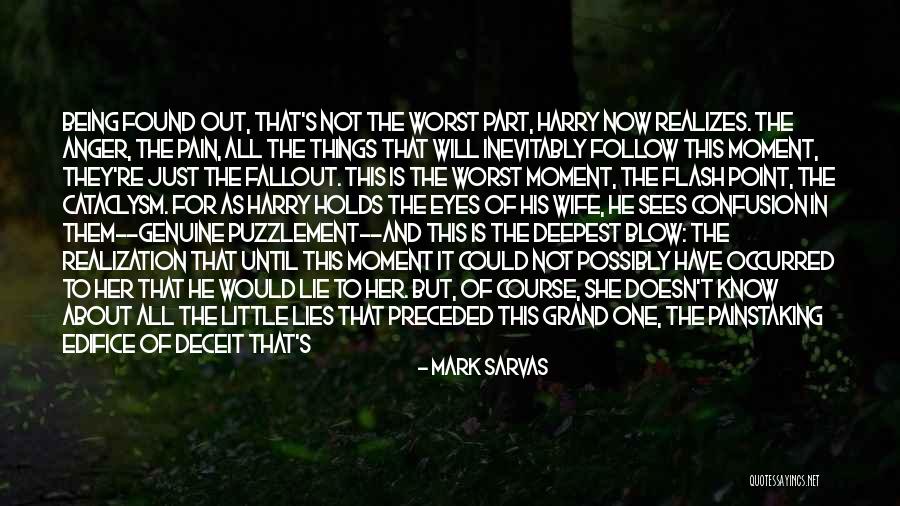 Being found out, that's not the worst part, Harry now realizes. The anger, the pain, all the things that will inevitably follow this moment, they're just the fallout. This is the worst moment, the flash point, the cataclysm. For as Harry holds the eyes of his wife, he sees confusion in them--genuine puzzlement--and this is the deepest blow: the realization that until this moment it could not possibly have occurred to her that he would lie to her. But, of course, she doesn't know about all the little lies that preceded this grand one, the painstaking edifice of deceit that's about to collapse. He has hurled a brick through her trust, and although he may spend the rest of his life collecting every last shard, massaging the creaky, fractured pane back into a whole, it will always be warped, irregular, distorting the view on both sides. — Mark Sarvas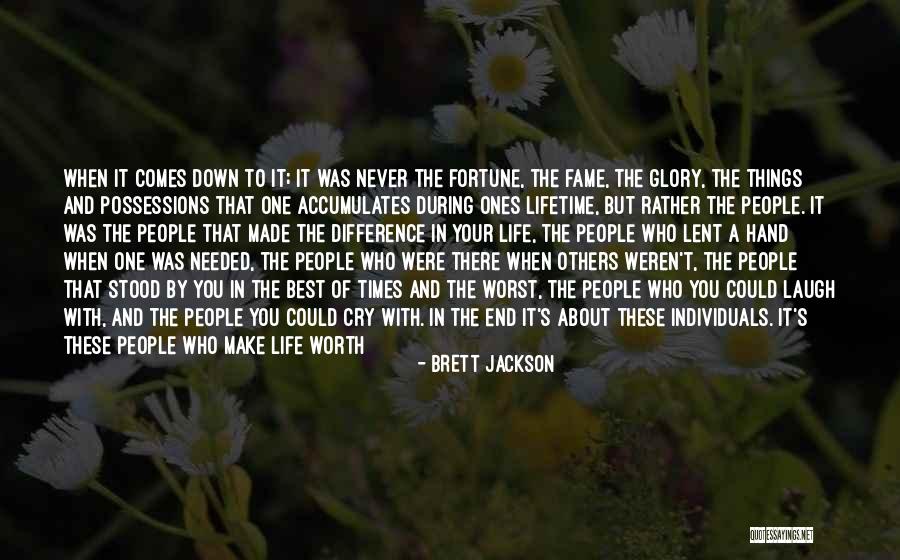 When it comes down to it; it was never the fortune, the fame, the glory, the things and possessions that one accumulates during ones lifetime, but rather the people. It was the people that made the difference in your life, the people who lent a hand when one was needed, the people who were there when others weren't, the people that stood by you in the best of times and the worst, the people who you could laugh with, and the people you could cry with. In the end it's about these individuals. It's these people who make life worth living, and these people which cherish, represent, and define you the most. — Brett Jackson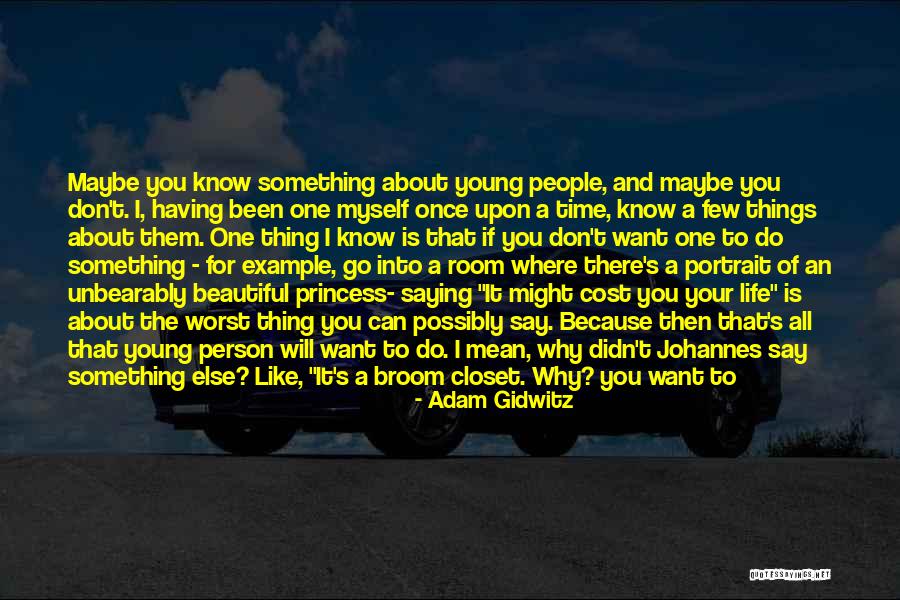 Maybe you know something about young people, and maybe you don't. I, having been one myself once upon a time, know a few things about them. One thing I know is that if you don't want one to do something - for example, go into a room where there's a portrait of an unbearably beautiful princess- saying "It might cost you your life" is about the worst thing you can possibly say. Because then that's all that young person will want to do.
I mean, why didn't Johannes say something else? Like, "It's a broom closet. Why? you want to see a broom closet?" Or, "It's a fake door, silly. For decoration." Or even, "It's the ladies' bathroom, Your Majesty. Best not go poking your head in there. — Adam Gidwitz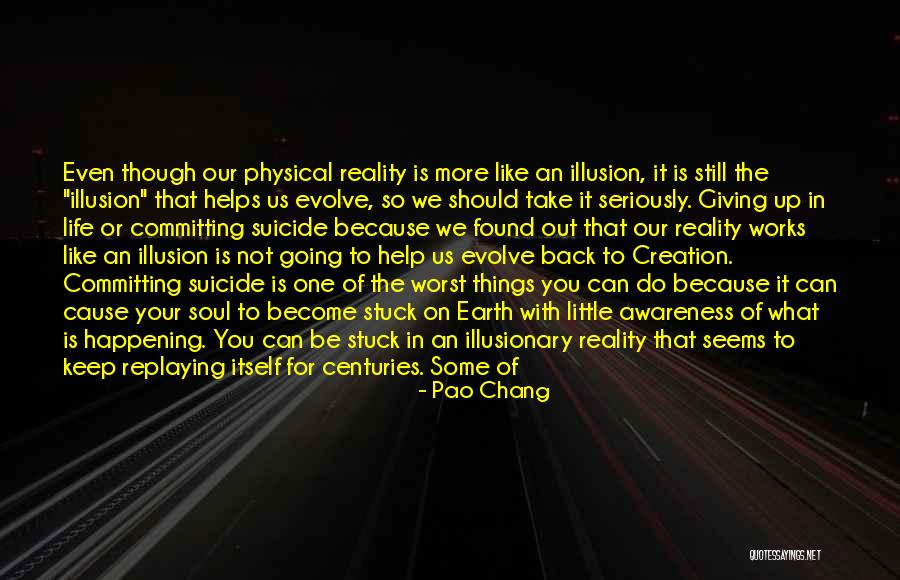 Even though our physical reality is more like an illusion, it is still the "illusion" that helps us evolve, so we should take it seriously. Giving up in life or committing suicide because we found out that our reality works like an illusion is not going to help us evolve back to Creation. Committing suicide is one of the worst things you can do because it can cause your soul to become stuck on Earth with little awareness of what is happening. You can be stuck in an illusionary reality that seems to keep replaying itself for centuries. Some of us like to refer to these lost souls as ghosts. Being in this lost state of awareness will not free you from pain and suffering, but will stunt your spiritual evolution which is one of the worst things you can do to your soul. DNA creates our external reality because — Pao Chang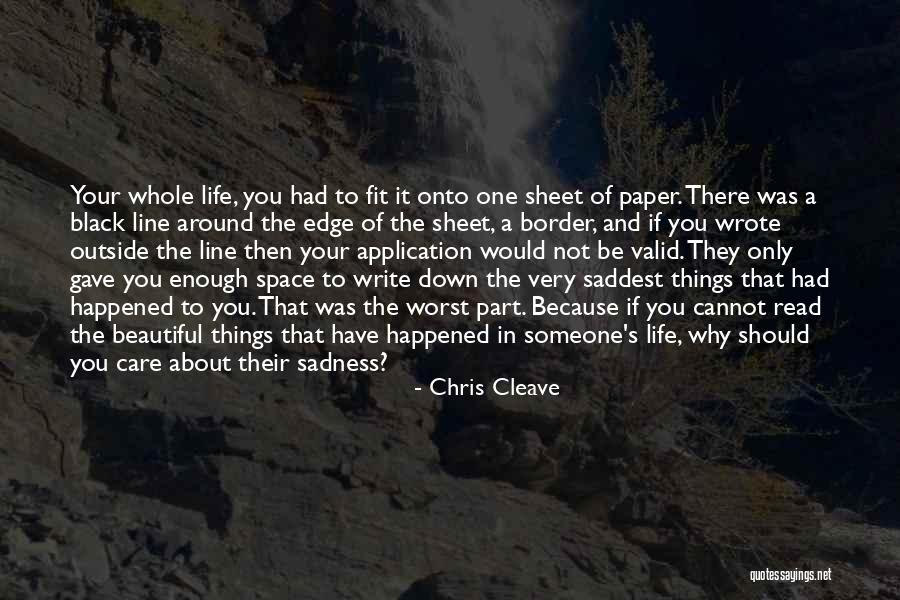 Your whole life, you had to fit it onto one sheet of paper. There was a black line around the edge of the sheet, a border, and if you wrote outside the line then your application would not be valid. They only gave you enough space to write down the very saddest things that had happened to you. That was the worst part. Because if you cannot read the beautiful things that have happened in someone's life, why should you care about their sadness? — Chris Cleave
And I know, knew for sure, with an absolute certainty, that this is rock bottom, this what the worst possible thing feels like. It is not some grand, wretched emotional breakdown. It is, in fact, so very mundane: ... Rock Bottom is an inability to cope with the commonplace that is so extreme it makes even the grandest and loveliest things unbearable ... Rock bottom is feeling that the only thing that matters in all of life is the one bad moment ... Rock bottom is everything out of focus. It's a failure of vision, a failure to see the world how it is, to see the good in what it is, and only to wonder why the hell things look the way they do and not - and not some other way. — Elizabeth Wurtzel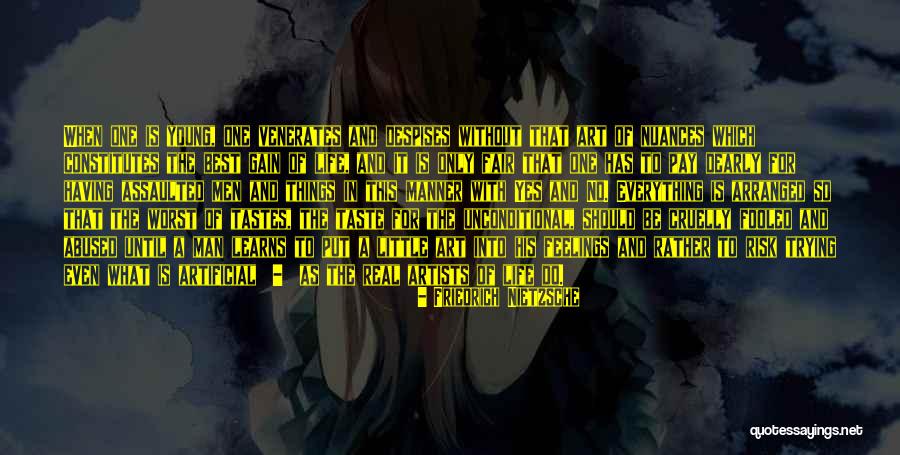 When one is young, one venerates and despises without that art of nuances which constitutes the best gain of life, and it is only fair that one has to pay dearly for having assaulted men and things in this manner with Yes and No. Everything is arranged so that the worst of tastes, the taste for the unconditional, should be cruelly fooled and abused until a man learns to put a little art into his feelings and rather to risk trying even what is artificial - as the real artists of life do. — Friedrich Nietzsche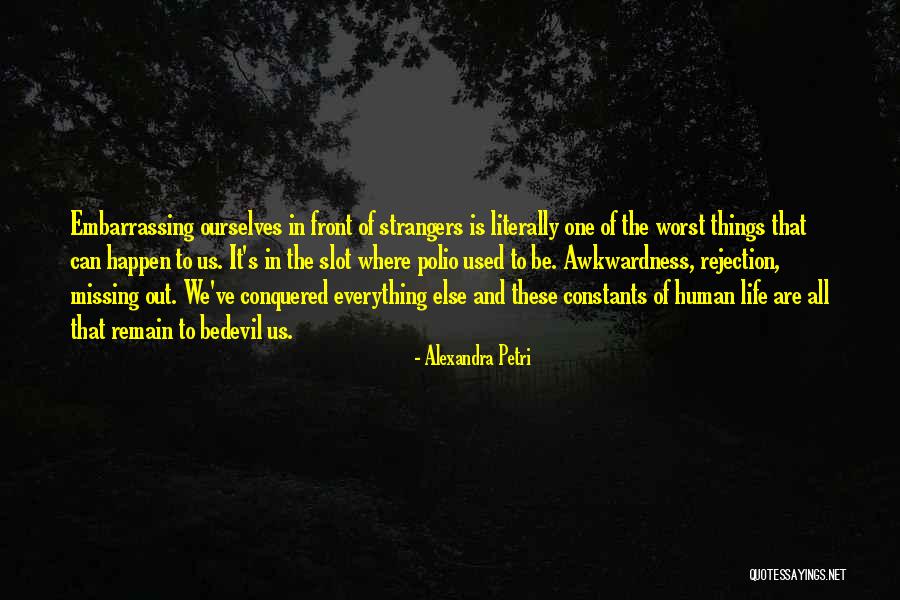 Embarrassing ourselves in front of strangers is literally one of the worst things that can happen to us. It's in the slot where polio used to be. Awkwardness, rejection, missing out. We've conquered everything else and these constants of human life are all that remain to bedevil us. — Alexandra Petri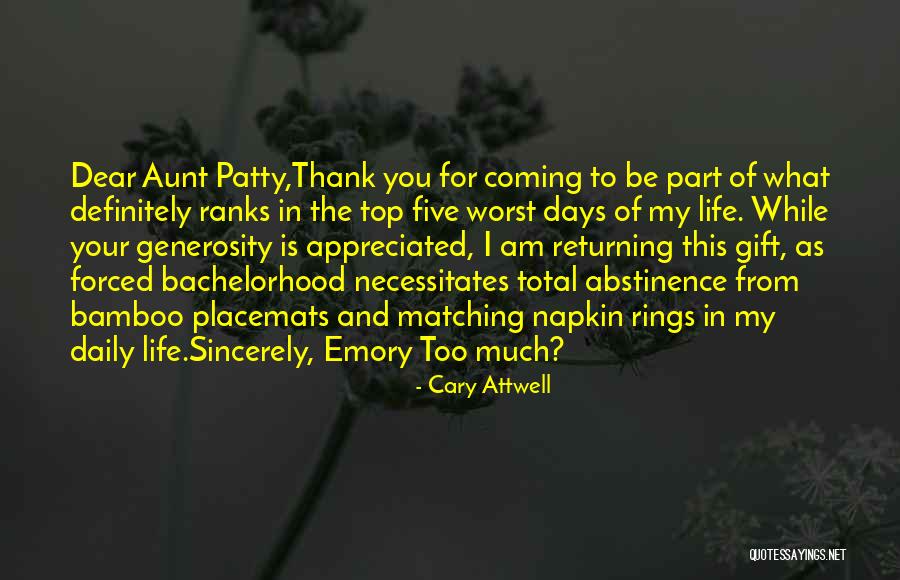 Dear Aunt Patty,
Thank you for coming to be part of what definitely ranks in the top five worst days of my life. While your generosity is appreciated, I am returning this gift, as forced bachelorhood necessitates total abstinence from bamboo placemats and matching napkin rings in my daily life.
Sincerely,
Emory
Too much? — Cary Attwell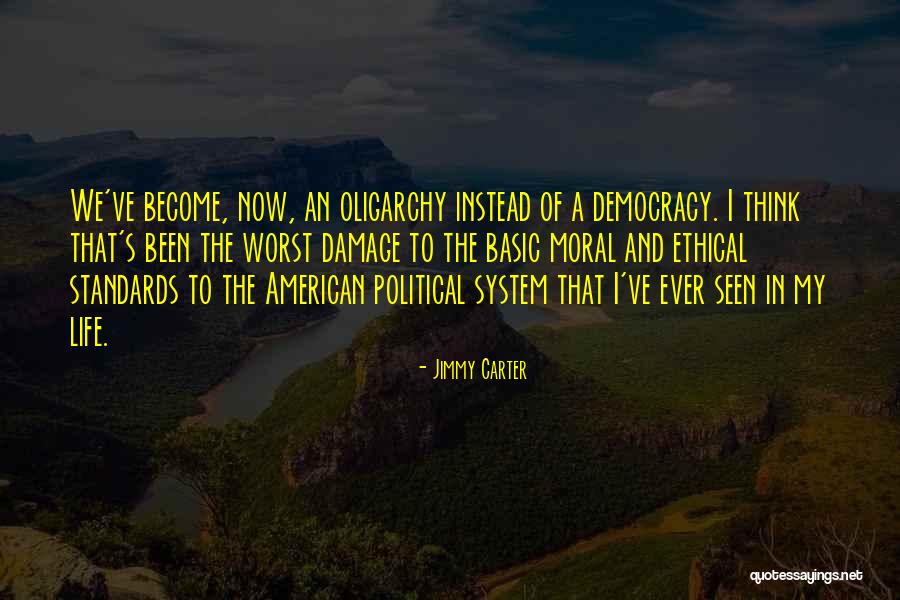 We've become, now, an oligarchy instead of a democracy. I think that's been the worst damage to the basic moral and ethical standards to the American political system that I've ever seen in my life. — Jimmy Carter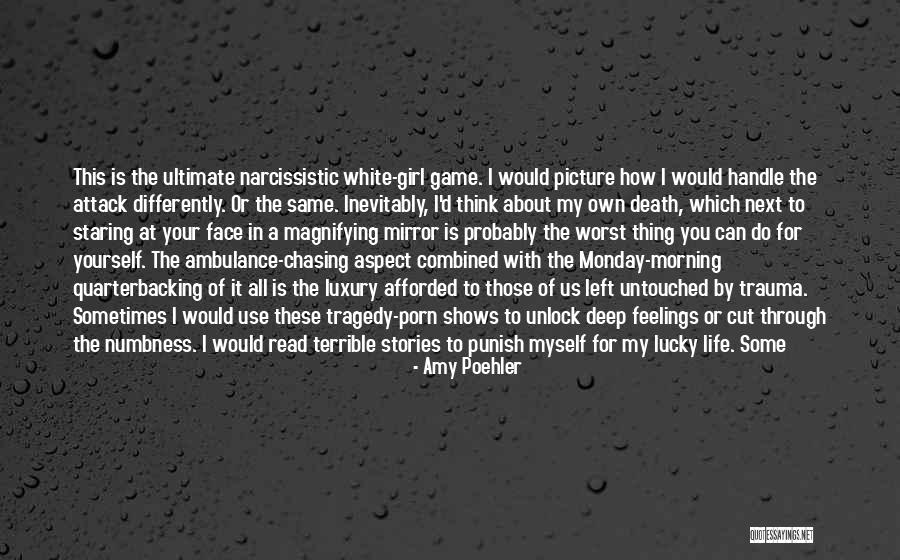 This is the ultimate narcissistic white-girl game. I would picture how I would handle the attack differently. Or the same. Inevitably, I'd think about my own death, which next to staring at your face in a magnifying mirror is probably the worst thing you can do for yourself. The ambulance-chasing aspect combined with the Monday-morning quarterbacking of it all is the luxury afforded to those of us left untouched by trauma. Sometimes I would use these tragedy-porn shows to unlock deep feelings or cut through the numbness. I would read terrible stories to punish myself for my lucky life. Some real deep Irish Catholic shit. Either way, it was all gross and all bad for my health. — Amy Poehler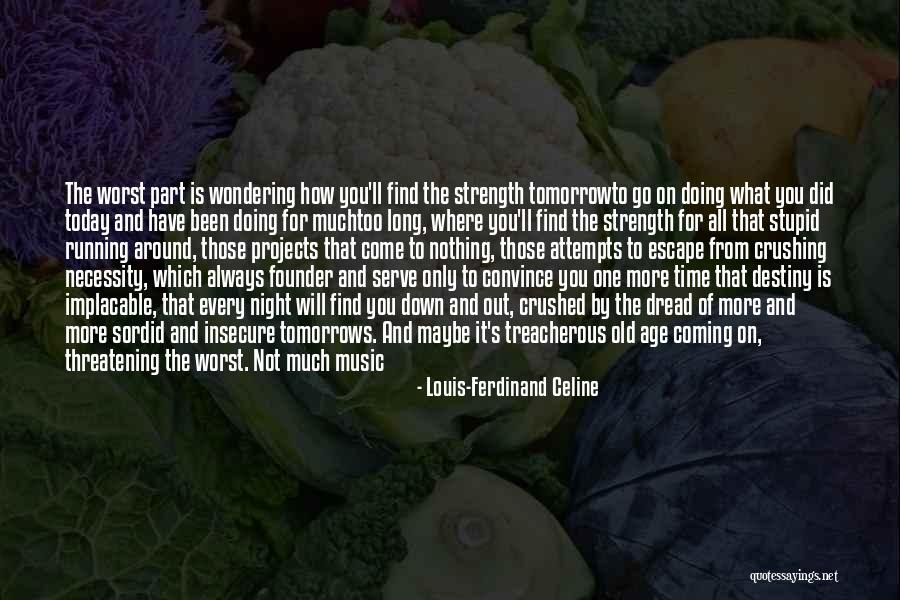 The worst part is wondering how you'll find the strength tomorrow
to go on doing what you did today and have been doing for much
too long, where you'll find the strength for all that stupid running around, those projects that come to nothing, those attempts to escape from crushing necessity, which always founder and serve only to convince you one more time that destiny is implacable, that every night will find you down and out, crushed by the dread of more and more sordid and insecure tomorrows. And maybe it's treacherous old age coming on, threatening the worst. Not much music left inside us for life to dance to. Our youth has gone to the ends of the earth to die in the silence of the truth. And where, I ask you, can a man escape to, when he hasn't enough madness left inside him? The truth is an endless death agony. The truth is death. You have to choose: death or lies. I've never been able to kill myself. — Louis-Ferdinand Celine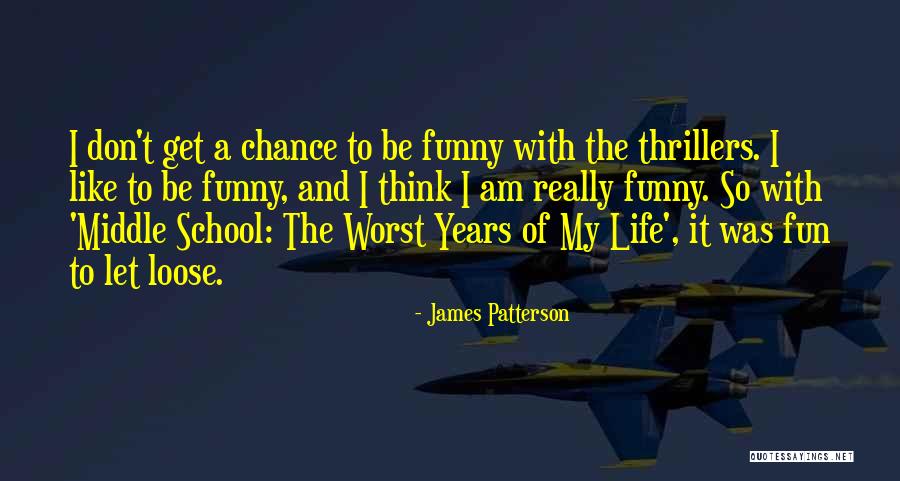 I don't get a chance to be funny with the thrillers. I like to be funny, and I think I am really funny. So with 'Middle School: The Worst Years of My Life', it was fun to let loose. — James Patterson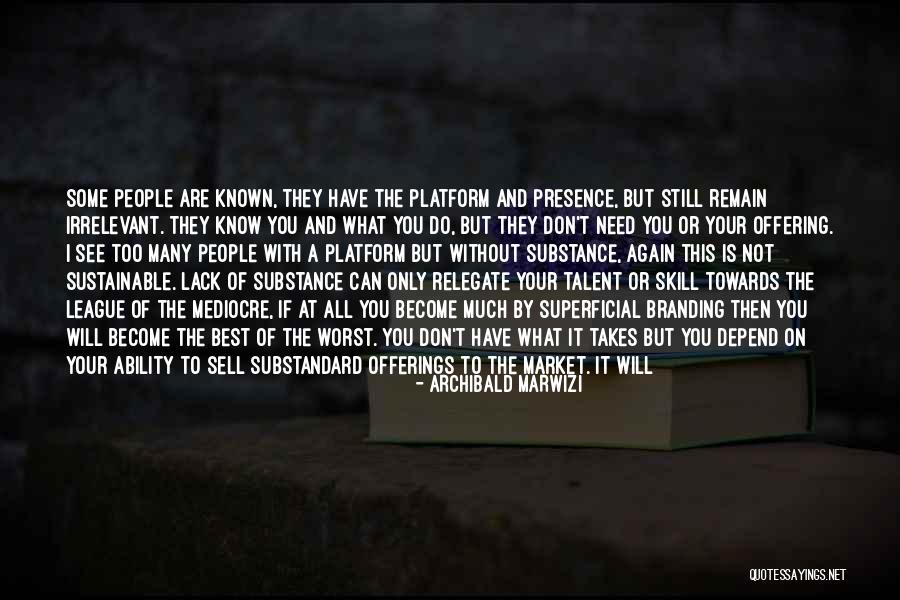 Some people are known, they have the platform and presence, but still remain irrelevant. They know you and what you do, but they don't need you or your offering. I see too many people with a platform but without substance, again this is not sustainable. Lack of substance can only relegate your talent or skill towards the league of the mediocre, if at all you become much by superficial branding then you will become the best of the worst. You don't have what it takes but you depend on your ability to sell substandard offerings to the market. It will not last for long, but quickly become irrelevant. — Archibald Marwizi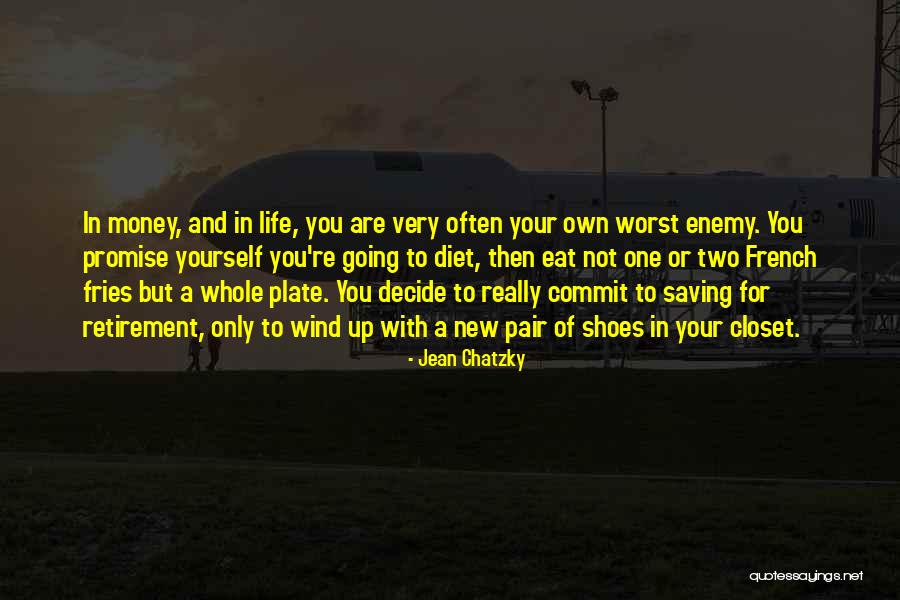 In money, and in life, you are very often your own worst enemy. You promise yourself you're going to diet, then eat not one or two French fries but a whole plate. You decide to really commit to saving for retirement, only to wind up with a new pair of shoes in your closet. — Jean Chatzky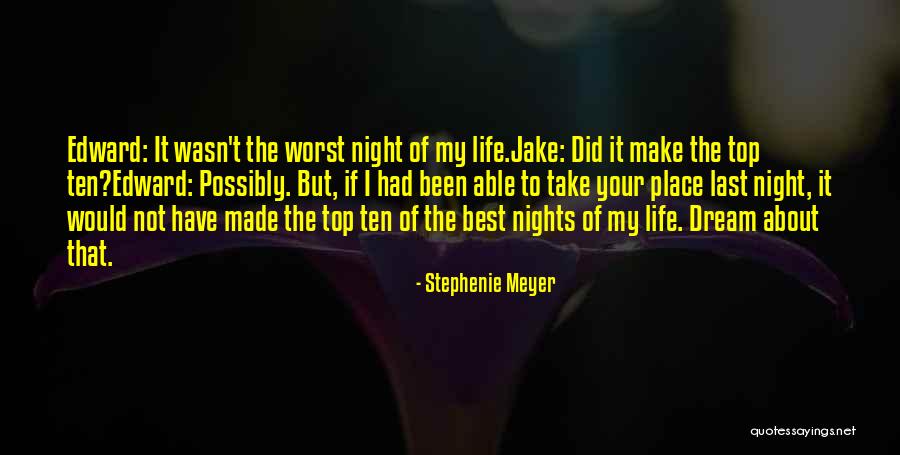 Edward: It wasn't the worst night of my life.
Jake: Did it make the top ten?
Edward: Possibly. But, if I had been able to take your place last night, it would not have made the top ten of the best nights of my life. Dream about that. — Stephenie Meyer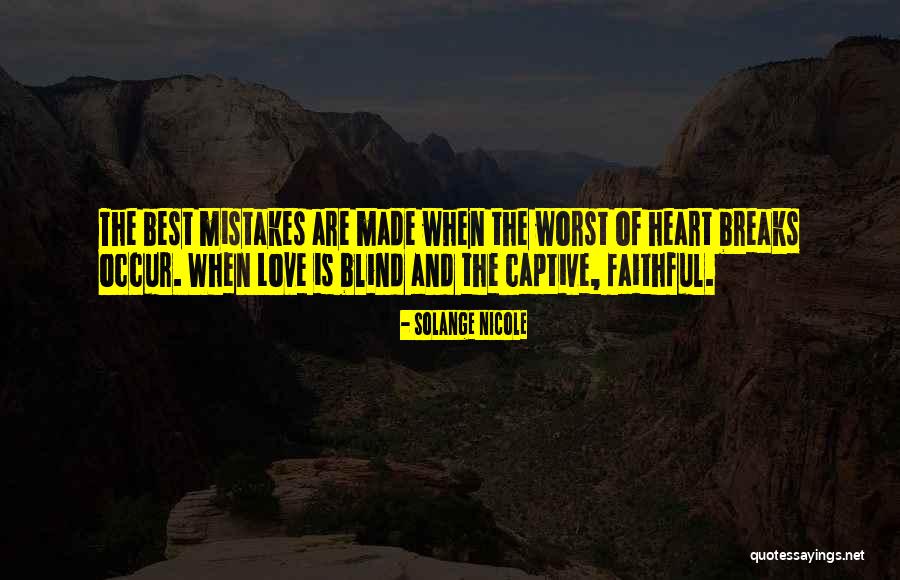 The best mistakes are made when the worst of heart breaks occur. When Love is blind and the captive, faithful. — Solange Nicole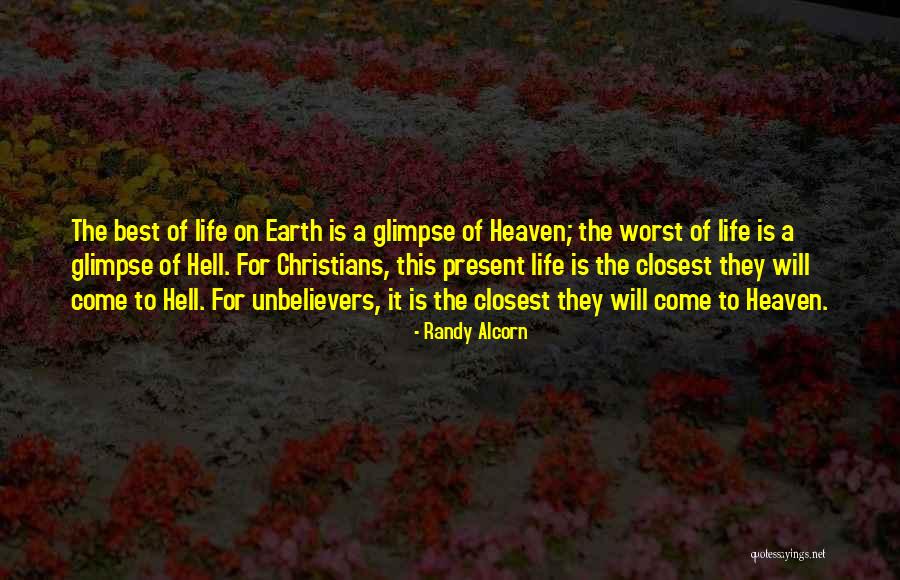 The best of life on Earth is a glimpse of Heaven; the worst of life is a glimpse of Hell. For Christians, this present life is the closest they will come to Hell. For unbelievers, it is the closest they will come to Heaven. — Randy Alcorn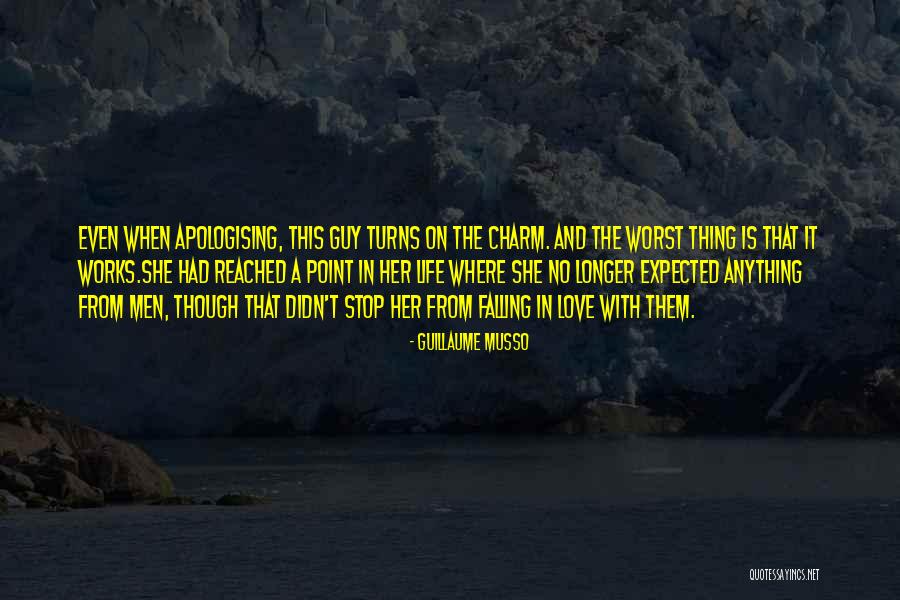 Even when apologising, this guy turns on the charm. And the worst thing is that it works.
She had reached a point in her life where she no longer expected anything from men, though that didn't stop her from falling in love with them. — Guillaume Musso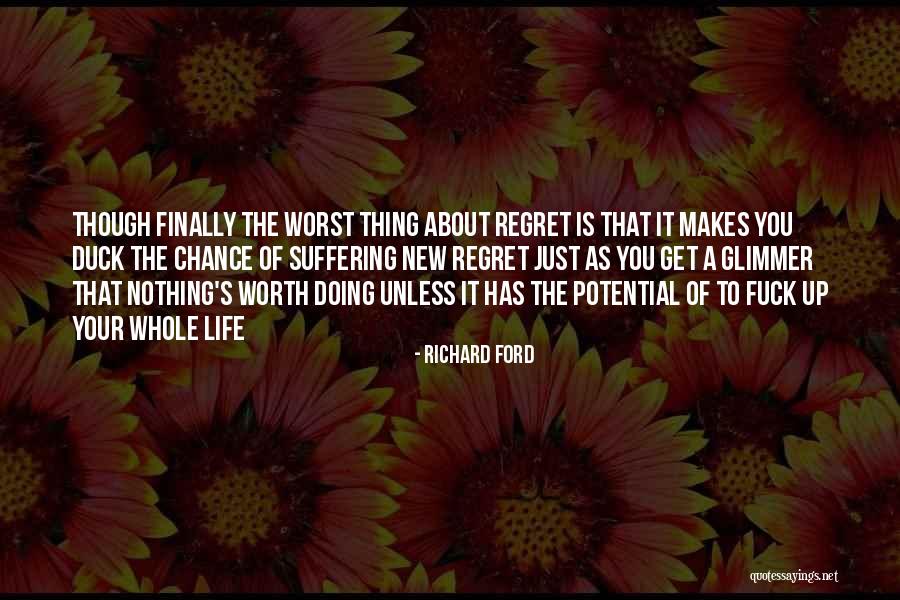 Though finally the worst thing about regret is that it makes you duck the chance of suffering new regret just as you get a glimmer that nothing's worth doing unless it has the potential of to fuck up your whole life — Richard Ford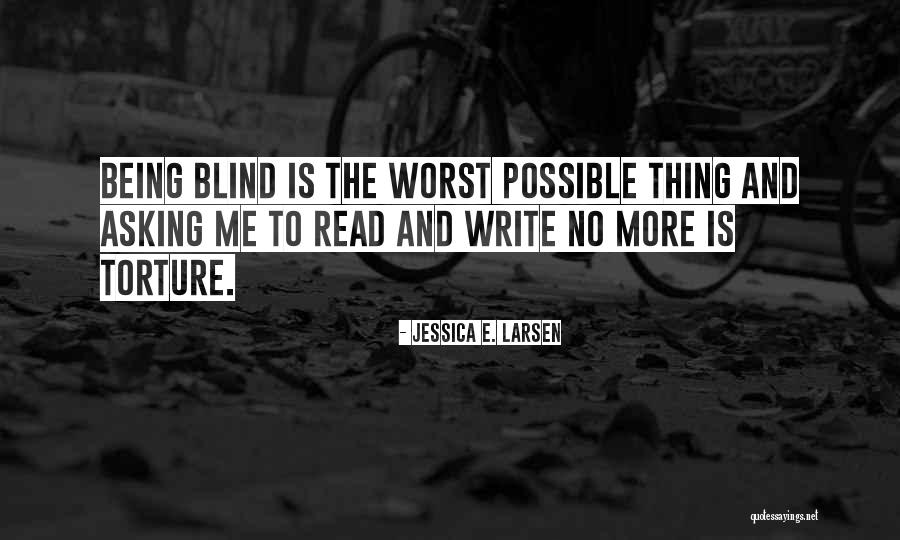 Being blind is the worst possible thing and asking me to read and write no more is torture. — Jessica E. Larsen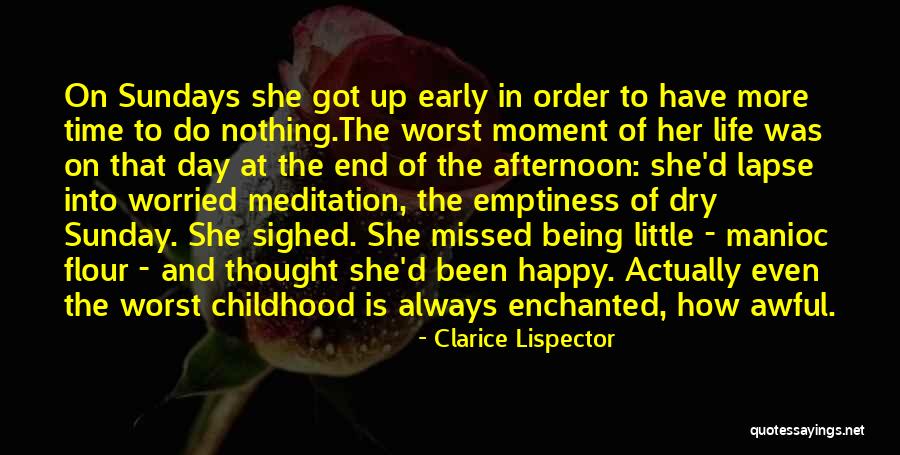 On Sundays she got up early in order to have more time to do nothing.
The worst moment of her life was on that day at the end of the afternoon: she'd lapse into worried meditation, the emptiness of dry Sunday. She sighed. She missed being little - manioc flour - and thought she'd been happy. Actually even the worst childhood is always enchanted, how awful. — Clarice Lispector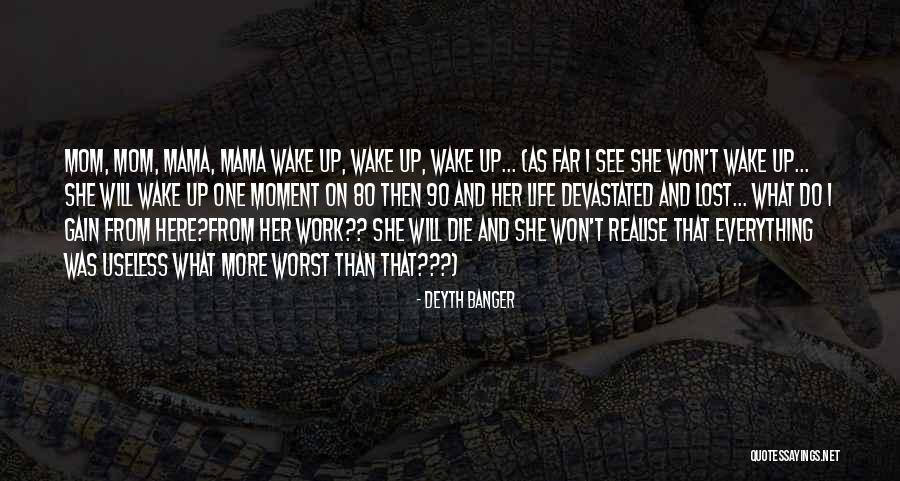 Mom, mom, mama, mama wake up, wake up, wake up... (As far I see she won't wake up... she will wake up one moment on 80 then 90 and her life devastated and lost... What do I gain from here?
From her work?? She will die and she won't realise that everything was useless what more worst than that???) — Deyth Banger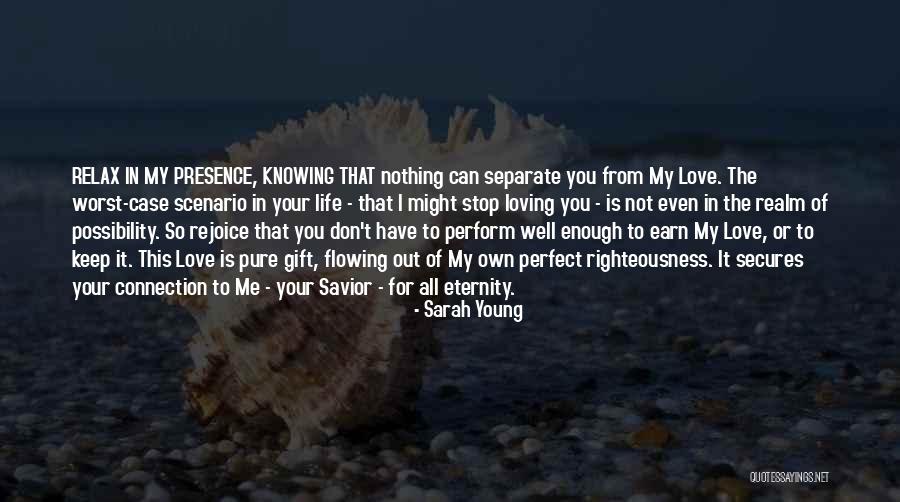 RELAX IN MY PRESENCE, KNOWING THAT nothing can separate you from My Love. The worst-case scenario in your life - that I might stop loving you - is not even in the realm of possibility. So rejoice that you don't have to perform well enough to earn My Love, or to keep it. This Love is pure gift, flowing out of My own perfect righteousness. It secures your connection to Me - your Savior - for all eternity. — Sarah Young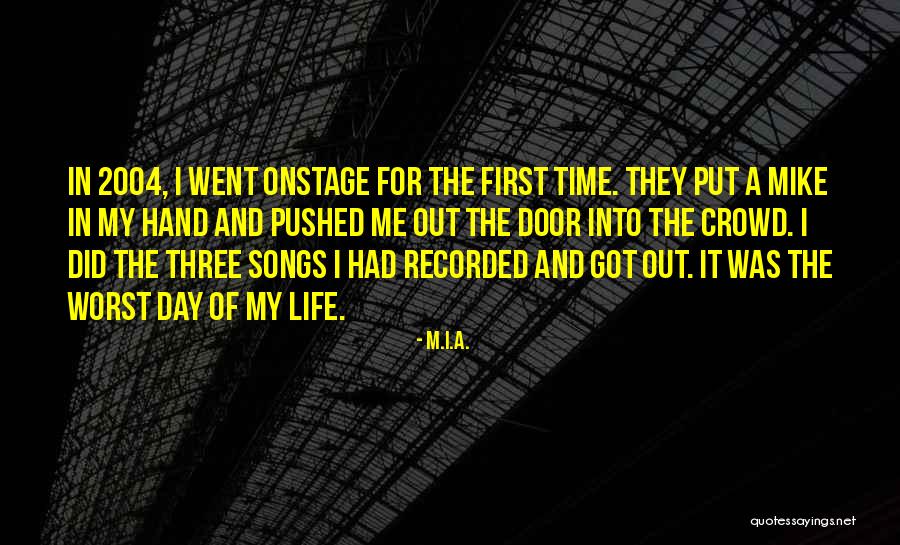 In 2004, I went onstage for the first time. They put a mike in my hand and pushed me out the door into the crowd. I did the three songs I had recorded and got out. It was the worst day of my life. — M.I.A.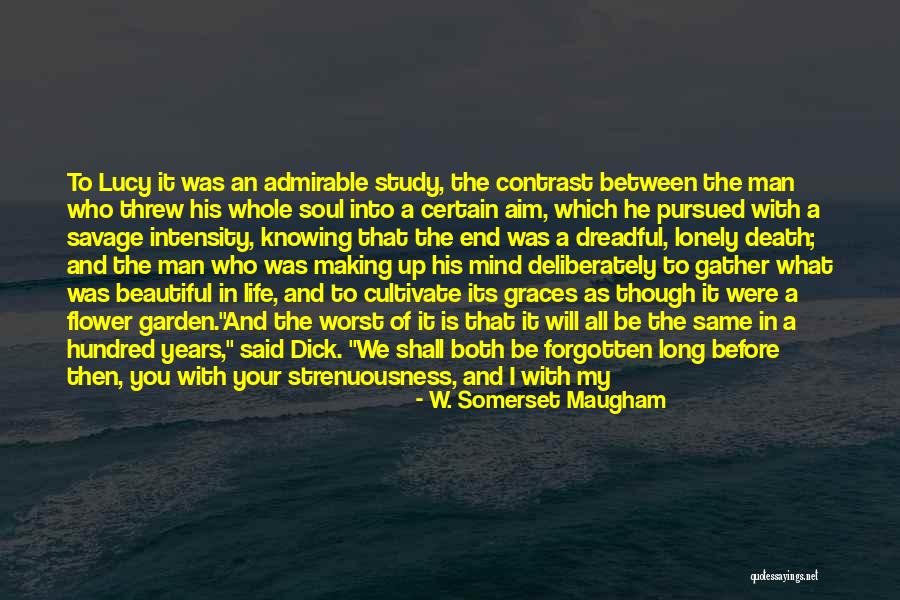 To Lucy it was an admirable study, the contrast between the man who threw his whole soul into a certain aim, which he pursued with a savage intensity, knowing that the end was a dreadful, lonely death; and the man who was making up his mind deliberately to gather what was beautiful in life, and to cultivate its graces as though it were a flower garden.
"And the worst of it is that it will all be the same in a hundred years," said Dick. "We shall both be forgotten long before then, you with your strenuousness, and I with my folly."
"And what conclusion do you draw from that?" asked Mrs. Crowley.
"Only that the psychological moment has arrived for a whisky and soda. — W. Somerset Maugham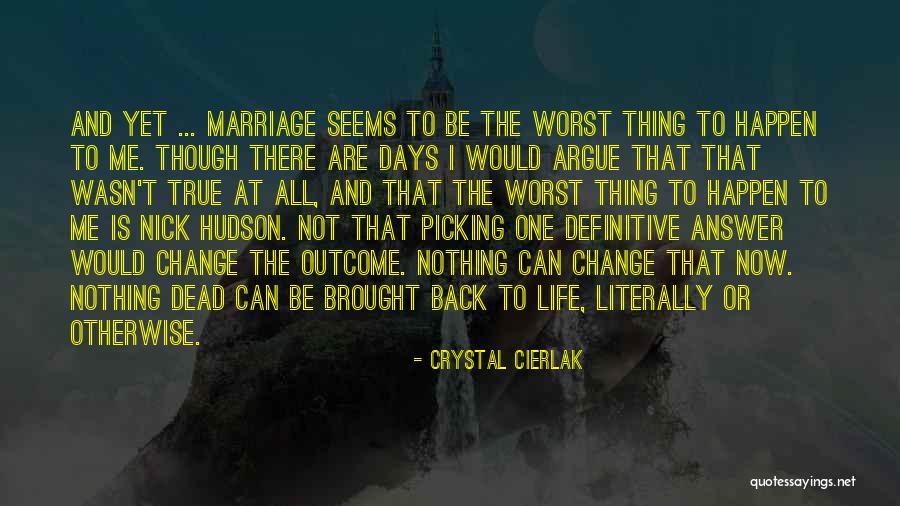 And yet ... marriage seems to be the worst thing to happen to me. Though there are days I would argue that that wasn't true at all, and that the worst thing to happen to me is Nick Hudson. Not that picking one definitive answer would change the outcome. Nothing can change that now. Nothing dead can be brought back to life, literally or otherwise. — Crystal Cierlak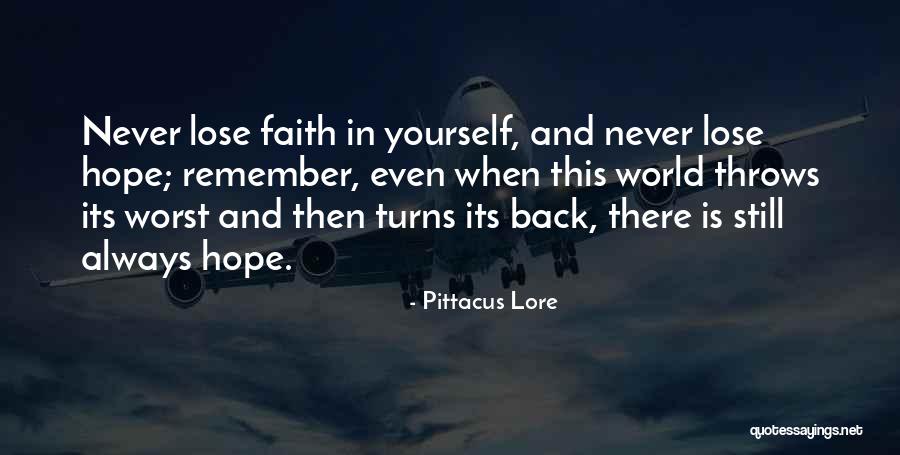 Never lose faith in yourself, and never lose hope; remember, even when this world throws its worst and then turns its back, there is still always hope. — Pittacus Lore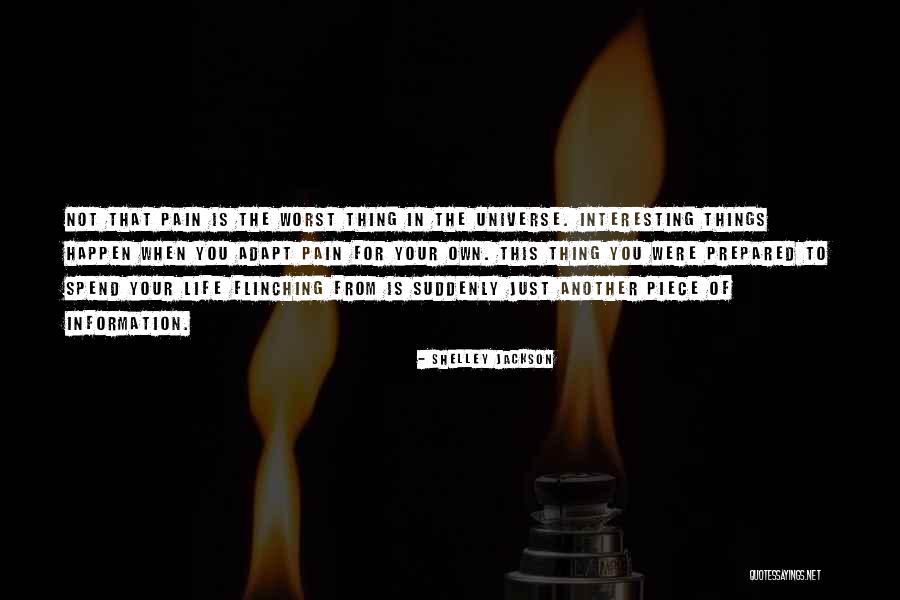 Not that pain is the worst thing in the universe. Interesting things happen when you adapt pain for your own. This thing you were prepared to spend your life flinching from is suddenly just another piece of information. — Shelley Jackson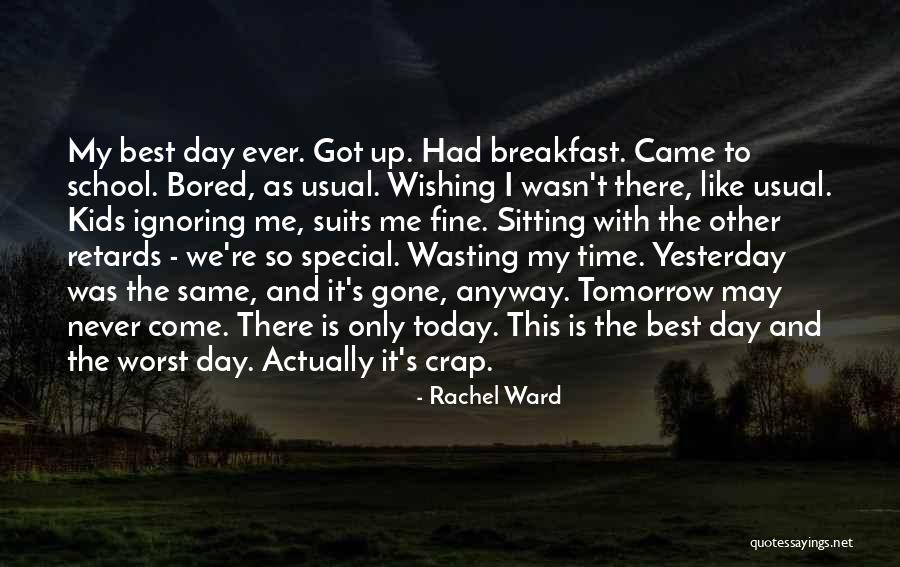 My best day ever. Got up. Had breakfast. Came to school. Bored, as usual. Wishing I wasn't there, like usual. Kids ignoring me, suits me fine. Sitting with the other retards - we're so special. Wasting my time. Yesterday was the same, and it's gone, anyway. Tomorrow may never come. There is only today. This is the best day and the worst day. Actually it's crap. — Rachel Ward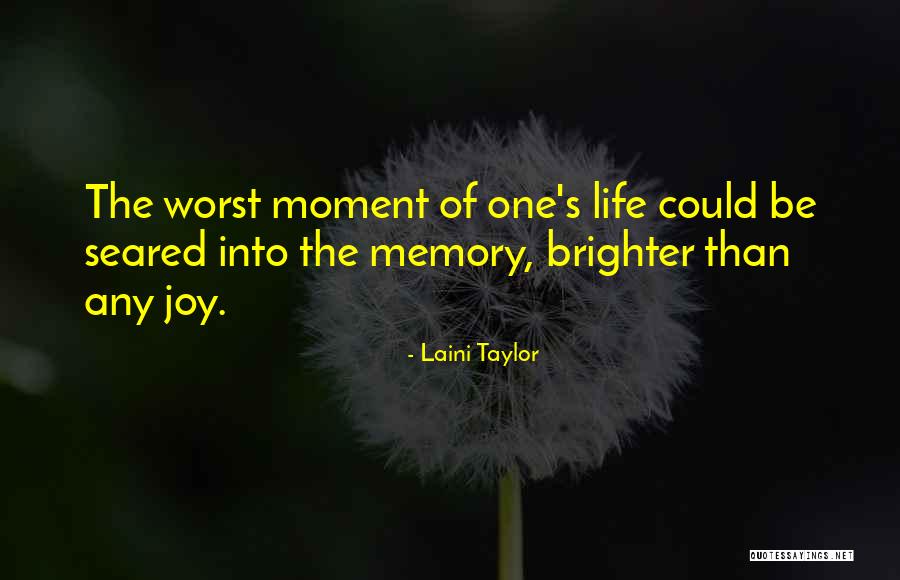 The worst moment of one's life could be seared into the memory, brighter than any joy. — Laini Taylor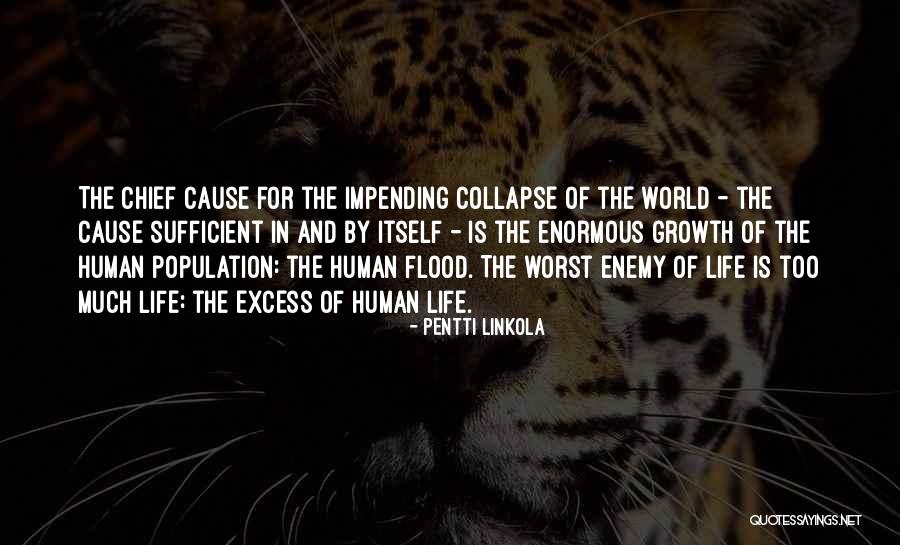 The chief cause for the impending collapse of the world - the cause sufficient in and by itself - is the enormous growth of the human population: the human flood. The worst enemy of life is too much life: the excess of human life. — Pentti Linkola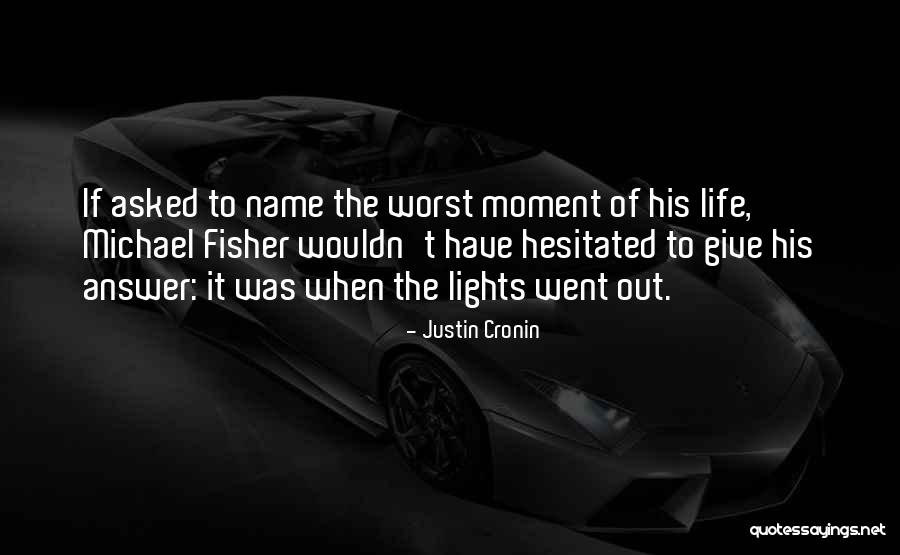 If asked to name the worst moment of his life, Michael Fisher wouldn't have hesitated to give his answer: it was when the lights went out. — Justin Cronin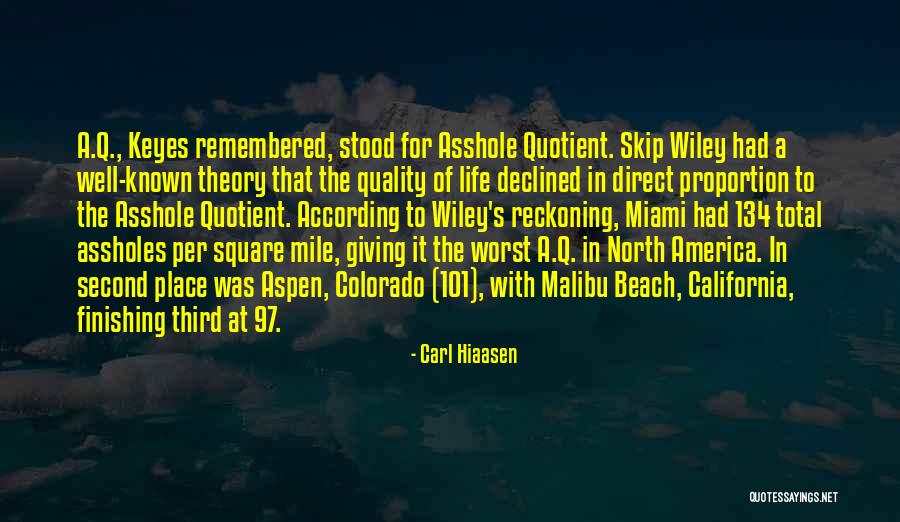 A.Q., Keyes remembered, stood for Asshole Quotient. Skip Wiley had a well-known theory that the quality of life declined in direct proportion to the Asshole Quotient. According to Wiley's reckoning, Miami had 134 total assholes per square mile, giving it the worst A.Q. in North America. In second place was Aspen, Colorado (101), with Malibu Beach, California, finishing third at 97. — Carl Hiaasen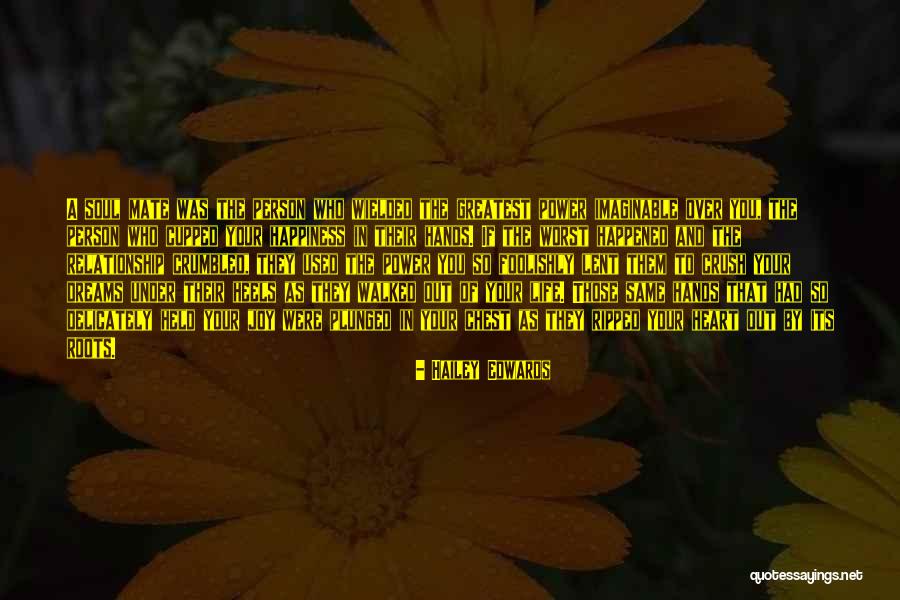 A soul mate was the person who wielded the greatest power imaginable over you, the person who cupped your happiness in their hands. If the worst happened and the relationship crumbled, they used the power you so foolishly lent them to crush your dreams under their heels as they walked out of your life. Those same hands that had so delicately held your joy were plunged in your chest as they ripped your heart out by its roots. — Hailey Edwards