Quotes & Sayings About Oceans And Waves
Enjoy reading and share 19 famous quotes about Oceans And Waves with everyone.
Top Oceans And Waves Quotes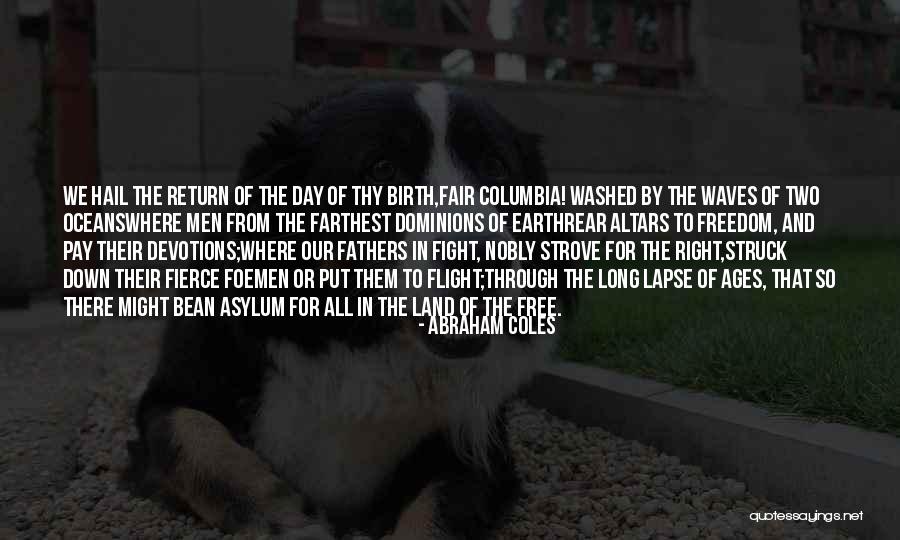 We hail the return of the day of thy birth,
Fair Columbia! washed by the waves of two oceans
Where men from the farthest dominions of earth
Rear altars to Freedom, and pay their devotions;
Where our fathers in fight, nobly strove for the Right,
Struck down their fierce foemen or put them to flight;
Through the long lapse of ages, that so there might be
An asylum for all in the Land of the Free. — Abraham Coles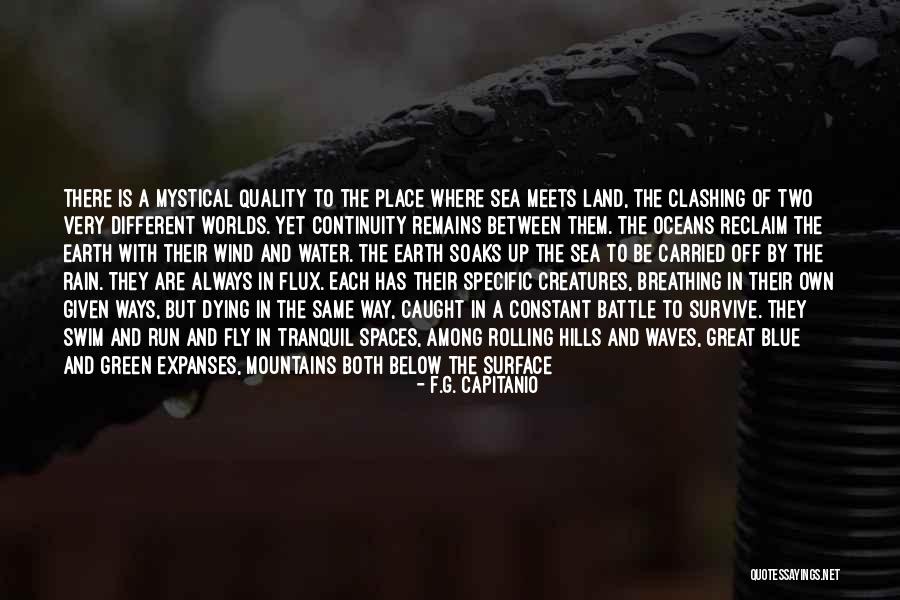 There is a mystical quality to the place where sea meets land, the clashing of two very different worlds. Yet continuity remains between them. The oceans reclaim the earth with their wind and water. The earth soaks up the sea to be carried off by the rain. They are always in flux. Each has their specific creatures, breathing in their own given ways, but dying in the same way, caught in a constant battle to survive. They swim and run and fly in tranquil spaces, among rolling hills and waves, great blue and green expanses, mountains both below the surface and above. And there is violence in their worlds. — F.G. Capitanio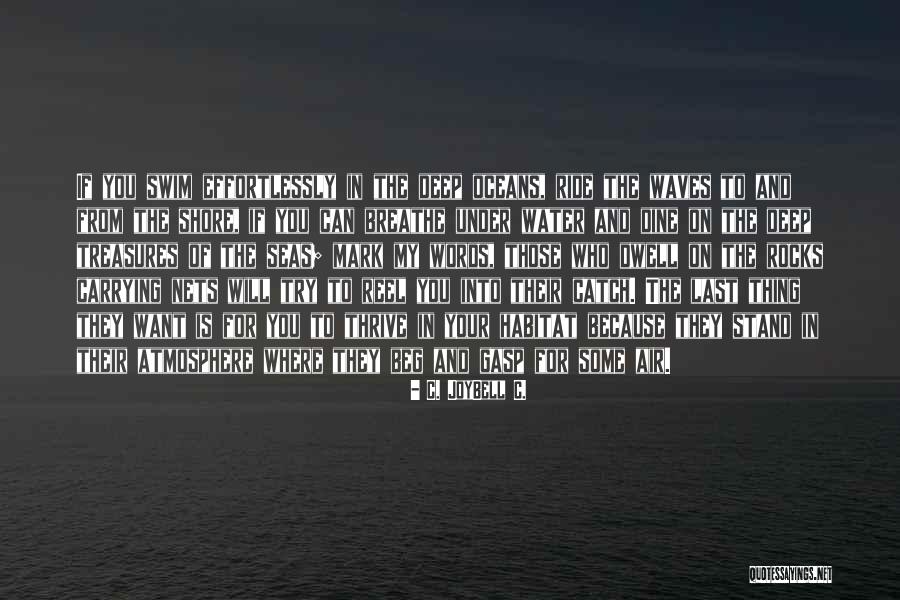 If you swim effortlessly in the deep oceans, ride the waves to and from the shore, if you can breathe under water and dine on the deep treasures of the seas; mark my words, those who dwell on the rocks carrying nets will try to reel you into their catch. The last thing they want is for you to thrive in your habitat because they stand in their atmosphere where they beg and gasp for some air. — C. JoyBell C.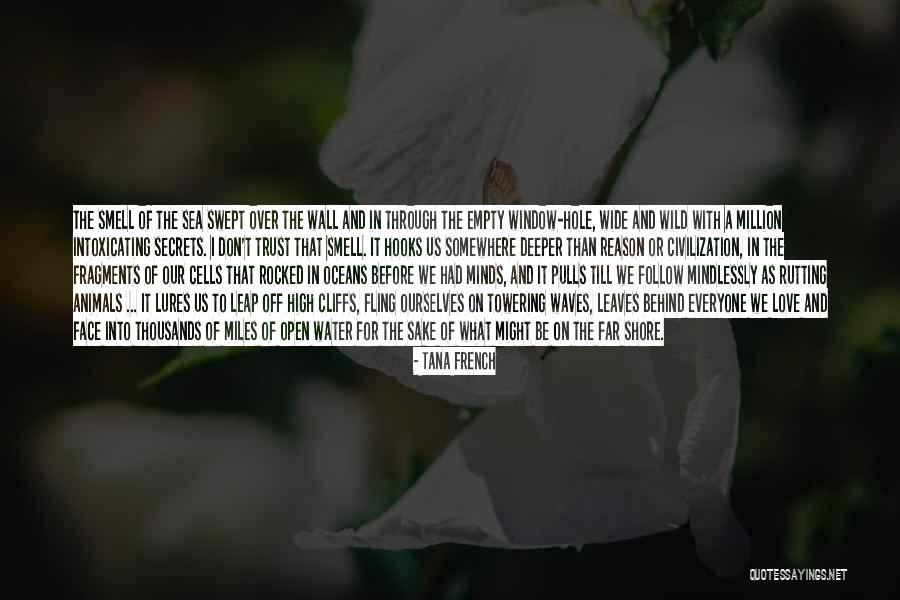 The smell of the sea swept over the wall and in through the empty window-hole, wide and wild with a million intoxicating secrets. I don't trust that smell. It hooks us somewhere deeper than reason or civilization, in the fragments of our cells that rocked in oceans before we had minds, and it pulls till we follow mindlessly as rutting animals ... It lures us to leap off high cliffs, fling ourselves on towering waves, leaves behind everyone we love and face into thousands of miles of open water for the sake of what might be on the far shore. — Tana French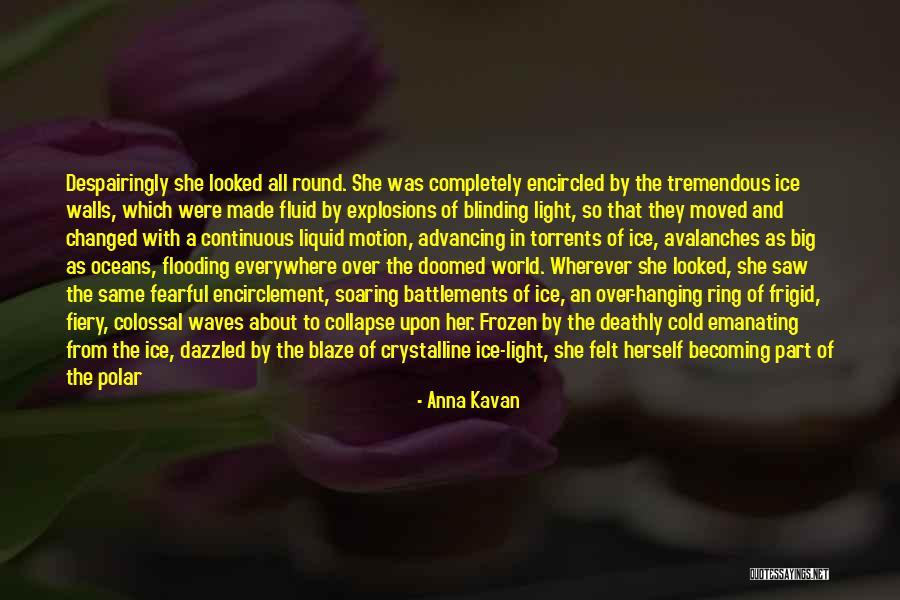 Despairingly she looked all round. She was completely encircled by the tremendous ice walls, which were made fluid by explosions of blinding light, so that they moved and changed with a continuous liquid motion, advancing in torrents of ice, avalanches as big as oceans, flooding everywhere over the doomed world. Wherever she looked, she saw the same fearful encirclement, soaring battlements of ice, an over-hanging ring of frigid, fiery, colossal waves about to collapse upon her. Frozen by the deathly cold emanating from the ice, dazzled by the blaze of crystalline ice-light, she felt herself becoming part of the polar vision, her structure becoming one with the ice and snow. As her fate, she accepted the world of ice, shining, shimmering, dead; she resigned herself to the triumph of glaciers and the death of her world. — Anna Kavan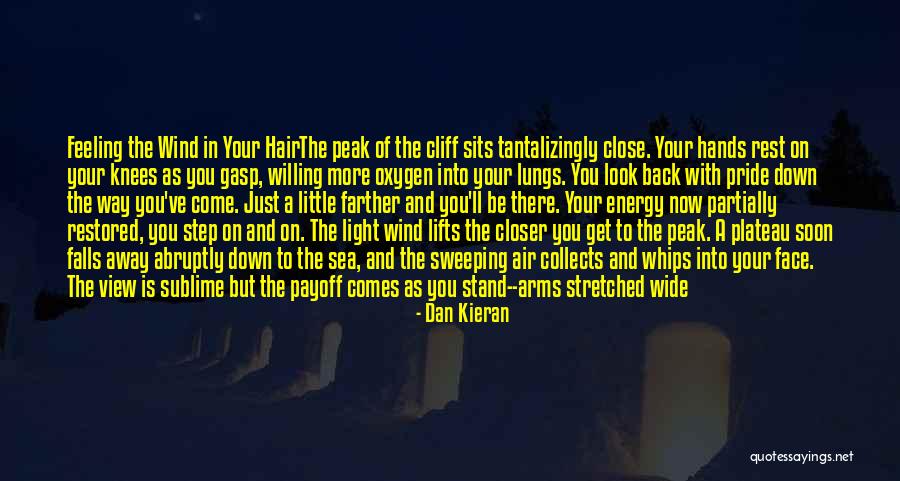 Feeling the Wind in Your Hair

The peak of the cliff sits tantalizingly close. Your hands rest on your knees as you gasp, willing more oxygen into your lungs. You look back with pride down the way you've come. Just a little farther and you'll be there. Your energy now partially restored, you step on and on. The light wind lifts the closer you get to the peak. A plateau soon falls away abruptly down to the sea, and the sweeping air collects and whips into your face. The view is sublime but the payoff comes as you stand--arms stretched wide in triumph--with your eyes closed as the raging wind buffets your face. This wind, collected and grown above oceans, flitting and crashing its way across the waves, finally reaches the shore and clasps itself around you in a fleeting embrace. The crack of its passing meets your ears and slowly it absorbs you--a streaming current of air caressing your rejoicing face. — Dan Kieran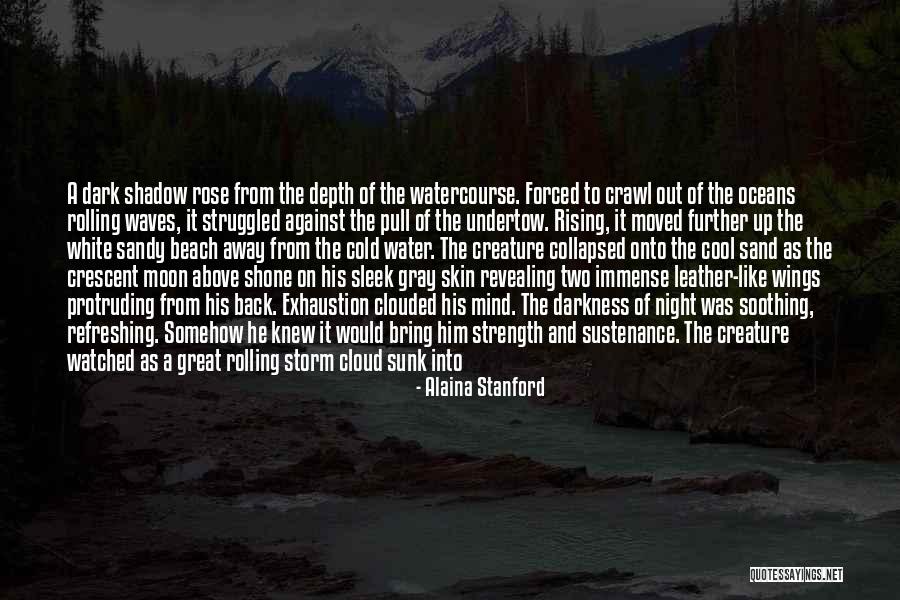 A dark shadow rose from the depth of the watercourse. Forced to crawl out of the oceans rolling waves, it struggled against the pull of the undertow. Rising, it moved further up the white sandy beach away from the cold water. The creature collapsed onto the cool sand as the crescent moon above shone on his sleek gray skin revealing two immense leather-like wings protruding from his back. Exhaustion clouded his mind.
The darkness of night was soothing, refreshing. Somehow he knew it would bring him strength and sustenance. The creature watched as a great rolling storm cloud sunk into the salty water before him and he tried to remember why he had come. — Alaina Stanford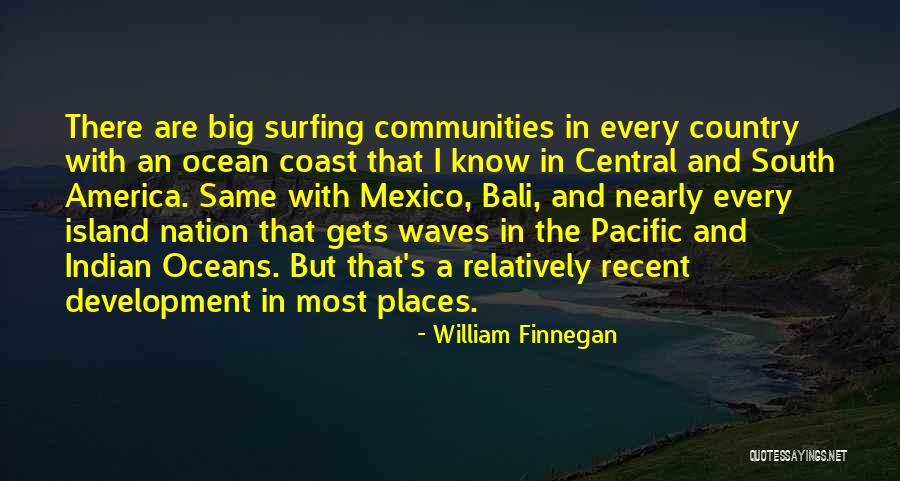 There are big surfing communities in every country with an ocean coast that I know in Central and South America. Same with Mexico, Bali, and nearly every island nation that gets waves in the Pacific and Indian Oceans. But that's a relatively recent development in most places. — William Finnegan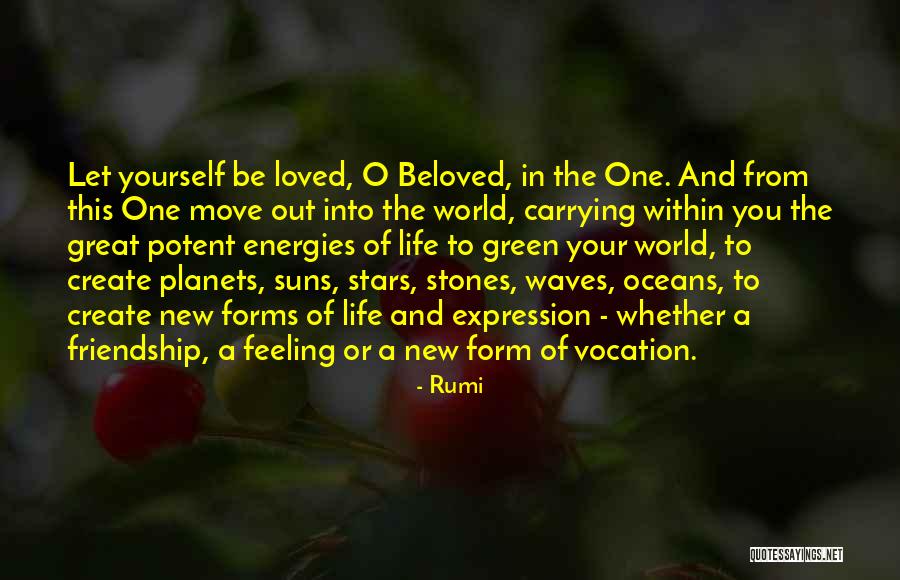 Let yourself be loved, O Beloved, in the One. And from this One move out into the world, carrying within you the great potent energies of life to green your world, to create planets, suns, stars, stones, waves, oceans, to create new forms of life and expression - whether a friendship, a feeling or a new form of vocation. — Rumi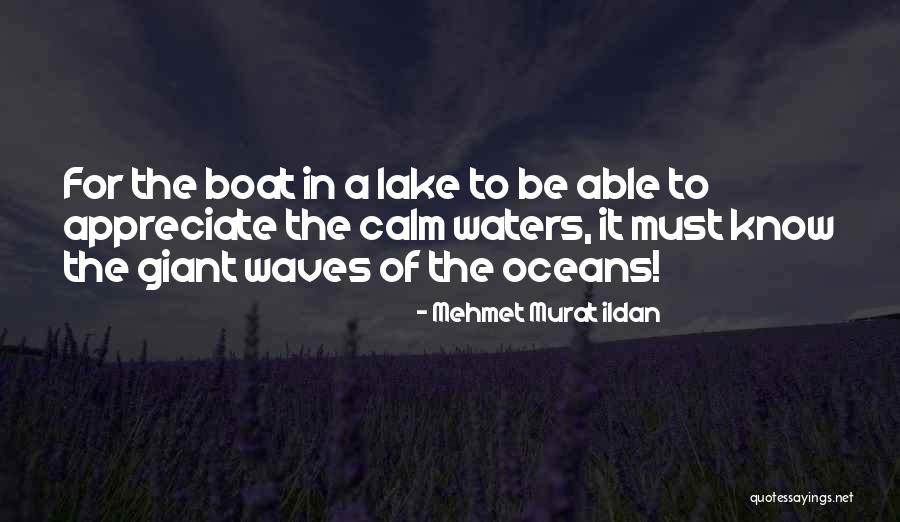 For the boat in a lake to be able to appreciate the calm waters, it must know the giant waves of the oceans! — Mehmet Murat Ildan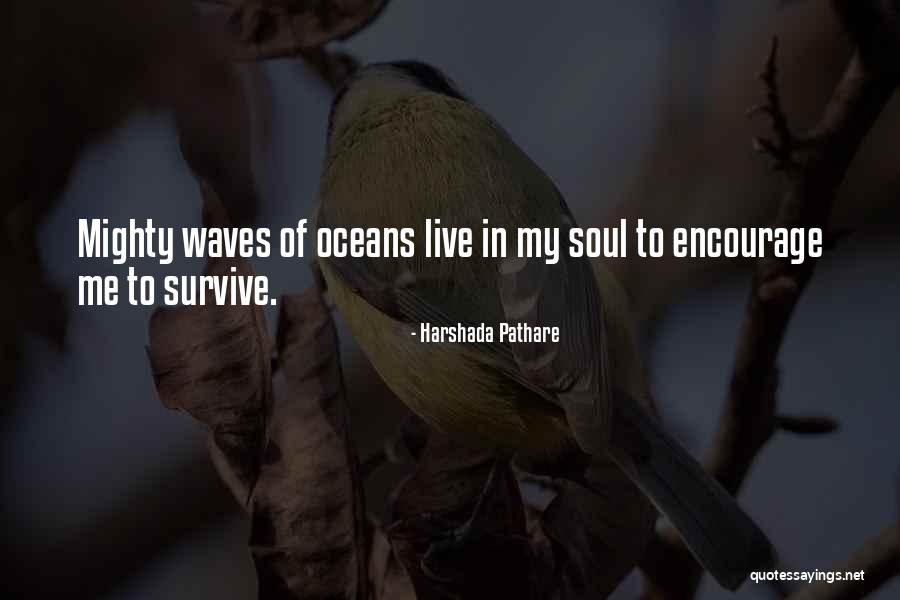 Mighty waves of oceans live in my soul to encourage me to survive. — Harshada Pathare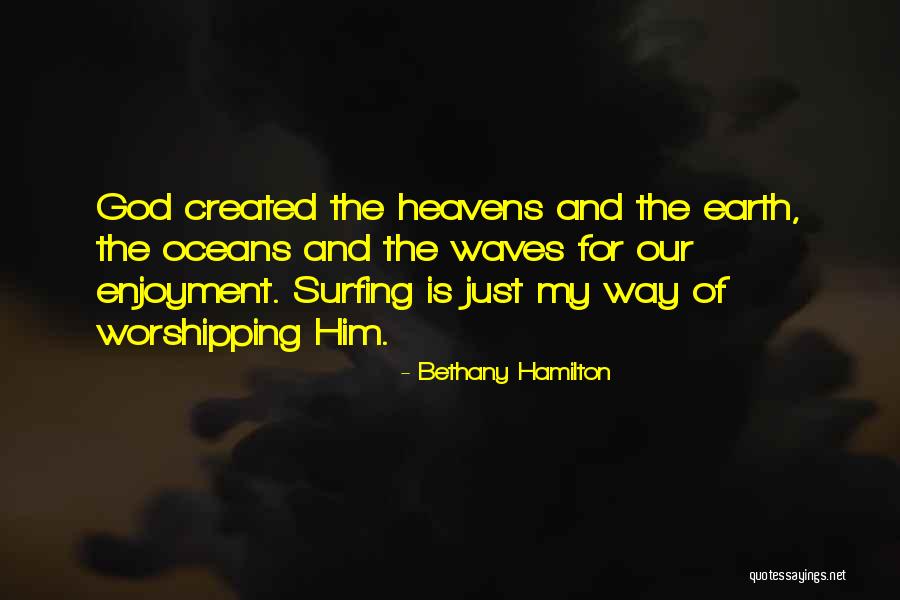 God created the heavens and the earth, the oceans and the waves for our enjoyment. Surfing is just my way of worshipping Him. — Bethany Hamilton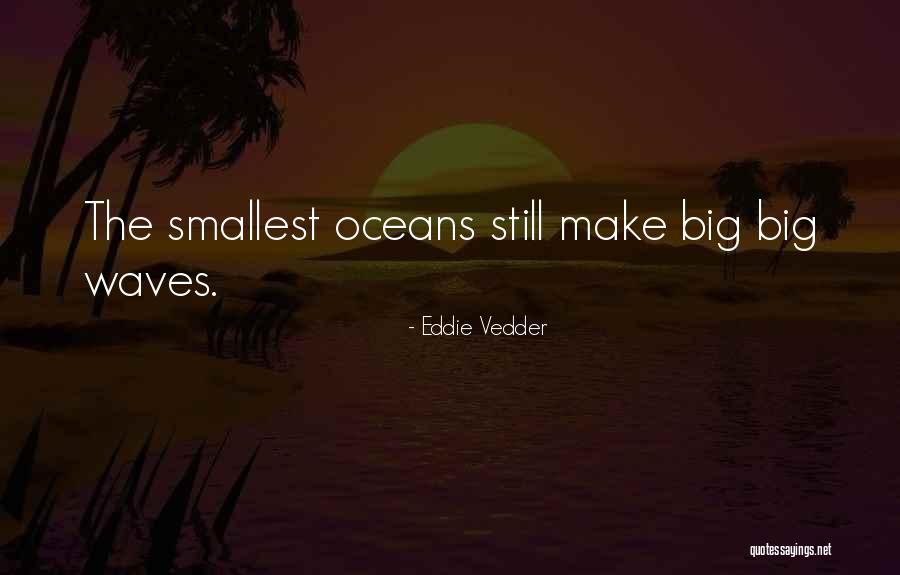 The smallest oceans still make big big waves. — Eddie Vedder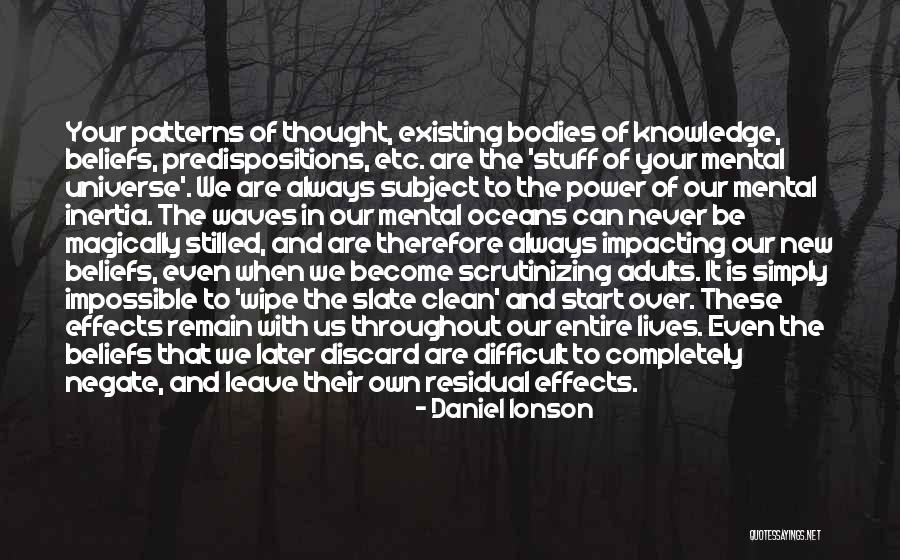 Your patterns of thought, existing bodies of knowledge, beliefs, predispositions, etc. are the 'stuff of your mental universe'. We are always subject to the power of our mental inertia. The waves in our mental oceans can never be magically stilled, and are therefore always impacting our new beliefs, even when we become scrutinizing adults. It is simply impossible to 'wipe the slate clean' and start over. These effects remain with us throughout our entire lives. Even the beliefs that we later discard are difficult to completely negate, and leave their own residual effects. — Daniel Ionson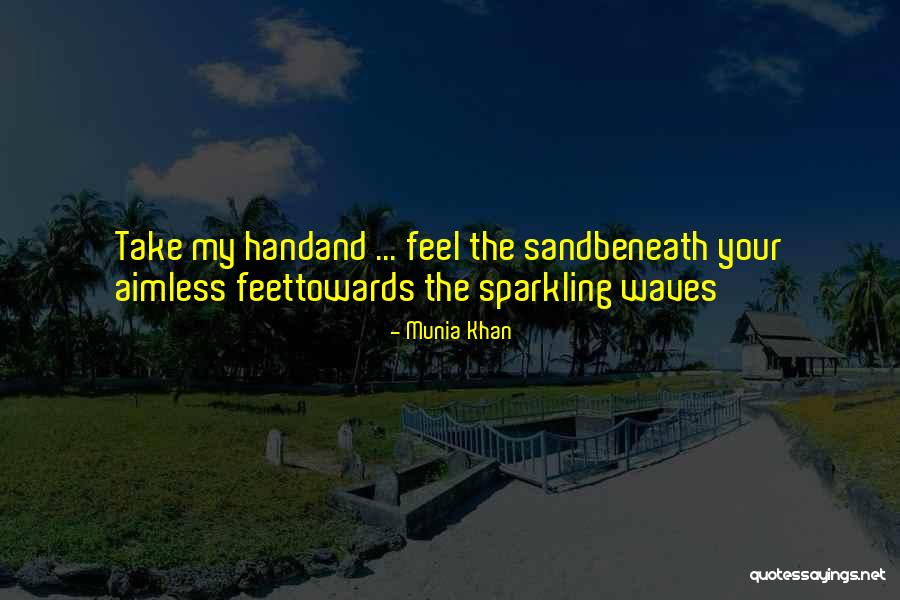 Take my hand
and ...
feel the sand
beneath your aimless feet
towards the sparkling waves — Munia Khan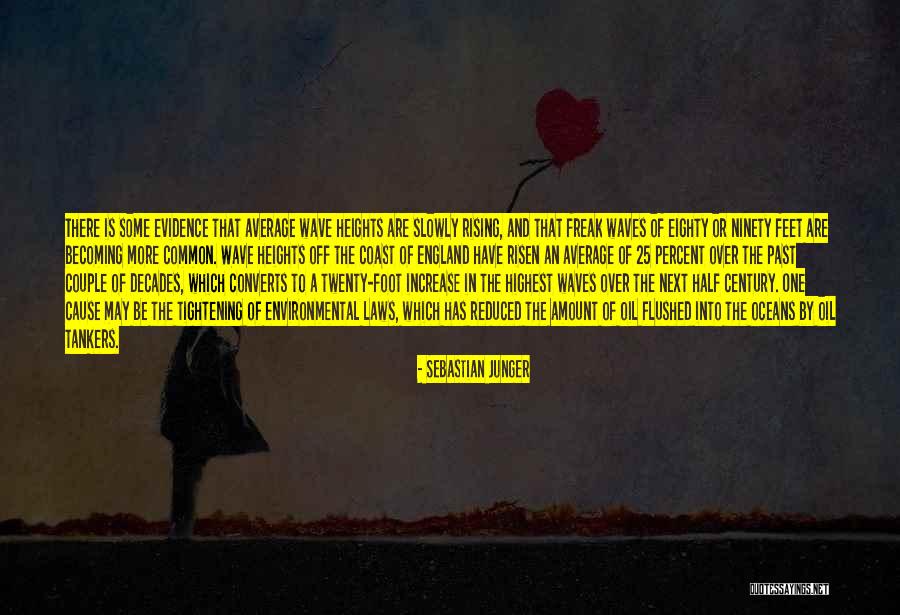 There is some evidence that average wave heights are slowly rising, and that freak waves of eighty or ninety feet are becoming more common. Wave heights off the coast of England have risen an average of 25 percent over the past couple of decades, which converts to a twenty-foot increase in the highest waves over the next half century. One cause may be the tightening of environmental laws, which has reduced the amount of oil flushed into the oceans by oil tankers. — Sebastian Junger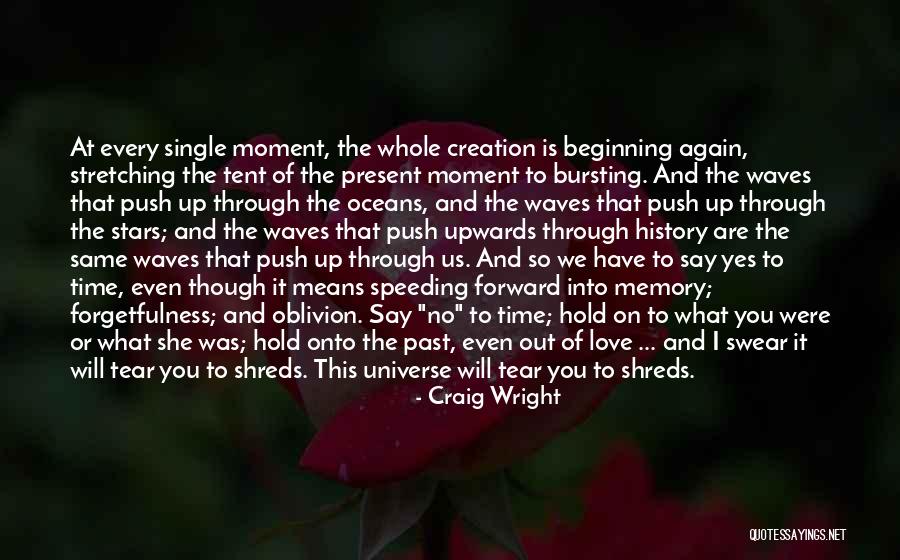 At every single moment, the whole creation is beginning again, stretching the tent of the present moment to bursting. And the waves that push up through the oceans, and the waves that push up through the stars; and the waves that push upwards through history are the same waves that push up through us. And so we have to say yes to time, even though it means speeding forward into memory; forgetfulness; and oblivion. Say "no" to time; hold on to what you were or what she was; hold onto the past, even out of love ... and I swear it will tear you to shreds. This universe will tear you to shreds. — Craig Wright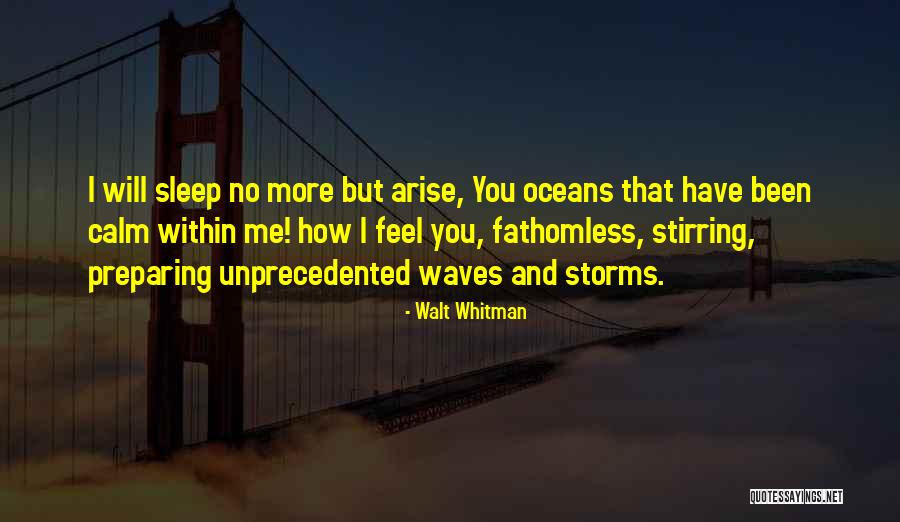 I will sleep no more but arise, You oceans that have been calm within me! how I feel you, fathomless, stirring, preparing unprecedented waves and storms. — Walt Whitman