Quotes & Sayings About Nourishment For The Soul
Enjoy reading and share 53 famous quotes about Nourishment For The Soul with everyone.
Top Nourishment For The Soul Quotes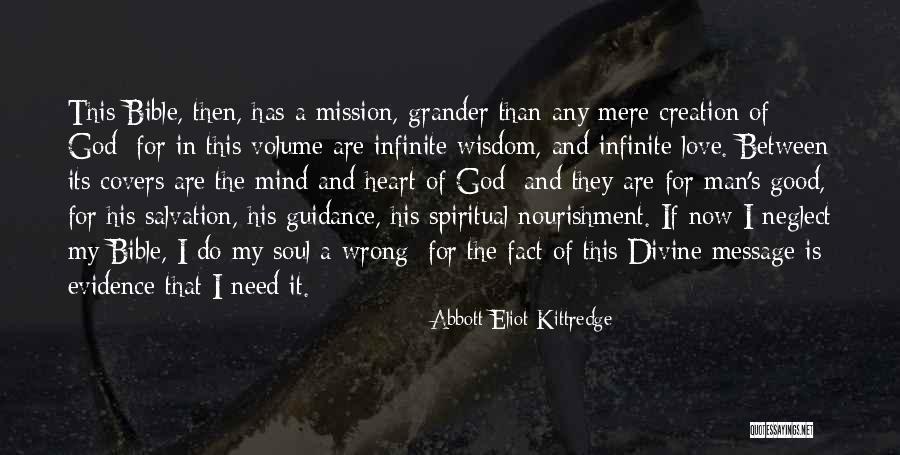 This Bible, then, has a mission, grander than any mere creation of God; for in this volume are infinite wisdom, and infinite love. Between its covers are the mind and heart of God; and they are for man's good, for his salvation, his guidance, his spiritual nourishment. If now I neglect my Bible, I do my soul a wrong; for the fact of this Divine message is evidence that I need it. — Abbott Eliot Kittredge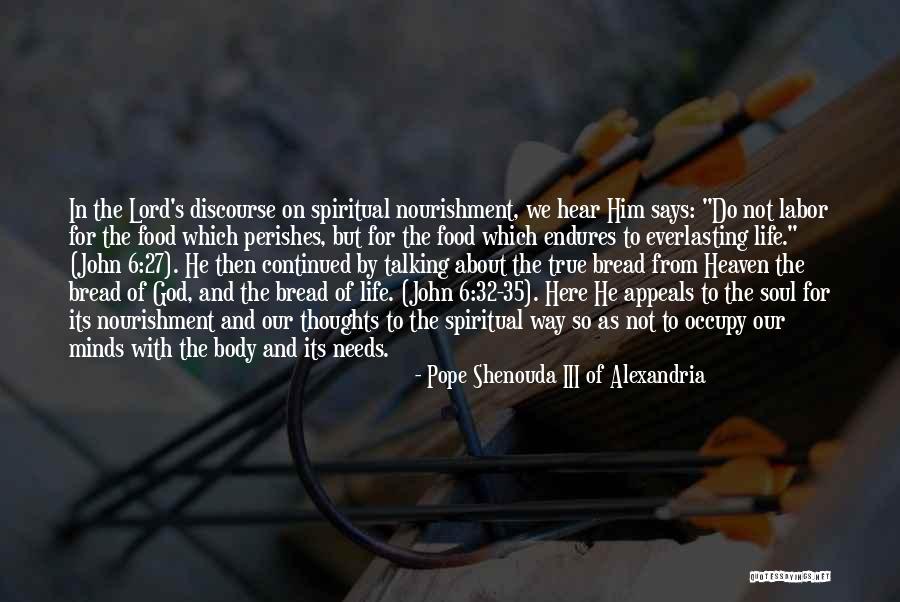 In the Lord's discourse on spiritual nourishment, we hear Him says: "Do not labor for the food which perishes, but for the food which endures to everlasting life." (John 6:27). He then continued by talking about the true bread from Heaven the bread of God, and the bread of life. (John 6:32-35). Here He appeals to the soul for its nourishment and our thoughts to the spiritual way so as not to occupy our minds with the body and its needs. — Pope Shenouda III Of Alexandria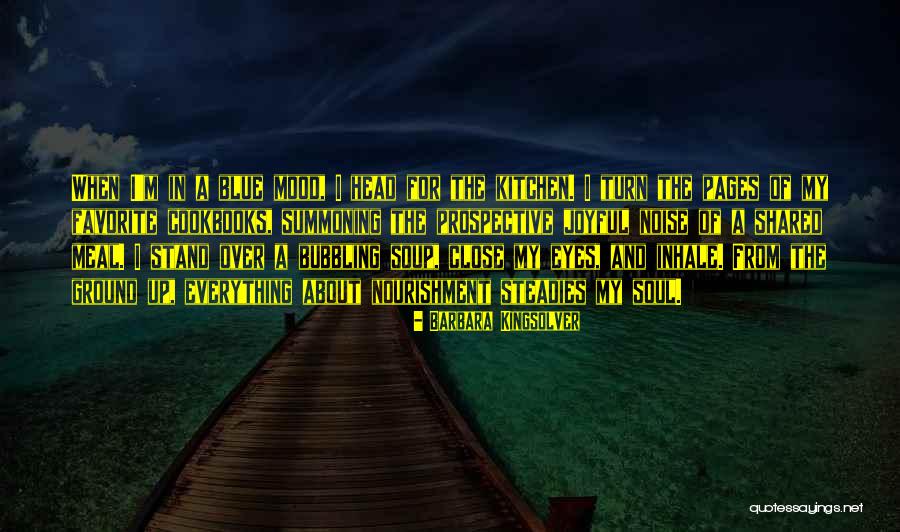 When I'm in a blue mood, I head for the kitchen. I turn the pages of my favorite cookbooks, summoning the prospective joyful noise of a shared meal. I stand over a bubbling soup, close my eyes, and inhale. From the ground up, everything about nourishment steadies my soul. — Barbara Kingsolver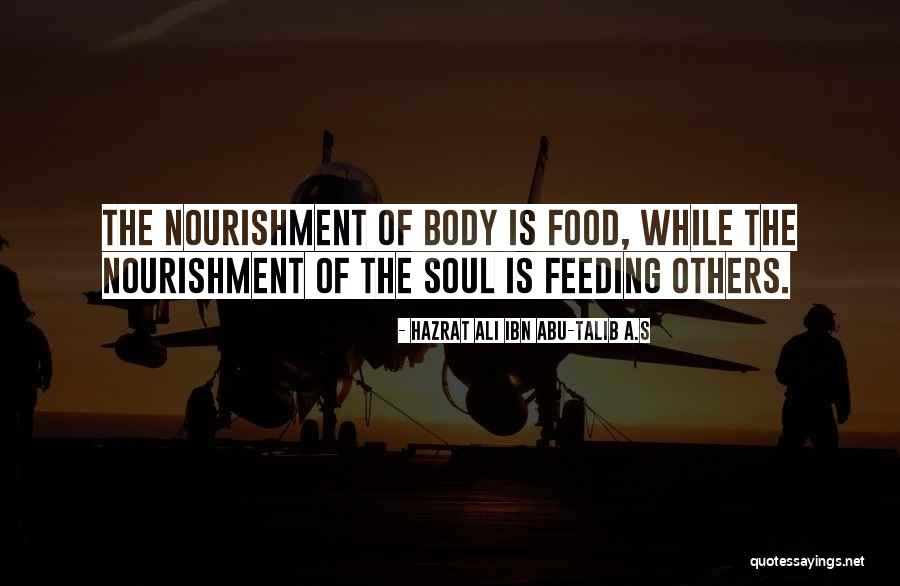 The nourishment of body is food, while the nourishment of the soul is feeding others. — Hazrat Ali Ibn Abu-Talib A.S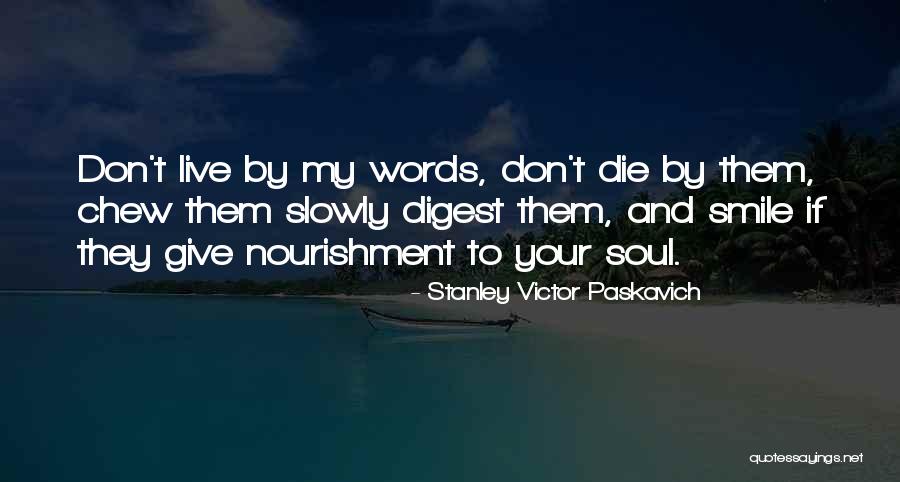 Don't live by my words, don't die by them, chew them slowly digest them, and smile if they give nourishment to your soul. — Stanley Victor Paskavich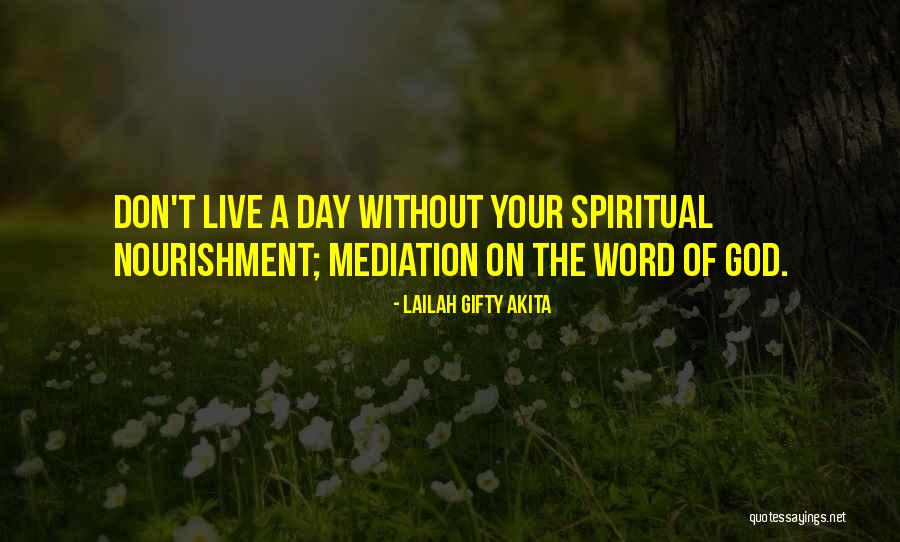 Don't live a day without your spiritual nourishment; mediation on the word of God. — Lailah Gifty Akita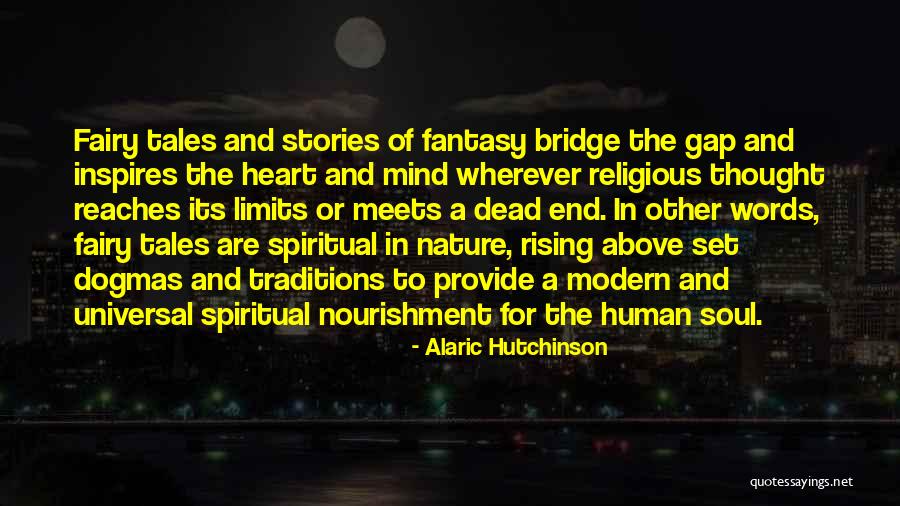 Fairy tales and stories of fantasy bridge the gap and inspires the heart and mind wherever religious thought reaches its limits or meets a dead end. In other words, fairy tales are spiritual in nature, rising above set dogmas and traditions to provide a modern and universal spiritual nourishment for the human soul. — Alaric Hutchinson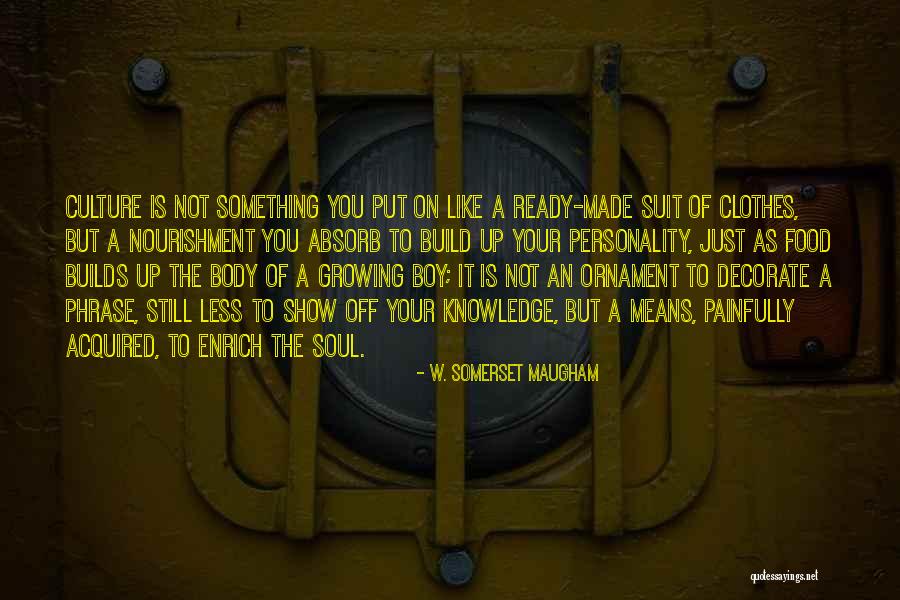 Culture is not something you put on like a ready-made suit of clothes, but a nourishment you absorb to build up your personality, just as food builds up the body of a growing boy; it is not an ornament to decorate a phrase, still less to show off your knowledge, but a means, painfully acquired, to enrich the soul. — W. Somerset Maugham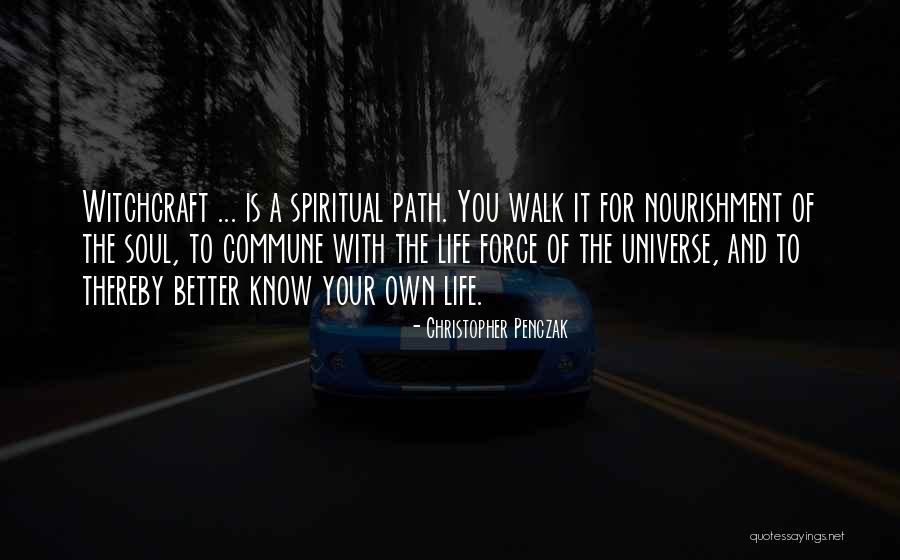 Witchcraft ... is a spiritual path. You walk it for nourishment of the soul, to commune with the life force of the universe, and to thereby better know your own life. — Christopher Penczak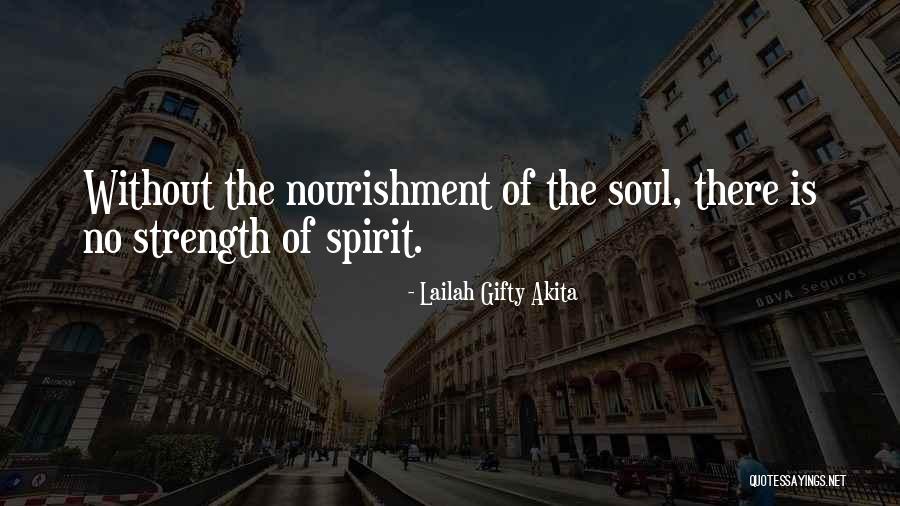 Without the nourishment of the soul, there is no strength of spirit. — Lailah Gifty Akita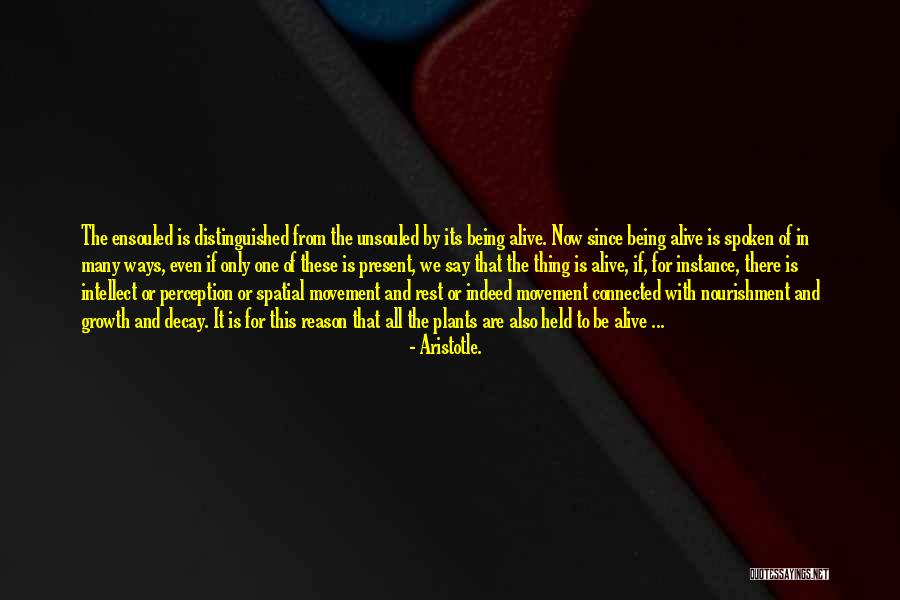 The ensouled is distinguished from the unsouled by its being alive. Now since being alive is spoken of in many ways, even if only one of these is present, we say that the thing is alive, if, for instance, there is intellect or perception or spatial movement and rest or indeed movement connected with nourishment and growth and decay. It is for this reason that all the plants are also held to be alive ... — Aristotle.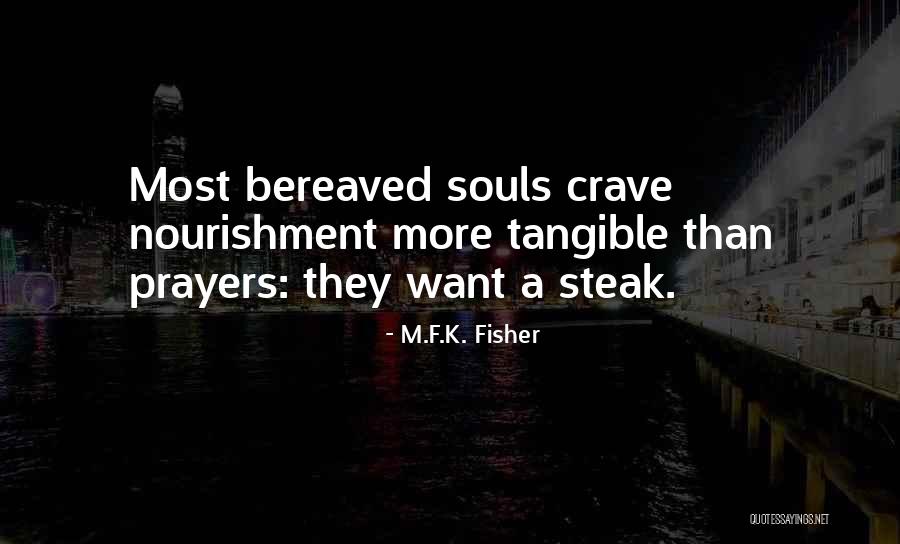 Most bereaved souls crave nourishment more tangible than prayers: they want a steak. — M.F.K. Fisher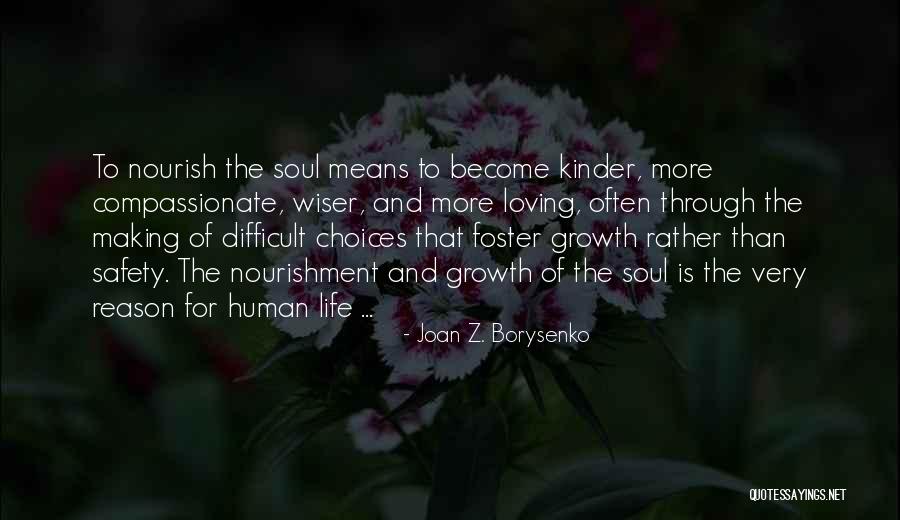 To nourish the soul means to become kinder, more compassionate, wiser, and more loving, often through the making of difficult choices that foster growth rather than safety. The nourishment and growth of the soul is the very reason for human life ... — Joan Z. Borysenko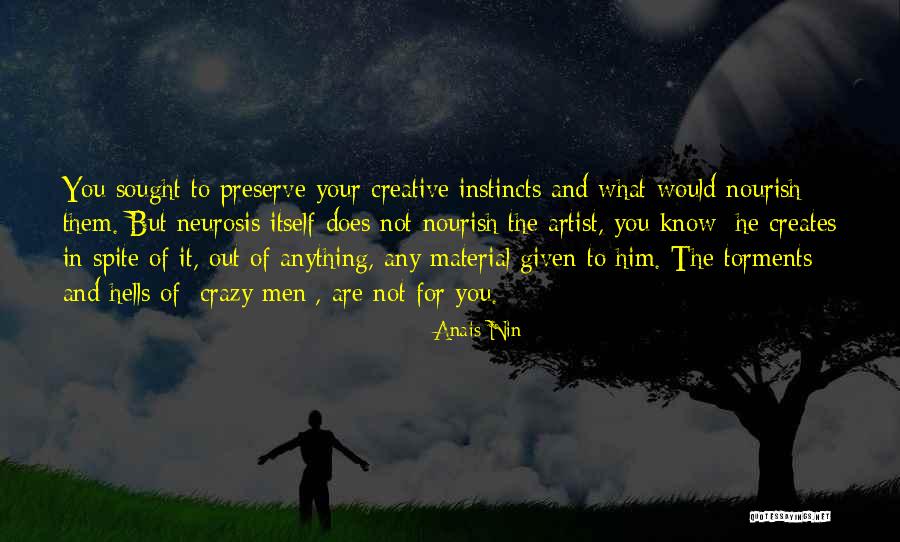 You sought to preserve your creative instincts and what would nourish them. But neurosis itself does not nourish the artist, you know; he creates in spite of it, out of anything, any material given to him. The torments and hells of [crazy men], are not for you. — Anais Nin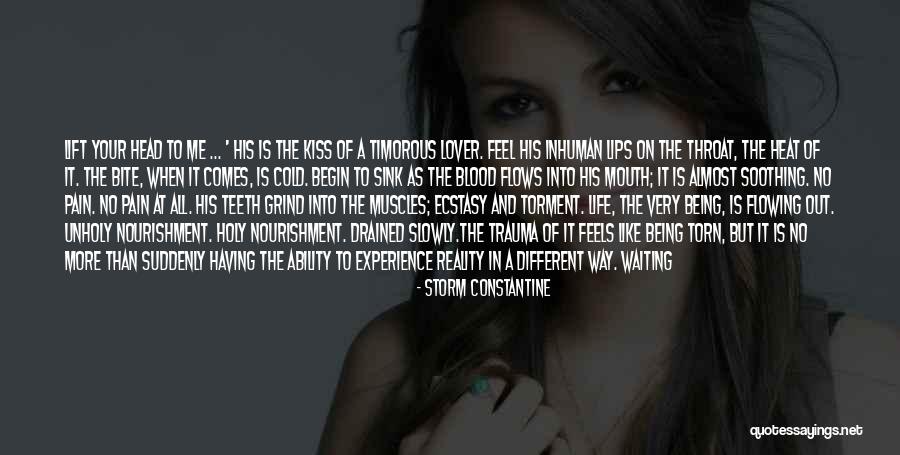 Lift your head to me ... '
His is the kiss of a timorous lover. Feel his inhuman lips on the throat, the heat of it. The bite, when it comes, is cold. Begin to sink as the blood flows into his mouth; it is almost soothing. No pain. No pain at all. His teeth grind into the muscles; ecstasy and torment. Life, the very being, is flowing out. Unholy nourishment. Holy nourishment. Drained slowly.
The trauma of it feels like being torn, but it is no more than suddenly having the ability to experience reality in a different way. Waiting for the end ... for what? Cannot foretell. No longer flesh, no longer blood. Soul. Free. — Storm Constantine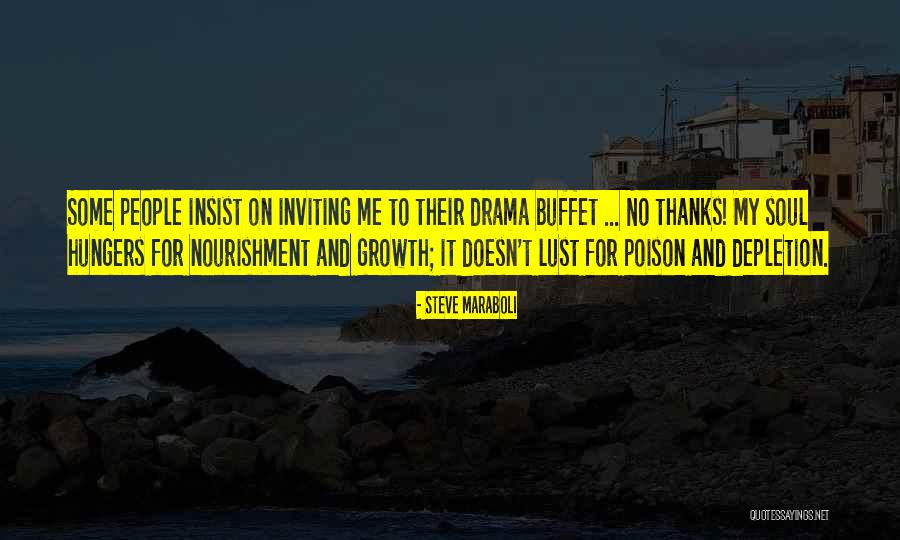 Some people insist on inviting me to their drama buffet ... No thanks! My soul hungers for nourishment and growth; it doesn't lust for poison and depletion. — Steve Maraboli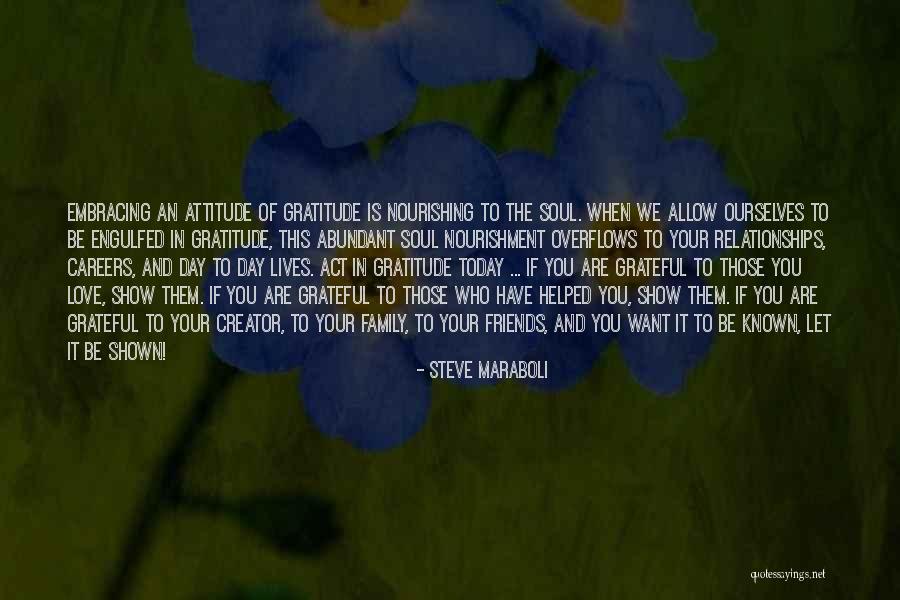 Embracing an attitude of gratitude is nourishing to the soul. When we allow ourselves to be engulfed in gratitude, this abundant soul nourishment overflows to your relationships, careers, and day to day lives. Act in gratitude today ... If you are grateful to those you love, show them. If you are grateful to those who have helped you, show them. If you are grateful to your creator, to your family, to your friends, and you want it to be known, let it be shown! — Steve Maraboli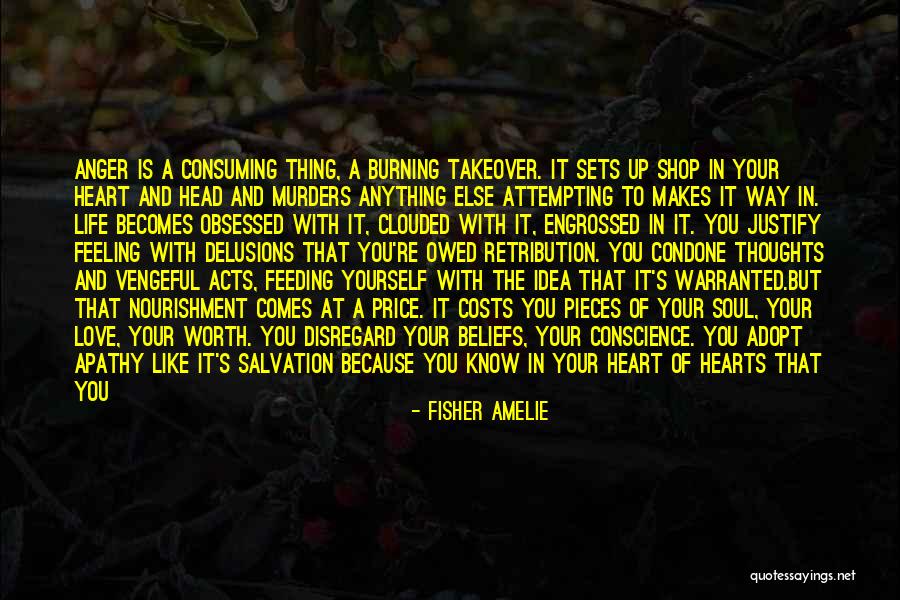 Anger is a consuming thing, a burning takeover.
It sets up shop in your heart and head and murders anything else attempting to makes it way in. Life becomes obsessed with it, clouded with it, engrossed in it. You justify feeling with delusions that you're owed retribution. You condone thoughts and vengeful acts, feeding yourself with the idea that it's warranted.
But that nourishment comes at a price. It costs you pieces of your soul, your love, your worth. You disregard your beliefs, your conscience. You adopt apathy like it's salvation because you know in your heart of hearts that you would deteriorate into nothing without it. Because you don't want to let it go. It makes you feel powerful, that anger. It makes you feel important. So you will let it eat you alive, consume every part of you until all that's left is hollow revenge. — Fisher Amelie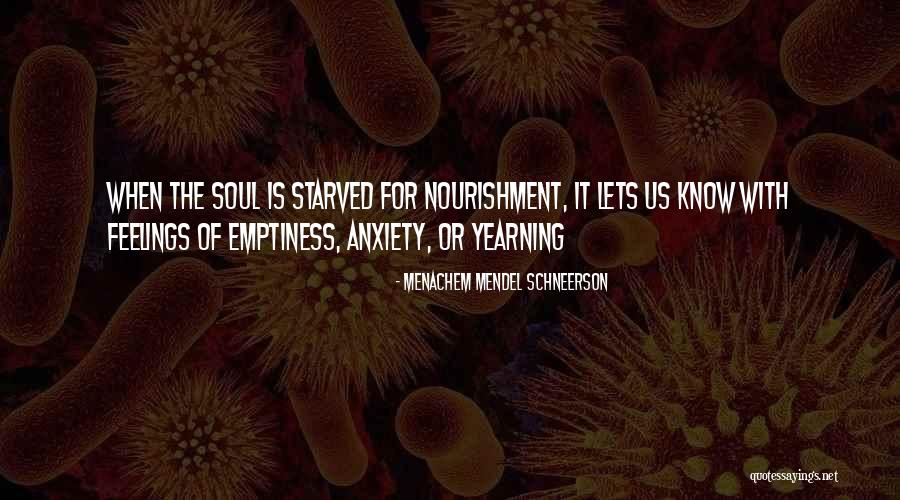 When the soul is starved for nourishment, it lets us know with feelings of emptiness, anxiety, or yearning — Menachem Mendel Schneerson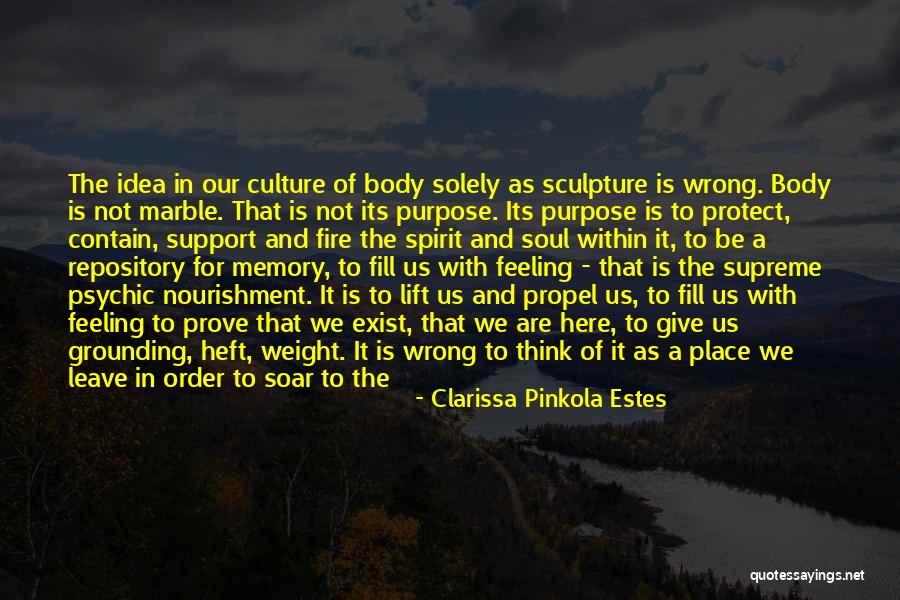 The idea in our culture of body solely as sculpture is wrong. Body is not marble. That is not its purpose. Its purpose is to protect, contain, support and fire the spirit and soul within it, to be a repository for memory, to fill us with feeling - that is the supreme psychic nourishment. It is to lift us and propel us, to fill us with feeling to prove that we exist, that we are here, to give us grounding, heft, weight. It is wrong to think of it as a place we leave in order to soar to the spirit. The body is the launcher of those experiences. Without body there would be no sensations of crossing thresholds, there would be no sense of lifting, no sense of height, weightlessness. All that comes from the body. The body is the rocket launcher. In its nose capsule, the soul looks out the window into the mysterious starry night and is dazzled. — Clarissa Pinkola Estes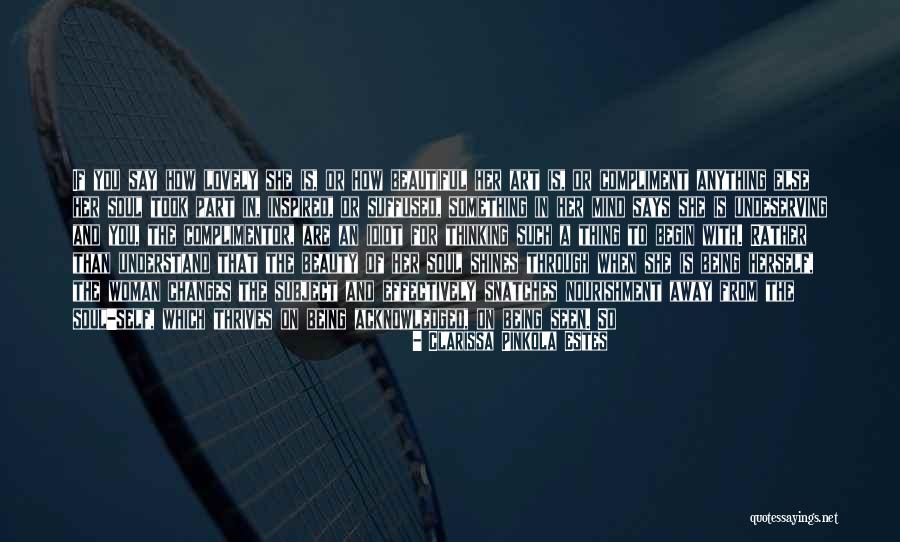 If you say how lovely she is, or how beautiful her art is, or compliment anything else her soul took part in, inspired, or suffused, something in her mind says she is undeserving and you, the complimentor, are an idiot for thinking such a thing to begin with. Rather than understand that the beauty of her soul shines through when she is being herself, the woman changes the subject and effectively snatches nourishment away from the soul-self, which thrives on being acknowledged, on being seen. So — Clarissa Pinkola Estes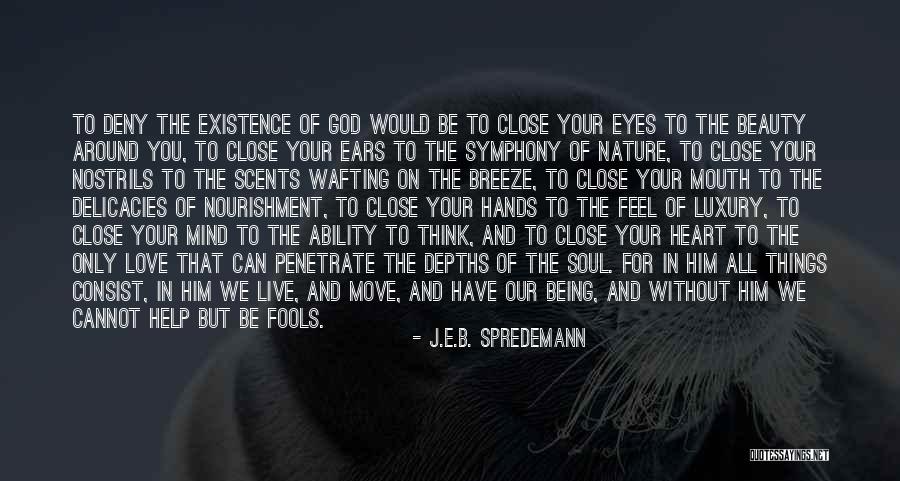 To deny the existence of God would be to close your eyes to the beauty around you, to close your ears to the symphony of nature, to close your nostrils to the scents wafting on the breeze, to close your mouth to the delicacies of nourishment, to close your hands to the feel of luxury, to close your mind to the ability to think, and to close your heart to the only love that can penetrate the depths of the soul. For in Him all things consist, in Him we live, and move, and have our being, and without Him we cannot help but be fools. — J.E.B. Spredemann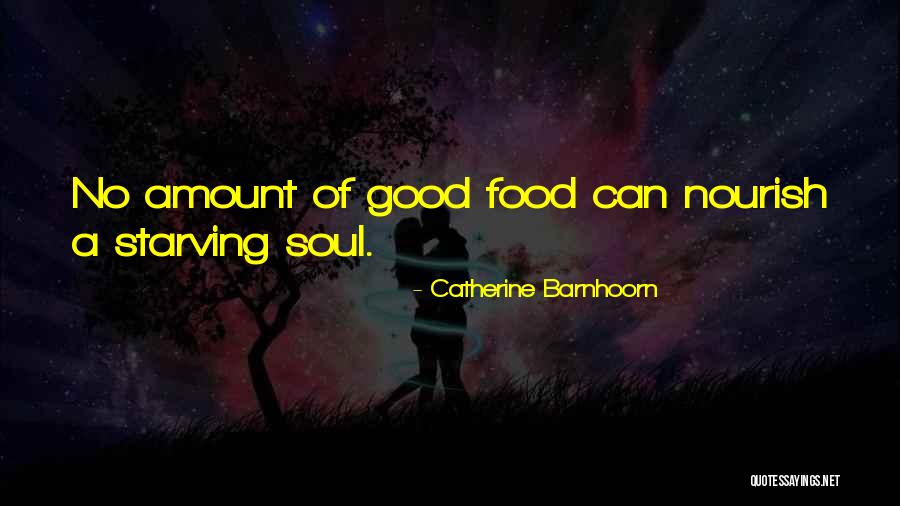 No amount of good food can nourish a starving soul. — Catherine Barnhoorn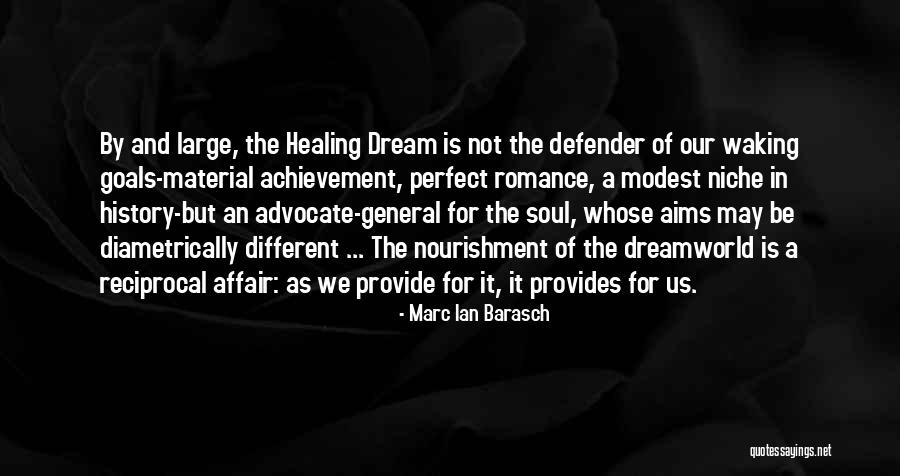 By and large, the Healing Dream is not the defender of our waking goals-material achievement, perfect romance, a modest niche in history-but an advocate-general for the soul, whose aims may be diametrically different ... The nourishment of the dreamworld is a reciprocal affair: as we provide for it, it provides for us. — Marc Ian Barasch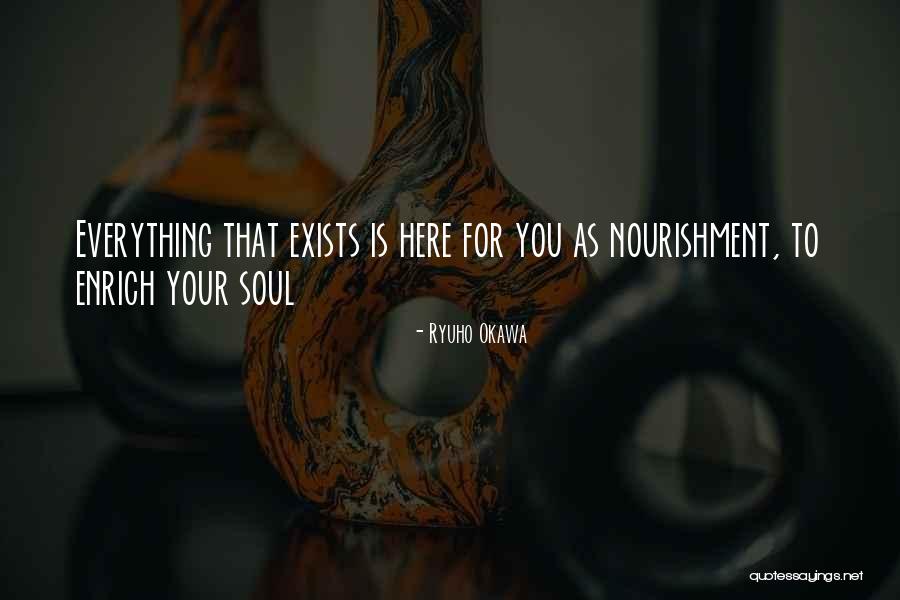 Everything that exists is here for you as nourishment, to enrich your soul — Ryuho Okawa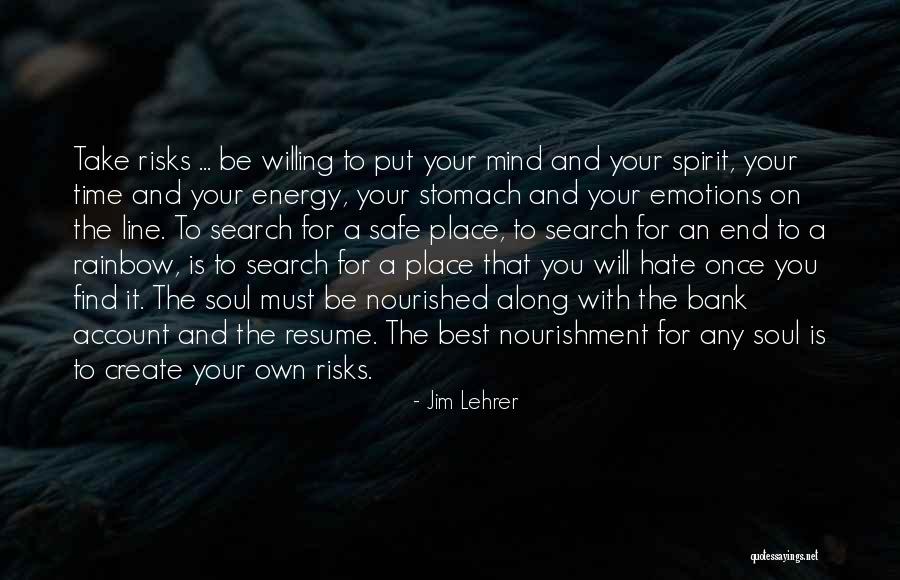 Take risks ... be willing to put your mind and your spirit, your time and your energy, your stomach and your emotions on the line. To search for a safe place, to search for an end to a rainbow, is to search for a place that you will hate once you find it. The soul must be nourished along with the bank account and the resume. The best nourishment for any soul is to create your own risks. — Jim Lehrer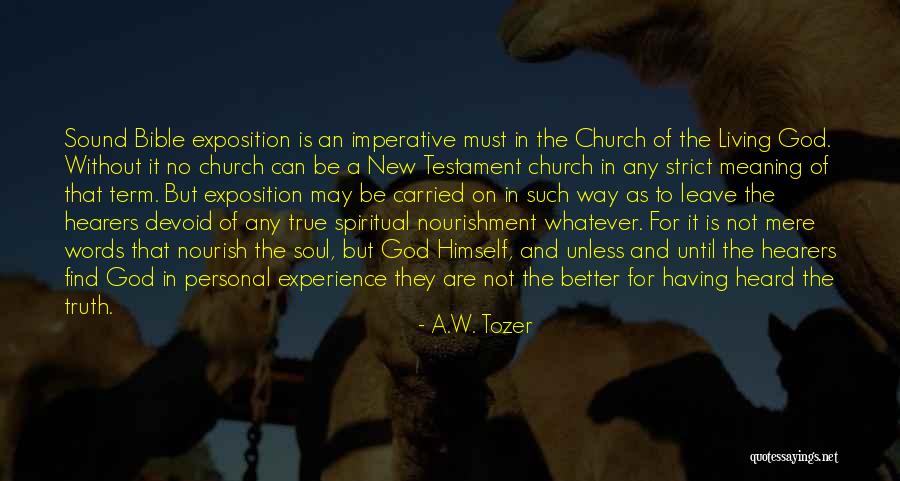 Sound Bible exposition is an imperative must in the Church of the Living God. Without it no church can be a New Testament church in any strict meaning of that term. But exposition may be carried on in such way as to leave the hearers devoid of any true spiritual nourishment whatever. For it is not mere words that nourish the soul, but God Himself, and unless and until the hearers find God in personal experience they are not the better for having heard the truth. — A.W. Tozer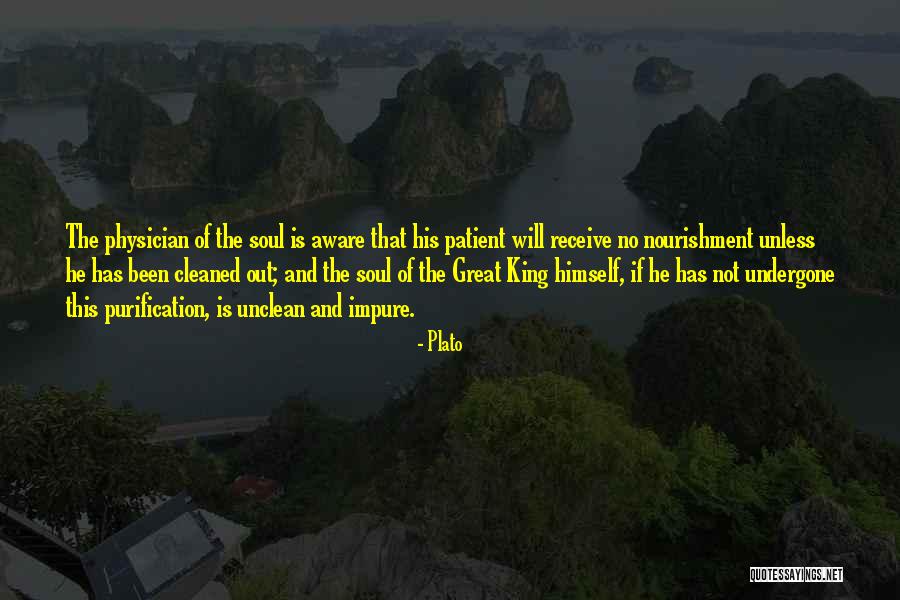 The physician of the soul is aware that his patient will receive no nourishment unless he has been cleaned out; and the soul of the Great King himself, if he has not undergone this purification, is unclean and impure. — Plato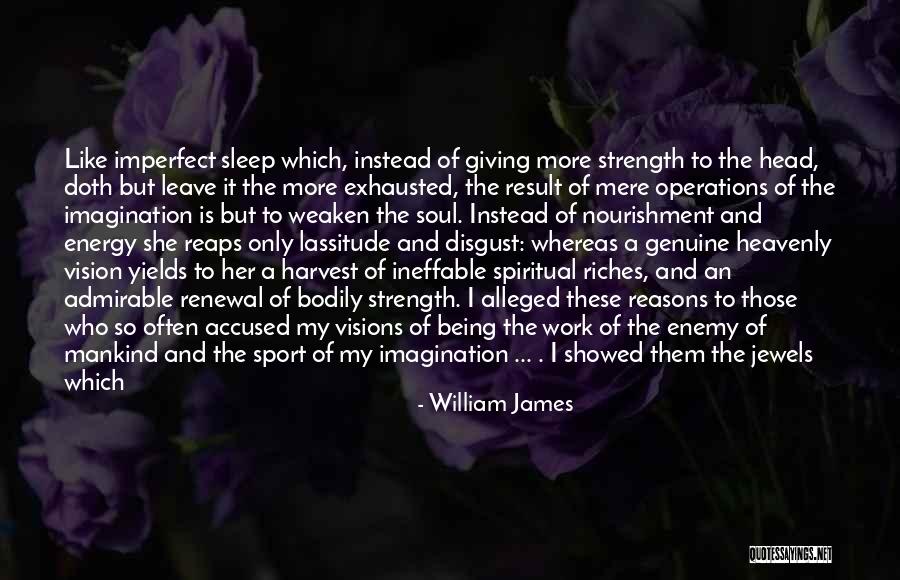 Like imperfect sleep which, instead of giving more strength to the head, doth but leave it the more exhausted, the result of mere operations of the imagination is but to weaken the soul. Instead of nourishment and energy she reaps only lassitude and disgust: whereas a genuine heavenly vision yields to her a harvest of ineffable spiritual riches, and an admirable renewal of bodily strength. I alleged these reasons to those who so often accused my visions of being the work of the enemy of mankind and the sport of my imagination ... . I showed them the jewels which the divine hand had left with me: - they were my actual dispositions. — William James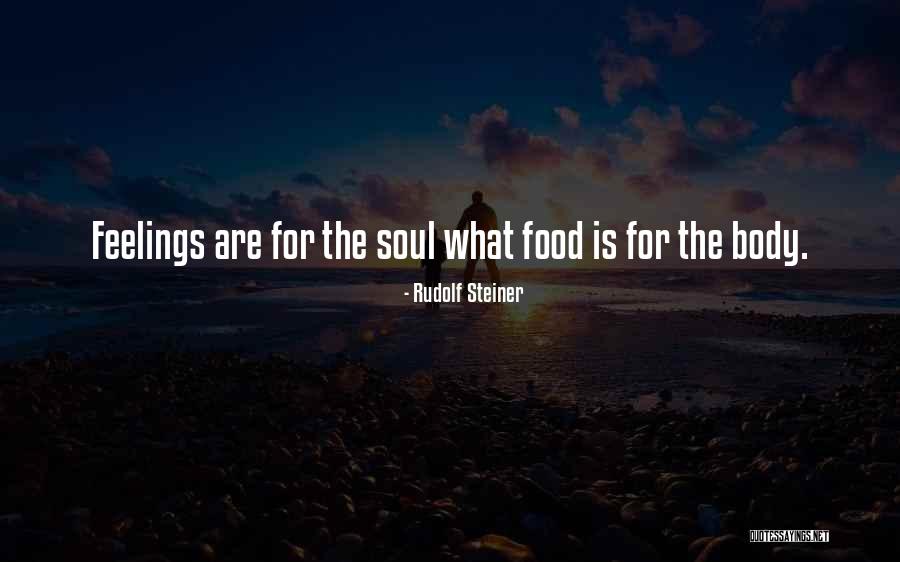 Feelings are for the soul what food is for the body. — Rudolf Steiner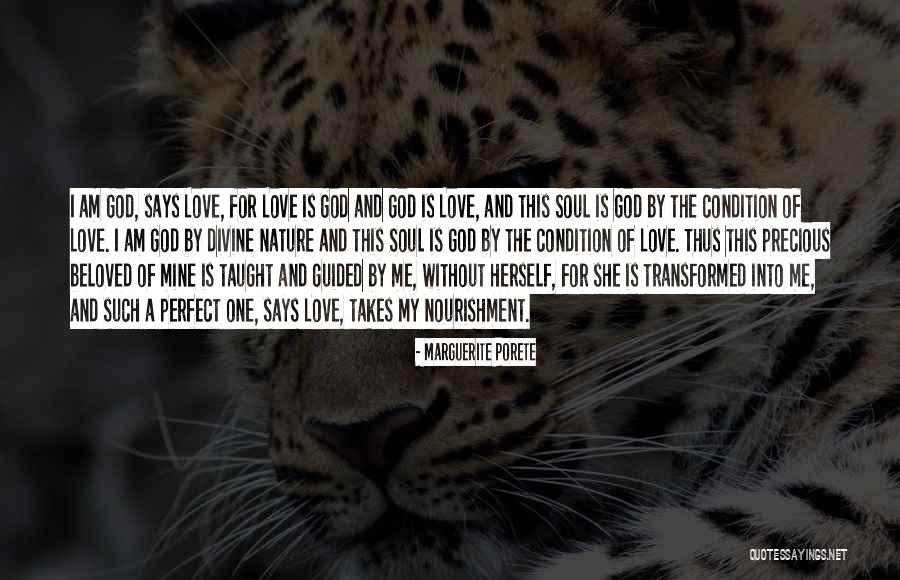 I am God, says Love, for Love is God and God is Love, and this Soul is God by the condition of Love. I am God by divine nature and this Soul is God by the condition of Love. Thus this precious beloved of mine is taught and guided by me, without herself, for she is transformed into me, and such a perfect one, says Love, takes my nourishment. — Marguerite Porete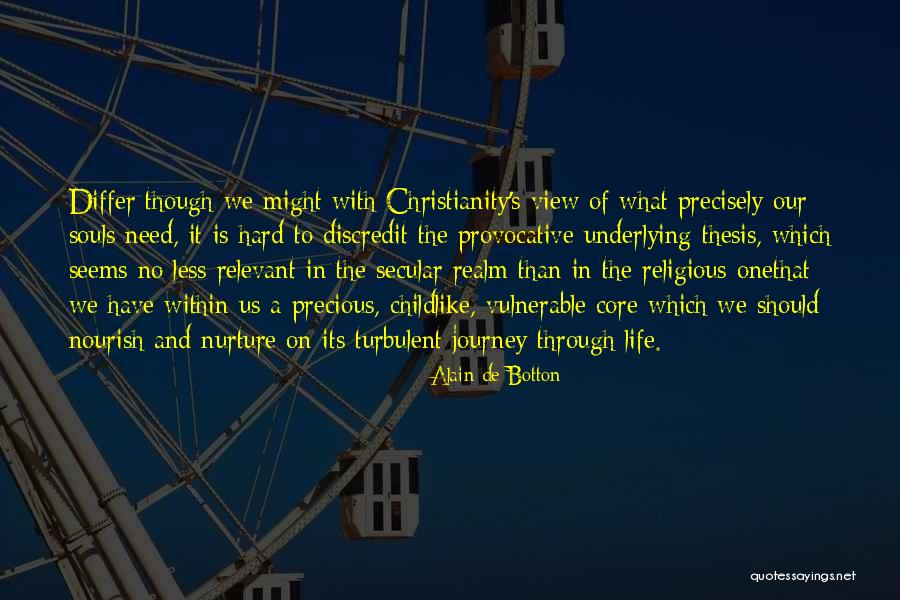 Differ though we might with Christianity's view of what precisely our souls need, it is hard to discredit the provocative underlying thesis, which seems no less relevant in the secular realm than in the religious one
that we have within us a precious, childlike, vulnerable core which we should nourish and nurture on its turbulent journey through life. — Alain De Botton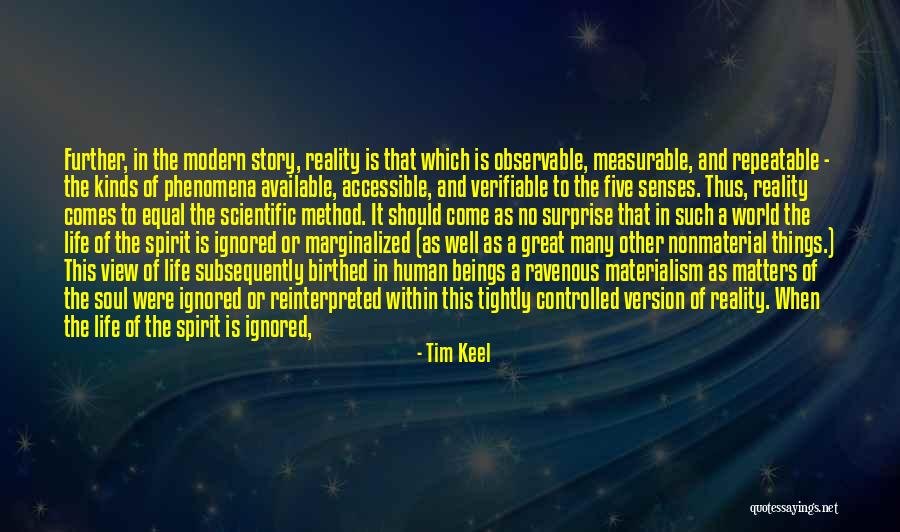 Further, in the modern story, reality is that which is observable, measurable, and repeatable - the kinds of phenomena available, accessible, and verifiable to the five senses. Thus, reality comes to equal the scientific method. It should come as no surprise that in such a world the life of the spirit is ignored or marginalized (as well as a great many other nonmaterial things.) This view of life subsequently birthed in human beings a ravenous materialism as matters of the soul were ignored or reinterpreted within this tightly controlled version of reality. When the life of the spirit is ignored, people will seek to feed the hunger of a neglected soul with the only nourishment available: in our context, the consumptive acquisition of material goods. — Tim Keel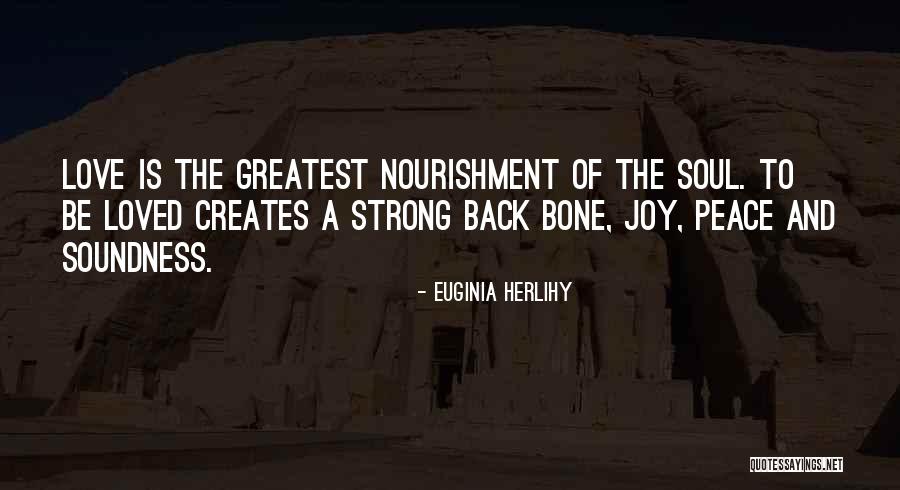 Love is the greatest nourishment of the soul. To be loved creates a strong back bone, joy, peace and soundness. — Euginia Herlihy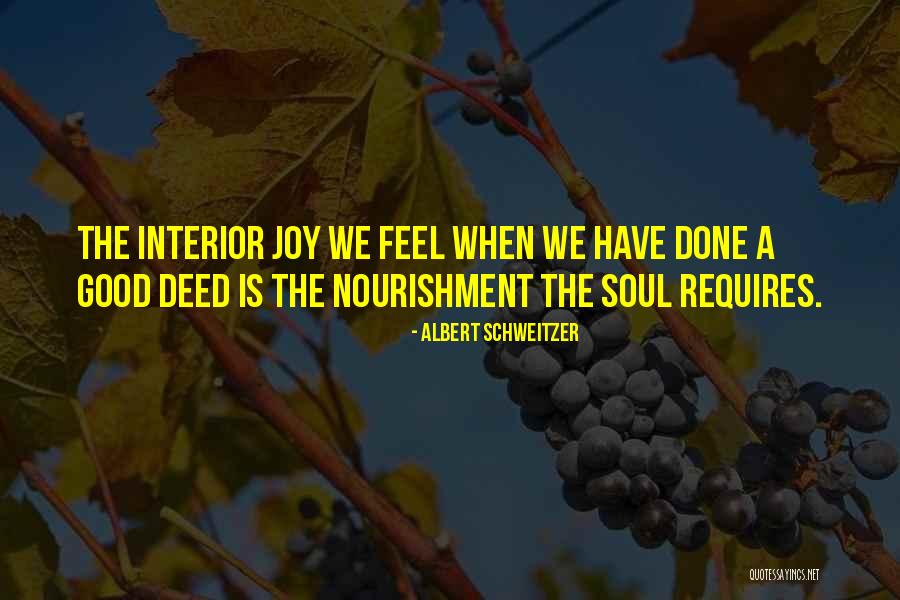 The interior joy we feel when we have done a good deed is the nourishment the soul requires. — Albert Schweitzer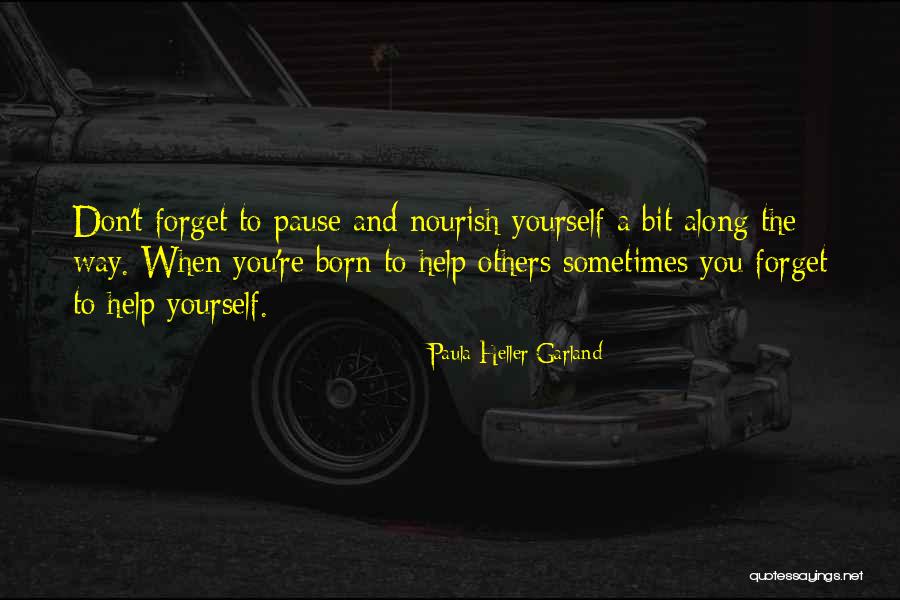 Don't forget to pause and nourish yourself a bit along the way. When you're born to help others sometimes you forget to help yourself. — Paula Heller Garland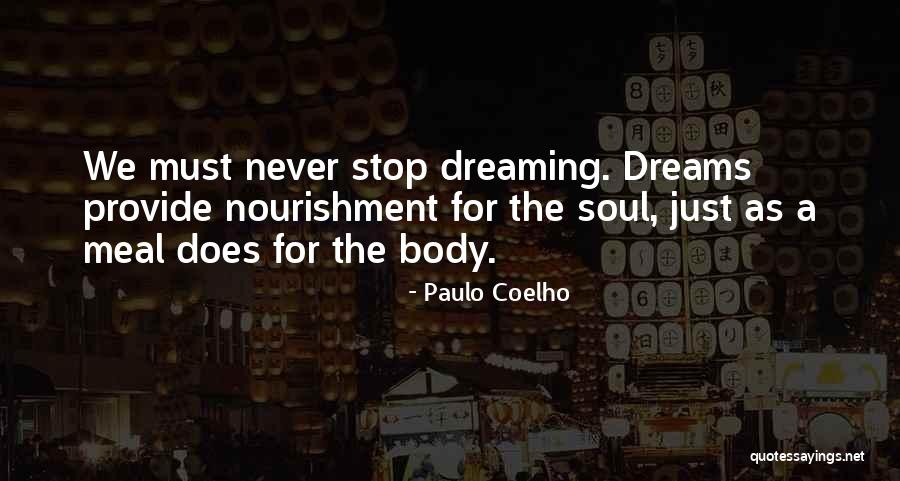 We must never stop dreaming. Dreams provide nourishment for the soul, just as a meal does for the body. — Paulo Coelho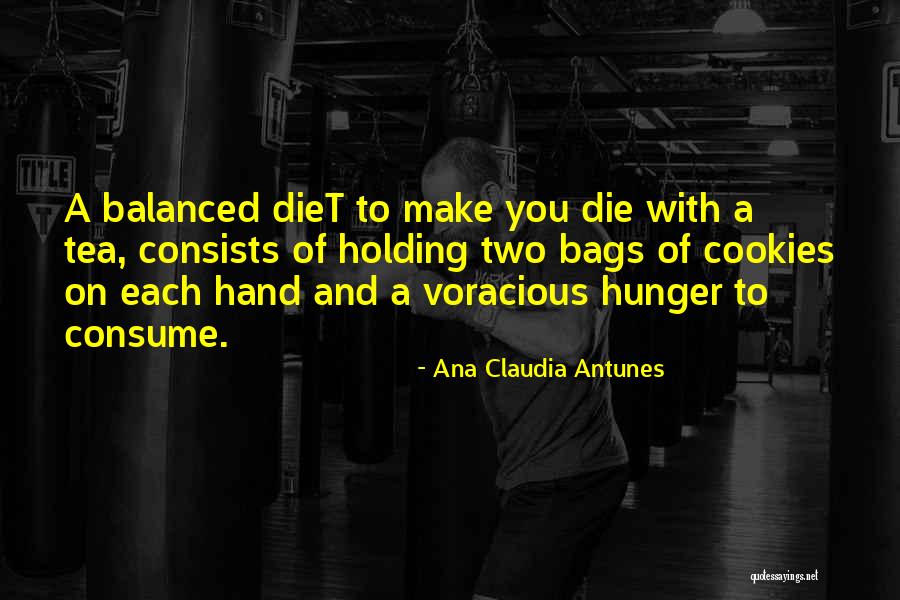 A balanced dieT to make you die with a tea, consists of holding two bags of cookies on each hand and a voracious hunger to consume. — Ana Claudia Antunes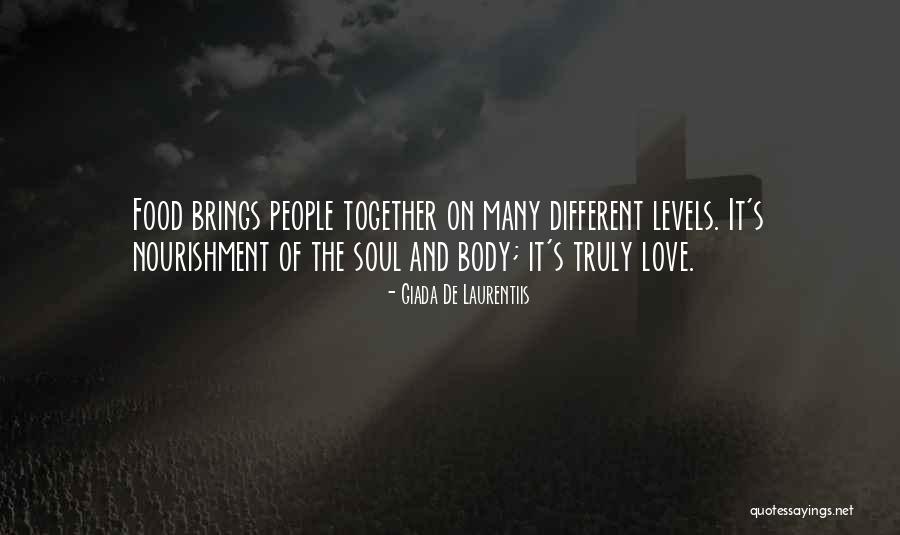 Food brings people together on many different levels. It's nourishment of the soul and body; it's truly love. — Giada De Laurentiis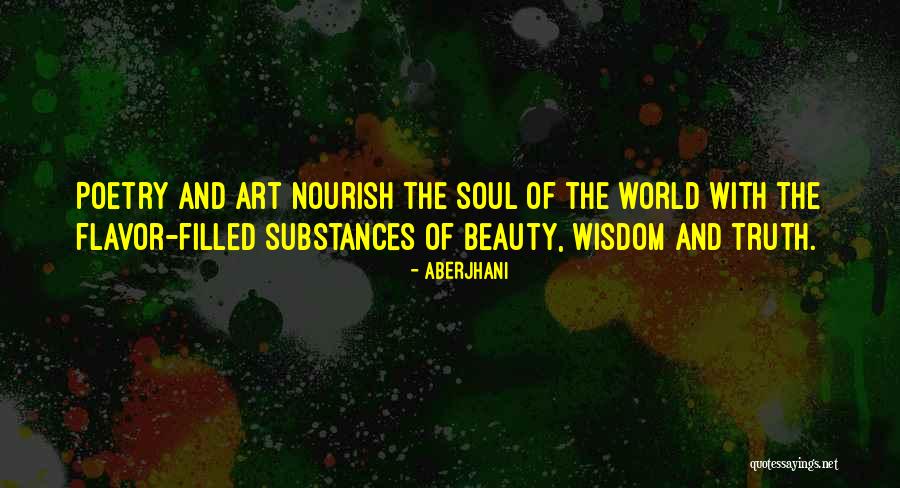 Poetry and art nourish the soul of the world with the flavor-filled substances of beauty, wisdom and truth. — Aberjhani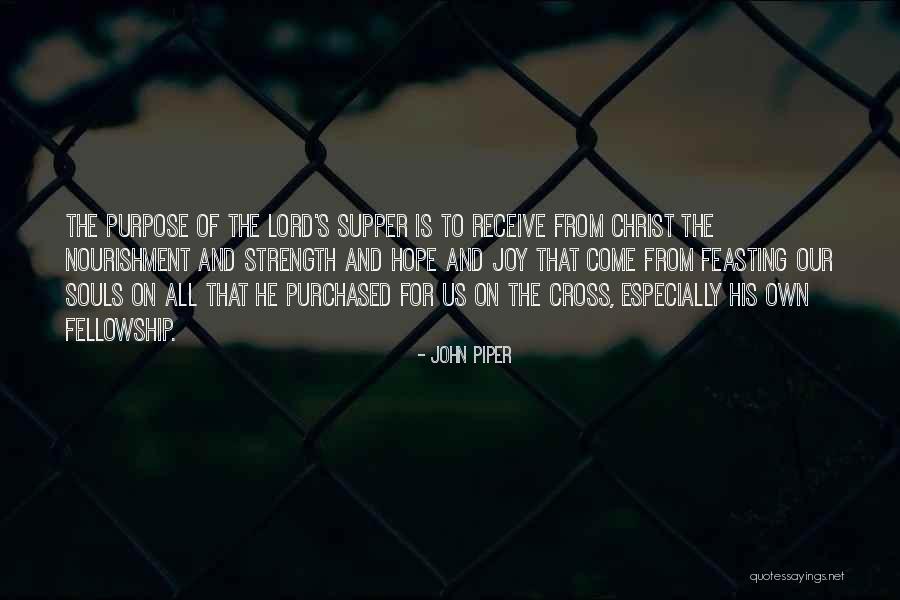 The purpose of the Lord's Supper is to receive from Christ the nourishment and strength and hope and joy that come from feasting our souls on all that He purchased for us on the cross, especially His own fellowship. — John Piper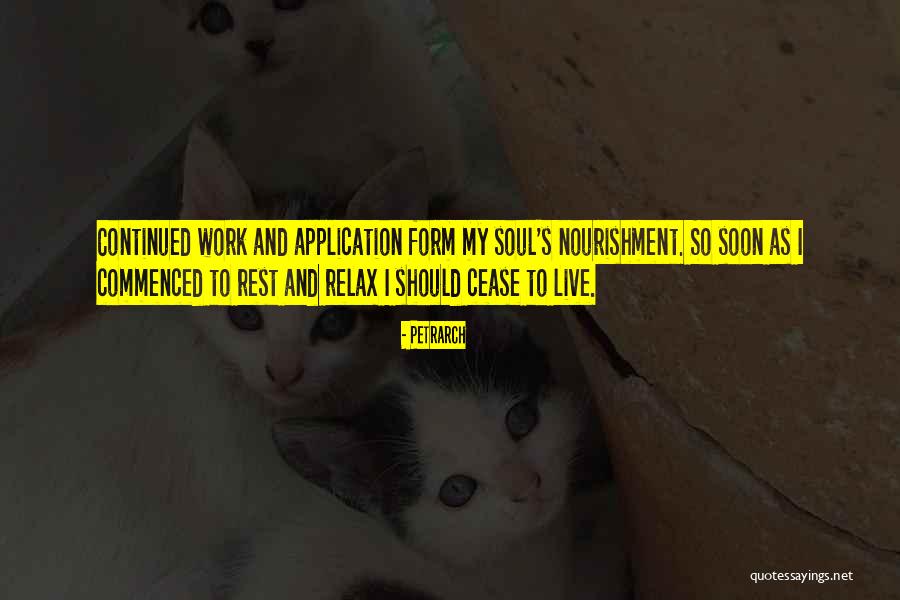 Continued work and application form my soul's nourishment. So soon as I commenced to rest and relax I should cease to live. — Petrarch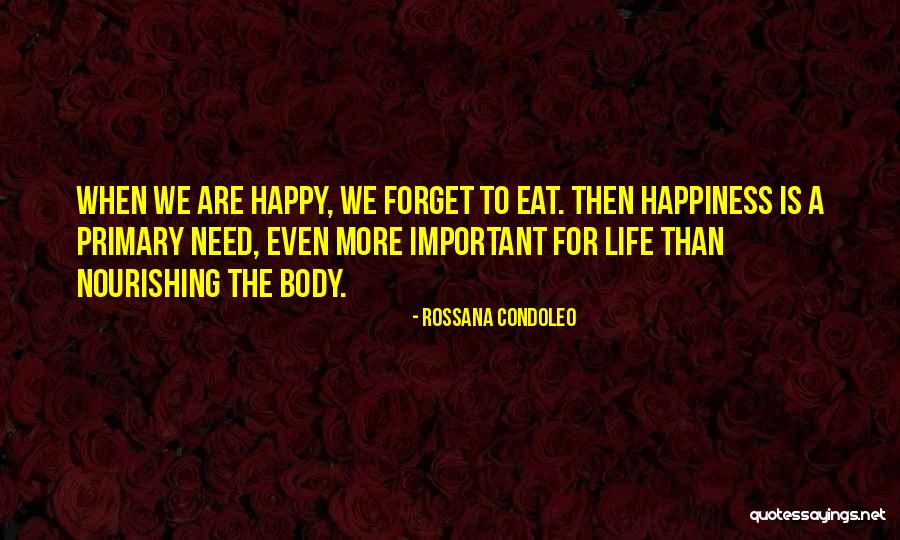 When we are happy, we forget to eat. Then happiness is a primary need, even more important for life than nourishing the body. — Rossana Condoleo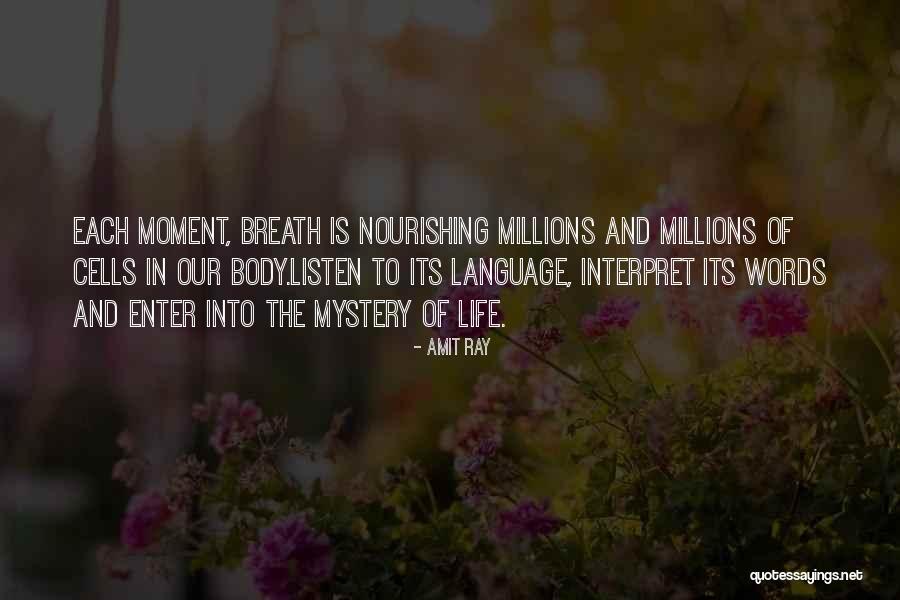 Each moment, breath is nourishing millions and millions of cells in our body.Listen to its language, interpret its words and enter into the mystery of life. — Amit Ray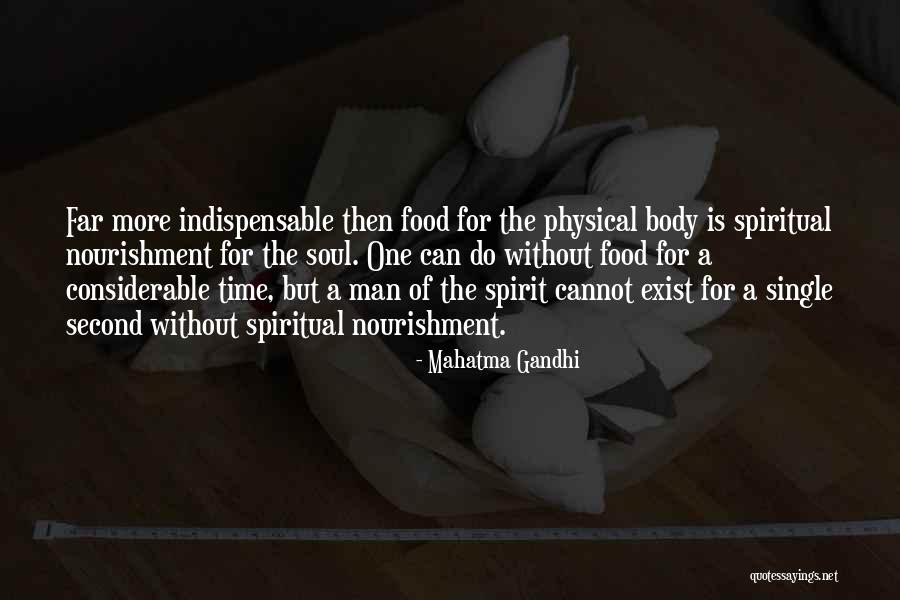 Far more indispensable then food for the physical body is spiritual nourishment for the soul. One can do without food for a considerable time, but a man of the spirit cannot exist for a single second without spiritual nourishment. — Mahatma Gandhi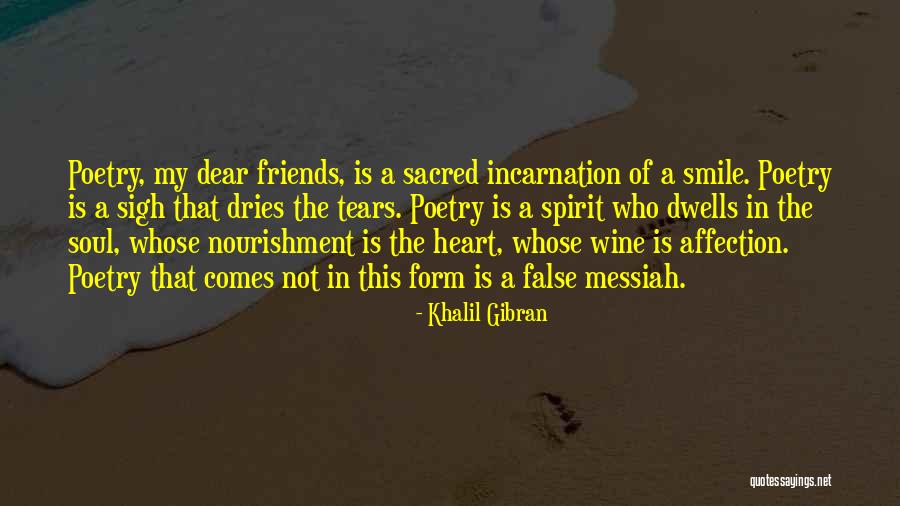 Poetry, my dear friends, is a sacred incarnation of a smile. Poetry is a sigh that dries the tears. Poetry is a spirit who dwells in the soul, whose nourishment is the heart, whose wine is affection. Poetry that comes not in this form is a false messiah. — Khalil Gibran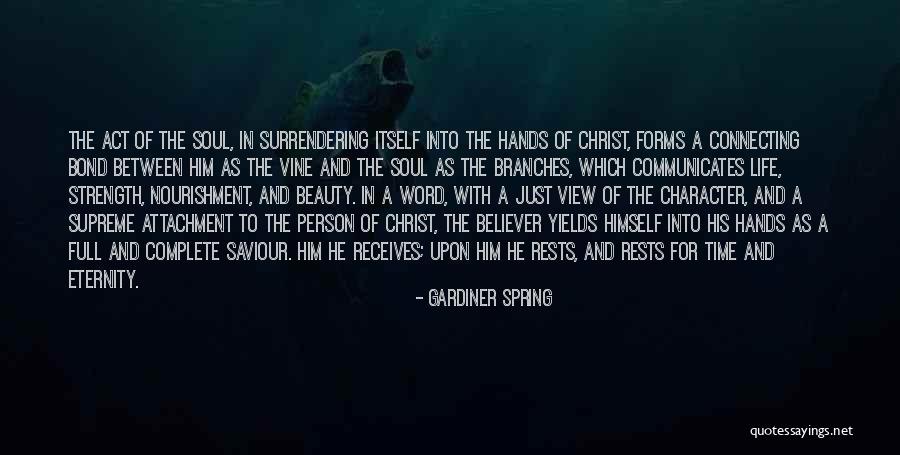 The act of the soul, in surrendering itself into the hands of Christ, forms a connecting bond between Him as the Vine and the soul as the branches, which communicates life, strength, nourishment, and beauty. In a word, with a just view of the character, and a supreme attachment to the person of Christ, the believer yields himself into His hands as a full and complete Saviour. Him he receives; upon Him he rests, and rests for time and eternity. — Gardiner Spring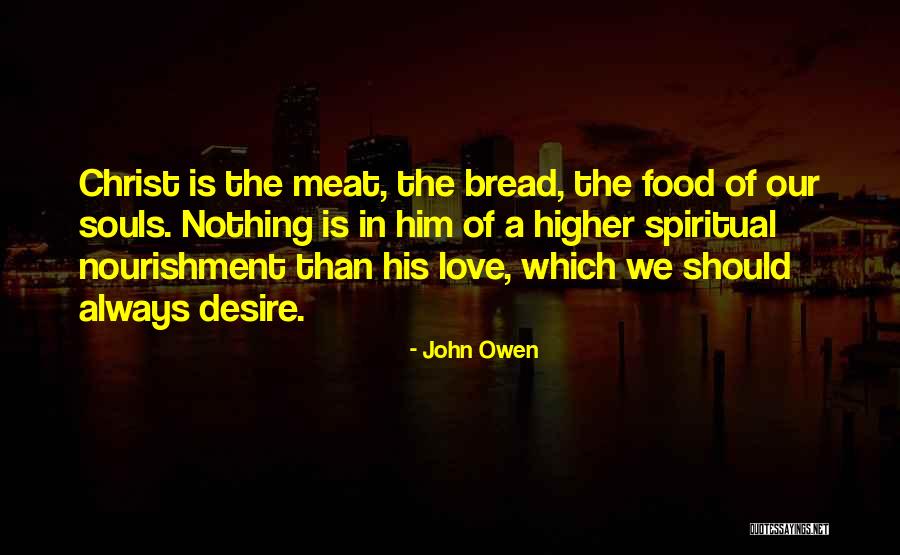 Christ is the meat, the bread, the food of our souls. Nothing is in him of a higher spiritual nourishment than his love, which we should always desire. — John Owen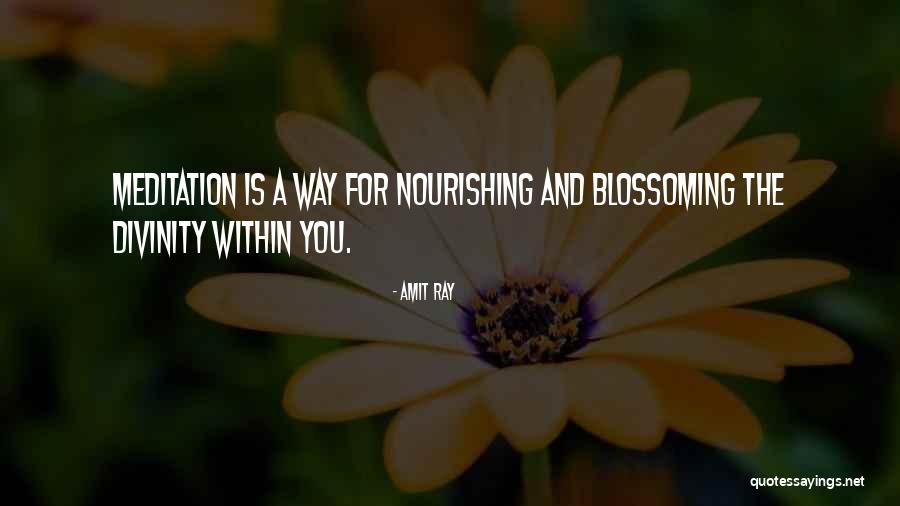 Meditation is a way for nourishing and blossoming the divinity within you. — Amit Ray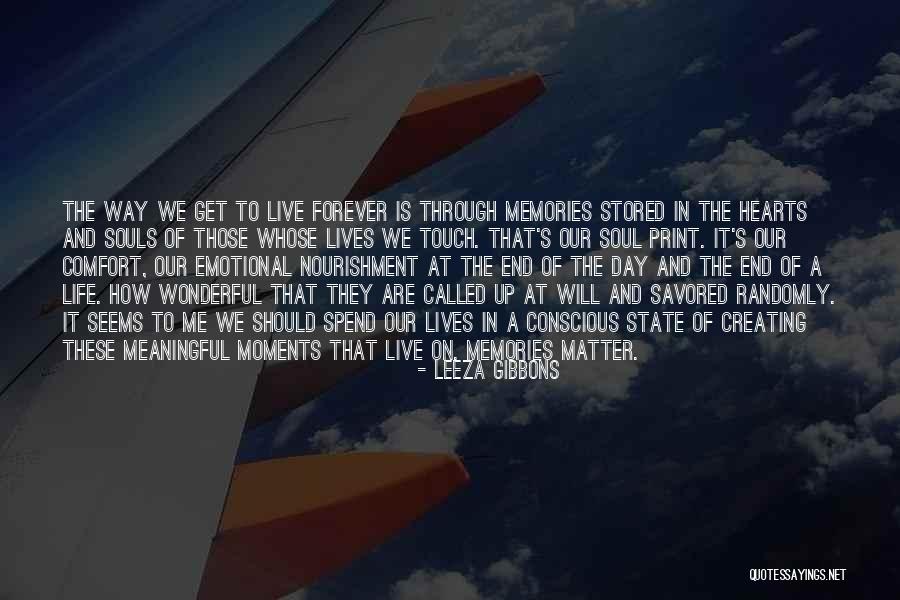 The way we get to live forever is through memories stored in the hearts and souls of those whose lives we touch. That's our soul print. It's our comfort, our emotional nourishment at the end of the day and the end of a life. How wonderful that they are called up at will and savored randomly. It seems to me we should spend our lives in a conscious state of creating these meaningful moments that live on. Memories matter. — Leeza Gibbons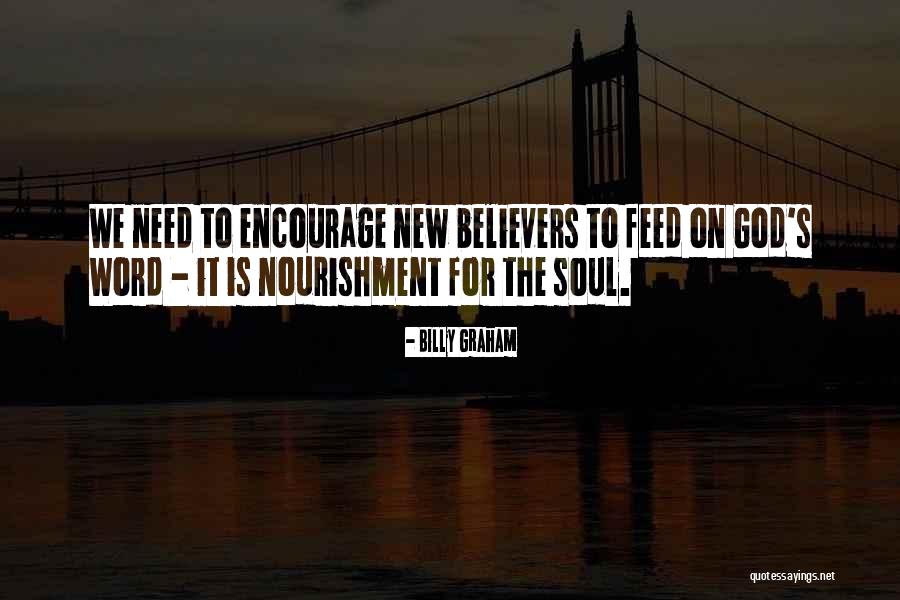 We need to encourage new believers to feed on God's Word - it is nourishment for the soul. — Billy Graham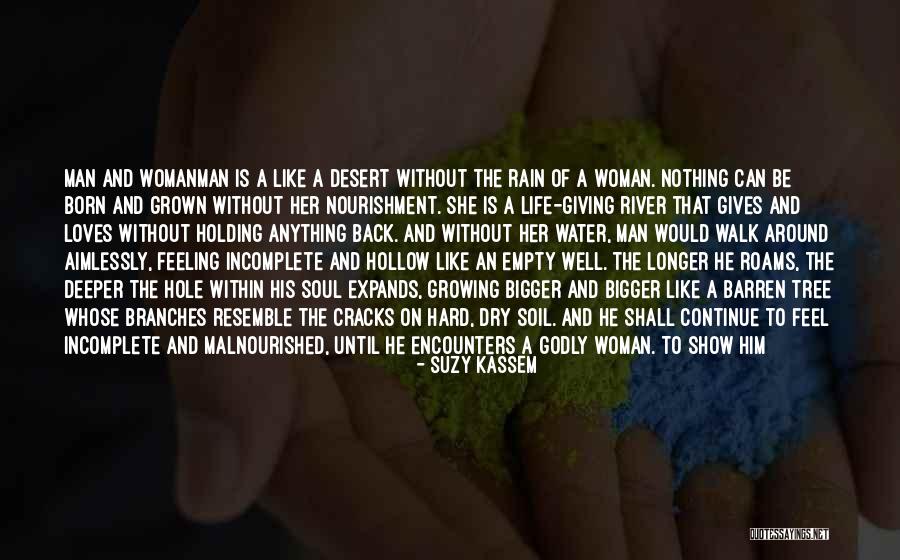 MAN AND WOMAN

Man is a like a desert without the rain of a woman. Nothing can be born and grown without her nourishment. She is a life-giving river that gives and loves without holding anything back. And without her water, man would walk around aimlessly, feeling incomplete and hollow like an empty well. The longer he roams, the deeper the hole within his soul expands, growing bigger and bigger like a barren tree whose branches resemble the cracks on hard, dry soil. And he shall continue to feel incomplete and malnourished, until he encounters a godly woman. To show him life and quench his thirst. — Suzy Kassem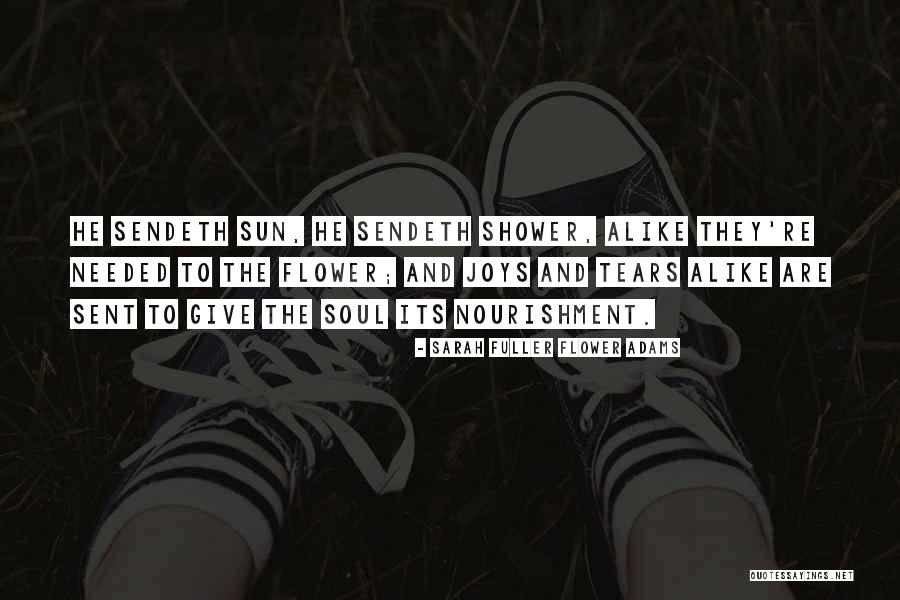 He sendeth sun, he sendeth shower, alike they're needed to the flower; and joys and tears alike are sent to give the soul its nourishment. — Sarah Fuller Flower Adams