Quotes & Sayings About Not Forgetting But Moving On
Enjoy reading and share 32 famous quotes about Not Forgetting But Moving On with everyone.
Top Not Forgetting But Moving On Quotes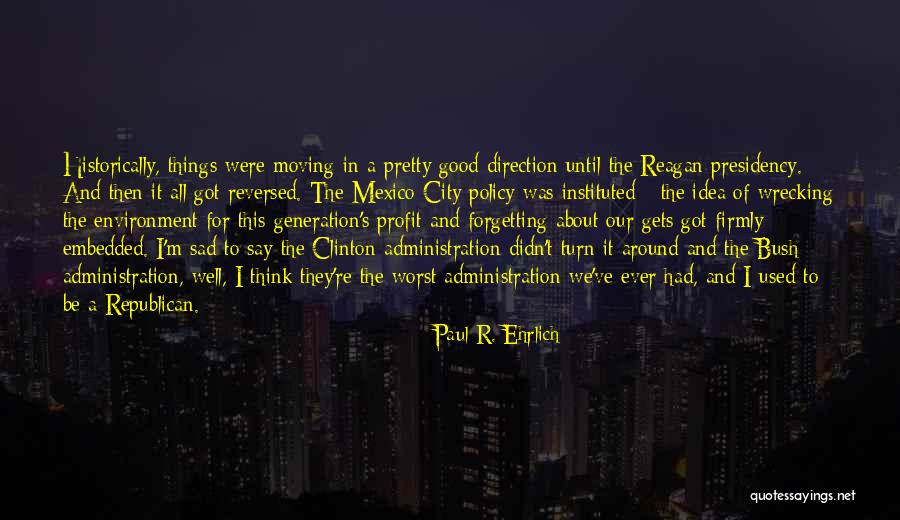 Historically, things were moving in a pretty good direction until the Reagan presidency. And then it all got reversed. The Mexico City policy was instituted - the idea of wrecking the environment for this generation's profit and forgetting about our gets got firmly embedded. I'm sad to say the Clinton administration didn't turn it around and the Bush administration, well, I think they're the worst administration we've ever had, and I used to be a Republican. — Paul R. Ehrlich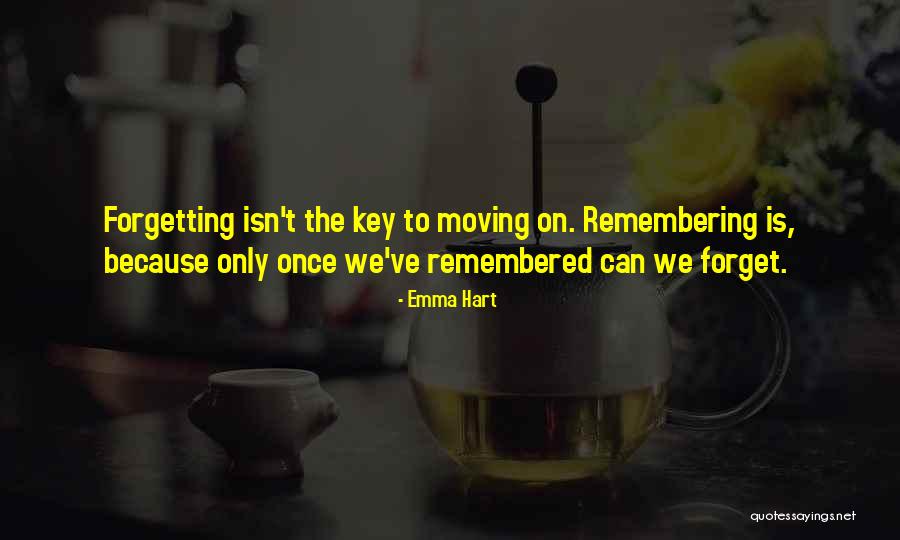 Forgetting isn't the key to moving on. Remembering is, because only once we've remembered can we forget. — Emma Hart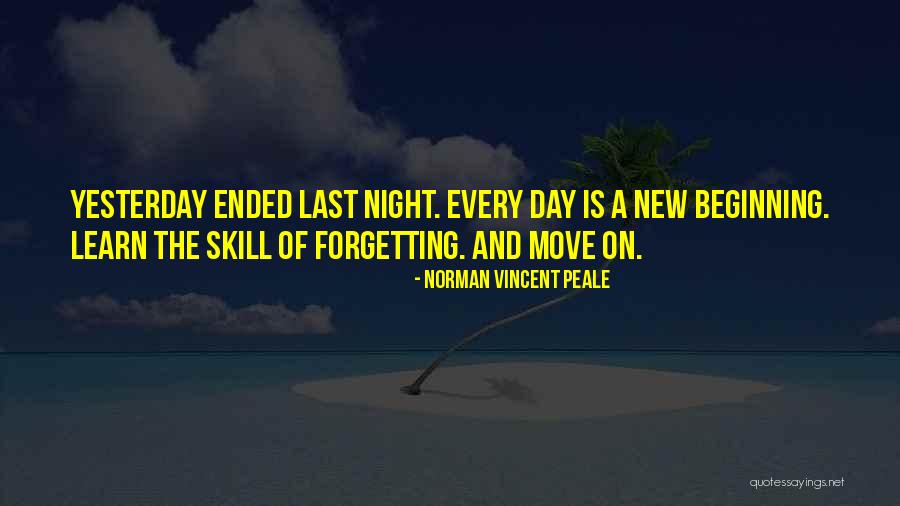 Yesterday ended last night. Every day is a new beginning. Learn the skill of forgetting. And move on. — Norman Vincent Peale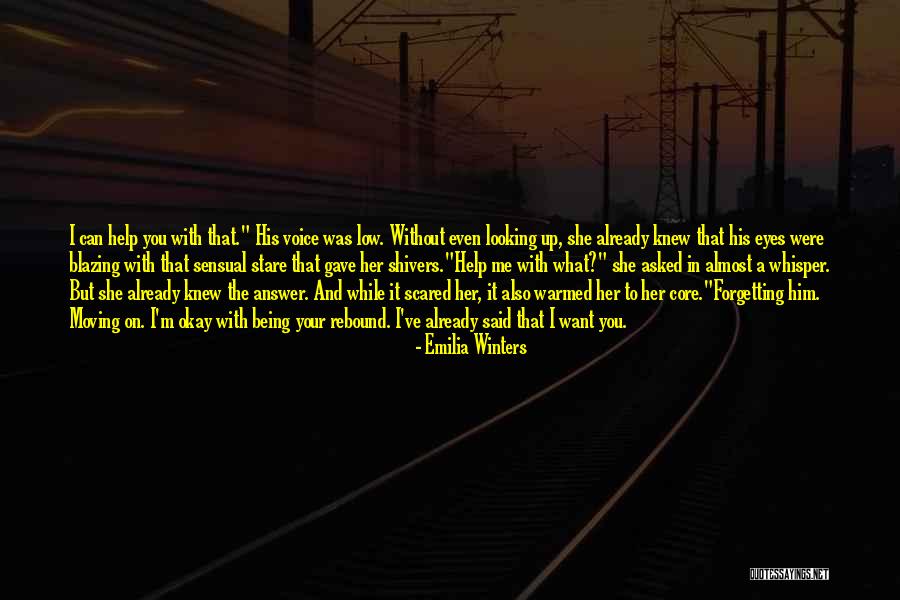 I can help you with that." His voice was low. Without even looking up, she already knew that his eyes were blazing with that sensual stare that gave her shivers.

"Help me with what?" she asked in almost a whisper. But she already knew the answer. And while it scared her, it also warmed her to her core.

"Forgetting him. Moving on. I'm okay with being your rebound. I've already said that I want you. — Emilia Winters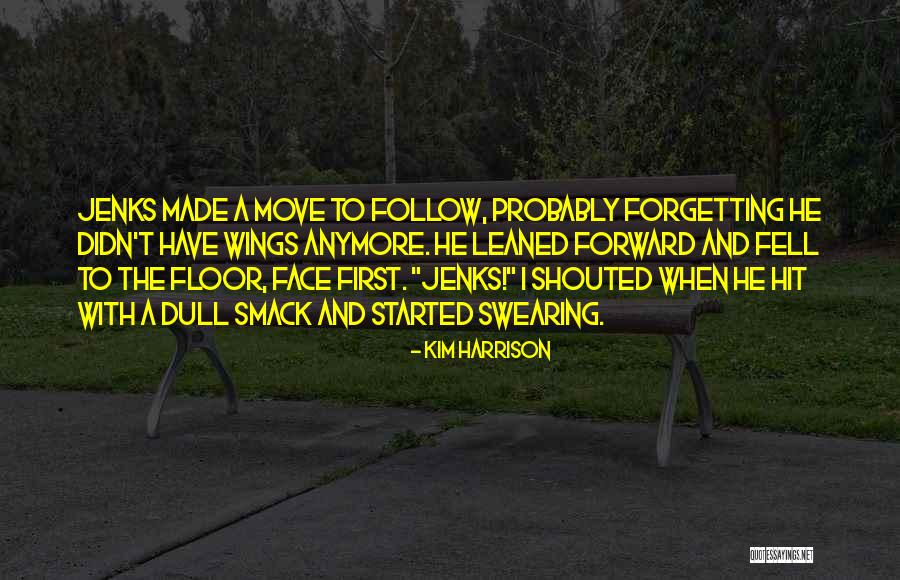 Jenks made a move to follow, probably forgetting he didn't have wings anymore. He leaned forward and fell to the floor, face first. "Jenks!" I shouted when he hit with a dull smack and started swearing. — Kim Harrison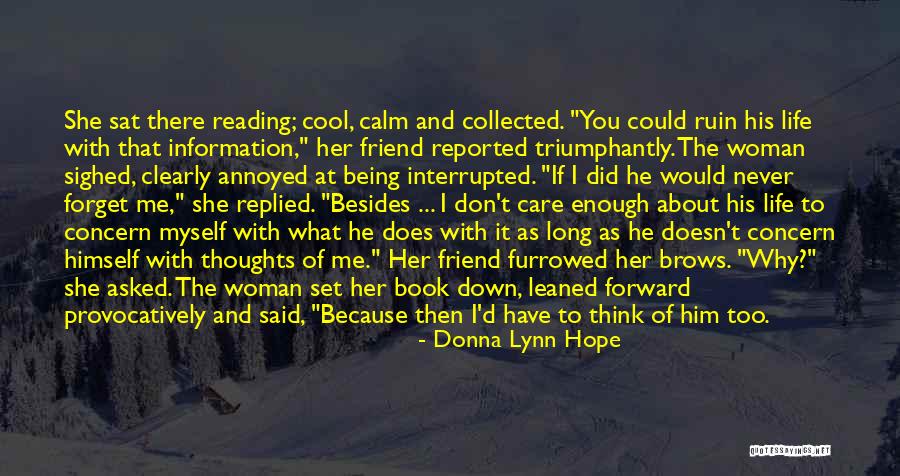 She sat there reading; cool, calm and collected. "You could ruin his life with that information," her friend reported triumphantly. The woman sighed, clearly annoyed at being interrupted. "If I did he would never forget me," she replied. "Besides ... I don't care enough about his life to concern myself with what he does with it as long as he doesn't concern himself with thoughts of me." Her friend furrowed her brows. "Why?" she asked. The woman set her book down, leaned forward provocatively and said, "Because then I'd have to think of him too. — Donna Lynn Hope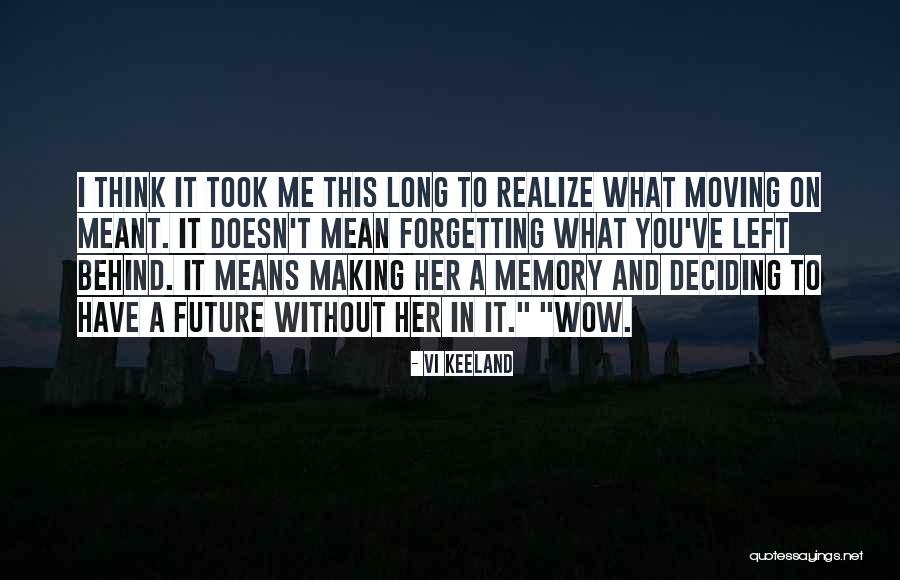 I think it took me this long to realize what moving on meant. It doesn't mean forgetting what you've left behind. It means making her a memory and deciding to have a future without her in it." "Wow. — Vi Keeland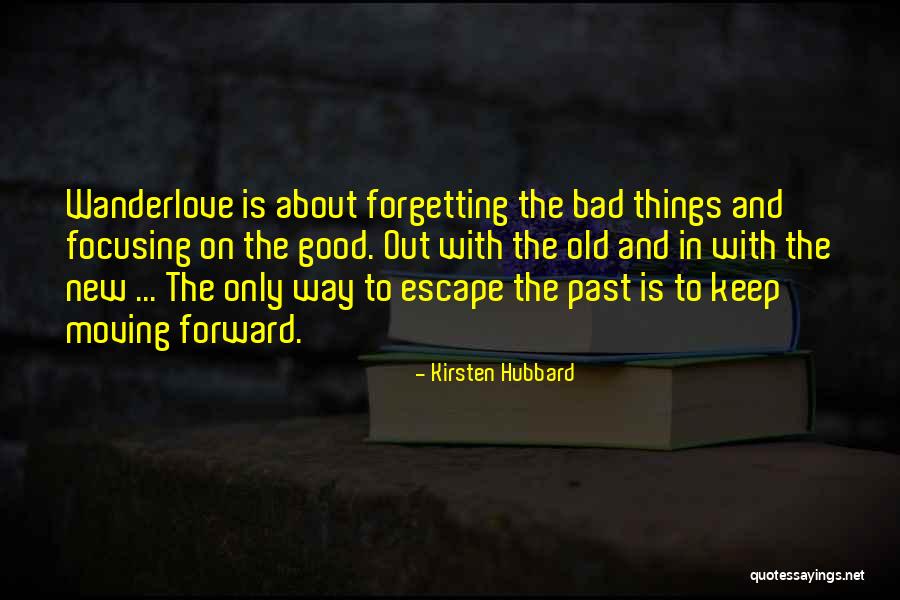 Wanderlove is about forgetting the bad things and focusing on the good. Out with the old and in with the new ... The only way to escape the past is to keep moving forward. — Kirsten Hubbard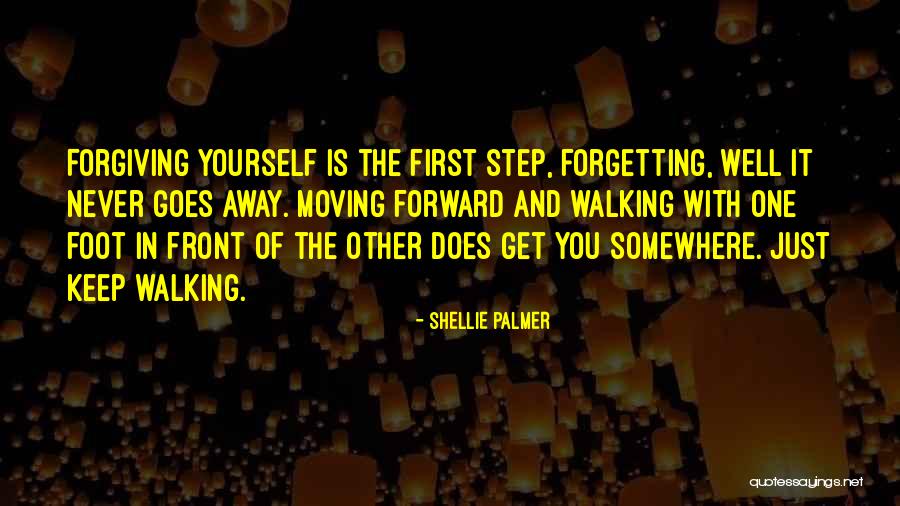 Forgiving yourself is the first step, forgetting, well it never goes away. Moving forward and walking with one foot in front of the other does get you somewhere. Just keep walking. — Shellie Palmer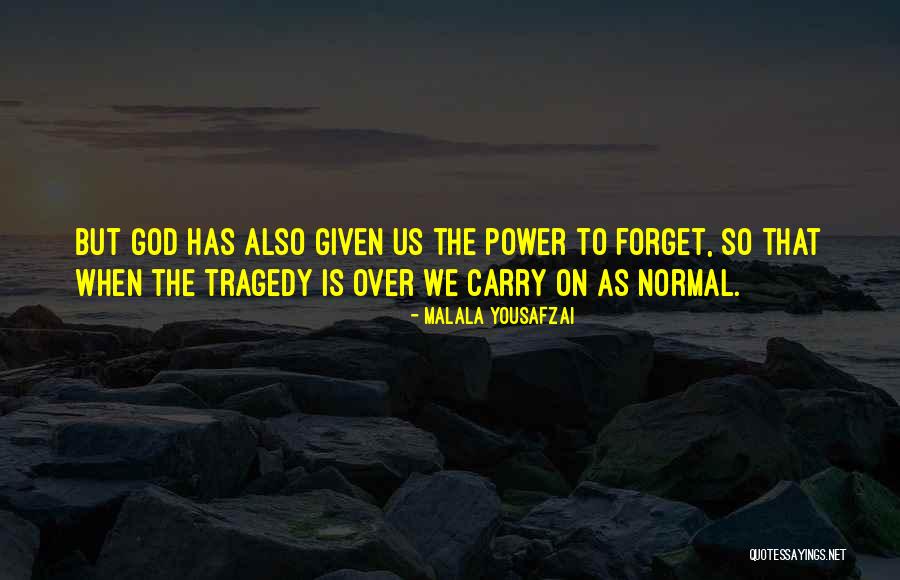 But God has also given us the power to forget, so that when the tragedy is over we carry on as normal. — Malala Yousafzai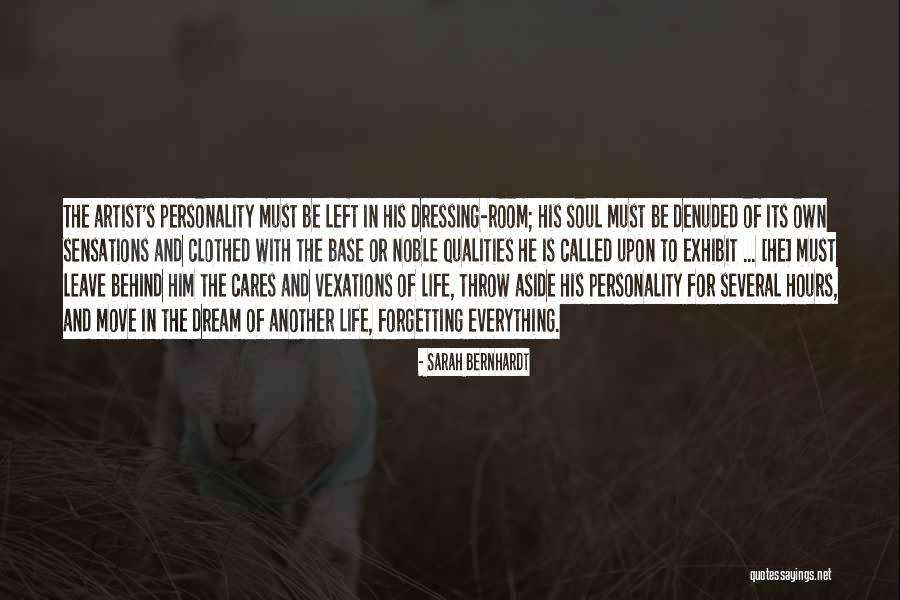 The artist's personality must be left in his dressing-room; his soul must be denuded of its own sensations and clothed with the base or noble qualities he is called upon to exhibit ... [he] must leave behind him the cares and vexations of life, throw aside his personality for several hours, and move in the dream of another life, forgetting everything. — Sarah Bernhardt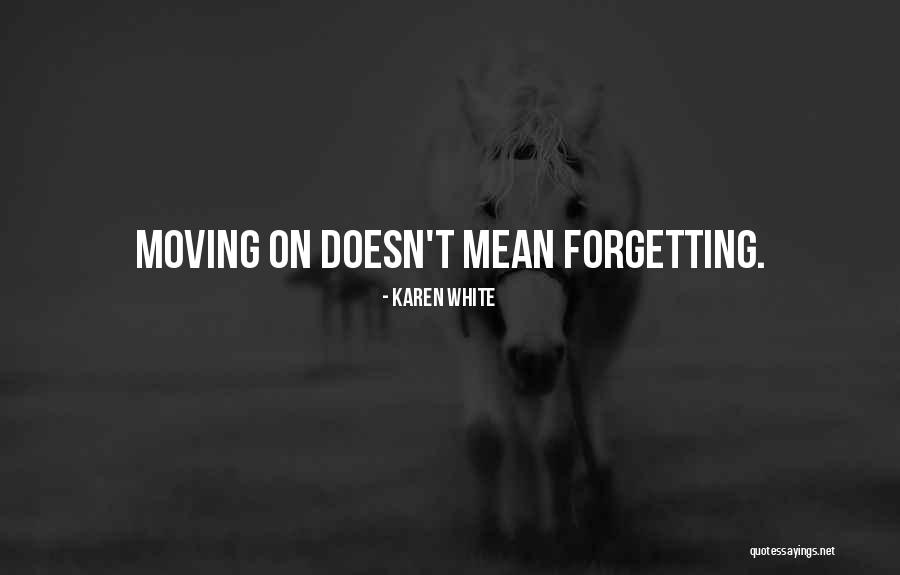 Moving on doesn't mean forgetting. — Karen White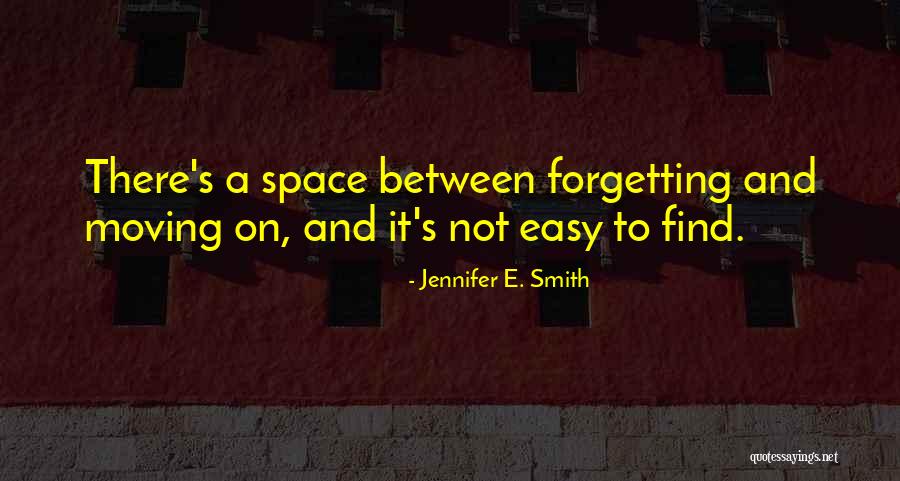 There's a space between forgetting and moving on, and it's not easy to find. — Jennifer E. Smith
She had forgotten how to care about the city that had taken so much from her. Forgetting was the only way she had found to keep moving every day. — Claire Legrand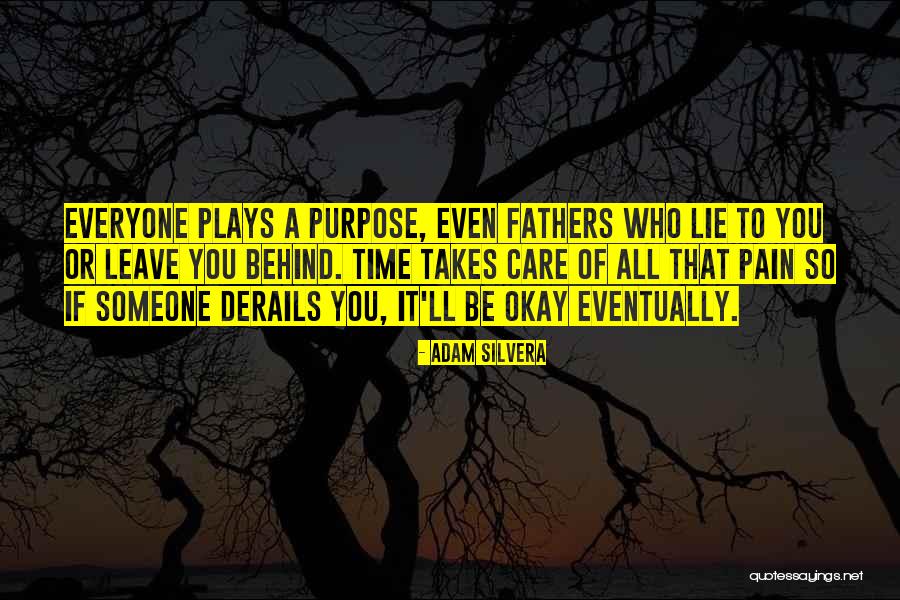 Everyone plays a purpose, even fathers who lie to you or leave you behind. Time takes care of all that pain so if someone derails you, it'll be okay eventually. — Adam Silvera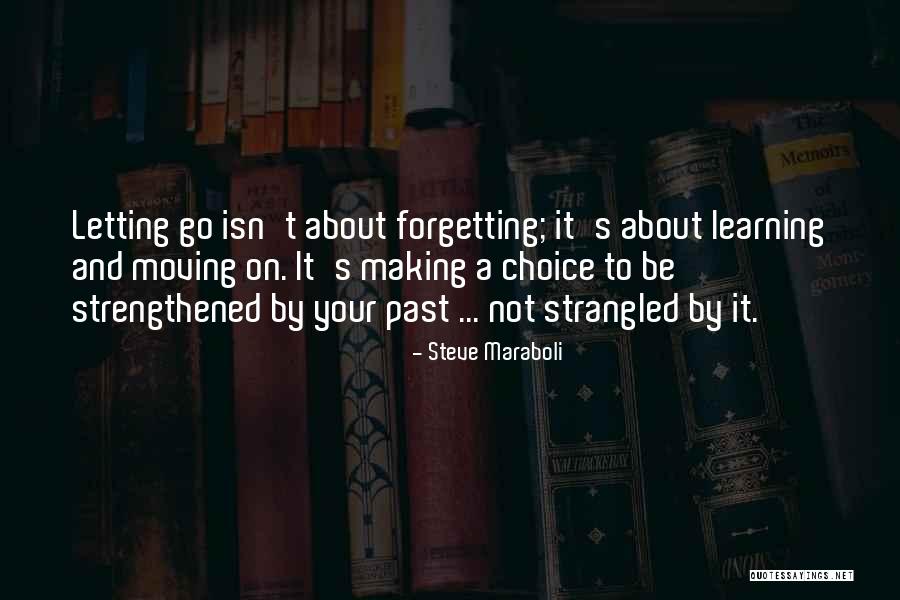 Letting go isn't about forgetting; it's about learning and moving on. It's making a choice to be strengthened by your past ... not strangled by it. — Steve Maraboli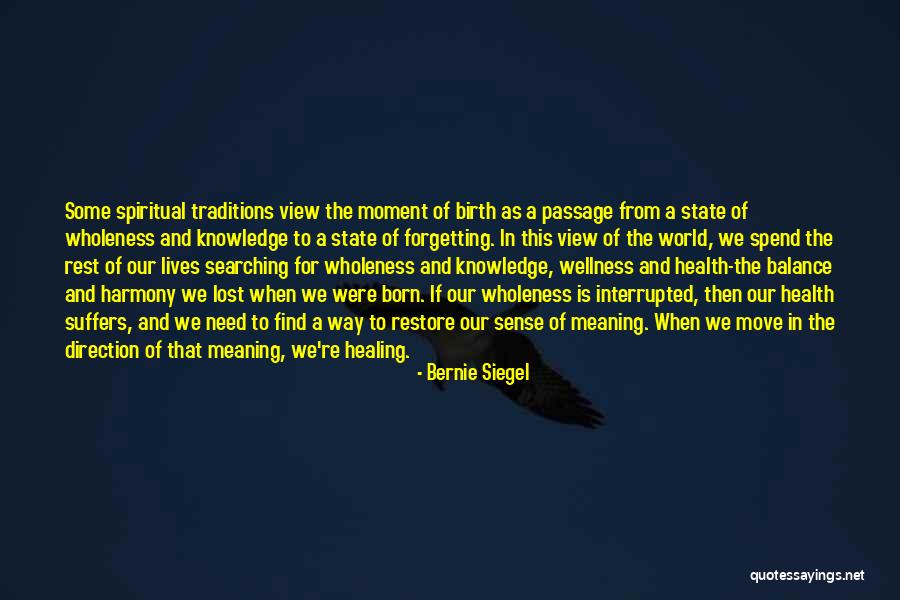 Some spiritual traditions view the moment of birth as a passage from a state of wholeness and knowledge to a state of forgetting. In this view of the world, we spend the rest of our lives searching for wholeness and knowledge, wellness and health-the balance and harmony we lost when we were born. If our wholeness is interrupted, then our health suffers, and we need to find a way to restore our sense of meaning. When we move in the direction of that meaning, we're healing. — Bernie Siegel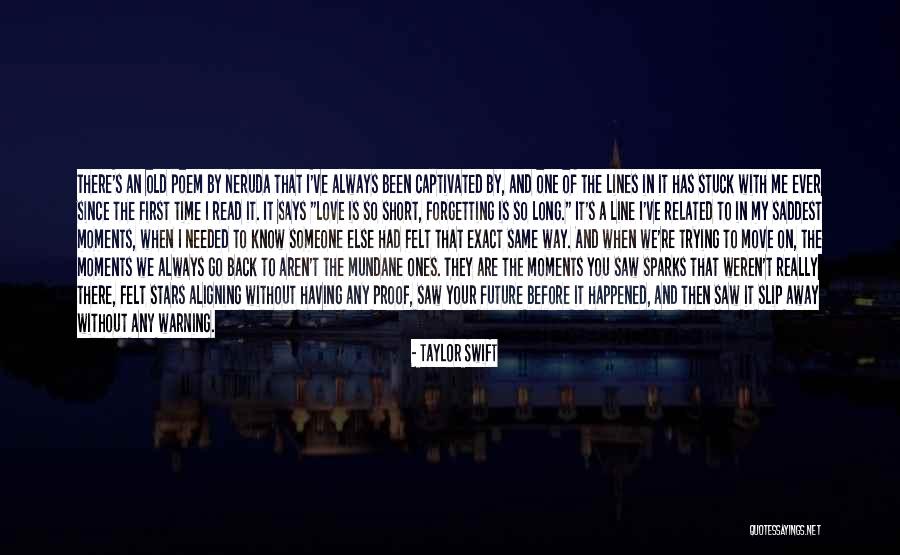 There's an old poem by Neruda that I've always been captivated by, and one of the lines in it has stuck with me ever since the first time I read it. It says "love is so short, forgetting is so long." It's a line I've related to in my saddest moments, when I needed to know someone else had felt that exact same way. And when we're trying to move on, the moments we always go back to aren't the mundane ones. They are the moments you saw sparks that weren't really there, felt stars aligning without having any proof, saw your future before it happened, and then saw it slip away without any warning. — Taylor Swift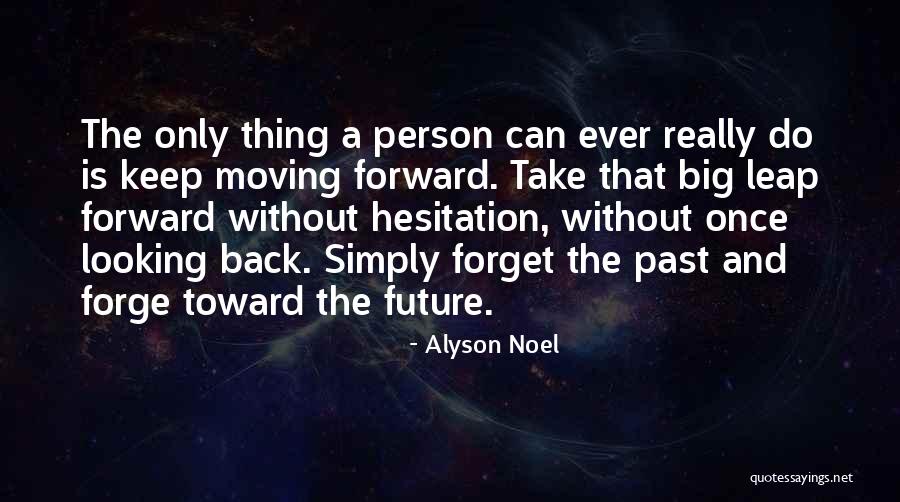 The only thing a person can ever really do is keep moving forward. Take that big leap forward without hesitation, without once looking back. Simply forget the past and forge toward the future. — Alyson Noel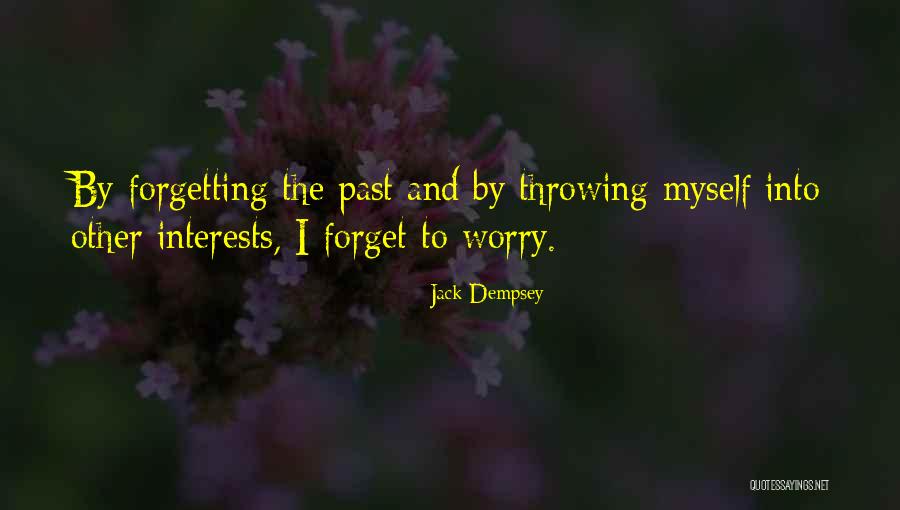 By forgetting the past and by throwing myself into other interests, I forget to worry. — Jack Dempsey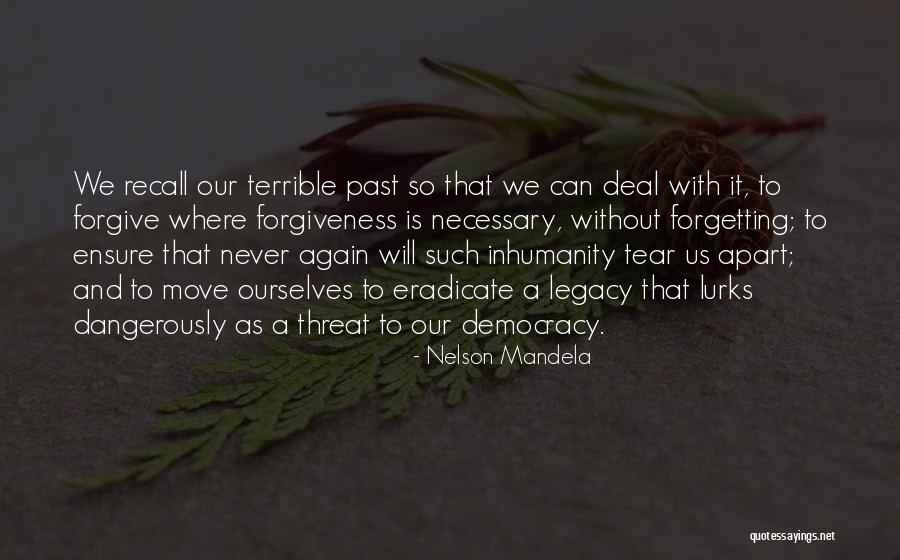 We recall our terrible past so that we can deal with it, to forgive where forgiveness is necessary, without forgetting; to ensure that never again will such inhumanity tear us apart; and to move ourselves to eradicate a legacy that lurks dangerously as a threat to our democracy. — Nelson Mandela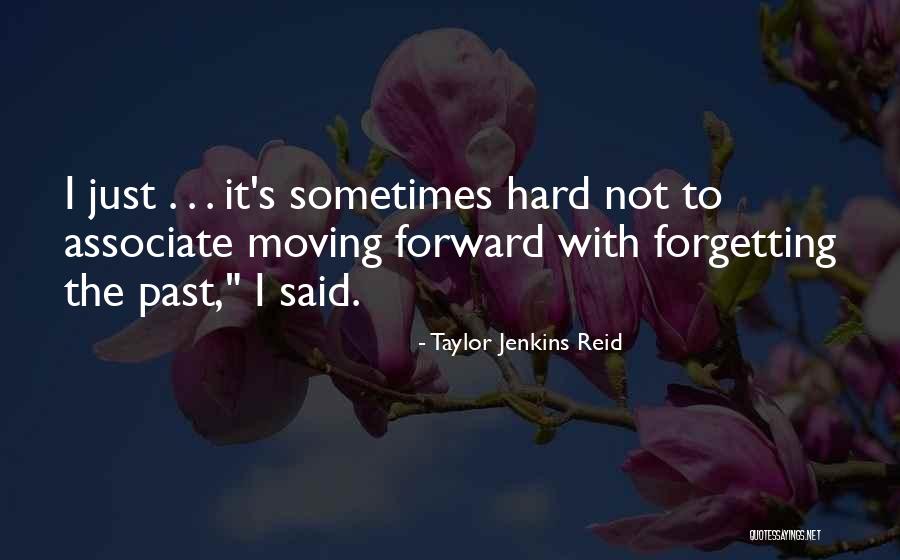 I just . . . it's sometimes hard not to associate moving forward with forgetting the past," I said. — Taylor Jenkins Reid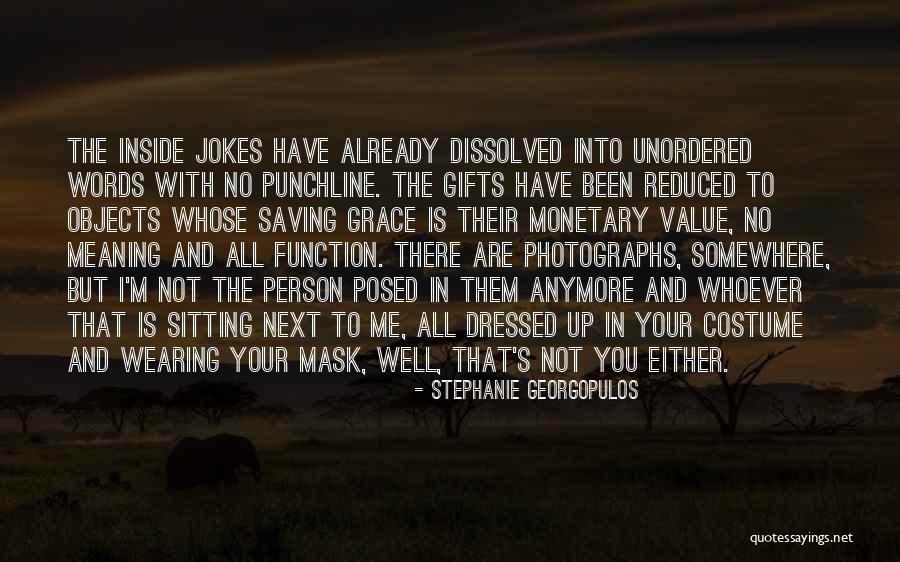 The inside jokes have already dissolved into unordered words with no punchline. The gifts have been reduced to objects whose saving grace is their monetary value, no meaning and all function. There are photographs, somewhere, but I'm not the person posed in them anymore and whoever that is sitting next to me, all dressed up in your costume and wearing your mask, well, that's not you either. — Stephanie Georgopulos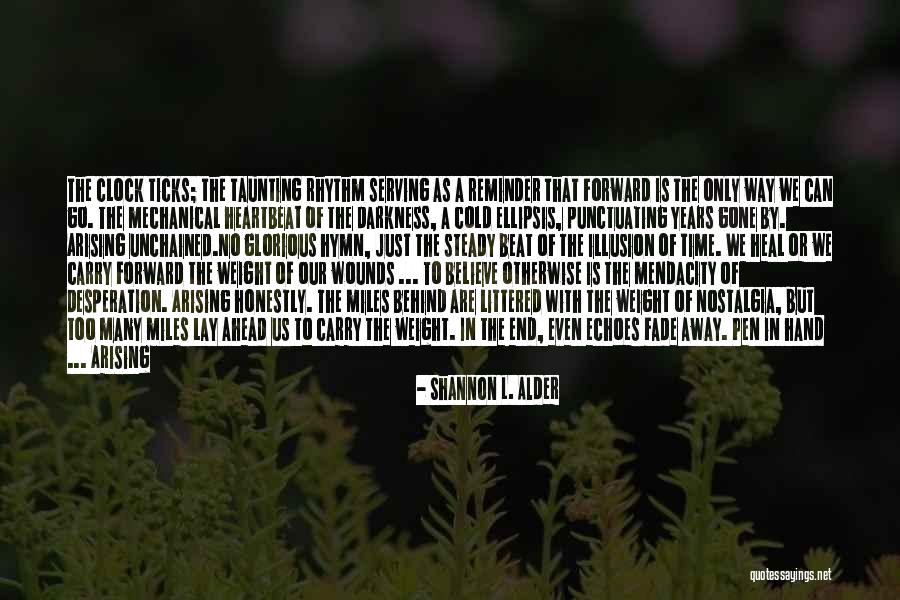 The clock ticks; the taunting rhythm serving as a reminder that forward is the only way we can go. The mechanical heartbeat of the darkness, a cold ellipsis, punctuating years gone by.
Arising unchained.
No glorious hymn, just the steady beat of the illusion of time. We heal or we carry forward the weight of our wounds ... To believe otherwise is the mendacity of desperation.
Arising honestly.
The miles behind are littered with the weight of nostalgia, but too many miles lay ahead us to carry the weight. In the end, even echoes fade away.
Pen in hand ...
Arising to write the next chapter.
(MU Articles 2013, Dedication to Joey) — Shannon L. Alder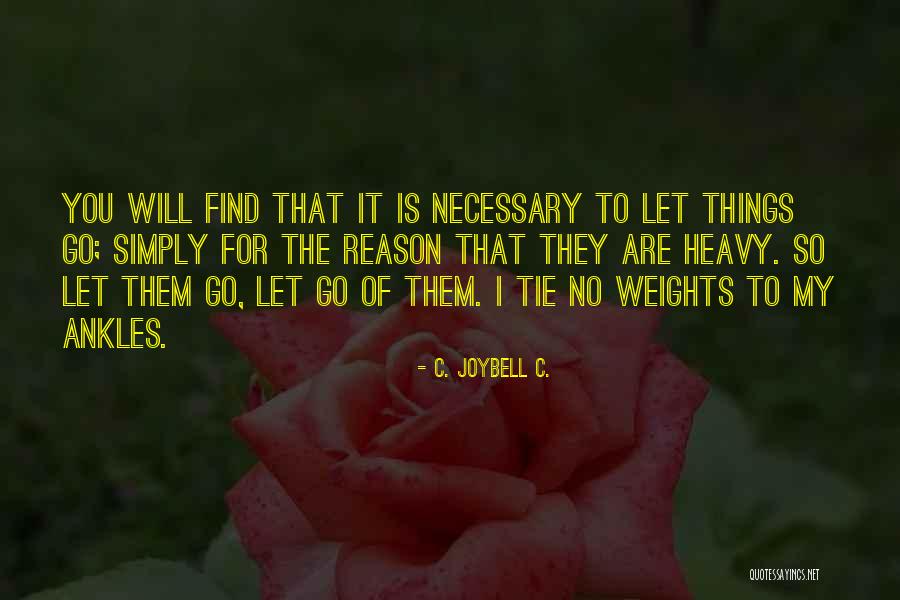 You will find that it is necessary to let things go; simply for the reason that they are heavy. So let them go, let go of them. I tie no weights to my ankles. — C. JoyBell C.
And if there is water there let it be from a river. And if there is peace let it be from silence and forgetting. From the slow settle of dust on a house worn down, on a history lost, on a woman buried quietly into geography. And if there is memory let it be disjointed and nonsensical, let it disturb understanding and logic, let it rise like birds or hands into the blood blue bone of the sky, whispering its nothing beyond telling. ( ... ) Let someone lose the captions to all of the photographs; let them pile into new logics and forms that outlive us.
- "Siberia: Still Life of a Moving Image" (6. Representation) — Lidia Yuknavitch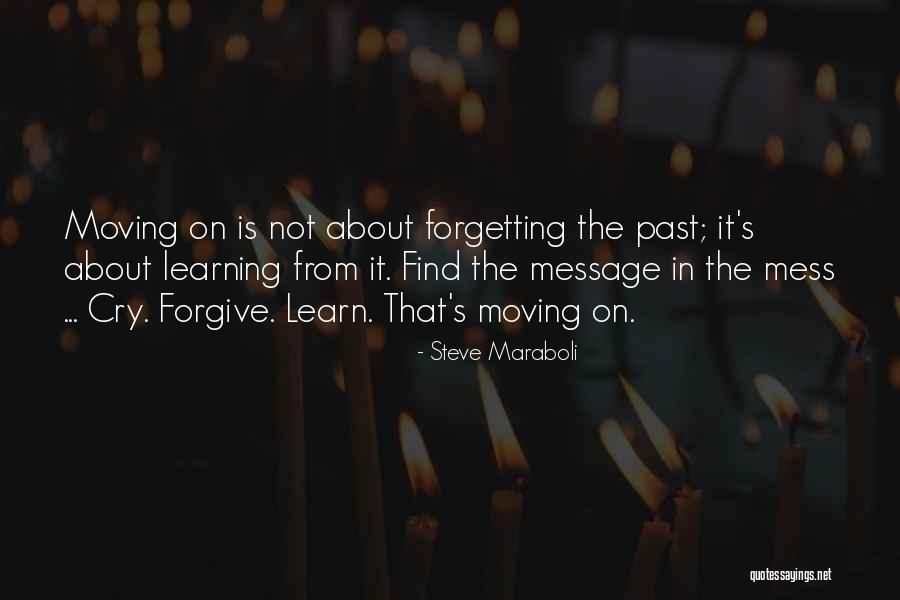 Moving on is not about forgetting the past; it's about learning from it. Find the message in the mess ... Cry. Forgive. Learn. That's moving on. — Steve Maraboli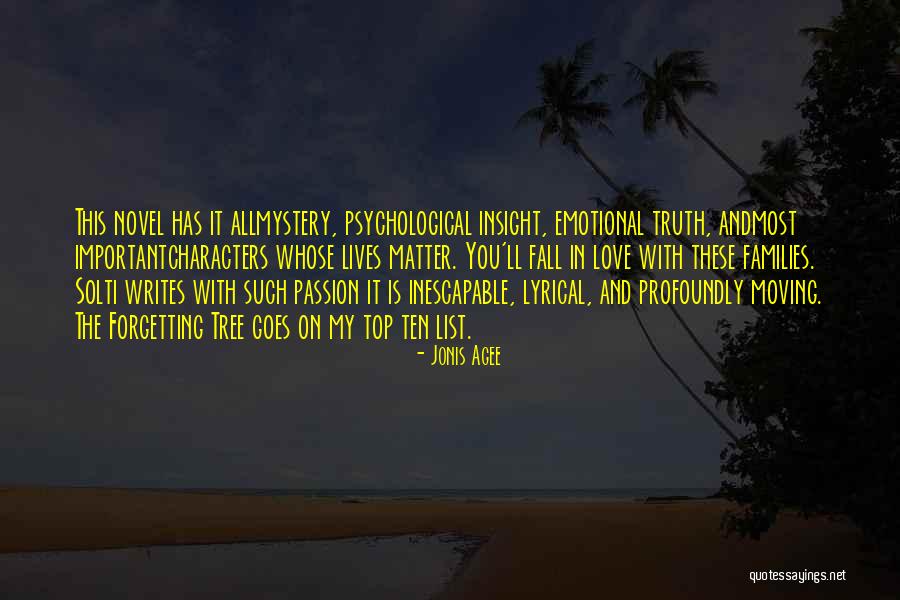 This novel has it all
mystery, psychological insight, emotional truth, and
most important
characters whose lives matter. You'll fall in love with these families. Solti writes with such passion it is inescapable, lyrical, and profoundly moving. The Forgetting Tree goes on my top ten list. — Jonis Agee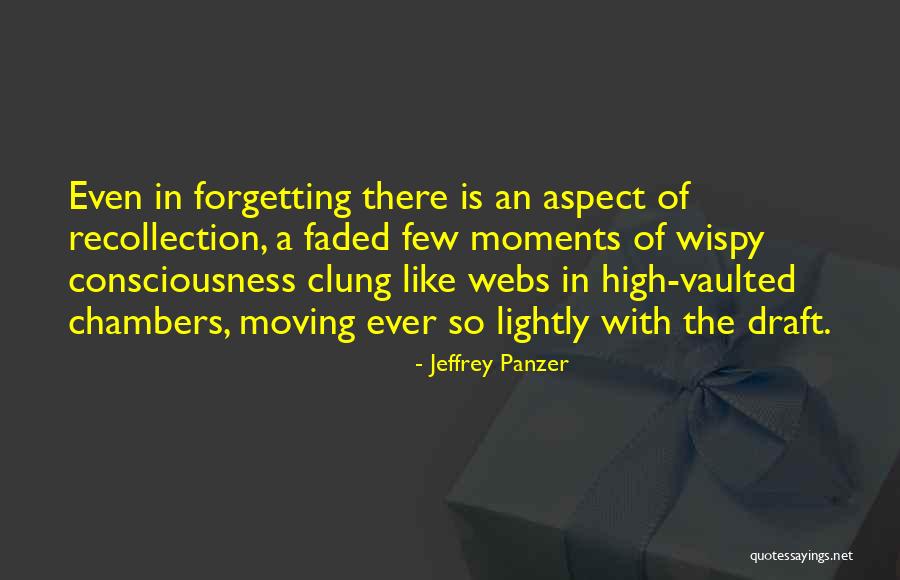 Even in forgetting there is an aspect of recollection, a faded few moments of wispy consciousness clung like webs in high-vaulted chambers, moving ever so lightly with the draft. — Jeffrey Panzer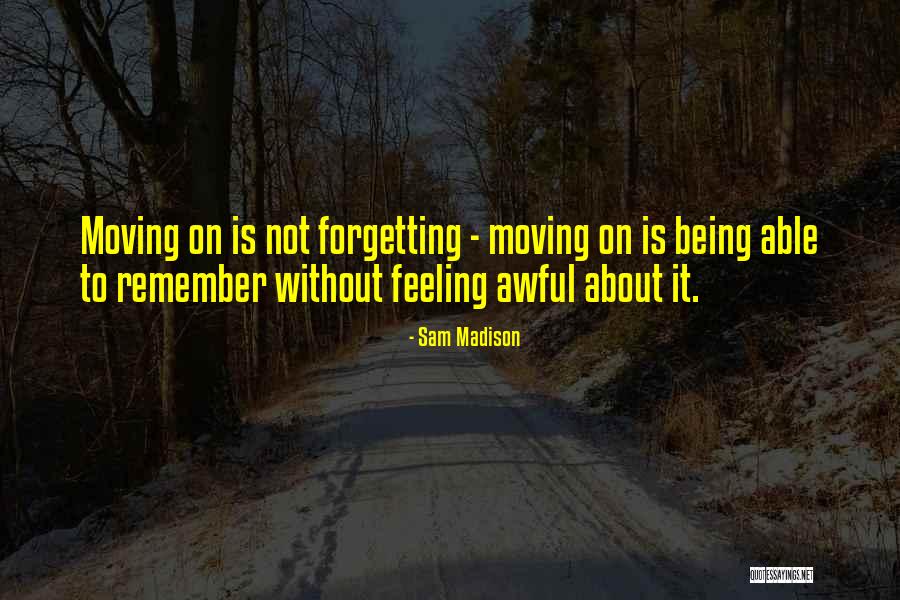 Moving on is not forgetting - moving on is being able to remember without feeling awful about it. — Sam Madison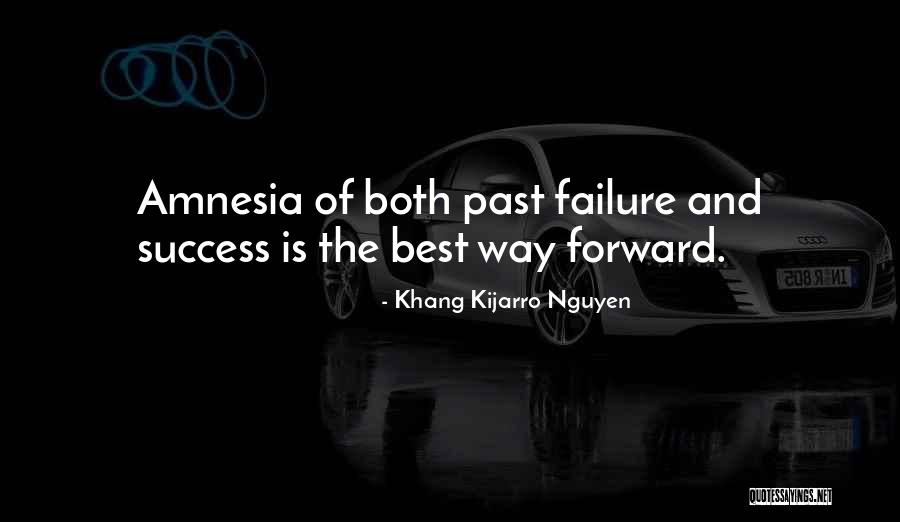 Amnesia of both past failure and success is the best way forward. — Khang Kijarro Nguyen