Quotes & Sayings About Not Being Beautiful Enough
Enjoy reading and share 54 famous quotes about Not Being Beautiful Enough with everyone.
Top Not Being Beautiful Enough Quotes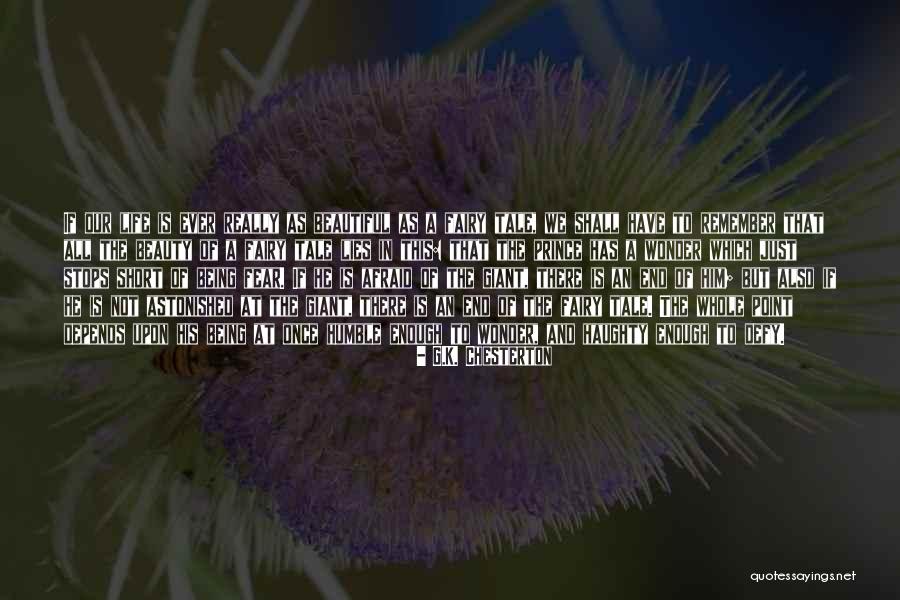 If our life is ever really as beautiful as a fairy tale, we shall have to remember that all the beauty of a fairy tale lies in this: that the prince has a wonder which just stops short of being fear. If he is afraid of the giant, there is an end of him; but also if he is not astonished at the giant, there is an end of the fairy tale. The whole point depends upon his being at once humble enough to wonder, and haughty enough to defy. — G.K. Chesterton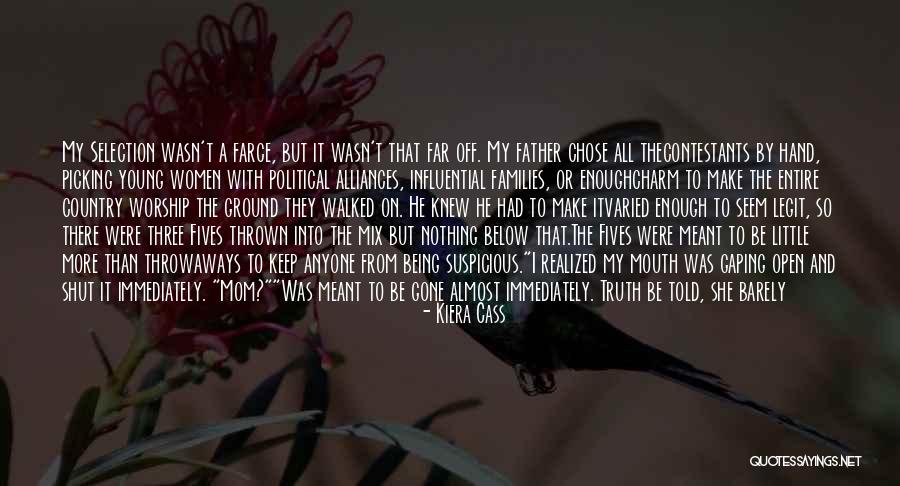 My Selection wasn't a farce, but it wasn't that far off. My father chose all the
contestants by hand, picking young women with political alliances, influential families, or enough
charm to make the entire country worship the ground they walked on. He knew he had to make it
varied enough to seem legit, so there were three Fives thrown into the mix but nothing below that.
The Fives were meant to be little more than throwaways to keep anyone from being suspicious."
I realized my mouth was gaping open and shut it immediately. "Mom?"
"Was meant to be gone almost immediately. Truth be told, she barely made it past my father 's
attempts to sway my opinion or remove her himself. And look at her now." His whole face changed.
"Though it was hard for me to imagine, she is even more beloved as queen than my mother. She has
made four beautiful, intelligent, strong children. And she has been the source of every happiness in
my life. — Kiera Cass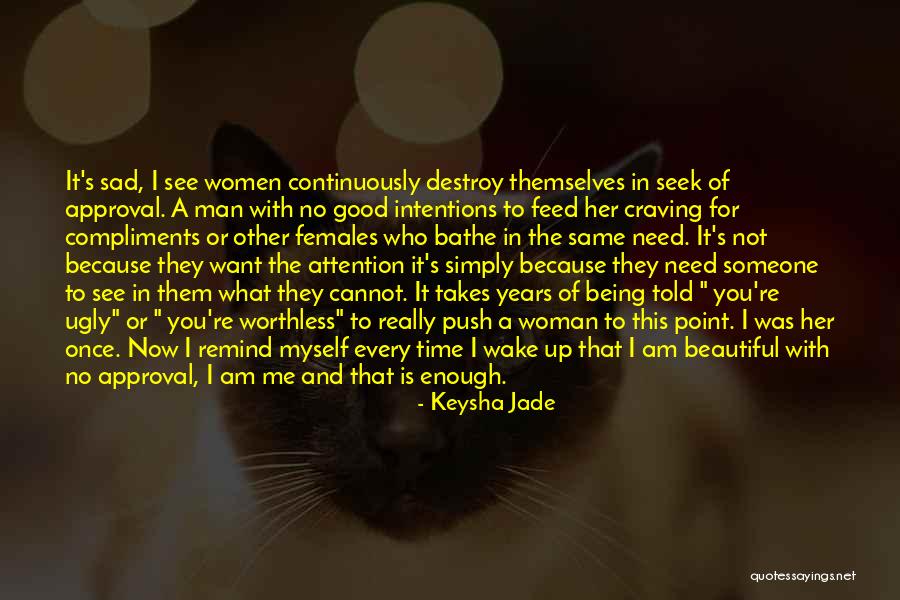 It's sad, I see women continuously destroy themselves in seek of approval. A man with no good intentions to feed her craving for compliments or other females who bathe in the same need. It's not because they want the attention it's simply because they need someone to see in them what they cannot. It takes years of being told " you're ugly" or " you're worthless" to really push a woman to this point. I was her once. Now I remind myself every time I wake up that I am beautiful with no approval, I am me and that is enough. — Keysha Jade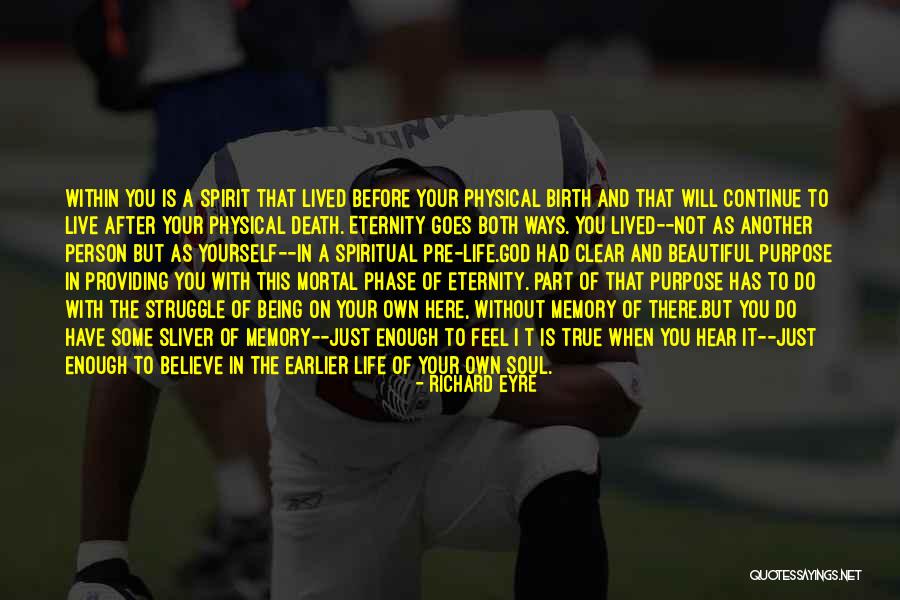 Within you is a spirit that lived before your physical birth and that will continue to live after your physical death. Eternity goes both ways. You lived--not as another person but as yourself--in a spiritual pre-life.

God had clear and beautiful purpose in providing you with this mortal phase of eternity. Part of that purpose has to do with the struggle of being on your own here, without memory of there.

But you do have some sliver of memory--just enough to feel i t is true when you hear it--just enough to believe in the earlier life of your own soul. — Richard Eyre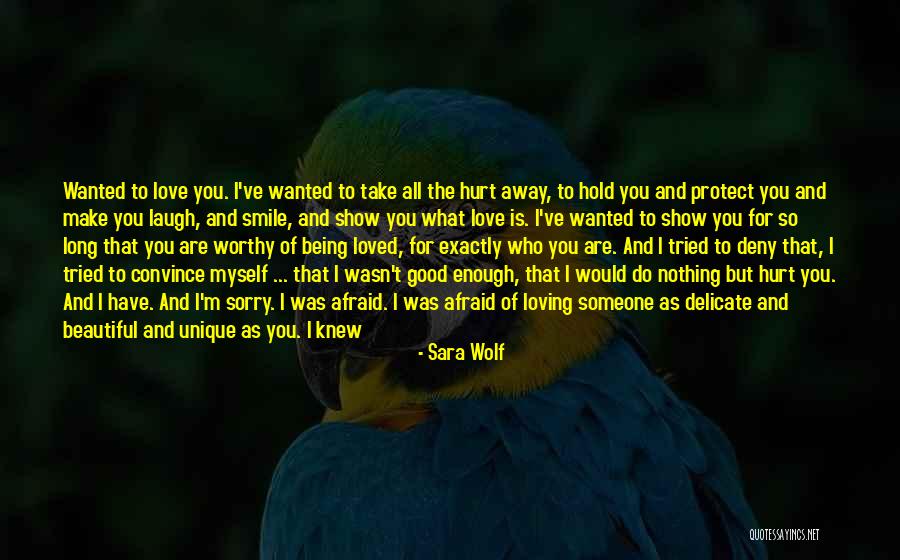 Wanted to love you. I've wanted to take all the hurt away, to hold you and protect you and make you laugh, and smile, and show you what love is. I've wanted to show you for so long that you are worthy of being loved, for exactly who you are. And I tried to deny that, I tried to convince myself ... that I wasn't good enough, that I would do nothing but hurt you. And I have. And I'm sorry. I was afraid. I was afraid of loving someone as delicate and beautiful and unique as you. I knew I only had one chance, and I was terrified I would make a mess of it and you'd only become sadder, and more convinced you were unlovable. I was afraid of my own shortcomings, and because of that I hurt you. — Sara Wolf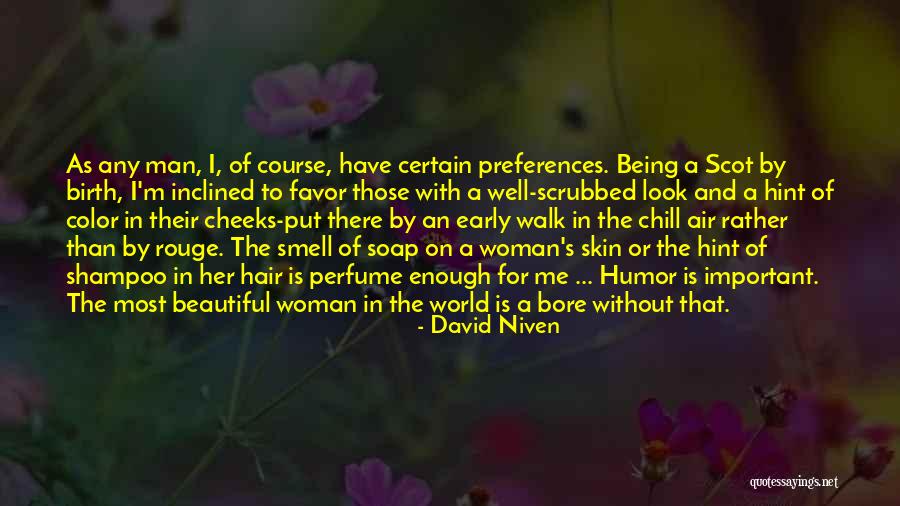 As any man, I, of course, have certain preferences. Being a Scot by birth, I'm inclined to favor those with a well-scrubbed look and a hint of color in their cheeks-put there by an early walk in the chill air rather than by rouge. The smell of soap on a woman's skin or the hint of shampoo in her hair is perfume enough for me ... Humor is important. The most beautiful woman in the world is a bore without that. — David Niven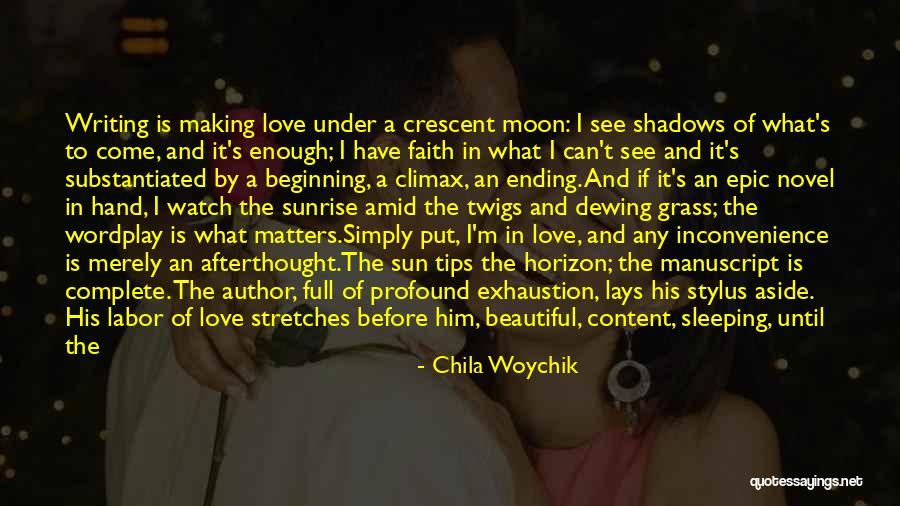 Writing is making love under a crescent moon: I see shadows of what's to come, and it's enough; I have faith in what I can't see and it's substantiated by a beginning, a climax, an ending. And if it's an epic novel in hand, I watch the sunrise amid the twigs and dewing grass; the wordplay is what matters.
Simply put, I'm in love, and any inconvenience is merely an afterthought.
The sun tips the horizon; the manuscript is complete. The author, full of profound exhaustion, lays his stylus aside. His labor of love stretches before him, beautiful, content, sleeping, until the next crescent moon stars the evening sky. — Chila Woychik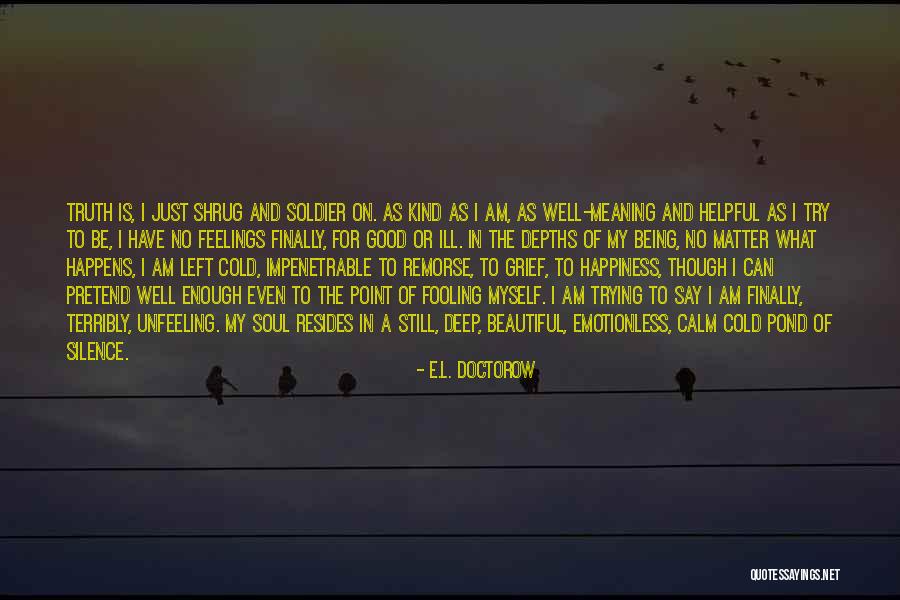 Truth is, I just shrug and soldier on. As kind as I am, as well-meaning and helpful as I try to be, I have no feelings finally, for good or ill. In the depths of my being, no matter what happens, I am left cold, impenetrable to remorse, to grief, to happiness, though I can pretend well enough even to the point of fooling myself. I am trying to say I am finally, terribly, unfeeling. My soul resides in a still, deep, beautiful, emotionless, calm cold pond of silence. — E.L. Doctorow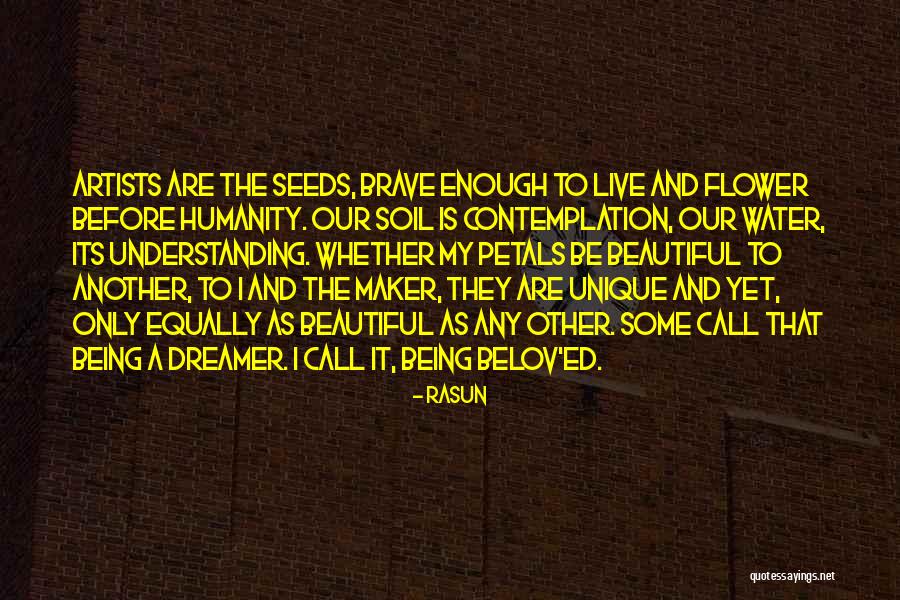 Artists are the seeds, brave enough to live and flower before humanity. Our soil is contemplation, our water, its understanding. Whether my petals be beautiful to another, to I and The Maker, they are Unique and yet, only equally as beautiful as any other. Some call that being a Dreamer. I call it, being Belov'ed. — Rasun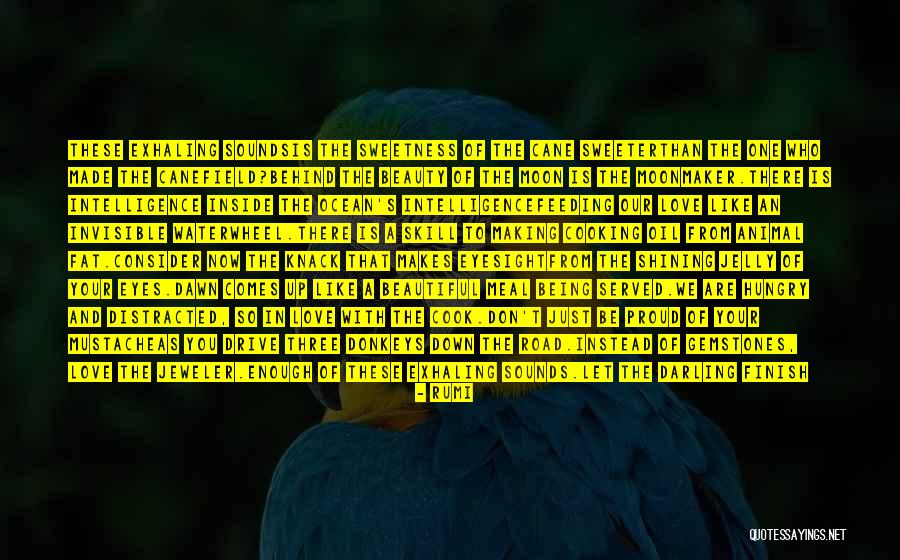 These Exhaling Sounds
Is the sweetness of the cane sweeter
than the one who made the canefield?
Behind the beauty of the moon is the moonmaker.
There is intelligence inside the ocean's
intelligence
feeding our love like an invisible waterwheel.
There is a skill to making cooking oil from animal fat.
Consider now the knack that makes eyesight
from the shining jelly of your eyes.
Dawn comes up like a beautiful meal being served.
We are hungry and distracted, so in love with the cook.
Don't just be proud of your mustache
as you drive three donkeys down the road.
Instead of gemstones, love the jeweler.
Enough of these exhaling sounds.
Let the darling finish this
who turns listening into seeing. — Rumi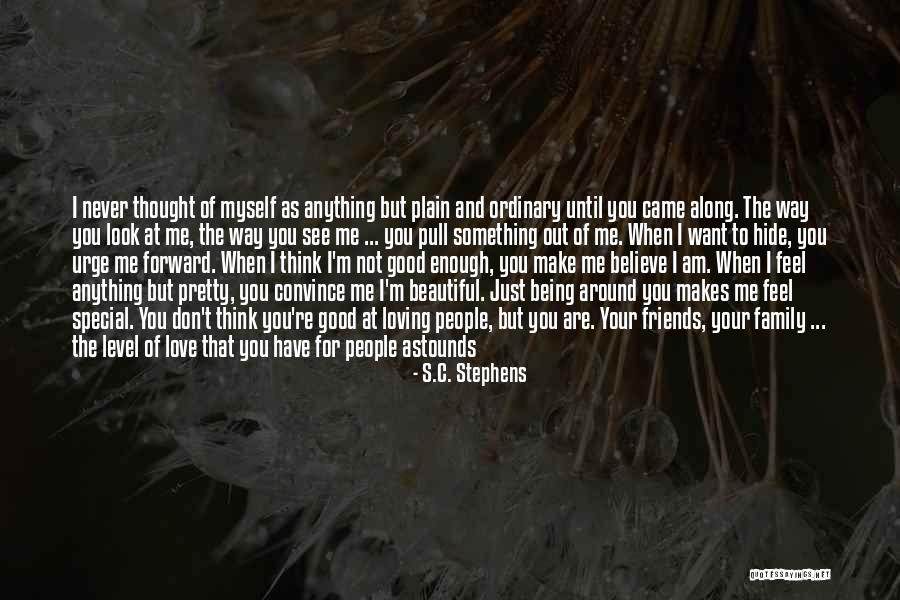 I never thought of myself as anything but plain and ordinary until you came along. The way you look at me, the way you see me ... you pull something out of me. When I want to hide, you urge me forward. When I think I'm not good enough, you make me believe I am. When I feel anything but pretty, you convince me I'm beautiful. Just being around you makes me feel special. You don't think you're good at loving people, but you are. Your friends, your family ... the level of love that you have for people astounds me. You don't think people love you back, but they do. They fiercely love you. I fiercely love you. I've never met anyone as passionate as you, as kindhearted as you ... as amazing as you. You love with every fiber of your soul. You inspire me every day. And if you'll agree to be my husband, I'll do my best to make you proud of me, to inspire you. — S.C. Stephens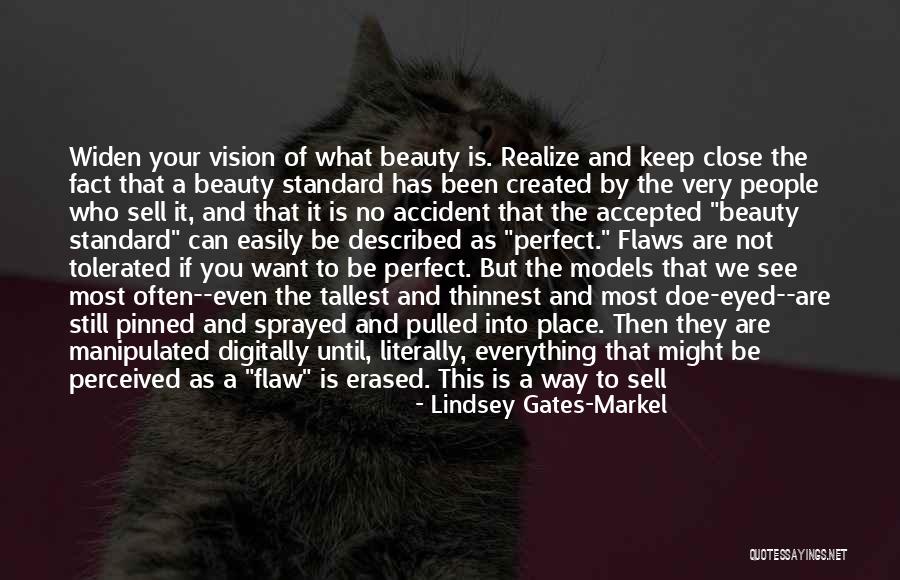 Widen your vision of what beauty is. Realize and keep close the fact that a beauty standard has been created by the very people who sell it, and that it is no accident that the accepted "beauty standard" can easily be described as "perfect." Flaws are not tolerated if you want to be perfect. But the models that we see most often--even the tallest and thinnest and most doe-eyed--are still pinned and sprayed and pulled into place. Then they are manipulated digitally until, literally, everything that might be perceived as a "flaw" is erased. This is a way to sell product. It has nothing to do with real life. It has nothing to do with you. We are made of so-called "flaws." They are the thread that stitches our parts together and keeps us from being generic cut-out paper dolls. You are beautiful. You are enough, now and always. You have always been enough. — Lindsey Gates-Markel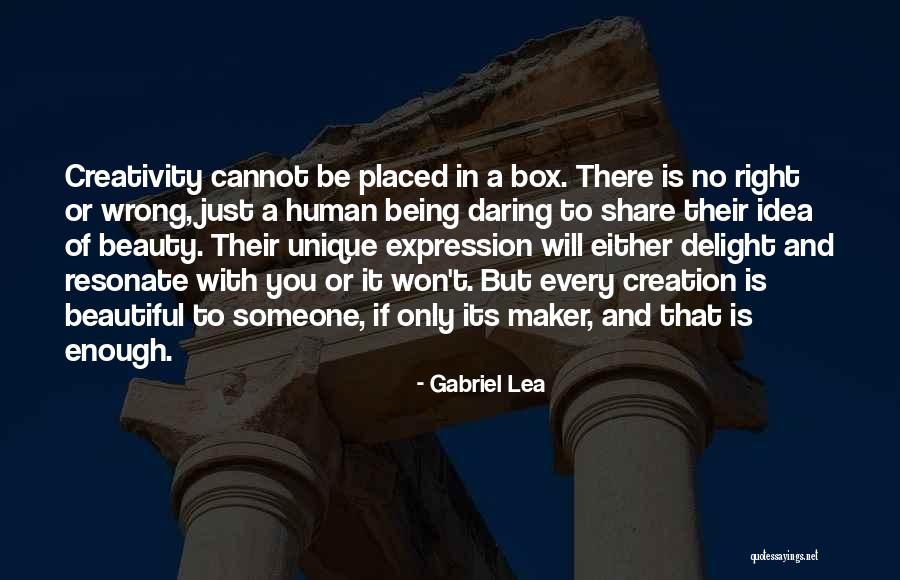 Creativity cannot be placed in a box. There is no right or wrong, just a human being daring to share their idea of beauty. Their unique expression will either delight and resonate with you or it won't. But every creation is beautiful to someone, if only its maker, and that is enough. — Gabriel Lea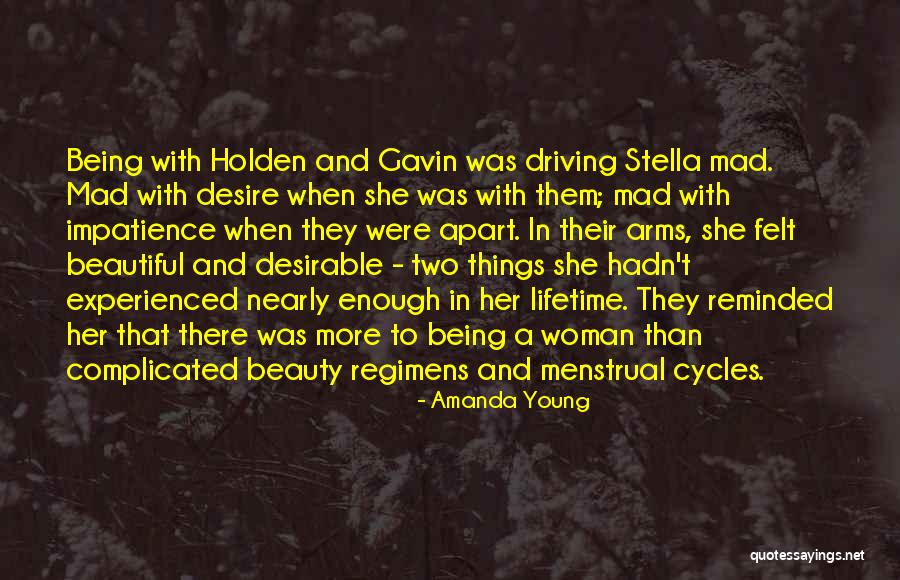 Being with Holden and Gavin was driving Stella mad. Mad with desire when she was with them; mad with impatience when they were apart. In their arms, she felt beautiful and desirable - two things she hadn't experienced nearly enough in her lifetime. They reminded her that there was more to being a woman than complicated beauty regimens and menstrual cycles. — Amanda Young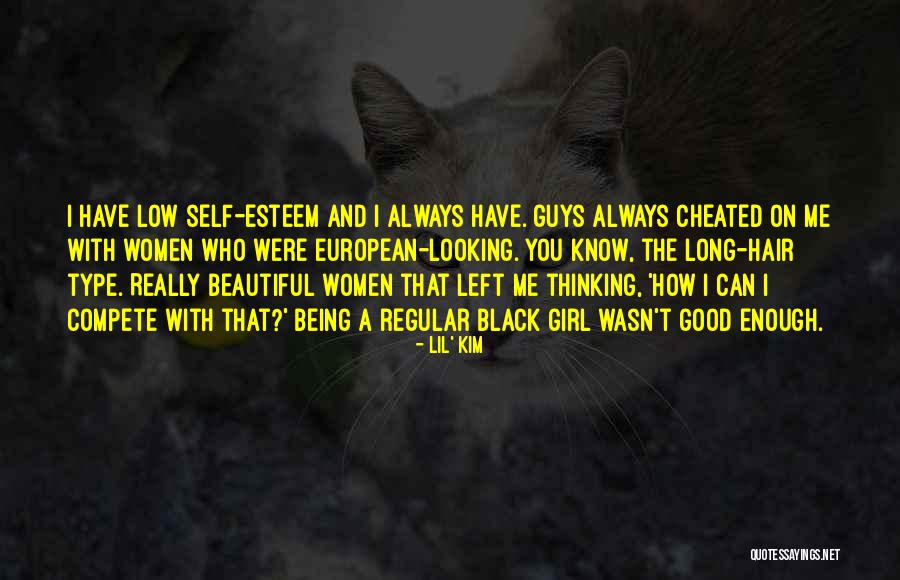 I have low self-esteem and I always have. Guys always cheated on me with women who were European-looking. You know, the long-hair type. Really beautiful women that left me thinking, 'How I can I compete with that?' Being a regular black girl wasn't good enough. — Lil' Kim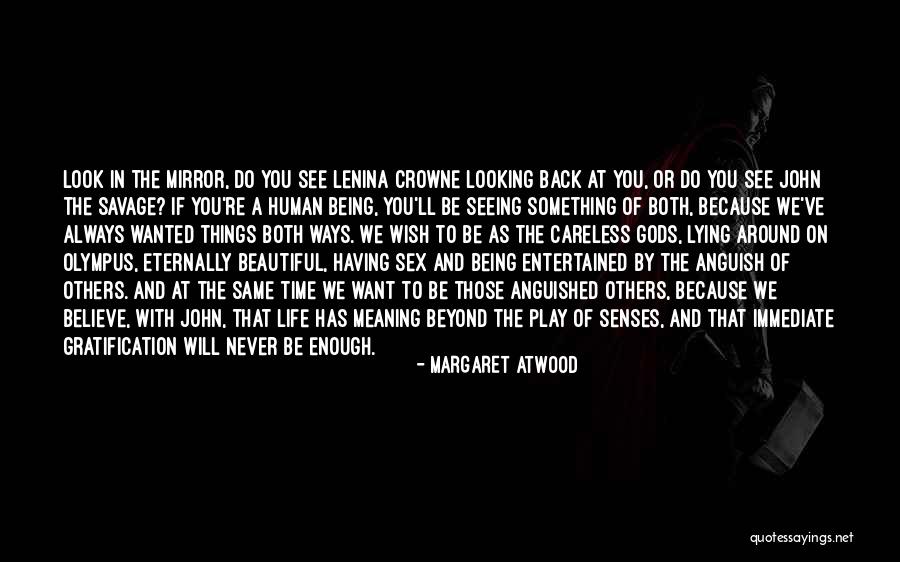 Look in the mirror, do you see Lenina Crowne looking back at you, or do you see John the Savage? If you're a human being, you'll be seeing something of both, because we've always wanted things both ways. We wish to be as the careless gods, lying around on Olympus, eternally beautiful, having sex and being entertained by the anguish of others. And at the same time we want to be those anguished others, because we believe, with John, that life has meaning beyond the play of senses, and that immediate gratification will never be enough. — Margaret Atwood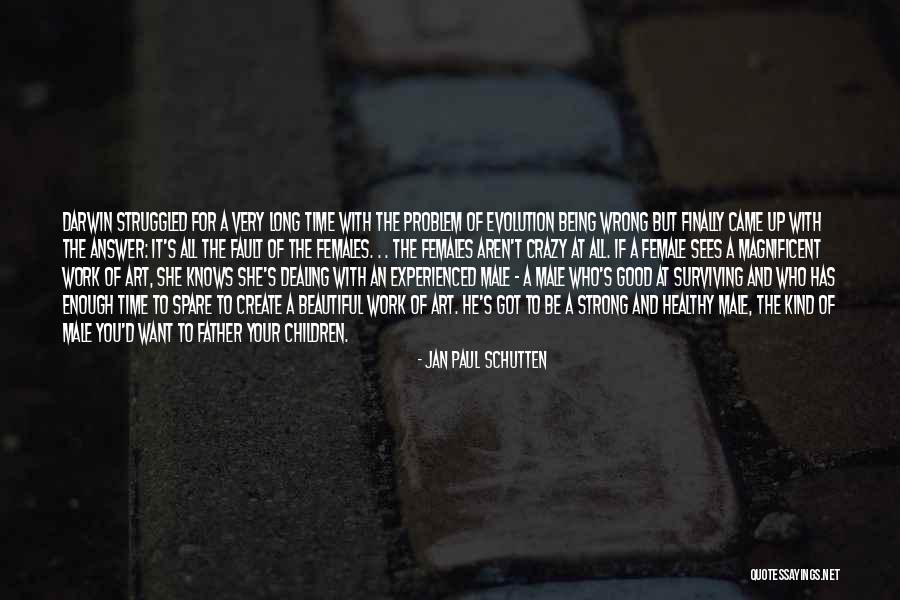 Darwin struggled for a very long time with the problem of evolution being wrong but finally came up with the answer: it's all the fault of the females. . . The females aren't crazy at all. If a female sees a magnificent work of art, she knows she's dealing with an experienced male - a male who's good at surviving and who has enough time to spare to create a beautiful work of art. He's got to be a strong and healthy male, the kind of male you'd want to father your children. — Jan Paul Schutten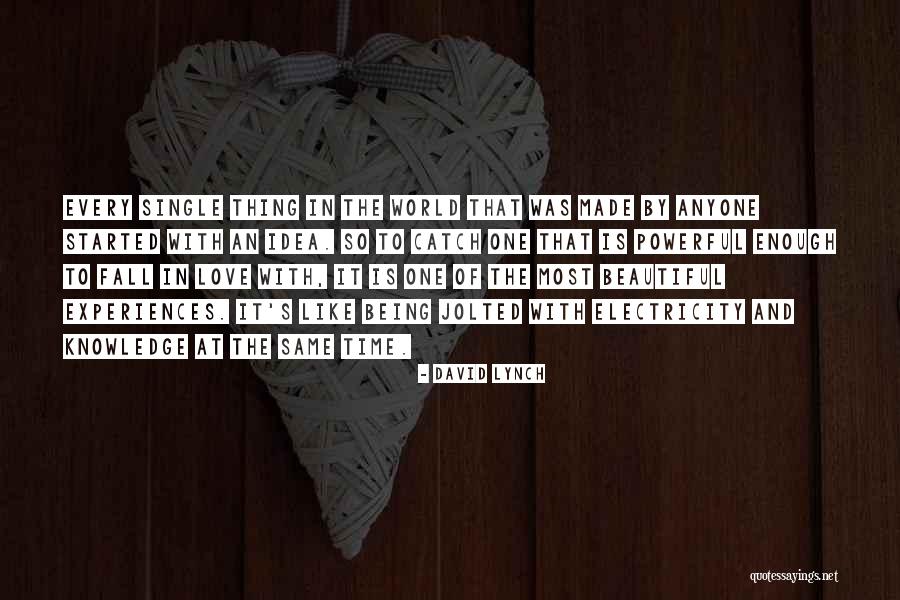 Every single thing in the world that was made by anyone started with an idea. So to catch one that is powerful enough to fall in love with, it is one of the most beautiful experiences. It's like being jolted with electricity and knowledge at the same time. — David Lynch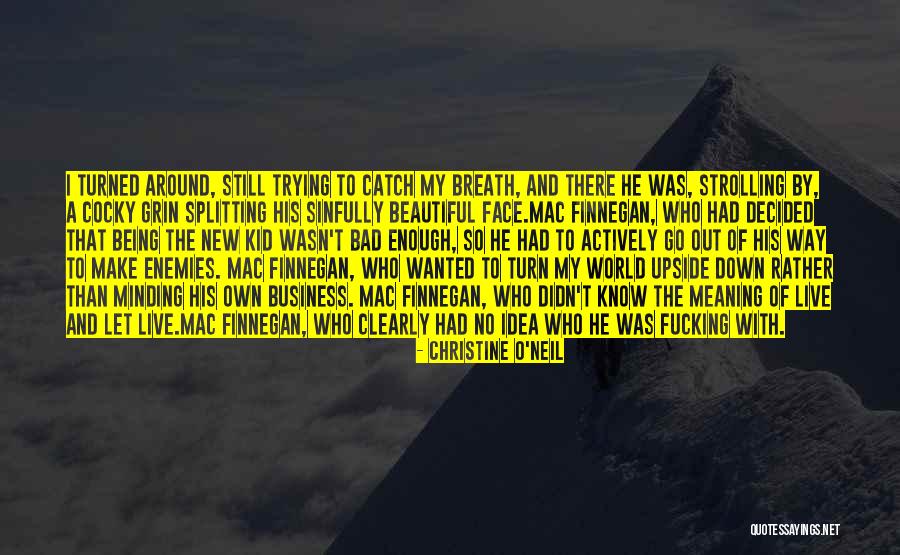 I turned around, still trying to catch my breath, and there he was, strolling by, a cocky grin splitting his sinfully beautiful face.

Mac Finnegan, who had decided that being the new kid wasn't bad enough, so he had to actively go out of his way to make enemies. Mac Finnegan, who wanted to turn my world upside down rather than minding his own business. Mac Finnegan, who didn't know the meaning of live and let live.

Mac Finnegan, who clearly had no idea who he was fucking with. — Christine O'Neil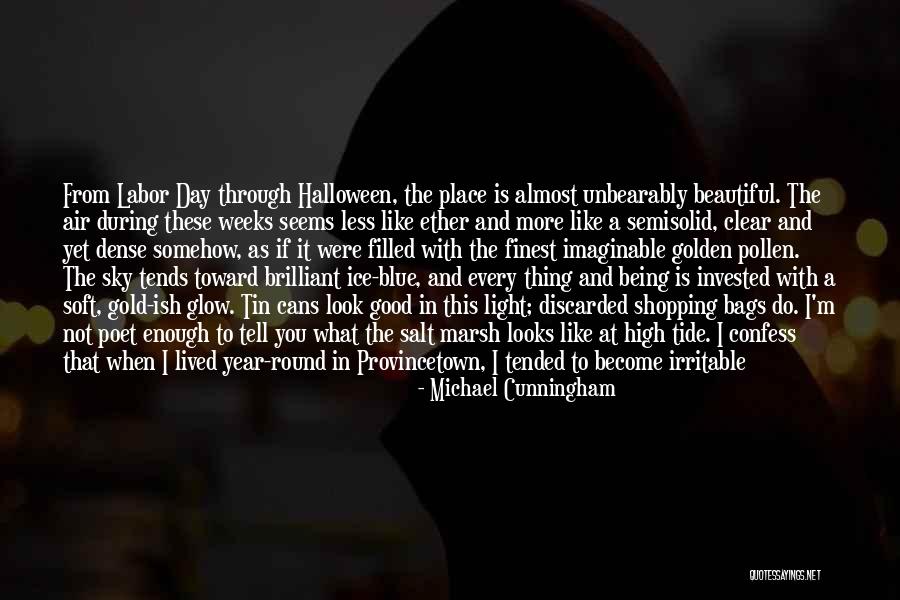 From Labor Day through Halloween, the place is almost unbearably beautiful. The air during these weeks seems less like ether and more like a semisolid, clear and yet dense somehow, as if it were filled with the finest imaginable golden pollen. The sky tends toward brilliant ice-blue, and every thing and being is invested with a soft, gold-ish glow. Tin cans look good in this light; discarded shopping bags do. I'm not poet enough to tell you what the salt marsh looks like at high tide. I confess that when I lived year-round in Provincetown, I tended to become irritable toward the end of October, when one supernal day after another seemed to imply that the only reasonable human act was to abandon your foolish errands and plans, go outside, and fall to your knees. — Michael Cunningham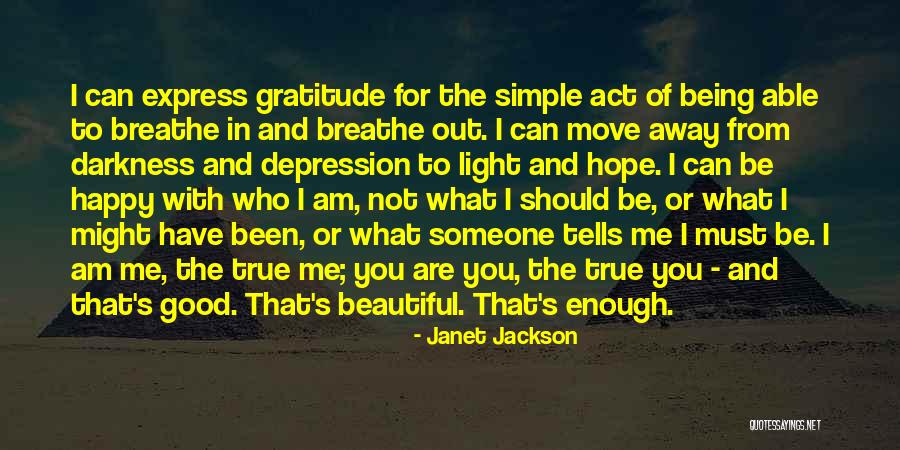 I can express gratitude for the simple act of being able to breathe in and breathe out. I can move away from darkness and depression to light and hope. I can be happy with who I am, not what I should be, or what I might have been, or what someone tells me I must be. I am me, the true me; you are you, the true you - and that's good. That's beautiful. That's enough. — Janet Jackson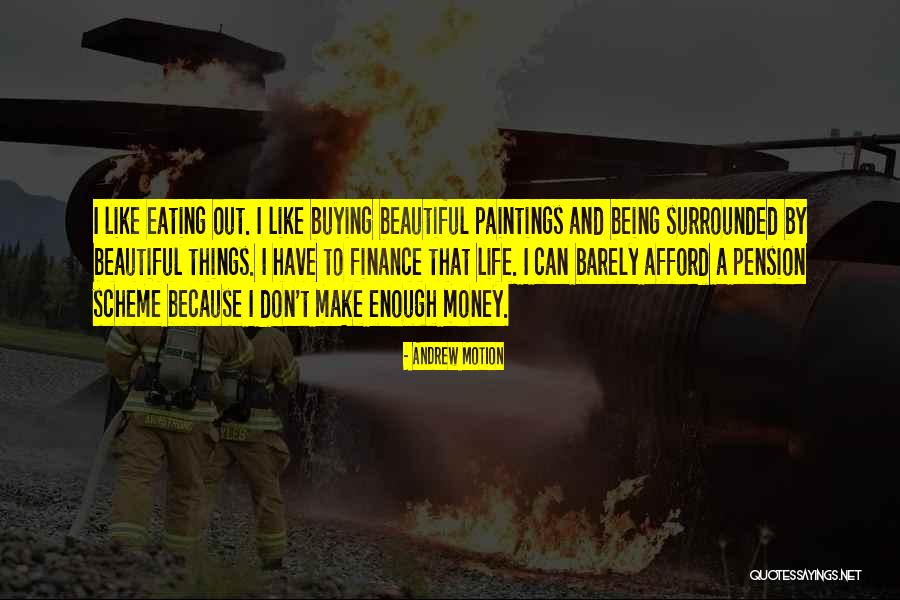 I like eating out. I like buying beautiful paintings and being surrounded by beautiful things. I have to finance that life. I can barely afford a pension scheme because I don't make enough money. — Andrew Motion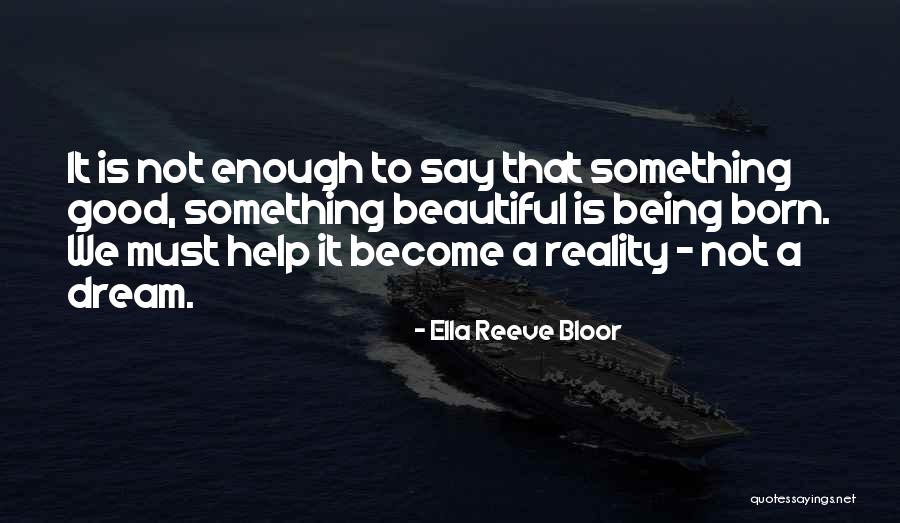 It is not enough to say that something good, something beautiful is being born. We must help it become a reality - not a dream. — Ella Reeve Bloor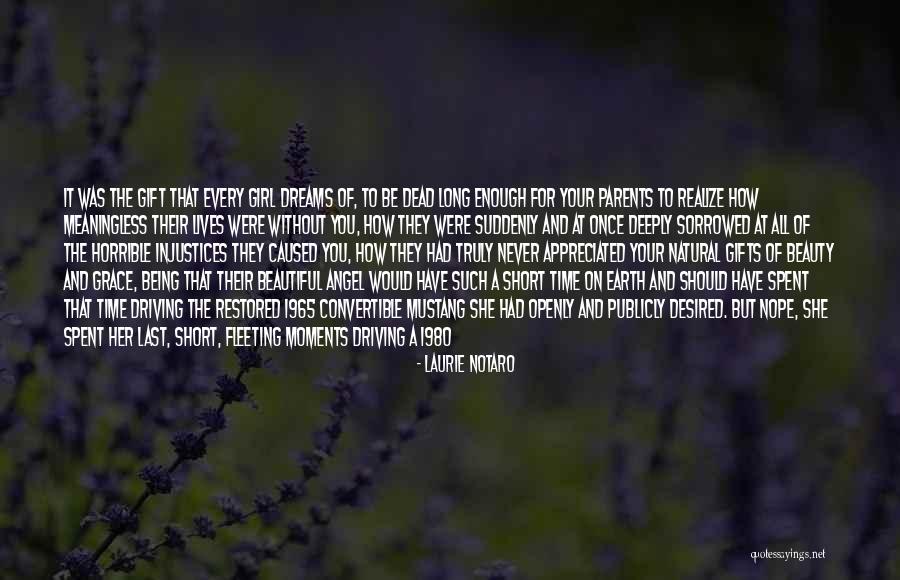 It was the gift that every girl dreams of, to be dead long enough for your parents to realize how meaningless their lives were without you, how they were suddenly and at once deeply sorrowed at all of the horrible injustices they caused you, how they had truly never appreciated your natural gifts of beauty and grace, being that their beautiful angel would have such a short time on earth and should have spent that time driving the restored 1965 convertible Mustang she had openly AND PUBLICLY desired. But nope, she spent her last, short, fleeting moments driving a 1980 Chevy Citation, every so clearly a GRANDMA car, with fake red-velvet upholstery, a hatchback, and an interior that smelled like spoiled milk and sometimes meat. Being temporarily run over by a car was the best present I had ever received, and I didn't even have to do anything dramatic to get it, like write a note or buy some rope. — Laurie Notaro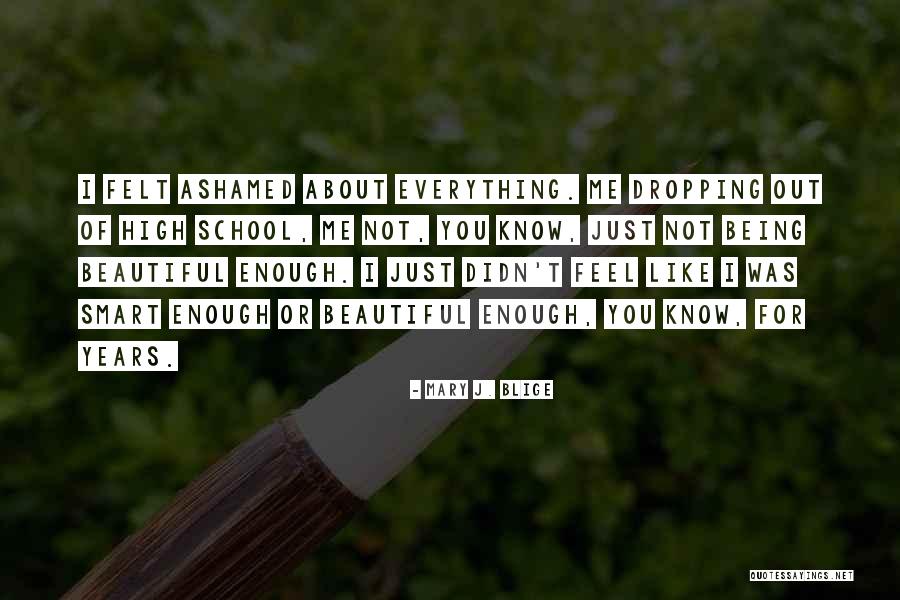 I felt ashamed about everything. Me dropping out of high school, me not, you know, just not being beautiful enough. I just didn't feel like I was smart enough or beautiful enough, you know, for years. — Mary J. Blige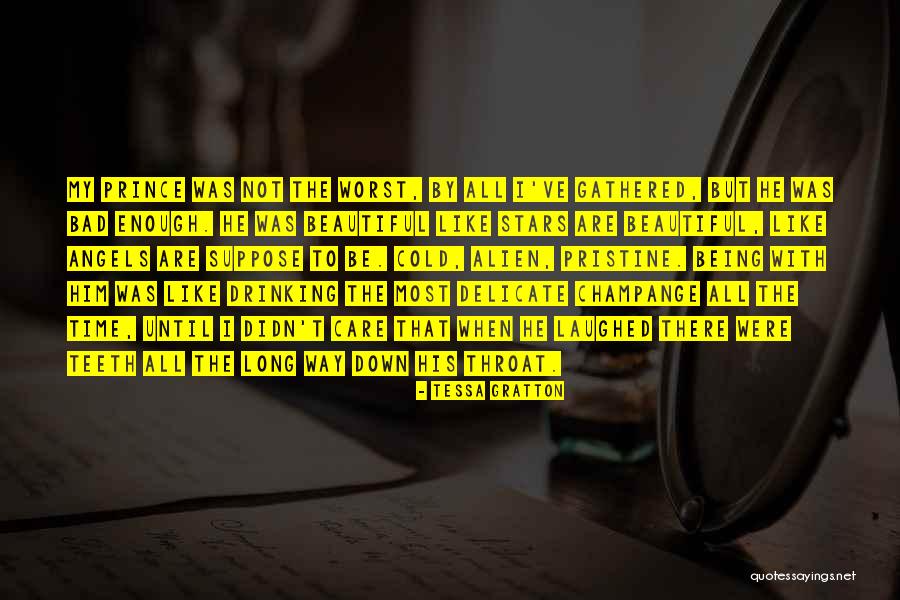 My prince was not the worst, by all I've gathered, but he was bad enough. He was beautiful like stars are beautiful, like angels are suppose to be. Cold, alien, pristine. Being with him was like drinking the most delicate champange all the time, until I didn't care that when he laughed there were teeth all the long way down his throat. — Tessa Gratton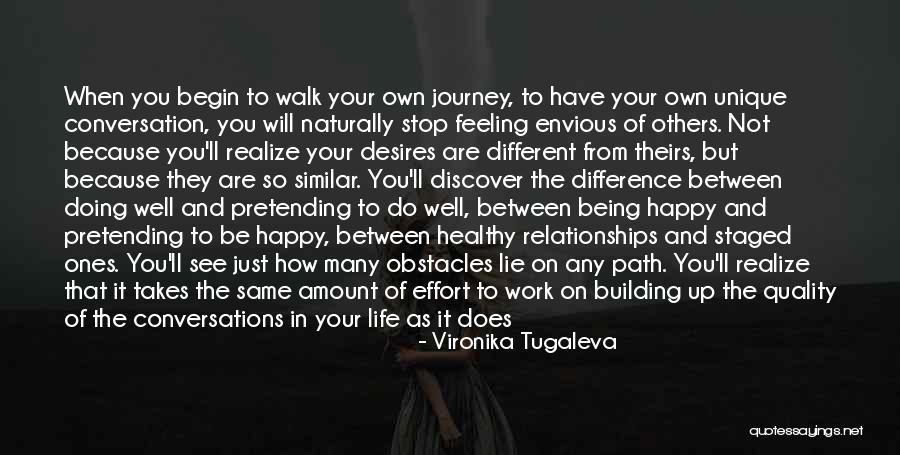 When you begin to walk your own journey, to have your own unique conversation, you will naturally stop feeling envious of others. Not because you'll realize your desires are different from theirs, but because they are so similar. You'll discover the difference between doing well and pretending to do well, between being happy and pretending to be happy, between healthy relationships and staged ones. You'll see just how many obstacles lie on any path. You'll realize that it takes the same amount of effort to work on building up the quality of the conversations in your life as it does to broadcast to the public, constantly, that those conversations are already perfect. You can either build up the mask or build up the authentic self. And you, brave and beautiful you, will make the right choice eventually. Be it now or on your deathbed. We all realize soon enough. — Vironika Tugaleva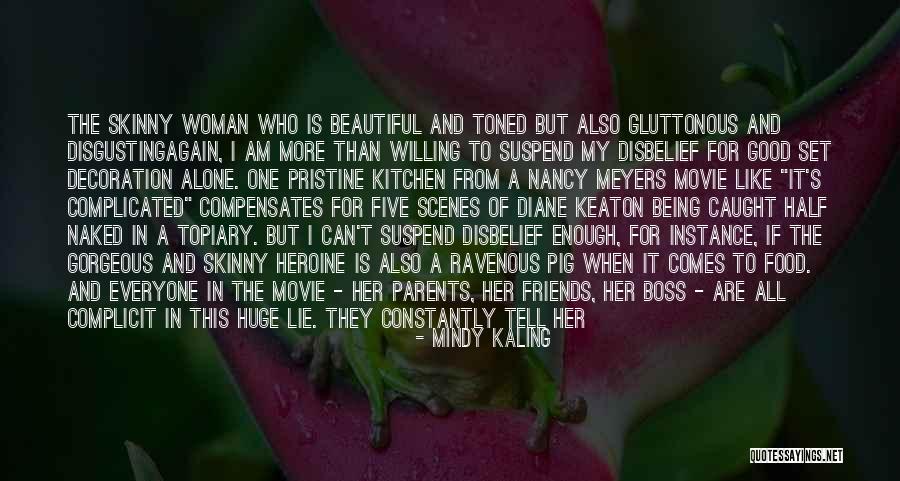 The Skinny Woman Who Is Beautiful and Toned but Also Gluttonous and Disgusting
Again, I am more than willing to suspend my disbelief for good set decoration alone. One pristine kitchen from a Nancy Meyers movie like "It's Complicated" compensates for five scenes of Diane Keaton being caught half naked in a topiary. But I can't suspend disbelief enough, for instance, if the gorgeous and skinny heroine is also a ravenous pig when it comes to food. And everyone in the movie - her parents, her friends, her boss - are all complicit in this huge lie. They constantly tell her to stop eating. And this actress, this poor skinny actress who obviously lost weight to play the likable lead character, has to say things like "Shut up, you guys! I love cheesecake! If I want to eat an entire cheesecake, I will!" If you look closely, you can see this woman's ribs through the dress she's wearing - that's how skinny she is, this cheesecake-loving cow. — Mindy Kaling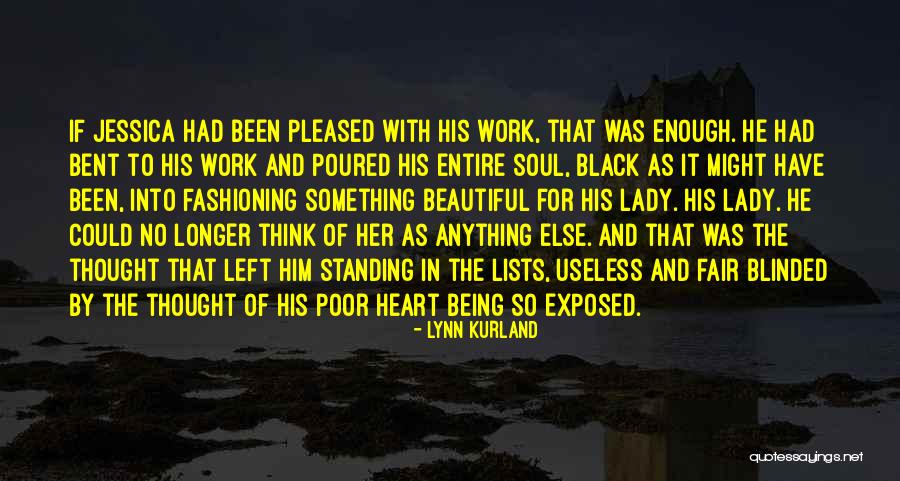 If Jessica had been pleased with his work, that was enough. He had bent to his work and poured his entire soul, black as it might have been, into fashioning something beautiful for his lady. His lady. He could no longer think of her as anything else. And that was the thought that left him standing in the lists, useless and fair blinded by the thought of his poor heart being so exposed. — Lynn Kurland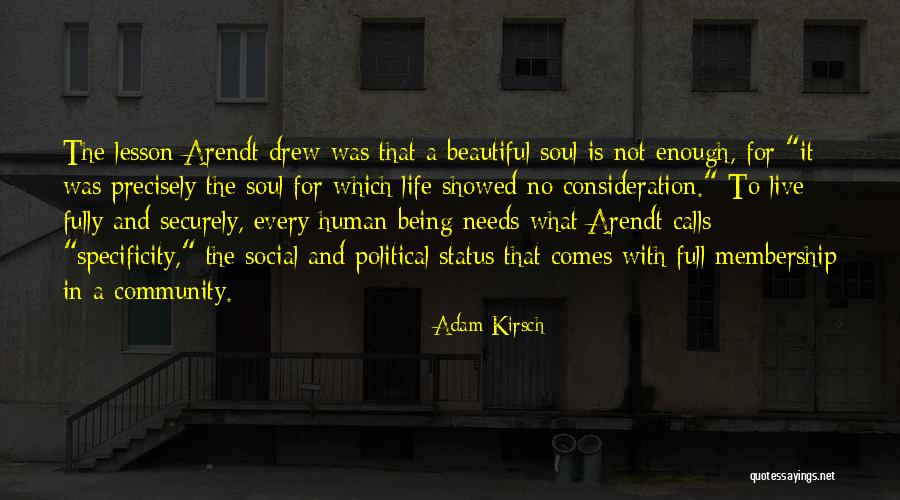 The lesson Arendt drew was that a beautiful soul is not enough, for "it was precisely the soul for which life showed no consideration." To live fully and securely, every human being needs what Arendt calls "specificity," the social and political status that comes with full membership in a community. — Adam Kirsch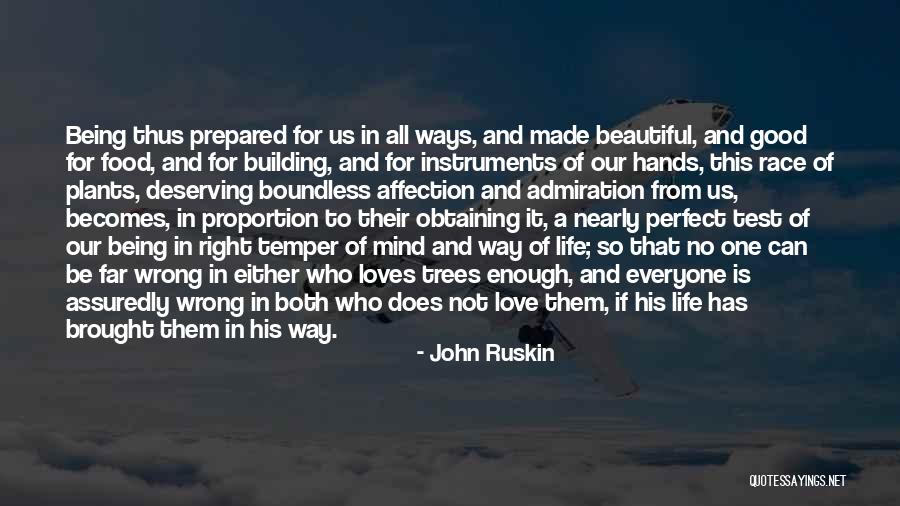 Being thus prepared for us in all ways, and made beautiful, and good for food, and for building, and for instruments of our hands, this race of plants, deserving boundless affection and admiration from us, becomes, in proportion to their obtaining it, a nearly perfect test of our being in right temper of mind and way of life; so that no one can be far wrong in either who loves trees enough, and everyone is assuredly wrong in both who does not love them, if his life has brought them in his way. — John Ruskin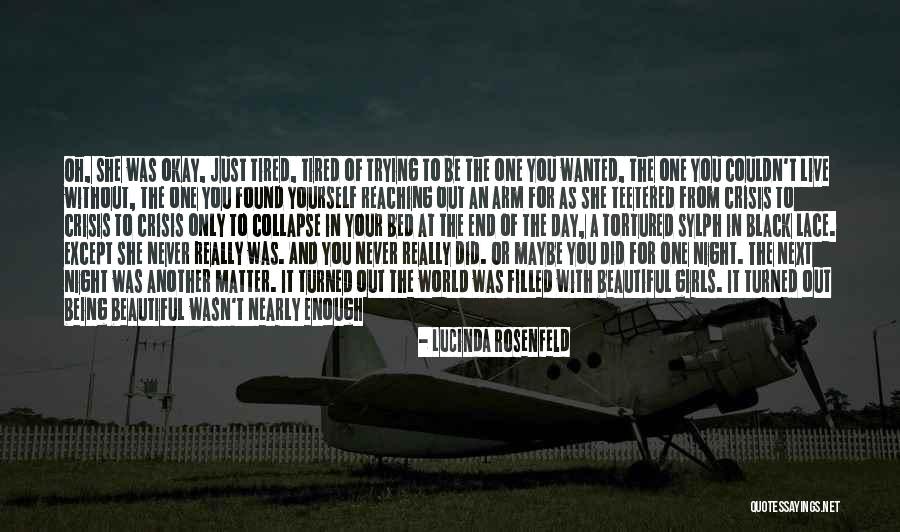 Oh, she was okay, just tired, tired of trying to be the one you wanted, the one you couldn't live without, the one you found yourself reaching out an arm for as she teetered from crisis to crisis to crisis only to collapse in your bed at the end of the day, a tortured sylph in black lace. Except she never really was. And you never really did. Or maybe you did for one night. The next night was another matter. It turned out the world was filled with beautiful girls.
It turned out being beautiful wasn't nearly enough — Lucinda Rosenfeld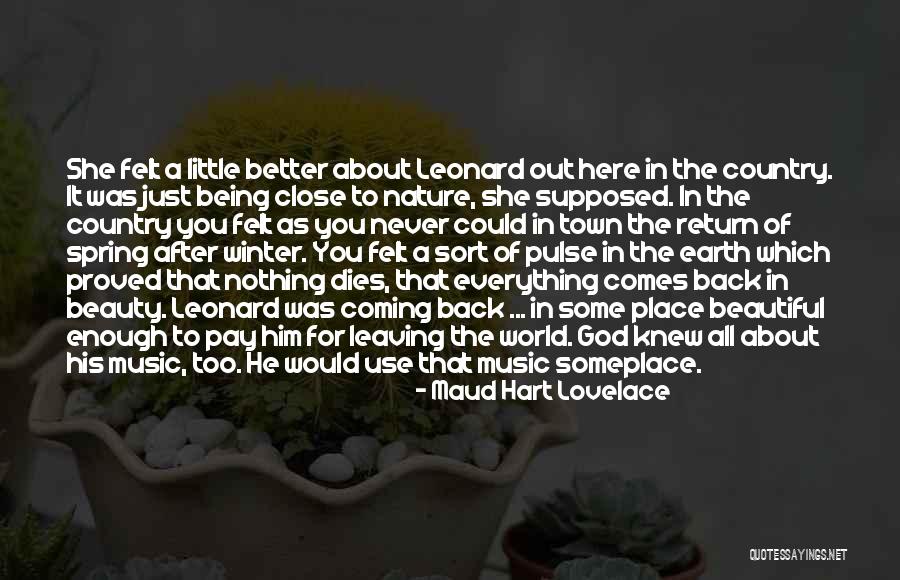 She felt a little better about Leonard out here in the country. It was just being close to nature, she supposed. In the country you felt as you never could in town the return of spring after winter. You felt a sort of pulse in the earth which proved that nothing dies, that everything comes back in beauty. Leonard was coming back ... in some place beautiful enough to pay him for leaving the world. God knew all about his music, too. He would use that music someplace. — Maud Hart Lovelace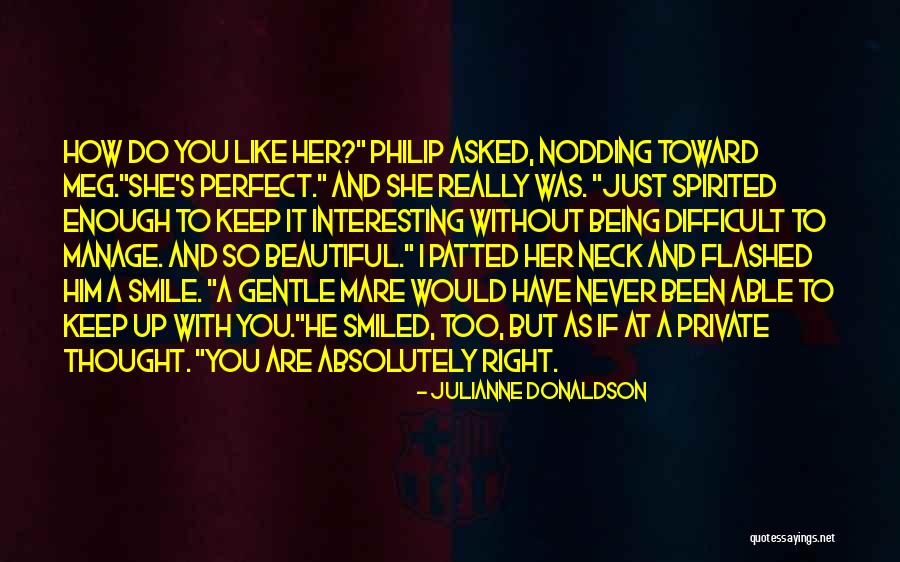 How do you like her?" Philip asked, nodding toward Meg.
"She's perfect." And she really was. "Just spirited enough to keep it interesting without being difficult to manage. And so beautiful." I patted her neck and flashed him a smile. "A gentle mare would have never been able to keep up with you."
He smiled, too, but as if at a private thought. "You are absolutely right. — Julianne Donaldson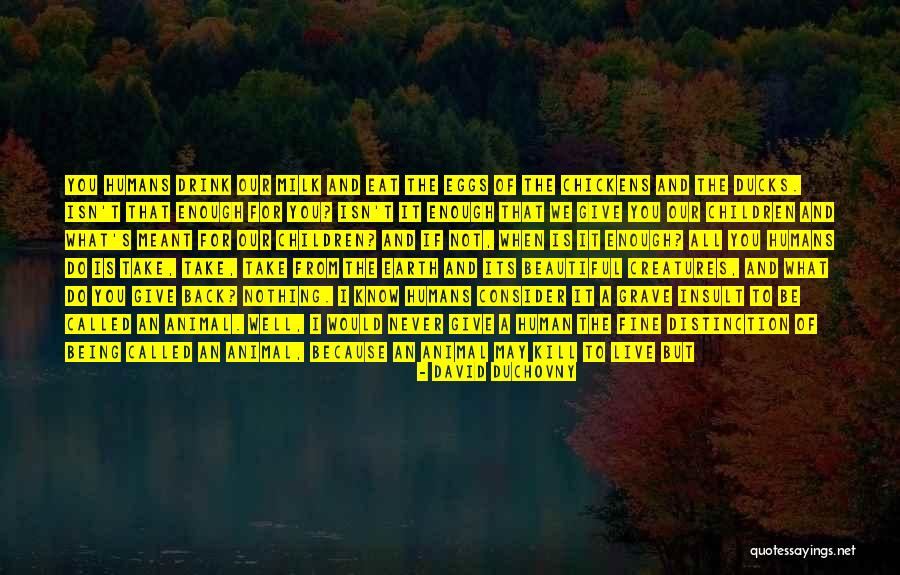 You humans drink our milk and eat the eggs of the chickens and the ducks. Isn't that enough for you? Isn't it enough that we give you our children and what's meant for our children? And if not, when is it enough? All you humans do is take, take, take from the earth and its beautiful creatures, and what do you give back? Nothing. I know humans consider it a grave insult to be called an animal. Well, I would never give a human the fine distinction of being called an animal, because an animal may kill to live but an animal never lives to kill. Humans have to earn the right to be called animals again. — David Duchovny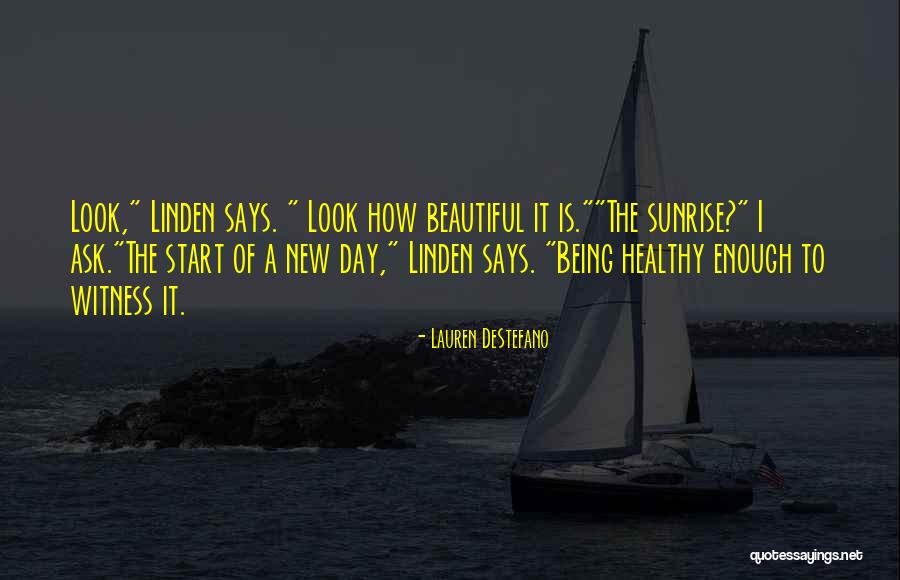 Look," Linden says. " Look how beautiful it is."
"The sunrise?" I ask.
"The start of a new day," Linden says. "Being healthy enough to witness it. — Lauren DeStefano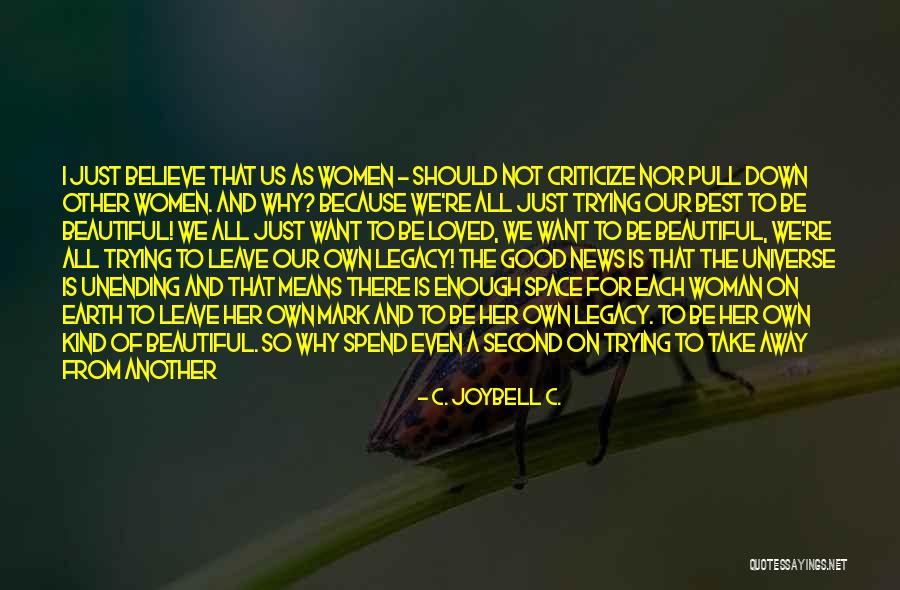 I just believe that us as women - should not criticize nor pull down other women. And why? Because we're all just trying our best to be beautiful! We all just want to be loved, we want to be beautiful, we're all trying to leave our own legacy! The good news is that the universe is unending and that means there is enough space for each woman on earth to leave her own mark and to be her own legacy. To be her own kind of beautiful. So why spend even a second on trying to take away from another woman? Trying to steal, trying to criticize, trying to oppress? There is enough space for every woman and every kind of beautiful, in this vast cosmos! When you waste any amount of time trying to take what is another's - you are wasting your huge chunk of a galaxy that's already been given to you! — C. JoyBell C.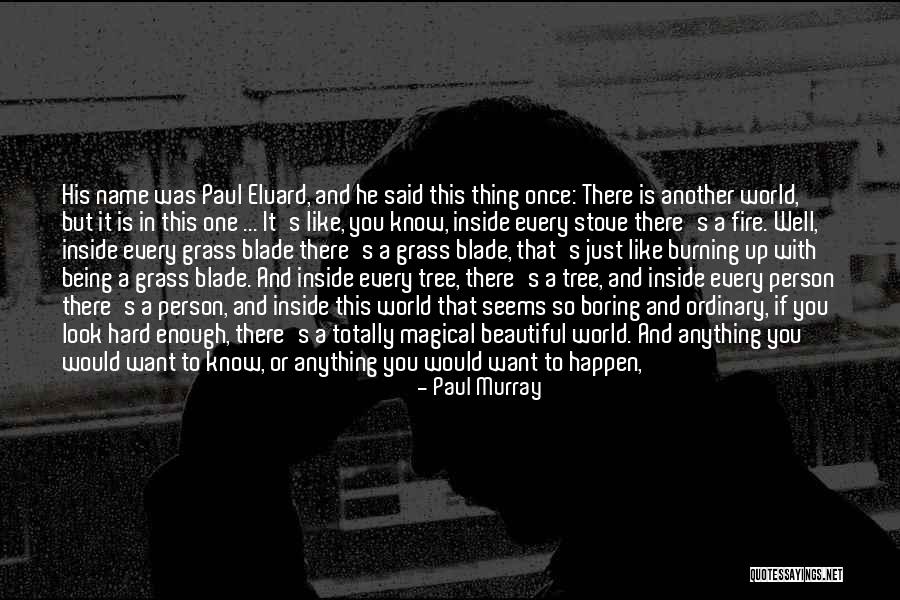 His name was Paul Eluard, and he said this thing once: There is another world, but it is in this one ... It's like, you know, inside every stove there's a fire. Well, inside every grass blade there's a grass blade, that's just like burning up with being a grass blade. And inside every tree, there's a tree, and inside every person there's a person, and inside this world that seems so boring and ordinary, if you look hard enough, there's a totally magical beautiful world. And anything you would want to know, or anything you would want to happen, all the answers are right there where you are right now. In your life. — Paul Murray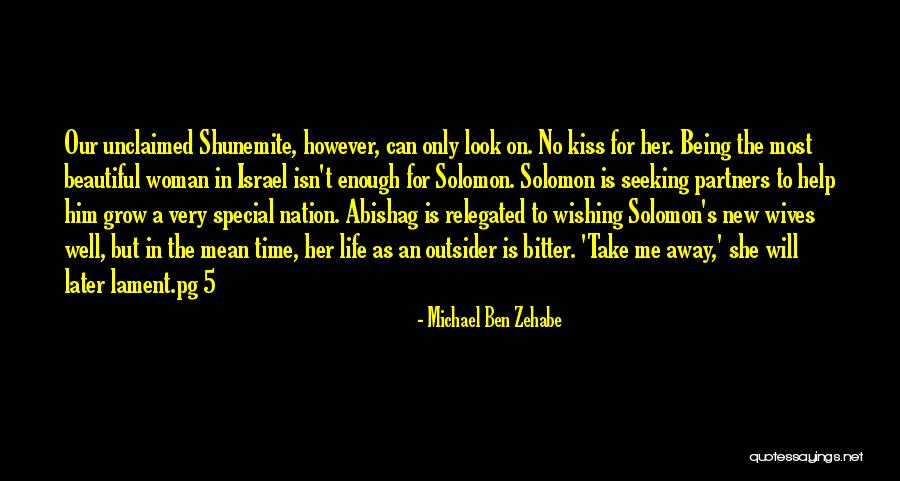 Our unclaimed Shunemite, however, can only look on. No kiss for her. Being the most beautiful woman in Israel isn't enough for Solomon. Solomon is seeking partners to help him grow a very special nation. Abishag is relegated to wishing Solomon's new wives well, but in the mean time, her life as an outsider is bitter. 'Take me away,' she will later lament.
pg 5 — Michael Ben Zehabe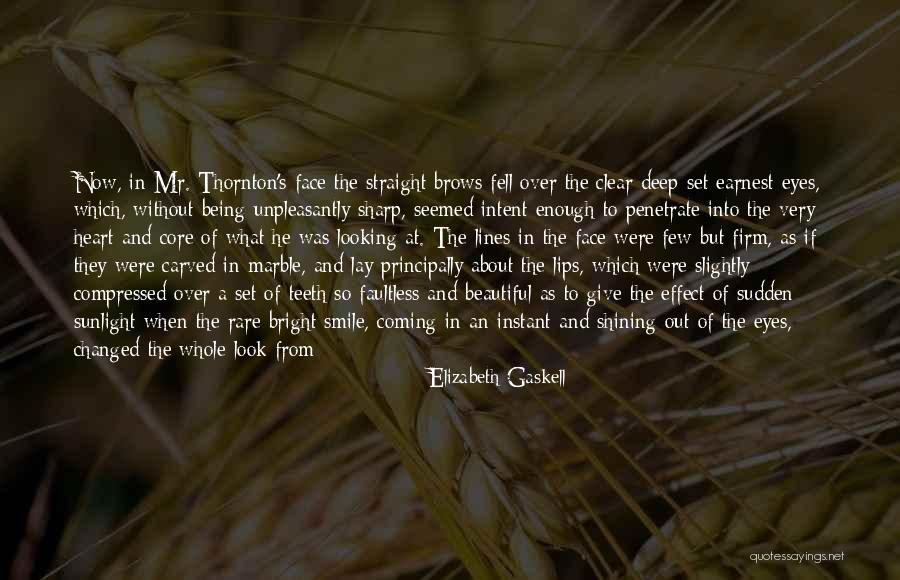 Now, in Mr. Thornton's face the straight brows fell over the clear deep-set earnest eyes, which, without being unpleasantly sharp, seemed intent enough to penetrate into the very heart and core of what he was looking at. The lines in the face were few but firm, as if they were carved in marble, and lay principally about the lips, which were slightly compressed over a set of teeth so faultless and beautiful as to give the effect of sudden sunlight when the rare bright smile, coming in an instant and shining out of the eyes, changed the whole look from the severe and resolved expression of a man ready to do and dare everything, to the keen honest enjoyment of the moment, which is seldom shown so fearlessly and instantaneously except by children — Elizabeth Gaskell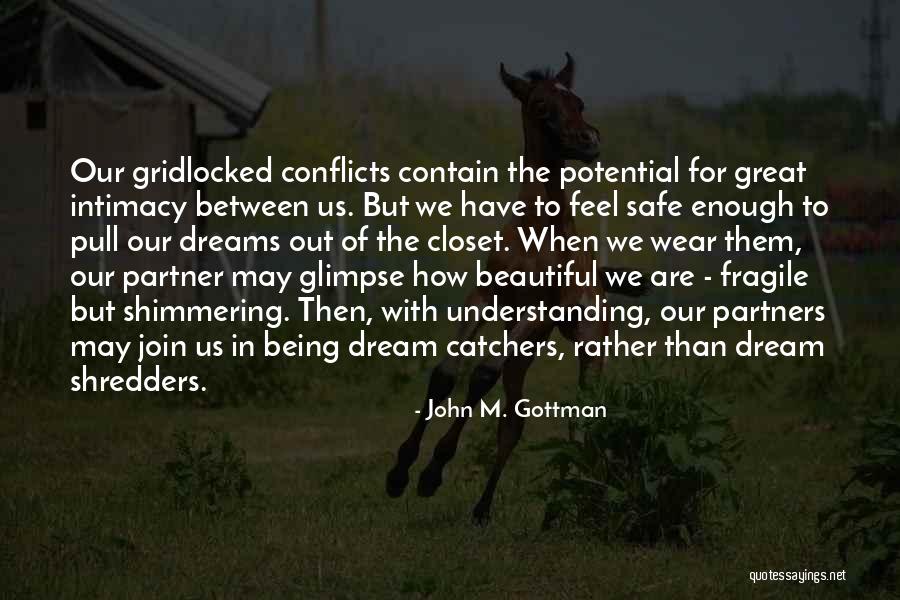 Our gridlocked conflicts contain the potential for great intimacy between us. But we have to feel safe enough to pull our dreams out of the closet. When we wear them, our partner may glimpse how beautiful we are - fragile but shimmering. Then, with understanding, our partners may join us in being dream catchers, rather than dream shredders. — John M. Gottman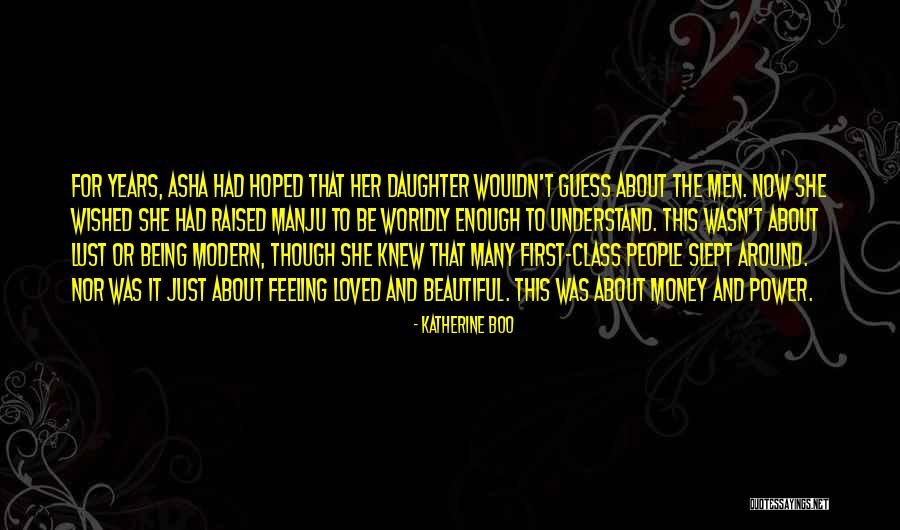 For years, Asha had hoped that her daughter wouldn't guess about the men. Now she wished she had raised Manju to be worldly enough to understand. This wasn't about lust or being modern, though she knew that many first-class people slept around. Nor was it just about feeling loved and beautiful. This was about money and power. — Katherine Boo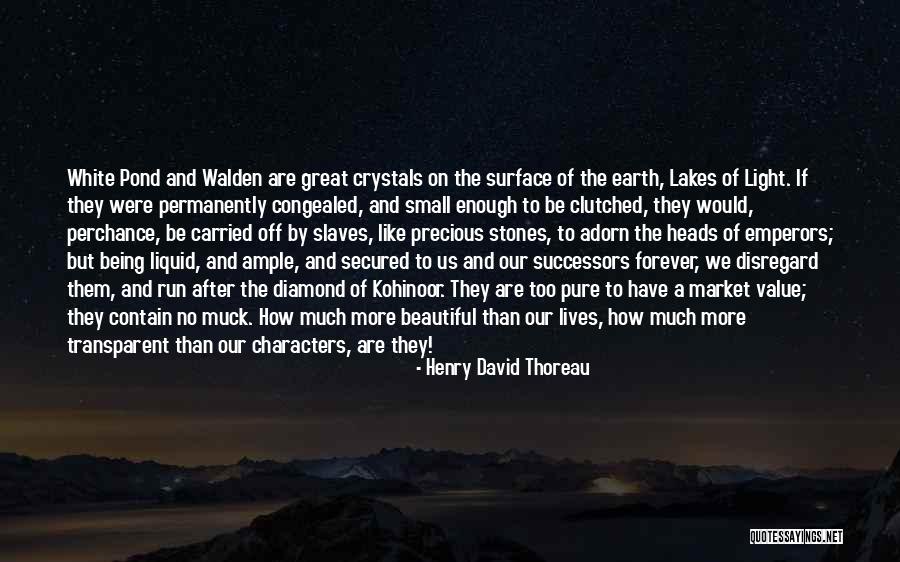 White Pond and Walden are great crystals on the surface of the earth, Lakes of Light. If they were permanently congealed, and small enough to be clutched, they would, perchance, be carried off by slaves, like precious stones, to adorn the heads of emperors; but being liquid, and ample, and secured to us and our successors forever, we disregard them, and run after the diamond of Kohinoor. They are too pure to have a market value; they contain no muck. How much more beautiful than our lives, how much more transparent than our characters, are they! — Henry David Thoreau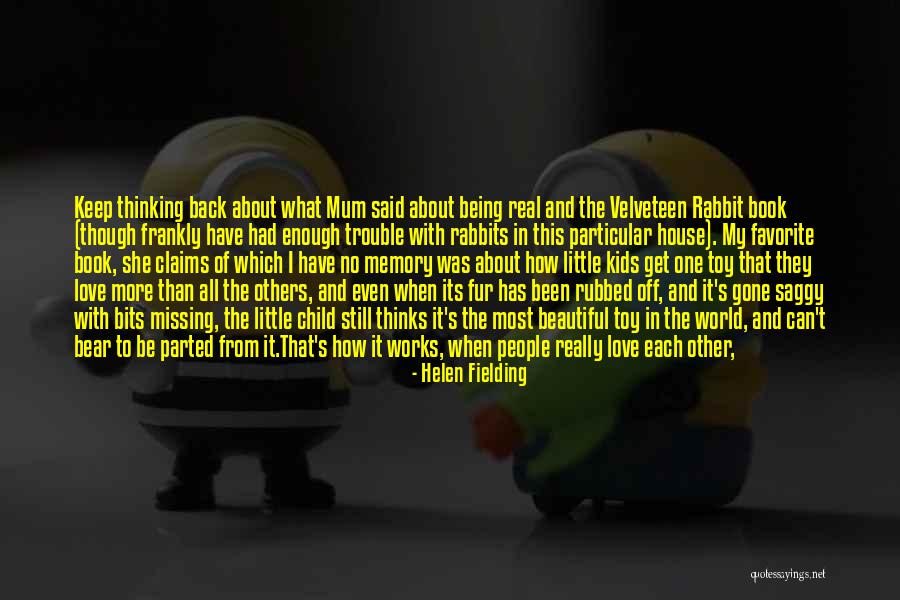 Keep thinking back about what Mum said about being real and the Velveteen Rabbit book (though frankly have had enough trouble with rabbits in this particular house). My favorite book, she claims of which I have no memory was about how little kids get one toy that they love more than all the others, and even when its fur has been rubbed off, and it's gone saggy with bits missing, the little child still thinks it's the most beautiful toy in the world, and can't bear to be parted from it.
That's how it works, when people really love each other, Mum whispered on the way out in the Debenhams lift, as if she was confessing some hideous and embarrassing secret. But, the thing is, darling, it doesn't happen to ones who have sharp edges, or break if they get dropped, or ones made of silly synthetic stuff that doesn't last. You have to be brave and let the other person know who you are and what you feel. — Helen Fielding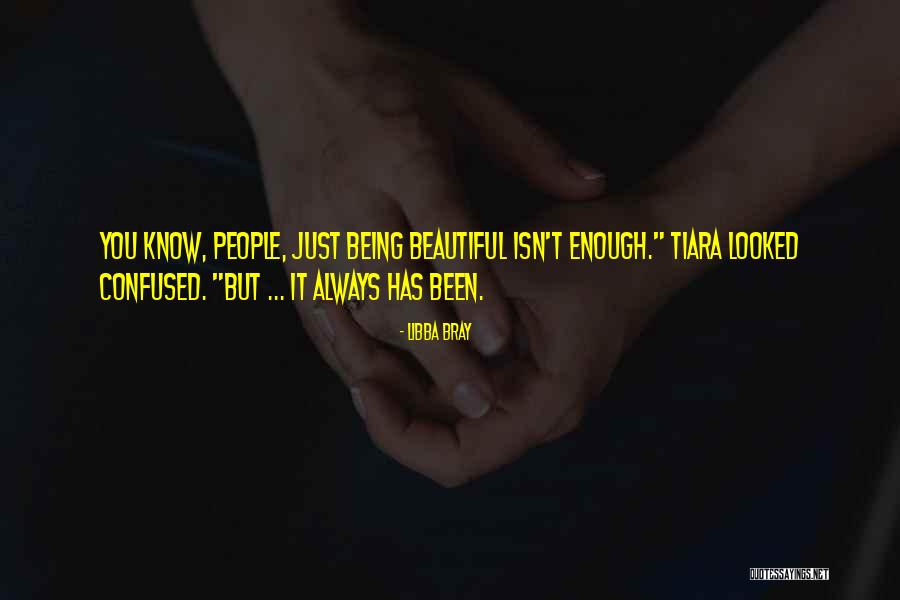 You know, people, just being beautiful isn't enough."
Tiara looked confused. "But ... it always has been. — Libba Bray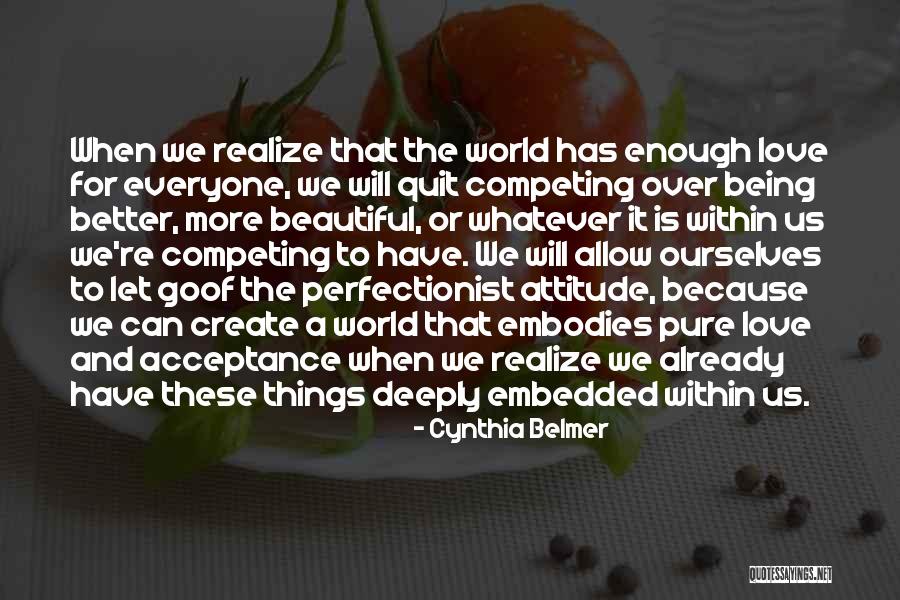 When we realize that the world has enough love for everyone, we will quit competing over being better, more beautiful, or whatever it is within us we're competing to have. We will allow ourselves to let go
of the perfectionist attitude, because we can create a world that embodies pure love and acceptance when we realize we already have these things deeply embedded within us. — Cynthia Belmer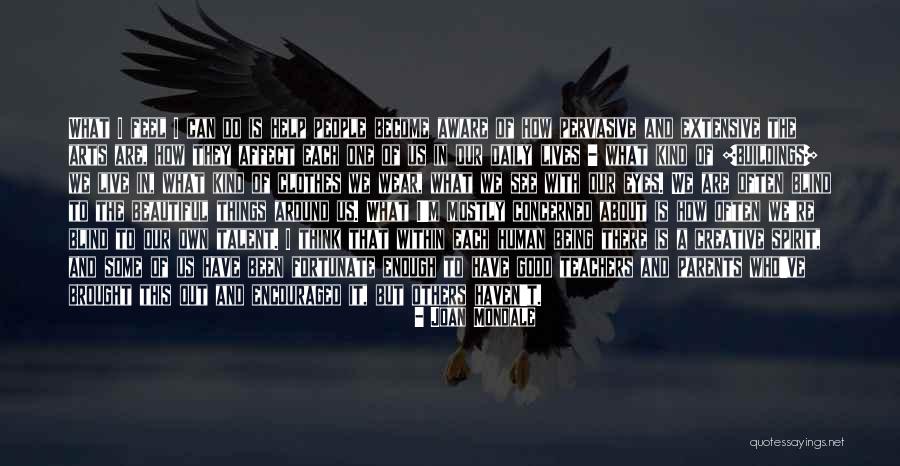 What I feel I can do is help people become aware of how pervasive and extensive the arts are, how they affect each one of us in our daily lives - what kind of [buildings] we live in, what kind of clothes we wear, what we see with our eyes. We are often blind to the beautiful things around us. What I'm mostly concerned about is how often we're blind to our own talent. I think that within each human being there is a creative spirit, and some of us have been fortunate enough to have good teachers and parents who've brought this out and encouraged it, but others haven't. — Joan Mondale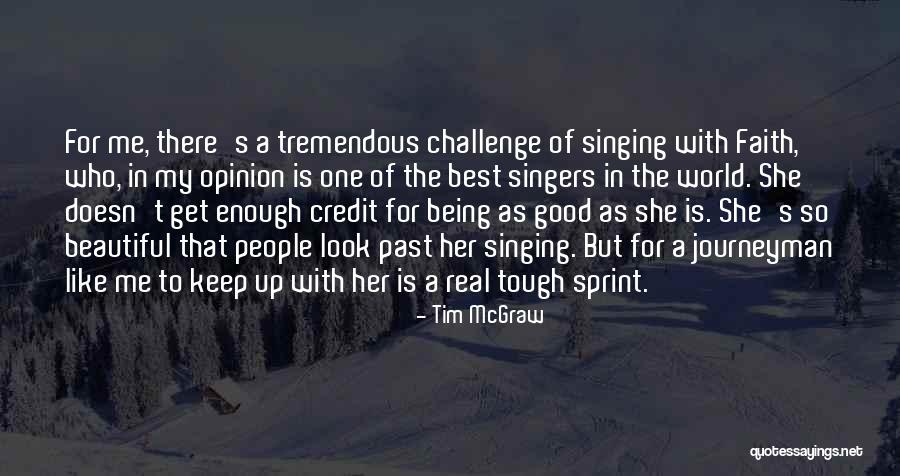 For me, there's a tremendous challenge of singing with Faith, who, in my opinion is one of the best singers in the world. She doesn't get enough credit for being as good as she is. She's so beautiful that people look past her singing. But for a journeyman like me to keep up with her is a real tough sprint. — Tim McGraw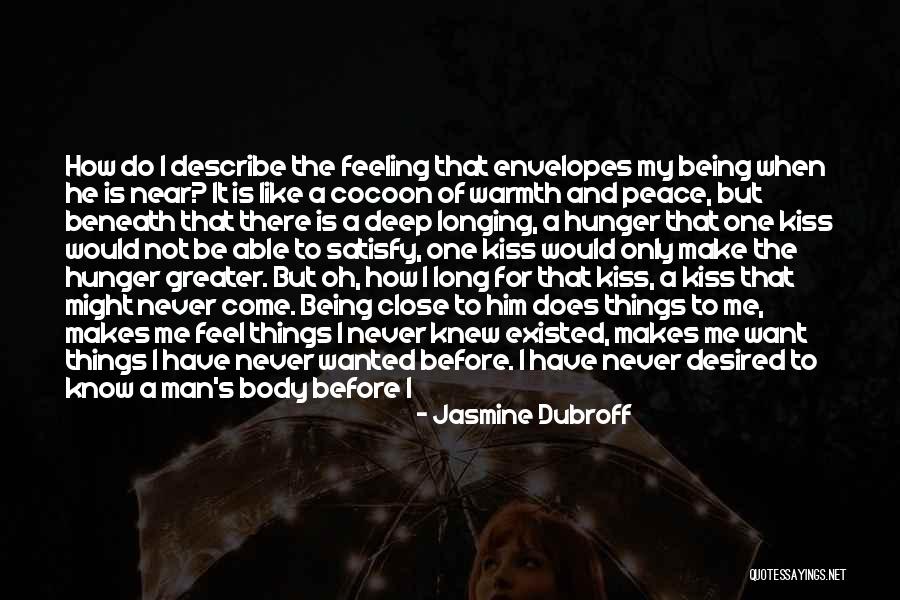 How do I describe the feeling that envelopes my being when he is near? It is like a cocoon of warmth and peace, but beneath that there is a deep longing, a hunger that one kiss would not be able to satisfy, one kiss would only make the hunger greater. But oh, how I long for that kiss, a kiss that might never come.
Being close to him does things to me, makes me feel things I never knew existed, makes me want things I have never wanted before. I have never desired to know a man's body before I met Ariston. I wonder if he knows that I desire him in such a way, that I not only want to know his body, but that I want him to know mine. There is a part of me that would not care if he loves me or not if I could just have one beautiful, passionate night with him, while the rest of me knows that one night would never be enough. — Jasmine Dubroff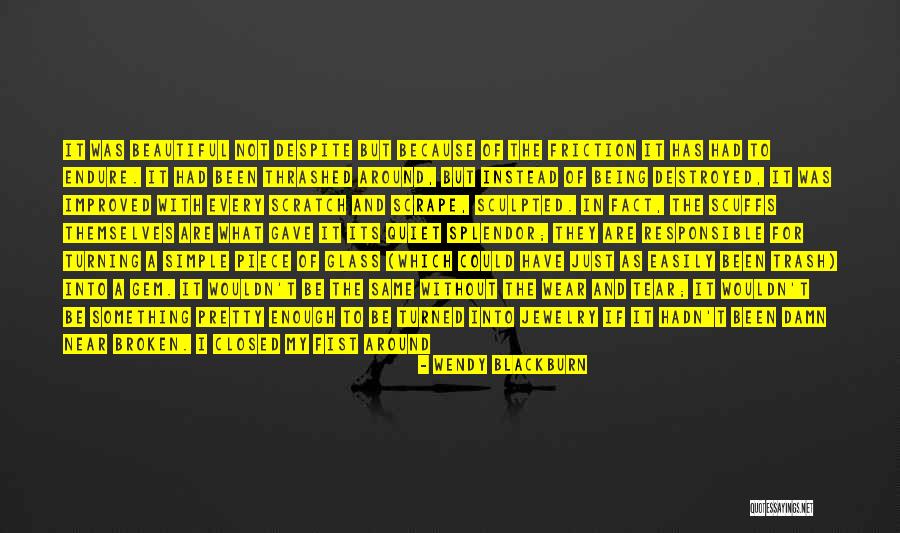 It was beautiful not despite but because of the friction it has had to endure. It had been thrashed around, but instead of being destroyed, it was improved with every scratch and scrape, sculpted. In fact, the scuffs themselves are what gave it its quiet splendor; they are responsible for turning a simple piece of glass (which could have just as easily been trash) into a gem. It wouldn't be the same without the wear and tear; it wouldn't be something pretty enough to be turned into jewelry if it hadn't been damn near broken. I closed my fist around this tear-shaped gem and thought about my own uneven edges, my own abrasions, and things I have endured that have, instead of breaking me, completed me, prepared me for the next tumble. Its odd beauty was hard-won. It came from reinventing itself. From having risen to the top of the discard pile. Like a phoenix, from victim to victor. (325) — Wendy Blackburn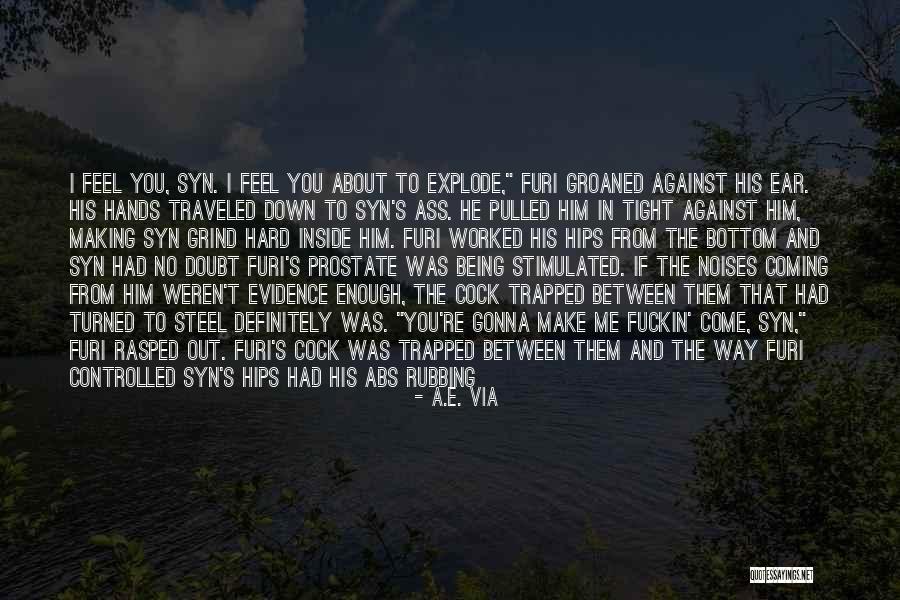 I feel you, Syn. I feel you about to explode," Furi groaned against his ear. His hands traveled down to Syn's ass. He pulled him in tight against him, making Syn grind hard inside him. Furi worked his hips from the bottom and Syn had no doubt Furi's prostate was being stimulated. If the noises coming from him weren't evidence enough, the cock trapped between them that had turned to steel definitely was. "You're gonna make me fuckin' come, Syn," Furi rasped out. Furi's cock was trapped between them and the way Furi controlled Syn's hips had his abs rubbing roughly over its length. Syn's orgasm was rising. He was having a hard time keeping his eyes on his lover's beautiful face, especially when Furi took one hand off Syn's ass and made a show of sexily sucking on one finger. "Oh — A.E. Via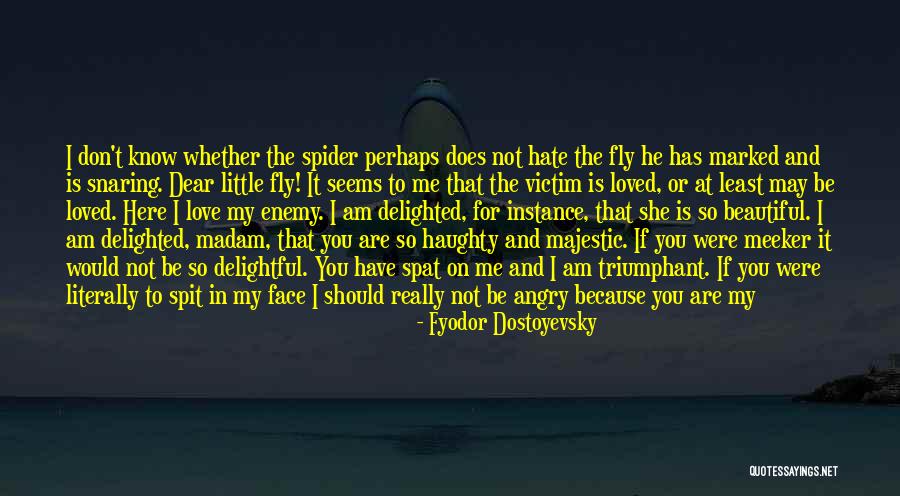 I don't know whether the spider perhaps does not hate the fly he has marked and is snaring. Dear little fly! It seems to me that the victim is loved, or at least may be loved. Here I love my enemy. I am delighted, for instance, that she is so beautiful. I am delighted, madam, that you are so haughty and majestic. If you were meeker it would not be so delightful. You have spat on me
and I am triumphant. If you were literally to spit in my face I should really not be angry because you
are my victim; mine and not his. How fascinating was that idea! Yes, the secret consciousness of power is more insupportably delightful than open domination. If I were a millionaire I believe I should take pleasure in going about in the oldest clothes and being taken for a destitute man, almost a beggar, being jostled and despised. The consciousness of the truth would be enough for me. — Fyodor Dostoyevsky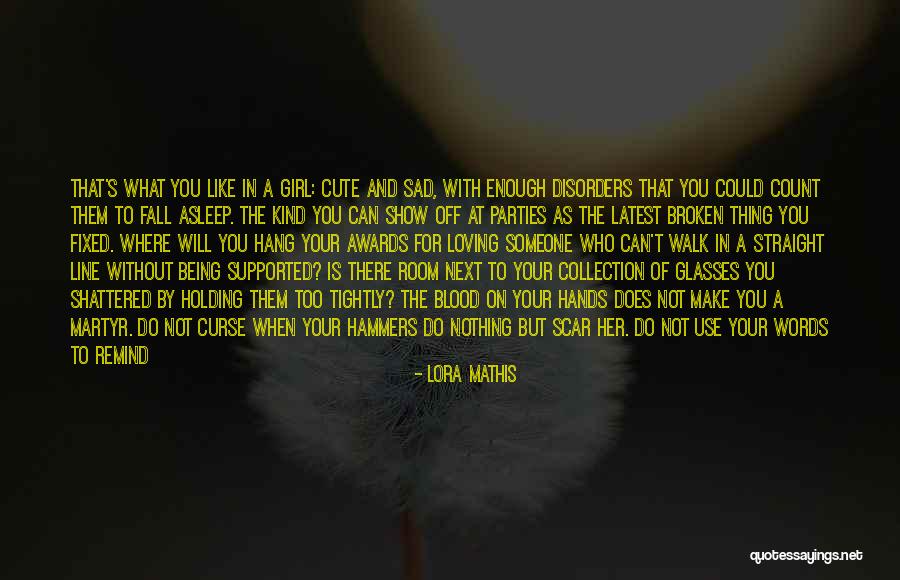 That's what you like in a girl: cute and sad, with enough disorders that you could count them to fall asleep. The kind you can show off at parties as the latest broken thing you fixed. Where will you hang your awards for loving someone who can't walk in a straight line without being supported? Is there room next to your collection of glasses you shattered by holding them too tightly? The blood on your hands does not make you a martyr. Do not curse when your hammers do nothing but scar her. Do not use your words to remind her that everybody else would have left by now. If she could speak, she would tell you: you think it's beautiful to love somebody as light as me but you don't know how heavy I had to be to become this empty. — Lora Mathis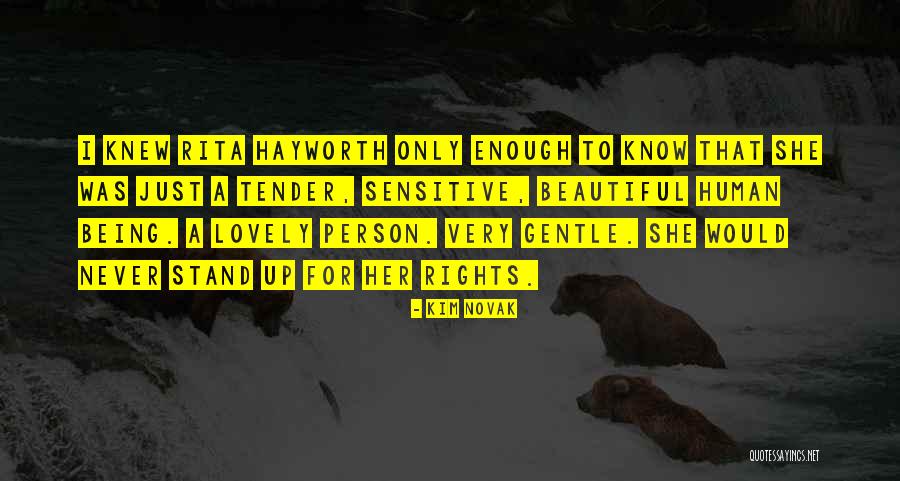 I knew Rita Hayworth only enough to know that she was just a tender, sensitive, beautiful human being. A lovely person. Very gentle. She would never stand up for her rights. — Kim Novak