Quotes & Sayings About Non Biological Family
Enjoy reading and share 27 famous quotes about Non Biological Family with everyone.
Top Non Biological Family Quotes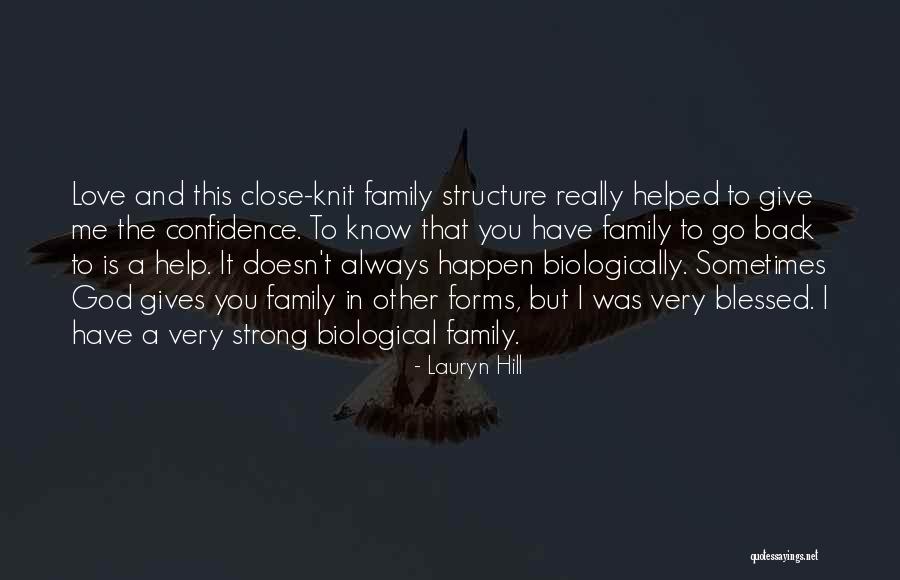 Love and this close-knit family structure really helped to give me the confidence. To know that you have family to go back to is a help. It doesn't always happen biologically. Sometimes God gives you family in other forms, but I was very blessed. I have a very strong biological family. — Lauryn Hill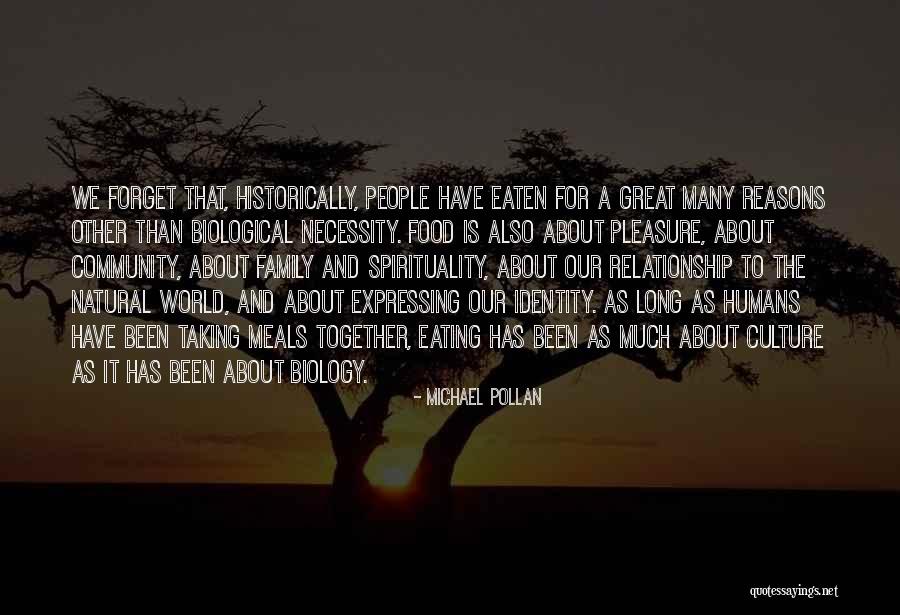 We forget that, historically, people have eaten for a great many reasons other than biological necessity. Food is also about pleasure, about community, about family and spirituality, about our relationship to the natural world, and about expressing our identity. As long as humans have been taking meals together, eating has been as much about culture as it has been about biology. — Michael Pollan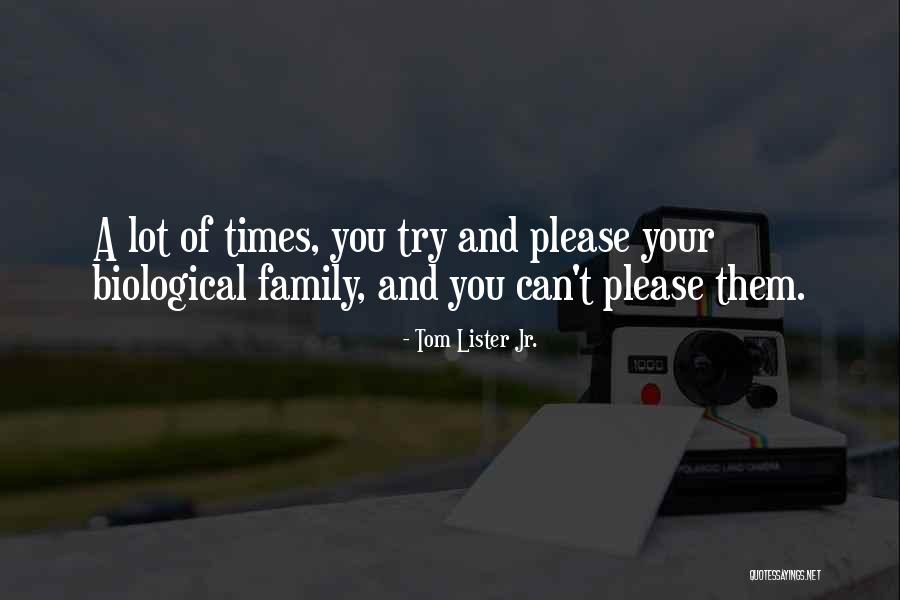 A lot of times, you try and please your biological family, and you can't please them. — Tom Lister Jr.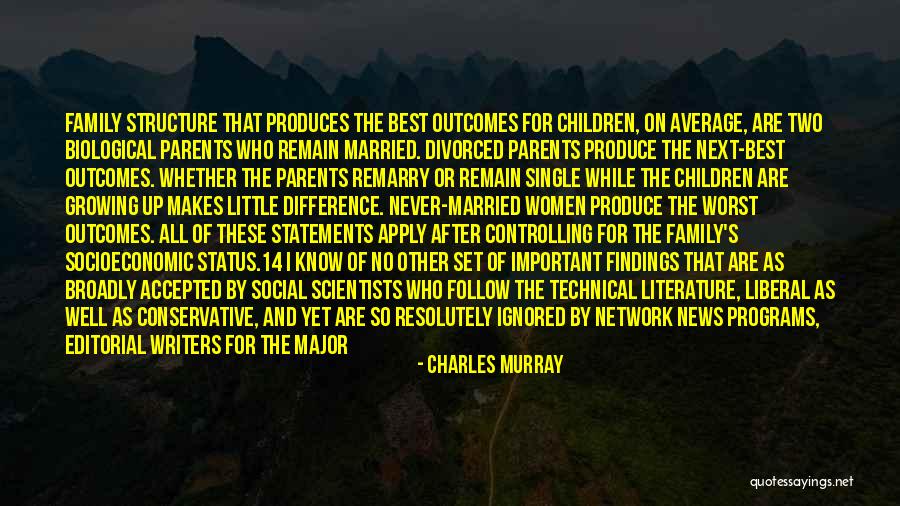 family structure that produces the best outcomes for children, on average, are two biological parents who remain married. Divorced parents produce the next-best outcomes. Whether the parents remarry or remain single while the children are growing up makes little difference. Never-married women produce the worst outcomes. All of these statements apply after controlling for the family's socioeconomic status.14 I know of no other set of important findings that are as broadly accepted by social scientists who follow the technical literature, liberal as well as conservative, and yet are so resolutely ignored by network news programs, editorial writers for the major newspapers, and politicians of both major political parties. In — Charles Murray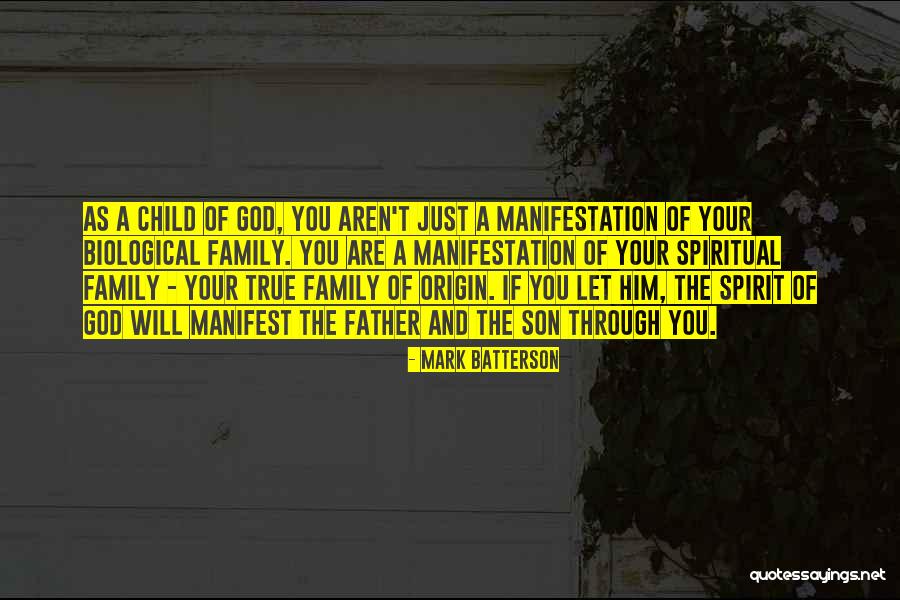 As a child of God, you aren't just a manifestation of your biological family. You are a manifestation of your spiritual family - your true family of origin. If you let Him, the Spirit of God will manifest the Father and the Son through you. — Mark Batterson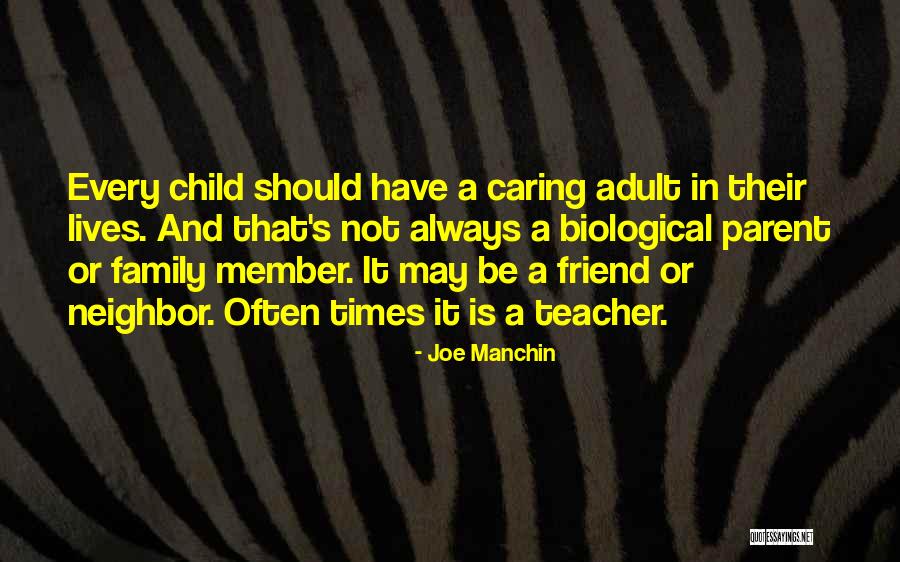 Every child should have a caring adult in their lives. And that's not always a biological parent or family member. It may be a friend or neighbor. Often times it is a teacher. — Joe Manchin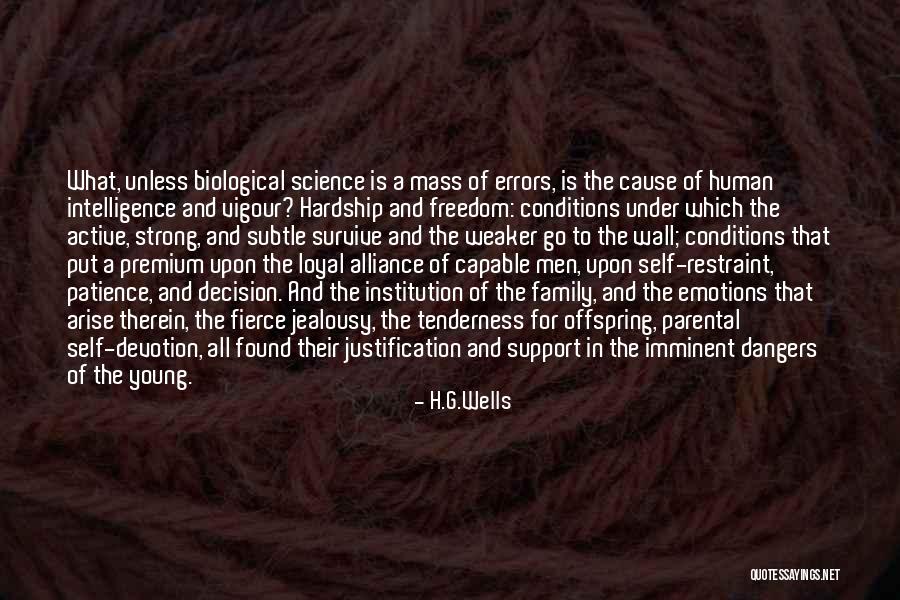 What, unless biological science is a mass of errors, is the cause of human intelligence and vigour? Hardship and freedom: conditions under which the active, strong, and subtle survive and the weaker go to the wall; conditions that put a premium upon the loyal alliance of capable men, upon self-restraint, patience, and decision. And the institution of the family, and the emotions that arise therein, the fierce jealousy, the tenderness for offspring, parental self-devotion, all found their justification and support in the imminent dangers of the young. — H.G.Wells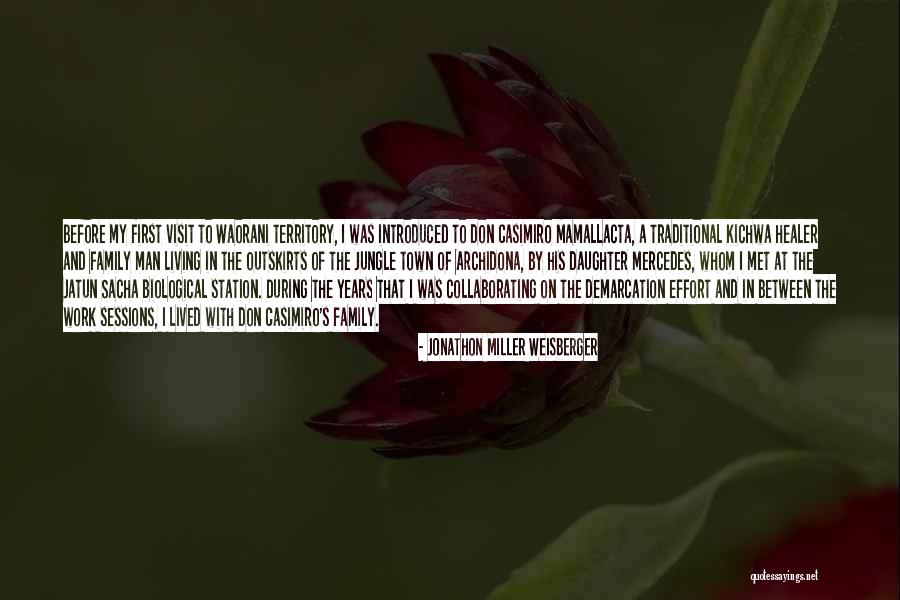 Before my first visit to Waorani territory, I was introduced to don Casimiro Mamallacta, a traditional Kichwa healer and family man living in the outskirts of the jungle town of Archidona, by his daughter Mercedes, whom I met at the Jatun Sacha biological station. During the years that I was collaborating on the demarcation effort and in between the work sessions, I lived with don Casimiro's family. — Jonathon Miller Weisberger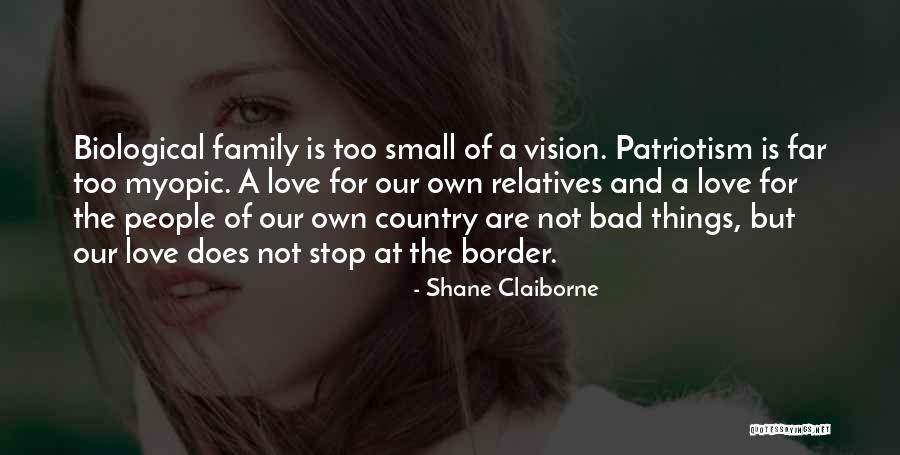 Biological family is too small of a vision. Patriotism is far too myopic. A love for our own relatives and a love for the people of our own country are not bad things, but our love does not stop at the border. — Shane Claiborne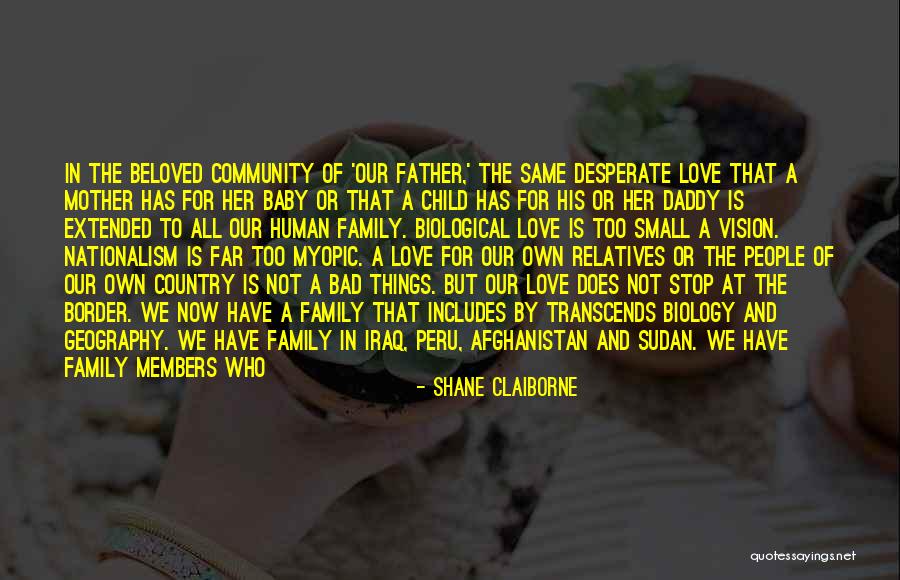 In the beloved community of 'Our Father,' the same desperate love that a mother has for her baby or that a child has for his or her daddy is extended to all our human family. Biological love is too small a vision. Nationalism is far too myopic. A love for our own relatives or the people of our own country is not a bad things. But our love does not stop at the border. We now have a family that includes by transcends biology and geography. We have family in Iraq, Peru, Afghanistan and Sudan. We have family members who are starving and homeless, dying of AIDS and living in the midst of war. This is the new family of our Father. — Shane Claiborne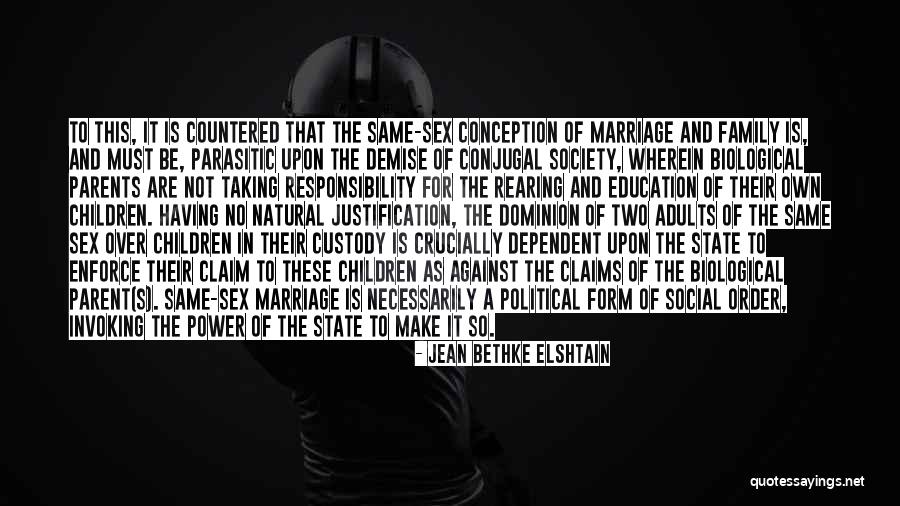 To this, it is countered that the same-sex conception of marriage and family is, and must be, parasitic upon the demise of conjugal society, wherein biological parents are not taking responsibility for the rearing and education of their own children. Having no natural justification, the dominion of two adults of the same sex over children in their custody is crucially dependent upon the state to enforce their claim to these children as against the claims of the biological parent(s). Same-sex marriage is necessarily a political form of social order, invoking the power of the state to make it so. — Jean Bethke Elshtain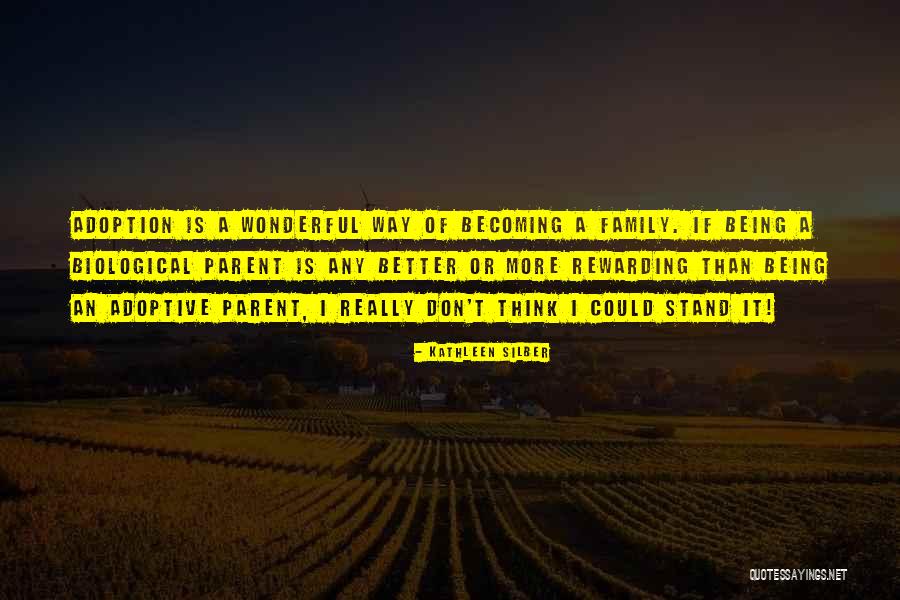 Adoption is a wonderful way of becoming a family. If being a biological parent is any better or more rewarding than being an adoptive parent, I really don't think I could stand it! — Kathleen Silber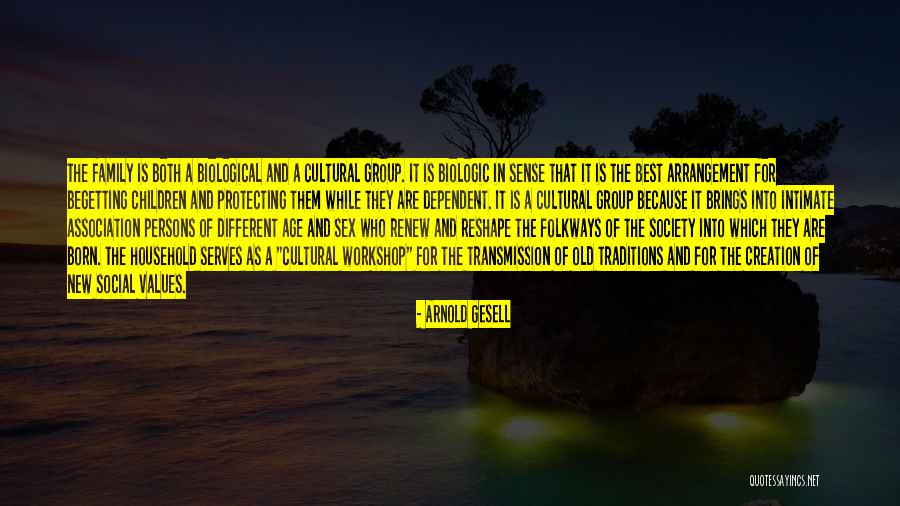 The family is both a biological and a cultural group. It is biologic in sense that it is the best arrangement for begetting children and protecting them while they are dependent. It is a cultural group because it brings into intimate association persons of different age and sex who renew and reshape the folkways of the society into which they are born. The household serves as a "cultural workshop" for the transmission of old traditions and for the creation of new social values. — Arnold Gesell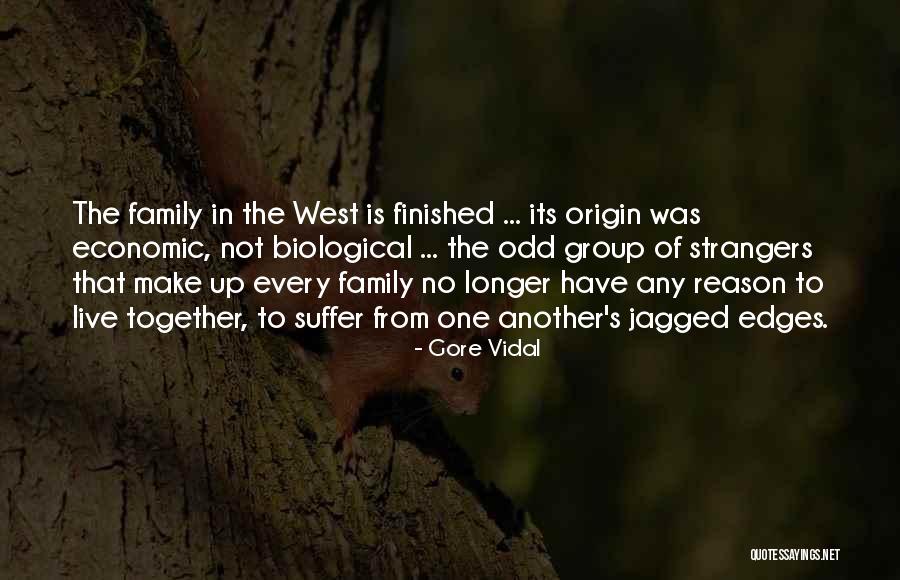 The family in the West is finished ... its origin was economic, not biological ... the odd group of strangers that make up every family no longer have any reason to live together, to suffer from one another's jagged edges. — Gore Vidal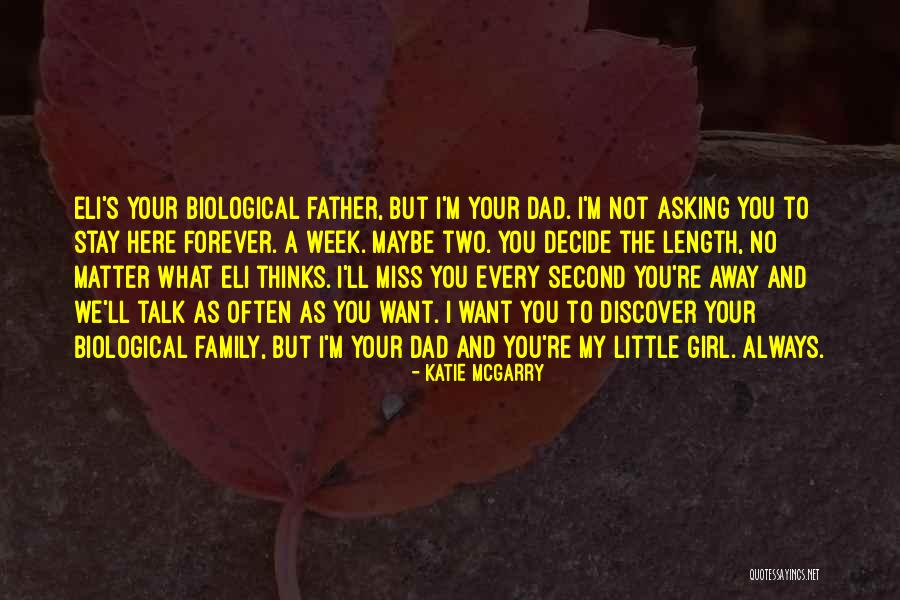 Eli's your biological father, but I'm your dad. I'm not asking you to stay here forever. A week. Maybe two. You decide the length, no matter what Eli thinks. I'll miss you every second you're away and we'll talk as often as you want. I want you to discover your biological family, but I'm your dad and you're my little girl. Always. — Katie McGarry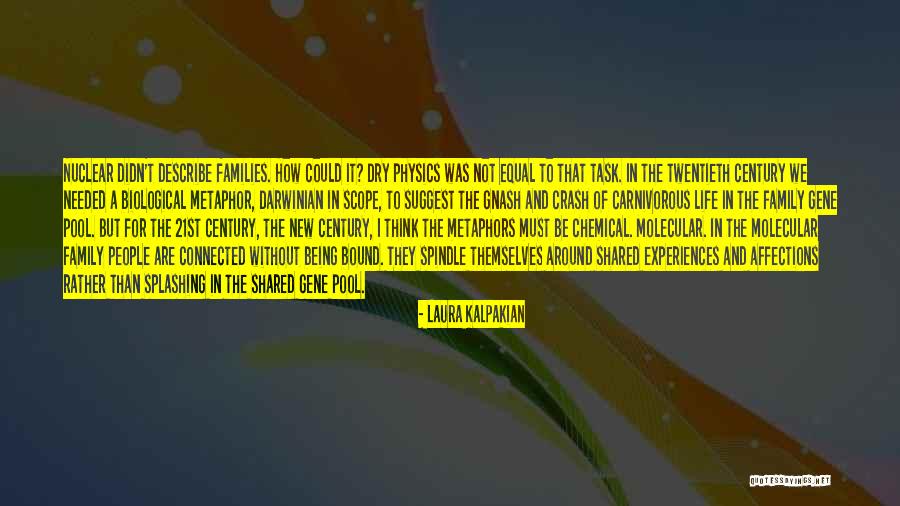 Nuclear didn't describe families. How could it? Dry physics was not equal to that task. In the twentieth century we needed a biological metaphor, Darwinian in scope, to suggest the gnash and crash of carnivorous life in the family gene pool. But for the 21st century, the new century, I think the metaphors must be chemical. Molecular. In the molecular family people are connected without being bound. They spindle themselves around shared experiences and affections rather than splashing in the shared gene pool. — Laura Kalpakian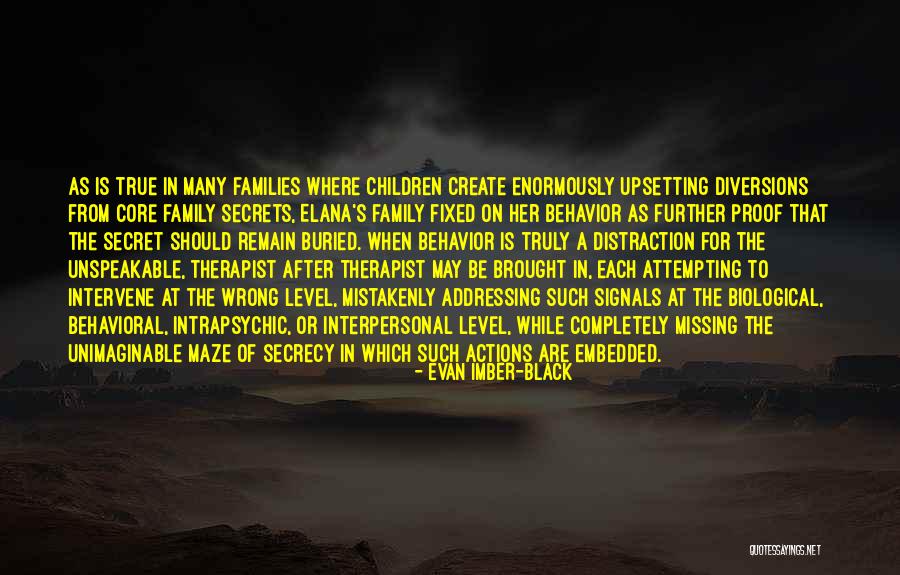 As is true in many families where children create enormously upsetting diversions from core family secrets, Elana's family fixed on her behavior as further proof that the secret should remain buried. When behavior is truly a distraction for the unspeakable, therapist after therapist may be brought in, each attempting to intervene at the wrong level, mistakenly addressing such signals at the biological, behavioral, intrapsychic, or interpersonal level, while completely missing the unimaginable maze of secrecy in which such actions are embedded. — Evan Imber-Black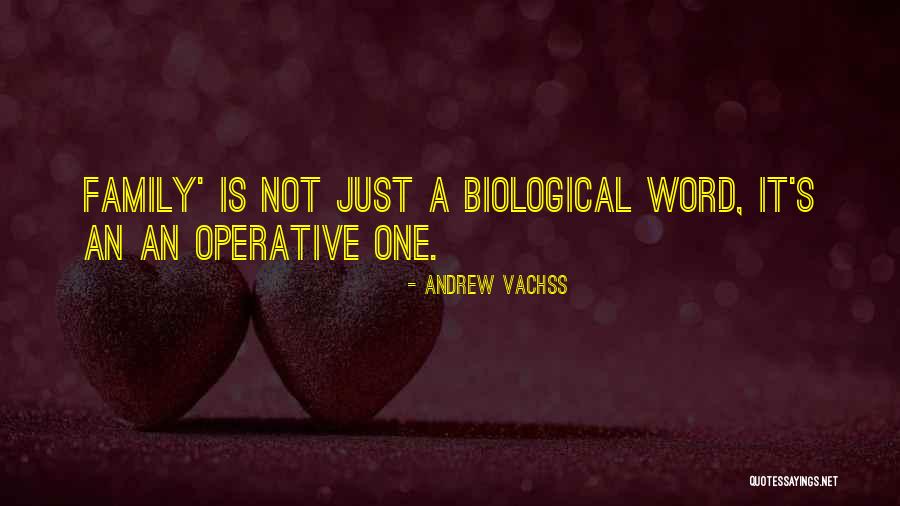 Family' is not just a biological word, it's an an operative one. — Andrew Vachss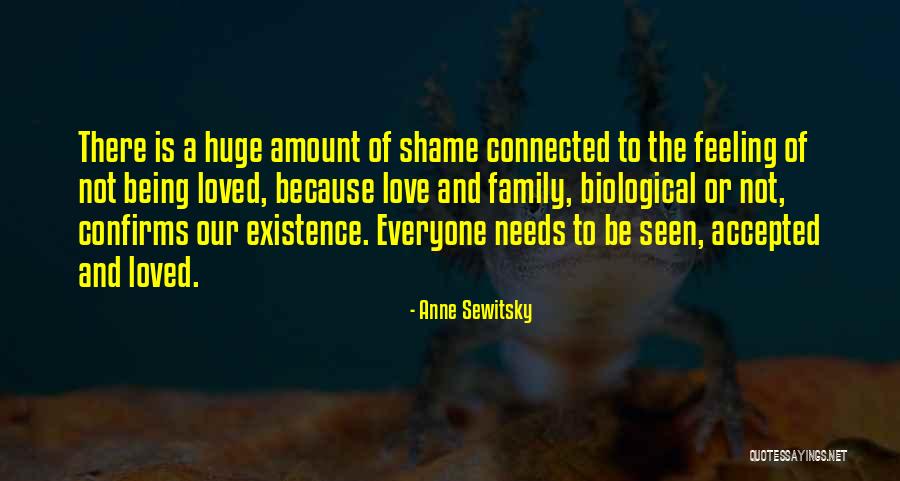 There is a huge amount of shame connected to the feeling of not being loved, because love and family, biological or not, confirms our existence. Everyone needs to be seen, accepted and loved. — Anne Sewitsky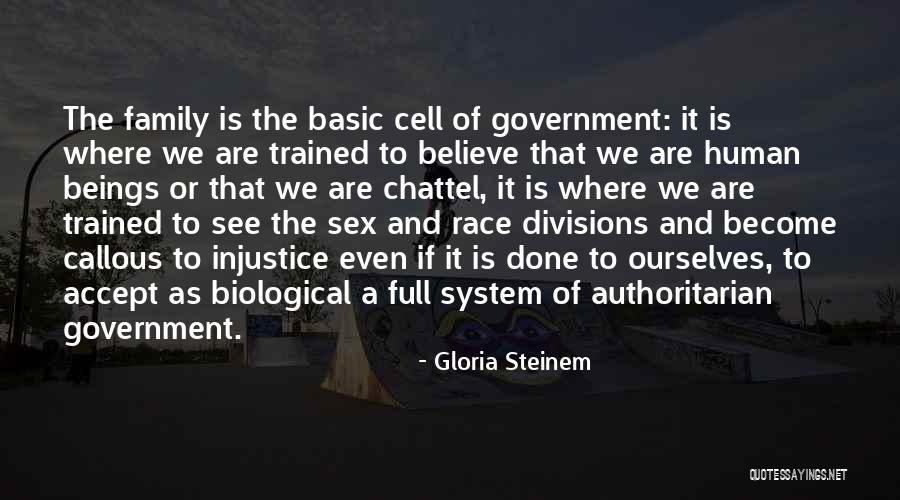 The family is the basic cell of government: it is where we are trained to believe that we are human beings or that we are chattel, it is where we are trained to see the sex and race divisions and become callous to injustice even if it is done to ourselves, to accept as biological a full system of authoritarian government. — Gloria Steinem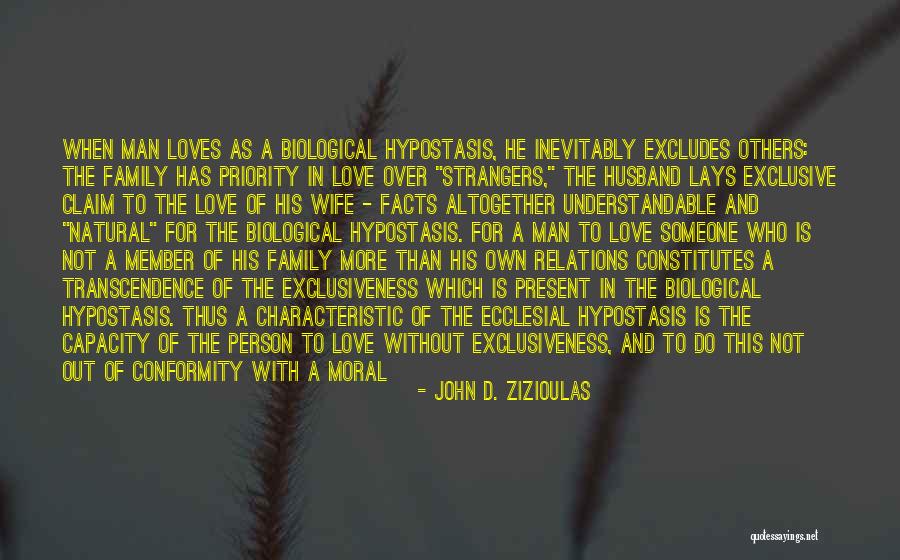 When man loves as a biological hypostasis, he inevitably excludes others: the family has priority in love over "strangers," the husband lays exclusive claim to the love of his wife - facts altogether understandable and "natural" for the biological hypostasis. For a man to love someone who is not a member of his family more than his own relations constitutes a transcendence of the exclusiveness which is present in the biological hypostasis. Thus a characteristic of the ecclesial hypostasis is the capacity of the person to love without exclusiveness, and to do this not out of conformity with a moral commandment ("Love thy neighbor," etc.), but out of his "hypostatic constitution," out of the fact that his new birth from the womb of the Church has made him part of a network of relationships which transcends every exclusiveness. — John D. Zizioulas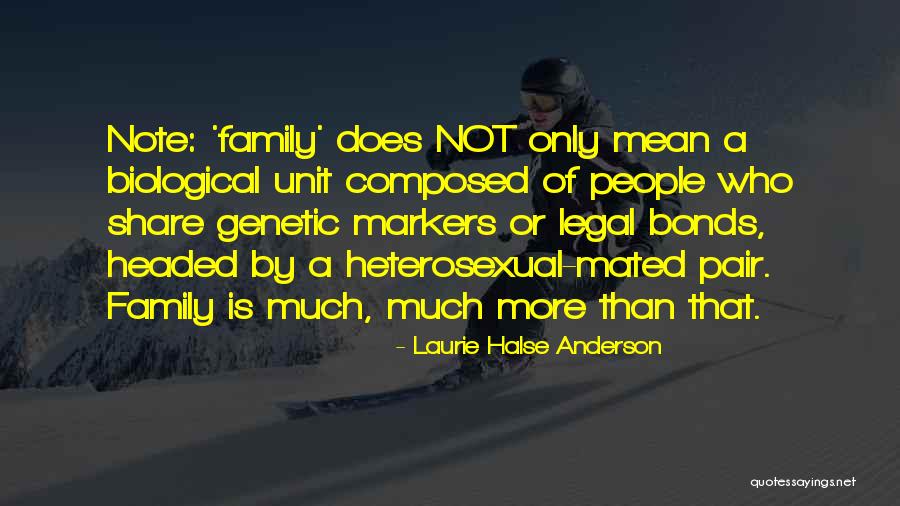 Note: 'family' does NOT only mean a biological unit composed of people who share genetic markers or legal bonds, headed by a heterosexual-mated pair. Family is much, much more than that. — Laurie Halse Anderson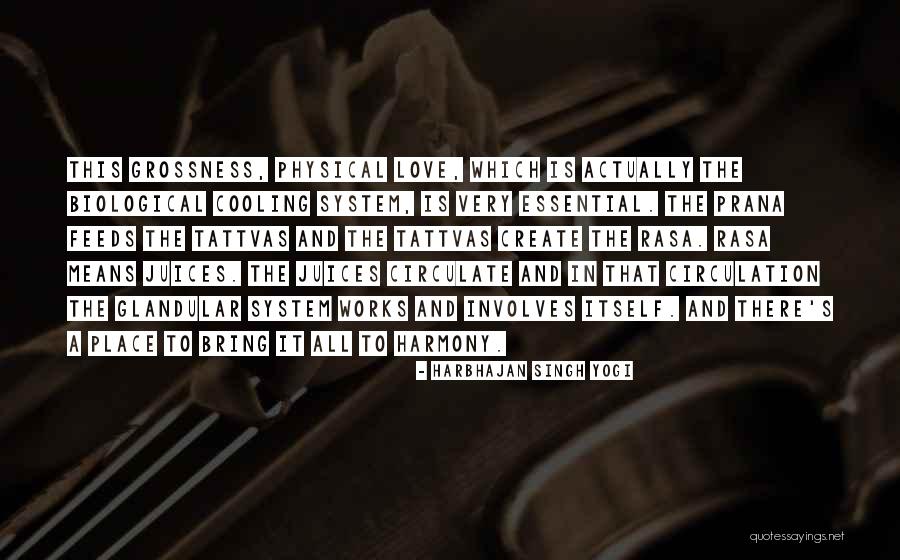 This grossness, physical love, which is actually the biological cooling system, is very essential. The prana feeds the tattvas and the tattvas create the rasa. Rasa means juices. The juices circulate and in that circulation the glandular system works and involves itself. And there's a place to bring it all to harmony. — Harbhajan Singh Yogi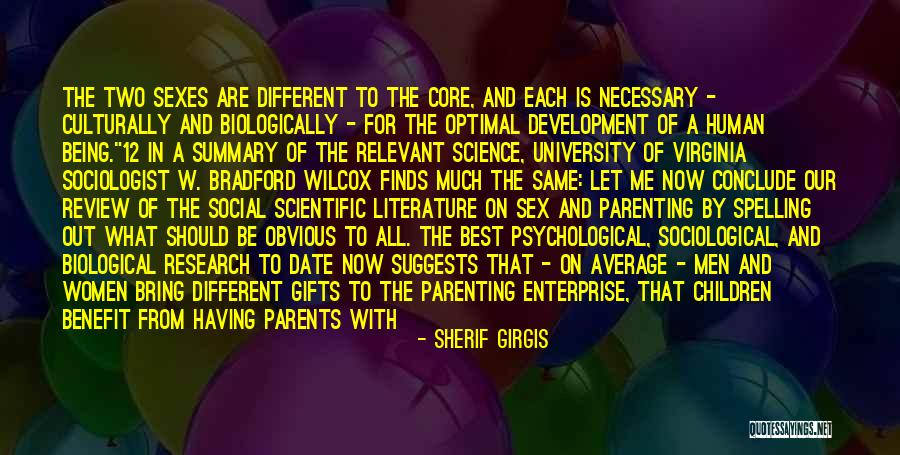 The two sexes are different to the core, and each is necessary - culturally and biologically - for the optimal development of a human being."12 In a summary of the relevant science, University of Virginia sociologist W. Bradford Wilcox finds much the same: Let me now conclude our review of the social scientific literature on sex and parenting by spelling out what should be obvious to all. The best psychological, sociological, and biological research to date now suggests that - on average - men and women bring different gifts to the parenting enterprise, that children benefit from having parents with distinct parenting styles, and that family breakdown poses a serious threat to children and to the societies in which they live.13 — Sherif Girgis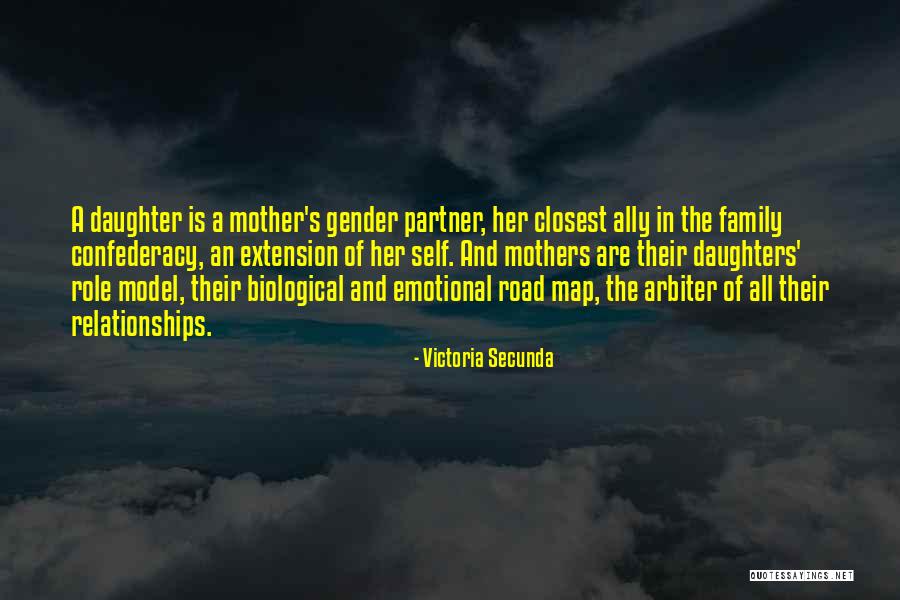 A daughter is a mother's gender partner, her closest ally in the family confederacy, an extension of her self. And mothers are their daughters' role model, their biological and emotional road map, the arbiter of all their relationships. — Victoria Secunda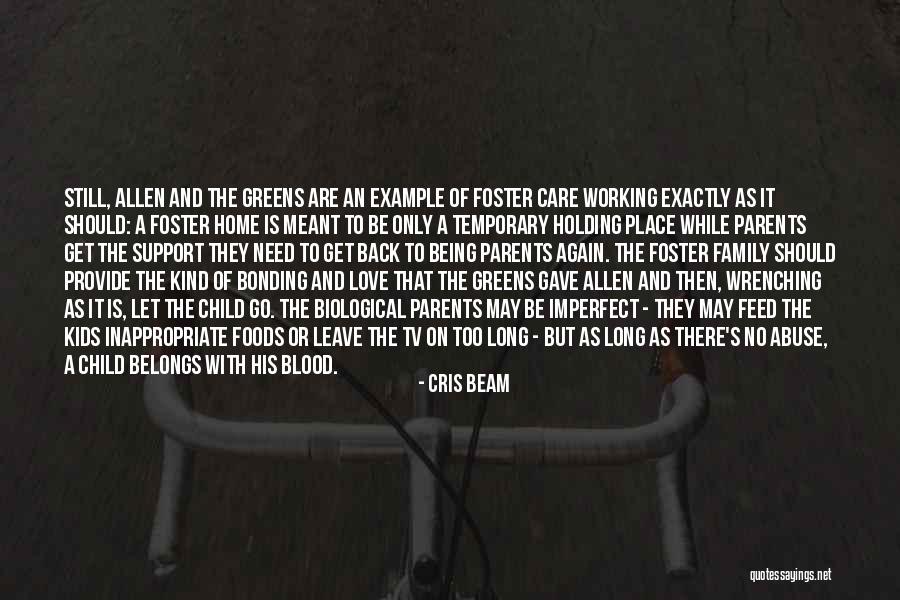 Still, Allen and the Greens are an example of foster care working exactly as it should: a foster home is meant to be only a temporary holding place while parents get the support they need to get back to being parents again. The foster family should provide the kind of bonding and love that the Greens gave Allen and then, wrenching as it is, let the child go. The biological parents may be imperfect - they may feed the kids inappropriate foods or leave the TV on too long - but as long as there's no abuse, a child belongs with his blood. — Cris Beam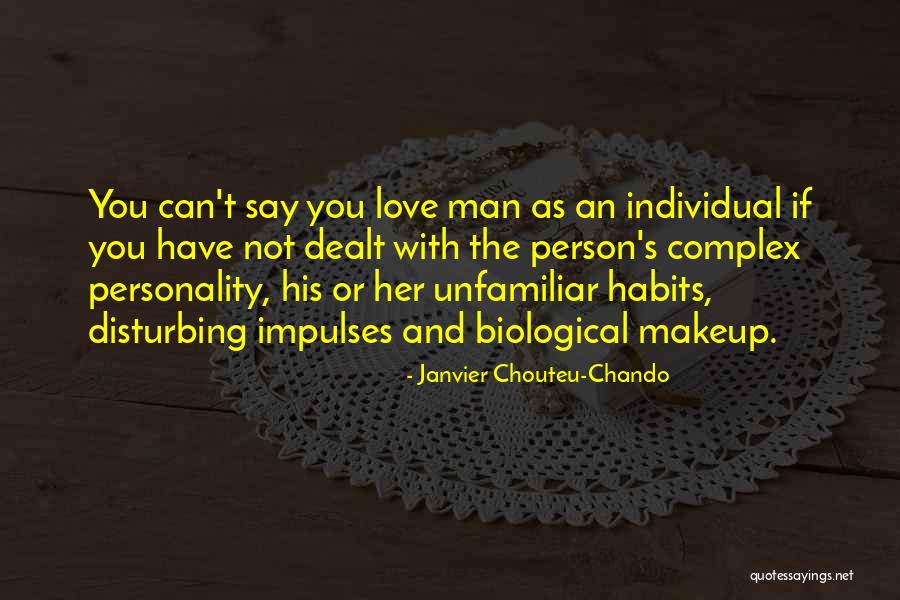 You can't say you love man as an individual if you have not dealt with the person's complex personality, his or her unfamiliar habits, disturbing impulses and biological makeup. — Janvier Chouteu-Chando