Quotes & Sayings About New Orleans Jazz
Enjoy reading and share 29 famous quotes about New Orleans Jazz with everyone.
Top New Orleans Jazz Quotes
It doesn't matter if people are playing jazz or writing poetry
if they want to be successful, they need to learn how to persist and persevere, how to keep on working until the work is done. Woody Allen famously declared that "eighty percent of success is showing up." NOCCA (New Orleans Center for the Creative Arts) teaches kids how to show up again and again. — Jonah Lehrer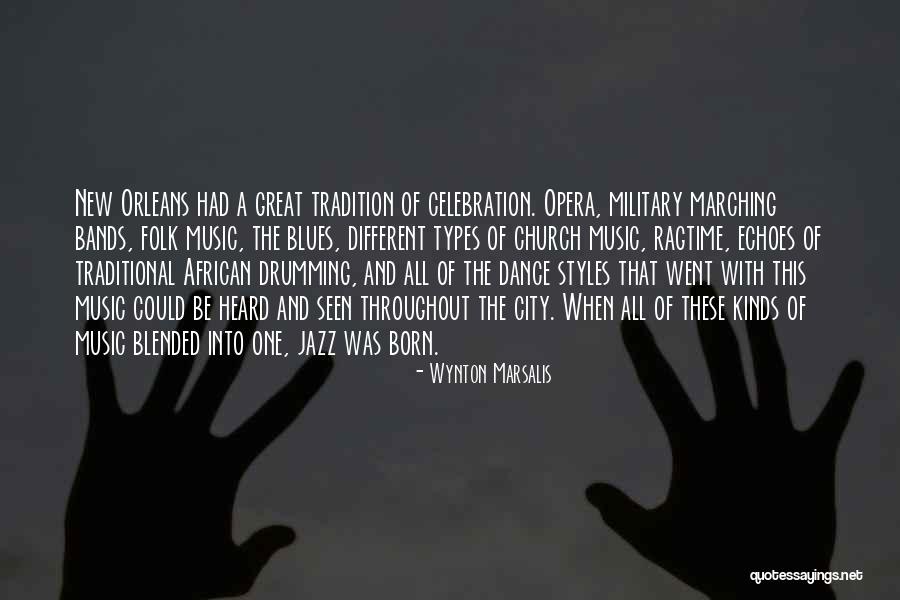 New Orleans had a great tradition of celebration. Opera, military marching bands, folk music, the blues, different types of church music, ragtime, echoes of traditional African drumming, and all of the dance styles that went with this music could be heard and seen throughout the city. When all of these kinds of music blended into one, jazz was born. — Wynton Marsalis
Coltrane came to New Orleans one day and he was talking about the jazz scene. And Coltrane mentions that the problem with jazz was that there were too few groups. — Branford Marsalis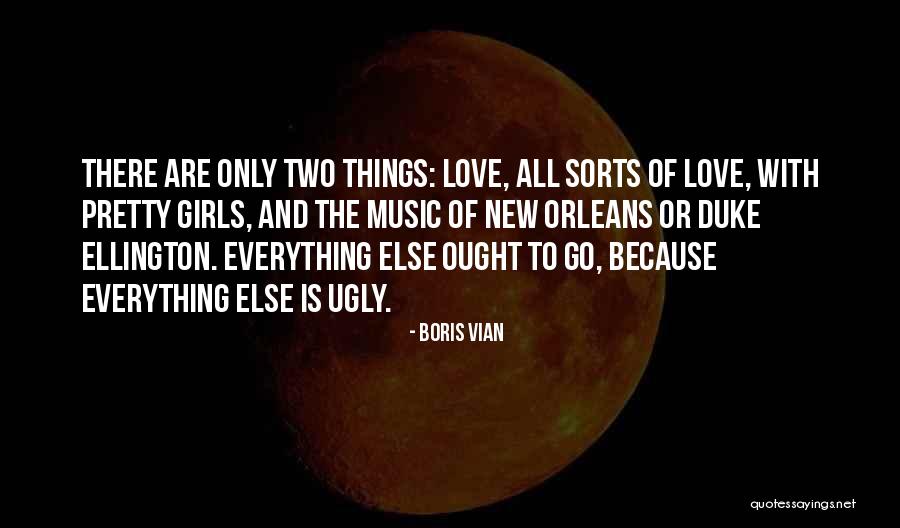 There are only two things: love, all sorts of love, with pretty girls, and the music of New Orleans or Duke Ellington. Everything else ought to go, because everything else is ugly. — Boris Vian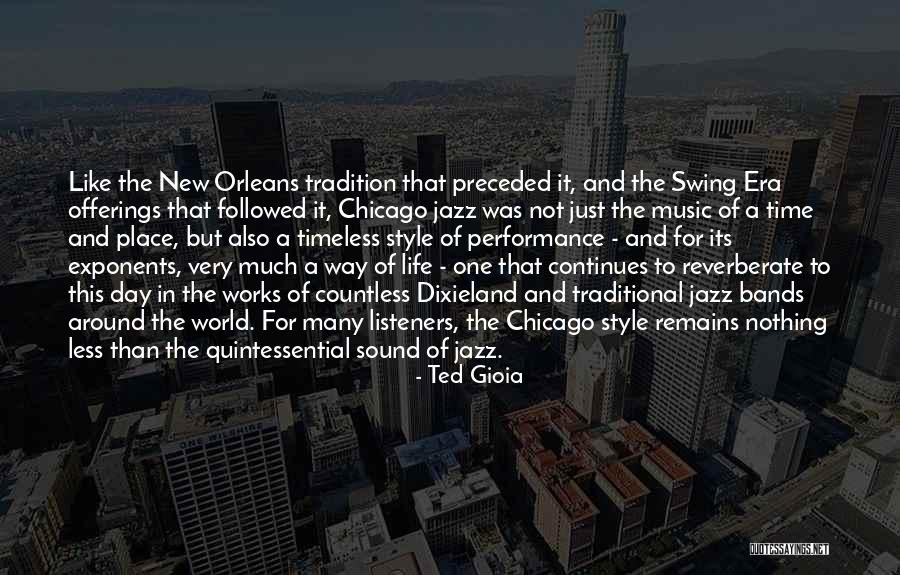 Like the New Orleans tradition that preceded it, and the Swing Era offerings that followed it, Chicago jazz was not just the music of a time and place, but also a timeless style of performance - and for its exponents, very much a way of life - one that continues to reverberate to this day in the works of countless Dixieland and traditional jazz bands around the world. For many listeners, the Chicago style remains nothing less than the quintessential sound of jazz. — Ted Gioia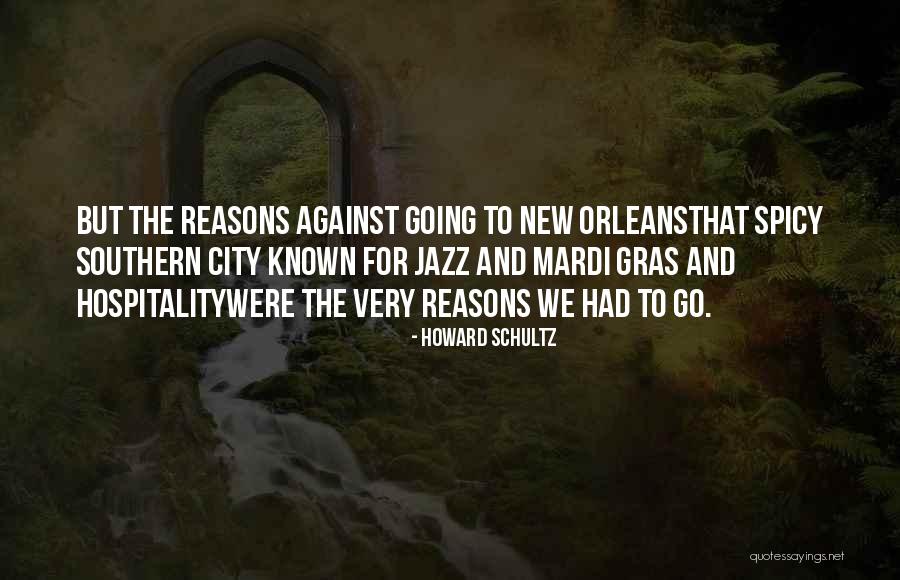 But the reasons against going to New Orleans
that spicy southern city known for jazz and Mardi Gras and hospitality
were the very reasons we had to go. — Howard Schultz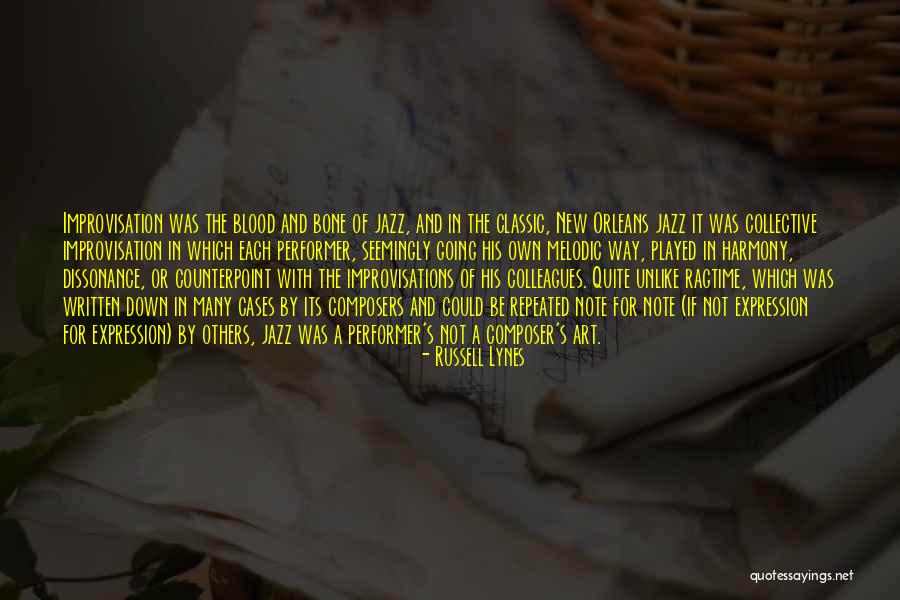 Improvisation was the blood and bone of jazz, and in the classic, New Orleans jazz it was collective improvisation in which each performer, seemingly going his own melodic way, played in harmony, dissonance, or counterpoint with the improvisations of his colleagues. Quite unlike ragtime, which was written down in many cases by its composers and could be repeated note for note (if not expression for expression) by others, jazz was a performer's not a composer's art. — Russell Lynes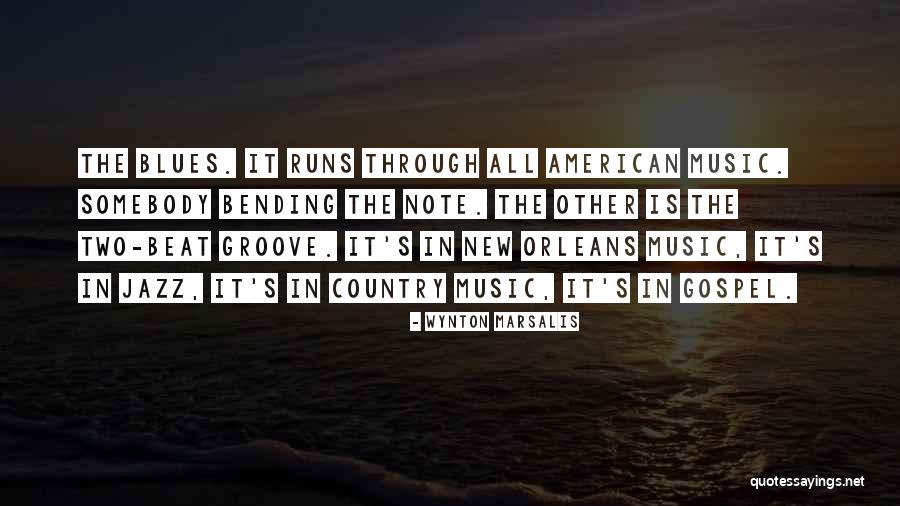 The blues. It runs through all American music. Somebody bending the note. The other is the two-beat groove. It's in New Orleans music, it's in jazz, it's in country music, it's in gospel. — Wynton Marsalis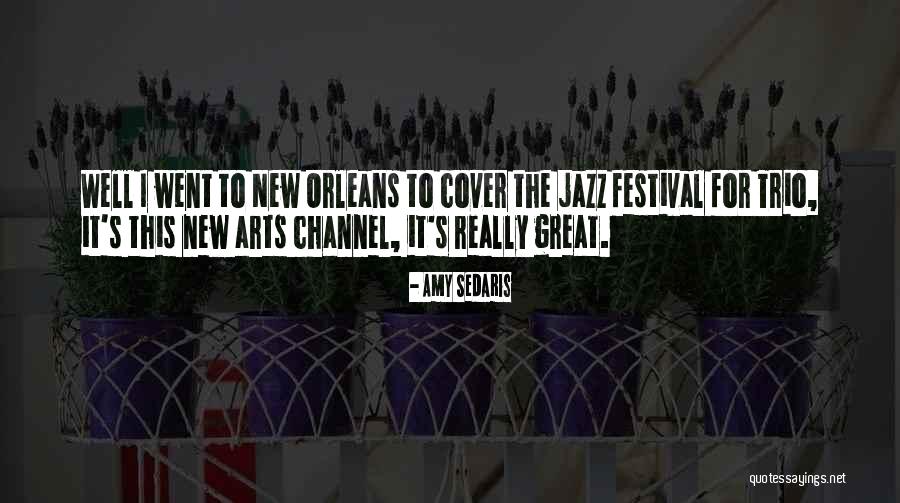 Well I went to New Orleans to cover the jazz festival for Trio, it's this new arts channel, it's really great. — Amy Sedaris
New Orleans jazz is a complex and embracing art form that began about the same time as the blues and encompassed many of its excellences. — Tim Cahill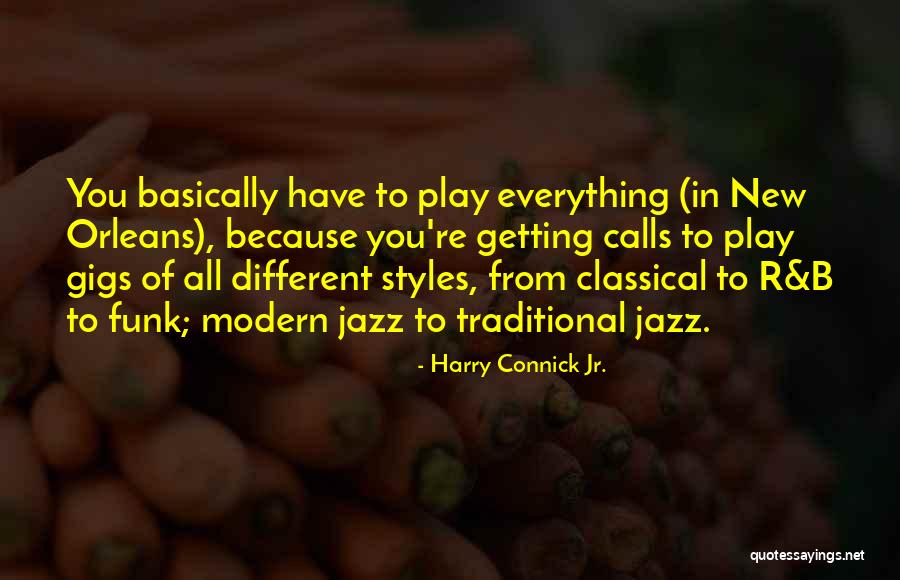 You basically have to play everything (in New Orleans), because you're getting calls to play gigs of all different styles, from classical to R&B to funk; modern jazz to traditional jazz. — Harry Connick Jr.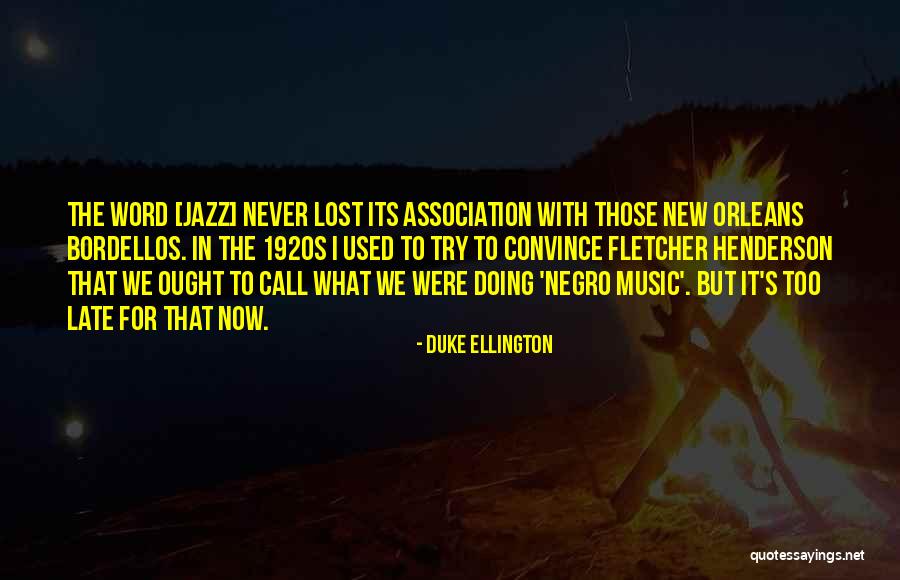 The word [jazz] never lost its association with those New Orleans bordellos. In the 1920s I used to try to convince Fletcher Henderson that we ought to call what we were doing 'Negro music'. But it's too late for that now. — Duke Ellington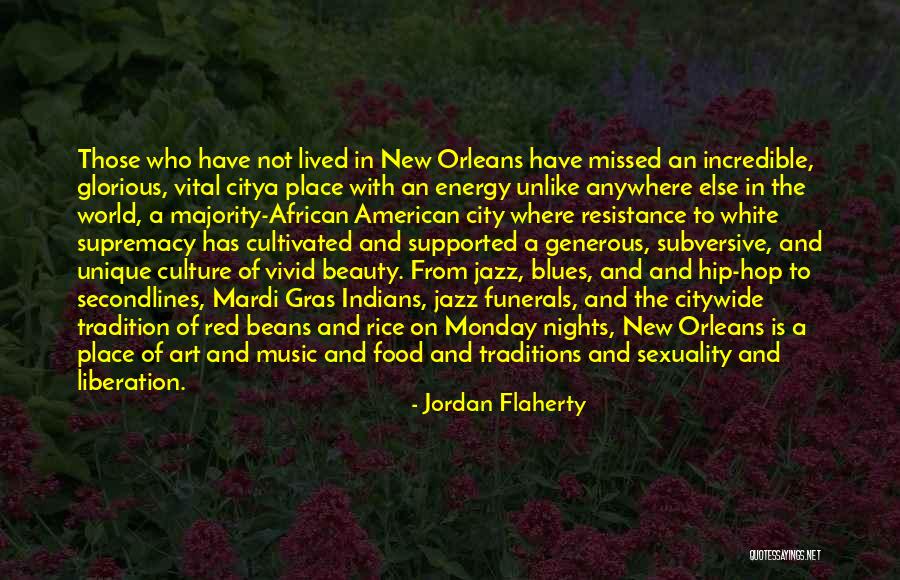 Those who have not lived in New Orleans have missed an incredible, glorious, vital city
a place with an energy unlike anywhere else in the world, a majority-African American city where resistance to white supremacy has cultivated and supported a generous, subversive, and unique culture of vivid beauty. From jazz, blues, and and hip-hop to secondlines, Mardi Gras Indians, jazz funerals, and the citywide tradition of red beans and rice on Monday nights, New Orleans is a place of art and music and food and traditions and sexuality and liberation. — Jordan Flaherty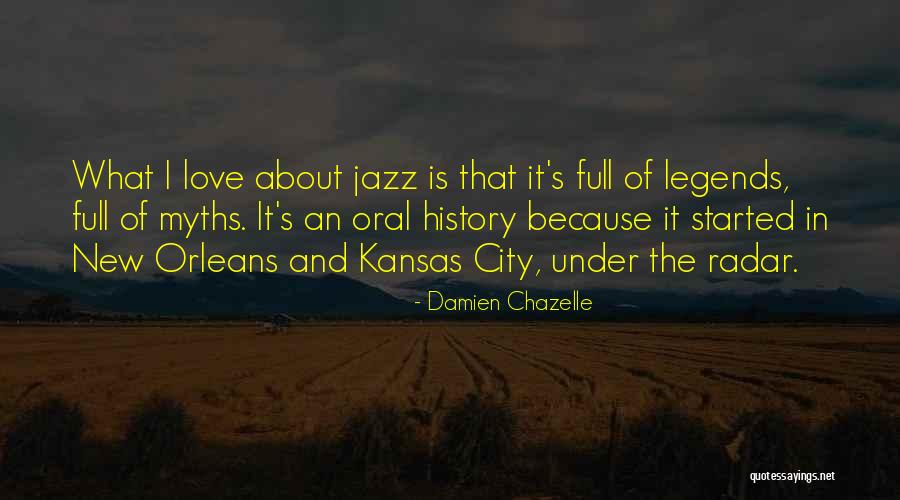 What I love about jazz is that it's full of legends, full of myths. It's an oral history because it started in New Orleans and Kansas City, under the radar. — Damien Chazelle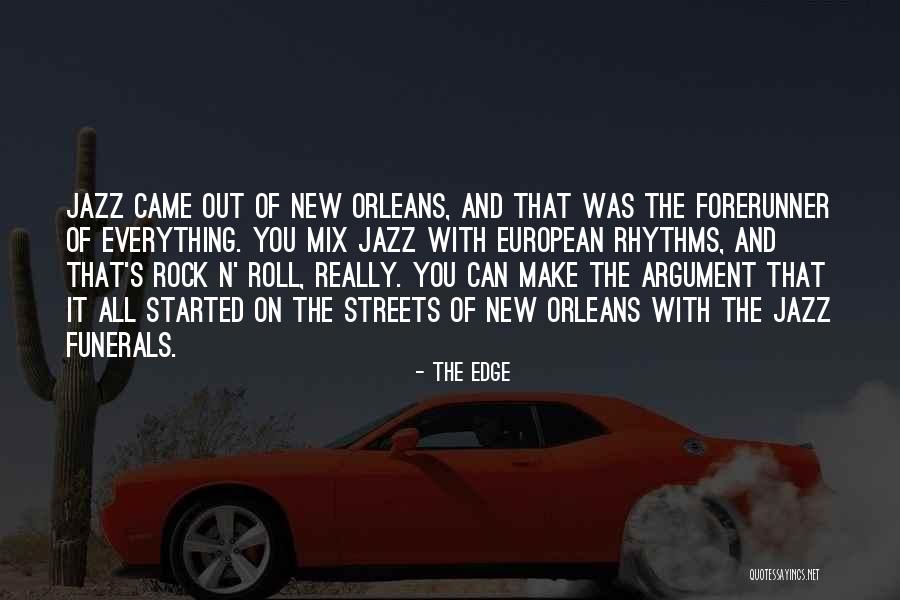 Jazz came out of New Orleans, and that was the forerunner of everything. You mix jazz with European rhythms, and that's rock n' roll, really. You can make the argument that it all started on the streets of New Orleans with the jazz funerals. — The Edge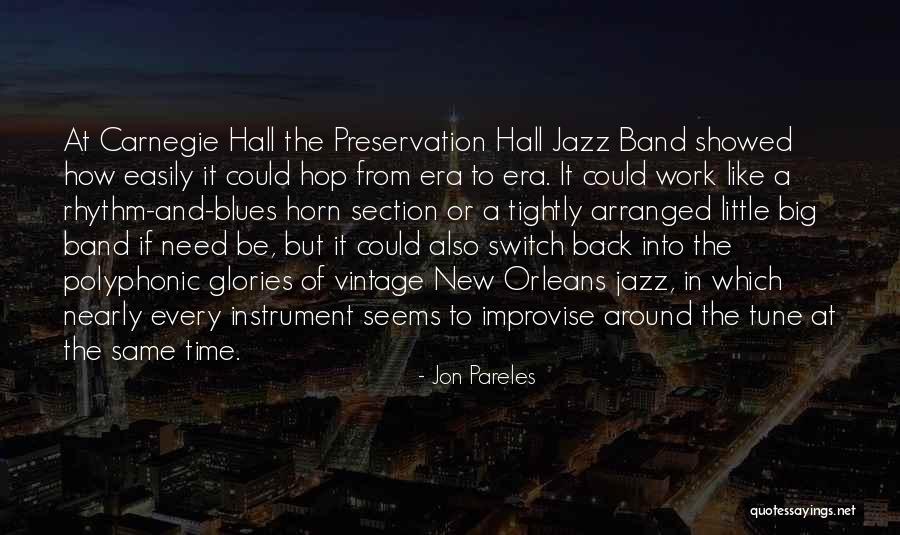 At Carnegie Hall the Preservation Hall Jazz Band showed how easily it could hop from era to era. It could work like a rhythm-and-blues horn section or a tightly arranged little big band if need be, but it could also switch back into the polyphonic glories of vintage New Orleans jazz, in which nearly every instrument seems to improvise around the tune at the same time. — Jon Pareles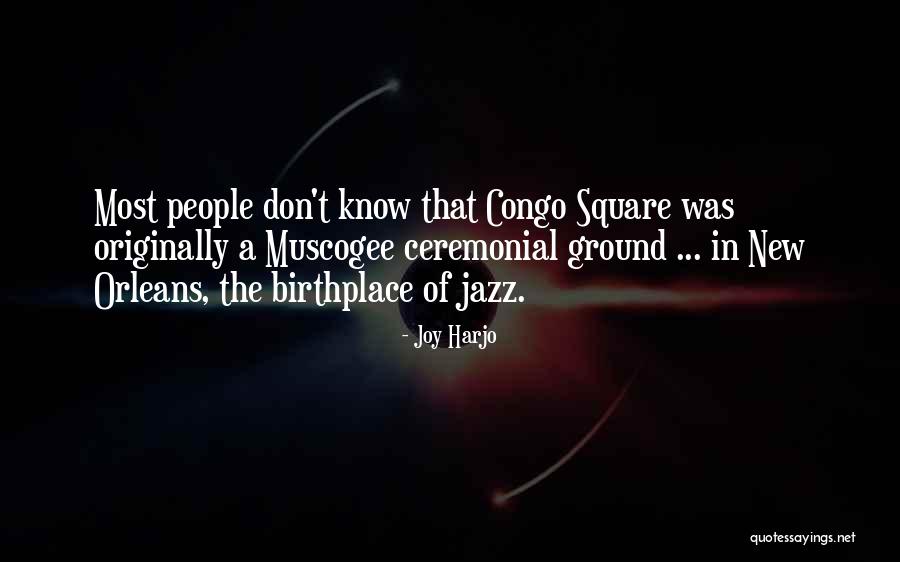 Most people don't know that Congo Square was originally a Muscogee ceremonial ground ... in New Orleans, the birthplace of jazz. — Joy Harjo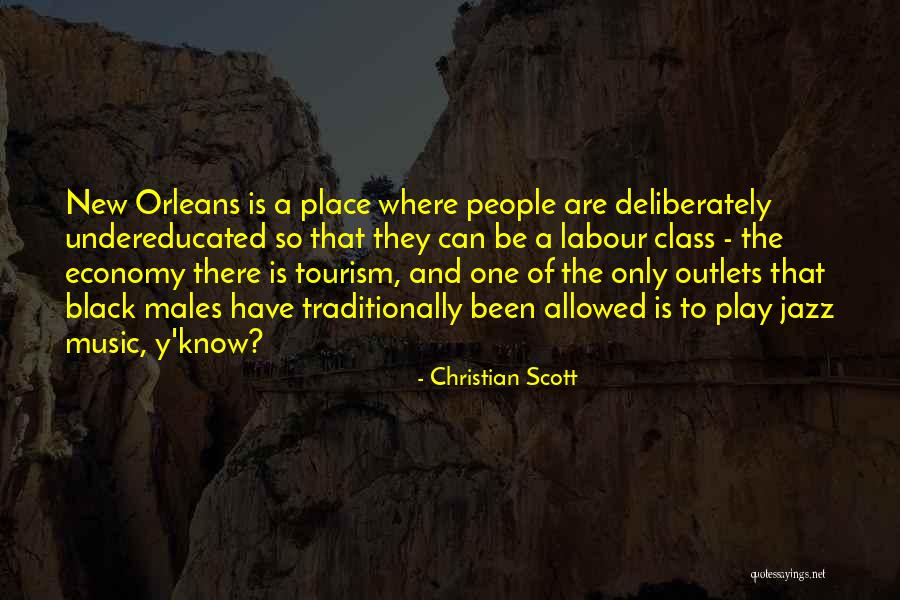 New Orleans is a place where people are deliberately undereducated so that they can be a labour class - the economy there is tourism, and one of the only outlets that black males have traditionally been allowed is to play jazz music, y'know? — Christian Scott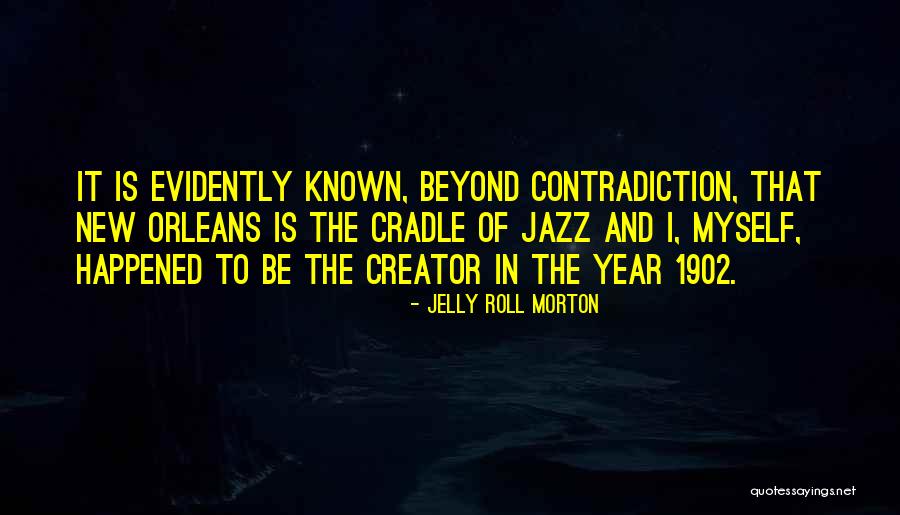 It is evidently known, beyond contradiction, that New Orleans is the cradle of Jazz and I, myself, happened to be the creator in the year 1902. — Jelly Roll Morton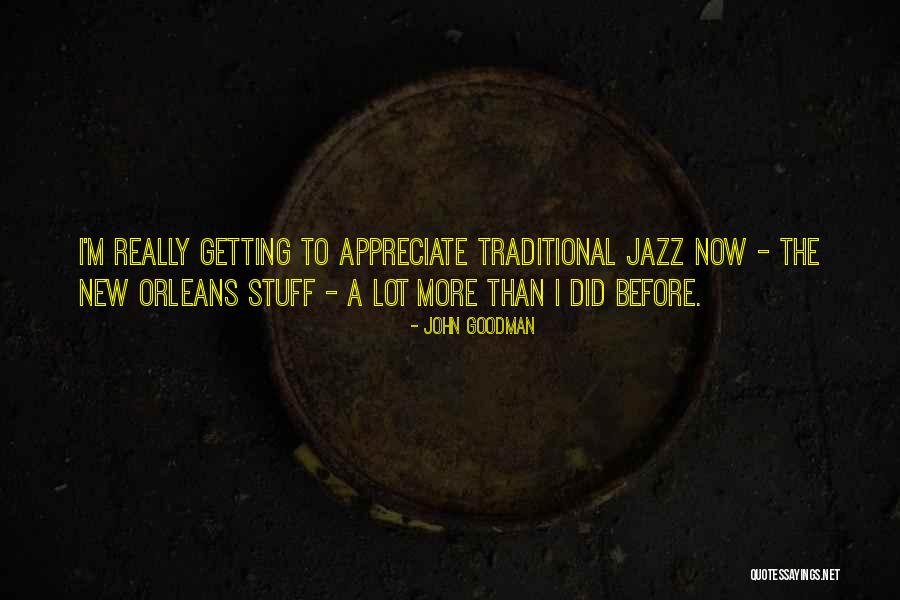 I'm really getting to appreciate traditional jazz now - the New Orleans stuff - a lot more than I did before. — John Goodman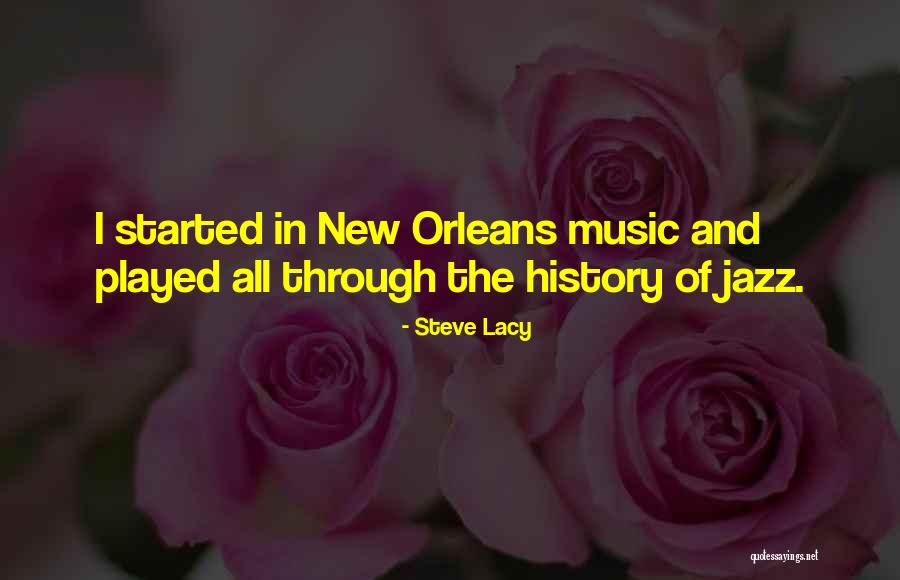 I started in New Orleans music and played all through the history of jazz. — Steve Lacy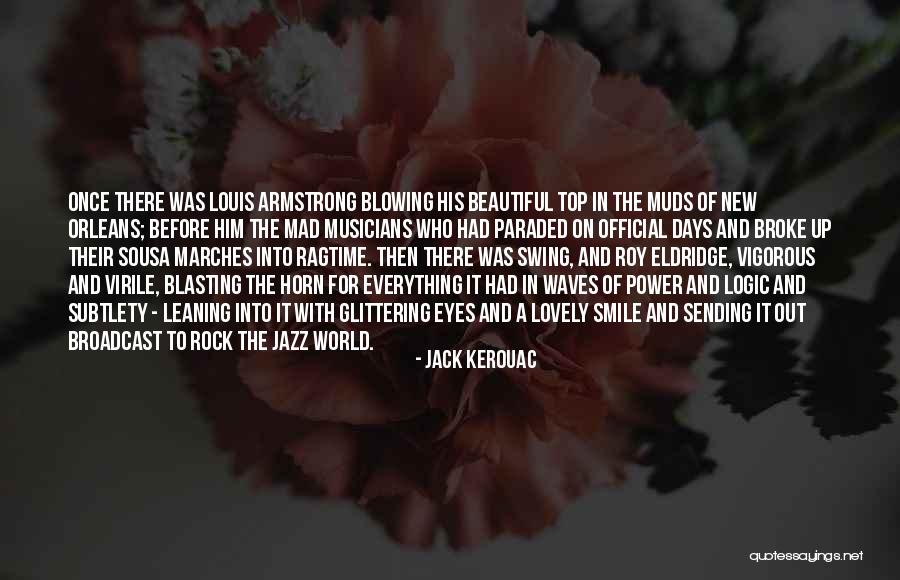 Once there was Louis Armstrong blowing his beautiful top in the muds of New Orleans; before him the mad musicians who had paraded on official days and broke up their Sousa marches into ragtime. Then there was swing, and Roy Eldridge, vigorous and virile, blasting the horn for everything it had in waves of power and logic and subtlety - leaning into it with glittering eyes and a lovely smile and sending it out broadcast to rock the jazz world. — Jack Kerouac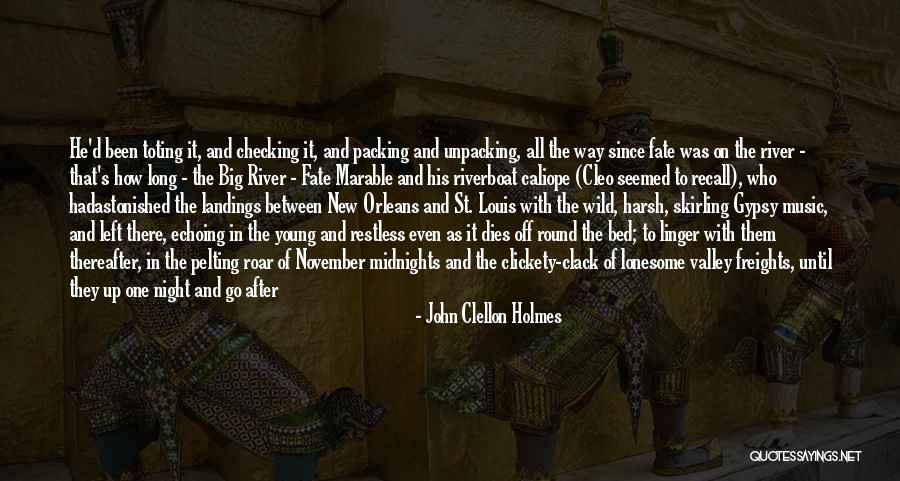 He'd been toting it, and checking it, and packing and unpacking, all the way since fate was on the river - that's how long - the Big River - Fate Marable and his riverboat caliope (Cleo seemed to recall), who hadastonished the landings between New Orleans and St. Louis with the wild, harsh, skirling Gypsy music, and left there, echoing in the young and restless even as it dies off round the bed; to linger with them thereafter, in the pelting roar of November midnights and the clickety-clack of lonesome valley freights, until they up one night and go after it in a battered bus, following the telephone wires that make a zigzag music staff against the evening sky - some variation of that basic beginning could be told for everyone who jazz has touched and altered. — John Clellon Holmes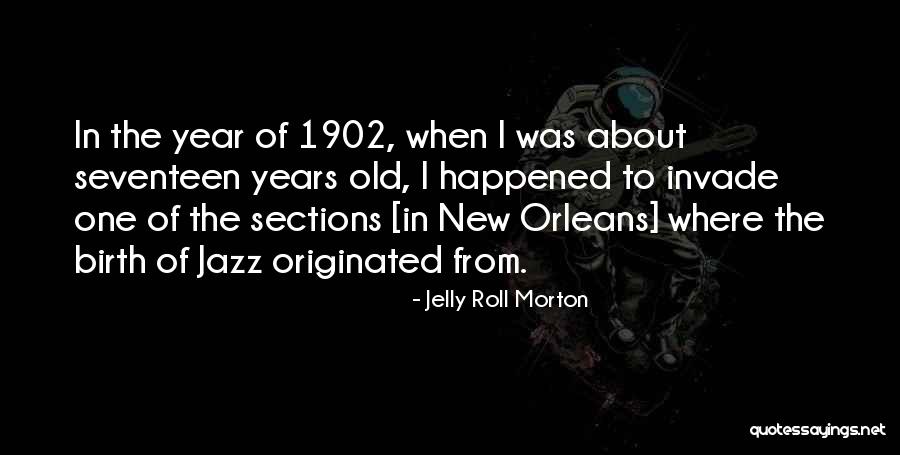 In the year of 1902, when I was about seventeen years old, I happened to invade one of the sections [in New Orleans] where the birth of Jazz originated from. — Jelly Roll Morton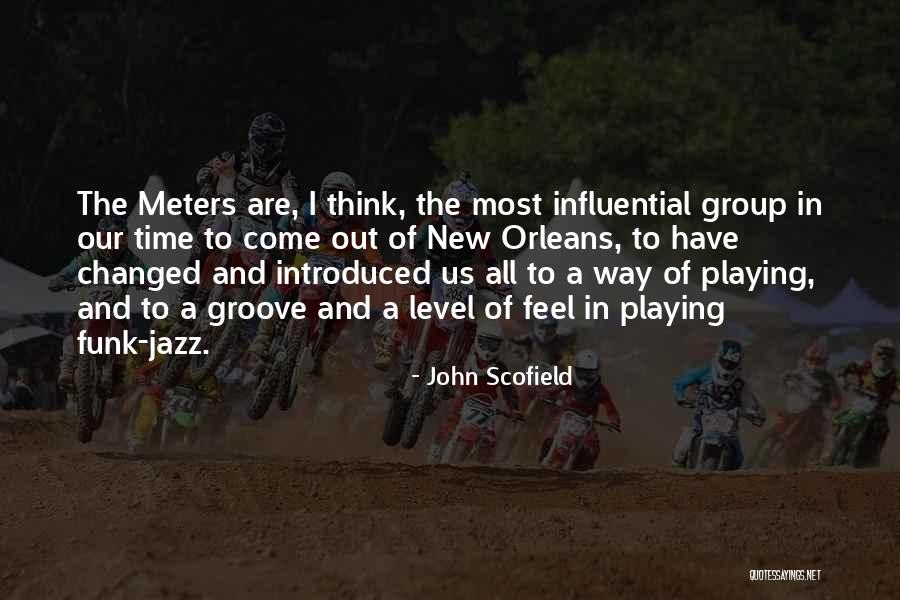 The Meters are, I think, the most influential group in our time to come out of New Orleans, to have changed and introduced us all to a way of playing, and to a groove and a level of feel in playing funk-jazz. — John Scofield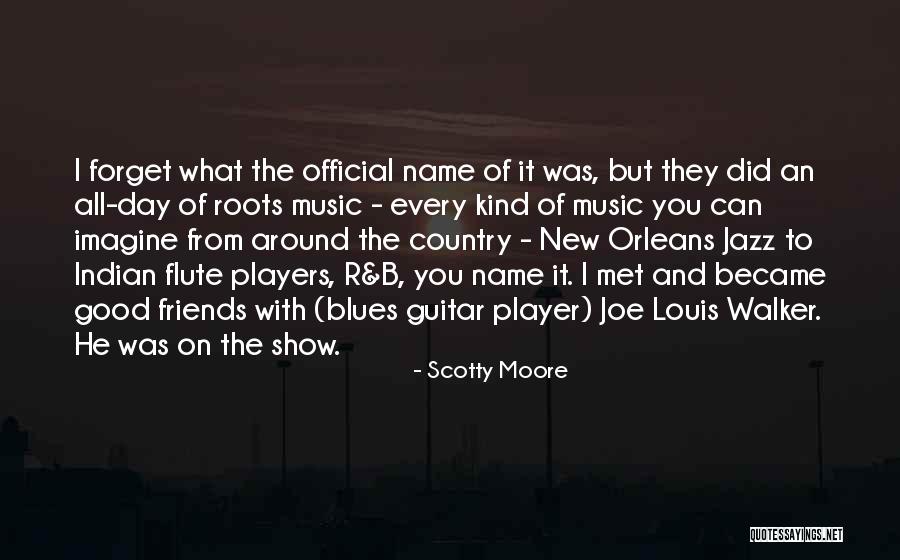 I forget what the official name of it was, but they did an all-day of roots music - every kind of music you can imagine from around the country - New Orleans Jazz to Indian flute players, R&B, you name it. I met and became good friends with (blues guitar player) Joe Louis Walker. He was on the show. — Scotty Moore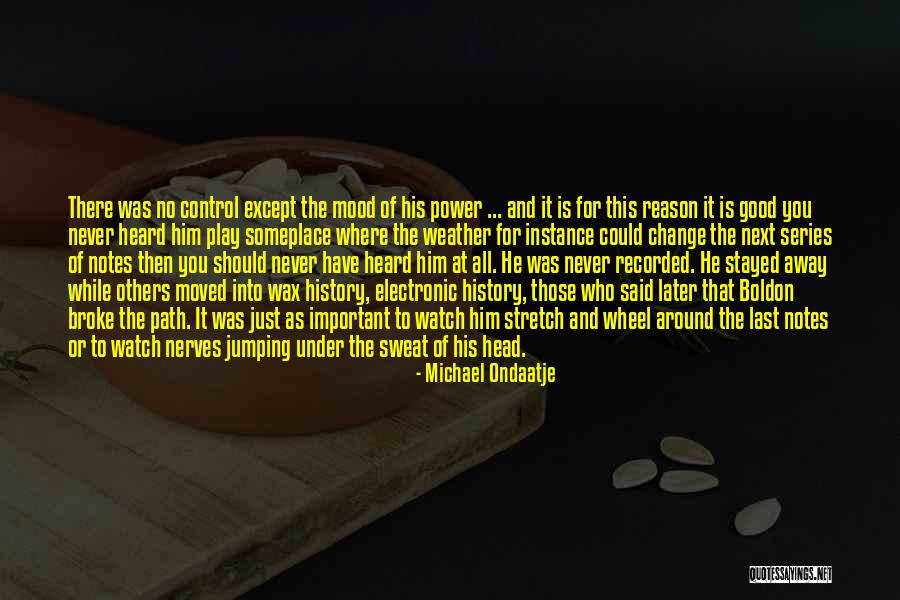 There was no control except the mood of his power ... and it is for this reason it is good you never heard him play someplace where the weather for instance could change the next series of notes
then you should never have heard him at all. He was never recorded. He stayed away while others moved into wax history, electronic history, those who said later that Boldon broke the path. It was just as important to watch him stretch and wheel around the last notes or to watch nerves jumping under the sweat of his head. — Michael Ondaatje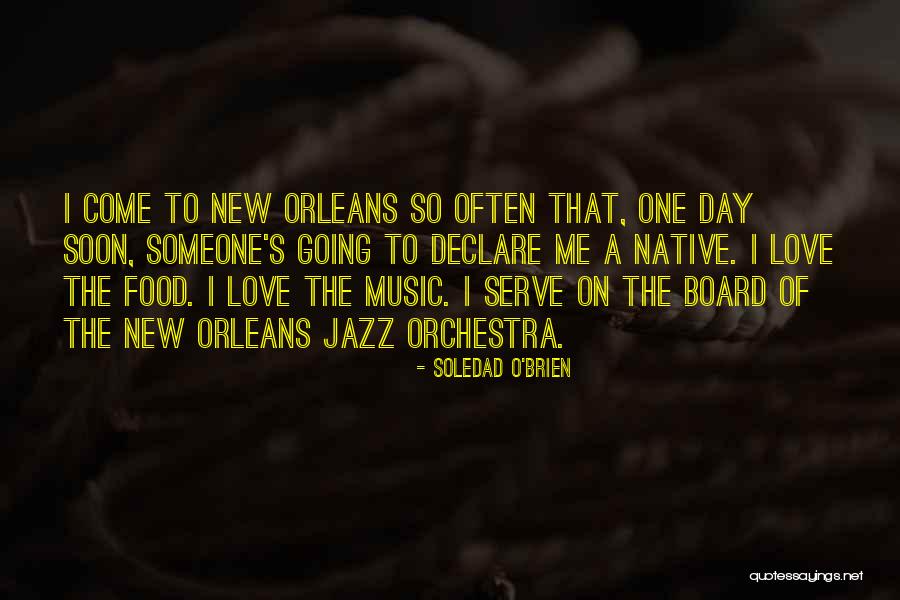 I come to New Orleans so often that, one day soon, someone's going to declare me a native. I love the food. I love the music. I serve on the board of the New Orleans Jazz Orchestra. — Soledad O'Brien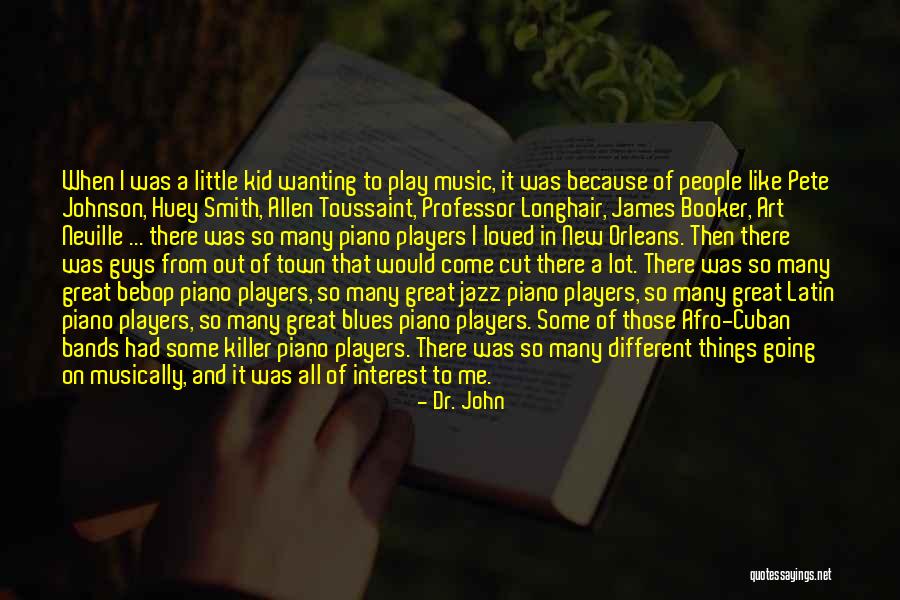 When I was a little kid wanting to play music, it was because of people like Pete Johnson, Huey Smith, Allen Toussaint, Professor Longhair, James Booker, Art Neville ... there was so many piano players I loved in New Orleans. Then there was guys from out of town that would come cut there a lot. There was so many great bebop piano players, so many great jazz piano players, so many great Latin piano players, so many great blues piano players. Some of those Afro-Cuban bands had some killer piano players. There was so many different things going on musically, and it was all of interest to me. — Dr. John