New Day New Job Quotes & Sayings
Enjoy reading and share 64 famous quotes about New Day New Job with everyone.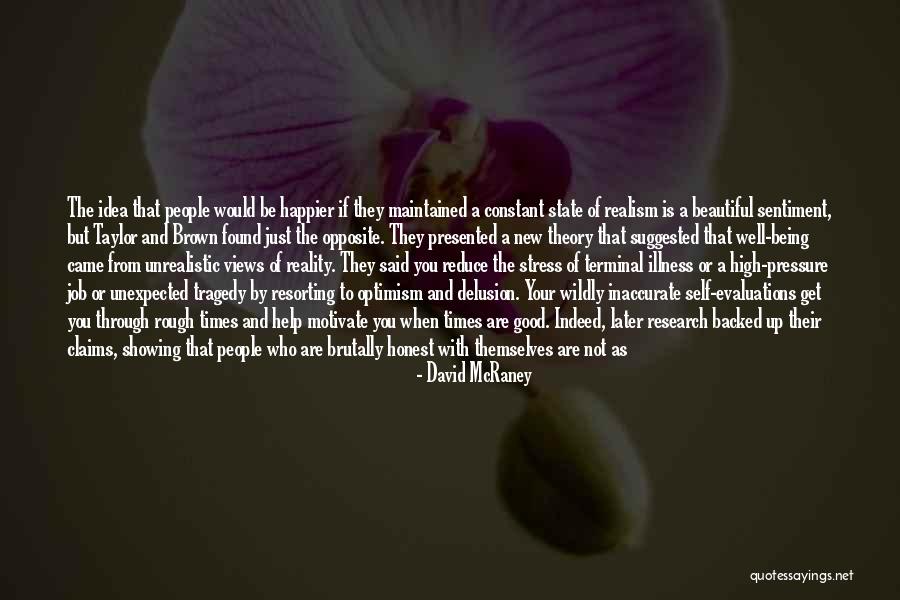 The idea that people would be happier if they maintained a constant state of realism is a beautiful sentiment, but Taylor and Brown found just the opposite. They presented a new theory that suggested that well-being came from unrealistic views of reality. They said you reduce the stress of terminal illness or a high-pressure job or unexpected tragedy by resorting to optimism and delusion. Your wildly inaccurate self-evaluations get you through rough times and help motivate you when times are good. Indeed, later research backed up their claims, showing that people who are brutally honest with themselves are not as happy day to day as people with unrealistic assumptions about their abilities. People who take credit for the times when things go their way but who put the blame on others when they stumble or fall are generally happier people. — David McRaney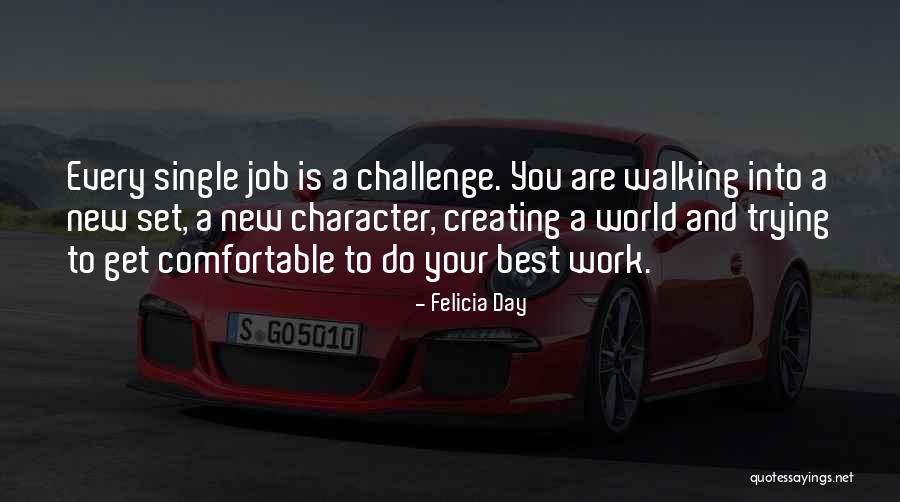 Every single job is a challenge. You are walking into a new set, a new character, creating a world and trying to get comfortable to do your best work. — Felicia Day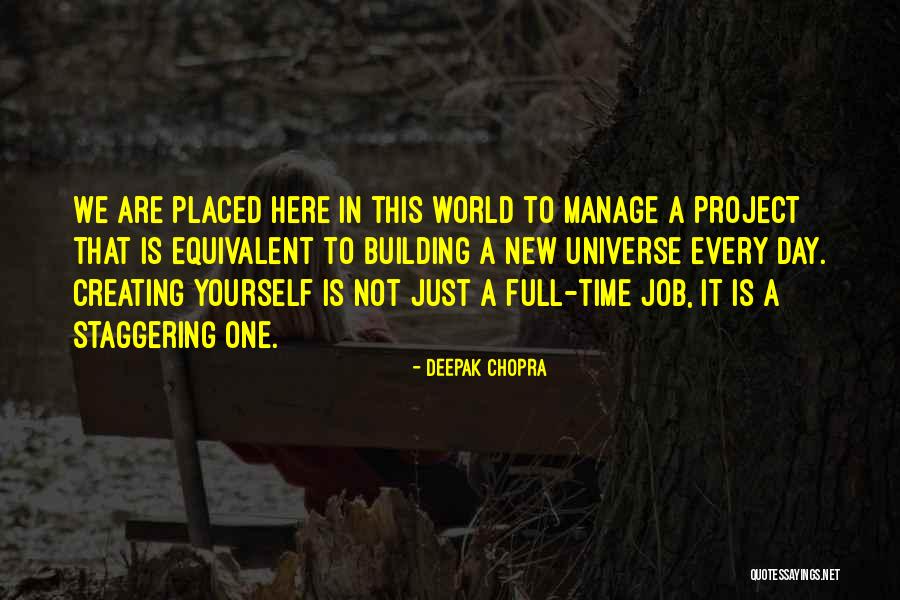 We are placed here in this world to manage a project that is equivalent to building a new universe every day. Creating yourself is not just a full-time job, it is a staggering one. — Deepak Chopra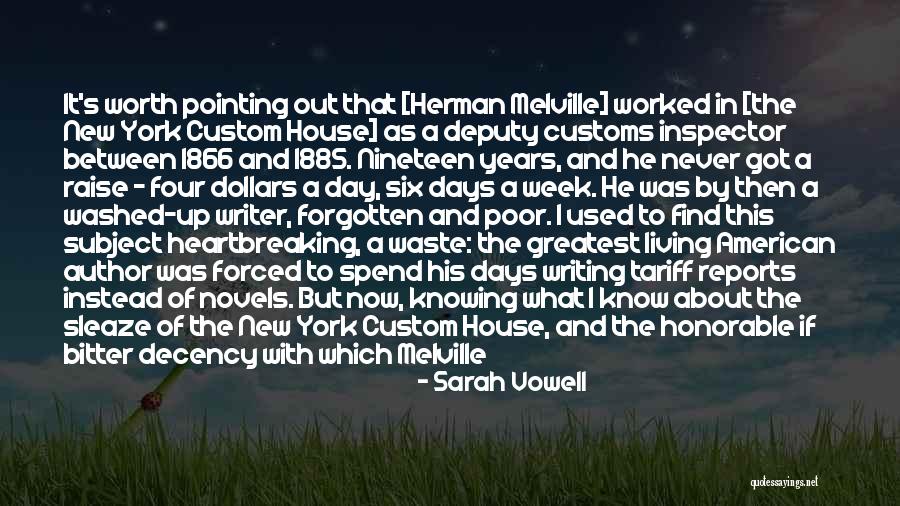 It's worth pointing out that [Herman Melville] worked in [the New York Custom House] as a deputy customs inspector between 1866 and 1885. Nineteen years, and he never got a raise - four dollars a day, six days a week. He was by then a washed-up writer, forgotten and poor. I used to find this subject heartbreaking, a waste: the greatest living American author was forced to spend his days writing tariff reports instead of novels. But now, knowing what I know about the sleaze of the New York Custom House, and the honorable if bitter decency with which Melville did his job, I have come to regard literature's loss as the republic's gain. Great writers are a dime a dozen in New York. But an honest customs inspector in the Gilded Age? Unheard of. — Sarah Vowell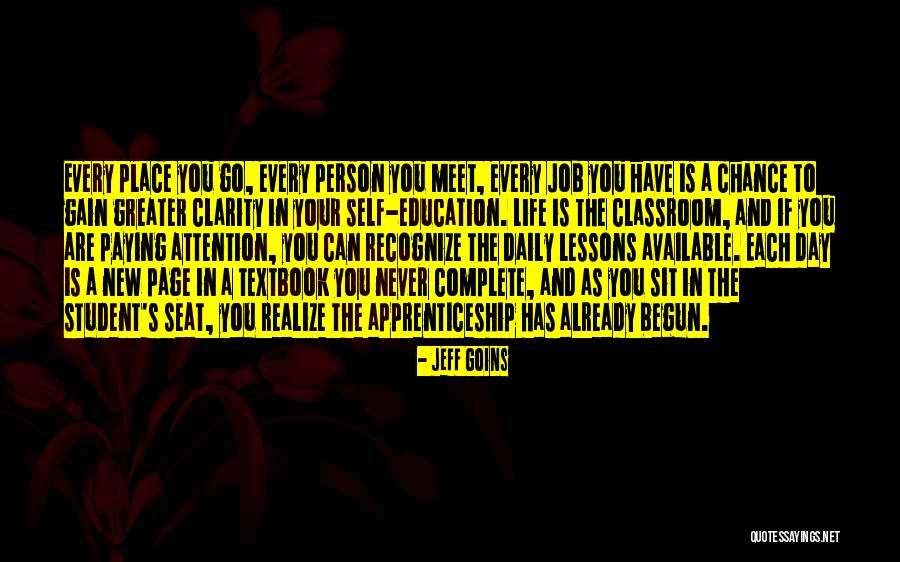 Every place you go, every person you meet, every job you have is a chance to gain greater clarity in your self-education. Life is the classroom, and if you are paying attention, you can recognize the daily lessons available. Each day is a new page in a textbook you never complete, and as you sit in the student's seat, you realize the apprenticeship has already begun. — Jeff Goins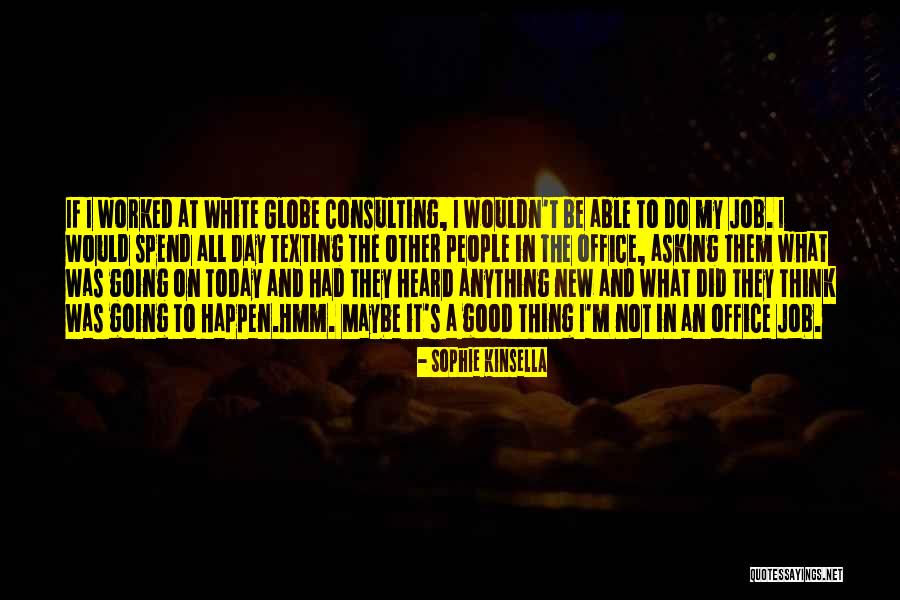 If I worked at White Globe Consulting, I wouldn't be able to do my job. I would spend all day texting the other people in the office, asking them what was going on today and had they heard anything new and what did they think was going to happen.
Hmm. Maybe it's a good thing I'm not in an office job. — Sophie Kinsella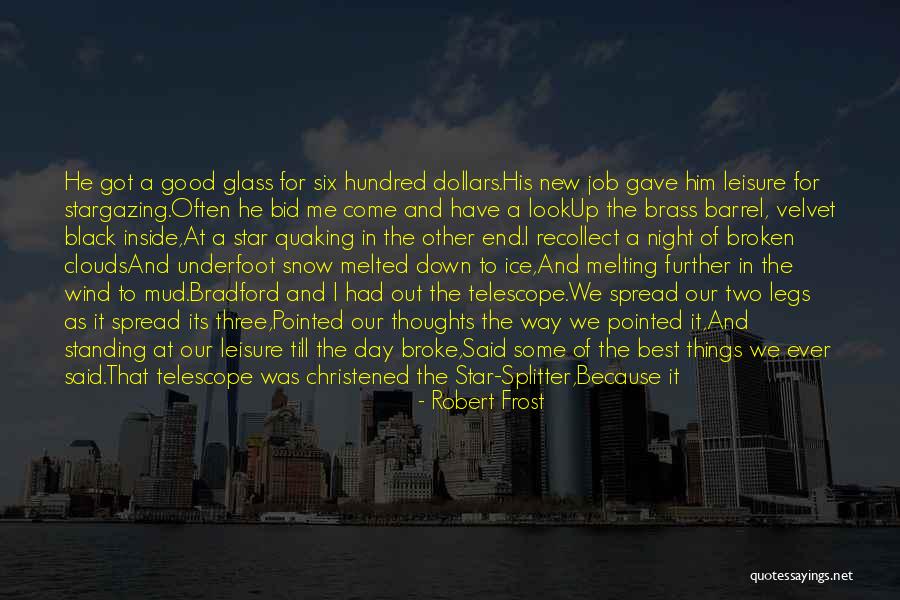 He got a good glass for six hundred dollars.
His new job gave him leisure for stargazing.
Often he bid me come and have a look
Up the brass barrel, velvet black inside,
At a star quaking in the other end.
I recollect a night of broken clouds
And underfoot snow melted down to ice,
And melting further in the wind to mud.
Bradford and I had out the telescope.
We spread our two legs as it spread its three,
Pointed our thoughts the way we pointed it,
And standing at our leisure till the day broke,
Said some of the best things we ever said.
That telescope was christened the Star-Splitter,
Because it didn't do a thing but split
A star in two or three the way you split
A globule of quicksilver in your hand
With one stroke of your finger in the middle.
It's a star-splitter if there ever was one,
And ought to do some good if splitting stars
'Sa thing to be compared with splitting wood. — Robert Frost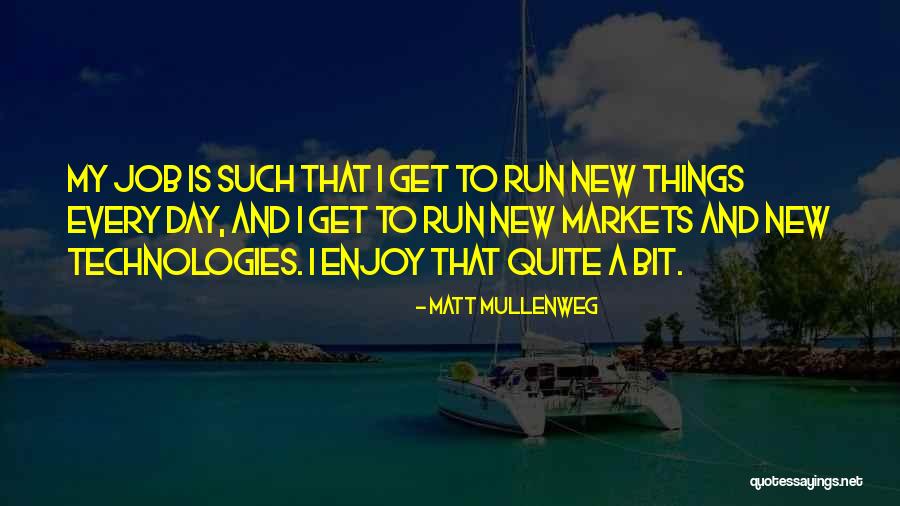 My job is such that I get to run new things every day, and I get to run new markets and new technologies. I enjoy that quite a bit. — Matt Mullenweg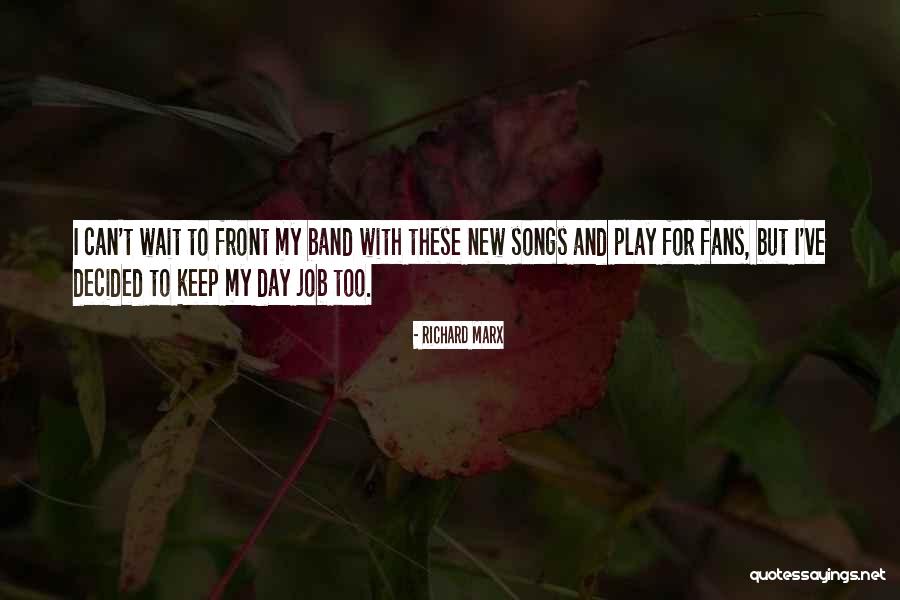 I can't wait to front my band with these new songs and play for fans, but I've decided to keep my day job too. — Richard Marx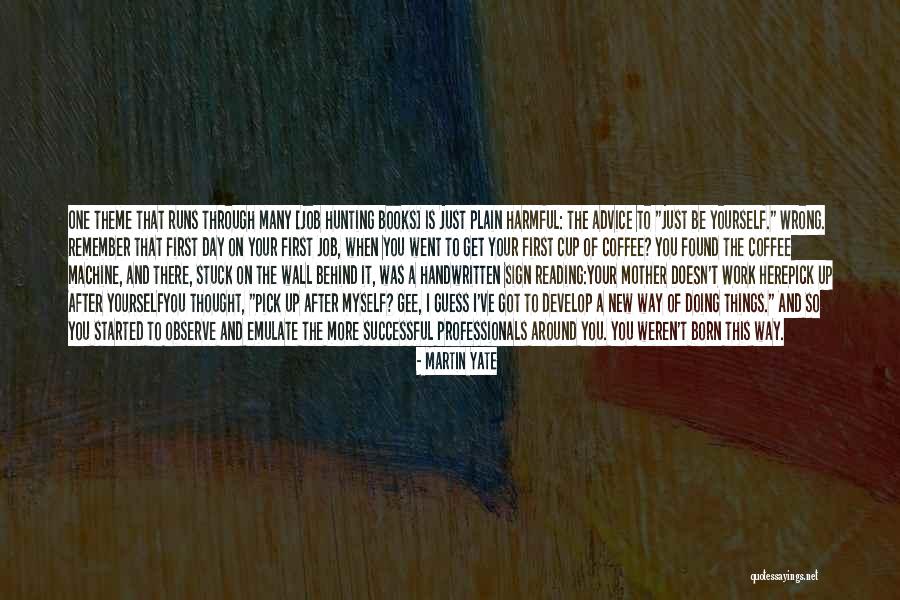 One theme that runs through many [job hunting books] is just plain harmful: the advice to "just be yourself." Wrong. Remember that first day on your first job, when you went to get your first cup of coffee? You found the coffee machine, and there, stuck on the wall behind it, was a handwritten sign reading:
YOUR MOTHER DOESN'T WORK HERE
PICK UP AFTER YOURSELF
You thought, "Pick up after myself? Gee, I guess I've got to develop a new way of doing things." And so you started to observe and emulate the more successful professionals around you. You weren't born this way. You developed new skills and ways of conducting yourself, in effect creating a professional persona that enabled you to survive in the professional world. — Martin Yate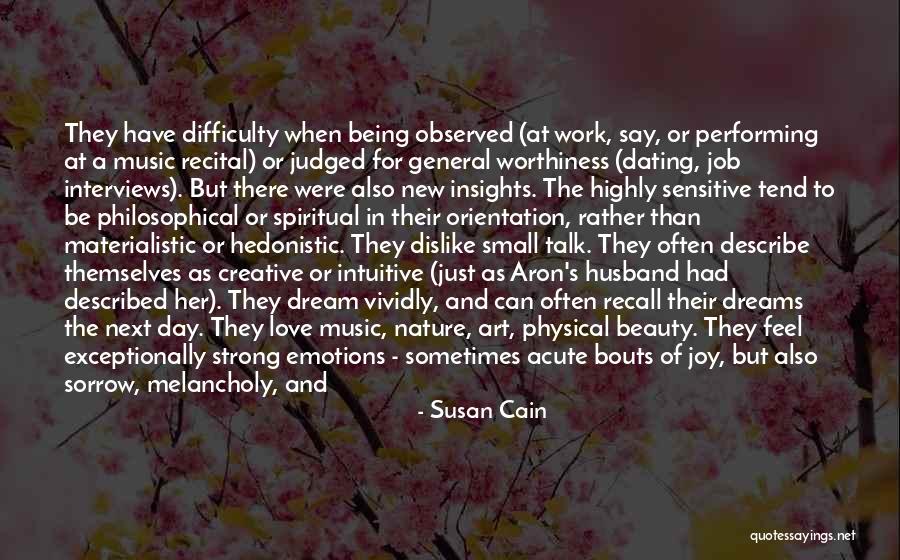 They have difficulty when being observed (at work, say, or performing at a music recital) or judged for general worthiness (dating, job interviews). But there were also new insights. The highly sensitive tend to be philosophical or spiritual in their orientation, rather than materialistic or hedonistic. They dislike small talk. They often describe themselves as creative or intuitive (just as Aron's husband had described her). They dream vividly, and can often recall their dreams the next day. They love music, nature, art, physical beauty. They feel exceptionally strong emotions - sometimes acute bouts of joy, but also sorrow, melancholy, and fear. Highly sensitive people also process information about their environments - both physical and emotional - unusually deeply. They tend to notice subtleties that others miss - another — Susan Cain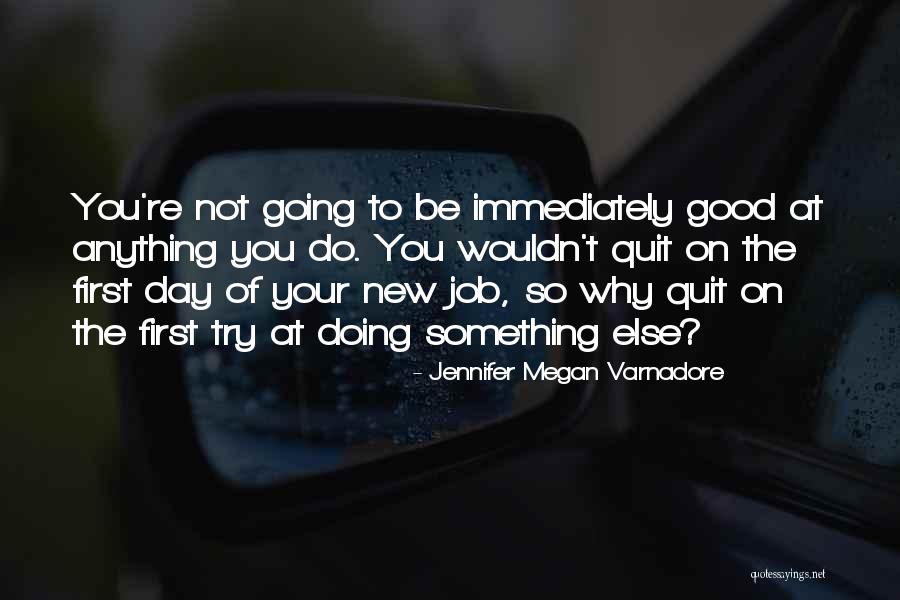 You're not going to be immediately good at anything you do. You wouldn't quit on the first day of your new job, so why quit on the first try at doing something else? — Jennifer Megan Varnadore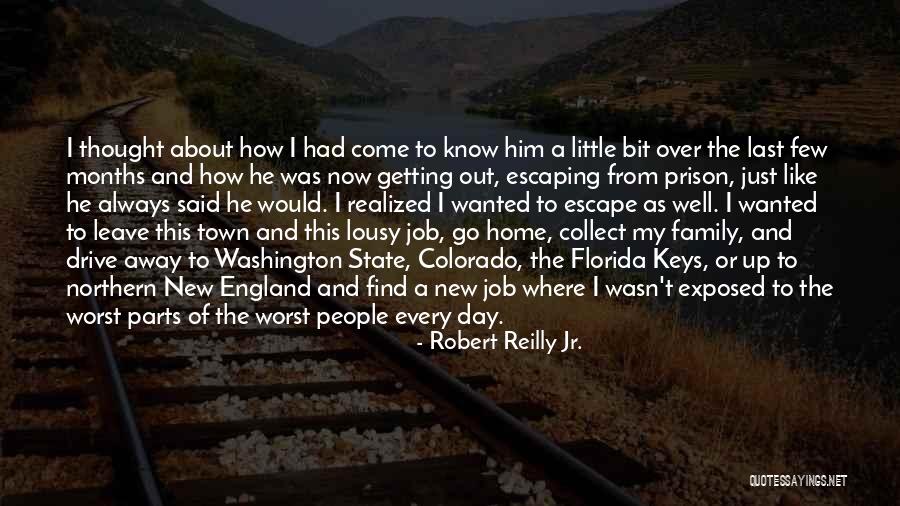 I thought about how I had come to know him a little bit over the last few months and how he was now getting out, escaping from prison, just like he always said he would. I realized I wanted to escape as well. I wanted to leave this town and this lousy job, go home, collect my family, and drive away to Washington State, Colorado, the Florida Keys, or up to northern New England and find a new job where I wasn't exposed to the worst parts of the worst people every day. — Robert Reilly Jr.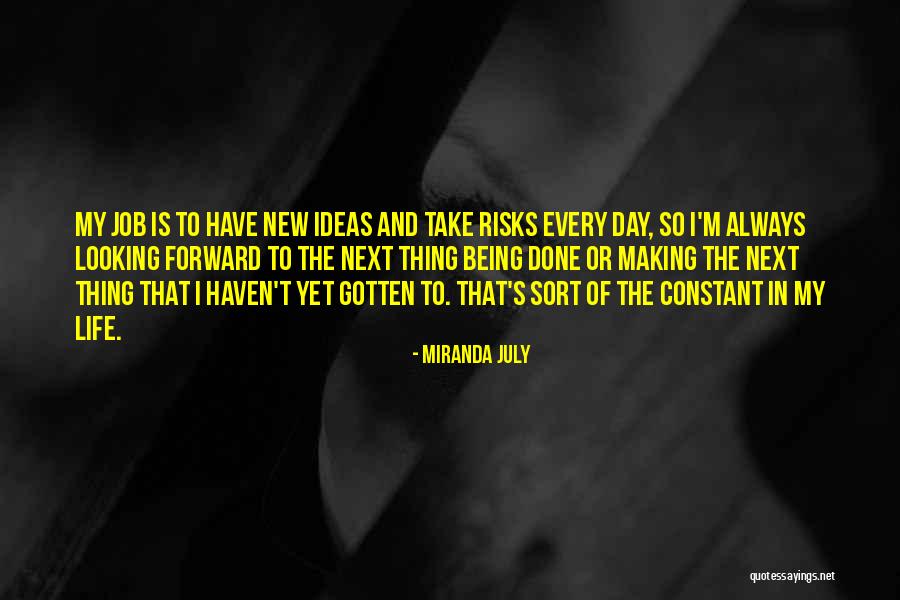 My job is to have new ideas and take risks every day, so I'm always looking forward to the next thing being done or making the next thing that I haven't yet gotten to. That's sort of the constant in my life. — Miranda July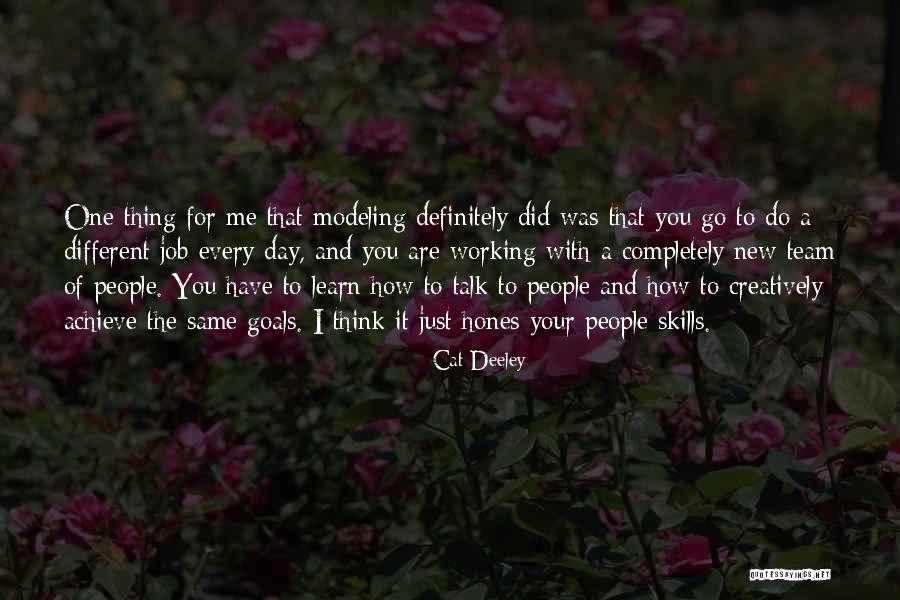 One thing for me that modeling definitely did was that you go to do a different job every day, and you are working with a completely new team of people. You have to learn how to talk to people and how to creatively achieve the same goals. I think it just hones your people skills. — Cat Deeley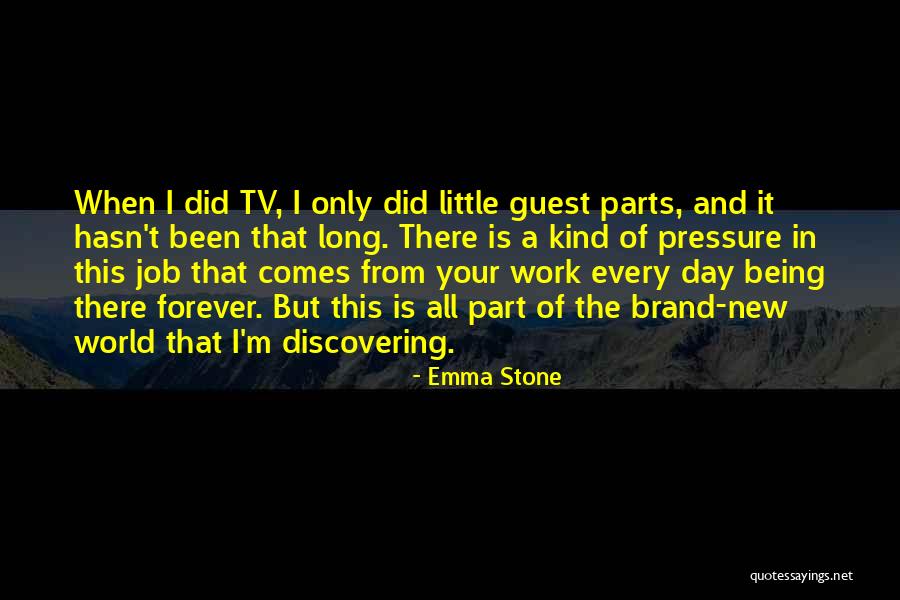 When I did TV, I only did little guest parts, and it hasn't been that long. There is a kind of pressure in this job that comes from your work every day being there forever. But this is all part of the brand-new world that I'm discovering. — Emma Stone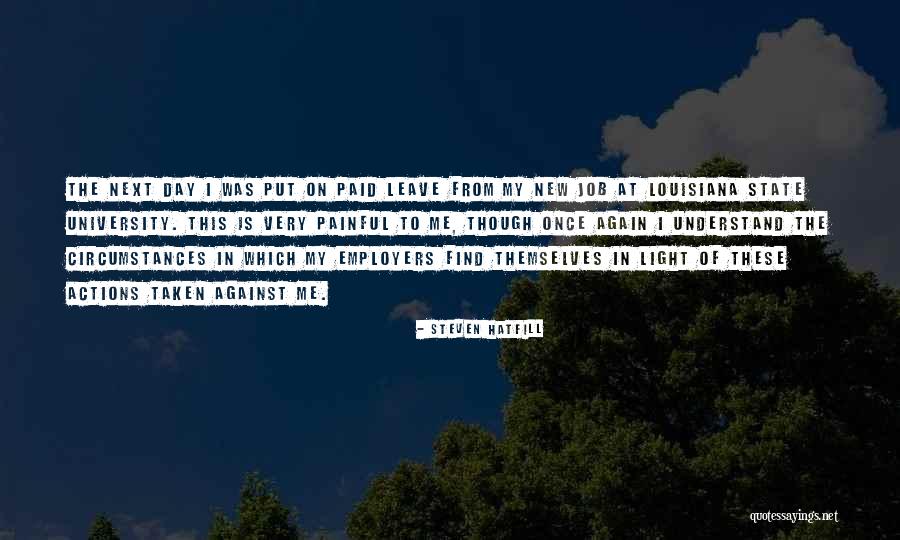 The next day I was put on paid leave from my new job at Louisiana State University. This is very painful to me, though once again I understand the circumstances in which my employers find themselves in light of these actions taken against me. — Steven Hatfill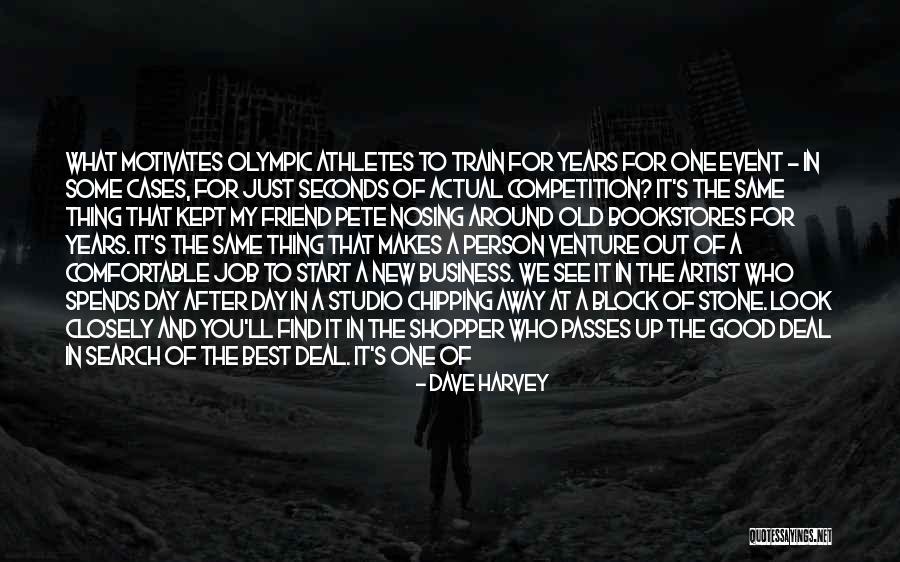 What motivates Olympic athletes to train for years for one event - in some cases, for just seconds of actual competition? It's the same thing that kept my friend Pete nosing around old bookstores for years. It's the same thing that makes a person venture out of a comfortable job to start a new business. We see it in the artist who spends day after day in a studio chipping away at a block of stone. Look closely and you'll find it in the shopper who passes up the good deal in search of the best deal. It's one of the things that makes us most human. We consciously pursue what we value. It's not simply a matter of being driven by biology or genetics or environmental conditioning to satisfy instinctive cravings. Rather, we perceive something, prize it at a certain value, then pursue it according to that assigned value because we were created that way. This ability to perceive, prize, and pursue is part of our essential humanness, and it's the essence of ambition. — Dave Harvey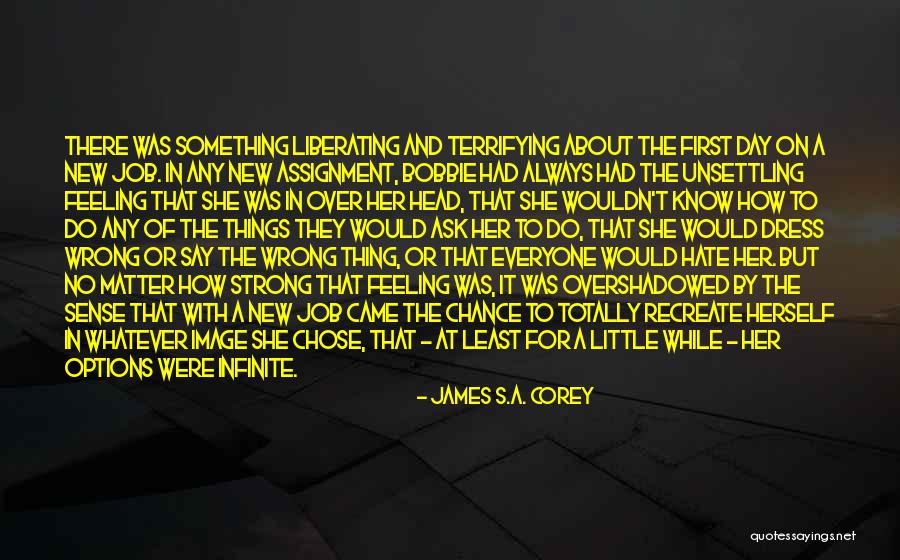 There was something liberating and terrifying about the first day on a new job. In any new assignment, Bobbie had always had the unsettling feeling that she was in over her head, that she wouldn't know how to do any of the things they would ask her to do, that she would dress wrong or say the wrong thing, or that everyone would hate her. But no matter how strong that feeling was, it was overshadowed by the sense that with a new job came the chance to totally recreate herself in whatever image she chose, that - at least for a little while - her options were infinite. — James S.A. Corey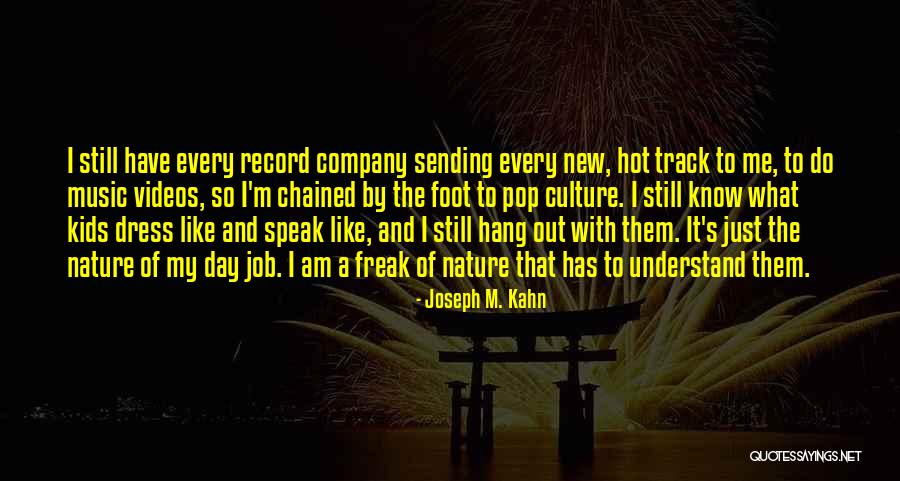 I still have every record company sending every new, hot track to me, to do music videos, so I'm chained by the foot to pop culture. I still know what kids dress like and speak like, and I still hang out with them. It's just the nature of my day job. I am a freak of nature that has to understand them. — Joseph M. Kahn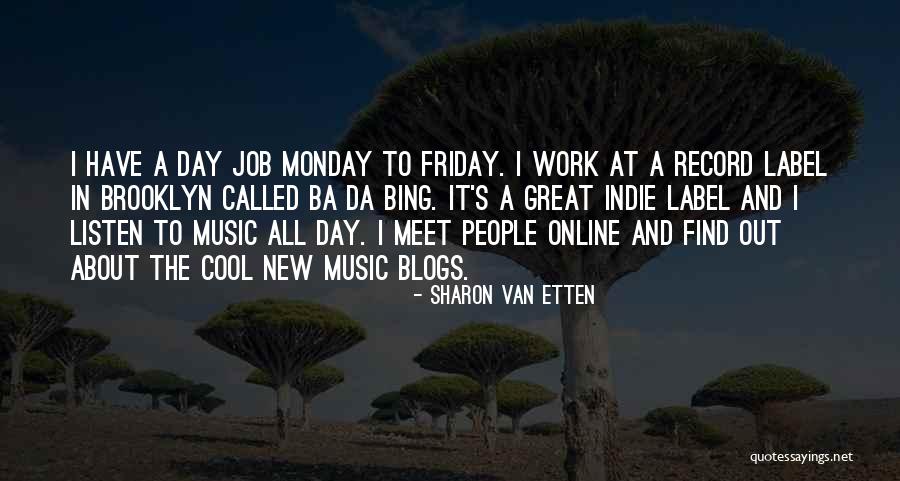 I have a day job Monday to Friday. I work at a record label in Brooklyn called Ba Da Bing. It's a great indie label and I listen to music all day. I meet people online and find out about the cool new music blogs. — Sharon Van Etten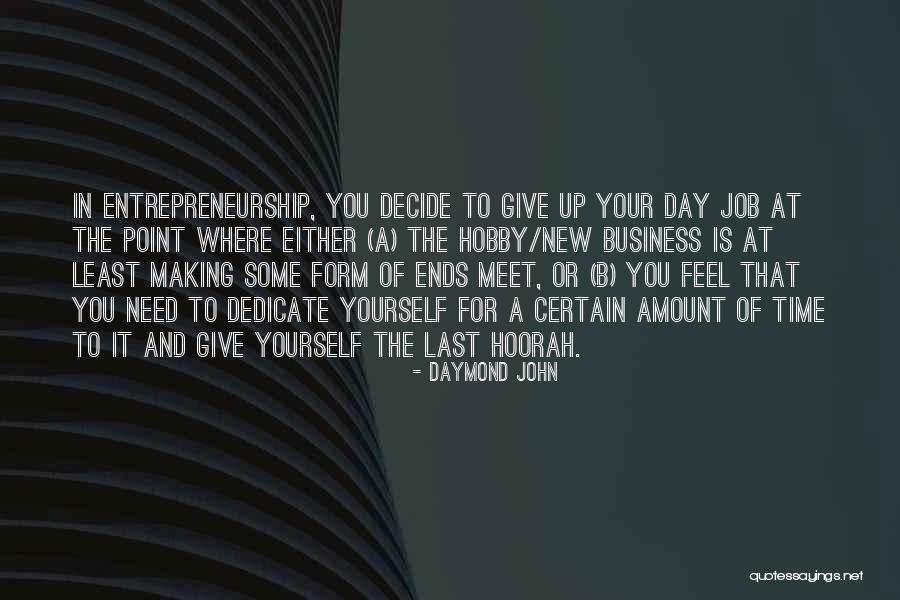 In entrepreneurship, you decide to give up your day job at the point where either (A) the hobby/new business is at least making some form of ends meet, or (B) you feel that you need to dedicate yourself for a certain amount of time to it and give yourself the last hoorah. — Daymond John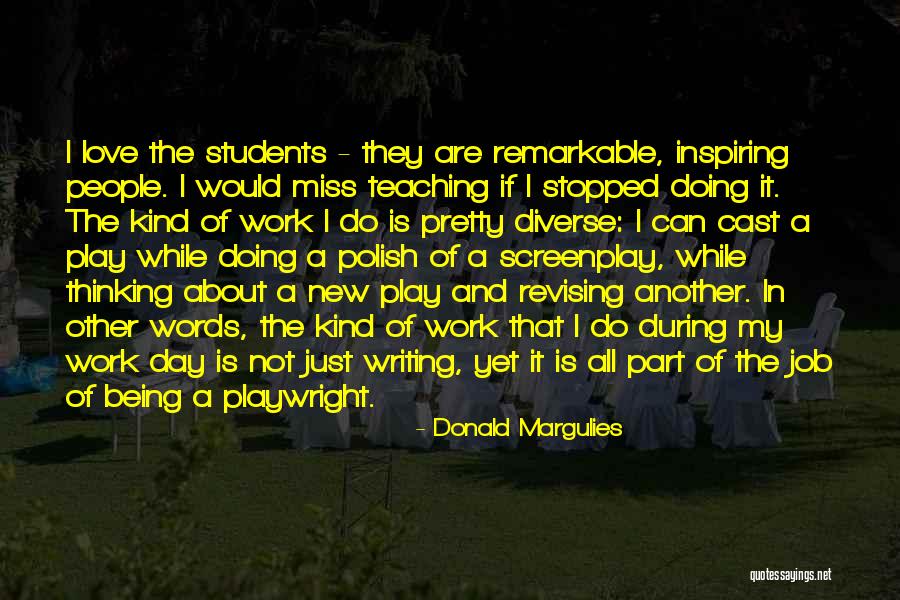 I love the students - they are remarkable, inspiring people. I would miss teaching if I stopped doing it. The kind of work I do is pretty diverse: I can cast a play while doing a polish of a screenplay, while thinking about a new play and revising another. In other words, the kind of work that I do during my work day is not just writing, yet it is all part of the job of being a playwright. — Donald Margulies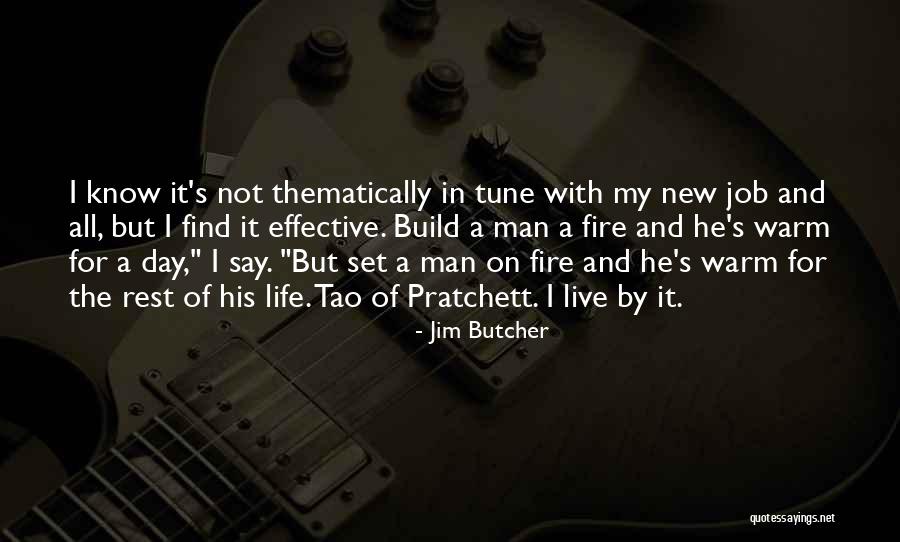 I know it's not thematically in tune with my new job and all, but I find it effective. Build a man a fire and he's warm for a day," I say. "But set a man on fire and he's warm for the rest of his life. Tao of Pratchett. I live by it. — Jim Butcher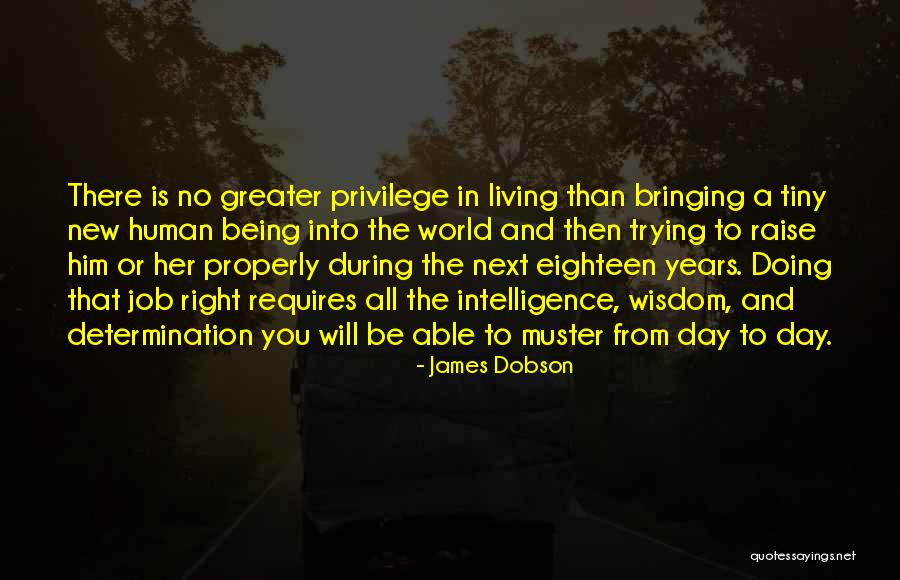 There is no greater privilege in living than bringing a tiny new human being into the world and then trying to raise him or her properly during the next eighteen years. Doing that job right requires all the intelligence, wisdom, and determination you will be able to muster from day to day. — James Dobson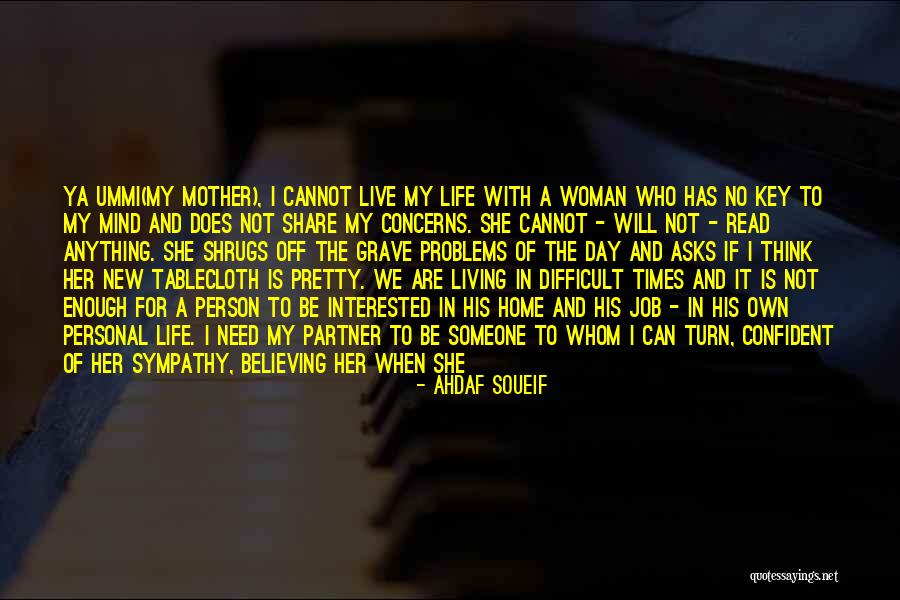 Ya Ummi(my mother), I cannot live my life with a woman who has no key to my mind and does not share my concerns. She cannot - will not - read anything. She shrugs off the grave problems of the day and asks if I think her new tablecloth is pretty. We are living in difficult times and it is not enough for a person to be interested in his home and his job - in his own personal life. I need my partner to be someone to whom I can turn, confident of her sympathy, believing her when she tells me I'm in the wrong, strengthened when she tells me I'm in the right. I want to love, and be loved back - but what I see is not love or companionship but a sort of transacton of convenience santioned by religion and society and I do not want it. — Ahdaf Soueif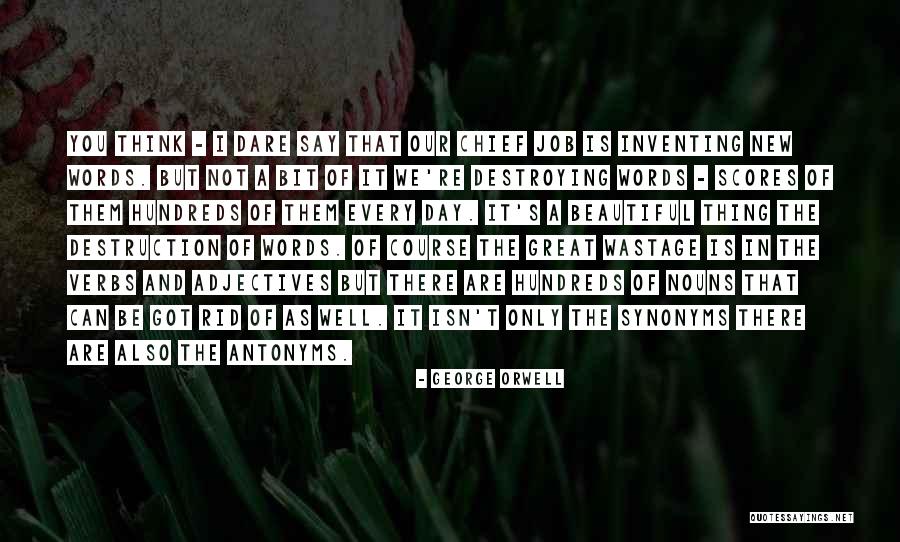 You think - I dare say that our chief job is inventing new words. But not a bit of it We're destroying words - scores of them hundreds of them every day. It's a beautiful thing the destruction of words. Of course the great wastage is in the verbs and adjectives but there are hundreds of nouns that can be got rid of as well. It isn't only the synonyms there are also the antonyms. — George Orwell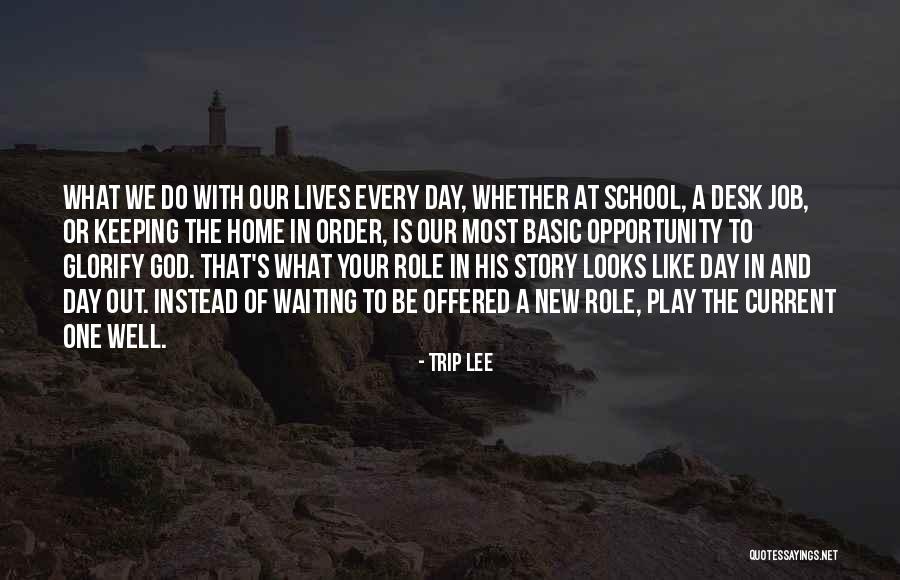 What we do with our lives every day, whether at school, a desk job, or keeping the home in order, is our most basic opportunity to glorify God. That's what your role in His story looks like day in and day out. Instead of waiting to be offered a new role, play the current one well. — Trip Lee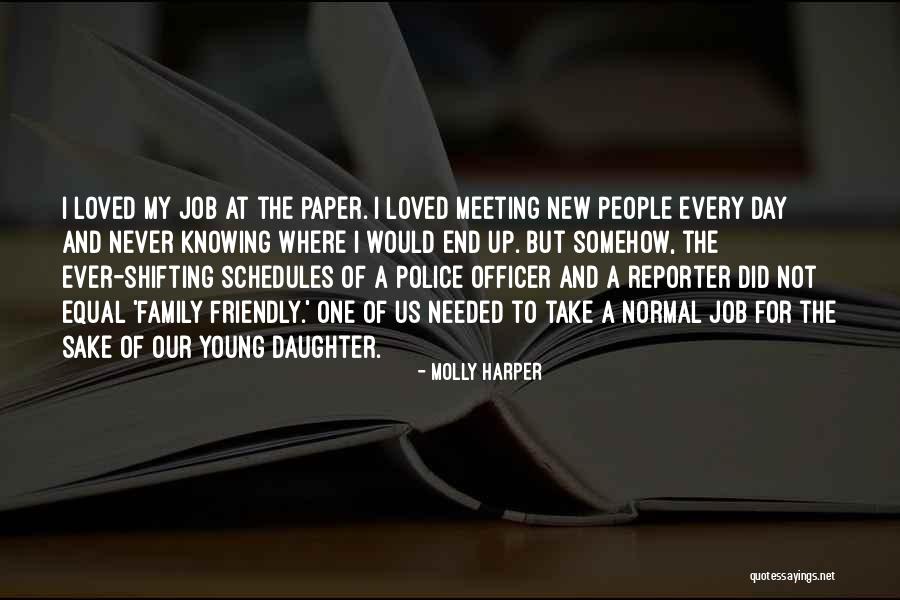 I loved my job at the paper. I loved meeting new people every day and never knowing where I would end up. But somehow, the ever-shifting schedules of a police officer and a reporter did not equal 'family friendly.' One of us needed to take a normal job for the sake of our young daughter. — Molly Harper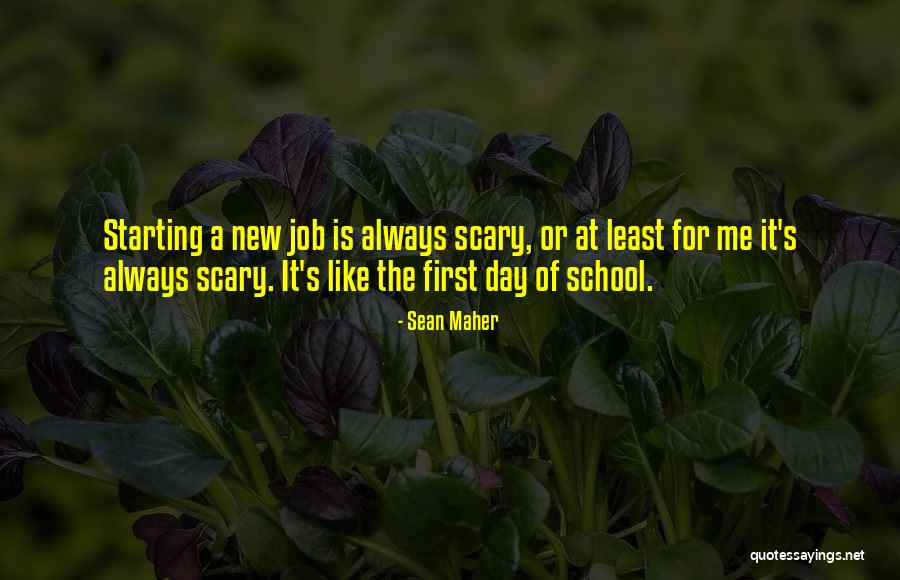 Starting a new job is always scary, or at least for me it's always scary. It's like the first day of school. — Sean Maher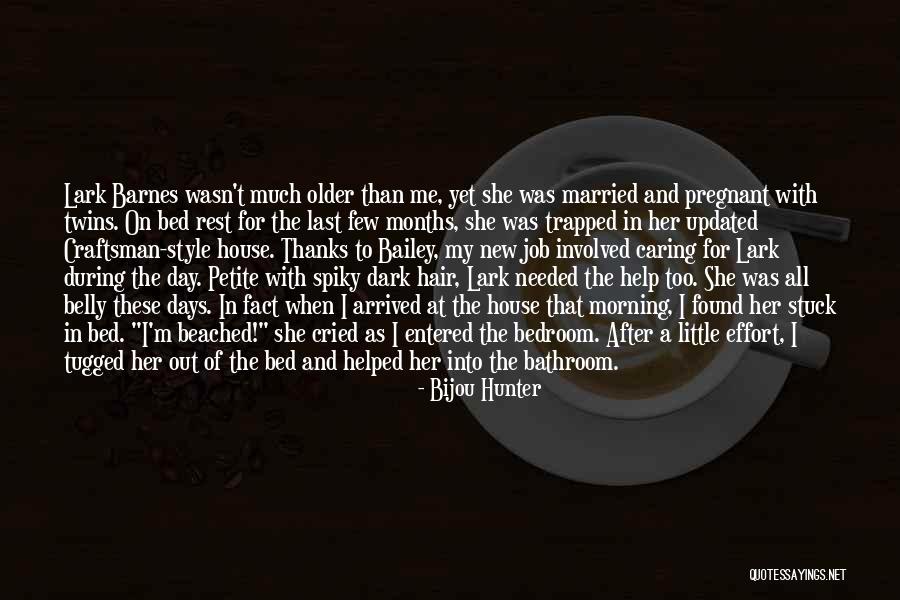 Lark Barnes wasn't much older than me, yet she was married and pregnant with twins. On bed rest for the last few months, she was trapped in her updated Craftsman-style house. Thanks to Bailey, my new job involved caring for Lark during the day.
Petite with spiky dark hair, Lark needed the help too. She was all belly these days. In fact when I arrived at the house that morning, I found her stuck in bed.
"I'm beached!" she cried as I entered the bedroom.
After a little effort, I tugged her out of the bed and helped her into the bathroom. — Bijou Hunter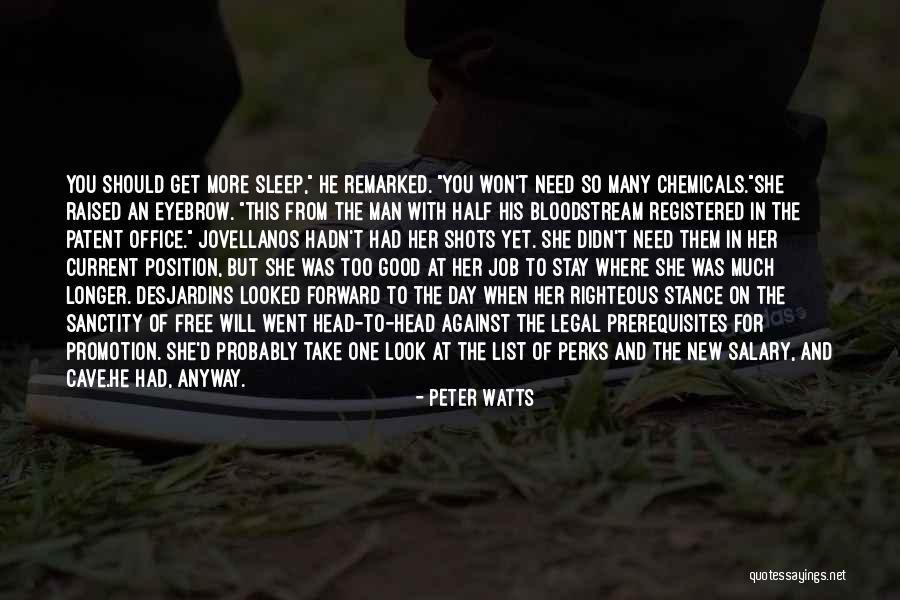 You should get more sleep," he remarked. "You won't need so many chemicals."
She raised an eyebrow. "This from the man with half his bloodstream registered in the patent office." Jovellanos hadn't had her shots yet. She didn't need them in her current position, but she was too good at her job to stay where she was much longer. Desjardins looked forward to the day when her righteous stance on the Sanctity of Free Will went head-to-head against the legal prerequisites for promotion. She'd probably take one look at the list of perks and the new salary, and cave.
He had, anyway. — Peter Watts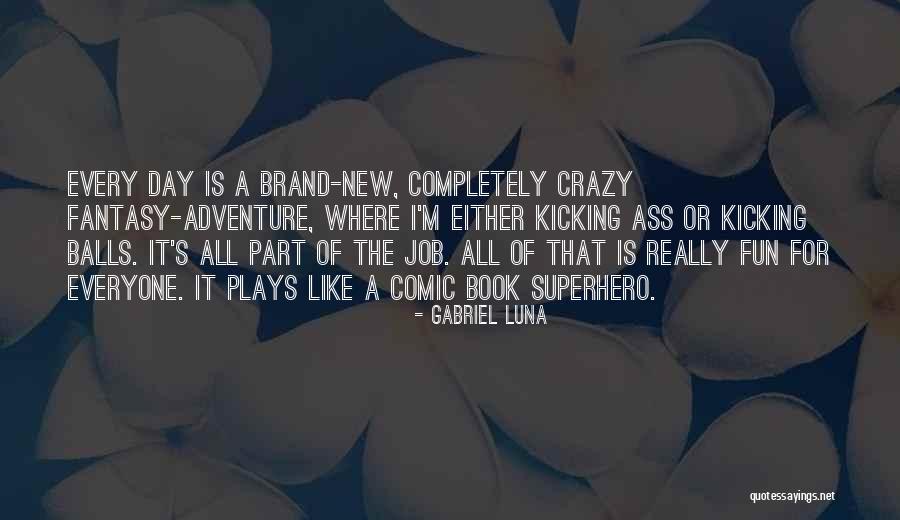 Every day is a brand-new, completely crazy fantasy-adventure, where I'm either kicking ass or kicking balls. It's all part of the job. All of that is really fun for everyone. It plays like a comic book superhero. — Gabriel Luna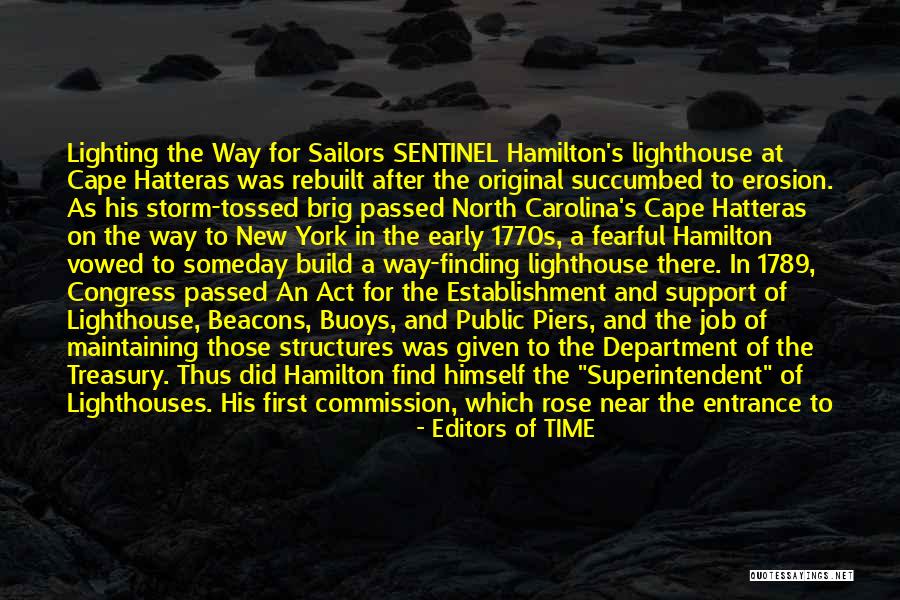 Lighting the Way for Sailors SENTINEL Hamilton's lighthouse at Cape Hatteras was rebuilt after the original succumbed to erosion. As his storm-tossed brig passed North Carolina's Cape Hatteras on the way to New York in the early 1770s, a fearful Hamilton vowed to someday build a way-finding lighthouse there. In 1789, Congress passed An Act for the Establishment and support of Lighthouse, Beacons, Buoys, and Public Piers, and the job of maintaining those structures was given to the Department of the Treasury. Thus did Hamilton find himself the "Superintendent" of Lighthouses. His first commission, which rose near the entrance to the Chesapeake Bay, was designed by John McComb Jr., who would one day build the Grange, Hamilton's New York home. And in 1803 a promise was kept, as "Mr. Hamilton's Light" opened on Cape Hatteras. — Editors Of TIME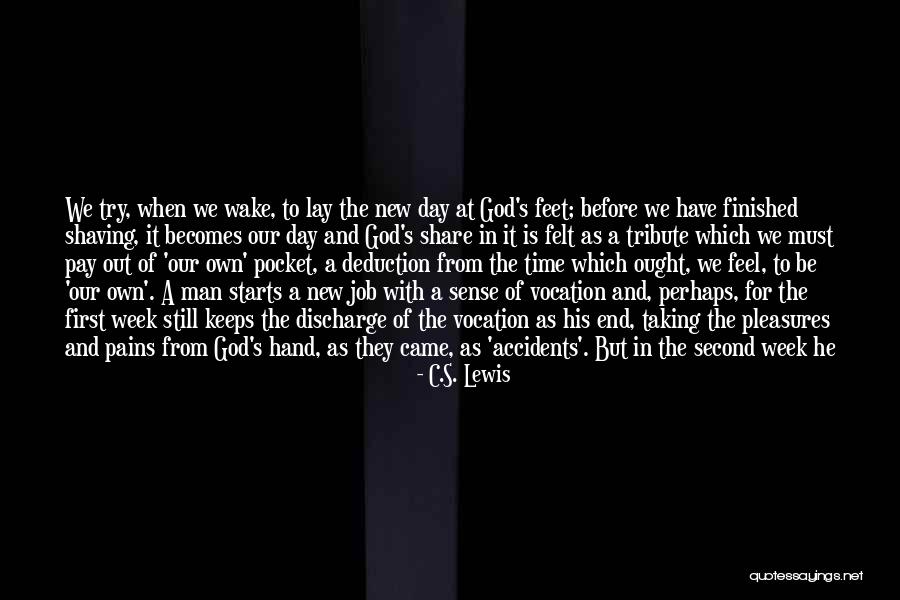 We try, when we wake, to lay the new day at God's feet; before we have finished shaving, it becomes our day and God's share in it is felt as a tribute which we must pay out of 'our own' pocket, a deduction from the time which ought, we feel, to be 'our own'. A man starts a new job with a sense of vocation and, perhaps, for the first week still keeps the discharge of the vocation as his end, taking the pleasures and pains from God's hand, as they came, as 'accidents'. But in the second week he is beginning to 'know the ropes': by the third, he has quarried out of the total job his own plan for himself within that job, and when he can pursue this he feels that he is getting no more than his rights, and when he cannot, that he is being interfered. — C.S. Lewis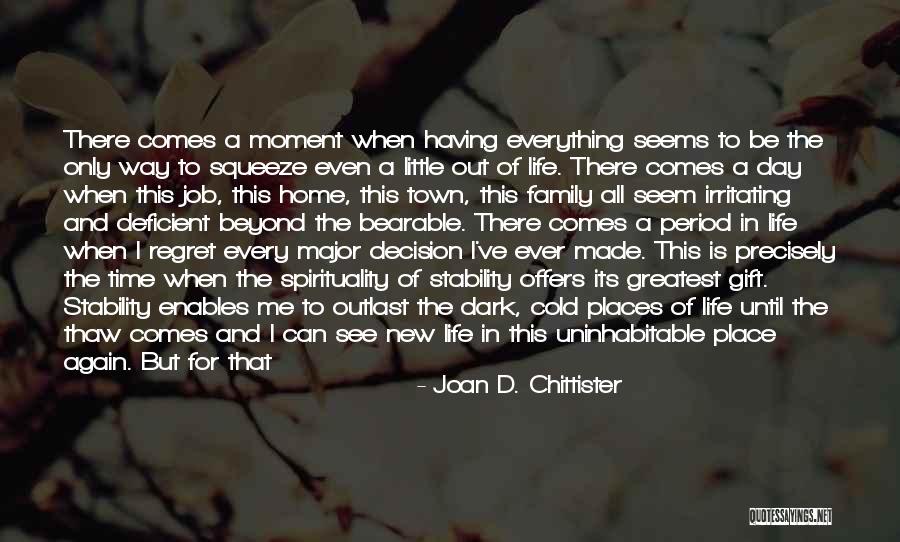 There comes a moment when having everything seems to be the only way to squeeze even a little out of life. There comes a day when this job, this home, this town, this family all seem irritating and deficient beyond the bearable. There comes a period in life when I regret every major decision I've ever made. This is precisely the time when the spirituality of stability offers its greatest gift. Stability enables me to outlast the dark, cold places of life until the thaw comes and I can see new life in this uninhabitable place again. But for that to happen I must learn to wait through the winters of my life. — Joan D. Chittister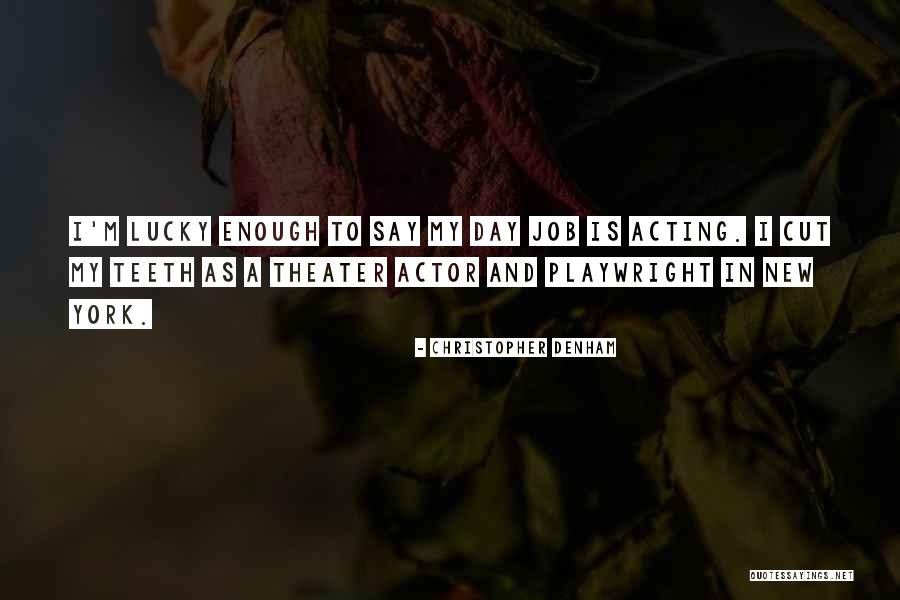 I'm lucky enough to say my day job is acting. I cut my teeth as a theater actor and playwright in New York. — Christopher Denham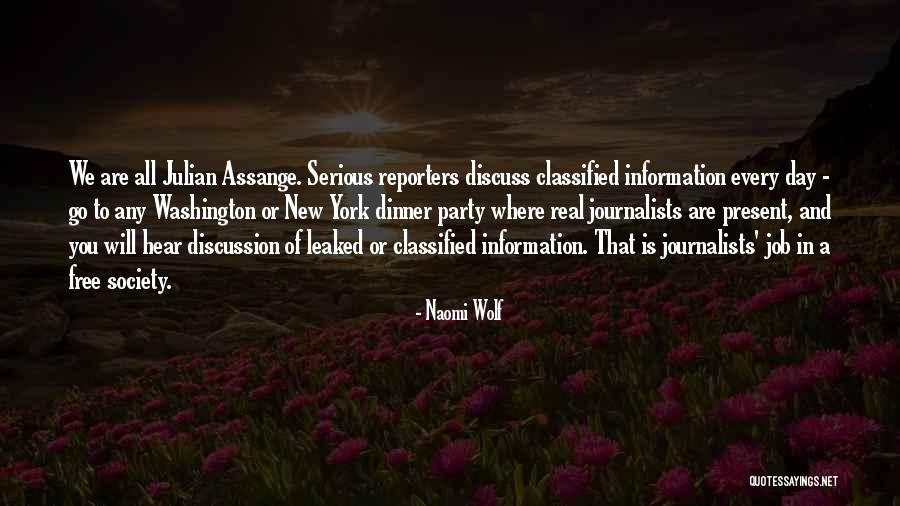 We are all Julian Assange. Serious reporters discuss classified information every day - go to any Washington or New York dinner party where real journalists are present, and you will hear discussion of leaked or classified information. That is journalists' job in a free society. — Naomi Wolf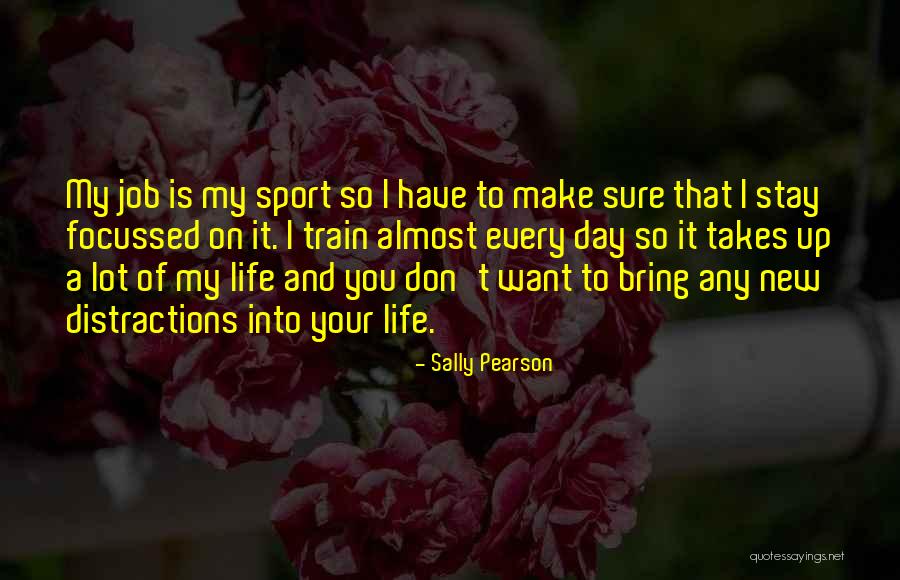 My job is my sport so I have to make sure that I stay focussed on it. I train almost every day so it takes up a lot of my life and you don't want to bring any new distractions into your life. — Sally Pearson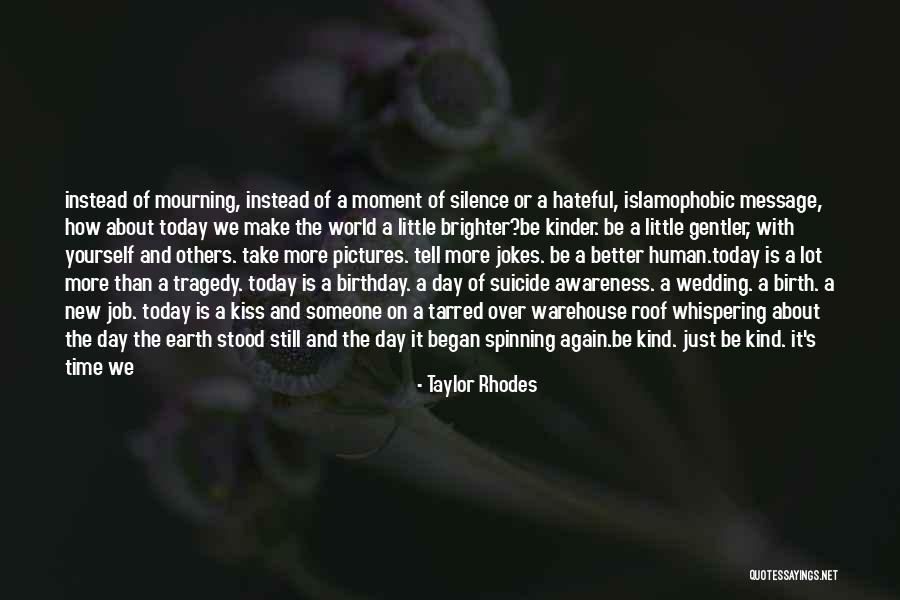 instead of mourning, instead of a moment of silence or a hateful, islamophobic message, how about today we make the world a little brighter?
be kinder. be a little gentler, with yourself and others. take more pictures. tell more jokes. be a better human.
today is a lot more than a tragedy. today is a birthday. a day of suicide awareness. a wedding. a birth. a new job. today is a kiss and someone on a tarred over warehouse roof whispering about the day the earth stood still and the day it began spinning again.
be kind. just be kind. it's time we took this day back for the wild ones, for the fiery eyes, for the happy and the brave and the new. no more mourning. let it just be a sunday. — Taylor Rhodes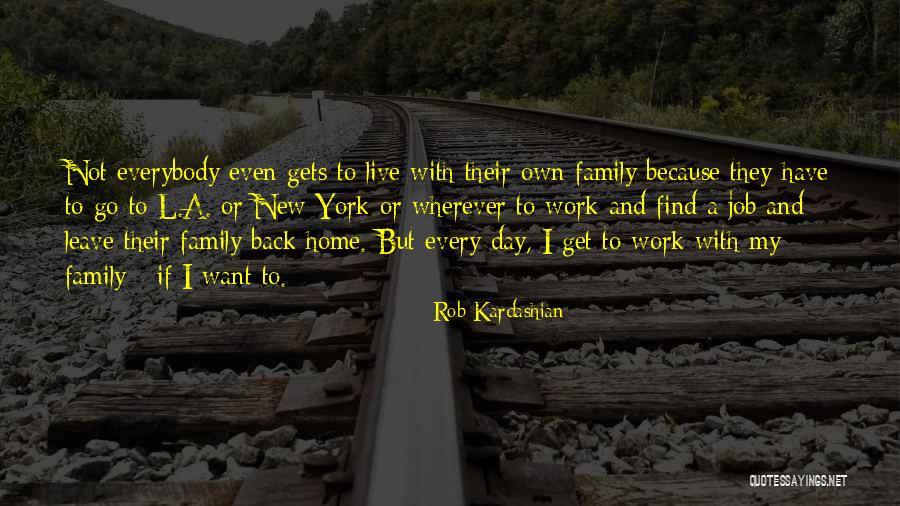 Not everybody even gets to live with their own family because they have to go to L.A. or New York or wherever to work and find a job and leave their family back home. But every day, I get to work with my family - if I want to. — Rob Kardashian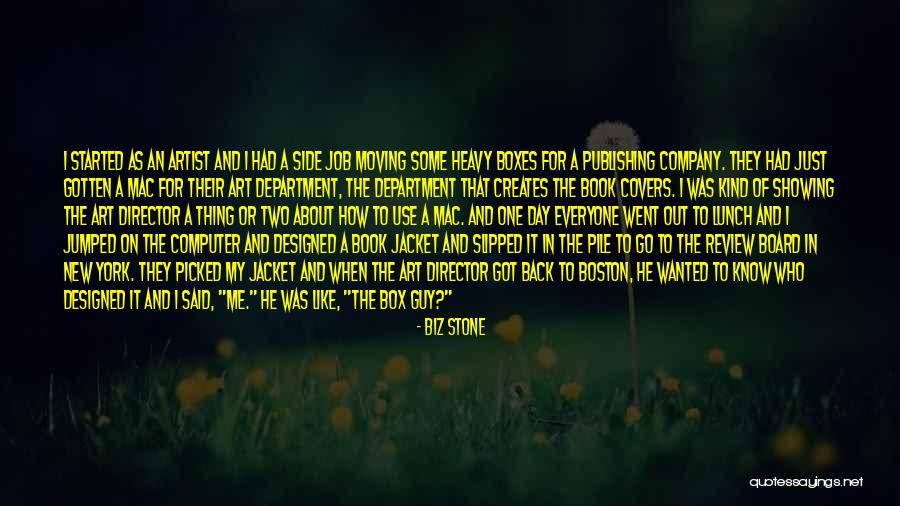 I started as an artist and I had a side job moving some heavy boxes for a publishing company. They had just gotten a Mac for their art department, the department that creates the book covers. I was kind of showing the art director a thing or two about how to use a Mac. And one day everyone went out to lunch and I jumped on the computer and designed a book jacket and slipped it in the pile to go to the review board in New York. They picked my jacket and when the art director got back to Boston, he wanted to know who designed it and I said, "Me." He was like, "The box guy?" — Biz Stone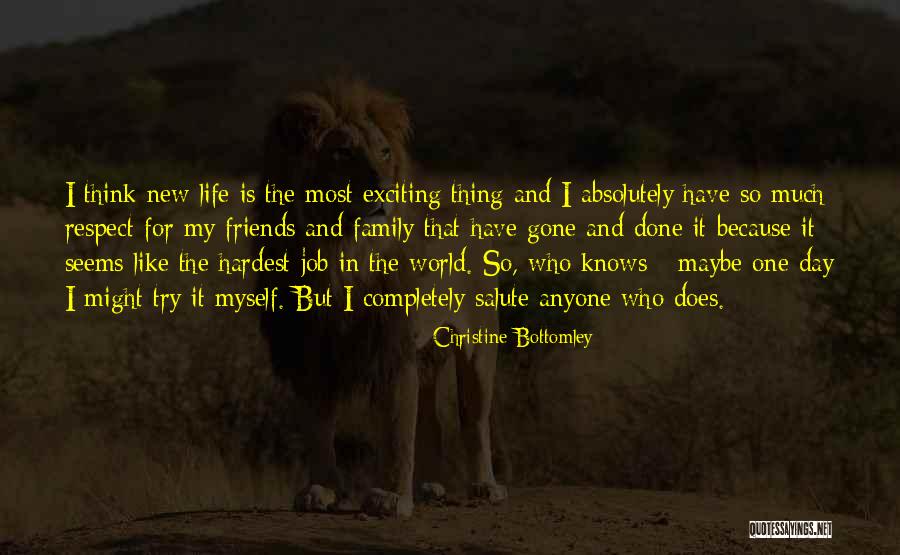 I think new life is the most exciting thing and I absolutely have so much respect for my friends and family that have gone and done it because it seems like the hardest job in the world. So, who knows - maybe one day I might try it myself. But I completely salute anyone who does. — Christine Bottomley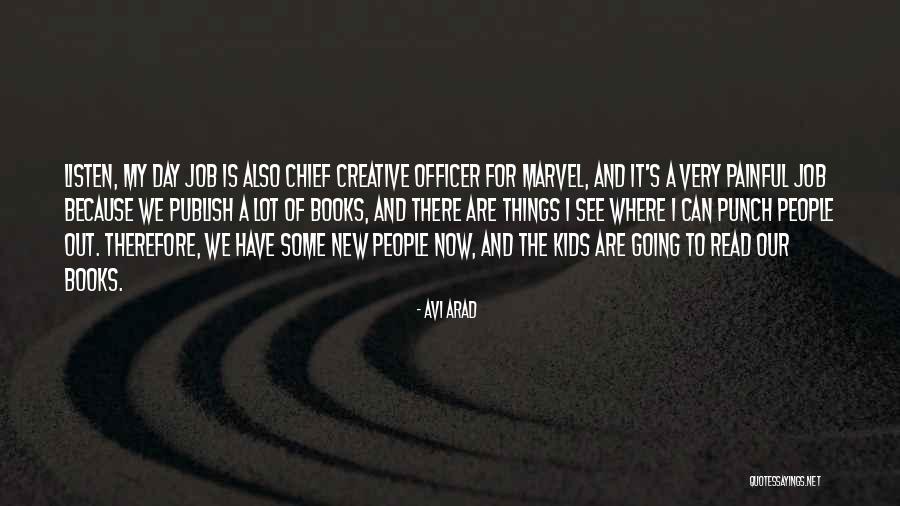 Listen, my day job is also Chief Creative Officer for Marvel, and it's a very painful job because we publish a lot of books, and there are things I see where I can punch people out. Therefore, we have some new people now, and the kids are going to read our books. — Avi Arad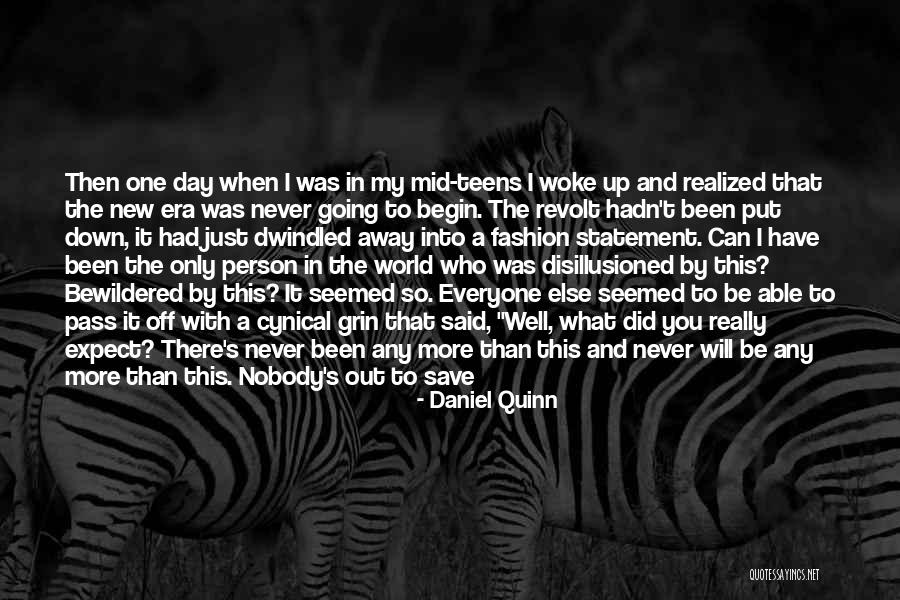 Then one day when I was in my mid-teens I woke up and realized that the new era was never going to begin. The revolt hadn't been put down, it had just dwindled away into a fashion statement. Can I have been the only person in the world who was disillusioned by this? Bewildered by this? It seemed so. Everyone else seemed to be able to pass it off with a cynical grin that said, "Well, what did you really expect? There's never been any more than this and never will be any more than this. Nobody's out to save the world, because nobody gives a damn about the world, that was just a bunch of goofy kids talking. Get a job, make some money, work till you're sixty, then move to Florida and die. — Daniel Quinn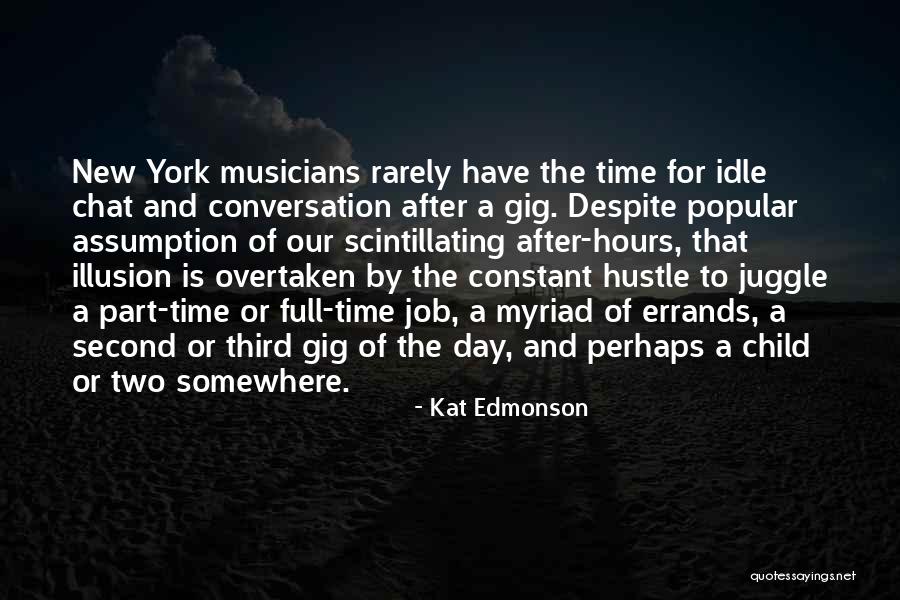 New York musicians rarely have the time for idle chat and conversation after a gig. Despite popular assumption of our scintillating after-hours, that illusion is overtaken by the constant hustle to juggle a part-time or full-time job, a myriad of errands, a second or third gig of the day, and perhaps a child or two somewhere. — Kat Edmonson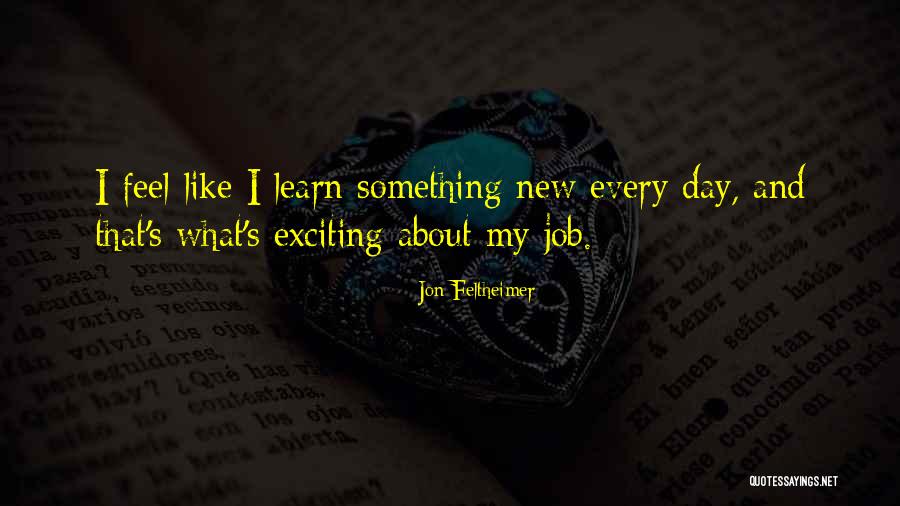 I feel like I learn something new every day, and that's what's exciting about my job. — Jon Feltheimer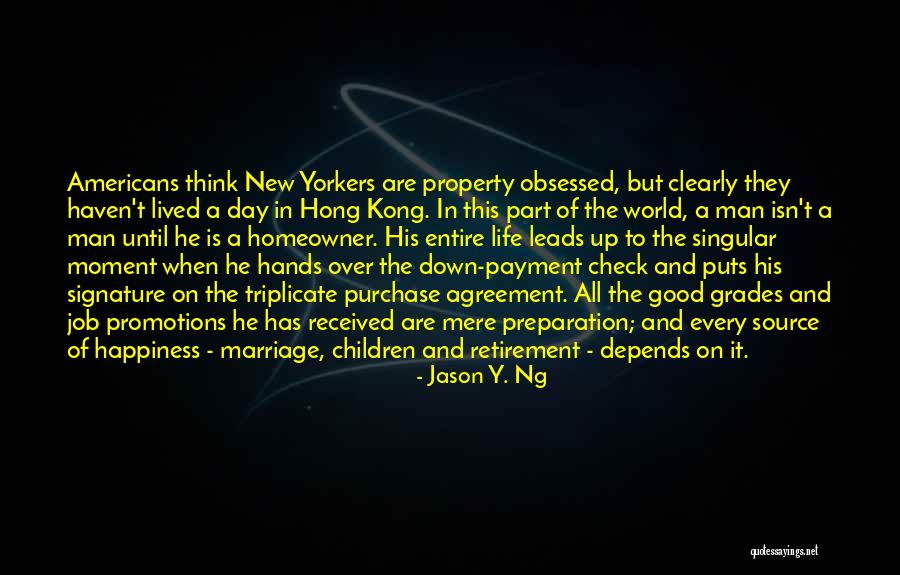 Americans think New Yorkers are property obsessed, but clearly they haven't lived a day in Hong Kong. In this part of the world, a man isn't a man until he is a homeowner. His entire life leads up to the singular moment when he hands over the down-payment check and puts his signature on the triplicate purchase agreement. All the good grades and job promotions he has received are mere preparation; and every source of happiness - marriage, children and retirement - depends on it. — Jason Y. Ng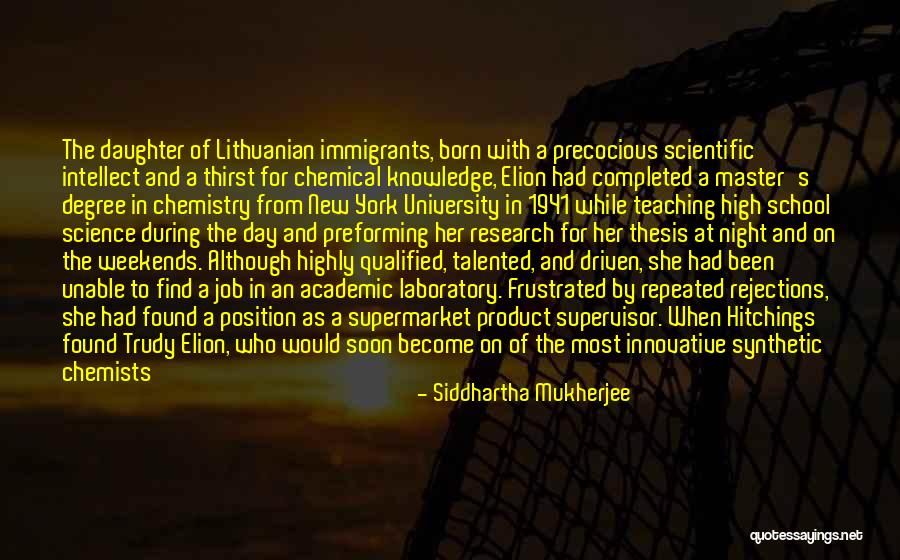 The daughter of Lithuanian immigrants, born with a precocious scientific intellect and a thirst for chemical knowledge, Elion had completed a master's degree in chemistry from New York University in 1941 while teaching high school science during the day and preforming her research for her thesis at night and on the weekends. Although highly qualified, talented, and driven, she had been unable to find a job in an academic laboratory. Frustrated by repeated rejections, she had found a position as a supermarket product supervisor. When Hitchings found Trudy Elion, who would soon become on of the most innovative synthetic chemists of her generation (and a future Nobel laureate), she was working for a food lab in New York, testing the acidity of pickles and the color of egg yolk going into mayonnaise. Rescued from a life of pickles and mayonnaise ... — Siddhartha Mukherjee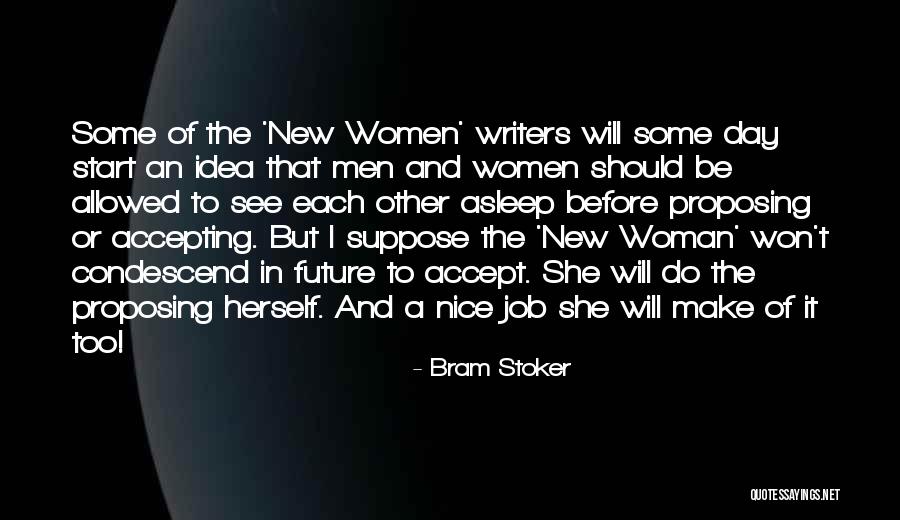 Some of the 'New Women' writers will some day start an idea that men and women should be allowed to see each other asleep before proposing or accepting. But I suppose the 'New Woman' won't condescend in future to accept. She will do the proposing herself. And a nice job she will make of it too! — Bram Stoker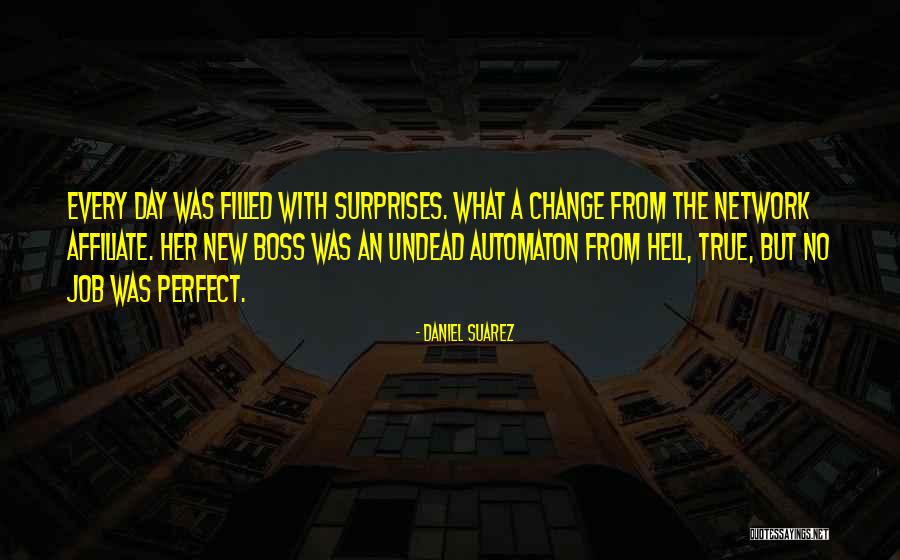 Every day was filled with surprises. What a change from the network affiliate. Her new boss was an undead automaton from hell, true, but no job was perfect. — Daniel Suarez
I quit my day job the day my daughter was born. I remember flying to Cleveland and hitting a thunderstorm, which caused the plane to lose pressure, and the oxygen masks fell from the ceiling. We felt the plane dropping; the pilot was taking it down to regain cabin pressure. My heart was in my stomach. I found out after landing that her mom was in labor. I did the show and came back to New York. By the time I walked into the hospital, my daughter was being born. She was waiting for me. She's a sweet daddy's girl. She's premed. She has her own pie company. She works for Habitat for Humanity. — J. B. Smoove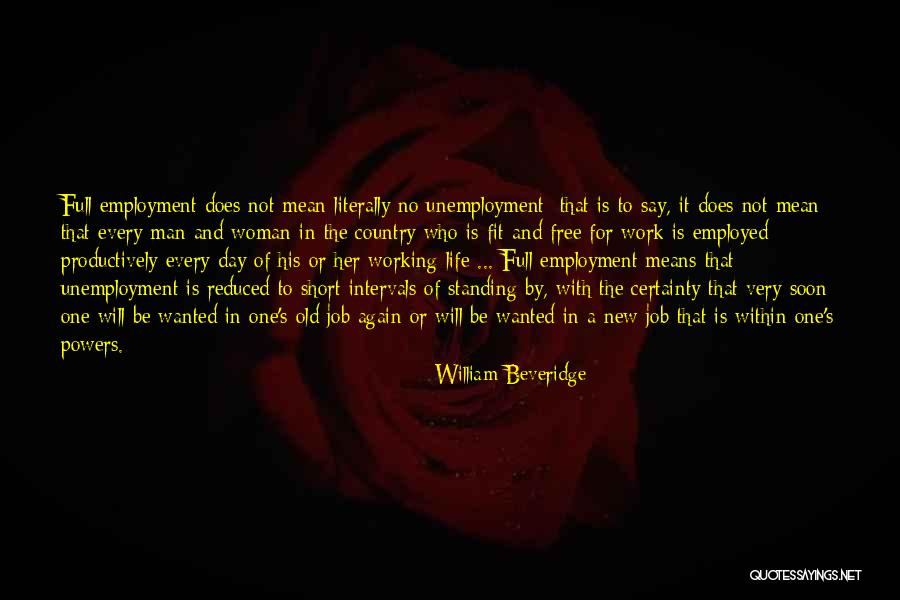 Full employment does not mean literally no unemployment; that is to say, it does not mean that every man and woman in the country who is fit and free for work is employed productively every day of his or her working life ... Full employment means that unemployment is reduced to short intervals of standing by, with the certainty that very soon one will be wanted in one's old job again or will be wanted in a new job that is within one's powers. — William Beveridge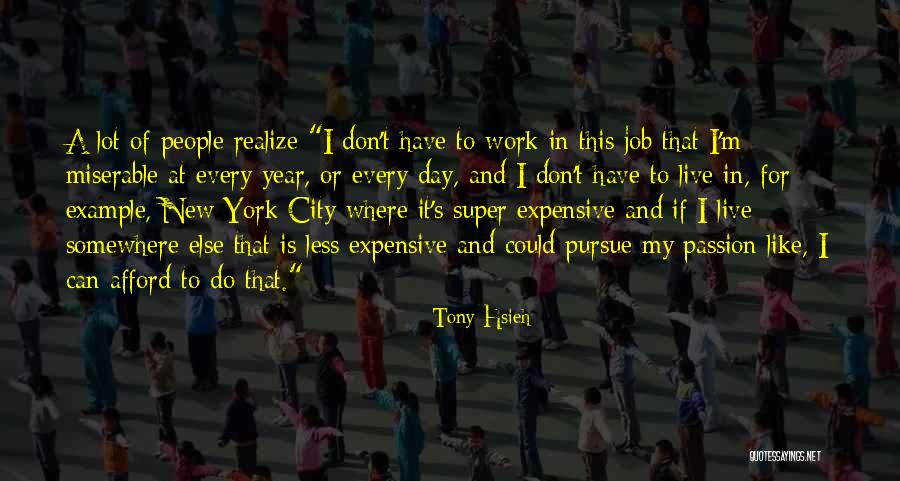 A lot of people realize "I don't have to work in this job that I'm miserable at every year, or every day, and I don't have to live in, for example, New York City where it's super expensive and if I live somewhere else that is less expensive and could pursue my passion like, I can afford to do that." — Tony Hsieh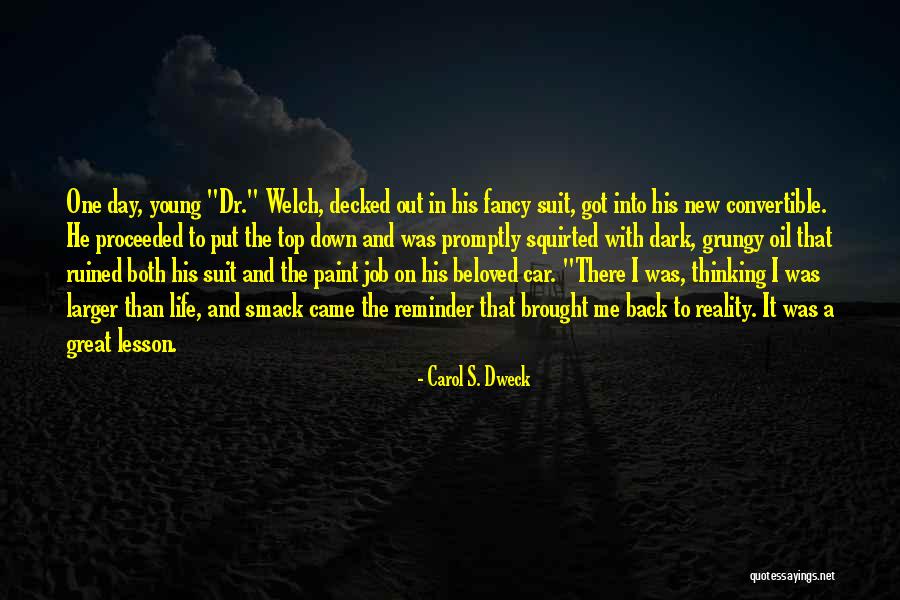 One day, young "Dr." Welch, decked out in his fancy suit, got into his new convertible. He proceeded to put the top down and was promptly squirted with dark, grungy oil that ruined both his suit and the paint job on his beloved car. "There I was, thinking I was larger than life, and smack came the reminder that brought me back to reality. It was a great lesson. — Carol S. Dweck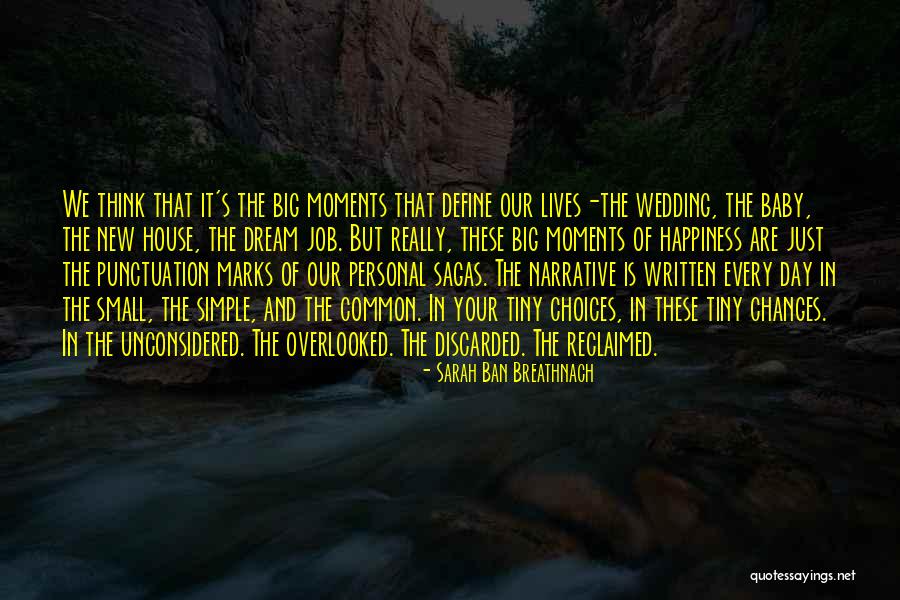 We think that it's the big moments that define our lives-the wedding, the baby, the new house, the dream job. But really, these big moments of happiness are just the punctuation marks of our personal sagas. The narrative is written every day in the small, the simple, and the common. In your tiny choices, in these tiny changes. In the unconsidered. The overlooked. The discarded. The reclaimed. — Sarah Ban Breathnach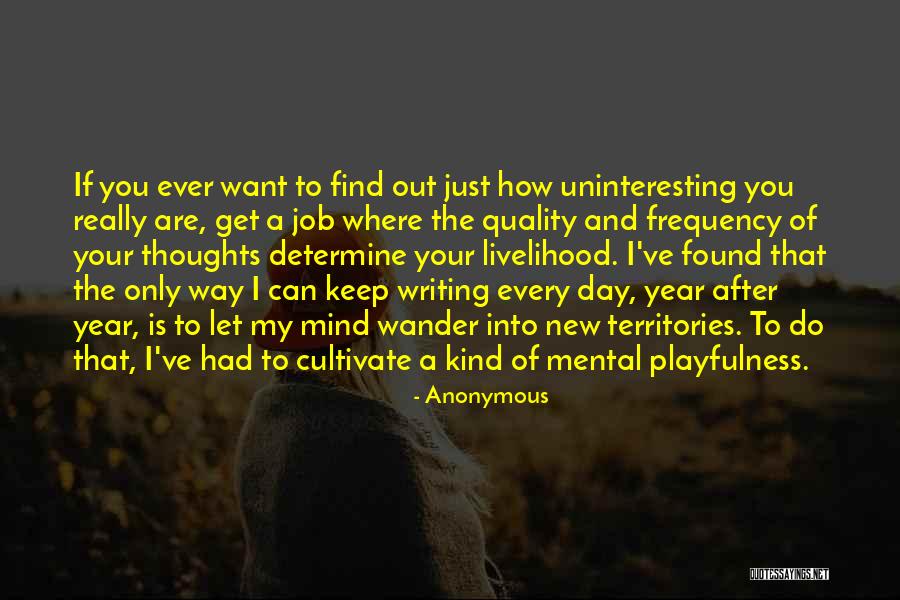 If you ever want to find out just how uninteresting you really are, get a job where the quality and frequency of your thoughts determine your livelihood. I've found that the only way I can keep writing every day, year after year, is to let my mind wander into new territories. To do that, I've had to cultivate a kind of mental playfulness. — Anonymous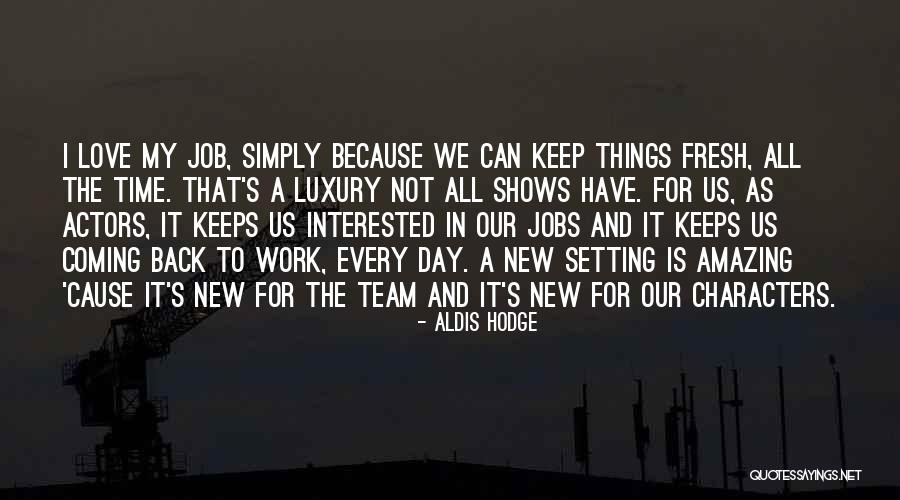 I love my job, simply because we can keep things fresh, all the time. That's a luxury not all shows have. For us, as actors, it keeps us interested in our jobs and it keeps us coming back to work, every day. A new setting is amazing 'cause it's new for the team and it's new for our characters. — Aldis Hodge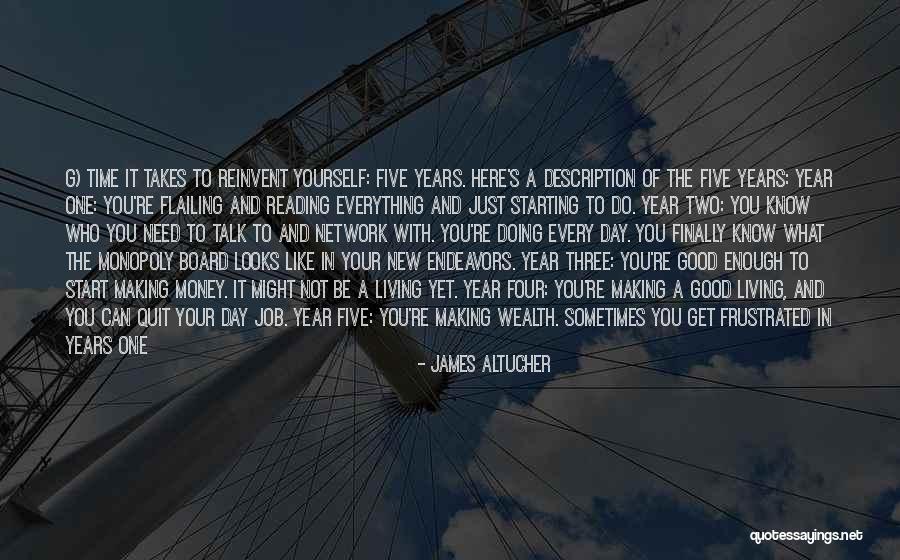 g) Time it takes to reinvent yourself: five years. Here's a description of the five years: Year One: You're flailing and reading everything and just starting to do. Year Two: You know who you need to talk to and network with. You're doing every day. You finally know what the Monopoly board looks like in your new endeavors. Year Three: You're good enough to start making money. It might not be a living yet. Year Four: You're making a good living, and you can quit your day job. Year Five: You're making wealth. Sometimes you get frustrated in years one through four. You say, "Why isn't it happening yet?" That's okay. Just keep going. Or stop and pick a new field. — James Altucher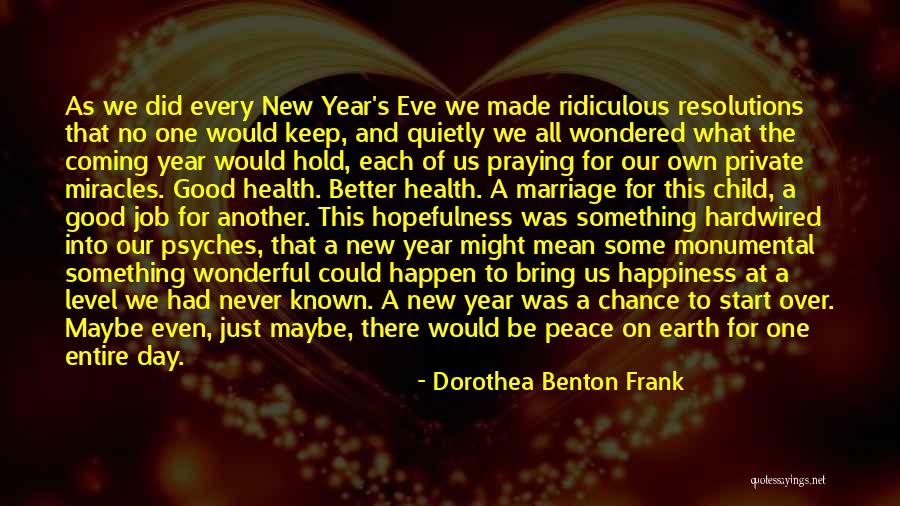 As we did every New Year's Eve we made ridiculous resolutions that no one would keep, and quietly we all wondered what the coming year would hold, each of us praying for our own private miracles. Good health. Better health. A marriage for this child, a good job for another. This hopefulness was something hardwired into our psyches, that a new year might mean some monumental something wonderful could happen to bring us happiness at a level we had never known. A new year was a chance to start over. Maybe even, just maybe, there would be peace on earth for one entire day. — Dorothea Benton Frank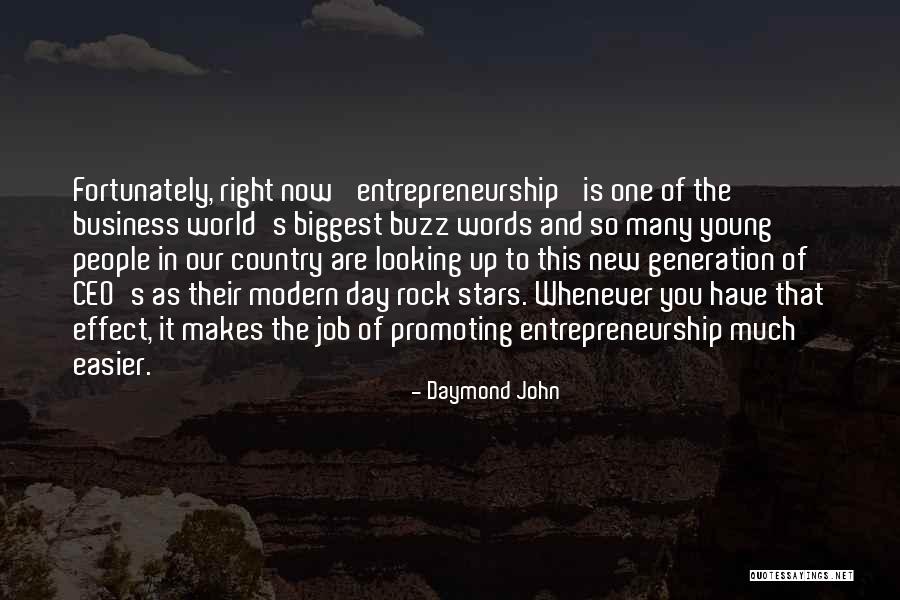 Fortunately, right now 'entrepreneurship' is one of the business world's biggest buzz words and so many young people in our country are looking up to this new generation of CEO's as their modern day rock stars. Whenever you have that effect, it makes the job of promoting entrepreneurship much easier. — Daymond John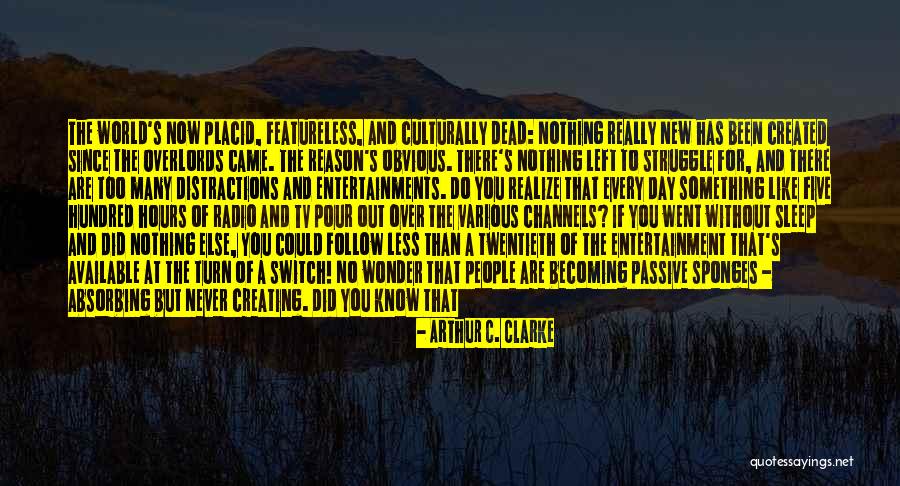 The world's now placid, featureless, and culturally dead: nothing really new has been created since the Overlords came. The reason's obvious. There's nothing left to struggle for, and there are too many distractions and entertainments. Do you realize that every day something like five hundred hours of radio and TV pour out over the various channels? If you went without sleep and did nothing else, you could follow less than a twentieth of the entertainment that's available at the turn of a switch! No wonder that people are becoming passive sponges - absorbing but never creating. Did you know that the average viewing time per person is now three hours a day? Soon people won't be living their own lives any more. It will be a full-time job keeping up with the various family serials on TV! — Arthur C. Clarke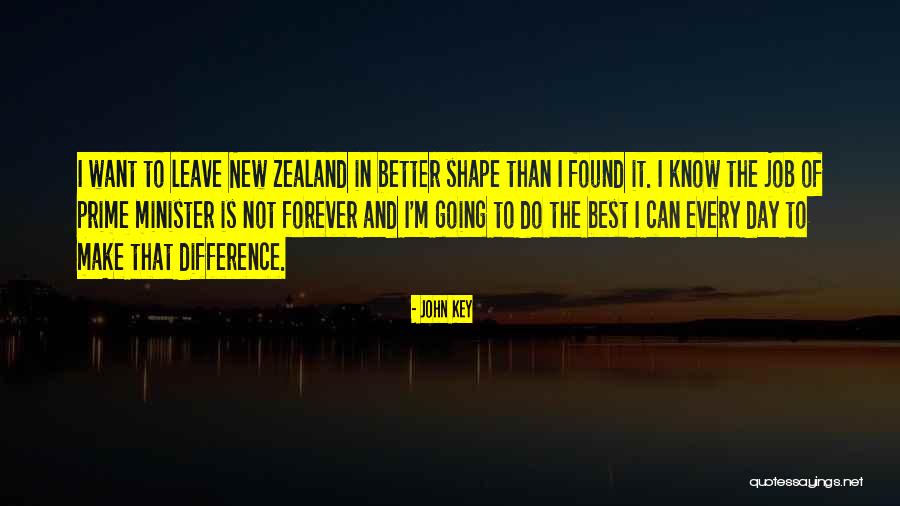 I want to leave New Zealand in better shape than I found it. I know the job of prime minister is not forever and I'm going to do the best I can every day to make that difference. — John Key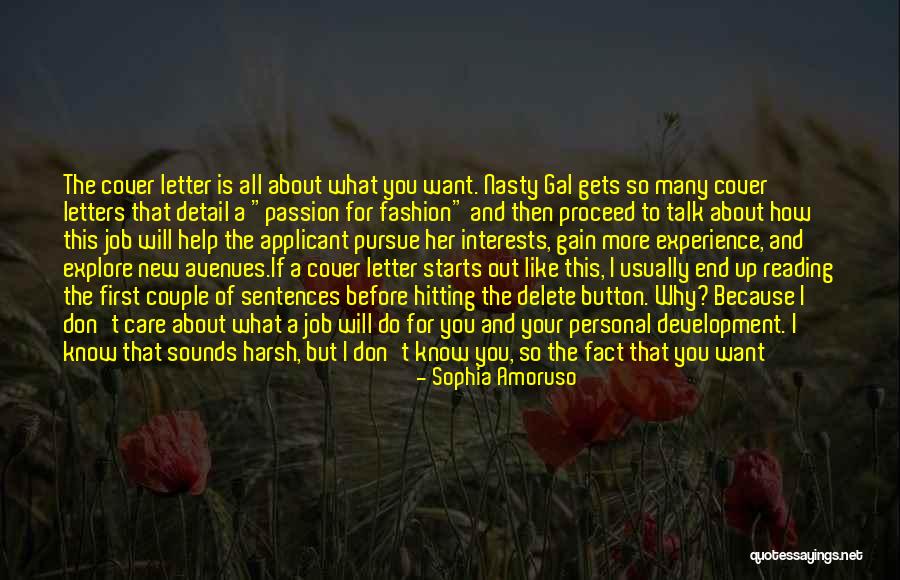 The cover letter is all about what you want. Nasty Gal gets so many cover letters that detail a "passion for fashion" and then proceed to talk about how this job will help the applicant pursue her interests, gain more experience, and explore new avenues.
If a cover letter starts out like this, I usually end up reading the first couple of sentences before hitting the delete button. Why? Because I don't care about what a job will do for you and your personal development. I know that sounds harsh, but I don't know you, so the fact that you want to work for my company does not automatically mean that I have an interest in helping you grow your career. I have a business that is growing by the day, so I want to know what you can do for me. It's as simple as that. — Sophia Amoruso