Never Judge Yourself Quotes & Sayings
Enjoy reading and share 25 famous quotes about Never Judge Yourself with everyone.
Top Never Judge Yourself Quotes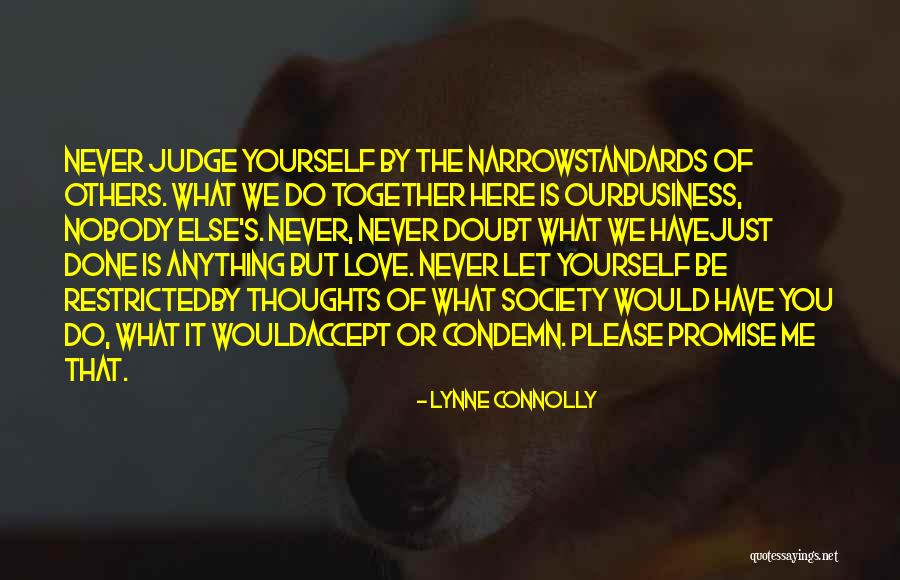 Never judge yourself by the narrow
standards of others. What we do together here is our
business, nobody else's. Never, never doubt what we have
just done is anything but love. Never let yourself be restricted
by thoughts of what society would have you do, what it would
accept or condemn. Please promise me that. — Lynne Connolly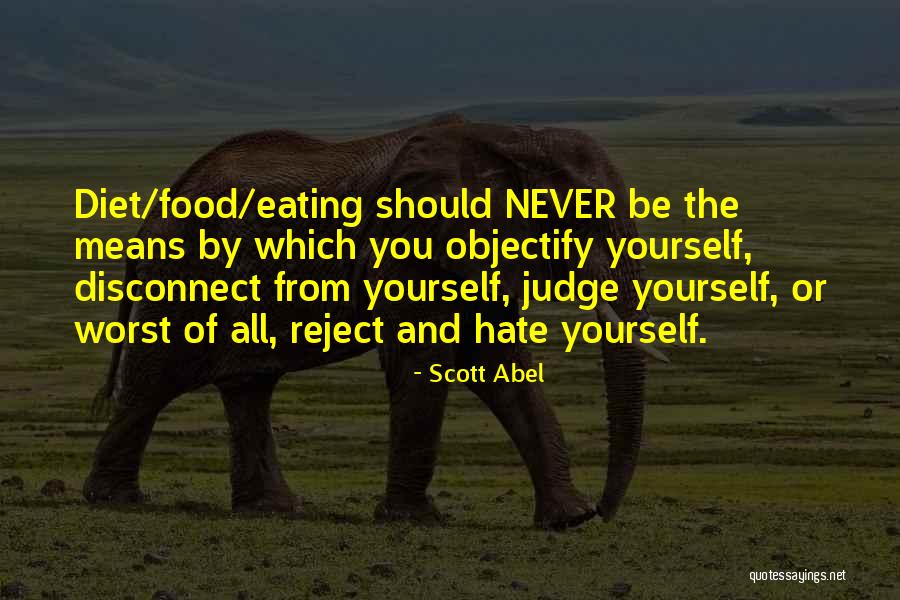 Diet/food/eating should NEVER be the means by which you objectify yourself, disconnect from yourself, judge yourself, or worst of all, reject and hate yourself. — Scott Abel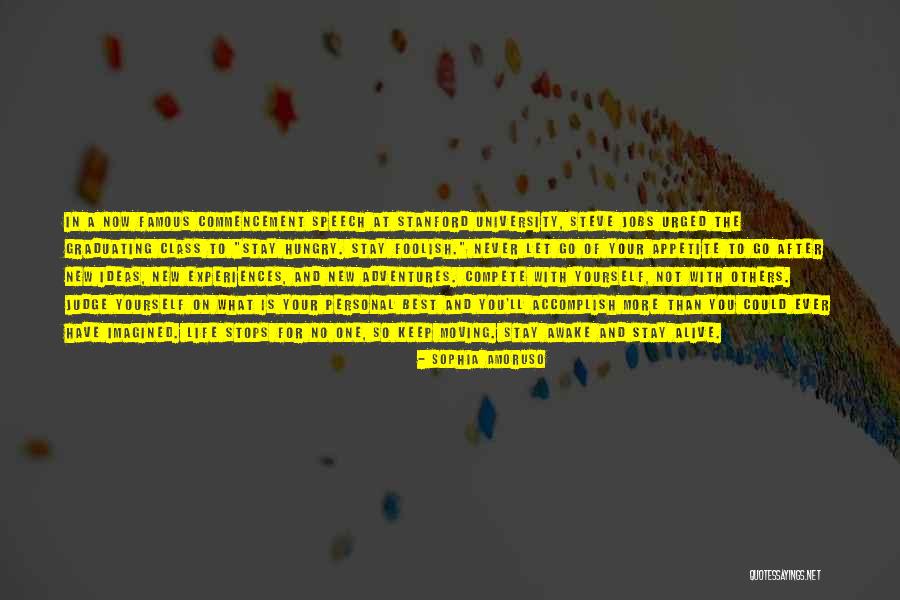 In a now famous commencement speech at Stanford University, Steve Jobs urged the graduating class to "stay hungry. Stay foolish." Never let go of your appetite to go after new ideas, new experiences, and new adventures. Compete with yourself, not with others. Judge yourself on what is your personal best and you'll accomplish more than you could ever have imagined. Life stops for no one, so keep moving. Stay awake and stay alive. — Sophia Amoruso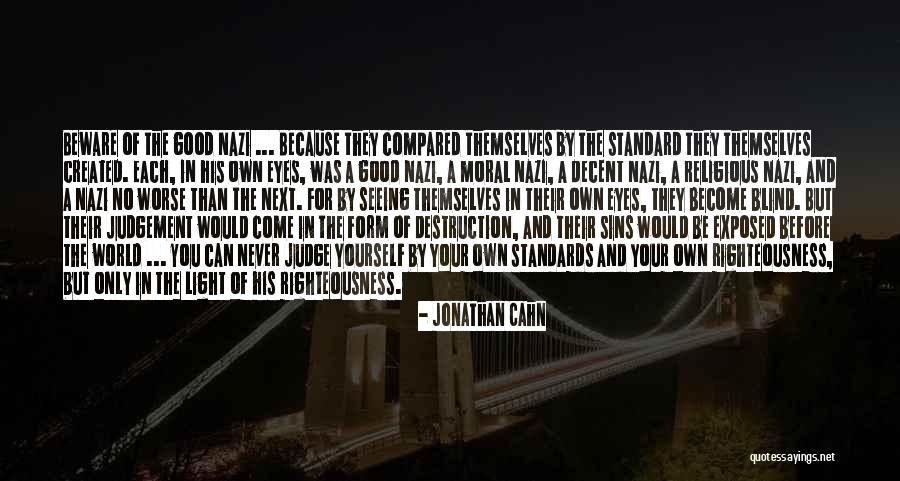 Beware of the good Nazi ... Because they compared themselves by the standard they themselves created. Each, in his own eyes, was a good Nazi, a moral Nazi, a decent Nazi, a religious Nazi, and a Nazi no worse than the next. For by seeing themselves in their own eyes, they become blind. But their judgement would come in the form of destruction, and their sins would be exposed before the world ... You can never judge yourself by your own standards and your own righteousness, but only in the light of His righteousness. — Jonathan Cahn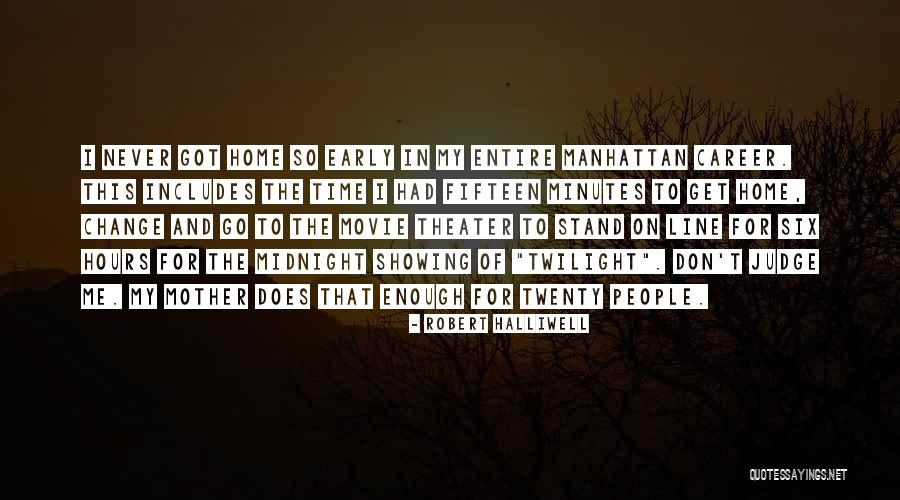 I never got home so early in my entire Manhattan career. This includes the time I had fifteen minutes to get home, change and go to the movie theater to stand on line for six hours for the midnight showing of "Twilight".
Don't judge me. My mother does that enough for twenty people. — Robert Halliwell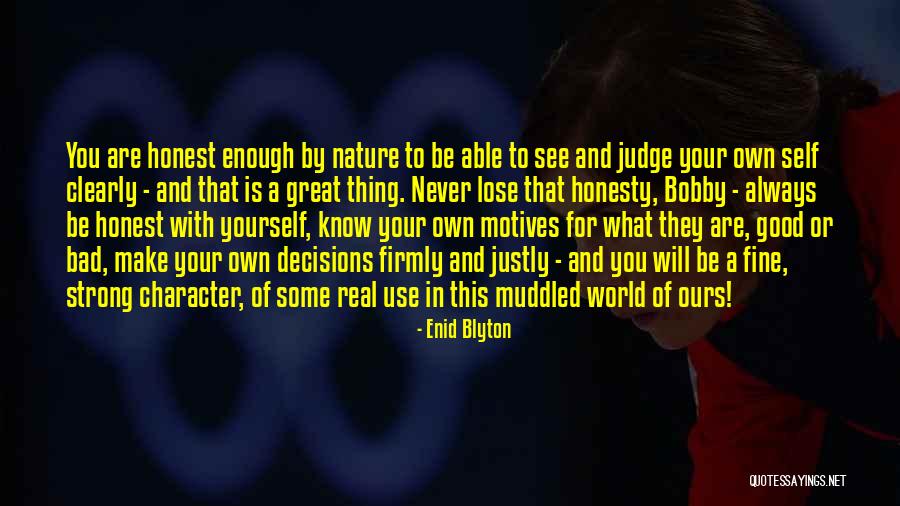 You are honest enough by nature to be able to see and judge your own self clearly - and that is a great thing. Never lose that honesty, Bobby - always be honest with yourself, know your own motives for what they are, good or bad, make your own decisions firmly and justly - and you will be a fine, strong character, of some real use in this muddled world of ours! — Enid Blyton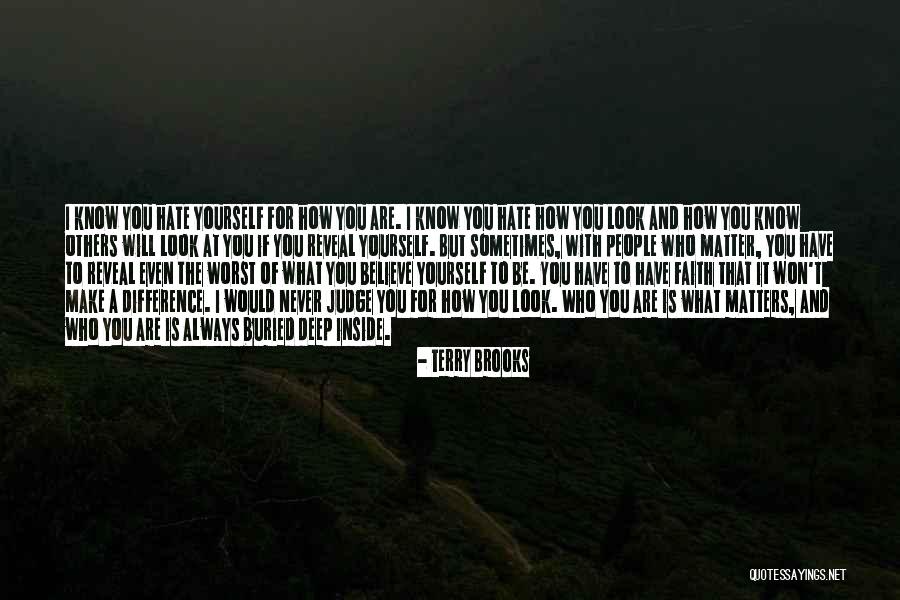 I know you hate yourself for how you are. I know you hate how you look and how you know others will look at you if you reveal yourself. But sometimes, with people who matter, you have to reveal even the worst of what you believe yourself to be. You have to have faith that it won't make a difference. I would never judge you for how you look. Who you are is what matters, and who you are is always buried deep inside. — Terry Brooks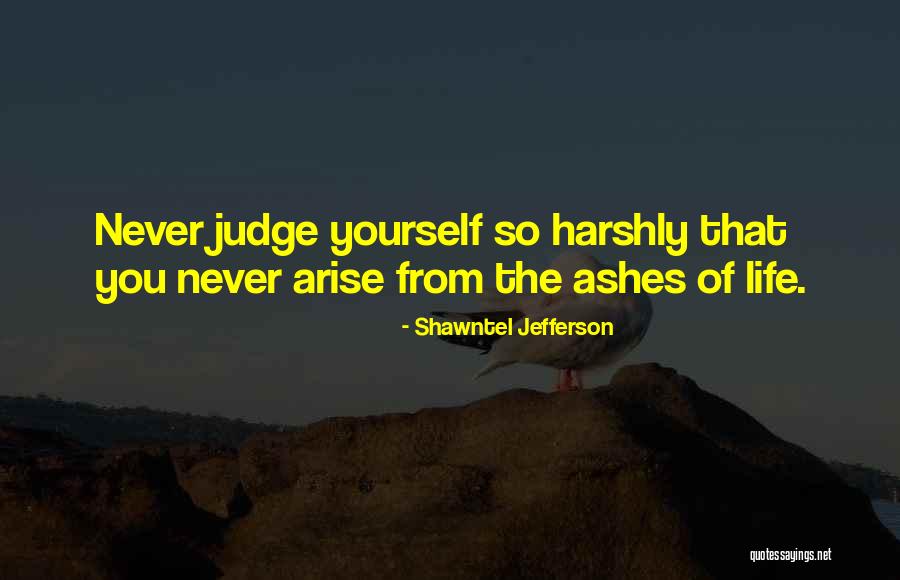 Never judge yourself so harshly that you never arise from the ashes of life. — Shawntel Jefferson
We never cease hoping
and thus did our Judge condemn us to suffer in saecula.'
Ferrante asked: 'But what is it that you hope for?'
You might as well ask what you will hope for yourself ... You will hope that a wisp of wind, the slightest swell of the tide, the arrival of a single hungry leech, can return us, atom by atom, to the great Void of the Universe, where we would somehow again participate in the cycle of life. — Umberto Eco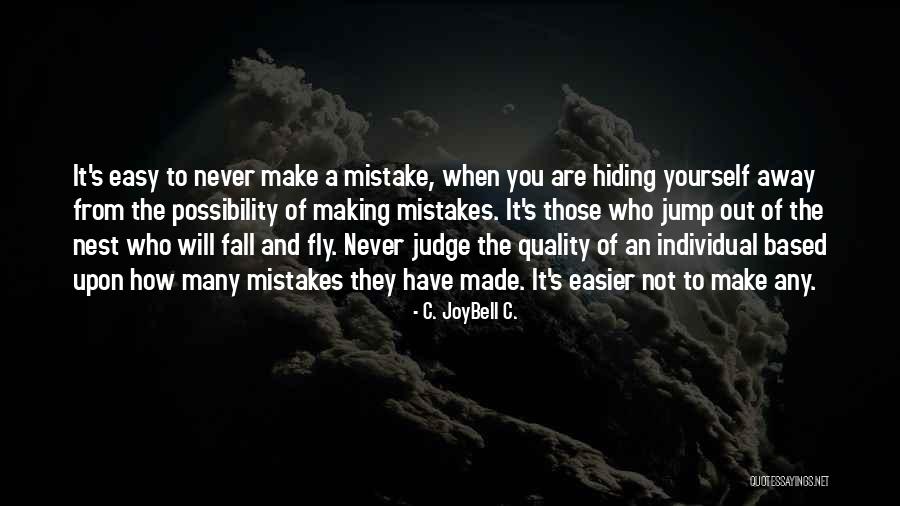 It's easy to never make a mistake, when you are hiding yourself away from the possibility of making mistakes. It's those who jump out of the nest who will fall and fly. Never judge the quality of an individual based upon how many mistakes they have made. It's easier not to make any. — C. JoyBell C.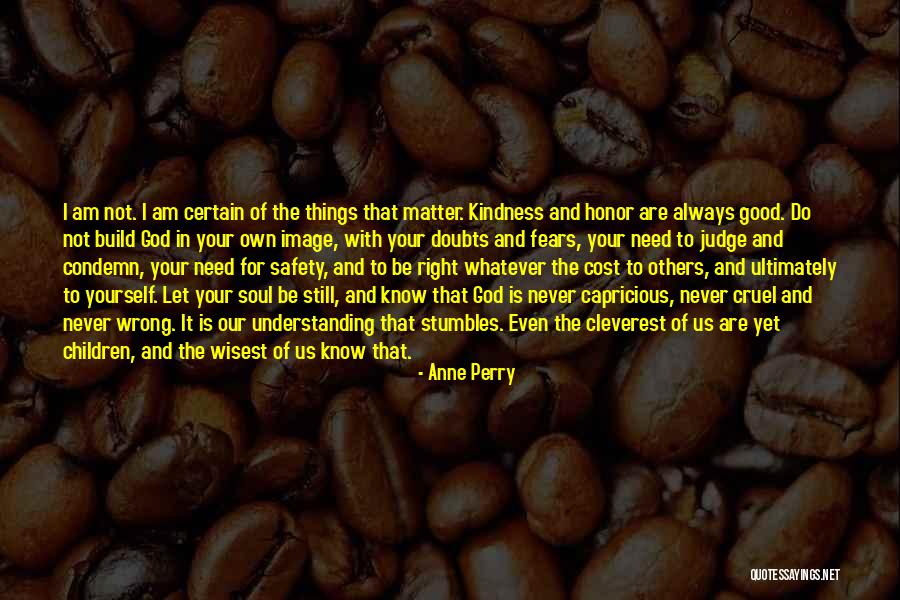 I am not. I am certain of the things that matter. Kindness and honor are always good. Do not build God in your own image, with your doubts and fears, your need to judge and condemn, your need for safety, and to be right whatever the cost to others, and ultimately to yourself. Let your soul be still, and know that God is never capricious, never cruel and never wrong. It is our understanding that stumbles. Even the cleverest of us are yet children, and the wisest of us know that. — Anne Perry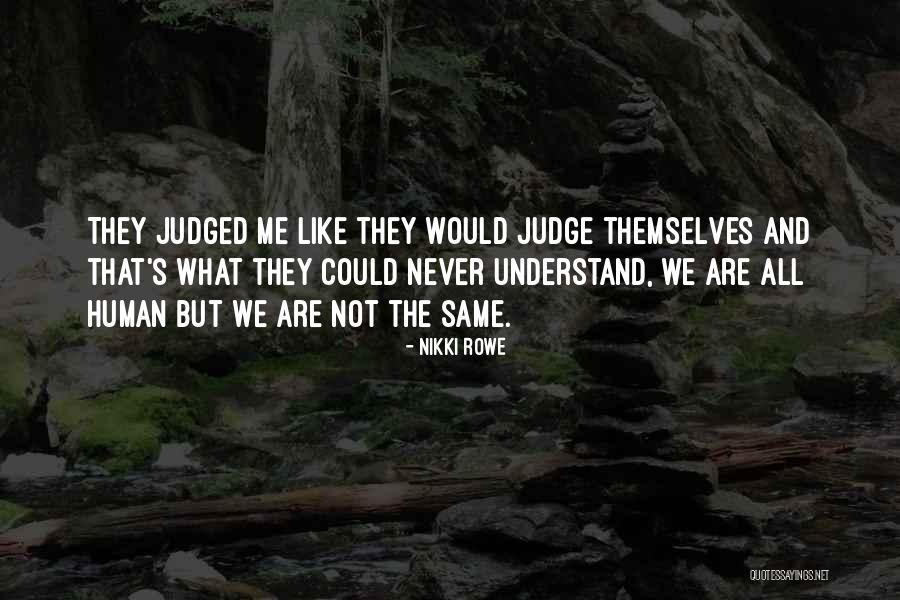 They judged me like they would judge themselves and that's what they could never understand, we are all human but we are not the same. — Nikki Rowe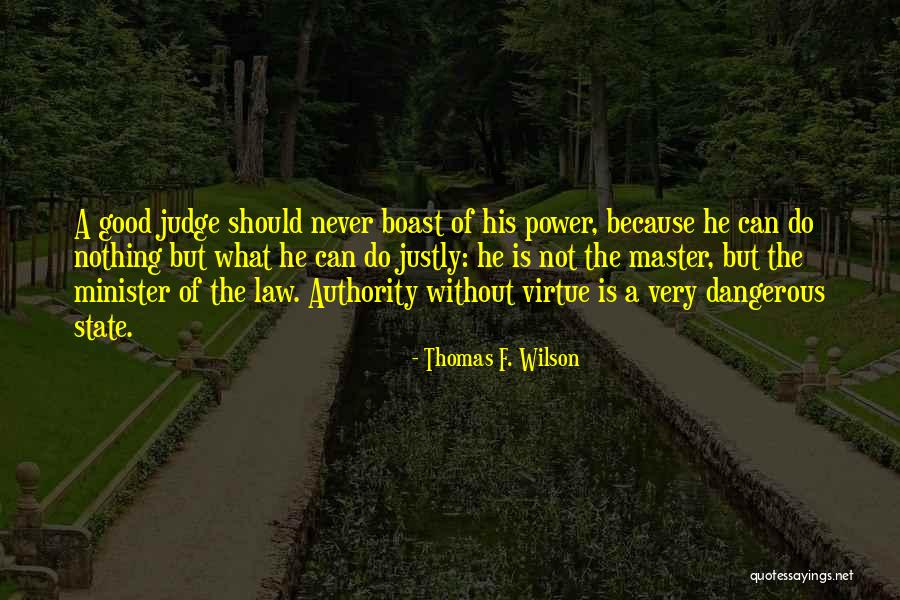 A good judge should never boast of his power, because he can do nothing but what he can do justly: he is not the master, but the minister of the law. Authority without virtue is a very dangerous state. — Thomas F. Wilson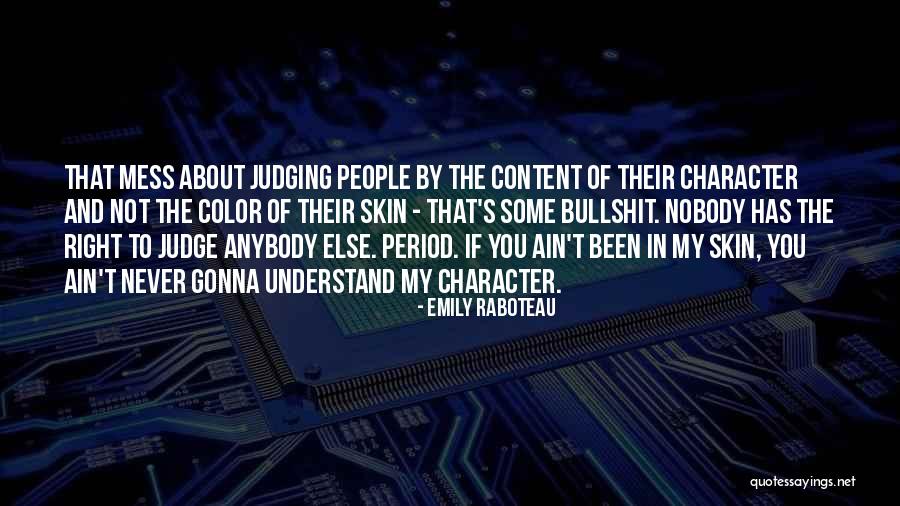 That mess about judging people by the content of their character and not the color of their skin - that's some bullshit. Nobody has the right to judge anybody else. Period. If you ain't been in my skin, you ain't never gonna understand my character. — Emily Raboteau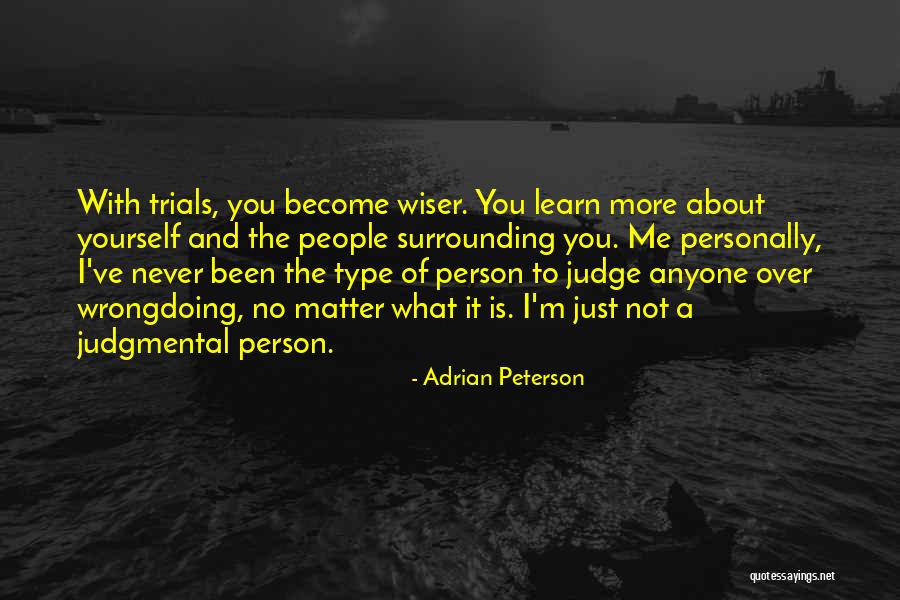 With trials, you become wiser. You learn more about yourself and the people surrounding you. Me personally, I've never been the type of person to judge anyone over wrongdoing, no matter what it is. I'm just not a judgmental person. — Adrian Peterson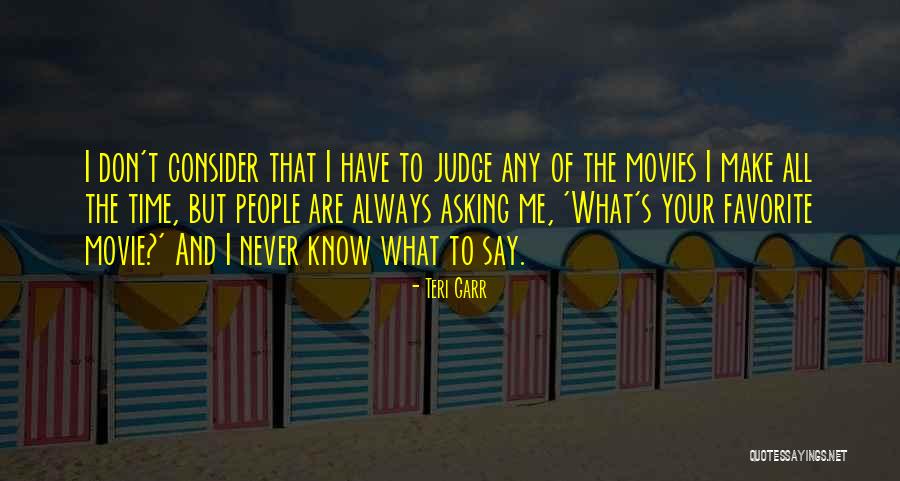 I don't consider that I have to judge any of the movies I make all the time, but people are always asking me, 'What's your favorite movie?' And I never know what to say. — Teri Garr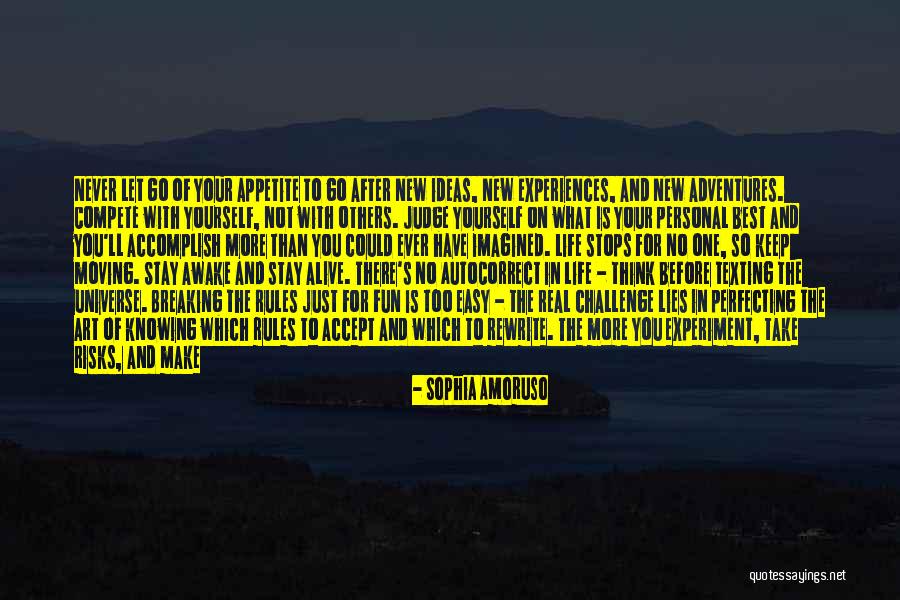 Never let go of your appetite to go after new ideas, new experiences, and new adventures. Compete with yourself, not with others. Judge yourself on what is your personal best and you'll accomplish more than you could ever have imagined. Life stops for no one, so keep moving. Stay awake and stay alive. There's no AutoCorrect in life - think before texting the universe. Breaking the rules just for fun is too easy - the real challenge lies in perfecting the art of knowing which rules to accept and which to rewrite. The more you experiment, take risks, and make mistakes, the better you'll know yourself, the better you'll know the world, and the more focused you'll be. — Sophia Amoruso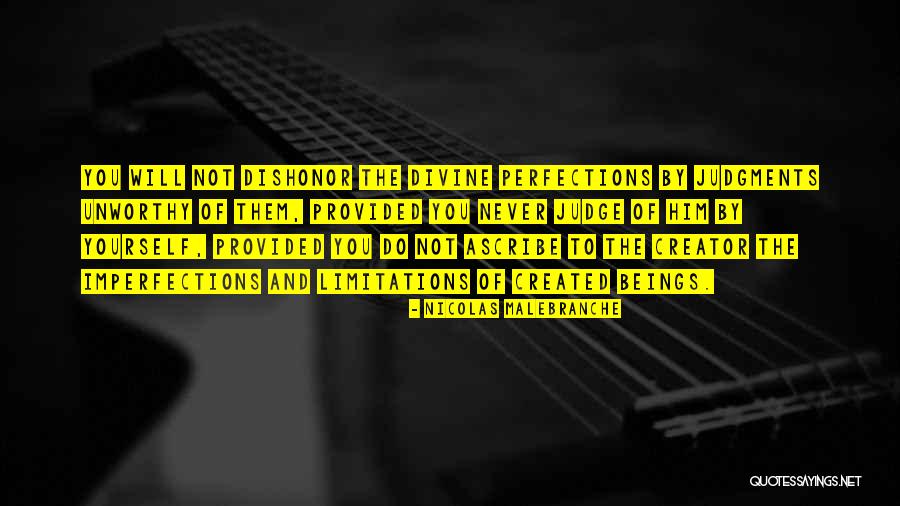 You will not dishonor the divine perfections by judgments unworthy of them, provided you never judge of Him by yourself, provided you do not ascribe to the Creator the imperfections and limitations of created beings. — Nicolas Malebranche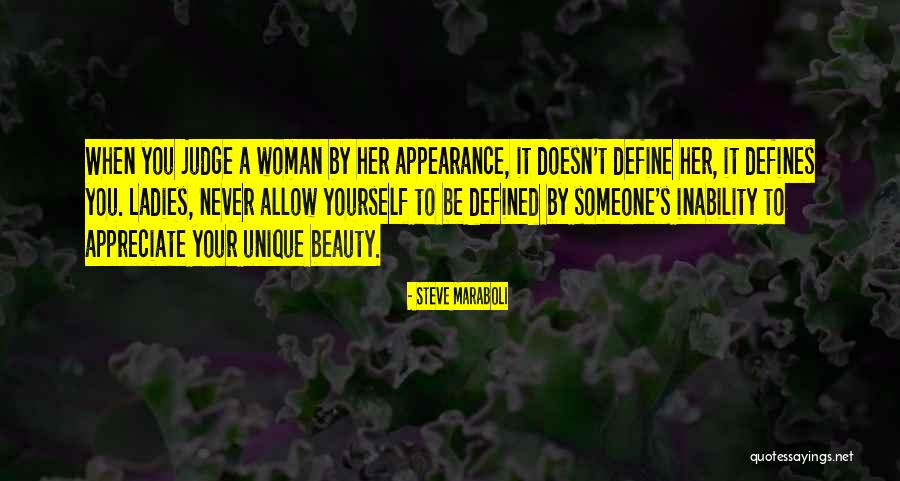 When you judge a woman by her appearance, it doesn't define her, it defines you. Ladies, never allow yourself to be defined by someone's inability to appreciate your unique beauty. — Steve Maraboli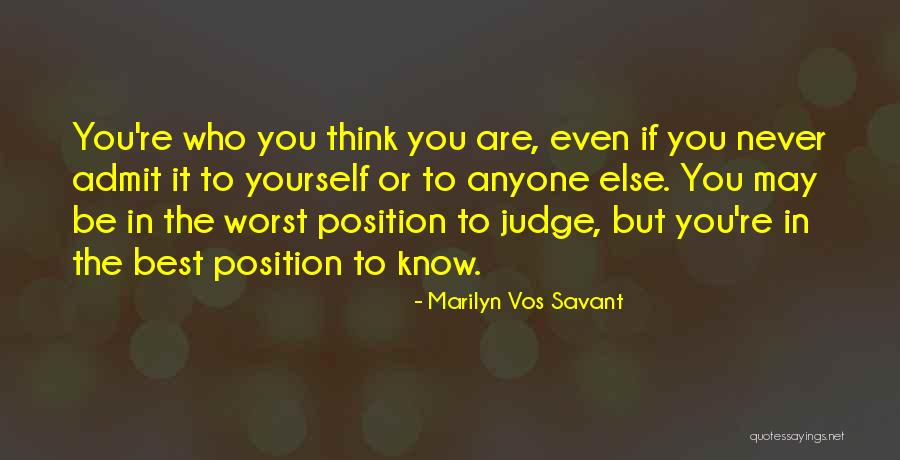 You're who you think you are, even if you never admit it to yourself or to anyone else. You may be in the worst position to judge, but you're in the best position to know. — Marilyn Vos Savant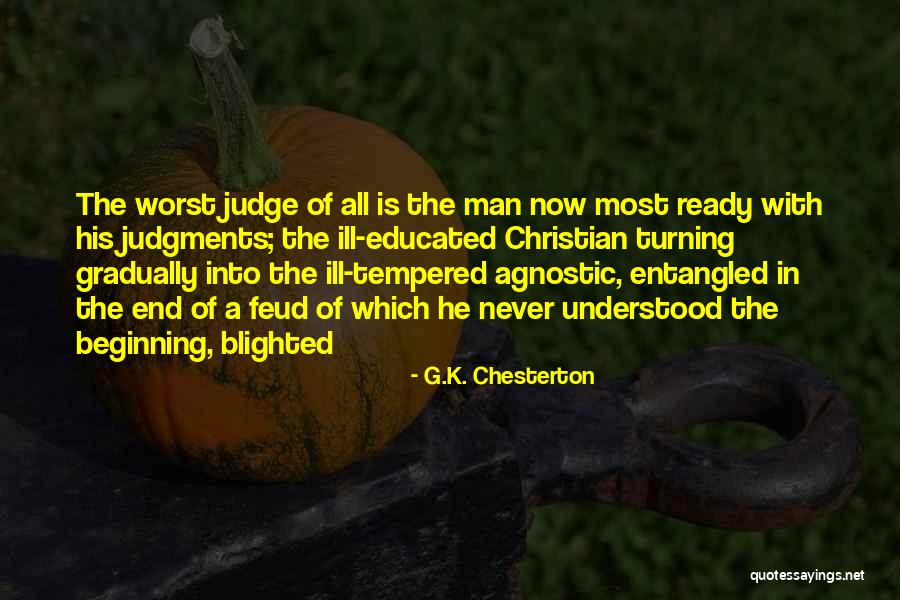 The worst judge of all is the man now most ready with his judgments; the ill-educated Christian turning gradually into the ill-tempered agnostic, entangled in the end of a feud of which he never understood the beginning, blighted — G.K. Chesterton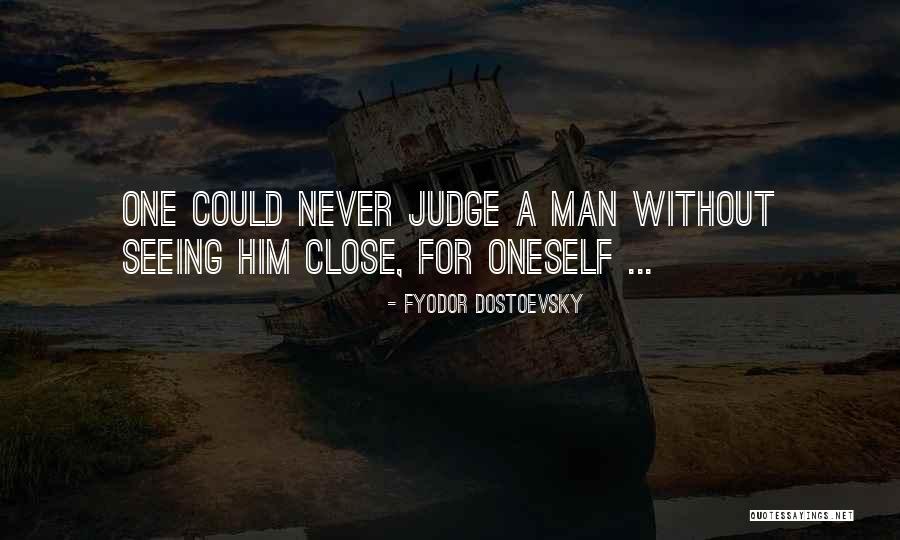 One could never judge a man without seeing him close, for oneself ... — Fyodor Dostoevsky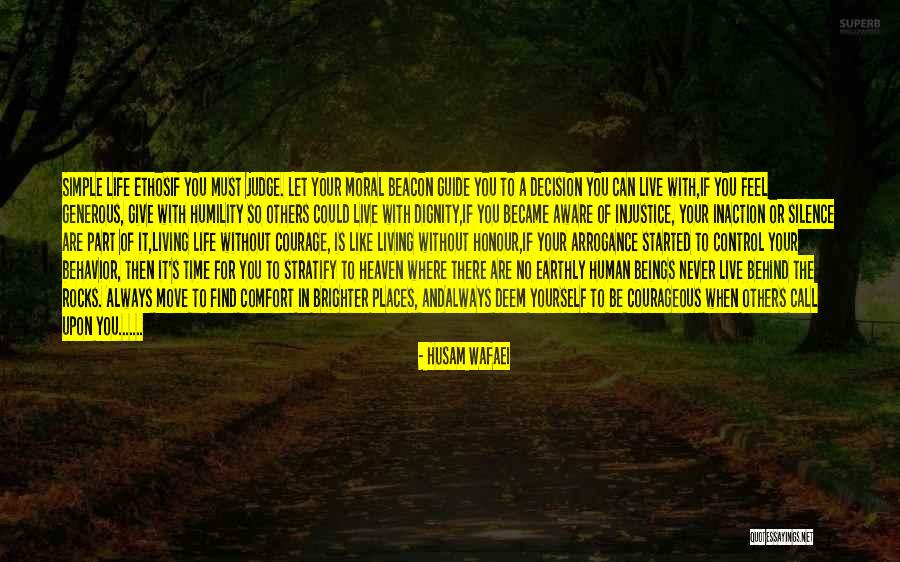 Simple life Ethos
If you must judge. Let your moral beacon guide you to a decision you can live with,
If you feel generous, give with humility so others could live with dignity,
If you became aware of injustice, your inaction or silence are part of it,
Living life without courage, is like living without honour,
If your arrogance started to control your behavior, then it's time for you to stratify to heaven where there are no earthly human beings
Never live behind the rocks. Always move to find comfort in brighter places, and
Always deem yourself to be courageous when others call upon you....... — Husam Wafaei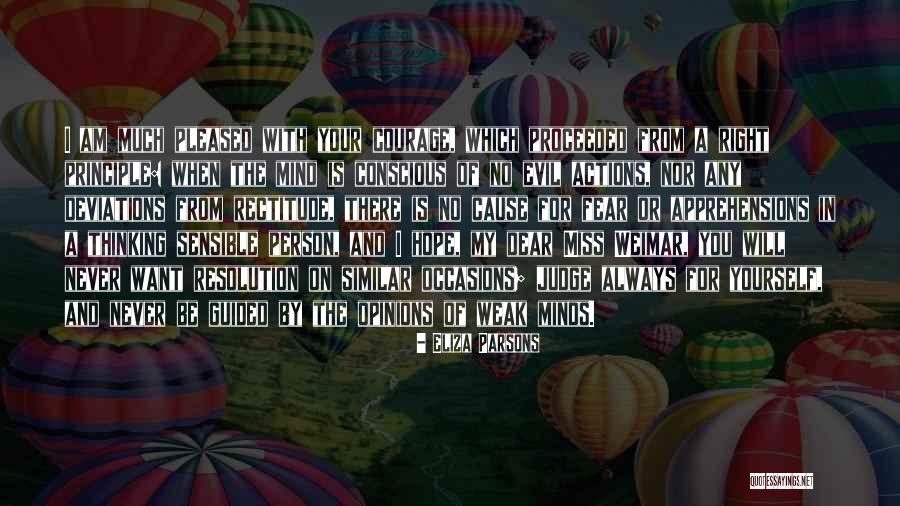 I am much pleased with your courage, which proceeded from a right principle: when the mind is conscious of no evil actions, nor any deviations from rectitude, there is no cause for fear or apprehensions in a thinking sensible person, and I hope, my dear Miss Weimar, you will never want resolution on similar occasions; judge always for yourself, and never be guided by the opinions of weak minds. — Eliza Parsons