Need You Poems Quotes & Sayings
Enjoy reading and share 32 famous quotes about Need You Poems with everyone.
Top Need You Poems Quotes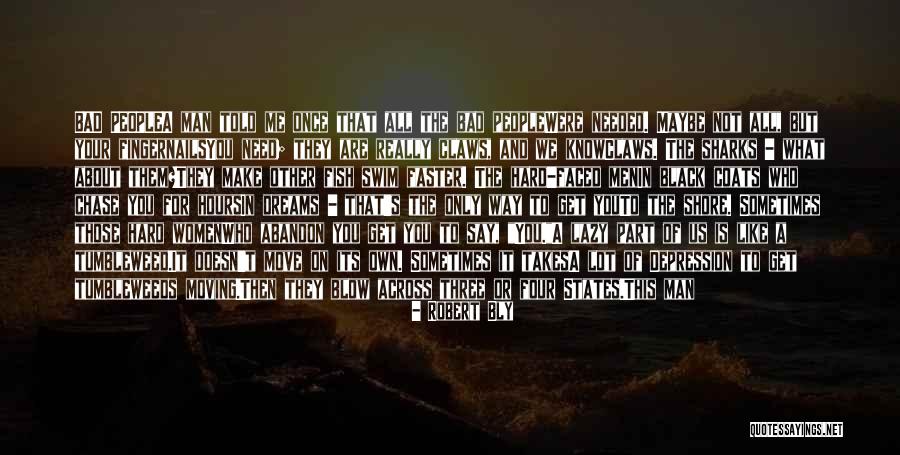 BAD PEOPLE
A man told me once that all the bad people
Were needed. Maybe not all, but your fingernails
You need; they are really claws, and we know
Claws. The sharks - what about them?
They make other fish swim faster. The hard-faced men
In black coats who chase you for hours
In dreams - that's the only way to get you
To the shore. Sometimes those hard women
Who abandon you get you to say, "You."
A lazy part of us is like a tumbleweed.
It doesn't move on its own. Sometimes it takes
A lot of Depression to get tumbleweeds moving.
Then they blow across three or four States.
This man told me that things work together.
Bad handwriting sometimes leads to new ideas;
And a careless god - who refuses to let people
Eat from the Tree of Knowledge - can lead
To books, and eventually to us. We write
Poems with lies in them, but they help a little. — Robert Bly
I have a folder that's labeled "The Folder of 24." Inside it are letters from twenty-four people who were actively in the process of planning their suicide, but who stopped and got help - not because of what I wrote on my blog, but because of the amazing response from the community of people who read it and said, "Me too." They were saved by the people who wrote about losing their mother or father or child to suicide and how they'd do anything to go back and convince them not to believe the lies mental illness tells you. They were saved by the people who offered up encouragement and songs and lyrics and poems and talismans and mantras that worked for them and that might work for a stranger in need. There are twenty-four people alive today who are still here because people were brave enough to talk about their struggles, or compassionate enough to convince others of their worth, or who simply said, "I don't understand your illness, but I know that the world is better with you in it. — Jenny Lawson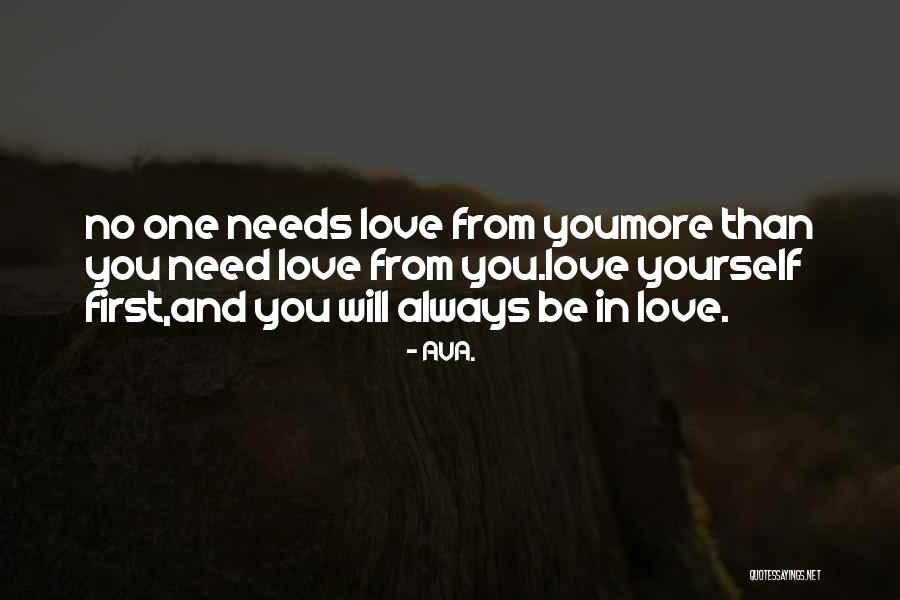 no one needs love from you
more than you need love from you.

love yourself first,
and you will always be in love. — AVA.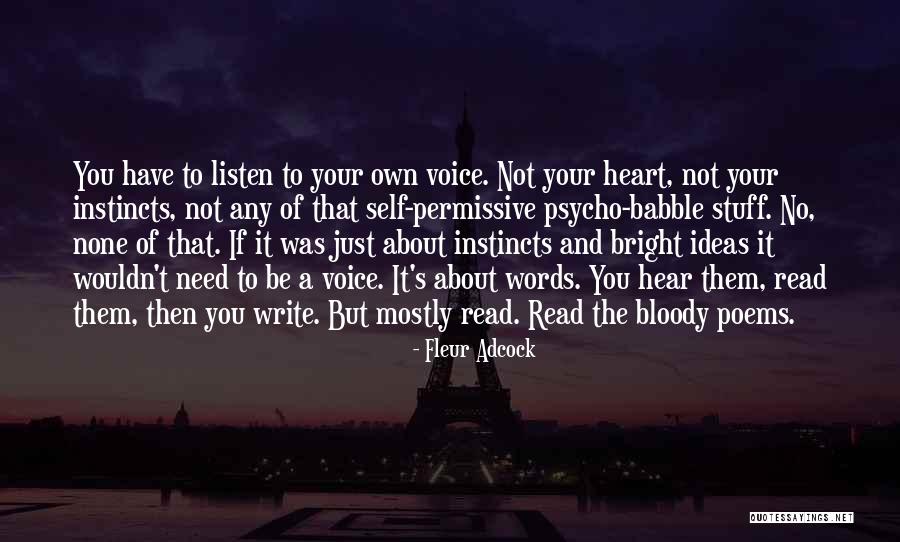 You have to listen to your own voice. Not your heart, not your instincts, not any of that self-permissive psycho-babble stuff. No, none of that. If it was just about instincts and bright ideas it wouldn't need to be a voice. It's about words. You hear them, read them, then you write. But mostly read. Read the bloody poems. — Fleur Adcock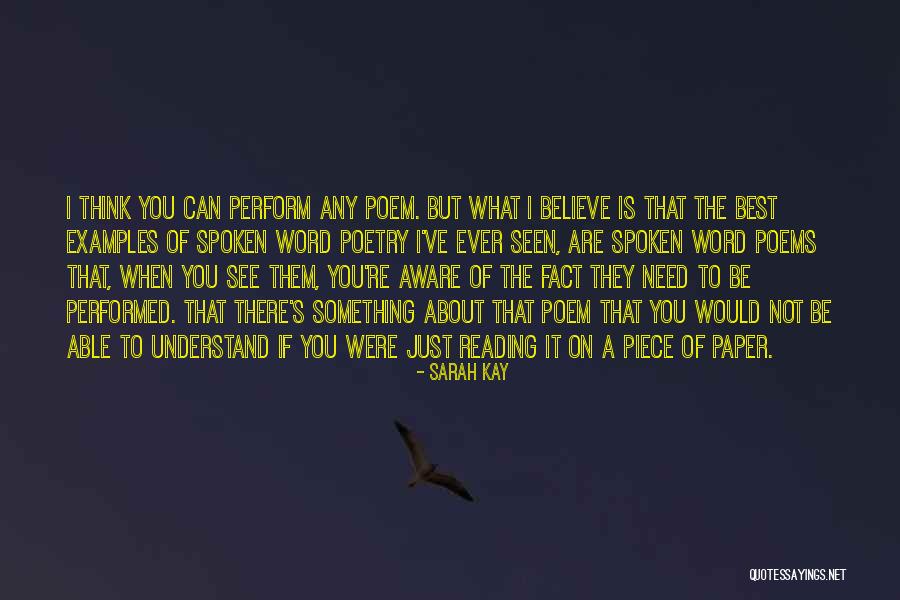 I think you can perform any poem. But what I believe is that the best examples of spoken word poetry I've ever seen, are spoken word poems that, when you see them, you're aware of the fact they need to be performed. That there's something about that poem that you would not be able to understand if you were just reading it on a piece of paper. — Sarah Kay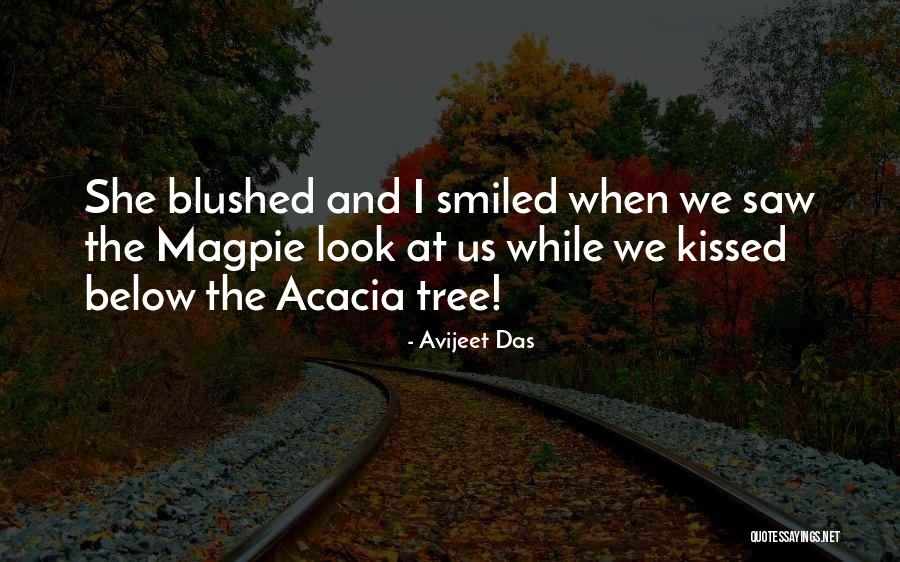 She blushed and I smiled when we saw the Magpie look at us while we kissed below the Acacia tree! — Avijeet Das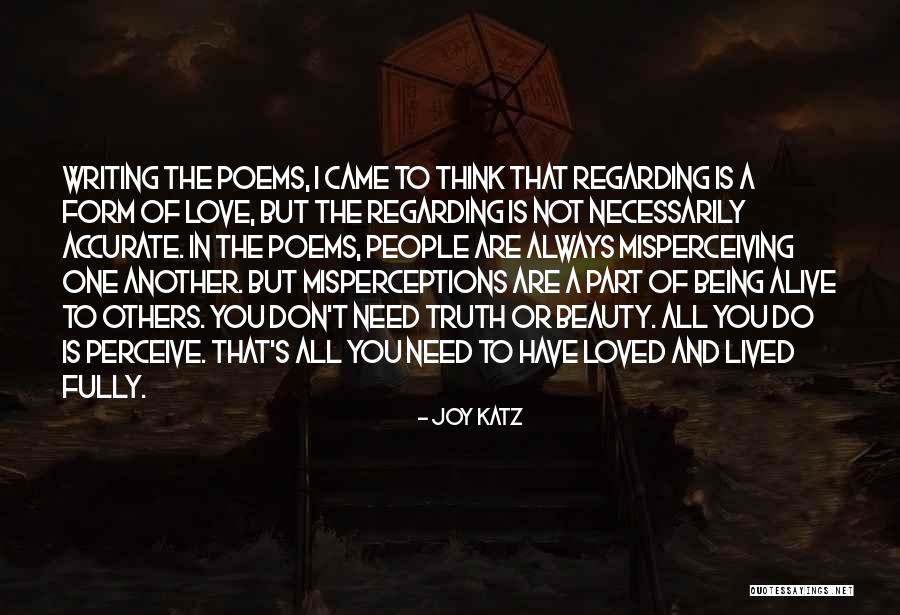 Writing the poems, I came to think that regarding is a form of love, but the regarding is not necessarily accurate. In the poems, people are always misperceiving one another. But misperceptions are a part of being alive to others. You don't need truth or beauty. All you do is perceive. That's all you need to have loved and lived fully. — Joy Katz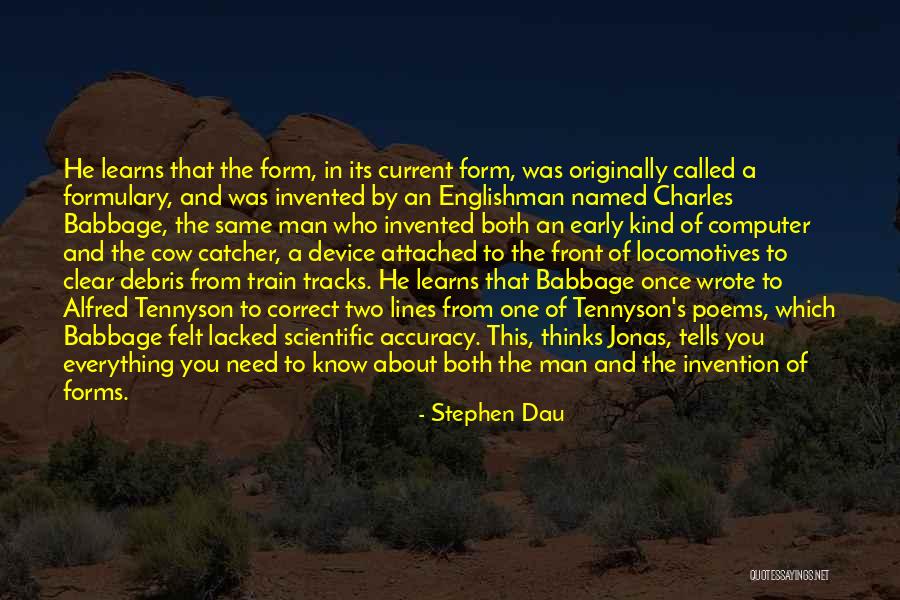 He learns that the form, in its current form, was originally called a formulary, and was invented by an Englishman named Charles Babbage, the same man who invented both an early kind of computer and the cow catcher, a device attached to the front of locomotives to clear debris from train tracks. He learns that Babbage once wrote to Alfred Tennyson to correct two lines from one of Tennyson's poems, which Babbage felt lacked scientific accuracy. This, thinks Jonas, tells you everything you need to know about both the man and the invention of forms. — Stephen Dau
you need to be careful with me.

i fall in love
and i fall in love forever. — AVA.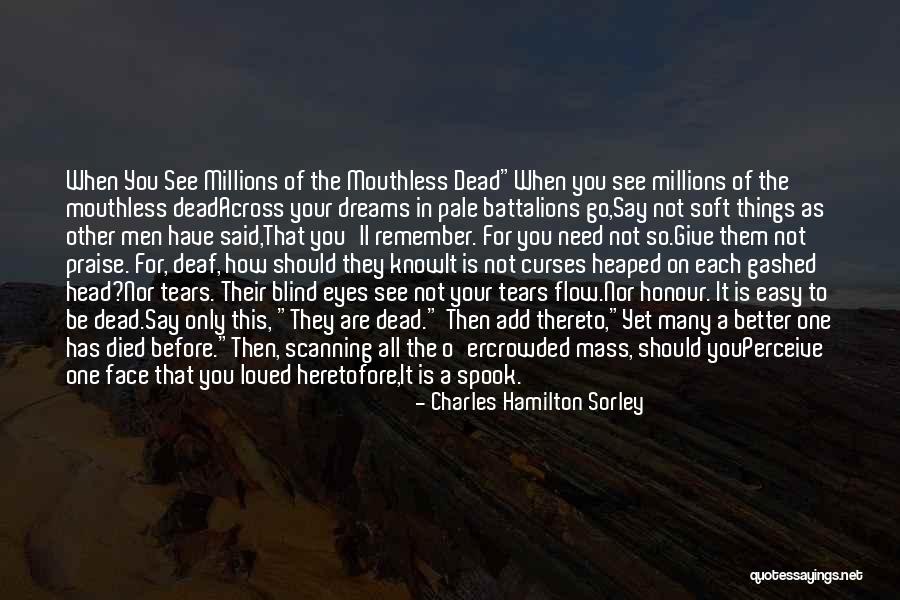 When You See Millions of the Mouthless Dead"

When you see millions of the mouthless dead
Across your dreams in pale battalions go,
Say not soft things as other men have said,
That you'll remember. For you need not so.
Give them not praise. For, deaf, how should they know
It is not curses heaped on each gashed head?
Nor tears. Their blind eyes see not your tears flow.
Nor honour. It is easy to be dead.
Say only this, "They are dead." Then add thereto,
"Yet many a better one has died before."
Then, scanning all the o'ercrowded mass, should you
Perceive one face that you loved heretofore,
It is a spook. None wears the face you knew.
Great death has made all his for evermore. — Charles Hamilton Sorley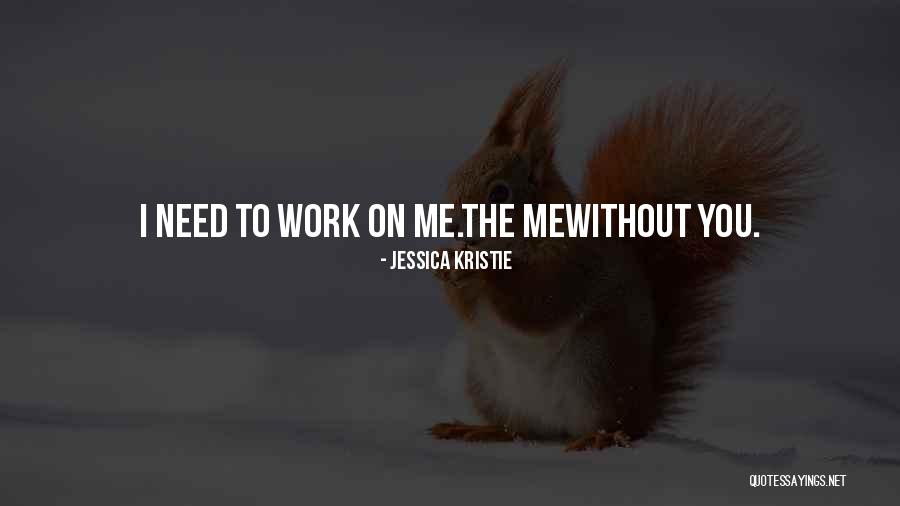 I need to work on me.
The me
without you. — Jessica Kristie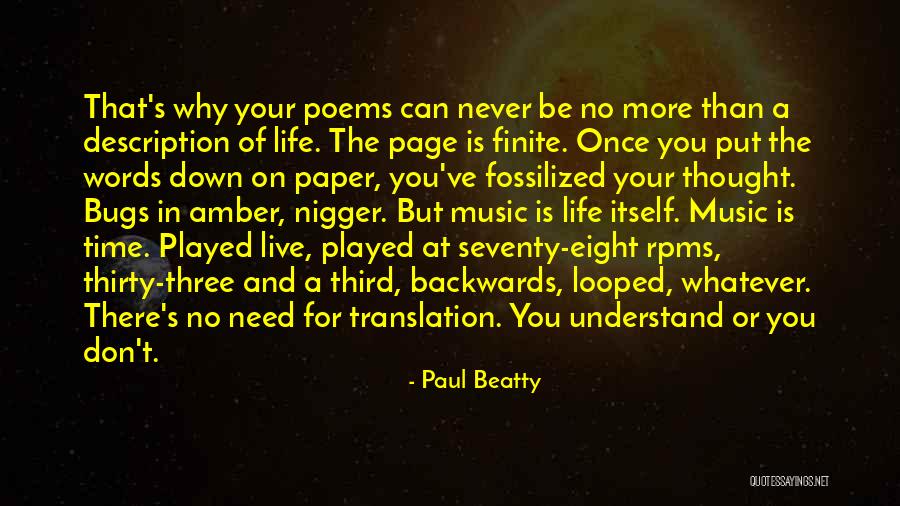 That's why your poems can never be no more than a description of life. The page is finite. Once you put the words down on paper, you've fossilized your thought. Bugs in amber, nigger. But music is life itself. Music is time. Played live, played at seventy-eight rpms, thirty-three and a third, backwards, looped, whatever. There's no need for translation. You understand or you don't. — Paul Beatty
Some poems present themselves as cliffs that need to be climbed. Others are so defensive that when you approach their enclosure you half expect to be met by a snarling dog at the gate. Still others want to smother you with their sticky charms. — Stanley Kunitz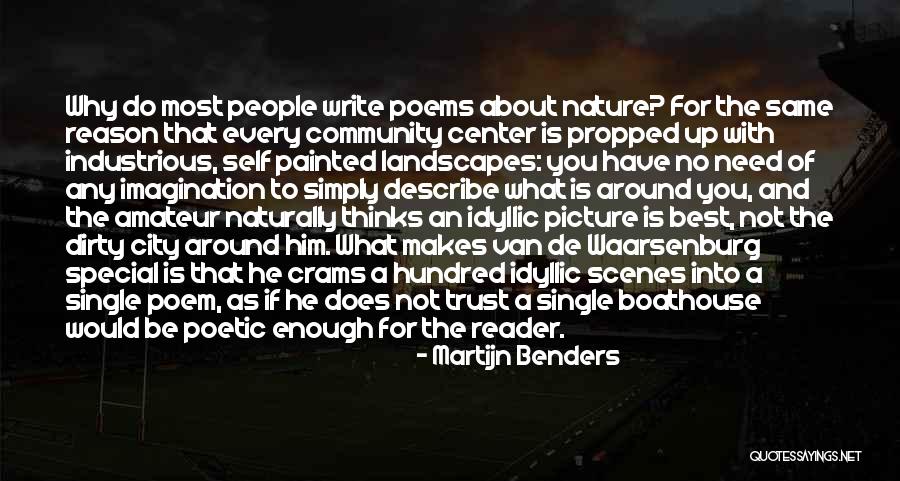 Why do most people write poems about nature? For the same reason that every community center is propped up with industrious, self painted landscapes: you have no need of any imagination to simply describe what is around you, and the amateur naturally thinks an idyllic picture is best, not the dirty city around him. What makes van de Waarsenburg special is that he crams a hundred idyllic scenes into a single poem, as if he does not trust a single boathouse would be poetic enough for the reader. — Martijn Benders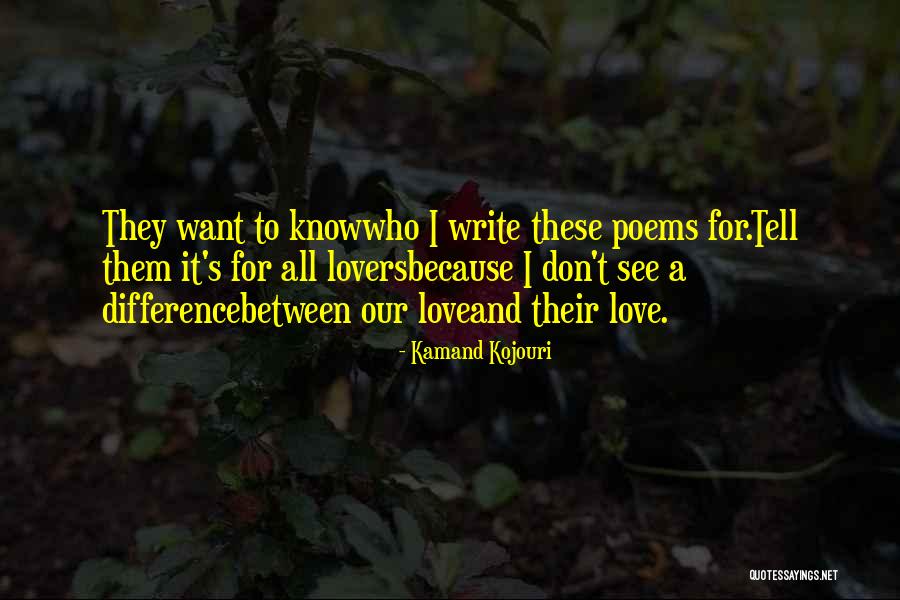 They want to know
who I write these poems for.
Tell them it's for all lovers
because I don't see a difference
between our love
and their love. — Kamand Kojouri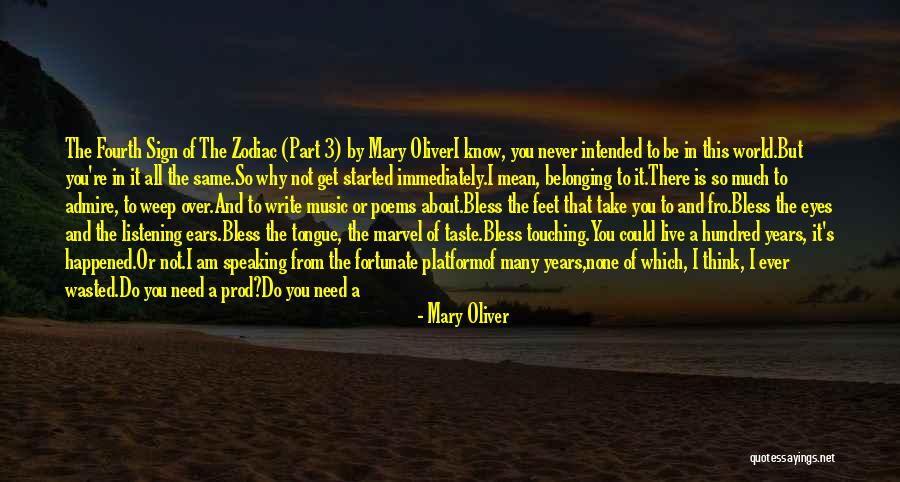 The Fourth Sign of The Zodiac (Part 3) by Mary Oliver

I know, you never intended to be in this world.
But you're in it all the same.

So why not get started immediately.

I mean, belonging to it.
There is so much to admire, to weep over.

And to write music or poems about.

Bless the feet that take you to and fro.
Bless the eyes and the listening ears.
Bless the tongue, the marvel of taste.
Bless touching.

You could live a hundred years, it's happened.
Or not.
I am speaking from the fortunate platform
of many years,
none of which, I think, I ever wasted.
Do you need a prod?
Do you need a little darkness to get you going?
Let me be as urgent as a knife, then,
and remind you of Keats,
so single of purpose and thinking, for a while,
he had a lifetime.
Mary oliver — Mary Oliver
Listen! Here's all you need to know to become enlightened: Sit down, shut up, and ask yourself what's true until you know. That's it. That's the whole deal; a complete teaching of enlightenment, a complete practice. If you ever have any questions or problems - no matter what the question or problem is - the answer is always exactly the same: Sit down, shut up, and ask yourself what's true until you know. In other words, go jump off a cliff. Don't go near the cliff and contemplate jumping off. Don't read a book about jumping off. Don't study the art and science of jumping off. Don't join a support group for jumping off. Don't write poems about jumping off. Don't kiss the ass of someone else who jumped off. Just jump. — Jed McKenna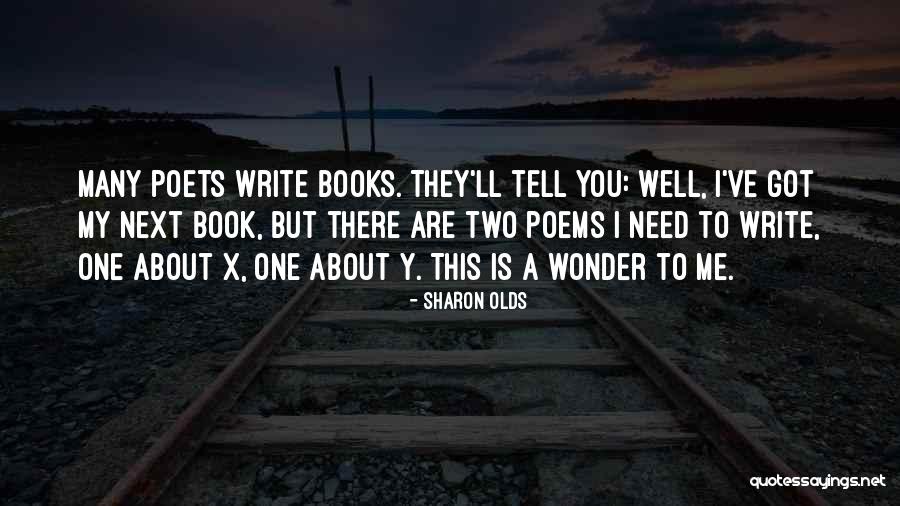 Many poets write books. They'll tell you: Well, I've got my next book, but there are two poems I need to write, one about x, one about y. This is a wonder to me. — Sharon Olds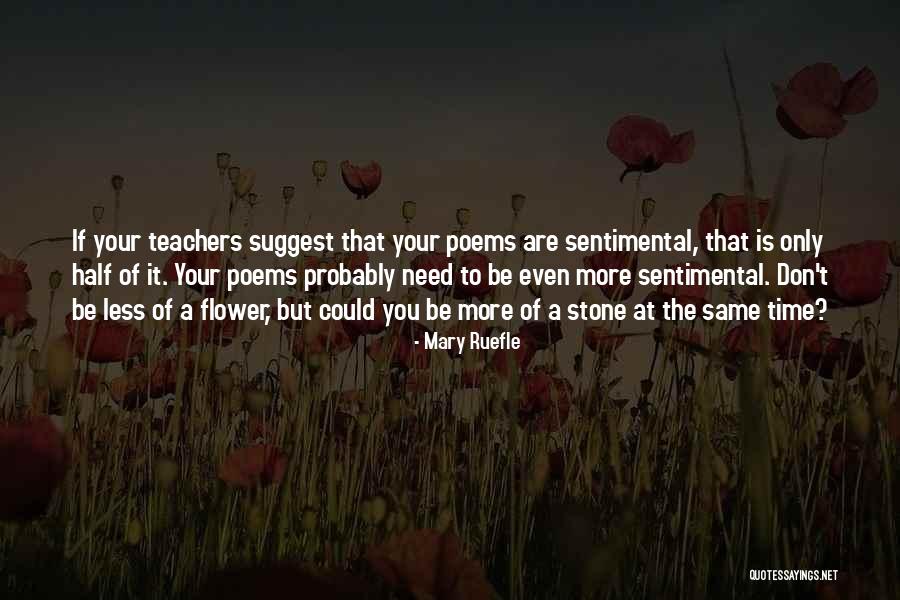 If your teachers suggest that your poems are sentimental, that is only half of it. Your poems probably need to be even more sentimental. Don't be less of a flower, but could you be more of a stone at the same time? — Mary Ruefle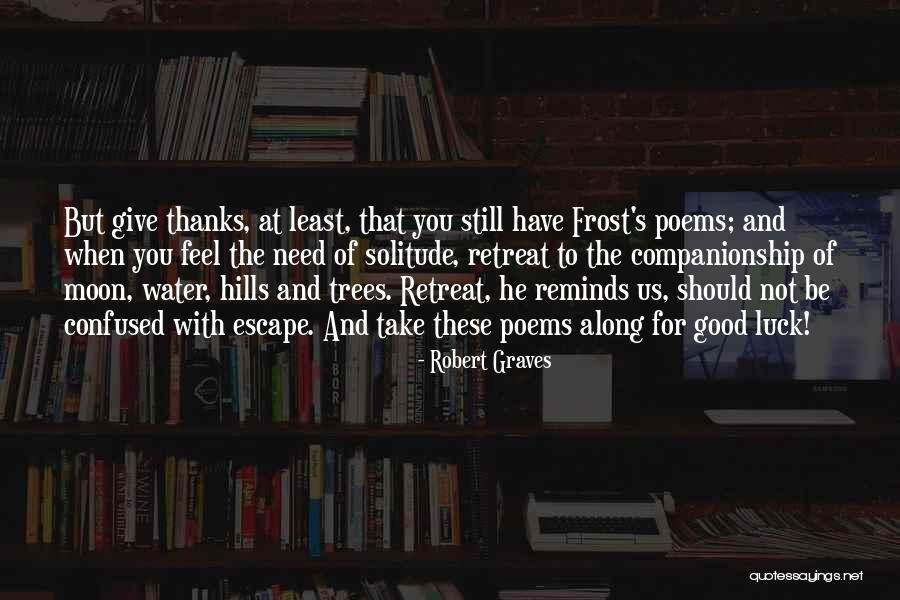 But give thanks, at least, that you still have Frost's poems; and when you feel the need of solitude, retreat to the companionship of moon, water, hills and trees. Retreat, he reminds us, should not be confused with escape. And take these poems along for good luck! — Robert Graves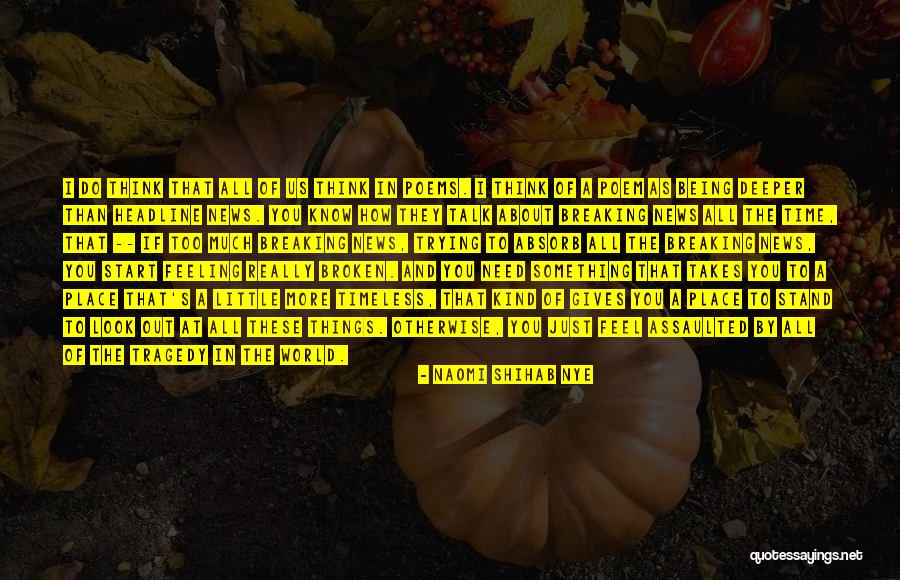 I do think that all of us think in poems. I think of a poem as being deeper than headline news. You know how they talk about breaking news all the time, that -- if too much breaking news, trying to absorb all the breaking news, you start feeling really broken. And you need something that takes you to a place that's a little more timeless, that kind of gives you a place to stand to look out at all these things. Otherwise, you just feel assaulted by all of the tragedy in the world. — Naomi Shihab Nye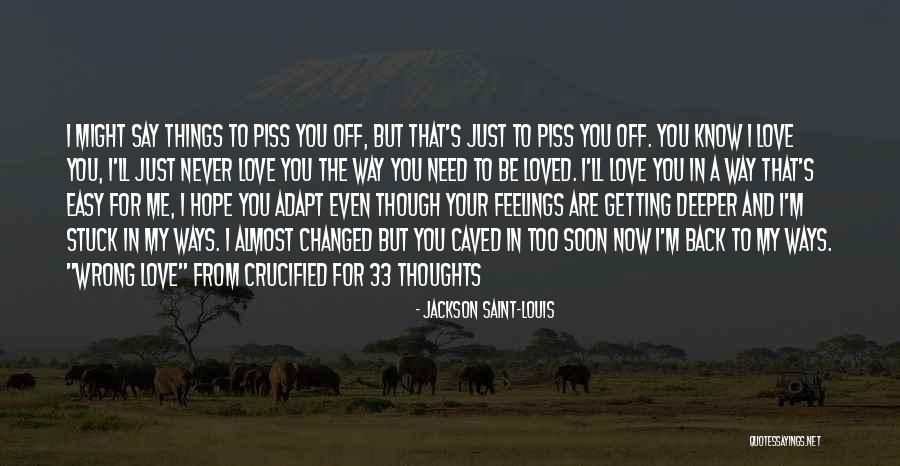 I might say things to piss you off, but that's just to piss you off. You know I love you, I'll just never love you the way you need to be loved. I'll love you in a way that's easy for me, I hope you adapt even though your feelings are getting deeper and I'm stuck in my ways. I almost changed but you caved in too soon now I'm back to my ways. "Wrong Love" from Crucified for 33 Thoughts — Jackson Saint-Louis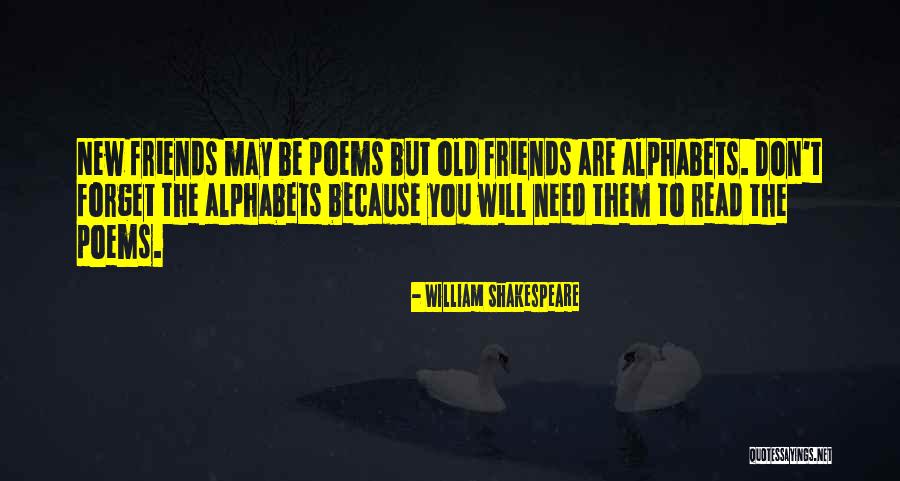 New friends may be poems but old friends are alphabets. Don't forget the alphabets because you will need them to read the poems. — William Shakespeare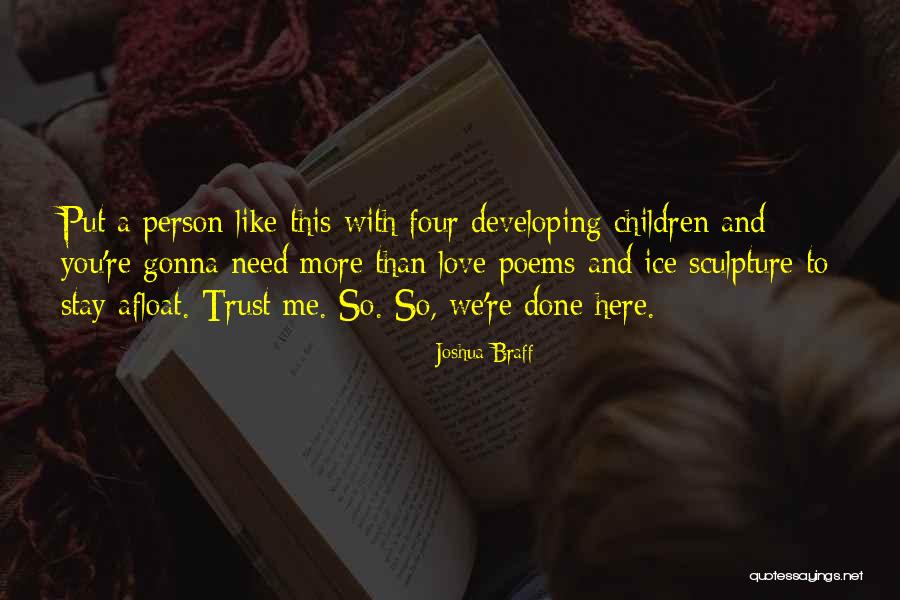 Put a person like this with four developing children and you're gonna need more than love poems and ice sculpture to stay afloat. Trust me. So. So, we're done here.
— Joshua Braff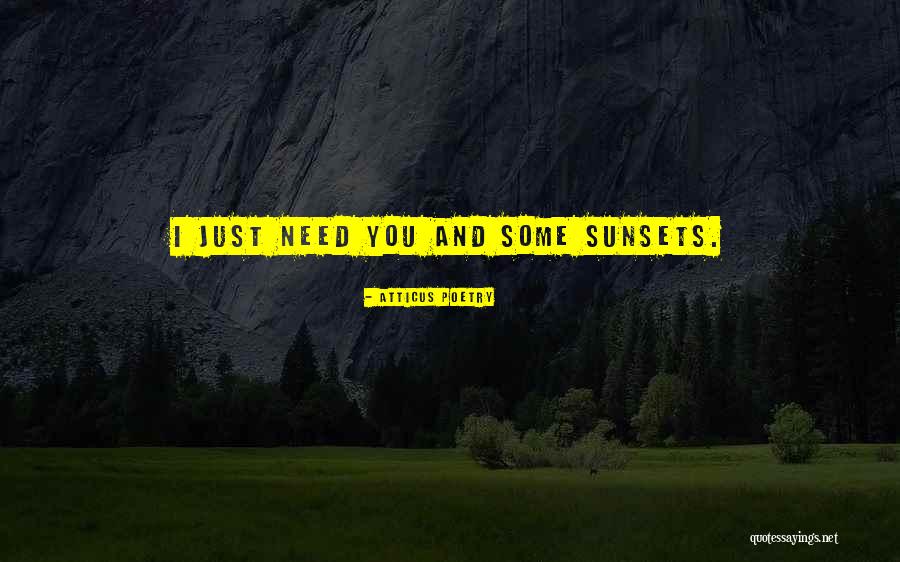 I just need you and some sunsets. — Atticus Poetry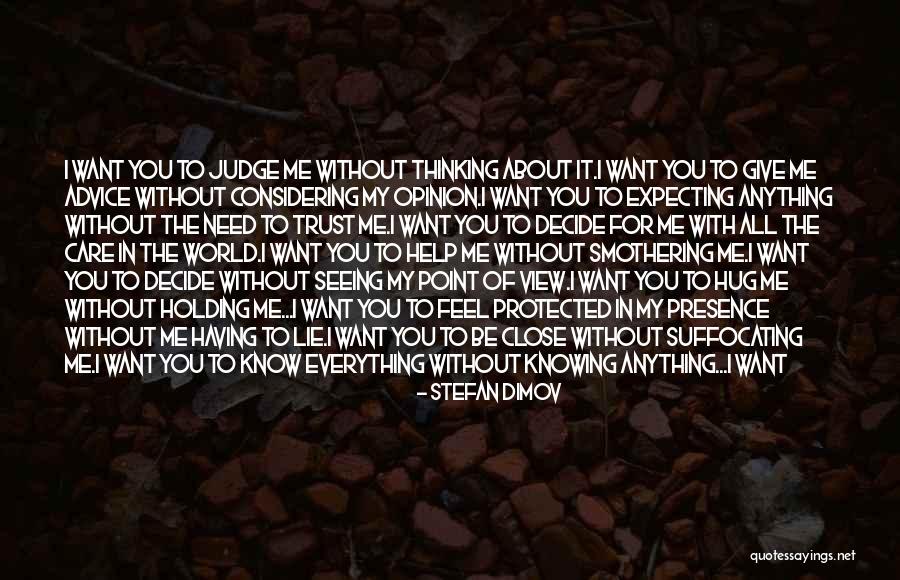 I want you to judge me without thinking about it.
I want you to give me advice without considering my opinion.
I want you to expecting anything without the need to trust me.
I want you to decide for me with all the care in the world.
I want you to help me without smothering me.
I want you to decide without seeing my point of view.
I want you to hug me without holding me...
I want you to feel protected in my presence without me having to lie.
I want you to be close without suffocating me.
I want you to know everything without knowing anything...
I want you to know that both love and friendship should always be Unconditional. — Stefan Dimov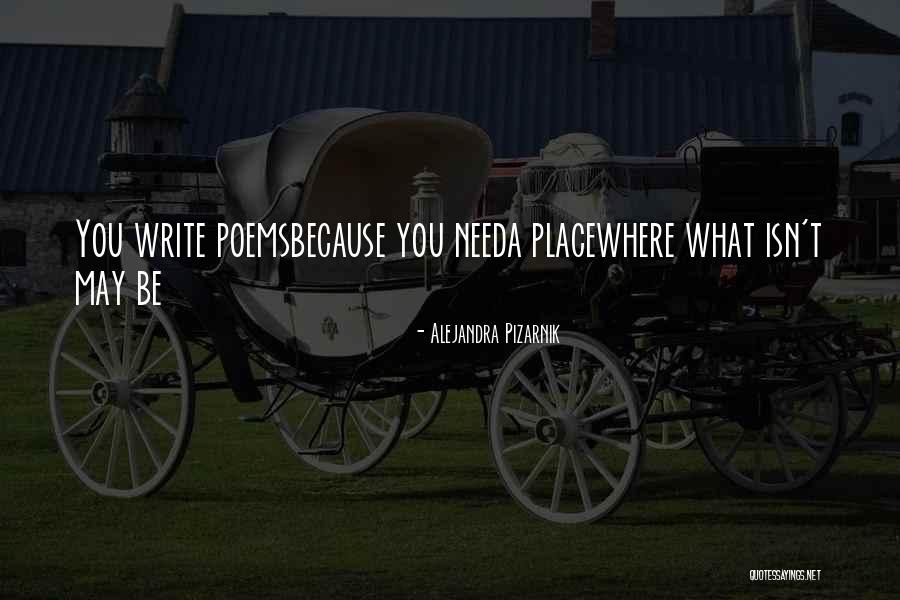 You write poems
because you need
a place
where what isn't may be — Alejandra Pizarnik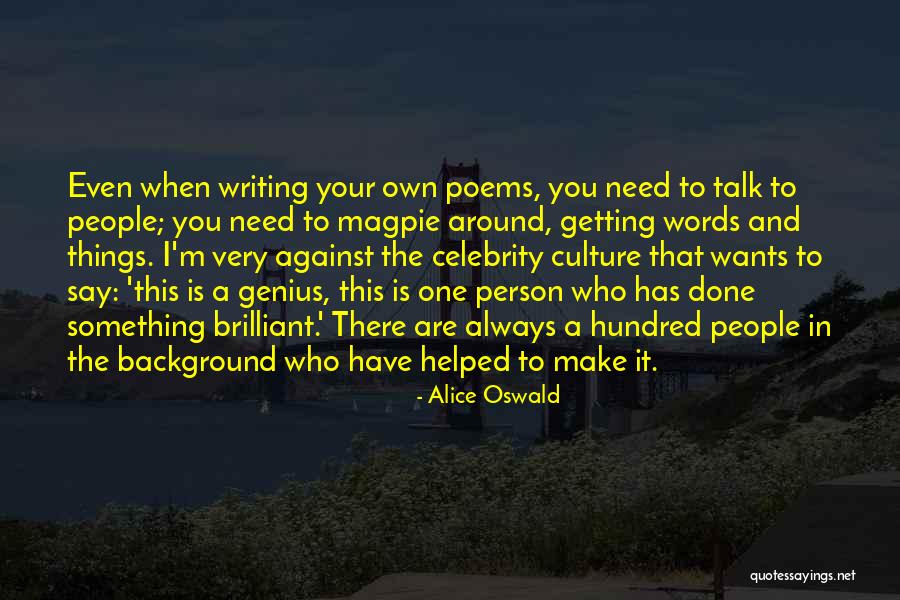 Even when writing your own poems, you need to talk to people; you need to magpie around, getting words and things. I'm very against the celebrity culture that wants to say: 'this is a genius, this is one person who has done something brilliant.' There are always a hundred people in the background who have helped to make it. — Alice Oswald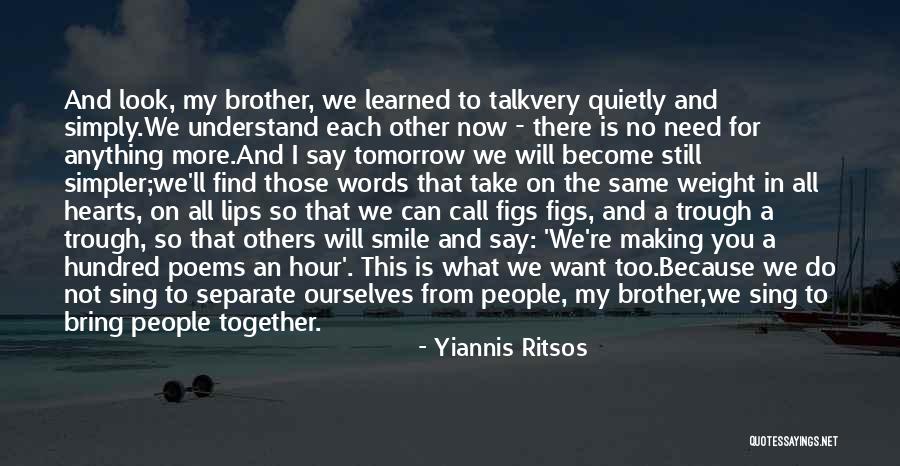 And look, my brother, we learned to talk
very quietly and simply.
We understand each other now - there is no need for anything more.
And I say tomorrow we will become still simpler;
we'll find those words that take on the same weight in all hearts, on all lips so that we can call figs figs, and a trough a trough, so that others will smile and say: 'We're making you a hundred poems an hour'. This is what we want too.
Because we do not sing to separate ourselves from people, my brother,
we sing to bring people together. — Yiannis Ritsos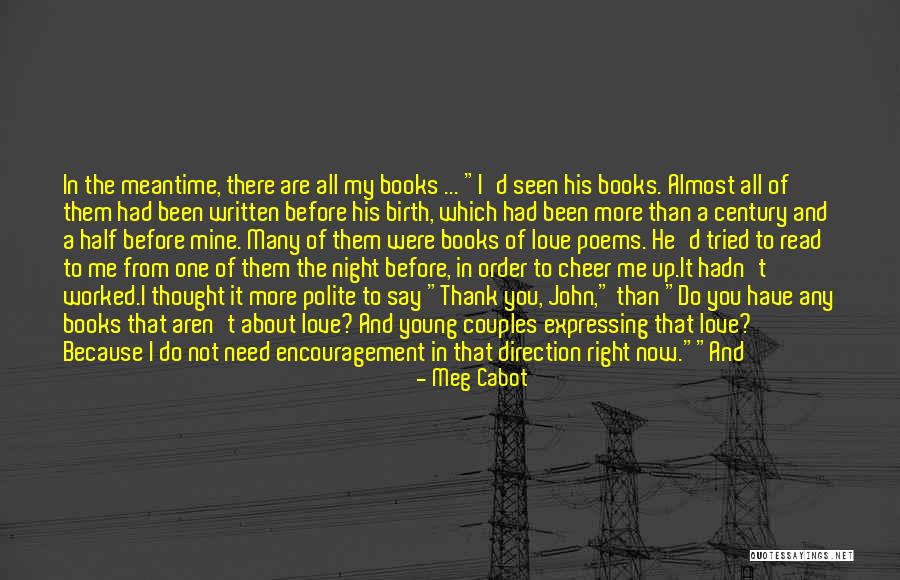 In the meantime, there are all my books ... "
I'd seen his books. Almost all of them had been written before his birth, which had been more than a century and a half before mine. Many of them were books of love poems. He'd tried to read to me from one of them the night before, in order to cheer me up.
It hadn't worked.
I thought it more polite to say "Thank you, John," than "Do you have any books that aren't about love? And young couples expressing that love? Because I do not need encouragement in that direction right now."
"And you have this whole castle to explore," he said, an eager light in his eyes. "The gardens are beautiful ... — Meg Cabot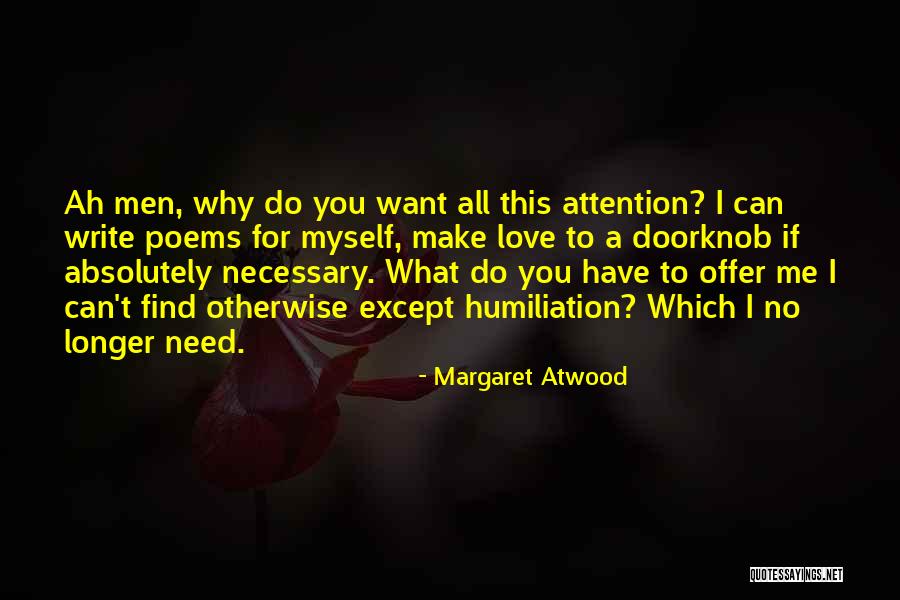 Ah men, why do you want all this attention? I can write poems for myself, make love to a doorknob if absolutely necessary. What do you have to offer me I can't find otherwise except humiliation? Which I no longer need. — Margaret Atwood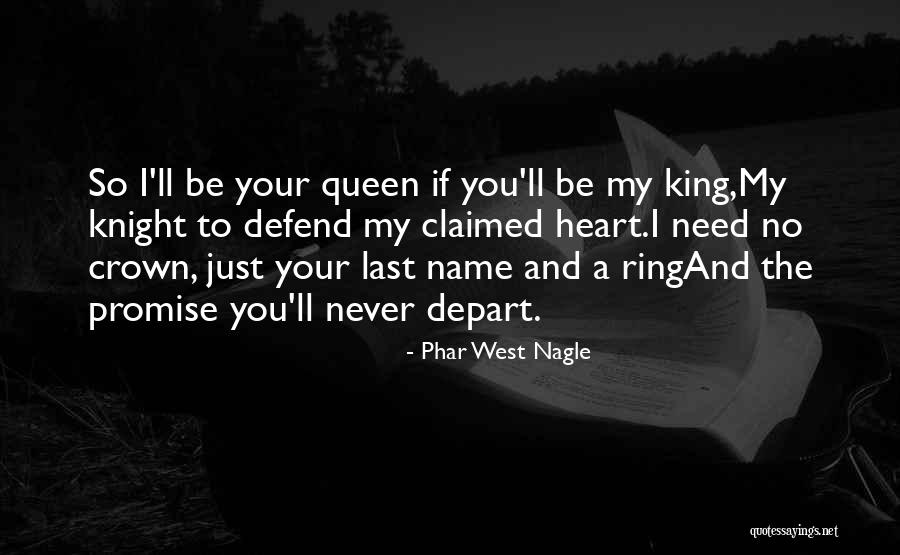 So I'll be your queen if you'll be my king,
My knight to defend my claimed heart.
I need no crown, just your last name and a ring
And the promise you'll never depart. — Phar West Nagle