My Life Is Such A Mess Quotes & Sayings
Enjoy reading and share 38 famous quotes about My Life Is Such A Mess with everyone.
Top My Life Is Such A Mess Quotes
There is a fascinating chaos to life; but there is always a message in the mess ... always. — Steve Maraboli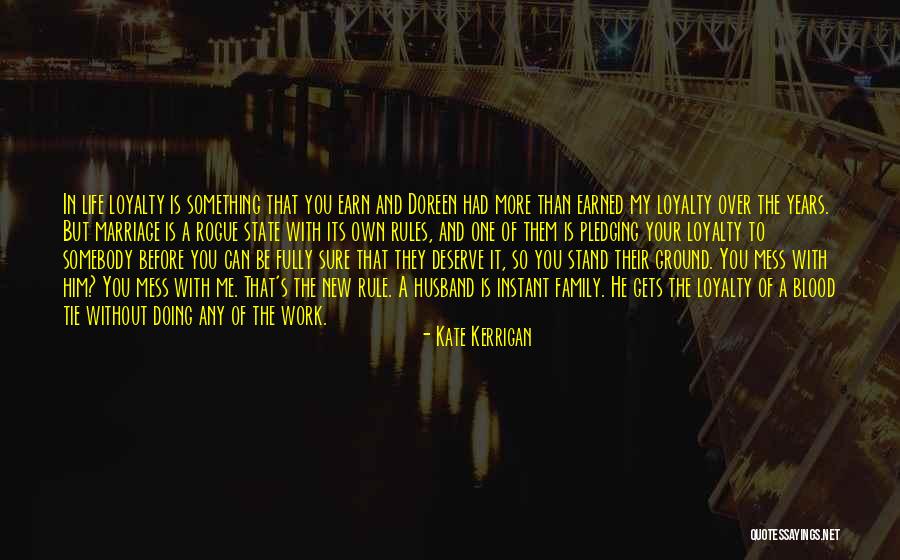 In life loyalty is something that you earn and Doreen had more than earned my loyalty over the years. But marriage is a rogue state with its own rules, and one of them is pledging your loyalty to somebody before you can be fully sure that they deserve it, so you stand their ground. You mess with him? You mess with me. That's the new rule. A husband is instant family. He gets the loyalty of a blood tie without doing any of the work. — Kate Kerrigan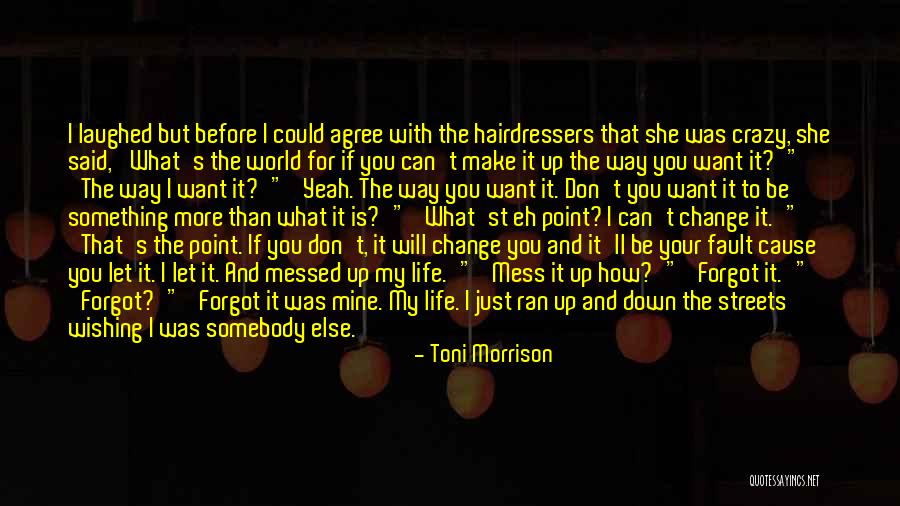 I laughed but before I could agree with the hairdressers that she was crazy, she said, 'What's the world for if you can't make it up the way you want it?'
" 'The way I want it?'
" 'Yeah. The way you want it. Don't you want it to be something more than what it is?'
" 'What'st eh point? I can't change it.'
" 'That's the point. If you don't, it will change you and it'll be your fault cause you let it. I let it. And messed up my life.'
" 'Mess it up how?'
" 'Forgot it.'
" 'Forgot?'
" 'Forgot it was mine. My life. I just ran up and down the streets wishing I was somebody else. — Toni Morrison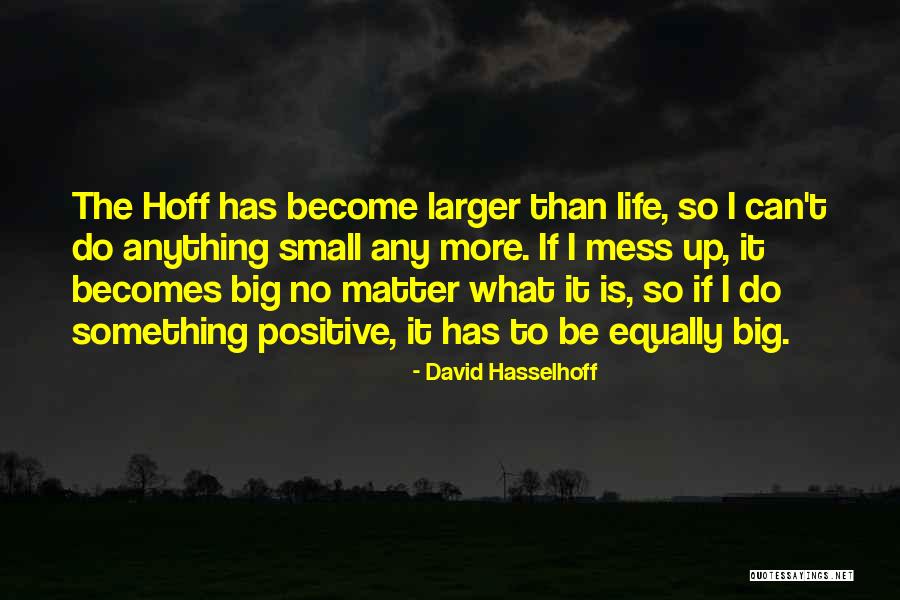 The Hoff has become larger than life, so I can't do anything small any more. If I mess up, it becomes big no matter what it is, so if I do something positive, it has to be equally big. — David Hasselhoff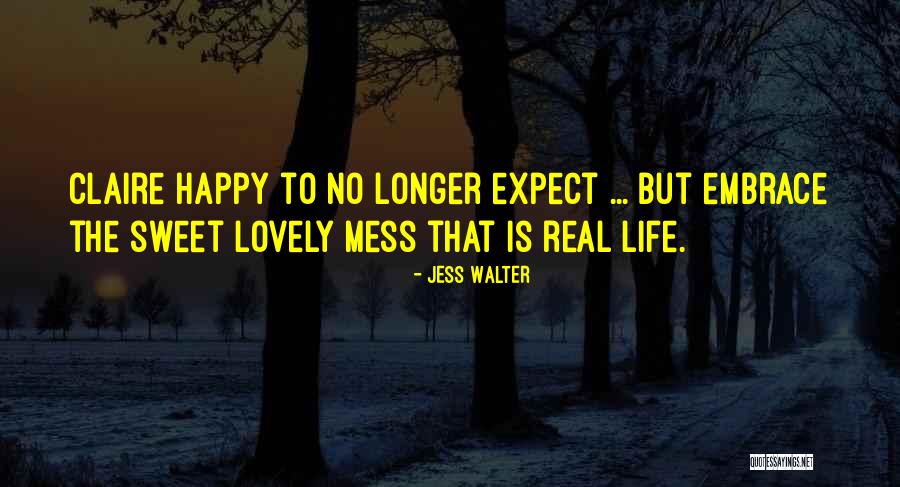 Claire happy to no longer expect ... but embrace the sweet lovely mess that is real life. — Jess Walter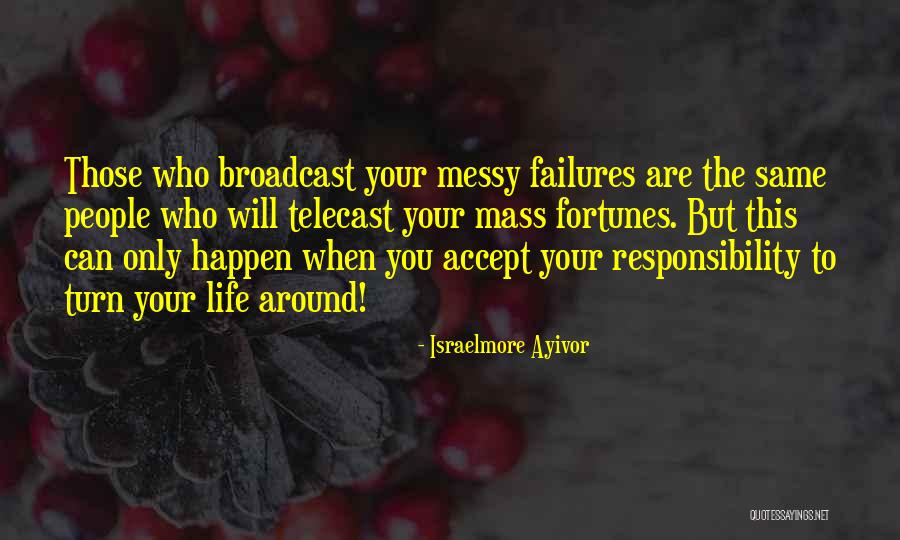 Those who broadcast your messy failures are the same people who will telecast your mass fortunes. But this can only happen when you accept your responsibility to turn your life around! — Israelmore Ayivor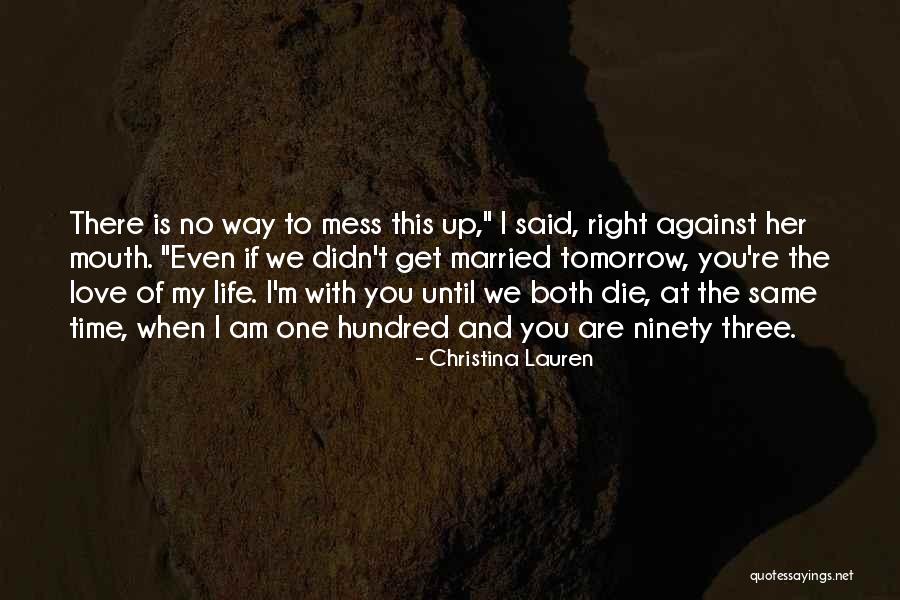 There is no way to mess this up," I said, right against her mouth. "Even if we didn't get married tomorrow, you're the love of my life. I'm with you until we both die, at the same time, when I am one hundred and you are ninety three. — Christina Lauren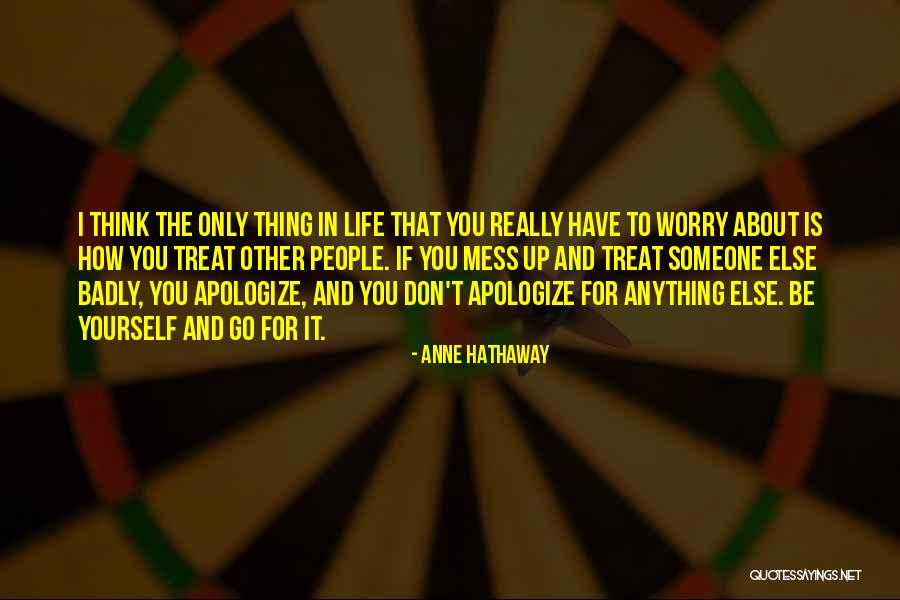 I think the only thing in life that you really have to worry about is how you treat other people. If you mess up and treat someone else badly, you apologize, and you don't apologize for anything else. Be yourself and go for it. — Anne Hathaway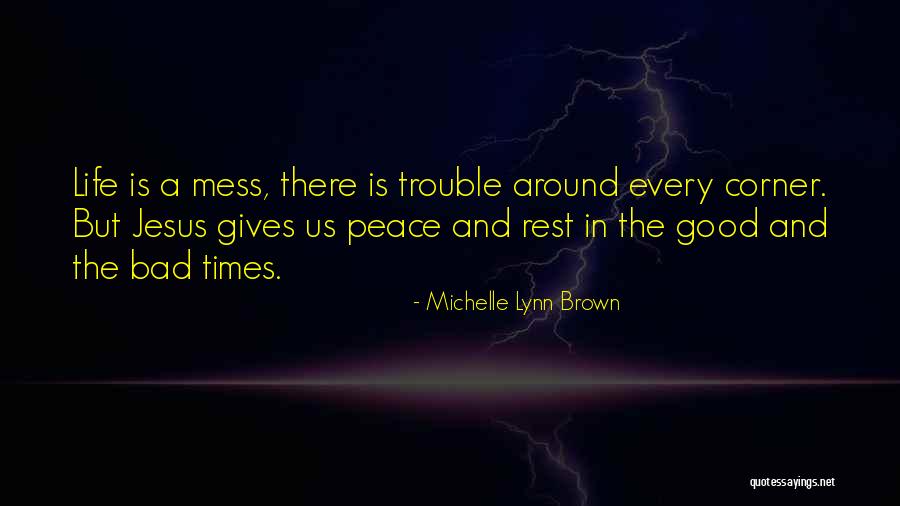 Life is a mess, there is trouble around every corner. But Jesus gives us peace and rest in the good and the bad times. — Michelle Lynn Brown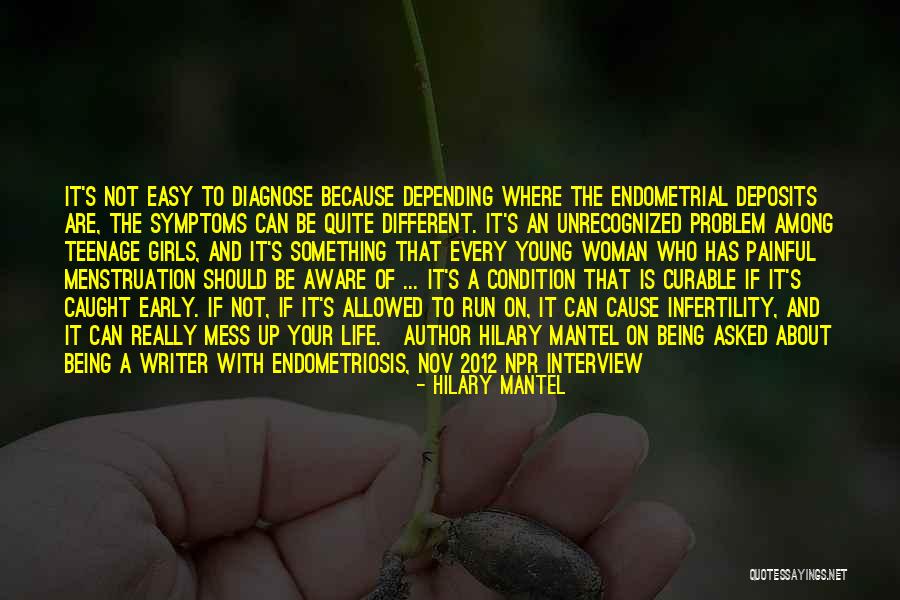 It's not easy to diagnose because depending where the endometrial deposits are, the symptoms can be quite different. It's an unrecognized problem among teenage girls, and it's something that every young woman who has painful menstruation should be aware of ... it's a condition that is curable if it's caught early. If not, if it's allowed to run on, it can cause infertility, and it can really mess up your life.
[Author Hilary Mantel on being asked about being a writer with endometriosis, Nov 2012 NPR interview] — Hilary Mantel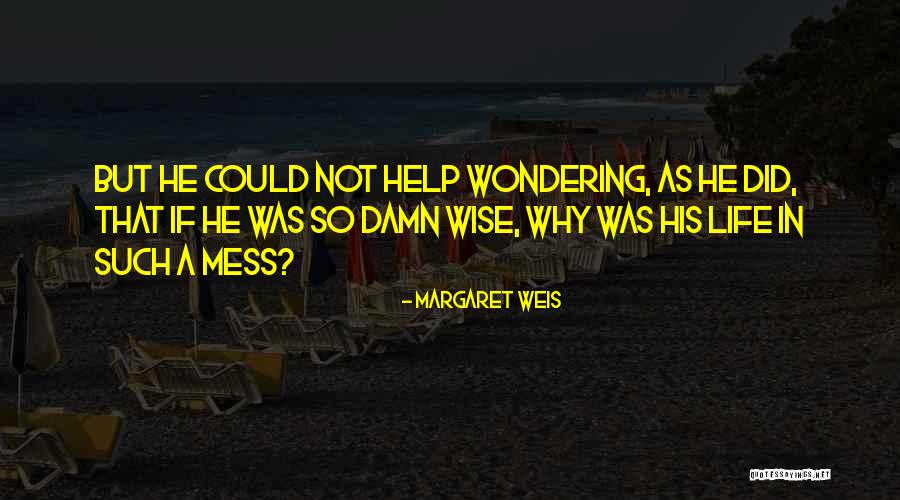 But he could not help wondering, as he did, that if he was so damn wise, why was his life in such a mess? — Margaret Weis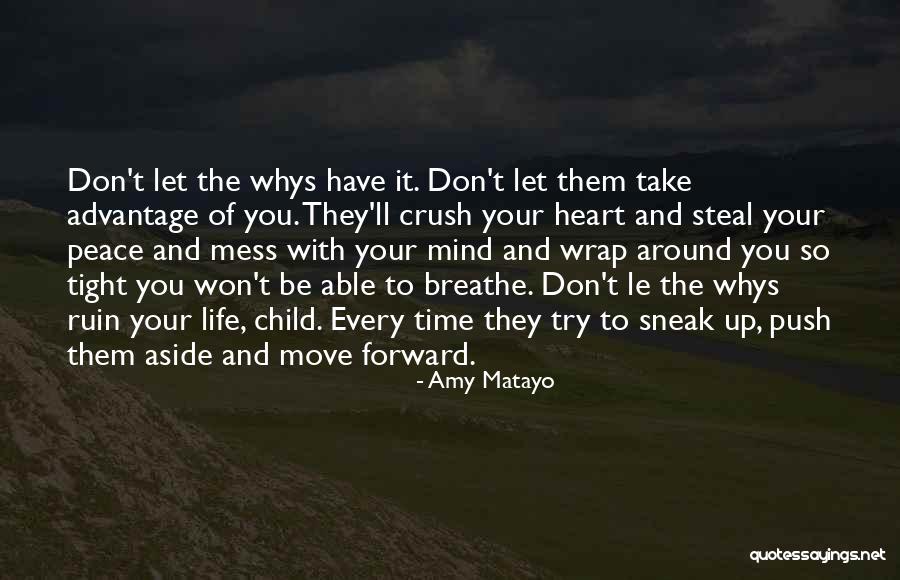 Don't let the whys have it. Don't let them take advantage of you. They'll crush your heart and steal your peace and mess with your mind and wrap around you so tight you won't be able to breathe. Don't le the whys ruin your life, child. Every time they try to sneak up, push them aside and move forward. — Amy Matayo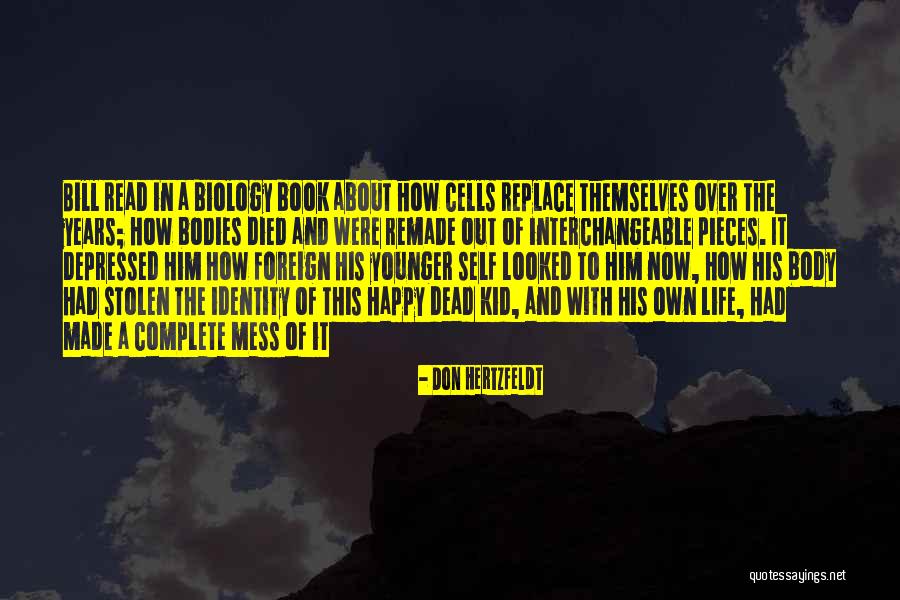 Bill read in a biology book about how cells replace themselves over the years; how bodies died and were remade out of interchangeable pieces. It depressed him how foreign his younger self looked to him now, how his body had stolen the identity of this happy dead kid, and with his own life, had made a complete mess of it — Don Hertzfeldt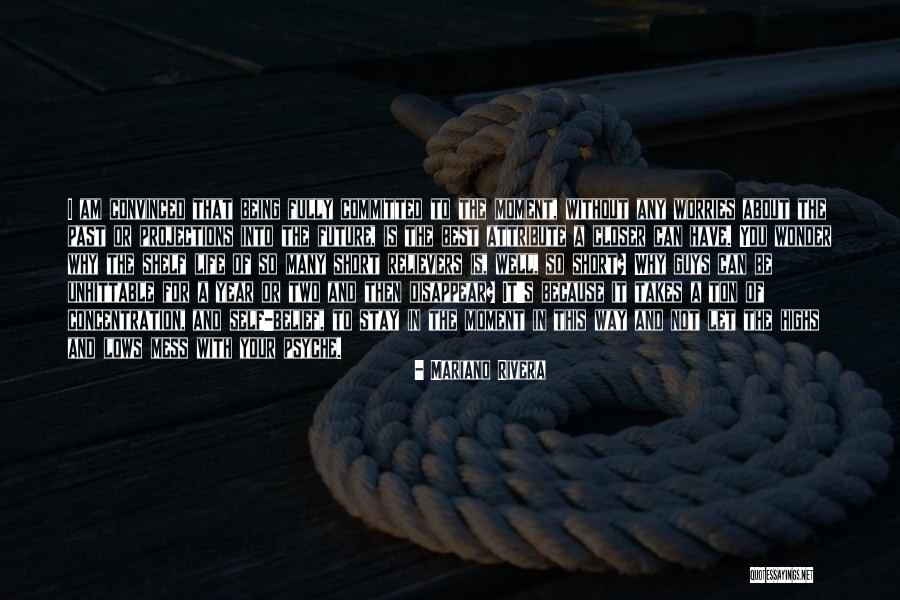 I am convinced that being fully committed to the moment, without any worries about the past or projections into the future, is the best attribute a closer can have. You wonder why the shelf life of so many short relievers is, well, so short? Why guys can be unhittable for a year or two and then disappear? It's because it takes a ton of concentration, and self-belief, to stay in the moment in this way and not let the highs and lows mess with your psyche. — Mariano Rivera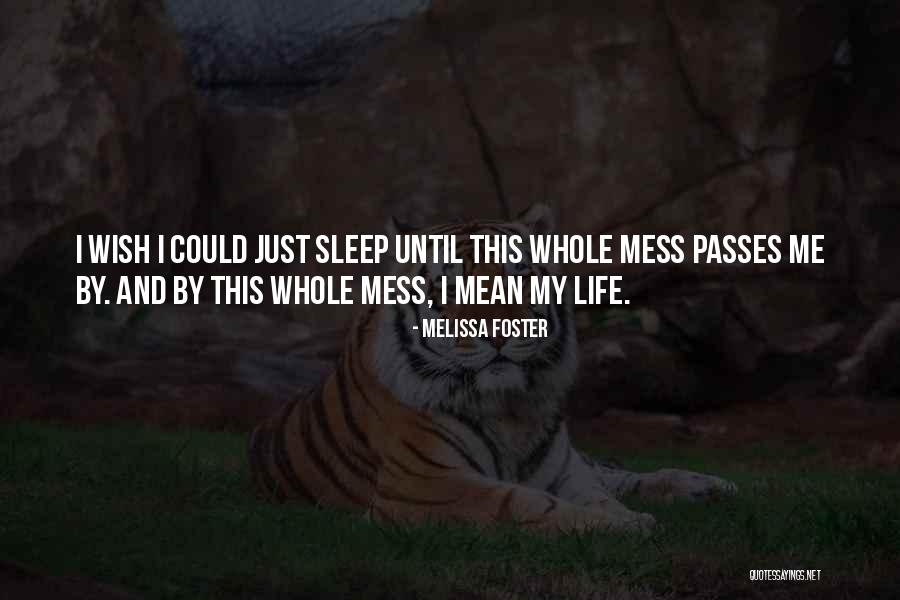 I wish I could just sleep until this whole mess passes me by. And by this whole mess, I mean my life. — Melissa Foster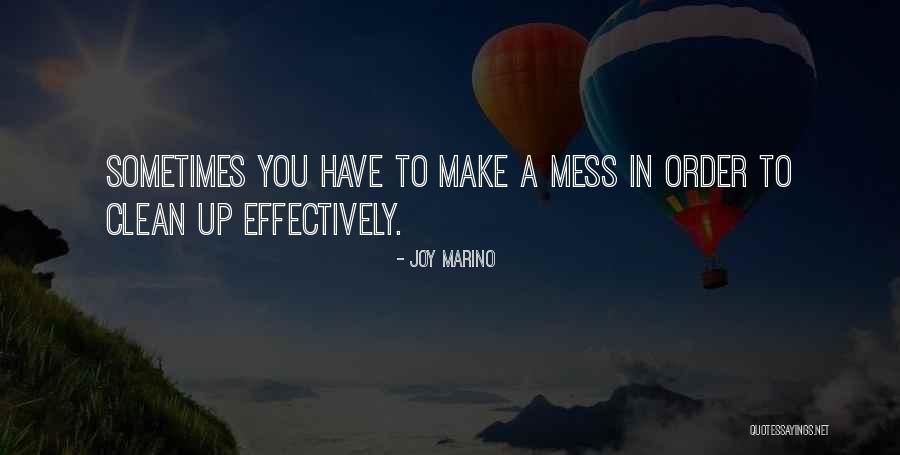 Sometimes you have to make a mess in order to clean up effectively. — Joy Marino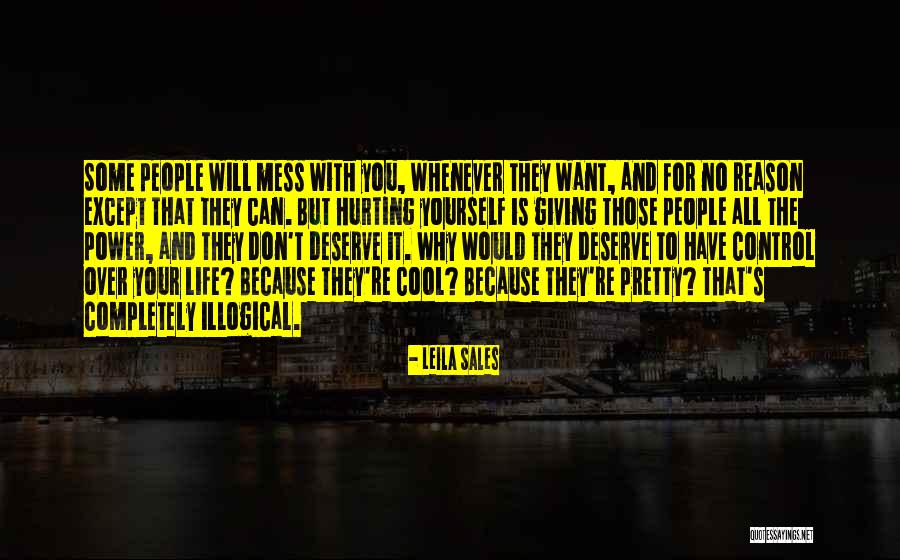 Some people will mess with you, whenever they want, and for no reason except that they can. But hurting yourself is giving those people all the power, and they don't deserve it. Why would they deserve to have control over your life? Because they're cool? Because they're pretty? That's completely illogical. — Leila Sales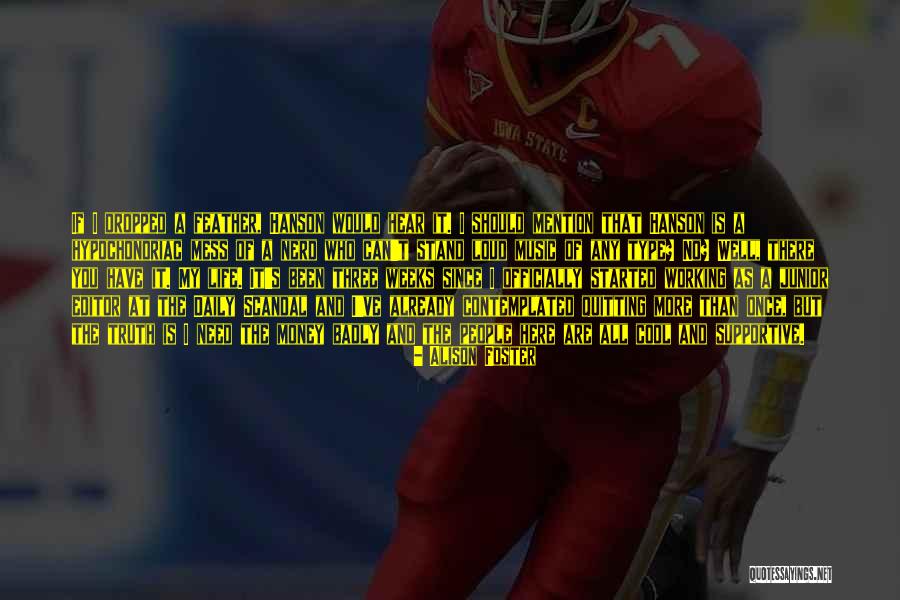 If I dropped a feather, Hanson would hear it. I should mention that Hanson is a hypochondriac mess of a nerd who can't stand loud music of any type? No? Well, there you have it. My life. It's been three weeks since I officially started working as a junior editor at the Daily Scandal and I've already contemplated quitting more than once, but the truth is I need the money badly and the people here are all cool and supportive. — Alison Foster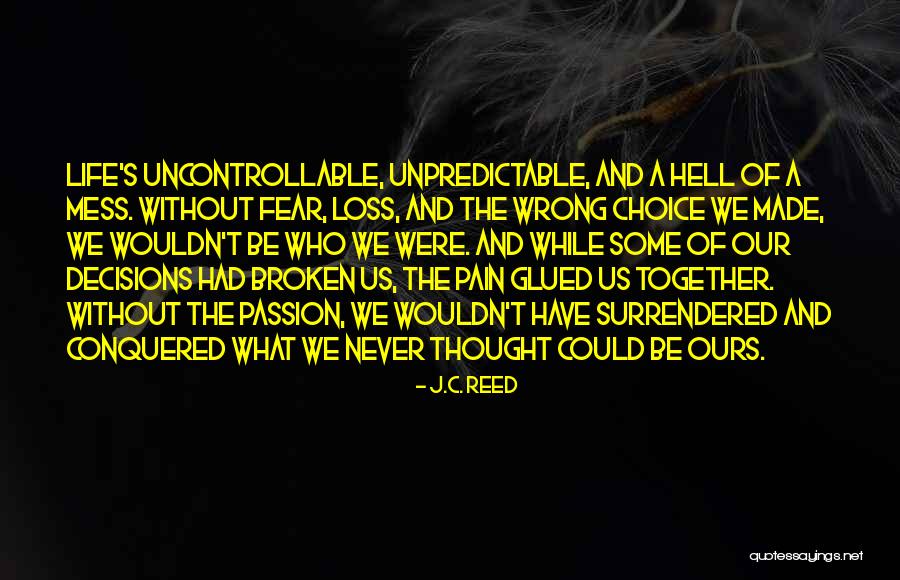 Life's uncontrollable, unpredictable, and a hell of a mess. Without fear, loss, and the wrong choice we made, we wouldn't be who we were. And while some of our decisions had broken us, the pain glued us together. Without the passion, we wouldn't have surrendered and conquered what we never thought could be ours. — J.C. Reed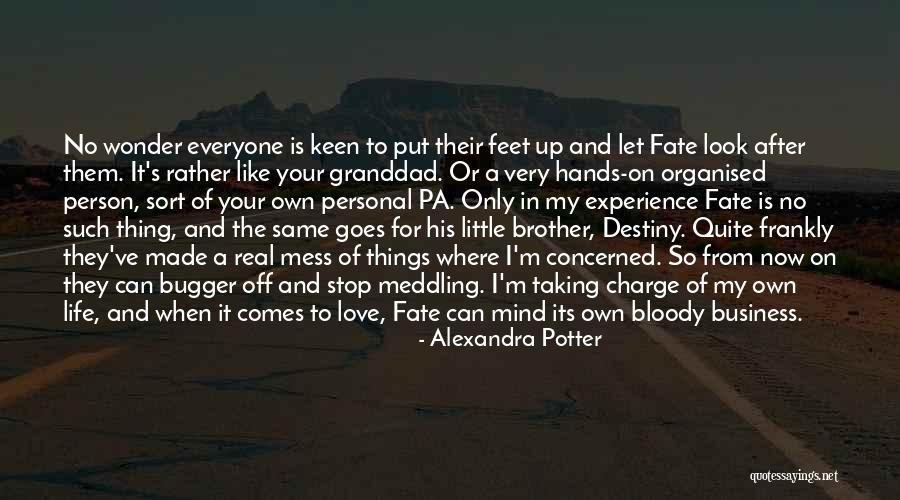 No wonder everyone is keen to put their feet up and let Fate look after them. It's rather like your granddad. Or a very hands-on organised person, sort of your own personal PA.
Only in my experience Fate is no such thing, and the same goes for his little brother, Destiny. Quite frankly they've made a real mess of things where I'm concerned. So from now on they can bugger off and stop meddling. I'm taking charge of my own life, and when it comes to love, Fate can mind its own bloody business. — Alexandra Potter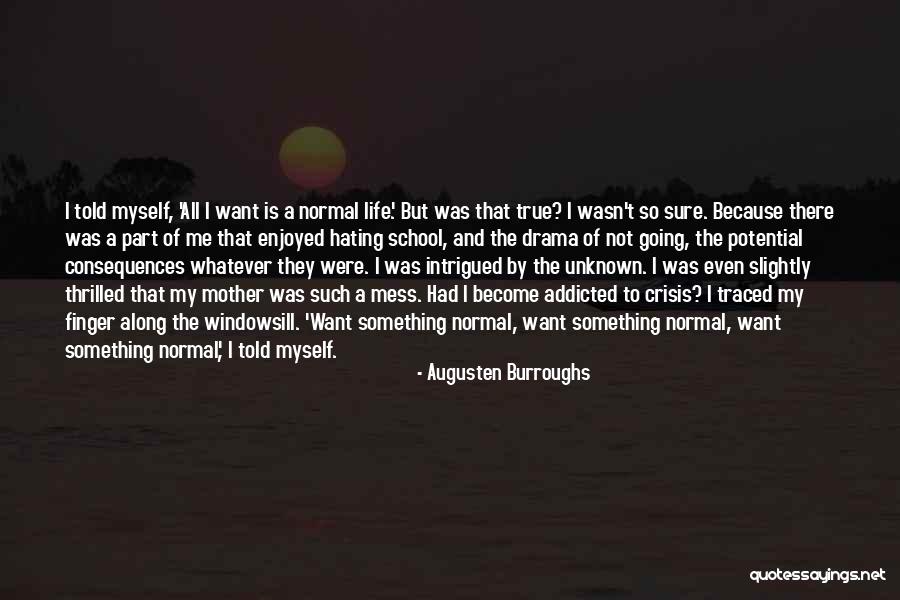 I told myself, 'All I want is a normal life'. But was that true? I wasn't so sure. Because there was a part of me that enjoyed hating school, and the drama of not going, the potential consequences whatever they were. I was intrigued by the unknown. I was even slightly thrilled that my mother was such a mess. Had I become addicted to crisis? I traced my finger along the windowsill. 'Want something normal, want something normal, want something normal', I told myself. — Augusten Burroughs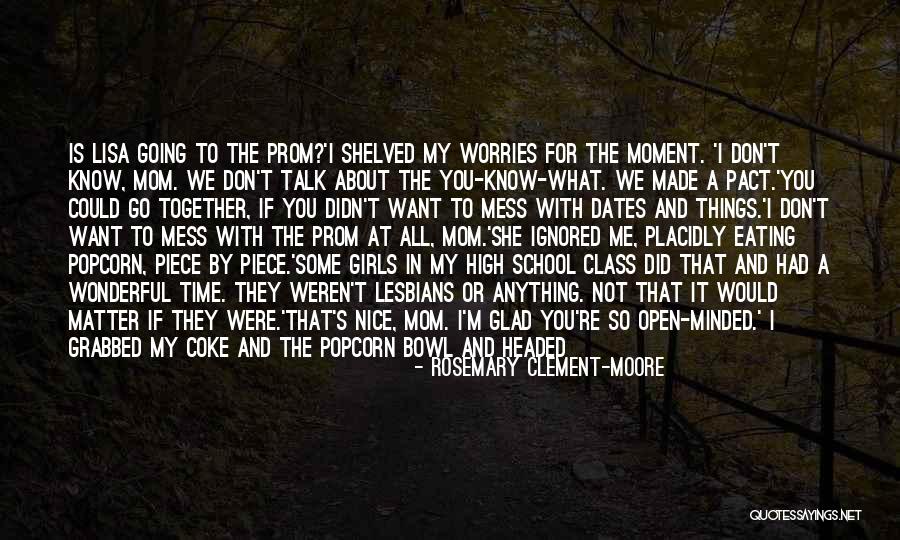 Is Lisa going to the prom?'
I shelved my worries for the moment. 'I don't know, Mom. We don't talk about the You-Know-What. We made a pact.'
You could go together, if you didn't want to mess with dates and things.'
I don't want to mess with the prom at all, Mom.'
She ignored me, placidly eating popcorn, piece by piece.'Some girls in my high school class did that and had a wonderful time. They weren't lesbians or anything. Not that it would matter if they were.'
That's nice, Mom. I'm glad you're so open-minded.' I grabbed my Coke and the popcorn bowl and headed for the stairs, because I could go my whole life without ever hearing my mother talk about lesbians again.
Maybe you could take Justin to the prom,' she called after me, laughter in her voice. 'He is such a hottie.'
Shoot me now. — Rosemary Clement-Moore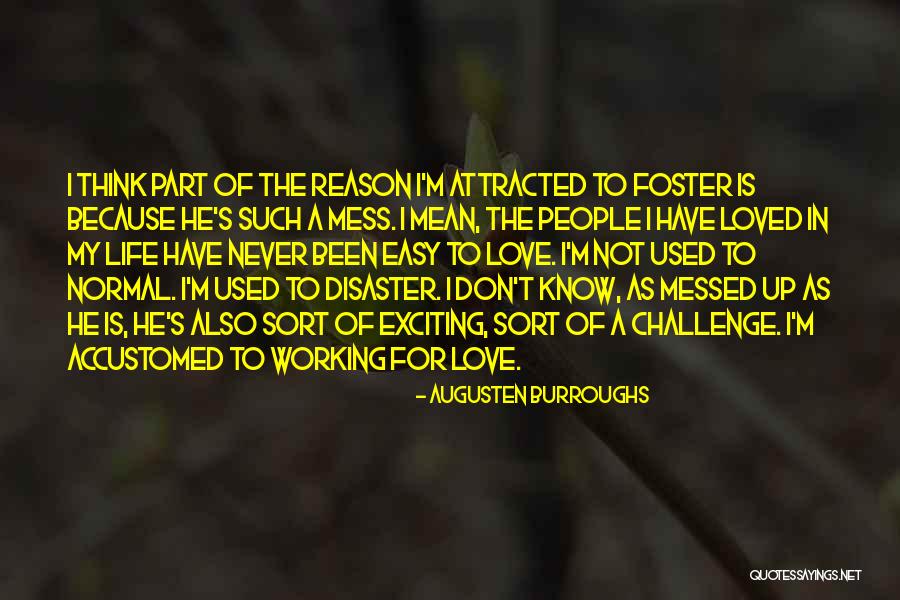 I think part of the reason I'm attracted to Foster is because he's such a mess. I mean, the people I have loved in my life have never been easy to love. I'm not used to normal. I'm used to disaster. I don't know, as messed up as he is, he's also sort of exciting, sort of a challenge. I'm accustomed to working for love. — Augusten Burroughs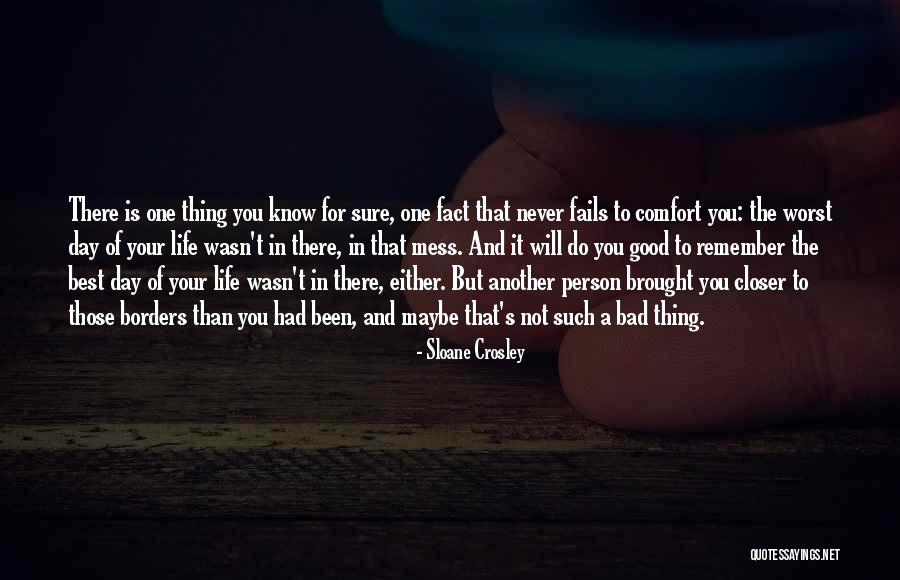 There is one thing you know for sure, one fact that never fails to comfort you: the worst day of your life wasn't in there, in that mess. And it will do you good to remember the best day of your life wasn't in there, either. But another person brought you closer to those borders than you had been, and maybe that's not such a bad thing. — Sloane Crosley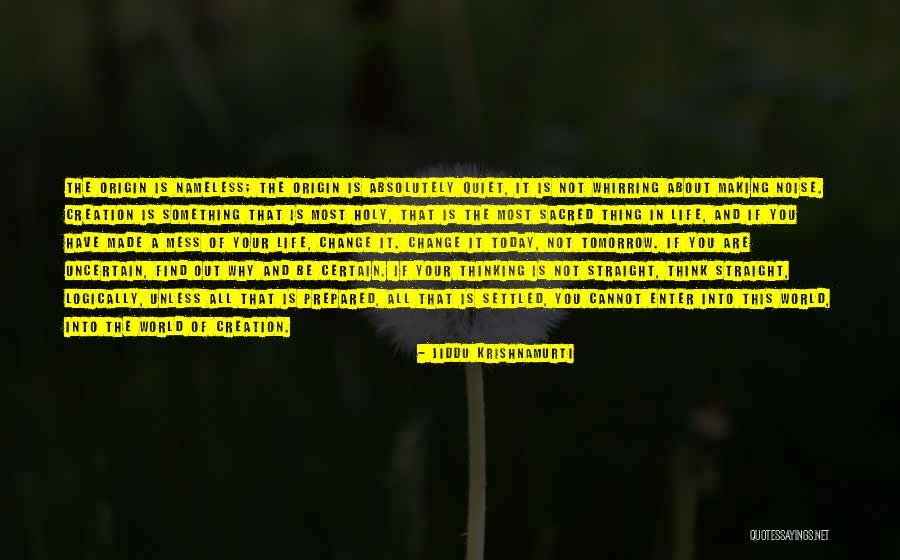 The origin is nameless; the origin is absolutely quiet, it is not whirring about making noise. Creation is something that is most holy, that is the most sacred thing in life, and if you have made a mess of your life, change it. Change it today, not tomorrow. If you are uncertain, find out why and be certain. If your thinking is not straight, think straight, logically, Unless all that is prepared, all that is settled, you cannot enter into this world, into the world of creation. — Jiddu Krishnamurti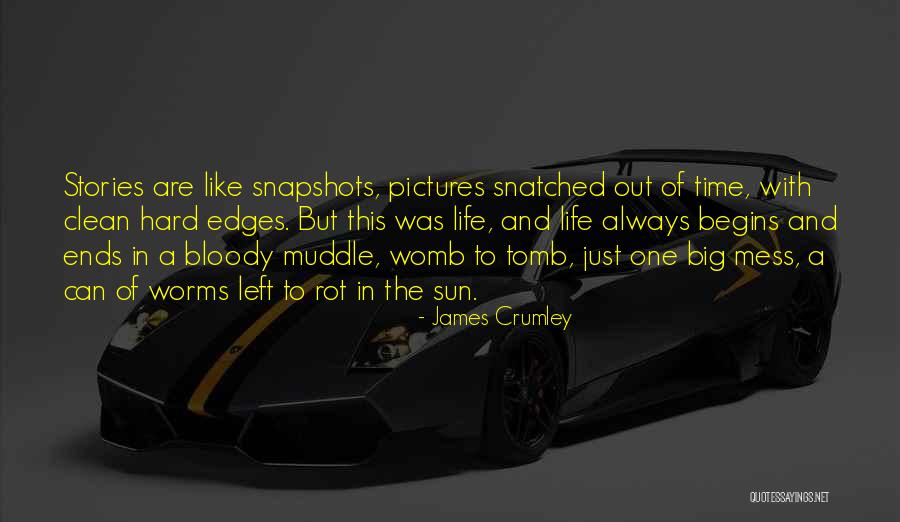 Stories are like snapshots, pictures snatched out of time, with clean hard edges. But this was life, and life always begins and ends in a bloody muddle, womb to tomb, just one big mess, a can of worms left to rot in the sun. — James Crumley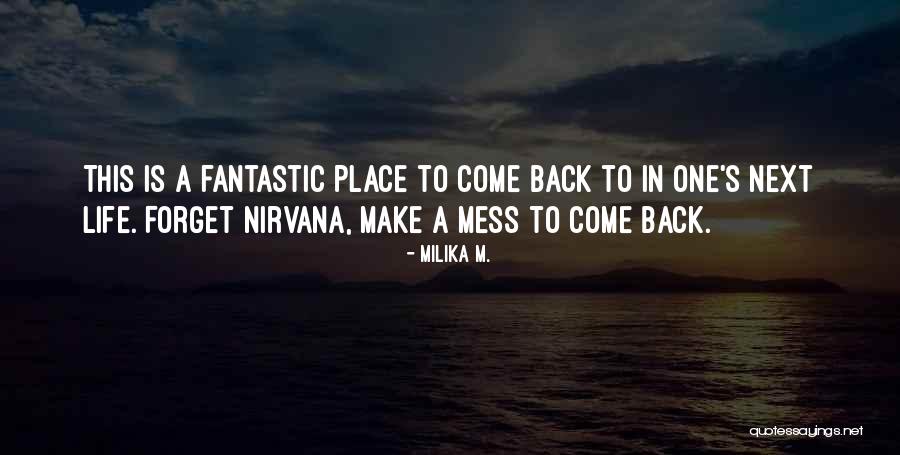 This is a fantastic place to come back to in one's next life. Forget Nirvana, make a mess to come back. — Milika M.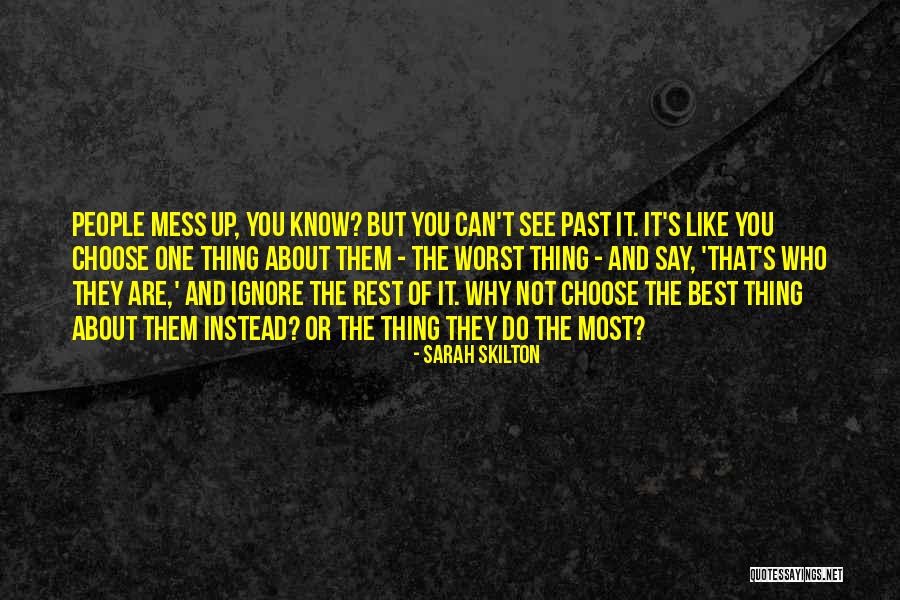 People mess up, you know? But you can't see past it. It's like you choose one thing about them - the worst thing - and say, 'That's who they are,' and ignore the rest of it. Why not choose the best thing about them instead? Or the thing they do the most? — Sarah Skilton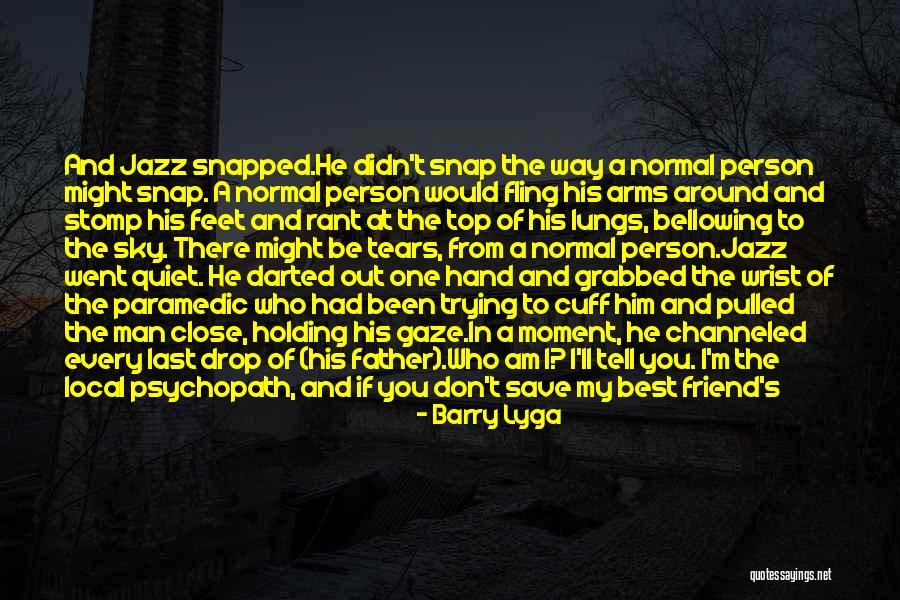 And Jazz snapped.
He didn't snap the way a normal person might snap. A normal person would fling his arms around and stomp his feet and rant at the top of his lungs, bellowing to the sky. There might be tears, from a normal person.
Jazz went quiet. He darted out one hand and grabbed the wrist of the paramedic who had been trying to cuff him and pulled the man close, holding his gaze.
In a moment, he channeled every last drop of (his father).
Who am I? I'll tell you. I'm the local psychopath, and if you don't save my best friend's life, I will hunt down everyone you've ever cared about in your life and make you watch while I do things to them that will have you begging me to kill them. That's who I am. — Barry Lyga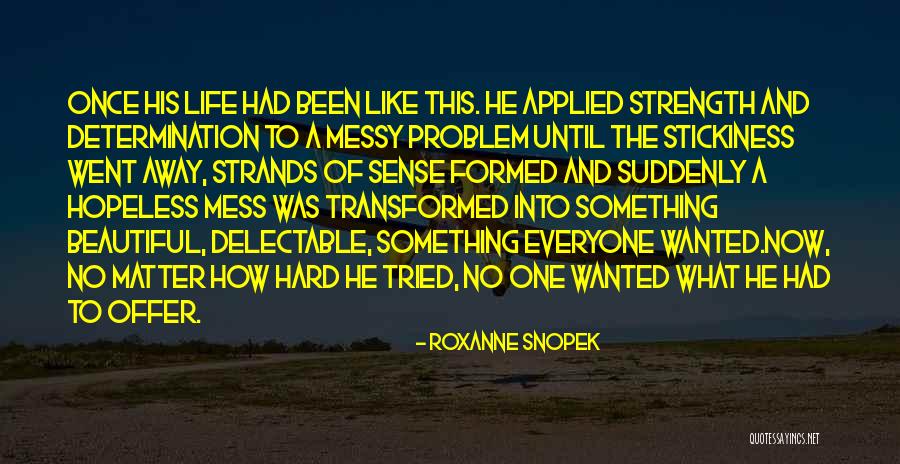 Once his life had been like this. He applied strength and determination to a messy problem until the stickiness went away, strands of sense formed and suddenly a hopeless mess was transformed into something beautiful, delectable, something everyone wanted.
Now, no matter how hard he tried, no one wanted what he had to offer. — Roxanne Snopek
Since historical reconstruction is a rational process, only justified and indeed possible if it involves the human reason, what we call history is the mess we call life reduced to some order. pattern and possibly purpose. — Geoffrey Elton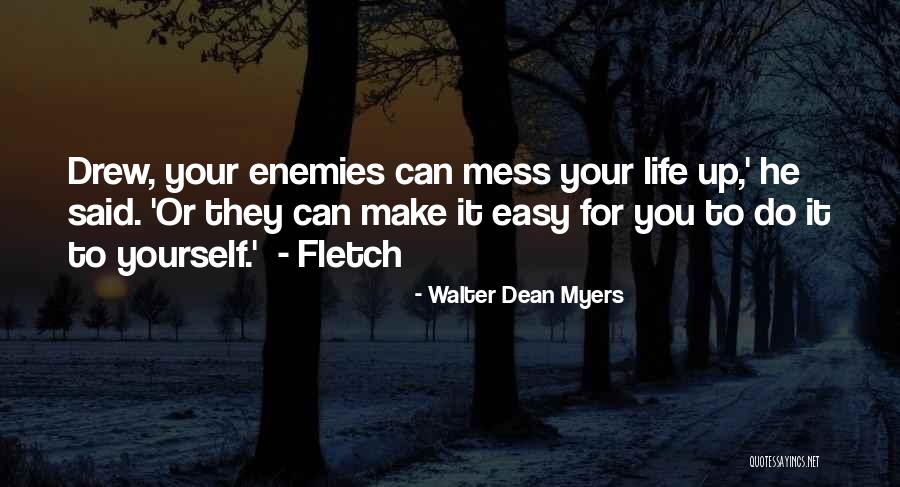 Drew, your enemies can mess your life up,' he said. 'Or they can make it easy for you to do it to yourself.'
- Fletch — Walter Dean Myers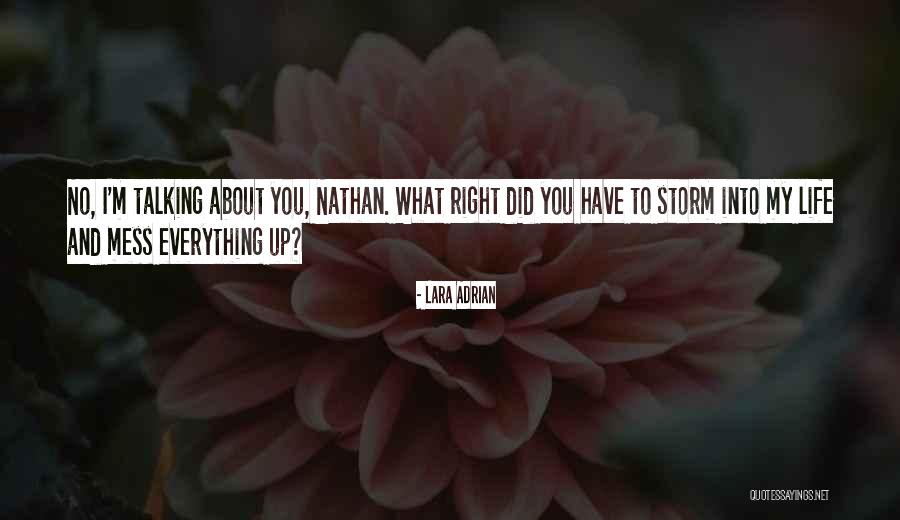 No, I'm talking about you, Nathan. What right did you have to storm into my life and mess everything up? — Lara Adrian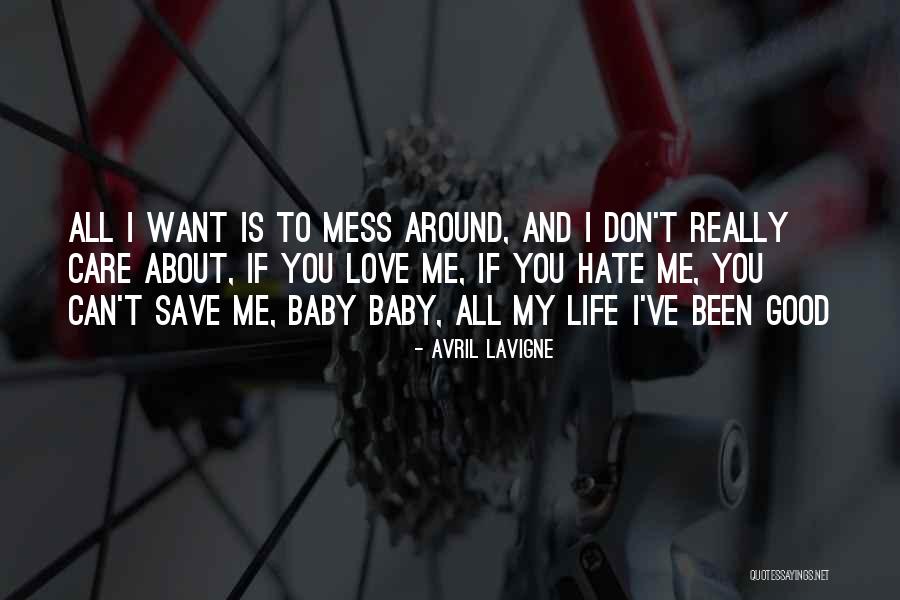 All I want is to mess around, and I don't really care about, if you love me, if you hate me, you can't save me, baby baby, all my life I've been good — Avril Lavigne
Life has played some funny tricks on me and taken me on a wild ride. How did I ever get into this wonderful mess that is my life? — Bo Derek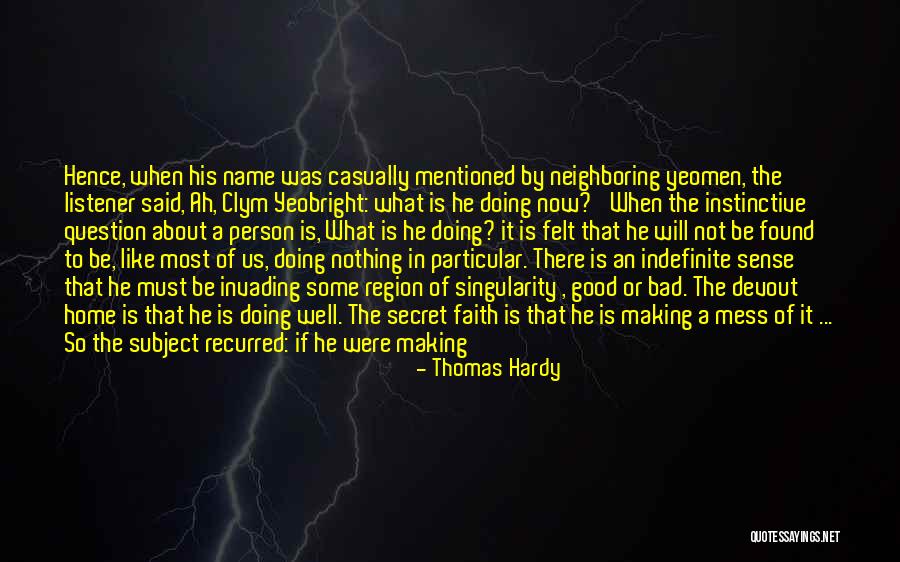 Hence, when his name was casually mentioned by neighboring yeomen, the listener said, Ah, Clym Yeobright: what is he doing now?' When the instinctive question about a person is, What is he doing? it is felt that he will not be found to be, like most of us, doing nothing in particular. There is an indefinite sense that he must be invading some region of singularity , good or bad. The devout home is that he is doing well. The secret faith is that he is making a mess of it ... So the subject recurred: if he were making a fortune and a name, so much the better for him, if he were making a tragical figure in the world, so much the better for a narrative — Thomas Hardy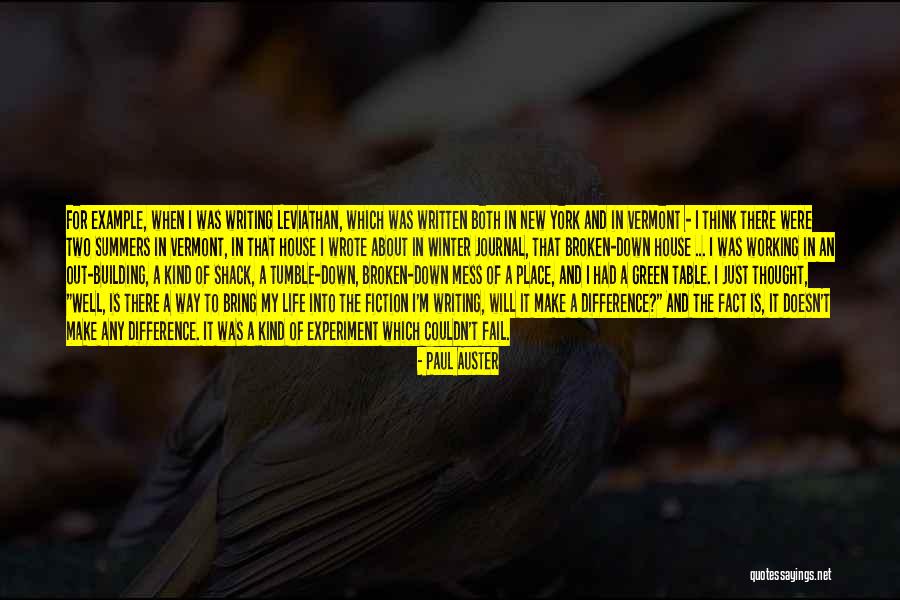 For example, when I was writing Leviathan, which was written both in New York and in Vermont - I think there were two summers in Vermont, in that house I wrote about in Winter Journal, that broken-down house ... I was working in an out-building, a kind of shack, a tumble-down, broken-down mess of a place, and I had a green table. I just thought, "Well, is there a way to bring my life into the fiction I'm writing, will it make a difference?" And the fact is, it doesn't make any difference. It was a kind of experiment which couldn't fail. — Paul Auster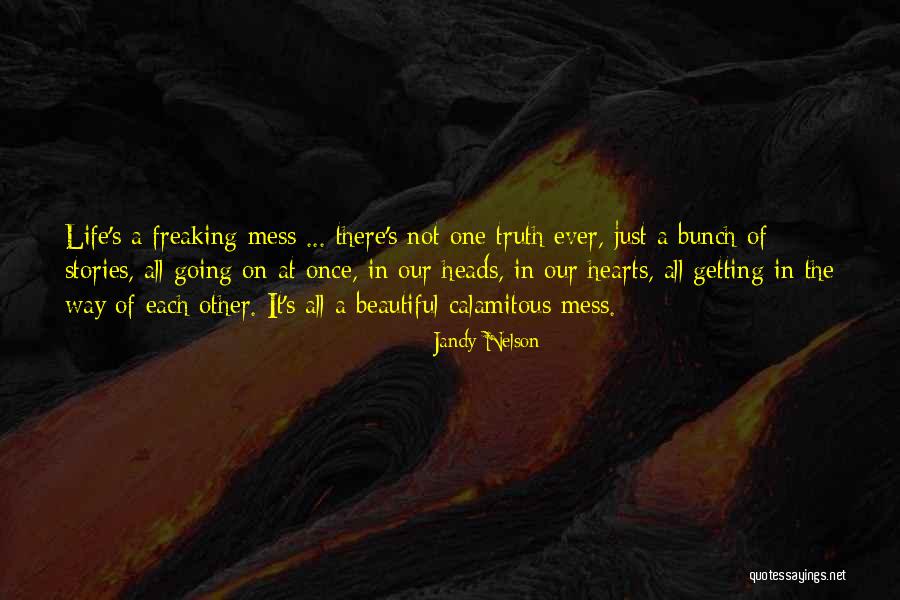 Life's a freaking mess ... there's not one truth ever, just a bunch of stories, all going on at once, in our heads, in our hearts, all getting in the way of each other. It's all a beautiful calamitous mess. — Jandy Nelson