Quotes & Sayings About My Father My Hero
Enjoy reading and share 46 famous quotes about My Father My Hero with everyone.
Top My Father My Hero Quotes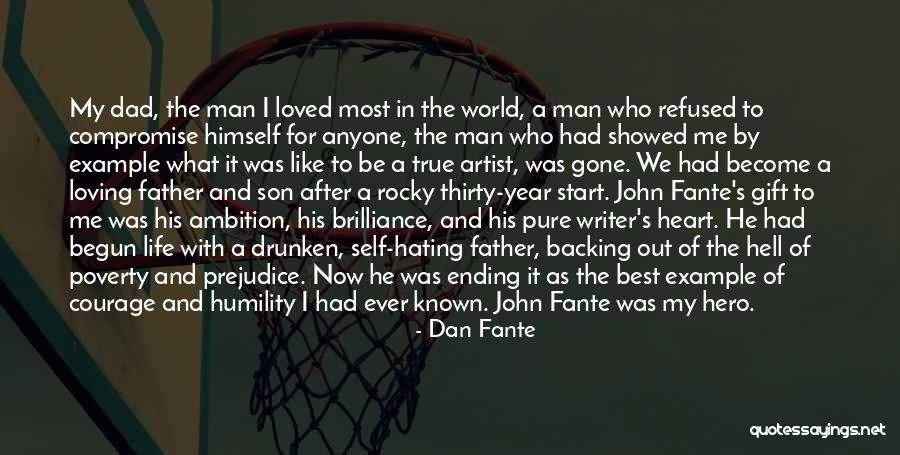 My dad, the man I loved most in the world, a man who refused to compromise himself for anyone, the man who had showed me by example what it was like to be a true artist, was gone. We had become a loving father and son after a rocky thirty-year start. John Fante's gift to me was his ambition, his brilliance, and his pure writer's heart. He had begun life with a drunken, self-hating father, backing out of the hell of poverty and prejudice. Now he was ending it as the best example of courage and humility I had ever known. John Fante was my hero. — Dan Fante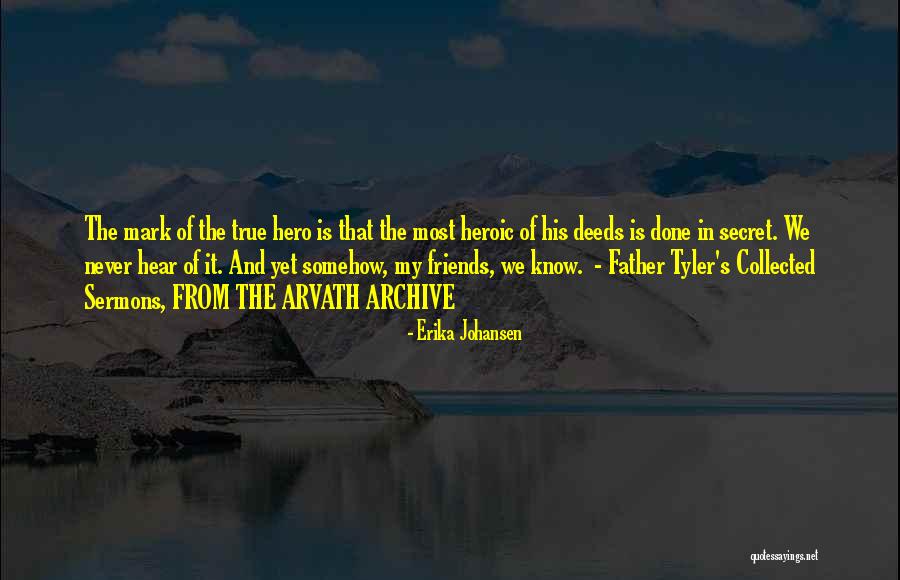 The mark of the true hero is that the most heroic of his deeds is done in secret. We never hear of it. And yet somehow, my friends, we know. - Father Tyler's Collected Sermons, FROM THE ARVATH ARCHIVE — Erika Johansen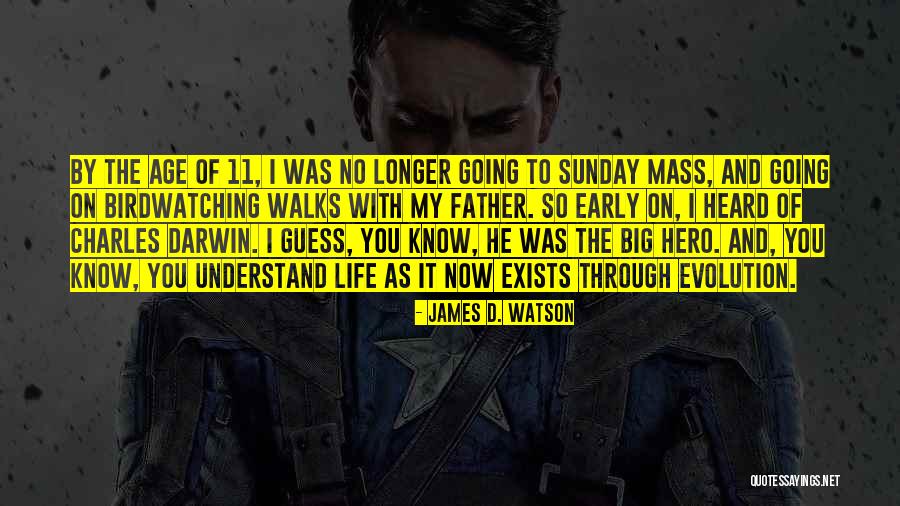 By the age of 11, I was no longer going to Sunday Mass, and going on birdwatching walks with my father. So early on, I heard of Charles Darwin. I guess, you know, he was the big hero. And, you know, you understand life as it now exists through evolution. — James D. Watson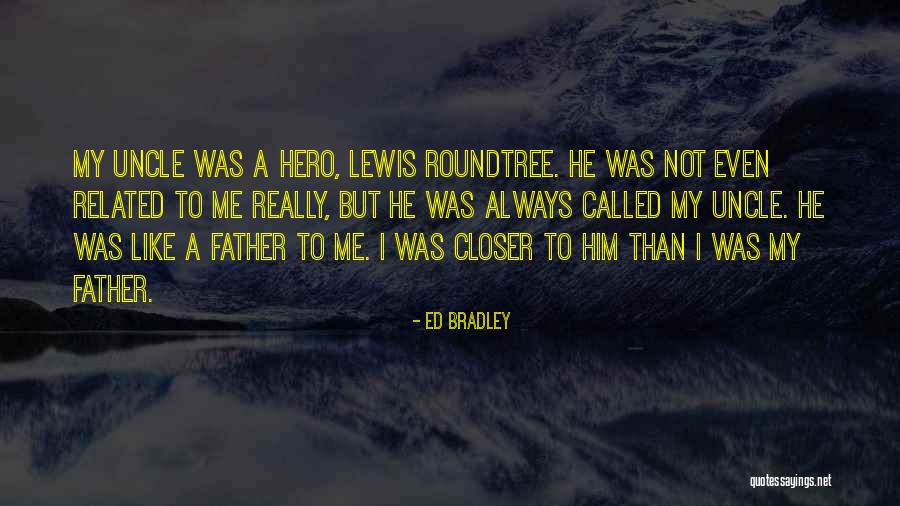 My uncle was a hero, Lewis Roundtree. He was not even related to me really, but he was always called my uncle. He was like a father to me. I was closer to him than I was my father. — Ed Bradley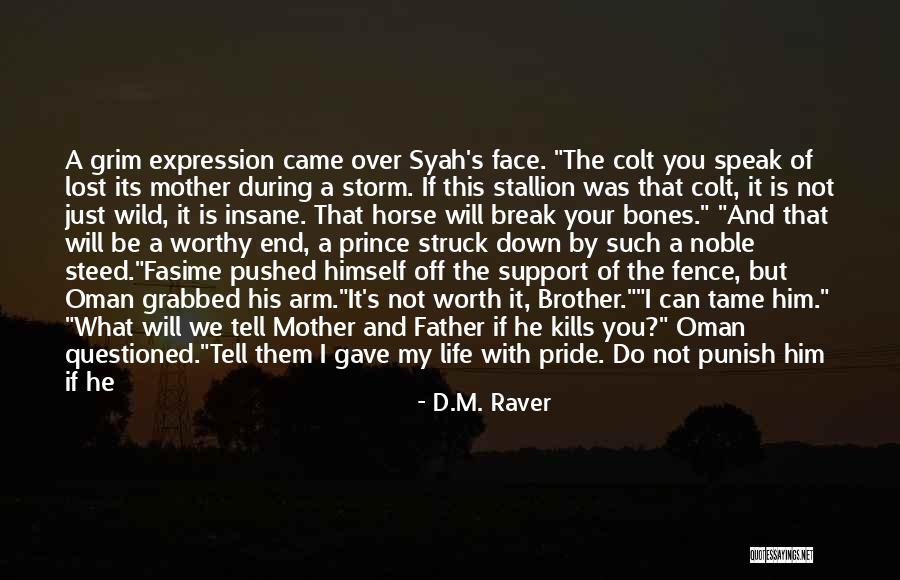 A grim expression came over Syah's face. "The colt you speak of lost its mother during a storm. If this stallion was that colt, it is not just wild, it is insane. That horse will break your bones."
"And that will be a worthy end, a prince struck down by such a noble steed."
Fasime pushed himself off the support of the fence, but Oman grabbed his arm.
"It's not worth it, Brother."
"I can tame him."
"What will we tell Mother and Father if he kills you?" Oman questioned.
"Tell them I gave my life with pride. Do not punish him if he kills me. Release him back into the wild, and my spirit will ride him into the mist. — D.M. Raver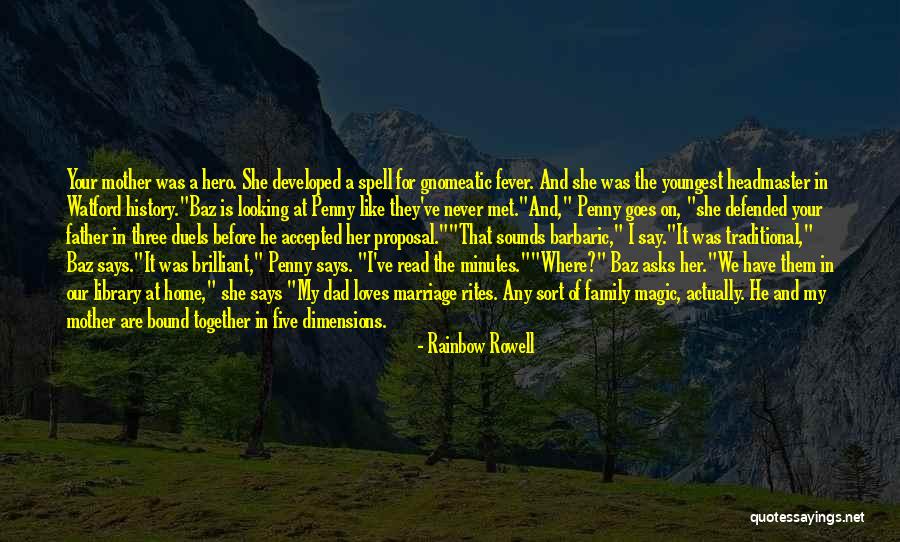 Your mother was a hero. She developed a spell for gnomeatic fever. And she was the youngest headmaster in Watford history."
Baz is looking at Penny like they've never met.
"And," Penny goes on, "she defended your father in three duels before he accepted her proposal."
"That sounds barbaric," I say.
"It was traditional," Baz says.
"It was brilliant," Penny says. "I've read the minutes."
"Where?" Baz asks her.
"We have them in our library at home," she says "My dad loves marriage rites. Any sort of family magic, actually. He and my mother are bound together in five dimensions. — Rainbow Rowell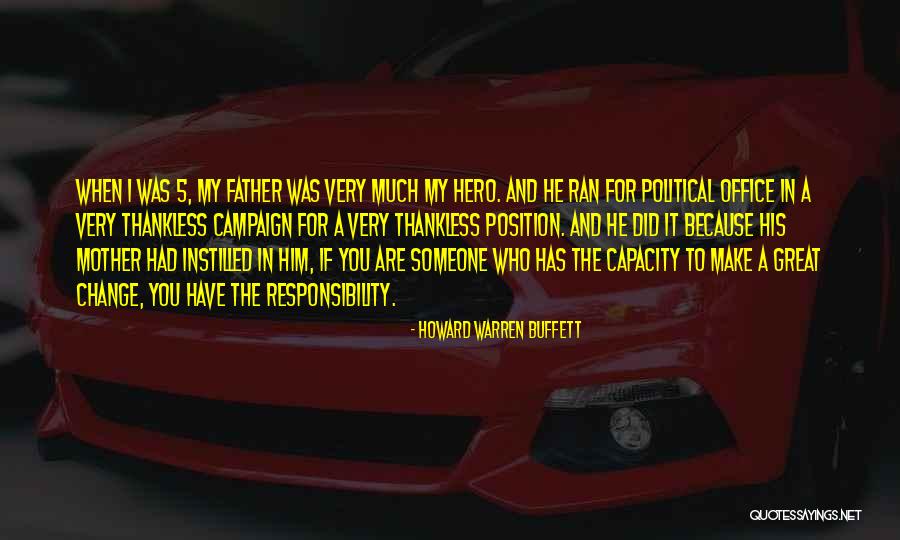 When I was 5, my father was very much my hero. And he ran for political office in a very thankless campaign for a very thankless position. And he did it because his mother had instilled in him, if you are someone who has the capacity to make a great change, you have the responsibility. — Howard Warren Buffett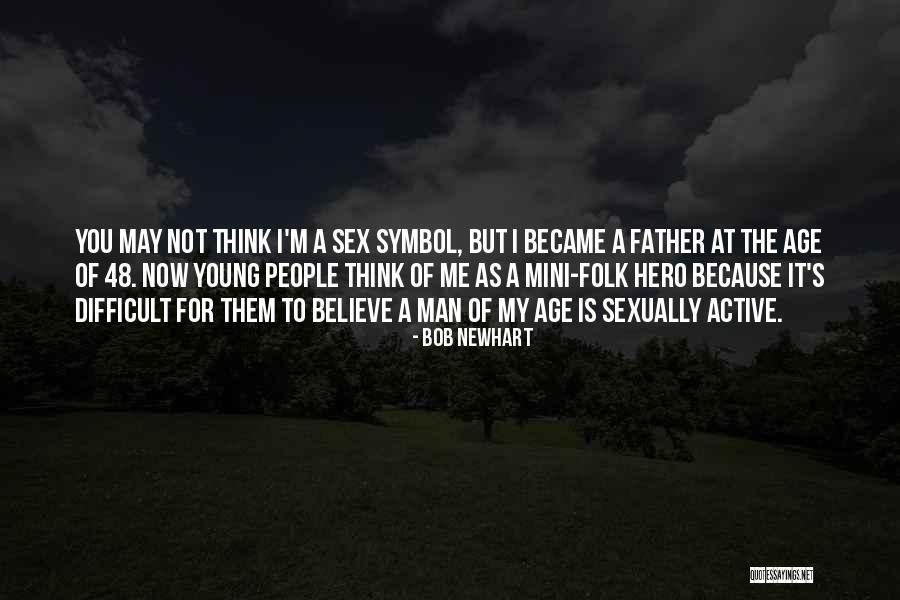 You may not think I'm a sex symbol, but I became a father at the age of 48. Now young people think of me as a mini-folk hero because it's difficult for them to believe a man of my age is sexually active. — Bob Newhart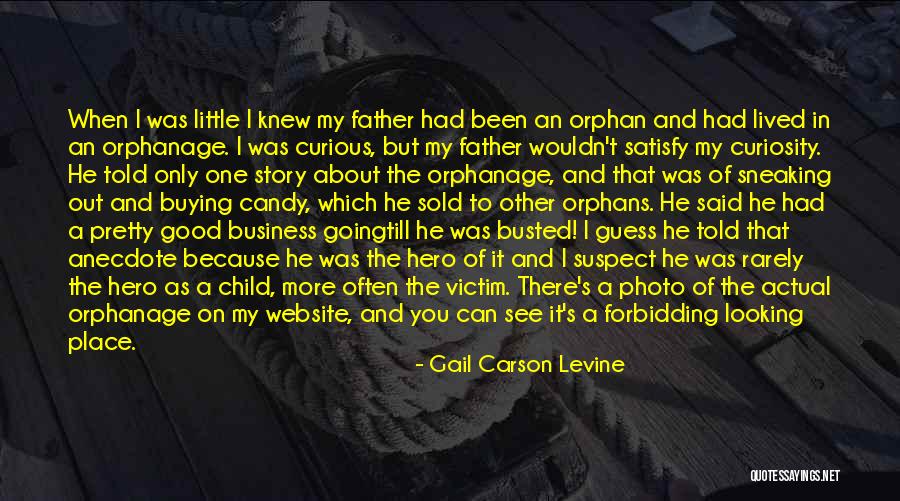 When I was little I knew my father had been an orphan and had lived in an orphanage. I was curious, but my father wouldn't satisfy my curiosity. He told only one story about the orphanage, and that was of sneaking out and buying candy, which he sold to other orphans. He said he had a pretty good business going
till he was busted! I guess he told that anecdote because he was the hero of it and I suspect he was rarely the hero as a child, more often the victim. There's a photo of the actual orphanage on my website, and you can see it's a forbidding looking place. — Gail Carson Levine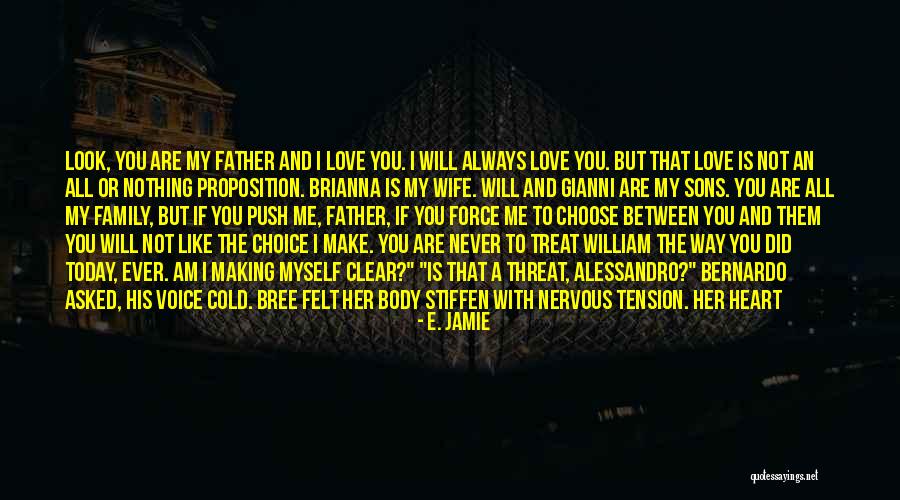 Look, you are my father and I love you. I will always love you. But that love is not an all or nothing proposition. Brianna is my wife. Will and Gianni are my sons. You are all my family, but if you push me, Father, if you force me to choose between you and them you will not like the choice I make. You are never to treat William the way you did today, ever. Am I making myself clear?" "Is that a threat, Alessandro?" Bernardo asked, his voice cold. Bree felt her body stiffen with nervous tension. Her heart was racing, both with nervousness and joy that Alessandro was
drawing a line in the sand with his father and that he was sticking up for them over Bernardo. "Remember, Father, you raised me. You raised me to be a Dardano. That's who I am and I'm sure you know exactly what that means. — E. Jamie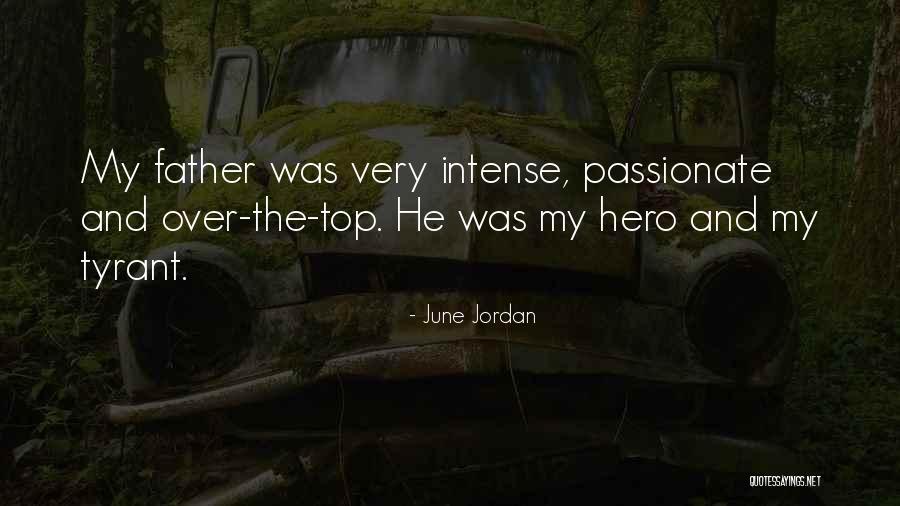 My father was very intense, passionate and over-the-top. He was my hero and my tyrant. — June Jordan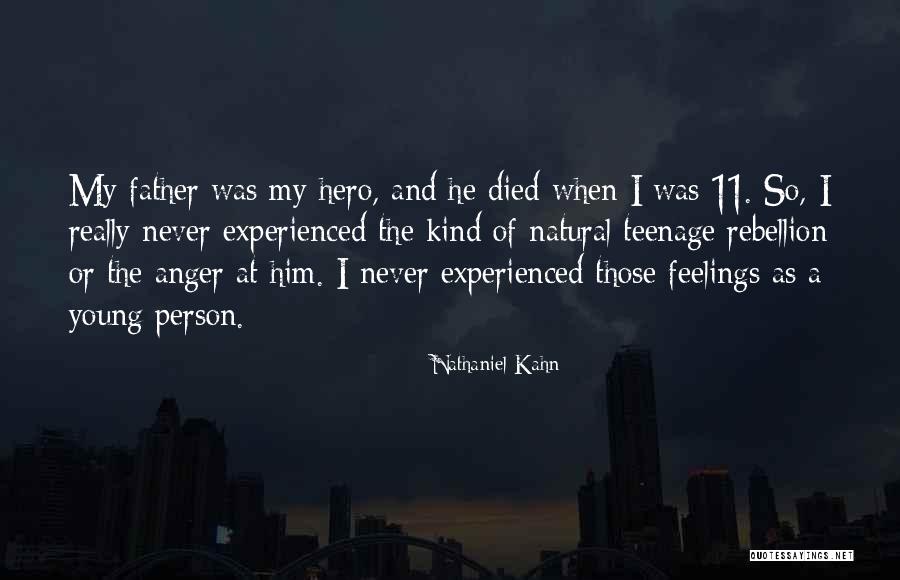 My father was my hero, and he died when I was 11. So, I really never experienced the kind of natural teenage rebellion or the anger at him. I never experienced those feelings as a young person. — Nathaniel Kahn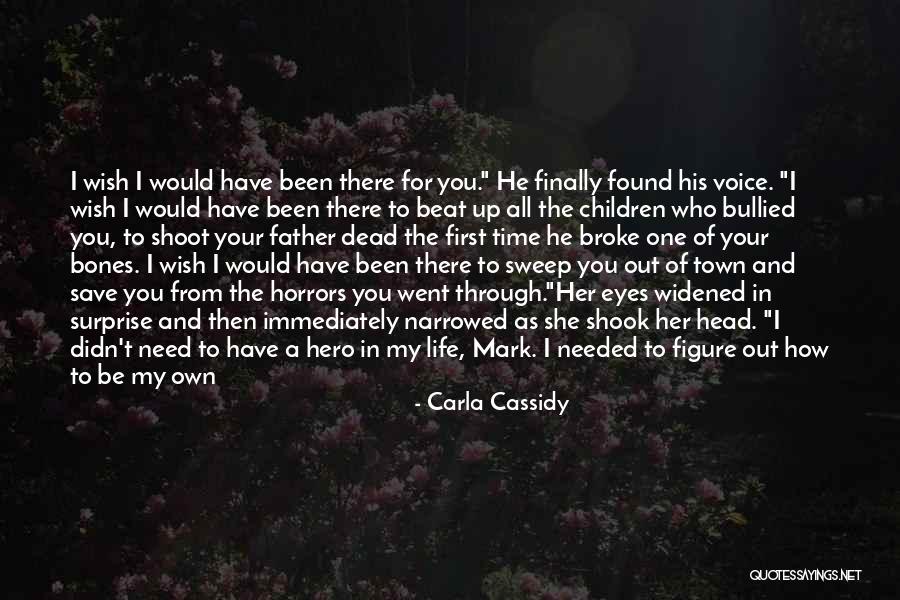 I wish I would have been there for you." He finally found his voice. "I wish I would have been there to beat up all the children who bullied you, to shoot your father dead the first time he broke one of your bones. I wish I would have been there to sweep you out of town and save you from the horrors you went through."
Her eyes widened in surprise and then immediately narrowed as she shook her head. "I didn't need to have a hero in my life, Mark. I needed to figure out how to be my own hero. I took the easy way out. I allowed small-town people to label me and then I did my very best to live up to the label they'd provided. It's taken me thirty-seven years to realize I don't need a hero. I'm all I need and I'm strong enough to build the rest of my life alone. — Carla Cassidy
My father was my main influence. He was a preacher, but he was also a history and political science teacher, and since he was my hero, I wanted to follow in his footsteps and become a teacher. — David Soul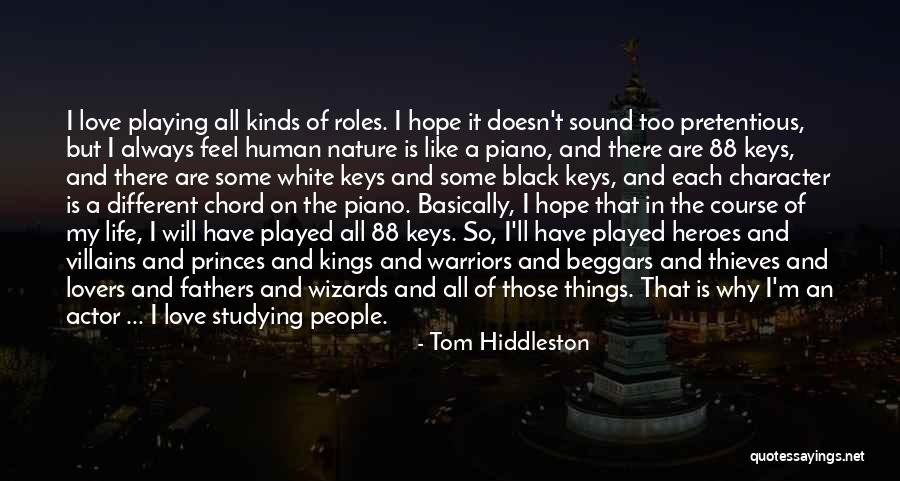 I love playing all kinds of roles. I hope it doesn't sound too pretentious, but I always feel human nature is like a piano, and there are 88 keys, and there are some white keys and some black keys, and each character is a different chord on the piano. Basically, I hope that in the course of my life, I will have played all 88 keys. So, I'll have played heroes and villains and princes and kings and warriors and beggars and thieves and lovers and fathers and wizards and all of those things. That is why I'm an actor ... I love studying people. — Tom Hiddleston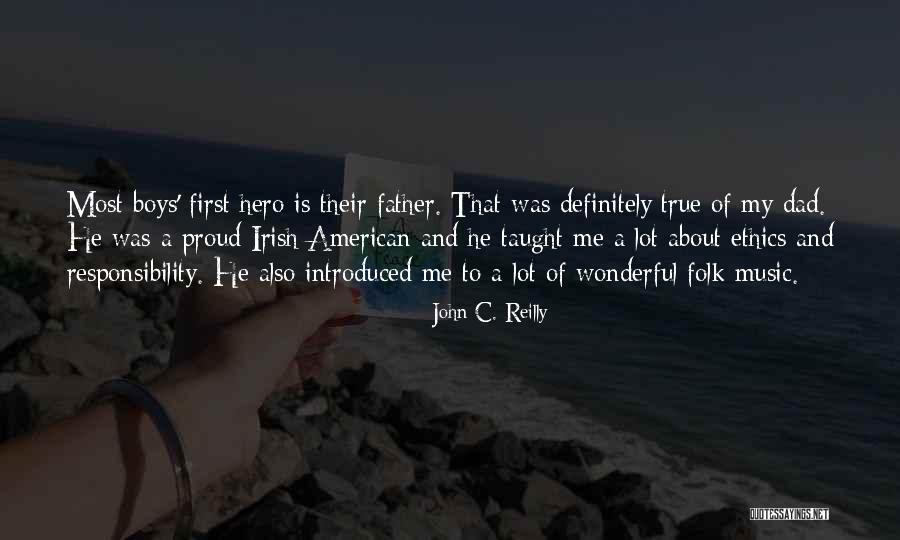 Most boys' first hero is their father. That was definitely true of my dad. He was a proud Irish American and he taught me a lot about ethics and responsibility. He also introduced me to a lot of wonderful folk music. — John C. Reilly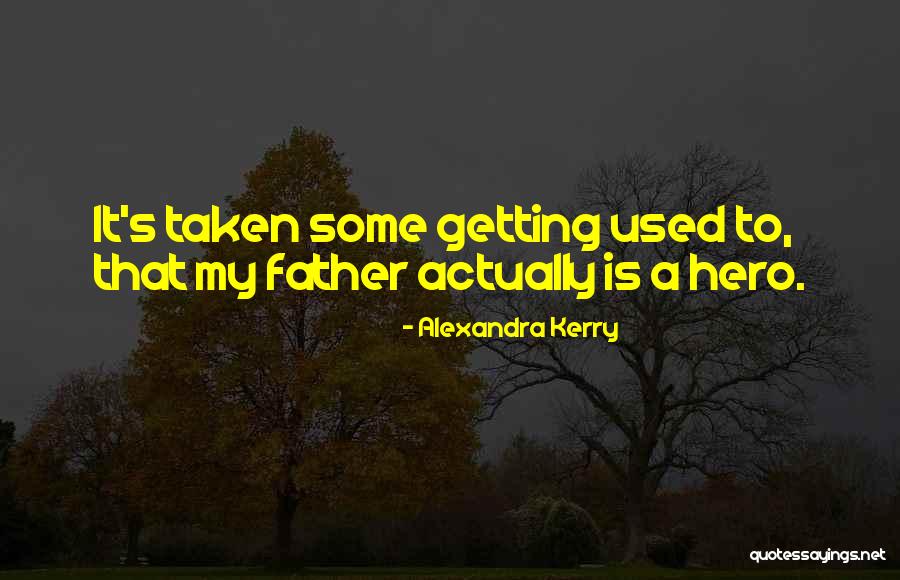 It's taken some getting used to, that my father actually is a hero. — Alexandra Kerry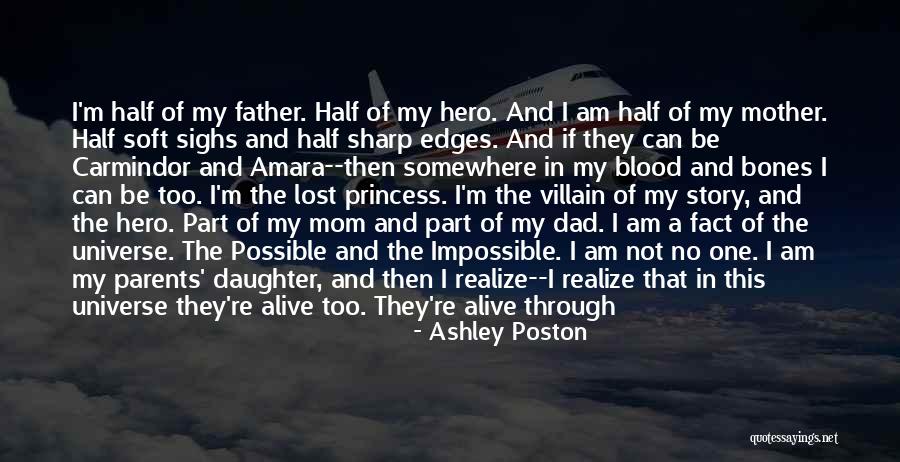 I'm half of my father. Half of my hero. And I am half of my mother. Half soft sighs and half sharp edges. And if they can be Carmindor and Amara--then somewhere in my blood and bones I can be too. I'm the lost princess. I'm the villain of my story, and the hero. Part of my mom and part of my dad. I am a fact of the universe. The Possible and the Impossible. I am not no one. I am my parents' daughter, and then I realize--I realize that in this universe they're alive too. They're alive through me. Fashioning my hands into a pistol, I point it at the ceiling, lifting my chin, raising my eyes against the blinding stage lights, and I ignite the stars. — Ashley Poston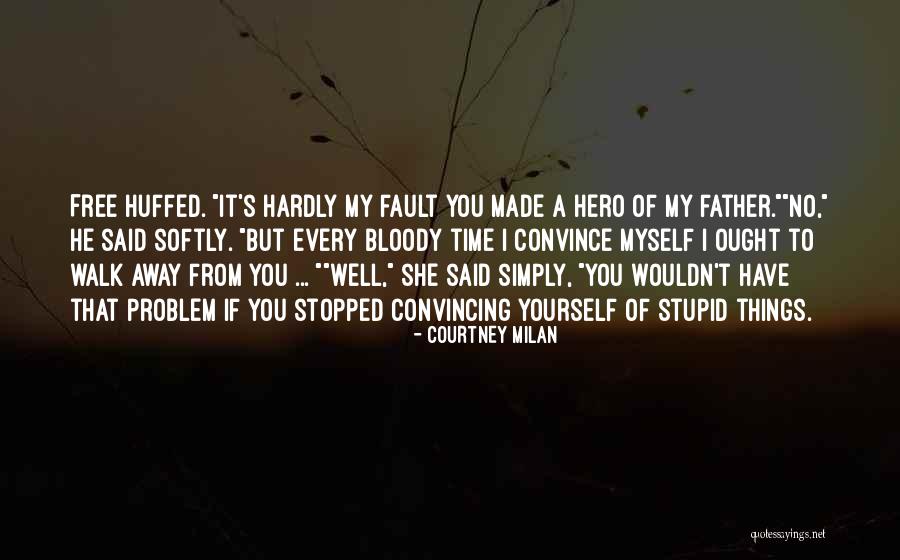 Free huffed. "It's hardly my fault you made a hero of my father."
"No," he said softly. "But every bloody time I convince myself I ought to walk away from you ... "
"Well," she said simply, "you wouldn't have that problem if you stopped convincing yourself of stupid things. — Courtney Milan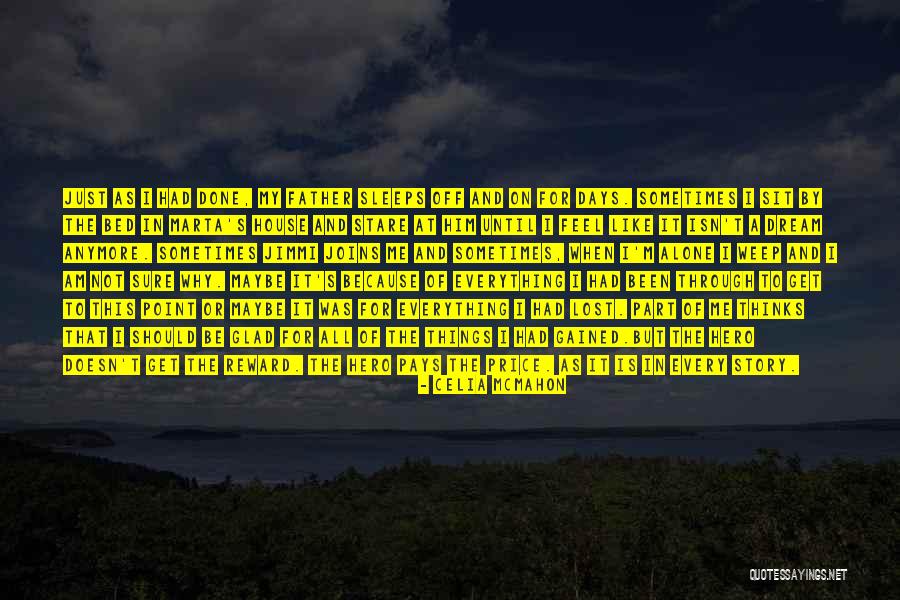 Just as I had done, my father sleeps off and on for days. Sometimes I sit by the bed in Marta's house and stare at him until I feel like it isn't a dream anymore. Sometimes Jimmi joins me and sometimes, when I'm alone I weep and I am not sure why. Maybe it's because of everything I had been through to get to this point or maybe it was for everything I had lost. Part of me thinks that I should be glad for all of the things I had gained.
But the hero doesn't get the reward. The hero pays the price. As it is in every story. — Celia Mcmahon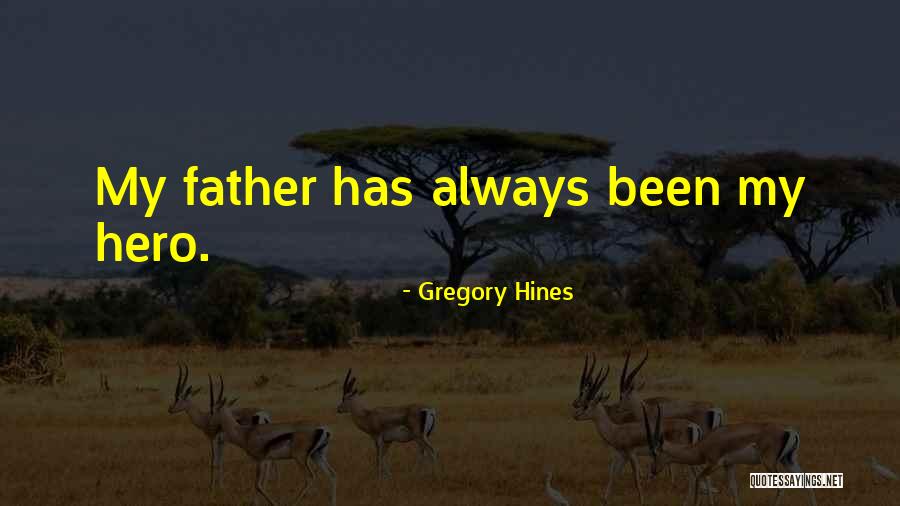 My father has always been my hero. — Gregory Hines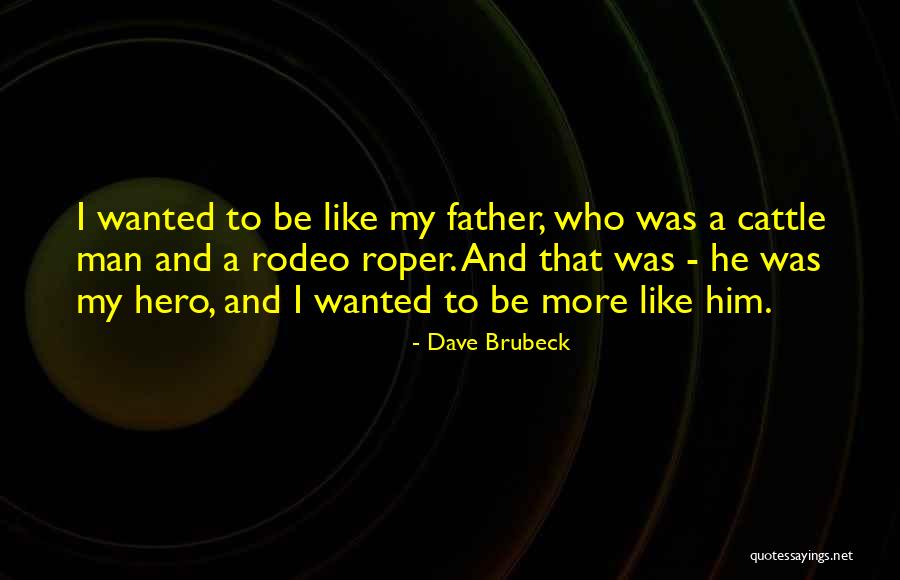 I wanted to be like my father, who was a cattle man and a rodeo roper. And that was - he was my hero, and I wanted to be more like him. — Dave Brubeck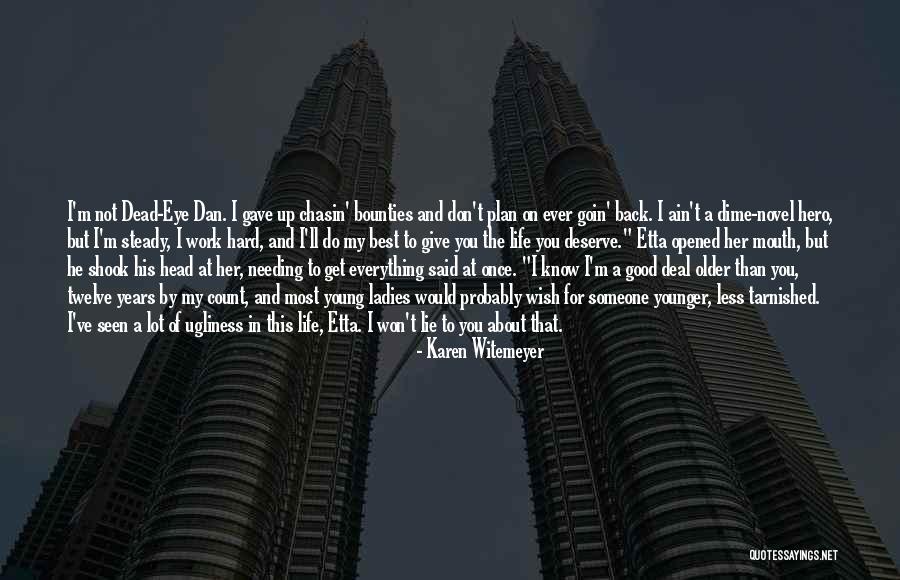 I'm not Dead-Eye Dan. I gave up chasin' bounties and don't plan on ever goin' back. I ain't a dime-novel hero, but I'm steady, I work hard, and I'll do my best to give you the life you deserve." Etta opened her mouth, but he shook his head at her, needing to get everything said at once. "I know I'm a good deal older than you, twelve years by my count, and most young ladies would probably wish for someone younger, less tarnished. I've seen a lot of ugliness in this life, Etta. I won't lie to you about that. I'm rather set in my ways and opinionated about how things oughta be done, but I'd like to think that God gave me some wisdom over the years, too. Wisdom that will help me be the husband and father I want to be, one who will lead his family in a way that honors the Lord." Dan — Karen Witemeyer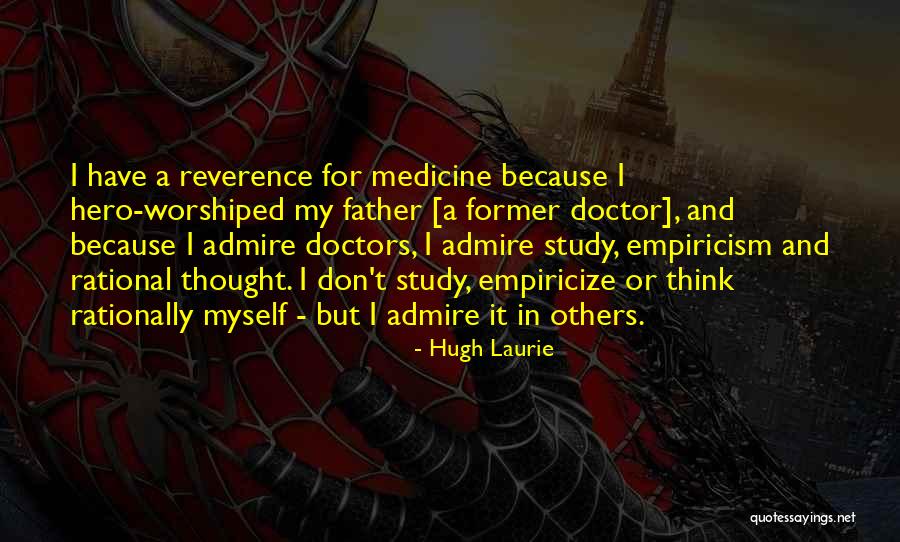 I have a reverence for medicine because I hero-worshiped my father [a former doctor], and because I admire doctors, I admire study, empiricism and rational thought. I don't study, empiricize or think rationally myself - but I admire it in others. — Hugh Laurie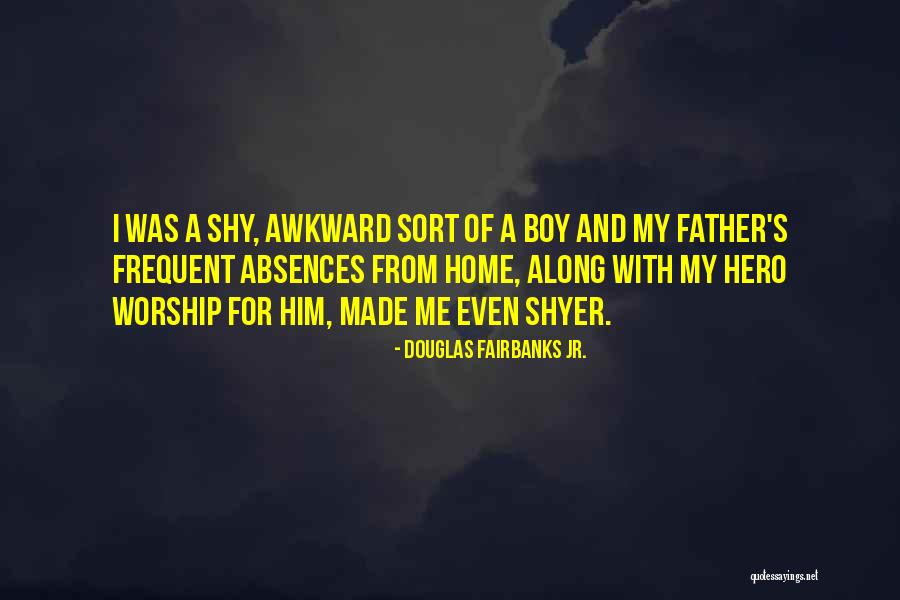 I was a shy, awkward sort of a boy and my father's frequent absences from home, along with my hero worship for him, made me even shyer. — Douglas Fairbanks Jr.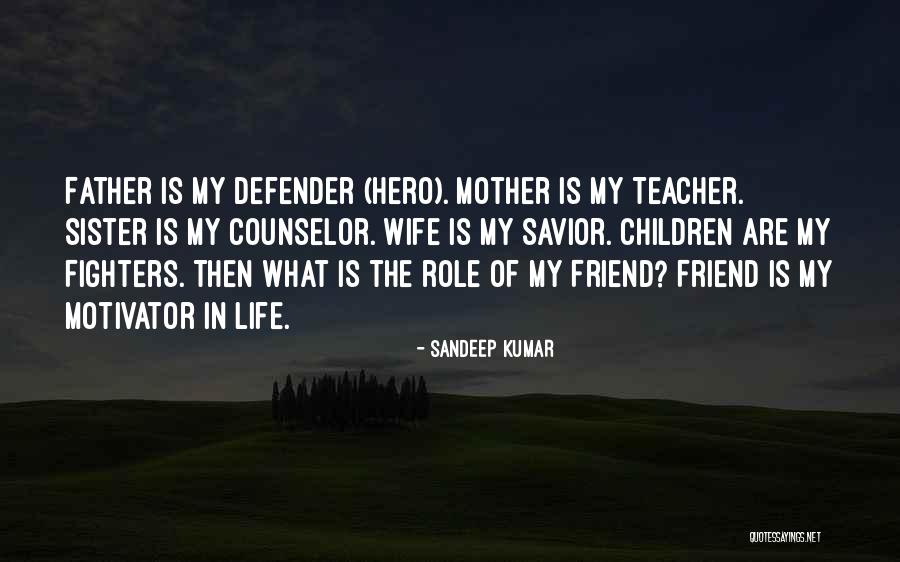 Father is my Defender (Hero). Mother is my Teacher. Sister is my Counselor. Wife is my Savior. Children are my Fighters. Then what is the role of my Friend? Friend is my Motivator in life. — Sandeep Kumar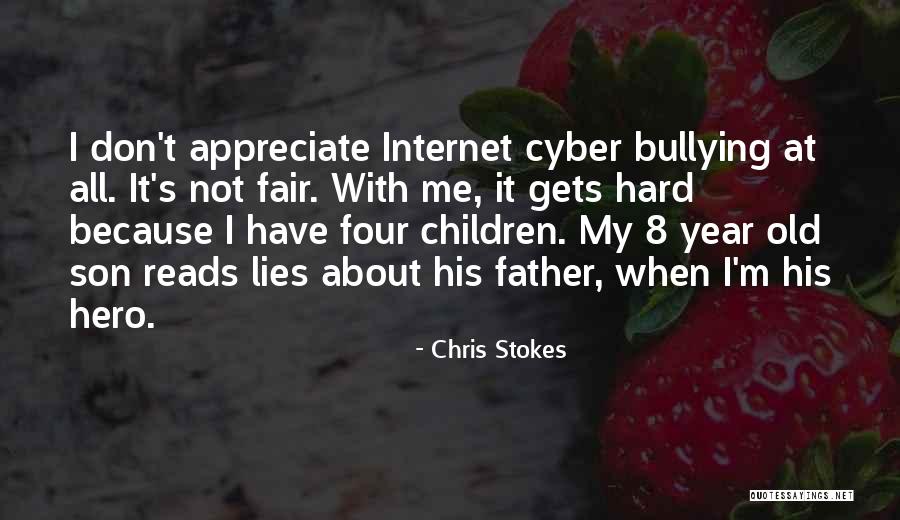 I don't appreciate Internet cyber bullying at all. It's not fair. With me, it gets hard because I have four children. My 8 year old son reads lies about his father, when I'm his hero. — Chris Stokes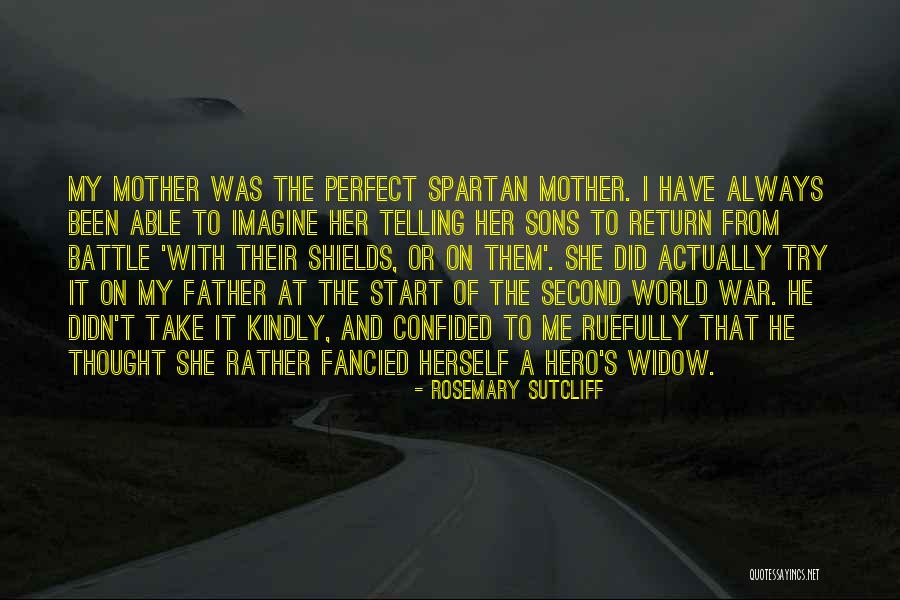 My mother was the perfect Spartan mother. I have always been able to imagine her telling her sons to return from battle 'with their shields, or on them'. She did actually try it on my father at the start of the Second World War. He didn't take it kindly, and confided to me ruefully that he thought she rather fancied herself a Hero's Widow. — Rosemary Sutcliff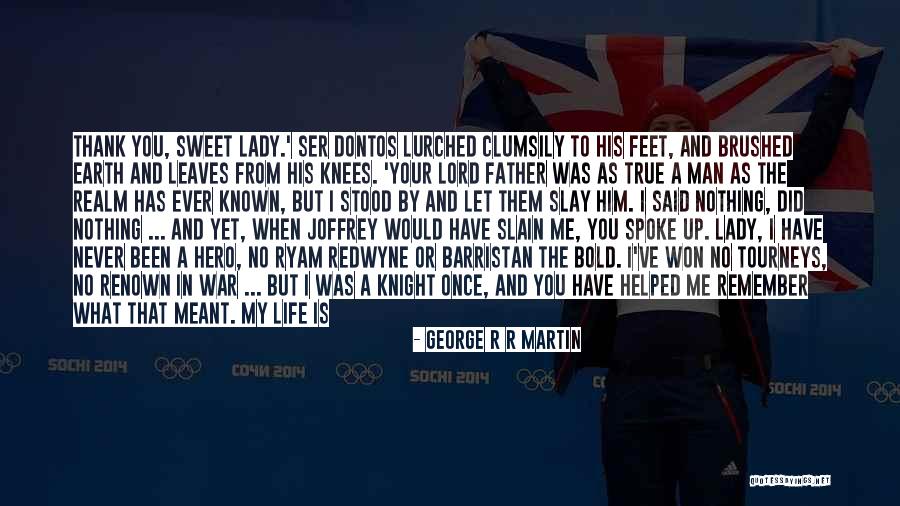 Thank you, sweet lady.' Ser Dontos lurched clumsily to his feet, and brushed earth and leaves from his knees. 'Your lord father was as true a man as the realm has ever known, but I stood by and let them slay him. I said nothing, did nothing ... and yet, when Joffrey would have slain me, you spoke up. Lady, I have never been a hero, no Ryam Redwyne or Barristan the Bold. I've won no tourneys, no renown in war ... but I was a knight once, and you have helped me remember what that meant. My life is a poor thing, but it is yours.' Ser Dontos placed a hand on the gnarled bole of the heart tree. He was shaking, she saw. 'I vow, with your father's gods as witness, that I shall send you home. — George R R Martin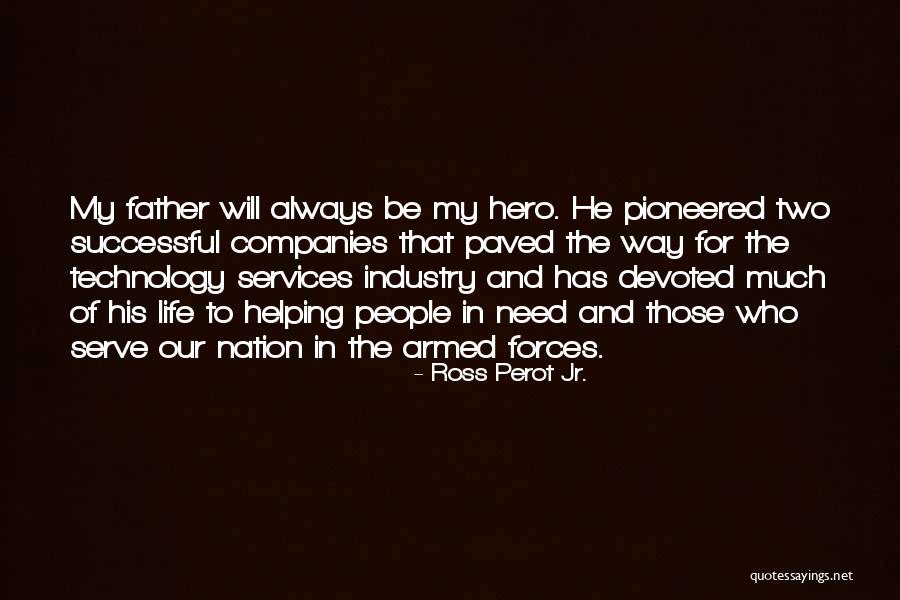 My father will always be my hero. He pioneered two successful companies that paved the way for the technology services industry and has devoted much of his life to helping people in need and those who serve our nation in the armed forces. — Ross Perot Jr.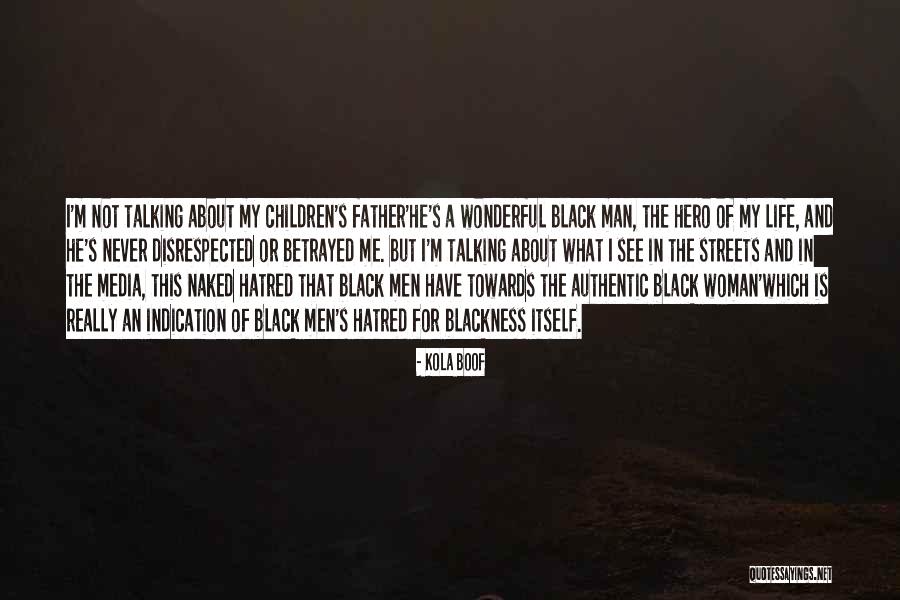 I'm not talking about my children's father'he's a wonderful black man, the hero of my life, and he's never disrespected or betrayed me. But I'm talking about what I see in the streets and in the media, this naked hatred that black men have towards the authentic black woman'which is really an indication of black men's hatred for blackness itself. — Kola Boof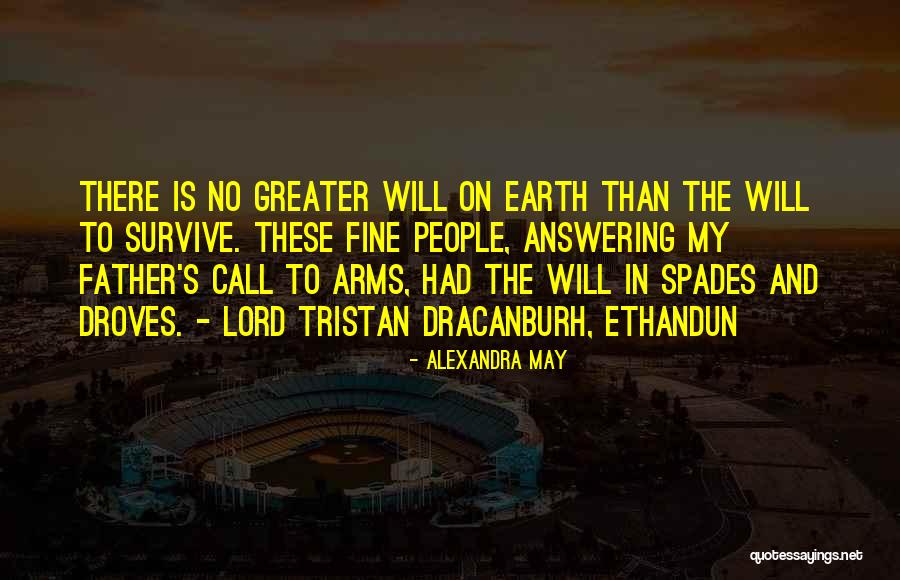 There is no greater will on earth than the will to survive. These fine people, answering my father's call to arms, had the will in spades and droves.
- Lord Tristan Dracanburh, Ethandun — Alexandra May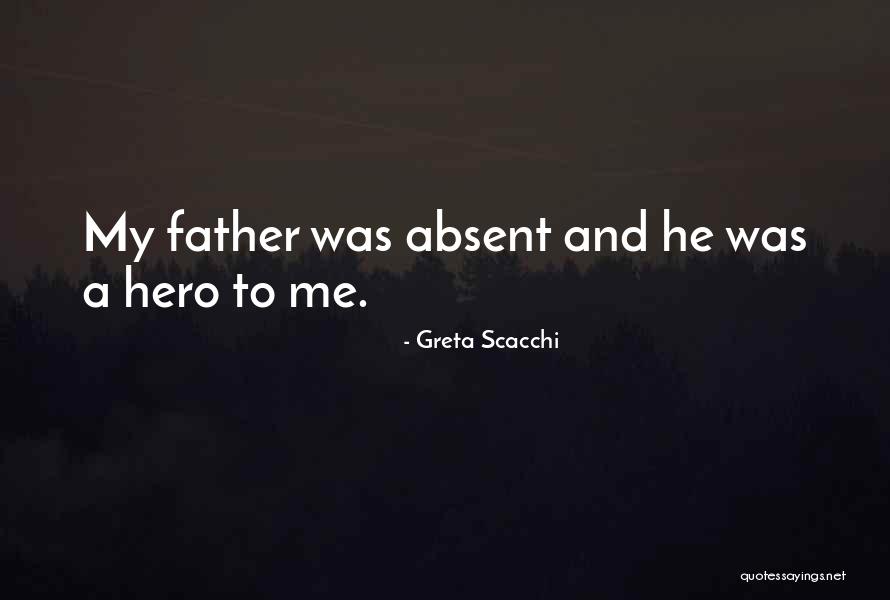 My father was absent and he was a hero to me. — Greta Scacchi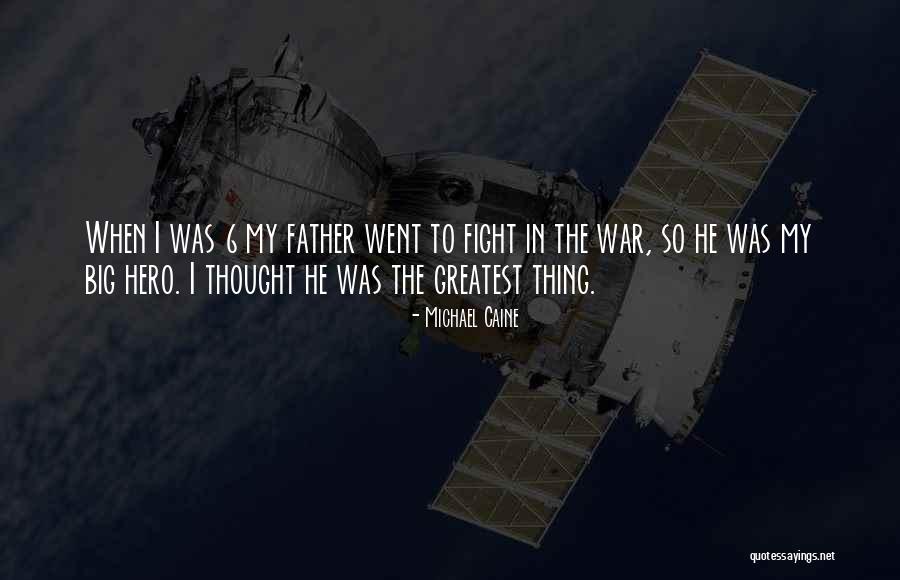 When I was 6 my father went to fight in the war, so he was my big hero. I thought he was the greatest thing. — Michael Caine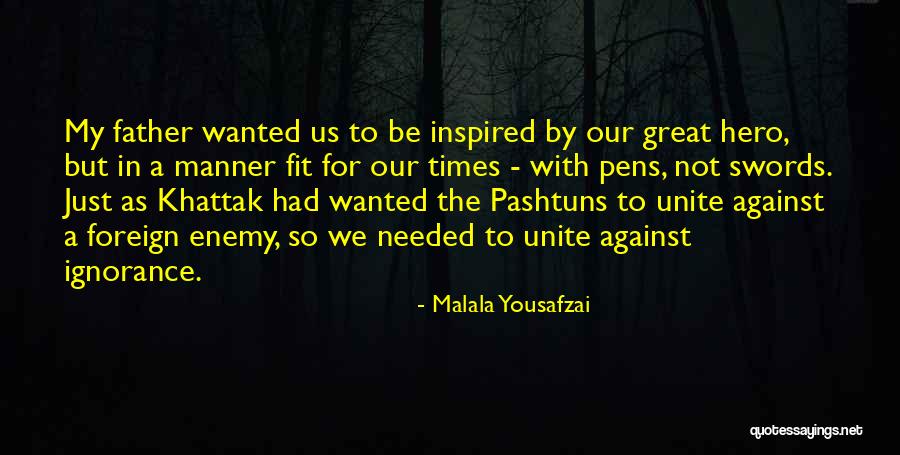 My father wanted us to be inspired by our great hero, but in a manner fit for our times - with pens, not swords. Just as Khattak had wanted the Pashtuns to unite against a foreign enemy, so we needed to unite against ignorance. — Malala Yousafzai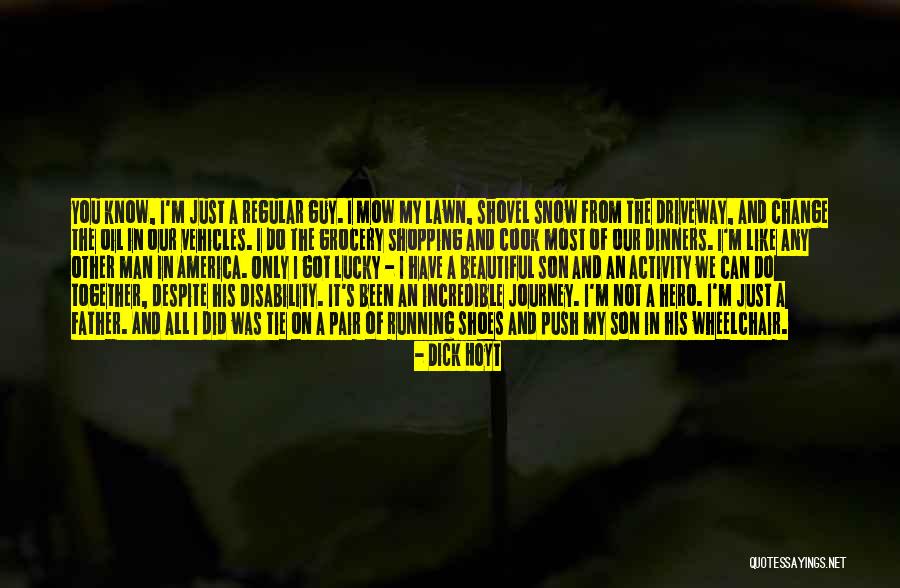 You know, I'm just a regular guy. I mow my lawn, shovel snow from the driveway, and change the oil in our vehicles. I do the grocery shopping and cook most of our dinners. I'm like any other man in America. Only I got lucky - I have a beautiful son and an activity we can do together, despite his disability. It's been an incredible journey. I'm not a hero. I'm just a father. And all I did was tie on a pair of running shoes and push my son in his wheelchair. — Dick Hoyt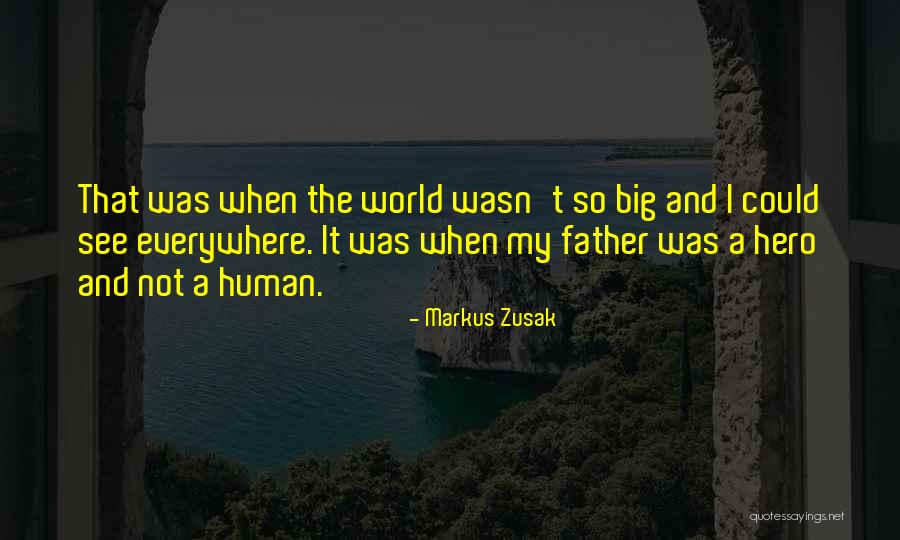 That was when the world wasn't so big and I could see everywhere. It was when my father was a hero and not a human. — Markus Zusak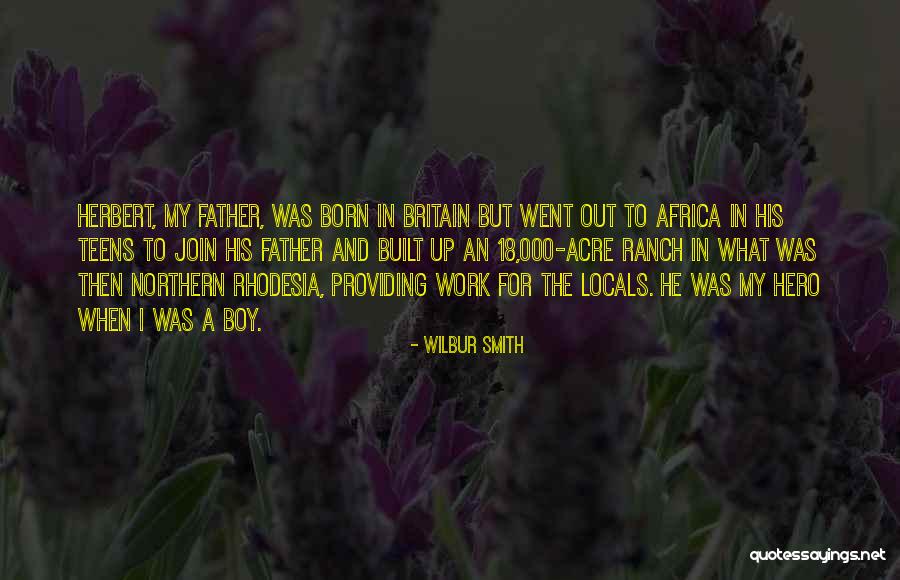 Herbert, my father, was born in Britain but went out to Africa in his teens to join his father and built up an 18,000-acre ranch in what was then Northern Rhodesia, providing work for the locals. He was my hero when I was a boy. — Wilbur Smith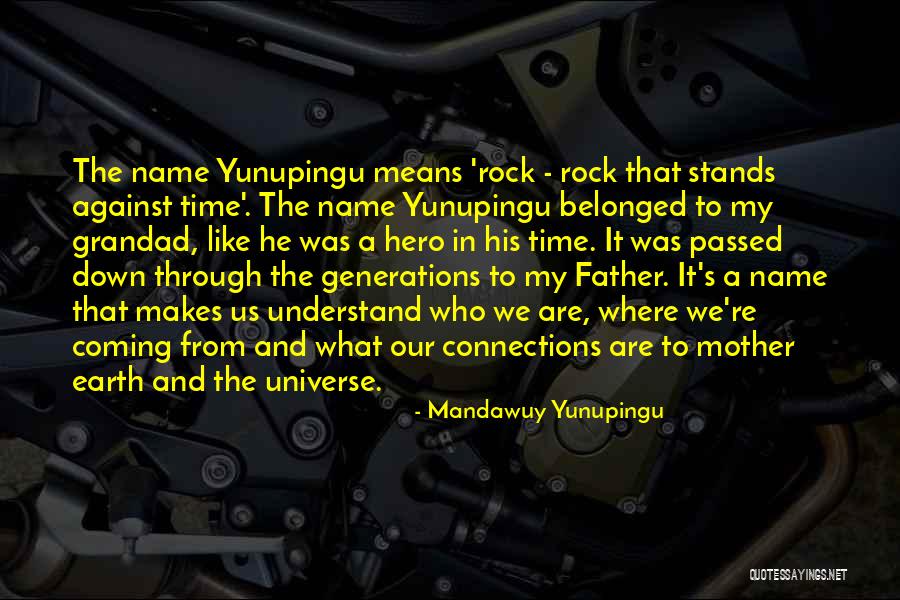 The name Yunupingu means 'rock - rock that stands against time'. The name Yunupingu belonged to my grandad, like he was a hero in his time. It was passed down through the generations to my Father. It's a name that makes us understand who we are, where we're coming from and what our connections are to mother earth and the universe. — Mandawuy Yunupingu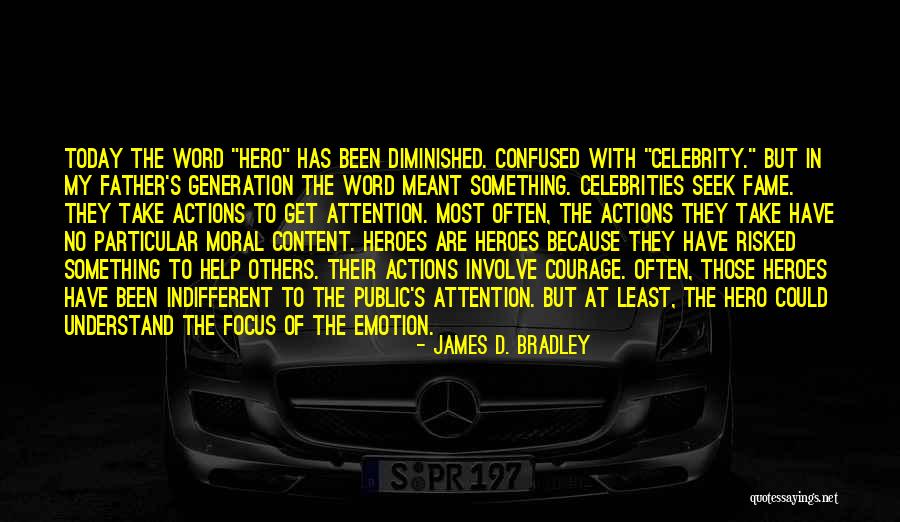 Today the word "hero" has been diminished. confused with "celebrity." But in my father's generation the word meant something.
celebrities seek fame. They take actions to get attention. Most often, the actions they take have no particular moral content. Heroes are heroes because they have risked something to help others. Their actions involve courage. Often, those heroes have been indifferent to the public's attention. But at least, the hero could understand the focus of the emotion. — James D. Bradley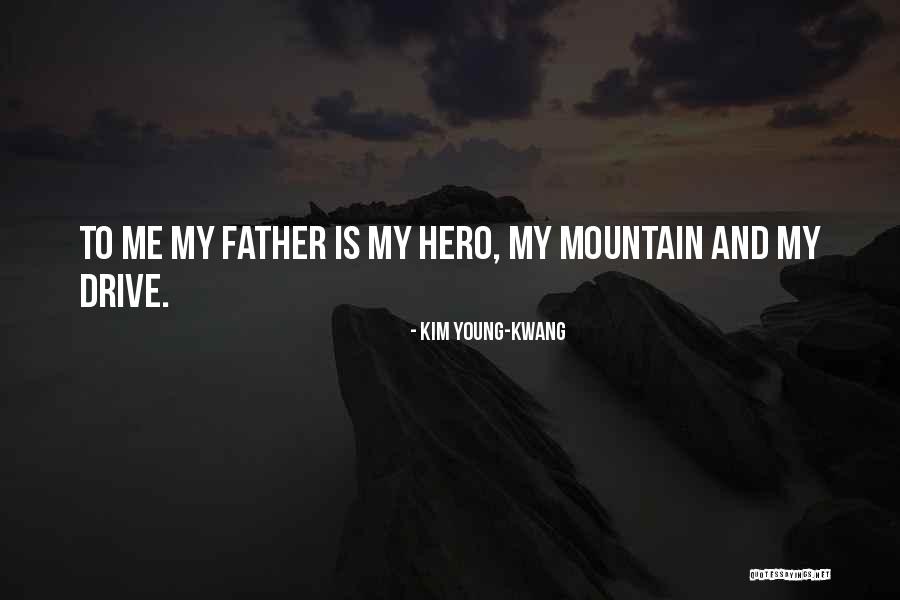 To me my father is my hero, my mountain and my drive. — Kim Young-kwang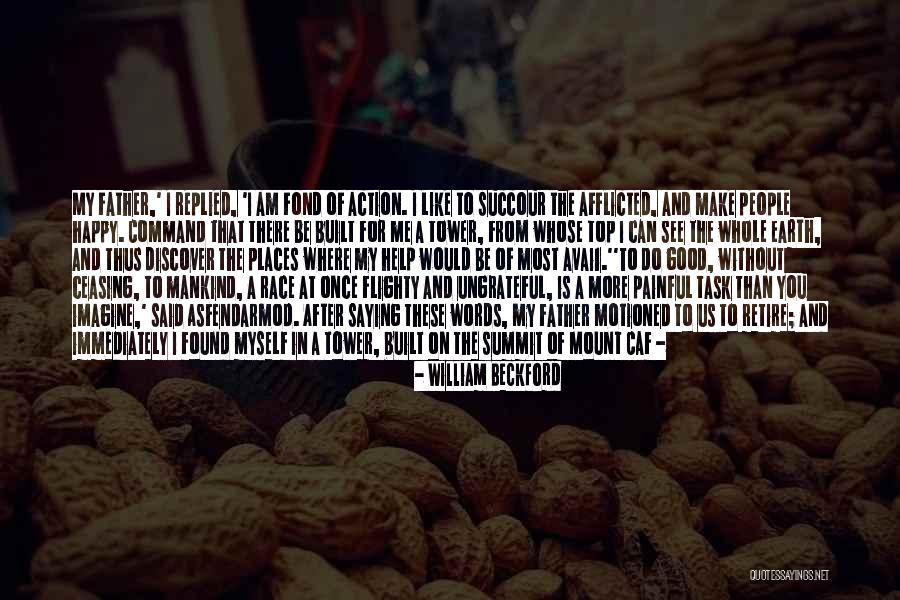 My father,' I replied, 'I am fond of action. I like to succour the afflicted, and make people happy. Command that there be built for me a tower, from whose top I can see the whole earth, and thus discover the places where my help would be of most avai1.'
'To do good, without ceasing, to mankind, a race at once flighty and ungrateful, is a more painful task than you imagine,' said Asfendarmod.
After saying these words, my father motioned to us to retire; and immediately I found myself in a tower, built on the summit of Mount Caf - a tower whose outer walls were lined with numberless mirrors that reflected, though hazily and as in a kind of dream, a thousand varied scenes then being enacted on the earth. Asfendarmod's power had indeed annihilated space, and brought me not only within sight of all the beings thus reflected in the mirrors, but also within sound of their voices and of the very words they uttered. ("The Story of The Peri Homaiouna") — William Beckford
My father was a dreamer - my hero. He was a smart, tough guy from Poland, a cutter of lady's handbags, an old socialist-unionist who always considered himself a failure. His big line was: 'Don't end up like me.' — Alan King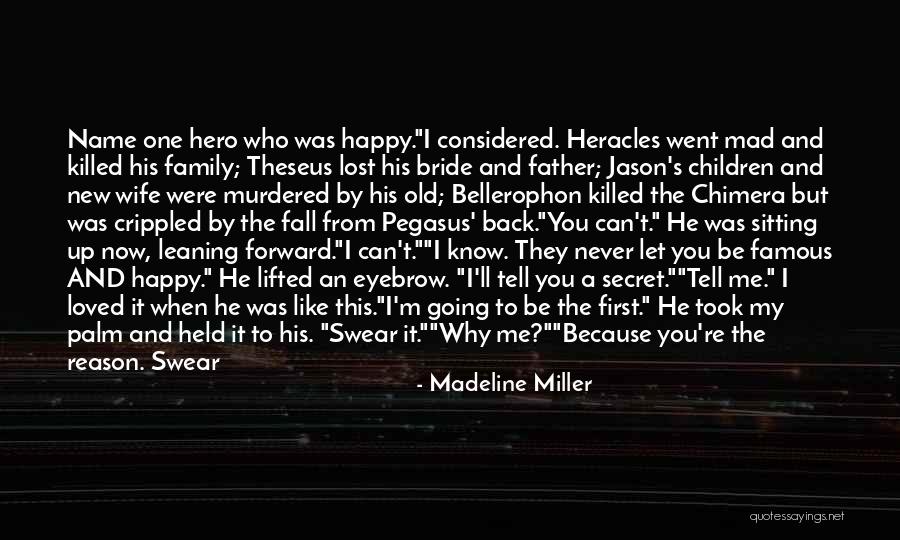 Name one hero who was happy."
I considered. Heracles went mad and killed his family; Theseus lost his bride and father; Jason's children and new wife were murdered by his old; Bellerophon killed the Chimera but was crippled by the fall from Pegasus' back.
"You can't." He was sitting up now, leaning forward.
"I can't."
"I know. They never let you be famous AND happy." He lifted an eyebrow. "I'll tell you a secret."
"Tell me." I loved it when he was like this.
"I'm going to be the first." He took my palm and held it to his. "Swear it."
"Why me?"
"Because you're the reason. Swear it."
"I swear it," I said, lost in the high color of his cheeks, the flame in his eyes.
"I swear it," he echoed.
We sat like that a moment, hands touching. He grinned.
"I feel like I could eat the world raw. — Madeline Miller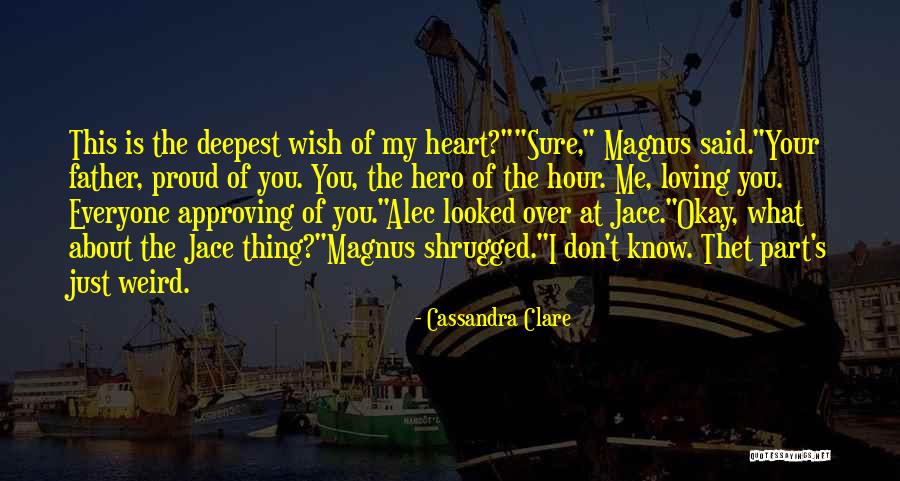 This is the deepest wish of my heart?"
"Sure," Magnus said.
"Your father, proud of you. You, the hero of the hour. Me, loving you. Everyone approving of you."
Alec looked over at Jace.
"Okay, what about the Jace thing?"
Magnus shrugged.
"I don't know. Thet part's just weird. — Cassandra Clare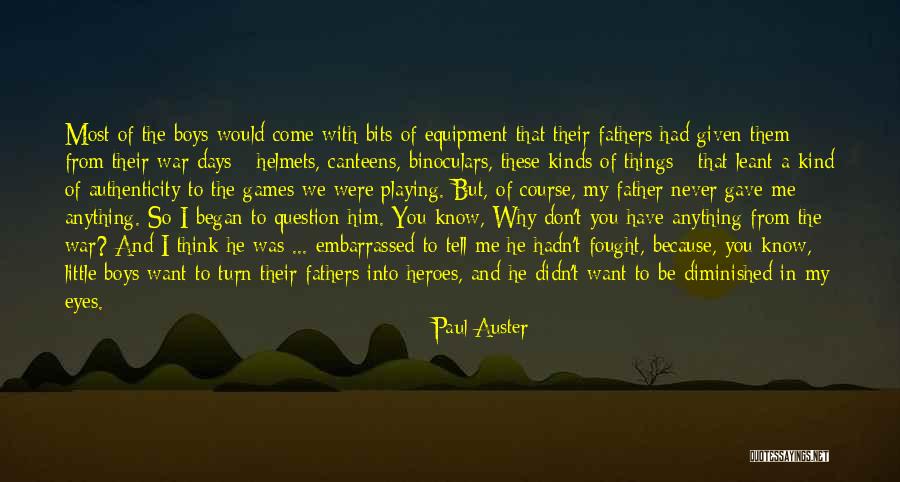 Most of the boys would come with bits of equipment that their fathers had given them from their war days - helmets, canteens, binoculars, these kinds of things - that leant a kind of authenticity to the games we were playing. But, of course, my father never gave me anything. So I began to question him. You know, Why don't you have anything from the war? And I think he was ... embarrassed to tell me he hadn't fought, because, you know, little boys want to turn their fathers into heroes, and he didn't want to be diminished in my eyes. — Paul Auster