Quotes & Sayings About Motives Of The Heart
Enjoy reading and share 39 famous quotes about Motives Of The Heart with everyone.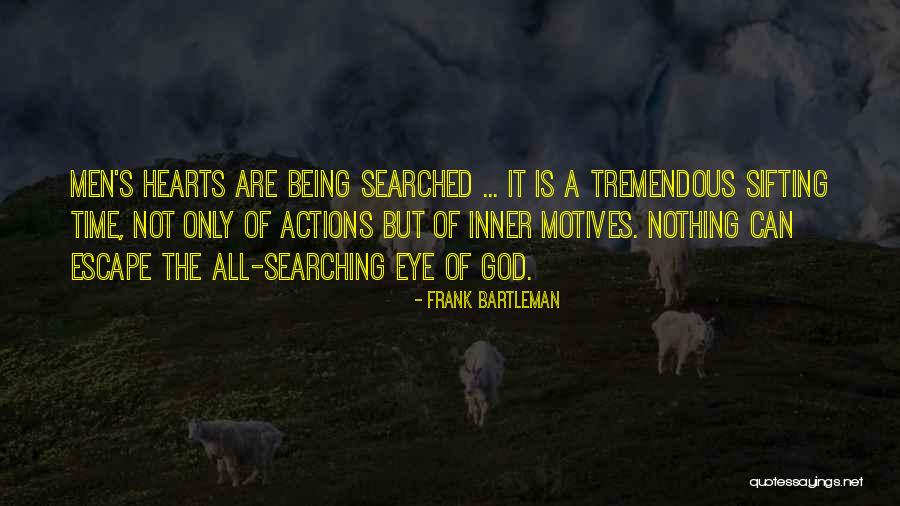 Men's hearts are being searched ... it is a tremendous sifting time, not only of actions but of inner motives. Nothing can escape the all-searching eye of God. — Frank Bartleman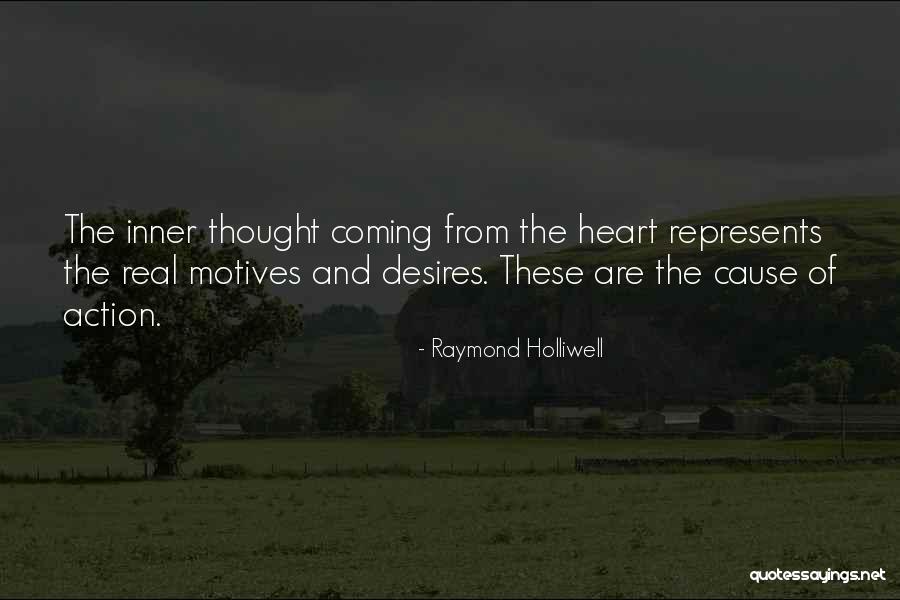 The inner thought coming from the heart represents the real motives and desires. These are the cause of action. — Raymond Holliwell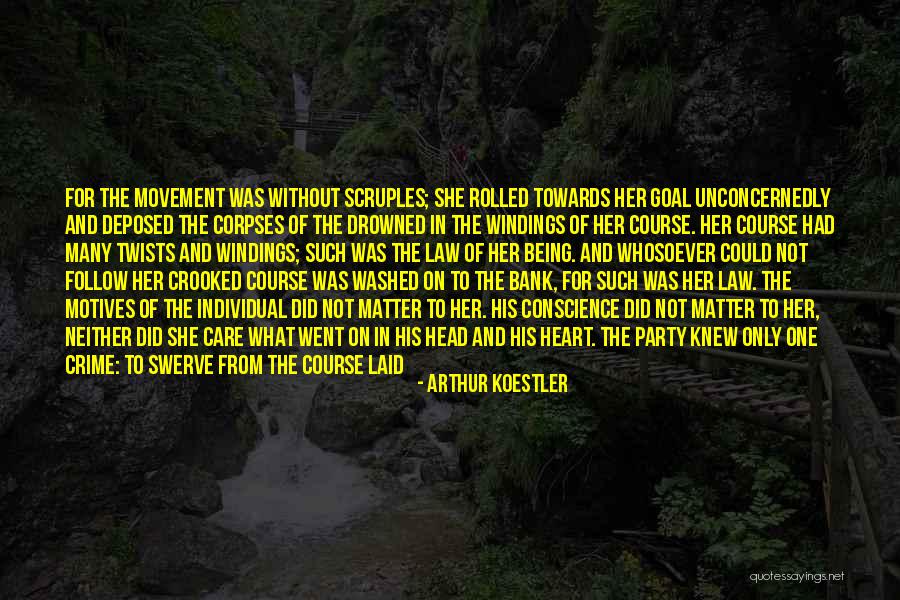 For the movement was without scruples; she rolled towards her goal unconcernedly and deposed the corpses of the drowned in the windings of her course. Her course had many twists and windings; such was the law of her being. And whosoever could not follow her crooked course was washed on to the bank, for such was her law. The motives of the individual did not matter to her. His conscience did not matter to her, neither did she care what went on in his head and his heart. The Party knew only one crime: to swerve from the course laid out; and only one punishment: death. Death was no mystery in the movement; there was nothing exalted about it: it was the logical solution to political divergences — Arthur Koestler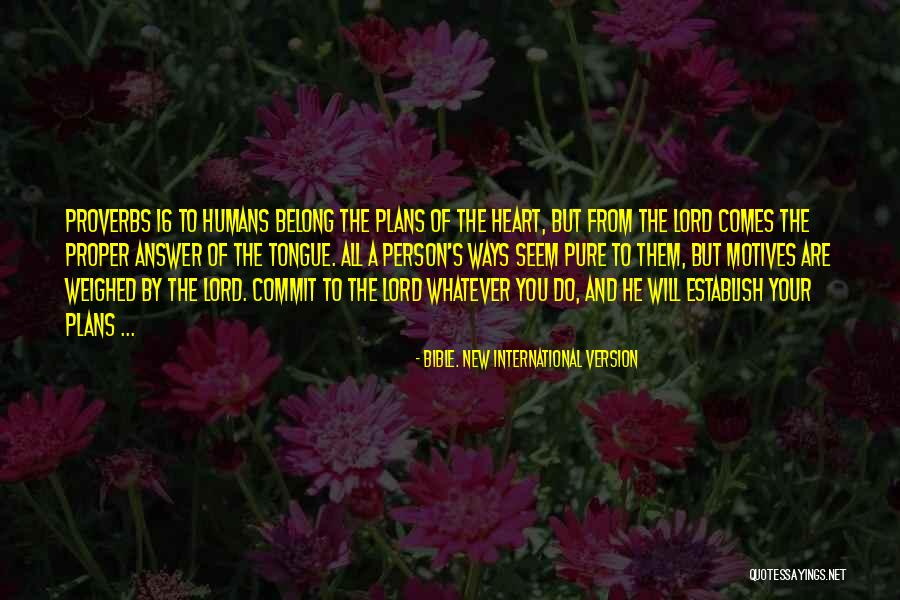 Proverbs 16 To humans belong the plans of the heart, but from the Lord comes the proper answer of the tongue. All a person's ways seem pure to them, but motives are weighed by the Lord. Commit to the Lord whatever you do, and he will establish your plans ... — Bible. New International Version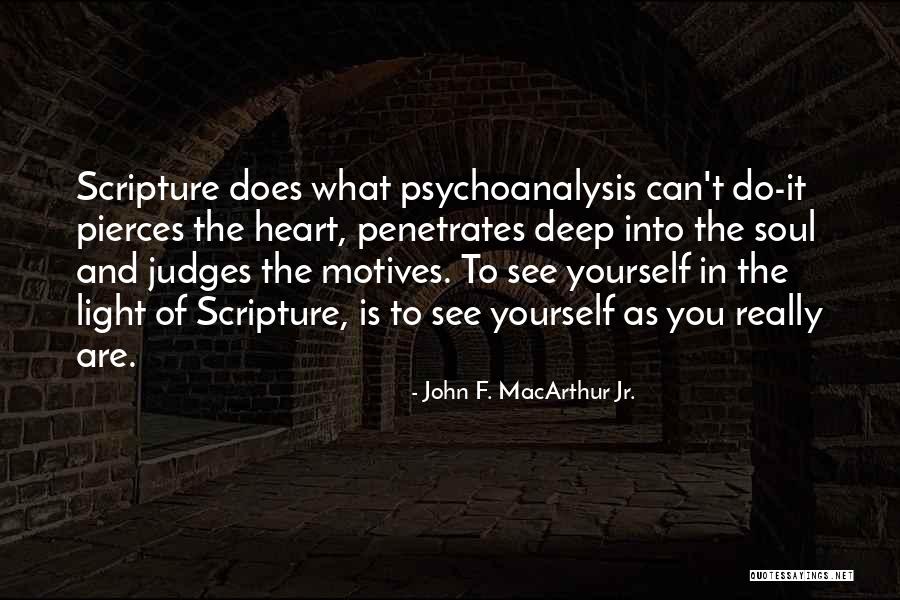 Scripture does what psychoanalysis can't do-it pierces the heart, penetrates deep into the soul and judges the motives. To see yourself in the light of Scripture, is to see yourself as you really are. — John F. MacArthur Jr.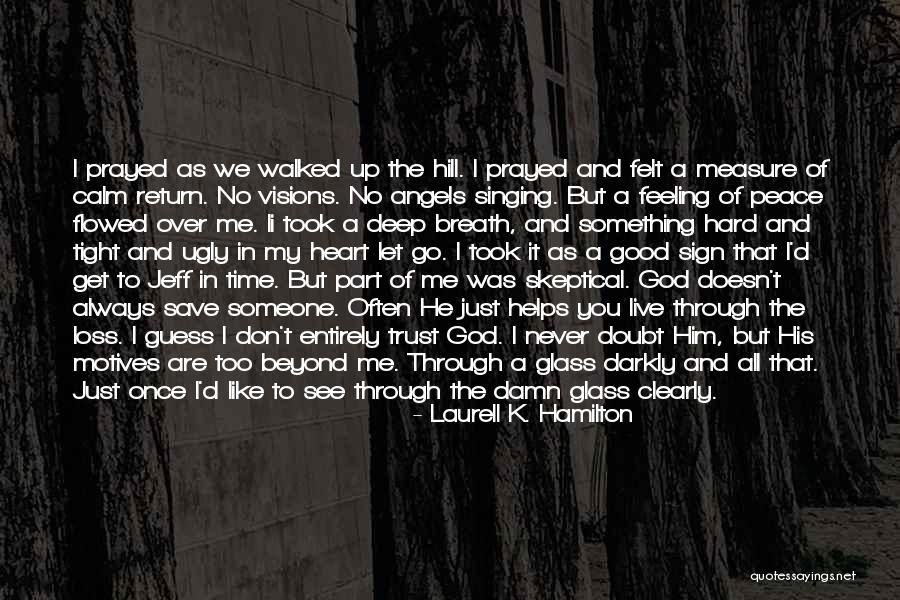 I prayed as we walked up the hill. I prayed and felt a measure of calm return. No visions. No angels singing. But a feeling of peace flowed over me. Ii took a deep breath, and something hard and tight and ugly in my heart let go. I took it as a good sign that I'd get to Jeff in time. But part of me was skeptical. God doesn't always save someone. Often He just helps you live through the loss. I guess I don't entirely trust God. I never doubt Him, but His motives are too beyond me. Through a glass darkly and all that. Just once I'd like to see through the damn glass clearly. — Laurell K. Hamilton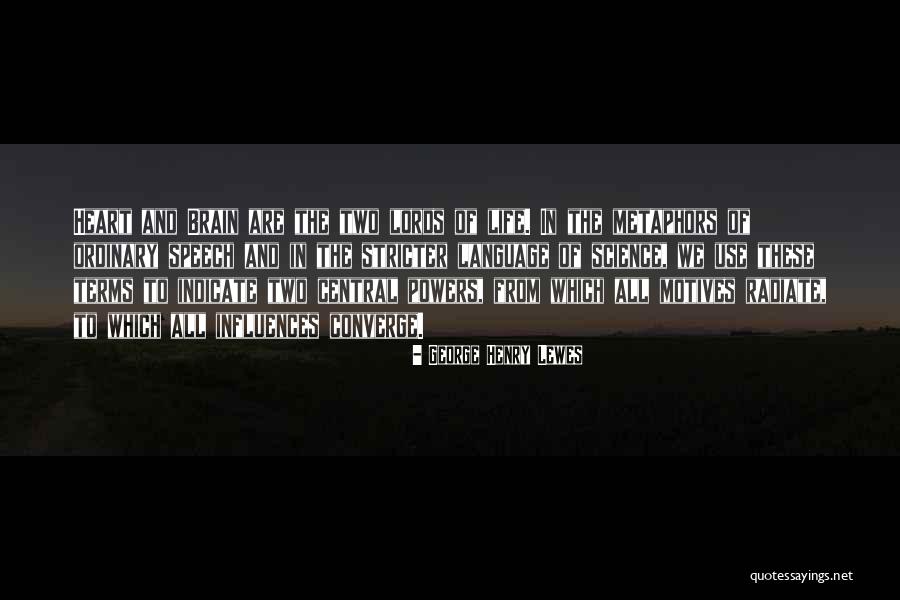 Heart and Brain are the two lords of life. In the metaphors of ordinary speech and in the stricter language of science, we use these terms to indicate two central powers, from which all motives radiate, to which all influences converge. — George Henry Lewes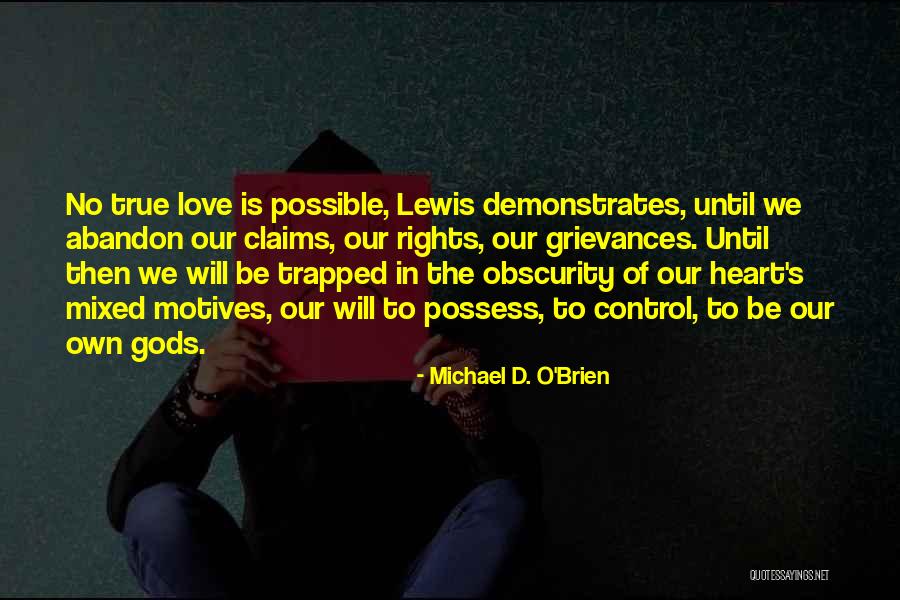 No true love is possible, Lewis demonstrates, until we abandon our claims, our rights, our grievances. Until then we will be trapped in the obscurity of our heart's mixed motives, our will to possess, to control, to be our own gods. — Michael D. O'Brien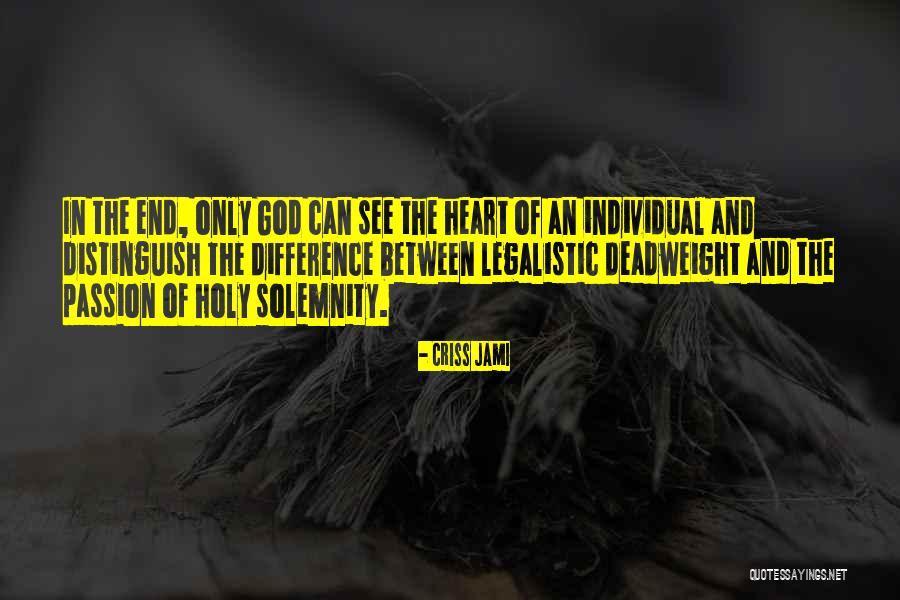 In the end, only God can see the heart of an individual and distinguish the difference between legalistic deadweight and the passion of holy solemnity. — Criss Jami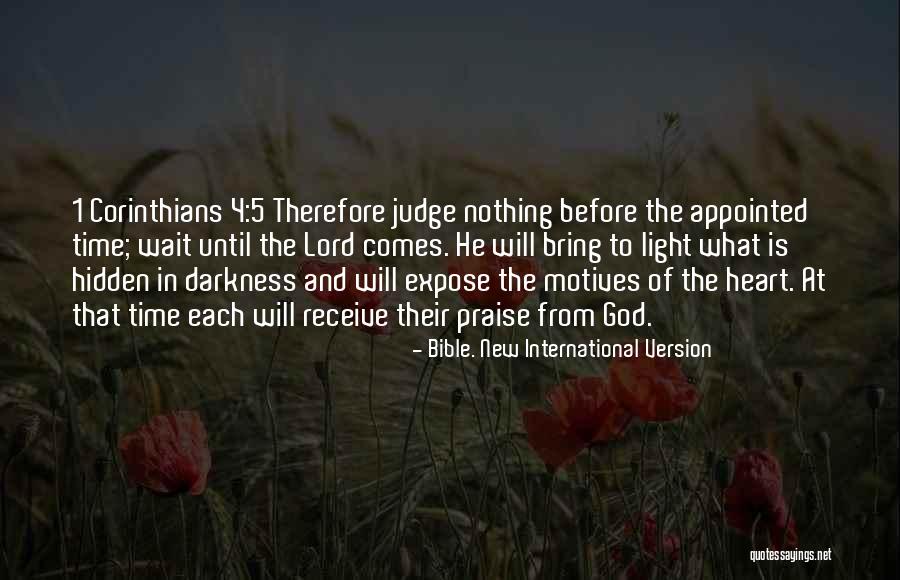 1 Corinthians 4:5 Therefore judge nothing before the appointed time; wait until the Lord comes. He will bring to light what is hidden in darkness and will expose the motives of the heart. At that time each will receive their praise from God. — Bible. New International Version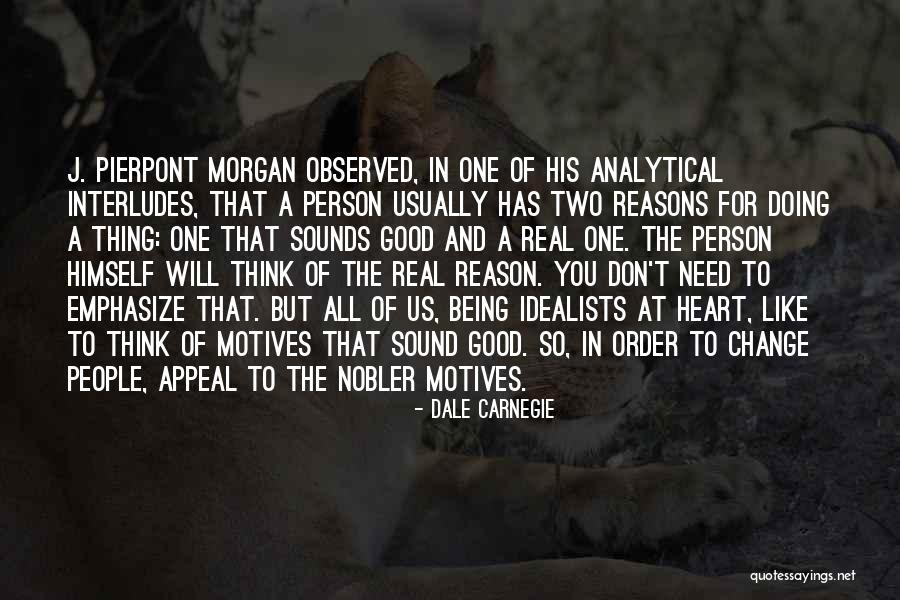 J. Pierpont Morgan observed, in one of his analytical interludes, that a person usually has two reasons for doing a thing: one that sounds good and a real one. The person himself will think of the real reason. You don't need to emphasize that. But all of us, being idealists at heart, like to think of motives that sound good. So, in order to change people, appeal to the nobler motives. — Dale Carnegie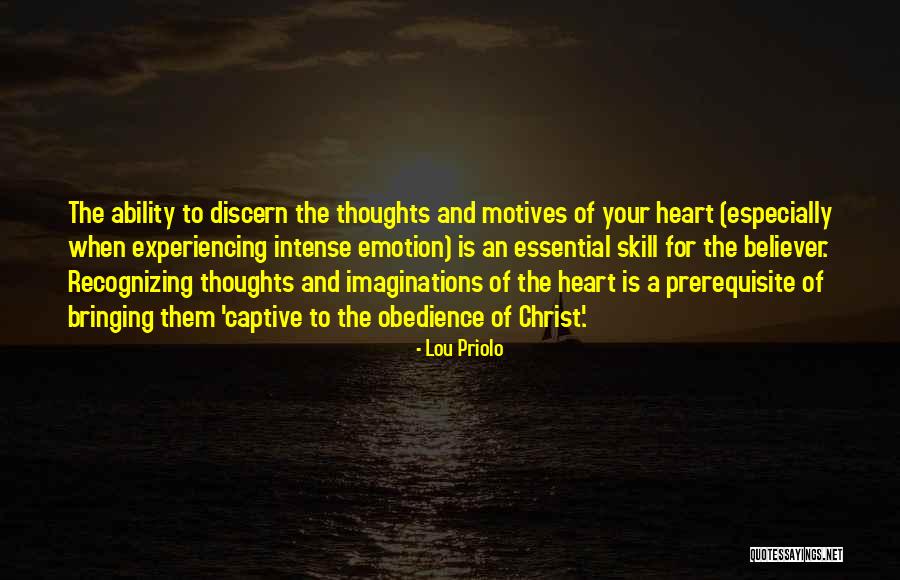 The ability to discern the thoughts and motives of your heart (especially when experiencing intense emotion) is an essential skill for the believer. Recognizing thoughts and imaginations of the heart is a prerequisite of bringing them 'captive to the obedience of Christ'. — Lou Priolo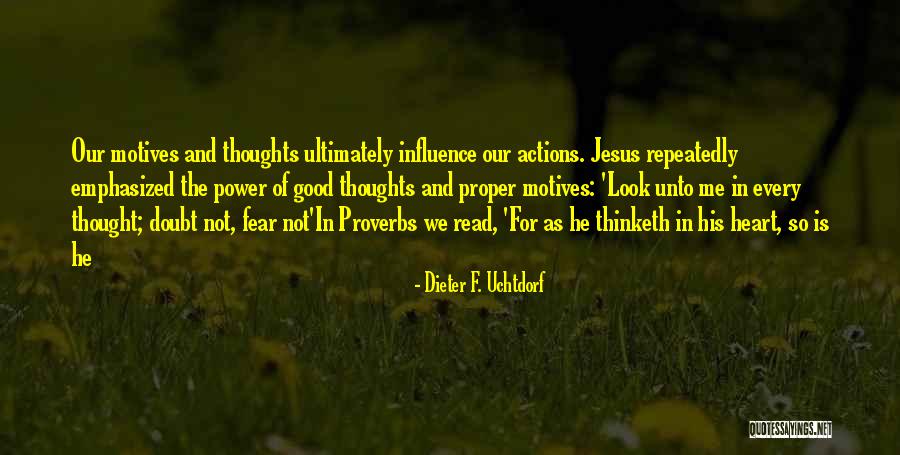 Our motives and thoughts ultimately influence our actions. Jesus repeatedly emphasized the power of good thoughts and proper motives: 'Look unto me in every thought; doubt not, fear not'
In Proverbs we read, 'For as he thinketh in his heart, so is he — Dieter F. Uchtdorf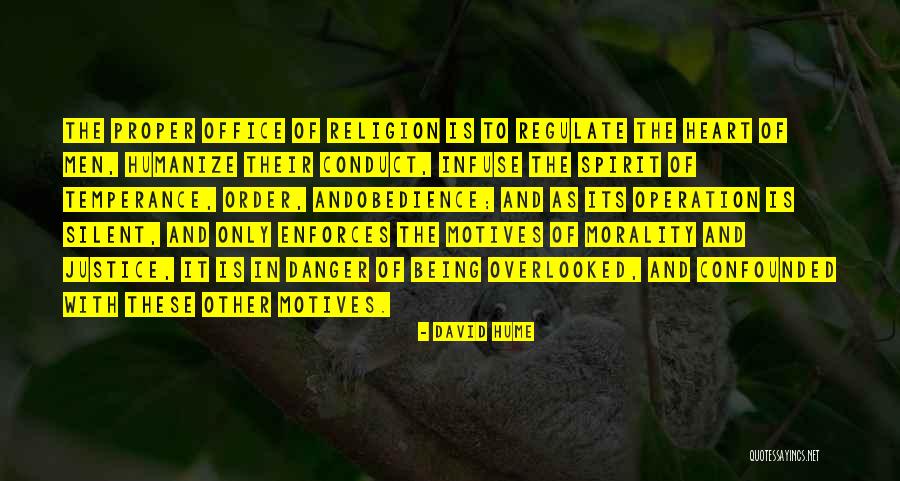 The proper office of religion is to regulate the heart of men, humanize their conduct, infuse the spirit of temperance, order, andobedience; and as its operation is silent, and only enforces the motives of morality and justice, it is in danger of being overlooked, and confounded with these other motives. — David Hume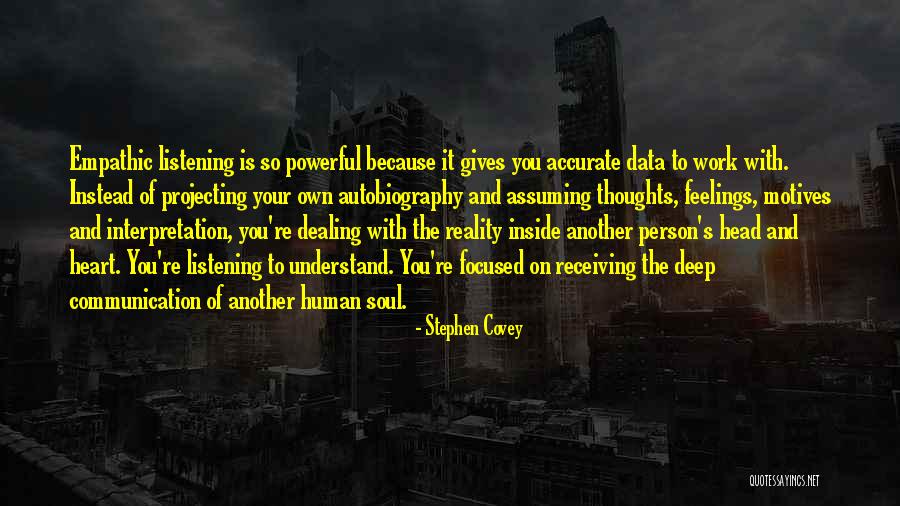 Empathic listening is so powerful because it gives you accurate data to work with. Instead of projecting your own autobiography and assuming thoughts, feelings, motives and interpretation, you're dealing with the reality inside another person's head and heart. You're listening to understand. You're focused on receiving the deep communication of another human soul. — Stephen Covey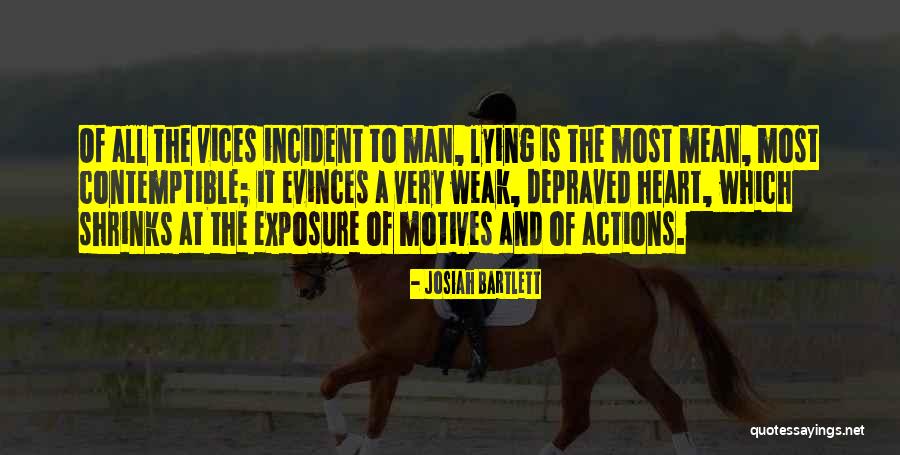 Of all the vices incident to man, lying is the most mean, most contemptible; it evinces a very weak, depraved heart, which shrinks at the exposure of motives and of actions. — Josiah Bartlett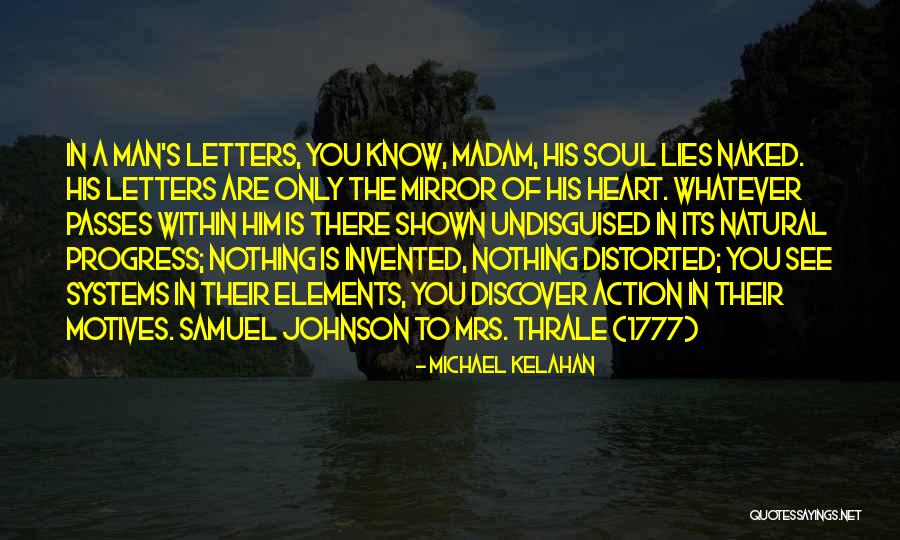 In a man's letters, you know, madam, his soul lies naked. His letters are only the mirror of his heart. Whatever passes within him is there shown undisguised in its natural progress; nothing is invented, nothing distorted; you see systems in their elements, you discover action in their motives. Samuel Johnson to Mrs. Thrale (1777) — Michael Kelahan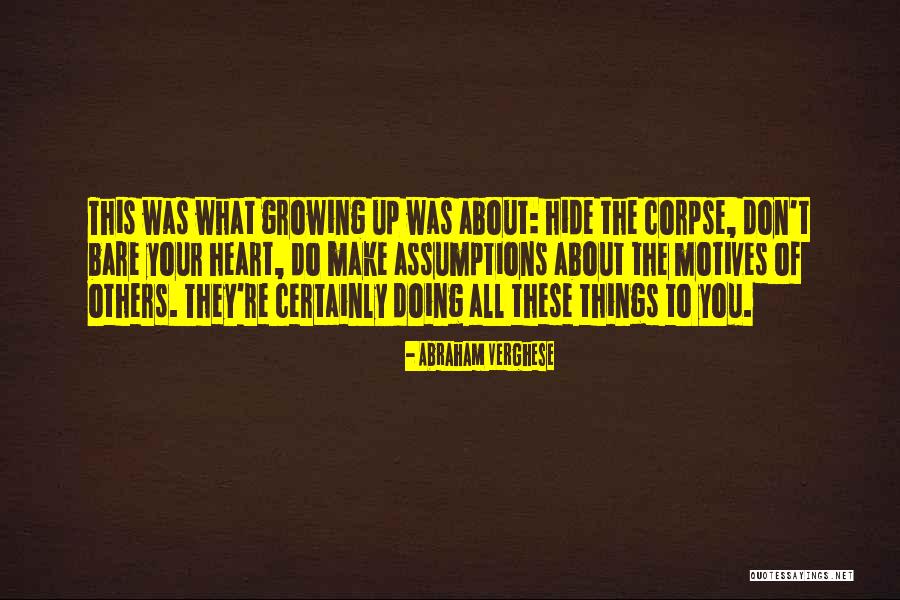 This was what growing up was about: hide the corpse, don't bare your heart, do make assumptions about the motives of others. They're certainly doing all these things to you. — Abraham Verghese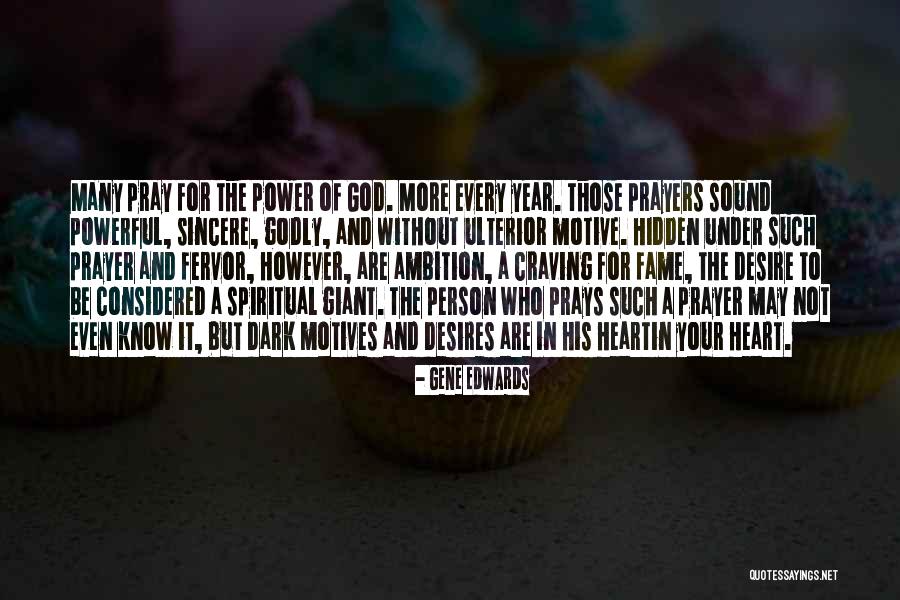 Many pray for the power of God. More every year. Those prayers sound powerful, sincere, godly, and without ulterior motive. Hidden under such prayer and fervor, however, are ambition, a craving for fame, the desire to be considered a spiritual giant. The person who prays such a prayer may not even know it, but dark motives and desires are in his heartin your heart. — Gene Edwards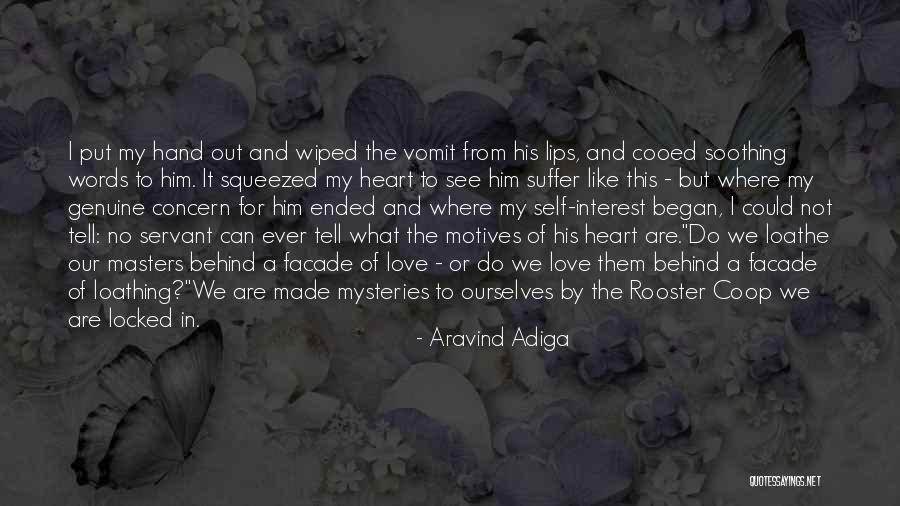 I put my hand out and wiped the vomit from his lips, and cooed soothing words to him. It squeezed my heart to see him suffer like this - but where my genuine concern for him ended and where my self-interest began, I could not tell: no servant can ever tell what the motives of his heart are.
"Do we loathe our masters behind a facade of love - or do we love them behind a facade of loathing?
"We are made mysteries to ourselves by the Rooster Coop we are locked in. — Aravind Adiga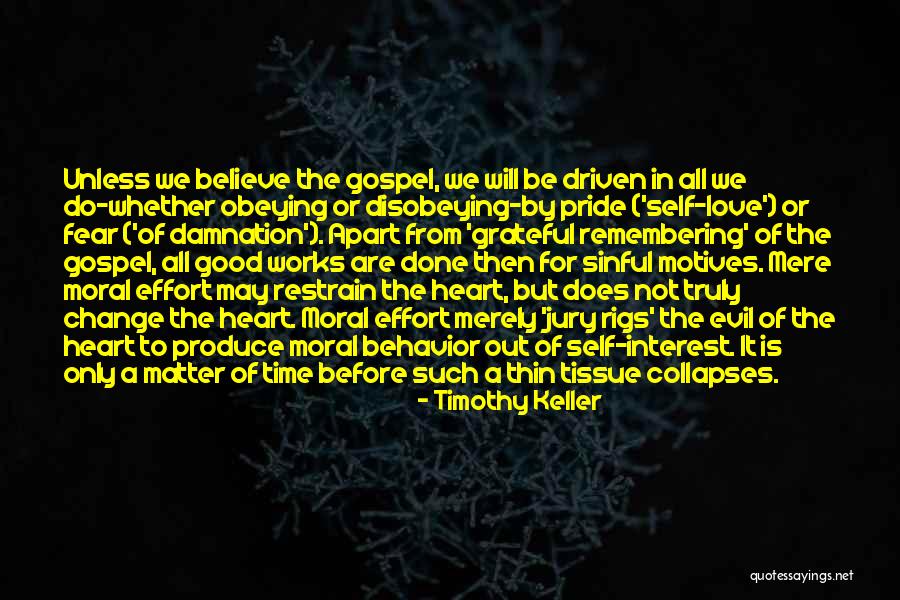 Unless we believe the gospel, we will be driven in all we do-whether obeying or disobeying-by pride ('self-love') or fear ('of damnation'). Apart from 'grateful remembering' of the gospel, all good works are done then for sinful motives. Mere moral effort may restrain the heart, but does not truly change the heart. Moral effort merely 'jury rigs' the evil of the heart to produce moral behavior out of self-interest. It is only a matter of time before such a thin tissue collapses. — Timothy Keller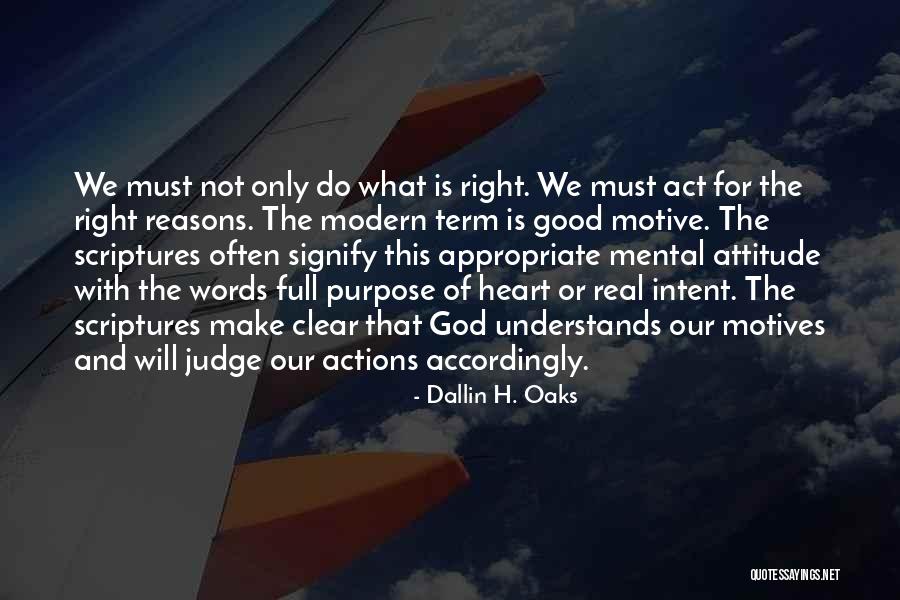 We must not only do what is right. We must act for the right reasons. The modern term is good motive. The scriptures often signify this appropriate mental attitude with the words full purpose of heart or real intent. The scriptures make clear that God understands our motives and will judge our actions accordingly. — Dallin H. Oaks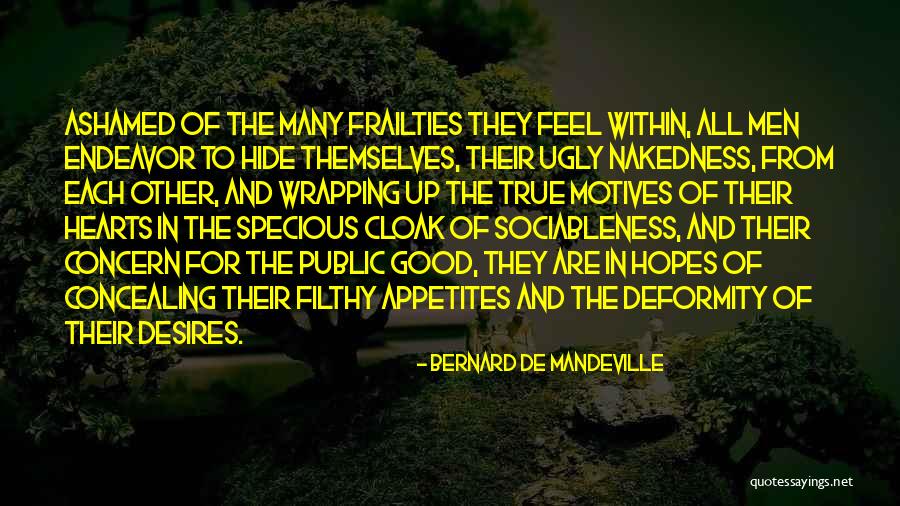 Ashamed of the many frailties they feel within, all men endeavor to hide themselves, their ugly nakedness, from each other, and wrapping up the true motives of their hearts in the specious cloak of sociableness, and their concern for the public good, they are in hopes of concealing their filthy appetites and the deformity of their desires. — Bernard De Mandeville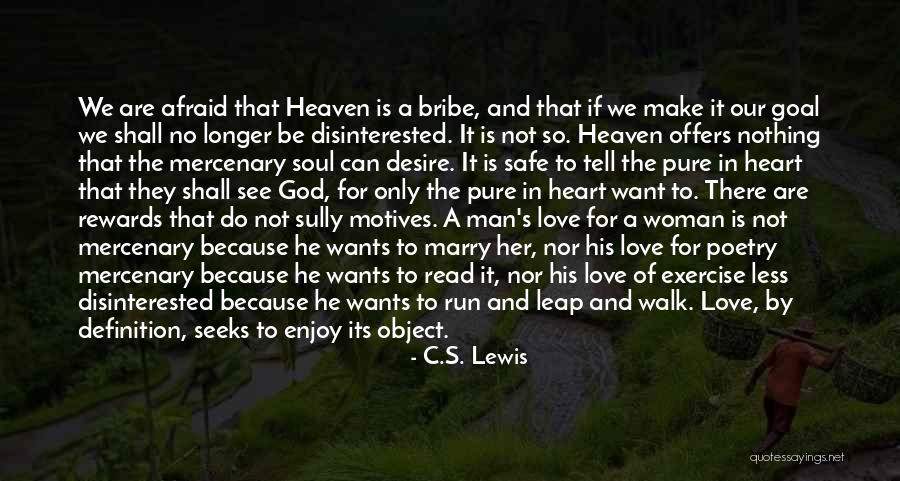 We are afraid that Heaven is a bribe, and that if we make it our goal we shall no longer be disinterested. It is not so. Heaven offers nothing that the mercenary soul can desire. It is safe to tell the pure in heart that they shall see God, for only the pure in heart want to. There are rewards that do not sully motives. A man's love for a woman is not mercenary because he wants to marry her, nor his love for poetry mercenary because he wants to read it, nor his love of exercise less disinterested because he wants to run and leap and walk. Love, by definition, seeks to enjoy its object. — C.S. Lewis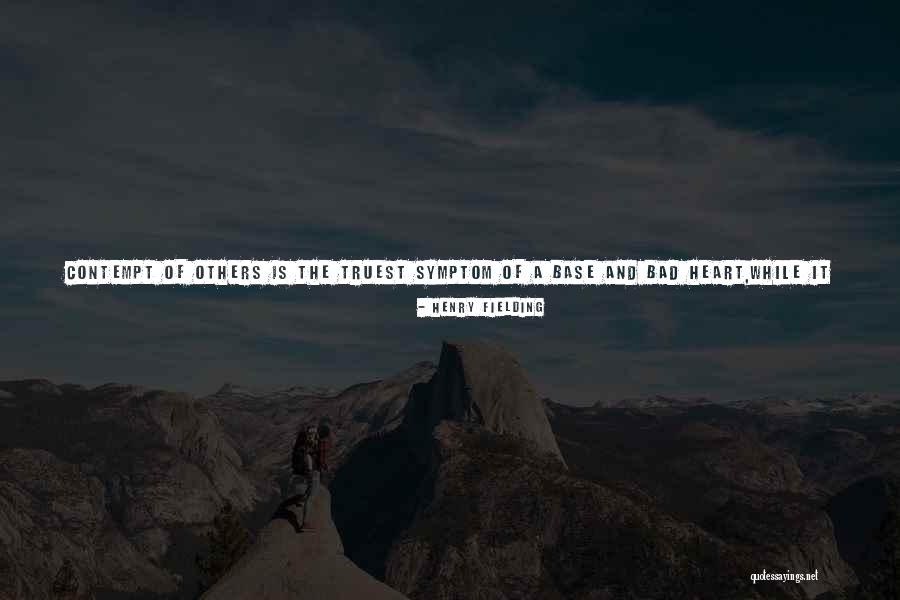 Contempt of others is the truest symptom of a base and bad heart,
while it suggests itself to the mean and the vile, and tickles there little fancy on every occasion, it never enters the great and good mind but on the strongest motives; nor is it then a welcome guest,
affording only an uneasy sensation, and bringing always with it a mixture of concern and compassion. — Henry Fielding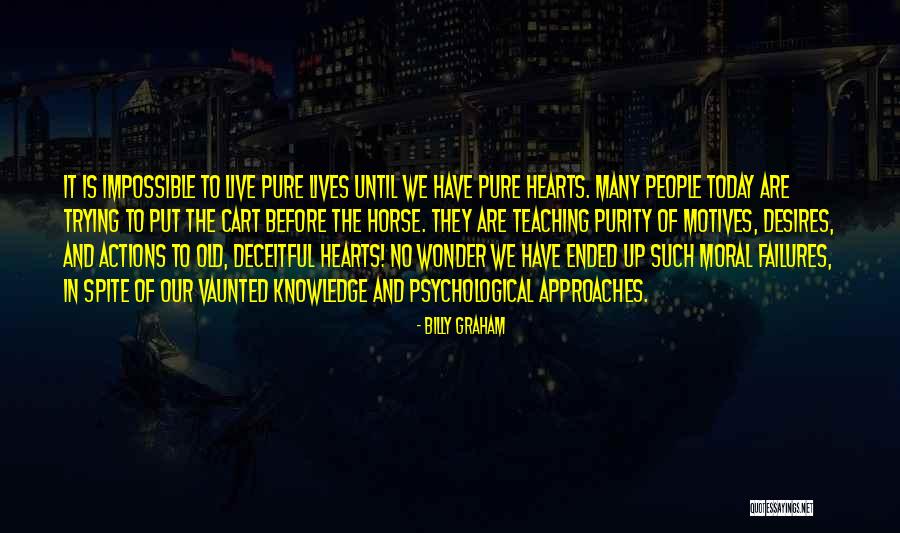 It is impossible to live pure lives until we have pure hearts. Many people today are trying to put the cart before the horse. They are teaching purity of motives, desires, and actions to old, deceitful hearts! No wonder we have ended up such moral failures, in spite of our vaunted knowledge and psychological approaches. — Billy Graham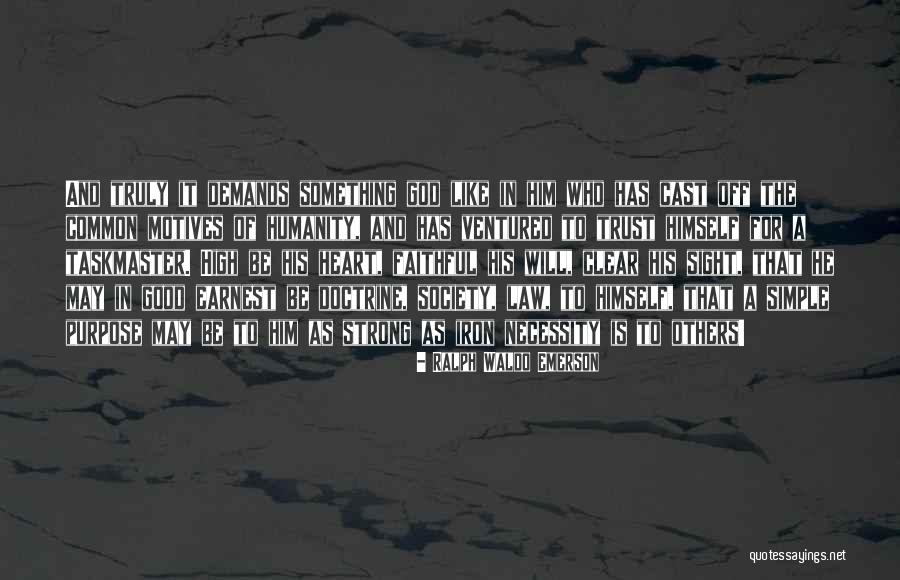 And truly it demands something god like in him who has cast off the common motives of humanity, and has ventured to trust himself for a taskmaster. High be his heart, faithful his will, clear his sight, that he may in good earnest be doctrine, society, law, to himself, that a simple purpose may be to him as strong as iron necessity is to others! — Ralph Waldo Emerson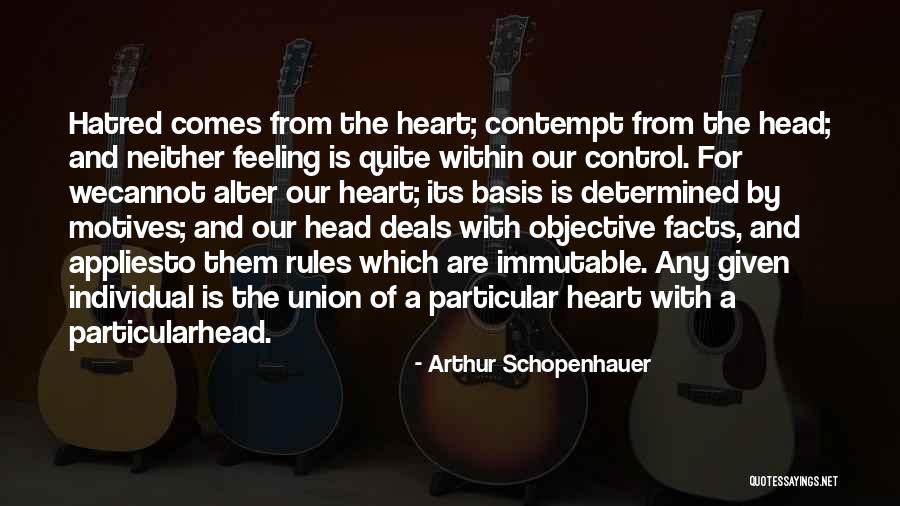 Hatred comes from the heart; contempt from the head; and neither feeling is quite within our control. For we
cannot alter our heart; its basis is determined by motives; and our head deals with objective facts, and applies
to them rules which are immutable. Any given individual is the union of a particular heart with a particular
head. — Arthur Schopenhauer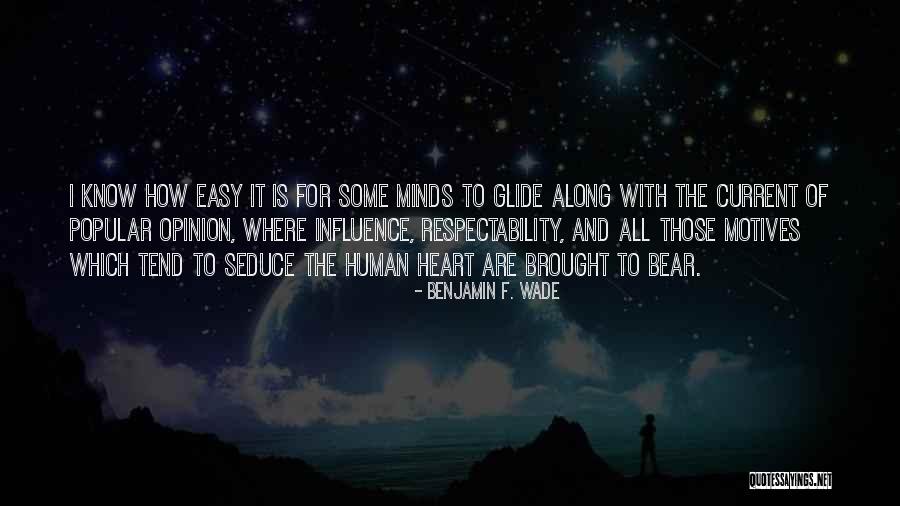 I know how easy it is for some minds to glide along with the current of popular opinion, where influence, respectability, and all those motives which tend to seduce the human heart are brought to bear. — Benjamin F. Wade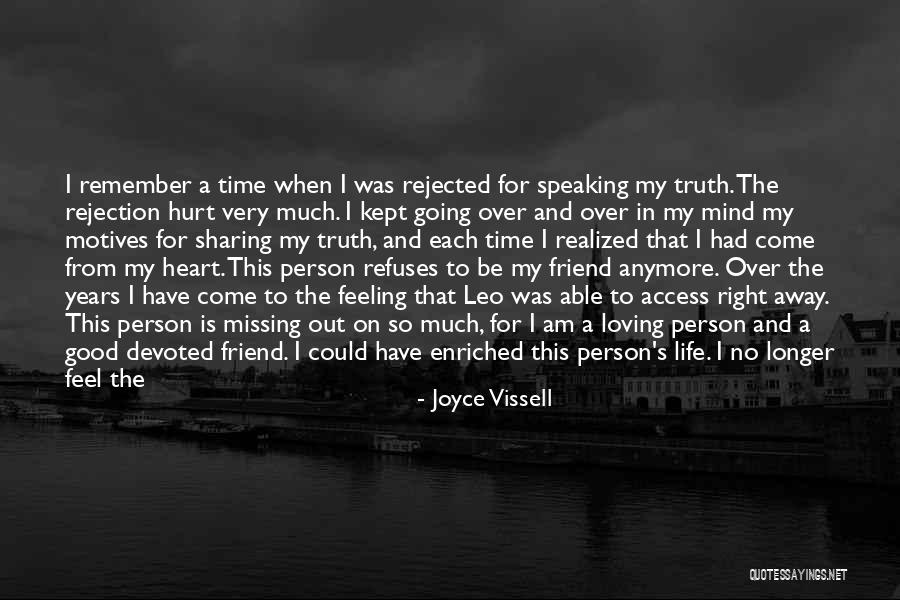 I remember a time when I was rejected for speaking my truth. The rejection hurt very much. I kept going over and over in my mind my motives for sharing my truth, and each time I realized that I had come from my heart. This person refuses to be my friend anymore. Over the years I have come to the feeling that Leo was able to access right away. This person is missing out on so much, for I am a loving person and a good devoted friend. I could have enriched this person's life. I no longer feel the personal pain of rejection, but the sadness for what my former friend is missing. I realized also from this experience that it is most important to speak one's deepest truth and to follow the calling of our heart. As we do so we are filled with an inner power and conviction to give the precious gift that we came to earth to give. — Joyce Vissell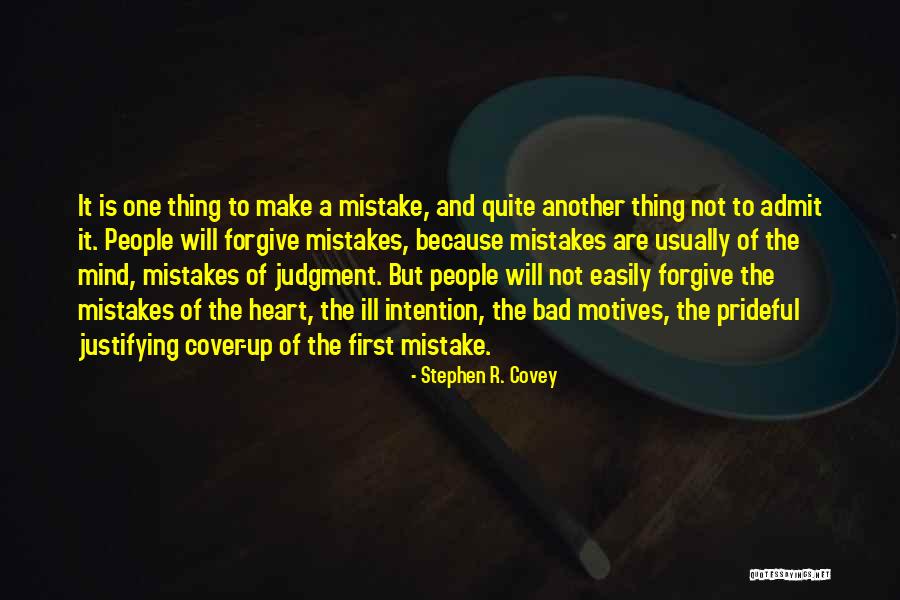 It is one thing to make a mistake, and quite another thing not to admit it. People will forgive mistakes, because mistakes are usually of the mind, mistakes of judgment. But people will not easily forgive the mistakes of the heart, the ill intention, the bad motives, the prideful justifying cover-up of the first mistake. — Stephen R. Covey
When I give, it does not come with strings. I'm not keeping track of what you owe me. When I give, I choose to do so without ulterior motives. I give because I know what it's like to be without. To long for and be ignored; to speak and not be heard; to care for and have nothing returned. When I give it's because I know the value in what I have in my heart. And I refuse to let the world stop me from sharing that, But when things start being taken for granted, When you no longer appreciate my sincerity, I won't switch, I won't get angry, and I won't be spiteful. I'll just get smart, and change your role in my life. Because when I give, I'm all in. But when I'm done, there's no turning back. — Rob Hill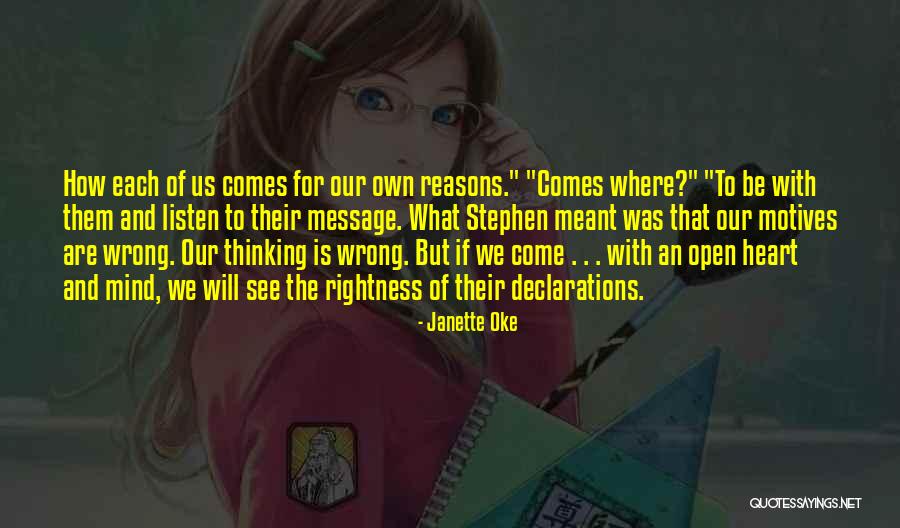 How each of us comes for our own reasons." "Comes where?" "To be with them and listen to their message. What Stephen meant was that our motives are wrong. Our thinking is wrong. But if we come . . . with an open heart and mind, we will see the rightness of their declarations. — Janette Oke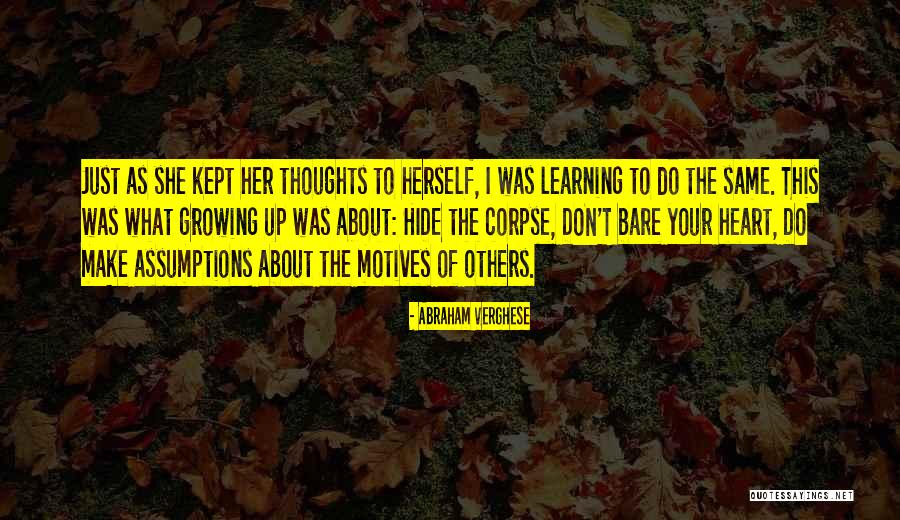 Just as she kept her thoughts to herself, I was learning to do the same. This was what growing up was about: HIDE the corpse, DON'T bare your heart, DO make assumptions about the motives of others. — Abraham Verghese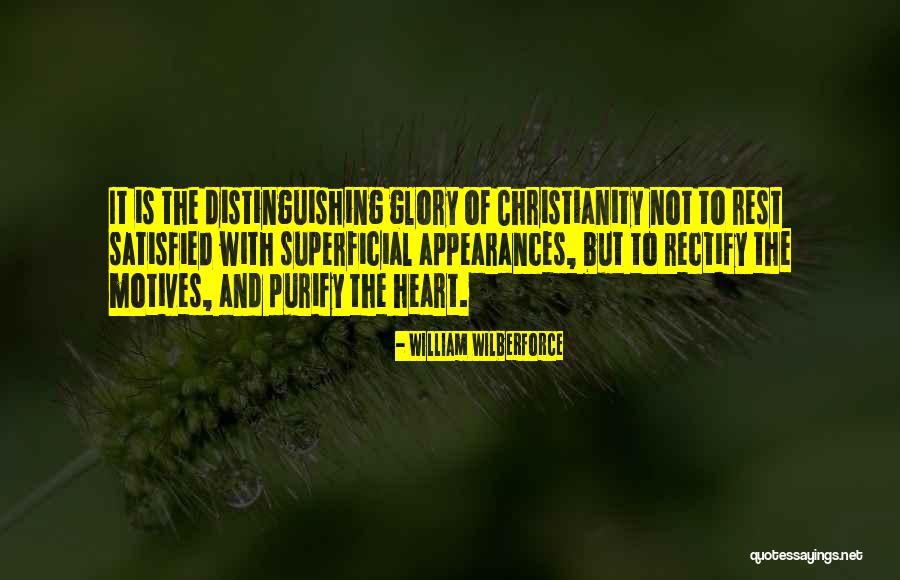 It is the distinguishing glory of Christianity not to rest satisfied with superficial appearances, but to rectify the motives, and purify the heart. — William Wilberforce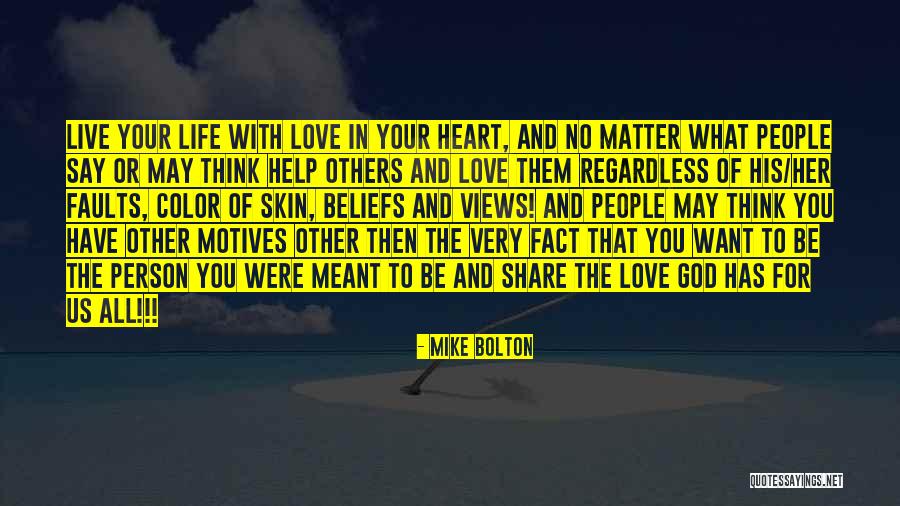 Live your life with love in your heart, and no matter what people say or may think help others and love them regardless of his/her faults, color of skin, beliefs and views! And people may think you have other motives other then the very fact that you want to be the person you were meant to be and share the love God has for us all!!! — Mike Bolton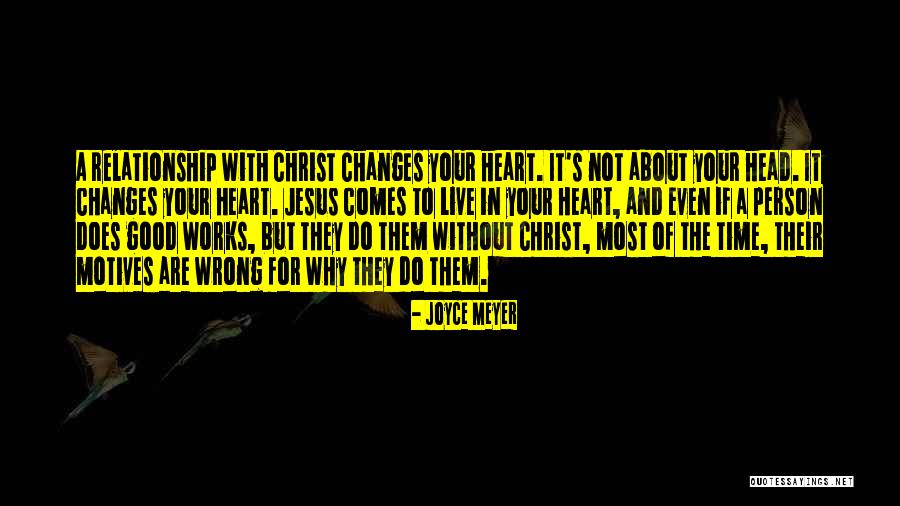 A relationship with Christ changes your heart. It's not about your head. It changes your heart. Jesus comes to live in your heart, and even if a person does good works, but they do them without Christ, most of the time, their motives are wrong for why they do them. — Joyce Meyer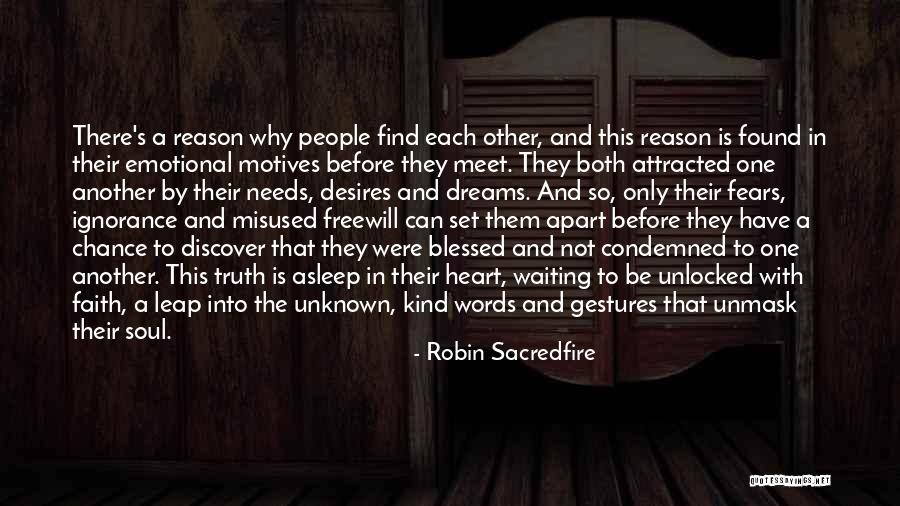 There's a reason why people find each other, and this reason is found in their emotional motives before they meet. They both attracted one another by their needs, desires and dreams. And so, only their fears, ignorance and misused freewill can set them apart before they have a chance to discover that they were blessed and not condemned to one another. This truth is asleep in their heart, waiting to be unlocked with faith, a leap into the unknown, kind words and gestures that unmask their soul. — Robin Sacredfire