Quotes & Sayings About Mornings In Bed
Enjoy reading and share 38 famous quotes about Mornings In Bed with everyone.
Top Mornings In Bed Quotes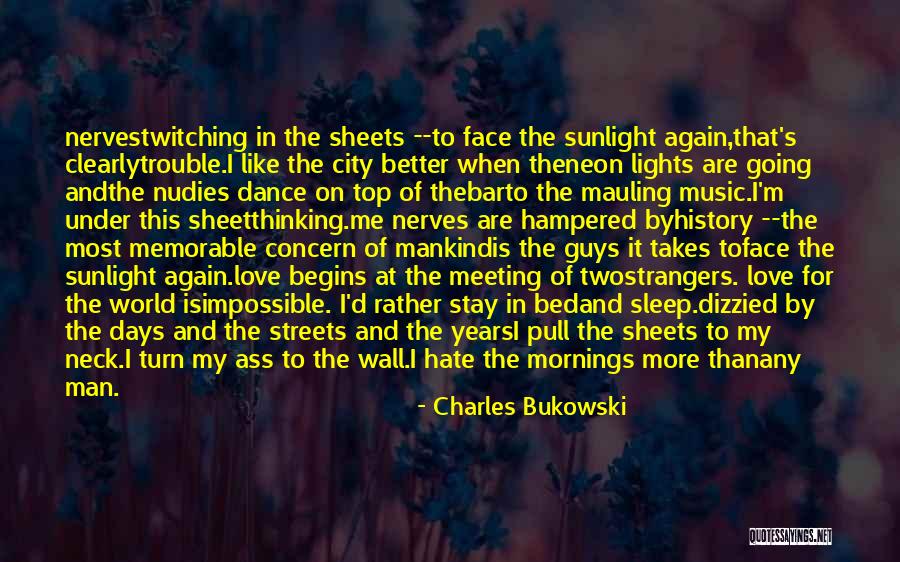 nerves


twitching in the sheets --
to face the sunlight again,
that's clearly
trouble.
I like the city better when the
neon lights are going and
the nudies dance on top of the
bar
to the mauling music.

I'm under this sheet
thinking.
me nerves are hampered by
history --
the most memorable concern of mankind
is the guys it takes to
face the sunlight again.

love begins at the meeting of two
strangers. love for the world is
impossible. I'd rather stay in bed
and sleep.

dizzied by the days and the streets and the years
I pull the sheets to my neck.
I turn my ass to the wall.
I hate the mornings more than
any man. — Charles Bukowski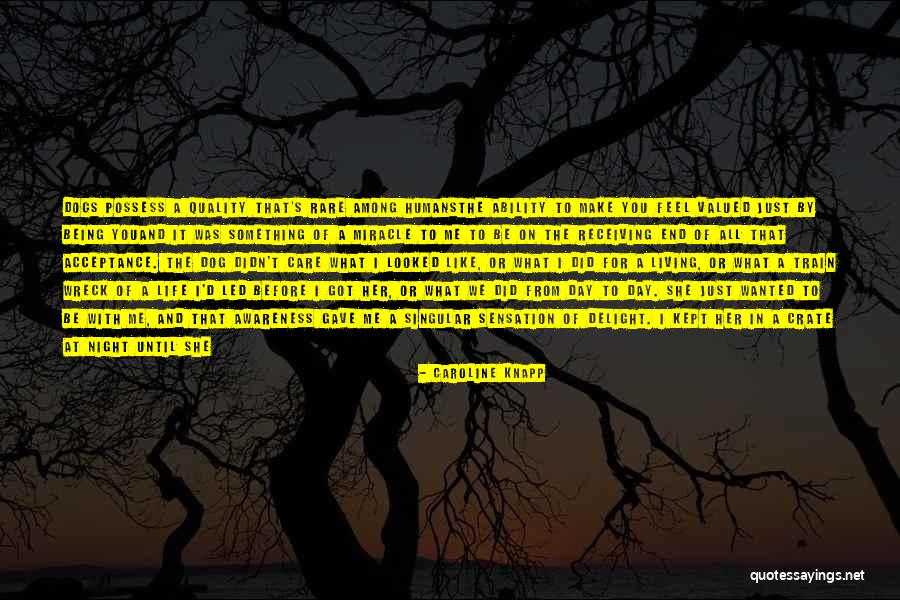 Dogs possess a quality that's rare among humans
the ability to make you feel valued just by being you
and it was something of a miracle to me to be on the receiving end of all that acceptance. The dog didn't care what I looked like, or what I did for a living, or what a train wreck of a life I'd led before I got her, or what we did from day to day. She just wanted to be with me, and that awareness gave me a singular sensation of delight. I kept her in a crate at night until she was housebroken, and in the mornings I'd let her up onto the bed with me. She'd writhe with joy at that. She'd wag her tail and squirm all over me, lick my neck and face and eyes and ears, get her paws all tangled in my braid, and I'd just lie there, and I'd feel those oceans of loss from my past ebbing back, ebbing away, and I'd hear myself laugh out loud. — Caroline Knapp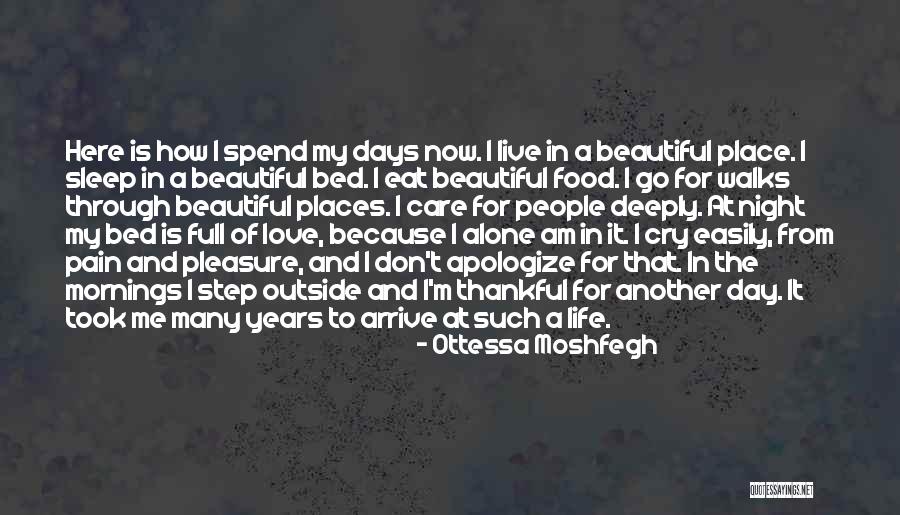 Here is how I spend my days now. I live in a beautiful place. I sleep in a beautiful bed. I eat beautiful food. I go for walks through beautiful places. I care for people deeply. At night my bed is full of love, because I alone am in it. I cry easily, from pain and pleasure, and I don't apologize for that. In the mornings I step outside and I'm thankful for another day. It took me many years to arrive at such a life. — Ottessa Moshfegh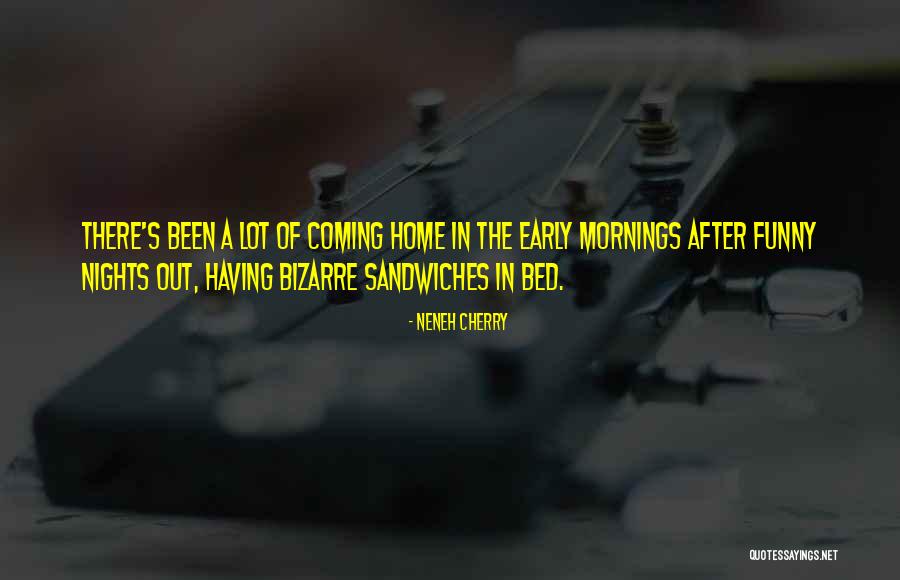 There's been a lot of coming home in the early mornings after funny nights out, having bizarre sandwiches in bed. — Neneh Cherry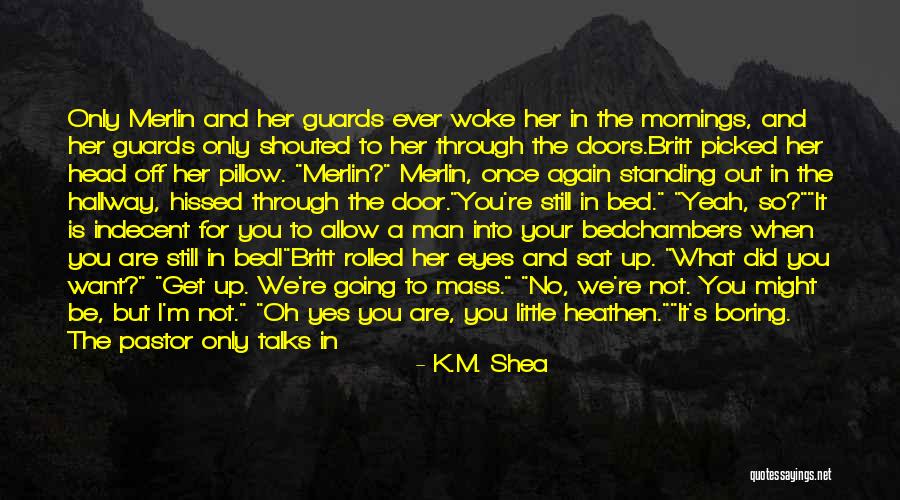 Only Merlin and her guards ever woke her in the mornings, and her guards only shouted to her through the doors.
Britt picked her head off her pillow. "Merlin?"
Merlin, once again standing out in the hallway, hissed through the door."You're still in bed."
"Yeah, so?"
"It is indecent for you to allow a man into your bedchambers when you are still in bed!"
Britt rolled her eyes and sat up. "What did you want?"
"Get up. We're going to mass."
"No, we're not. You might be, but I'm not."
"Oh yes you are, you little heathen."
"It's boring. The pastor only talks in Greek or Hebrew or whatever that language is."
"He's the archbishop, and he conducts the service in Latin."
"Mmm, yeah that," Britt said, falling back into her bed with a thump.
"Do not lie back down you unschooled foundling!"
"Too late," Britt said. "If you want me to go to mass you're going to have to drag me out of here. How indecent would that be? — K.M. Shea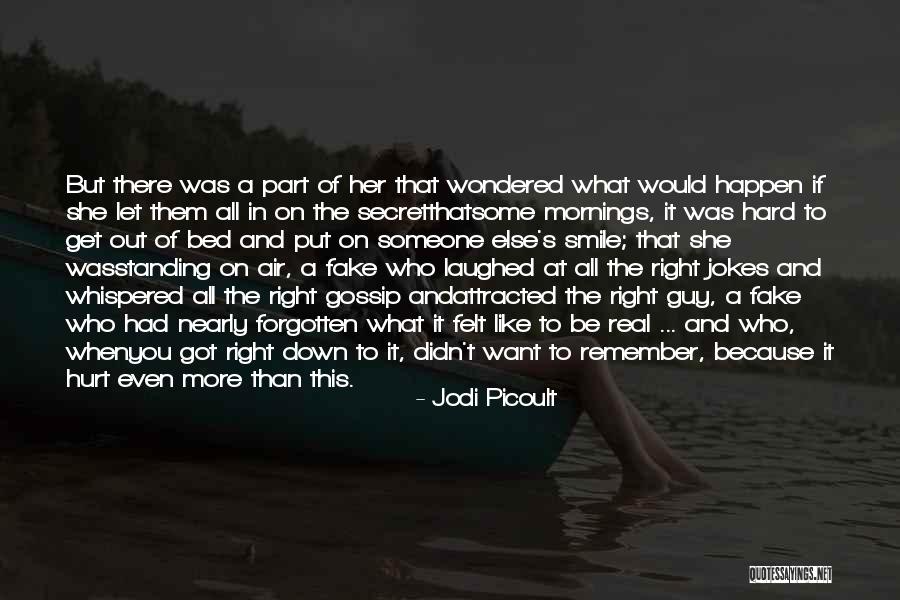 But there was a part of her that wondered what would happen if she let them all in on the secretthat
some mornings, it was hard to get out of bed and put on someone else's smile; that she was
standing on air, a fake who laughed at all the right jokes and whispered all the right gossip and
attracted the right guy, a fake who had nearly forgotten what it felt like to be real ... and who, when
you got right down to it, didn't want to remember, because it hurt even more than this. — Jodi Picoult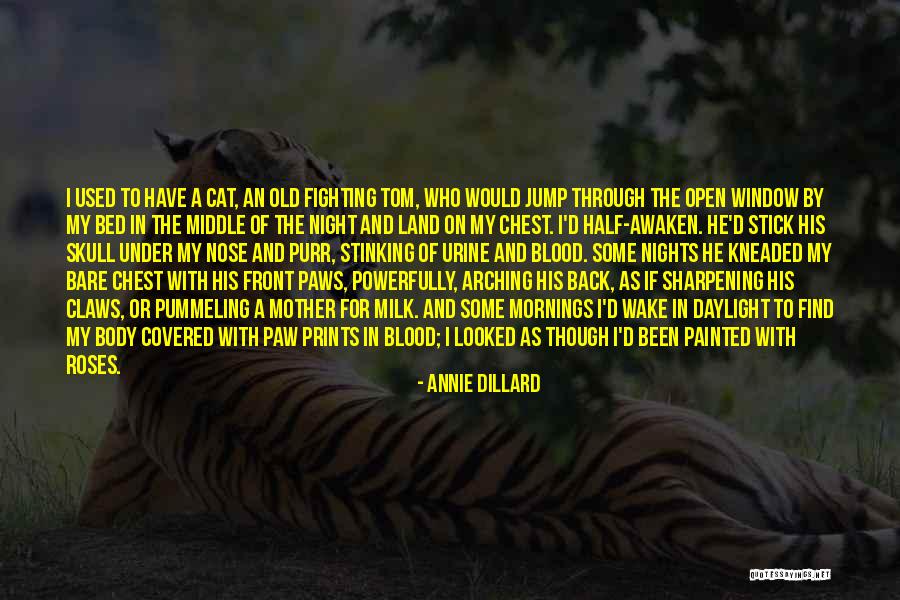 I used to have a cat, an old fighting tom, who would jump through the open window by my bed in the middle of the night and land on my chest. I'd half-awaken. He'd stick his skull under my nose and purr, stinking of urine and blood. Some nights he kneaded my bare chest with his front paws, powerfully, arching his back, as if sharpening his claws, or pummeling a mother for milk. And some mornings I'd wake in daylight to find my body covered with paw prints in blood; I looked as though I'd been painted with roses. — Annie Dillard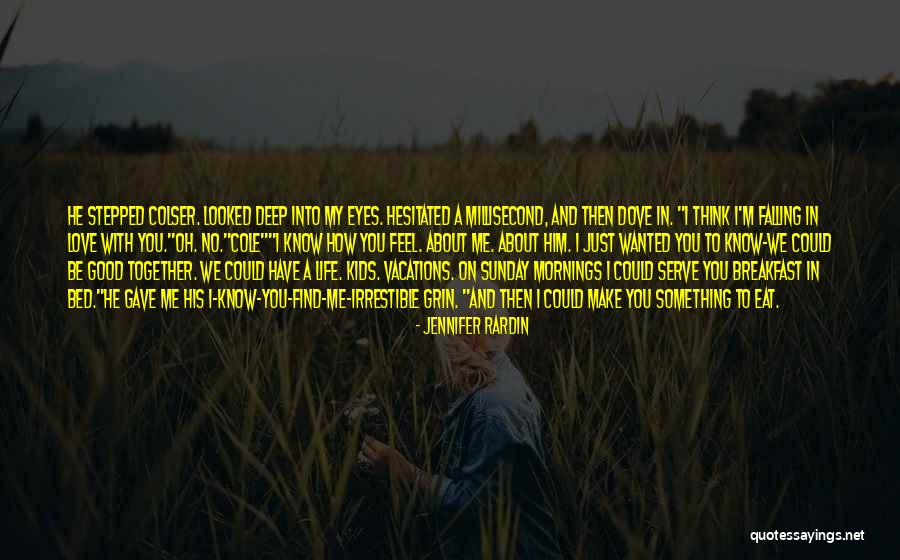 He stepped colser. Looked deep into my eyes. Hesitated a millisecond, and then dove in. "I think I'm falling in love with you."
Oh. No.
"Cole
"
"I know how you feel. About me. About him. I just wanted you to know-we could be good together. We could have a life. Kids. Vacations. On Sunday mornings I could serve you breakfast in bed."
He gave me his I-know-you-find-me-irrestible grin. "And then I could make you something to eat. — Jennifer Rardin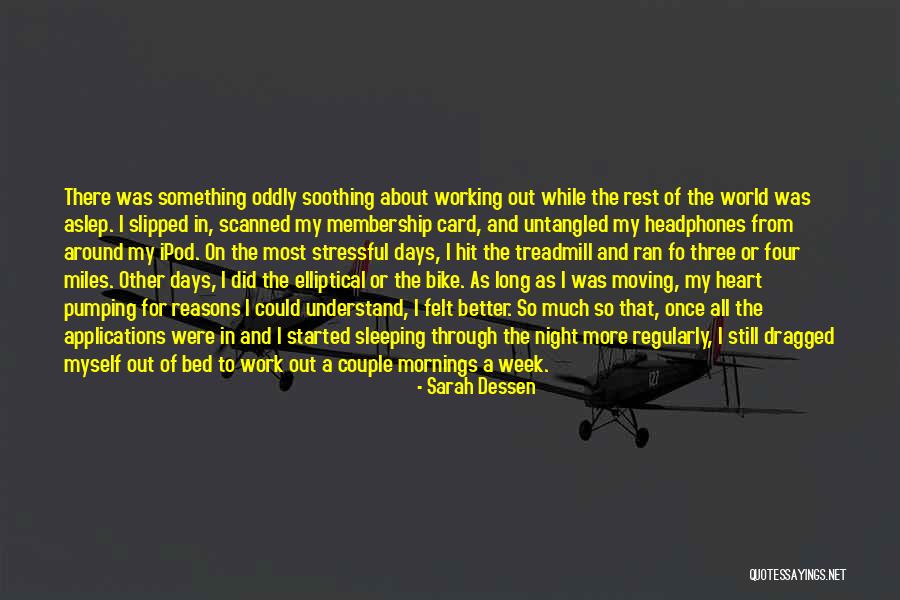 There was something oddly soothing about working out while the rest of the world was aslep. I slipped in, scanned my membership card, and untangled my headphones from around my iPod. On the most stressful days, I hit the treadmill and ran fo three or four miles. Other days, I did the elliptical or the bike. As long as I was moving, my heart pumping for reasons I could understand, I felt better. So much so that, once all the applications were in and I started sleeping through the night more regularly, I still dragged myself out of bed to work out a couple mornings a week. — Sarah Dessen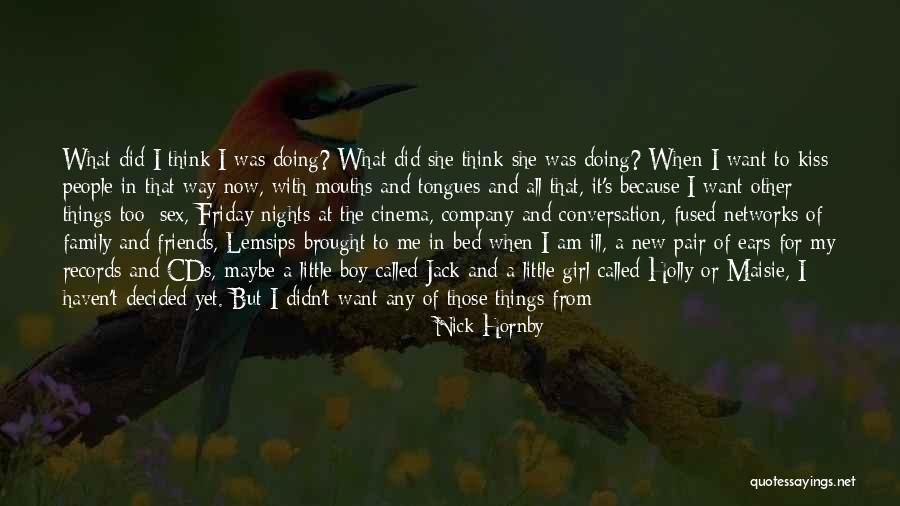 What did I think I was doing? What did she think she was doing? When I want to kiss people in that way now, with mouths and tongues and all that, it's because I want other things too: sex, Friday nights at the cinema, company and conversation, fused networks of family and friends, Lemsips brought to me in bed when I am ill, a new pair of ears for my records and CDs, maybe a little boy called Jack and a little girl called Holly or Maisie, I haven't decided yet. But I didn't want any of those things from Alison Ashworth. Not children, because we were children, and not Friday nights at the pictures, because we went Saturday mornings, and not Lemsips, because my mum did that, not even sex, especially not sex, please God not sex, the filthiest and most terrifying invention of the early seventies. — Nick Hornby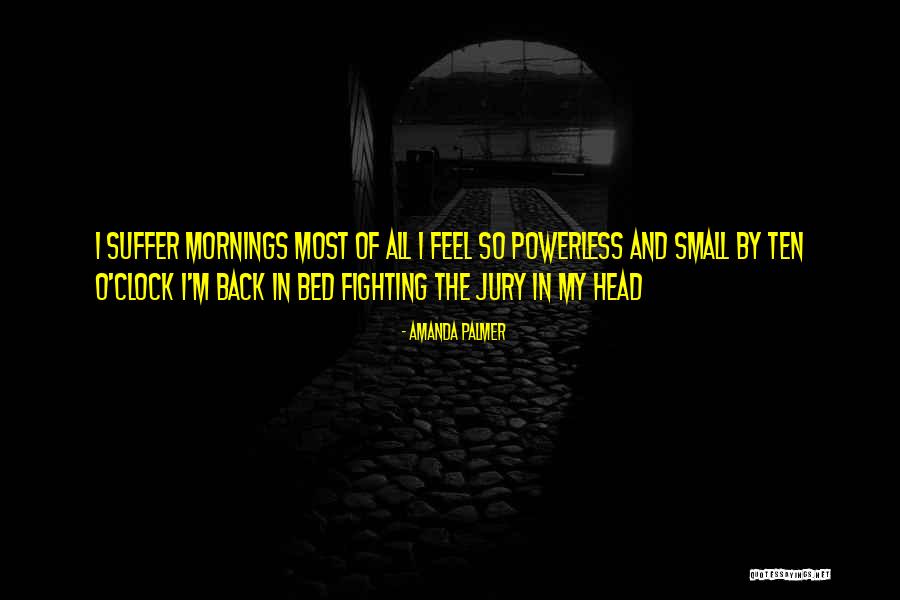 I suffer mornings most of all
I feel so powerless and small
By ten o'clock I'm back in bed
Fighting the jury in my head — Amanda Palmer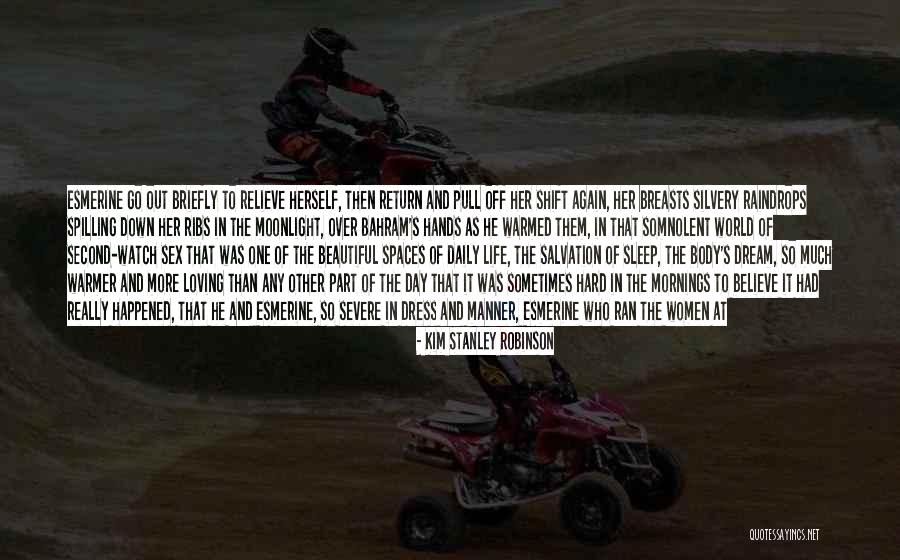 Esmerine go out briefly to relieve herself, then return and pull off her shift again, her breasts silvery raindrops spilling down her ribs in the moonlight, over Bahram's hands as he warmed them, in that somnolent world of second-watch sex that was one of the beautiful spaces of daily life, the salvation of sleep, the body's dream, so much warmer and more loving than any other part of the day that it was sometimes hard in the mornings to believe it had really happened, that he and Esmerine, so severe in dress and manner, Esmerine who ran the women at their work as hard as Khalid had at his most tryrannical, and who never spoke to Bahram or looked at him except in the most businesslike way, as was only fitting and proper, had in fact been transported together with him to whole other worlds of rapture, in the depths of the night in their bed. As he watched her work in the afternoons, Bahram thought: love changed everything. — Kim Stanley Robinson
When I was young, I would make my parents breakfast in bed on Saturday mornings. — Tom Douglas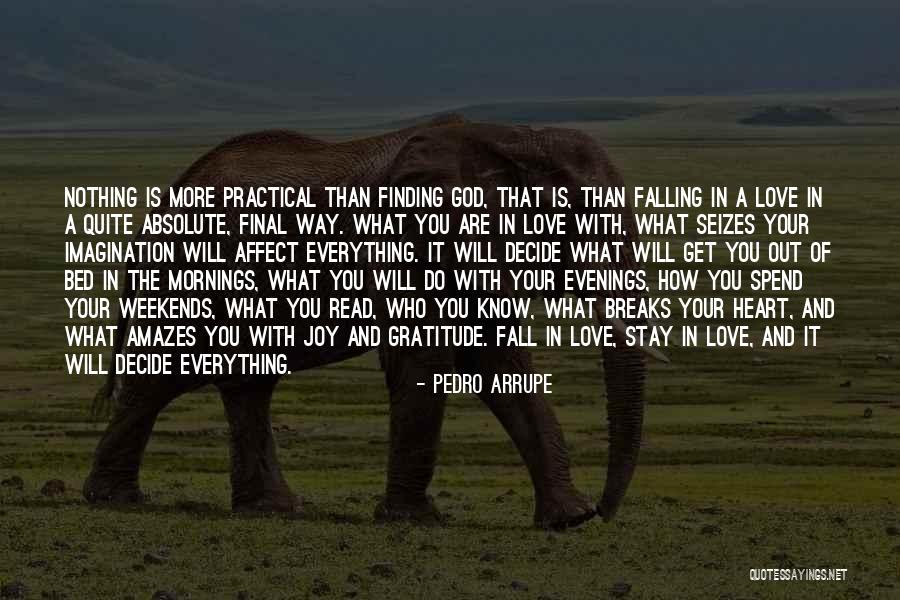 Nothing is more practical than finding God,
That is, than falling in a love in a quite absolute, final way.
What you are in love with, what seizes your imagination will affect everything.
It will decide what will get you out of bed in the mornings,
What you will do with your evenings,
How you spend your weekends,
What you read,
Who you know,
What breaks your heart,
And what amazes you with joy and gratitude.
Fall in love, stay in love, and it will decide everything. — Pedro Arrupe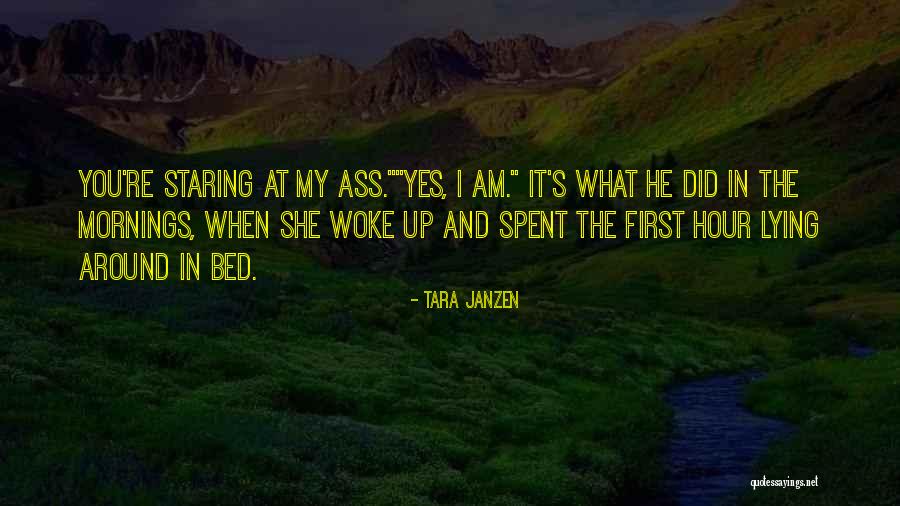 You're staring at my ass."
"Yes, I am." It's what he did in the mornings, when she woke up and spent the first hour lying around in bed. — Tara Janzen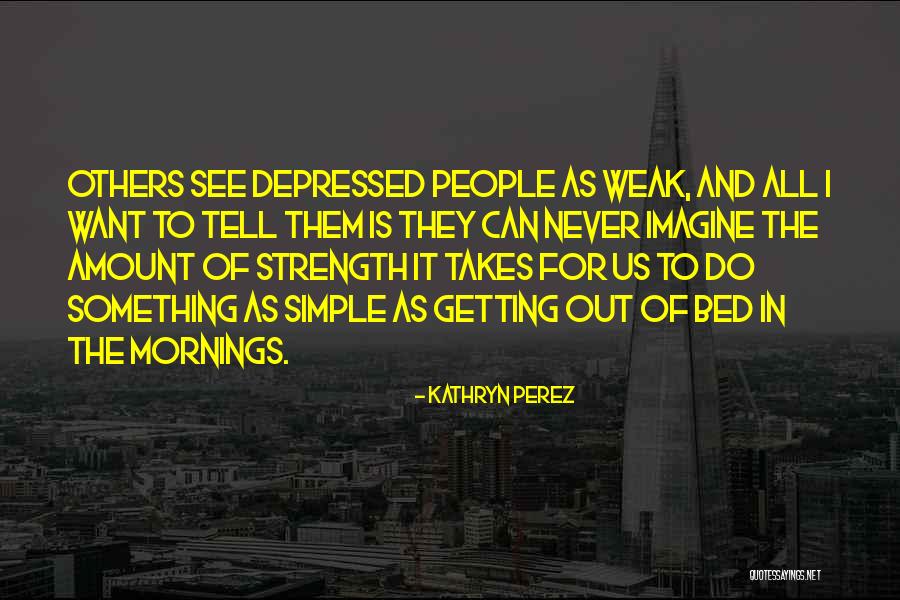 Others see depressed people as weak, and all I want to tell them is they can never imagine the amount of strength it takes for us to do something as simple as getting out of bed in the mornings. — Kathryn Perez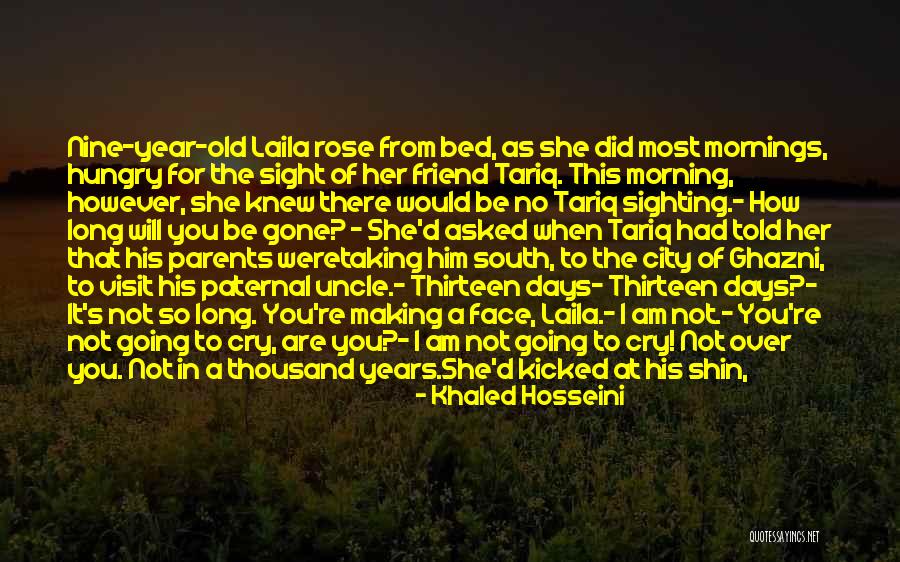 Nine-year-old Laila rose from bed, as she did most mornings, hungry for the sight of her friend Tariq. This morning, however, she knew there would be no Tariq sighting.
- How long will you be gone? - She'd asked when Tariq had told her that his parents were
taking him south, to the city of Ghazni, to visit his paternal uncle.
- Thirteen days
- Thirteen days?
- It's not so long. You're making a face, Laila.
- I am not.
- You're not going to cry, are you?
- I am not going to cry! Not over you. Not in a thousand years.
She'd kicked at his shin, not his artificial but his real one, and he'd playfully whacked
the back of her head.
Thirteen days. Almost two weeks. And, just five days in, Laila had learned a fundamental truth about time: Like the accordion on which Tariq's father sometimes played old Pashto songs, time stretched and contracted depending on Tariq's absence or presence. — Khaled Hosseini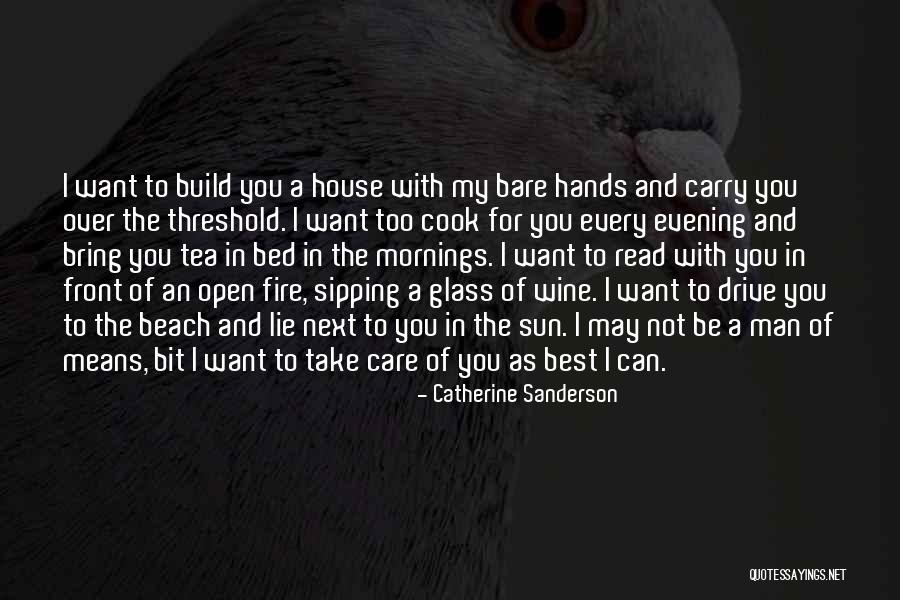 I want to build you a house with my bare hands and carry you over the threshold. I want too cook for you every evening and bring you tea in bed in the mornings. I want to read with you in front of an open fire, sipping a glass of wine. I want to drive you to the beach and lie next to you in the sun. I may not be a man of means, bit I want to take care of you as best I can. — Catherine Sanderson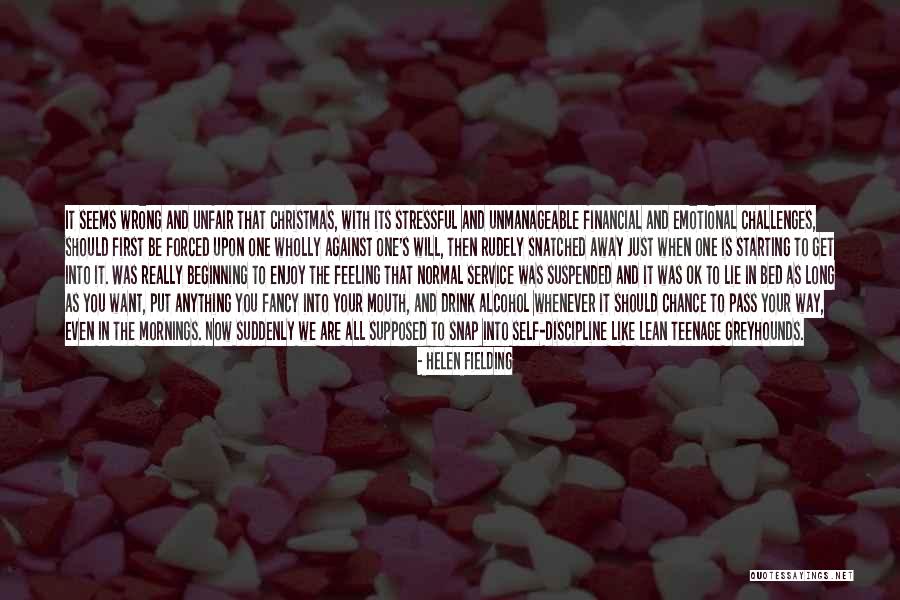 It seems wrong and unfair that Christmas, with its stressful and unmanageable financial and emotional challenges, should first be forced upon one wholly against one's will, then rudely snatched away just when one is starting to get into it. Was really beginning to enjoy the feeling that normal service was suspended and it was OK to lie in bed as long as you want, put anything you fancy into your mouth, and drink alcohol whenever it should chance to pass your way, even in the mornings. Now suddenly we are all supposed to snap into self-discipline like lean teenage greyhounds. — Helen Fielding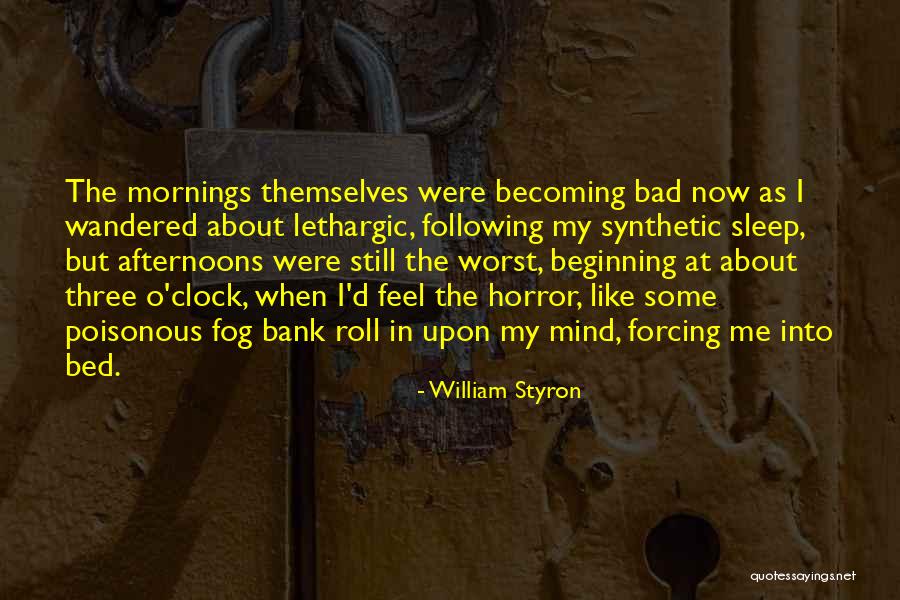 The mornings themselves were becoming bad now as I wandered
about lethargic, following my synthetic sleep, but afternoons were
still the worst, beginning at about three o'clock, when I'd feel the
horror, like some poisonous fog bank roll in upon my mind, forcing me
into bed. — William Styron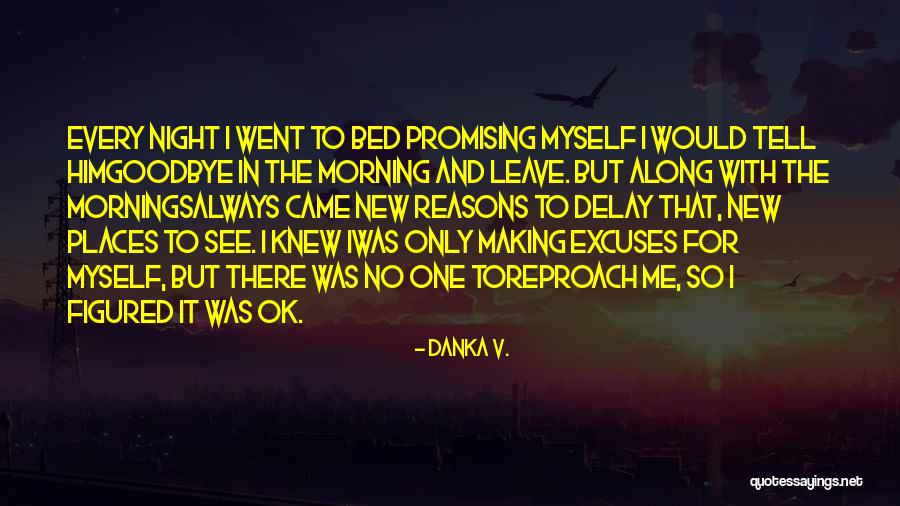 Every night I went to bed promising myself I would tell him
goodbye in the morning and leave. But along with the mornings
always came new reasons to delay that, new places to see. I knew I
was only making excuses for myself, but there was no one to
reproach me, so I figured it was OK. — Danka V.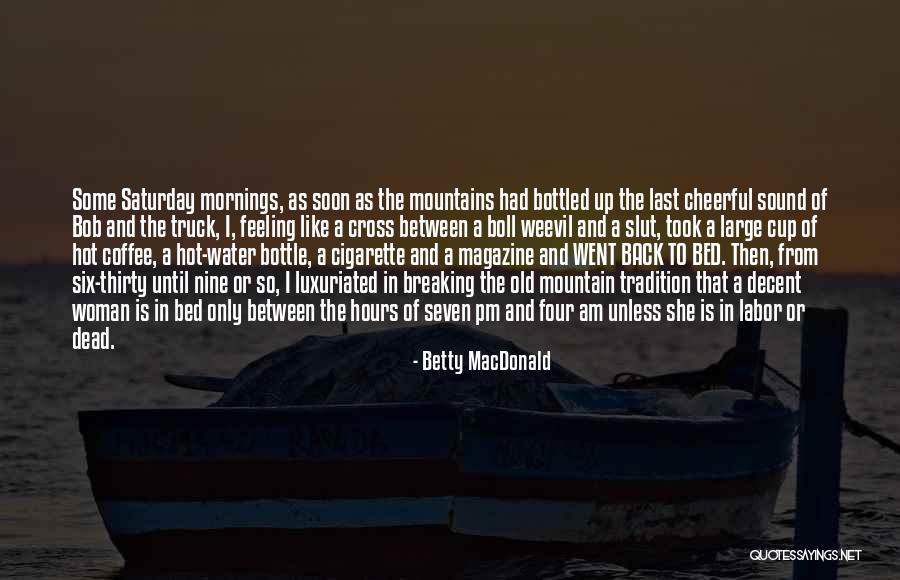 Some Saturday mornings, as soon as the mountains had bottled up the last cheerful sound of Bob and the truck, I, feeling like a cross between a boll weevil and a slut, took a large cup of hot coffee, a hot-water bottle, a cigarette and a magazine and WENT BACK TO BED. Then, from six-thirty until nine or so, I luxuriated in breaking the old mountain tradition that a decent woman is in bed only between the hours of seven pm and four am unless she is in labor or dead. — Betty MacDonald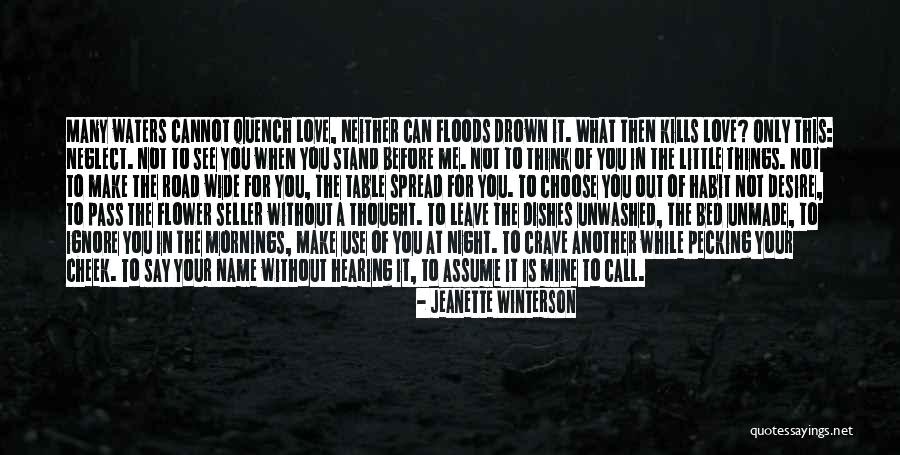 Many waters cannot quench love, neither can floods drown it. What then kills love? Only this: Neglect. Not to see you when you stand before me. Not to think of you in the little things. Not to make the road wide for you, the table spread for you. To choose you out of habit not desire, to pass the flower seller without a thought. To leave the dishes unwashed, the bed unmade, to ignore you in the mornings, make use of you at night. To crave another while pecking your cheek. To say your name without hearing it, to assume it is mine to call. — Jeanette Winterson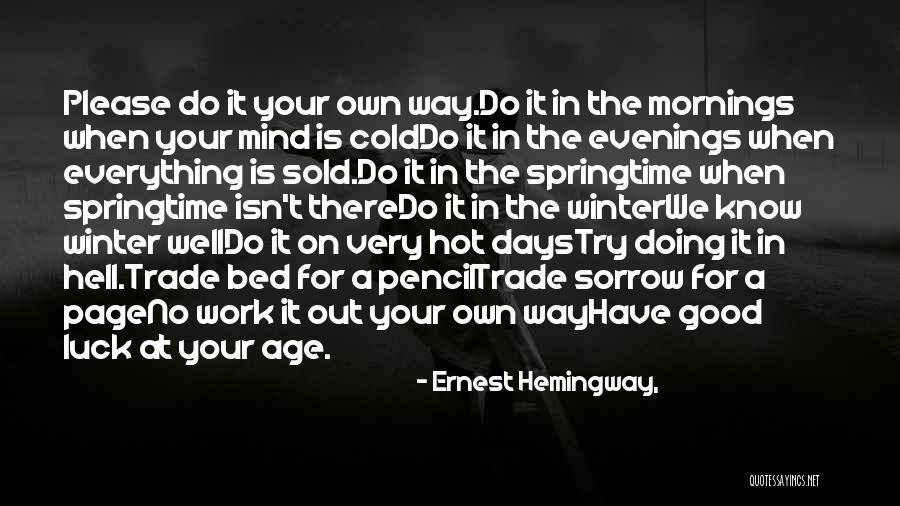 Please do it your own way.
Do it in the mornings when your mind is cold
Do it in the evenings when everything is sold.
Do it in the springtime when springtime isn't there
Do it in the winter
We know winter well
Do it on very hot days
Try doing it in hell.
Trade bed for a pencil
Trade sorrow for a page
No work it out your own way
Have good luck at your age. — Ernest Hemingway,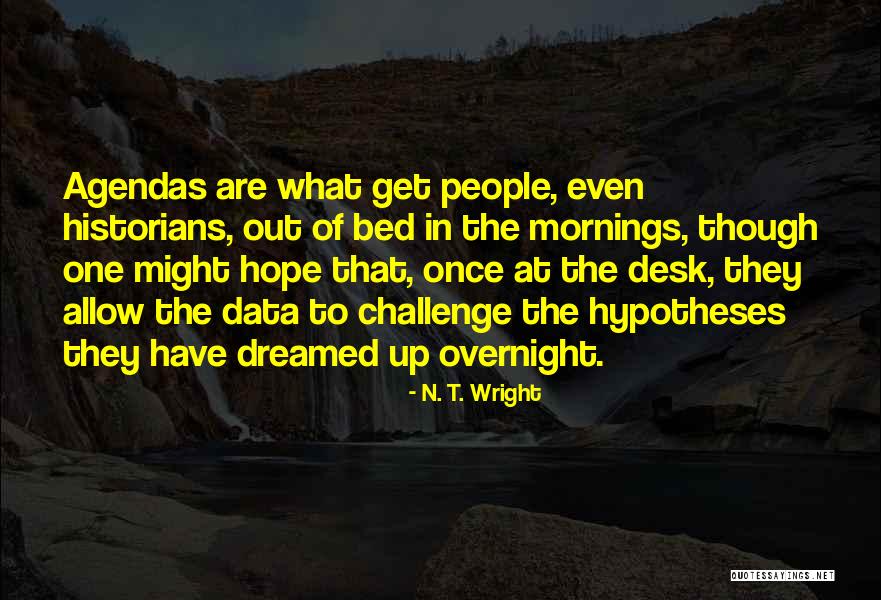 Agendas are what get people, even historians, out of bed in the mornings, though one might hope that, once at the desk, they allow the data to challenge the hypotheses they have dreamed up overnight. — N. T. Wright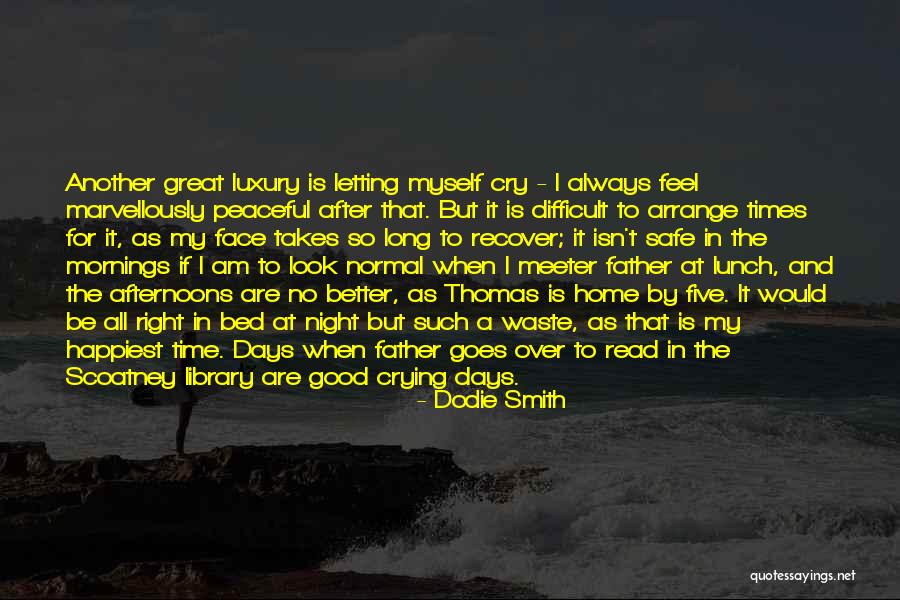 Another great luxury is letting myself cry - I always feel marvellously peaceful after that. But it is difficult to arrange times for it, as my face takes so long to recover; it isn't safe in the mornings if I am to look normal when I meeter father at lunch, and the afternoons are no better, as Thomas is home by five. It would be all right in bed at night but such a waste, as that is my happiest time. Days when father goes over to read in the Scoatney library are good crying days. — Dodie Smith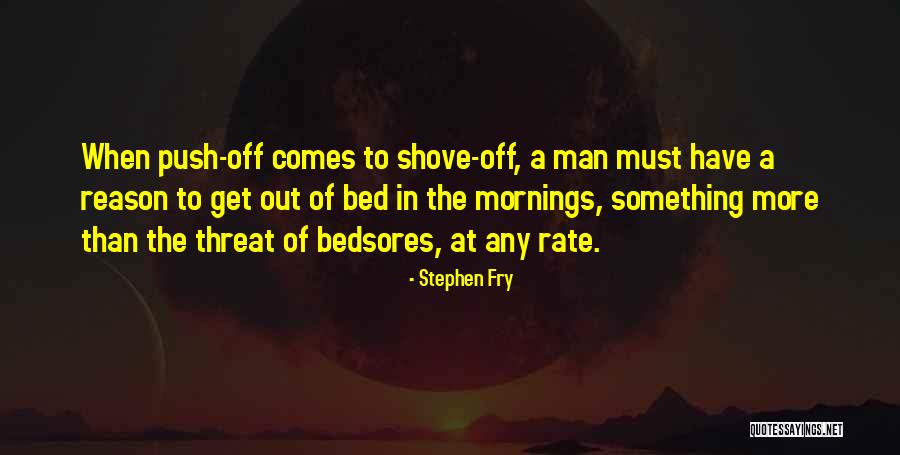 When push-off comes to shove-off, a man must have a reason to get out of bed in the mornings, something more than the threat of bedsores, at any rate. — Stephen Fry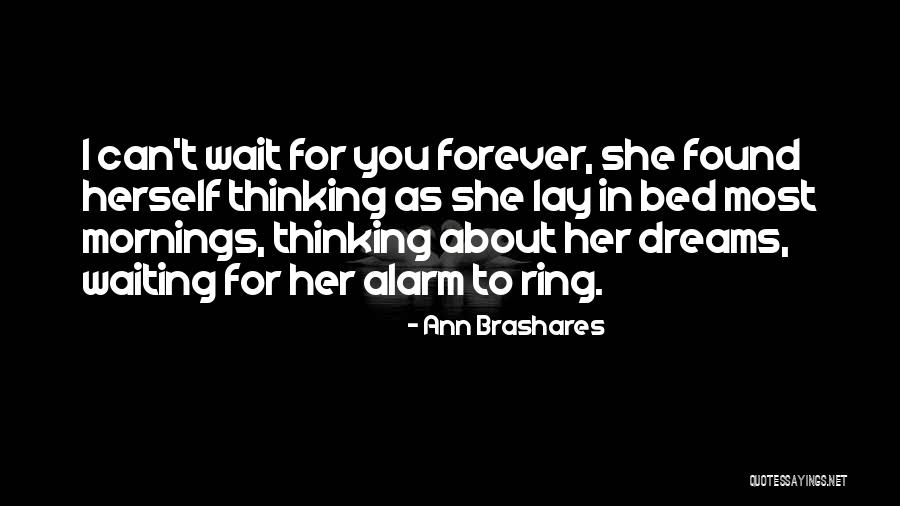 I can't wait for you forever, she found herself thinking as she lay in bed most mornings, thinking about her dreams, waiting for her alarm to ring. — Ann Brashares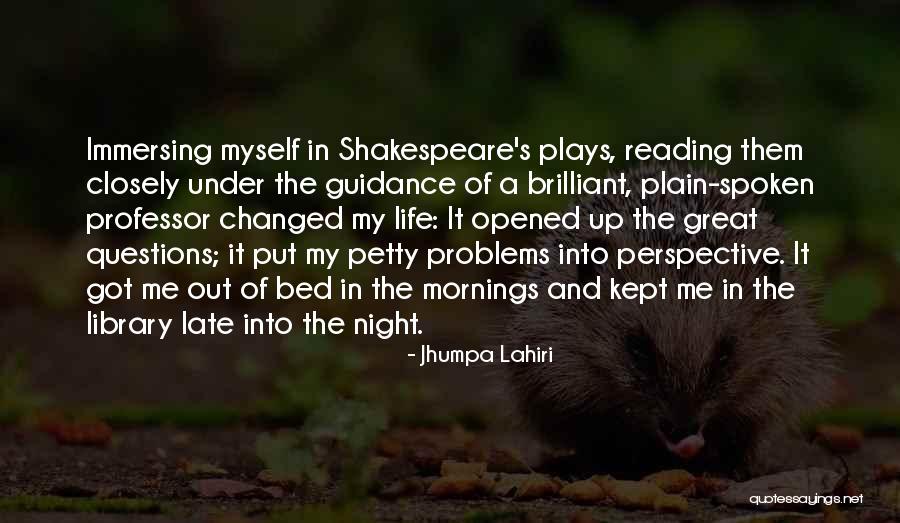 Immersing myself in Shakespeare's plays, reading them closely under the guidance of a brilliant, plain-spoken professor changed my life: It opened up the great questions; it put my petty problems into perspective. It got me out of bed in the mornings and kept me in the library late into the night. — Jhumpa Lahiri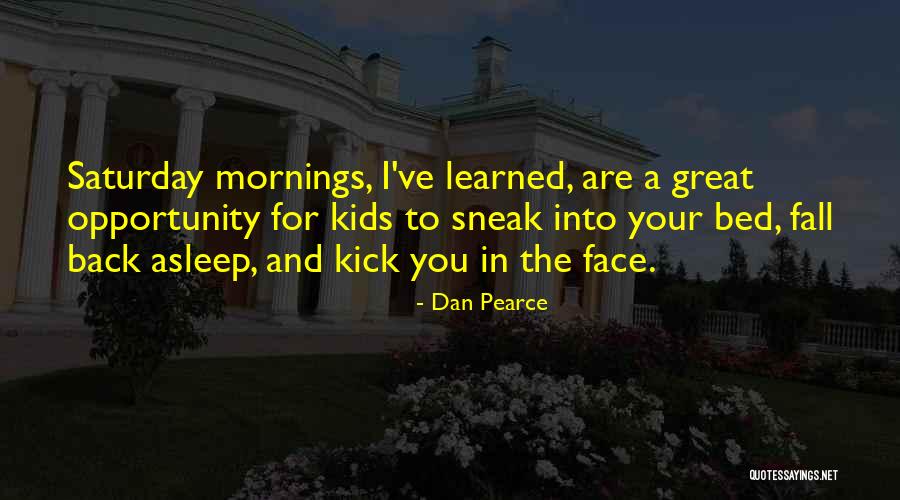 Saturday mornings, I've learned, are a great opportunity for kids to sneak into your bed, fall back asleep, and kick you in the face. — Dan Pearce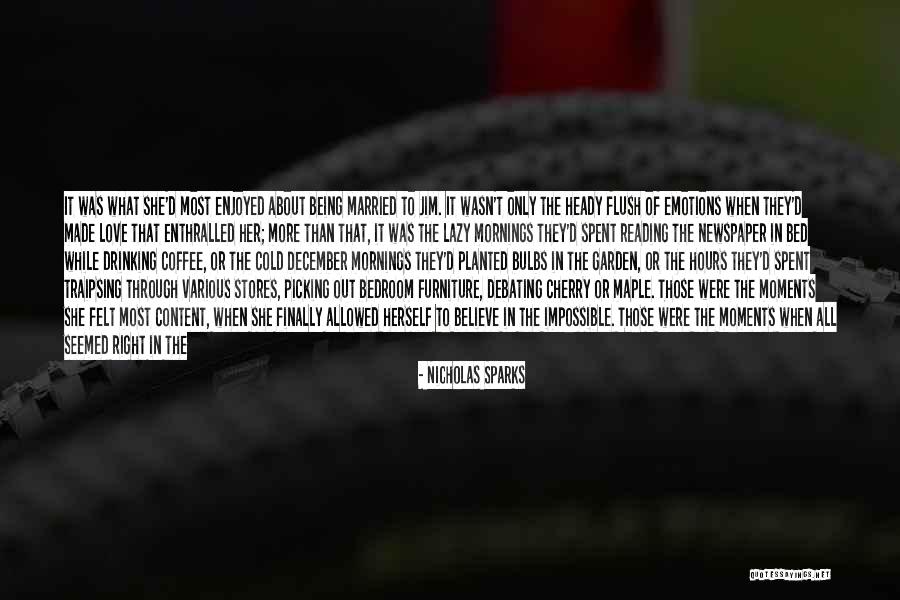 It was what she'd most enjoyed about being married to Jim. It wasn't only the heady flush of emotions when they'd made love that enthralled her; more than that, it was the lazy mornings they'd spent reading the newspaper in bed while drinking coffee, or the cold December mornings they'd planted bulbs in the garden, or the hours they'd spent traipsing through various stores, picking out bedroom furniture, debating cherry or maple. Those were the moments she felt most content, when she finally allowed herself to believe in the impossible. Those were the moments when all seemed right in the world. — Nicholas Sparks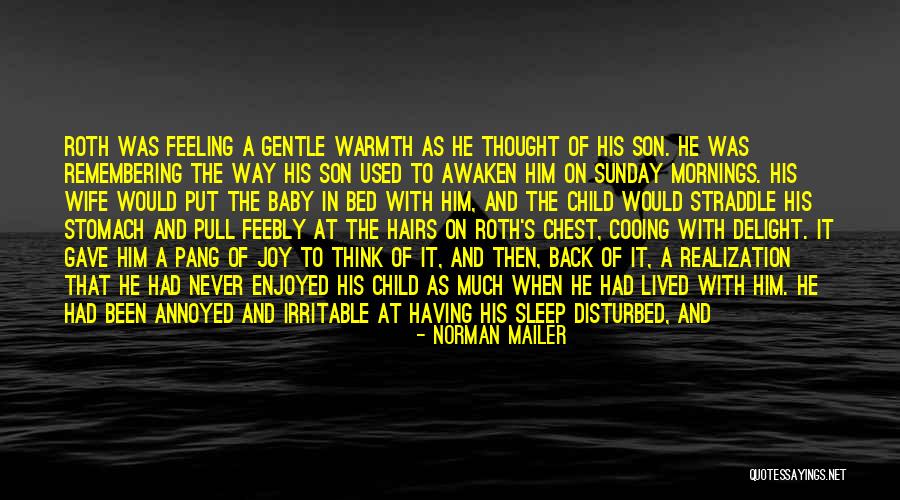 Roth was feeling a gentle warmth as he thought of his son. He was remembering the way his son used to awaken him on Sunday mornings. His wife would put the baby in bed with him, and the child would straddle his stomach and pull feebly at the hairs on Roth's chest, cooing with delight. It gave him a pang of joy to think of it, and then, back of it, a realization that he had never enjoyed his child as much when he had lived with him. He had been annoyed and irritable at having his sleep disturbed, and it filled him with wonder that he could have missed so much happiness when he had been so close to it. It seemed to him now that he was very near a fundamental understanding of himself, and he felt a sense of mystery and discovery as if he had found unseen gulfs and bridges in all the familiar drab terrain of his life. "You know," he said, "life is funny. — Norman Mailer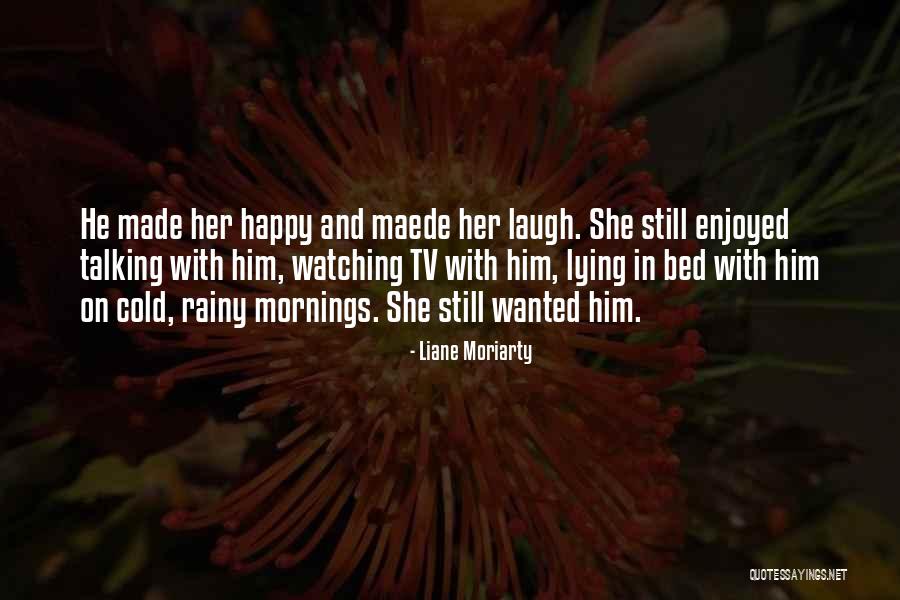 He made her happy and maede her laugh. She still enjoyed talking with him, watching TV with him, lying in bed with him on cold, rainy mornings. She still wanted him. — Liane Moriarty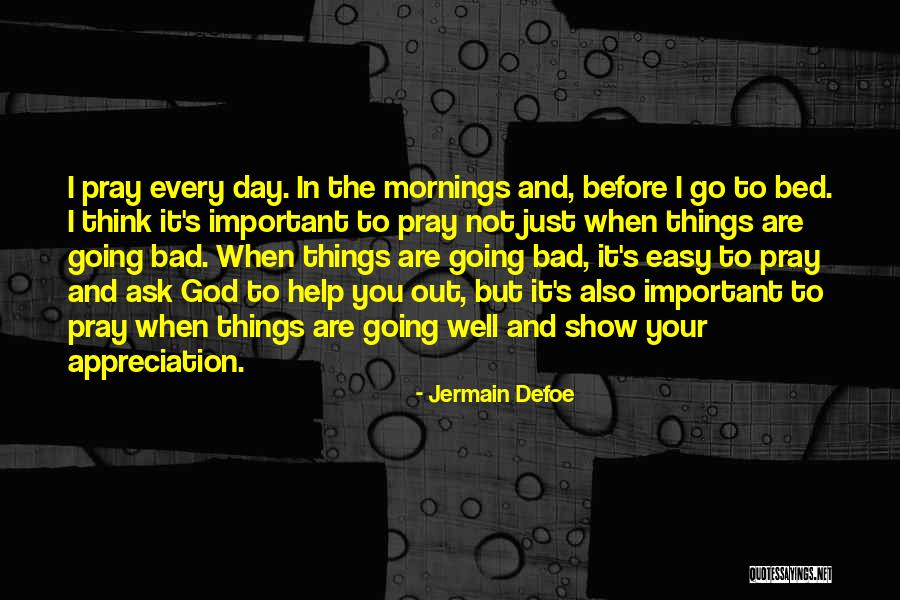 I pray every day. In the mornings and, before I go to bed. I think it's important to pray not just when things are going bad. When things are going bad, it's easy to pray and ask God to help you out, but it's also important to pray when things are going well and show your appreciation. — Jermain Defoe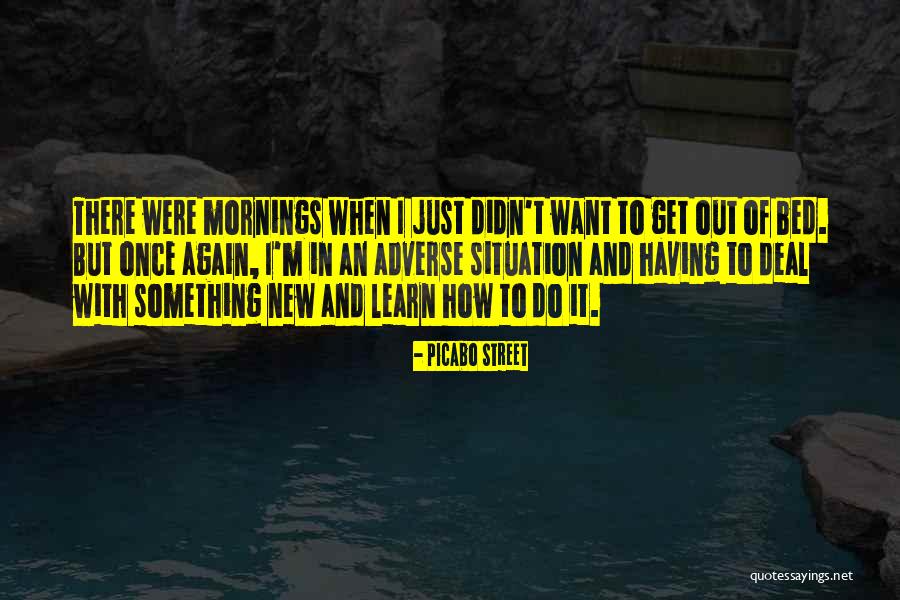 There were mornings when I just didn't want to get out of bed. But once again, I'm in an adverse situation and having to deal with something new and learn how to do it. — Picabo Street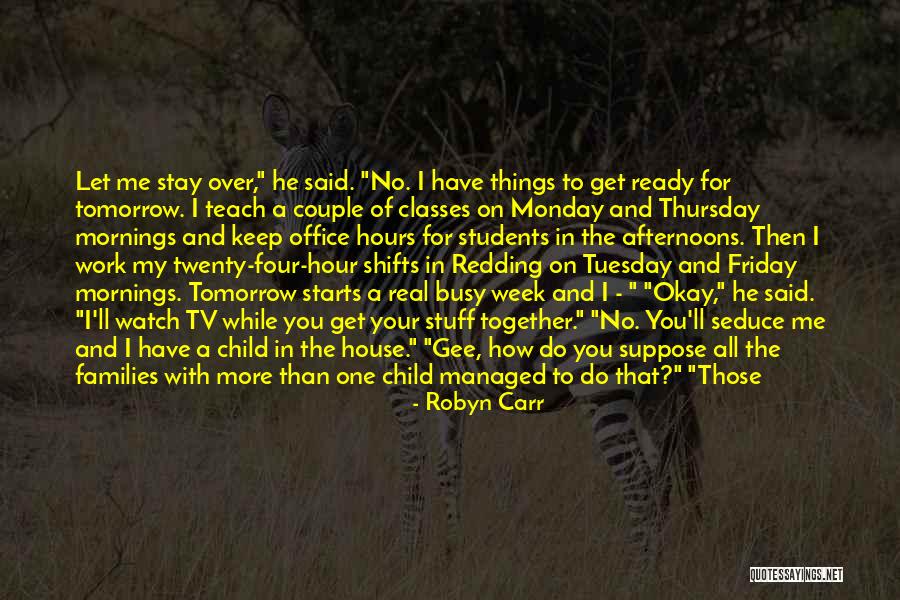 Let me stay over," he said. "No. I have things to get ready for tomorrow. I teach a couple of classes on Monday and Thursday mornings and keep office hours for students in the afternoons. Then I work my twenty-four-hour shifts in Redding on Tuesday and Friday mornings. Tomorrow starts a real busy week and I - " "Okay," he said. "I'll watch TV while you get your stuff together." "No. You'll seduce me and I have a child in the house." "Gee, how do you suppose all the families with more than one child managed to do that?" "Those first children were used to their mothers and fathers sleeping in the same bed, but Rosie's not. Sometimes she crawls in with me in the night." "I have sweatpants in my duffel. I'll sleep in those," he tried. "No." "Can I have the couch?" "No. Because I know you and you'll seduce me. I think the only thing more important to you than sex is air. Now be on your good behavior. She isn't even asleep yet." "We — Robyn Carr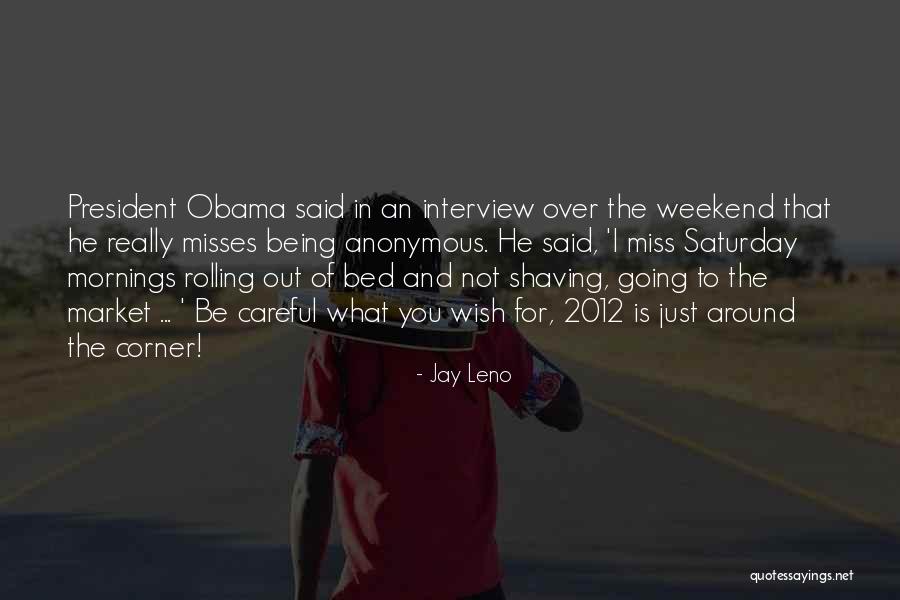 President Obama said in an interview over the weekend that he really misses being anonymous. He said, 'I miss Saturday mornings rolling out of bed and not shaving, going to the market ... ' Be careful what you wish for, 2012 is just around the corner! — Jay Leno
God, the three of you.
When I wake up on Saturday mornings
late you always let me sleep in
I come looking for you, and you're in the backyard with dirt on your knees and two little girls spinning around you in perfect orbit. And you put their hair in pigtails, and you let them wear whatever madness they want, and Alice planted a fruit cocktail tree, and Noomi ate a butterfly, and they look like me because they're round and golden, but the glow for you.
And you built us a picnic table.
And you learned to bake bread.
And you've painted a mural on ever west-facing wall.
And it isn't all bad, I promise. I swear to you.
You might not be actively, thoughtfully happy 70 to 80 percent of the time, but maybe you wouldn't be anyway. And even when you're sad, Neal
even when you're falling asleep at the other side of the bed
I think you're happy, too. About some things. About a few things. — Rainbow Rowell