More Memories To Come Quotes & Sayings
Enjoy reading and share 49 famous quotes about More Memories To Come with everyone.
Top More Memories To Come Quotes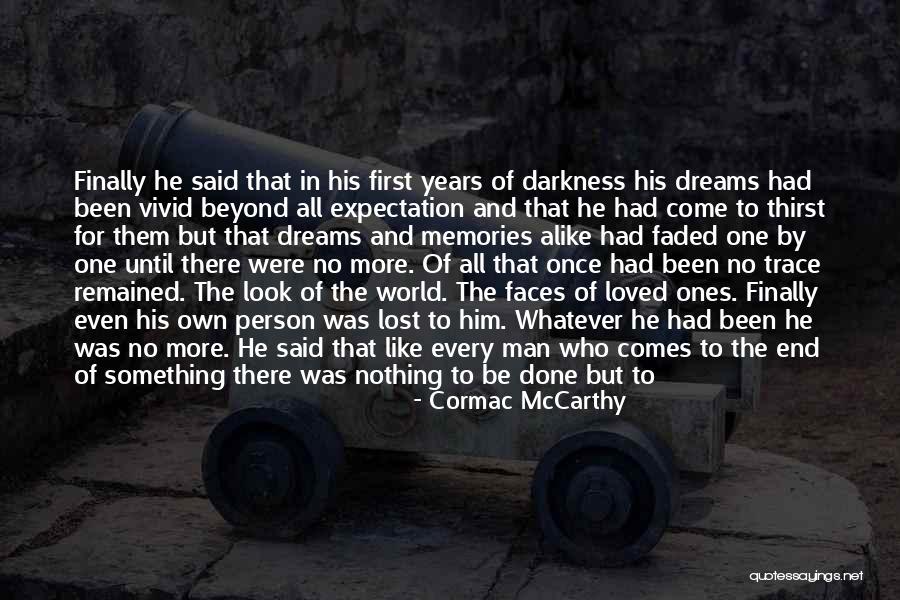 Finally he said that in his first years of darkness his dreams had been vivid beyond all expectation and that he had come to thirst for them but that dreams and memories alike had faded one by one until there were no more. Of all that once had been no trace remained. The look of the world. The faces of loved ones. Finally even his own person was lost to him. Whatever he had been he was no more. He said that like every man who comes to the end of something there was nothing to be done but to begin again. I can't remember the world of light, he said. It has been so long. The world is a fragile world. Ultimately, what can be seen is what endures. What is true ...
In my first years of blindness, I thought it was a form of death. I was wrong. Losing one's sight is like falling in a dream. You think there's no bottom to this abyss. You fall and fall. Light recedes. Memory of light. Memory of the world. Of your own face. Of the grim-faced mask. — Cormac McCarthy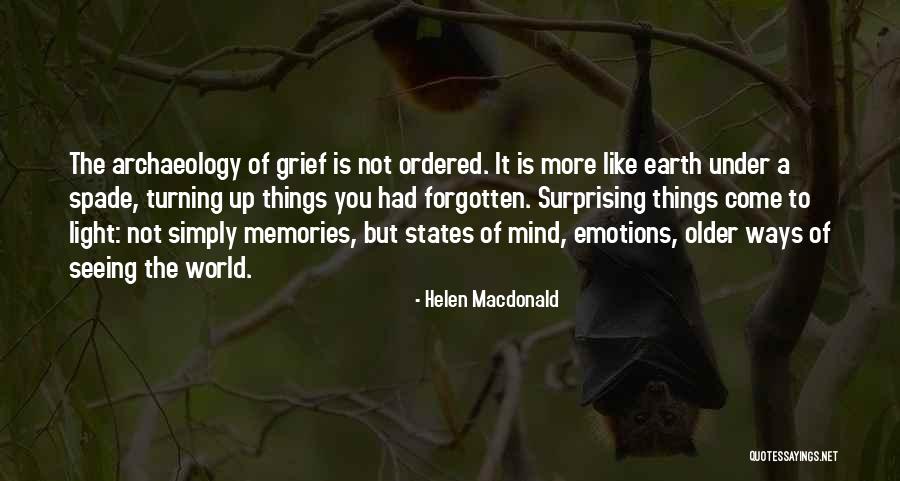 The archaeology of grief is not ordered. It is more like earth under a spade, turning up things you had forgotten. Surprising things come to light: not simply memories, but states of mind, emotions, older ways of seeing the world. — Helen Macdonald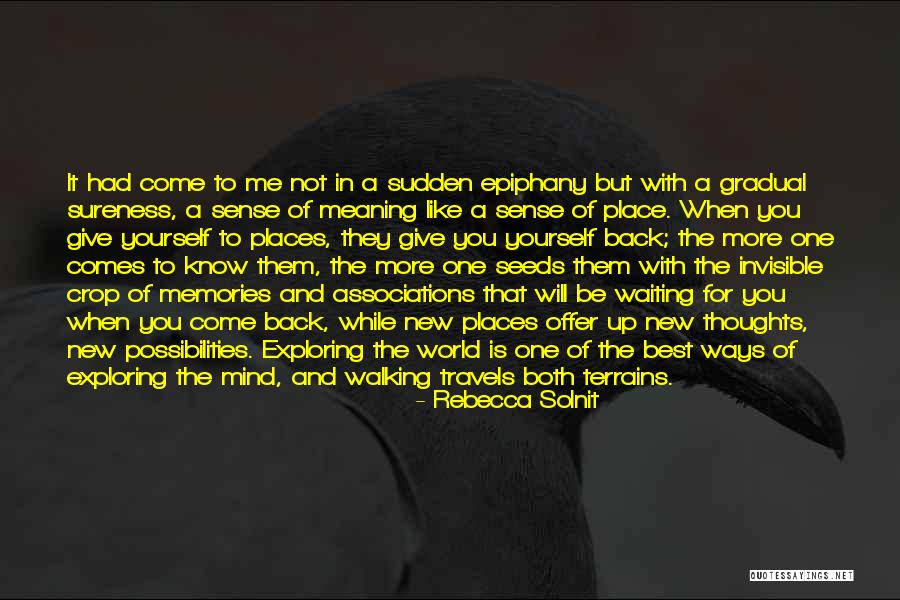 It had come to me not in a sudden epiphany but with a gradual sureness, a sense of meaning like a sense of place. When you give yourself to places, they give you yourself back; the more one comes to know them, the more one seeds them with the invisible crop of memories and associations that will be waiting for you when you come back, while new places offer up new thoughts, new possibilities. Exploring the world is one of the best ways of exploring the mind, and walking travels both terrains. — Rebecca Solnit
Yes, it's beautiful,' said Gilbert, looking steadily down into Anne's uplifted face, 'but wouldn't it have been more beautiful still, Anne, if there had been no separation or misunderstanding ... if they had come hand in hand all the way through life, with no memories behind them but those which belonged to each other? — L.M. Montgomery
Memories of your childhood come back and are so clear and vivid it's like being young again. Colours seem brighter and more brilliant. Laughter seems part of daily life where before it was infrequent or didn't exist at all. A phone call or two during the day helps to get you through a long day's work and always brings a smile to your face. — Bob Marley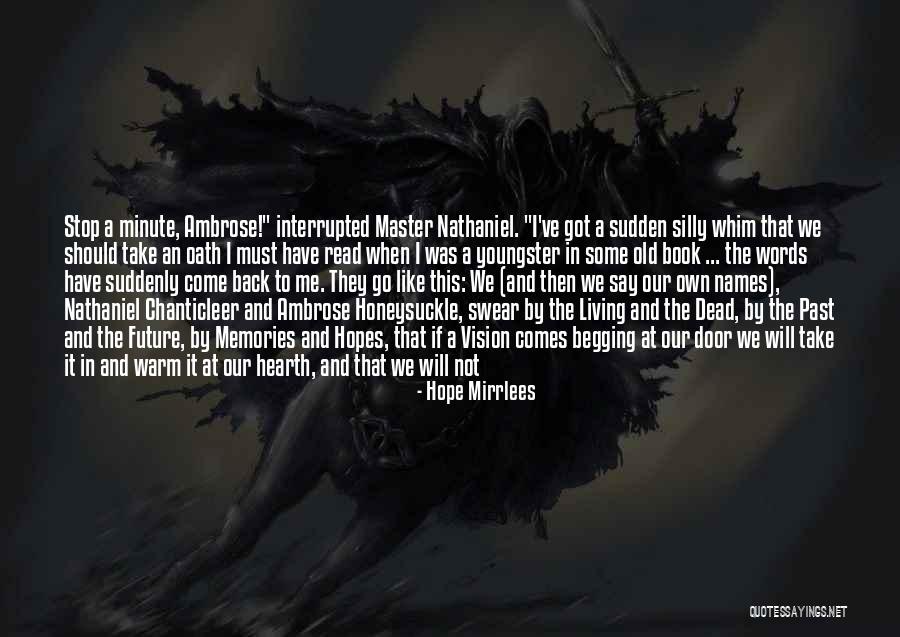 Stop a minute, Ambrose!" interrupted Master Nathaniel. "I've got a sudden silly whim that we should take an oath I must have read when I was a youngster in some old book ... the words have suddenly come back to me. They go like this: We (and then we say our own names), Nathaniel Chanticleer and Ambrose Honeysuckle, swear by the Living and the Dead, by the Past and the Future, by Memories and Hopes, that if a Vision comes begging at our door we will take it in and warm it at our hearth, and that we will not be wiser than the foolish nor more cunning than the simple, and that we will remember that he who rides the Wind needs must go where his Steed carries him. — Hope Mirrlees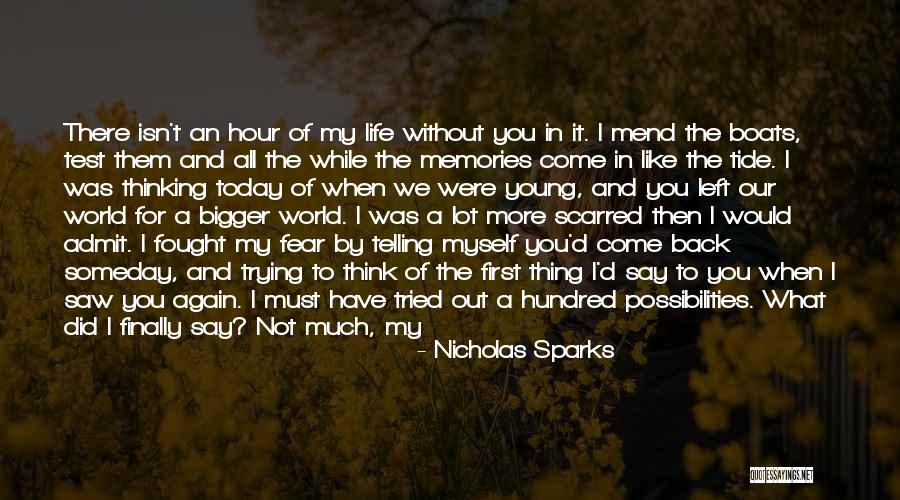 There isn't an hour of my life without you in it. I mend the boats, test them and all the while the memories come in like the tide.
I was thinking today of when we were young, and you left our world for a bigger world. I was a lot more scarred then I would admit. I fought my fear by telling myself you'd come back someday, and trying to think of the first thing I'd say to you when I saw you again. I must have tried out a hundred possibilities. What did I finally say? Not much, my mouth wouldn't work except to kiss you, and when you said I'm here to stay that said it all. Well, I'm doing it again. I keep imagining what I'd say to you if somehow you came back. — Nicholas Sparks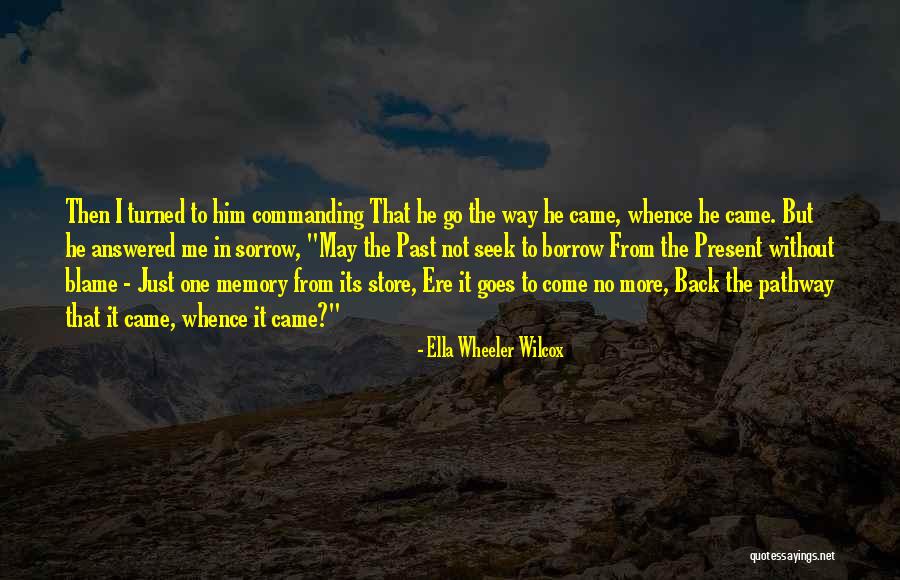 Then I turned to him commanding That he go the way he came, whence he came. But he answered me in sorrow, "May the Past not seek to borrow From the Present without blame - Just one memory from its store, Ere it goes to come no more, Back the pathway that it came, whence it came?" — Ella Wheeler Wilcox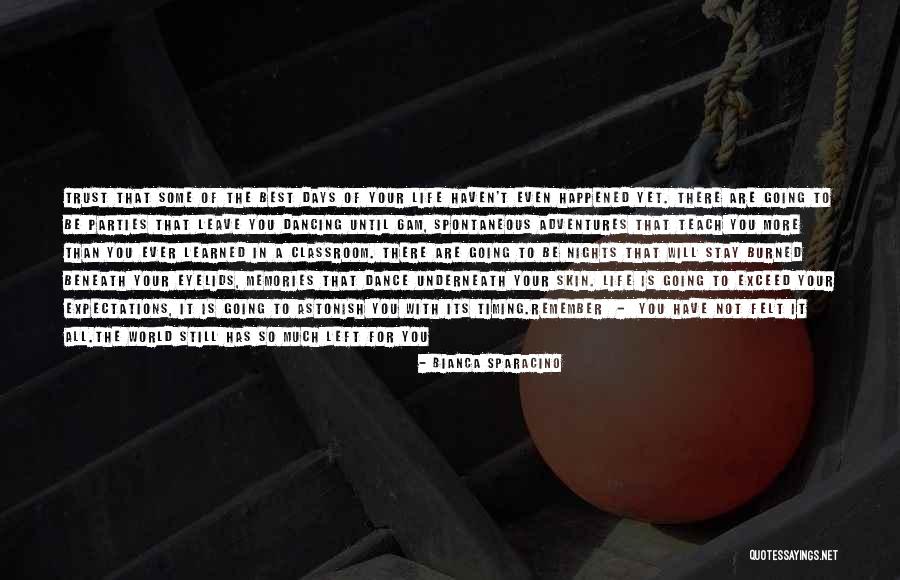 Trust that some of the best days of your life haven't even happened yet. There are going to be parties that leave you dancing until 6am, spontaneous adventures that teach you more than you ever learned in a classroom. There are going to be nights that will stay burned beneath your eyelids, memories that dance underneath your skin. Life is going to exceed your expectations, it is going to astonish you with its timing.

Remember - you have not felt it all.
The world still has so much left for you — Bianca Sparacino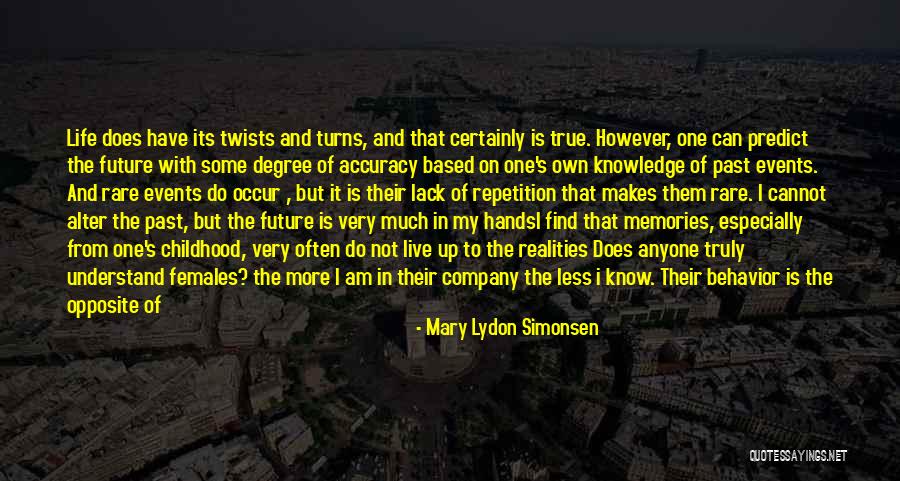 Life does have its twists and turns, and that certainly is true. However, one can predict the future with some degree of accuracy based on one's own knowledge of past events. And rare events do occur , but it is their lack of repetition that makes them rare.
I cannot alter the past, but the future is very much in my hands
I find that memories, especially from one's childhood, very often do not live up to the realities
Does anyone truly understand females? the more I am in their company the less i know. Their behavior is the opposite of everything in the natural order and flies in the face of logic.
Oh, I can see you are enjoying yourself. You have my heart, and now you will toy with it
She did believe that two souls could come together, so that the one would know if something had happened to the other despite distance or war.
The only way to get through life's rough spots is to laugh whenever possible — Mary Lydon Simonsen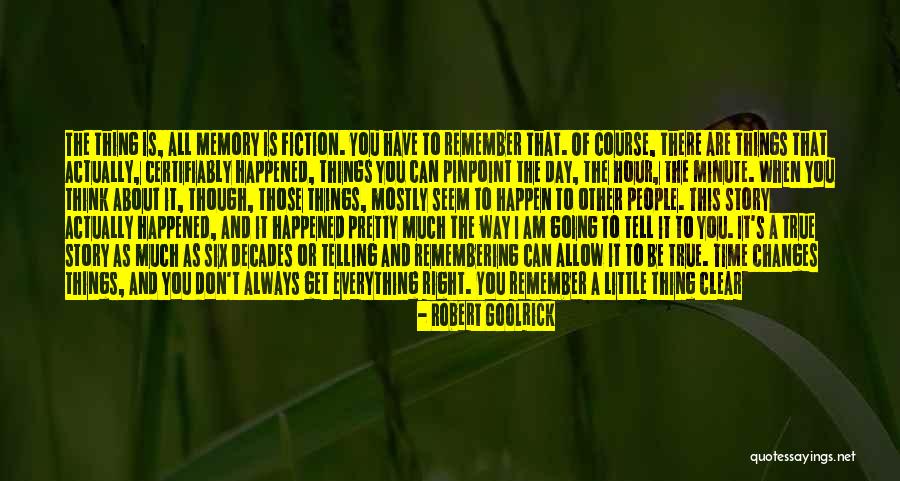 The thing is, all memory is fiction. You have to remember that. Of course, there are things that actually, certifiably happened, things you can pinpoint the day, the hour, the minute. When you think about it, though, those things, mostly seem to happen to other people.
This story actually happened, and it happened pretty much the way I am going to tell it to you. It's a true story as much as six decades or telling and remembering can allow it to be true. Time changes things, and you don't always get everything right. You remember a little thing clear as a bell, the weather, say, or the splash of light on the river's ripples as the sun was going down into the black pines. things not even connected to anything in particular, while other things, big things even, come completely disconnected and no longer have any shape or sound. The little things seem more real than the big things. — Robert Goolrick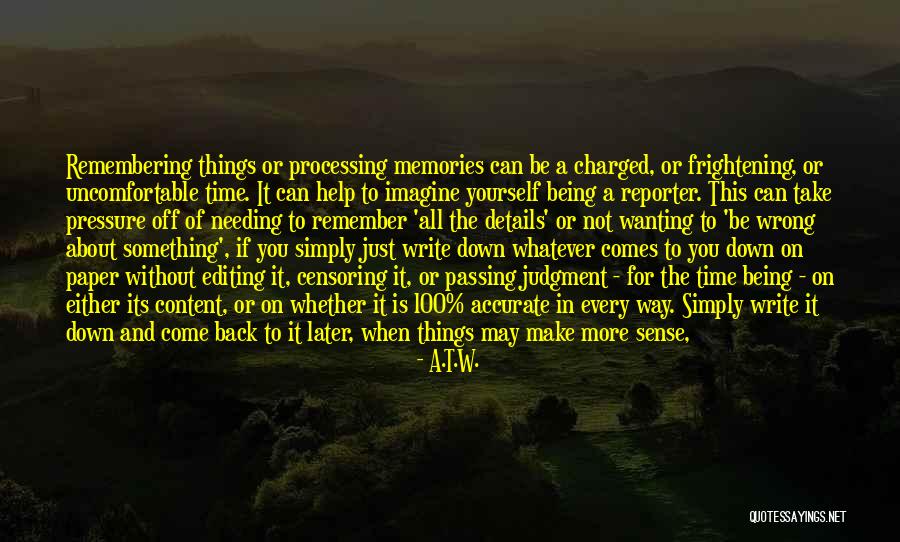 Remembering things or processing memories can be a charged, or frightening, or uncomfortable time. It can help to imagine yourself being a reporter. This can take pressure off of needing to remember 'all the details' or not wanting to 'be wrong about something', if you simply just write down whatever comes to you down on paper without editing it, censoring it, or passing judgment - for the time being - on either its content, or on whether it is l00% accurate in every way. Simply write it down and come back to it later, when things may make more sense, or as additional information comes to you... — A.T.W.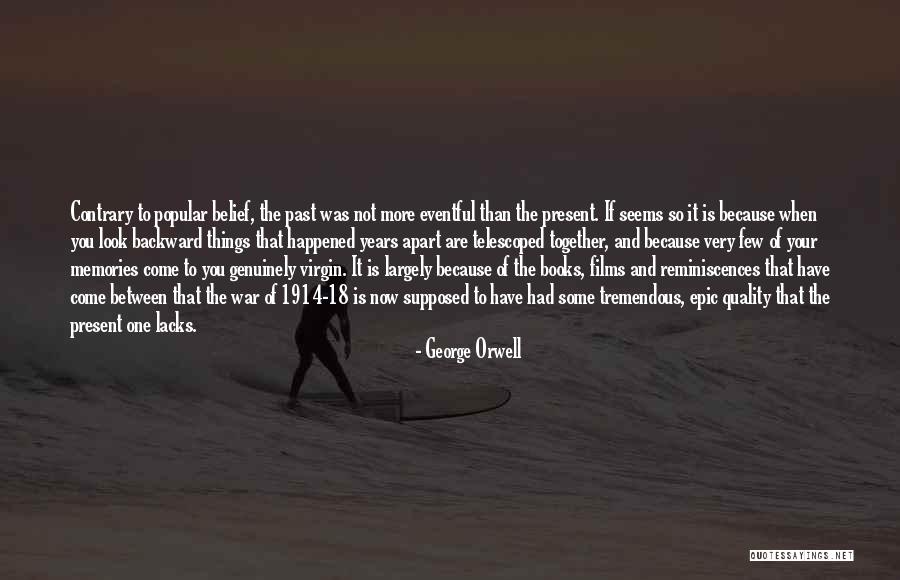 Contrary to popular belief, the past was not more eventful than the present. If seems so it is because when you look backward things that happened years apart are telescoped together, and because very few of your memories come to you genuinely virgin. It is largely because of the books, films and reminiscences that have come between that the war of 1914-18 is now supposed to have had some tremendous, epic quality that the present one lacks. — George Orwell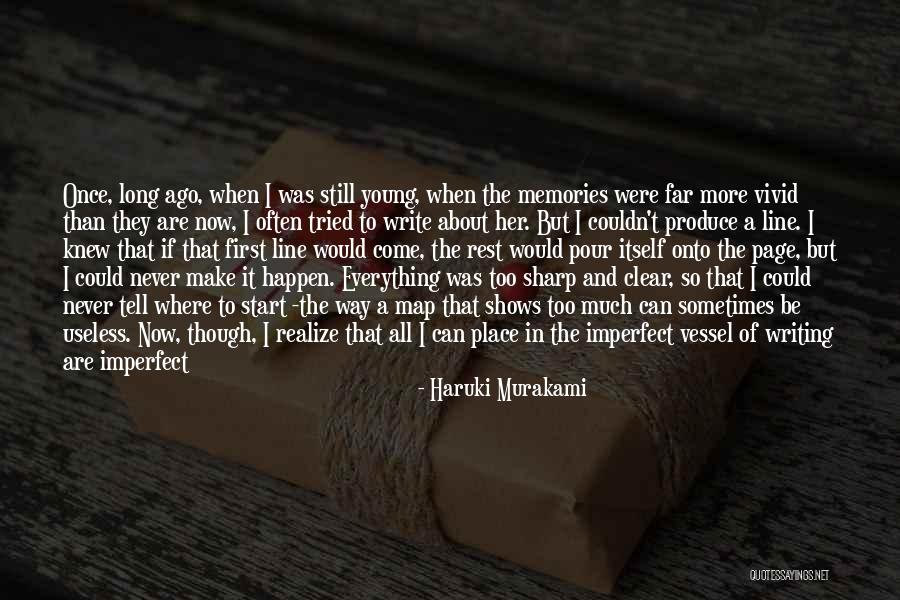 Once, long ago, when I was still young, when the memories were far
more vivid than they are now, I often tried to write about her. But I
couldn't produce a line. I knew that if that first line would come, the
rest would pour itself onto the page, but I could never make it happen.
Everything was too sharp and clear, so that I could never tell where to
start -the way a map that shows too much can sometimes be useless.
Now, though, I realize that all I can place in the imperfect vessel of
writing are imperfect memories and imperfect thoughts. The more the
memories of Naoko inside me fade, the more deeply I am able to
understand her. I know, too, why she asked me not to forget her.
Naoko herself knew, of course. She knew that my memories of her
would fade. Which is precisely why she begged me never to forget
her, to remember that she had existed. — Haruki Murakami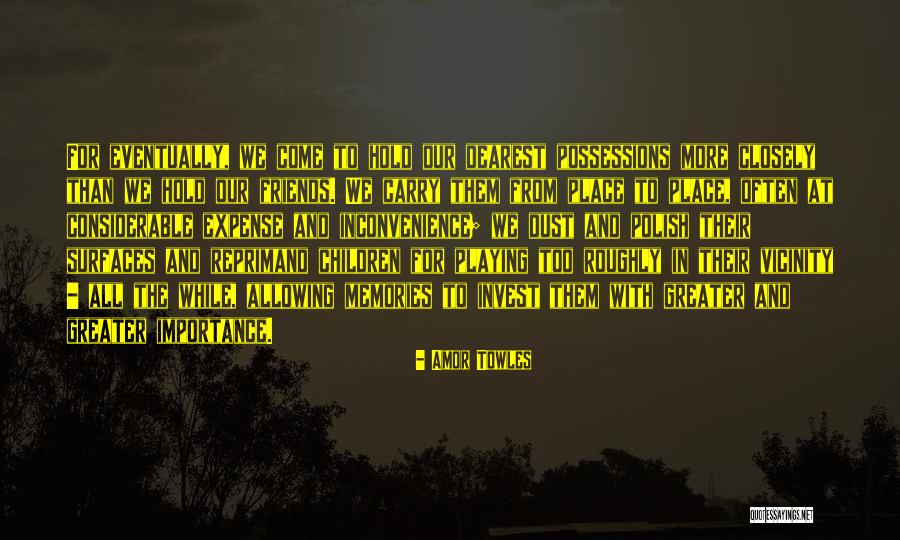 For eventually, we come to hold our dearest possessions more closely than we hold our friends. We carry them from place to place, often at considerable expense and inconvenience; we dust and polish their surfaces and reprimand children for playing too roughly in their vicinity - all the while, allowing memories to invest them with greater and greater importance. — Amor Towles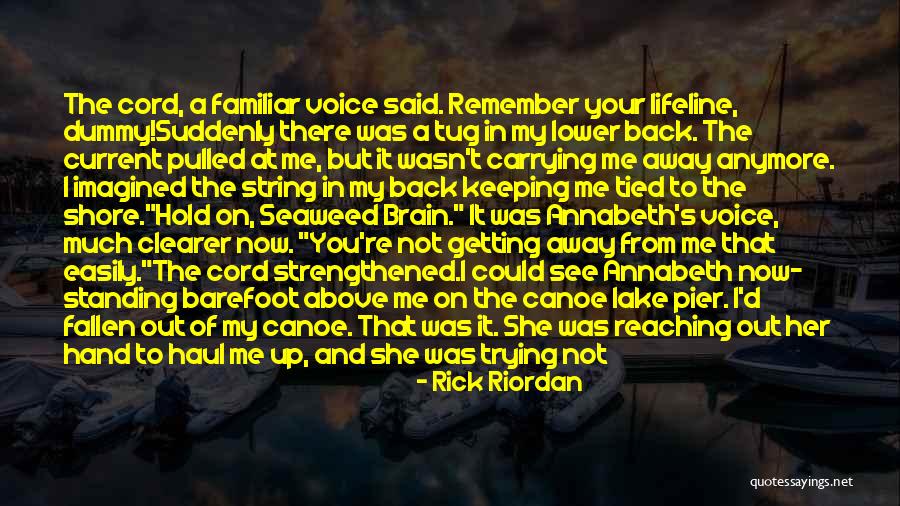 The cord, a familiar voice said. Remember your lifeline, dummy!
Suddenly there was a tug in my lower back. The current pulled at me, but it wasn't carrying me away anymore. I imagined the string in my back keeping me tied to the shore.
"Hold on, Seaweed Brain." It was Annabeth's voice, much clearer now. "You're not getting away from me that easily."
The cord strengthened.
I could see Annabeth now- standing barefoot above me on the canoe lake pier. I'd fallen out of my canoe. That was it. She was reaching out her hand to haul me up, and she was trying not to laugh. She wore her orange camp T-shirt and jeans. Her hair was tucked up in her Yankees cap, which was strange because that should have made her invisible.
"You are such an idiot sometimes." She smiled. "Come on. Take my hand."
Memories came flooding back to me- sharper and more colorful. I stopped dissolving. My name was Percy Jackson. I reached up and took Annabeth's hand. — Rick Riordan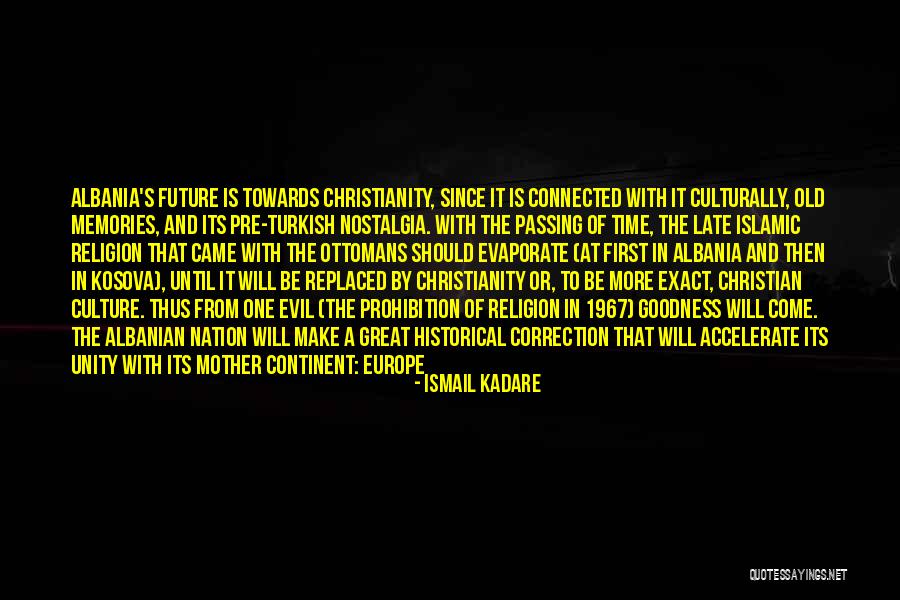 Albania's future is towards Christianity, since it is connected with it culturally, old memories, and its pre-Turkish nostalgia. With the passing of time, the late Islamic religion that came with the Ottomans should evaporate (at first in Albania and then in Kosova), until it will be replaced by Christianity or, to be more exact, Christian culture. Thus from one evil (the prohibition of religion in 1967) goodness will come. The Albanian nation will make a great historical correction that will accelerate its unity with its mother continent: Europe — Ismail Kadare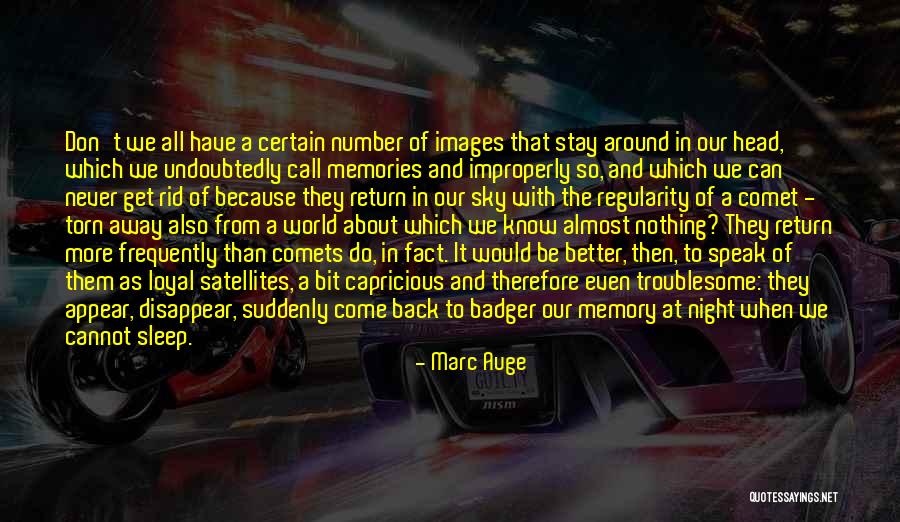 Don't we all have a certain number of images that stay around in our head, which we undoubtedly call memories and improperly so, and which we can never get rid of because they return in our sky with the regularity of a comet - torn away also from a world about which we know almost nothing? They return more frequently than comets do, in fact. It would be better, then, to speak of them as loyal satellites, a bit capricious and therefore even troublesome: they appear, disappear, suddenly come back to badger our memory at night when we cannot sleep. But, little as we may care to, as our hearts tell us to, we can also observe them at will, coldly, scrutinize their shadows, colors, and relief. Only, they are dead stars: from them we shall never grasp anything other than the certainty that we have already seen them, examined them, questioned them without really understanding the laws that the line of their mysterious orbits obeyed. — Marc Auge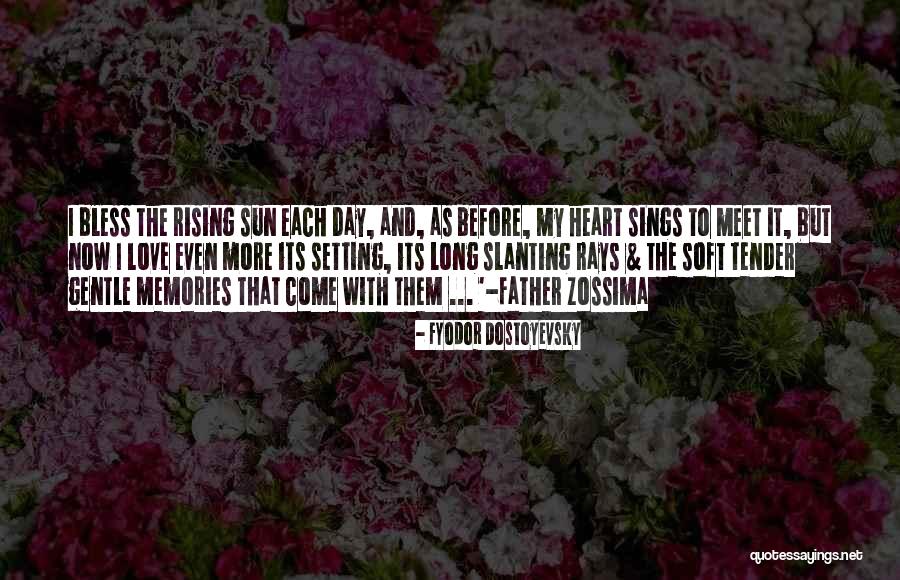 I bless the rising sun each day, and, as before, my heart sings to meet it, but now I love even more its setting, its long slanting rays & the soft tender gentle memories that come with them ... '
-Father Zossima — Fyodor Dostoyevsky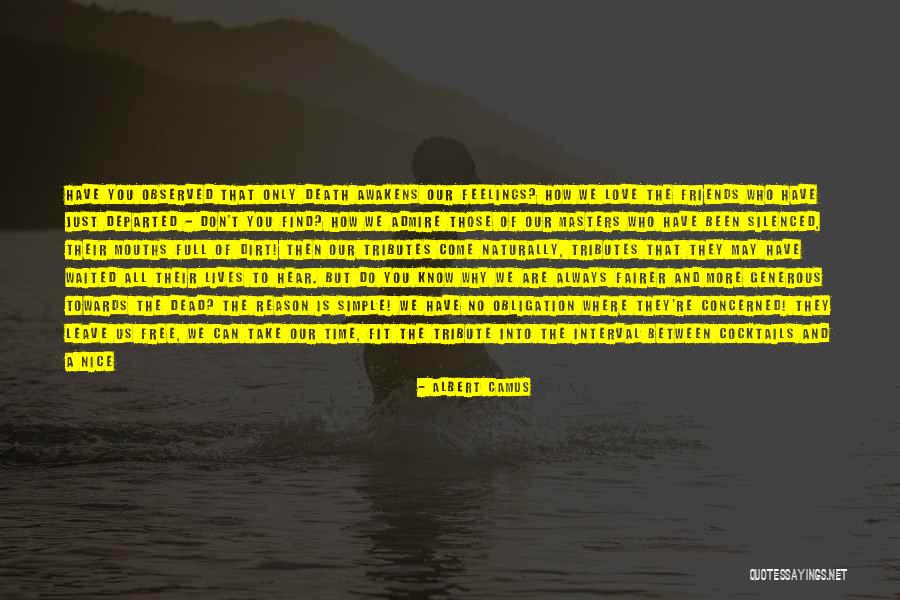 Have you observed that only death awakens our feelings? How we love the friends who have just departed - don't you find? How we admire those of our masters who have been silenced, their mouths full of dirt! Then our tributes come naturally, tributes that they may have waited all their lives to hear. But do you know why we are always fairer and more generous towards the dead? The reason is simple! We have no obligation where they're concerned! They leave us free, we can take our time, fit the tribute into the interval between cocktails and a nice mistress, in other words, lost moments. If they did oblige us to do anything, it would be to remember, and our memories are short. No, what we like in our friends is fresh death, painful death, our own feelings, in short, ourselves! — Albert Camus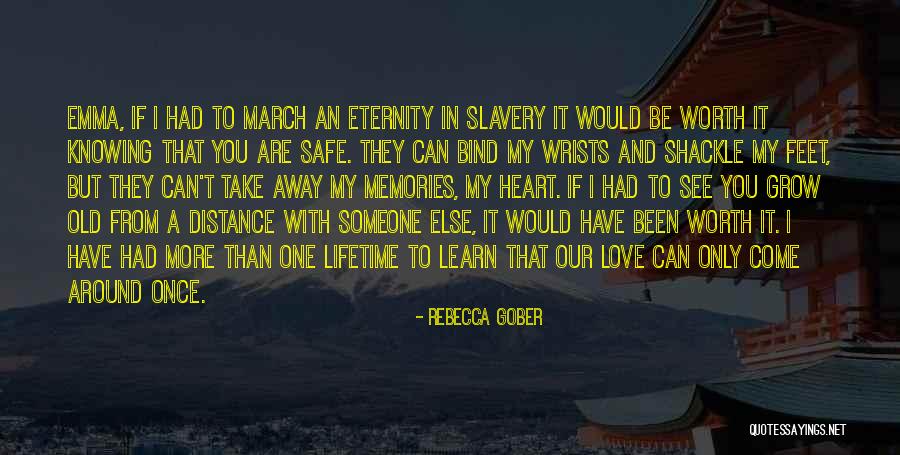 Emma, if I had to march an eternity in slavery it would be worth it knowing that you are safe. They can bind my wrists and shackle my feet, but they can't take away my memories, my heart. If I had to see you grow old from a distance with someone else, it would have been worth it. I have had more than one lifetime to learn that our love can only come around once. — Rebecca Gober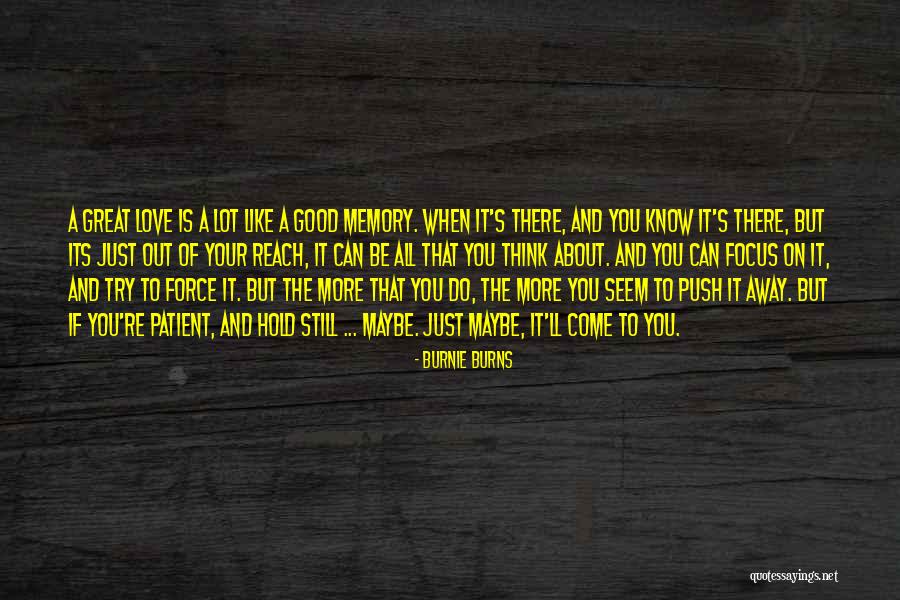 A great love is a lot like a good memory. When it's there, and you know it's there, but its just out of your reach, it can be all that you think about. And you can focus on it, and try to force it. But the more that you do, the more you seem to push it away. But if you're patient, and hold still ... Maybe. Just maybe, it'll come to you. — Burnie Burns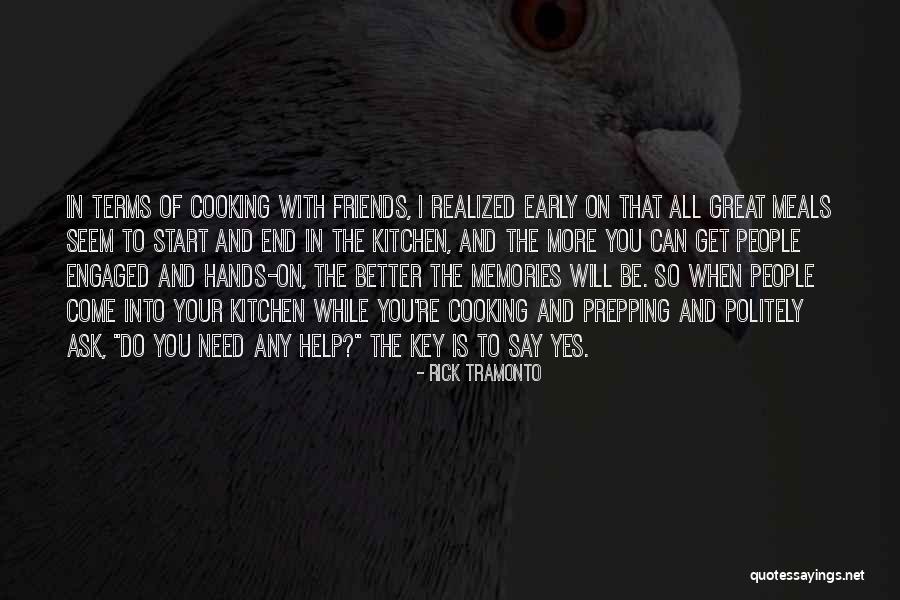 In terms of cooking with friends, I realized early on that all great meals seem to start and end in the kitchen, and the more you can get people engaged and hands-on, the better the memories will be. So when people come into your kitchen while you're cooking and prepping and politely ask, "Do you need any help?" the key is to say yes. — Rick Tramonto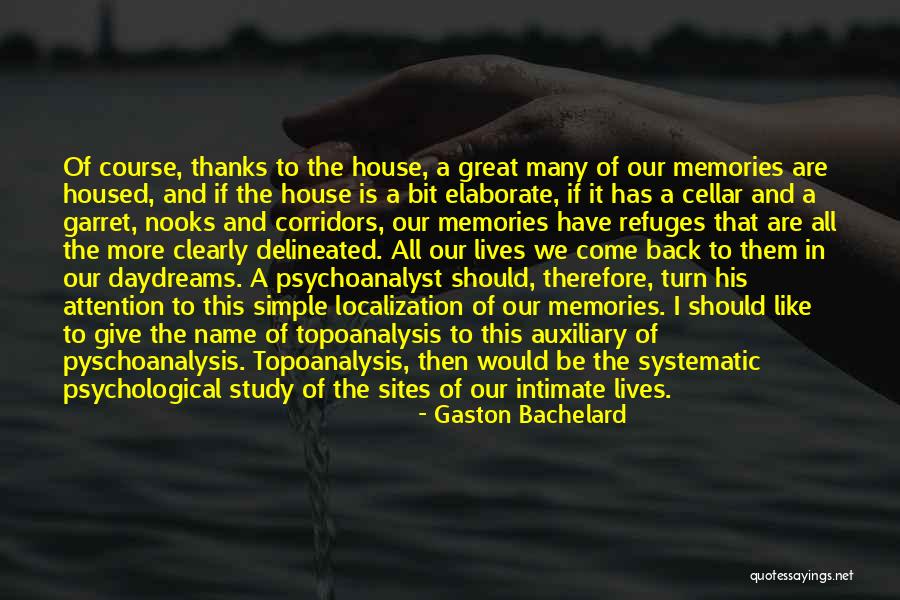 Of course, thanks to the house, a great many of our memories are housed, and if the house is a bit elaborate, if it has a cellar and a garret, nooks and corridors, our memories have refuges that are all the more clearly delineated. All our lives we come back to them in our daydreams. A psychoanalyst should, therefore, turn his attention to this simple localization of our memories. I should like to give the name of topoanalysis to this auxiliary of pyschoanalysis. Topoanalysis, then would be the systematic psychological study of the sites of our intimate lives. — Gaston Bachelard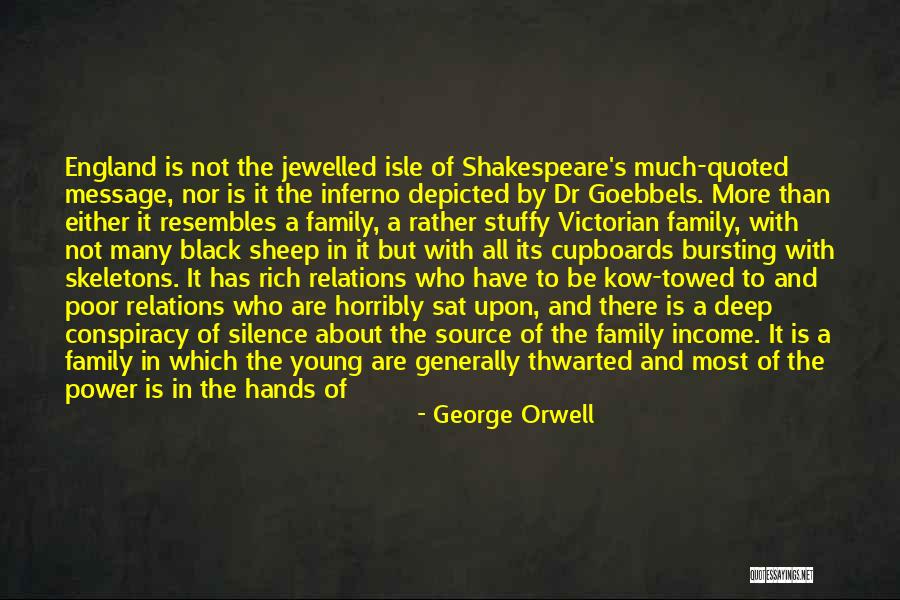 England is not the jewelled isle of Shakespeare's much-quoted message, nor is it the inferno depicted by Dr Goebbels. More than either it resembles a family, a rather stuffy Victorian family, with not many black sheep in it but with all its cupboards bursting with skeletons. It has rich relations who have to be kow-towed to and poor relations who are horribly sat upon, and there is a deep conspiracy of silence about the source of the family income. It is a family in which the young are generally thwarted and most of the power is in the hands of irresponsible uncles and bedridden aunts. Still, it is a family. It has its private language and its common memories, and at the approach of an enemy it closes its ranks. A family with the wrong members in control - that, perhaps is as near as one can come to describing England in a phrase. — George Orwell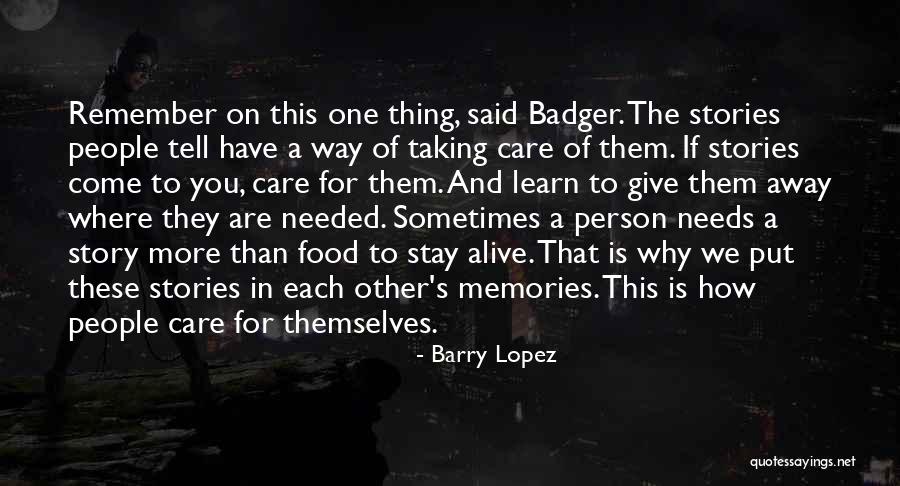 Remember on this one thing, said Badger. The stories people tell have a way of taking care of them. If stories come to you, care for them. And learn to give them away where they are needed. Sometimes a person needs a story more than food to stay alive. That is why we put these stories in each other's memories. This is how people care for themselves. — Barry Lopez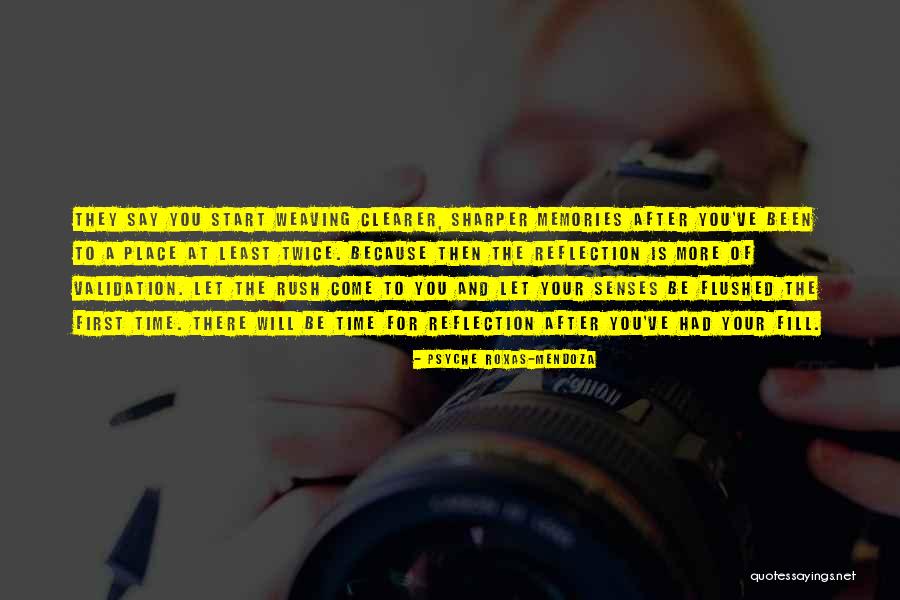 They say you start weaving clearer, sharper memories after you've been to a place at least twice. Because then the reflection is more of validation. Let the rush come to you and let your senses be flushed the first time. There will be time for reflection after you've had your fill. — Psyche Roxas-Mendoza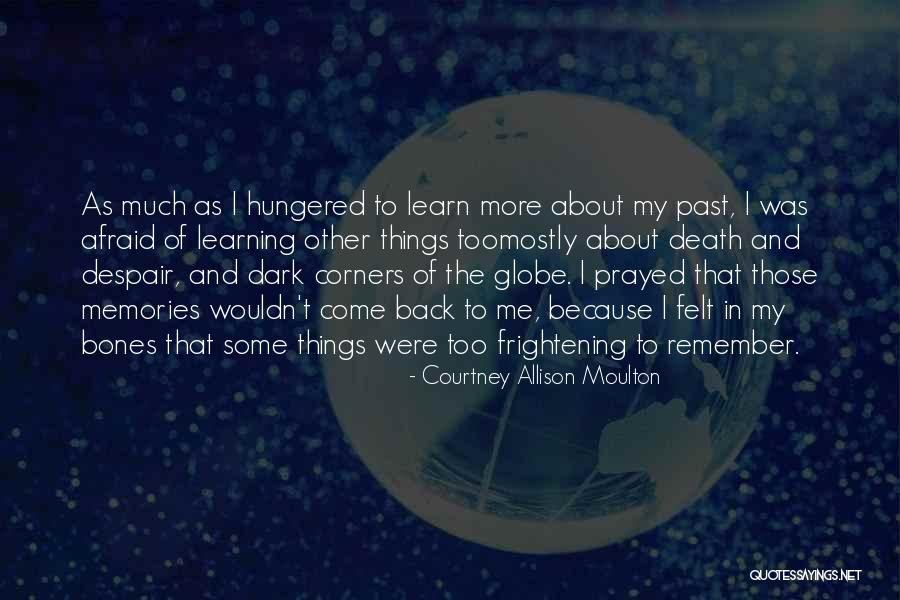 As much as I hungered to learn more about my past, I was afraid of learning other things too
mostly about death and despair, and dark corners of the globe. I prayed that those memories wouldn't come back to me, because I felt in my bones that some things were too frightening to remember. — Courtney Allison Moulton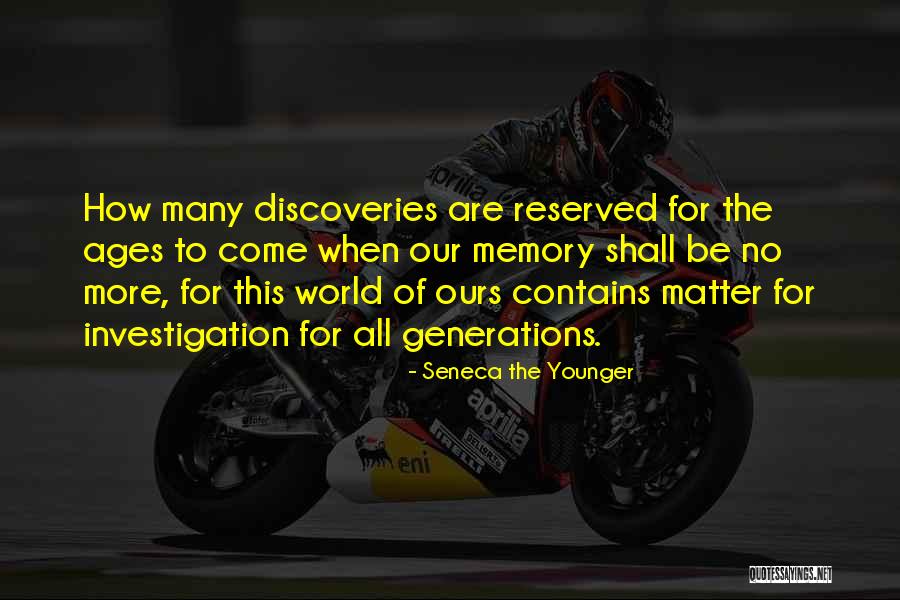 How many discoveries are reserved for the ages to come when our memory shall be no more, for this world of ours contains matter for investigation for all generations. — Seneca The Younger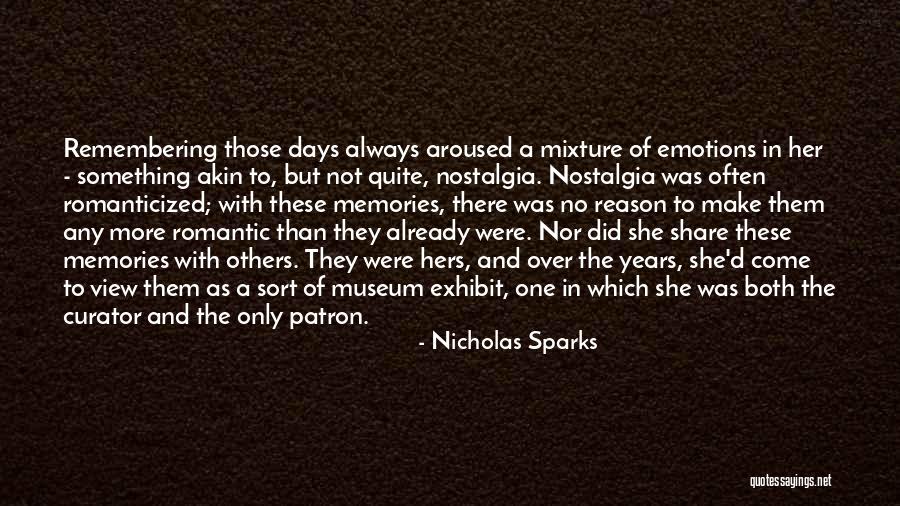 Remembering those days always aroused a mixture of emotions in her - something akin to, but not quite, nostalgia. Nostalgia was often romanticized; with these memories, there was no reason to make them any more romantic than they already were. Nor did she share these memories with others. They were hers, and over the years, she'd come to view them as a sort of museum exhibit, one in which she was both the curator and the only patron. — Nicholas Sparks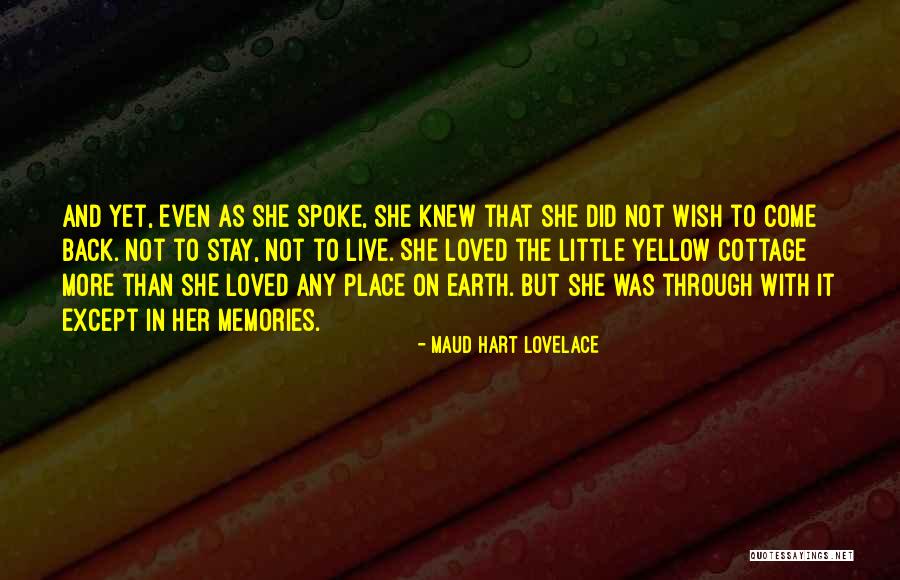 And yet, even as she spoke, she knew that she did not wish to come back. not to stay, not to live. She loved the little yellow cottage more than she loved any place on earth. but she was through with it except in her memories. — Maud Hart Lovelace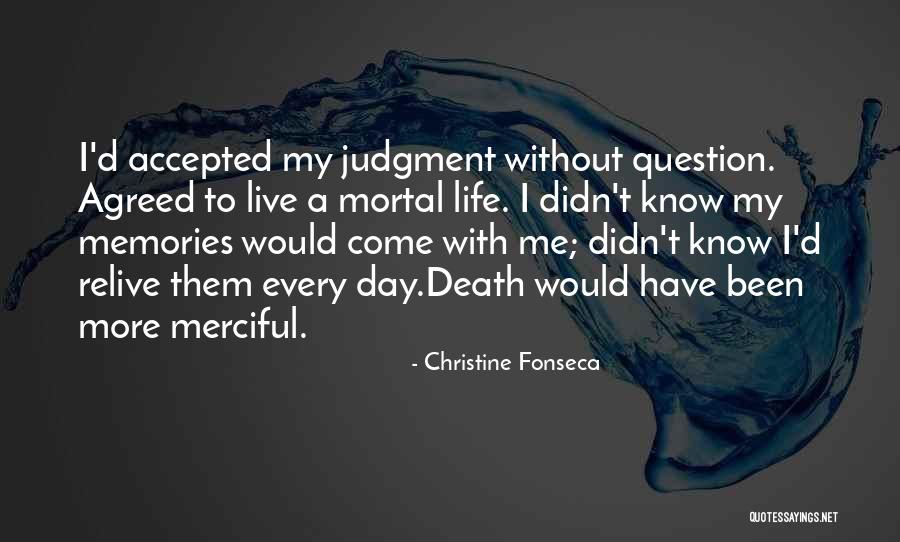 I'd accepted my judgment without question. Agreed to live a mortal life. I didn't know my memories would come with me; didn't know I'd relive them every day.
Death would have been more merciful. — Christine Fonseca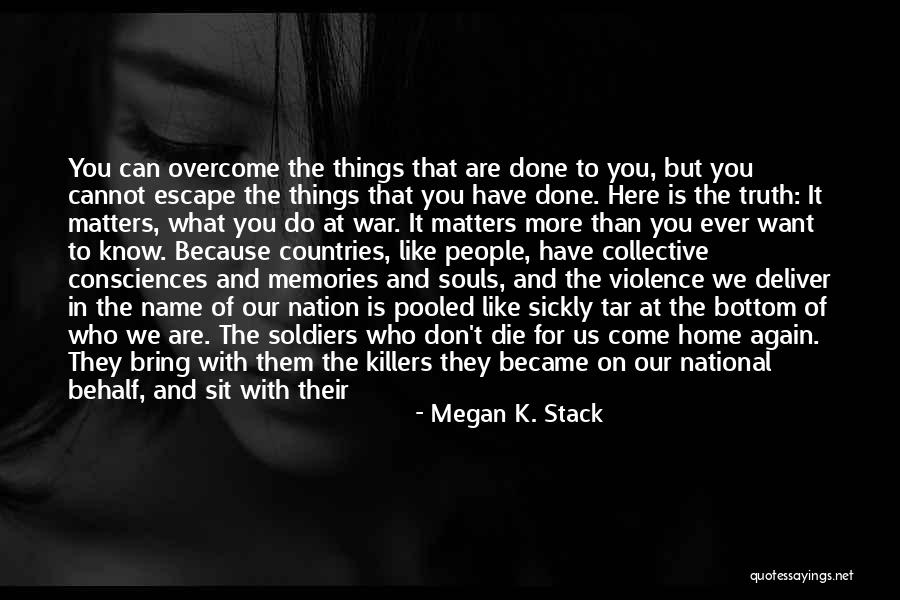 You can overcome the things that are done to you, but you cannot escape the things that you have done.
Here is the truth: It matters, what you do at war. It matters more than you ever want to know. Because countries, like people, have collective consciences and memories and souls, and the violence we deliver in the name of our nation is pooled like sickly tar at the bottom of who we are. The soldiers who don't die for us come home again. They bring with them the killers they became on our national behalf, and sit with their polluted memories and broken emotions in our homes and schools and temples. We may wish it were not so, but action amounts to identity. We become what we do.You can tell yourself all the stories you want, but you can't leave your actions over there. You can't build a wall and expect to live on the other side of memory. All of the poison seeps back into our soil. — Megan K. Stack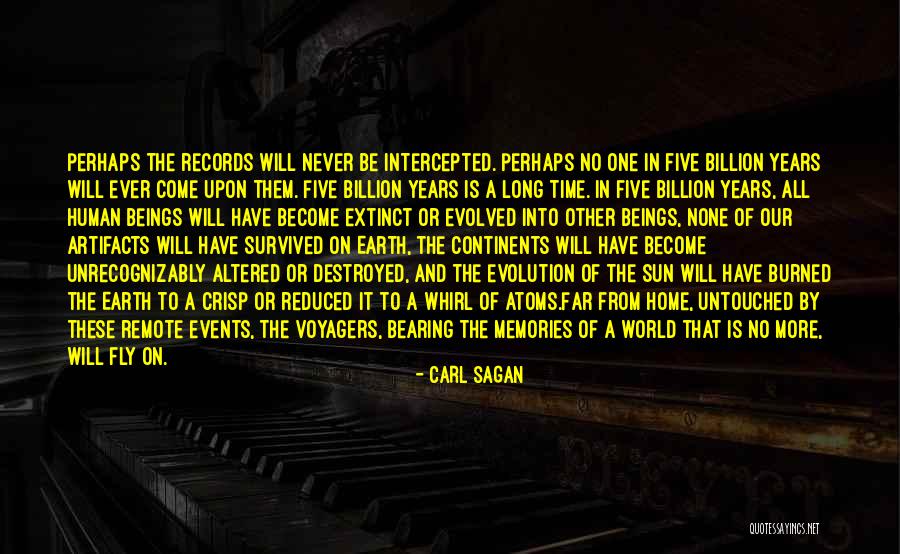 Perhaps the records will never be intercepted. Perhaps no one in five billion years will ever come upon them. Five billion years is a long time. In five billion years, all human beings will have become extinct or evolved into other beings, none of our artifacts will have survived on Earth, the continents will have become unrecognizably altered or destroyed, and the evolution of the Sun will have burned the Earth to a crisp or reduced it to a whirl of atoms.
Far from home, untouched by these remote events, the Voyagers, bearing the memories of a world that is no more, will fly on. — Carl Sagan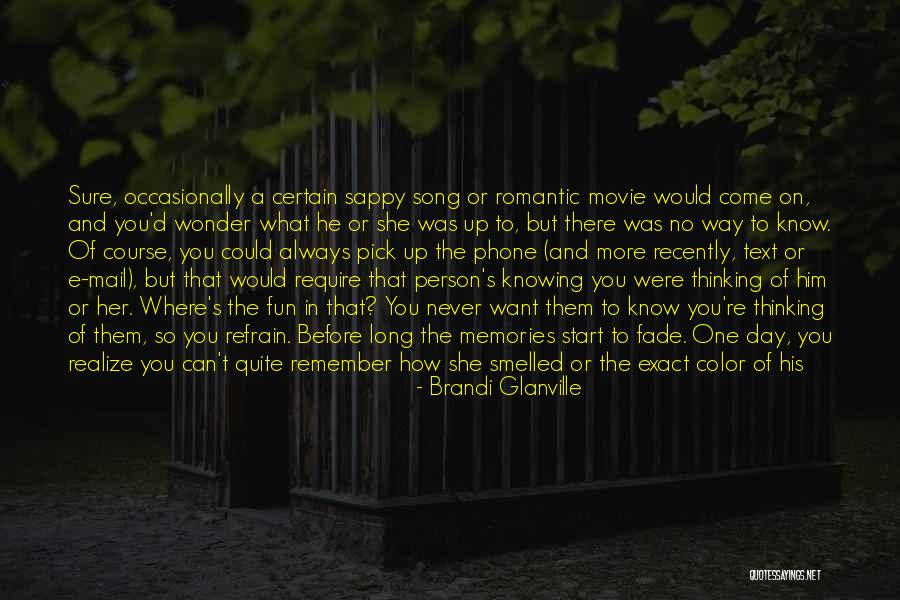 Sure, occasionally a certain sappy song or romantic movie would come on, and you'd wonder what he or she was up to, but there was no way to know. Of course, you could always pick up the phone (and more recently, text or e-mail), but that would require that person's knowing you were thinking of him or her. Where's the fun in that? You never want them to know you're thinking of them, so you refrain. Before long the memories start to fade. One day, you realize you can't quite remember how she smelled or the exact color of his eyes. Eventually, without ever knowing it, you just forget that person altogether. You replace old memories with new ones, and life goes on. It was the clean break you needed to move forward. — Brandi Glanville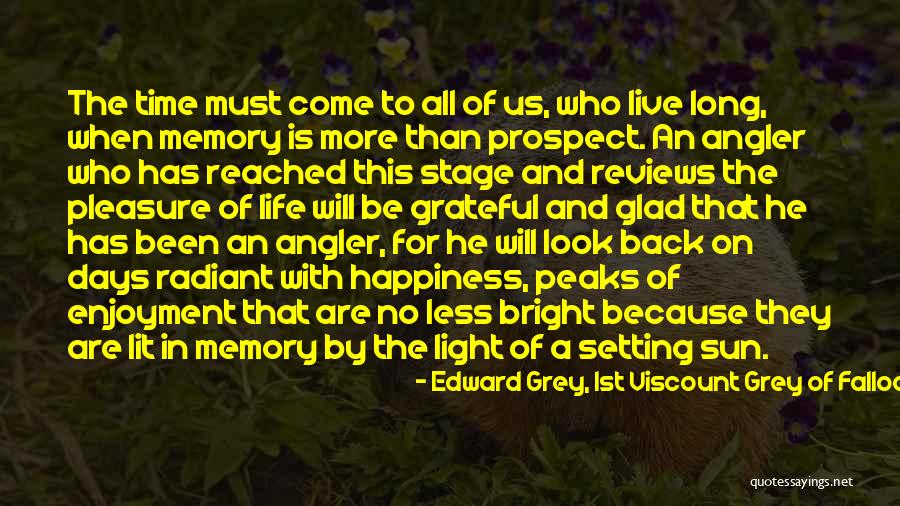 The time must come to all of us, who live long, when memory is more than prospect. An angler who has reached this stage and reviews the pleasure of life will be grateful and glad that he has been an angler, for he will look back on days radiant with happiness, peaks of enjoyment that are no less bright because they are lit in memory by the light of a setting sun. — Edward Grey, 1st Viscount Grey Of Fallodon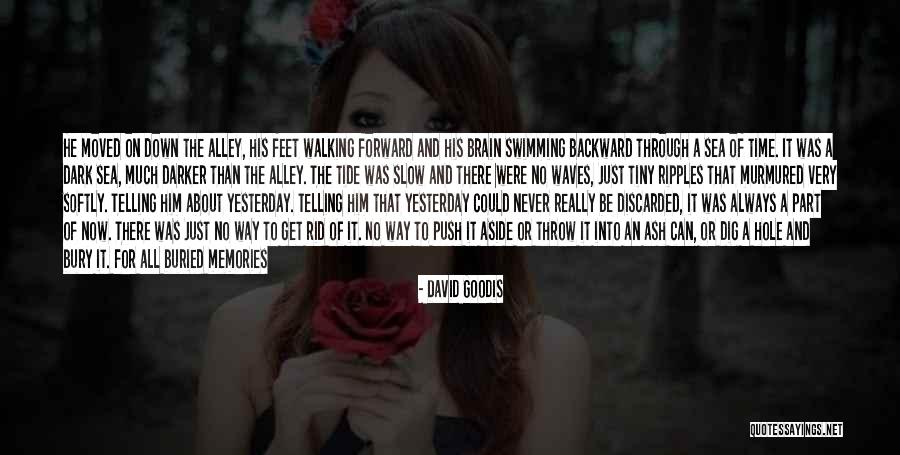 He moved on down the alley, his feet walking forward and his brain swimming backward through a sea of time. It was a dark sea, much darker than the alley. The tide was slow and there were no waves, just tiny ripples that murmured very softly. Telling him about yesterday. Telling him that yesterday could never really be discarded, it was always a part of now. There was just no way to get rid of it. No way to push it aside or throw it into an ash can, or dig a hole and bury it. For all buried memories were nothing more than slow-motion boomerangs, taking their own sweet time to come back. This one had taken seven years. — David Goodis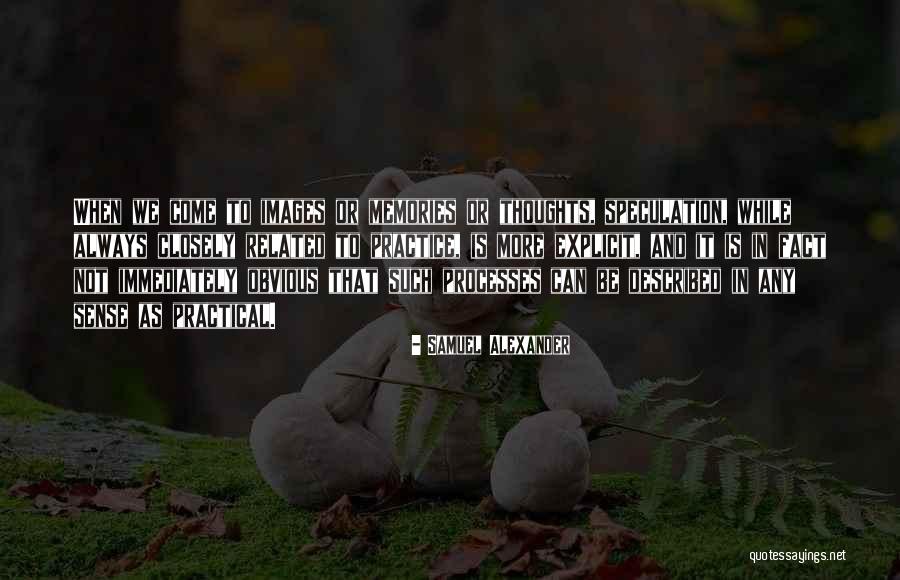 When we come to images or memories or thoughts, speculation, while always closely related to practice, is more explicit, and it is in fact not immediately obvious that such processes can be described in any sense as practical. — Samuel Alexander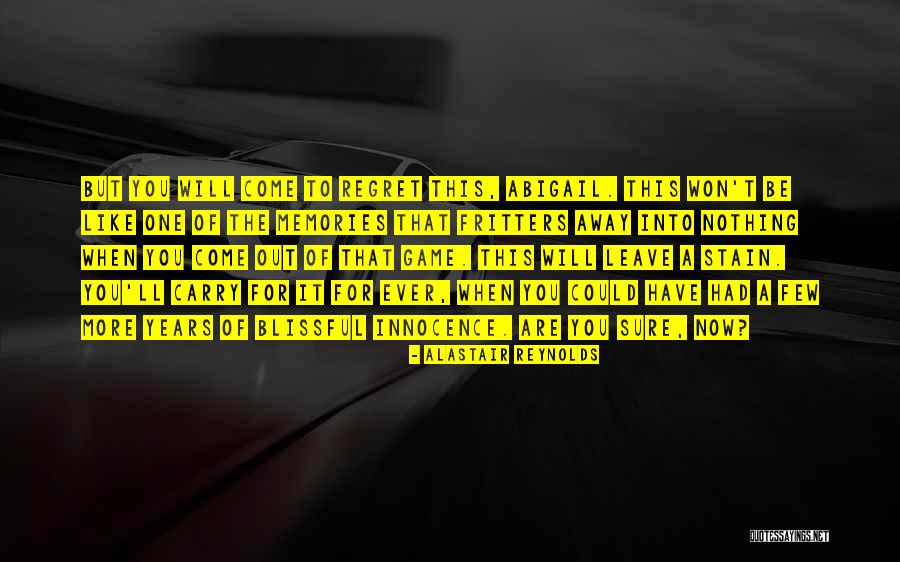 But you will come to regret this, Abigail. This won't be like one of the memories that fritters away into nothing when you come out of that game. This will leave a stain. You'll carry for it for ever, when you could have had a few more years of blissful innocence. Are you sure, now? — Alastair Reynolds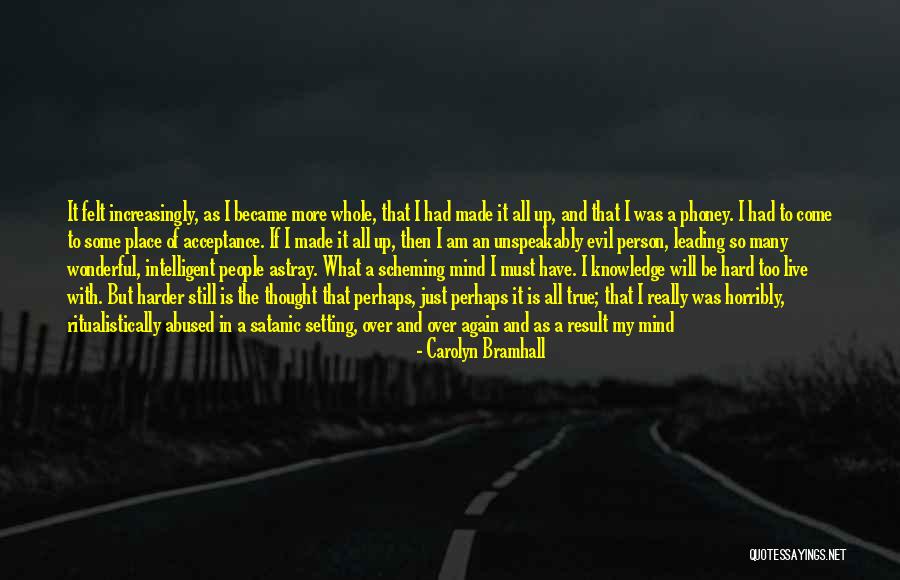 It felt increasingly, as I became more whole, that I had made it all up, and that I was a phoney. I had to come to some place of acceptance. If I made it all up, then I am an unspeakably evil person, leading so many wonderful, intelligent people astray. What a scheming mind I must have. I knowledge will be hard too live with. But harder still is the thought that perhaps, just perhaps it is all true; that I really was horribly, ritualistically abused in a satanic setting, over and over again and as a result my mind fragmented. The implications of that are completely overwhelming. It was me, my body, that they did those things to. No, I would rather believe I am an evil and deceitful person. At least the I can change, and say sorry, and live a better life from now on. — Carolyn Bramhall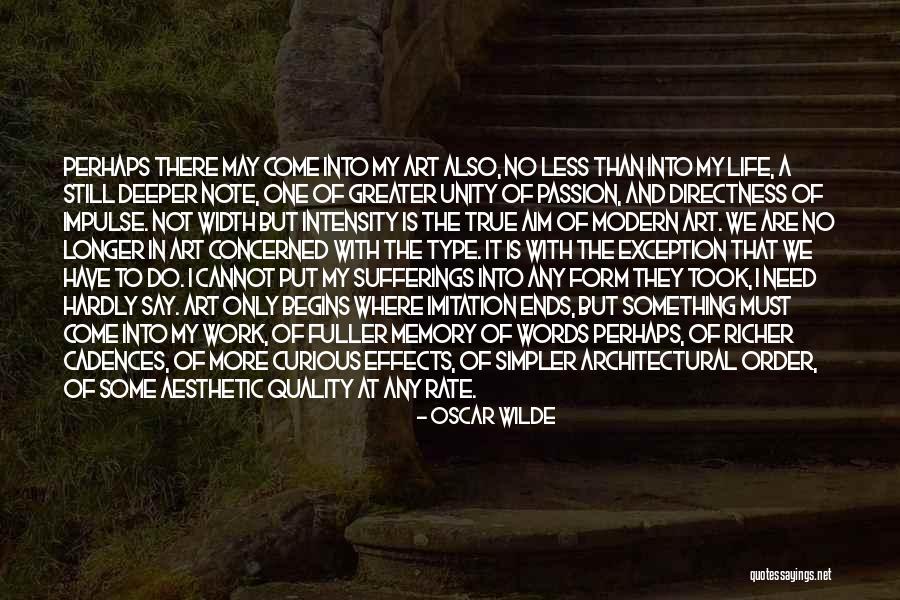 Perhaps there may come into my art also, no less than into my life, a still deeper note, one of greater unity of passion, and directness of impulse. Not width but intensity is the true aim of modern art. We are no longer in art concerned with the type. It is with the exception that we have to do. I cannot put my sufferings into any form they took, I need hardly say. Art only begins where Imitation ends, but something must come into my work, of fuller memory of words perhaps, of richer cadences, of more curious effects, of simpler architectural order, of some aesthetic quality at any rate. — Oscar Wilde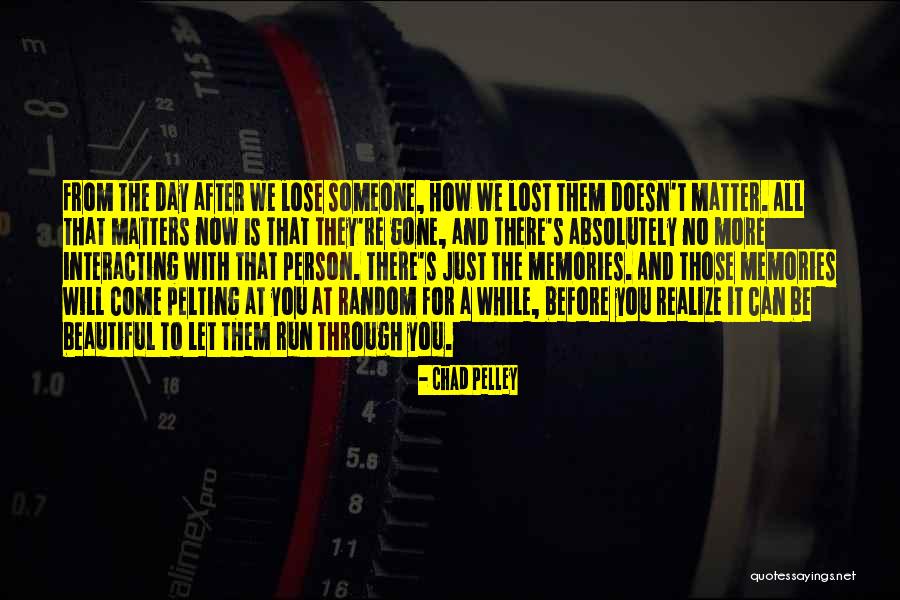 From the day after we lose someone, how we lost them doesn't matter. All that matters now is that they're gone, and there's absolutely no more interacting with that person. There's just the memories. And those memories will come pelting at you at random for a while, before you realize it can be beautiful to let them run through you. — Chad Pelley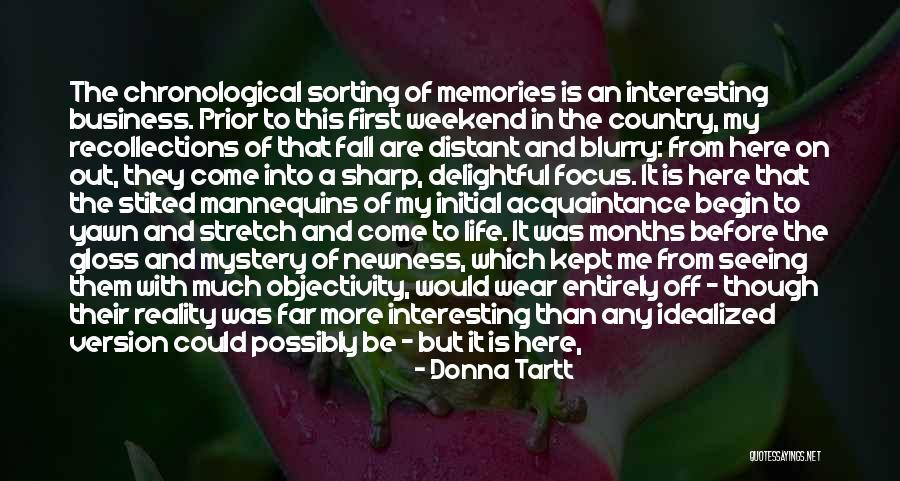 The chronological sorting of memories is an interesting business. Prior to this first weekend in the country, my recollections of that fall are distant and blurry: from here on out, they come into a sharp, delightful focus. It is here that the stilted mannequins of my initial acquaintance begin to yawn and stretch and come to life. It was months before the gloss and mystery of newness, which kept me from seeing them with much objectivity, would wear entirely off - though their reality was far more interesting than any idealized version could possibly be - but it is here, in my memory, that they cease being totally foreign and being to appear, for the first time, in shapes very like their bright old selves.
I too appear as something of a stranger in these early memories. — Donna Tartt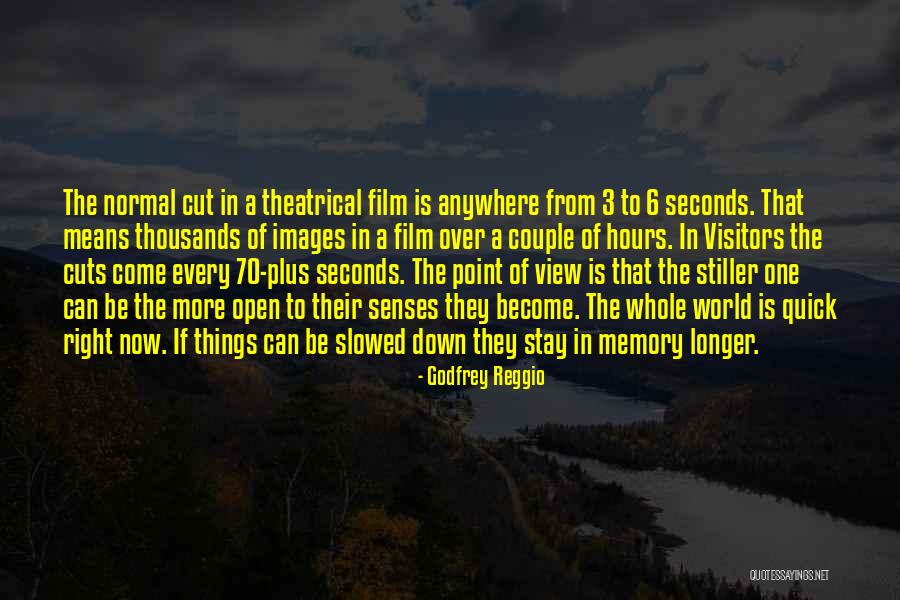 The normal cut in a theatrical film is anywhere from 3 to 6 seconds. That means thousands of images in a film over a couple of hours. In Visitors the cuts come every 70-plus seconds. The point of view is that the stiller one can be the more open to their senses they become. The whole world is quick right now. If things can be slowed down they stay in memory longer. — Godfrey Reggio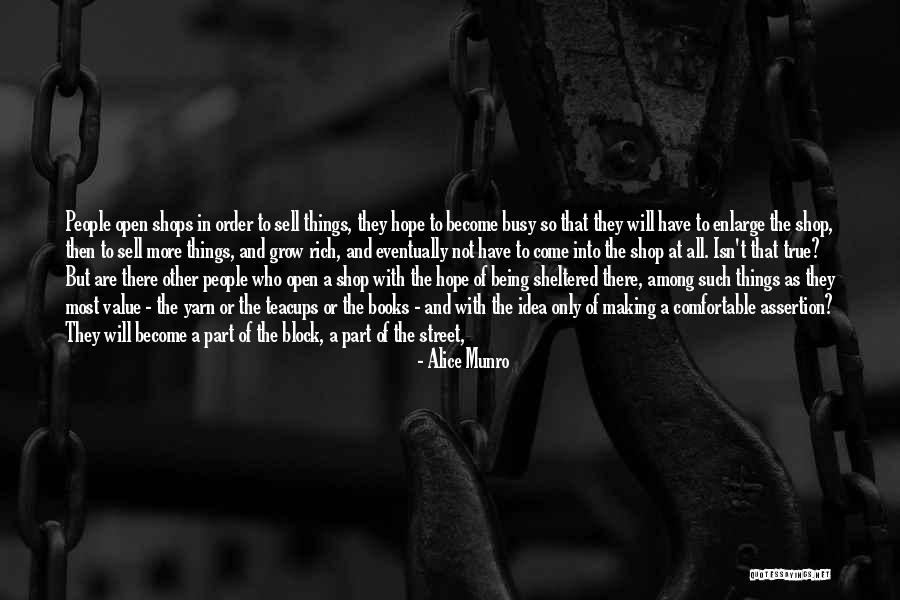 People open shops in order to sell things, they hope to become busy so that they will have to enlarge the shop, then to sell more things, and grow rich, and eventually not have to come into the shop at all. Isn't that true? But are there other people who open a shop with the hope of being sheltered there, among such things as they most value - the yarn or the teacups or the books - and with the idea only of making a comfortable assertion? They will become a part of the block, a part of the street, part of everybody's map of the town, and eventually of everybody's memories. They will sit and drink coffee in the middle of the morning, they will get out the familiar bits of tinsel at Christmas, they will wash the windows in spring before spreading out the new stock. Shops, to these people, are what a cabin in the woods might be to somebody else - a refuge and a justification. — Alice Munro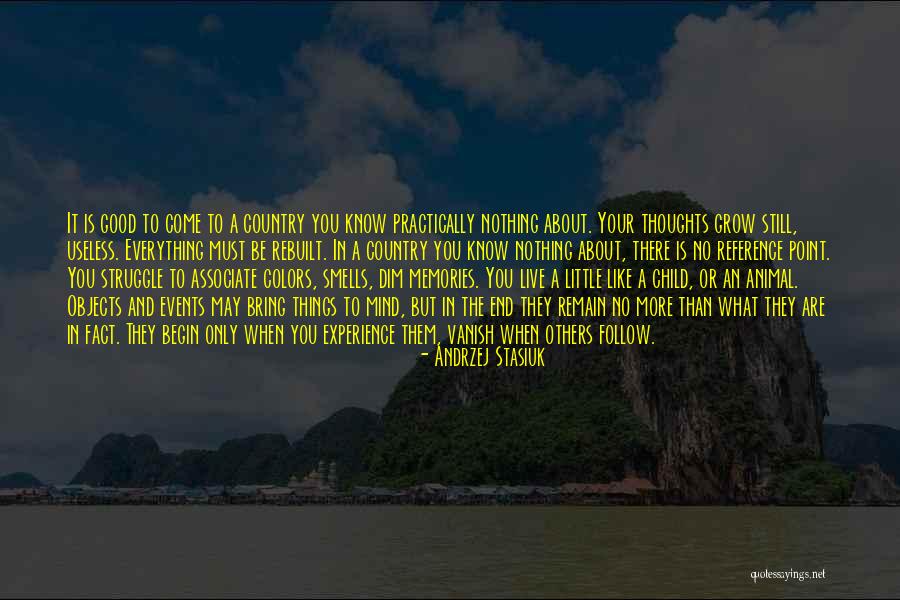 It is good to come to a country you know practically nothing about. Your thoughts grow still, useless. Everything must be rebuilt. In a country you know nothing about, there is no reference point. You struggle to associate colors, smells, dim memories. You live a little like a child, or an animal. Objects and events may bring things to mind, but in the end they remain no more than what they are in fact. They begin only when you experience them, vanish when others follow. — Andrzej Stasiuk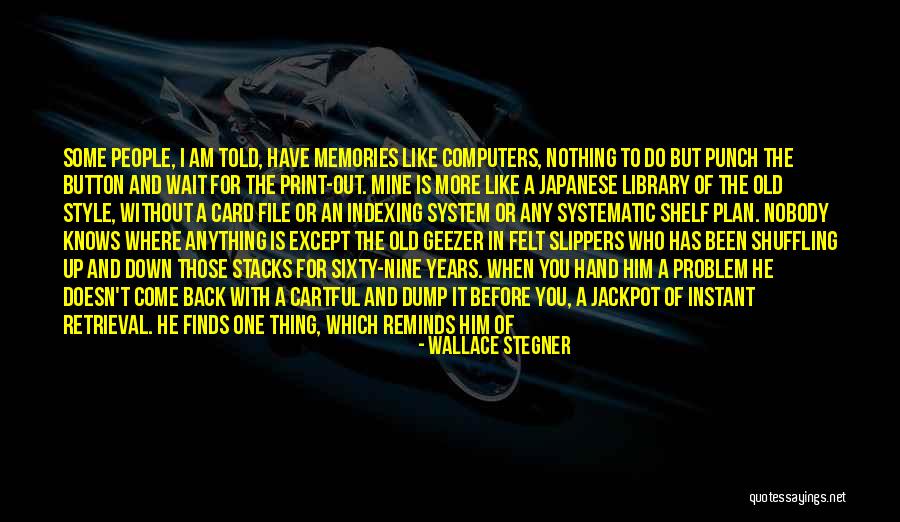 Some people, I am told, have memories like computers, nothing to do but punch the button and wait for the print-out. Mine is more like a Japanese library of the old style, without a card file or an indexing system or any systematic shelf plan. Nobody knows where anything is except the old geezer in felt slippers who has been shuffling up and down those stacks for sixty-nine years. When you hand him a problem he doesn't come back with a cartful and dump it before you, a jackpot of instant retrieval. He finds one thing, which reminds him of another, which leads him off to the annex, which directs him to the east wing, which sends him back two tiers from where he started. Bit by bit he finds you what you want, but like his boss who seems to be under pressure to examine his life, he takes his time. — Wallace Stegner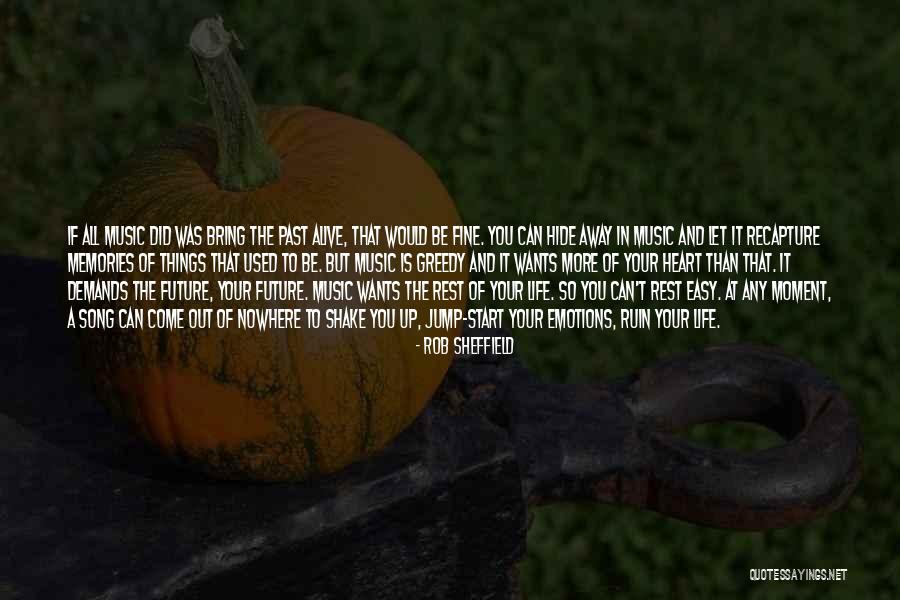 If all music did was bring the past alive, that would be fine. You can hide away in music and let it recapture memories of things that used to be. But music is greedy and it wants more of your heart than that. It demands the future, your future. Music wants the rest of your life. So you can't rest easy. At any moment, a song can come out of nowhere to shake you up, jump-start your emotions, ruin your life. — Rob Sheffield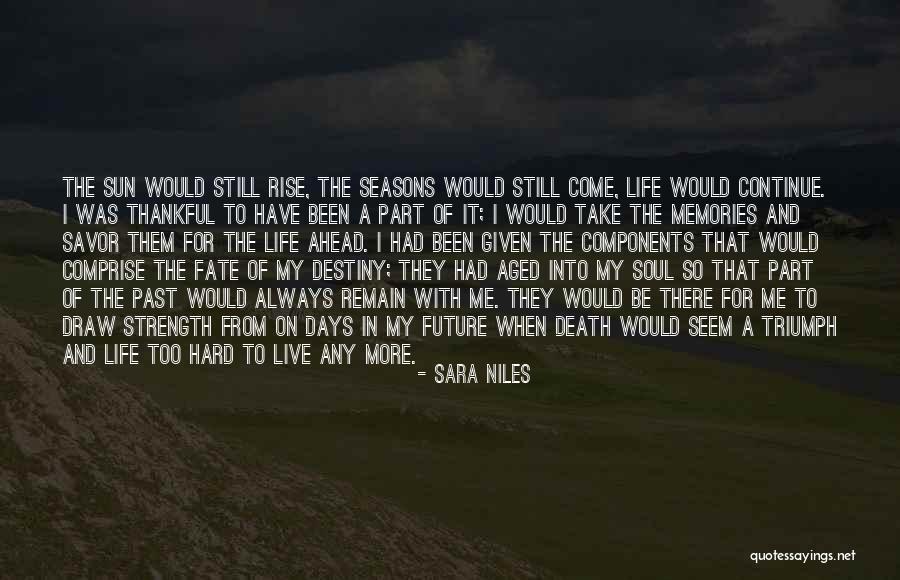 The sun would still rise, the seasons would still come, life would continue. I was thankful to have been a part of it; I would take the memories and savor them for the life ahead. I had been given the components that would comprise the fate of my destiny; they had aged into my soul so that part of the past would always remain with me. They would be there for me to draw strength from on days in my future when death would seem a triumph and life too hard to live any more. — Sara Niles