Quotes & Sayings About Monterey
Enjoy reading and share 29 famous quotes about Monterey with everyone.
Top Monterey Quotes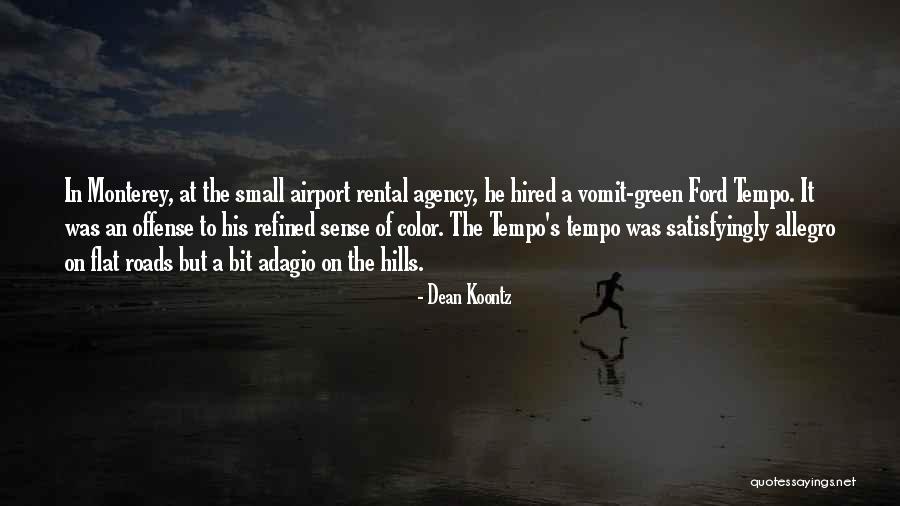 In Monterey, at the small airport rental agency, he hired a vomit-green Ford Tempo. It was an offense to his refined sense of color. The Tempo's tempo was satisfyingly allegro on flat roads but a bit adagio on the hills. — Dean Koontz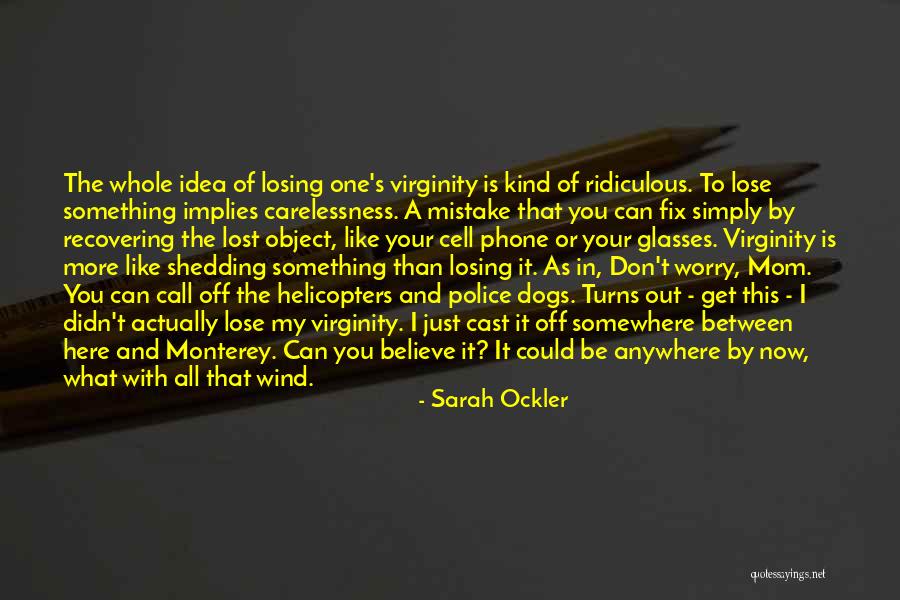 The whole idea of losing one's virginity is kind of ridiculous. To lose something implies carelessness. A mistake that you can fix simply by recovering the lost object, like your cell phone or your glasses. Virginity is more like shedding something than losing it. As in, Don't worry, Mom. You can call off the helicopters and police dogs. Turns out - get this - I didn't actually lose my virginity. I just cast it off somewhere between here and Monterey. Can you believe it? It could be anywhere by now, what with all that wind. — Sarah Ockler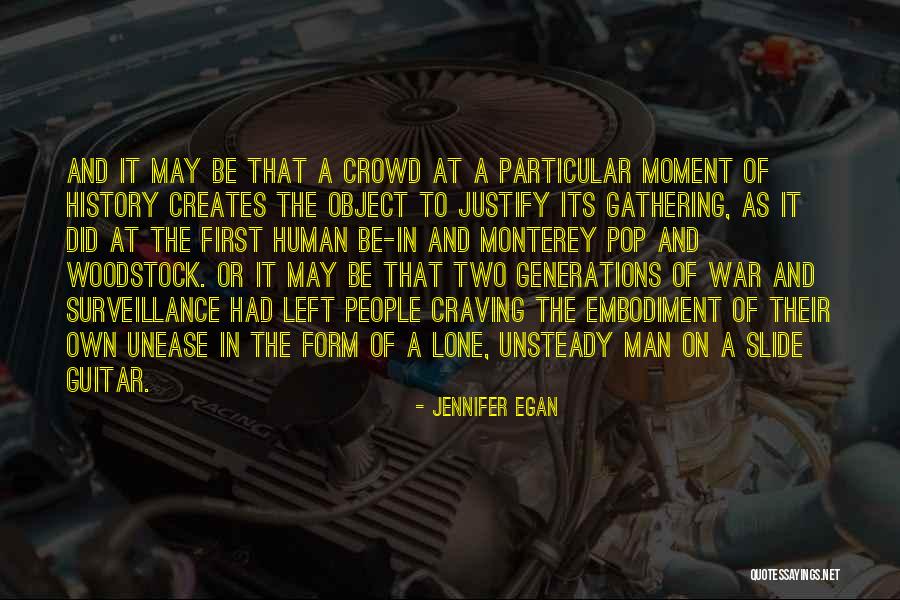 And it may be that a crowd at a particular moment of history creates the object to justify its gathering, as it did at the first Human Be-In and Monterey Pop and Woodstock. Or it may be that two generations of war and surveillance had left people craving the embodiment of their own unease in the form of a lone, unsteady man on a slide guitar. — Jennifer Egan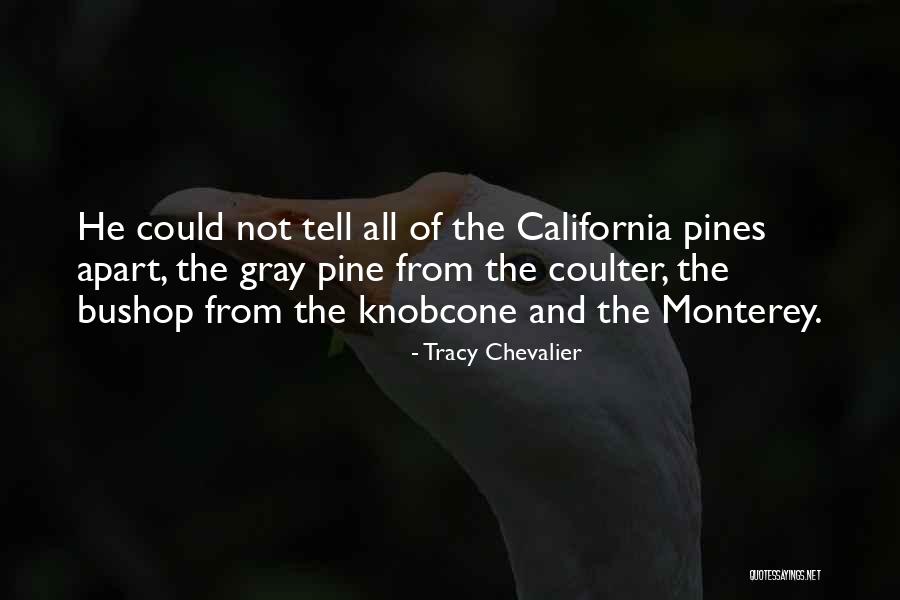 He could not tell all of the California pines apart, the gray pine from the coulter, the bushop from the knobcone and the Monterey. — Tracy Chevalier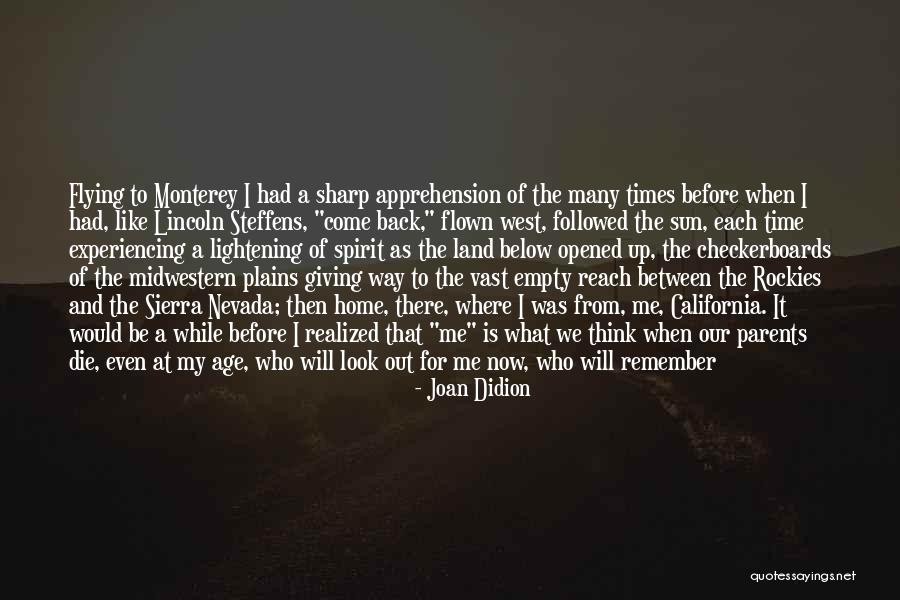 Flying to Monterey I had a sharp apprehension of the many times before when I had, like Lincoln Steffens, "come back," flown west, followed the sun, each time experiencing a lightening of spirit as the land below opened up, the checkerboards of the midwestern plains giving way to the vast empty reach between the Rockies and the Sierra Nevada; then home, there, where I was from, me, California. It would be a while before I realized that "me" is what we think when our parents die, even at my age, who will look out for me now, who will remember me as I was, who will know what happens to me now, where will I be from. — Joan Didion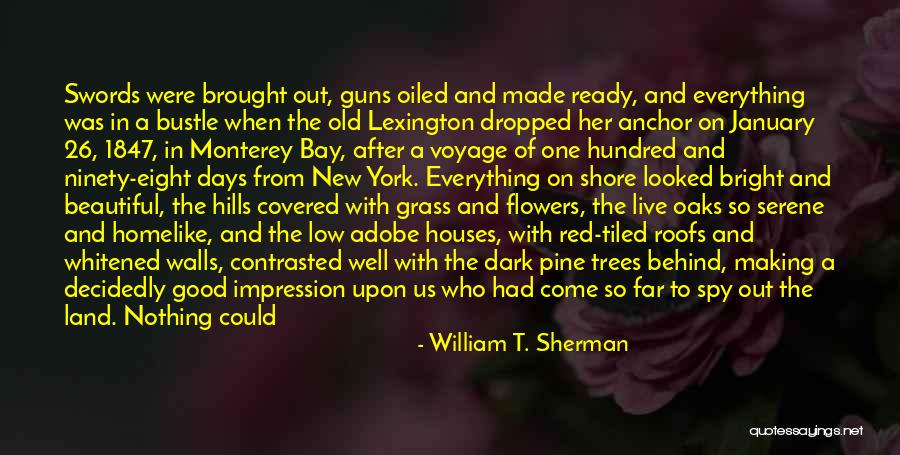 Swords were brought out, guns oiled and made ready, and everything was in a bustle when the old Lexington dropped her anchor on January 26, 1847, in Monterey Bay, after a voyage of one hundred and ninety-eight days from New York. Everything on shore looked bright and beautiful, the hills covered with grass and flowers, the live oaks so serene and homelike, and the low adobe houses, with red-tiled roofs and whitened walls, contrasted well with the dark pine trees behind, making a decidedly good impression upon us who had come so far to spy out the land. Nothing could be more peaceful in its looks than Monterey in January, 1847. — William T. Sherman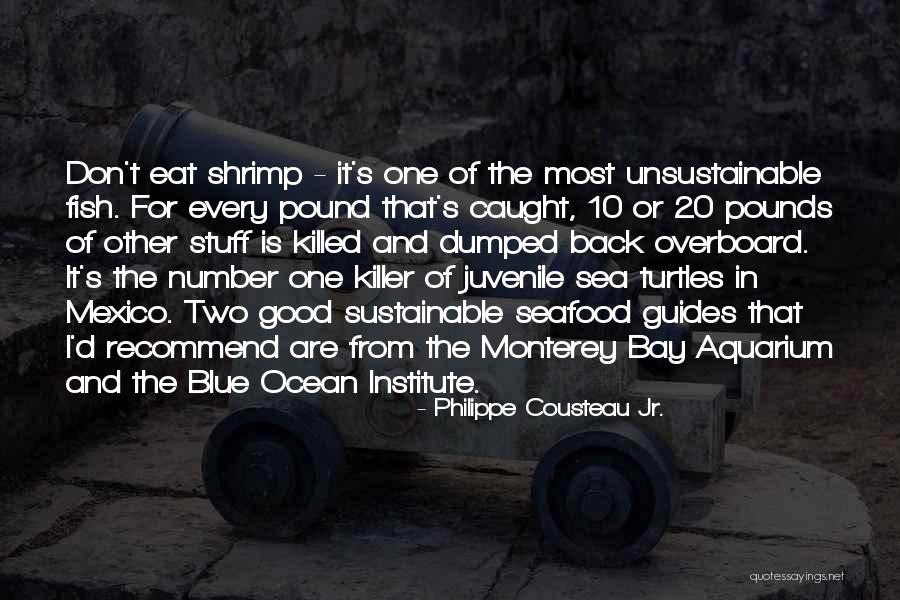 Don't eat shrimp - it's one of the most unsustainable fish. For every pound that's caught, 10 or 20 pounds of other stuff is killed and dumped back overboard. It's the number one killer of juvenile sea turtles in Mexico. Two good sustainable seafood guides that I'd recommend are from the Monterey Bay Aquarium and the Blue Ocean Institute. — Philippe Cousteau Jr.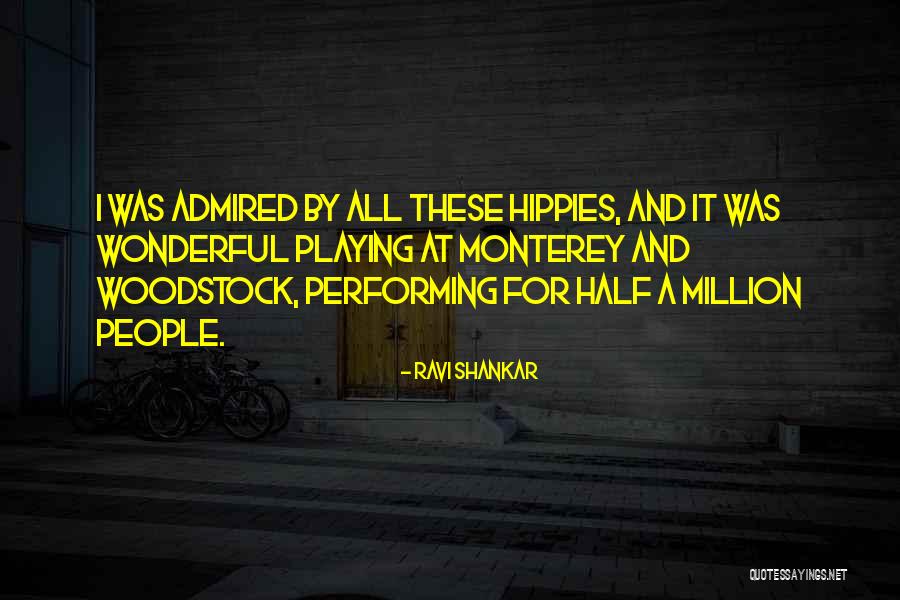 I was admired by all these hippies, and it was wonderful playing at Monterey and Woodstock, performing for half a million people. — Ravi Shankar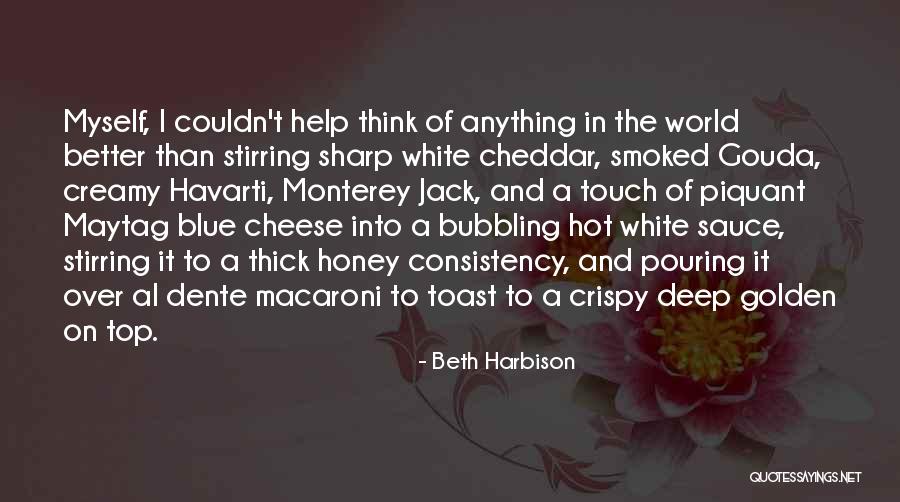 Myself, I couldn't help think of anything in the world better than stirring sharp white cheddar, smoked Gouda, creamy Havarti, Monterey Jack, and a touch of piquant Maytag blue cheese into a bubbling hot white sauce, stirring it to a thick honey consistency, and pouring it over al dente macaroni to toast to a crispy deep golden on top. — Beth Harbison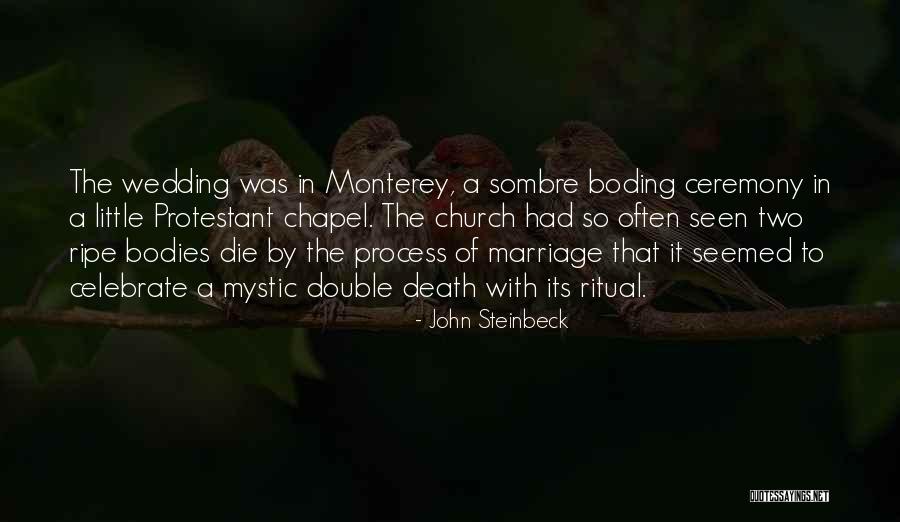 The wedding was in Monterey, a sombre boding ceremony in a little Protestant chapel. The church had so often seen two ripe bodies die by the process of marriage that it seemed to celebrate a mystic double death with its ritual. — John Steinbeck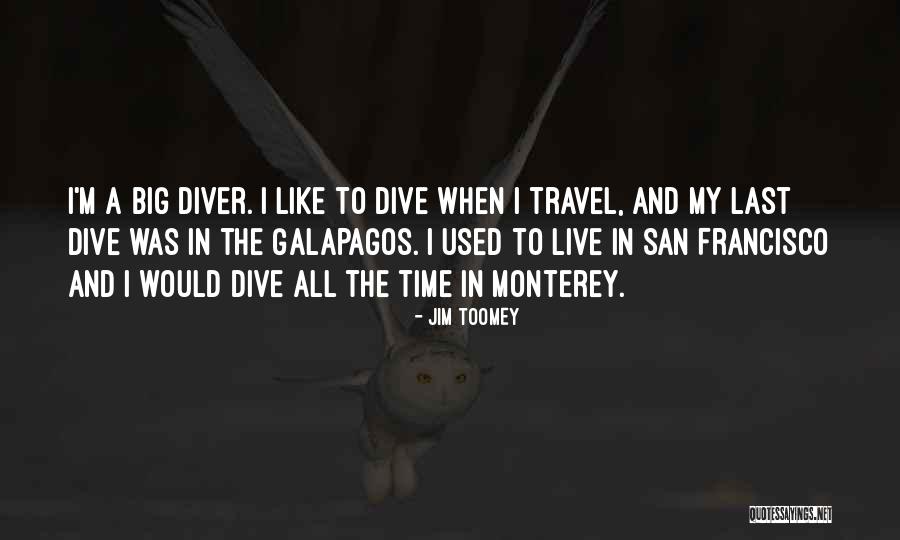 I'm a big diver. I like to dive when I travel, and my last dive was in the Galapagos. I used to live in San Francisco and I would dive all the time in Monterey. — Jim Toomey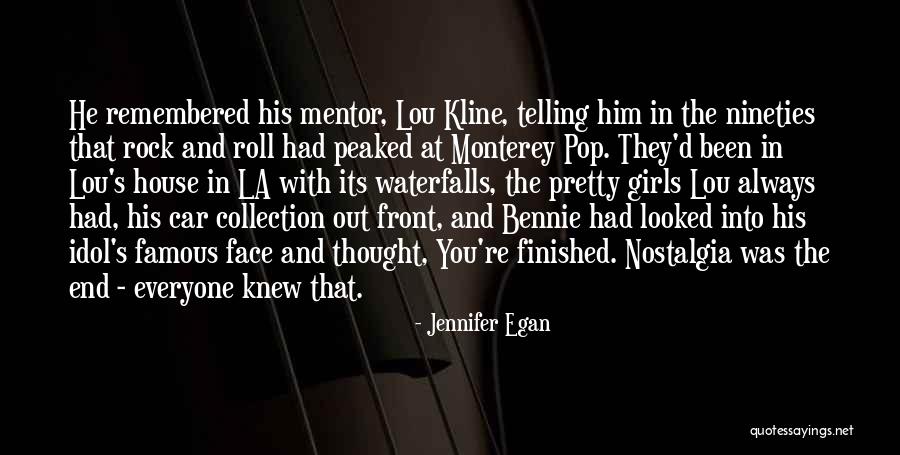 He remembered his mentor, Lou Kline, telling him in the nineties that rock and roll had peaked at Monterey Pop. They'd been in Lou's house in LA with its waterfalls, the pretty girls Lou always had, his car collection out front, and Bennie had looked into his idol's famous face and thought, You're finished. Nostalgia was the end - everyone knew that. — Jennifer Egan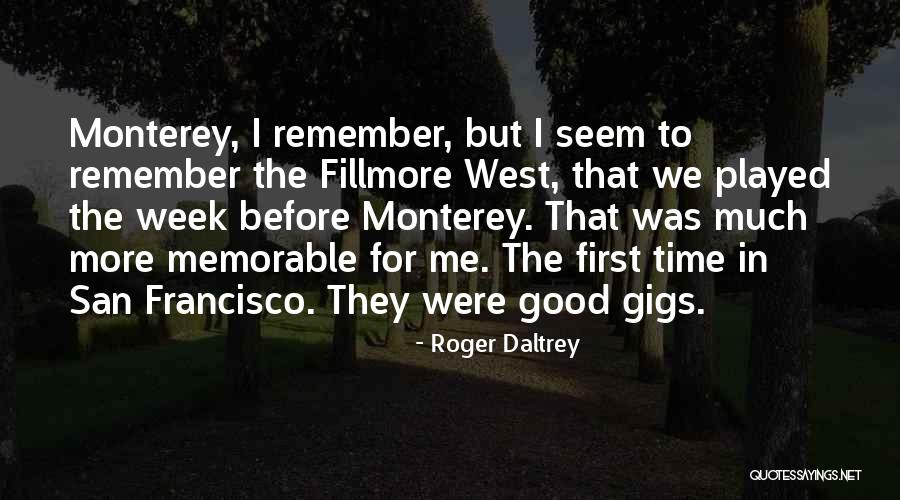 Monterey, I remember, but I seem to remember the Fillmore West, that we played the week before Monterey. That was much more memorable for me. The first time in San Francisco. They were good gigs. — Roger Daltrey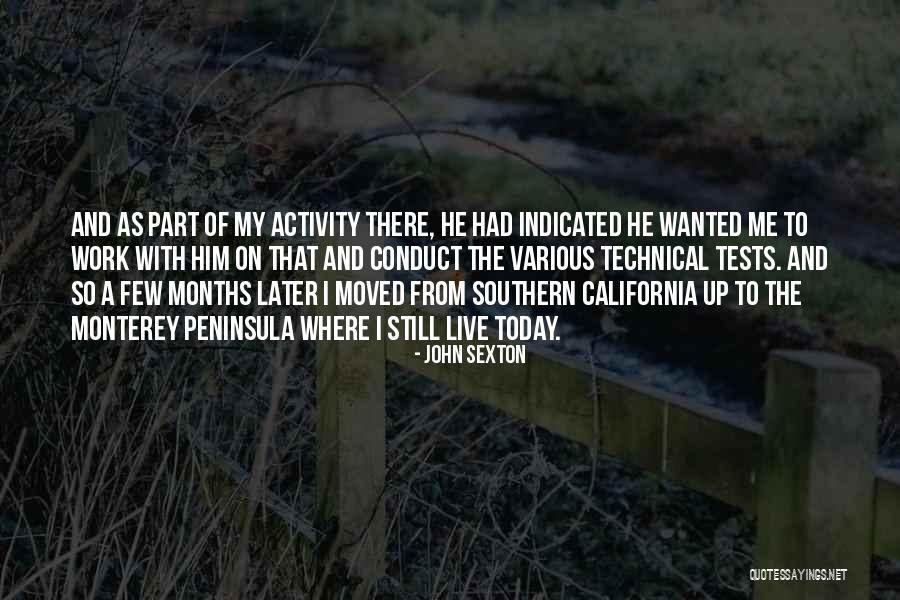 And as part of my activity there, he had indicated he wanted me to work with him on that and conduct the various technical tests. And so a few months later I moved from Southern California up to the Monterey Peninsula where I still live today. — John Sexton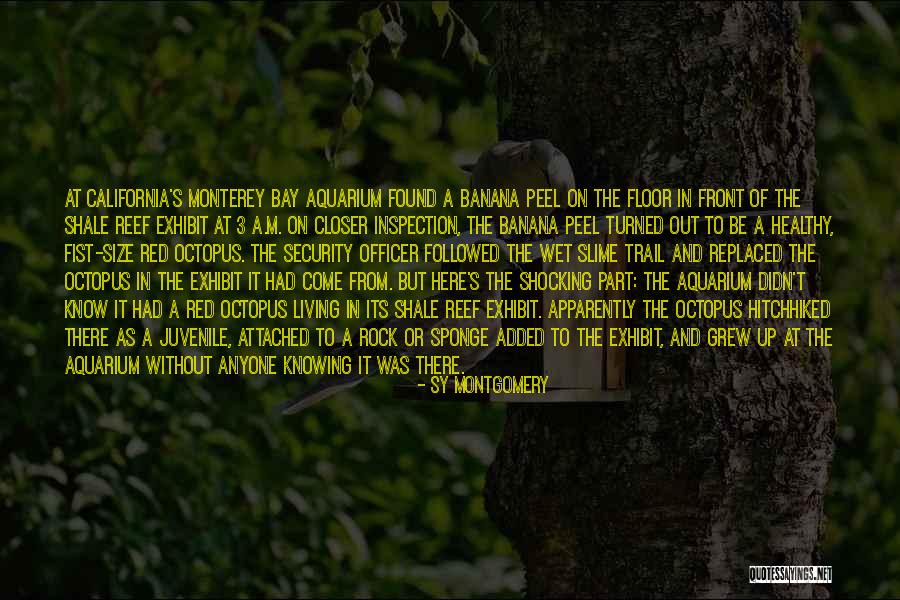 at California's Monterey Bay Aquarium found a banana peel on the floor in front of the Shale Reef exhibit at 3 a.m. On closer inspection, the banana peel turned out to be a healthy, fist-size red octopus. The security officer followed the wet slime trail and replaced the octopus in the exhibit it had come from. But here's the shocking part: The aquarium didn't know it had a red octopus living in its Shale Reef exhibit. Apparently the octopus hitchhiked there as a juvenile, attached to a rock or sponge added to the exhibit, and grew up at the aquarium without anyone knowing it was there. — Sy Montgomery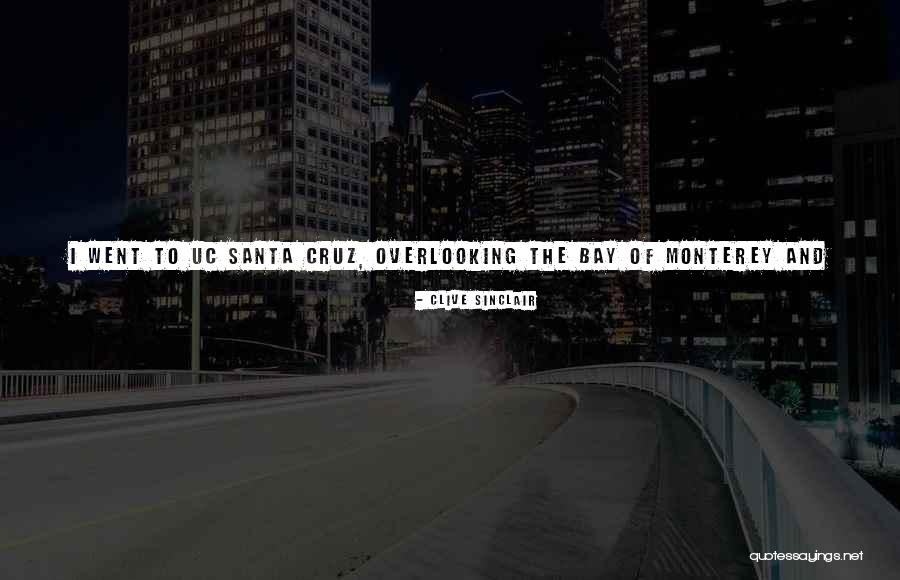 I went to UC Santa Cruz, overlooking the Bay of Monterey and Santa Cruz, in 1969. Back then, the city was part-hippie, part-surfer, but mostly retired chicken farmer. — Clive Sinclair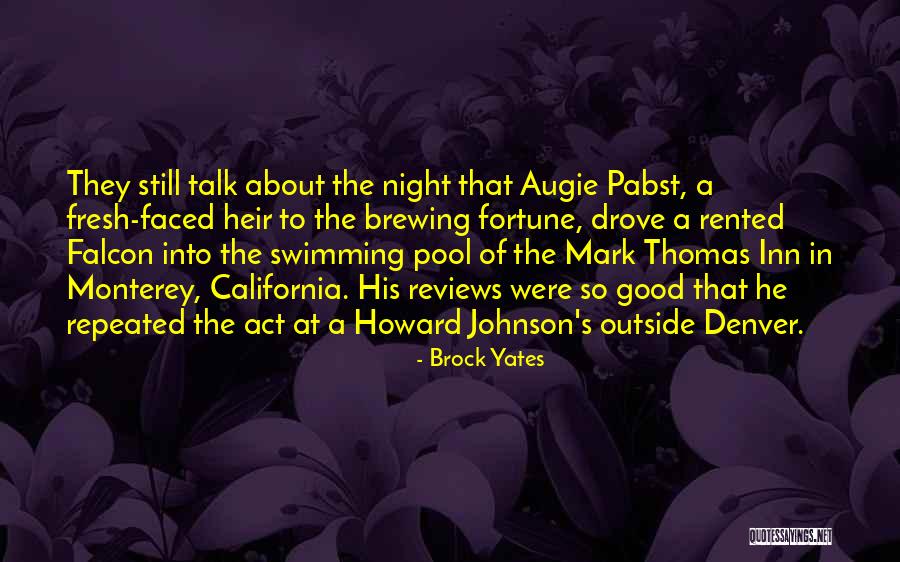 They still talk about the night that Augie Pabst, a fresh-faced heir to the brewing fortune, drove a rented Falcon into the swimming pool of the Mark Thomas Inn in Monterey, California. His reviews were so good that he repeated the act at a Howard Johnson's outside Denver. — Brock Yates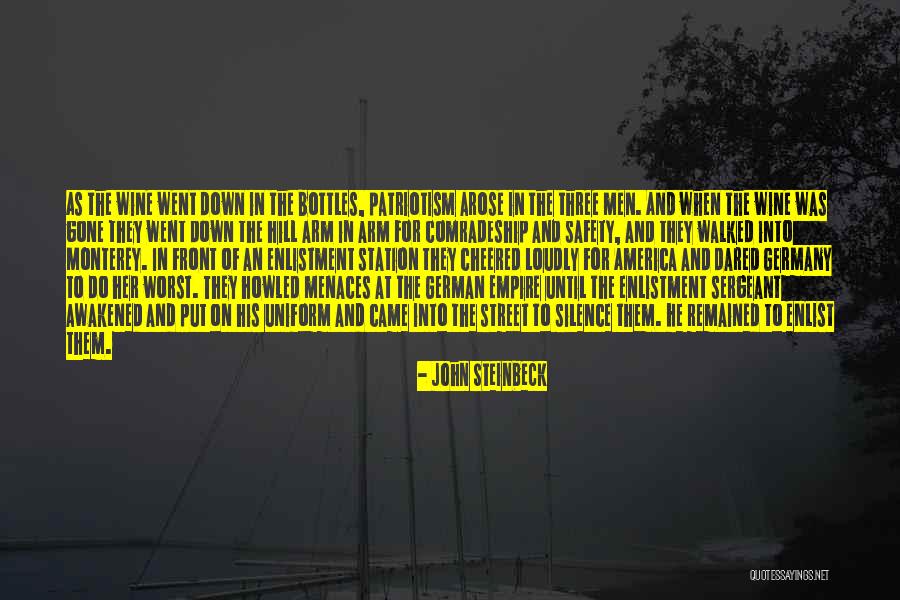 As the wine went down in the bottles, patriotism arose in the three men. And when the wine was gone they went down the hill arm in arm for comradeship and safety, and they walked into Monterey. In front of an enlistment station they cheered loudly for America and dared Germany to do her worst. They howled menaces at the German Empire until the enlistment sergeant awakened and put on his uniform and came into the street to silence them. He remained to enlist them. — John Steinbeck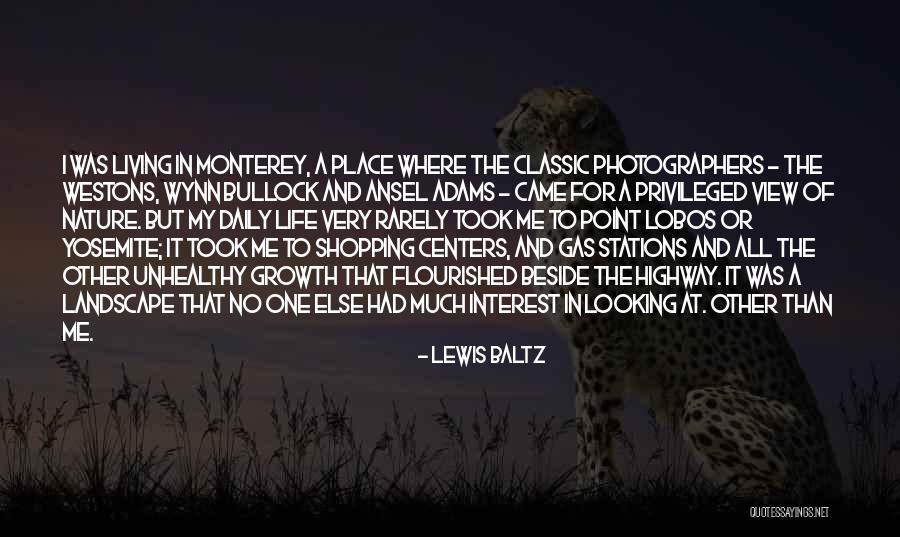 I was living in Monterey, a place where the classic photographers - the Westons, Wynn Bullock and Ansel Adams - came for a privileged view of nature. But my daily life very rarely took me to Point Lobos or Yosemite; it took me to shopping centers, and gas stations and all the other unhealthy growth that flourished beside the highway. It was a landscape that no one else had much interest in looking at. Other than me. — Lewis Baltz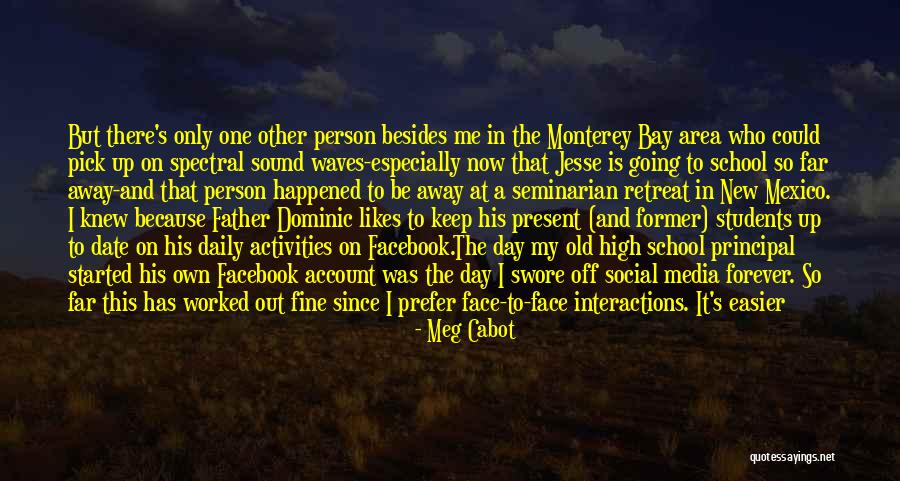 But there's only one other person besides me in the Monterey Bay area who could pick up on spectral sound waves-especially now that Jesse is going to school so far away-and that person happened to be away at a seminarian retreat in New Mexico. I knew because Father Dominic likes to keep his present (and former) students up to date on his daily activities on Facebook.
The day my old high school principal started his own Facebook account was the day I swore off social media forever. So far this has worked out fine since I prefer face-to-face interactions. It's easier to tell when people are lying. — Meg Cabot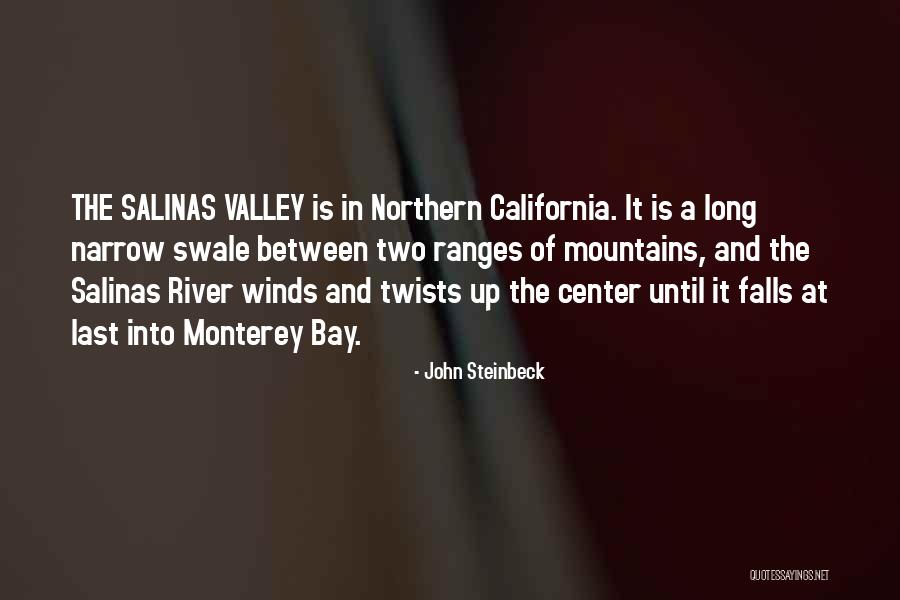 THE SALINAS VALLEY is in Northern California. It is a long narrow swale between two ranges of mountains, and the Salinas River winds and twists up the center until it falls at last into Monterey Bay. — John Steinbeck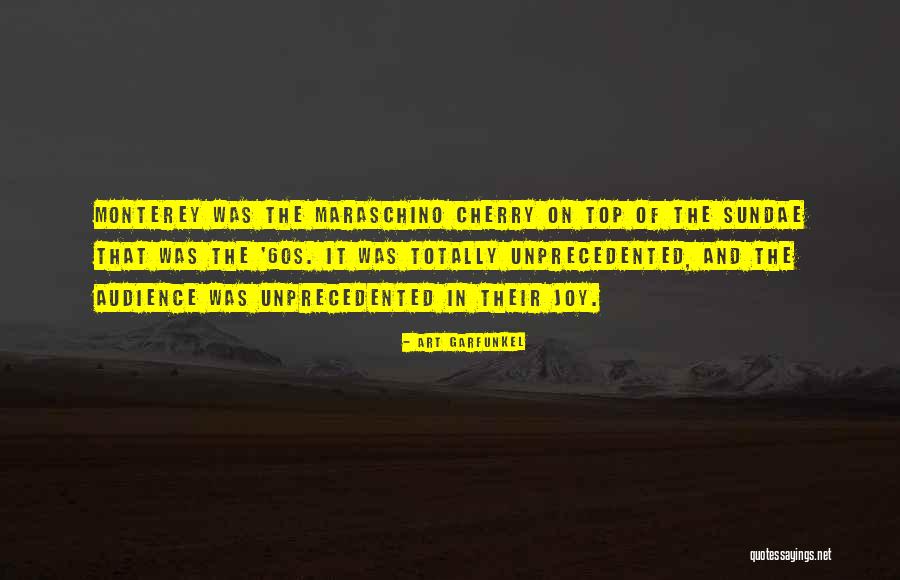 Monterey was the Maraschino cherry on top of the Sundae that was the '60s. It was totally unprecedented, and the audience was unprecedented in their joy. — Art Garfunkel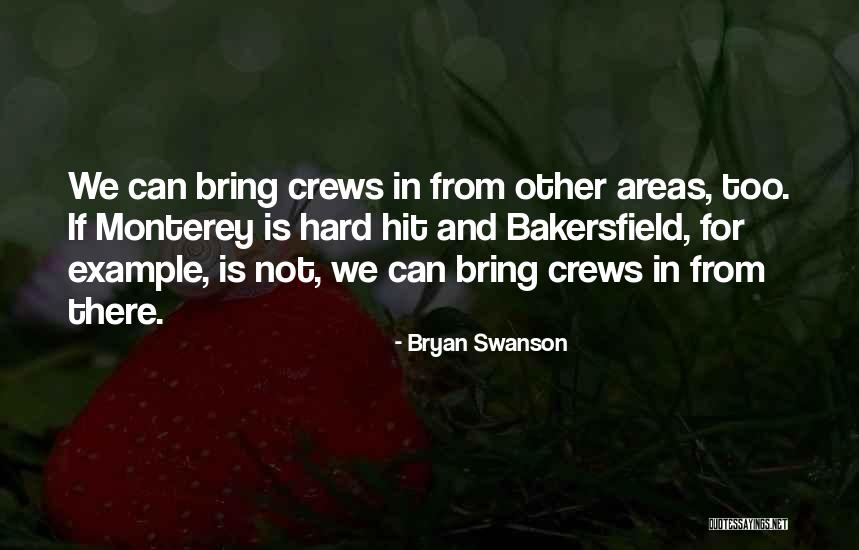 We can bring crews in from other areas, too. If Monterey is hard hit and Bakersfield, for example, is not, we can bring crews in from there. — Bryan Swanson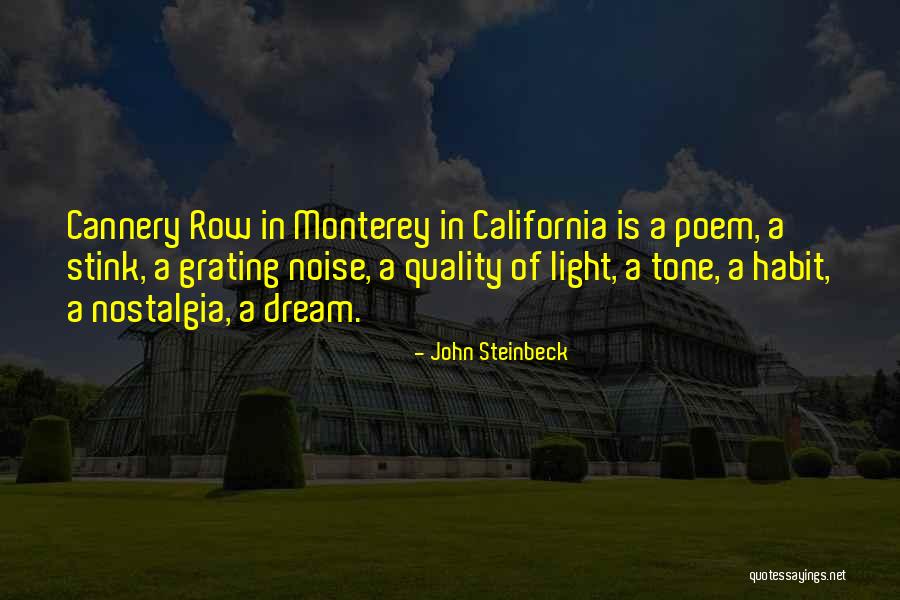 Cannery Row in Monterey in California is a poem, a stink, a grating noise, a quality of light, a tone, a habit, a nostalgia, a dream. — John Steinbeck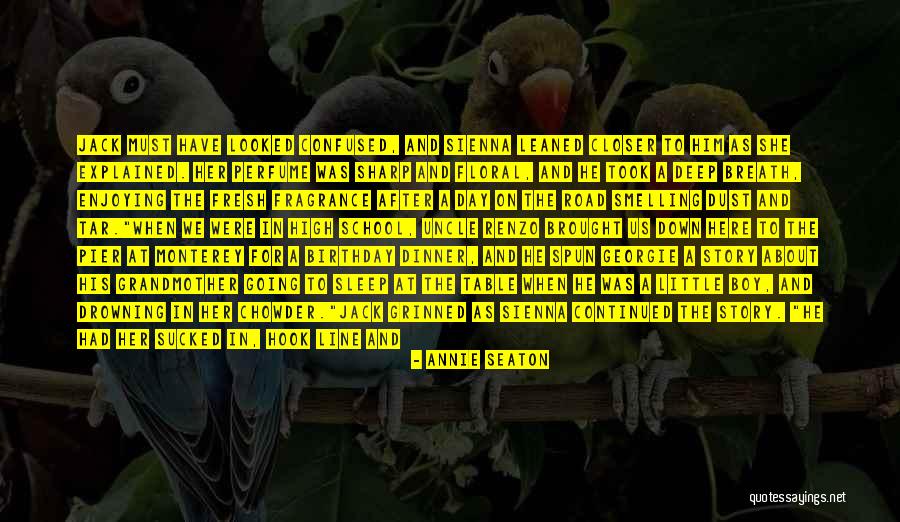 Jack must have looked confused, and Sienna leaned closer to him as she explained. Her perfume was sharp and floral, and he took a deep breath, enjoying the fresh fragrance after a day on the road smelling dust and tar.
"When we were in high school, Uncle Renzo brought us down here to the pier at Monterey for a birthday dinner, and he spun Georgie a story about his grandmother going to sleep at the table when he was a little boy, and drowning in her chowder."
Jack grinned as Sienna continued the story. "He had her sucked in, hook line and sinker, for the whole night until she started to cry, and then he took pity on her."
Sienna smiled as she looked at Jack. Her long, delicate neck arched gracefully as her head turned slowly from side to side, and Jack got another whiff of her perfume. Her eyes were hooded and Jack sensed she was waiting for something. — Annie Seaton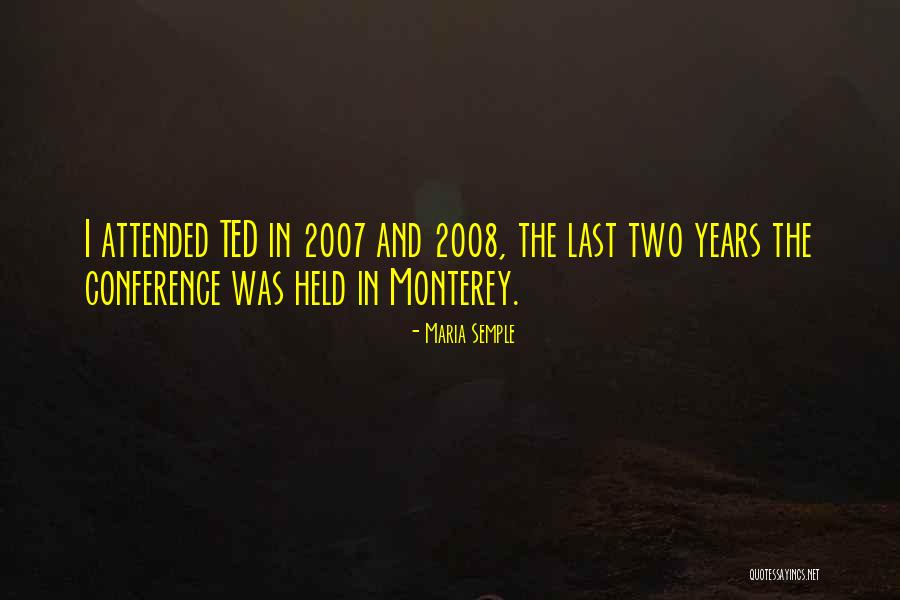 I attended TED in 2007 and 2008, the last two years the conference was held in Monterey. — Maria Semple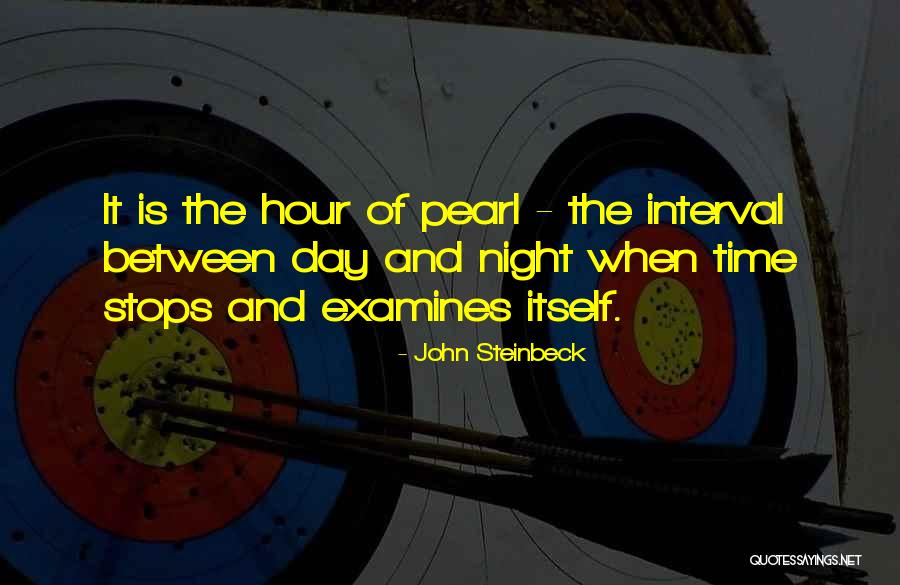 It is the hour of pearl - the interval between day and night when time stops and examines itself. — John Steinbeck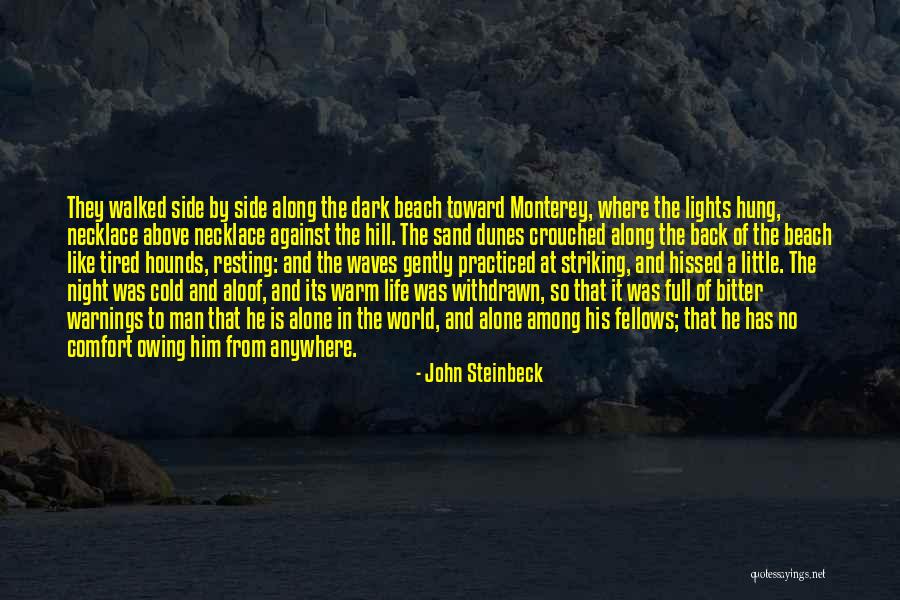 They walked side by side along the dark beach toward Monterey, where the lights hung, necklace above necklace against the hill. The sand dunes crouched along the back of the beach like tired hounds, resting: and the waves gently practiced at striking, and hissed a little. The night was cold and aloof, and its warm life was withdrawn, so that it was full of bitter warnings to man that he is alone in the world, and alone among his fellows; that he has no comfort owing him from anywhere. — John Steinbeck