Money Vs Friends Quotes & Sayings
Enjoy reading and share 30 famous quotes about Money Vs Friends with everyone.
Top Money Vs Friends Quotes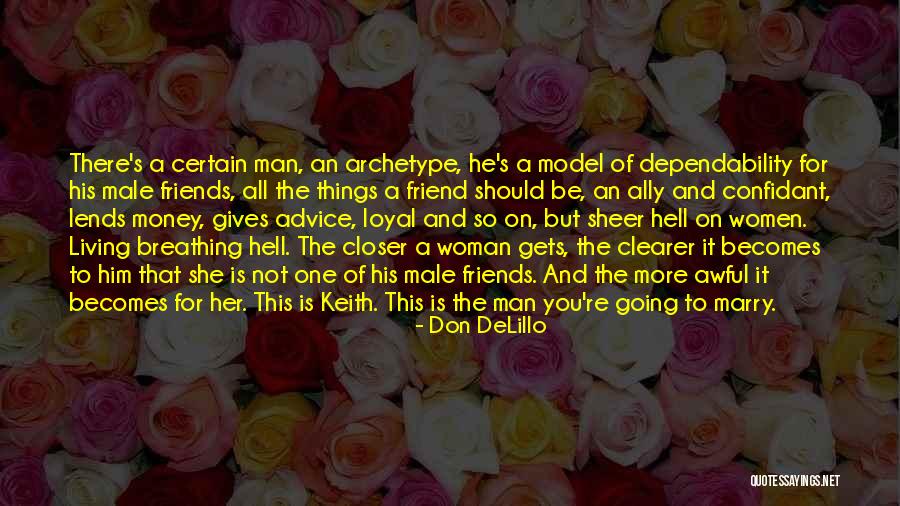 There's a certain man, an archetype, he's a model of dependability for his male friends, all the things a friend should be, an ally and confidant, lends money, gives advice, loyal and so on, but sheer hell on women. Living breathing hell. The closer a woman gets, the clearer it becomes to him that she is not one of his male friends. And the more awful it becomes for her. This is Keith. This is the man you're going to marry. — Don DeLillo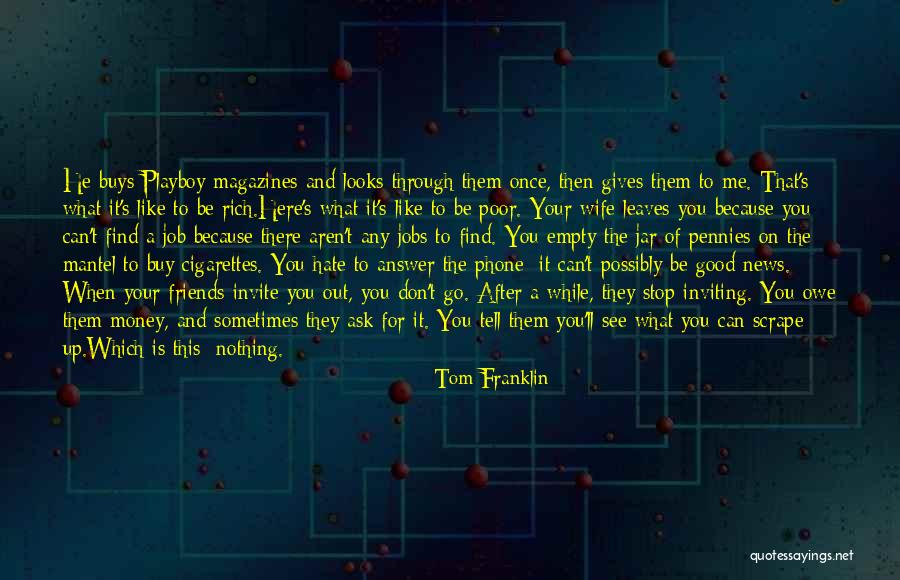 He buys Playboy magazines and looks through them once, then gives them to me. That's what it's like to be rich.
Here's what it's like to be poor. Your wife leaves you because you can't find a job because there aren't any jobs to find. You empty the jar of pennies on the mantel to buy cigarettes. You hate to answer the phone; it can't possibly be good news. When your friends invite you out, you don't go. After a while, they stop inviting. You owe them money, and sometimes they ask for it. You tell them you'll see what you can scrape up.
Which is this: nothing. — Tom Franklin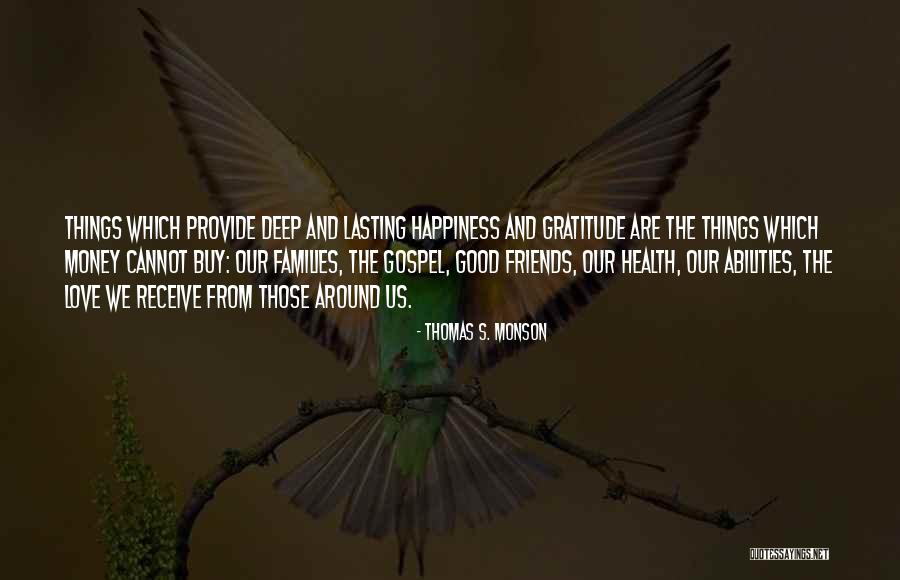 Things which provide deep and lasting happiness and gratitude are the things which money cannot buy: our families, the gospel, good friends, our health, our abilities, the love we receive from those around us. — Thomas S. Monson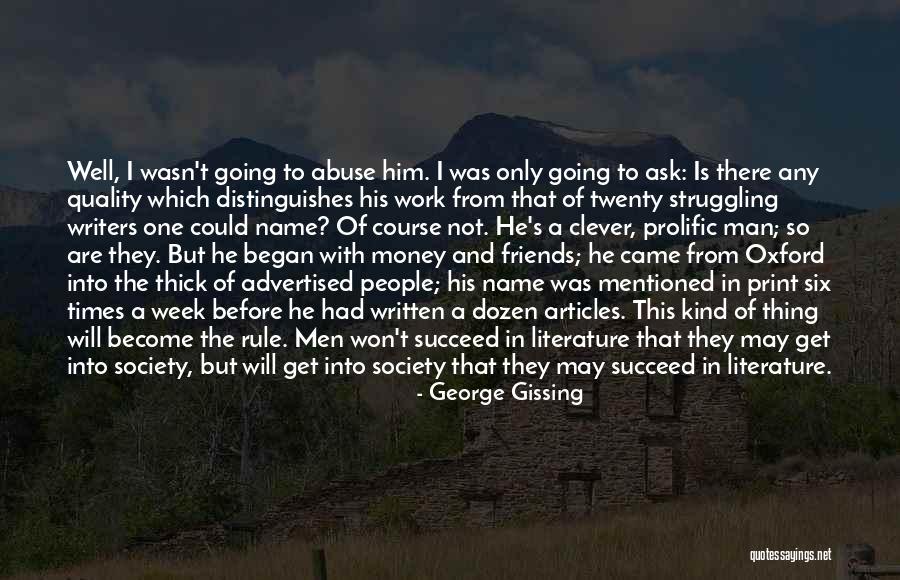 Well, I wasn't going to abuse him. I was only going to ask: Is there any quality which distinguishes his work from that of twenty struggling writers one could name? Of course not. He's a clever, prolific man; so are they. But he began with money and friends; he came from Oxford into the thick of advertised people; his name was mentioned in print six times a week before he had written a dozen articles. This kind of thing will become the rule. Men won't succeed in literature that they may get into society, but will get into society that they may succeed in literature. — George Gissing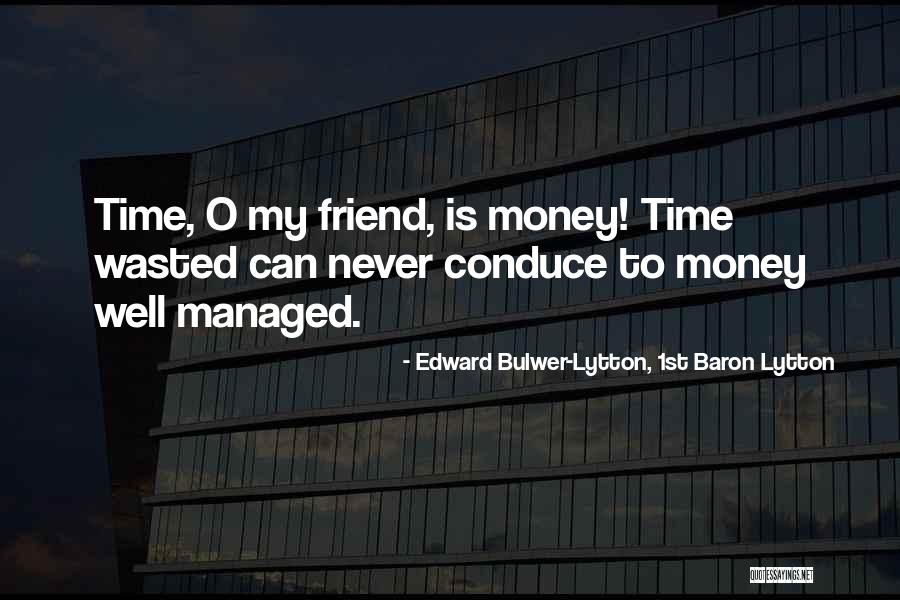 Time, O my friend, is money! Time wasted can never conduce to money well managed. — Edward Bulwer-Lytton, 1st Baron Lytton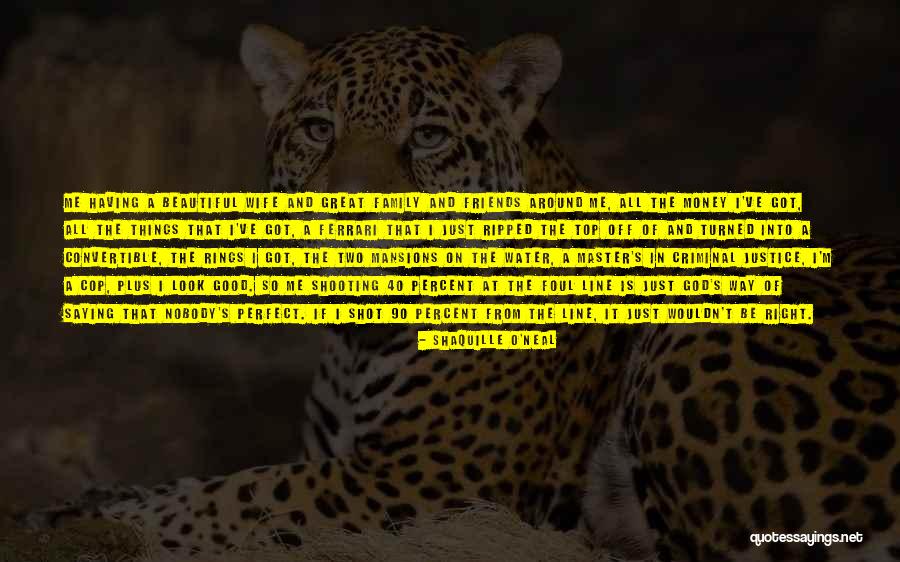 Me having a beautiful wife and great family and friends around me, all the money I've got, all the things that I've got, a Ferrari that I just ripped the top off of and turned into a convertible, the rings I got, the two mansions on the water, a master's in criminal justice, I'm a cop, plus I look good. So me shooting 40 percent at the foul line is just God's way of saying that nobody's perfect. If I shot 90 percent from the line, it just wouldn't be right. — Shaquille O'Neal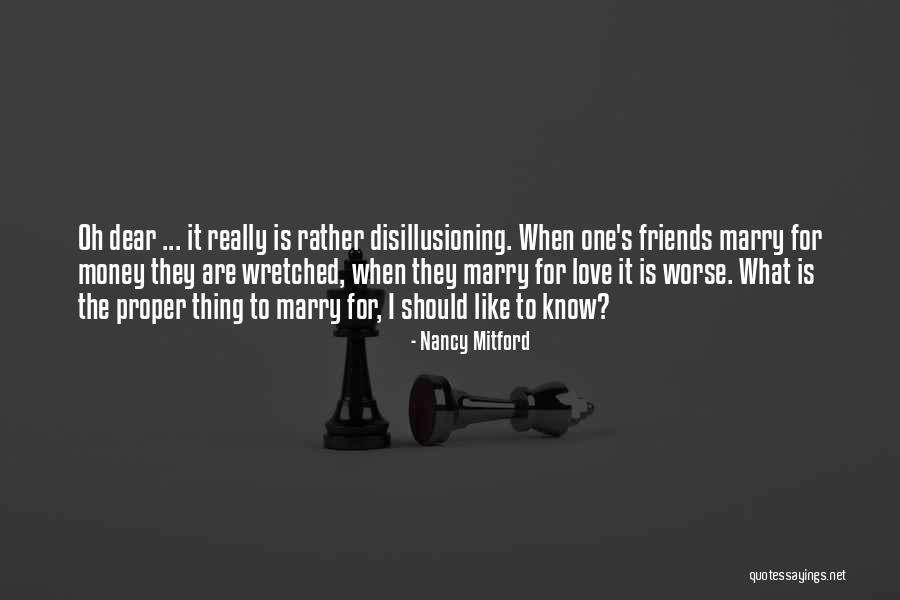 Oh dear ... it really is rather disillusioning. When one's friends marry for money they are wretched, when they marry for love it is worse. What is the proper thing to marry for, I should like to know? — Nancy Mitford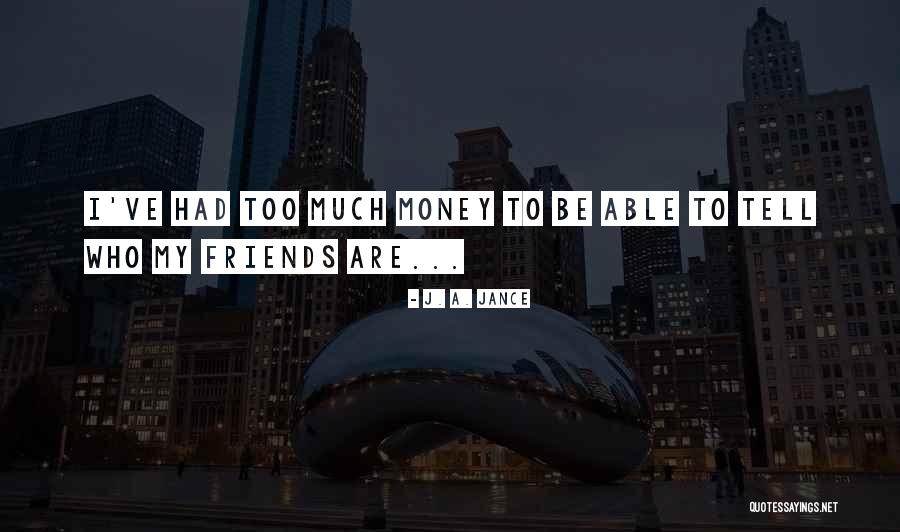 I've had too much money to be able to tell who my friends are... — J. A. Jance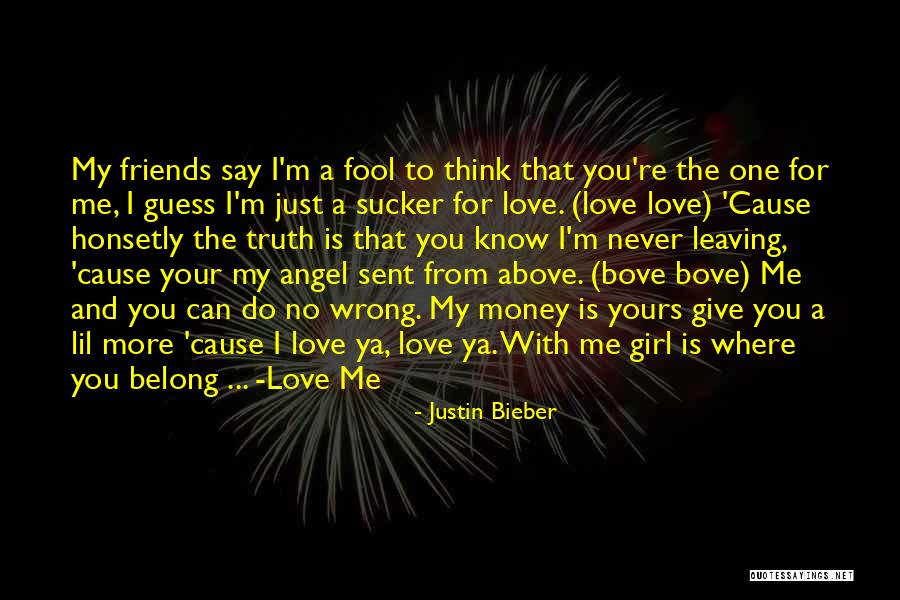 My friends say I'm a fool to think that you're the one for me, I guess I'm just a sucker for love. (love love) 'Cause honsetly the truth is that you know I'm never leaving, 'cause your my angel sent from above. (bove bove) Me and you can do no wrong. My money is yours give you a lil more 'cause I love ya, love ya. With me girl is where you belong ...
-Love Me — Justin Bieber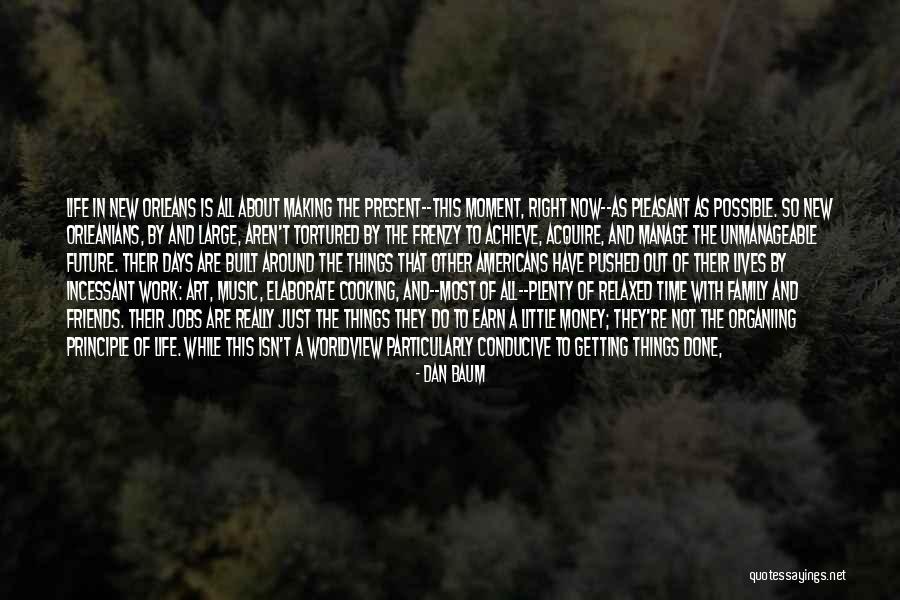 Life in New Orleans is all about making the present--this moment, right now--as pleasant as possible. So New Orleanians, by and large, aren't tortured by the frenzy to achieve, acquire, and manage the unmanageable future. Their days are built around the things that other Americans have pushed out of their lives by incessant work: art, music, elaborate cooking, and--most of all--plenty of relaxed time with family and friends. Their jobs are really just the things they do to earn a little money; they're not the organiing principle of life. While this isn't a worldview particularly conducive to getting things done, getting things done isn't the most important thing in New Orleans. Living life is. Once you've tasted that, and especially if it's how you grew up, life everywhere else feels thin indeed. — Dan Baum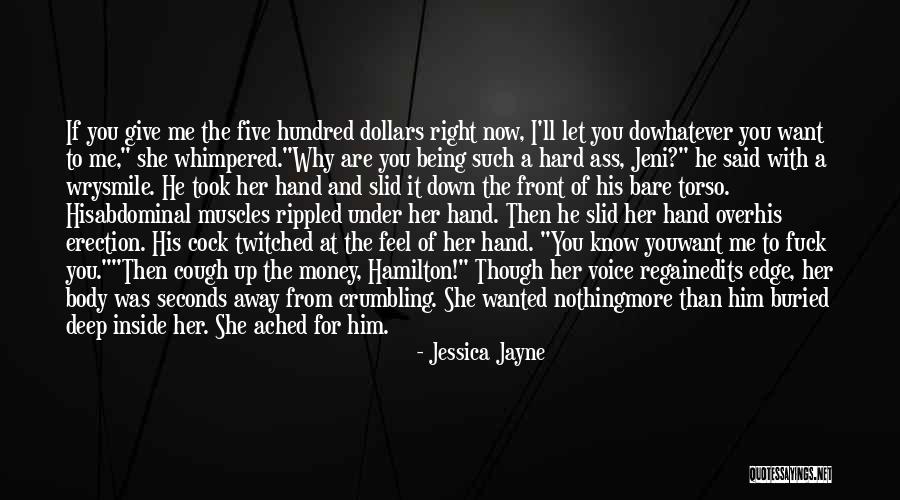 If you give me the five hundred dollars right now, I'll let you do
whatever you want to me," she whimpered.
"Why are you being such a hard ass, Jeni?" he said with a wry
smile. He took her hand and slid it down the front of his bare torso. His
abdominal muscles rippled under her hand. Then he slid her hand over
his erection. His cock twitched at the feel of her hand. "You know you
want me to fuck you."
"Then cough up the money, Hamilton!" Though her voice regained
its edge, her body was seconds away from crumbling. She wanted nothing
more than him buried deep inside her. She ached for him. — Jessica Jayne
Good friends are hard to come by.. I need more money. — Bill Watterson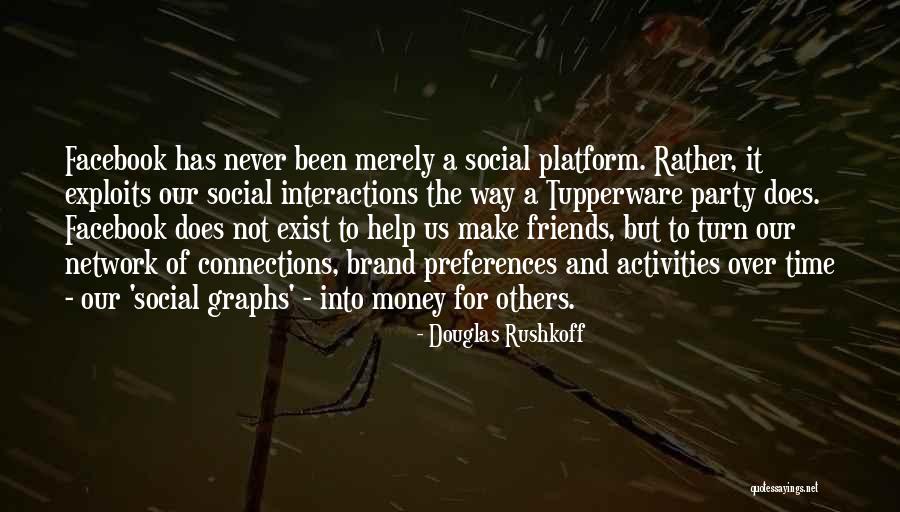 Facebook has never been merely a social platform. Rather, it exploits our social interactions the way a Tupperware party does. Facebook does not exist to help us make friends, but to turn our network of connections, brand preferences and activities over time - our 'social graphs' - into money for others. — Douglas Rushkoff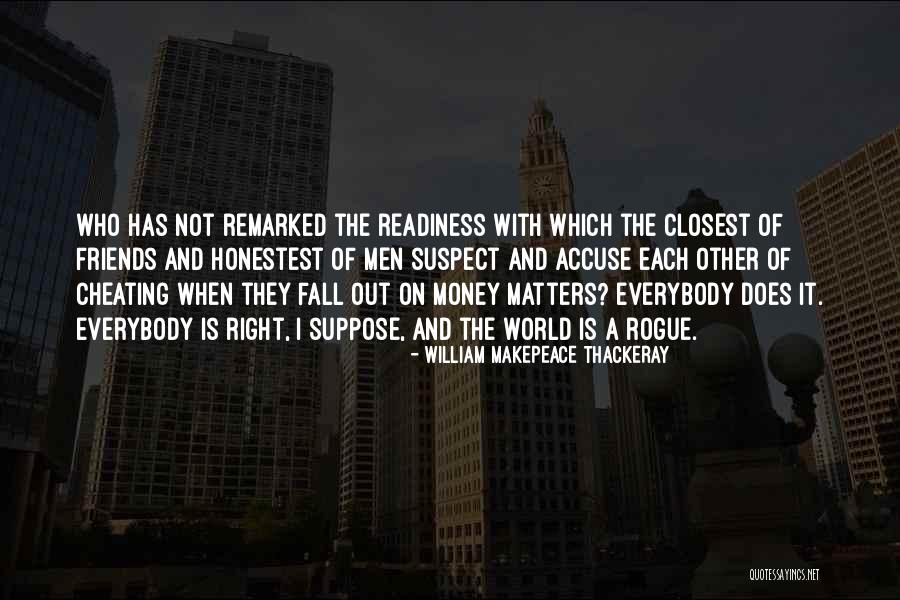 Who has not remarked the readiness with which the closest of friends and honestest of men suspect and accuse each other of cheating when they fall out on money matters? Everybody does it. Everybody is right, I suppose, and the world is a rogue. — William Makepeace Thackeray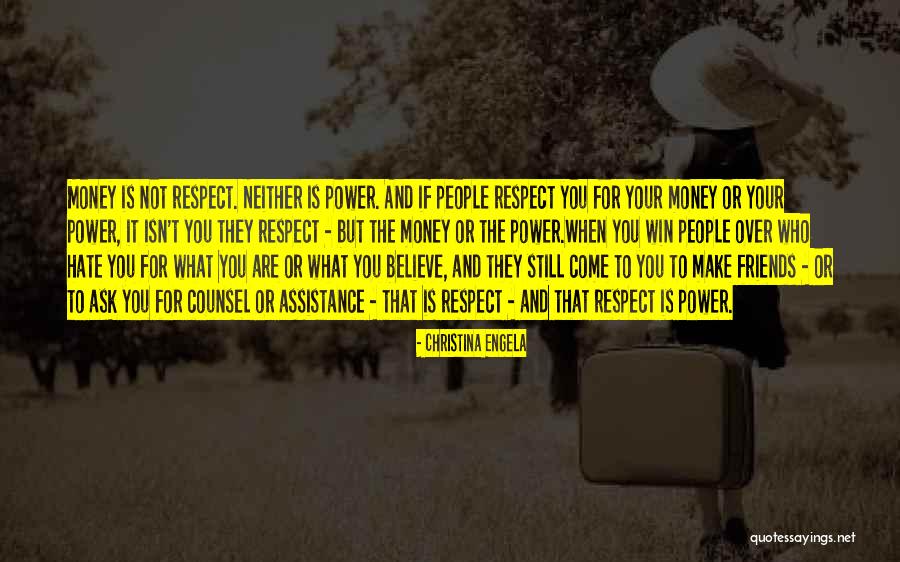 Money is not respect. Neither is power. And if people respect you for your money or your power, it isn't you they respect - but the money or the power.

When you win people over who hate you for what you are or what you believe, and they still come to you to make friends - or to ask you for counsel or assistance - that is respect - and that respect is power. — Christina Engela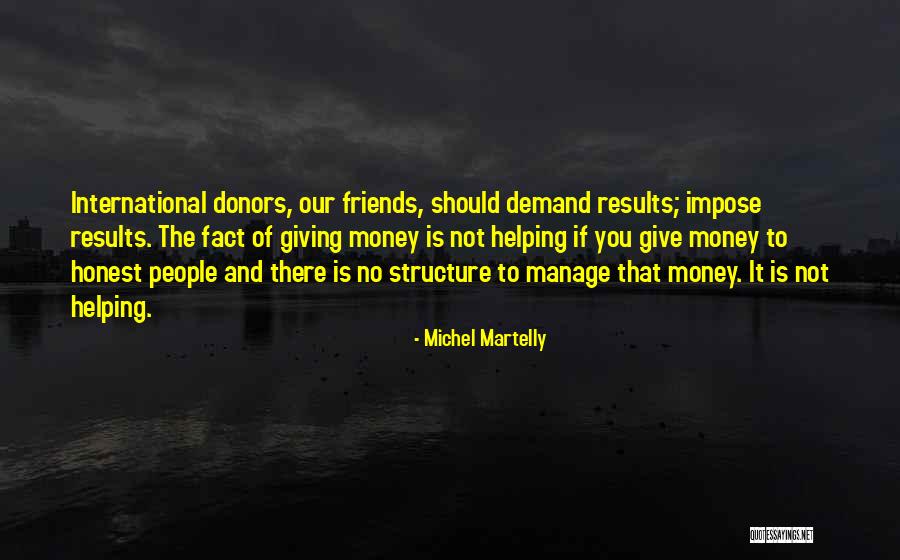 International donors, our friends, should demand results; impose results. The fact of giving money is not helping if you give money to honest people and there is no structure to manage that money. It is not helping. — Michel Martelly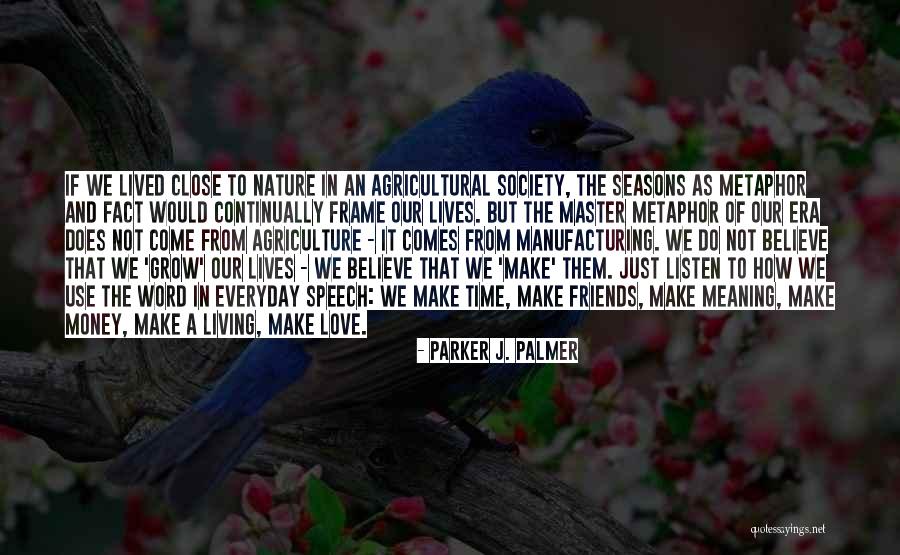 If we lived close to nature in an agricultural society, the seasons as metaphor and fact would continually frame our lives. But the master metaphor of our era does not come from agriculture - it comes from manufacturing. We do not believe that we 'grow' our lives - we believe that we 'make' them. Just listen to how we use the word in everyday speech: we make time, make friends, make meaning, make money, make a living, make love. — Parker J. Palmer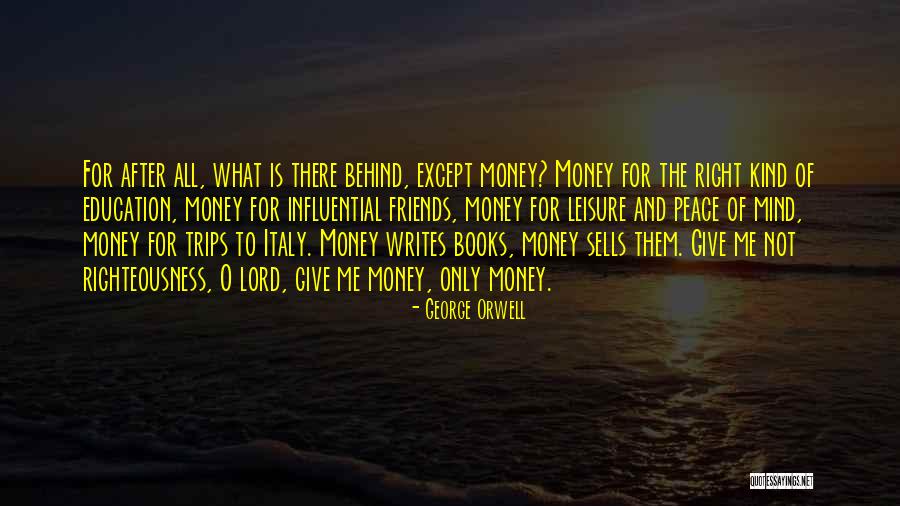 For after all, what is there behind, except money? Money for the right kind of education, money for influential friends, money for leisure and peace of mind, money for trips to Italy. Money writes books, money sells them. Give me not righteousness, O lord, give me money, only money. — George Orwell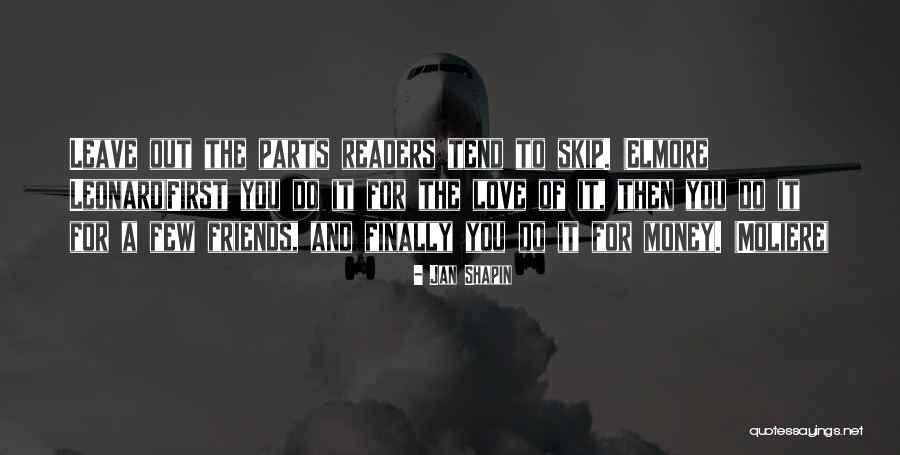 Leave out the parts readers tend to skip. (Elmore Leonard)

First you do it for the love of it, then you do it for a few friends, and finally you do it for money. (Moliere) — Jan Shapin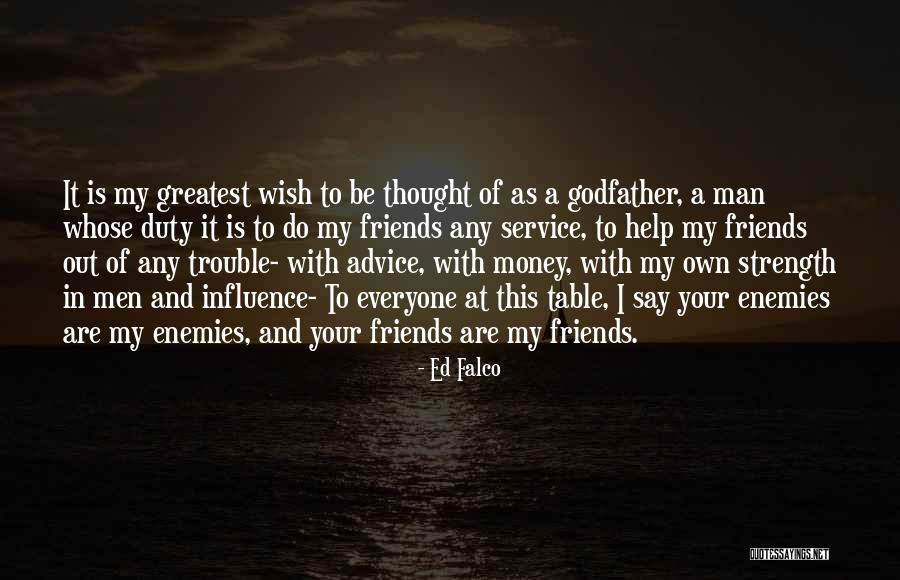 It is my greatest wish to be thought of as a godfather, a man whose duty it is to do my friends any service, to help my friends out of any trouble- with advice, with money, with my own strength in men and influence- To everyone at this table, I say your enemies are my enemies, and your friends are my friends. — Ed Falco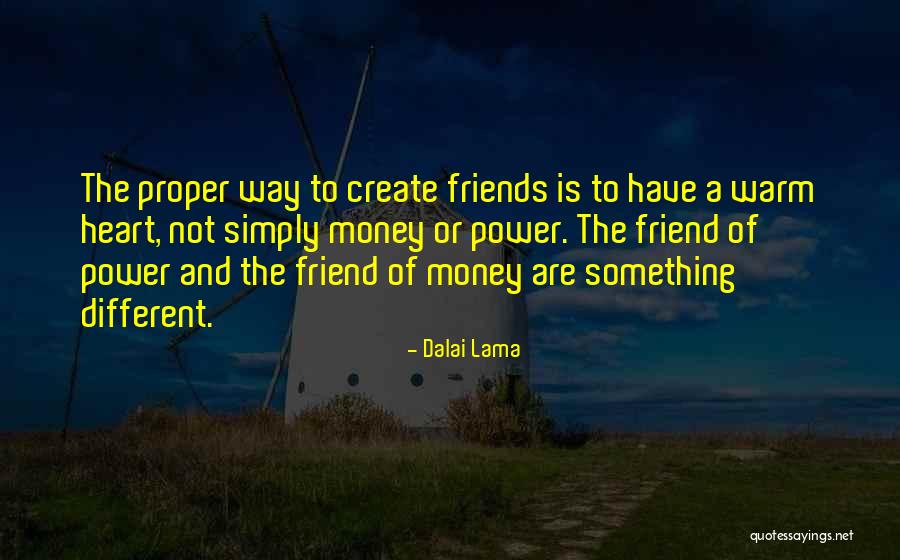 The proper way to create friends is to have a warm heart, not simply money or power. The friend of power and the friend of money are something different. — Dalai Lama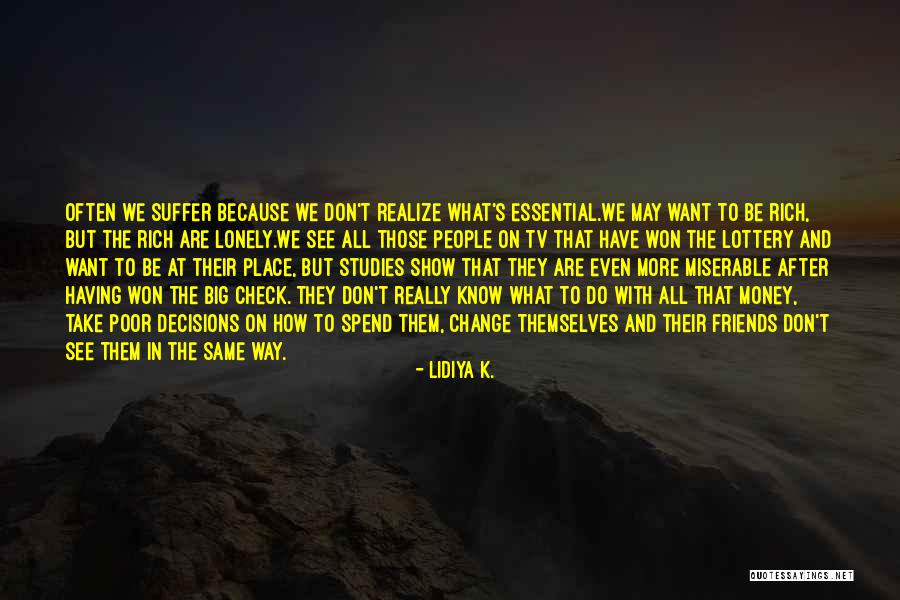 Often we suffer because we don't realize what's essential.
We may want to be rich, but the rich are lonely.
We see all those people on TV that have won the lottery and want to be at their place, but studies show that they are even more miserable after having won the big check. They don't really know what to do with all that money, take poor decisions on how to spend them, change themselves and their friends don't see them in the same way. — Lidiya K.
Money matters but less than we think and not in the way that we think. Family is important. So are friends. Envy is toxic. So is excessive thinking. Beaches are optional. Trust is not. Neither is gratitude. — Eric Weiner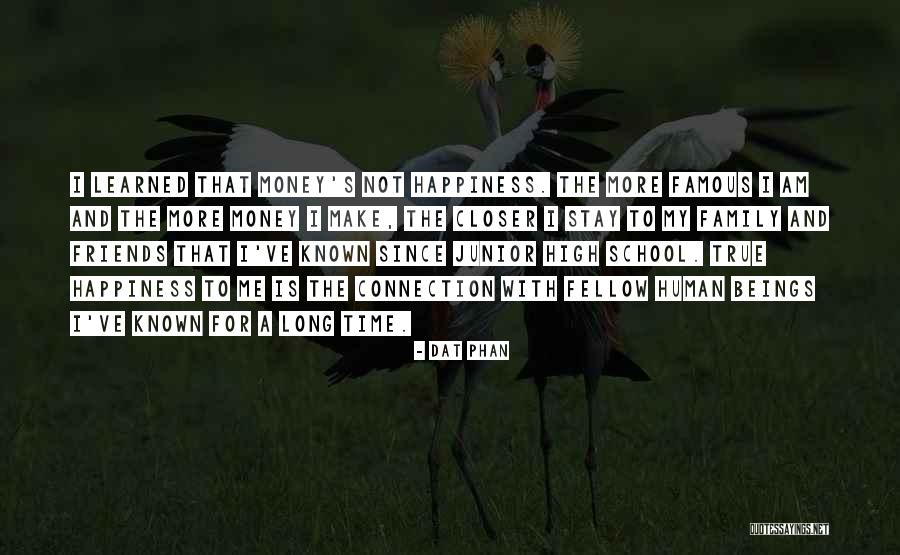 I learned that money's not happiness. The more famous I am and the more money I make, the closer I stay to my family and friends that I've known since junior high school. True happiness to me is the connection with fellow human beings I've known for a long time. — Dat Phan
Writing is like sex. First you do it for love, then you do it for your friends, and then you do it for money. — Virginia Woolf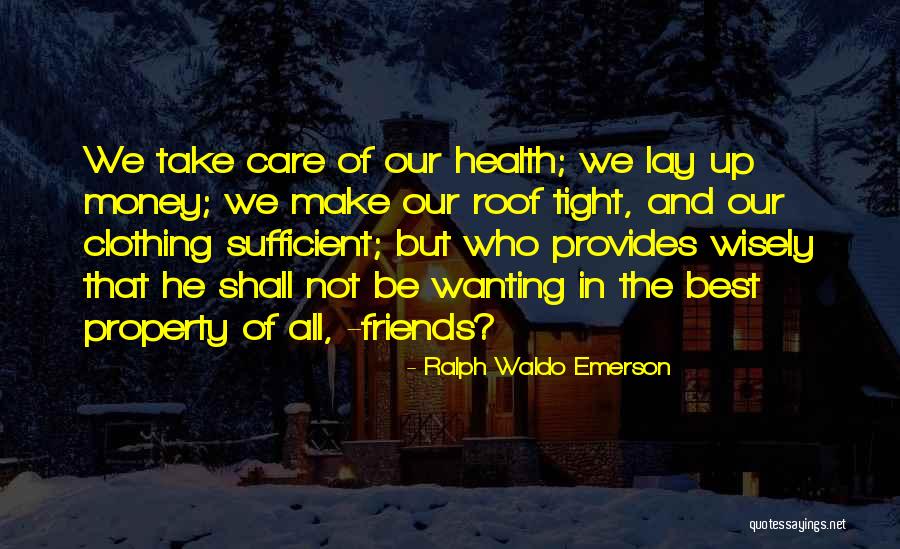 We take care of our health; we lay up money; we make our roof tight, and our clothing sufficient; but who provides wisely that he shall not be wanting in the best property of all, -friends? — Ralph Waldo Emerson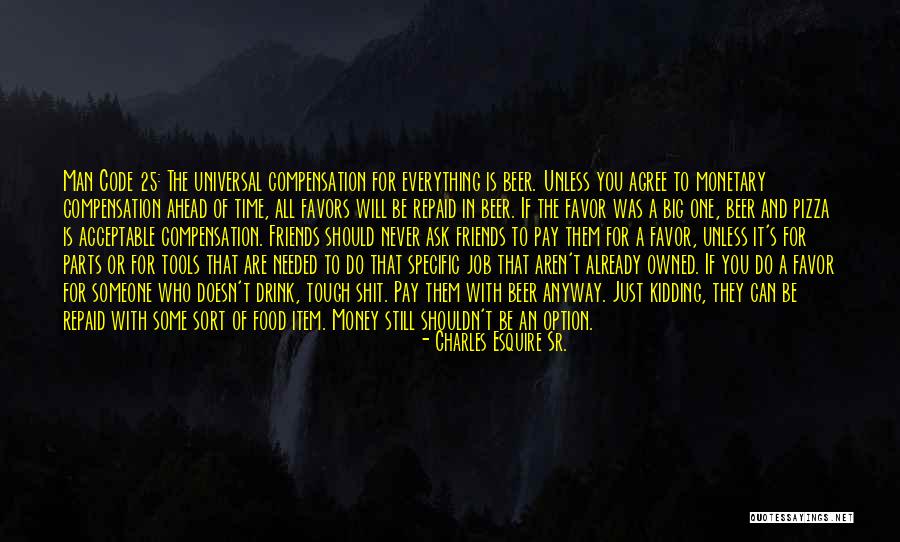 Man Code 25: The universal compensation for everything is beer. Unless you agree to monetary compensation ahead of time, all favors will be repaid in beer. If the favor was a big one, beer and pizza is acceptable compensation. Friends should never ask friends to pay them for a favor, unless it's for parts or for tools that are needed to do that specific job that aren't already owned. If you do a favor for someone who doesn't drink, tough shit. Pay them with beer anyway. Just kidding, they can be repaid with some sort of food item. Money still shouldn't be an option. — Charles Esquire Sr.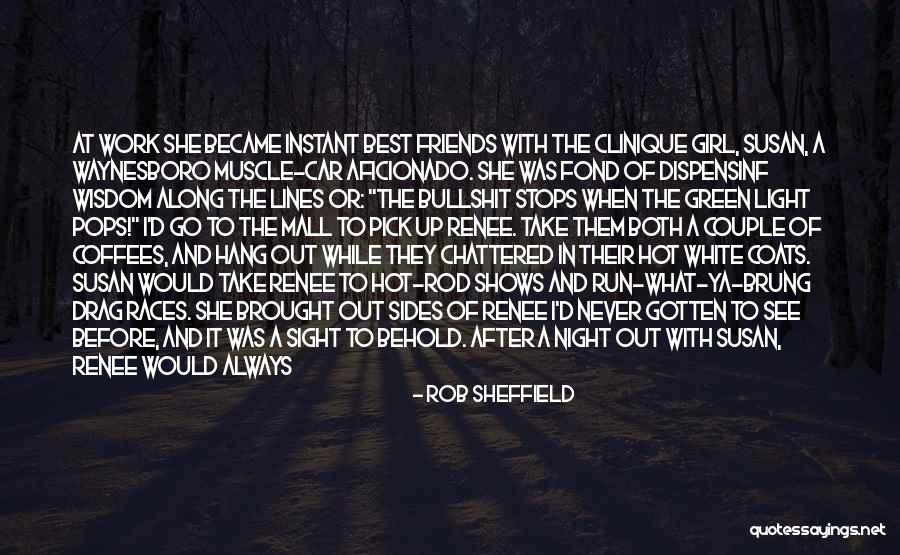 At work she became instant best friends with the Clinique girl, Susan, a Waynesboro muscle-car aficionado. She was fond of dispensinf wisdom along the lines or: "The bullshit stops when the green light pops!" I'd go to the mall to pick up Renee. take them both a couple of coffees, and hang out while they chattered in their hot white coats. Susan would take Renee to hot-rod shows and run-what-ya-brung drag races. She brought out sides of Renee I'd never gotten to see before, and it was a sight to behold. After a night out with Susan, Renee would always come back saying things like, "If it's got tits or tires, it's going to cost you money. — Rob Sheffield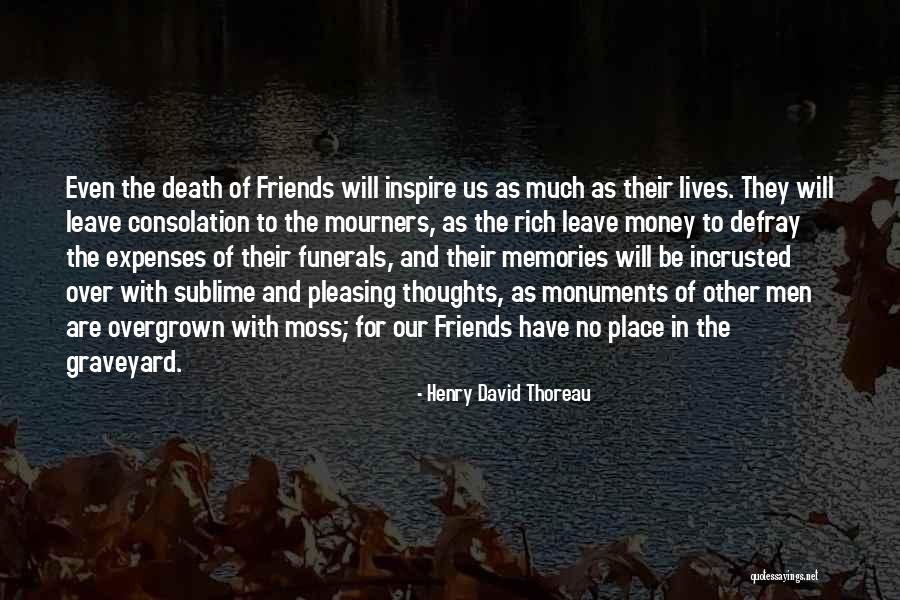 Even the death of Friends will inspire us as much as their lives. They will leave consolation to the mourners, as the rich leave money to defray the expenses of their funerals, and their memories will be incrusted over with sublime and pleasing thoughts, as monuments of other men are overgrown with moss; for our Friends have no place in the graveyard. — Henry David Thoreau