Mistakes And Flaws Quotes & Sayings
Enjoy reading and share 40 famous quotes about Mistakes And Flaws with everyone.
Top Mistakes And Flaws Quotes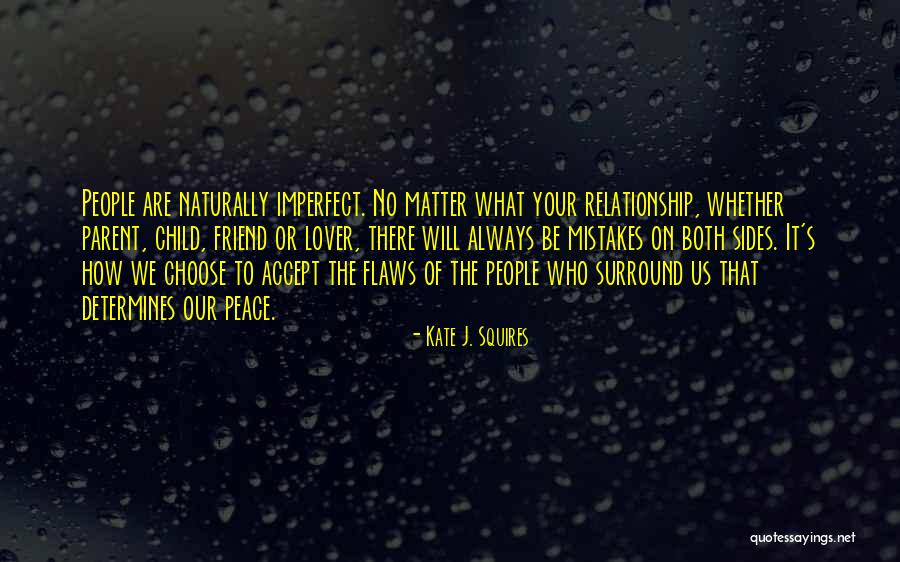 People are naturally imperfect. No matter what your relationship, whether parent, child, friend or lover, there will always be mistakes on both sides. It's how we choose to accept the flaws of the people who surround us that determines our peace. — Kate J. Squires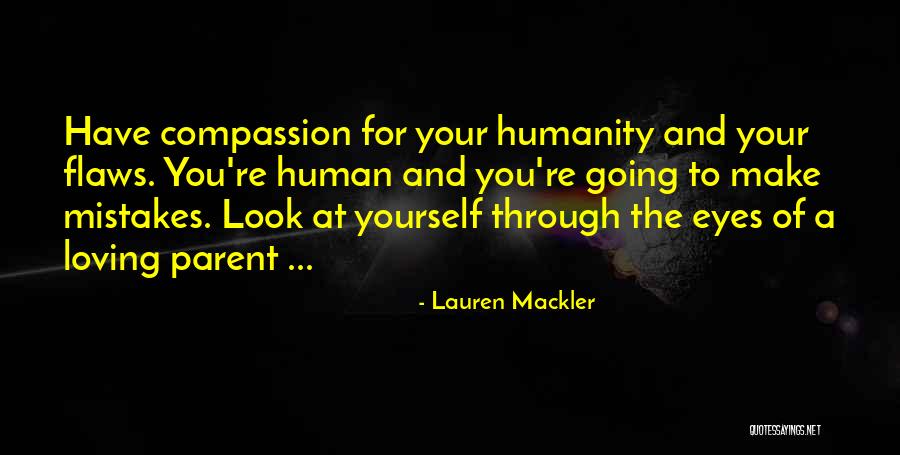 Have compassion for your humanity and your flaws. You're human and you're going to make mistakes. Look at yourself through the eyes of a loving parent ... — Lauren Mackler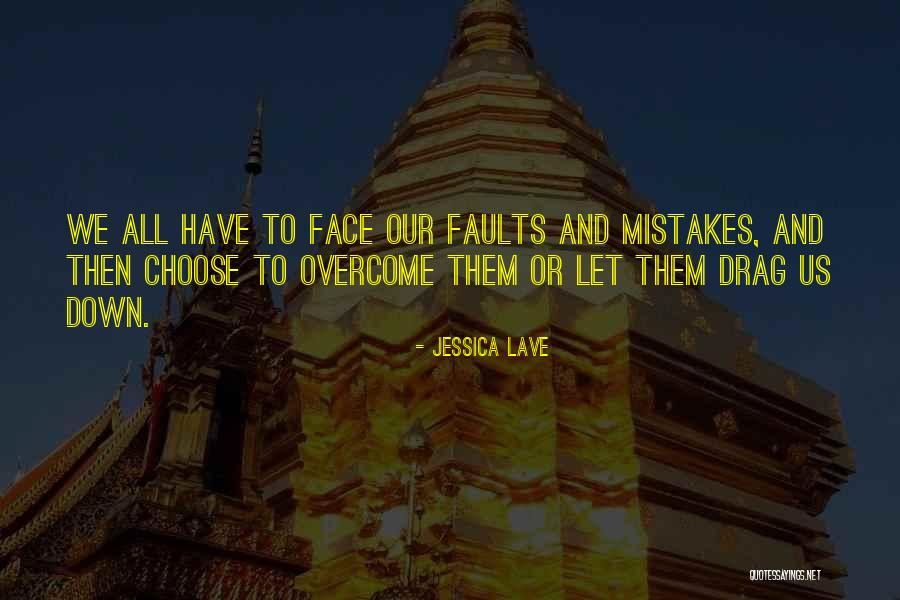 We all have to face our faults and mistakes, and then choose to overcome them or let them drag us down. — Jessica Lave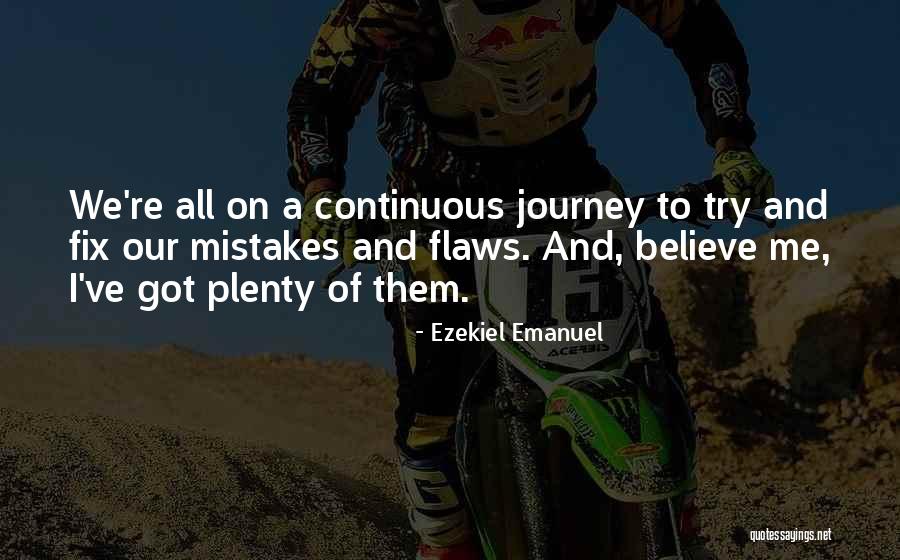 We're all on a continuous journey to try and fix our mistakes and flaws. And, believe me, I've got plenty of them. — Ezekiel Emanuel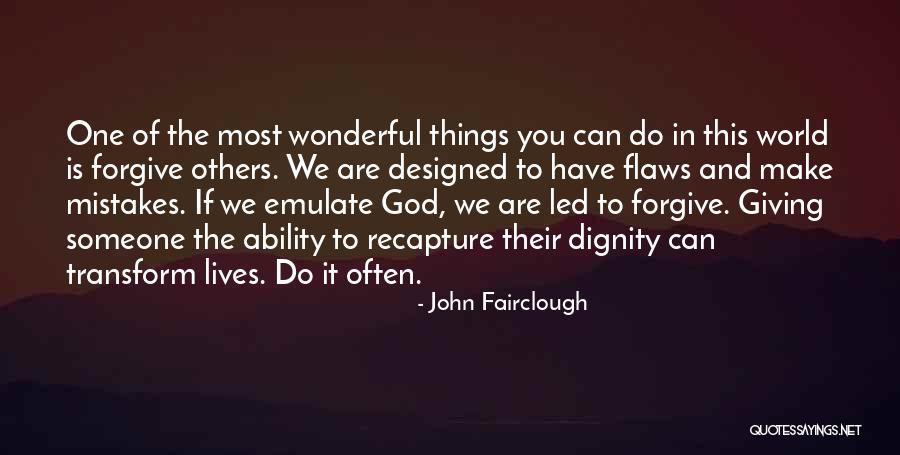 One of the most wonderful things you can do in this world is forgive others. We are designed to have flaws and make mistakes. If we emulate God, we are led to forgive. Giving someone the ability to recapture their dignity can transform lives. Do it often. — John Fairclough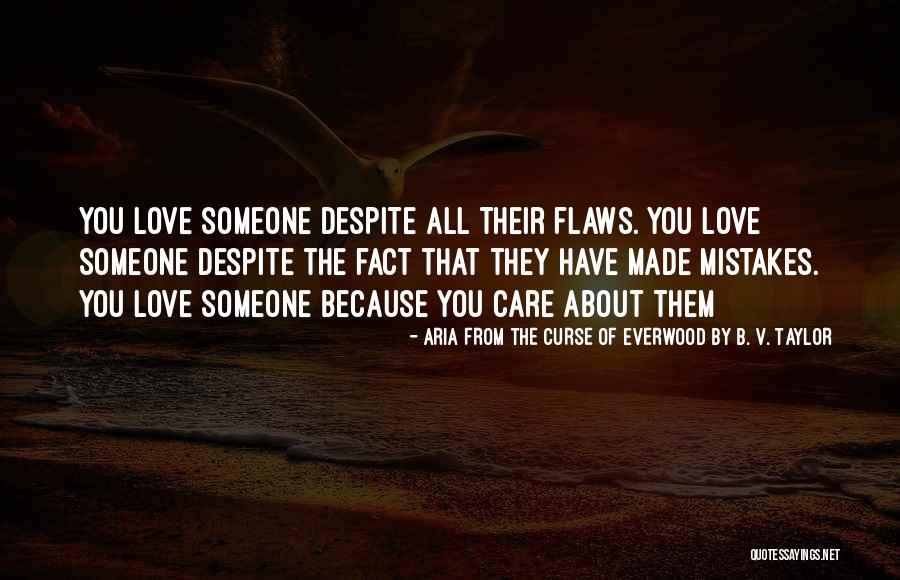 You love someone despite all their flaws. You love someone despite the fact that they have made mistakes. You love someone because you care about them — Aria From The Curse Of Everwood By B. V. Taylor
One flaw throws the loveliness of [everything else] into focus. I remember reading that Shakers deliberately introduced a mistake into the things they made, to show that man shouldn't aspire to the perfection of God. Flawed can be more perfect than perfection. — Gretchen Rubin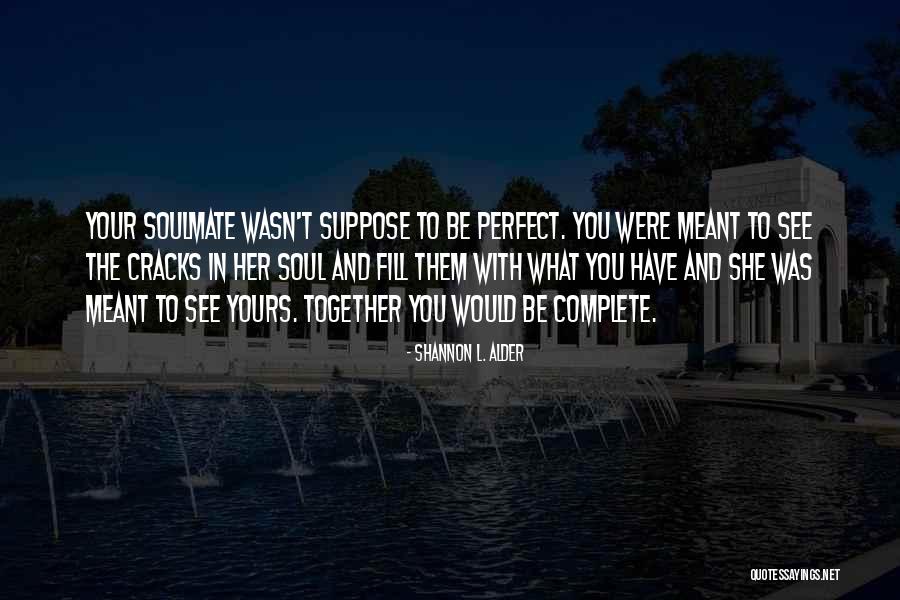 Your soulmate wasn't suppose to be perfect. You were meant to see the cracks in her soul and fill them with what you have and she was meant to see yours. Together you would be complete. — Shannon L. Alder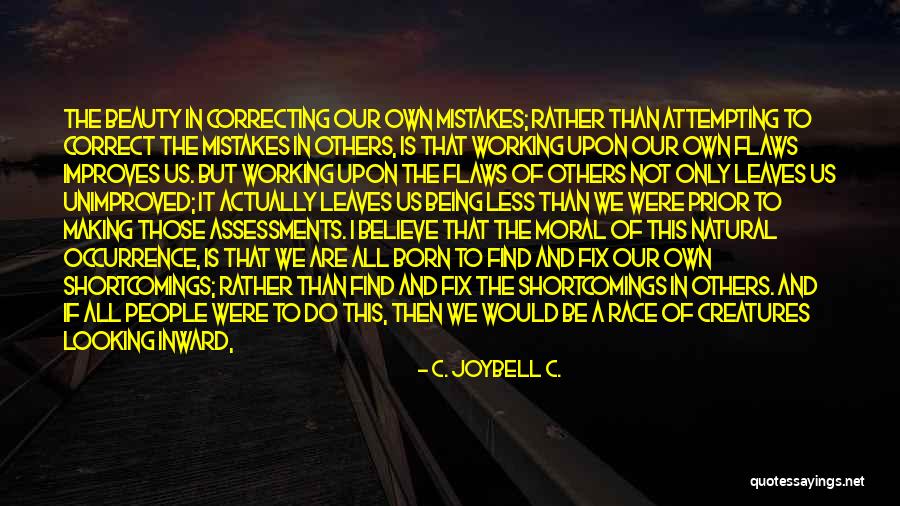 The beauty in correcting our own mistakes; rather than attempting to correct the mistakes in others, is that working upon our own flaws improves us. But working upon the flaws of others not only leaves us unimproved; it actually leaves us being less than we were prior to making those assessments. I believe that the moral of this natural occurrence, is that we are all born to find and fix our own shortcomings; rather than find and fix the shortcomings in others. And if all people were to do this, then we would be a race of creatures looking inward, in order to bring out something better. Now think of what a beautiful race that would be. — C. JoyBell C.
I feel that people are basically trying to do their best in the world. Even when you see people making mistakes, you understand why they're making a mistake. Everybody has flaws, everybody has demons, everybody has ghosts, but I think you watch people and you see everybody trying to do their best. — Jason Katims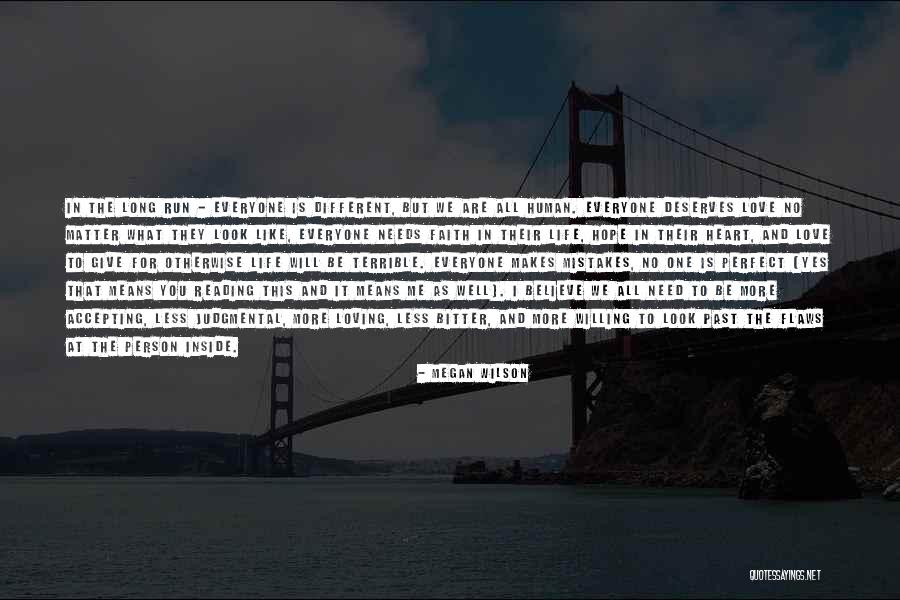 In the long run - everyone is different, but we are all human. Everyone deserves love no matter what they look like, everyone needs faith in their life, hope in their heart, and love to give for otherwise life will be terrible. Everyone makes mistakes, NO ONE is perfect (yes that means YOU reading this and it means ME as well). I believe we all need to be more accepting, less judgmental, more loving, less bitter, and more willing to look past the flaws at the person inside. — Megan Wilson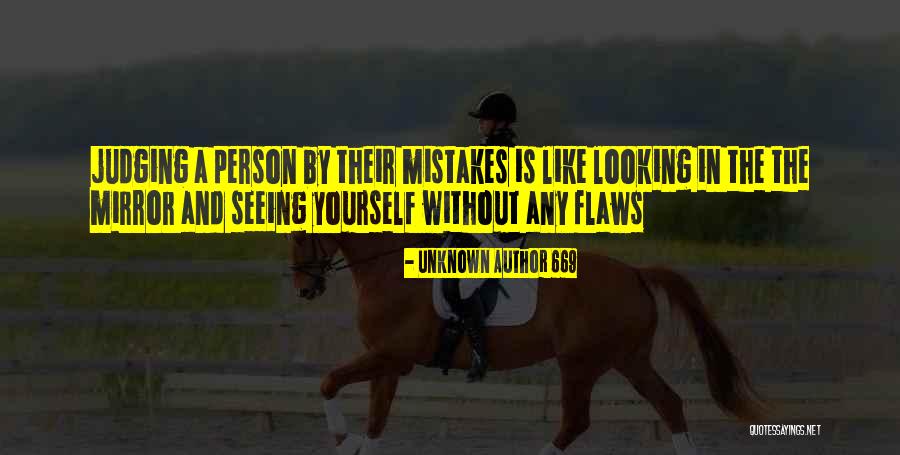 judging a person by their mistakes is like looking in the the mirror and seeing yourself without any flaws — Unknown Author 669
I always try to find something I like about the bad guys and then try to find the mistakes and the flaws in the good guys. — Mads Mikkelsen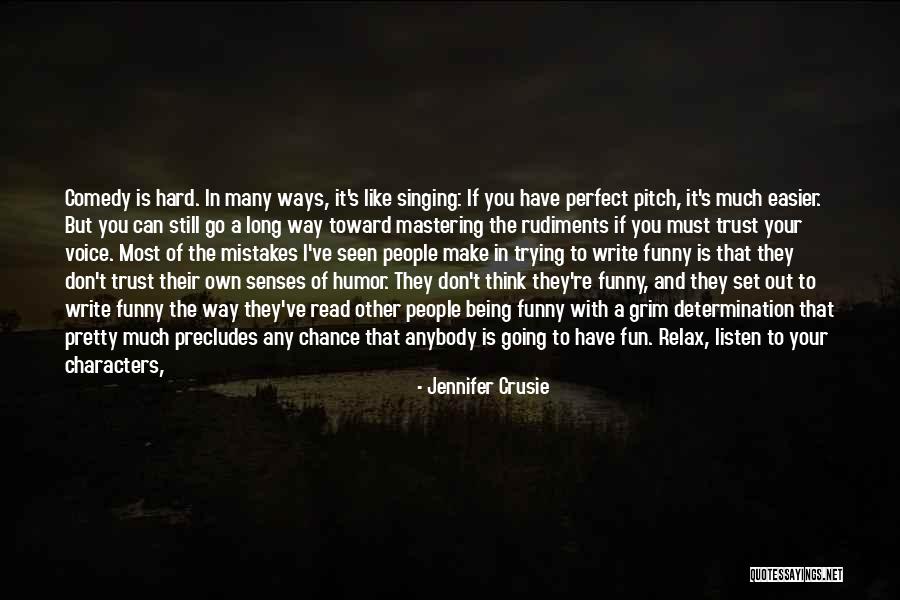 Comedy is hard. In many ways, it's like singing: If you have perfect pitch, it's much easier. But you can still go a long way toward mastering the rudiments if you must trust your voice. Most of the mistakes I've seen people make in trying to write funny is that they don't trust their own senses of humor. They don't think they're funny, and they set out to write funny the way they've read other people being funny with a grim determination that pretty much precludes any chance that anybody is going to have fun. Relax, listen to your characters, exploit their fears and flaws, and mine their situations for places in which they can use their own brands of humor. — Jennifer Crusie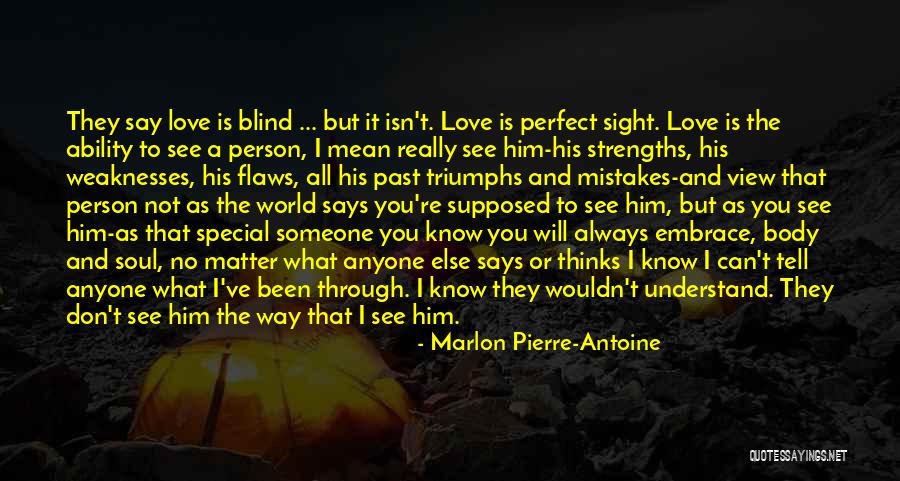 They say love is blind ... but it isn't. Love is perfect sight. Love is the ability to see a person, I mean really see him-his strengths, his weaknesses, his flaws, all his past triumphs and mistakes-and view that person not as the world says you're supposed to see him, but as you see him-as that special someone you know you will always embrace, body and soul, no matter what anyone else says or thinks
I know I can't tell anyone what I've been through. I know they wouldn't understand. They don't see him the way that I see him. All they know is the legend, the darkness. They don't know the inner beauty, the warmth and the joy more intense than anything I ever thought was possible to experience.
They don't know the truth behind the name.
My angel.
My only.
Lucifer. — Marlon Pierre-Antoine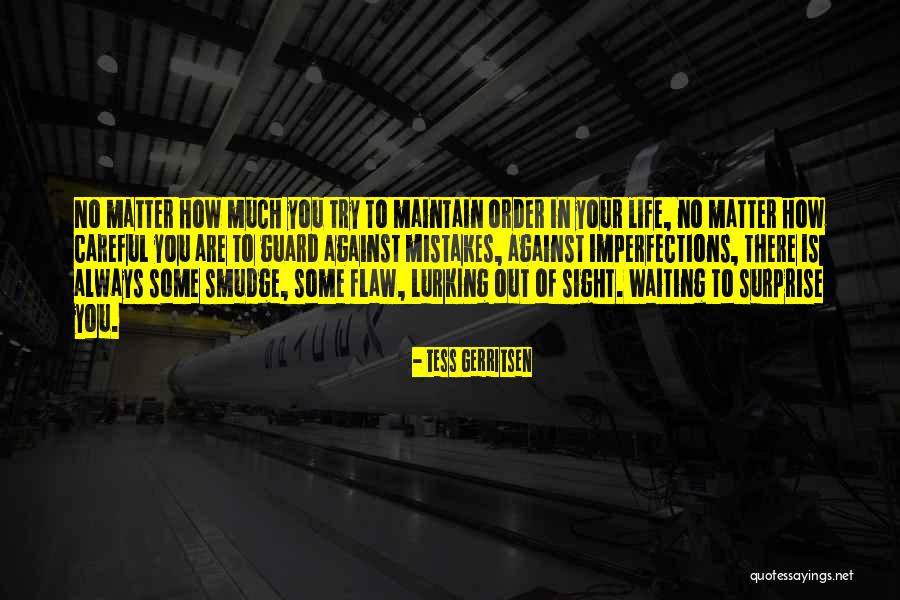 No matter how much you try to maintain order in your life, no matter how careful you are to guard against mistakes, against imperfections, there is always some smudge, some flaw, lurking out of sight. Waiting to surprise you. — Tess Gerritsen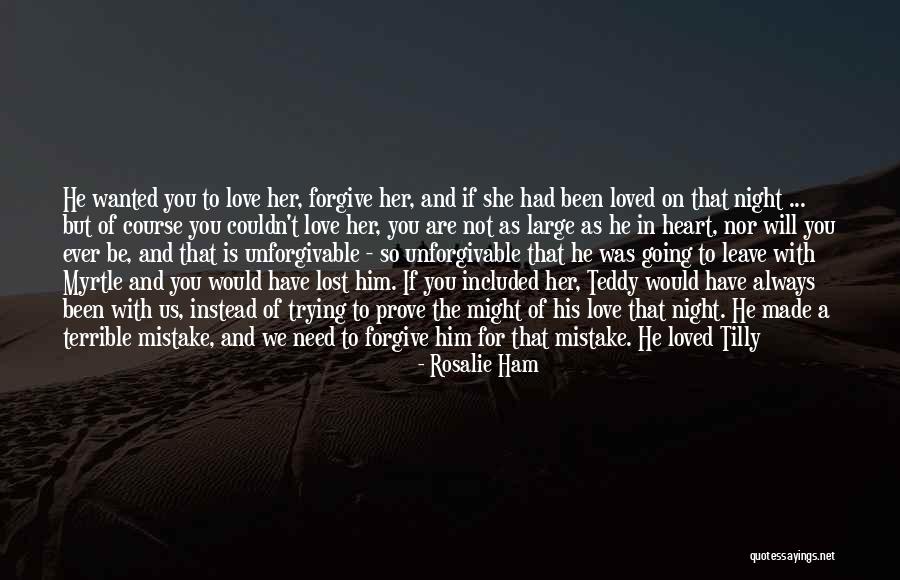 He wanted you to love her, forgive her, and if she had been loved on that night ... but of course you couldn't love her, you are not as large as he in heart, nor will you ever be, and that is unforgivable - so unforgivable that he was going to leave with Myrtle and you would have lost him. If you included her, Teddy would have always been with us, instead of trying to prove the might of his love that night. He made a terrible mistake, and we need to forgive him for that mistake. He loved Tilly Dunnage as strongly as you hate her, please imagine that - she said that she would marry him and i know that without exception all of you, along with your secrets and mistakes and prejudices and flaws, would have been a soothing occasion a right and true union. In fact, it was... — Rosalie Ham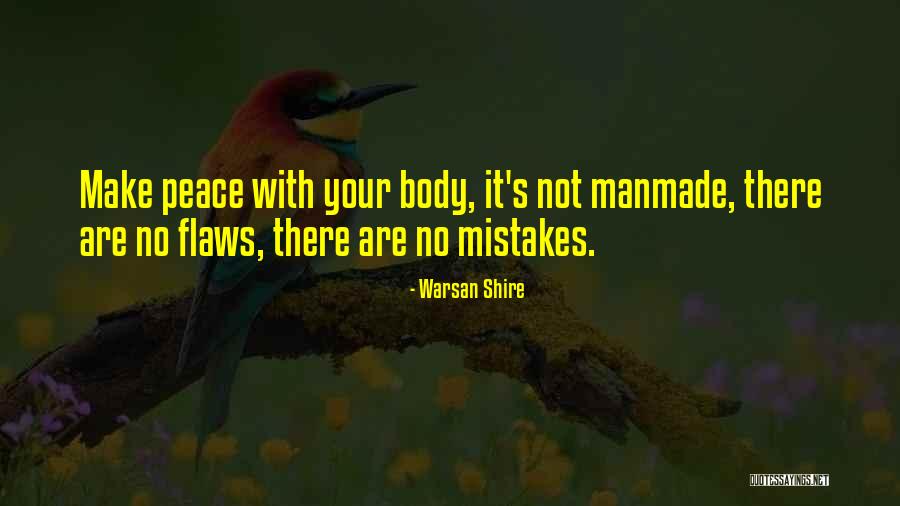 Make peace with your body, it's not manmade, there are no flaws, there are no mistakes. — Warsan Shire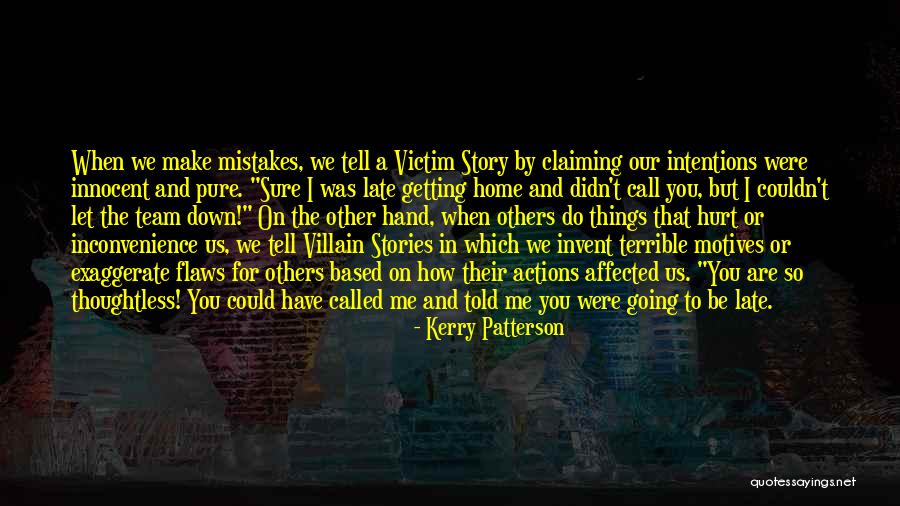 When we make mistakes, we tell a Victim Story by claiming our intentions were innocent and pure. "Sure I was late getting home and didn't call you, but I couldn't let the team down!" On the other hand, when others do things that hurt or inconvenience us, we tell Villain Stories in which we invent terrible motives or exaggerate flaws for others based on how their actions affected us. "You are so thoughtless! You could have called me and told me you were going to be late. — Kerry Patterson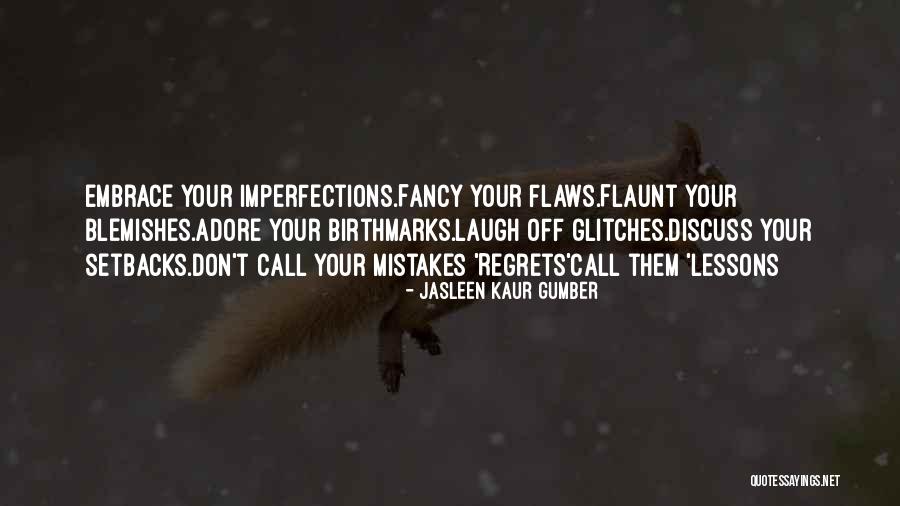 Embrace your imperfections.
Fancy your flaws.
Flaunt your blemishes.
Adore your birthmarks.
Laugh off glitches.
Discuss your setbacks.

Don't call your mistakes 'Regrets'
Call them 'Lessons — Jasleen Kaur Gumber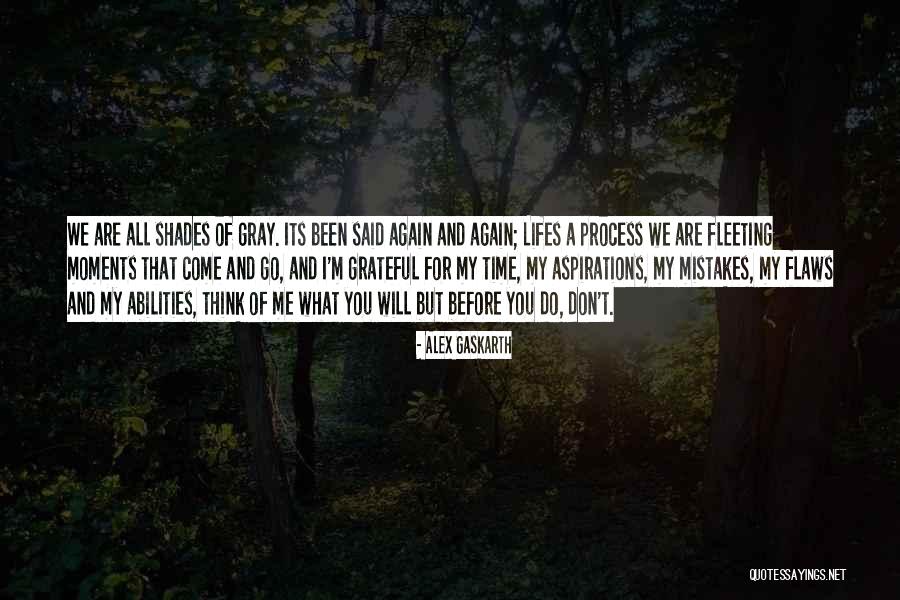 We are all shades of gray. Its been said again and again; Lifes a process we are fleeting moments that come and go, and I'm grateful for my time, my aspirations, my mistakes, my flaws and my abilities, think of me what you will but before you do, don't. — Alex Gaskarth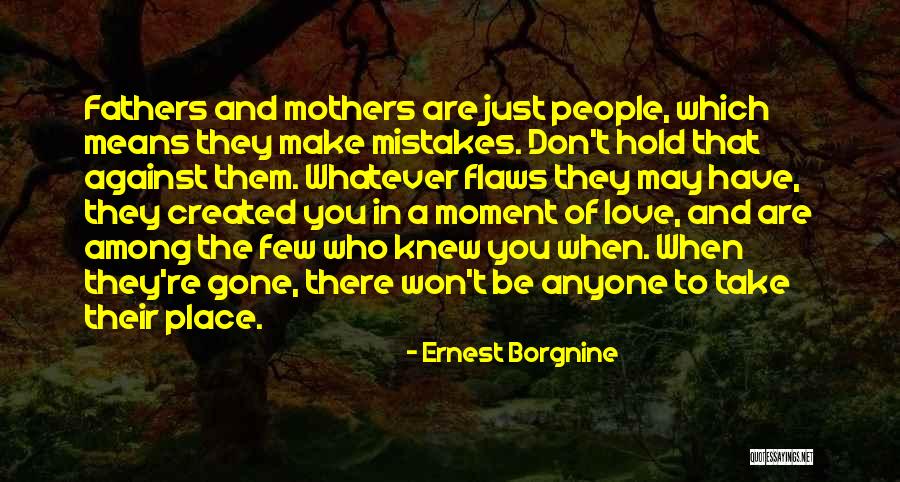 Fathers and mothers are just people, which means they make mistakes. Don't hold that against them. Whatever flaws they may have, they created you in a moment of love, and are among the few who knew you when. When they're gone, there won't be anyone to take their place. — Ernest Borgnine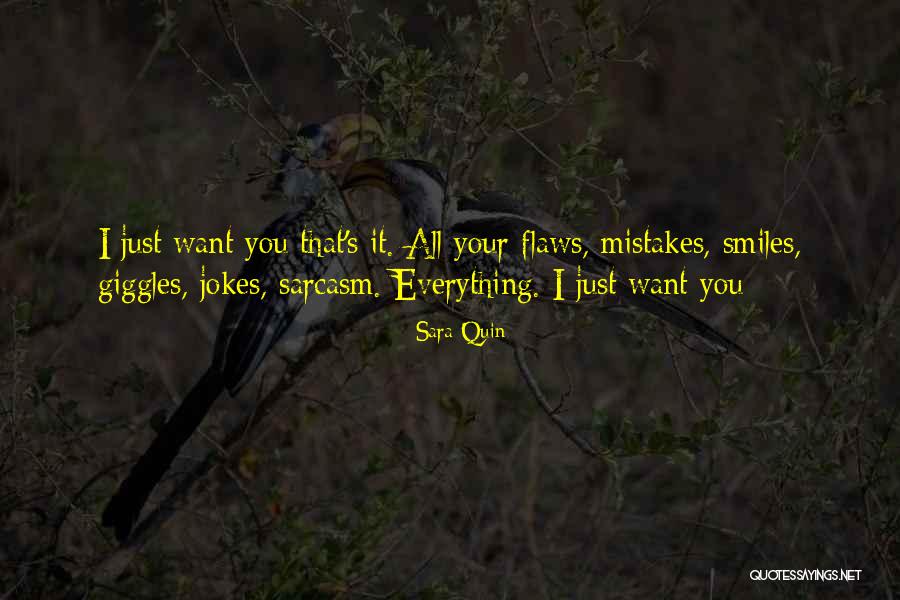 I just want you that's it. All your flaws, mistakes, smiles, giggles, jokes, sarcasm. Everything. I just want you — Sara Quin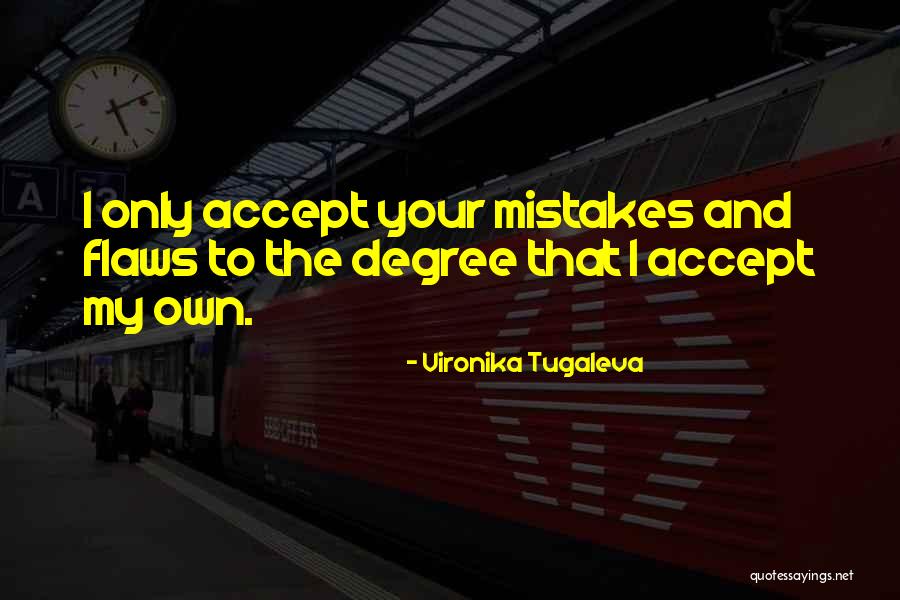 I only accept your mistakes and flaws to the degree that I accept my own. — Vironika Tugaleva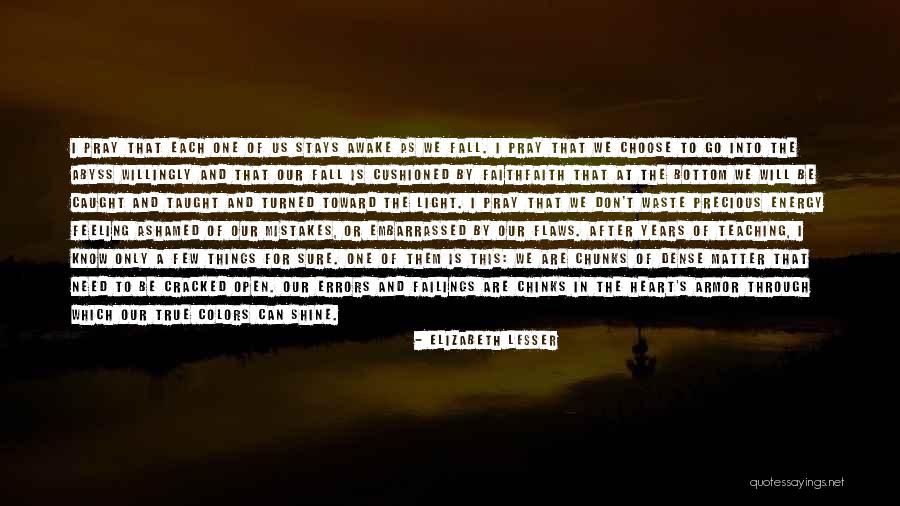 I pray that each one of us stays awake as we fall. I pray that we choose to go into the abyss willingly and that our fall is cushioned by faith
faith that at the bottom we will be caught and taught and turned toward the light. I pray that we don't waste precious energy feeling ashamed of our mistakes, or embarrassed by our flaws. After years of teaching, I know only a few things for sure. One of them is this: We are chunks of dense matter that need to be cracked open. Our errors and failings are chinks in the heart's armor through which our true colors can shine. — Elizabeth Lesser
These reasonings will furnish us with an adequate definition of a true critic: that he is a discoverer and collector of writers' faults. Which may be farther put beyond dispute by the following demonstration: that whoever will examine the writings in all kinds, wherewith this ancient sect has honoured the world, shall immediately find, from the whole thread and tenor of them, that the ideas of the authors have been altogether conversant and taken up with the faults and blemishes, and oversights, and mistakes of other writers; and let the subject treated on be whatever it will, their imaginations are so entirely possessed and replete with the defects of other pens, that the very quintessence of what is bad does of necessity distil into their own, by which means the whole appears to be nothing else but an abstract of the criticisms themselves have made. — Jonathan Swift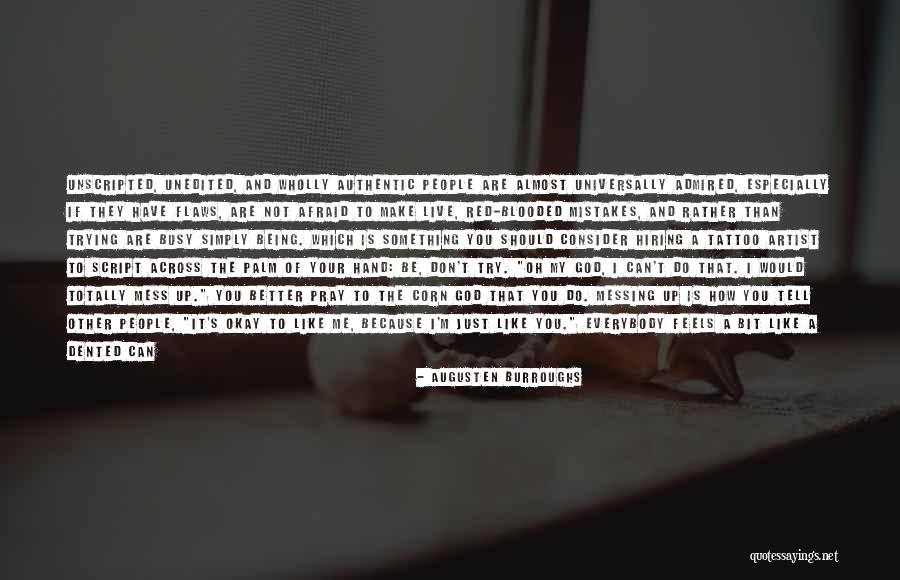 Unscripted, unedited, and wholly authentic people are almost universally admired, especially if they have flaws, are not afraid to make live, red-blooded mistakes, and rather than trying are busy simply being. Which is something you should consider hiring a tattoo artist to script across the palm of your hand: Be, Don't Try. "Oh my God, I can't do that. I would totally mess up." You better pray to the corn god that you do. Messing up is how you tell other people, "It's okay to like me, because I'm just like you." Everybody feels a bit like a dented can inside. Even the slickest, most polished person you can think of is more aware of their shortcomings and flaws than their talents and gifts. — Augusten Burroughs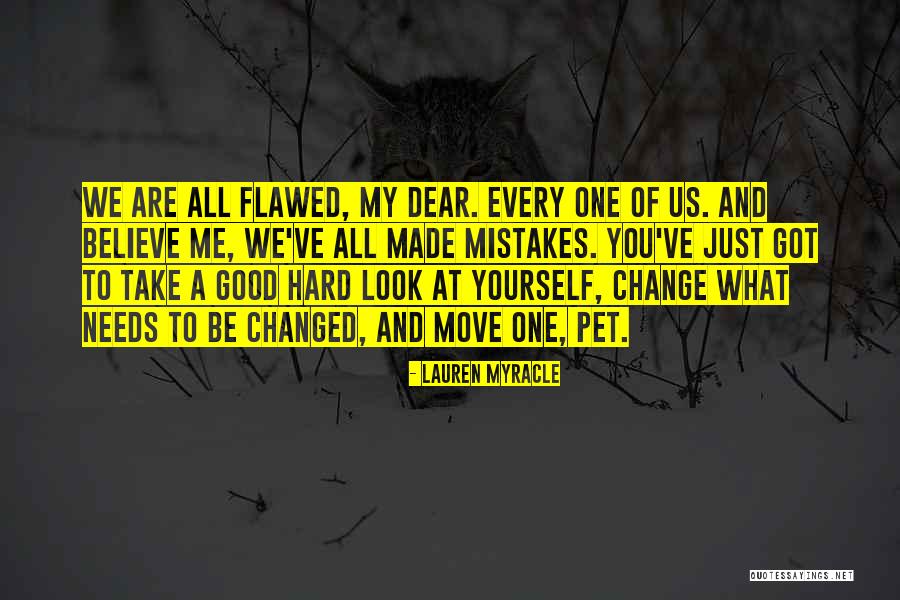 We are all flawed, my dear. Every one of us. And believe me, we've all made mistakes. You've just got to take a good hard look at yourself, change what needs to be changed, and move one, pet. — Lauren Myracle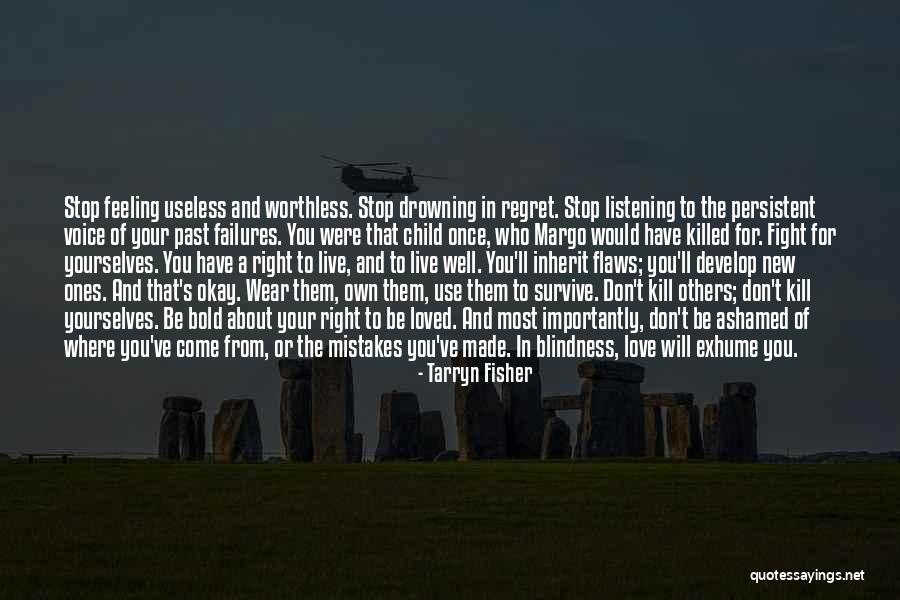 Stop feeling useless and worthless. Stop drowning in regret. Stop listening to the persistent voice of your past failures. You were that child once, who Margo would have killed for. Fight for yourselves. You have a right to live, and to live well. You'll inherit flaws; you'll develop new ones. And that's okay. Wear them, own them, use them to survive. Don't kill others; don't kill yourselves. Be bold about your right to be loved. And most importantly, don't be ashamed of where you've come from, or the mistakes you've made. In blindness, love will exhume you. — Tarryn Fisher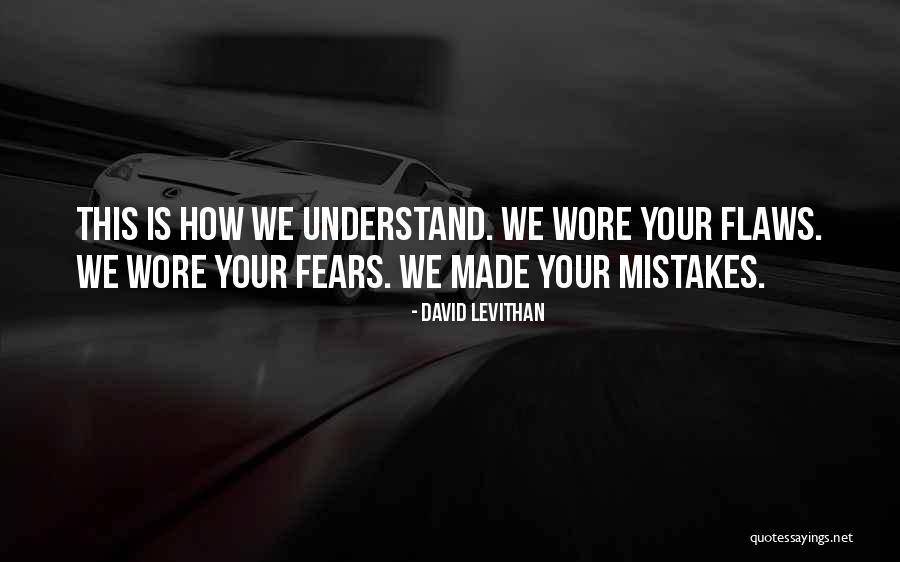 This is how we understand. We wore your flaws. We wore your fears. We made your mistakes. — David Levithan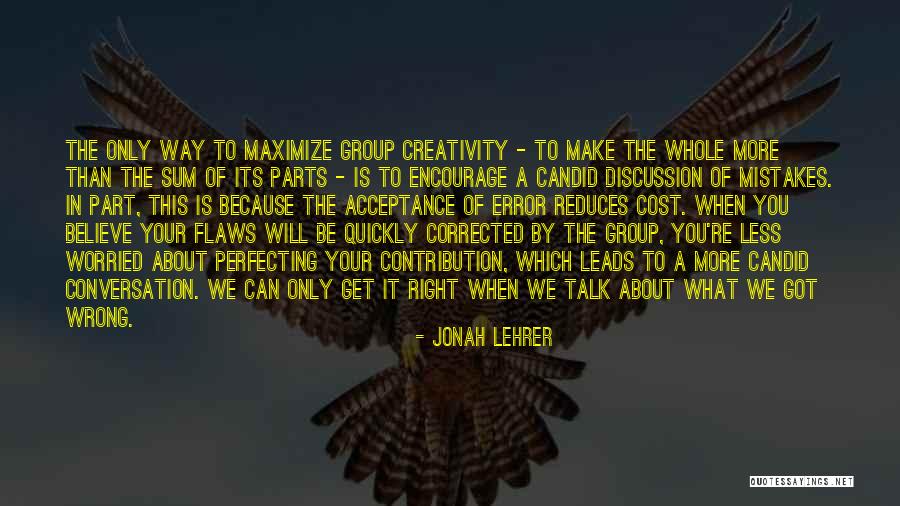 The only way to maximize group creativity - to make the whole more than the sum of its parts - is to encourage a candid discussion of mistakes. In part, this is because the acceptance of error reduces cost. When you believe your flaws will be quickly corrected by the group, you're less worried about perfecting your contribution, which leads to a more candid conversation. We can only get it right when we talk about what we got wrong. — Jonah Lehrer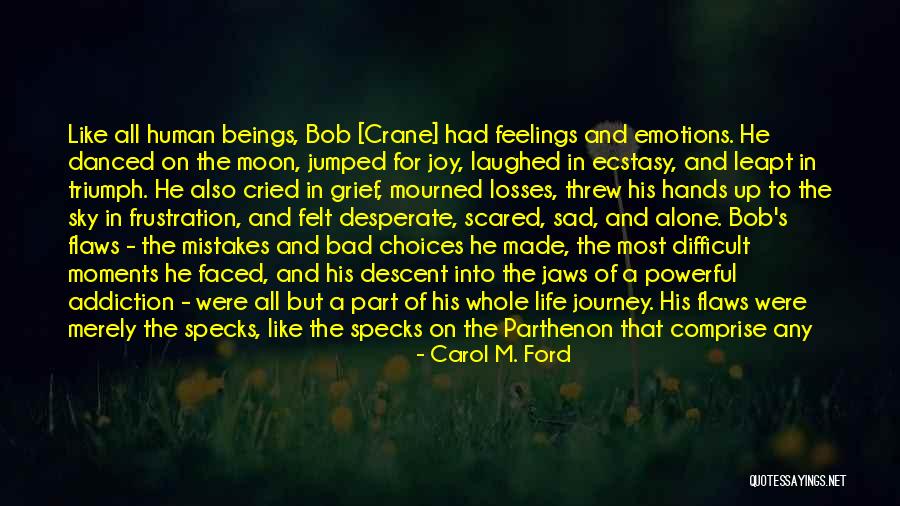 Like all human beings, Bob [Crane] had feelings and emotions. He danced on the moon, jumped for joy, laughed in ecstasy, and leapt in triumph. He also cried in grief, mourned losses, threw his hands up to the sky in frustration, and felt desperate, scared, sad, and alone. Bob's flaws - the mistakes and bad choices he made, the most difficult moments he faced, and his descent into the jaws of a powerful addiction - were all but a part of his whole life journey. His flaws were merely the specks, like the specks on the Parthenon that comprise any person's entire time on earth... In spite of his flaws, he was a kind person, a joyful person, a talented person, a courageous person - a whole person. — Carol M. Ford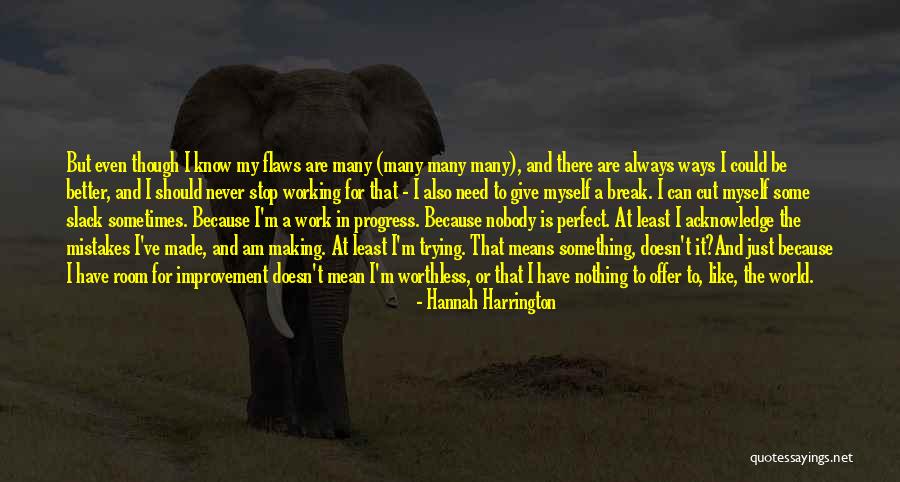 But even though I know my flaws are many (many many many), and there are always ways I could be better, and I should never stop working for that - I also need to give myself a break. I can cut myself some slack sometimes. Because I'm a work in progress. Because nobody is perfect. At least I acknowledge the mistakes I've made, and am making. At least I'm trying. That means something, doesn't it?
And just because I have room for improvement doesn't mean I'm worthless, or that I have nothing to offer to, like, the world. — Hannah Harrington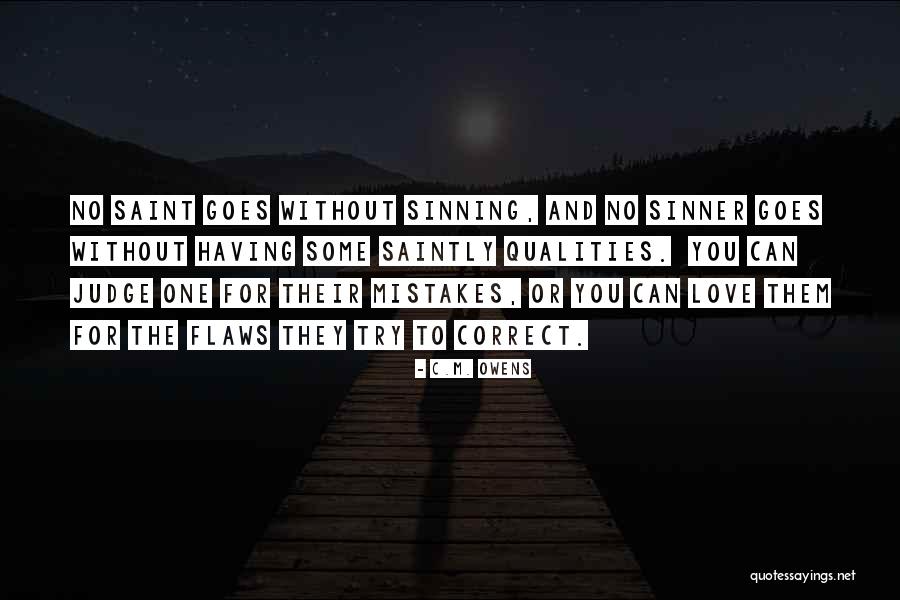 no saint goes without sinning, and no sinner goes without having some saintly qualities. You can judge one for their mistakes, or you can love them for the flaws they try to correct. — C.M. Owens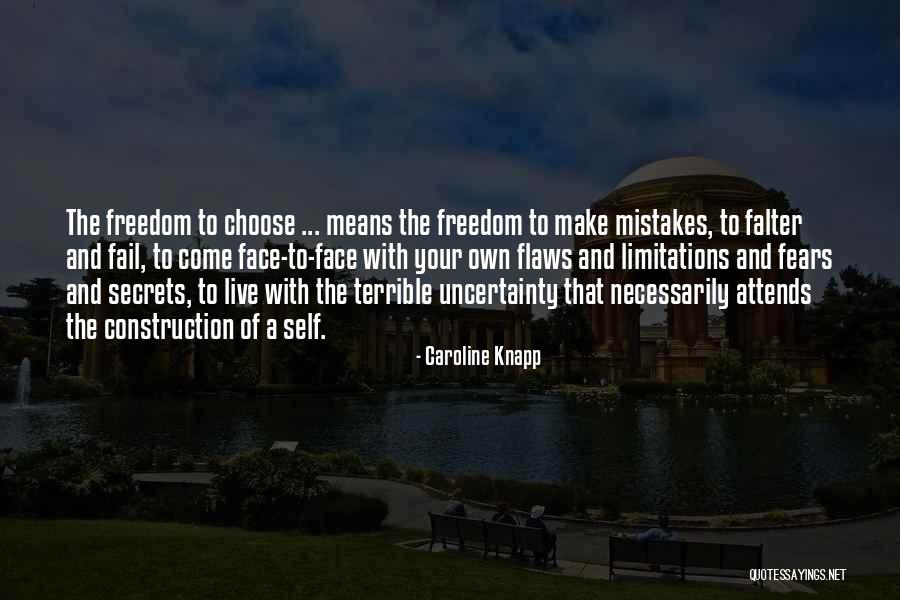 The freedom to choose ... means the freedom to make mistakes, to falter and fail, to come face-to-face with your own flaws and limitations and fears and secrets, to live with the terrible uncertainty that necessarily attends the construction of a self. — Caroline Knapp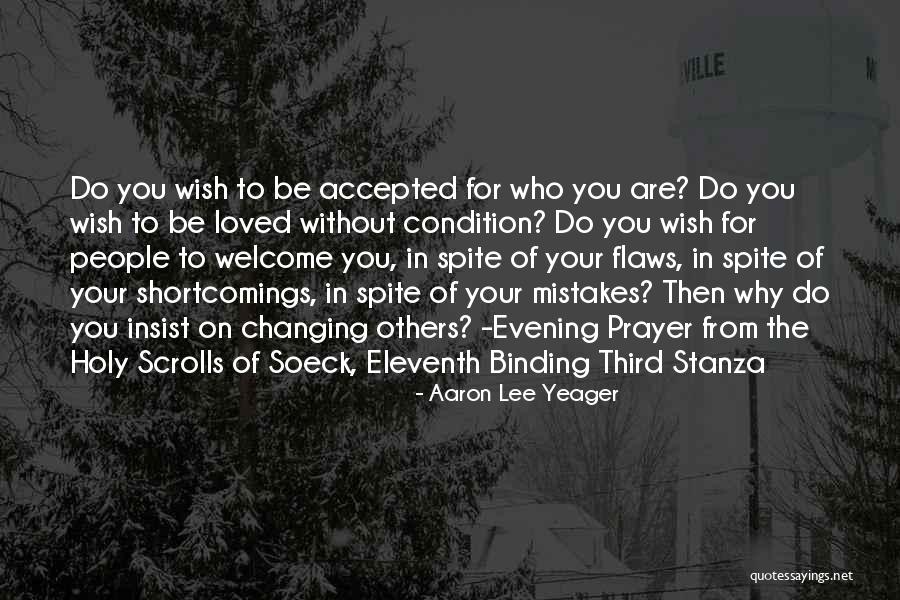 Do you wish to be accepted for who you are? Do you wish to be loved without condition? Do you wish for people to welcome you, in spite of your flaws, in spite of your shortcomings, in spite of your mistakes? Then why do you insist on changing others? -Evening Prayer from the Holy Scrolls of Soeck, Eleventh Binding Third Stanza — Aaron Lee Yeager