Quotes & Sayings About Memory And Education
Enjoy reading and share 33 famous quotes about Memory And Education with everyone.
Top Memory And Education Quotes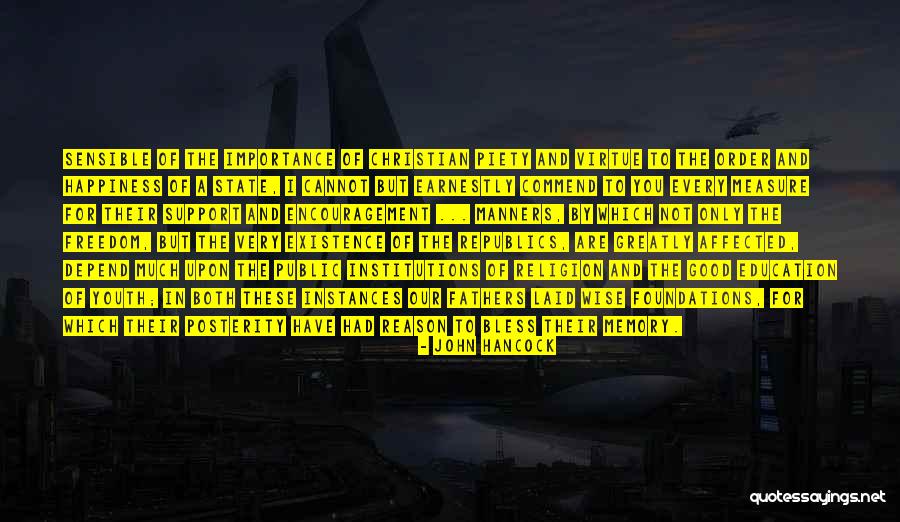 Sensible of the importance of Christian piety and virtue to the order and happiness of a state, I cannot but earnestly commend to you every measure for their support and encouragement ... Manners, by which not only the freedom, but the very existence of the republics, are greatly affected, depend much upon the public institutions of religion and the good education of youth; in both these instances our fathers laid wise foundations, for which their posterity have had reason to bless their memory. — John Hancock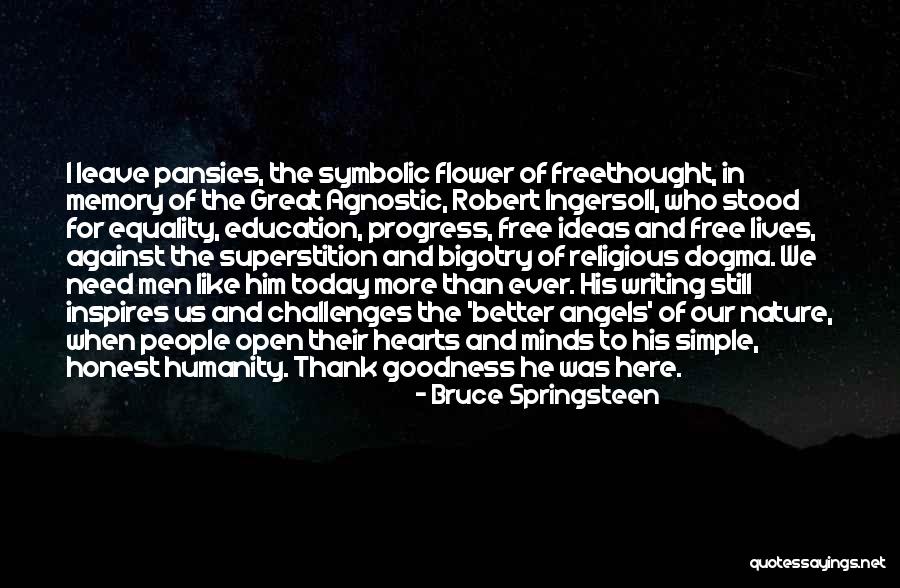 I leave pansies, the symbolic flower of freethought, in memory of the Great Agnostic, Robert Ingersoll, who stood for equality, education, progress, free ideas and free lives, against the superstition and bigotry of religious dogma. We need men like him today more than ever. His writing still inspires us and challenges the 'better angels' of our nature, when people open their hearts and minds to his simple, honest humanity. Thank goodness he was here. — Bruce Springsteen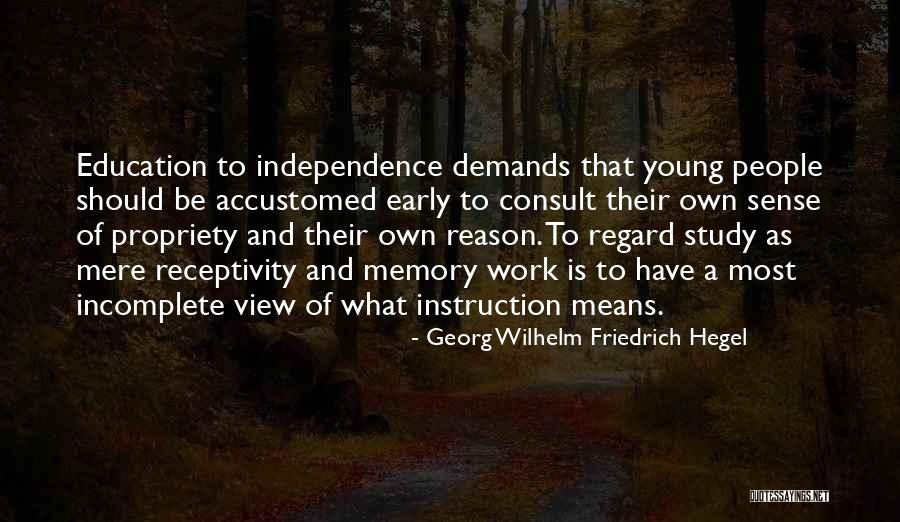 Education to independence demands that young people should be accustomed early to consult their own sense of propriety and their own reason. To regard study as mere receptivity and memory work is to have a most incomplete view of what instruction means. — Georg Wilhelm Friedrich Hegel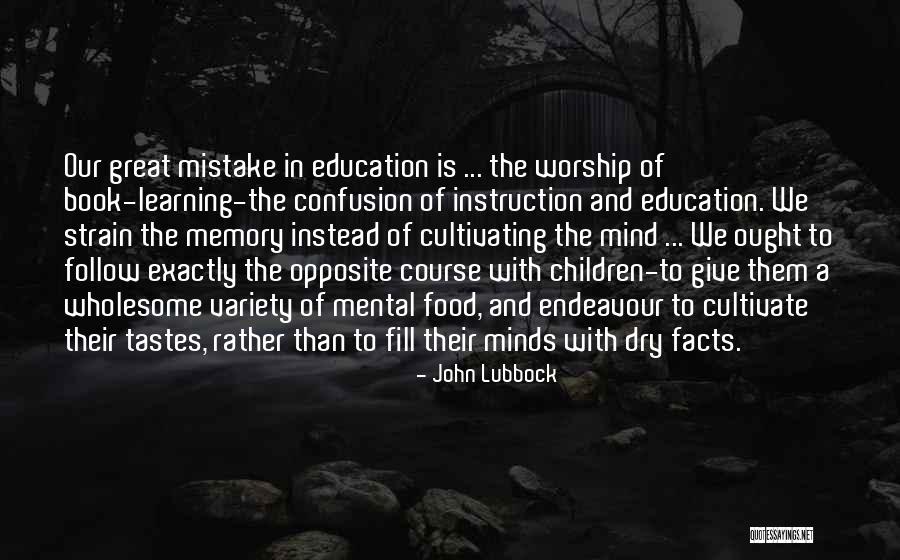 Our great mistake in education is ... the worship of book-learning-the confusion of instruction and education. We strain the memory instead of cultivating the mind ... We ought to follow exactly the opposite course with children-to give them a wholesome variety of mental food, and endeavour to cultivate their tastes, rather than to fill their minds with dry facts. — John Lubbock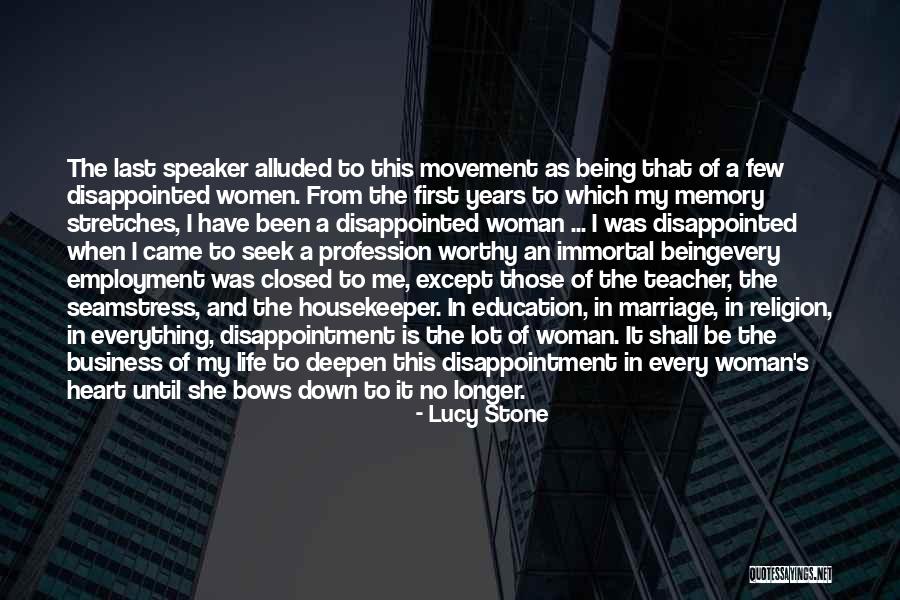 The last speaker alluded to this movement as being that of a few disappointed women. From the first years to which my memory stretches, I have been a disappointed woman ... I was disappointed when I came to seek a profession worthy an immortal being
every employment was closed to me, except those of the teacher, the seamstress, and the housekeeper. In education, in marriage, in religion, in everything, disappointment is the lot of woman. It shall be the business of my life to deepen this disappointment in every woman's heart until she bows down to it no longer. — Lucy Stone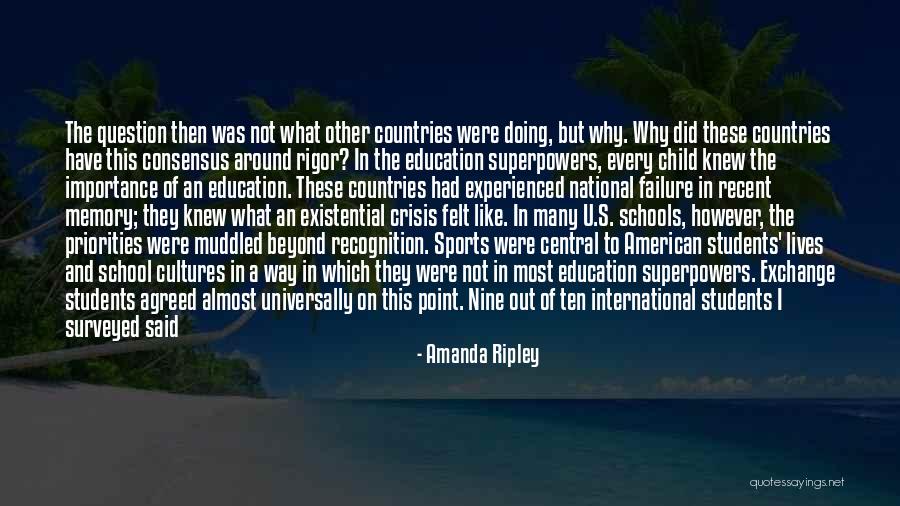 The question then was not what other countries were doing, but why. Why did these countries have this consensus around rigor? In the education superpowers, every child knew the importance of an education. These countries had experienced national failure in recent memory; they knew what an existential crisis felt like. In many U.S. schools, however, the priorities were muddled beyond recognition. Sports were central to American students' lives and school cultures in a way in which they were not in most education superpowers. Exchange students agreed almost universally on this point. Nine out of ten international students I surveyed said that U.S. kids placed a higher priority on sports, and six out of ten American exchange students agreed with them. Even in middle school, other researchers had found, American students spent double the amount of time playing sports as Koreans. — Amanda Ripley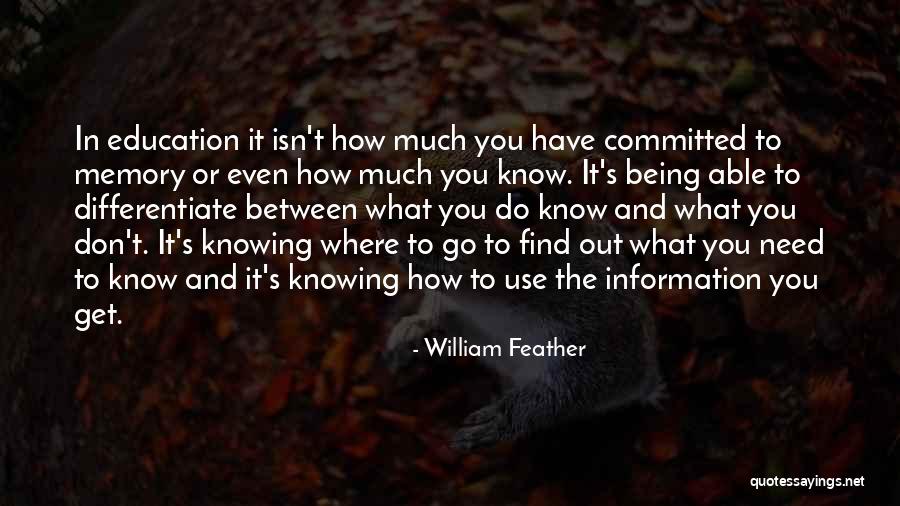 In education it isn't how much you have committed to memory or even how much you know. It's being able to differentiate between what you do know and what you don't. It's knowing where to go to find out what you need to know and it's knowing how to use the information you get. — William Feather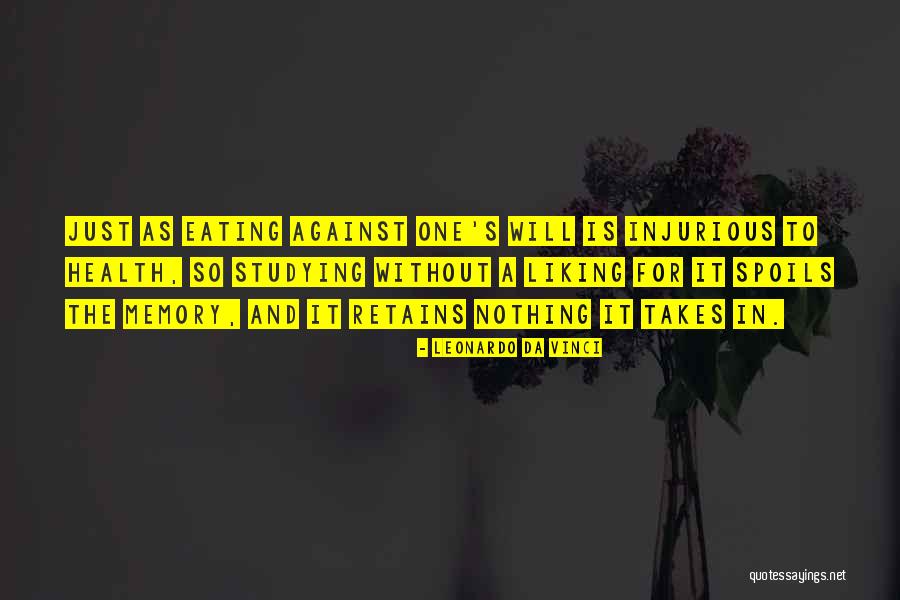 Just as eating against one's will is injurious to health, so studying without a liking for it spoils the memory, and it retains nothing it takes in. — Leonardo Da Vinci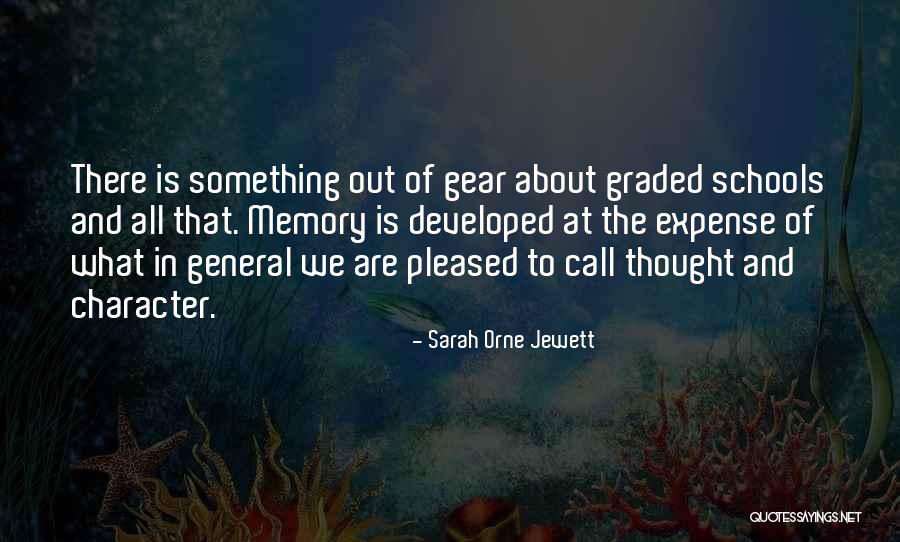 There is something out of gear about graded schools and all that. Memory is developed at the expense of what in general we are pleased to call thought and character. — Sarah Orne Jewett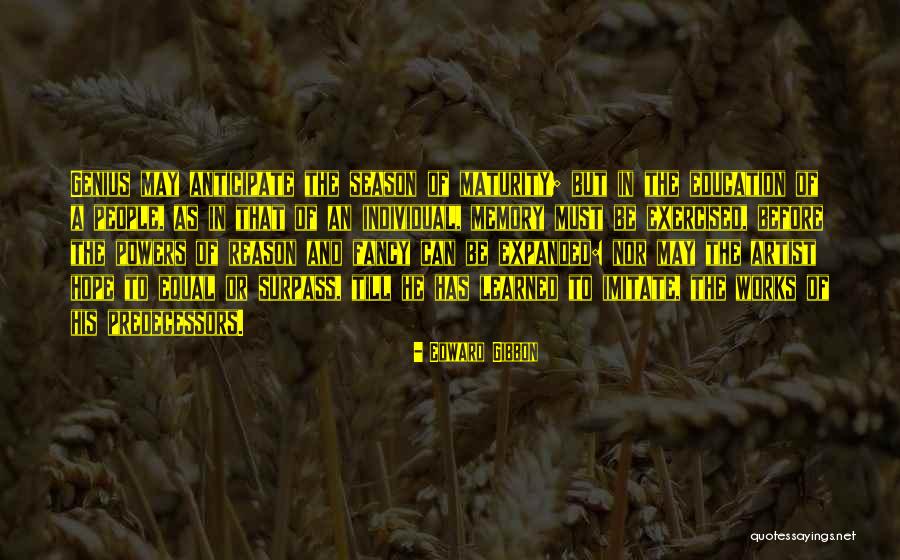 Genius may anticipate the season of maturity; but in the education of a people, as in that of an individual, memory must be exercised, before the powers of reason and fancy can be expanded: nor may the artist hope to equal or surpass, till he has learned to imitate, the works of his predecessors. — Edward Gibbon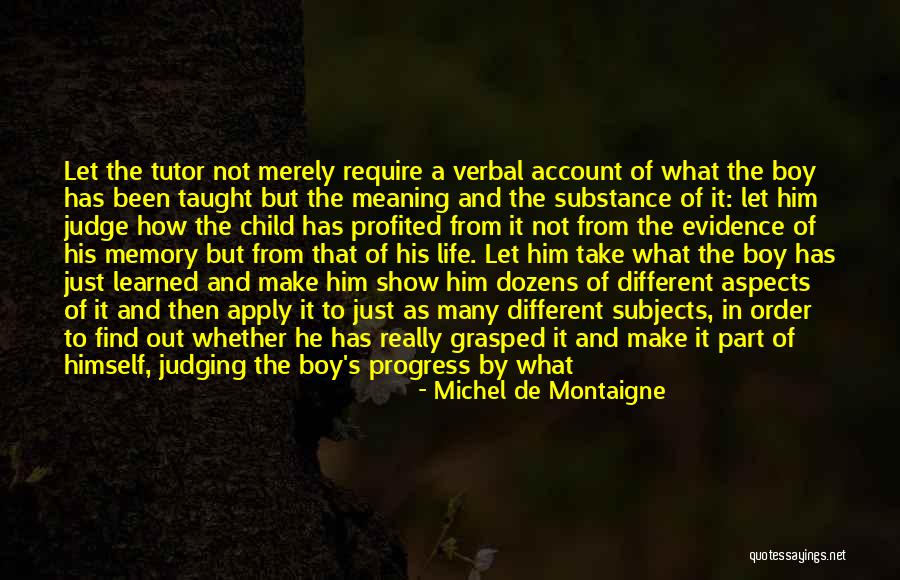 Let the tutor not merely require a verbal account of what the boy has been taught but the meaning and the substance of it: let him judge how the child has profited from it not from the evidence of his memory but from that of his life. Let him take what the boy has just learned and make him show him dozens of different aspects of it and then apply it to just as many different subjects, in order to find out whether he has really grasped it and make it part of himself, judging the boy's progress by what Plato taught about education. Spewing up food exactly as you have swallowed it is evidence of a failure to digest and assimilate it; the stomach has not done its job if, during concoction, it fails to change the substance and the form of what it is given. — Michel De Montaigne
An education isn't how much you have committed to memory, or even how much you know. It's being able to differentiate between what you do know and what you don't. — Anatole France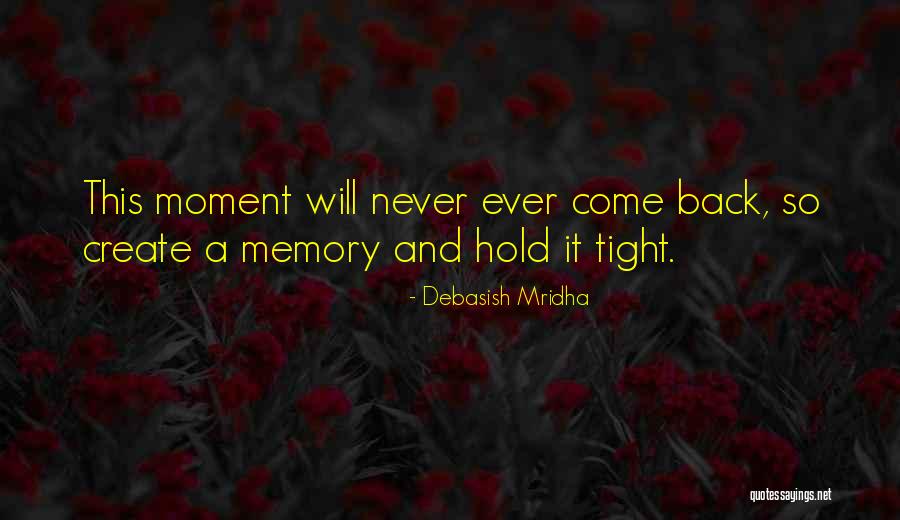 This moment will never ever come back, so create a memory and hold it tight. — Debasish Mridha
Differences in reading ability between five-year olds and eight-year olds are caused primarily by the older children's possessing more knowledge, not by the differences in their memory capacities, reasoning abilities, or control of eye movements. — E.D. Hirsch Jr.
By the time the child can draw more that scribble, by the age of four or five years, an already well-formed body of conceptual knowledge formulated in language dominates his memory and controls his graphic work. Drawings are graphic accounts of essentially verbal processes. As an essentially verbal education gains control, the child abandons his graphic efforts and relies almost entirely on words. Language has first spoilt drawing and then swallowed it up completely. — Karl Buhler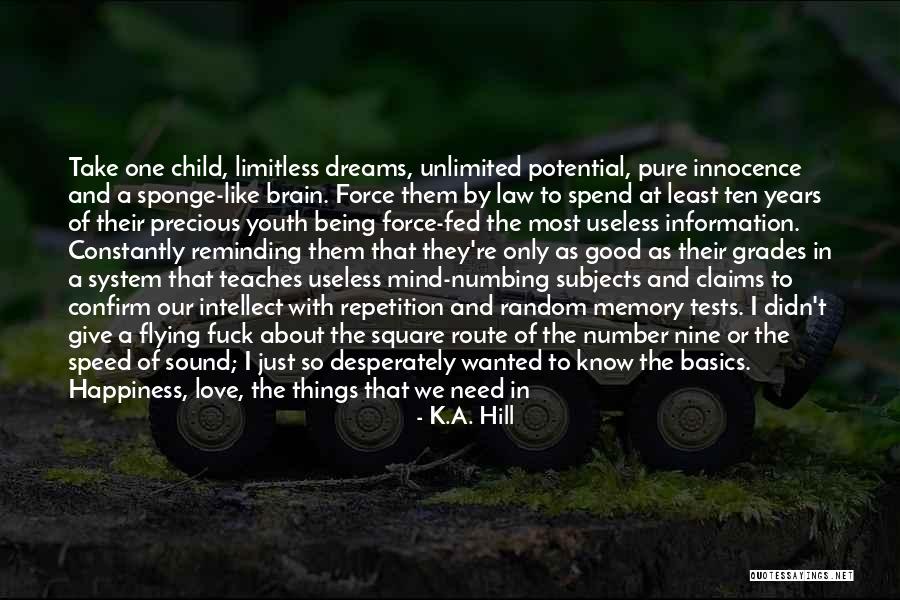 Take one child, limitless dreams, unlimited potential, pure innocence and a sponge-like brain. Force them by law to spend at least ten years of their precious youth being force-fed the most useless information. Constantly reminding them that they're only as good as their grades in a system that teaches useless mind-numbing subjects and claims to confirm our intellect with repetition and random memory tests. I didn't give a flying fuck about the square route of the number nine or the speed of sound; I just so desperately wanted to know the basics. Happiness, love, the things that we need in our lives; the things that help us to find confidence in ourselves, our ability and our dreams. — K.A. Hill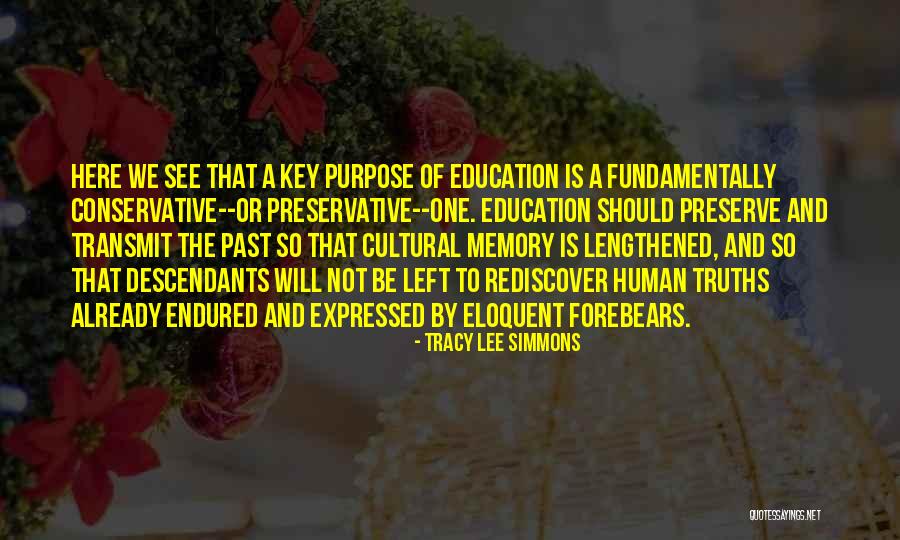 Here we see that a key purpose of education is a fundamentally conservative--or preservative--one. Education should preserve and transmit the past so that cultural memory is lengthened, and so that descendants will not be left to rediscover human truths already endured and expressed by eloquent forebears. — Tracy Lee Simmons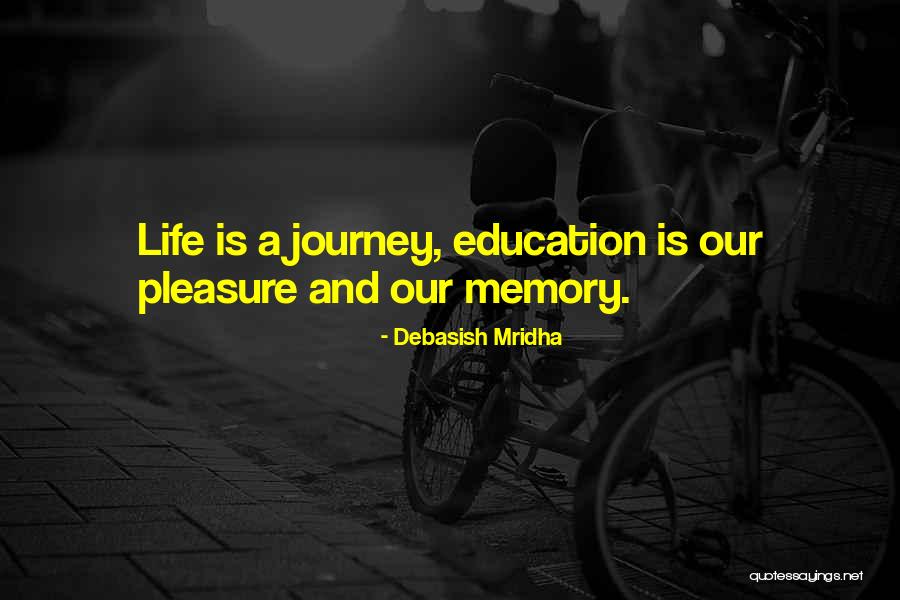 Life is a journey, education is our pleasure and our memory. — Debasish Mridha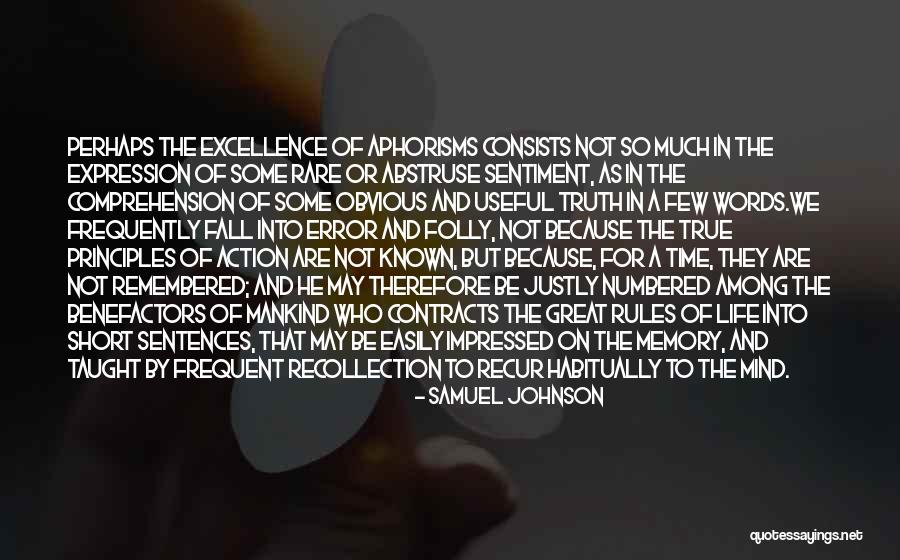 Perhaps the excellence of aphorisms consists not so much in the expression of some rare or abstruse sentiment, as in the comprehension of some obvious and useful truth in a few words.
We frequently fall into error and folly, not because the true principles of action are not known, but because, for a time, they are not remembered; and he may therefore be justly numbered among the benefactors of mankind who contracts the great rules of life into short sentences, that may be easily impressed on the memory, and taught by frequent recollection to recur habitually to the mind. — Samuel Johnson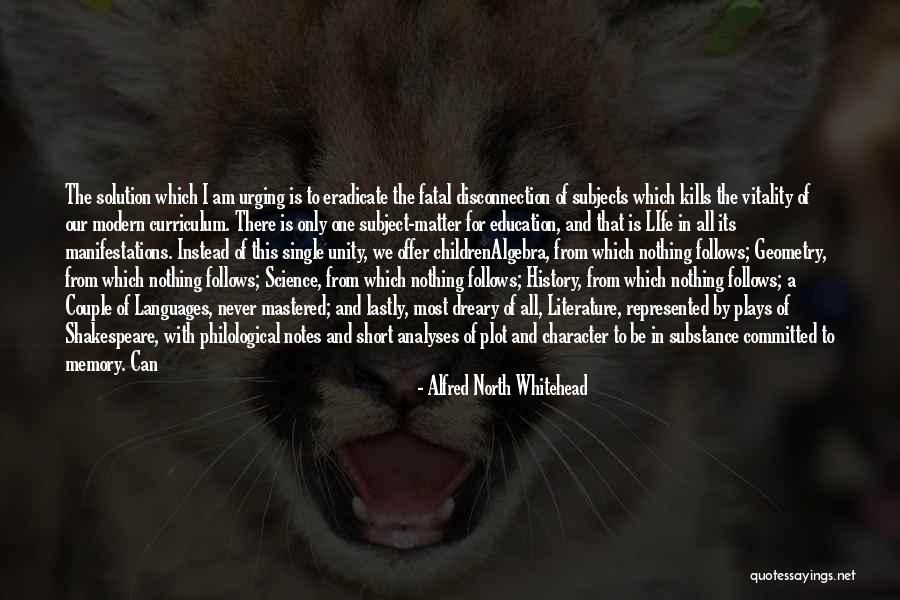 The solution which I am urging is to eradicate the fatal disconnection of subjects which kills the vitality of our modern curriculum. There is only one subject-matter for education, and that is LIfe in all its manifestations. Instead of this single unity, we offer children
Algebra, from which nothing follows; Geometry, from which nothing follows; Science, from which nothing follows; History, from which nothing follows; a Couple of Languages, never mastered; and lastly, most dreary of all, Literature, represented by plays of Shakespeare, with philological notes and short analyses of plot and character to be in substance committed to memory. Can such a list be said to represent Life, as it is known in the midst of living it? The best that can be said of it is, that it is a rapid table of contents which a deity might run over in his mind while he was thinking of creating a world, and has not yet determined how to put it together — Alfred North Whitehead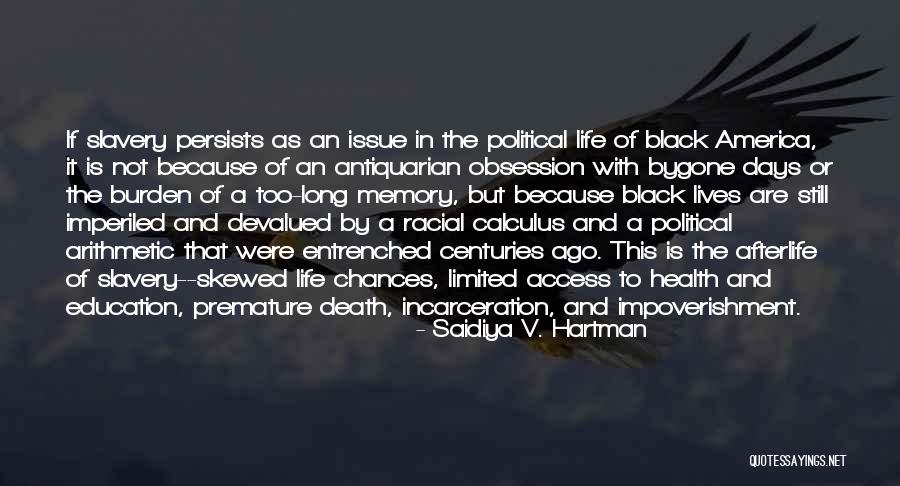 If slavery persists as an issue in the political life of black America, it is not because of an antiquarian obsession with bygone days or the burden of a too-long memory, but because black lives are still imperiled and devalued by a racial calculus and a political arithmetic that were entrenched centuries ago. This is the afterlife of slavery--skewed life chances, limited access to health and education, premature death, incarceration, and impoverishment. — Saidiya V. Hartman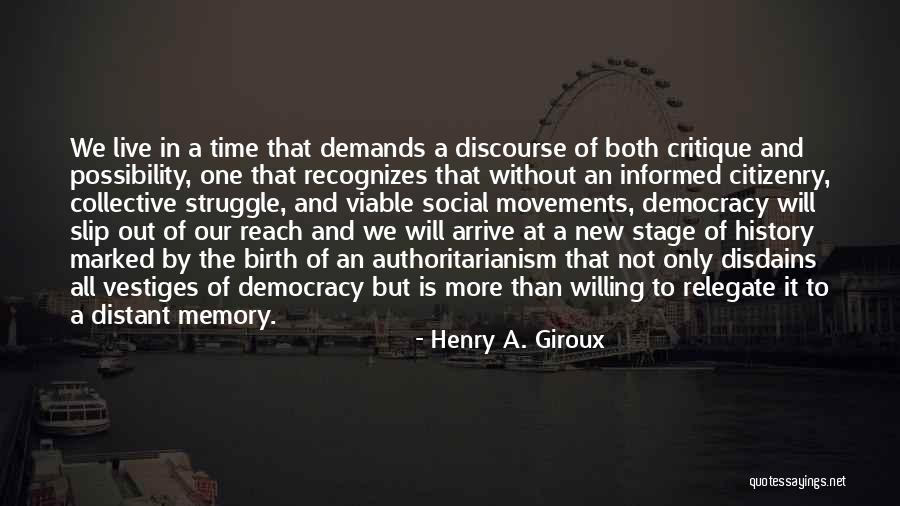 We live in a time that demands a discourse of both critique and possibility, one that recognizes that without an informed citizenry, collective struggle, and viable social movements, democracy will slip out of our reach and we will arrive at a new stage of history marked by the birth of an authoritarianism that not only disdains all vestiges of democracy but is more than willing to relegate it to a distant memory. — Henry A. Giroux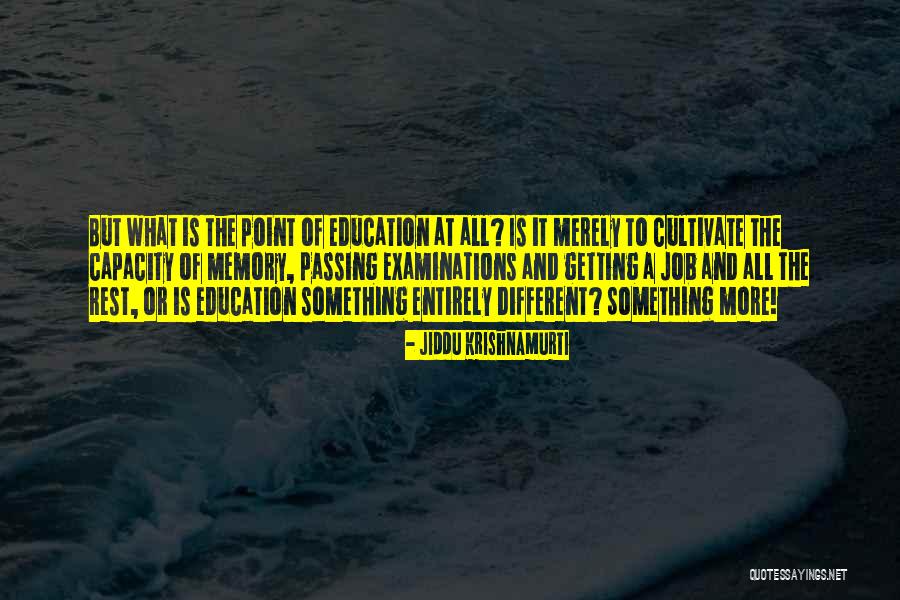 But what is the point of education at all? Is it merely to cultivate the capacity of memory, passing examinations and getting a job and all the rest, or is education something entirely different? Something more! — Jiddu Krishnamurti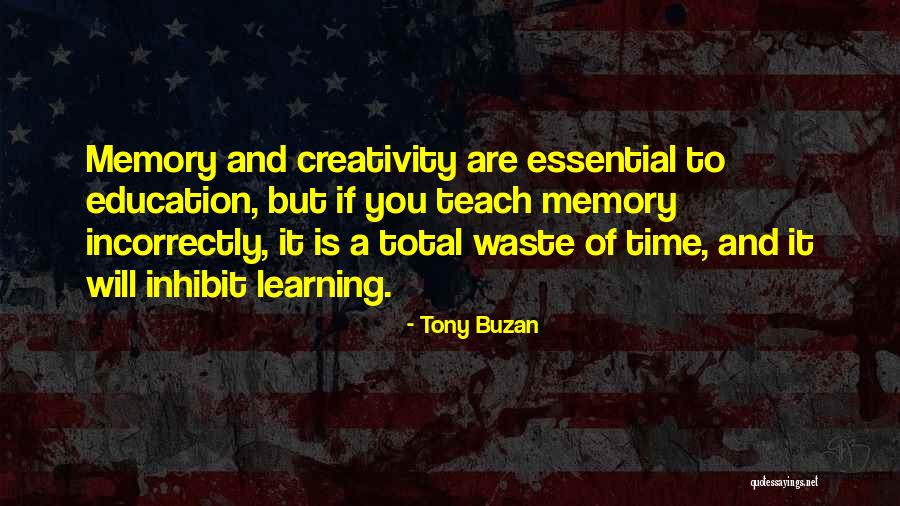 Memory and creativity are essential to education, but if you teach memory incorrectly, it is a total waste of time, and it will inhibit learning. — Tony Buzan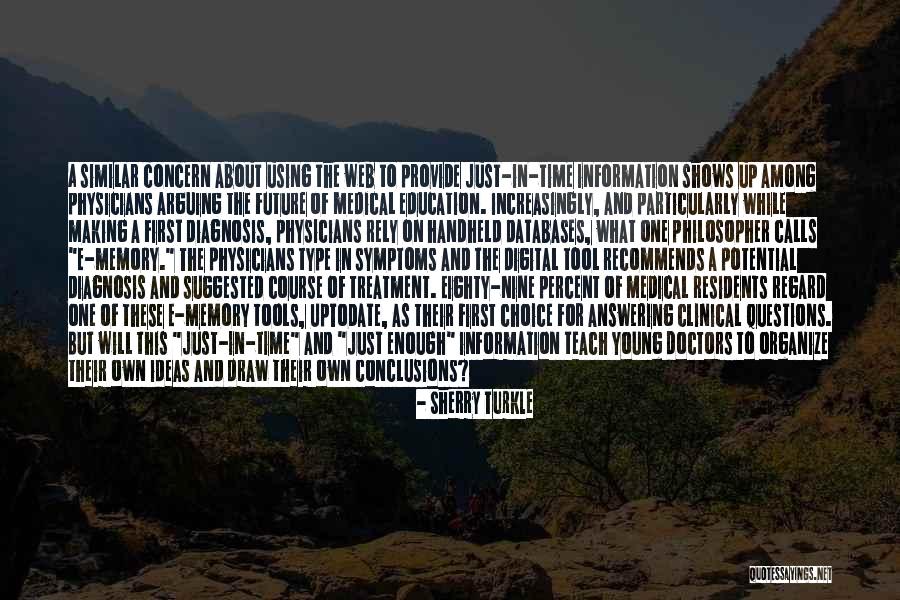 A similar concern about using the web to provide just-in-time information shows up among physicians arguing the future of medical education. Increasingly, and particularly while making a first diagnosis, physicians rely on handheld databases, what one philosopher calls "E-memory." The physicians type in symptoms and the digital tool recommends a potential diagnosis and suggested course of treatment. Eighty-nine percent of medical residents regard one of these E-memory tools, UpToDate, as their first choice for answering clinical questions. But will this "just-in-time" and "just enough" information teach young doctors to organize their own ideas and draw their own conclusions? — Sherry Turkle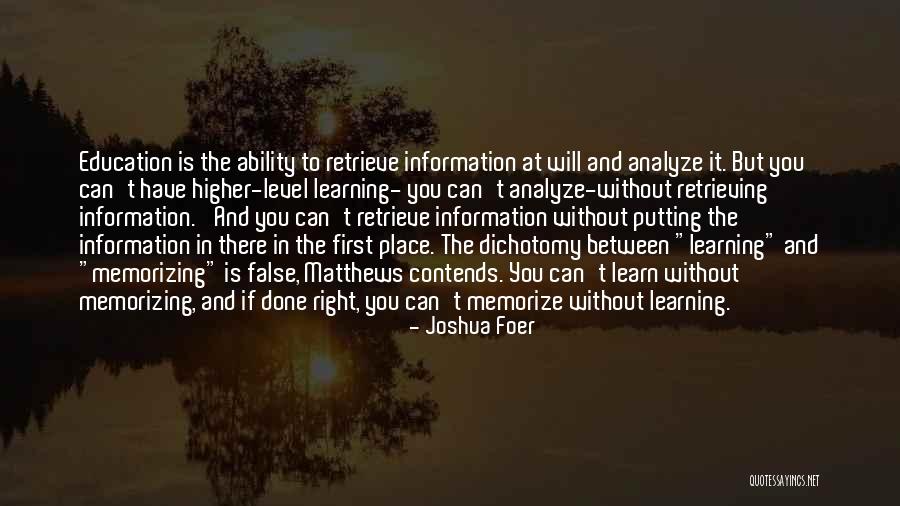 Education is the ability to retrieve information at will and analyze it. But you can't have higher-level learning- you can't analyze-without retrieving information.' And you can't retrieve information without putting the information in there in the first place. The dichotomy between "learning" and "memorizing" is false, Matthews contends. You can't learn without memorizing, and if done right, you can't memorize without learning. — Joshua Foer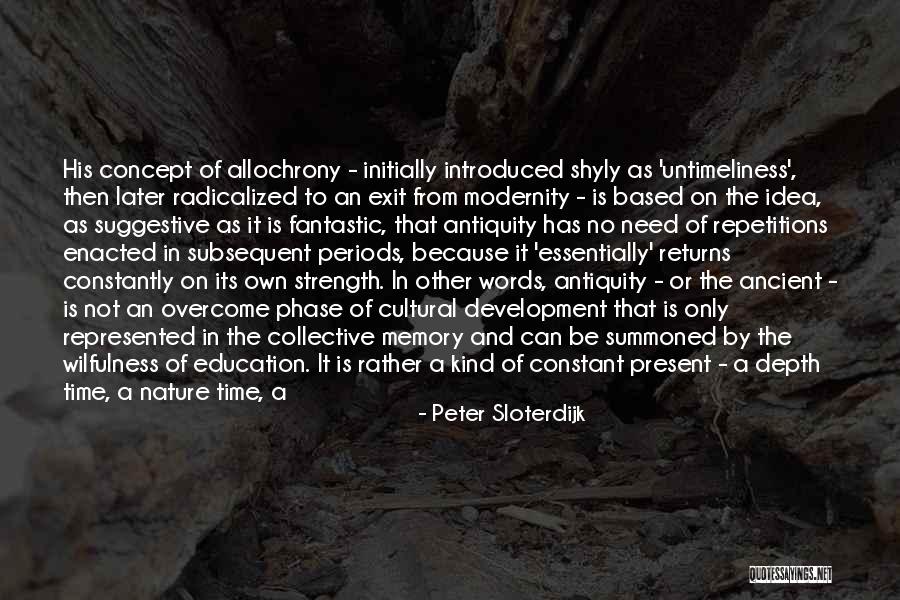 His concept of allochrony - initially introduced shyly as 'untimeliness', then later radicalized to an exit from modernity - is based on the idea, as suggestive as it is fantastic, that antiquity has no need of repetitions enacted in subsequent periods, because it 'essentially' returns constantly on its own strength. In other words, antiquity - or the ancient - is not an overcome phase of cultural development that is only represented in the collective memory and can be summoned by the wilfulness of education. It is rather a kind of constant present - a depth time, a nature time, a time of being - that continues underneath the theatre of memory and innovation that occupies cultural time. — Peter Sloterdijk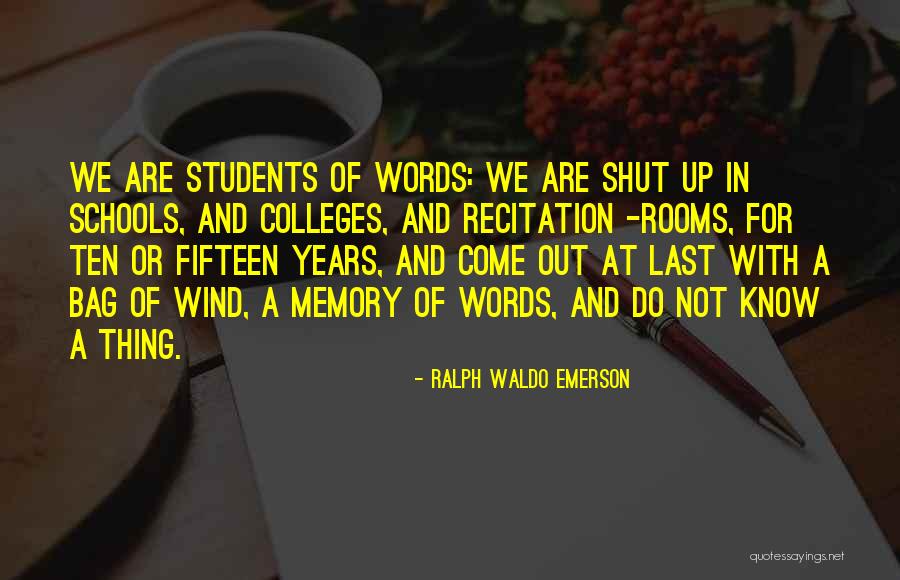 We are students of words: we are shut up in schools, and colleges, and recitation -rooms, for ten or fifteen years, and come out at last with a bag of wind, a memory of words, and do not know a thing. — Ralph Waldo Emerson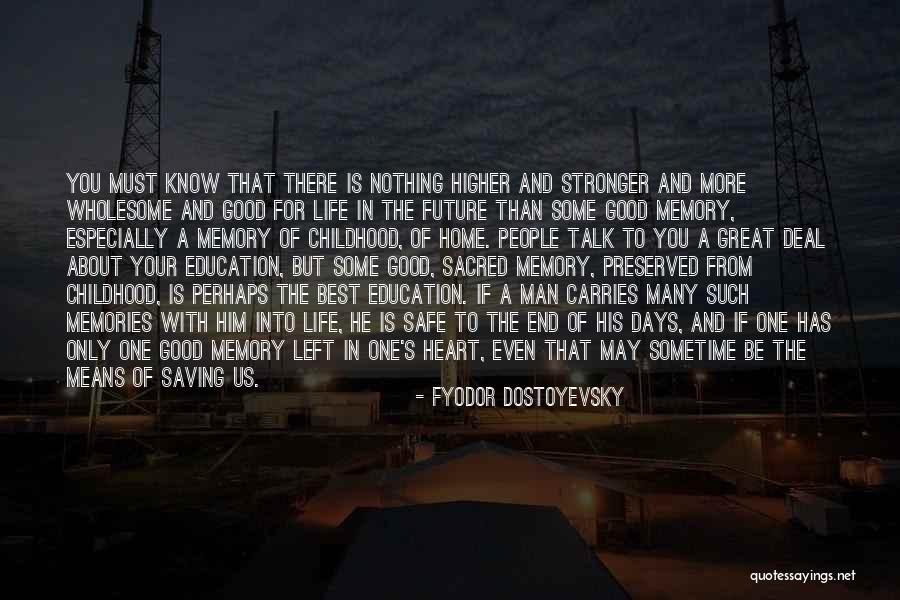 You must know that there is nothing higher and stronger and more wholesome and good for life in the future than some good memory, especially a memory of childhood, of home. People talk to you a great deal about your education, but some good, sacred memory, preserved from childhood, is perhaps the best education. If a man carries many such memories with him into life, he is safe to the end of his days, and if one has only one good memory left in one's heart, even that may sometime be the means of saving us. — Fyodor Dostoyevsky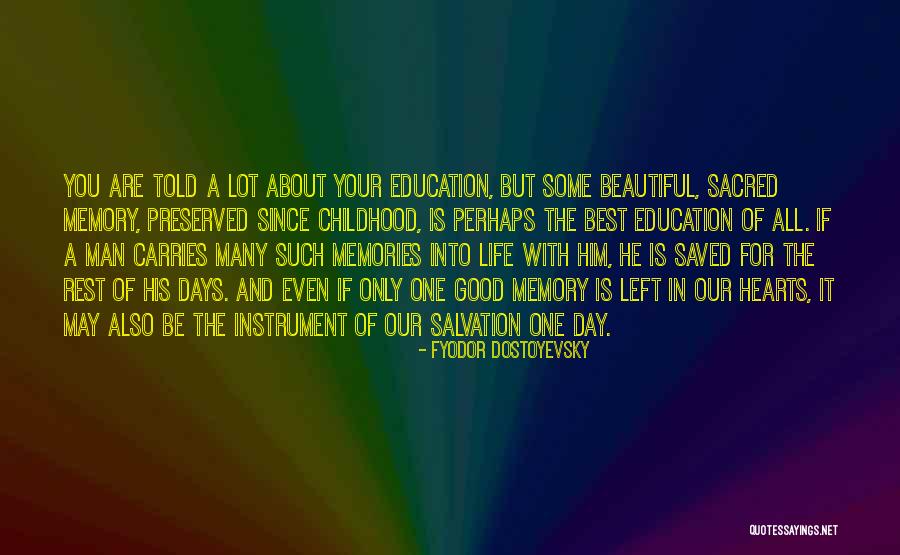 You are told a lot about your education, but some beautiful, sacred memory, preserved since childhood, is perhaps the best education of all. If a man carries many such memories into life with him, he is saved for the rest of his days. And even if only one good memory is left in our hearts, it may also be the instrument of our salvation one day. — Fyodor Dostoyevsky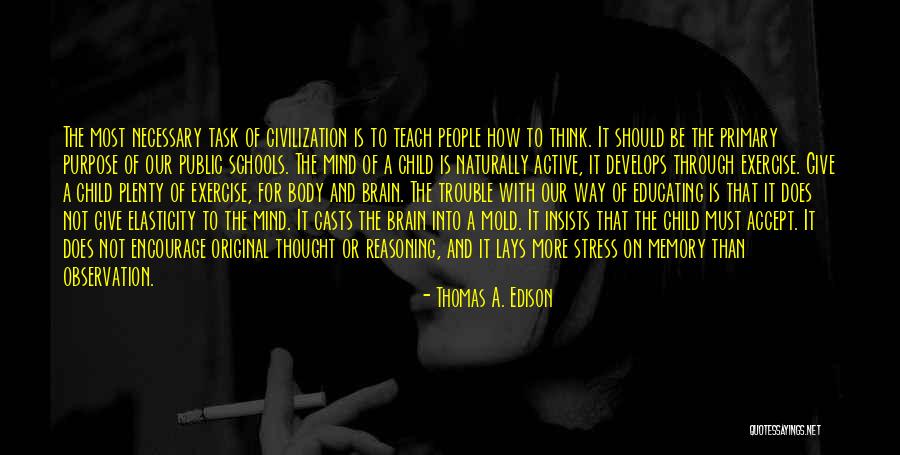 The most necessary task of civilization is to teach people how to think. It should be the primary purpose of our public schools. The mind of a child is naturally active, it develops through exercise. Give a child plenty of exercise, for body and brain. The trouble with our way of educating is that it does not give elasticity to the mind. It casts the brain into a mold. It insists that the child must accept. It does not encourage original thought or reasoning, and it lays more stress on memory than observation. — Thomas A. Edison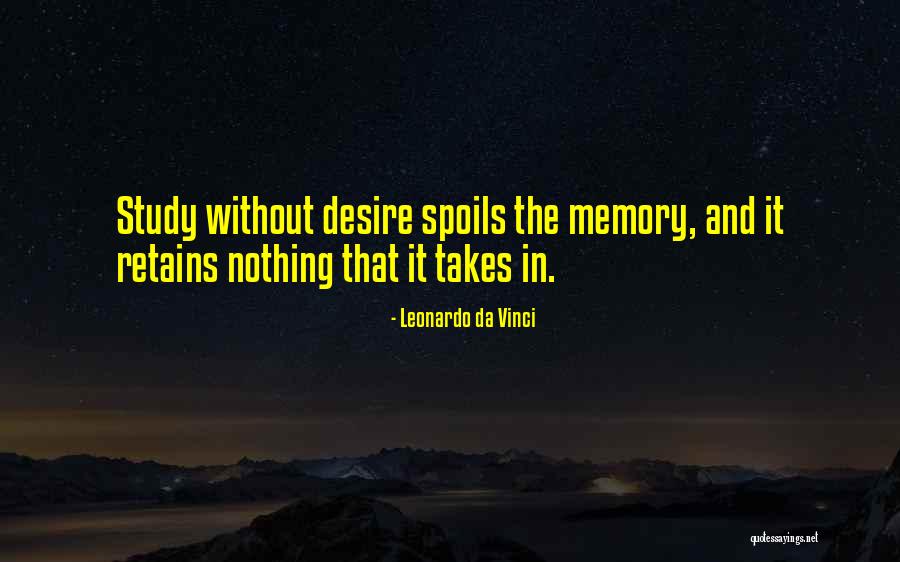 Study without desire spoils the memory, and it retains nothing that it takes in. — Leonardo Da Vinci