Memorable Moment Quotes & Sayings
Enjoy reading and share 35 famous quotes about Memorable Moment with everyone.
Top Memorable Moment Quotes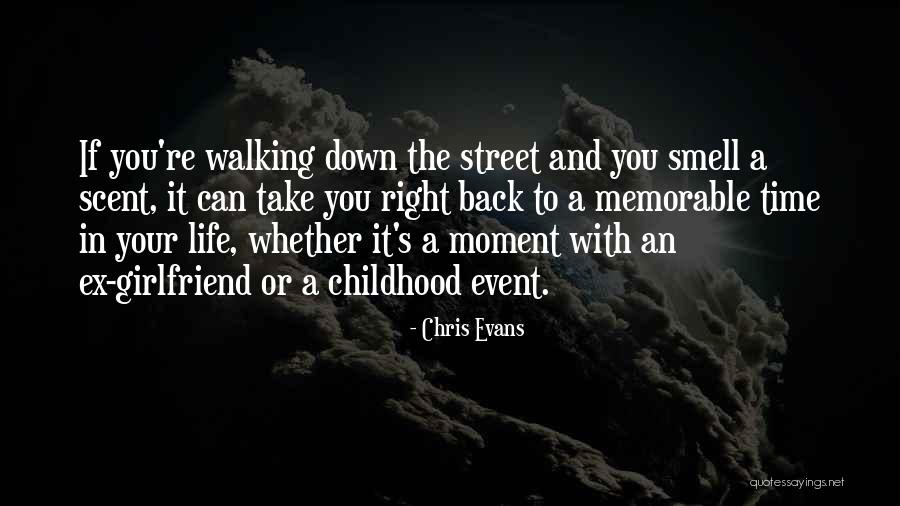 If you're walking down the street and you smell a scent, it can take you right back to a memorable time in your life, whether it's a moment with an ex-girlfriend or a childhood event. — Chris Evans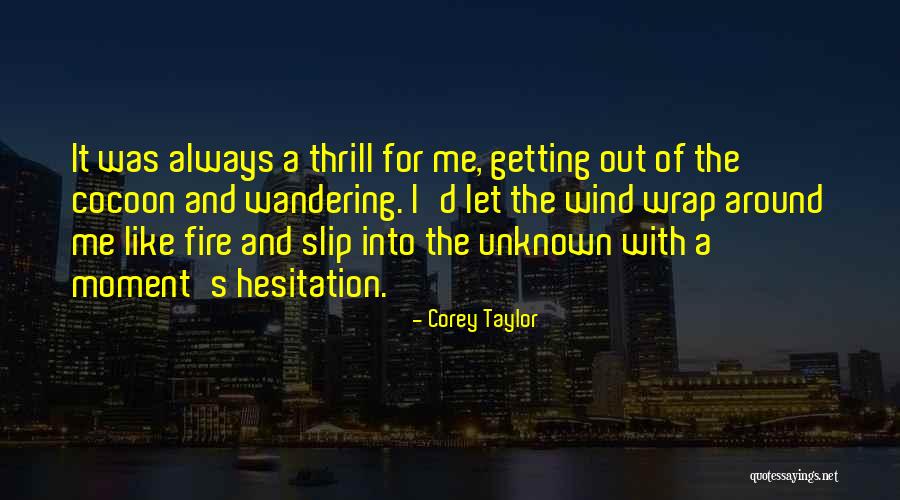 It was always a thrill for me, getting out of the cocoon and wandering. I'd let the wind wrap around me like fire and slip into the unknown with a moment's hesitation. — Corey Taylor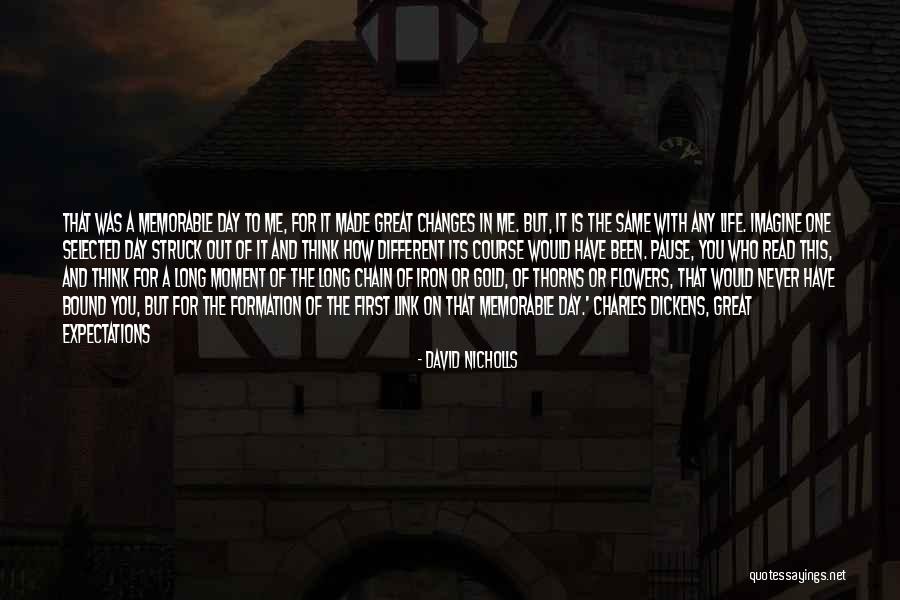 That was a memorable day to me, for it made great changes in me. But, it is the same with any life. Imagine one selected day struck out of it and think how different its course would have been. Pause, you who read this, and think for a long moment of the long chain of iron or gold, of thorns or flowers, that would never have bound you, but for the formation of the first link on that memorable day.' Charles Dickens, Great Expectations — David Nicholls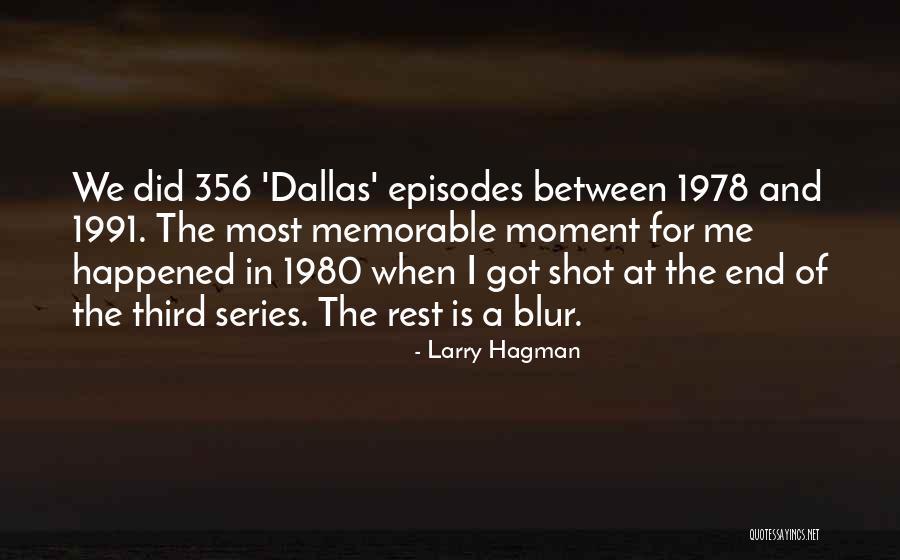 We did 356 'Dallas' episodes between 1978 and 1991. The most memorable moment for me happened in 1980 when I got shot at the end of the third series. The rest is a blur. — Larry Hagman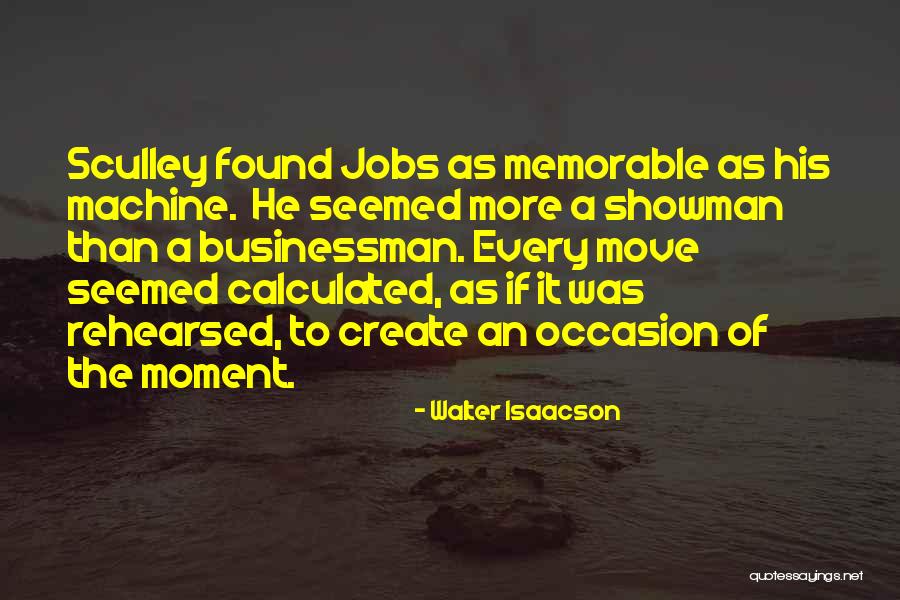 Sculley found Jobs as memorable as his machine. He seemed more a showman than a businessman. Every move seemed calculated, as if it was rehearsed, to create an occasion of the moment. — Walter Isaacson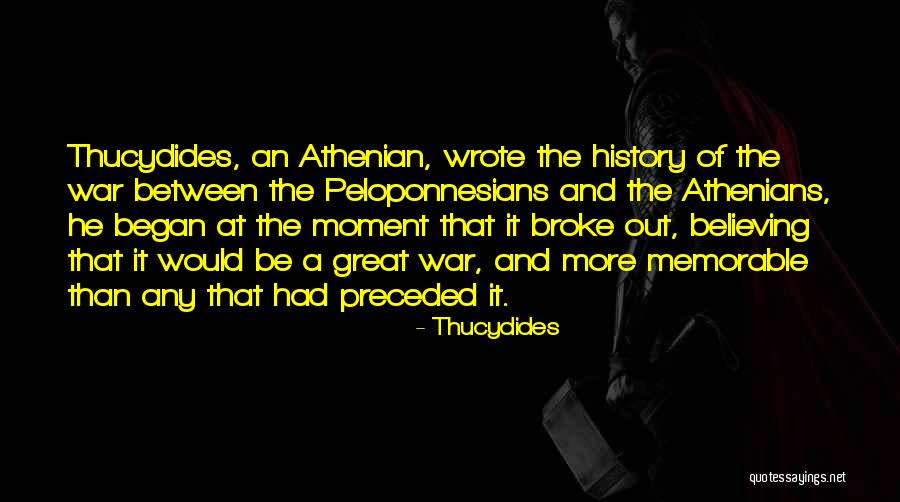 Thucydides, an Athenian, wrote the history of the war between the Peloponnesians and the Athenians, he began at the moment that it broke out, believing that it would be a great war, and more memorable than any that had preceded it. — Thucydides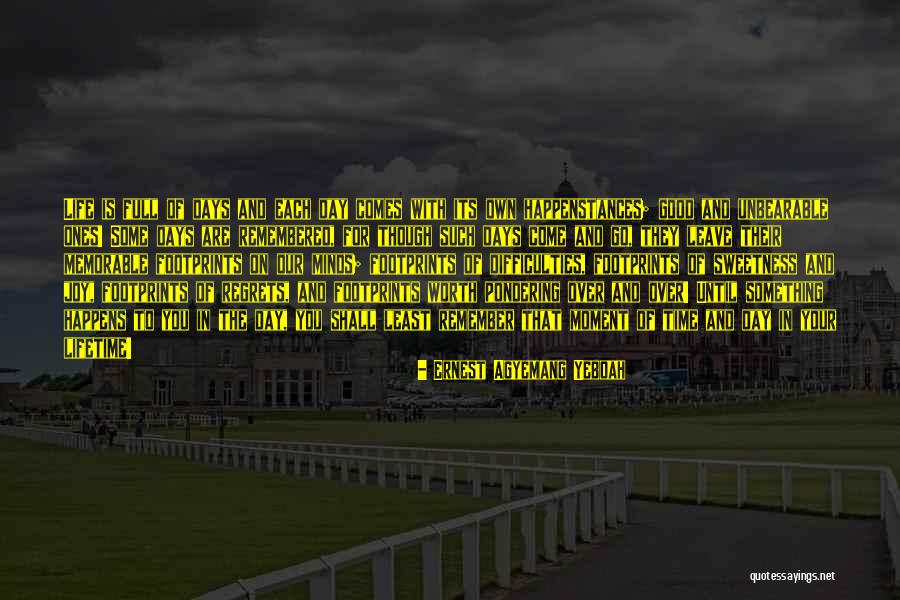 Life is full of days and each day comes with its own happenstances; good and unbearable ones! Some days are remembered, for though such days come and go, they leave their memorable footprints on our minds; footprints of difficulties, footprints of sweetness and joy, footprints of regrets, and footprints worth pondering over and over! Until something happens to you in the day, you shall least remember that moment of time and day in your lifetime! — Ernest Agyemang Yeboah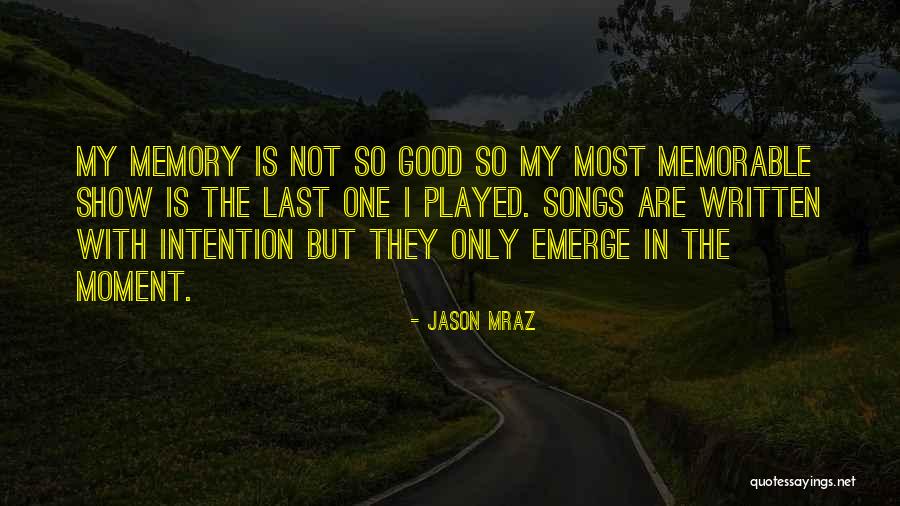 My memory is not so good so my most memorable show is the last one I played. Songs are written with intention but they only emerge in the moment. — Jason Mraz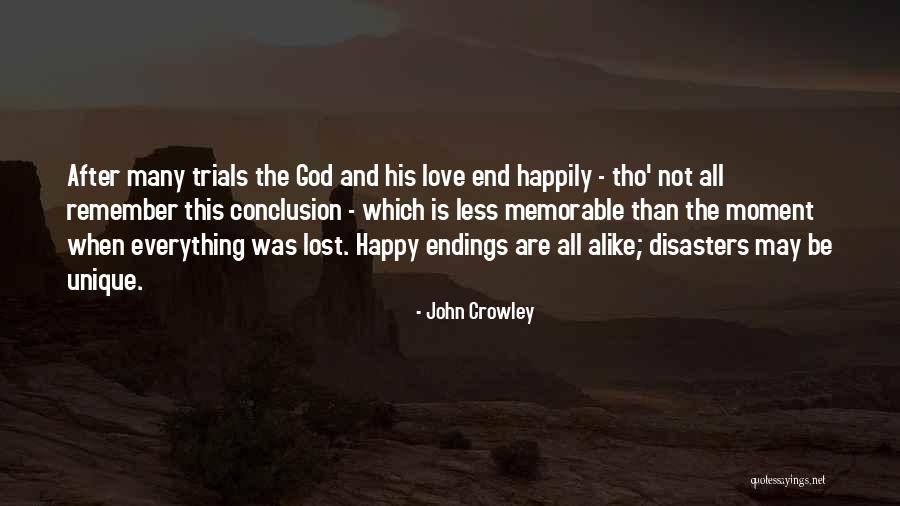 After many trials the God and his love end happily - tho' not all remember this conclusion - which is less memorable than the moment when everything was lost. Happy endings are all alike; disasters may be unique. — John Crowley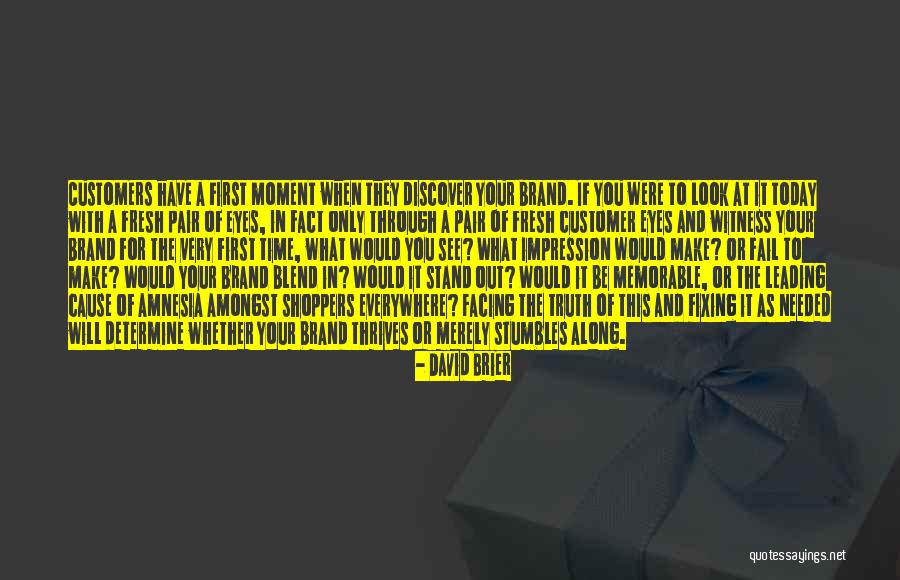 Customers have a first moment when they discover your brand. If you were to look at it today with a fresh pair of eyes, in fact only through a pair of fresh customer eyes and witness your brand for the very first time, what would you see? What impression would make? Or fail to make? Would your brand blend in? Would it stand out? Would it be memorable, or the leading cause of amnesia amongst shoppers everywhere? Facing the truth of this and fixing it as needed will determine whether your brand thrives or merely stumbles along. — David Brier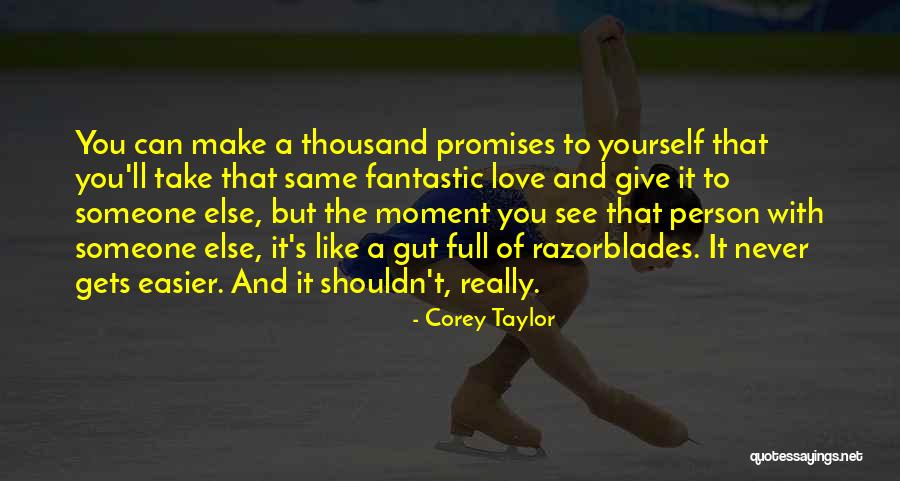 You can make a thousand promises to yourself that you'll take that same fantastic love and give it to someone else, but the moment you see that person with someone else, it's like a gut full of razorblades. It never gets easier. And it shouldn't, really. — Corey Taylor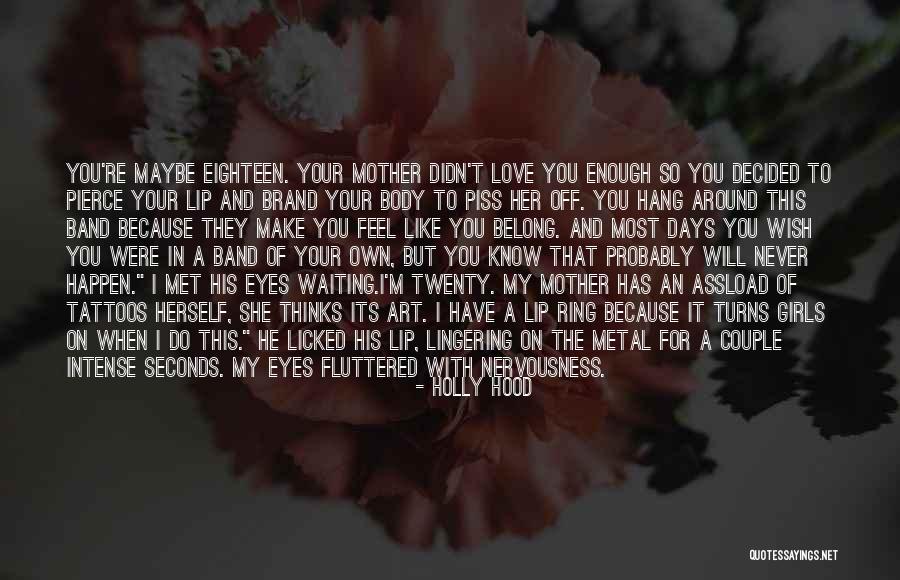 You're maybe eighteen. Your mother didn't love you enough so you decided to pierce your lip and brand your body to piss her off. You hang around this band because they make you feel like you belong. And most days you wish you were in a band of your own, but you know that probably will never happen." I met his eyes waiting.
I'm twenty. my mother has an assload of tattoos herself, she thinks its art. I have a lip ring because it turns girls on when I do this." He licked his lip, lingering on the metal for a couple intense seconds. My eyes fluttered with nervousness. — Holly Hood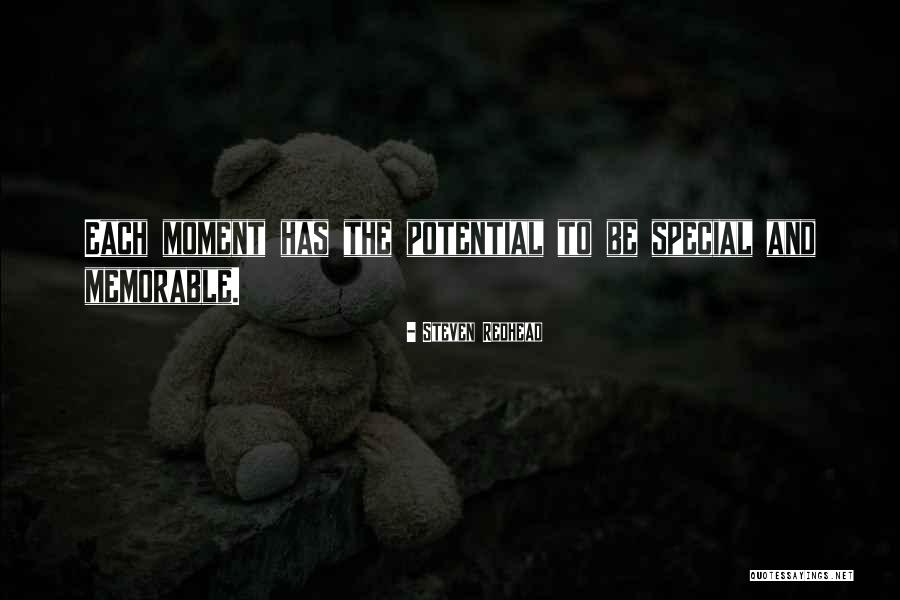 Each moment has the potential to be special and memorable. — Steven Redhead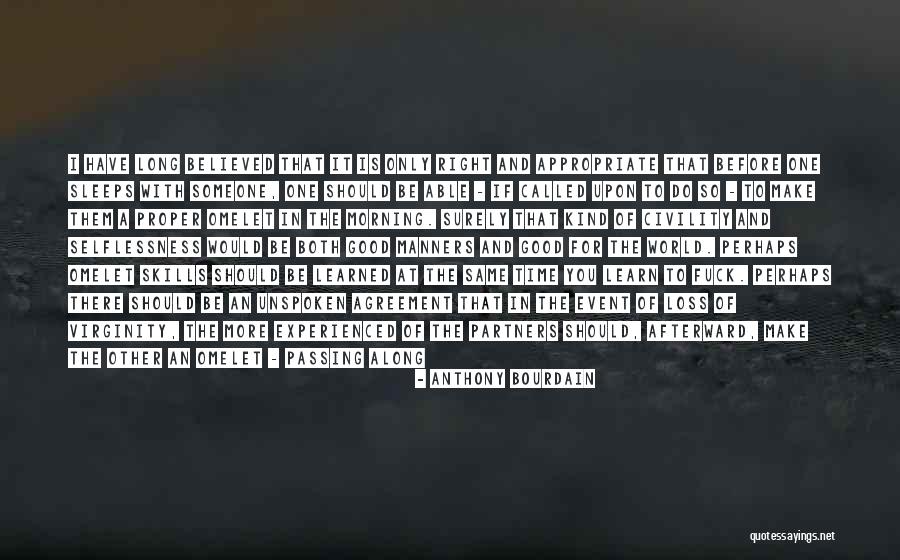 I have long believed that it is only right and appropriate that before one sleeps with someone, one should be able - if called upon to do so - to make them a proper omelet in the morning. Surely that kind of civility and selflessness would be both good manners and good for the world. Perhaps omelet skills should be learned at the same time you learn to fuck. Perhaps there should be an unspoken agreement that in the event of loss of virginity, the more experienced of the partners should, afterward, make the other an omelet - passing along the skill at an important and presumably memorable moment. — Anthony Bourdain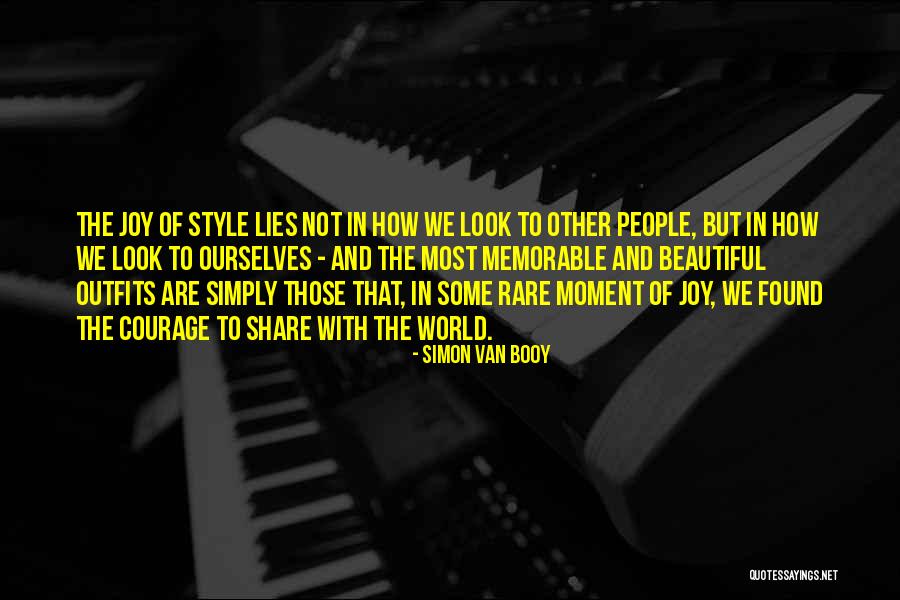 The joy of style lies not in how we look to other people, but in how we look to ourselves - and the most memorable and beautiful outfits are simply those that, in some rare moment of joy, we found the courage to share with the world. — Simon Van Booy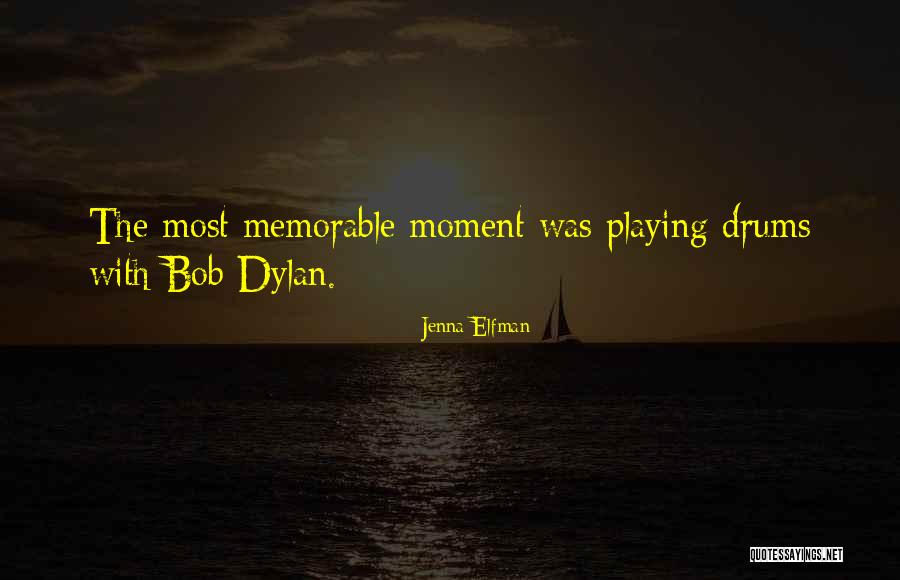 The most memorable moment was playing drums with Bob Dylan. — Jenna Elfman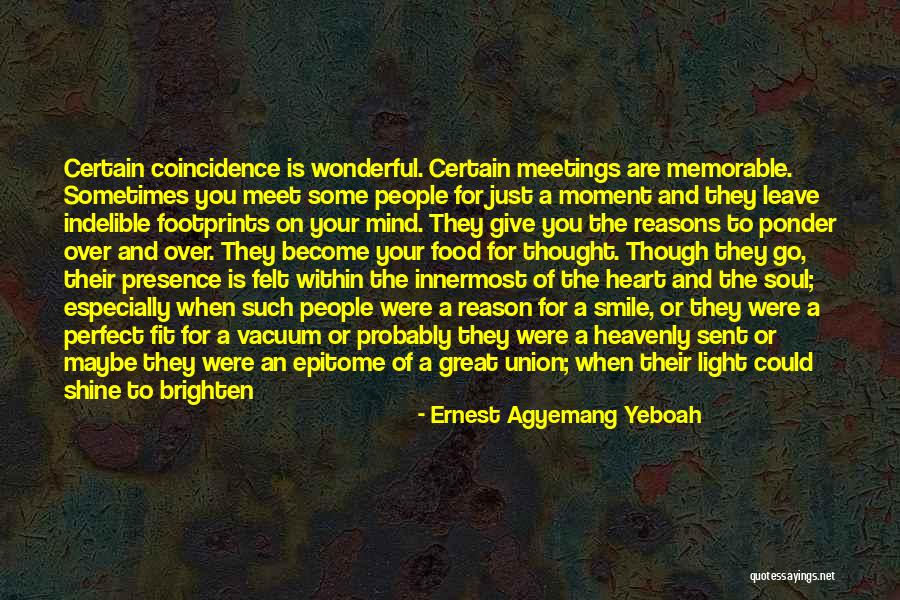 Certain coincidence is wonderful. Certain meetings are memorable. Sometimes you meet some people for just a moment and they leave indelible footprints on your mind. They give you the reasons to ponder over and over. They become your food for thought. Though they go, their presence is felt within the innermost of the heart and the soul; especially when such people were a reason for a smile, or they were a perfect fit for a vacuum or probably they were a heavenly sent or maybe they were an epitome of a great union; when their light could shine to brighten the dark side of our lives; when they knew how to arouse interest even in the face of dull atmosphere; when they did understand silence and know the value and power of words; when even their absence is felt more than their presence. You can't just forget about such people. Though they leave, they live within our hearts, mind, body and soul. — Ernest Agyemang Yeboah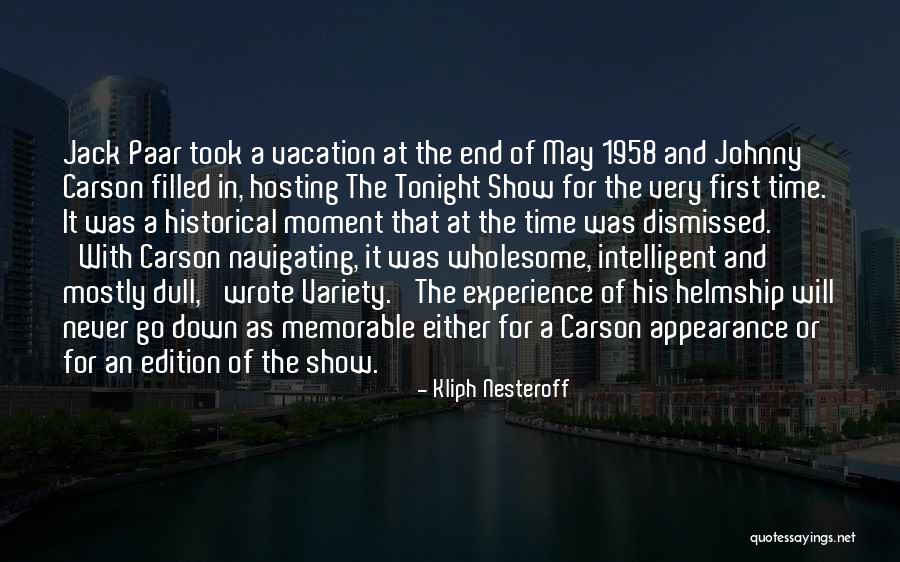 Jack Paar took a vacation at the end of May 1958 and Johnny Carson filled in, hosting The Tonight Show for the very first time. It was a historical moment that at the time was dismissed. 'With Carson navigating, it was wholesome, intelligent and mostly dull,' wrote Variety. 'The experience of his helmship will never go down as memorable either for a Carson appearance or for an edition of the show. — Kliph Nesteroff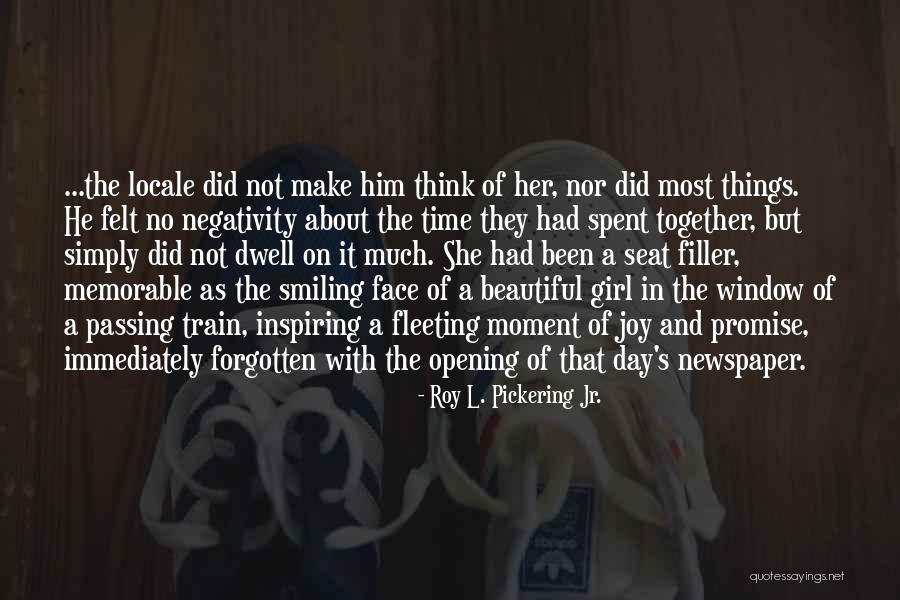 ...the locale did not make him think of her, nor did most things. He felt no negativity about the time they had spent together, but simply did not dwell on it much. She had been a seat filler, memorable as the smiling face of a beautiful girl in the window of a passing train, inspiring a fleeting moment of joy and promise, immediately forgotten with the opening of that day's newspaper. — Roy L. Pickering Jr.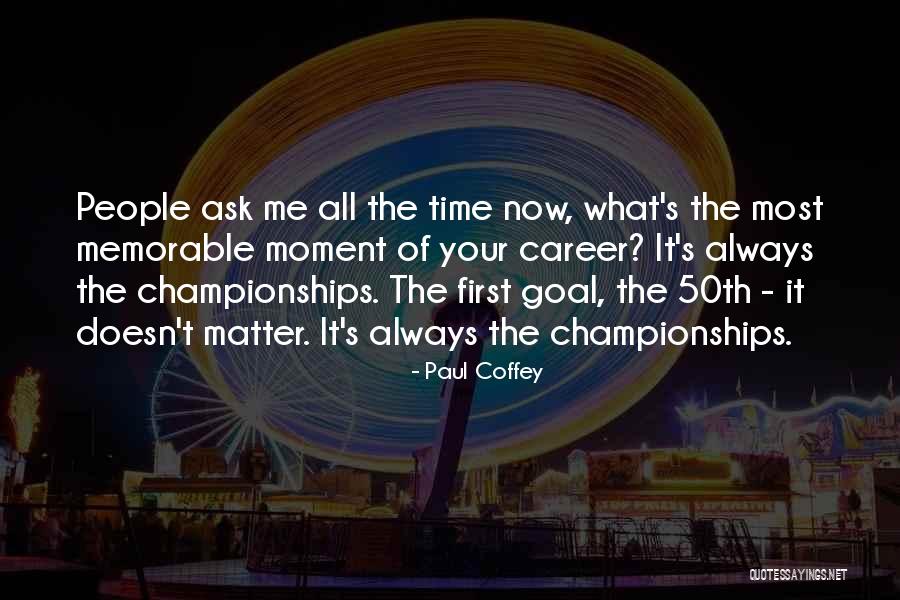 People ask me all the time now, what's the most memorable moment of your career? It's always the championships. The first goal, the 50th - it doesn't matter. It's always the championships. — Paul Coffey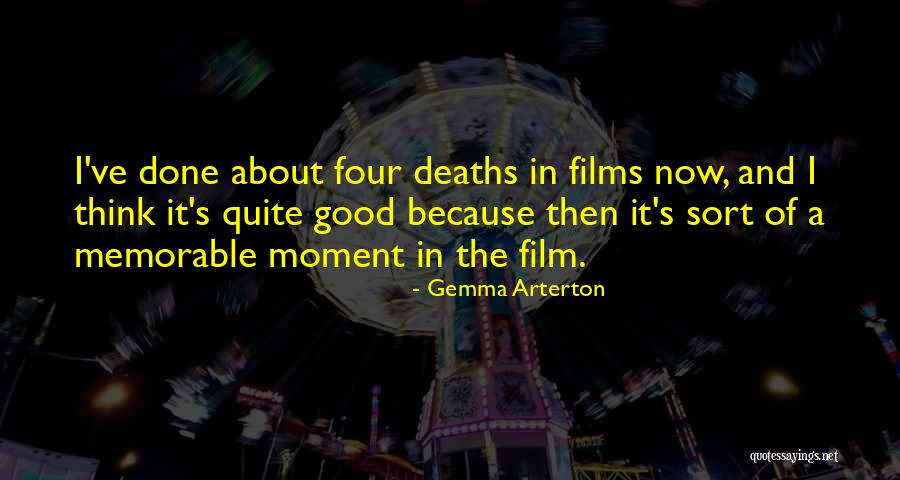 I've done about four deaths in films now, and I think it's quite good because then it's sort of a memorable moment in the film. — Gemma Arterton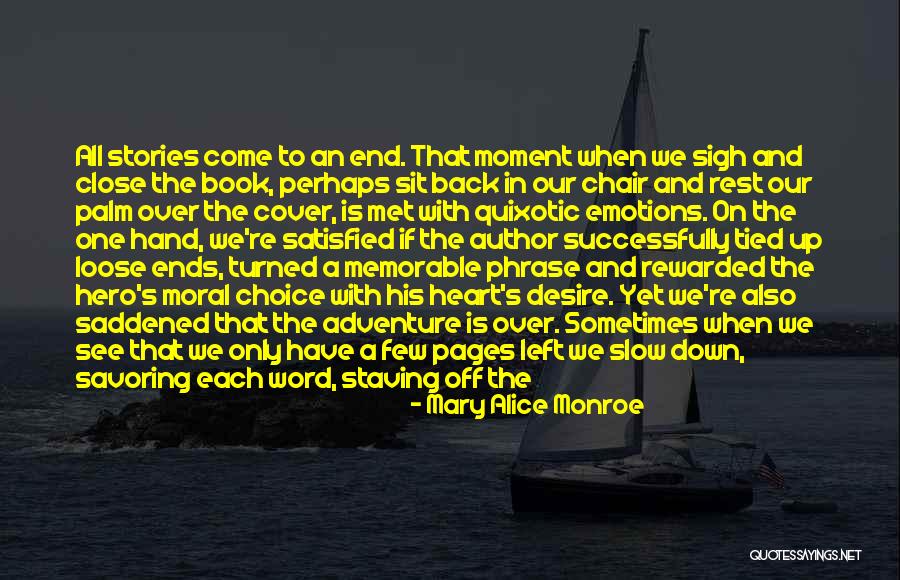 All stories come to an end. That moment when we sigh and close the book, perhaps sit back in our chair and rest our palm over the cover, is met with quixotic emotions. On the one hand, we're satisfied if the author successfully tied up loose ends, turned a memorable phrase and rewarded the hero's moral choice with his heart's desire. Yet we're also saddened that the adventure is over. Sometimes when we see that we only have a few pages left we slow down, savoring each word, staving off the — Mary Alice Monroe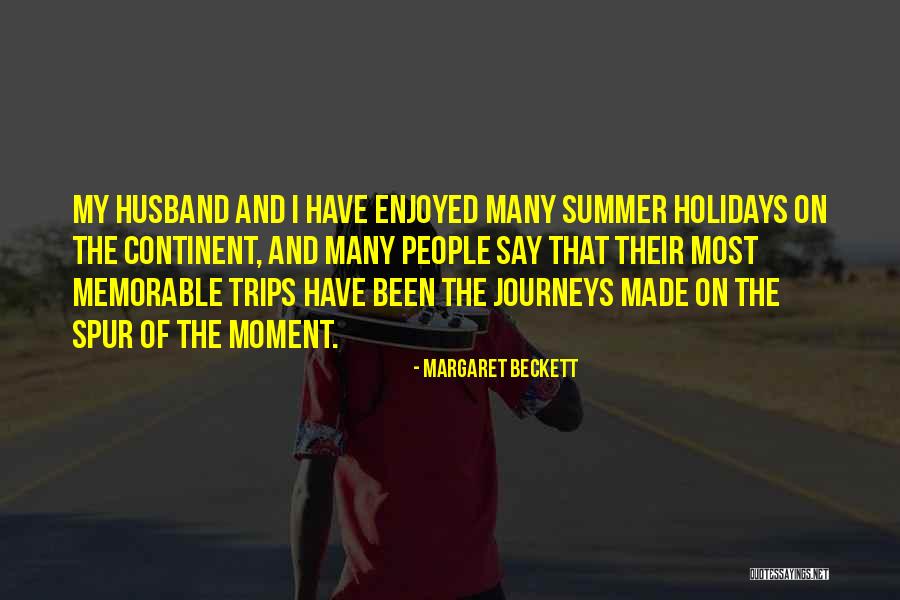 My husband and I have enjoyed many summer holidays on the Continent, and many people say that their most memorable trips have been the journeys made on the spur of the moment. — Margaret Beckett
Self-love is not the process of ignoring things, paying attention to fewer flaws or forcing yourself to look away from the parts of you that you perceive as ugly or unwanted. Self-love is the process of expanding your awareness, of seeing those flaws and imperfections alongside the incredible potential of the universe flowing within you, alongside the eternal truth of life flowing within your veins in each second, alongside the flickers of creativity and opportunity present within each moment of your existence. Like this, the imperfections persist, but only as lovable quirks, like a bad doorknob on the front door of a cottage in paradise, like a few thorns on a beautiful rose, like a cloud in a sunset. Like this, what was once unwanted becomes essential, memorable, humbling. — Vironika Tugaleva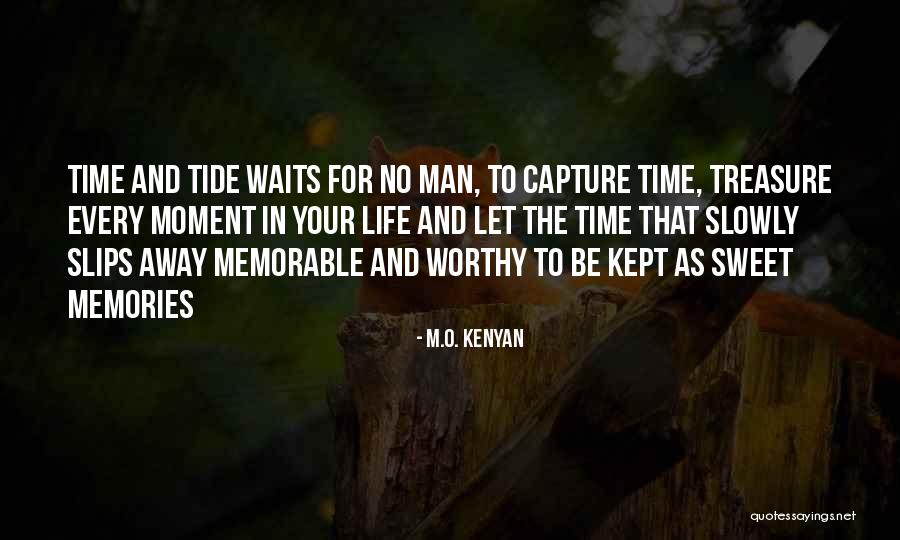 Time and tide waits for no man, to capture time, treasure every moment in your life and let the time that slowly slips away memorable and worthy to be kept as sweet memories — M.O. Kenyan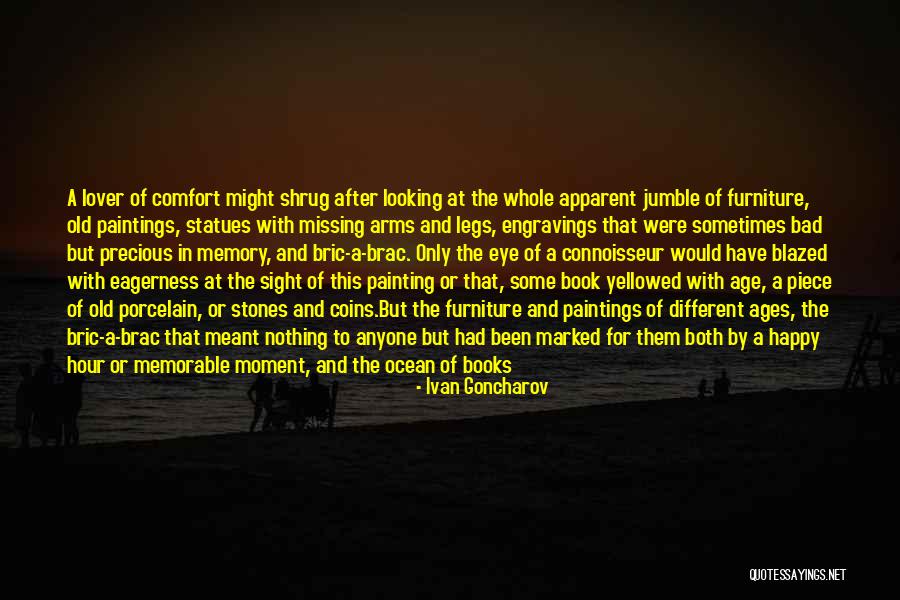 A lover of comfort might shrug after looking at the whole apparent jumble of furniture, old paintings, statues with missing arms and legs, engravings that were sometimes bad but precious in memory, and bric-a-brac. Only the eye of a connoisseur would have blazed with eagerness at the sight of this painting or that, some book yellowed with age, a piece of old porcelain, or stones and coins.
But the furniture and paintings of different ages, the bric-a-brac that meant nothing to anyone but had been marked for them both by a happy hour or memorable moment, and the ocean of books and sheet music breathed a warm life that oddly stimulated the mind and aesthetic sense. Present everywhere was vigilant thought. The beauty of human effort shone here, just as the eternal beauty of nature shone all around.
pp. 492-493 — Ivan Goncharov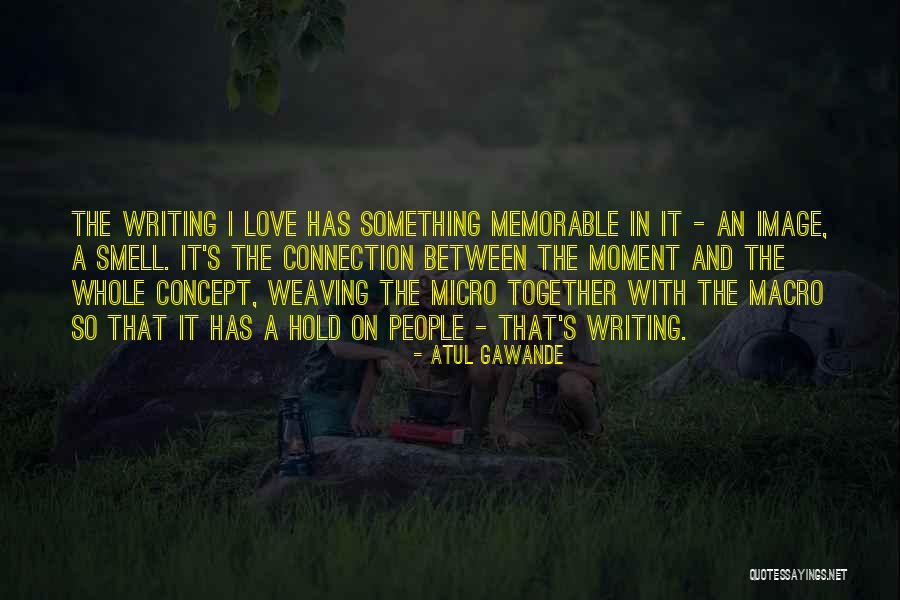 The writing I love has something memorable in it - an image, a smell. It's the connection between the moment and the whole concept, weaving the micro together with the macro so that it has a hold on people - that's writing. — Atul Gawande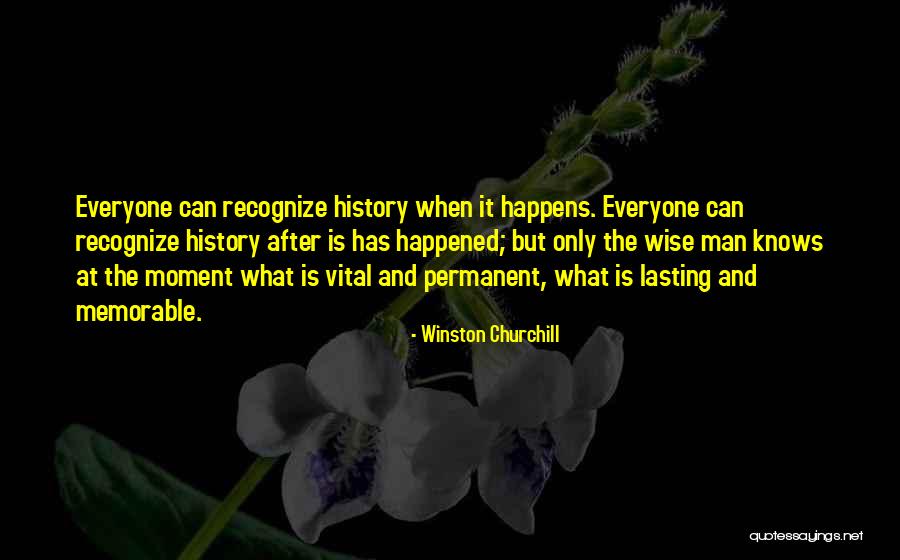 Everyone can recognize history when it happens. Everyone can recognize history after is has happened; but only the wise man knows at the moment what is vital and permanent, what is lasting and memorable. — Winston Churchill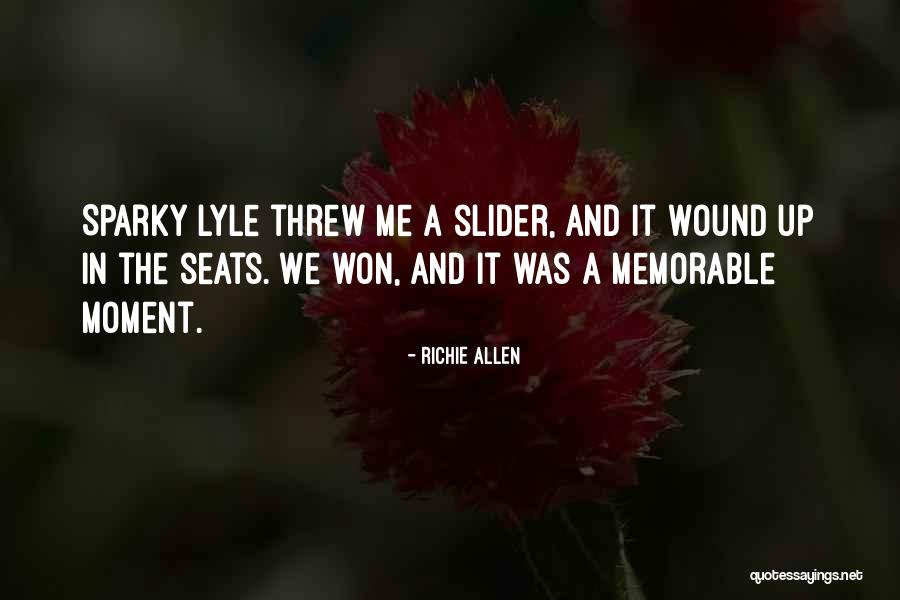 Sparky Lyle threw me a slider, and it wound up in the seats. We won, and it was a memorable moment. — Richie Allen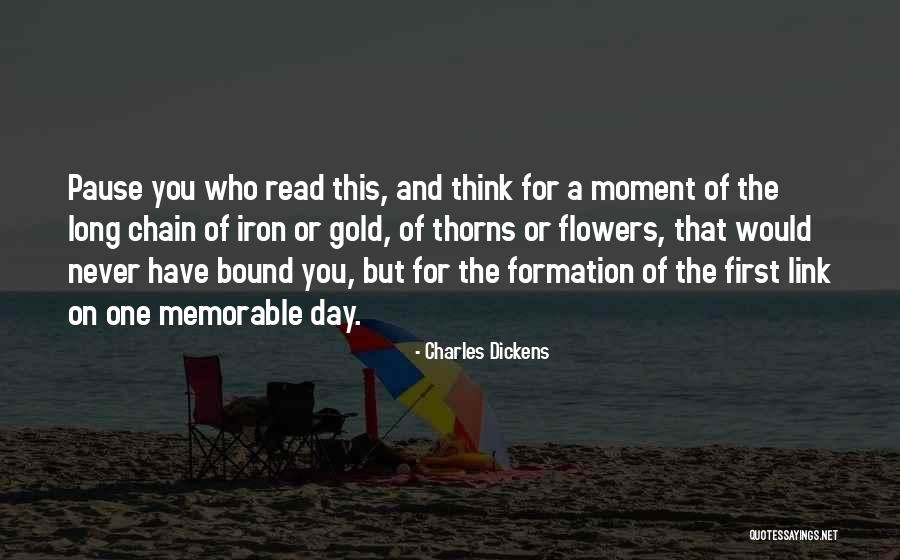 Pause you who read this, and think for a moment of the long chain of iron or gold, of thorns or flowers, that would never have bound you, but for the formation of the first link on one memorable day. — Charles Dickens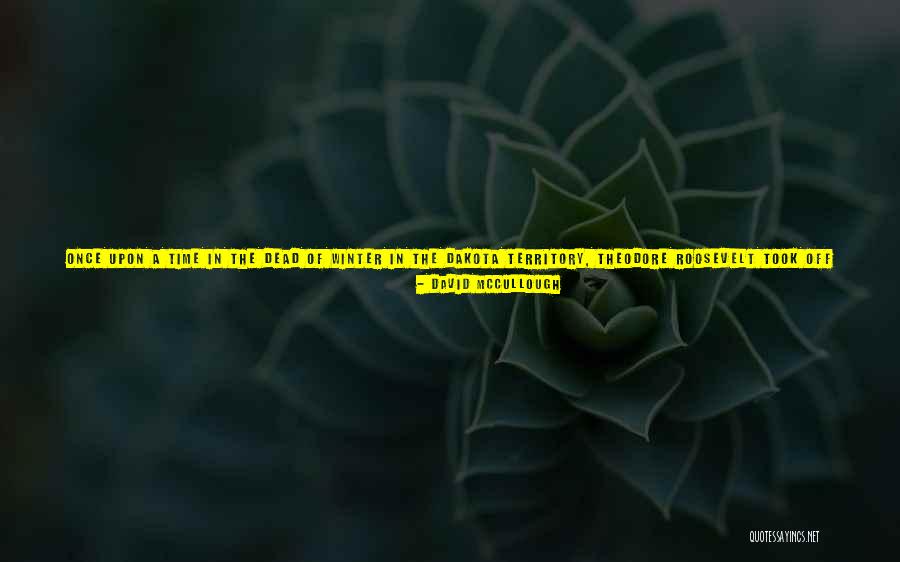 Once upon a time in the dead of winter in the Dakota Territory, Theodore Roosevelt took off in a makeshift boat down the Little Missouri River in pursuit of a couple of thieves who had stolen his prized rowboat. After several days on the river, he caught up and got the draw on them with his trusty Winchester, at which point they surrendered. Then Roosevelt set off in a borrowed wagon to haul the thieves cross-country to justice. They headed across the snow-covered wastes of the Badlands to the railhead at Dickinson, and Roosevelt walked the whole way, the entire 40 miles. It was an astonishing feat, what might be called a defining moment in Roosevelt's eventful life. But what makes it especially memorable is that during that time, he managed to read all of Anna Karenina. I often think of that when I hear people say they haven't time to read. — David McCullough
Photographs may be more memorable than moving images, because they are a neat slice of time, not a flow. Each still photograph is a privileged moment turned into a slim object that one can keep and look at again. — Susan Sontag