Quotes & Sayings About Meeting You For The First Time
Enjoy reading and share 34 famous quotes about Meeting You For The First Time with everyone.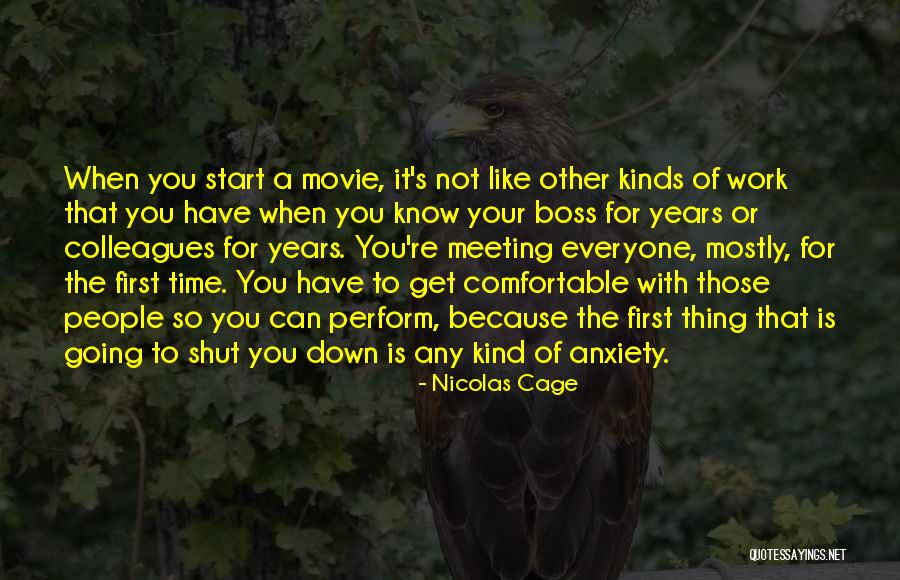 When you start a movie, it's not like other kinds of work that you have when you know your boss for years or colleagues for years. You're meeting everyone, mostly, for the first time. You have to get comfortable with those people so you can perform, because the first thing that is going to shut you down is any kind of anxiety. — Nicolas Cage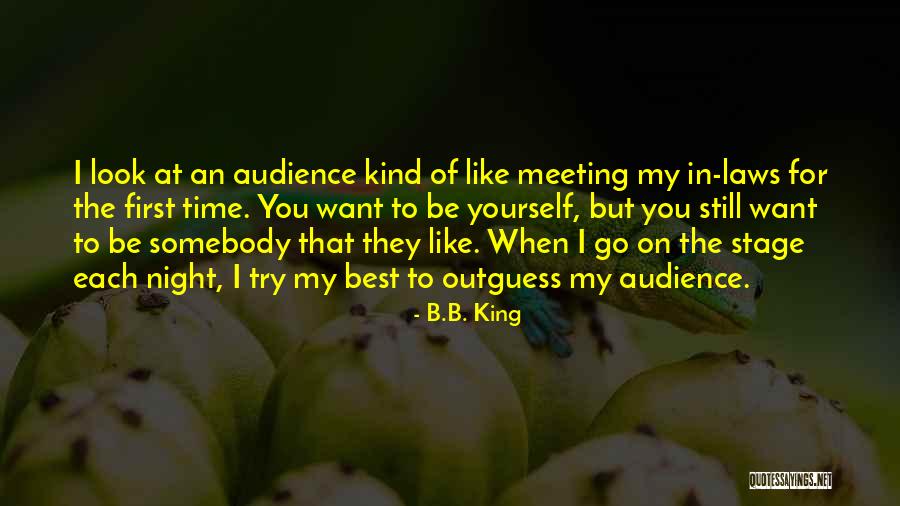 I look at an audience kind of like meeting my in-laws for the first time. You want to be yourself, but you still want to be somebody that they like. When I go on the stage each night, I try my best to outguess my audience. — B.B. King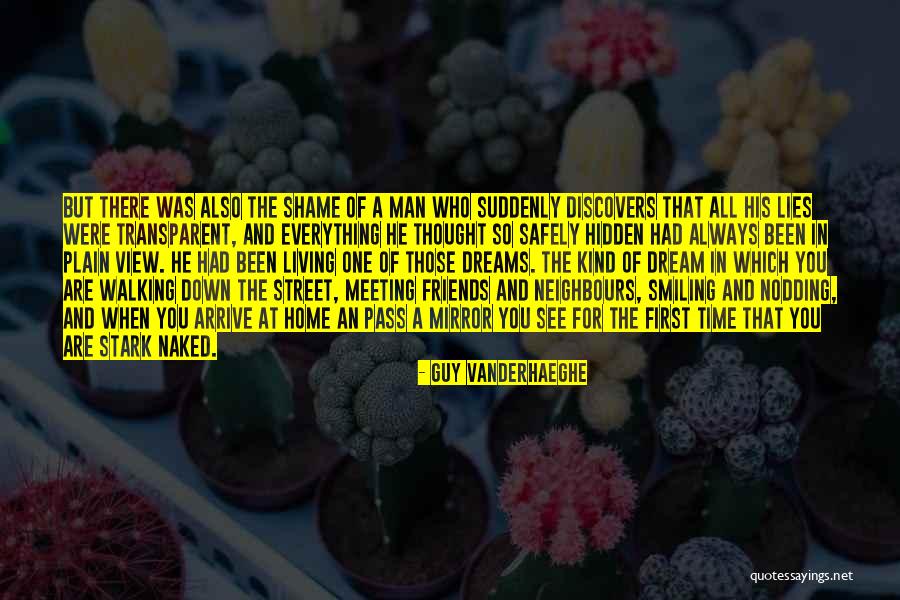 But there was also the shame of a man who suddenly discovers that all his lies were transparent, and everything he thought so safely hidden had always been in plain view. He had been living one of those dreams. The kind of dream in which you are walking down the street, meeting friends and neighbours, smiling and nodding, and when you arrive at home an pass a mirror you see for the first time that you are stark naked. — Guy Vanderhaeghe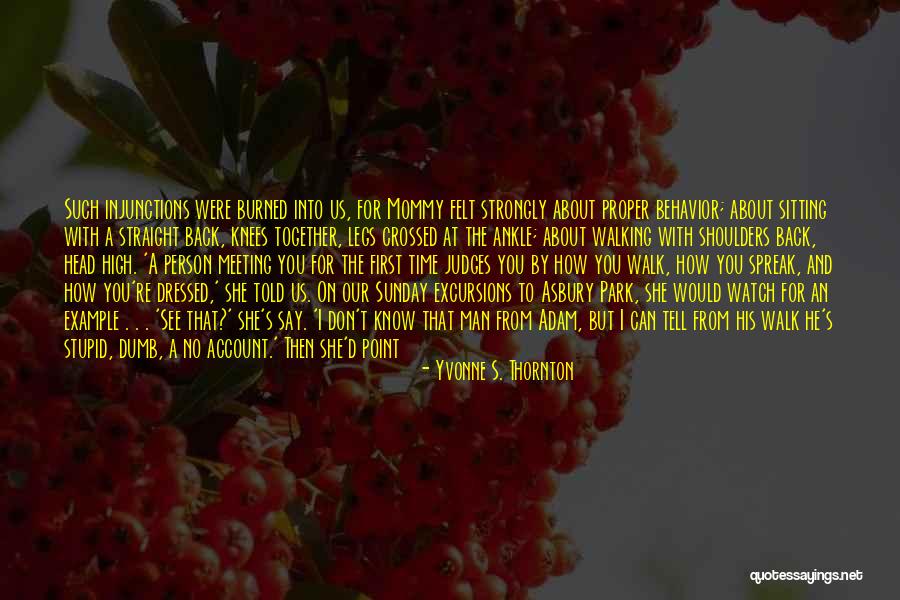 Such injunctions were burned into us, for Mommy felt strongly about proper behavior; about sitting with a straight back, knees together, legs crossed at the ankle; about walking with shoulders back, head high. 'A person meeting you for the first time judges you by how you walk, how you spreak, and how you're dressed,' she told us. On our Sunday excursions to Asbury Park, she would watch for an example . . . 'See that?' she's say. 'I don't know that man from Adam, but I can tell from his walk he's stupid, dumb, a no account.' Then she'd point to another man. 'I don't know him either, but that's an educated person. His back's straight, he's walking straight, not slumping and slouching and oozing along'. — Yvonne S. Thornton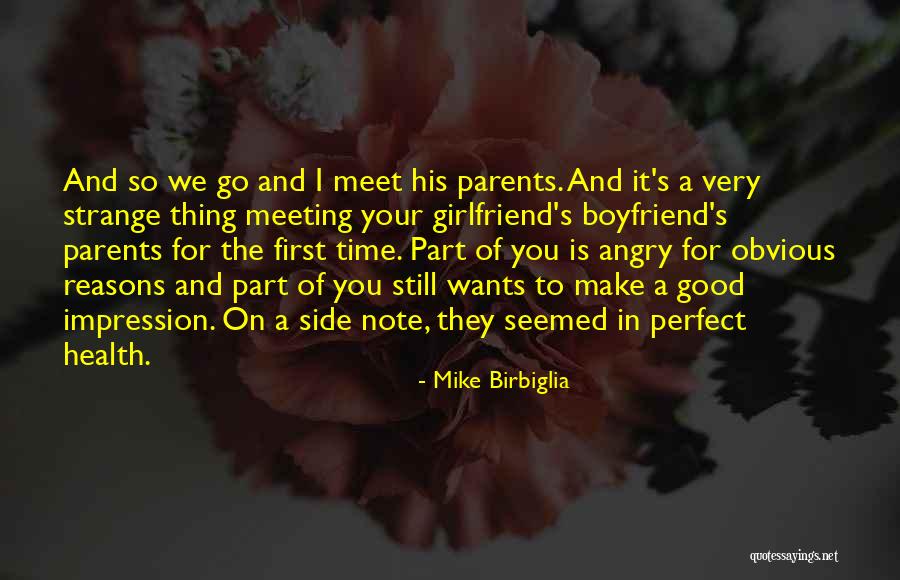 And so we go and I meet his parents. And it's a very strange thing meeting your girlfriend's boyfriend's parents for the first time. Part of you is angry for obvious reasons and part of you still wants to make a good impression. On a side note, they seemed in perfect health. — Mike Birbiglia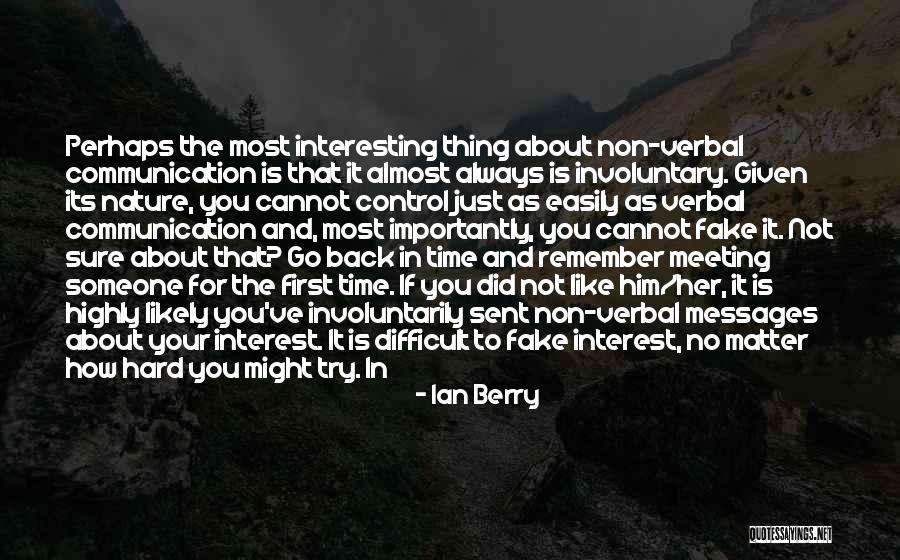 Perhaps the most interesting thing about non-verbal communication is that it almost always is involuntary. Given its nature, you cannot control just as easily as verbal communication and, most importantly, you cannot fake it. Not sure about that? Go back in time and remember meeting someone for the first time. If you did not like him/her, it is highly likely you've involuntarily sent non-verbal messages about your interest. It is difficult to fake interest, no matter how hard you might try. In — Ian Berry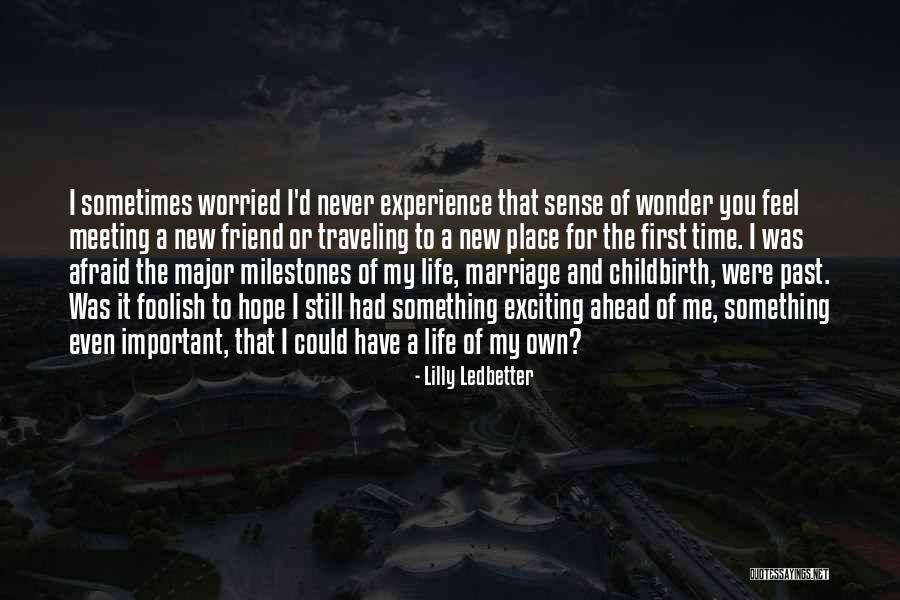 I sometimes worried I'd never experience that sense of wonder you feel meeting a new friend or traveling to a new place for the first time. I was afraid the major milestones of my life, marriage and childbirth, were past. Was it foolish to hope I still had something exciting ahead of me, something even important, that I could have a life of my own? — Lilly Ledbetter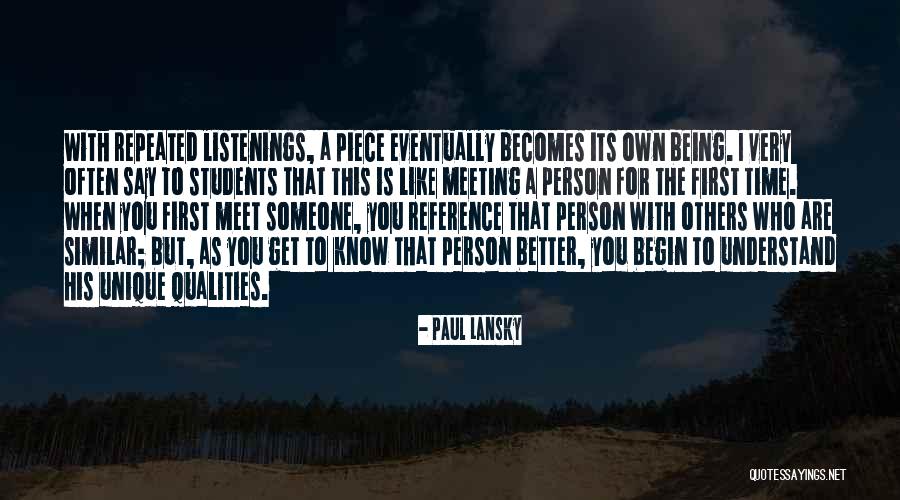 With repeated listenings, a piece eventually becomes its own being. I very often say to students that this is like meeting a person for the first time. When you first meet someone, you reference that person with others who are similar; but, as you get to know that person better, you begin to understand his unique qualities. — Paul Lansky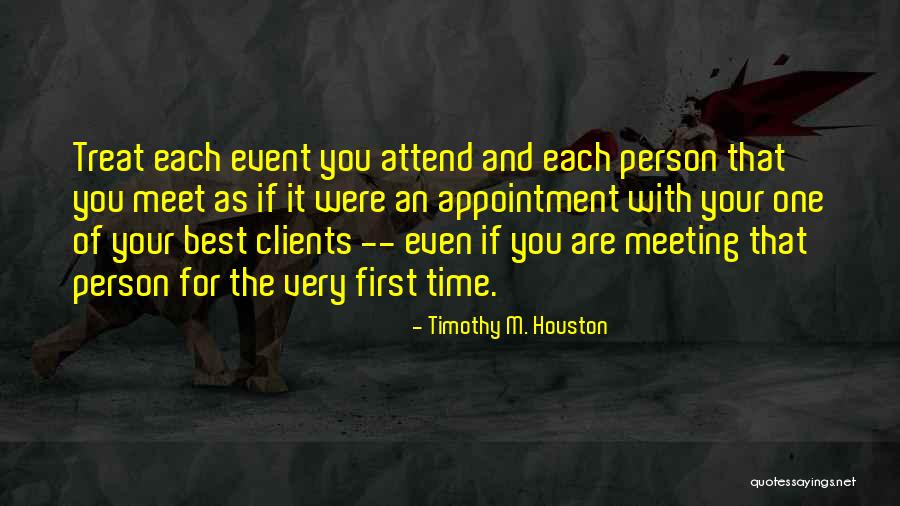 Treat each event you attend and each person that you meet as if it were an appointment with your one of your best clients -- even if you are meeting that person for the very first time. — Timothy M. Houston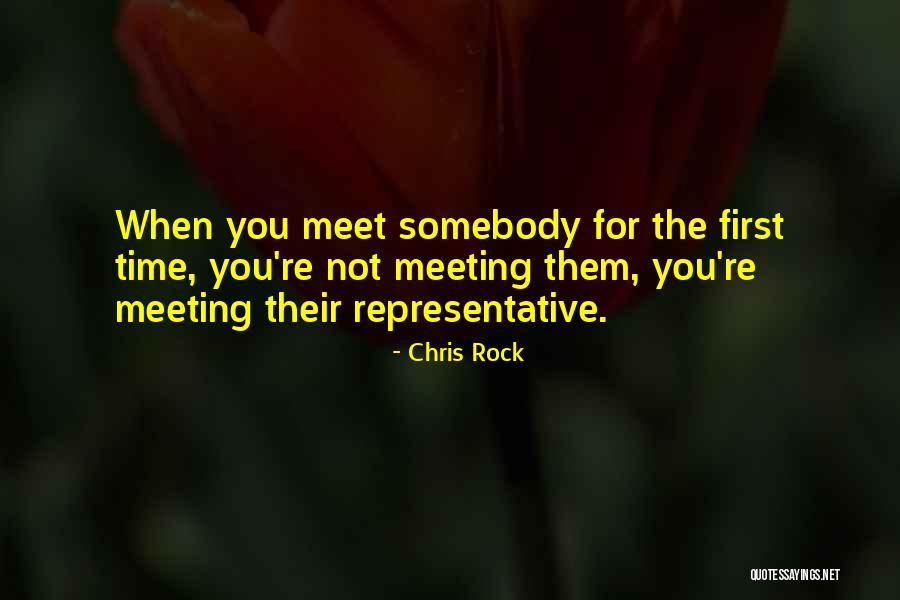 When you meet somebody for the first time, you're not meeting them, you're meeting their representative. — Chris Rock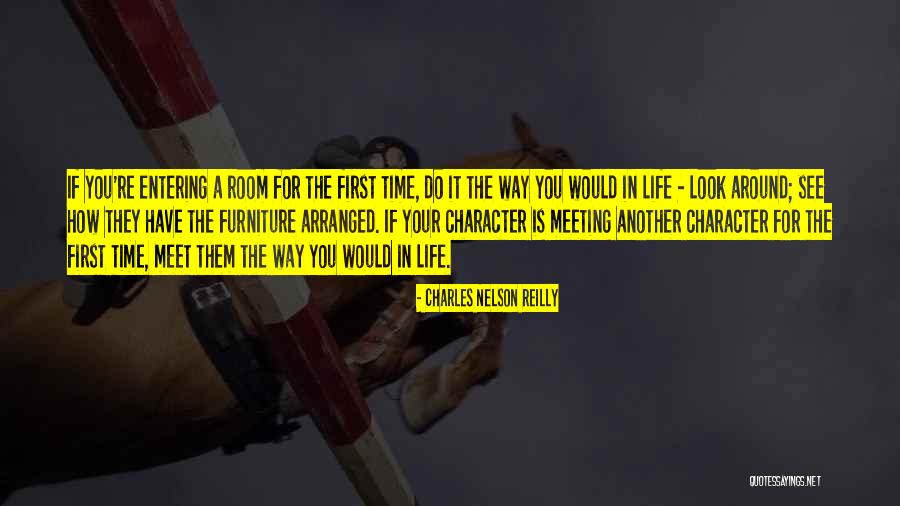 If you're entering a room for the first time, do it the way you would in life - look around; see how they have the furniture arranged. If your character is meeting another character for the first time, meet them the way you would in life. — Charles Nelson Reilly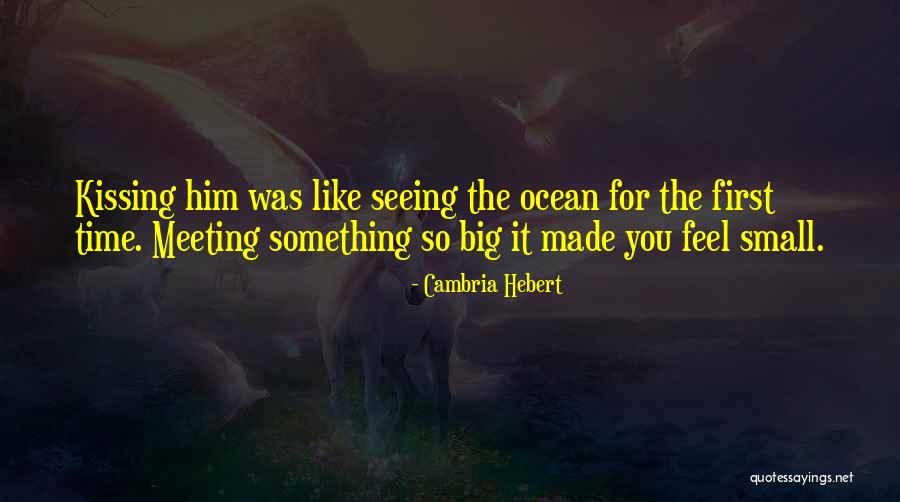 Kissing him was like seeing the ocean for the first time. Meeting something so big it made you feel small. — Cambria Hebert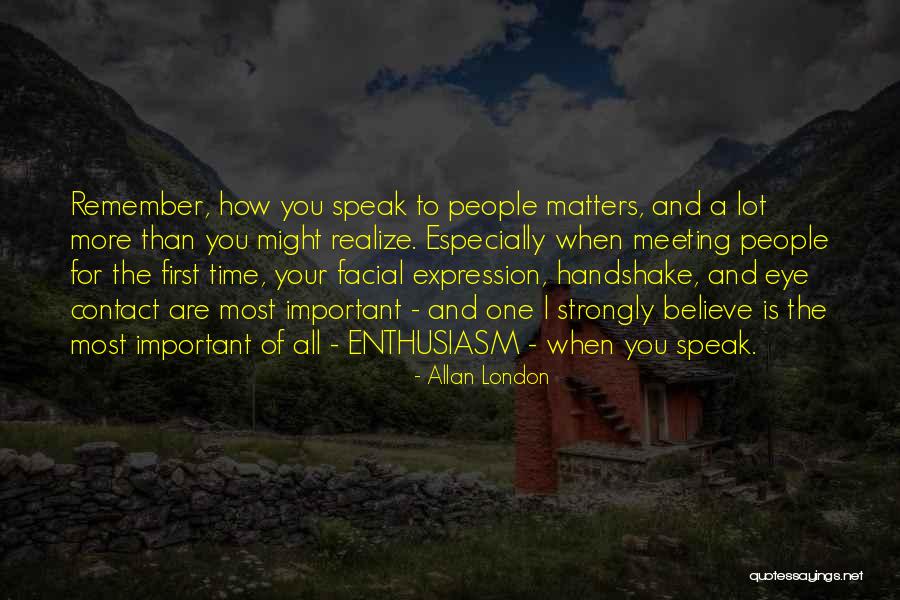 Remember, how you speak to people matters, and a lot more than you might realize. Especially when meeting people for the first time, your facial expression, handshake, and eye contact are most important - and one I strongly believe is the most important of all - ENTHUSIASM - when you speak. — Allan London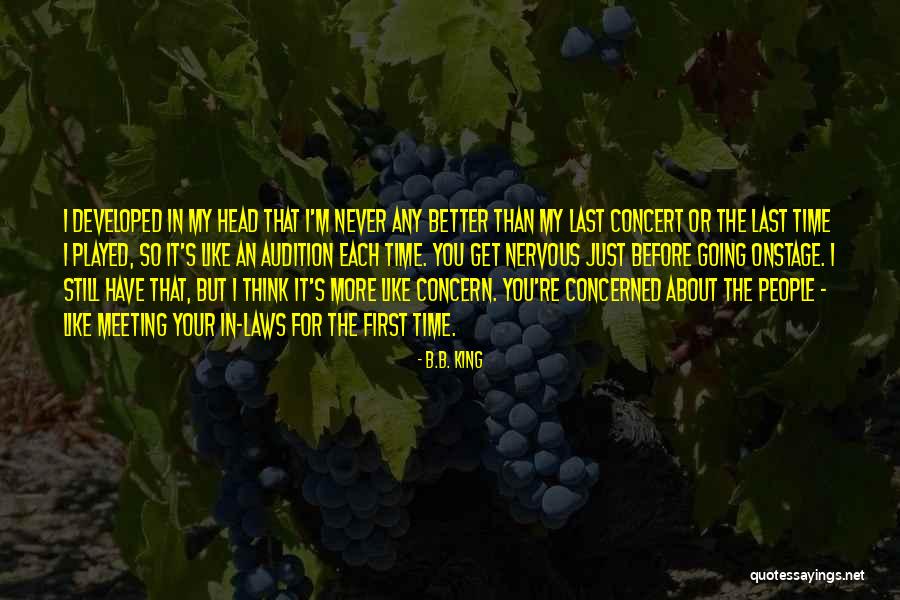 I developed in my head that I'm never any better than my last concert or the last time I played, so it's like an audition each time. You get nervous just before going onstage. I still have that, but I think it's more like concern. You're concerned about the people - like meeting your in-laws for the first time. — B.B. King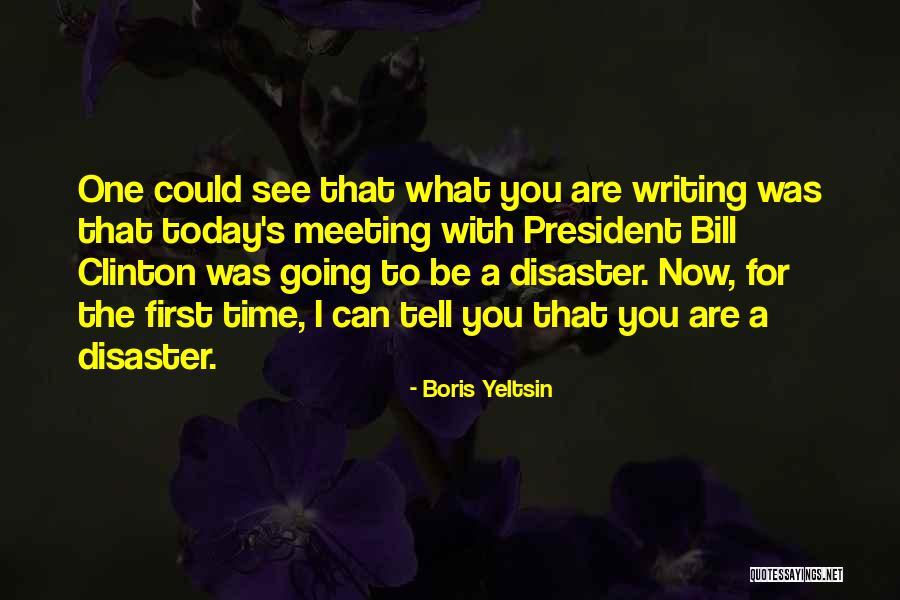 One could see that what you are writing was that today's meeting with President Bill Clinton was going to be a disaster. Now, for the first time, I can tell you that you are a disaster. — Boris Yeltsin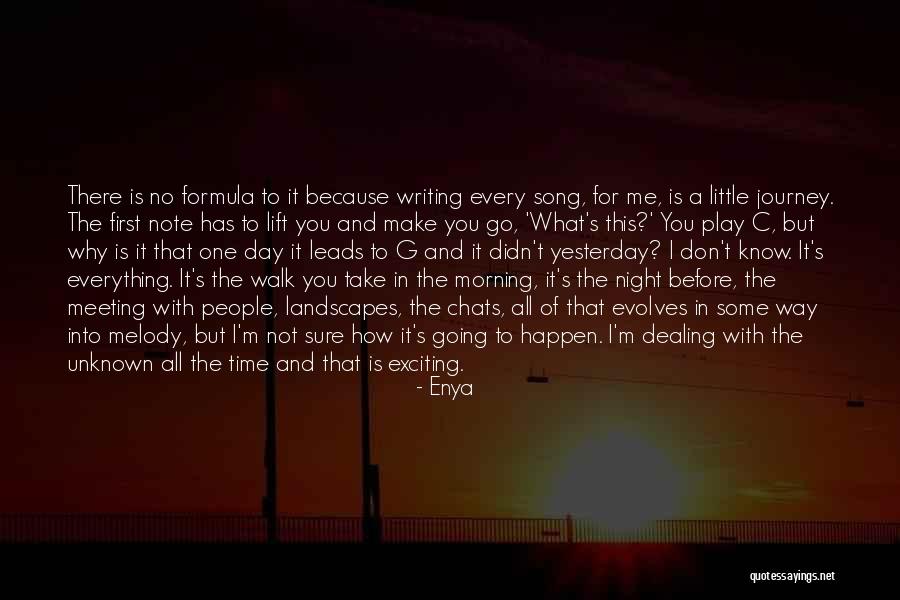 There is no formula to it because writing every song, for me, is a little journey. The first note has to lift you and make you go, 'What's this?' You play C, but why is it that one day it leads to G and it didn't yesterday? I don't know. It's everything. It's the walk you take in the morning, it's the night before, the meeting with people, landscapes, the chats, all of that evolves in some way into melody, but I'm not sure how it's going to happen. I'm dealing with the unknown all the time and that is exciting. — Enya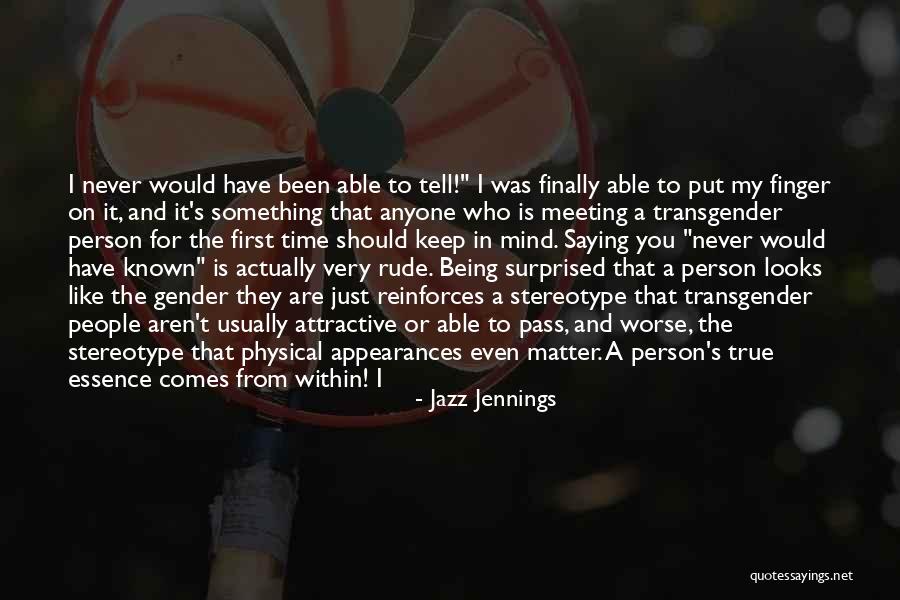 I never would have been able to tell!" I was finally able to put my finger on it, and it's something that anyone who is meeting a transgender person for the first time should keep in mind. Saying you "never would have known" is actually very rude. Being surprised that a person looks like the gender they are just reinforces a stereotype that transgender people aren't usually attractive or able to pass, and worse, the stereotype that physical appearances even matter. A person's true essence comes from within! I — Jazz Jennings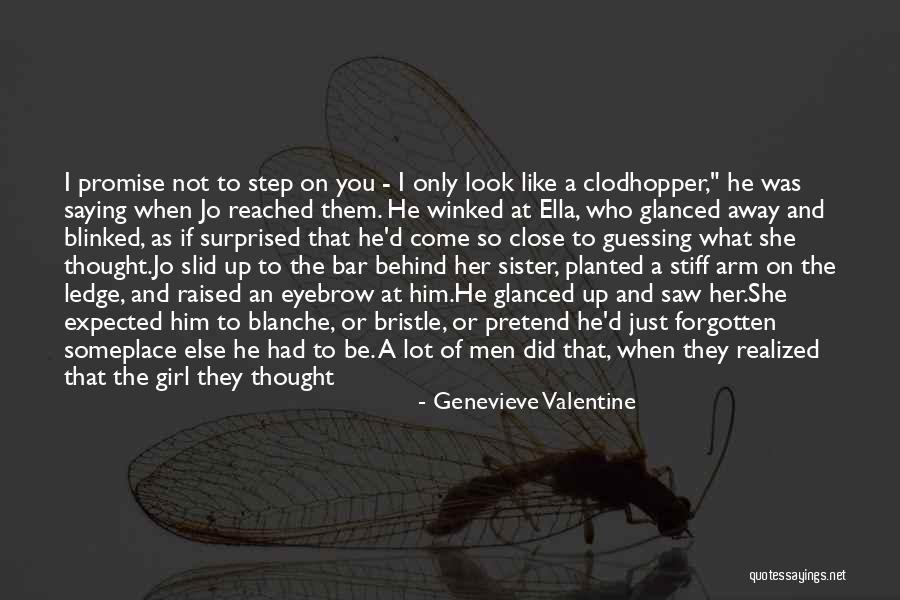 I promise not to step on you - I only look like a clodhopper," he was saying when Jo reached them. He winked at Ella, who glanced away and blinked, as if surprised that he'd come so close to guessing what she thought.
Jo slid up to the bar behind her sister, planted a stiff arm on the ledge, and raised an eyebrow at him.
He glanced up and saw her.
She expected him to blanche, or bristle, or pretend he'd just forgotten someplace else he had to be. A lot of men did that, when they realized that the girl they thought was alone had brought friends to look out for her.
But instead he only said, "Oh," softly, his smile so wide and earnest that crows'-feet appeared at the edges of his eyes; he smiled as though she was an old friend, as though he had been waiting for Jo a long time and was delighted to see her at last. — Genevieve Valentine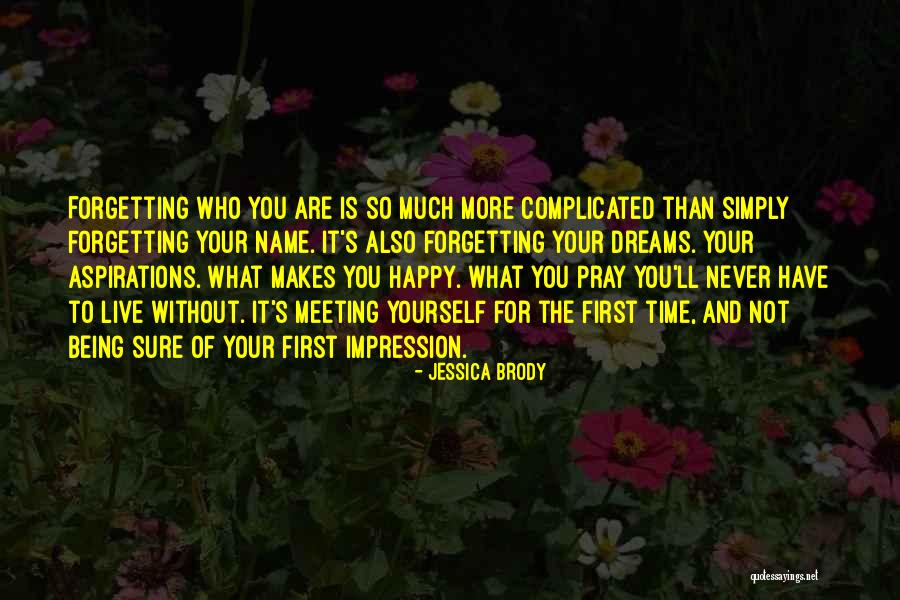 Forgetting who you are is so much more complicated than simply forgetting your name. It's also forgetting your dreams. Your aspirations. What makes you happy. What you pray you'll never have to live without. It's meeting yourself for the first time, and not being sure of your first impression. — Jessica Brody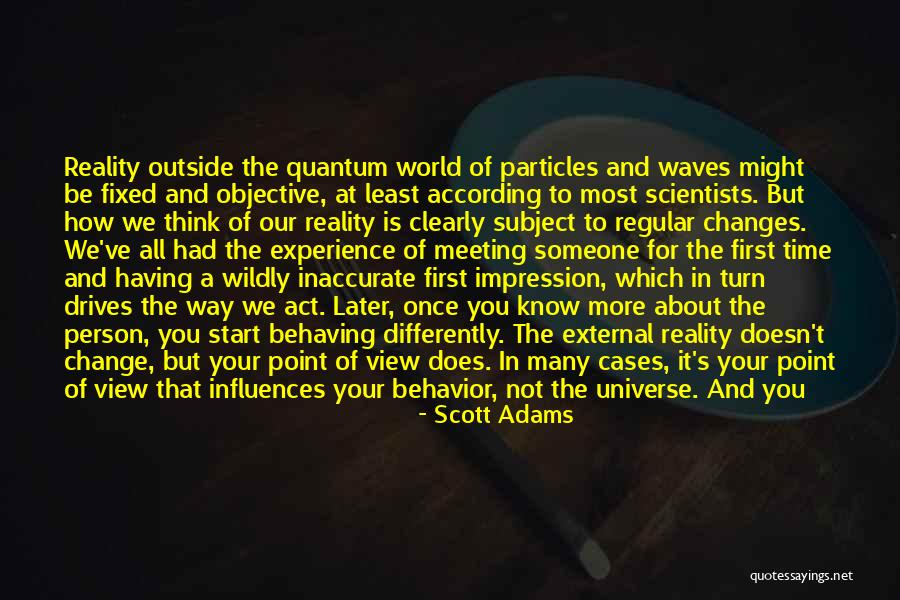 Reality outside the quantum world of particles and waves might be fixed and objective, at least according to most scientists. But how we think of our reality is clearly subject to regular changes. We've all had the experience of meeting someone for the first time and having a wildly inaccurate first impression, which in turn drives the way we act. Later, once you know more about the person, you start behaving differently. The external reality doesn't change, but your point of view does. In many cases, it's your point of view that influences your behavior, not the universe. And you can control your point of view even when you can't change the underlying reality. — Scott Adams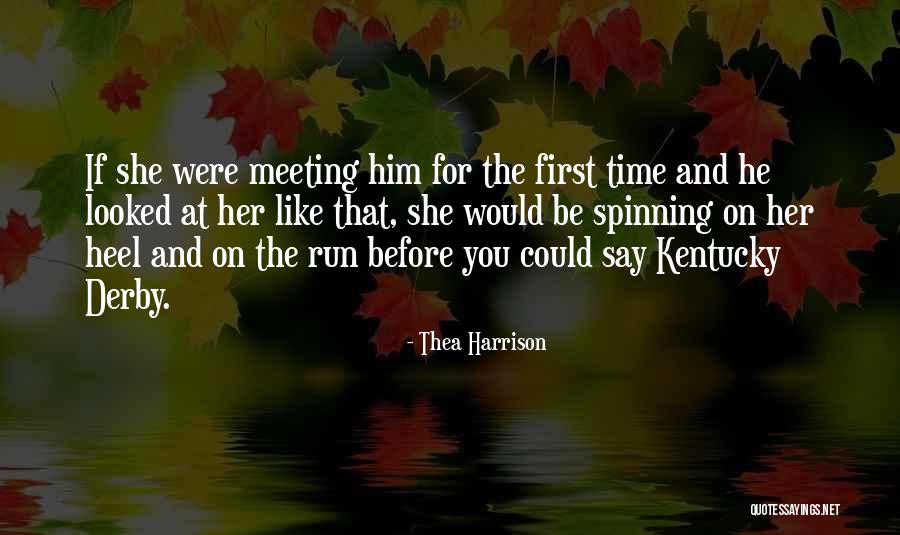 If she were meeting him for the first time and he looked at her like that, she would be spinning on her heel and on the run before you could say Kentucky Derby. — Thea Harrison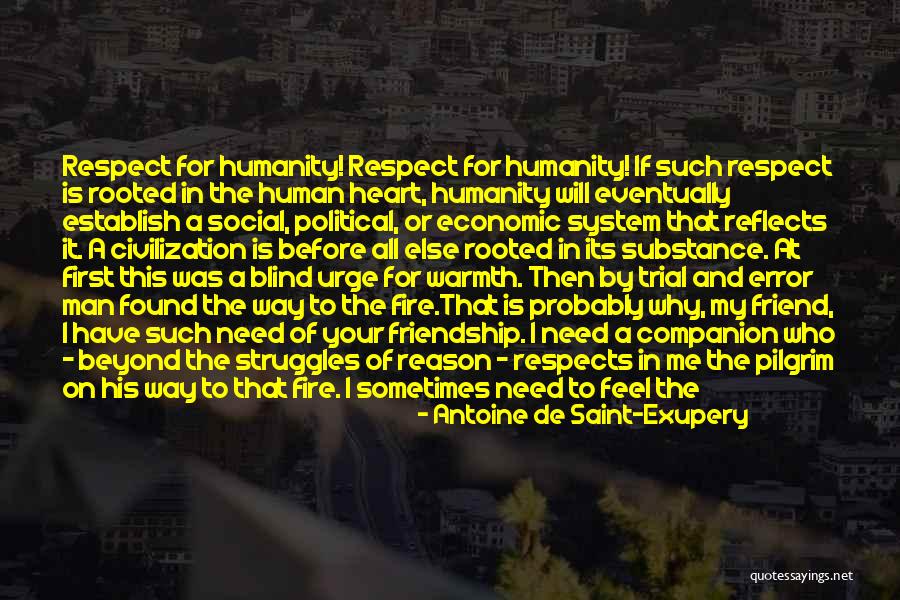 Respect for humanity! Respect for humanity! If such respect is rooted in the human heart, humanity will eventually establish a social, political, or economic system that reflects it. A civilization is before all else rooted in its substance. At first this was a blind urge for warmth. Then by trial and error man found the way to the fire.
That is probably why, my friend, I have such need of your friendship. I need a companion who - beyond the struggles of reason - respects in me the pilgrim on his way to that fire. I sometimes need to feel the promised warmth ahead of time and to rest somewhere beyond myself in that meeting place that will be ours. [ ... ] Beyond the clumsiness of my words, beyond my defective reasoning, you are ready to see me as a human being. You are ready to honor in me the representative of beliefs, customs, loves. If I differ from you, far from wronging you, I enrich you. You question me as you would a traveler. — Antoine De Saint-Exupery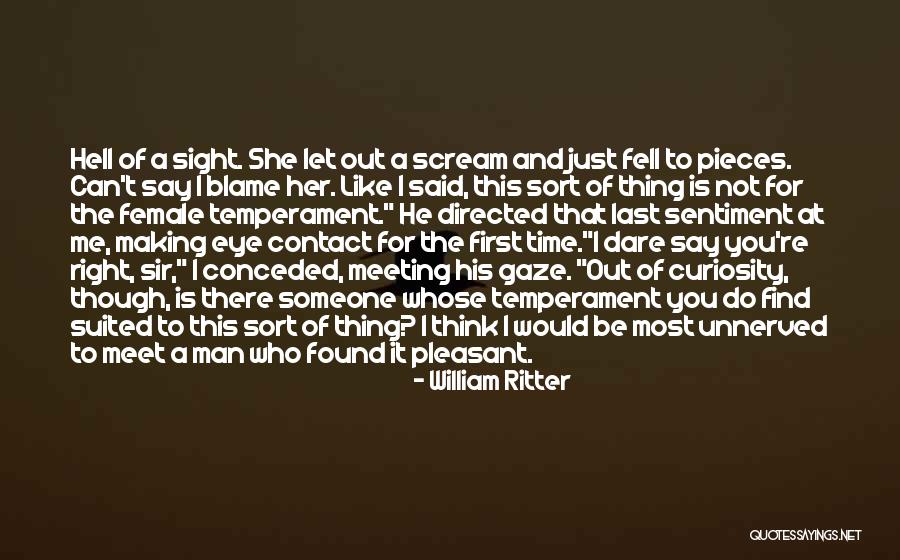 Hell of a sight. She let out a scream and just fell to pieces. Can't say I blame her. Like I said, this sort of thing is not for the female temperament." He directed that last sentiment at me, making eye contact for the first time.

"I dare say you're right, sir," I conceded, meeting his gaze. "Out of curiosity, though, is there someone whose temperament you do find suited to this sort of thing? I think I would be most unnerved to meet a man who found it pleasant. — William Ritter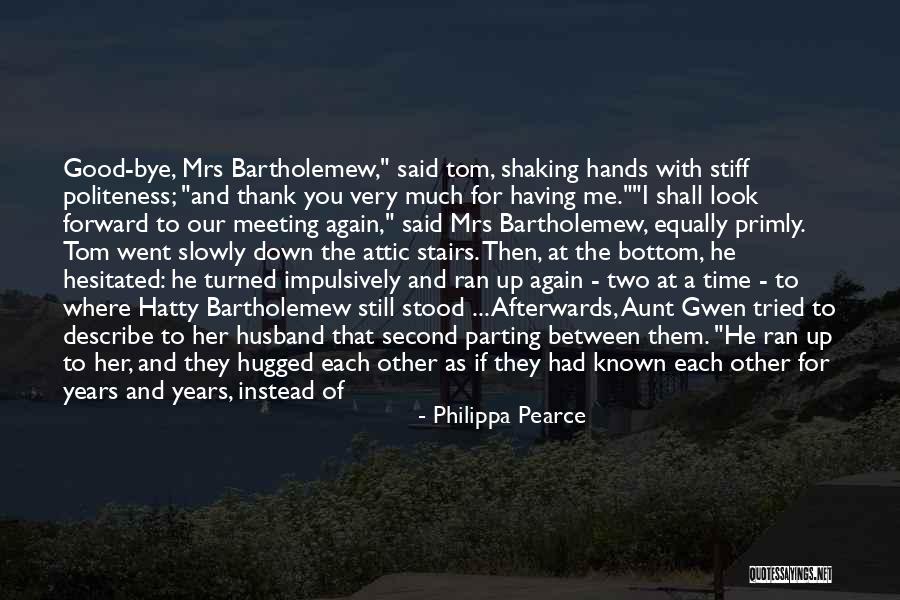 Good-bye, Mrs Bartholemew," said tom, shaking hands with stiff politeness; "and thank you very much for having me."
"I shall look forward to our meeting again," said Mrs Bartholemew, equally primly.
Tom went slowly down the attic stairs. Then, at the bottom, he hesitated: he turned impulsively and ran up again - two at a time - to where Hatty Bartholemew still stood ...
Afterwards, Aunt Gwen tried to describe to her husband that second parting between them. "He ran up to her, and they hugged each other as if they had known each other for years and years, instead of only having met for the first time this morning. There was something else, too, Alan, although I know you'll say it sounds even more absurd ... Of course, Mrs Bartholemew's such a shrunken little old woman, she's hardly bigger than Tom; anyway: but, you know, he put his arms right round her and he hugged her good-bye as if she were a little girl. — Philippa Pearce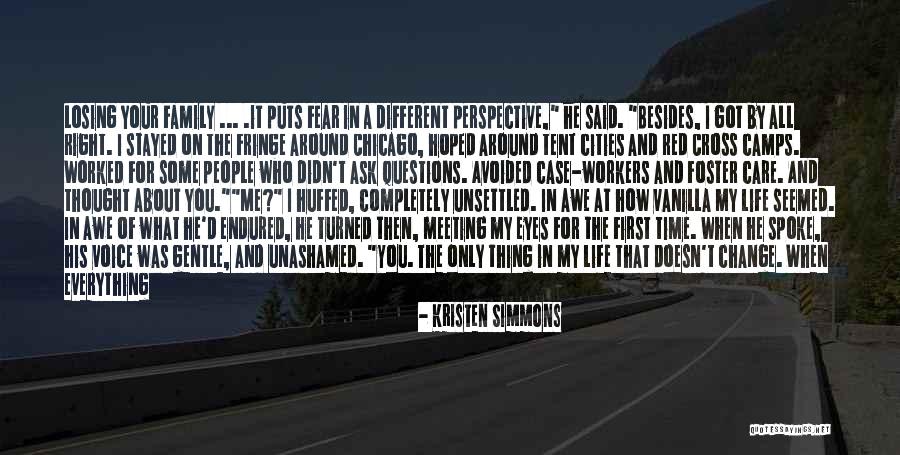 Losing your family ... .it puts fear in a different perspective," he said. "Besides, I got by all right. I stayed on the fringe around Chicago, hoped around tent cities and Red Cross camps. Worked for some people who didn't ask questions. Avoided case-workers and foster care. And thought about you."
"Me?" I huffed, completely unsettled. In awe at how vanilla my life seemed. In awe of what he'd endured, He turned then, meeting my eyes for the first time. When he spoke, his voice was gentle, and unashamed.
"You. The only thing in my life that doesn't change. When everything went to hell, you were all I had. — Kristen Simmons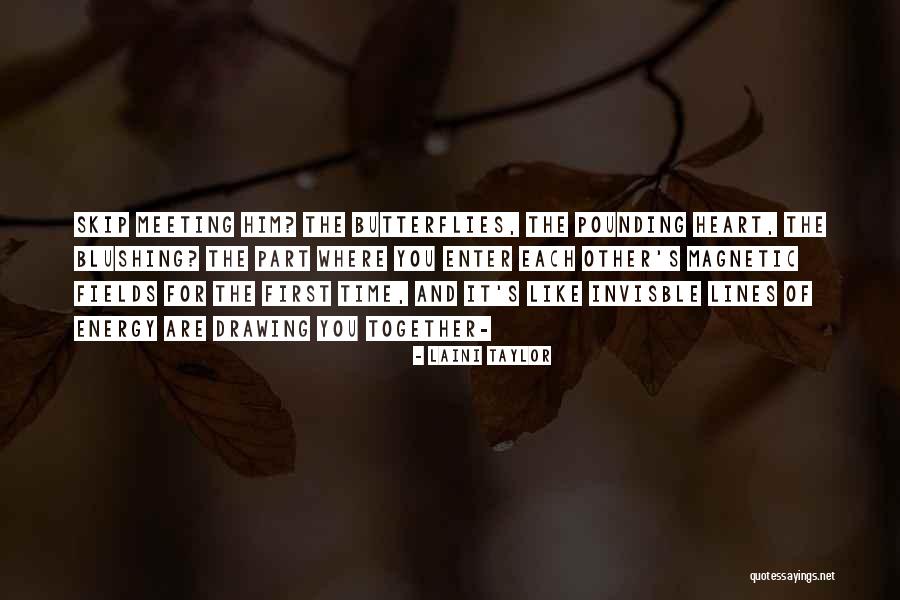 Skip meeting him? The butterflies, the pounding heart, the blushing? The part where you enter each other's magnetic fields for the first time, and it's like invisble lines of energy are drawing you together- — Laini Taylor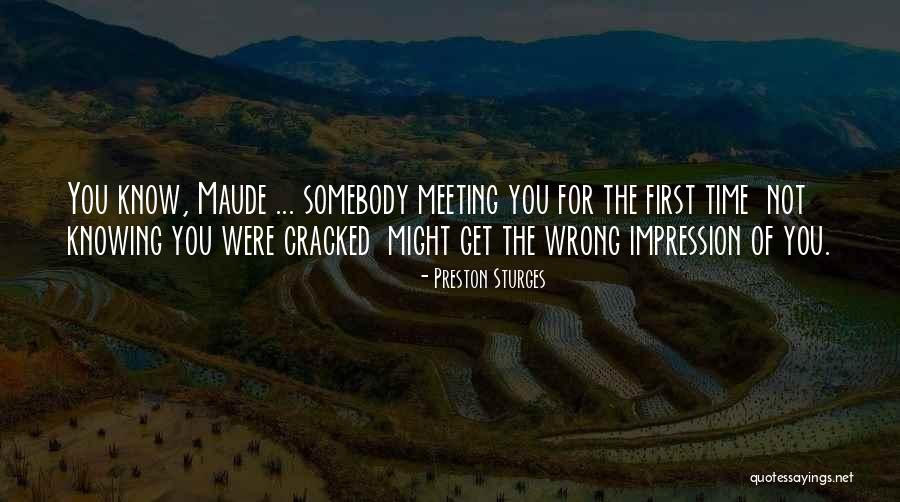 You know, Maude ... somebody meeting you for the first time
not knowing you were cracked
might get the wrong impression of you. — Preston Sturges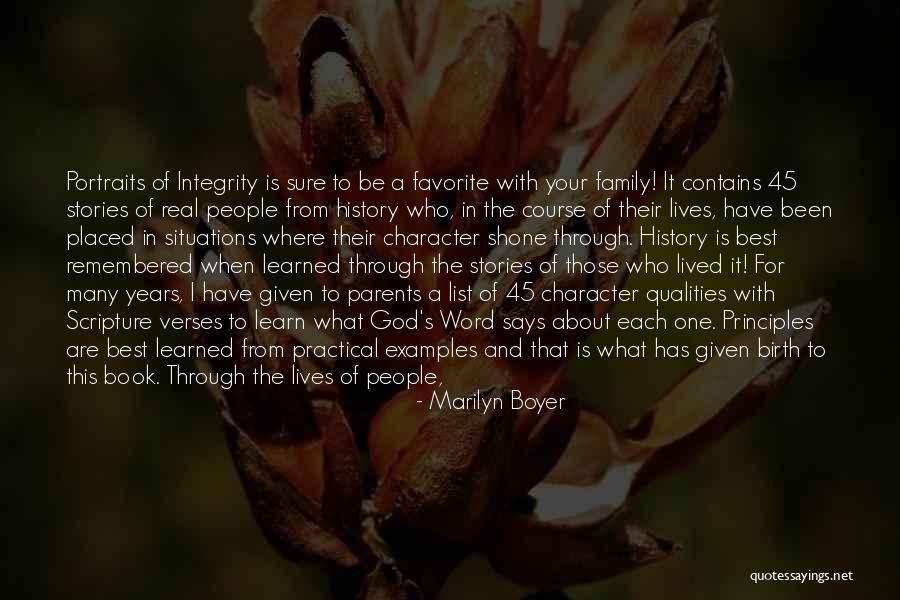 Portraits of Integrity is sure to be a favorite with your family! It contains 45 stories of real people from history who, in the course of their lives, have been placed in situations where their character shone through. History is best remembered when learned through the stories of those who lived it! For many years, I have given to parents a list of 45 character qualities with Scripture verses to learn what God's Word says about each one. Principles are best learned from practical examples and that is what has given birth to this book. Through the lives of people, some of whom you have heard of and some you will be meeting for the first time, you will learn how to appreciate character in the lives of others and be inspired to become people of character yourselves. I hope you will be challenged as I have to learn of people who, often at great sacrifice, strove to fulfill their responsibilities in life and as a result left to us a legacy of character! — Marilyn Boyer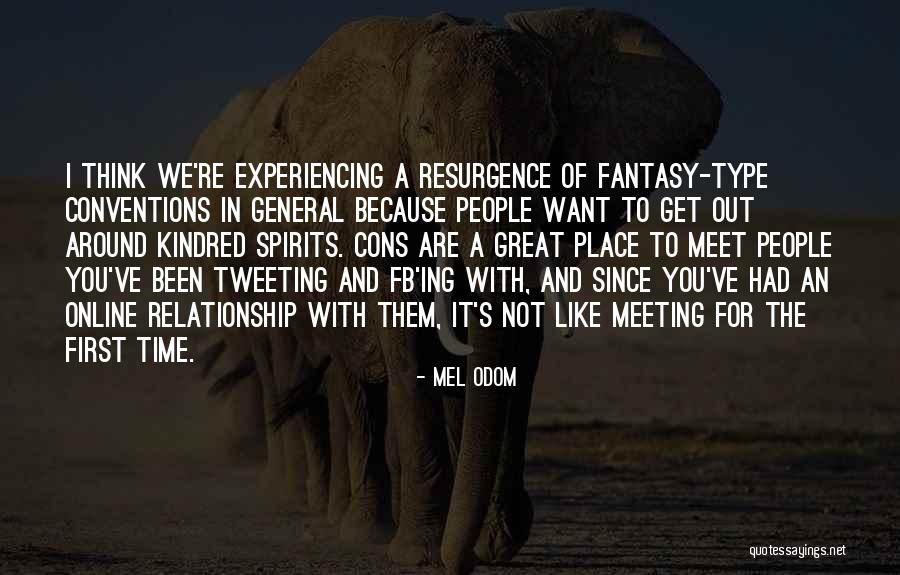 I think we're experiencing a resurgence of fantasy-type conventions in general because people want to get out around kindred spirits. Cons are a great place to meet people you've been tweeting and FB'ing with, and since you've had an online relationship with them, it's not like meeting for the first time. — Mel Odom
In Japanese, koi no yokan means the ineluctable feeling you have, upon meeting someone for the first time, that eventually the two of you will fall in love. — Alena Graedon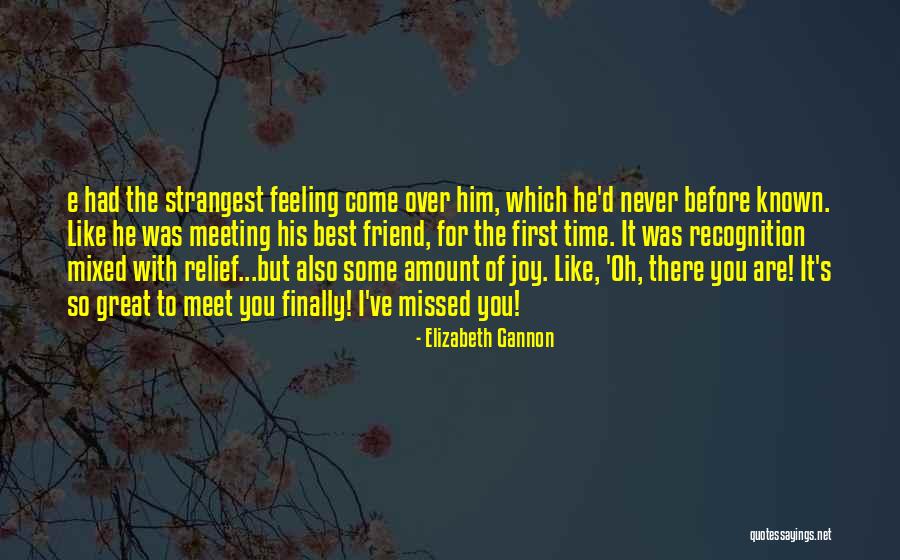 e had the strangest feeling come over him, which he'd never before known. Like he was meeting his best friend, for the first time. It was recognition mixed with relief...but also some amount of joy. Like, 'Oh, there you are! It's so great to meet you finally! I've missed you! — Elizabeth Gannon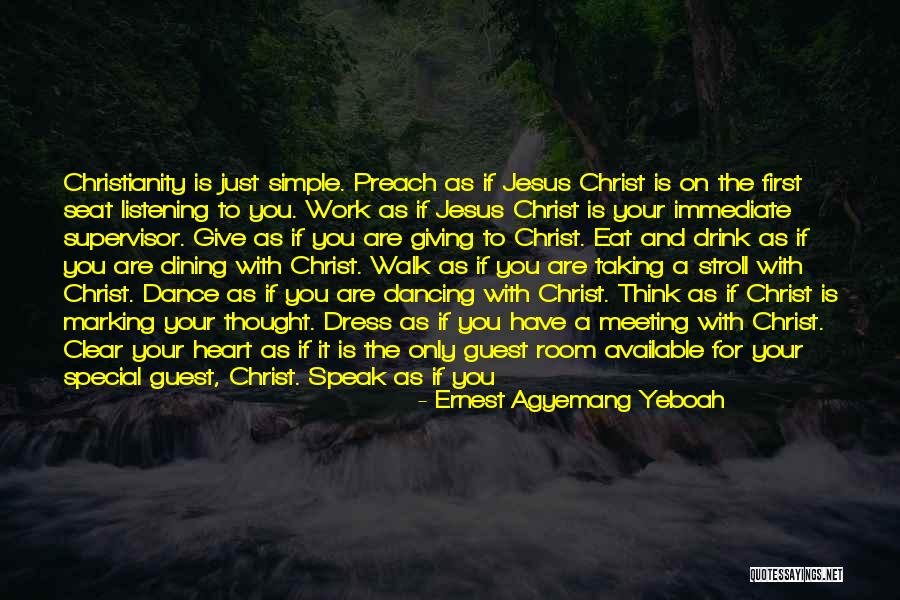 Christianity is just simple. Preach as if Jesus Christ is on the first seat listening to you. Work as if Jesus Christ is your immediate supervisor. Give as if you are giving to Christ. Eat and drink as if you are dining with Christ. Walk as if you are taking a stroll with Christ. Dance as if you are dancing with Christ. Think as if Christ is marking your thought. Dress as if you have a meeting with Christ. Clear your heart as if it is the only guest room available for your special guest, Christ. Speak as if you are speaking to Christ. Watch as if you are looking at Christ. Listen as if you have borrowed the ears of Christ. Respect time as if you borrowed from Christ. All else matters less and no problem then exists. Living to gratify mankind and ourselves is a mere hypocrisy in the first order and the underpinning of the woes of mankind. — Ernest Agyemang Yeboah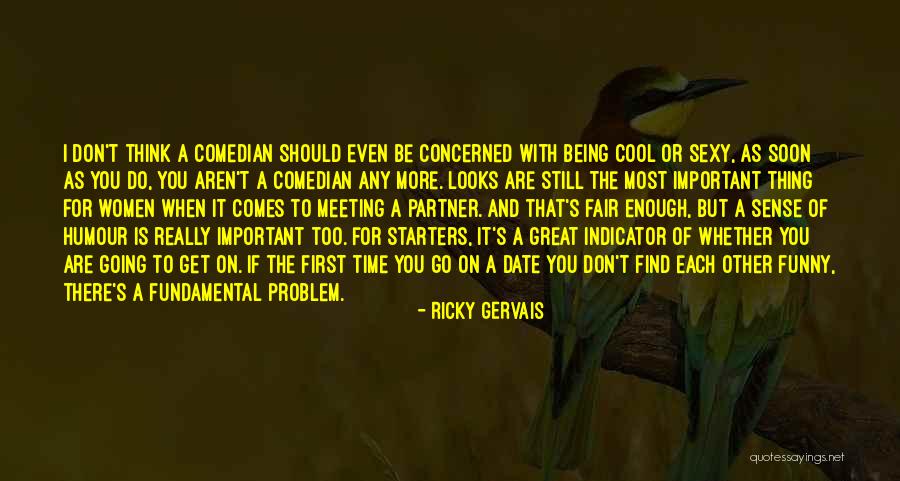 I don't think a comedian should even be concerned with being cool or sexy, as soon as you do, you aren't a comedian any more. Looks are still the most important thing for women when it comes to meeting a partner. And that's fair enough, but a sense of humour is really important too. For starters, it's a great indicator of whether you are going to get on. If the first time you go on a date you don't find each other funny, there's a fundamental problem. — Ricky Gervais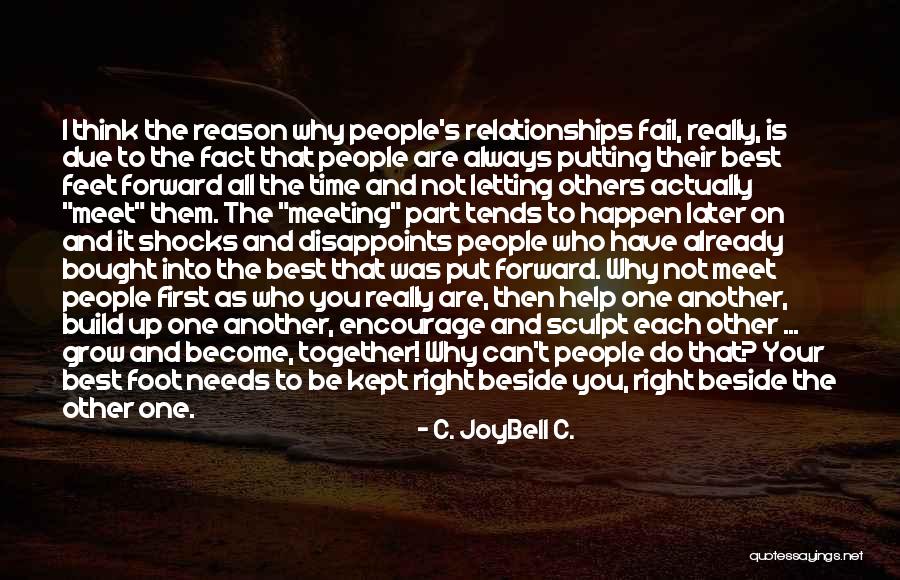 I think the reason why people's relationships fail, really, is due to the fact that people are always putting their best feet forward all the time and not letting others actually "meet" them. The "meeting" part tends to happen later on and it shocks and disappoints people who have already bought into the best that was put forward. Why not meet people first as who you really are, then help one another, build up one another, encourage and sculpt each other ... grow and become, together! Why can't people do that? Your best foot needs to be kept right beside you, right beside the other one. — C. JoyBell C.