Meet Me Quotes & Sayings
Enjoy reading and share 100 famous quotes about Meet Me with everyone.
Top Meet Me Quotes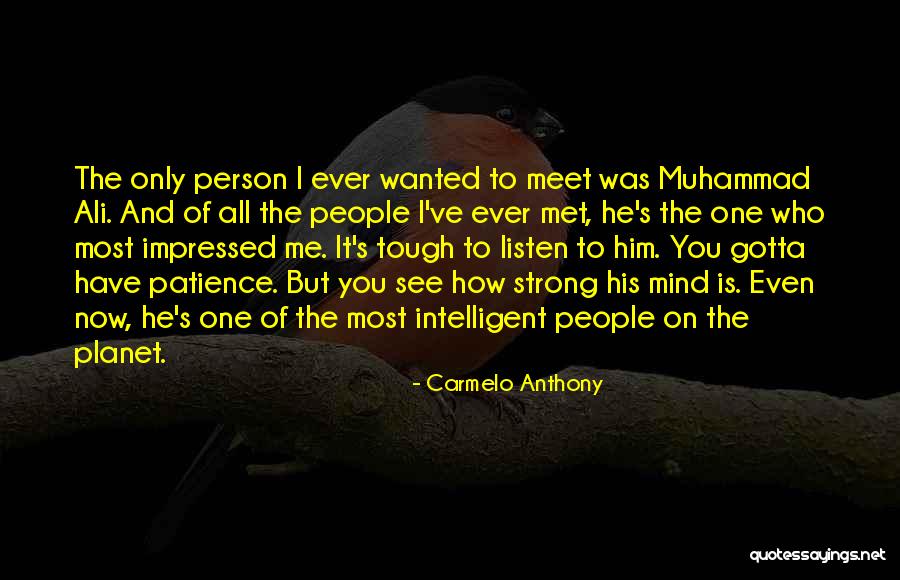 The only person I ever wanted to meet was Muhammad Ali. And of all the people I've ever met, he's the one who most impressed me. It's tough to listen to him. You gotta have patience. But you see how strong his mind is. Even now, he's one of the most intelligent people on the planet. — Carmelo Anthony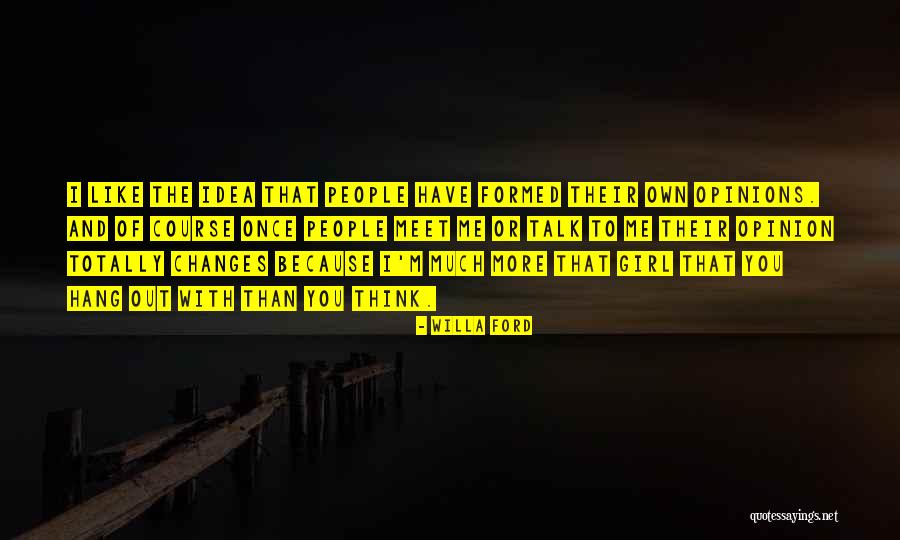 I like the idea that people have formed their own opinions. And of course once people meet me or talk to me their opinion totally changes because I'm much more that girl that you hang out with than you think. — Willa Ford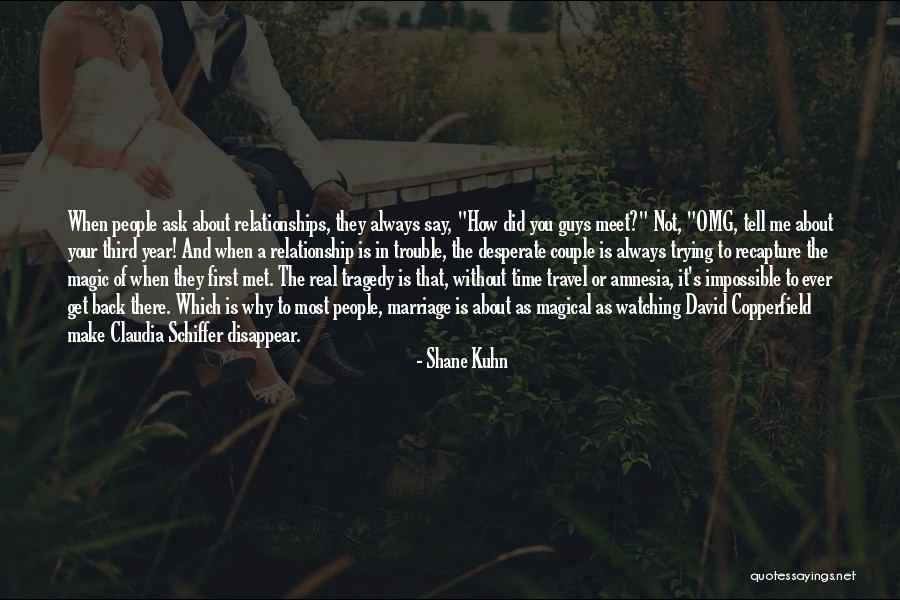 When people ask about relationships, they always say, "How did you guys meet?" Not, "OMG, tell me about your third year! And when a relationship is in trouble, the desperate couple is always trying to recapture the magic of when they first met. The real tragedy is that, without time travel or amnesia, it's impossible to ever get back there. Which is why to most people, marriage is about as magical as watching David Copperfield make Claudia Schiffer disappear. — Shane Kuhn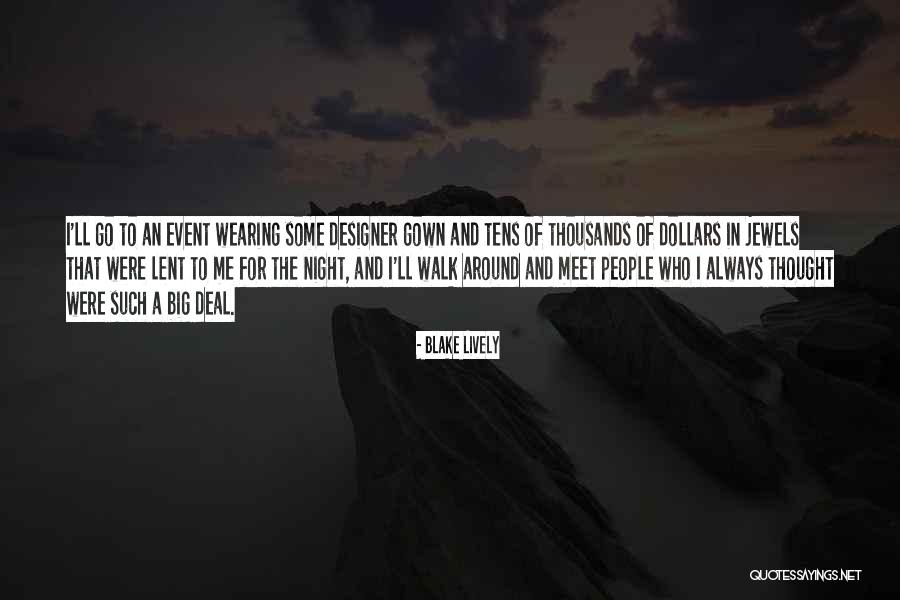 I'll go to an event wearing some designer gown and tens of thousands of dollars in jewels that were lent to me for the night, and I'll walk around and meet people who I always thought were such a big deal. — Blake Lively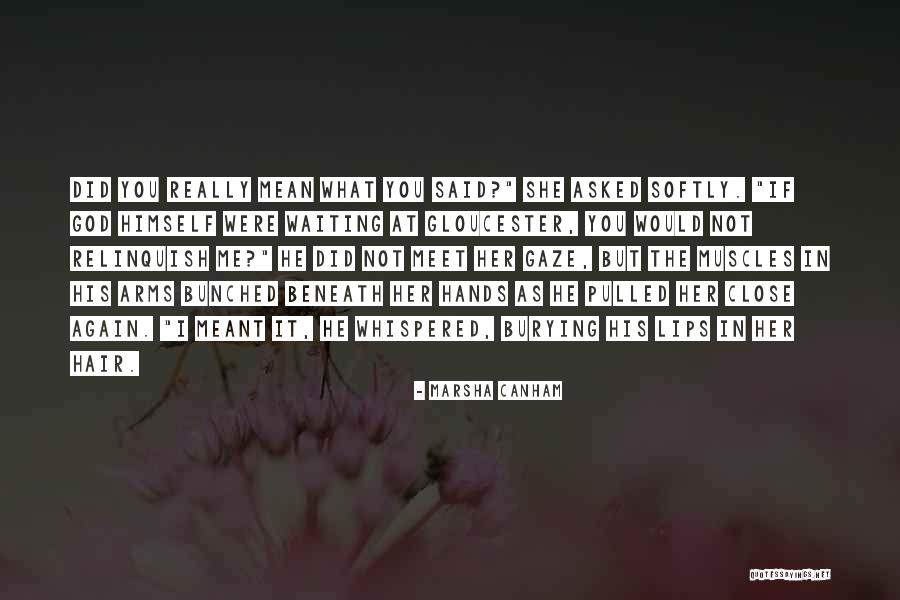 Did you really mean what you said?" she asked softly. "If God Himself were waiting at Gloucester, you would not relinquish me?" He did not meet her gaze, but the muscles in his arms bunched beneath her hands as he pulled her close again. "I meant it, he whispered, burying his lips in her hair. — Marsha Canham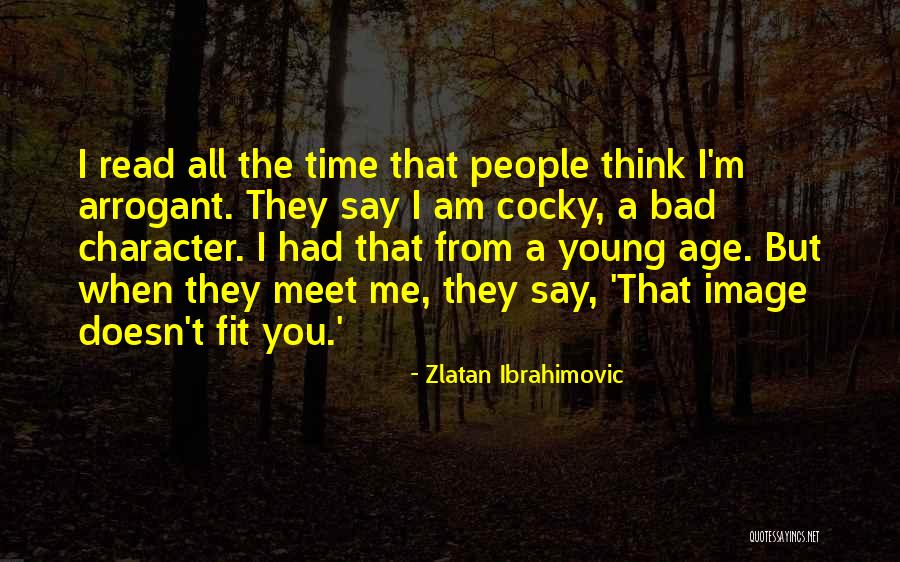 I read all the time that people think I'm arrogant. They say I am cocky, a bad character. I had that from a young age. But when they meet me, they say, 'That image doesn't fit you.' — Zlatan Ibrahimovic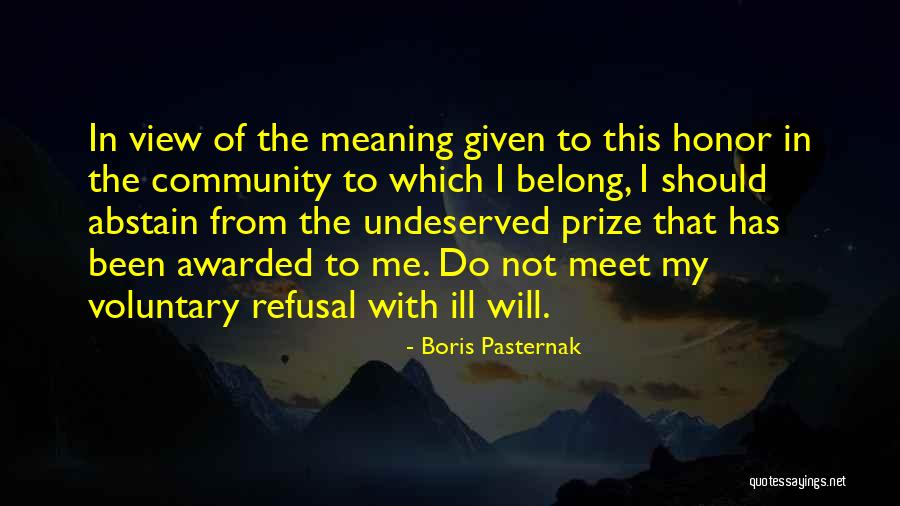 In view of the meaning given to this honor in the community to which I belong, I should abstain from the undeserved prize that has been awarded to me. Do not meet my voluntary refusal with ill will. — Boris Pasternak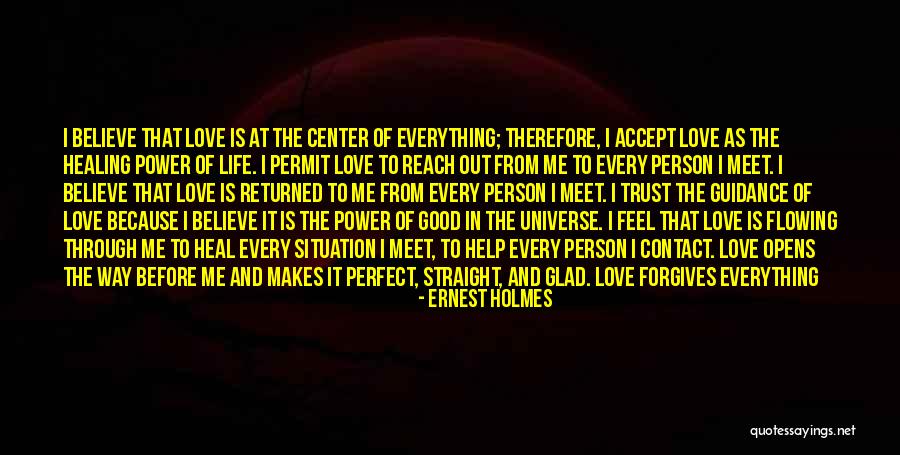 I believe that Love is at the center of everything; therefore, I accept Love as the healing power of life. I permit Love to reach out from me to every person I meet. I believe that Love is returned to me from every person I meet. I trust the guidance of Love because I believe it is the power of Good in the universe. I feel that Love is flowing through me to heal every situation I meet, to help every person I contact. Love opens the way before me and makes it perfect, straight, and glad. Love forgives everything unlike itself; it purifies everything. Love converts everything that seems commonplace into that which is wonderful. Love converts weakness into strength, fear into faith. Love — Ernest Holmes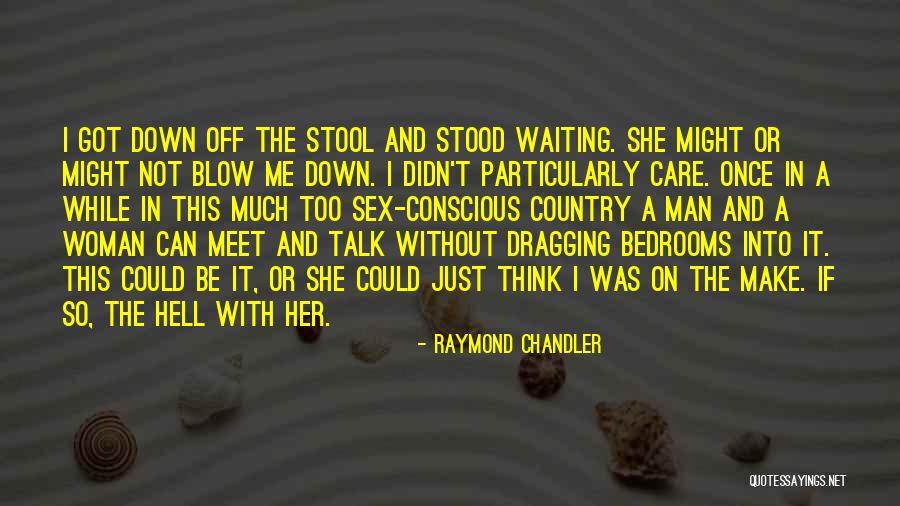 I got down off the stool and stood waiting. She might or might not blow me down. I didn't particularly care. Once in a while in this much too sex-conscious country a man and a woman can meet and talk without dragging bedrooms into it. This could be it, or she could just think I was on the make. If so, the hell with her. — Raymond Chandler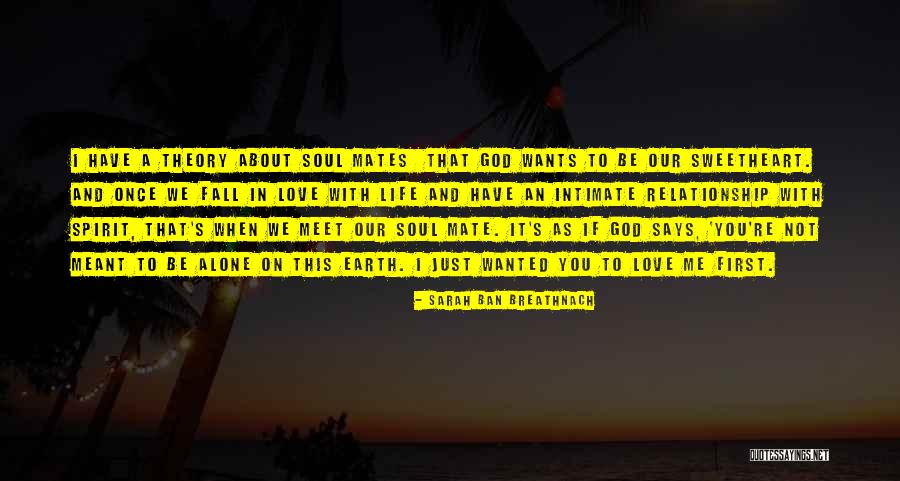 I have a theory about soul mates
that God wants to be our sweetheart. And once we fall in love with life and have an intimate relationship with Spirit, that's when we meet our soul mate. It's as if God says, 'You're not meant to be alone on this earth. I just wanted you to love me first. — Sarah Ban Breathnach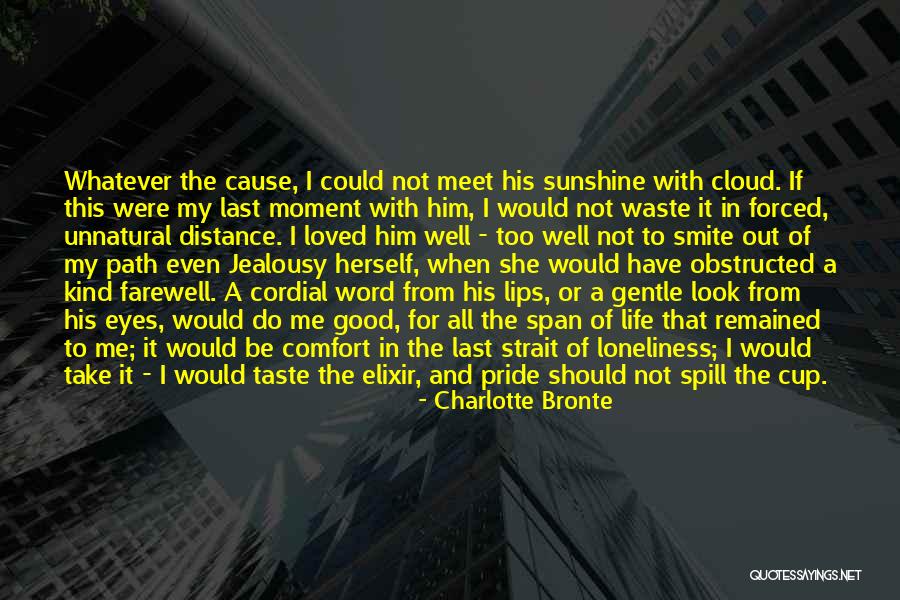 Whatever the cause, I could not meet his sunshine with cloud. If this were my last moment with him, I would not waste it in forced, unnatural distance. I loved him well - too well not to smite out of my path even Jealousy herself, when she would have obstructed a kind farewell. A cordial word from his lips, or a gentle look from his eyes, would do me good, for all the span of life that remained to me; it would be comfort in the last strait of loneliness; I would take it - I would taste the elixir, and pride should not spill the cup. — Charlotte Bronte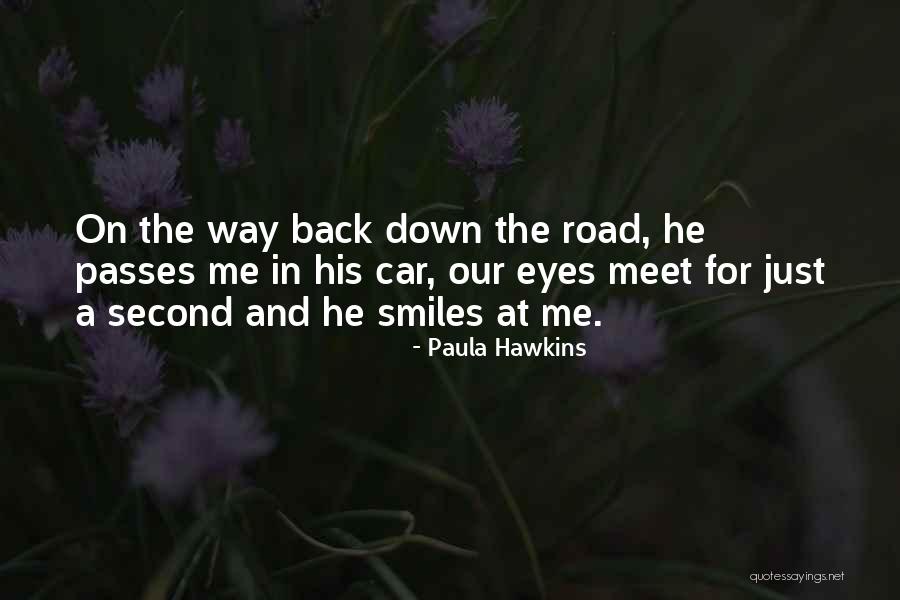 On the way back down the road, he passes me in his car, our eyes meet for just a second and he smiles at me. — Paula Hawkins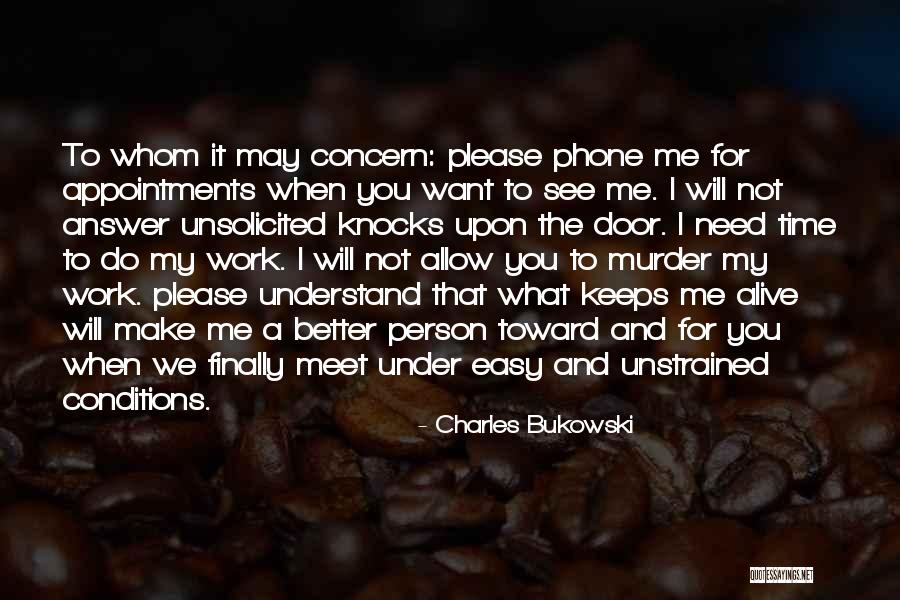 To whom it may concern: please phone me for appointments when you want to see me. I will not answer unsolicited knocks upon the door. I need time to do my work. I will not allow you to murder my work. please understand that what keeps me alive will make me a better person toward and for you when we finally meet under easy and unstrained conditions. — Charles Bukowski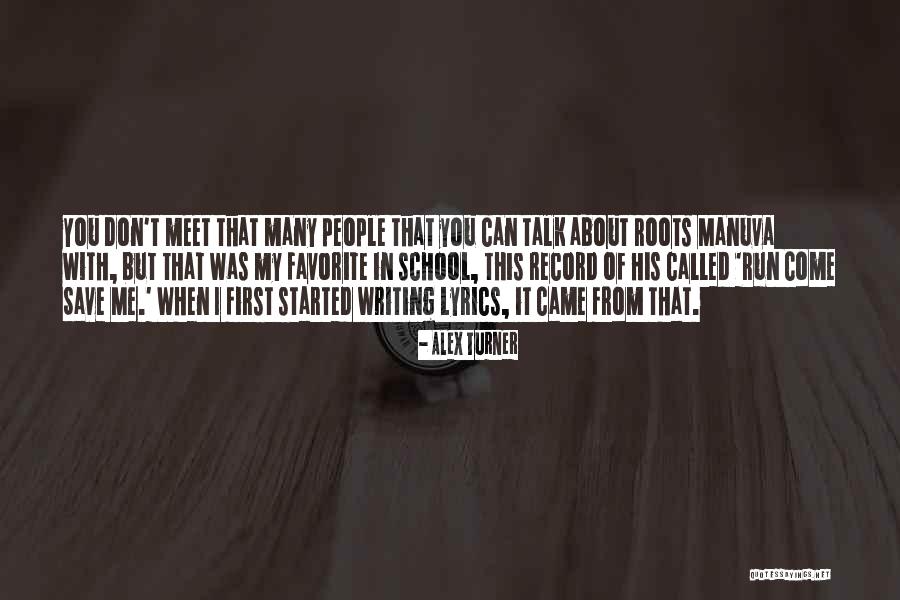 You don't meet that many people that you can talk about Roots Manuva with, but that was my favorite in school, this record of his called 'Run Come Save Me.' When I first started writing lyrics, it came from that. — Alex Turner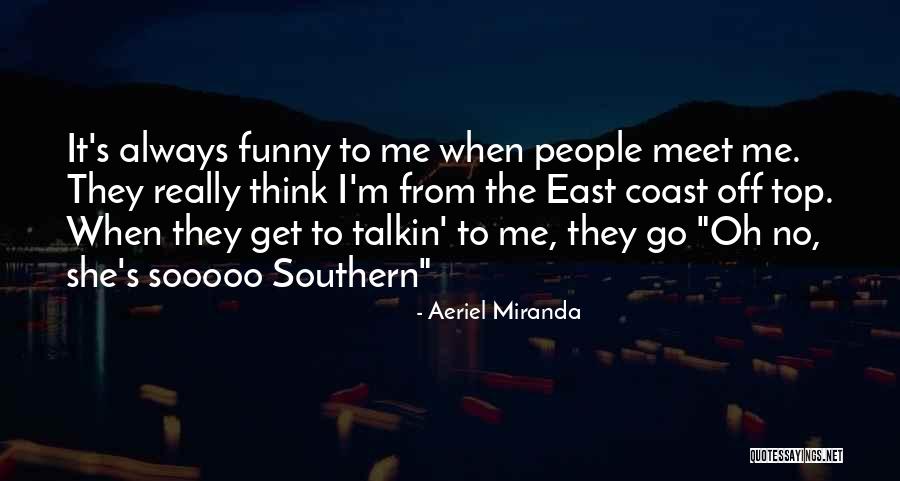 It's always funny to me when people meet me. They really think I'm from the East coast off top. When they get to talkin' to me, they go "Oh no, she's sooooo Southern" — Aeriel Miranda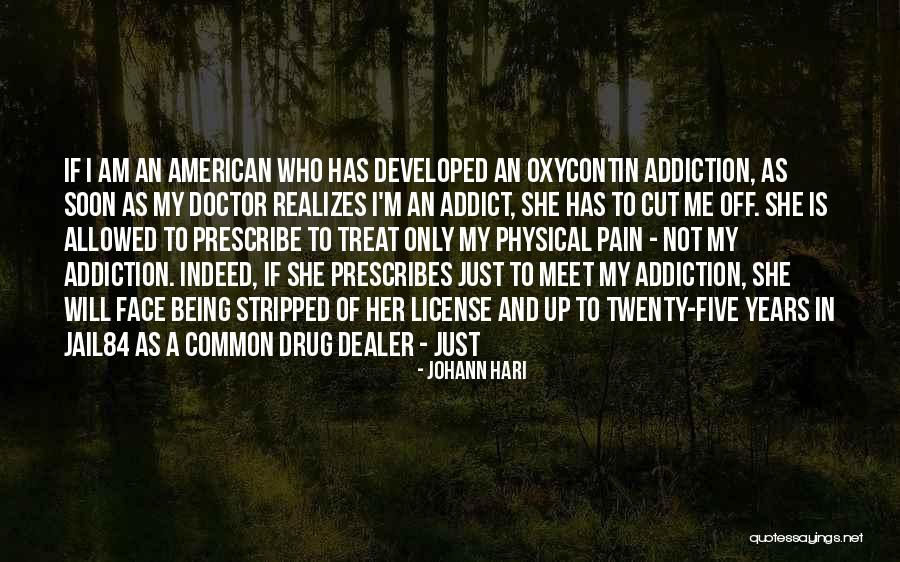 If I am an American who has developed an Oxycontin addiction, as soon as my doctor realizes I'm an addict, she has to cut me off. She is allowed to prescribe to treat only my physical pain - not my addiction. Indeed, if she prescribes just to meet my addiction, she will face being stripped of her license and up to twenty-five years in jail84 as a common drug dealer - just — Johann Hari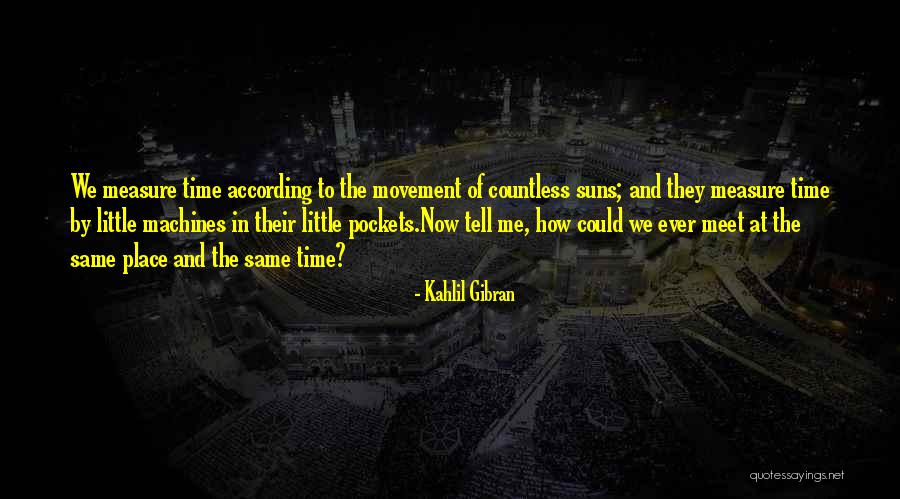 We measure time according to the movement of countless suns; and they measure time by little machines in their little pockets.
Now tell me, how could we ever meet at the same place and the same time? — Kahlil Gibran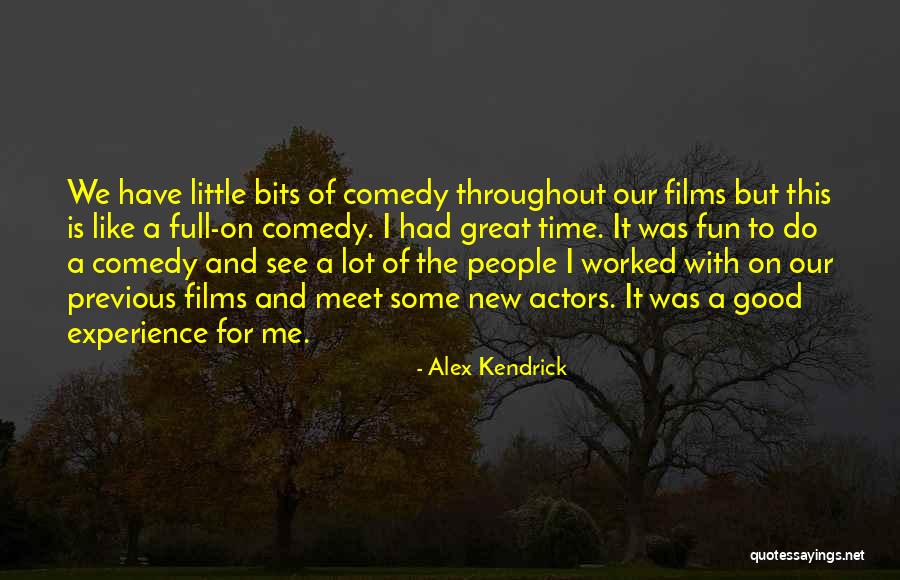 We have little bits of comedy throughout our films but this is like a full-on comedy. I had great time. It was fun to do a comedy and see a lot of the people I worked with on our previous films and meet some new actors. It was a good experience for me. — Alex Kendrick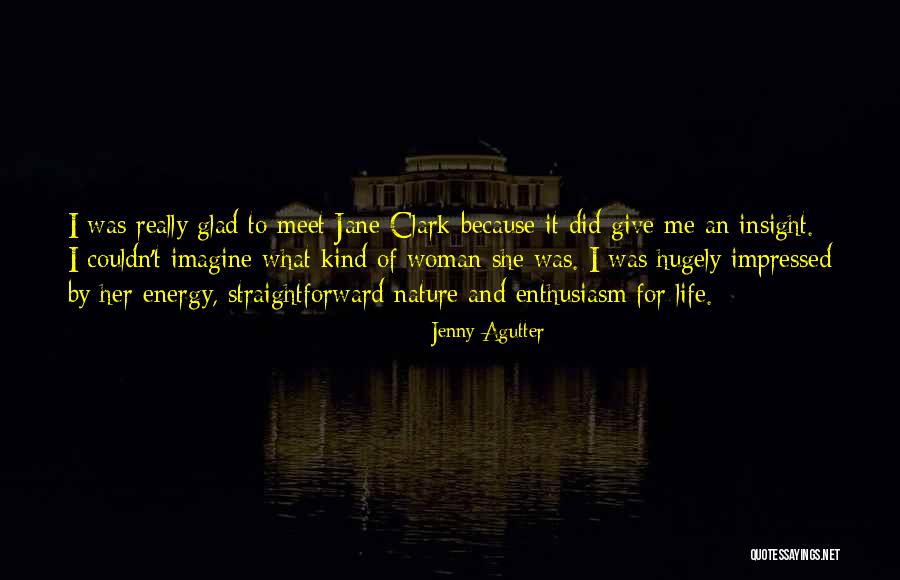 I was really glad to meet Jane Clark because it did give me an insight. I couldn't imagine what kind of woman she was. I was hugely impressed by her energy, straightforward nature and enthusiasm for life. — Jenny Agutter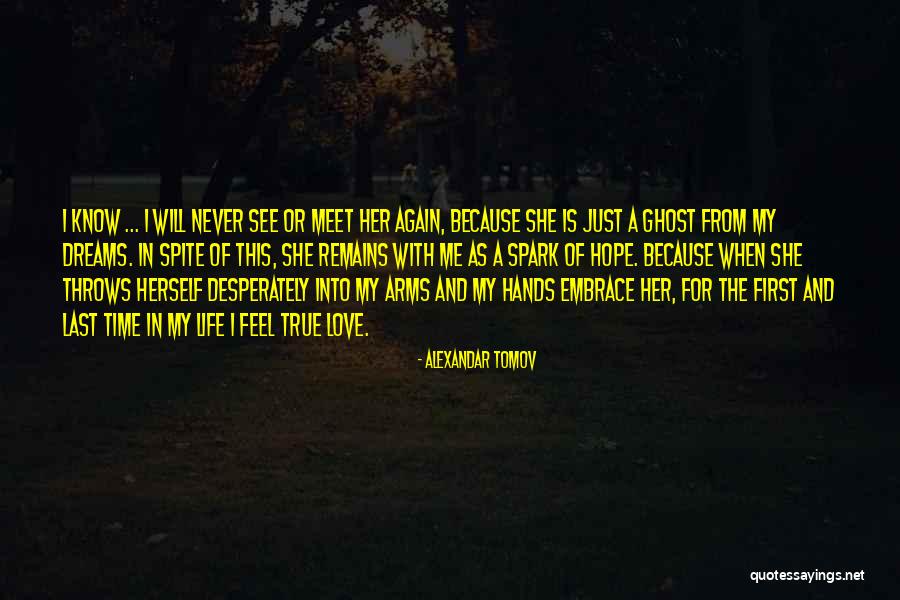 I know ... I will never see or meet her again, because she is just a ghost from my dreams. In spite of this, she remains with me as a spark of hope. Because when she throws herself desperately into my arms and my hands embrace her, for the first and last time in my life I feel true love. — Alexandar Tomov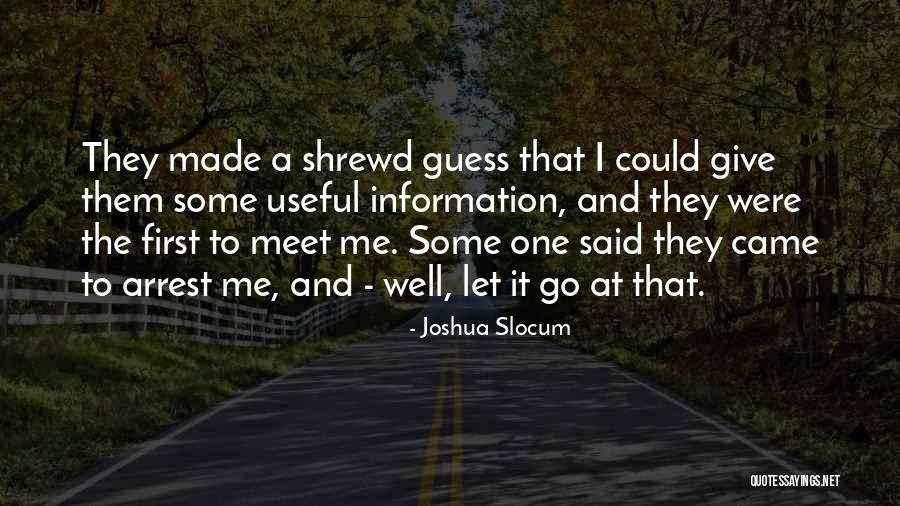 They made a shrewd guess that I could give them some useful information, and they were the first to meet me. Some one said they came to arrest me, and - well, let it go at that. — Joshua Slocum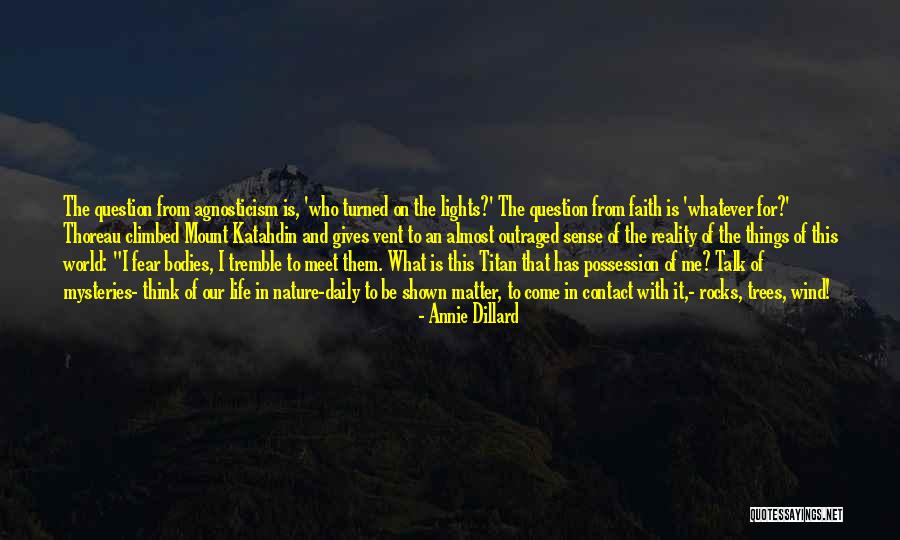 The question from agnosticism is, 'who turned on the lights?' The question from faith is 'whatever for?' Thoreau climbed Mount Katahdin and gives vent to an almost outraged sense of the reality of the things of this world: "I fear bodies, I tremble to meet them. What is this Titan that has possession of me? Talk of mysteries- think of our life in nature-daily to be shown matter, to come in contact with it,- rocks, trees, wind! — Annie Dillard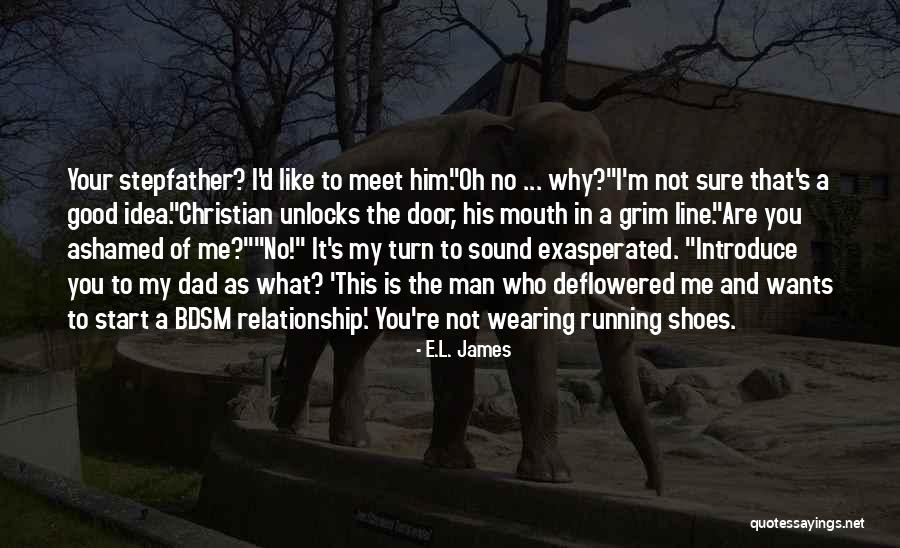 Your stepfather? I'd like to meet him."
Oh no ... why?
"I'm not sure that's a good idea."
Christian unlocks the door, his mouth in a grim line.
"Are you ashamed of me?"
"No!" It's my turn to sound exasperated. "Introduce you to my dad as what? 'This is the man who deflowered me and wants to start a BDSM relationship'. You're not wearing running shoes. — E.L. James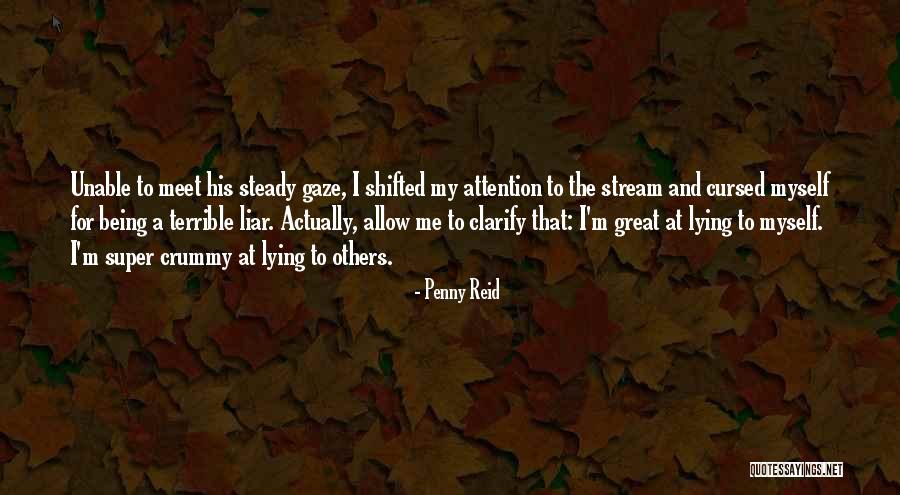 Unable to meet his steady gaze, I shifted my attention to the stream and cursed myself for being a terrible liar. Actually, allow me to clarify that: I'm great at lying to myself. I'm super crummy at lying to others. — Penny Reid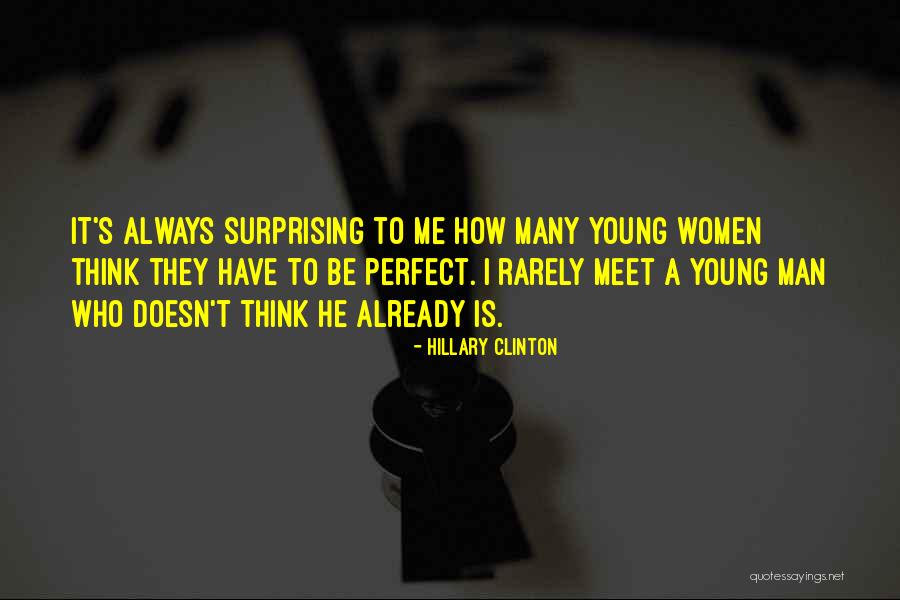 It's always surprising to me how many young women think they have to be perfect. I rarely meet a young man who doesn't think he already is. — Hillary Clinton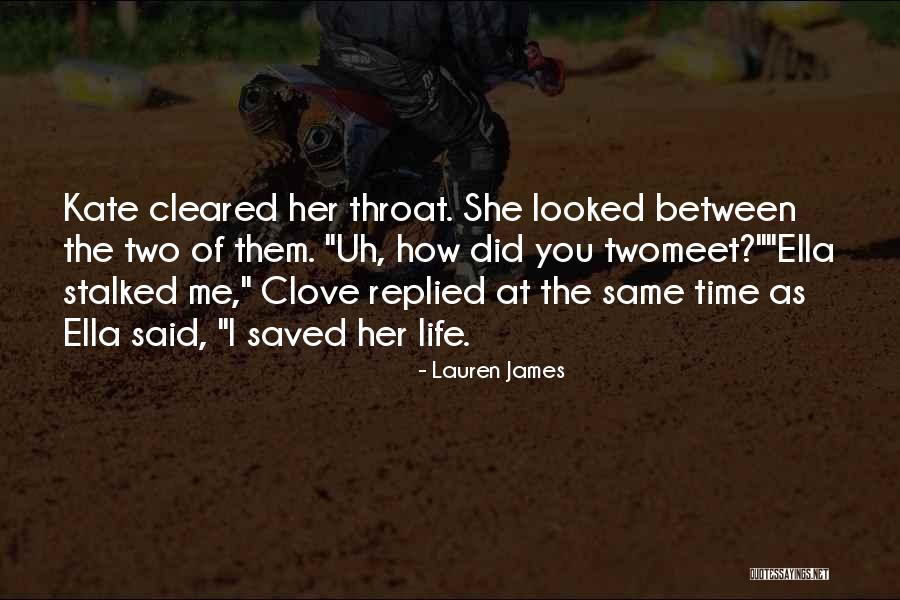 Kate cleared her throat. She looked between the two of them. "Uh, how did you two
meet?"
"Ella stalked me," Clove replied at the same time as Ella said, "I saved her life. — Lauren James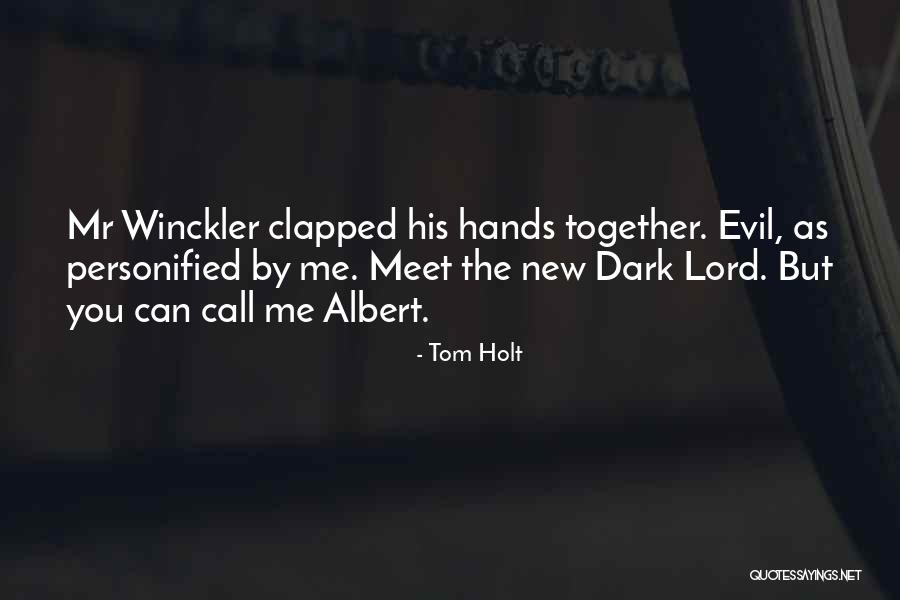 Mr Winckler clapped his hands together. Evil, as personified by me. Meet the new Dark Lord. But you can call me Albert. — Tom Holt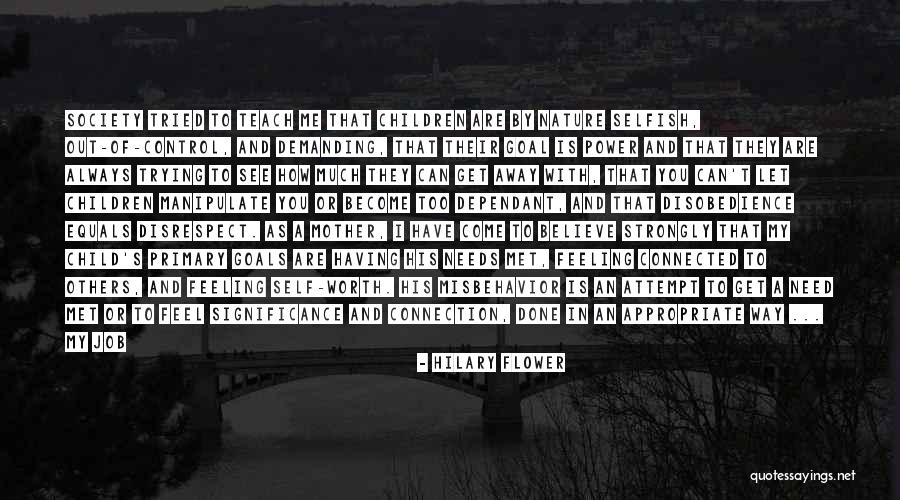 Society tried to teach me that children are by nature selfish, out-of-control, and demanding, that their goal is power and that they are always trying to see how much they can get away with, that you can't let children manipulate you or become too dependant, and that disobedience equals disrespect. As a mother, I have come to believe strongly that my child's primary goals are having his needs met, feeling connected to others, and feeling self-worth. His misbehavior is an attempt to get a need met or to feel significance and connection, done in an appropriate way ... my job as a parent is to help my child identify and meet those needs in appropriate ways. - Lisa S. — Hilary Flower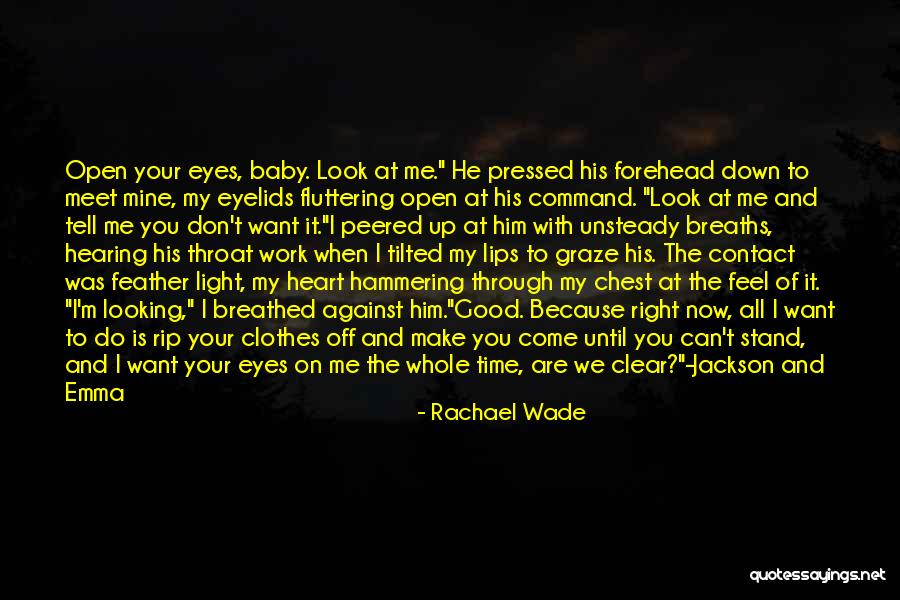 Open your eyes, baby. Look at me." He pressed his forehead down to meet mine, my eyelids fluttering open at his command. "Look at me and tell me you don't want it."
I peered up at him with unsteady breaths, hearing his throat work when I tilted my lips to graze his. The contact was feather light, my heart hammering through my chest at the feel of it. "I'm looking," I breathed against him.
"Good. Because right now, all I want to do is rip your clothes off and make you come until you can't stand, and I want your eyes on me the whole time, are we clear?"
-Jackson and Emma — Rachael Wade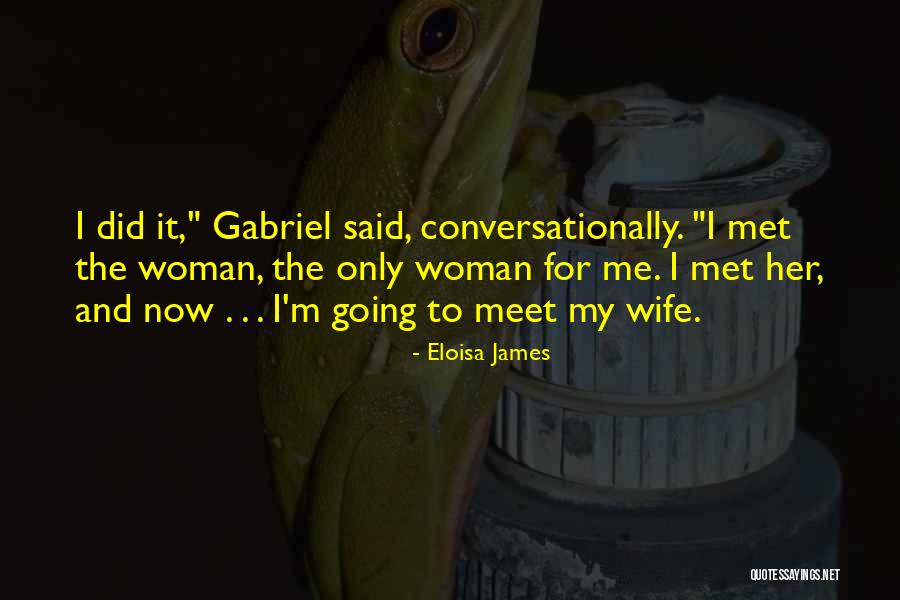 I did it," Gabriel said, conversationally. "I met the woman, the only woman for me. I met her, and now . . . I'm going to meet my wife. — Eloisa James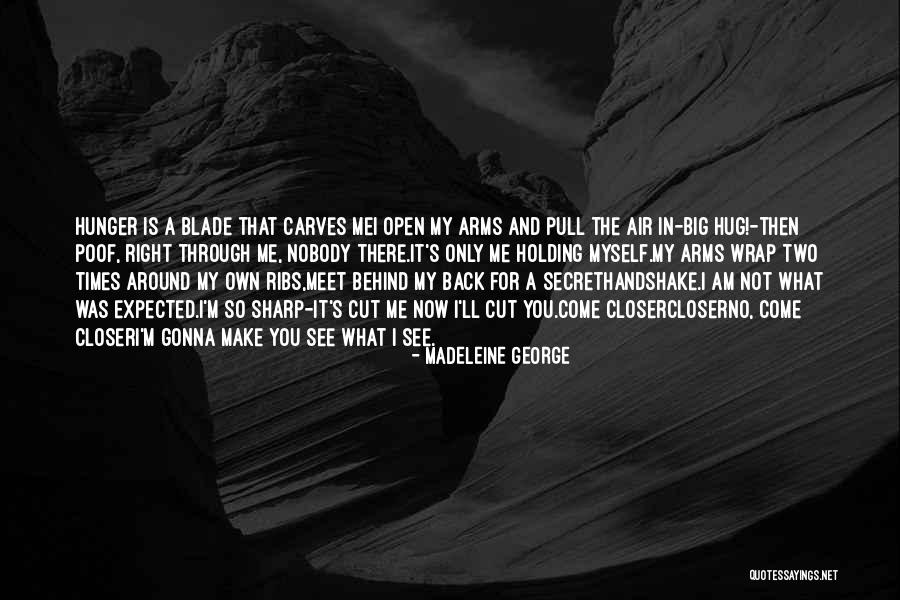 Hunger is a blade that carves me
I open my arms and pull the air in
-big hug!-
then poof, right through me, nobody there.
It's only me holding myself.
My arms wrap two times
around my own ribs,
meet behind my back for a secret
handshake.
I am not what was expected.
I'm so sharp-
it's cut me now I'll cut you.
Come closer
closer
No, come closer
I'm gonna make you see what I see. — Madeleine George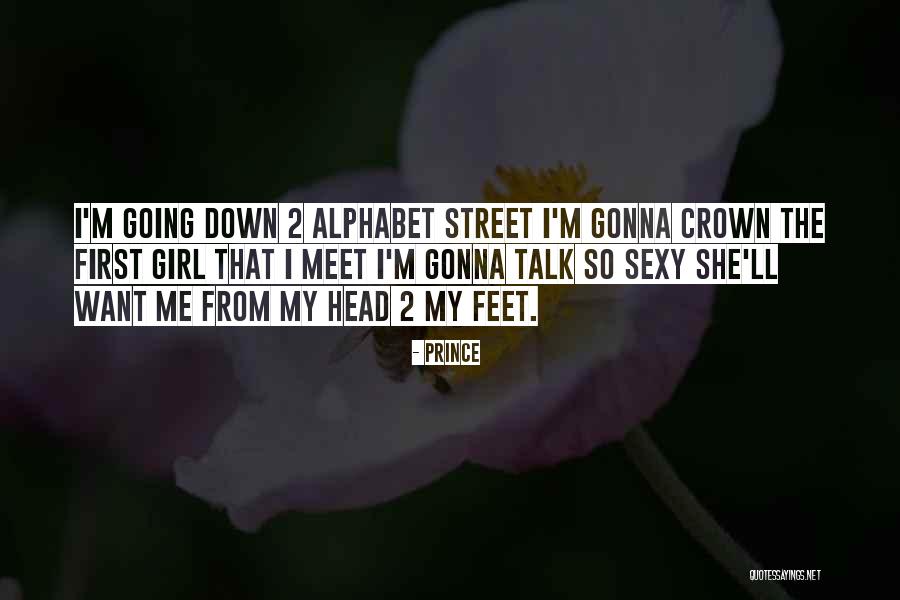 I'm going down 2 Alphabet Street I'm gonna crown the first girl that I meet I'm gonna talk so sexy She'll want me from my head 2 my feet. — Prince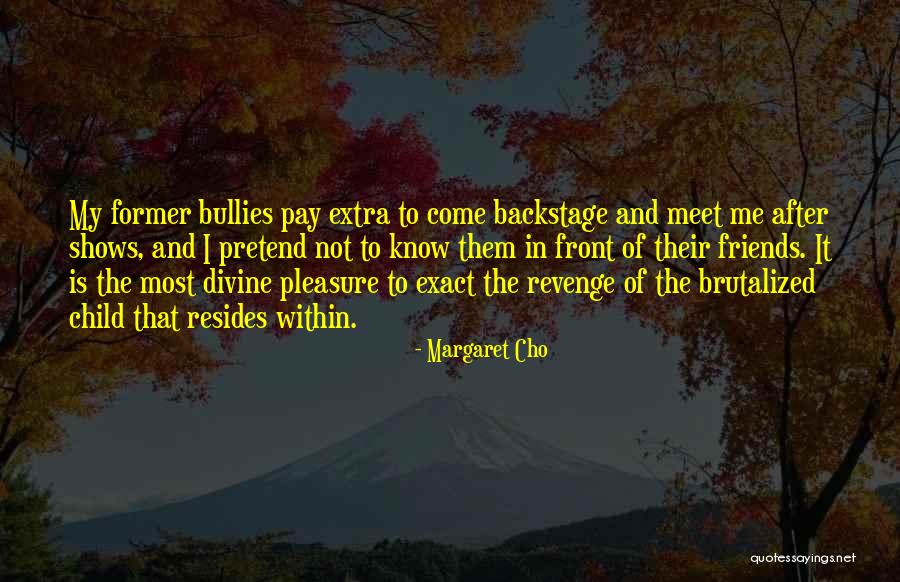 My former bullies pay extra to come backstage and meet me after shows, and I pretend not to know them in front of their friends. It is the most divine pleasure to exact the revenge of the brutalized child that resides within. — Margaret Cho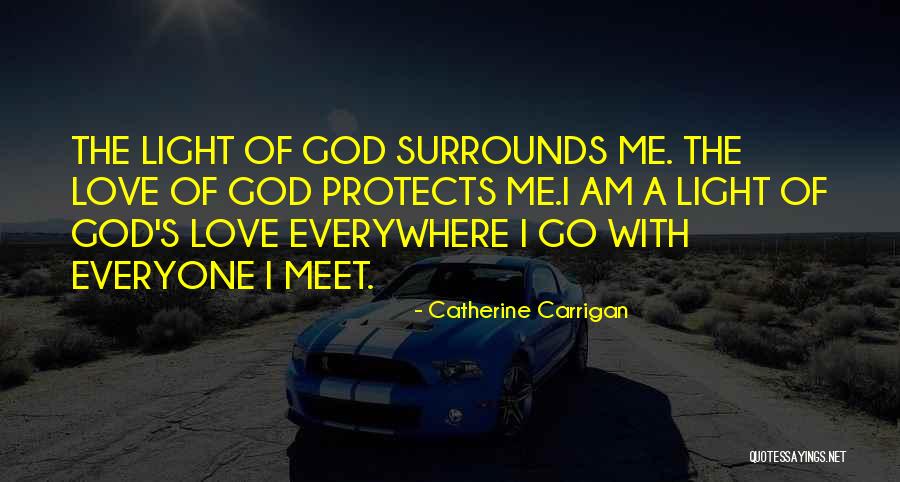 THE LIGHT OF GOD SURROUNDS ME. THE LOVE OF GOD PROTECTS ME.
I AM A LIGHT OF GOD'S LOVE EVERYWHERE I GO WITH EVERYONE I MEET. — Catherine Carrigan
I want to leave this worn body behind, but my chains are too many, my weights too heavy. This life is all that's left of me. And I know I won't be able to meet myself in the mirror for the rest of the day — Tahereh Mafi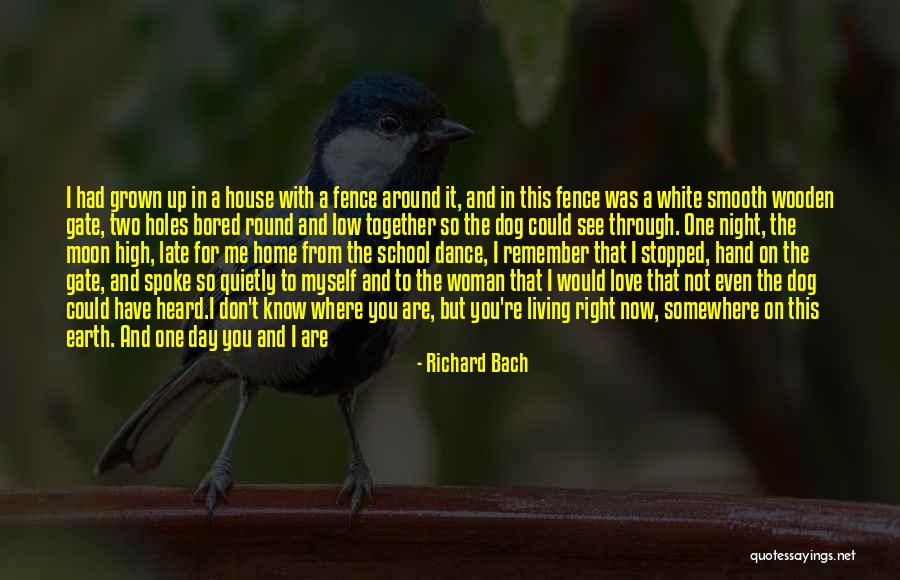 I had grown up in a house with a fence around it, and in this fence was a white smooth wooden gate, two holes bored round and low together so the dog could see through. One night, the moon high, late for me home from the school dance, I remember that I stopped, hand on the gate, and spoke so quietly to myself and to the woman that I would love that not even the dog could have heard.
I don't know where you are, but you're living right now, somewhere on this earth. And one day you and I are going to touch this gate where I'm touching it now. Your hand will touch this very wood, here! Then we'll walk through and we'll be full of a future and of a past and we'll be to each other like no one else has ever been. We can't meet now, I don't know why. But some day our questions will be answers and we'll be caught in something so bright ... and every step I take is one step closer on a bridge we must cross to meet. — Richard Bach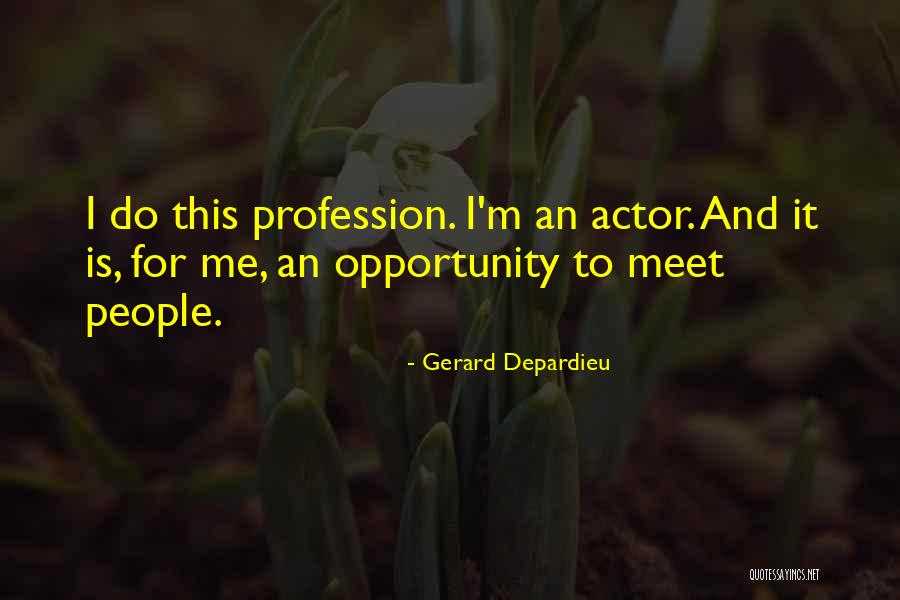 I do this profession. I'm an actor. And it is, for me, an opportunity to meet people. — Gerard Depardieu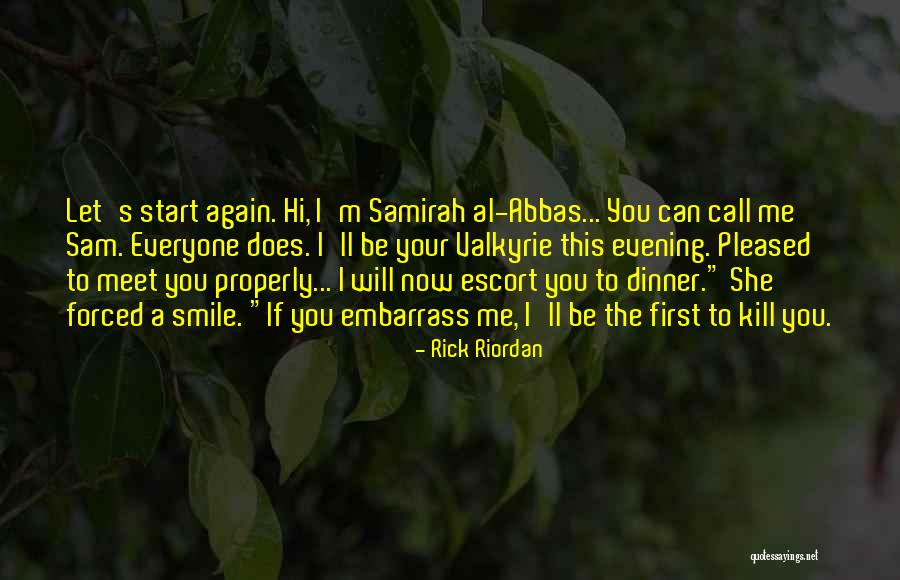 Let's start again. Hi, I'm Samirah al-Abbas... You can call me Sam. Everyone does. I'll be your Valkyrie this evening. Pleased to meet you properly... I will now escort you to dinner." She forced a smile. "If you embarrass me, I'll be the first to kill you. — Rick Riordan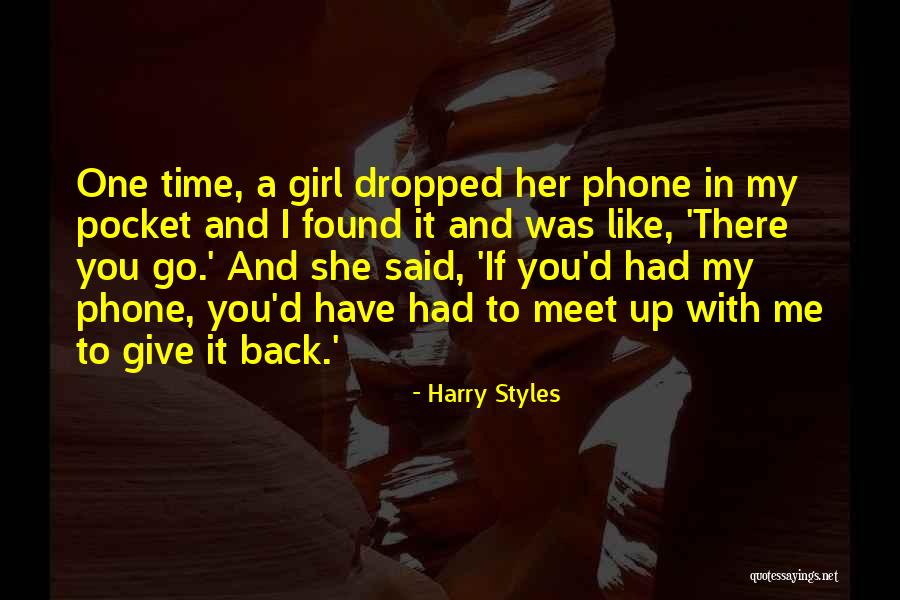 One time, a girl dropped her phone in my pocket and I found it and was like, 'There you go.' And she said, 'If you'd had my phone, you'd have had to meet up with me to give it back.' — Harry Styles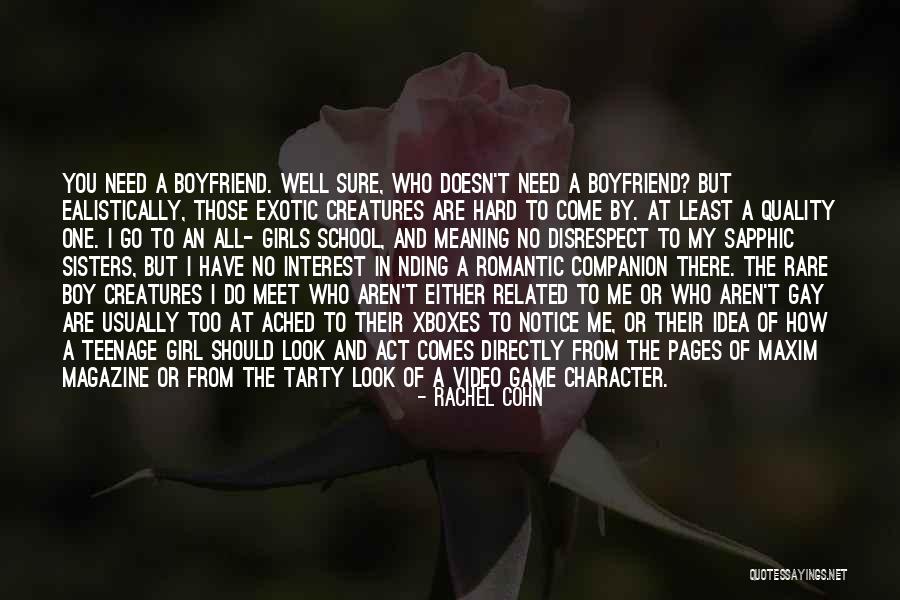 You need a boyfriend. Well sure, who doesn't need a boyfriend? But ealistically, those exotic creatures are hard to come by. At least a quality one. I go to an all- girls school, and meaning no disrespect to my sapphic sisters, but I have no interest in nding a romantic companion there. The rare boy creatures I do meet who aren't either related to me or who aren't gay are usually too at ached to their Xboxes to notice me, or their idea of how a teenage girl should look and act comes directly from the pages of Maxim magazine or from the tarty look of a video game character. — Rachel Cohn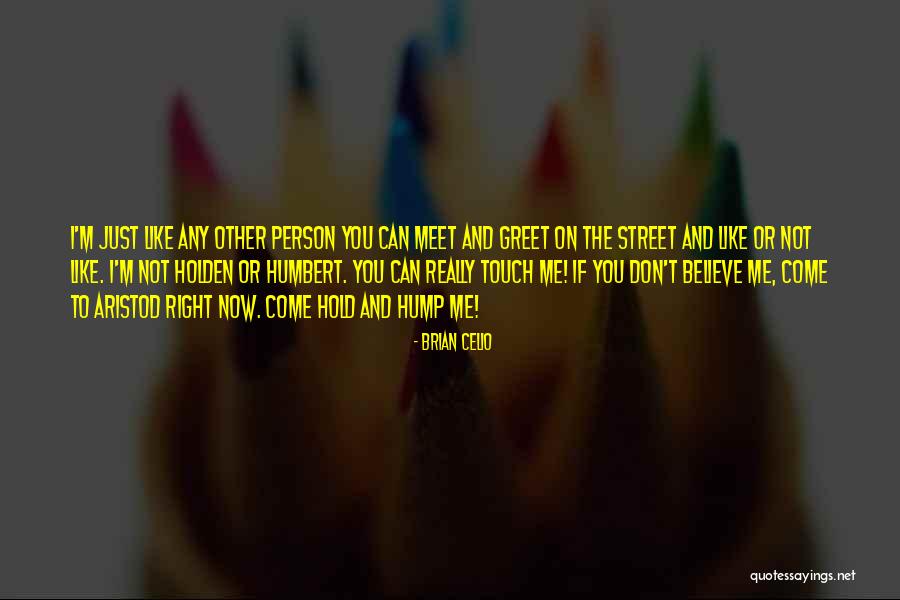 I'm just like any other person you can meet and greet on the street and like or not like. I'm not Holden or Humbert. You can really touch me! If you don't believe me, come to Aristod right now. Come hold and hump me! — Brian Celio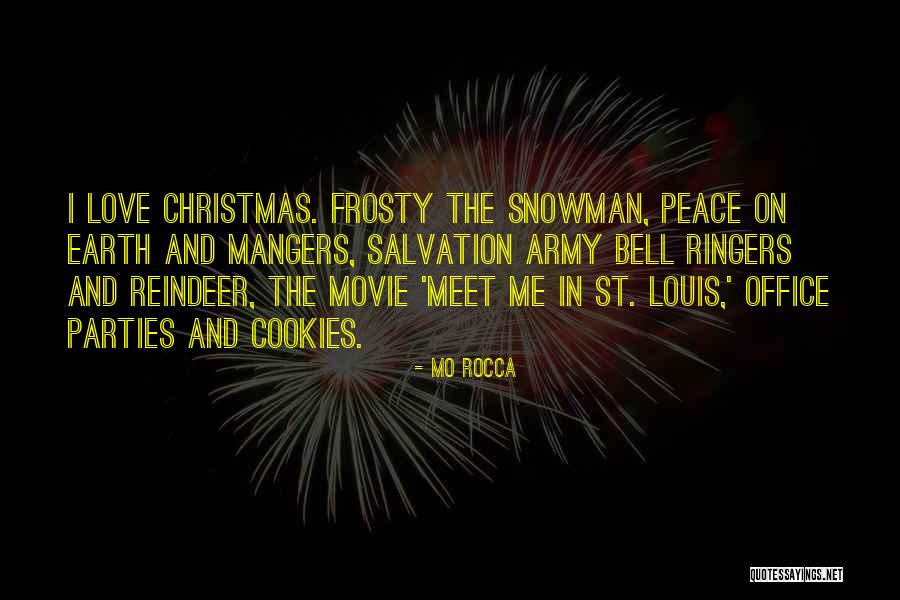 I love Christmas. Frosty the Snowman, peace on Earth and mangers, Salvation Army bell ringers and reindeer, the movie 'Meet Me in St. Louis,' office parties and cookies. — Mo Rocca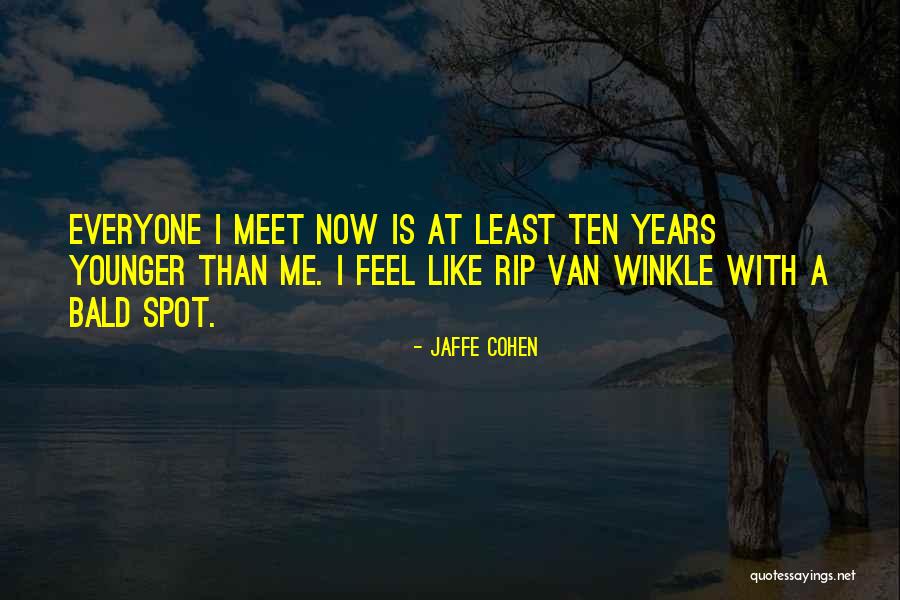 Everyone I meet now is at least ten years younger than me. I feel like Rip van Winkle with a bald spot. — Jaffe Cohen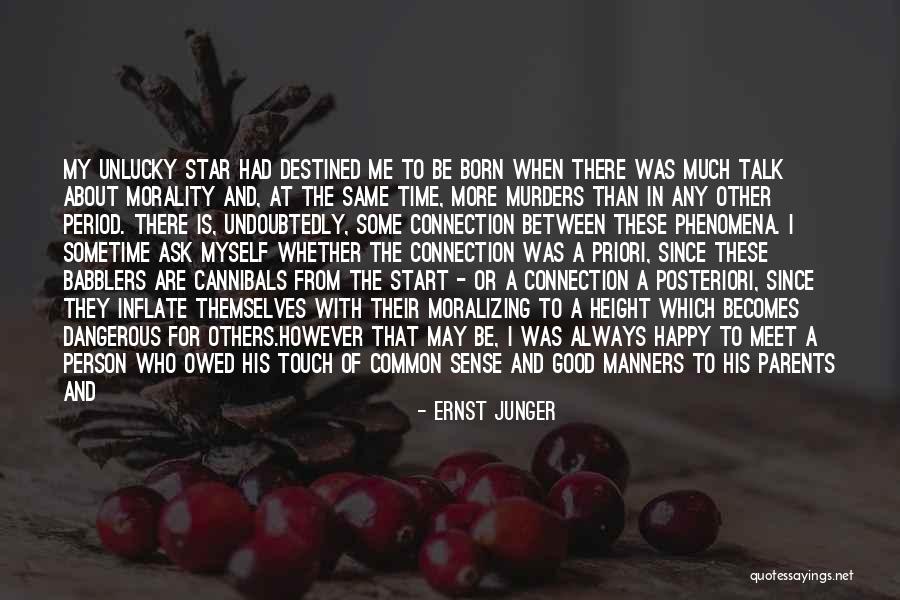 My unlucky star had destined me to be born when there was much talk about morality and, at the same time, more murders than in any other period. There is, undoubtedly, some connection between these phenomena. I sometime ask myself whether the connection was a priori, since these babblers are cannibals from the start - or a connection a posteriori, since they inflate themselves with their moralizing to a height which becomes dangerous for others.
However that may be, I was always happy to meet a person who owed his touch of common sense and good manners to his parents and who didn't need big principles. I do not claim more for myself, and I am a man who for an entire lifetime has been moralized at to the right and the left - by teachers and superiors, by policemen and journalists, by Jews and Gentiles, by inhabitants of the Alps, of islands, and the plains, by cut-throats and aristocrats - all of whom looked as if butter wouldn't melt in their mouths. — Ernst Junger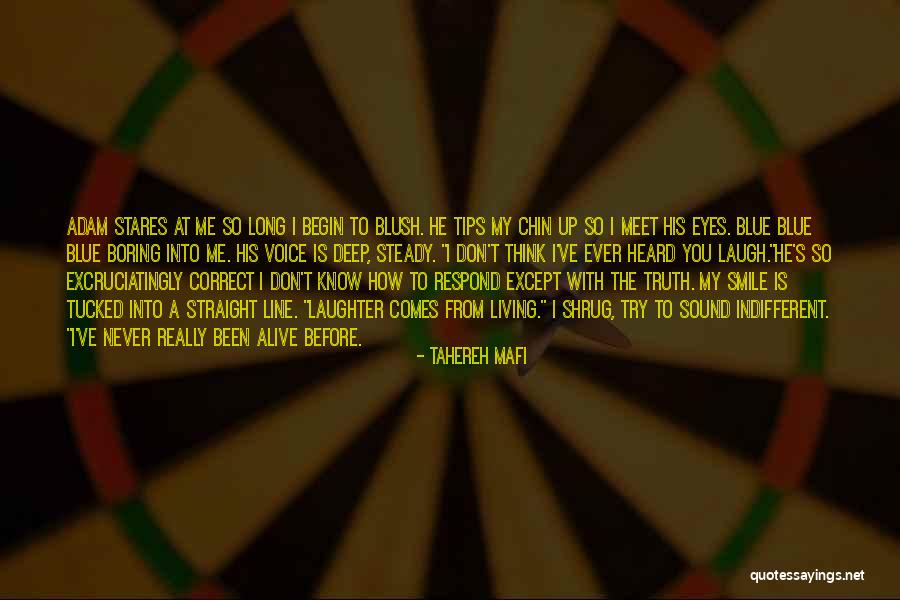 Adam stares at me so long I begin to blush. He tips my chin up so I meet his eyes. Blue blue blue boring into me. His voice is deep, steady. "I don't think I've ever heard you laugh."
He's so excruciatingly correct I don't know how to respond except with the truth. My smile is tucked into a straight line. "Laughter comes from living." I shrug, try to sound indifferent. "I've never really been alive before. — Tahereh Mafi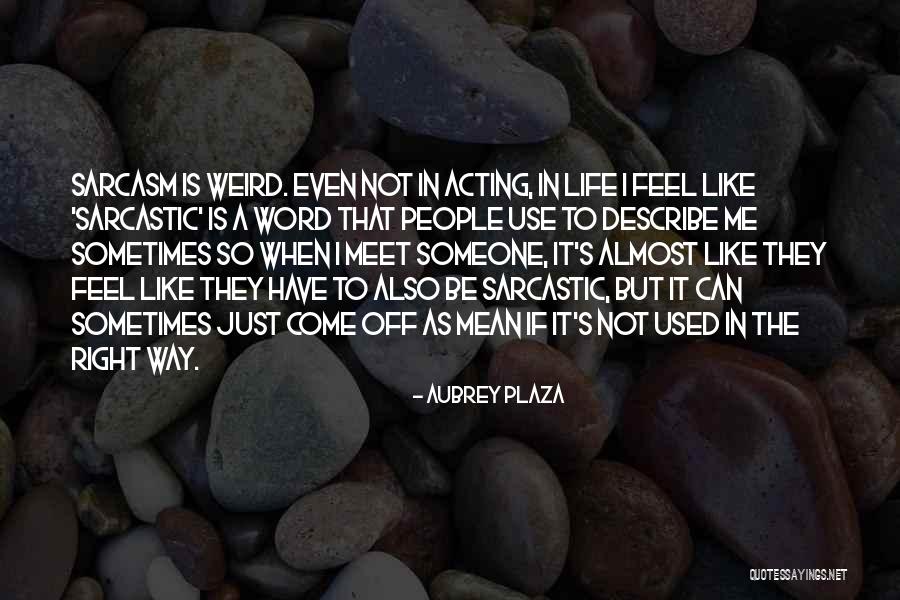 Sarcasm is weird. Even not in acting, in life I feel like 'sarcastic' is a word that people use to describe me sometimes so when I meet someone, it's almost like they feel like they have to also be sarcastic, but it can sometimes just come off as mean if it's not used in the right way. — Aubrey Plaza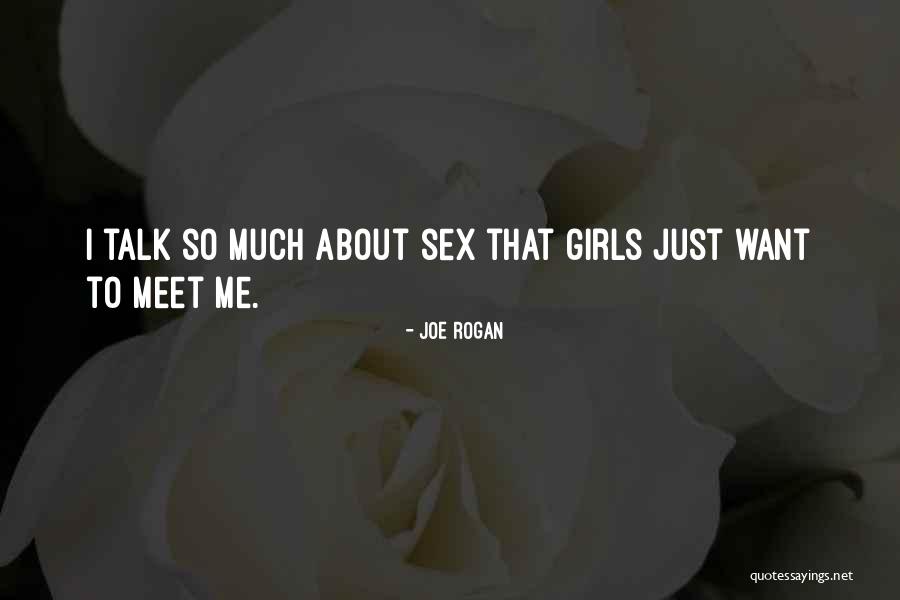 I talk so much about sex that girls just want to meet me. — Joe Rogan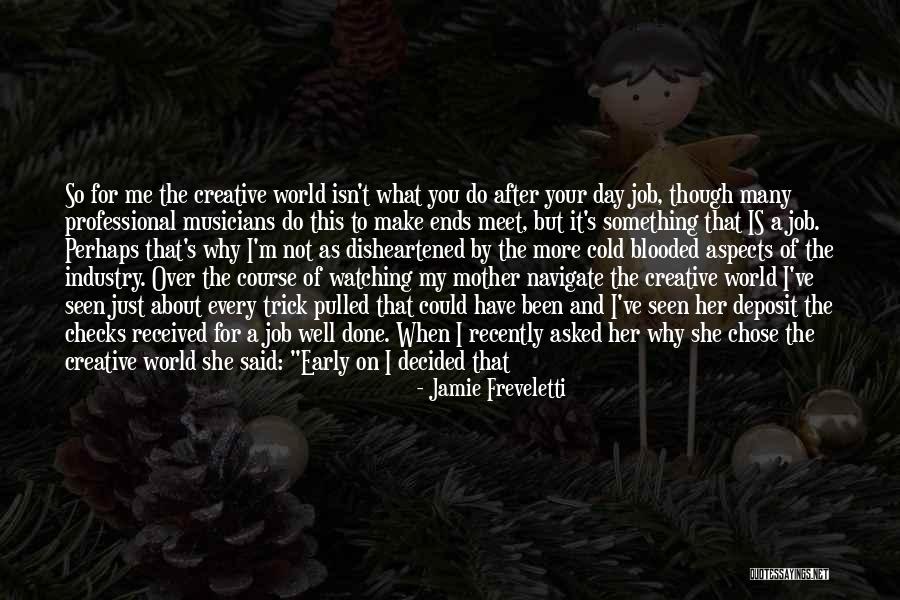 So for me the creative world isn't what you do after your day job, though many professional musicians do this to make ends meet, but it's something that IS a job. Perhaps that's why I'm not as disheartened by the more cold blooded aspects of the industry. Over the course of watching my mother navigate the creative world I've seen just about every trick pulled that could have been and I've seen her deposit the checks received for a job well done. When I recently asked her why she chose the creative world she said: "Early on I decided that if I had to work I was going to work at something that I loved."

I'm glad she did. As difficult, chaotic, dysfunctional and crazy as the world in music and the arts can be I always knew that they mattered deeply to her, as they do to me. — Jamie Freveletti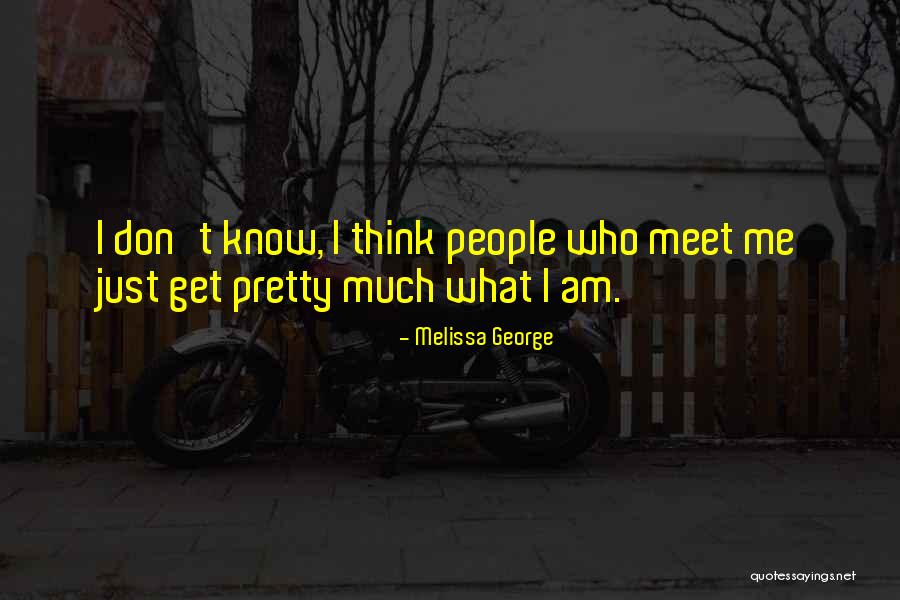 I don't know, I think people who meet me just get pretty much what I am. — Melissa George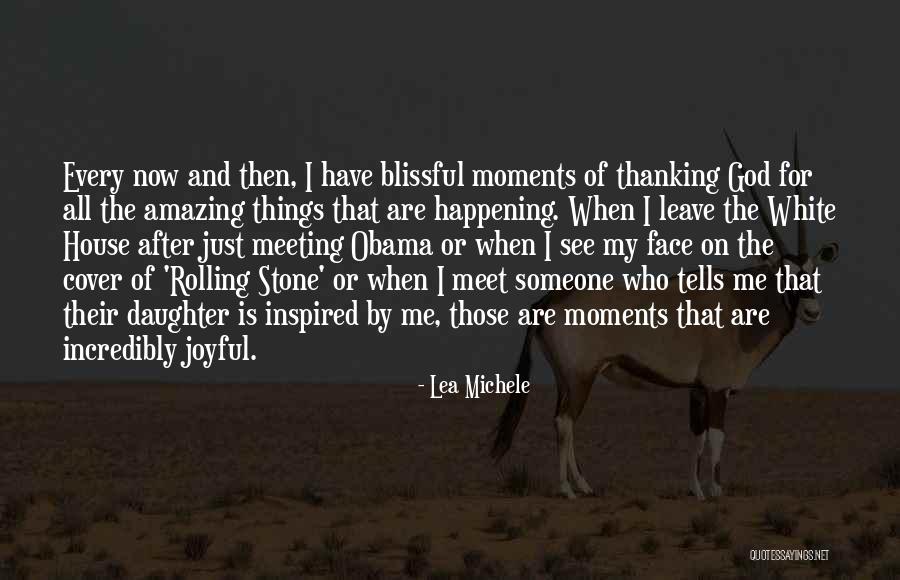 Every now and then, I have blissful moments of thanking God for all the amazing things that are happening. When I leave the White House after just meeting Obama or when I see my face on the cover of 'Rolling Stone' or when I meet someone who tells me that their daughter is inspired by me, those are moments that are incredibly joyful. — Lea Michele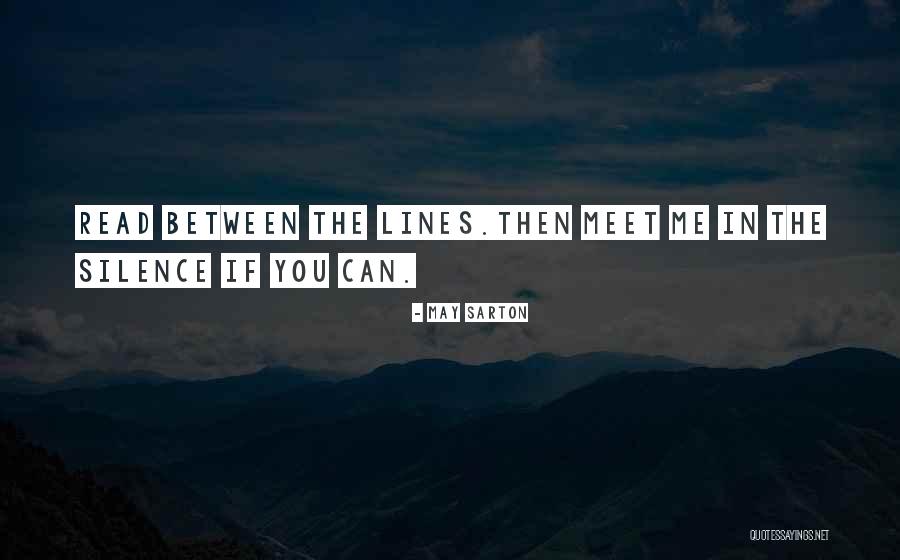 Read between the lines.Then meet me in the silence if you can. — May Sarton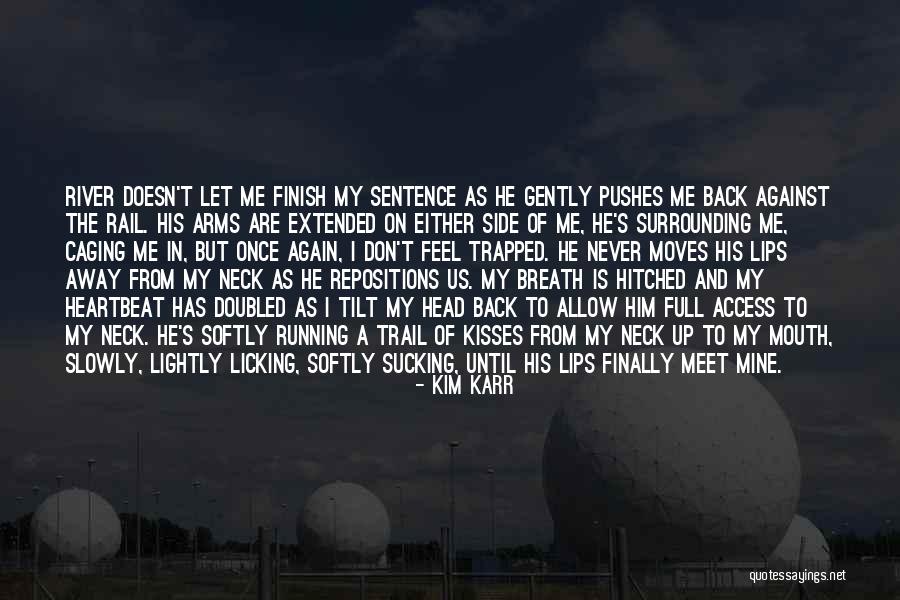 River doesn't let me finish my sentence as he gently pushes me back against the rail. His arms are extended on either side of me, he's surrounding me, caging me in, but once again, I don't feel trapped. He never moves his lips away from my neck as he repositions us. My breath is hitched and my heartbeat has doubled as I tilt my head back to allow him full access to my neck. He's softly running a trail of kisses from my neck up to my mouth, slowly, lightly licking, softly sucking, until his lips finally meet mine. — Kim Karr
Every day, the people I meet inspire me ... every day, they make me proud ... every day they remind me how blessed we are to live in the greatest nation on earth. — Michelle Obama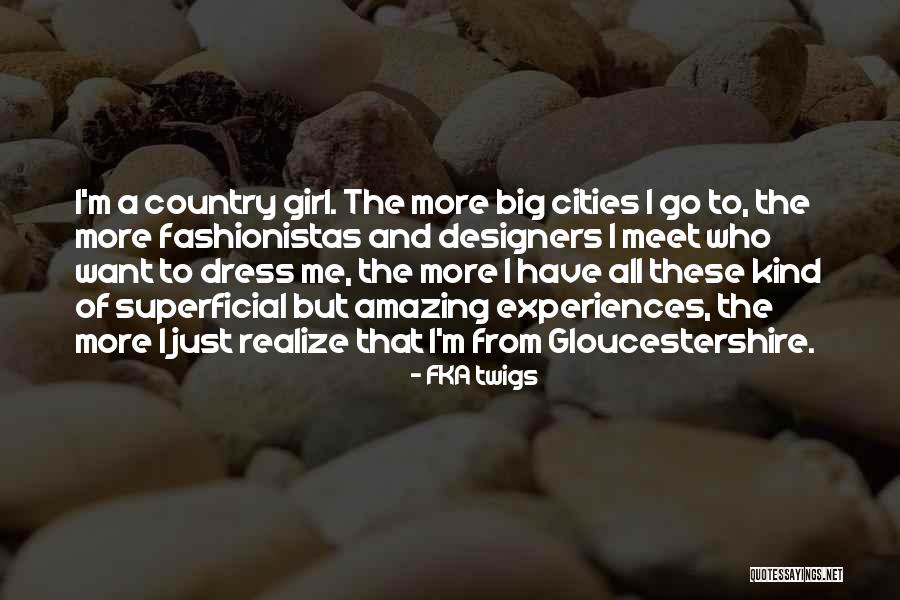 I'm a country girl. The more big cities I go to, the more fashionistas and designers I meet who want to dress me, the more I have all these kind of superficial but amazing experiences, the more I just realize that I'm from Gloucestershire. — FKA Twigs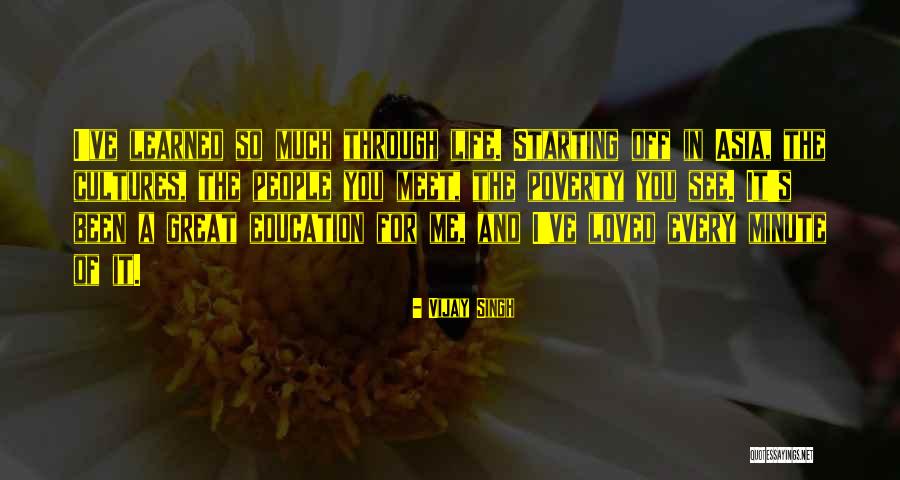 I've learned so much through life. Starting off in Asia, the cultures, the people you meet, the poverty you see. It's been a great education for me, and I've loved every minute of it. — Vijay Singh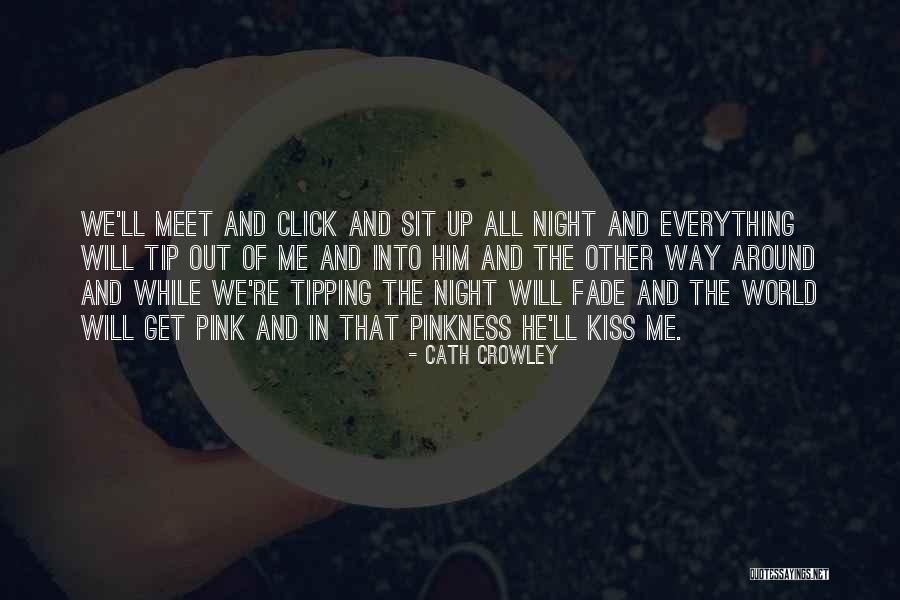 We'll meet and click and sit up all night and everything will tip out of me and into him and the other way around and while we're tipping the night will fade and the world will get pink and in that pinkness he'll kiss me. — Cath Crowley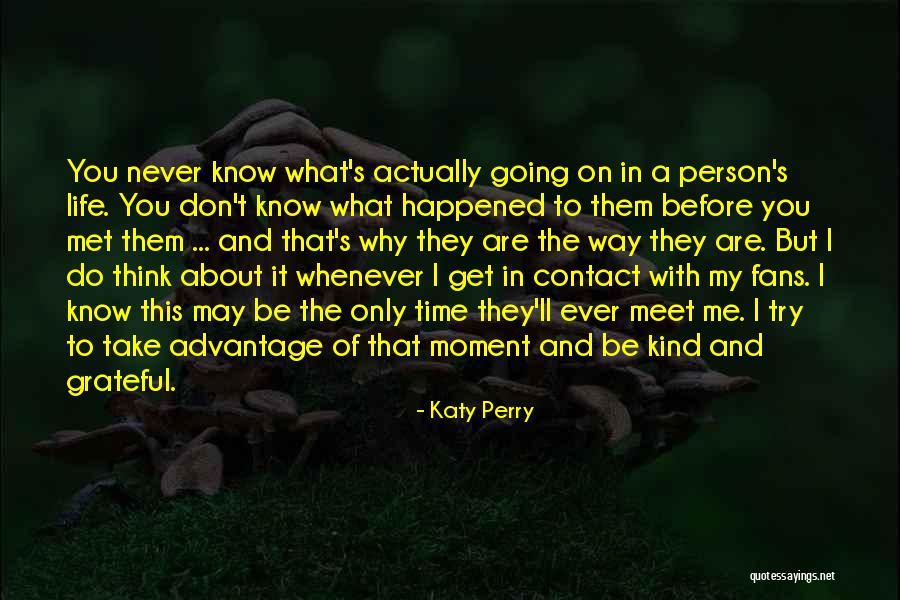 You never know what's actually going on in a person's life. You don't know what happened to them before you met them ... and that's why they are the way they are. But I do think about it whenever I get in contact with my fans. I know this may be the only time they'll ever meet me. I try to take advantage of that moment and be kind and grateful. — Katy Perry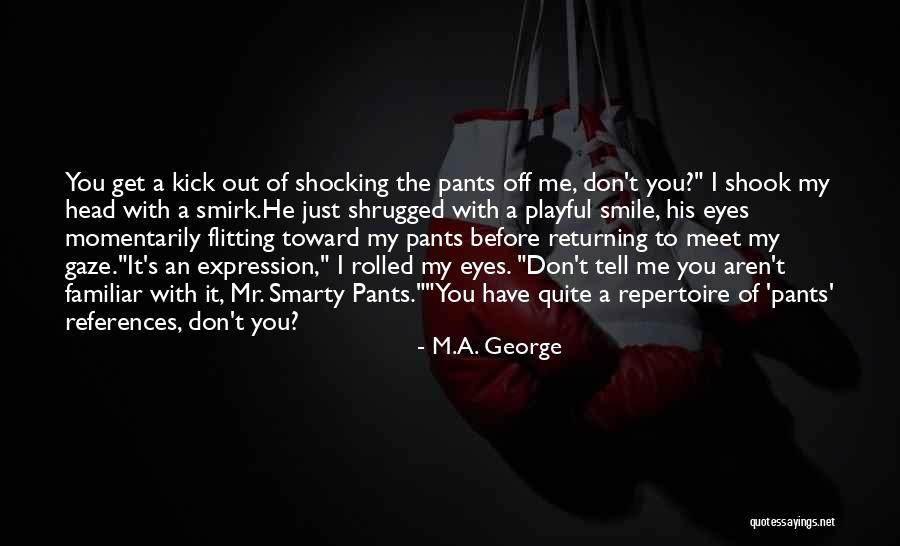 You get a kick out of shocking the pants off me, don't you?" I shook my head with a smirk.

He just shrugged with a playful smile, his eyes momentarily flitting toward my pants before returning to meet my gaze.

"It's an expression," I rolled my eyes. "Don't tell me you aren't familiar with it, Mr. Smarty Pants."

"You have quite a repertoire of 'pants' references, don't you? — M.A. George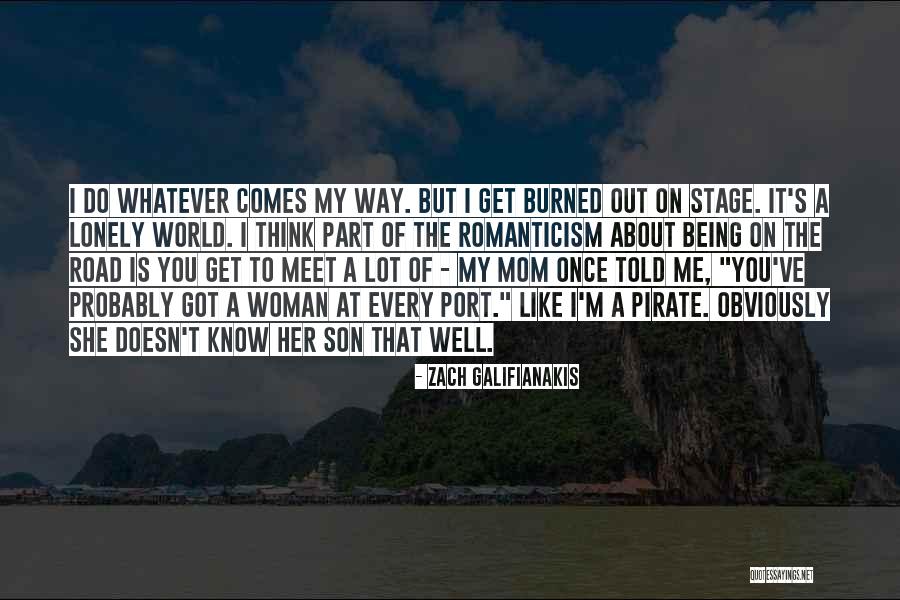 I do whatever comes my way. But I get burned out on stage. It's a lonely world. I think part of the romanticism about being on the road is you get to meet a lot of - my mom once told me, "You've probably got a woman at every port." Like I'm a pirate. Obviously she doesn't know her son that well. — Zach Galifianakis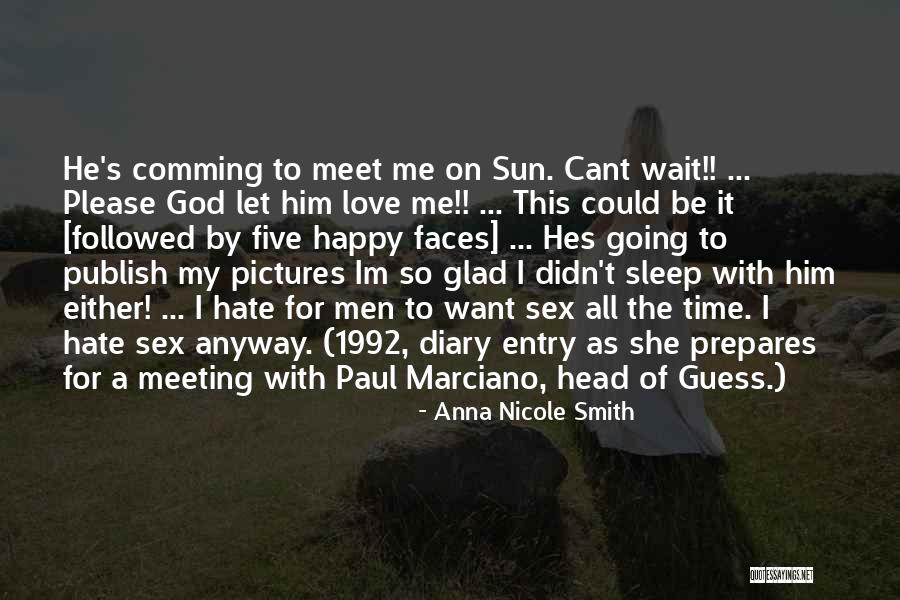 He's comming to meet me on Sun. Cant wait!! ... Please God let him love me!! ... This could be it [followed by five happy faces] ... Hes going to publish my pictures Im so glad I didn't sleep with him either! ... I hate for men to want sex all the time. I hate sex anyway. (1992, diary entry as she prepares for a meeting with Paul Marciano, head of Guess.) — Anna Nicole Smith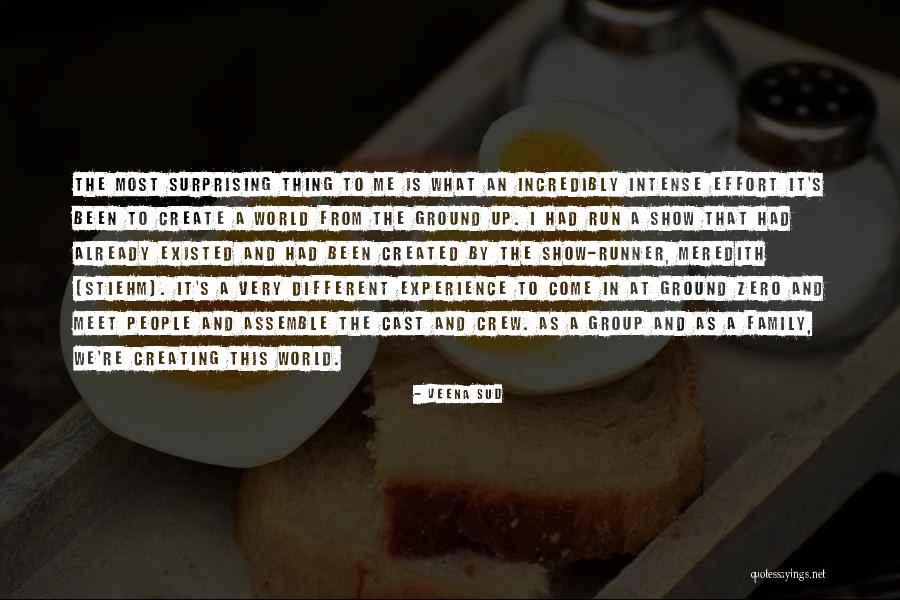 The most surprising thing to me is what an incredibly intense effort it's been to create a world from the ground up. I had run a show that had already existed and had been created by the show-runner, Meredith [Stiehm]. It's a very different experience to come in at ground zero and meet people and assemble the cast and crew. As a group and as a family, we're creating this world. — Veena Sud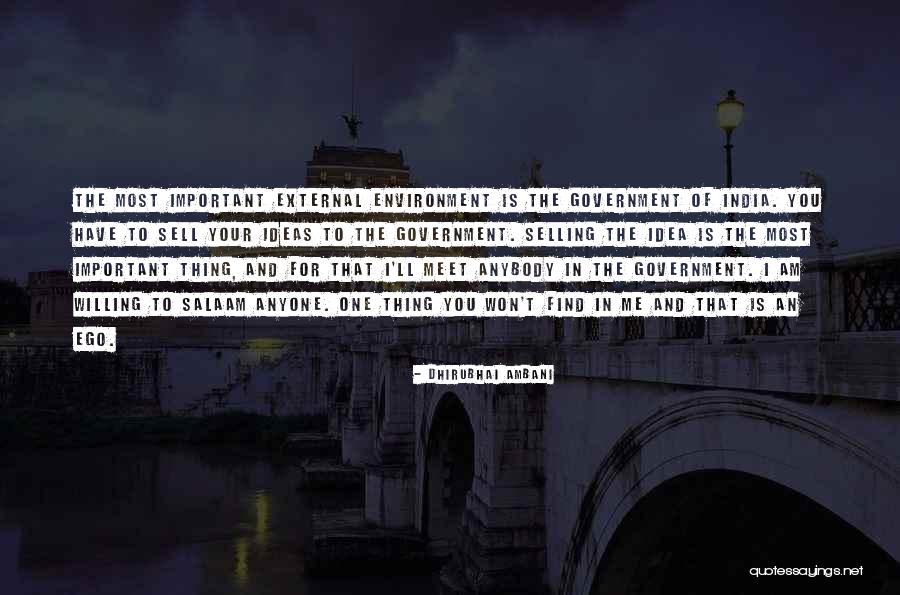 The most important external environment is the government of India. You have to sell your ideas to the government. Selling the idea is the most important thing, and for that I'll meet anybody in the government. I am willing to salaam anyone. One thing you won't find in me and that is an ego. — Dhirubhai Ambani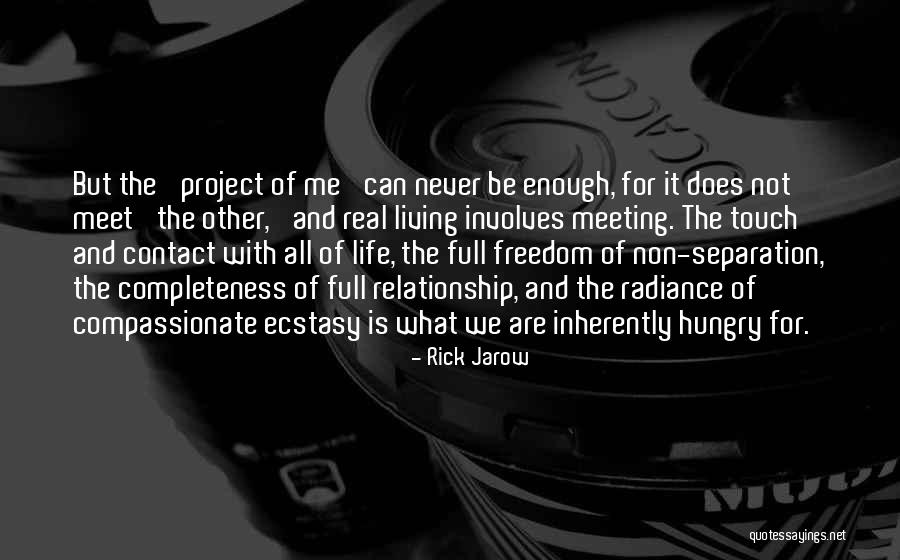 But the 'project of me' can never be enough, for it does not meet 'the other,' and real living involves meeting. The touch and contact with all of life, the full freedom of non-separation, the completeness of full relationship, and the radiance of compassionate ecstasy is what we are inherently hungry for. — Rick Jarow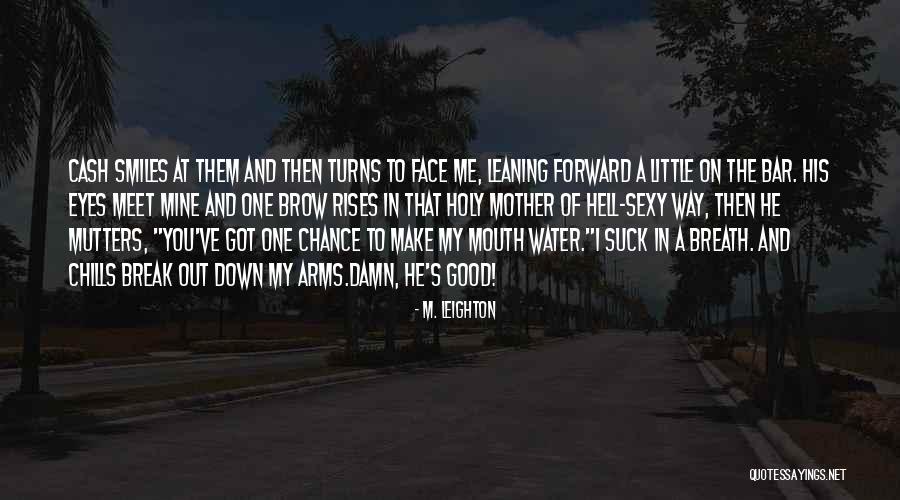 Cash smiles at them and then turns to face me, leaning forward a little on the bar. His eyes meet mine and one brow rises in that holy mother of hell-sexy way, then he mutters, "You've got one chance to make my mouth water."
I suck in a breath. And chills break out down my arms.
Damn, he's good! — M. Leighton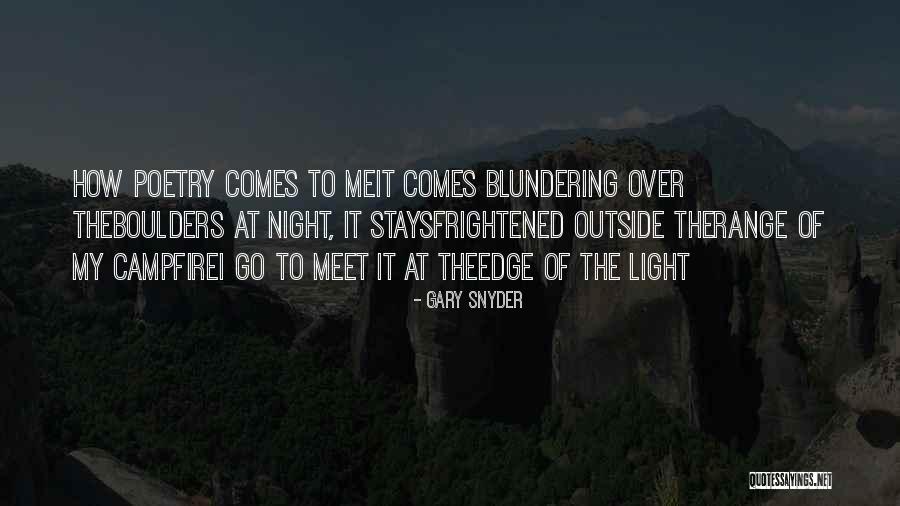 How Poetry Comes to Me

It comes blundering over the
Boulders at night, it stays
Frightened outside the
Range of my campfire
I go to meet it at the
Edge of the light — Gary Snyder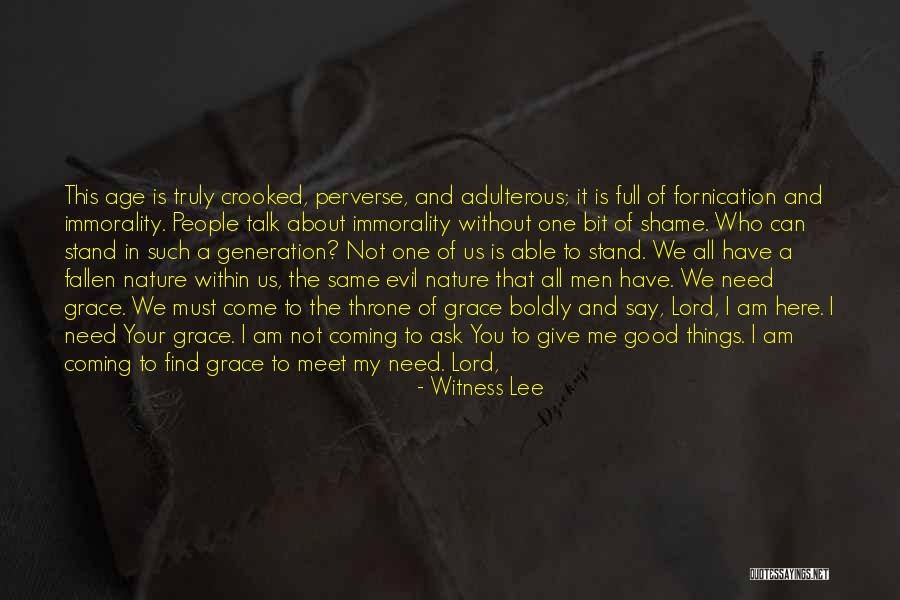 This age is truly crooked, perverse, and adulterous; it is full of fornication and immorality. People talk about immorality without one bit of shame. Who can stand in such a generation? Not one of us is able to stand. We all have a fallen nature within us, the same evil nature that all men have. We need grace. We must come to the throne of grace boldly and say, Lord, I am here. I need Your grace. I am not coming to ask You to give me good things. I am coming to find grace to meet my need. Lord, I cannot go to work or to school without Your presence. Lord, I cannot go to a department store without Your presence. Lord, I need You to stand with me. Come to be my strength. Lord, uphold me and sustain me. — Witness Lee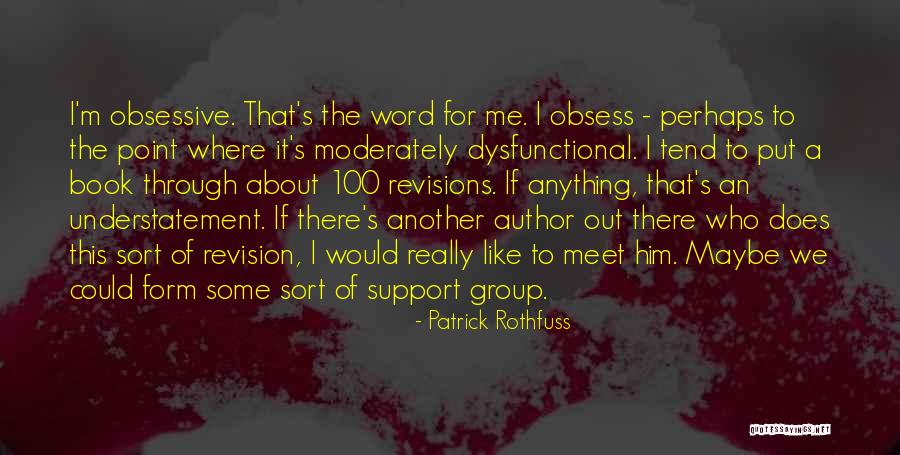 I'm obsessive. That's the word for me. I obsess - perhaps to the point where it's moderately dysfunctional. I tend to put a book through about 100 revisions. If anything, that's an understatement. If there's another author out there who does this sort of revision, I would really like to meet him. Maybe we could form some sort of support group. — Patrick Rothfuss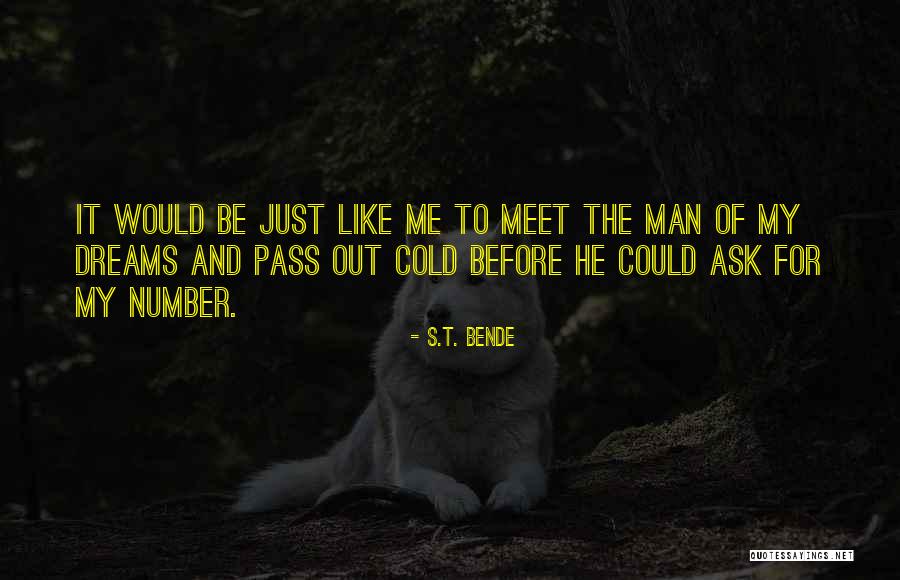 It would be just like me to meet the man of my dreams and pass out cold before he could ask for my number. — S.T. Bende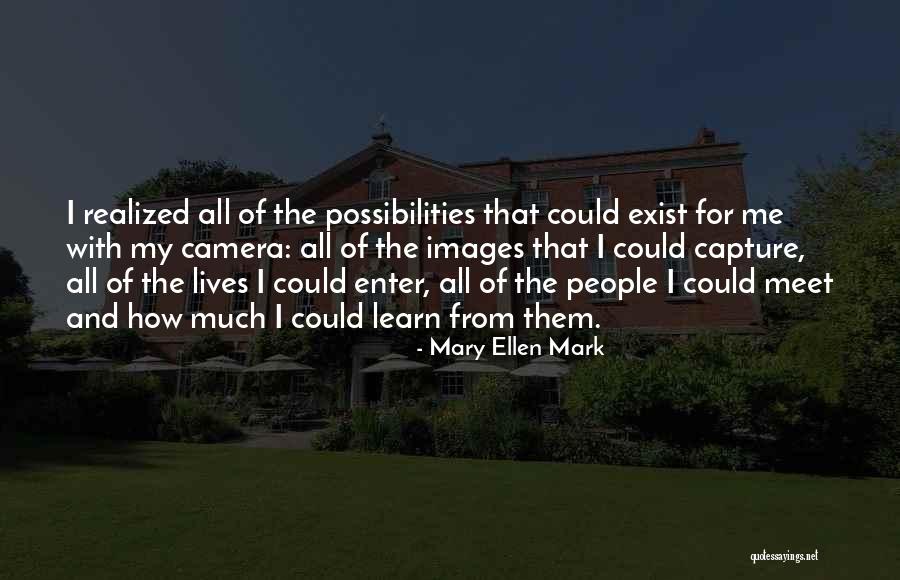 I realized all of the possibilities that could exist for me with my camera: all of the images that I could capture, all of the lives I could enter, all of the people I could meet and how much I could learn from them. — Mary Ellen Mark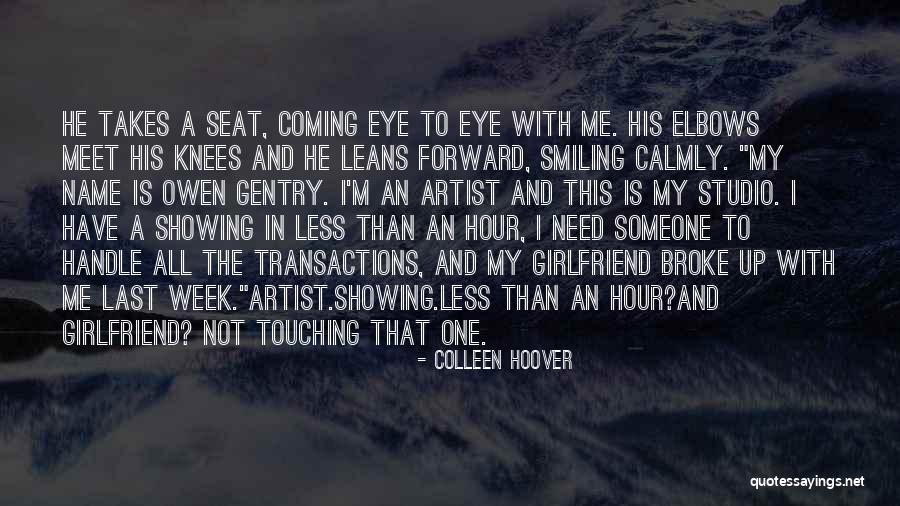 He takes a seat, coming eye to eye with me. His elbows meet his knees and he leans forward, smiling calmly. "My name is Owen Gentry. I'm an artist and this is my studio. I have a showing in less than an hour, I need someone to handle all the transactions, and my girlfriend broke up with me last week."
Artist.
Showing.
Less than an hour?
And girlfriend? Not touching that one. — Colleen Hoover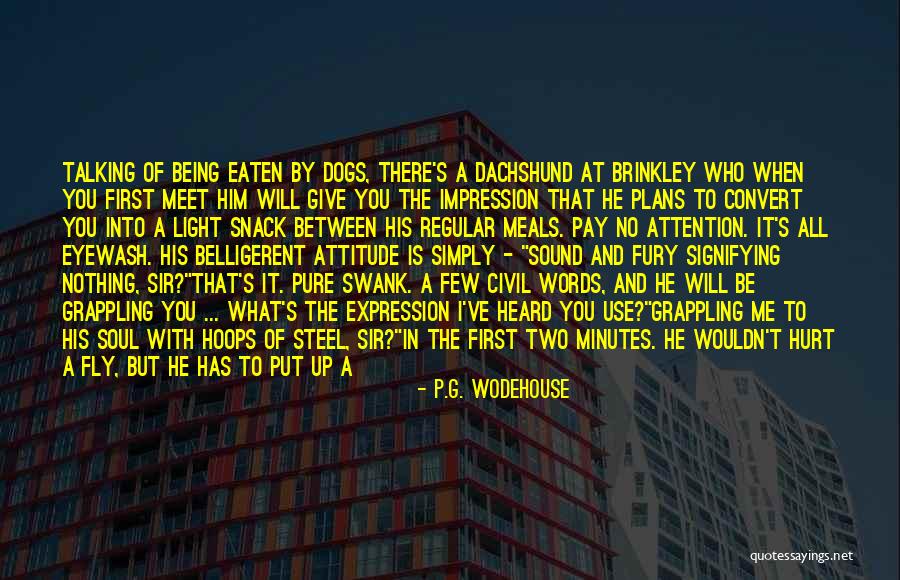 Talking of being eaten by dogs, there's a dachshund at Brinkley who when you first meet him will give you the impression that he plans to convert you into a light snack between his regular meals. Pay no attention. It's all eyewash. His belligerent attitude is simply - "
Sound and fury signifying nothing, sir?"
That's it. Pure swank. A few civil words, and he will be grappling you ... What's the expression I've heard you use?"
Grappling me to his soul with hoops of steel, sir?"
In the first two minutes. He wouldn't hurt a fly, but he has to put up a front because his name's Poppet. One can readily appreciate that when a dog hears himself addressed day in and day out as Poppet, he feels he must throw his weight about. Is self-respect demands it."
Precisely, sir."
You'll like Poppet. Nice dog. Wears his ears inside out. Why do dachshunds wear their ears inside out?"
I could not say, sir."
Nor me. I've often wondered. — P.G. Wodehouse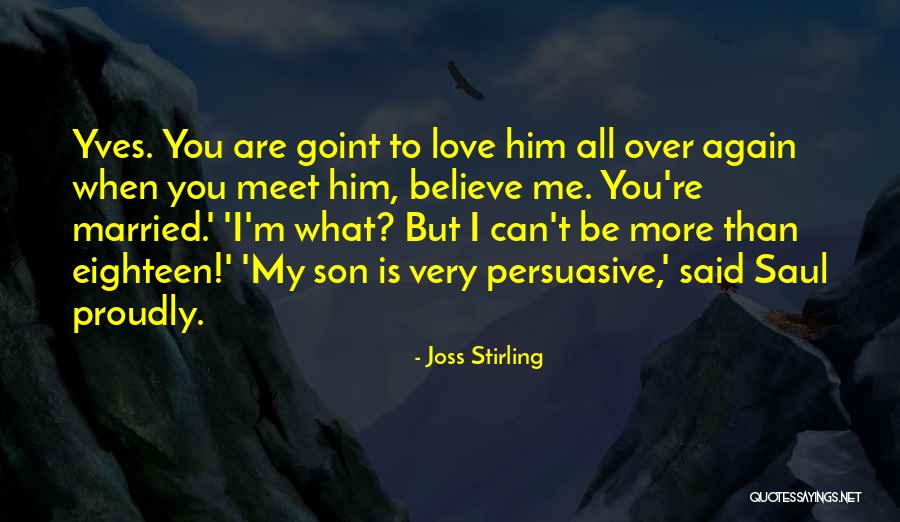 Yves. You are goint to love him all over again when you meet him, believe me. You're married.'
'I'm what? But I can't be more than eighteen!'
'My son is very persuasive,' said Saul proudly. — Joss Stirling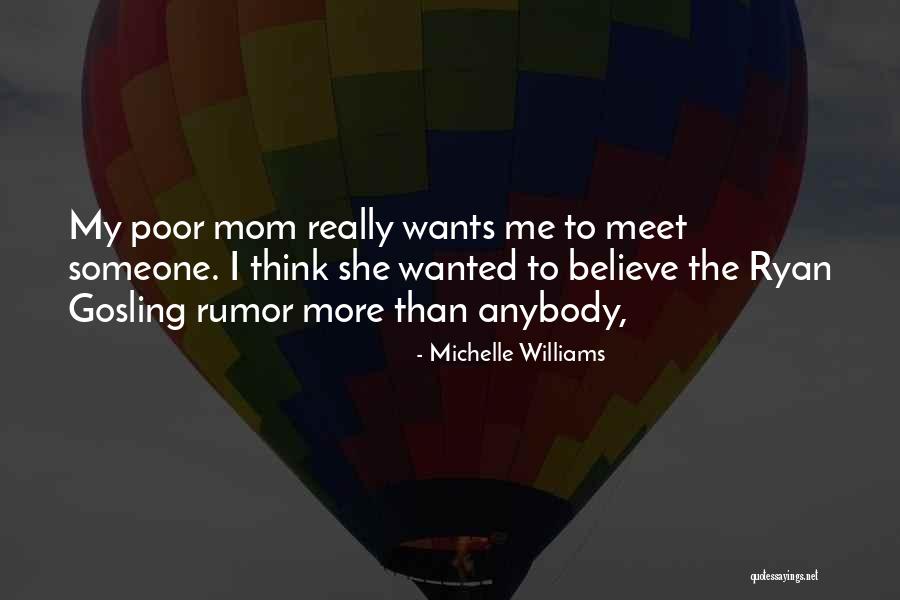 My poor mom really wants me to meet someone. I think she wanted to believe the Ryan Gosling rumor more than anybody, — Michelle Williams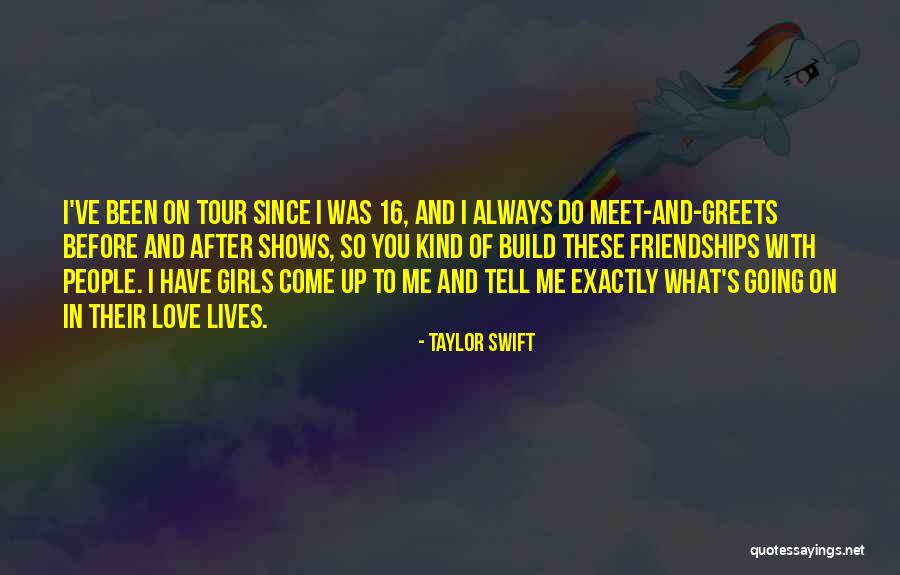 I've been on tour since I was 16, and I always do meet-and-greets before and after shows, so you kind of build these friendships with people. I have girls come up to me and tell me exactly what's going on in their love lives. — Taylor Swift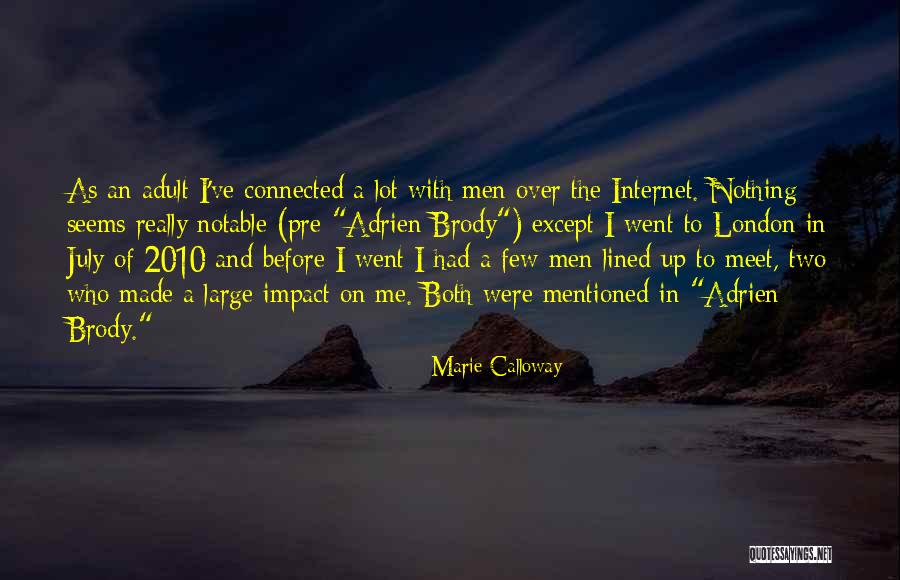 As an adult I've connected a lot with men over the Internet. Nothing seems really notable (pre-"Adrien Brody") except I went to London in July of 2010 and before I went I had a few men lined up to meet, two who made a large impact on me. Both were mentioned in "Adrien Brody." — Marie Calloway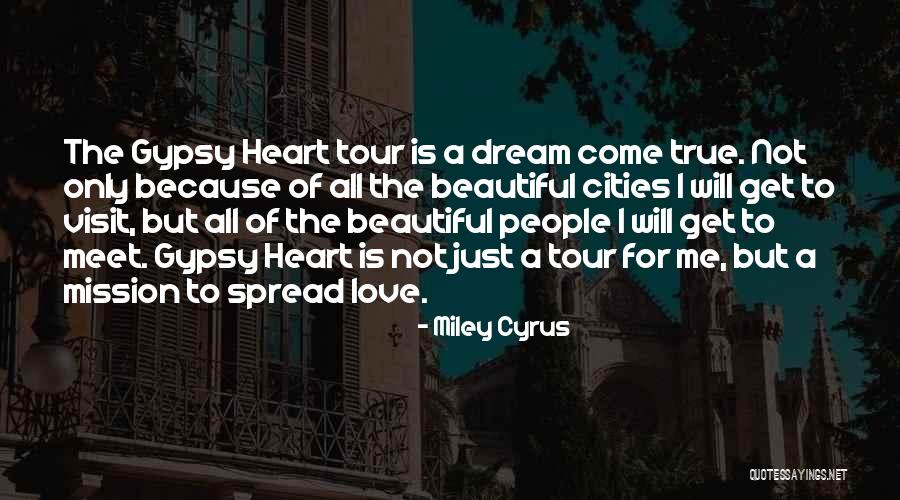 The Gypsy Heart tour is a dream come true. Not only because of all the beautiful cities I will get to visit, but all of the beautiful people I will get to meet. Gypsy Heart is not just a tour for me, but a mission to spread love. — Miley Cyrus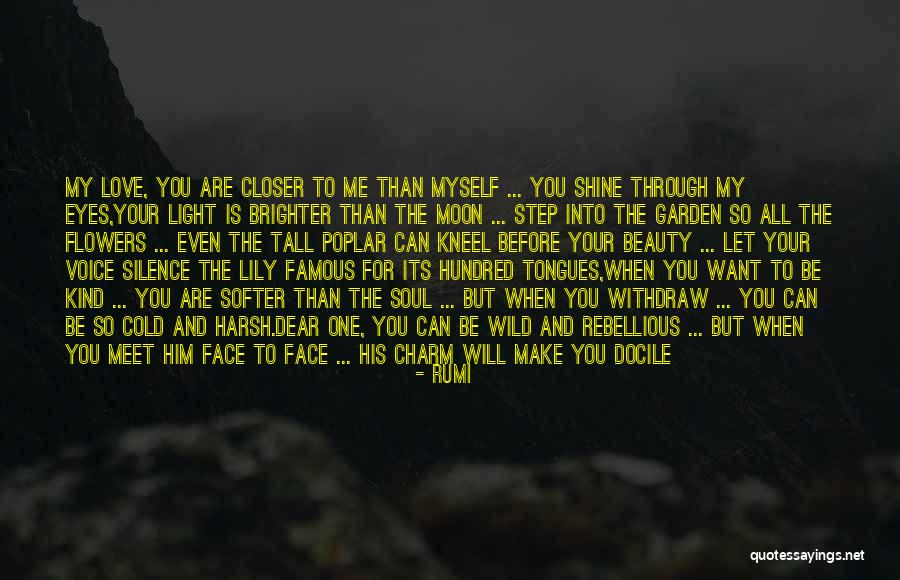 My love, you are closer to me than myself ...
You shine through my eyes,
Your light is brighter than the Moon ...
Step into the garden so all the flowers ...
Even the tall poplar can kneel before your beauty ...
Let your voice silence the lily famous for its hundred tongues,
When you want to be kind ...
You are softer than the soul ...
But when you withdraw ...
You can be so cold and harsh.
Dear one, you can be wild and rebellious ...
But when you meet him face to face ...
His charm will make you docile like the earth,
Throw away your shield and bare your chest ...
There is no stronger protection than him.
That's why when the Lover withdraws from the world ...
He covers all the cracks in the wall ...
So the outside light cannot come though,
He knows that only the inner light illuminates his world! — Rumi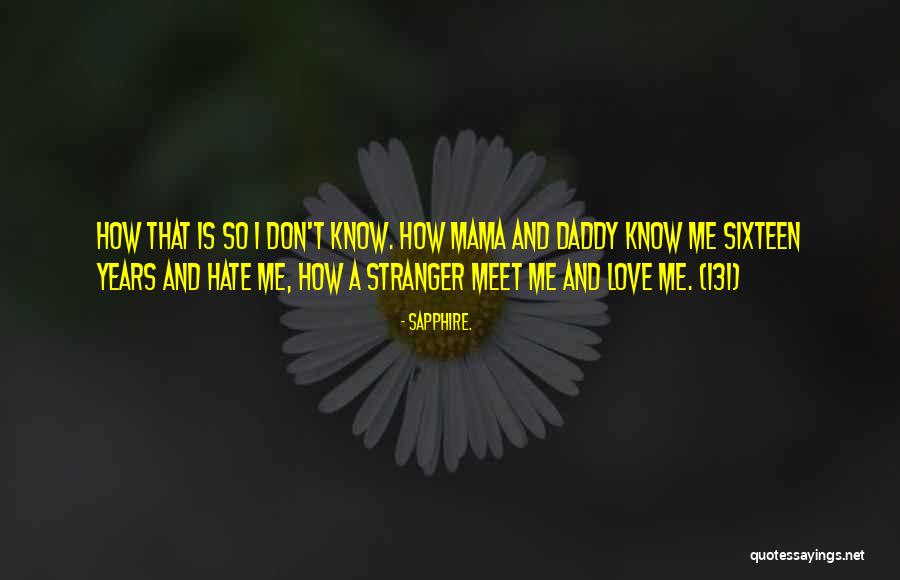 How that is so I don't know. How Mama and Daddy know me sixteen years and hate me, how a stranger meet me and love me. (131) — Sapphire.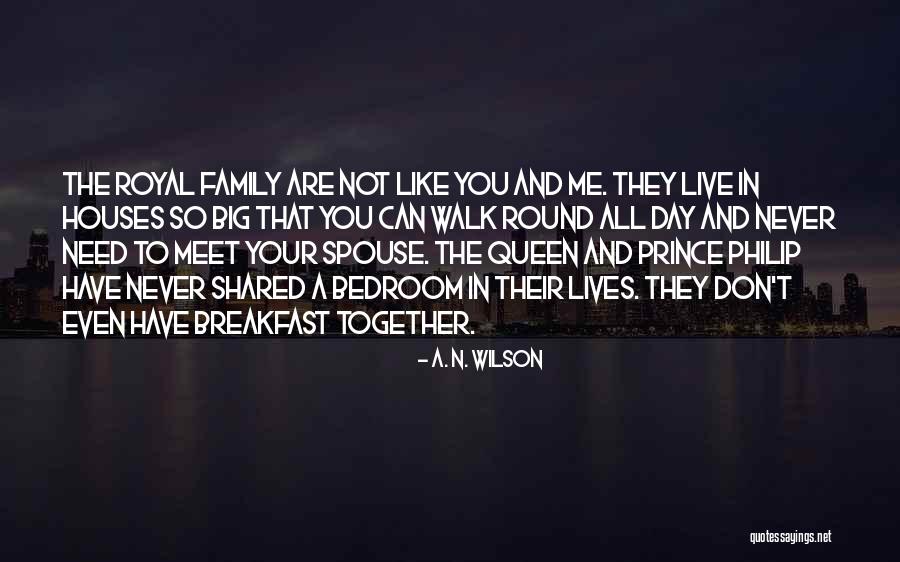 The Royal Family are not like you and me. They live in houses so big that you can walk round all day and never need to meet your spouse. The Queen and Prince Philip have never shared a bedroom in their lives. They don't even have breakfast together. — A. N. Wilson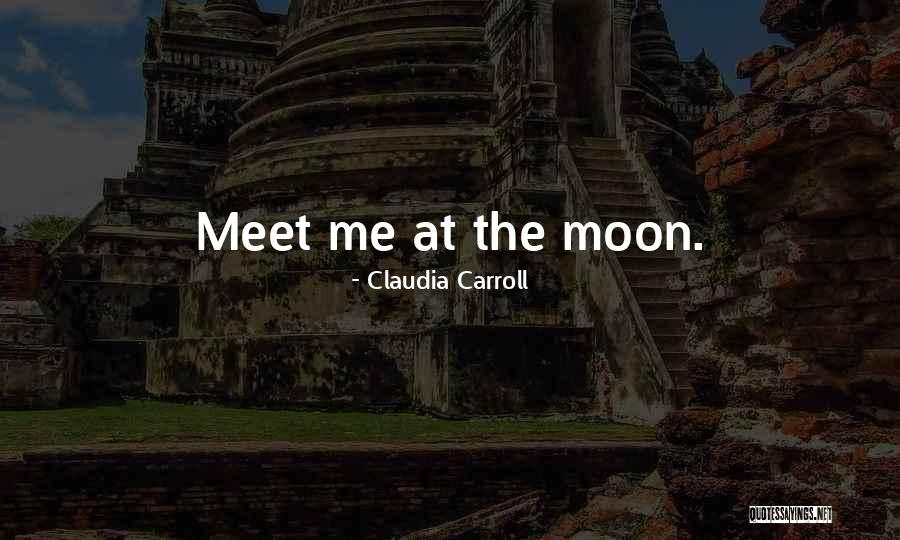 Meet me at the moon. — Claudia Carroll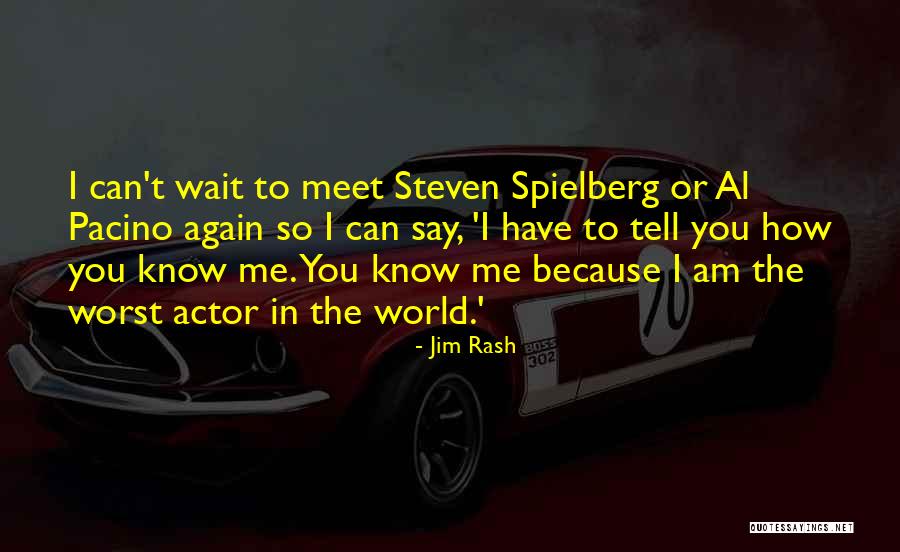 I can't wait to meet Steven Spielberg or Al Pacino again so I can say, 'I have to tell you how you know me. You know me because I am the worst actor in the world.' — Jim Rash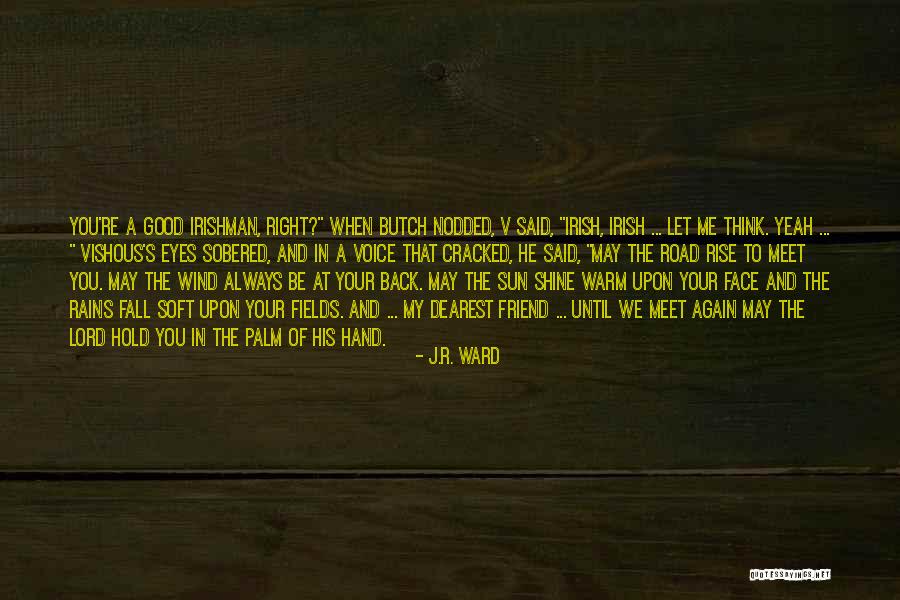 You're a good Irishman, right?" When Butch nodded, V said, "Irish, Irish ... let me think. Yeah ... " Vishous's eyes sobered, and in a voice that cracked, he said, "May the road rise to meet you. May the wind always be at your back. May the sun shine warm upon your face and the rains fall soft upon your fields. And ... my dearest friend ... until we meet again may the Lord hold you in the palm of His hand. — J.R. Ward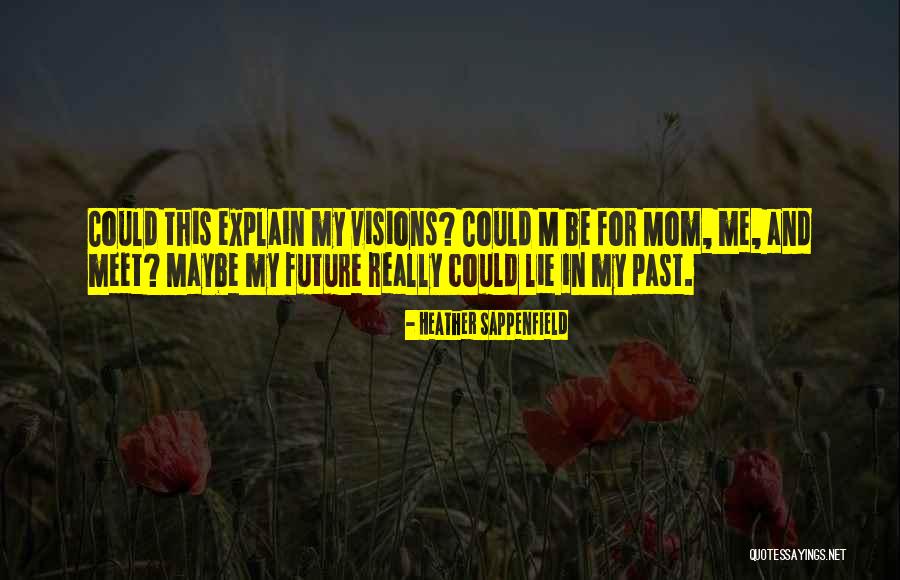 Could this explain my visions? Could M be for Mom, me, and meet? Maybe my future really could lie in my past. — Heather Sappenfield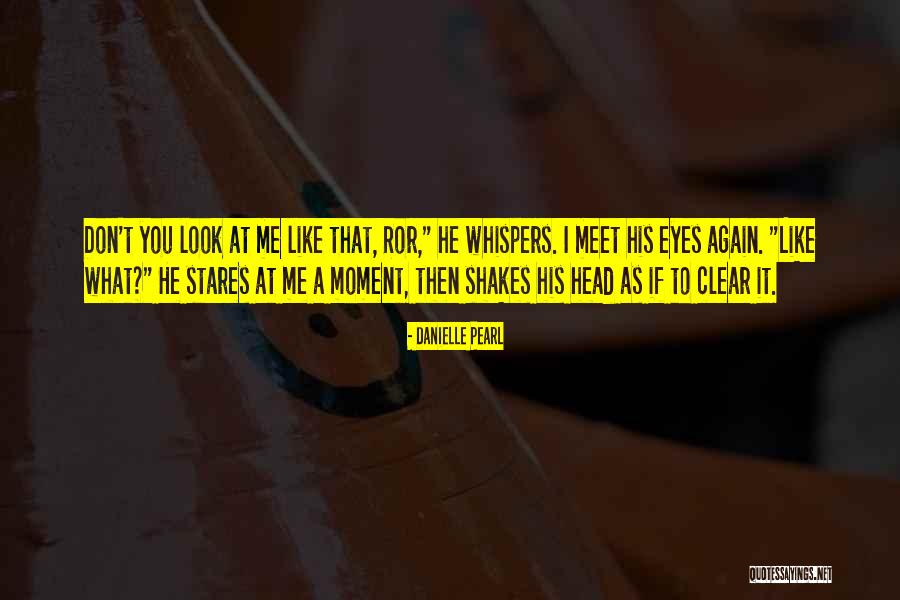 Don't you look at me like that, Ror," he whispers. I meet his eyes again. "Like what?" He stares at me a moment, then shakes his head as if to clear it. — Danielle Pearl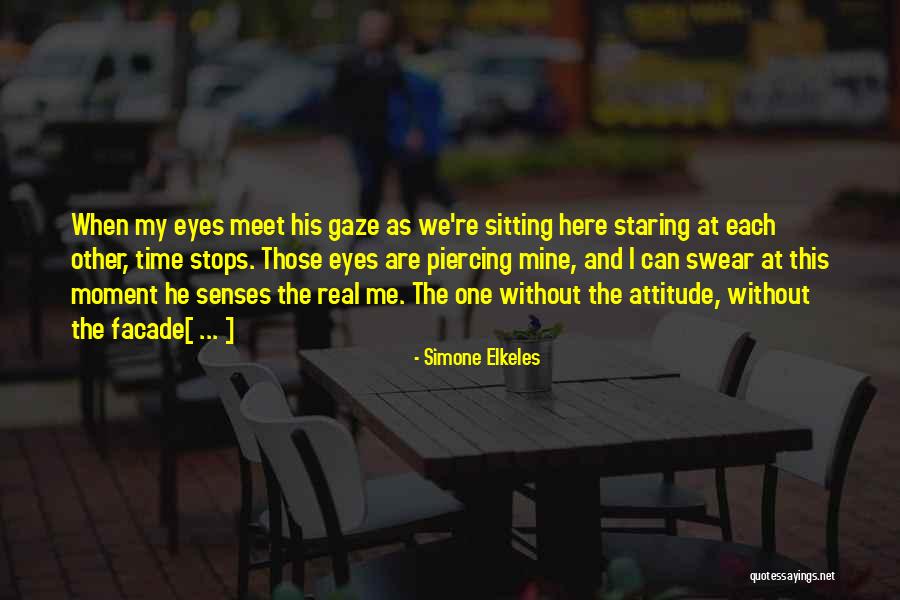 When my eyes meet his gaze as we're sitting here staring at each other, time stops. Those eyes are piercing mine, and I can swear at this moment he senses the real me. The one without the attitude, without the facade[ ... ] — Simone Elkeles
My way of working was different years ago. I used to wait until an idea came to me. Now I go half-way to meet it, though I don't know whether I find it any the quicker. — Sigmund Freud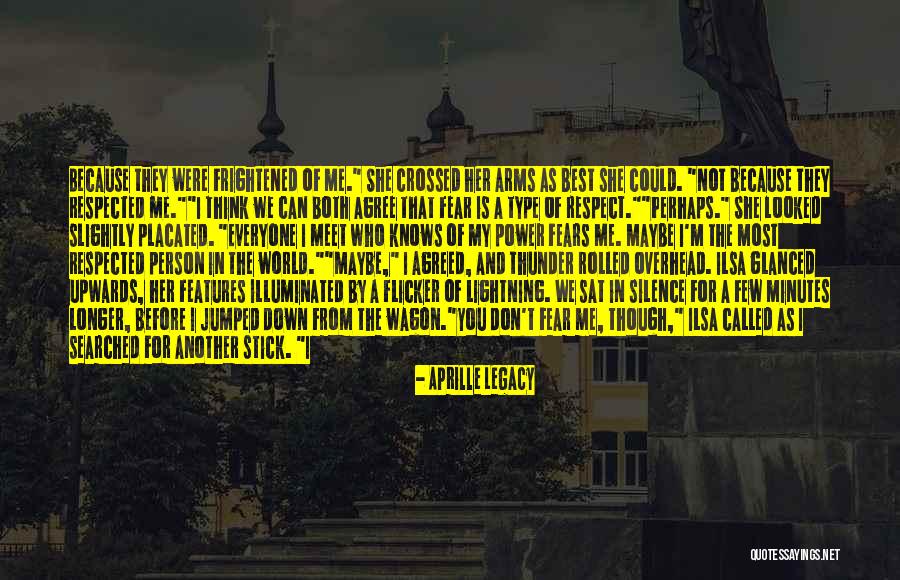 Because they were frightened of me." She crossed her arms as best she could. "Not because they respected me."
"I think we can both agree that fear is a type of respect."
"Perhaps." She looked slightly placated. "Everyone I meet who knows of my power fears me. Maybe I'm the most respected person in the world."
"Maybe," I agreed, and thunder rolled overhead. Ilsa glanced upwards, her features illuminated by a flicker of lightning.
We sat in silence for a few minutes longer, before I jumped down from the wagon.
"You don't fear me, though," Ilsa called as I searched for another stick. "I can tell. You think yourself more powerful."
She jumped as lightning cracked through the sky overhead. I heard several prisoners further back, exclaiming loudly.
"Maybe," I repeated, and started work on another dance as Ilsa watched. — Aprille Legacy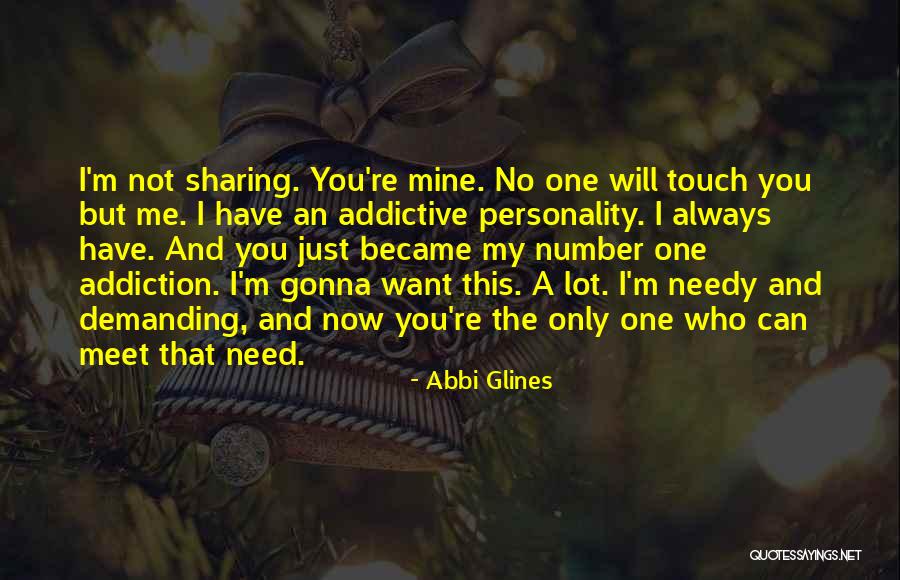 I'm not sharing. You're mine. No one will touch you but me. I have an addictive personality. I always have. And you just became my number one addiction. I'm gonna want this. A lot. I'm needy and demanding, and now you're the only one who can meet that need. — Abbi Glines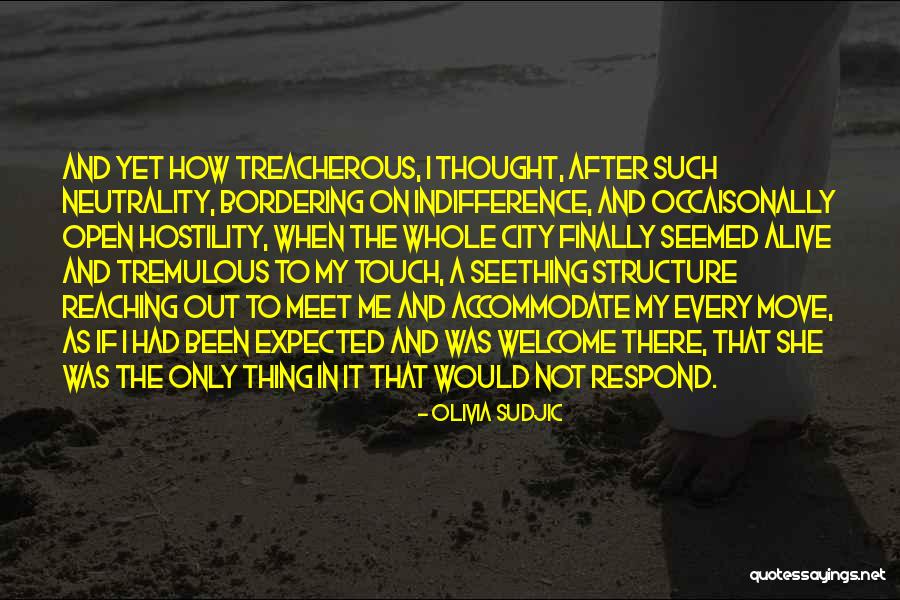 And yet how treacherous, I thought, after such neutrality, bordering on indifference, and occaisonally open hostility, when the whole city finally seemed alive and tremulous to my touch, a seething structure reaching out to meet me and accommodate my every move, as if I had been expected and was welcome there, that she was the only thing in it that would not respond. — Olivia Sudjic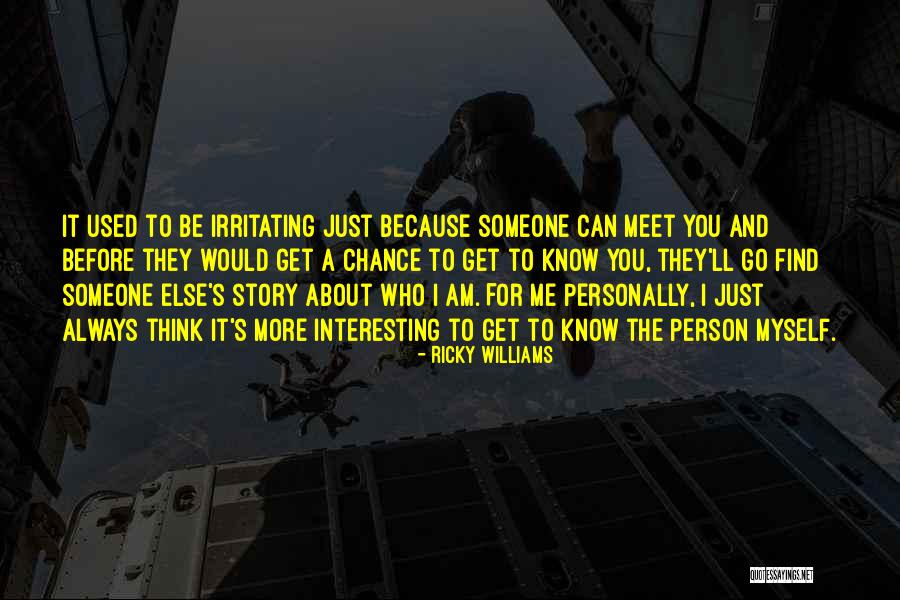 It used to be irritating just because someone can meet you and before they would get a chance to get to know you, they'll go find someone else's story about who I am. For me personally, I just always think it's more interesting to get to know the person myself. — Ricky Williams
You're too good for me."
He laughed. "Are we talking about the same person? The selfish fucker who curses and yells, blows up cars and beats up people, because he has a temper he can't control? You know, the one who drinks like a fish and fries his brain with drugs? That person is too good for you?"
She shook her head. "I'm talking about the boy who shared his chocolate bar with me when he probably never shared anything before, who gave me his mama's favourite book, because he thought I deserved to read. The one who seems to be constantly fixing me up when I get hurt. I'm talking about the boy who treats me like I'm a regular girl, the one who desperately needs his bedroom cleaned and laundry washed but chooses to live in a mess and wear dirty clothes, because he's too polite to ask the girl he kisses for help."
"Wow," Carmine said. "I'd like to meet that motherfucker. — J.M. Darhower
It's so cool for me to do what I love to do for a living and meet people from all over the world. — Josh Turner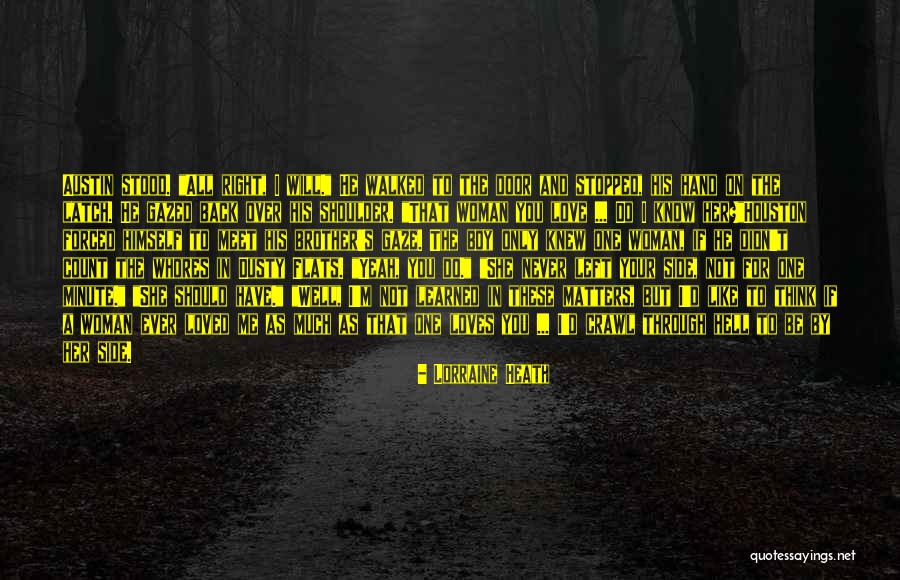 Austin stood. "All right, I will." He walked to the door and stopped, his hand on the latch. He gazed back over his shoulder. "That woman you love ... Do I know her?"
Houston forced himself to meet his brother's gaze. The boy only knew one woman, if he didn't count the whores in Dusty Flats. "Yeah, you do."
"She never left your side, not for one minute."
"She should have."
"Well, I'm not learned in these matters, but I'd like to think if a woman ever loved me as much as that one loves you ... I'd crawl through hell to be by her side. — Lorraine Heath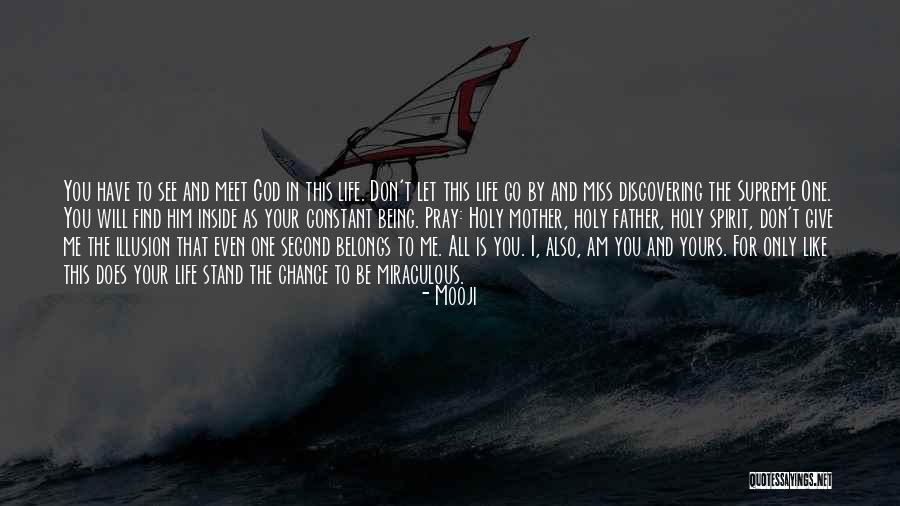 You have to see and meet God in this life.
Don't let this life go by and miss discovering the Supreme One.
You will find him inside as your constant being.
Pray: Holy mother, holy father, holy spirit,
don't give me the illusion that even one second belongs to me.
All is you. I, also, am you and yours.
For only like this does your life stand the chance to be miraculous. — Mooji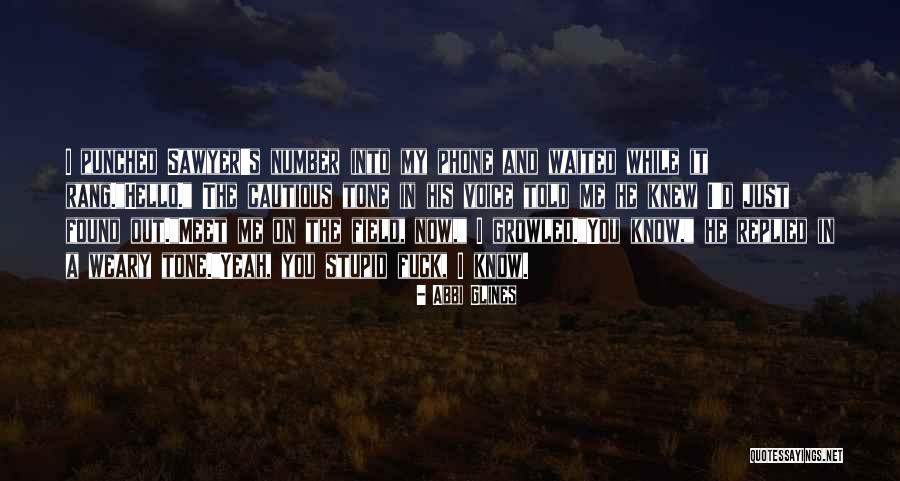 I punched Sawyer's number into my phone and waited while it rang.
"Hello." The cautious tone in his voice told me he knew I'd just found out.
"Meet me on the field, now," I growled.
"You know," he replied in a weary tone.
"Yeah, you stupid fuck, I know. — Abbi Glines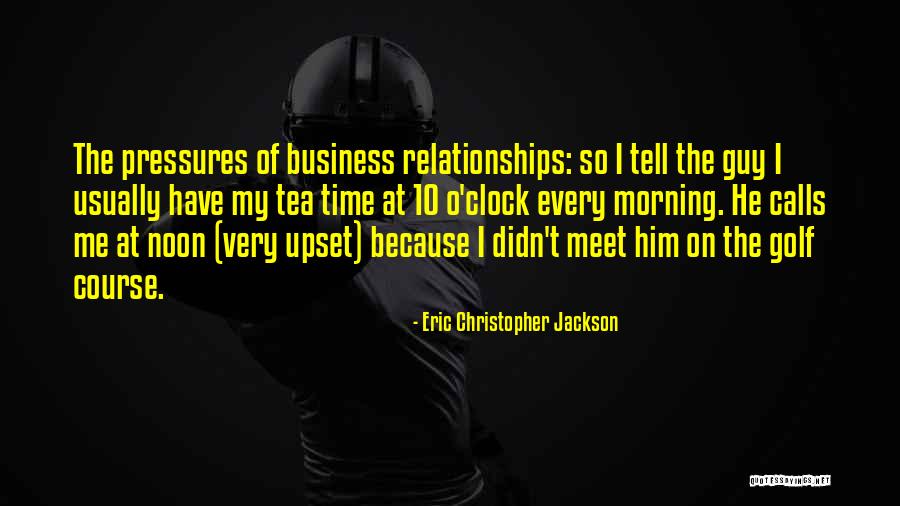 The pressures of business relationships: so I tell the guy I usually have my tea time at 10 o'clock every morning. He calls me at noon (very upset) because I didn't meet him on the golf course. — Eric Christopher Jackson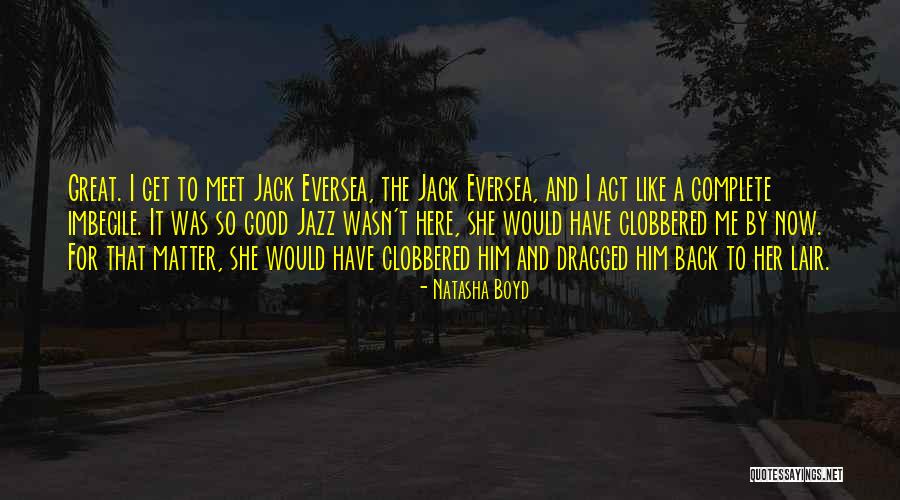 Great. I get to meet Jack Eversea, the Jack Eversea, and I act like a complete imbecile. It was so good Jazz wasn't here, she would have clobbered me by now. For that matter, she would have clobbered him and dragged him back to her lair. — Natasha Boyd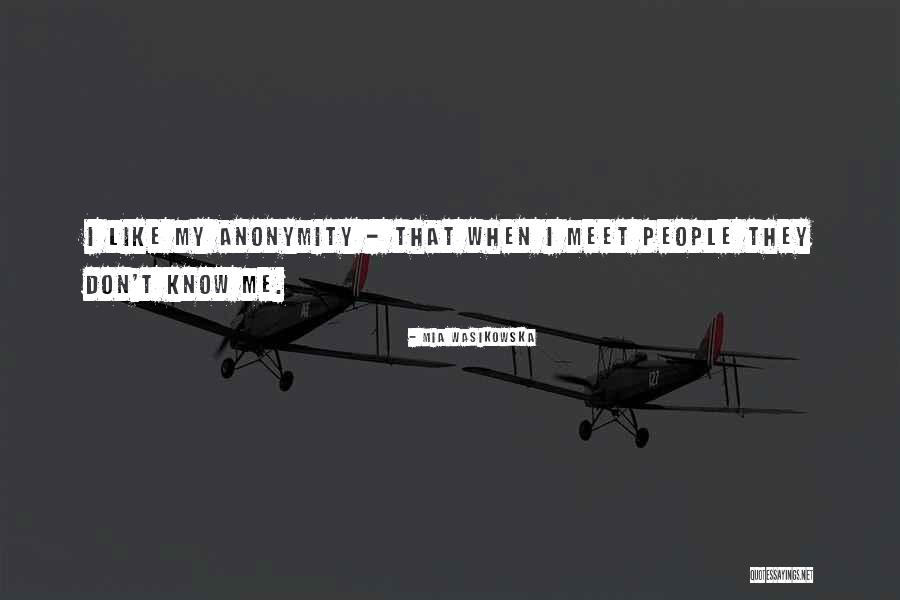 I like my anonymity - that when I meet people they don't know me. — Mia Wasikowska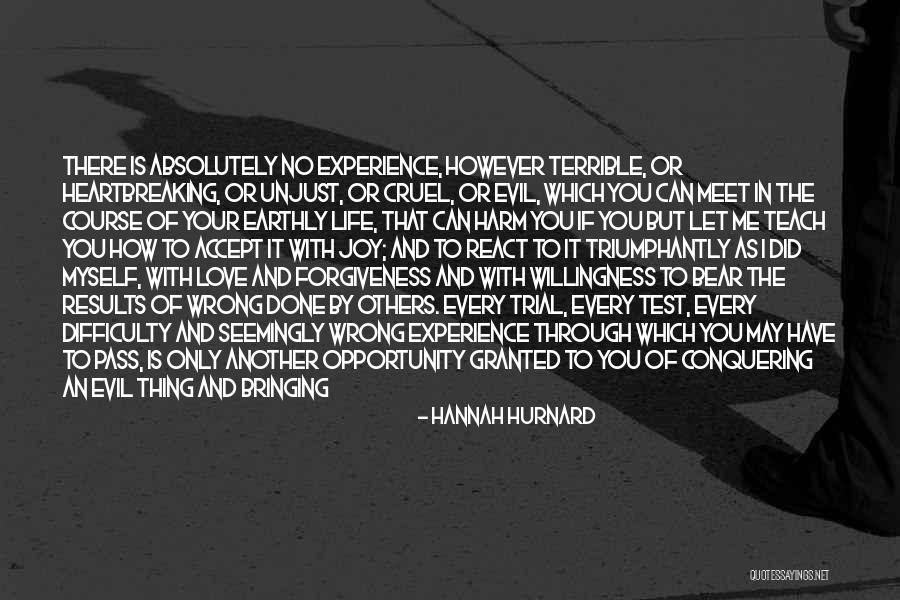 There is absolutely no experience, however terrible, or heartbreaking, or unjust, or cruel, or evil, which you can meet in the course of your earthly life, that can harm you if you but let Me teach you how to accept it with joy; and to react to it triumphantly as I did myself, with love and forgiveness and with willingness to bear the results of wrong done by others. Every trial, every test, every difficulty and seemingly wrong experience through which you may have to pass, is only another opportunity granted to you of conquering an evil thing and bringing out of it something to the lasting praise and glory of God. — Hannah Hurnard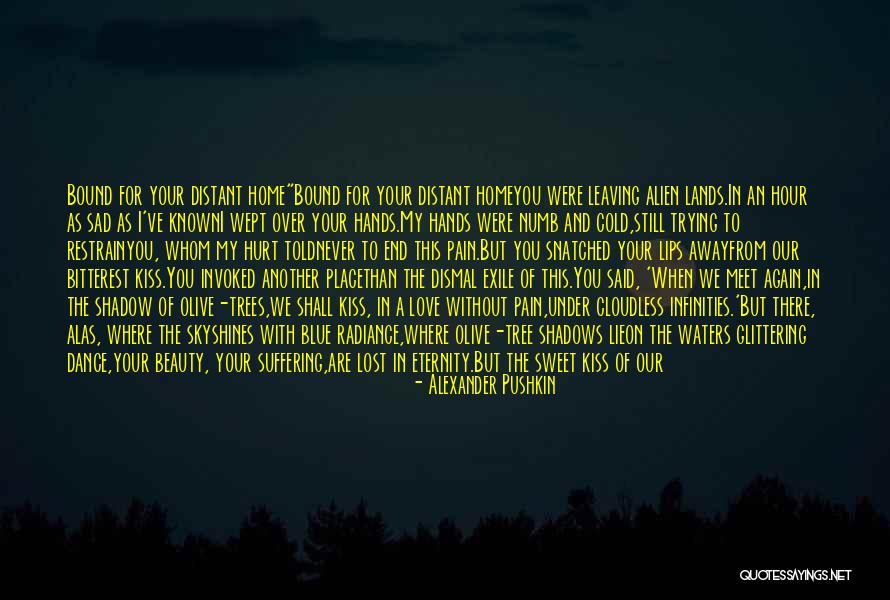 Bound for your distant home"

Bound for your distant home
you were leaving alien lands.
In an hour as sad as I've known
I wept over your hands.
My hands were numb and cold,
still trying to restrain
you, whom my hurt told
never to end this pain.

But you snatched your lips away
from our bitterest kiss.
You invoked another place
than the dismal exile of this.
You said, 'When we meet again,
in the shadow of olive-trees,
we shall kiss, in a love without pain,
under cloudless infinities.'

But there, alas, where the sky
shines with blue radiance,
where olive-tree shadows lie
on the waters glittering dance,
your beauty, your suffering,
are lost in eternity.
But the sweet kiss of our meeting ......
I wait for it: you owe it me ....... — Alexander Pushkin