Quotes & Sayings About Marriage Counseling
Enjoy reading and share 36 famous quotes about Marriage Counseling with everyone.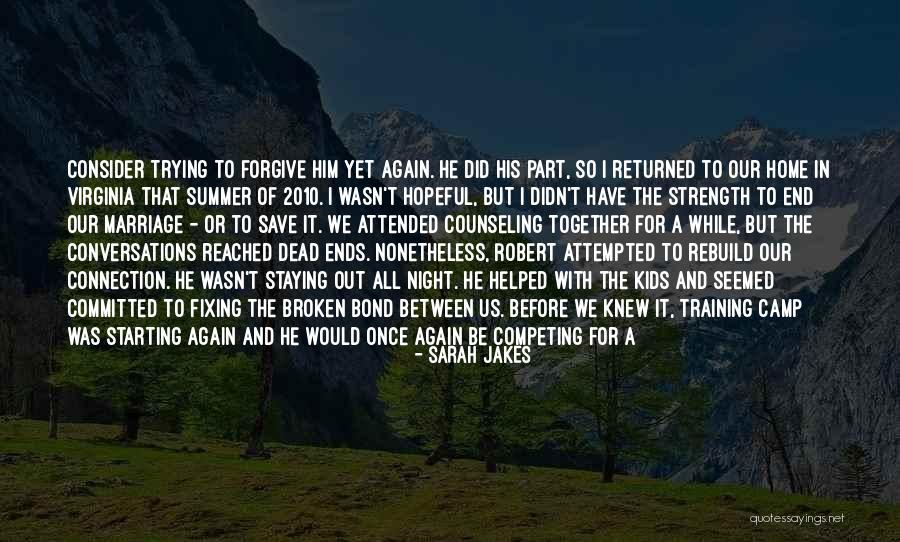 consider trying to forgive him yet again. He did his part, so I returned to our home in Virginia that summer of 2010. I wasn't hopeful, but I didn't have the strength to end our marriage - or to save it. We attended counseling together for a while, but the conversations reached dead ends. Nonetheless, Robert attempted to rebuild our connection. He wasn't staying out all night. He helped with the kids and seemed committed to fixing the broken bond between us. Before we knew it, training camp was starting again and he would once again be competing for a spot on the roster. The coaching staff had experienced some changes, — Sarah Jakes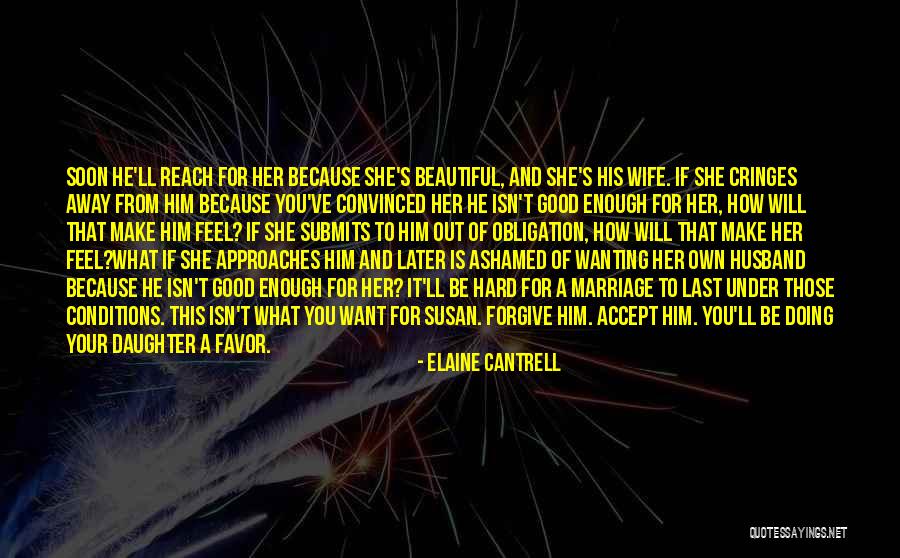 soon he'll reach for her because she's beautiful, and she's his wife. If she cringes away from him because you've convinced her he isn't good enough for her, how will that make him feel? If she submits to him out of obligation, how will that make her feel?

What if she approaches him and later is ashamed of wanting her own husband because he isn't good enough for her? It'll be hard for a marriage to last under those conditions. This isn't what you want for Susan. Forgive him. Accept him. You'll be doing your daughter a favor. — Elaine Cantrell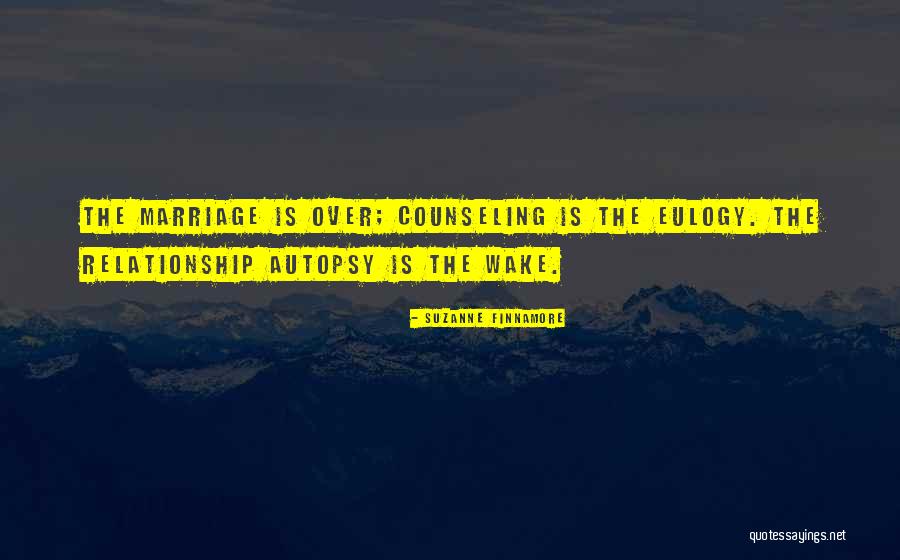 The marriage is over; counseling is the eulogy. The relationship autopsy is the wake. — Suzanne Finnamore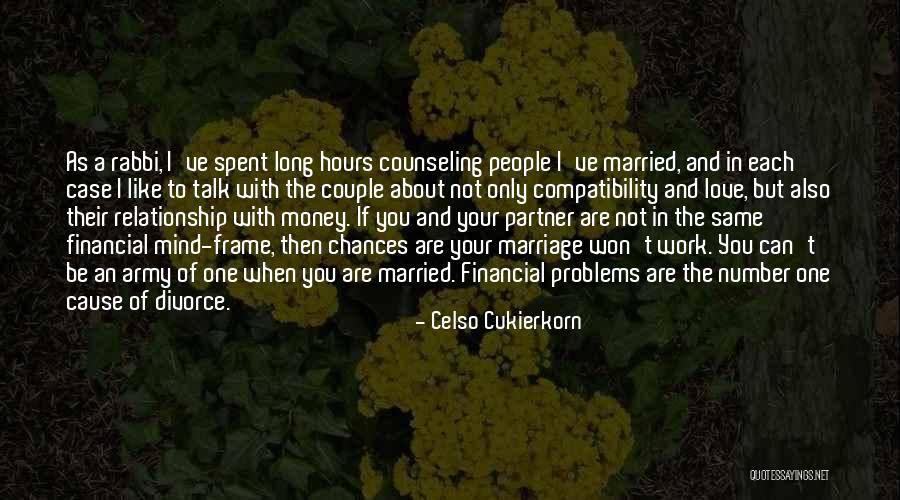 As a rabbi, I've spent long hours counseling people I've married, and in each case I like to talk with the couple about not only compatibility and love, but also their relationship with money. If you and your partner are not in the same financial mind-frame, then chances are your marriage won't work. You can't be an army of one when you are married. Financial problems are the number one cause of divorce. — Celso Cukierkorn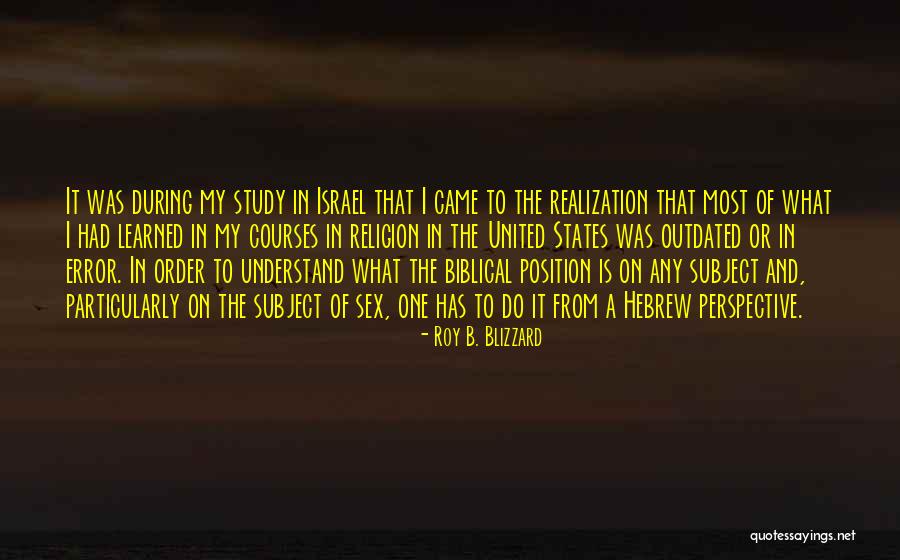 It was during my study in Israel that I came to the realization that most of what I had learned in my courses in religion in the United States was outdated or in error. In order to understand what the biblical position is on any subject and, particularly on the subject of sex, one has to do it from a Hebrew perspective. — Roy B. Blizzard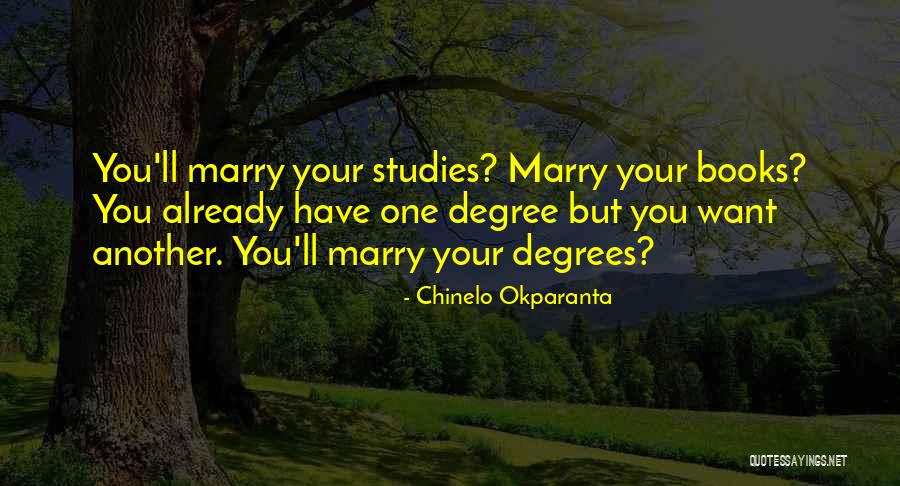 You'll marry your studies? Marry your books? You already have one degree but you want another. You'll marry your degrees? — Chinelo Okparanta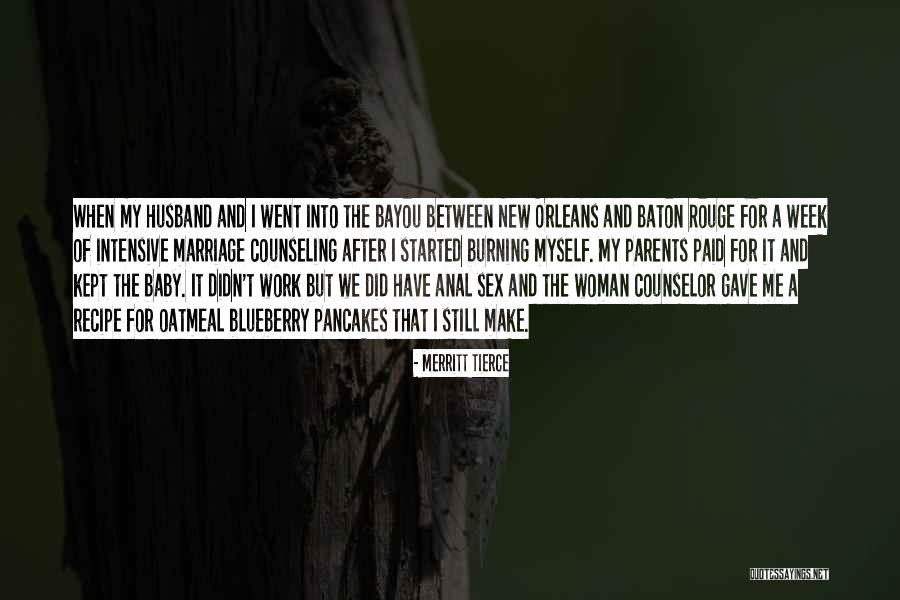 When my husband and I went into the bayou between New Orleans and Baton Rouge for a week of intensive marriage counseling after I started burning myself. My parents paid for it and kept the baby. It didn't work but we did have anal sex and the woman counselor gave me a recipe for oatmeal blueberry pancakes that I still make. — Merritt Tierce
Walking in fellowship with God is better than a thousand marriage books or counseling sessions, as helpful as these resources can be. — Alex Kendrick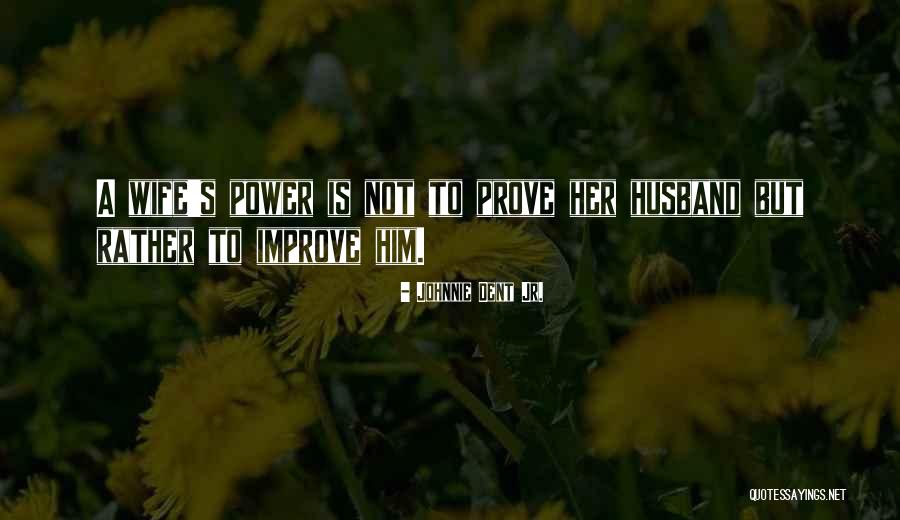 A wife's power is not to prove her husband but rather to improve him. — Johnnie Dent Jr.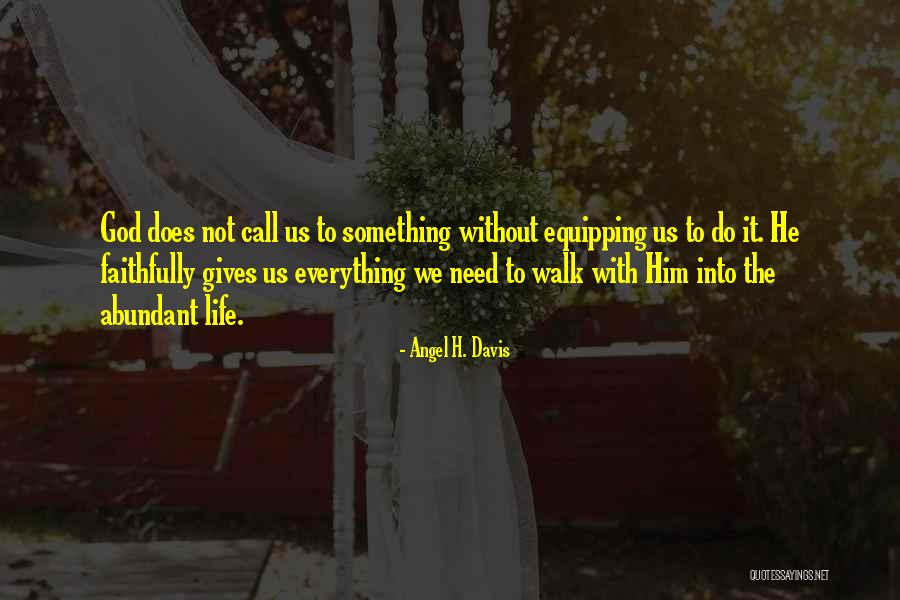 God does not call us to something without equipping us to do it. He faithfully gives us everything we need to walk with Him into the abundant life. — Angel H. Davis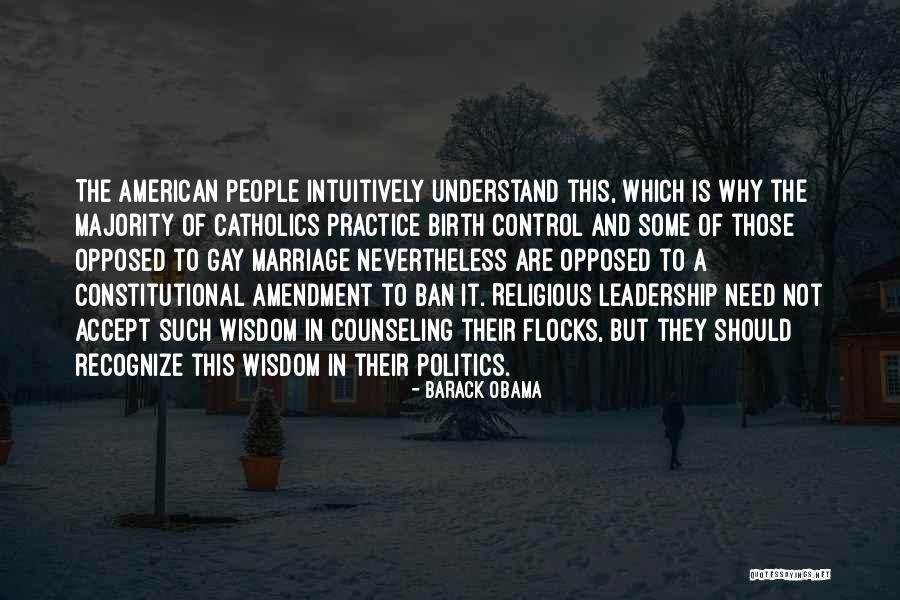 The American people intuitively understand this, which is why the majority of Catholics practice birth control and some of those opposed to gay marriage nevertheless are opposed to a Constitutional amendment to ban it. Religious leadership need not accept such wisdom in counseling their flocks, but they should recognize this wisdom in their politics. — Barack Obama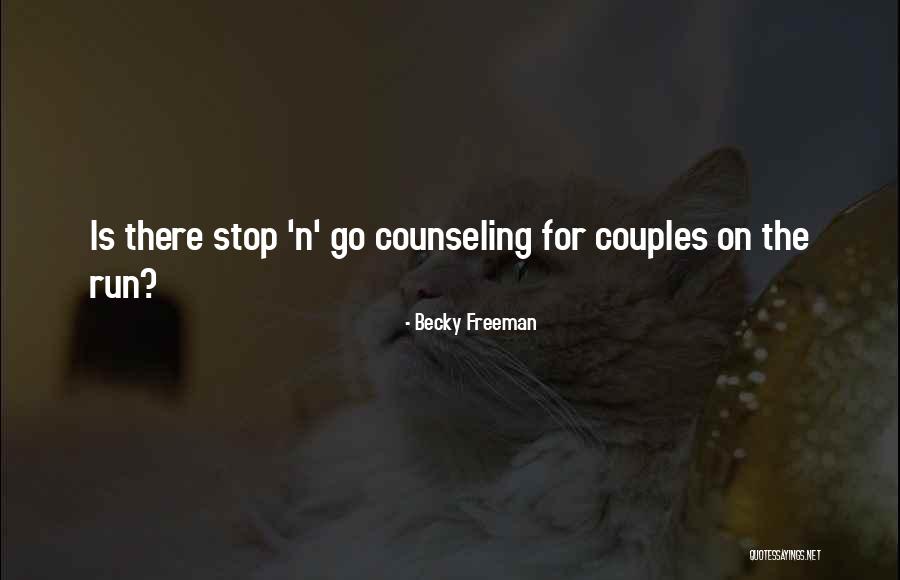 Is there stop 'n' go counseling for couples on the run? — Becky Freeman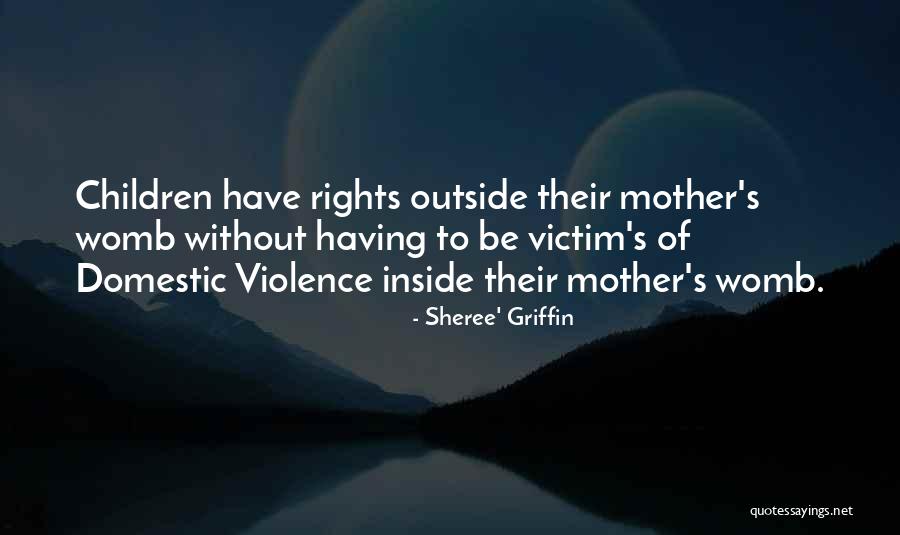 Children have rights outside their mother's womb without having to be victim's of Domestic Violence inside their mother's womb. — Sheree' Griffin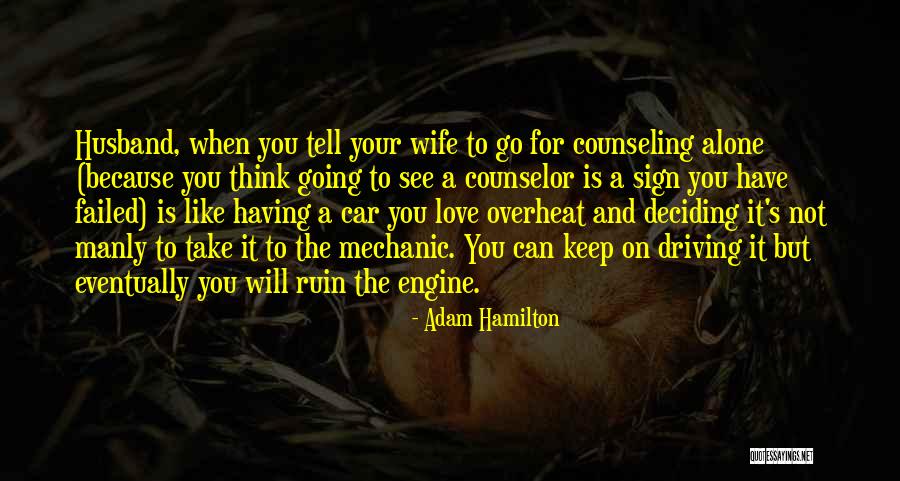 Husband, when you tell your wife to go for counseling alone (because you think going to see a counselor is a sign you have failed) is like having a car you love overheat and deciding it's not manly to take it to the mechanic. You can keep on driving it but eventually you will ruin the engine. — Adam Hamilton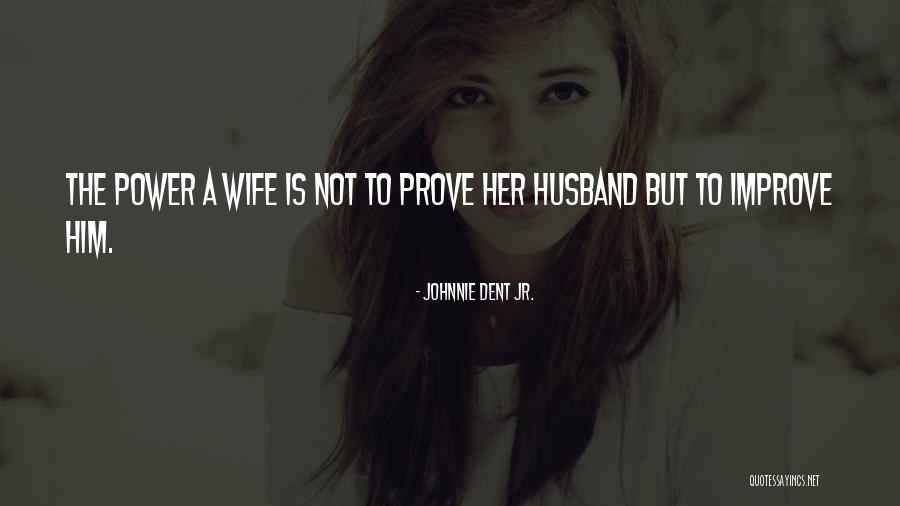 The power a wife is not to prove her husband but to improve him. — Johnnie Dent Jr.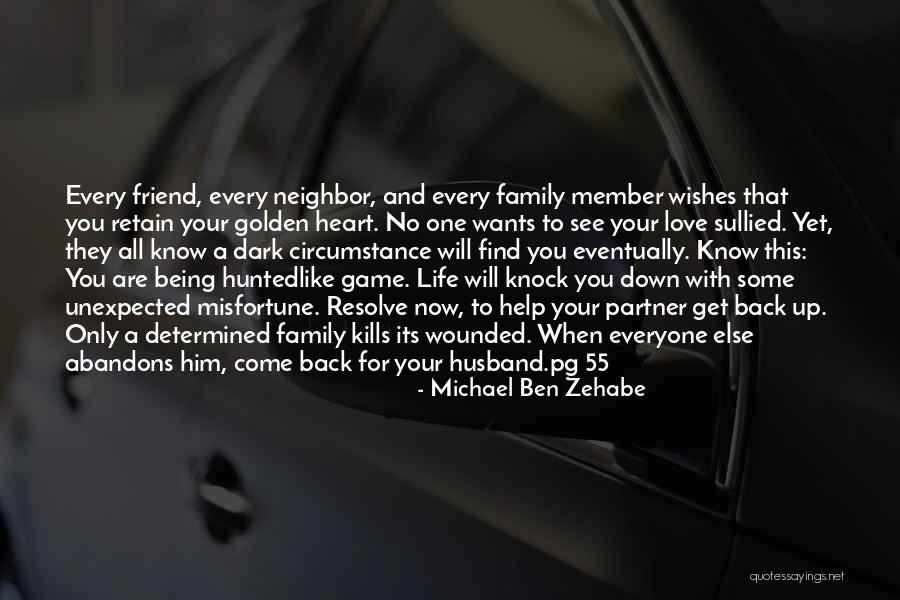 Every friend, every neighbor, and every family member wishes that you retain your golden heart. No one wants to see your love sullied. Yet, they all know a dark circumstance will find you eventually. Know this: You are being hunted
like game. Life will knock you down with some unexpected misfortune. Resolve now, to help your partner get back up. Only a determined family kills its wounded. When everyone else abandons him, come back for your husband.
pg 55 — Michael Ben Zehabe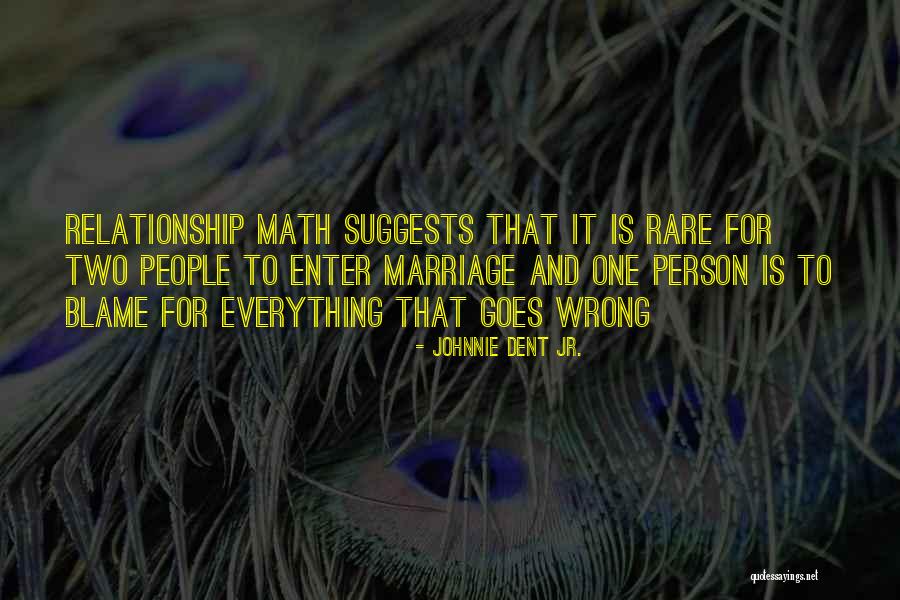 Relationship math suggests that It is rare for two people to enter marriage and one person is to blame for everything that goes wrong — Johnnie Dent Jr.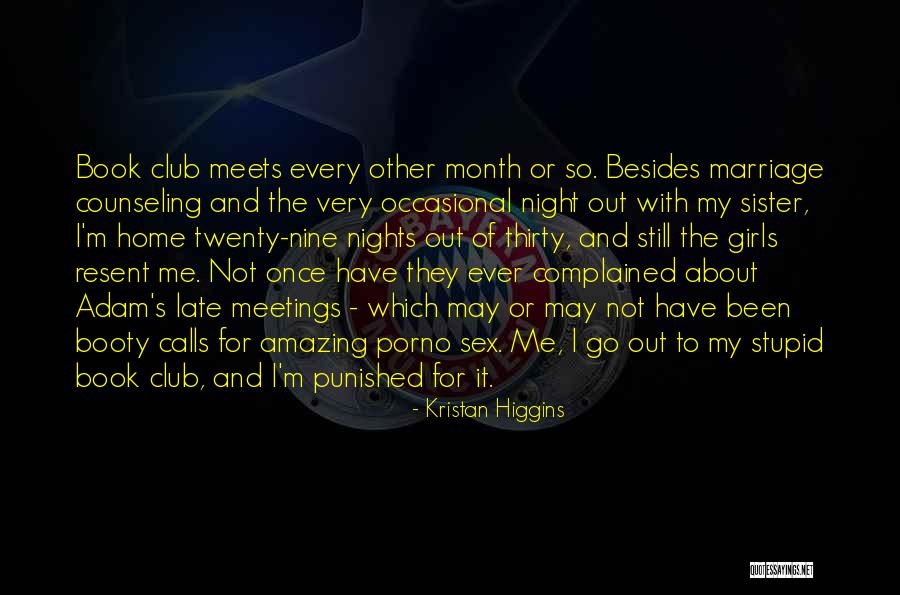 Book club meets every other month or so. Besides marriage counseling and the very occasional night out with my sister, I'm home twenty-nine nights out of thirty, and still the girls resent me. Not once have they ever complained about Adam's late meetings - which may or may not have been booty calls for amazing porno sex. Me, I go out to my stupid book club, and I'm punished for it. — Kristan Higgins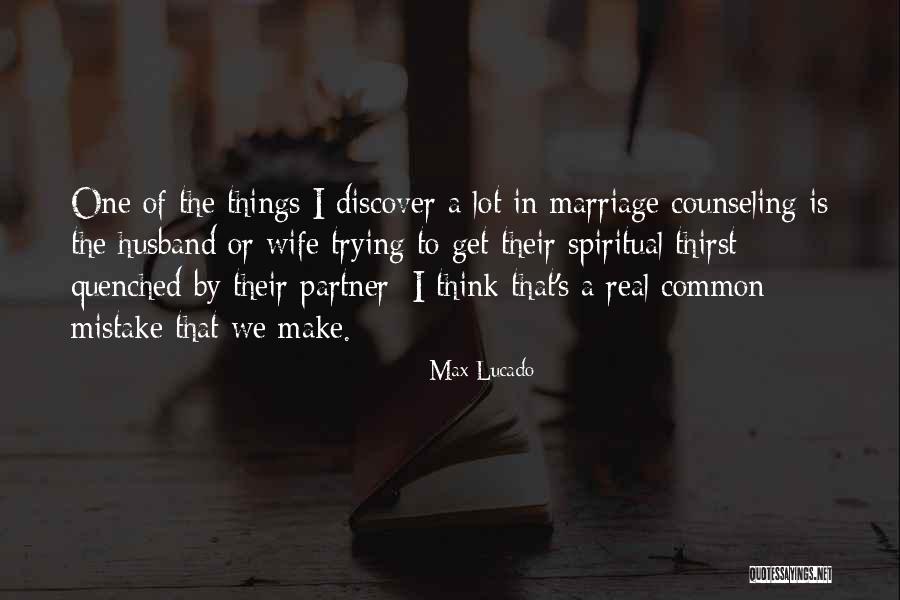 One of the things I discover a lot in marriage counseling is the husband or wife trying to get their spiritual thirst quenched by their partner; I think that's a real common mistake that we make. — Max Lucado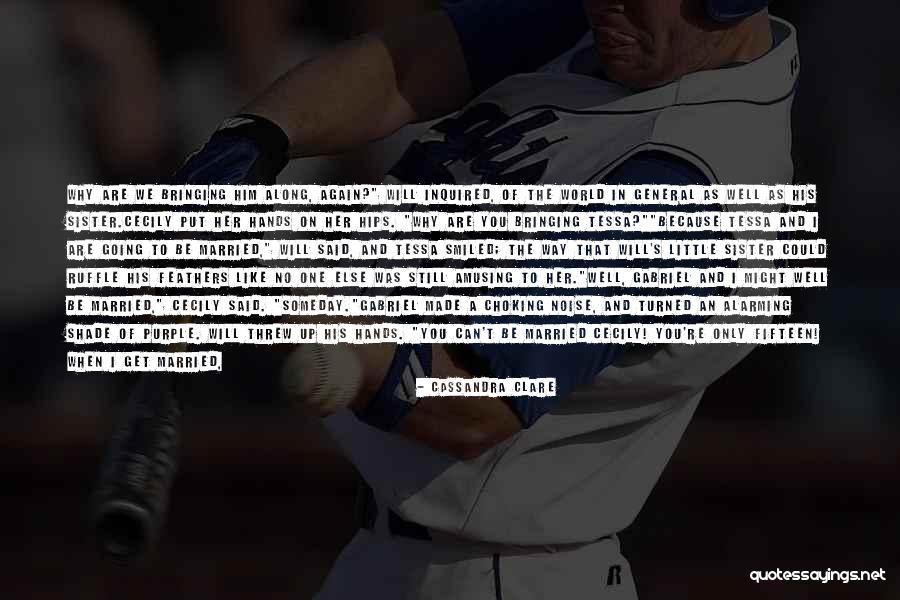 Why are we bringing him along, again?" Will inquired, of the world in general as well as his sister.
Cecily put her hands on her hips. "Why are you bringing Tessa?"
"Because Tessa and I are going to be married," Will said, and Tessa smiled; the way that Will's little sister could ruffle his feathers like no one else was still amusing to her.
"Well, Gabriel and I might well be married," Cecily said. "Someday."
Gabriel made a choking noise, and turned an alarming shade of purple.
Will threw up his hands. "You can't be married Cecily! You're only fifteen! When I get married, I'll be eighteen! An adult!"
Cecily did not look impressed. "We may have a long engagement," she said. "But I cannot see why you are counseling me to marry a man my parents have never met."
Will sputtered. "I am not counseling you to marry a man your parents have never met!"
"Then we are in agreement. Gabriel must meet Mam and Dad. — Cassandra Clare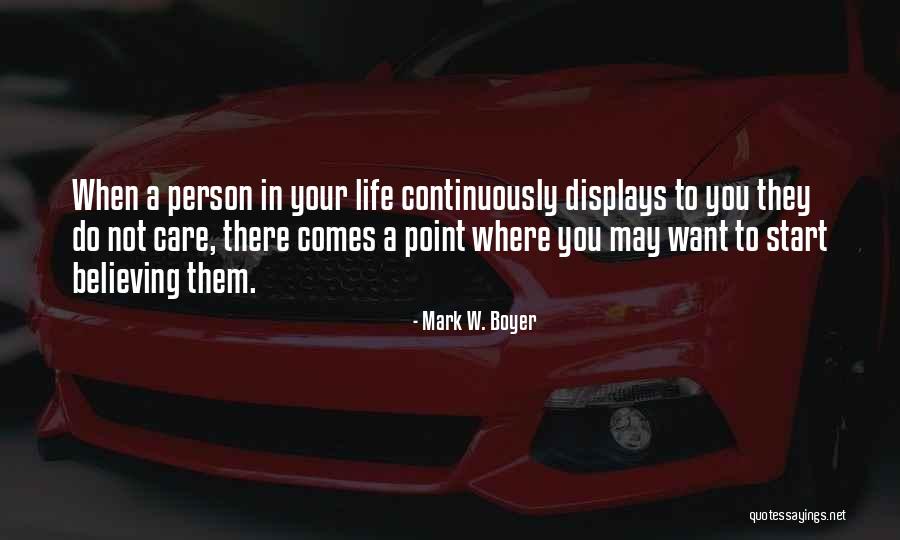 When a person in your life continuously displays to you they do not care, there comes a point where you may want to start believing them. — Mark W. Boyer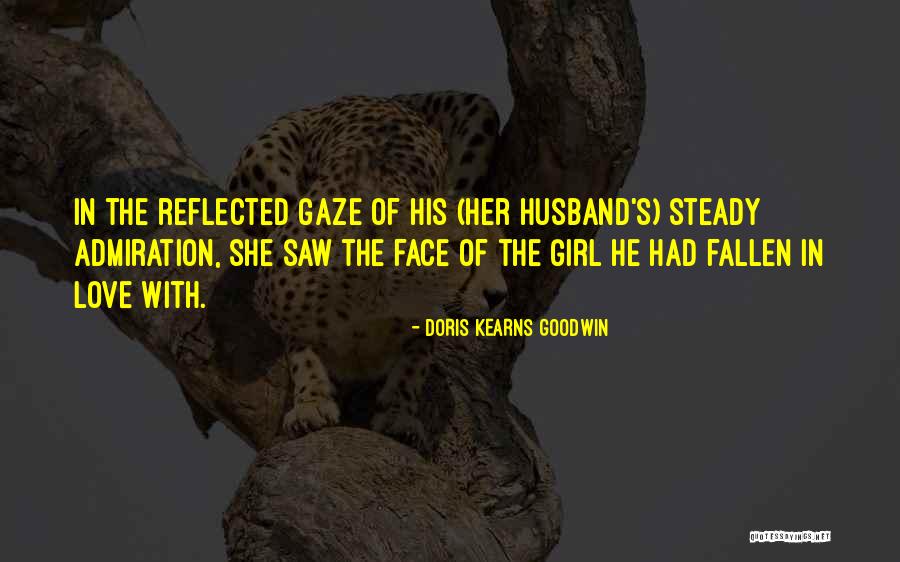 In the reflected gaze of his (her husband's) steady admiration, she saw the face of the girl he had fallen in love with. — Doris Kearns Goodwin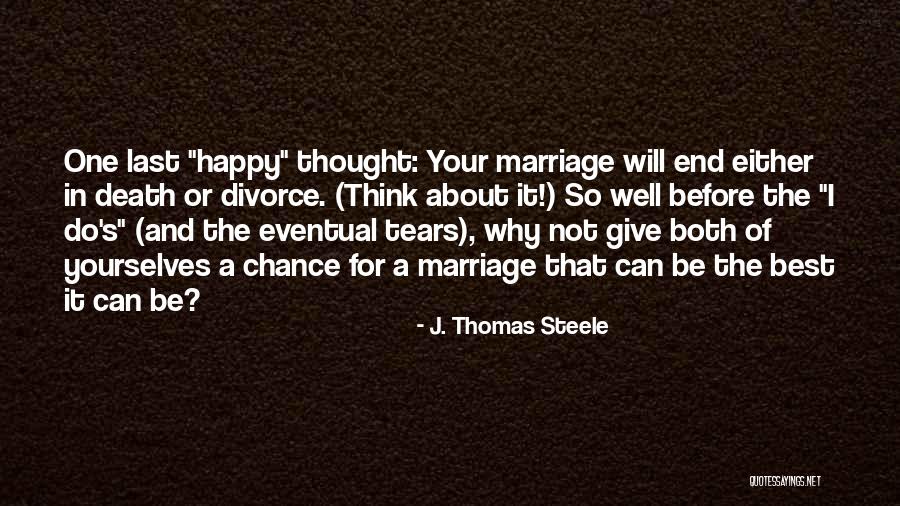 One last "happy" thought: Your marriage will end either in death or divorce. (Think about it!) So well before the "I do's" (and the eventual tears), why not give both of yourselves a chance for a marriage that can be the best it can be? — J. Thomas Steele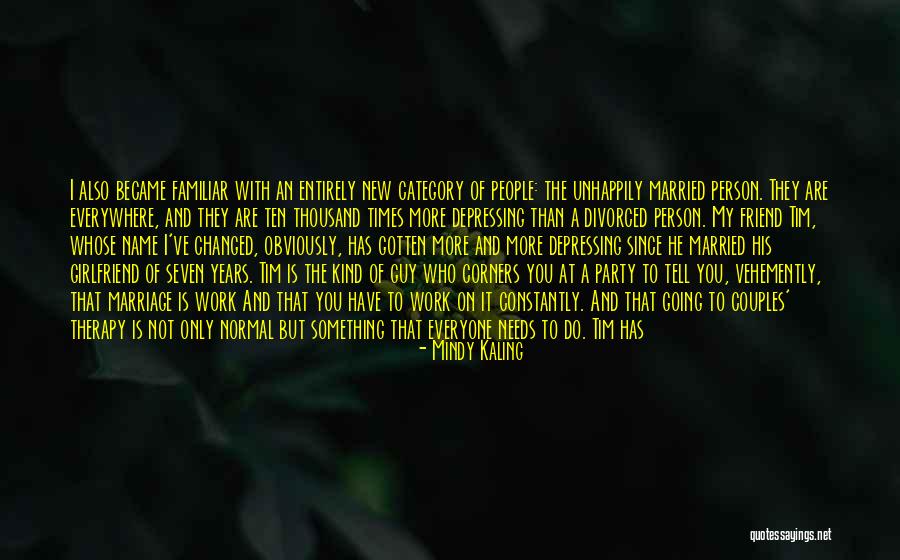 I also became familiar with an entirely new category of people: the unhappily married person. They are everywhere, and they are ten thousand times more depressing than a divorced person. My friend Tim, whose name I've changed, obviously, has gotten more and more depressing since he married his girlfriend of seven years. Tim is the kind of guy who corners you at a party to tell you, vehemently, that marriage is work And that you have to work on it constantly. And that going to couples' therapy is not only normal but something that everyone needs to do. Tim has a kind of manic, cult-y look in his eye from paying thousands of dollars to a marriage counselor. He is convinced that his daily work on his marriage, and his acknowledgement that it is basically a living hell, is modern. The result is that he has helped to relieve me of any romantic notions I had about marriage. — Mindy Kaling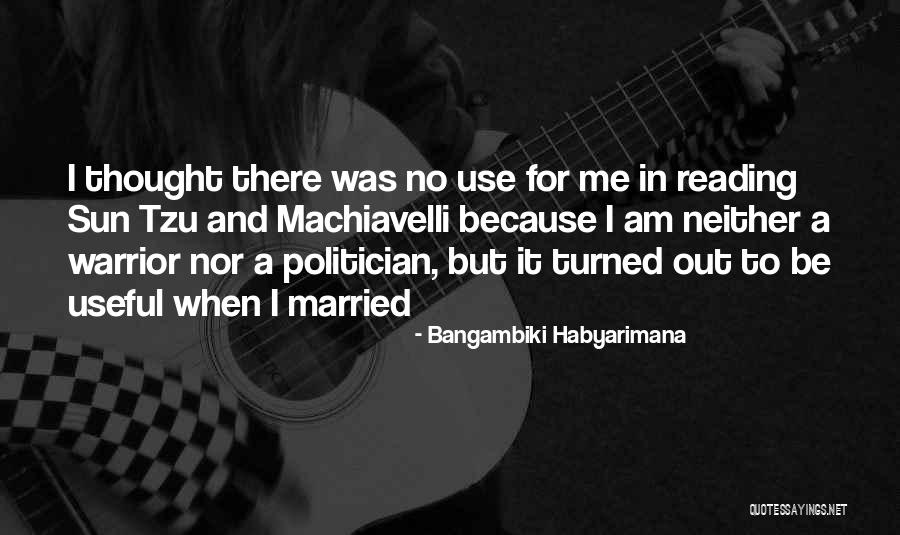 I thought there was no use for me in reading Sun Tzu and Machiavelli because I am neither a warrior nor a politician, but it turned out to be useful when I married — Bangambiki Habyarimana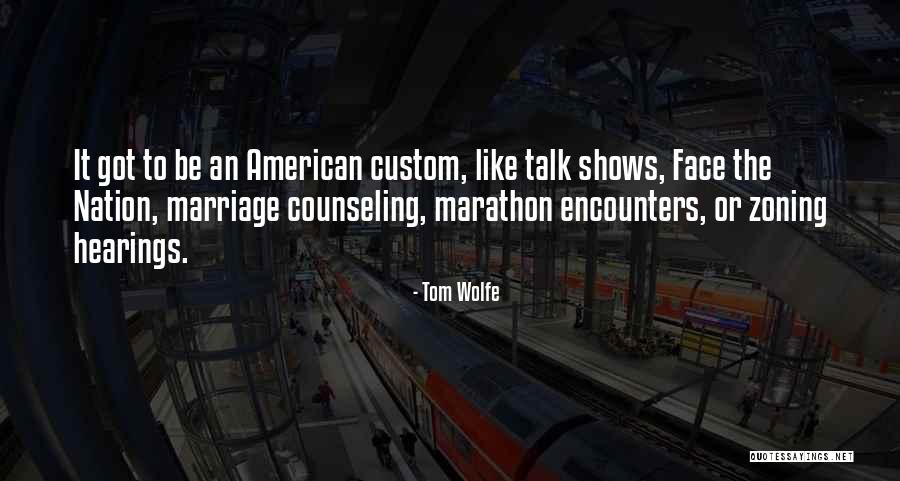 It got to be an American custom, like talk shows, Face the Nation, marriage counseling, marathon encounters, or zoning hearings. — Tom Wolfe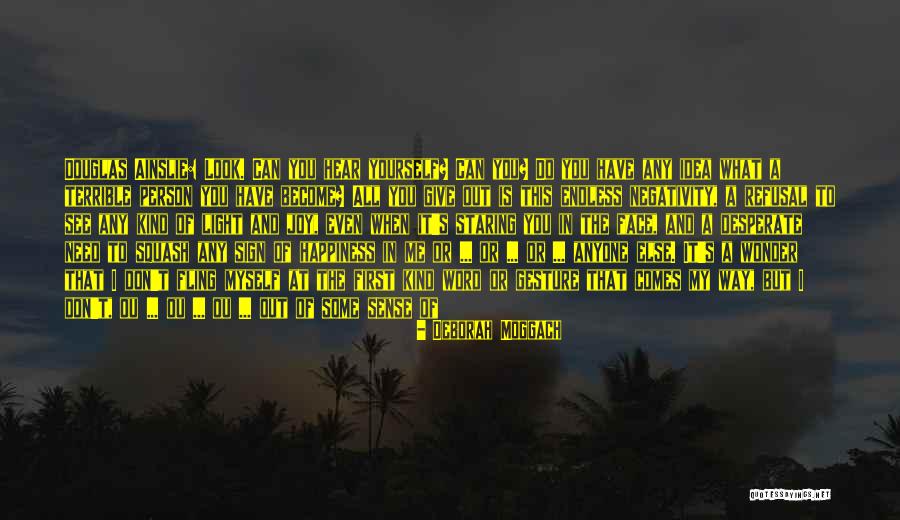 Douglas Ainslie: Look. Can you hear yourself? Can you? Do you have any idea what a terrible person you have become? All you give out is this endless negativity, a refusal to see any kind of light and joy, even when it's staring you in the face, and a desperate need to squash any sign of happiness in me or ... or ... or ... anyone else. It's a wonder that I don't fling myself at the first kind word or gesture that comes my way, but I don't, ou ... ou ... ou ... out of some sense of dried-up loyalty and respect, neither of which I ever bloody get in return.
Jean, his wife: [long pause] I checked my emails. There's one from Laura. — Deborah Moggach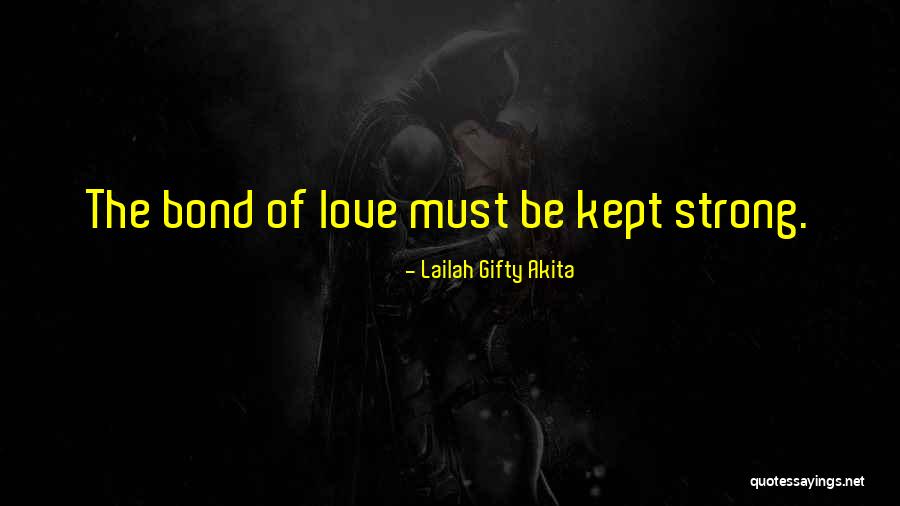 The bond of love must be kept strong. — Lailah Gifty Akita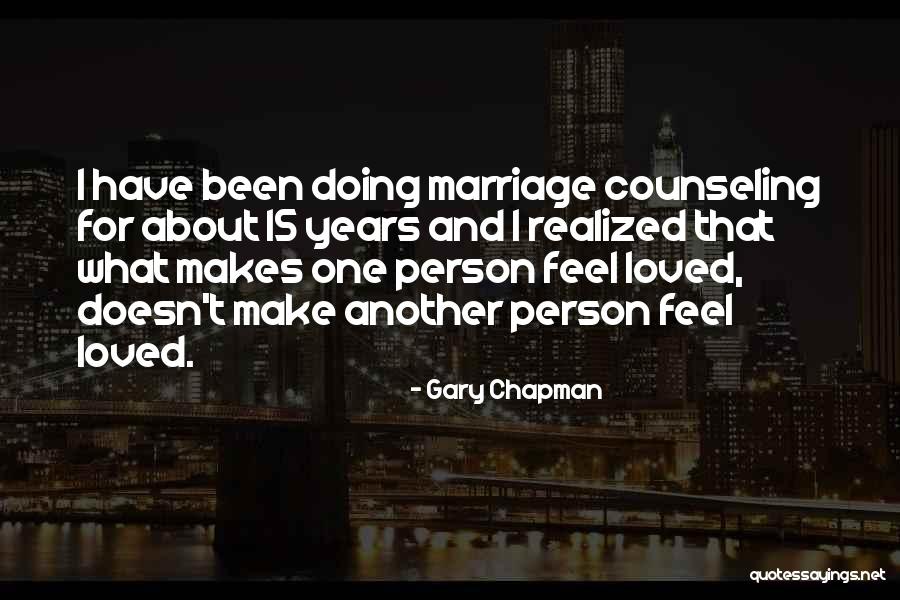 I have been doing marriage counseling for about 15 years and I realized that what makes one person feel loved, doesn't make another person feel loved. — Gary Chapman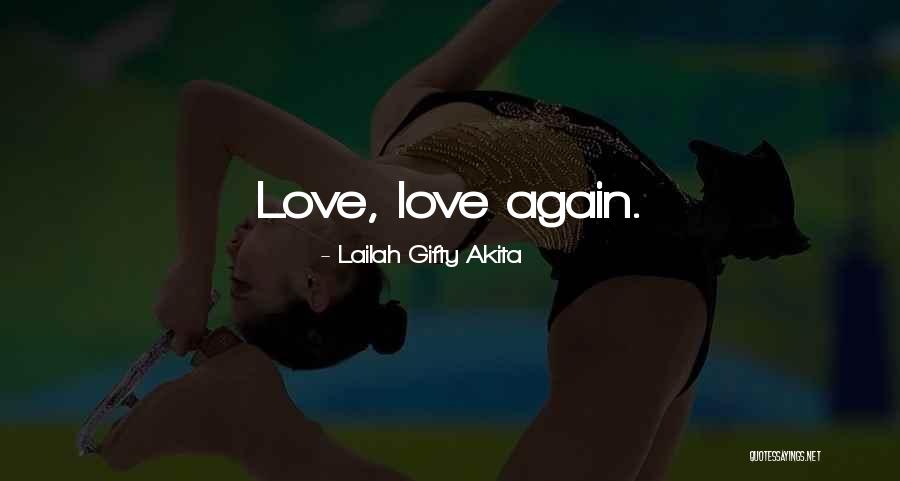 Love, love again. — Lailah Gifty Akita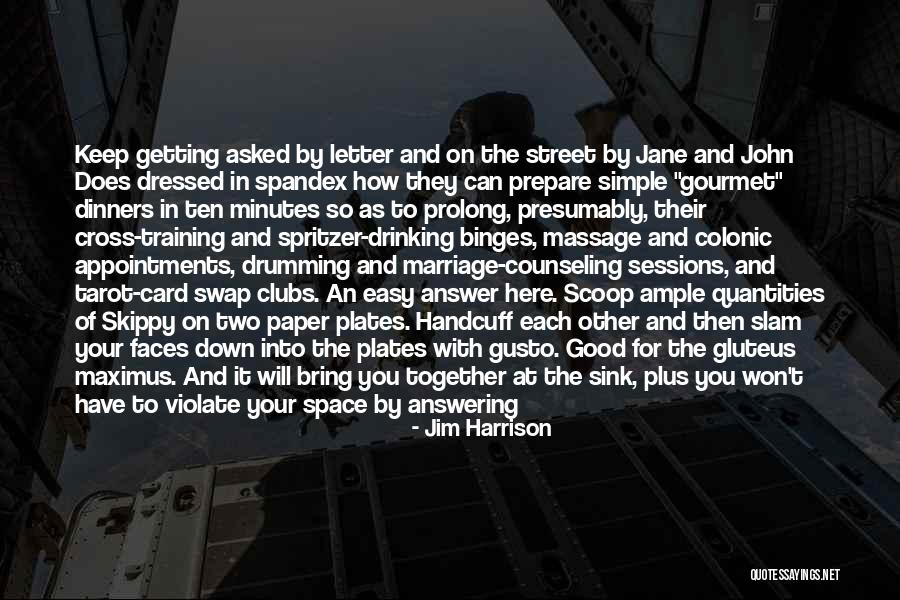 Keep getting asked by letter and on the street by Jane and John Does dressed in spandex how they can prepare simple "gourmet" dinners in ten minutes so as to prolong, presumably, their cross-training and spritzer-drinking binges, massage and colonic appointments, drumming and marriage-counseling sessions, and tarot-card swap clubs. An easy answer here. Scoop ample quantities of Skippy on two paper plates. Handcuff each other and then slam your faces down into the plates with gusto. Good for the gluteus maximus. And it will bring you together at the sink, plus you won't have to violate your space by answering the phone. Back to the — Jim Harrison