Many Paths To God Quotes & Sayings
Enjoy reading and share 66 famous quotes about Many Paths To God with everyone.
Top Many Paths To God Quotes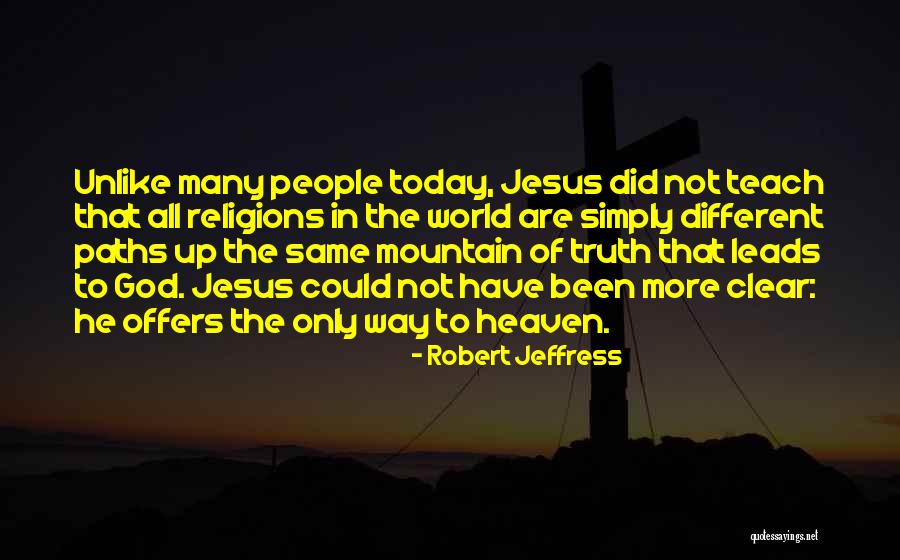 Unlike many people today, Jesus did not teach that all religions in the world are simply different paths up the same mountain of truth that leads to God. Jesus could not have been more clear: he offers the only way to heaven. — Robert Jeffress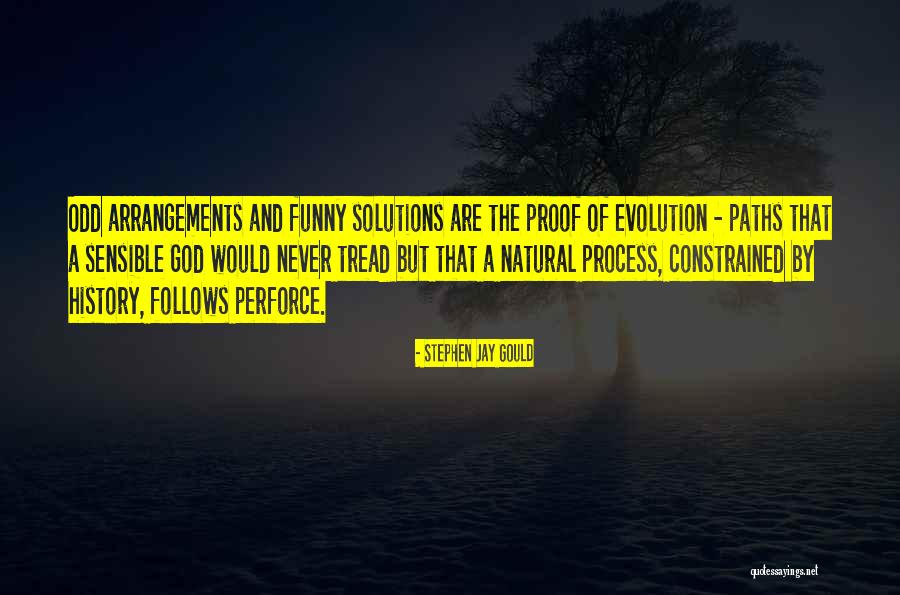 Odd arrangements and funny solutions are the proof of evolution - paths that a sensible God would never tread but that a natural process, constrained by history, follows perforce. — Stephen Jay Gould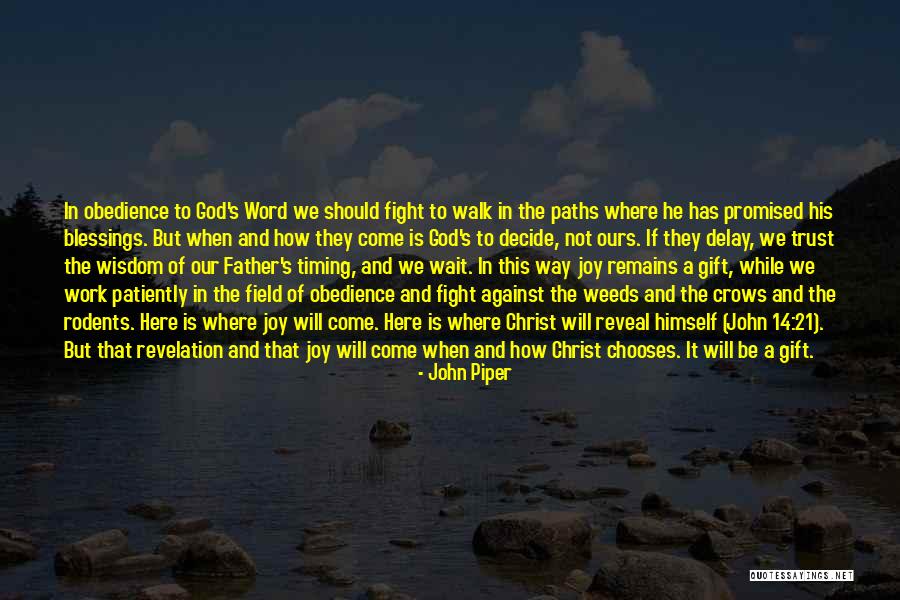 In obedience to God's Word we should fight to walk in the paths where he has promised his blessings. But when and how they come is God's to decide, not ours. If they delay, we trust the wisdom of our Father's timing, and we wait. In this way joy remains a gift, while we work patiently in the field of obedience and fight against the weeds and the crows and the rodents. Here is where joy will come. Here is where Christ will reveal himself (John 14:21). But that revelation and that joy will come when and how Christ chooses. It will be a gift. — John Piper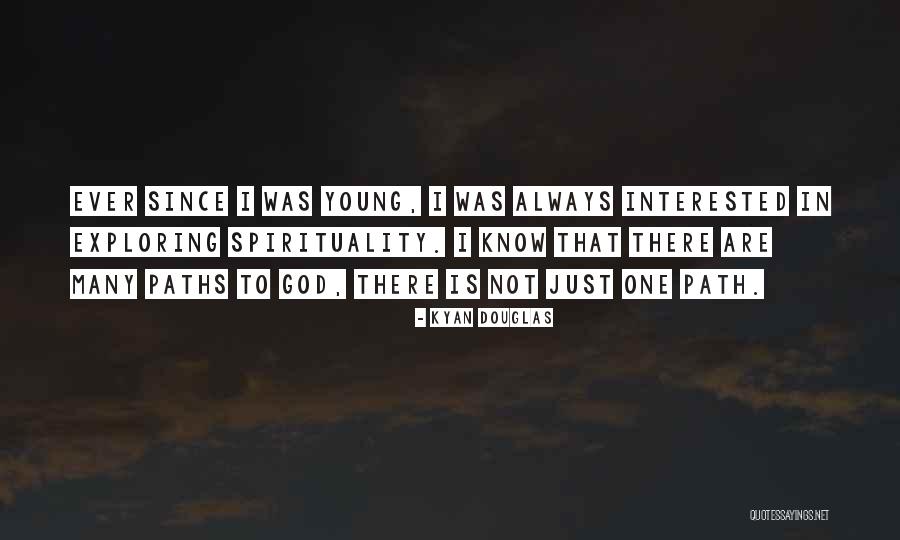 Ever since I was young, I was always interested in exploring spirituality. I know that there are many paths to God, there is not just one path. — Kyan Douglas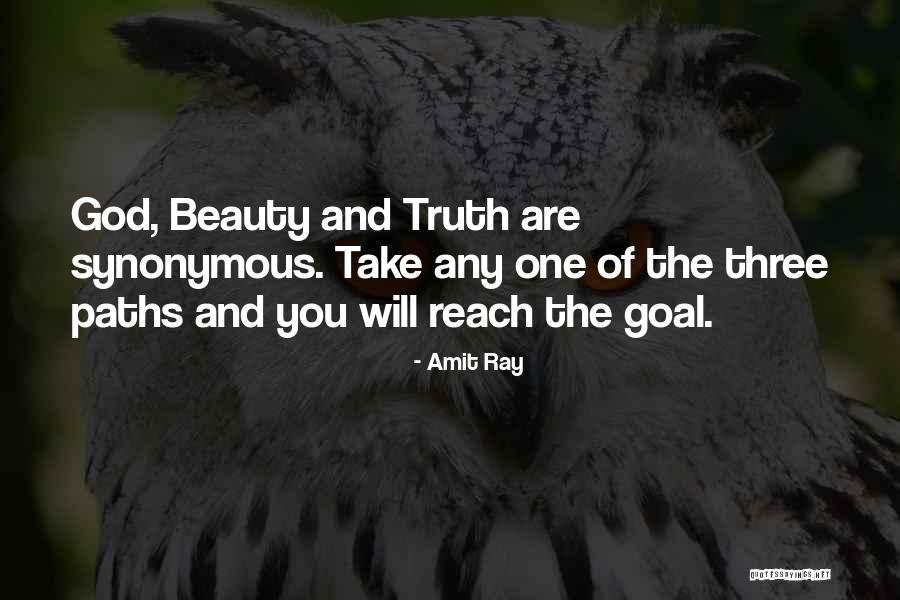 God, Beauty and Truth are synonymous. Take any one of the three paths and you will reach the goal. — Amit Ray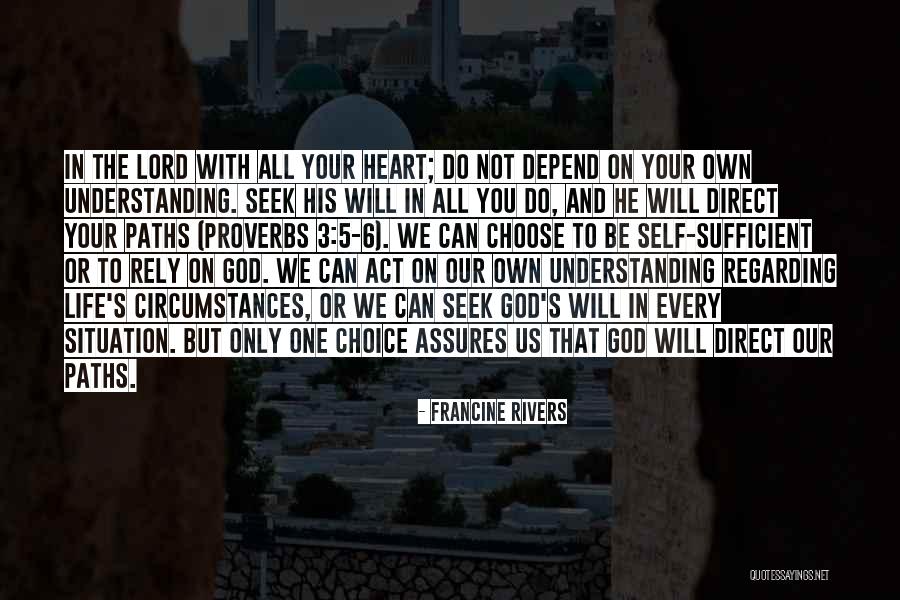 In the Lord with all your heart; do not depend on your own understanding. Seek his will in all you do, and he will direct your paths (Proverbs 3:5-6). We can choose to be self-sufficient or to rely on God. We can act on our own understanding regarding life's circumstances, or we can seek God's will in every situation. But only one choice assures us that God will direct our paths. — Francine Rivers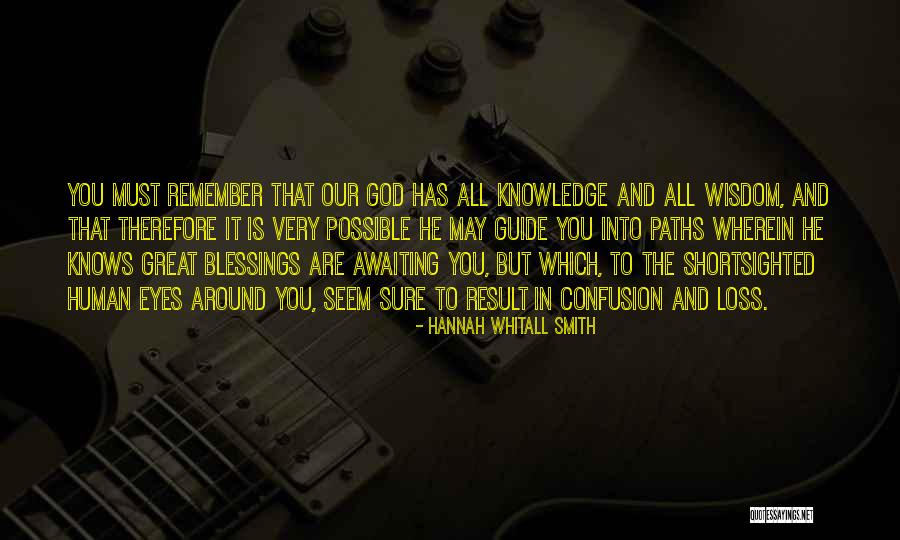 You must remember that our God has all knowledge and all wisdom, and that therefore it is very possible He may guide you into paths wherein He knows great blessings are awaiting you, but which, to the shortsighted human eyes around you, seem sure to result in confusion and loss. — Hannah Whitall Smith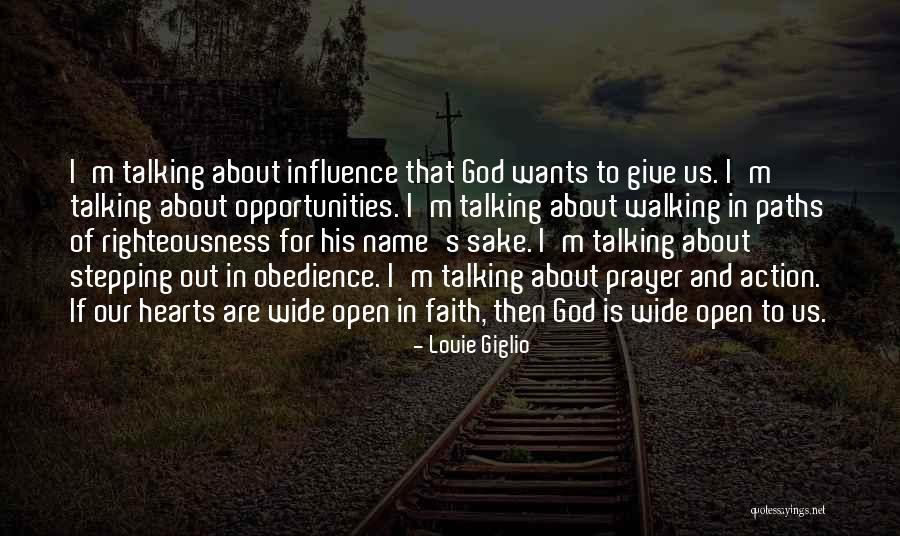 I'm talking about influence that God wants to give us. I'm talking about opportunities. I'm talking about walking in paths of righteousness for his name's sake. I'm talking about stepping out in obedience. I'm talking about prayer and action. If our hearts are wide open in faith, then God is wide open to us. — Louie Giglio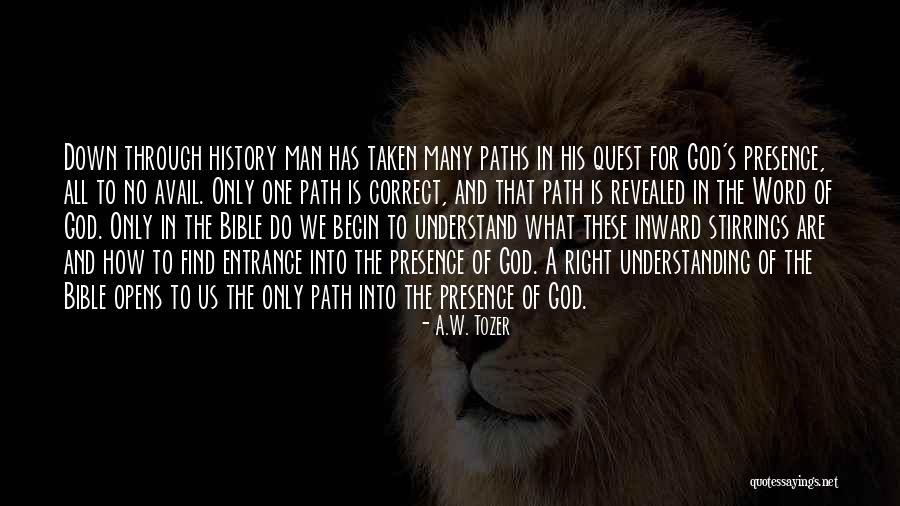 Down through history man has taken many paths in his quest for God's presence, all to no avail. Only one path is correct, and that path is revealed in the Word of God. Only in the Bible do we begin to understand what these inward stirrings are and how to find entrance into the presence of God. A right understanding of the Bible opens to us the only path into the presence of God. — A.W. Tozer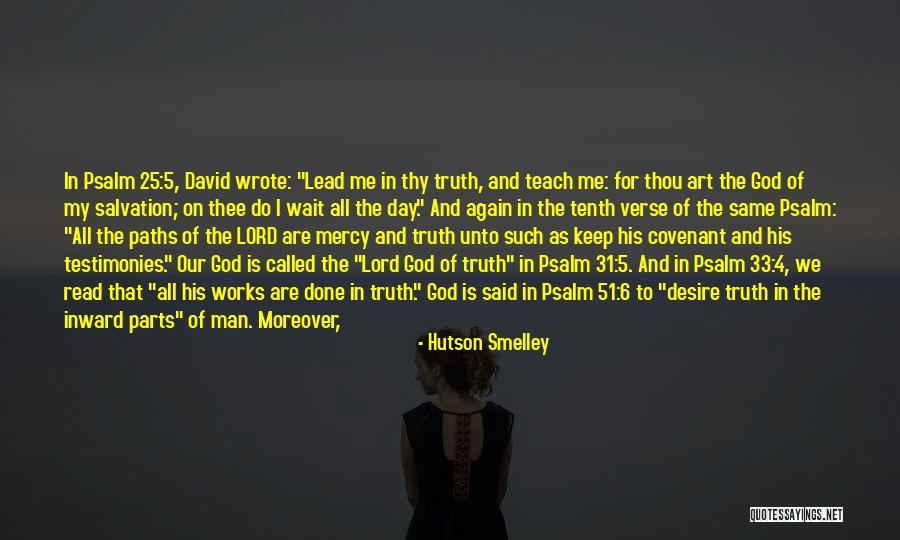 In Psalm 25:5, David wrote: "Lead me in thy truth, and teach me: for thou art the God of my salvation; on thee do I wait all the day." And again in the tenth verse of the same Psalm: "All the paths of the LORD are mercy and truth unto such as keep his covenant and his testimonies." Our God is called the "Lord God of truth" in Psalm 31:5. And in Psalm 33:4, we read that "all his works are done in truth." God is said in Psalm 51:6 to "desire truth in the inward parts" of man. Moreover, God's "law is the truth" (Psalm 119:142), God's "commandments are truth" (Psalm 119:151), and "his truth endureth to all generations." (Psalm 100:5) — Hutson Smelley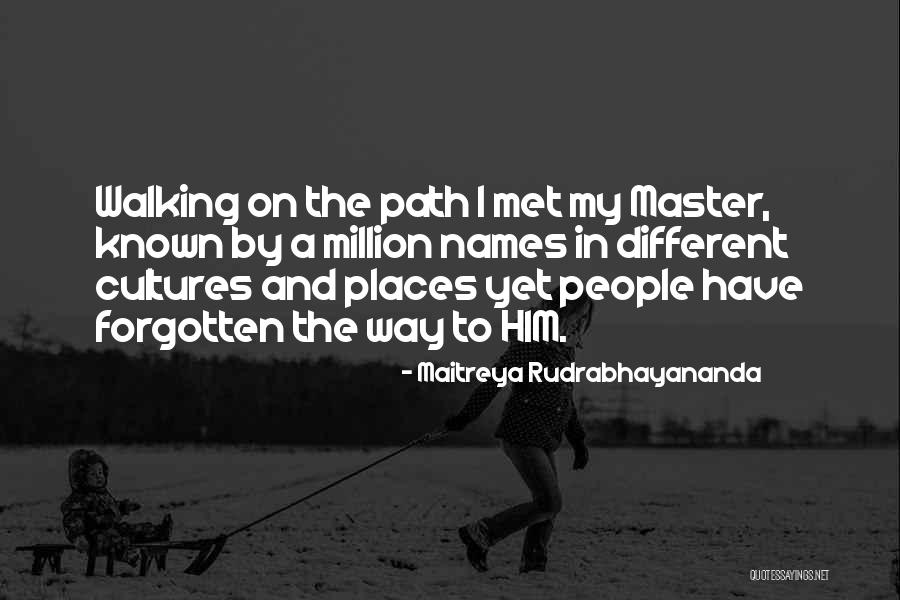 Walking on the path I met my Master, known by a million names in different cultures and places yet people have forgotten the way to HIM. — Maitreya Rudrabhayananda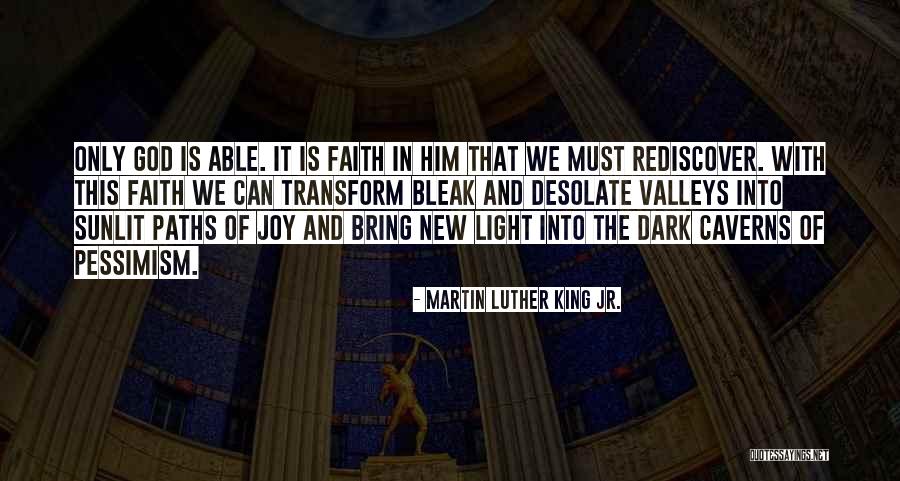 Only God is able. It is faith in Him that we must rediscover. With this faith we can transform bleak and desolate valleys into sunlit paths of joy and bring new light into the dark caverns of pessimism. — Martin Luther King Jr.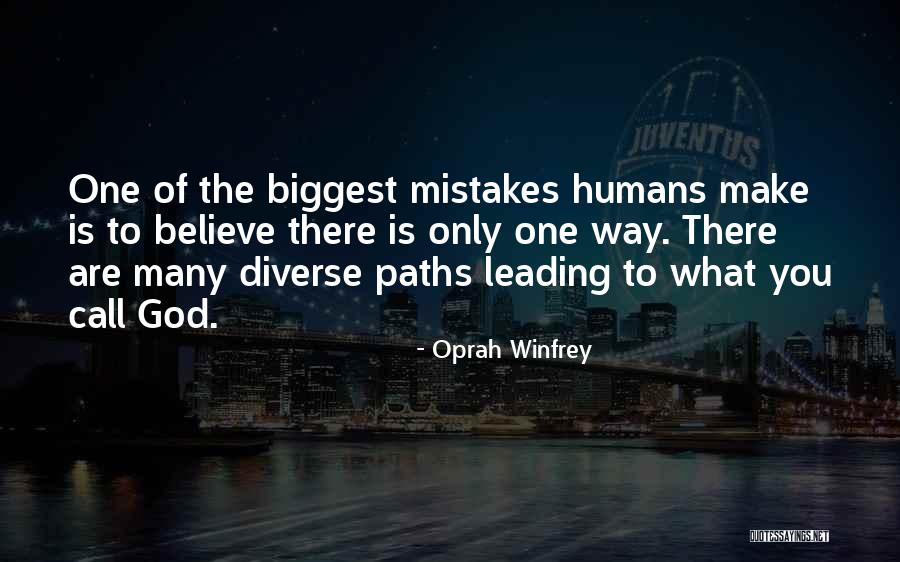 One of the biggest mistakes humans make is to believe there is only one way. There are many diverse paths leading to what you call God. — Oprah Winfrey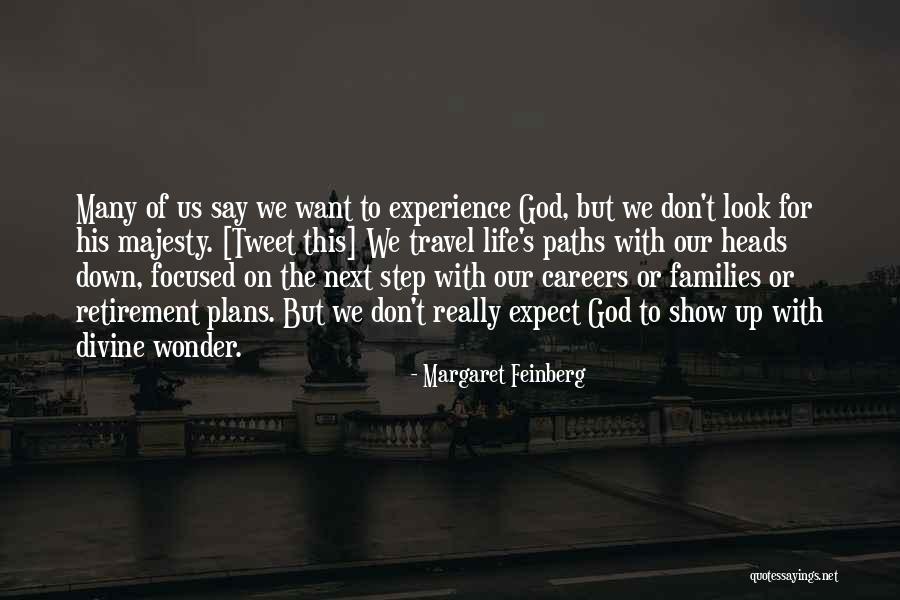 Many of us say we want to experience God, but we don't look for his majesty. [Tweet this] We travel life's paths with our heads down, focused on the next step with our careers or families or retirement plans. But we don't really expect God to show up with divine wonder. — Margaret Feinberg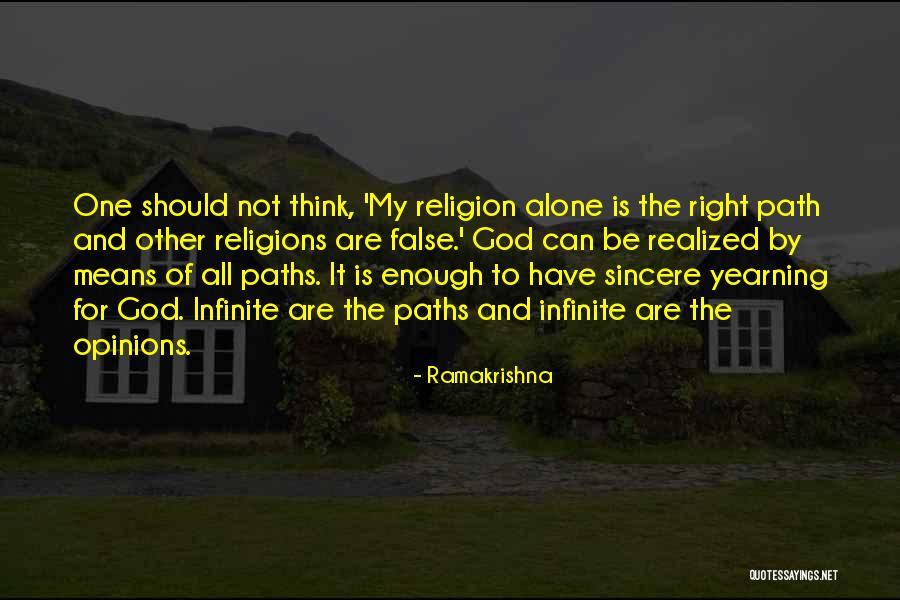 One should not think, 'My religion alone is the right path and other religions are false.' God can be realized by means of all paths. It is enough to have sincere yearning for God. Infinite are the paths and infinite are the opinions. — Ramakrishna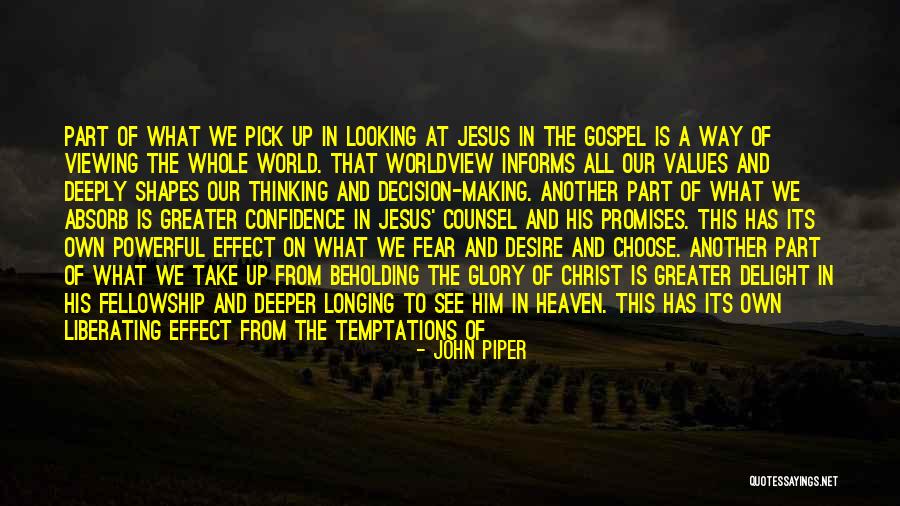 Part of what we pick up in looking at Jesus in the gospel is a way of viewing the whole world. That worldview informs all our values and deeply shapes our thinking and decision-making. Another part of what we absorb is greater confidence in Jesus' counsel and his promises. This has its own powerful effect on what we fear and desire and choose. Another part of what we take up from beholding the glory of Christ is greater delight in his fellowship and deeper longing to see him in heaven. This has its own liberating effect from the temptations of this world. All these have their own peculiar way of changing us into the likeness of Christ. Therefore, we should not think that pursuing likeness to Christ has no other components than just looking at Jesus. Looking at Jesus produces holiness along many different paths. — John Piper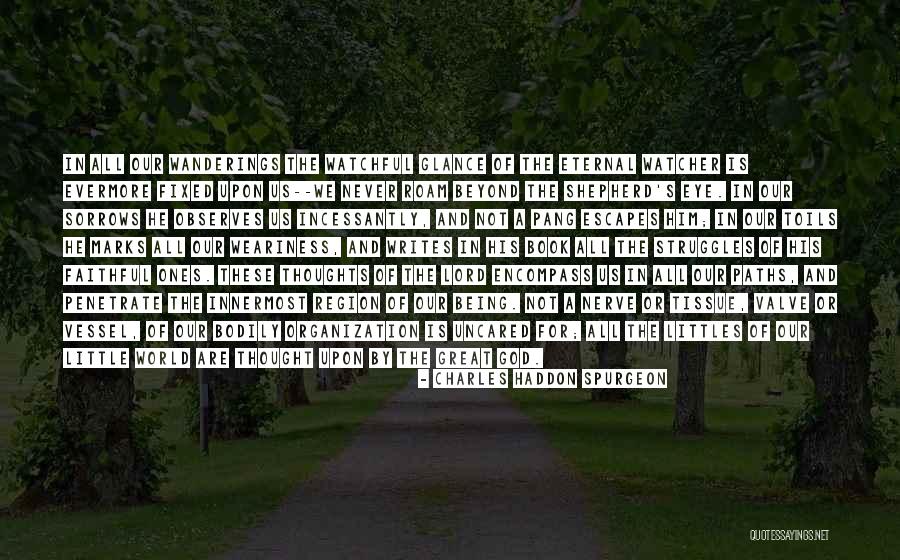 In all our wanderings the watchful glance of the Eternal Watcher is evermore fixed upon us--we never roam beyond the Shepherd's eye. In our sorrows he observes us incessantly, and not a pang escapes him; in our toils he marks all our weariness, and writes in his book all the struggles of his faithful ones. These thoughts of the Lord encompass us in all our paths, and penetrate the innermost region of our being. Not a nerve or tissue, valve or vessel, of our bodily organization is uncared for; all the littles of our little world are thought upon by the great God. — Charles Haddon Spurgeon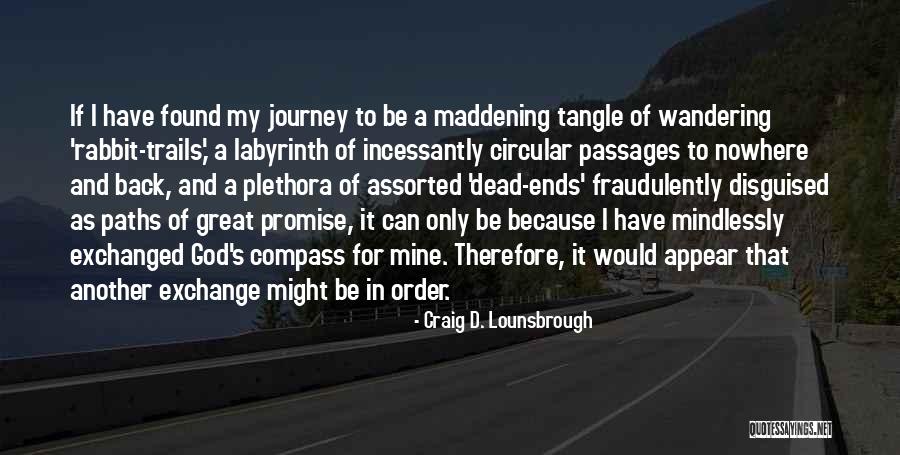 If I have found my journey to be a maddening tangle of wandering 'rabbit-trails,' a labyrinth of incessantly circular passages to nowhere and back, and a plethora of assorted 'dead-ends' fraudulently disguised as paths of great promise, it can only be because I have mindlessly exchanged God's compass for mine. Therefore, it would appear that another exchange might be in order. — Craig D. Lounsbrough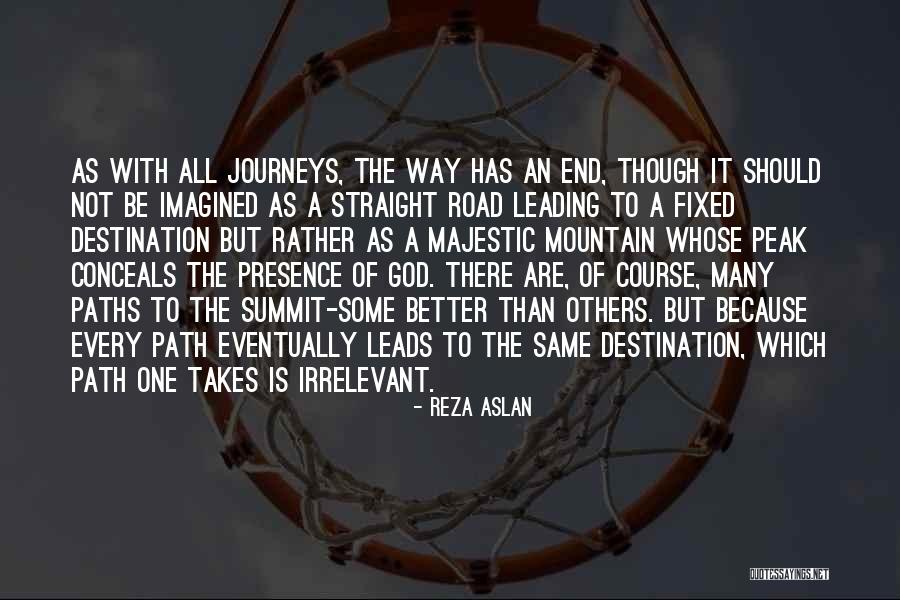 As with all journeys, the Way has an end, though it should not be imagined as a straight road leading to a fixed destination but rather as a majestic mountain whose peak conceals the presence of God. There are, of course, many paths to the summit-some better than others. But because every path eventually leads to the same destination, which path one takes is irrelevant. — Reza Aslan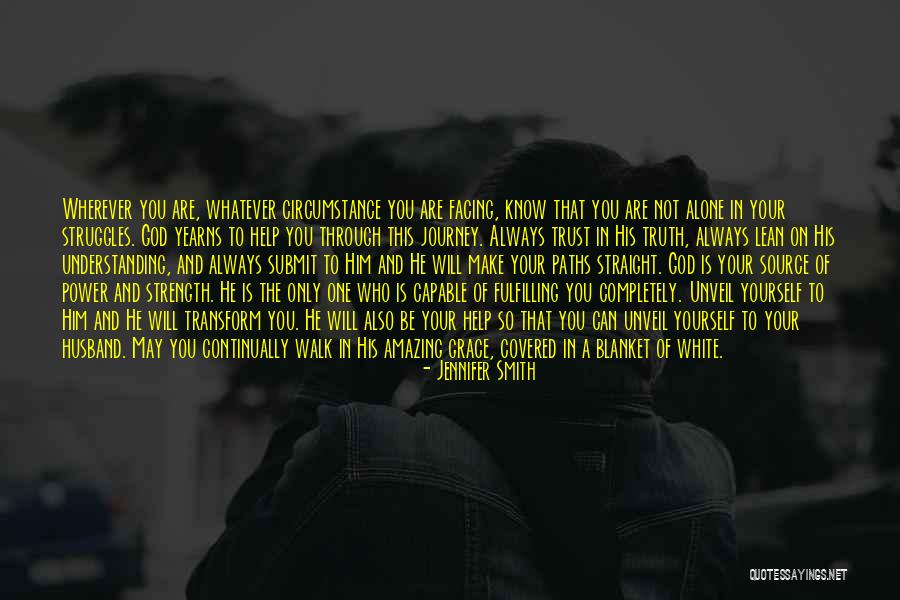 Wherever you are, whatever circumstance you are facing, know that you are not alone in your struggles. God yearns to help you through this journey. Always trust in His truth, always lean on His understanding, and always submit to Him and He will make your paths straight. God is your source of power and strength. He is the only one who is capable of fulfilling you completely. Unveil yourself to Him and He will transform you. He will also be your help so that you can unveil yourself to your husband. May you continually walk in His amazing grace, covered in a blanket of white. — Jennifer Smith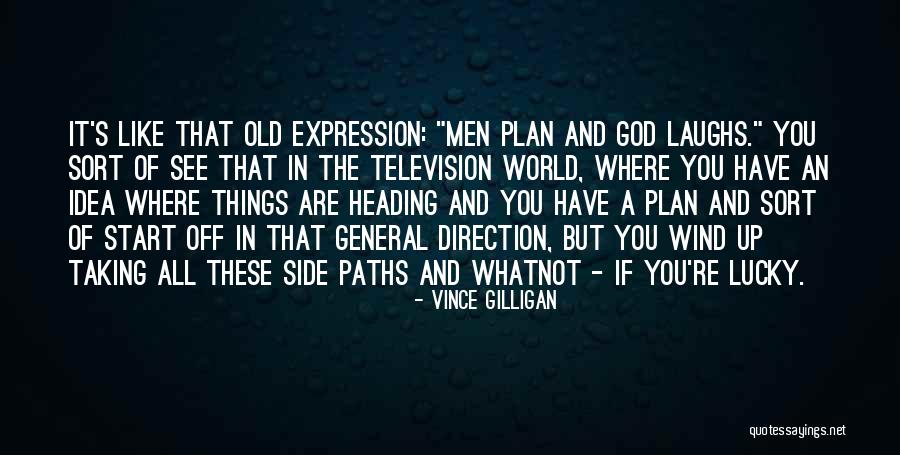 It's like that old expression: "Men plan and god laughs." You sort of see that in the television world, where you have an idea where things are heading and you have a plan and sort of start off in that general direction, but you wind up taking all these side paths and whatnot - if you're lucky. — Vince Gilligan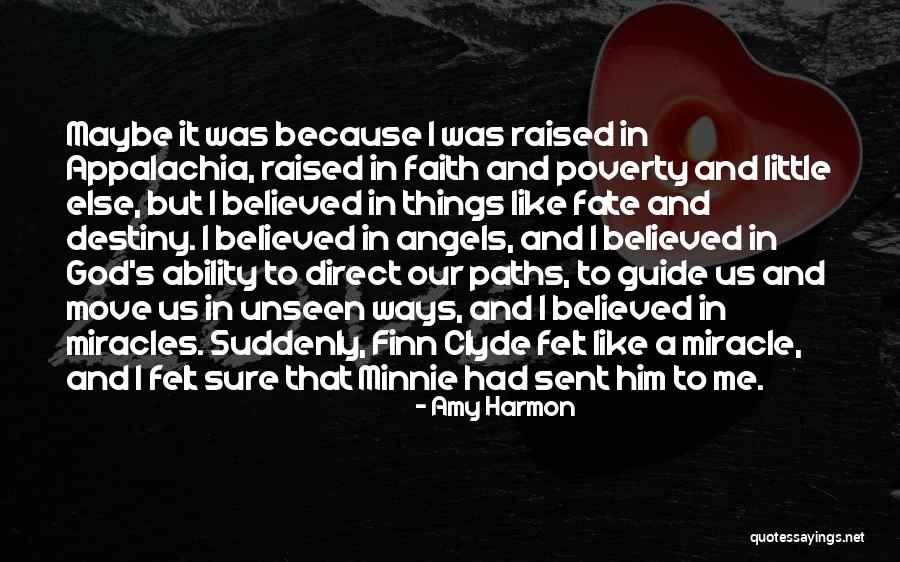 Maybe it was because I was raised in Appalachia, raised in faith and poverty and little else, but I believed in things like fate and destiny. I believed in angels, and I believed in God's ability to direct our paths, to guide us and move us in unseen ways, and I believed in miracles. Suddenly, Finn Clyde felt like a miracle, and I felt sure that Minnie had sent him to me. — Amy Harmon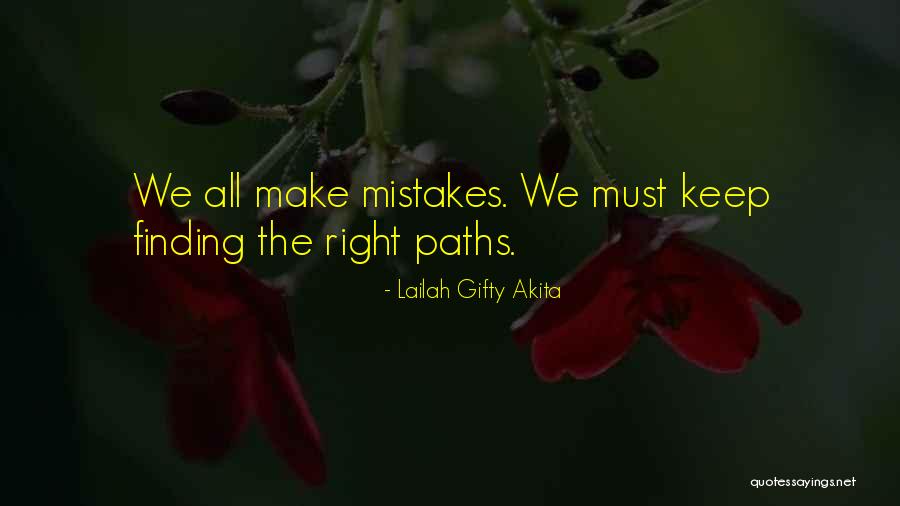 We all make mistakes. We must keep finding the right paths. — Lailah Gifty Akita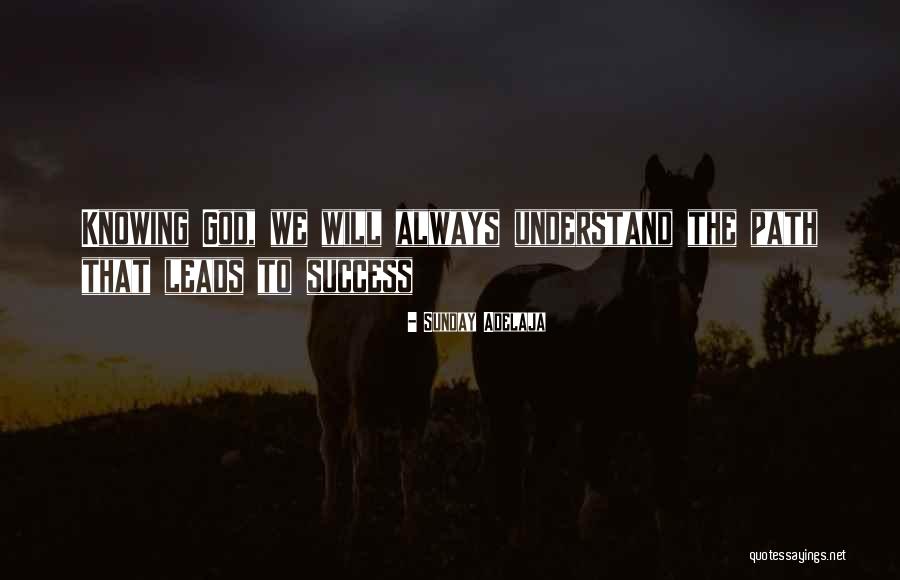 Knowing God, we will always understand the path that leads to success — Sunday Adelaja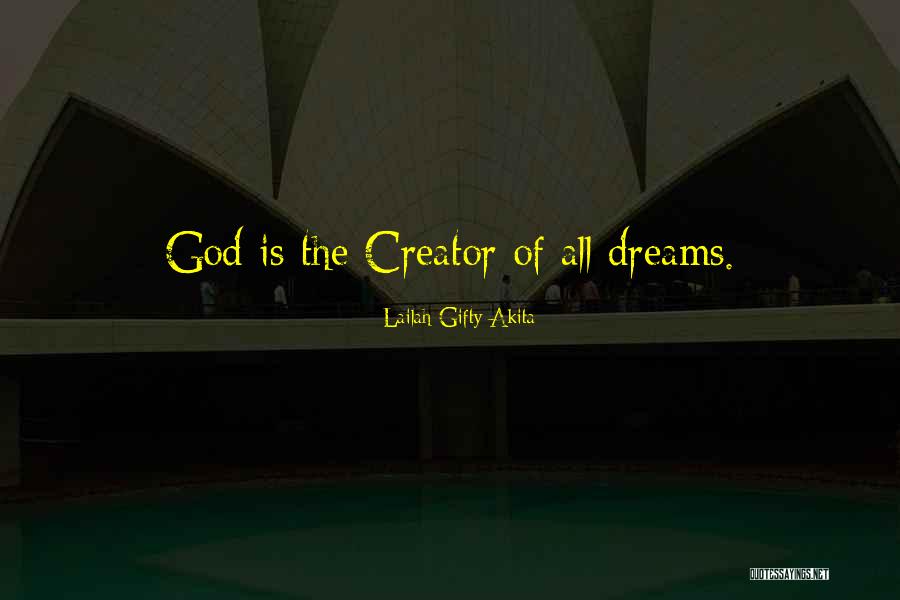 God is the Creator of all dreams. — Lailah Gifty Akita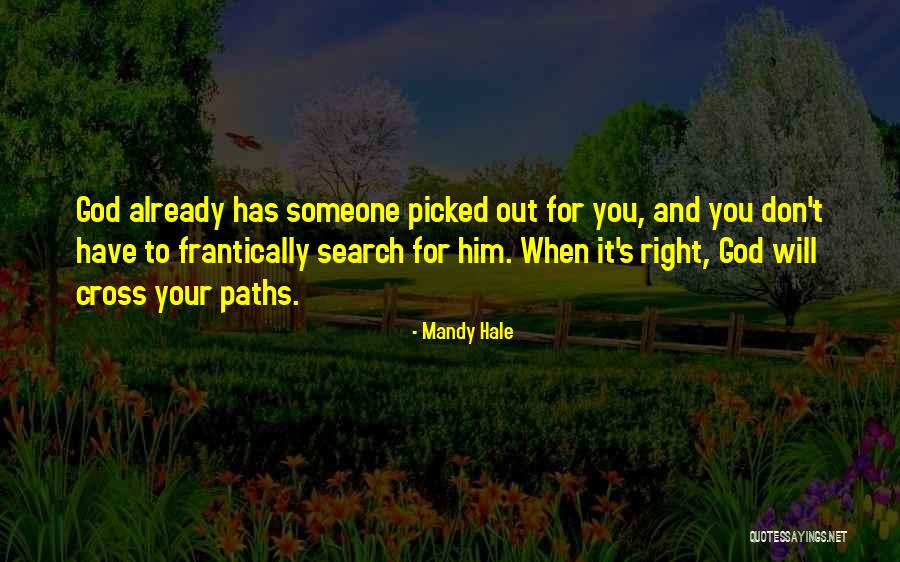 God already has someone picked out for you, and you don't have to frantically search for him. When it's right, God will cross your paths. — Mandy Hale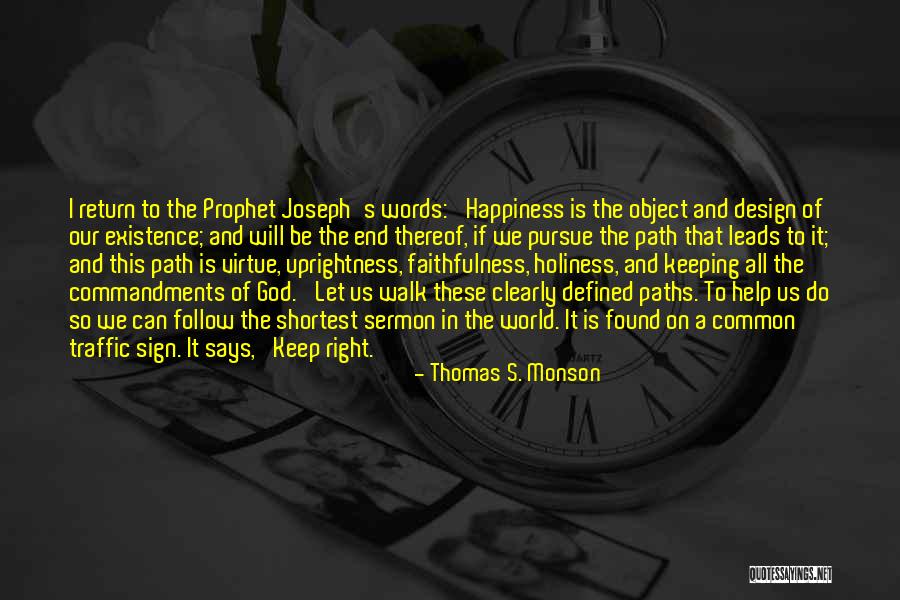 I return to the Prophet Joseph's words: 'Happiness is the object and design of our existence; and will be the end thereof, if we pursue the path that leads to it; and this path is virtue, uprightness, faithfulness, holiness, and keeping all the commandments of God.' Let us walk these clearly defined paths. To help us do so we can follow the shortest sermon in the world. It is found on a common traffic sign. It says, 'Keep right. — Thomas S. Monson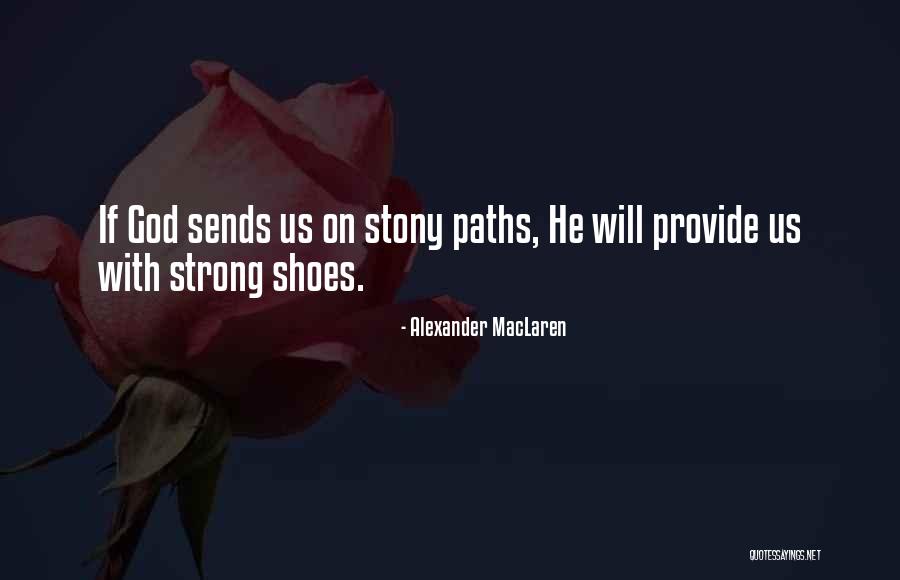 If God sends us on stony paths, He will provide us with strong shoes. — Alexander MacLaren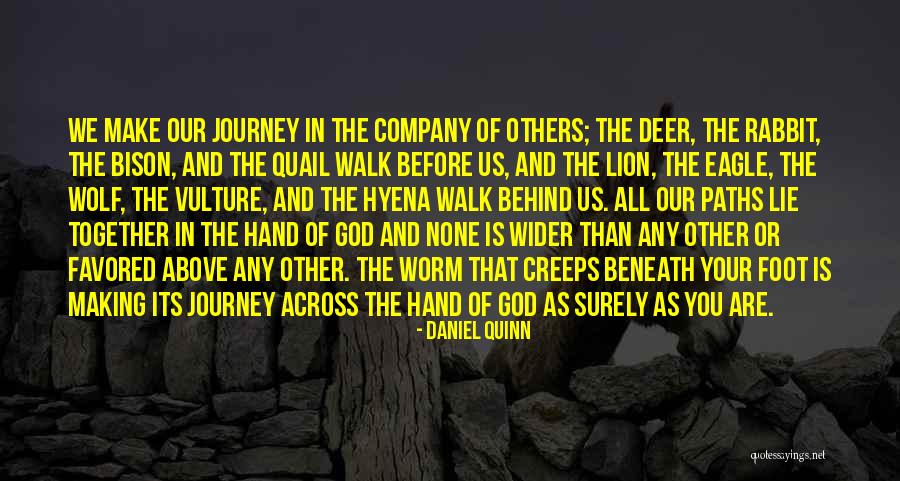 We make our journey in the company of others; the deer, the rabbit, the bison, and the quail walk before us, and the lion, the eagle, the wolf, the vulture, and the hyena walk behind us. All our paths lie together in the hand of god and none is wider than any other or favored above any other. The worm that creeps beneath your foot is making its journey across the hand of god as surely as you are. — Daniel Quinn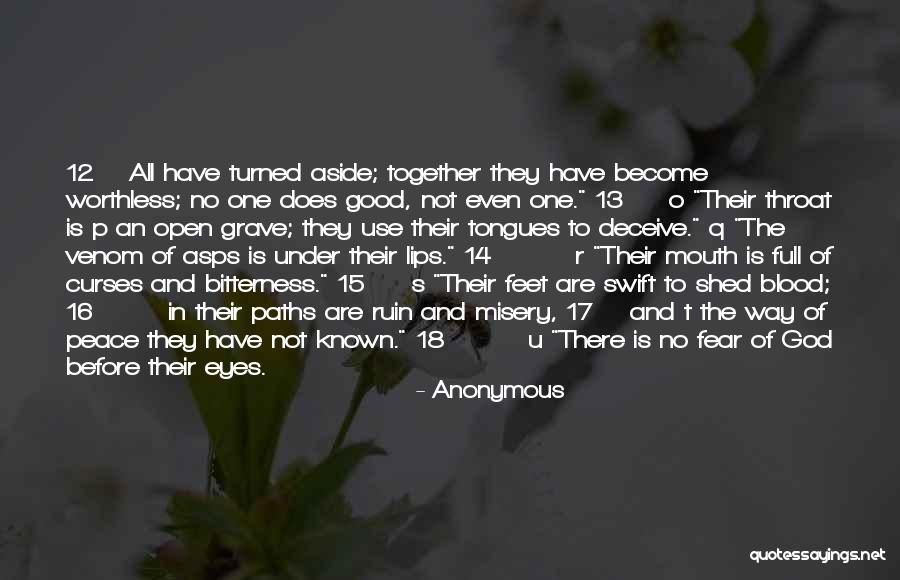 12 All have turned aside; together they have become worthless; no one does good, not even one." 13 o "Their throat is p an open grave; they use their tongues to deceive." q "The venom of asps is under their lips." 14 r "Their mouth is full of curses and bitterness." 15 s "Their feet are swift to shed blood; 16 in their paths are ruin and misery, 17 and t the way of peace they have not known." 18 u "There is no fear of God before their eyes. — Anonymous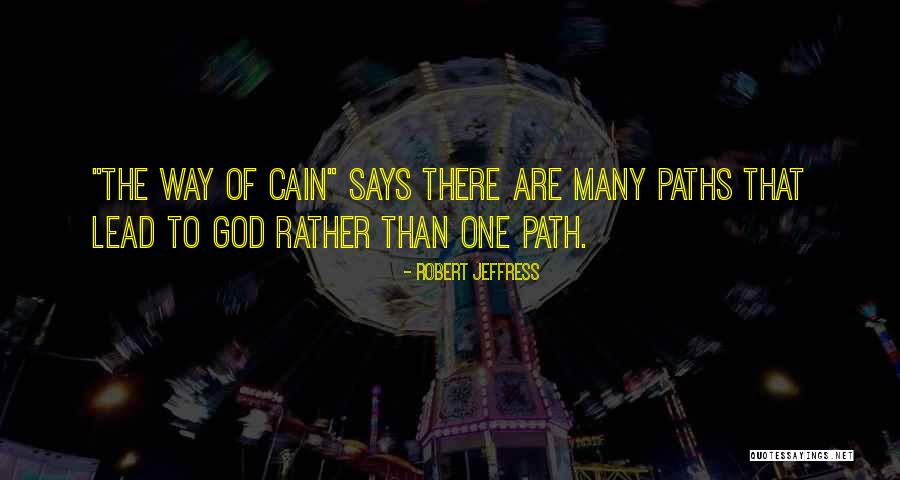 "The way of Cain" says there are many paths that lead to God rather than one path. — Robert Jeffress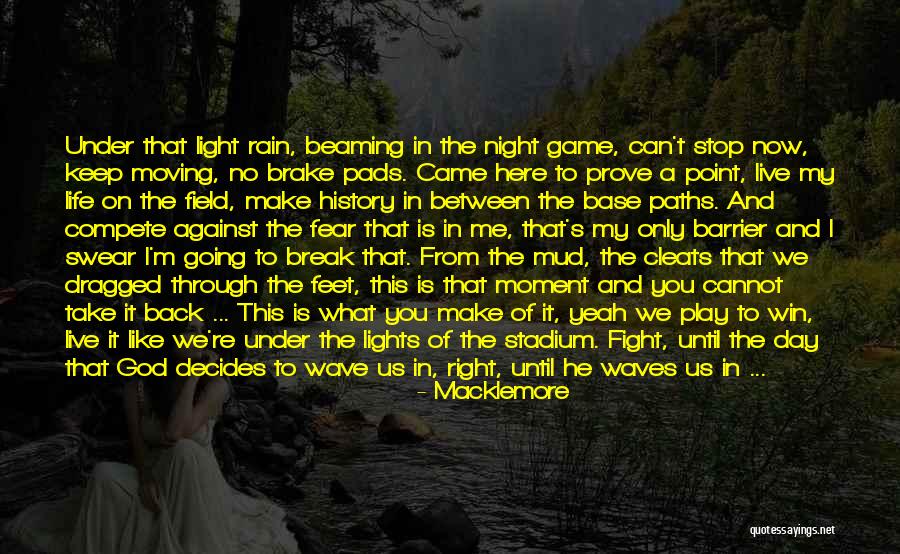 Under that light rain, beaming in the night game, can't stop now, keep moving, no brake pads. Came here to prove a point, live my life on the field, make history in between the base paths. And compete against the fear that is in me, that's my only barrier and I swear I'm going to break that. From the mud, the cleats that we dragged through the feet, this is that moment and you cannot take it back ... This is what you make of it, yeah we play to win, live it like we're under the lights of the stadium. Fight, until the day that God decides to wave us in, right, until he waves us in ... — Macklemore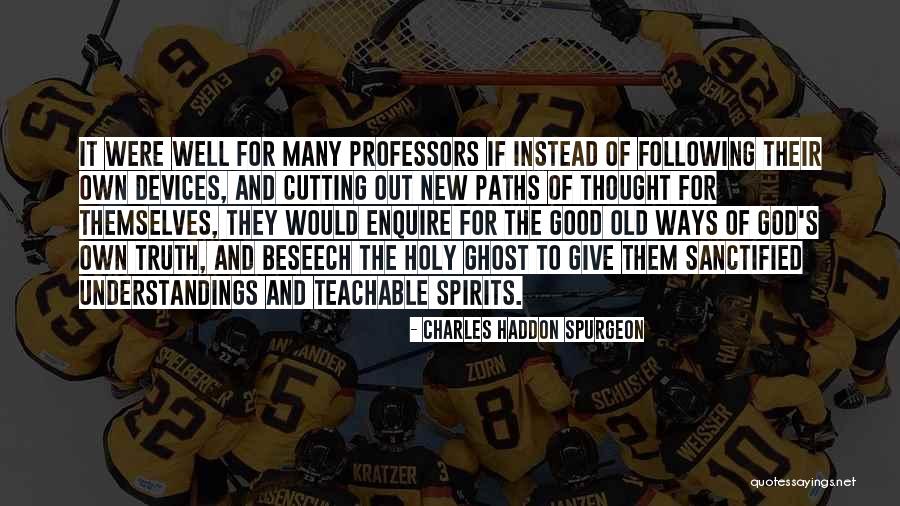 It were well for many professors if instead of following their own devices, and cutting out new paths of thought for themselves, they would enquire for the good old ways of God's own truth, and beseech the Holy Ghost to give them sanctified understandings and teachable spirits. — Charles Haddon Spurgeon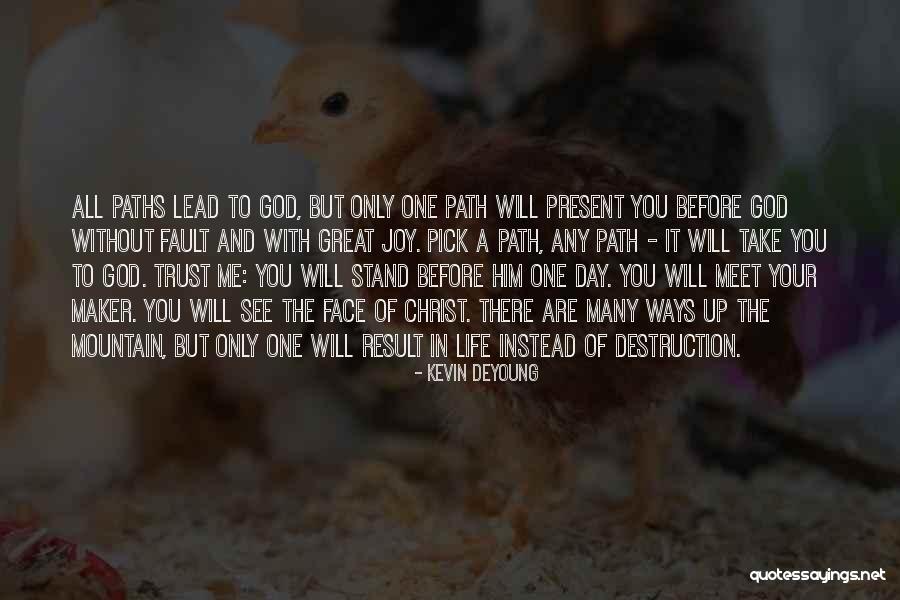 All paths lead to God, but only one path will present you before God without fault and with great joy. Pick a path, any path - it will take you to God. Trust me: you will stand before Him one day. You will meet your Maker. You will see the face of Christ. There are many ways up the mountain, but only one will result in life instead of destruction. — Kevin DeYoung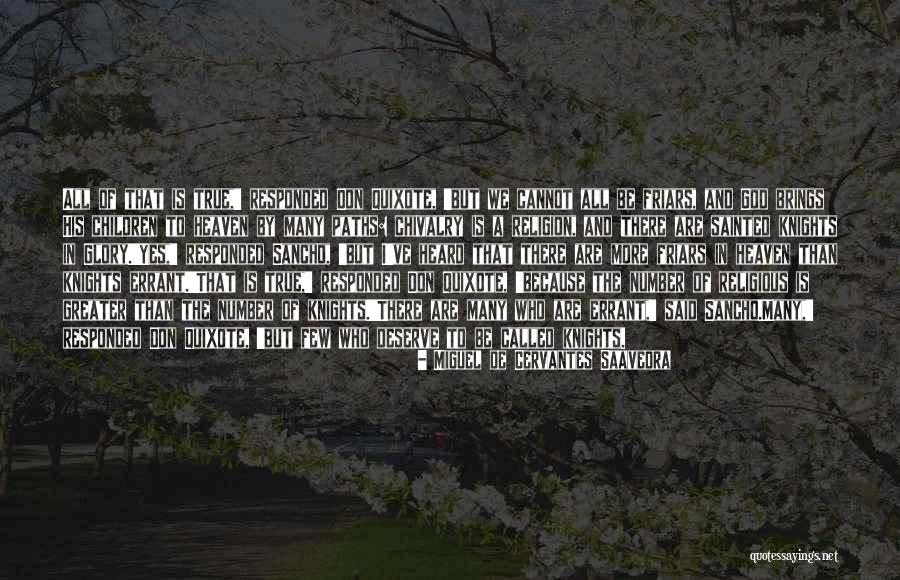 All of that is true,' responded Don Quixote, 'but we cannot all be friars, and God brings His children to heaven by many paths: chivalry is a religion, and there are sainted knights in Glory.'

Yes,' responded Sancho, 'but I've heard that there are more friars in heaven than knights errant.'

That is true,' responded Don Quixote, 'because the number of religious is greater than the number of knights.'

There are many who are errant,' said Sancho.

Many,' responded Don Quixote, 'but few who deserve to be called knights. — Miguel De Cervantes Saavedra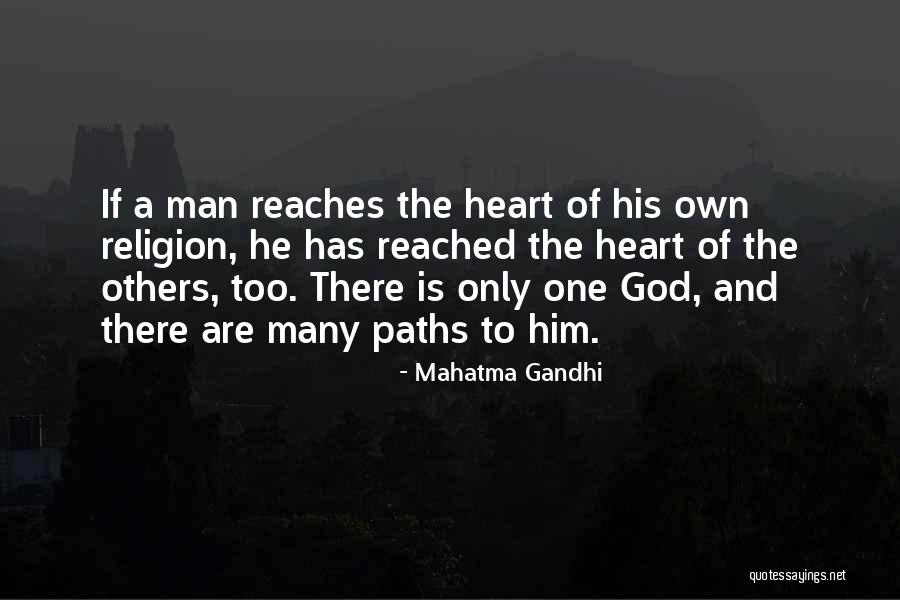 If a man reaches the heart of his own religion, he has reached the heart of the others, too. There is only one God, and there are many paths to him. — Mahatma Gandhi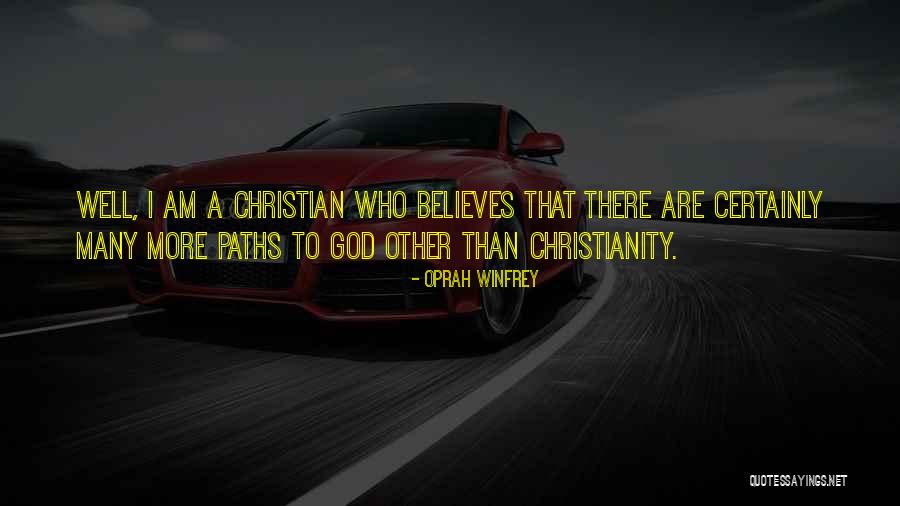 Well, I am a Christian who believes that there are certainly many more paths to God other than Christianity. — Oprah Winfrey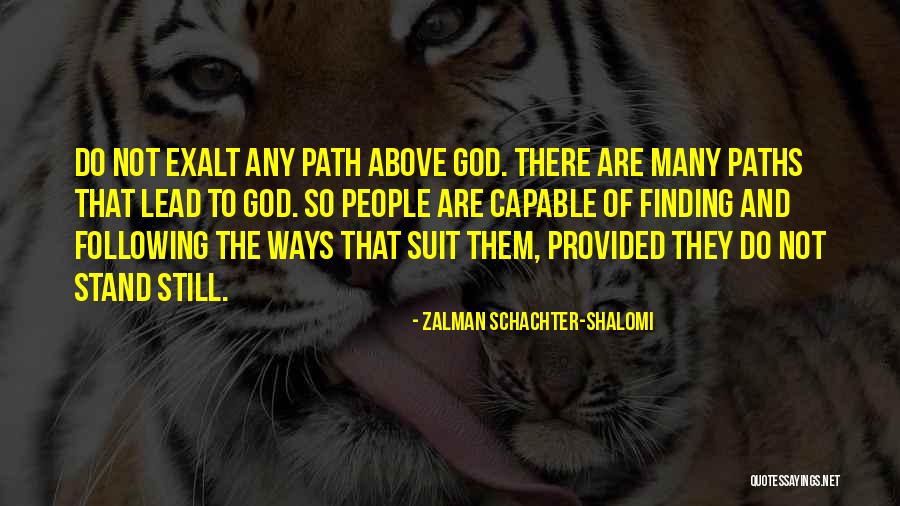 Do not exalt any path above god. There are many paths that lead to god. So people are capable of finding and following the ways that suit them, provided they do not stand still. — Zalman Schachter-Shalomi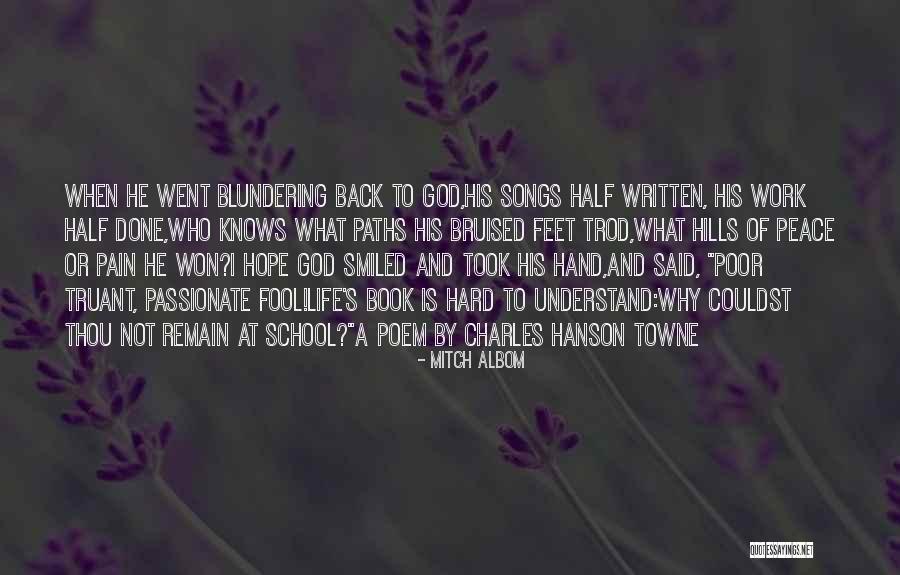 When he went blundering back to God,
His songs half written, his work half done,
Who knows what paths his bruised feet trod,
What hills of peace or pain he won?
I hope God smiled and took his hand,
And said, "Poor truant, passionate fool!
Life's book is hard to understand:
Why couldst thou not remain at school?"
A poem by Charles Hanson Towne — Mitch Albom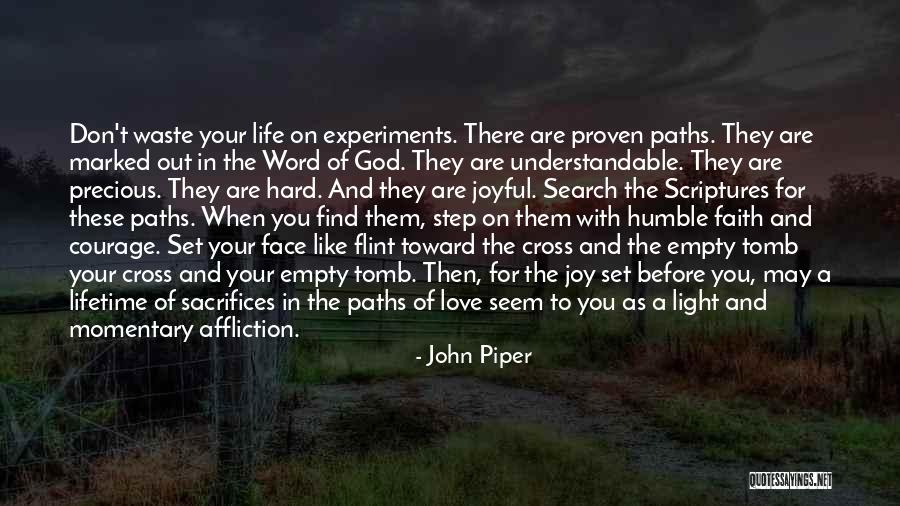 Don't waste your life on experiments. There are proven paths. They are marked out in the Word of God. They are understandable. They are precious. They are hard. And they are joyful. Search the Scriptures for these paths. When you find them, step on them with humble faith and courage. Set your face like flint toward the cross and the empty tomb
your cross and your empty tomb. Then, for the joy set before you, may a lifetime of sacrifices in the paths of love seem to you as a light and momentary affliction. — John Piper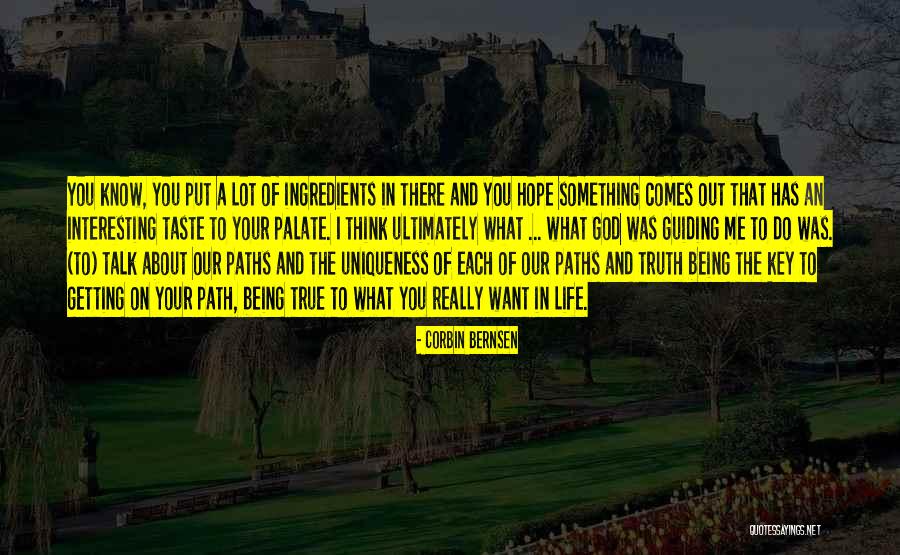 You know, you put a lot of ingredients in there and you hope something comes out that has an interesting taste to your palate. I think ultimately what ... what God was guiding me to do was. (to) talk about our paths and the uniqueness of each of our paths and truth being the key to getting on your path, being true to what you really want in life. — Corbin Bernsen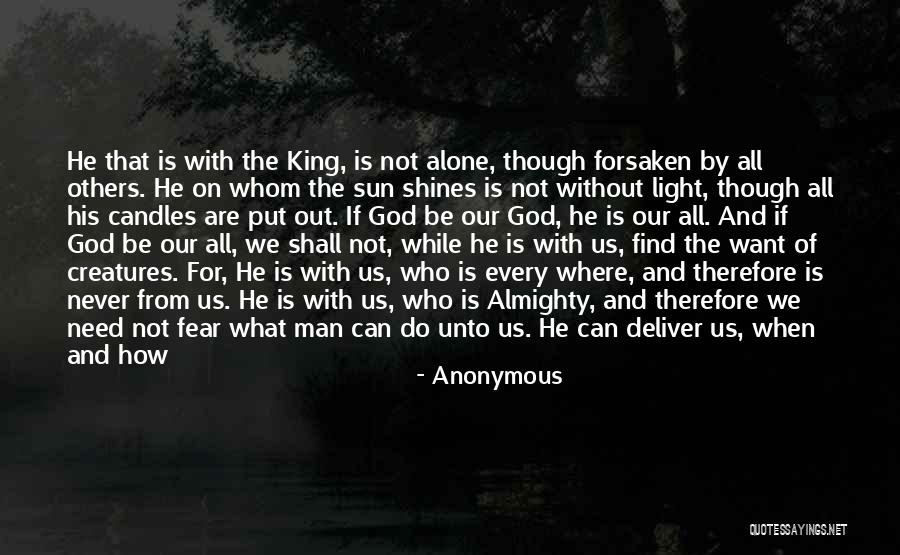 He that is with the King, is not alone, though forsaken by all others. He on whom the sun shines is not without light, though all his candles are put out. If God be our God, he is our all. And if God be our all, we shall not, while he is with us, find the want of creatures. For, He is with us, who is every where, and therefore is never from us. He is with us, who is Almighty, and therefore we need not fear what man can do unto us. He can deliver us, when and how he pleases, from every danger and distress. He is with us, who is infinitely wise, to preserve us even from our own folly, as well as from our enemy's subtlety. He knows what to do with us, in what paths to lead us, and what condition is best for us. He is with us, who is infinitely good ; alone fit to be the perpetual delight of our souls. — Anonymous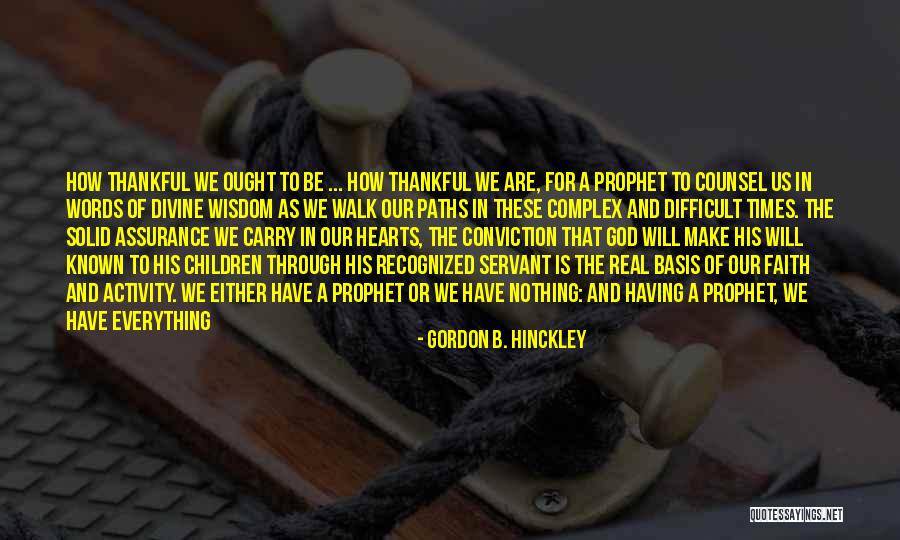 How thankful we ought to be ... how thankful we are, for a prophet to counsel us in words of divine wisdom as we walk our paths in these complex and difficult times. The solid assurance we carry in our hearts, the conviction that God will make his will known to his children through his recognized servant is the real basis of our faith and activity. We either have a prophet or we have nothing: and having a prophet, we have everything — Gordon B. Hinckley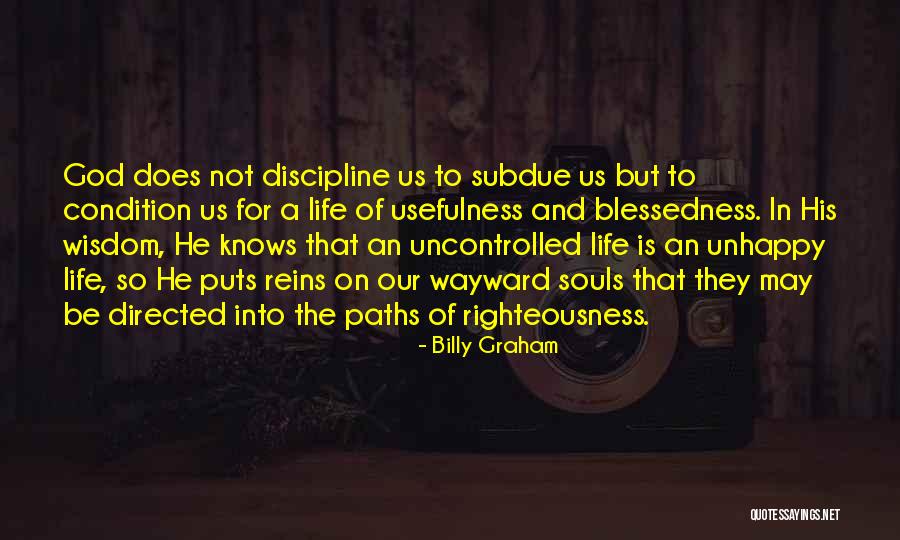 God does not discipline us to subdue us but to condition us for a life of usefulness and blessedness. In His wisdom, He knows that an uncontrolled life is an unhappy life, so He puts reins on our wayward souls that they may be directed into the paths of righteousness. — Billy Graham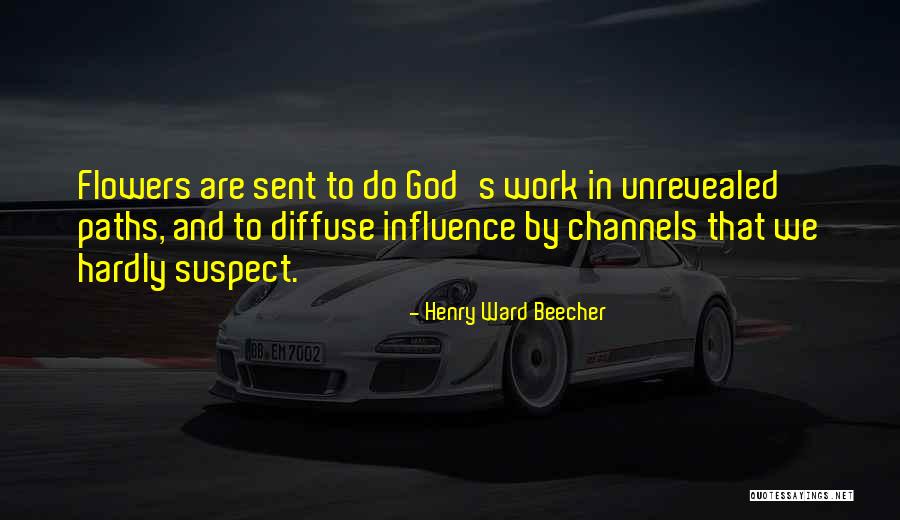 Flowers are sent to do God's work in unrevealed paths, and to diffuse influence by channels that we hardly suspect. — Henry Ward Beecher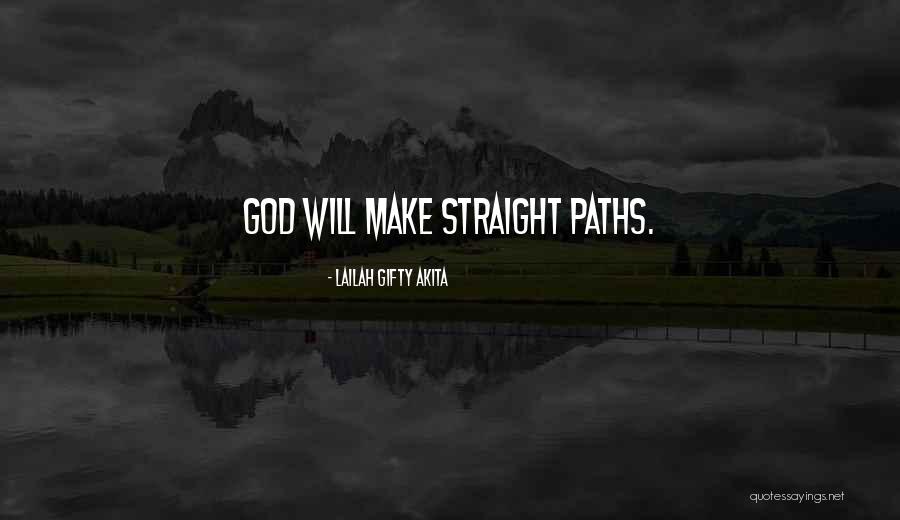 God will make straight paths. — Lailah Gifty Akita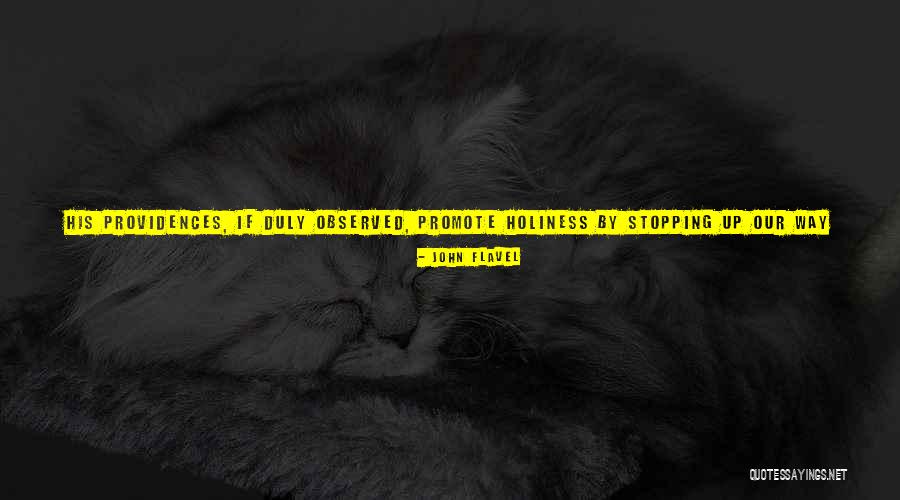 His providences, if duly observed, promote holiness by stopping up our way to sin. O, if men would but note the designs of God in his preventive providences, how useful would it be to keep them upright and holy in their ways! For why is it that the Lord so often hedges up our way with thorns, as it is in Hosea ii. 6, but that we should not find our paths to sin? — John Flavel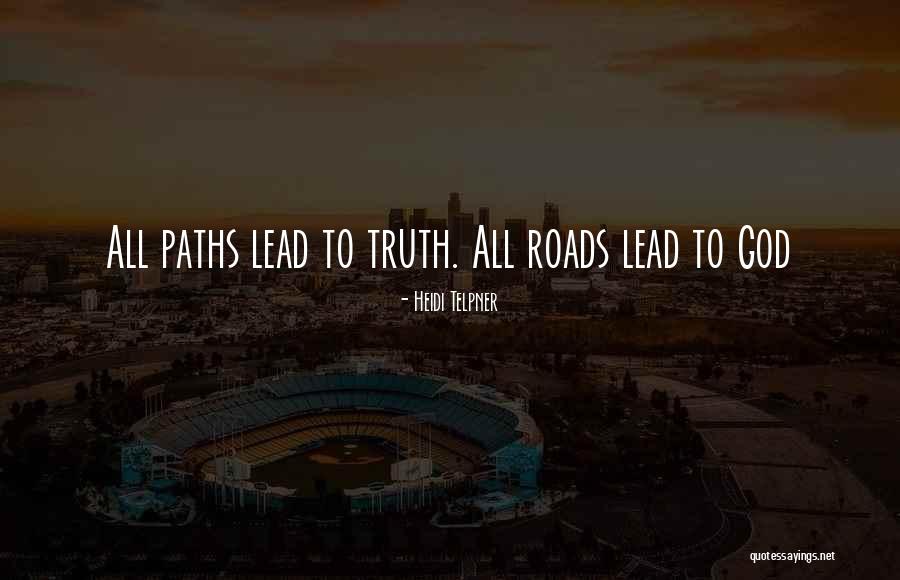 All paths lead to truth. All roads lead to God — Heidi Telpner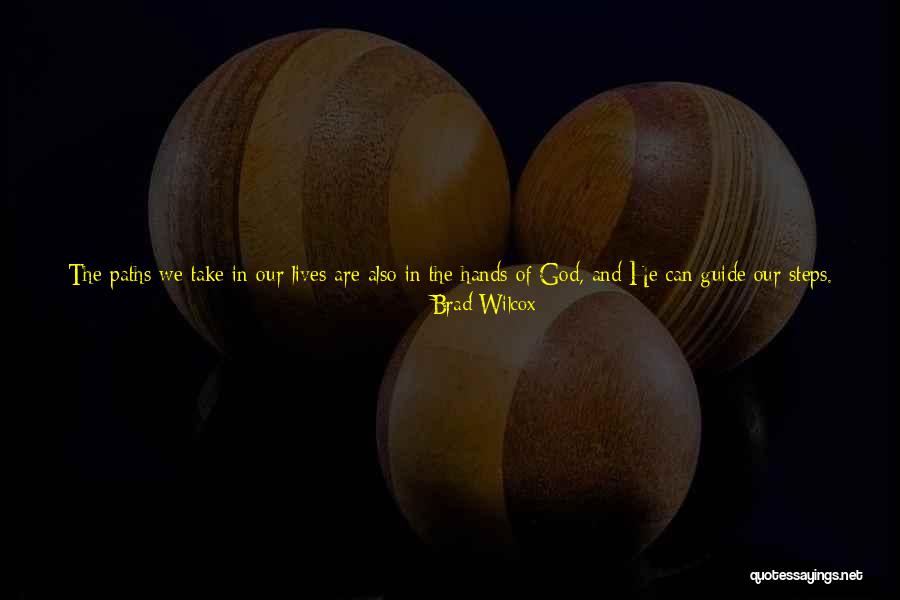 The paths we take in our lives are also in the hands of God, and He can guide our steps. Elder Richard G. Scott said, "The Lord has a purpose for you, individually. . . . Discover it and fulfill it. It will likely not be revealed all at once but will be unfolded line upon line. As you pray and work hard, you will find threads of understanding that will lead you to the path the Lord wants you to follow for the greatest enduring, meaningful attainment, contribution, joy, and peace of mind. Faithfully and courageously follow those threads of understanding and direction."2 — Brad Wilcox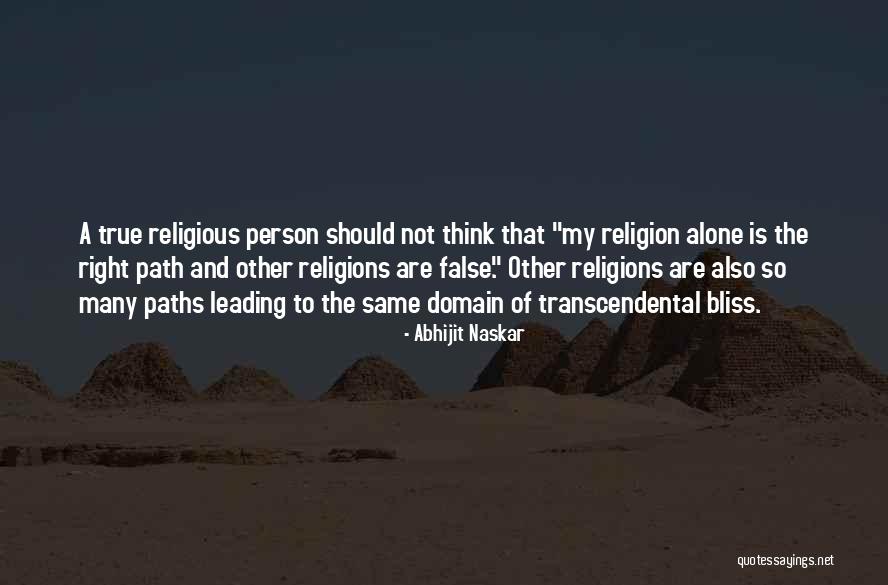 A true religious person should not think that "my religion alone is the right path and other religions are false." Other religions are also so many paths leading to the same domain of transcendental bliss. — Abhijit Naskar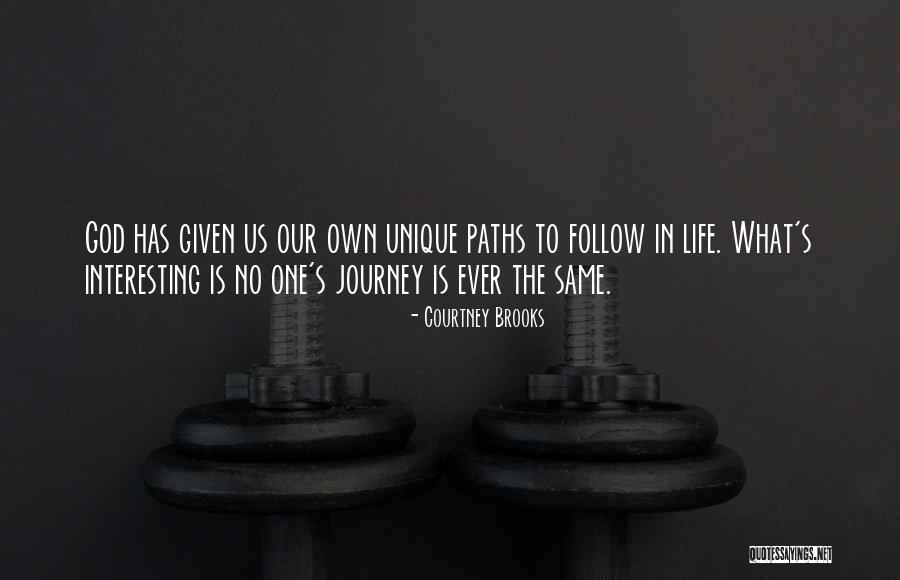 God has given us our own unique paths to follow in life. What's interesting is no one's journey is ever the same. — Courtney Brooks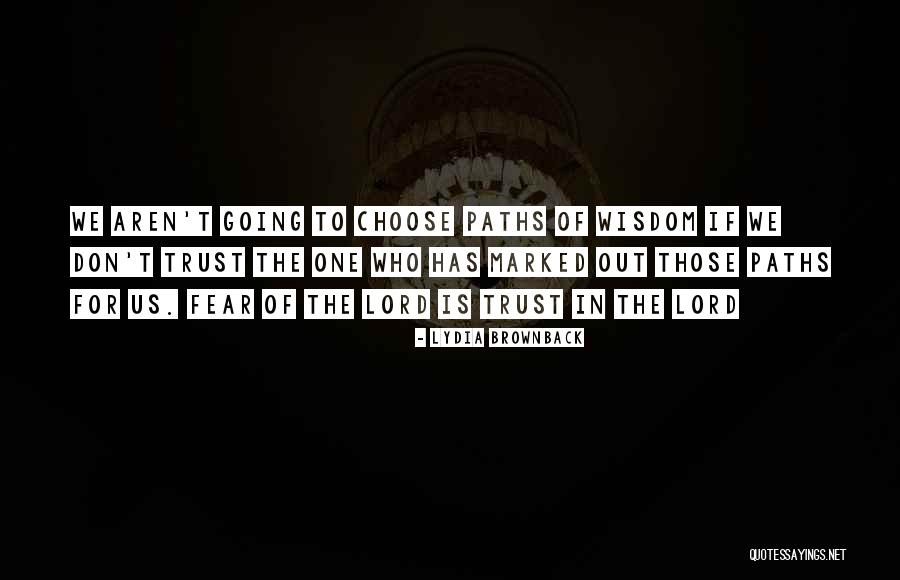 We aren't going to choose paths of wisdom if we don't trust the One who has marked out those paths for us. Fear of the Lord is trust in the Lord — Lydia Brownback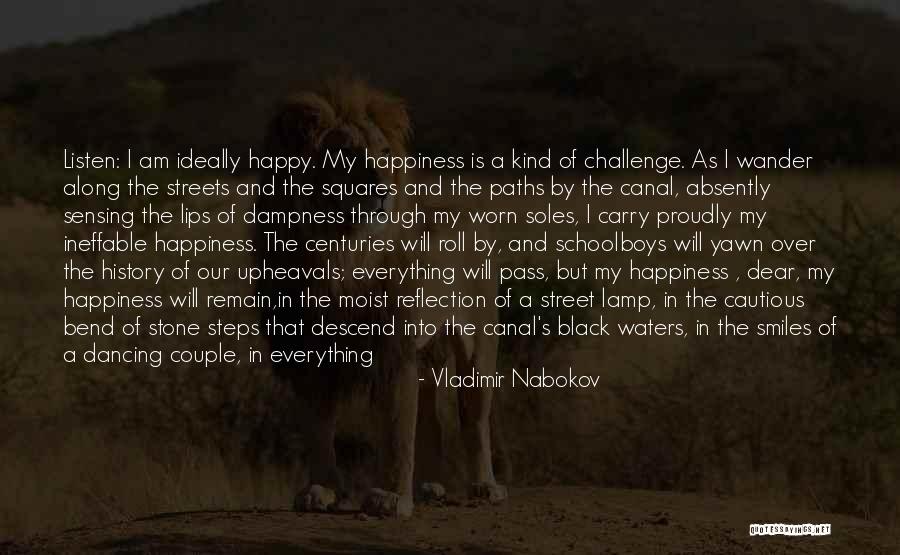 Listen: I am ideally happy. My happiness is a kind of challenge. As I wander along the streets and the squares and the paths by the canal, absently sensing the lips of dampness through my worn soles, I carry proudly my ineffable happiness. The centuries will roll by, and schoolboys will yawn over the history of our upheavals; everything will pass, but my happiness , dear, my happiness will remain,in the moist reflection of a street lamp, in the cautious bend of stone steps that descend into the canal's black waters, in the smiles of a dancing couple, in everything with which God so generously surrounds human loneliness. — Vladimir Nabokov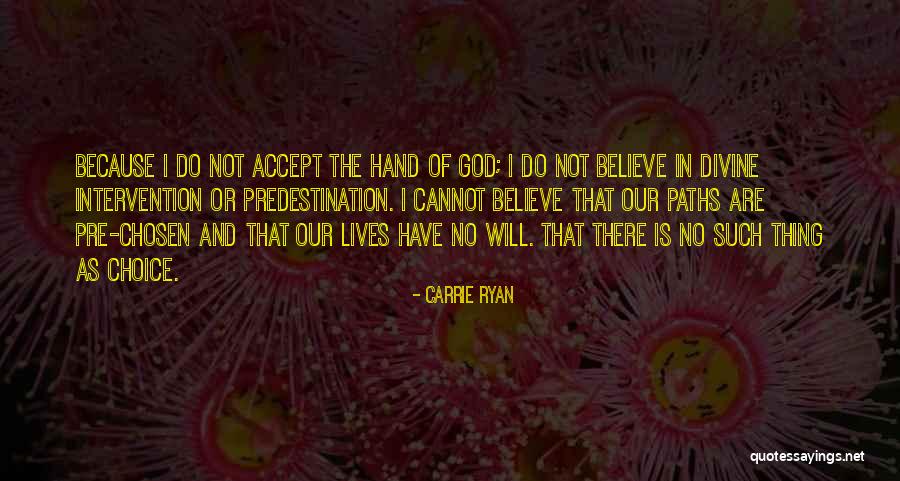 Because I do not accept the hand of God; I do not believe in divine intervention or predestination. I cannot believe that our paths are pre-chosen and that our lives have no will. That there is no such thing as choice. — Carrie Ryan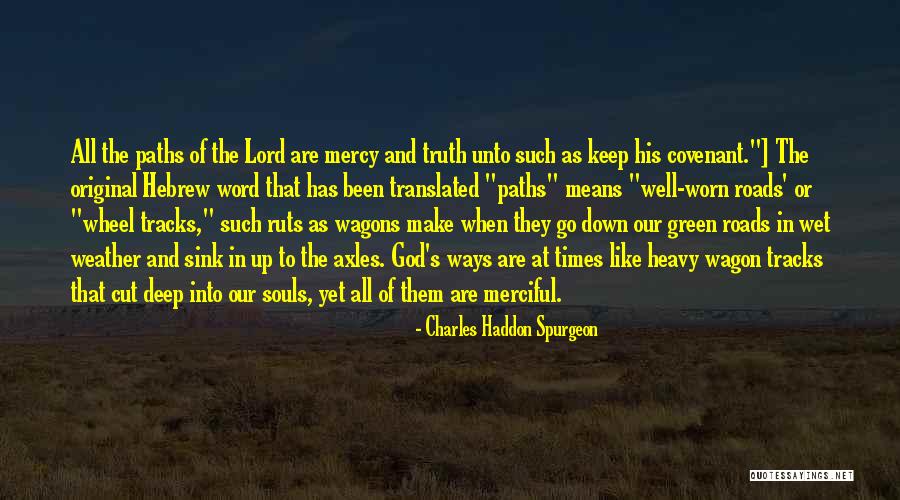 All the paths of the Lord are mercy and truth unto such as keep his covenant."] The original Hebrew word that has been translated "paths" means "well-worn roads' or "wheel tracks," such ruts as wagons make when they go down our green roads in wet weather and sink in up to the axles. God's ways are at times like heavy wagon tracks that cut deep into our souls, yet all of them are merciful. — Charles Haddon Spurgeon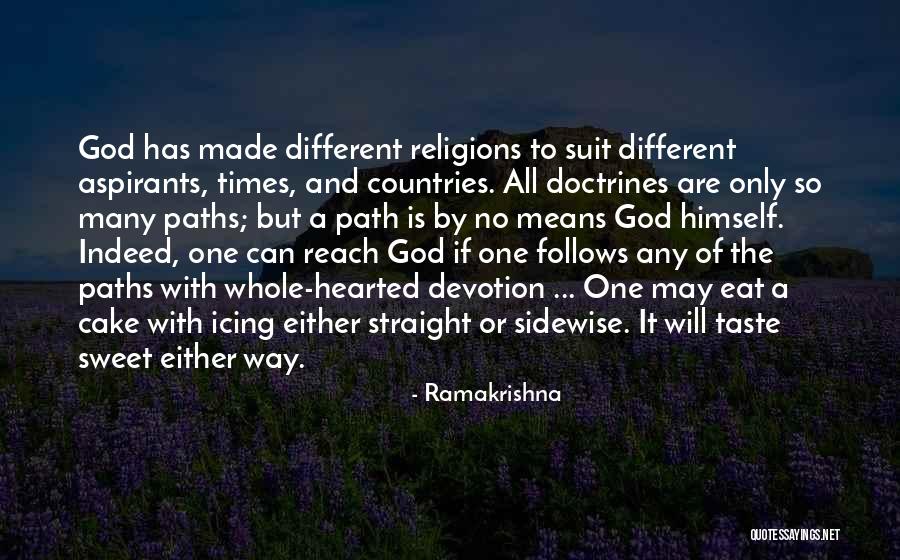 God has made different religions to suit different aspirants, times, and countries. All doctrines are only so many paths; but a path is by no means God himself. Indeed, one can reach God if one follows any of the paths with whole-hearted devotion ... One may eat a cake with icing either straight or sidewise. It will taste sweet either way. — Ramakrishna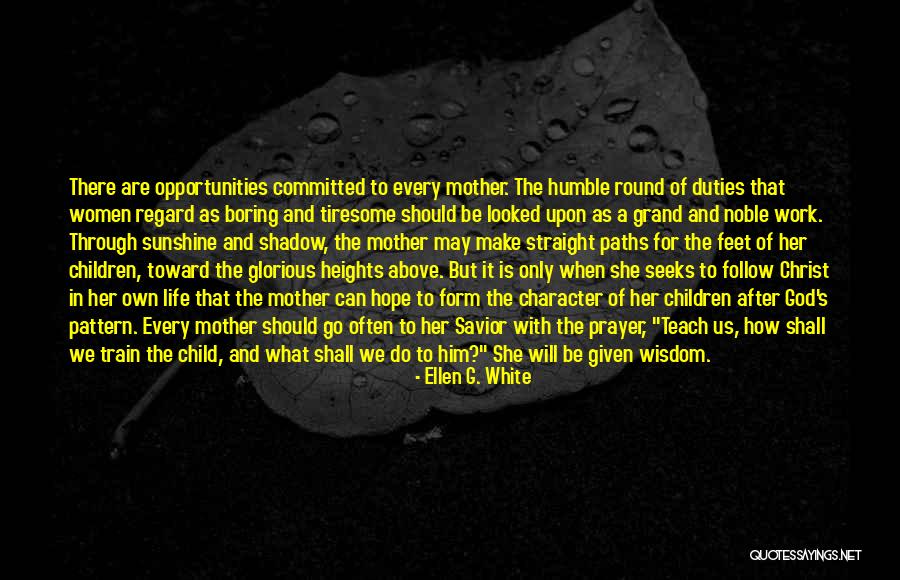 There are opportunities committed to every mother. The humble round of duties that women regard as boring and tiresome should be looked upon as a grand and noble work. Through sunshine and shadow, the mother may make straight paths for the feet of her children, toward the glorious heights above. But it is only when she seeks to follow Christ in her own life that the mother can hope to form the character of her children after God's pattern. Every mother should go often to her Savior with the prayer, "Teach us, how shall we train the child, and what shall we do to him?" She will be given wisdom. — Ellen G. White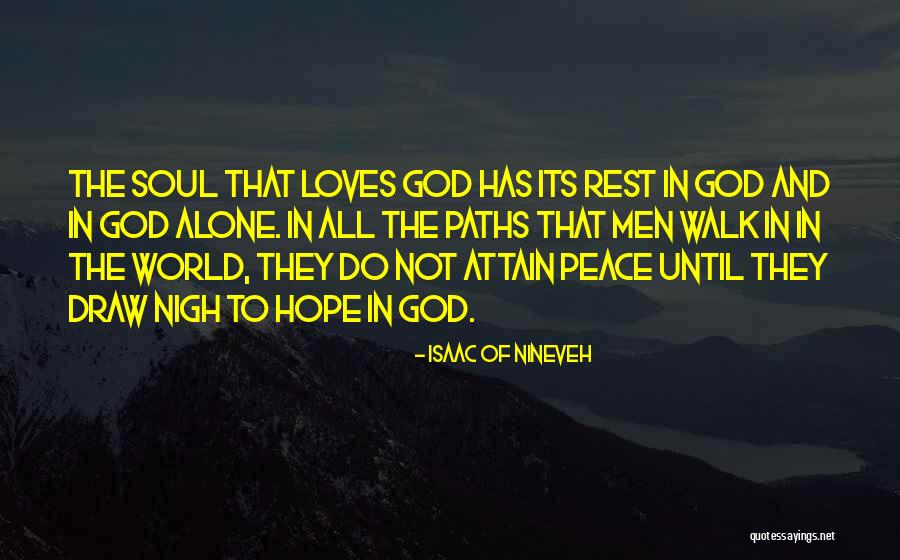 The soul that loves God has its rest in God and in God alone. In all the paths that men walk in in the world, they do not attain peace until they draw nigh to hope in God. — Isaac Of Nineveh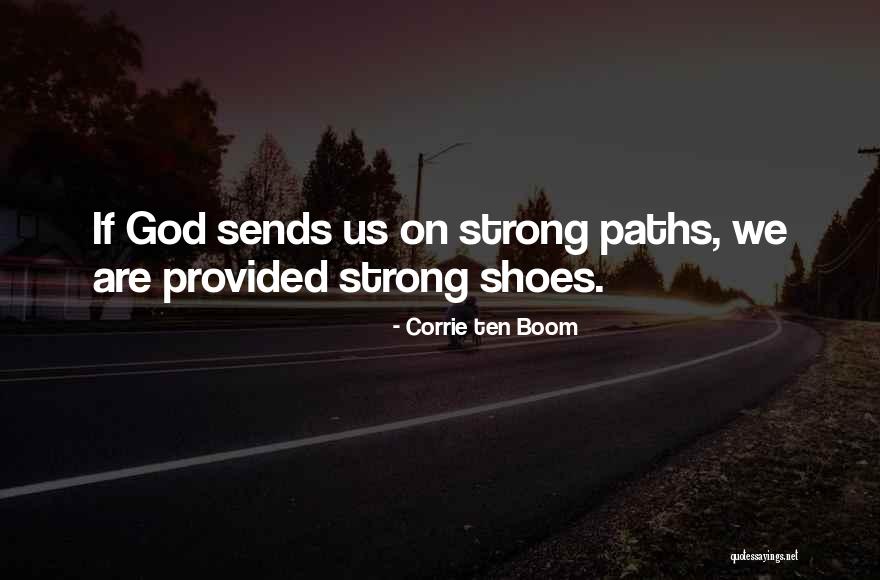 If God sends us on strong paths, we are provided strong shoes. — Corrie Ten Boom
I have reached the point in my life where I let my heart choose which paths to follow. I don't do this blindly. I take the time to think about it; about whether the path itself has a heart. Is it a good heart? Is it one of God's paths? If not, the path is of no use to me. But if it is a good path with a good heart, I will follow it to its end... excited, in awe, breathless. — Jose N. Harris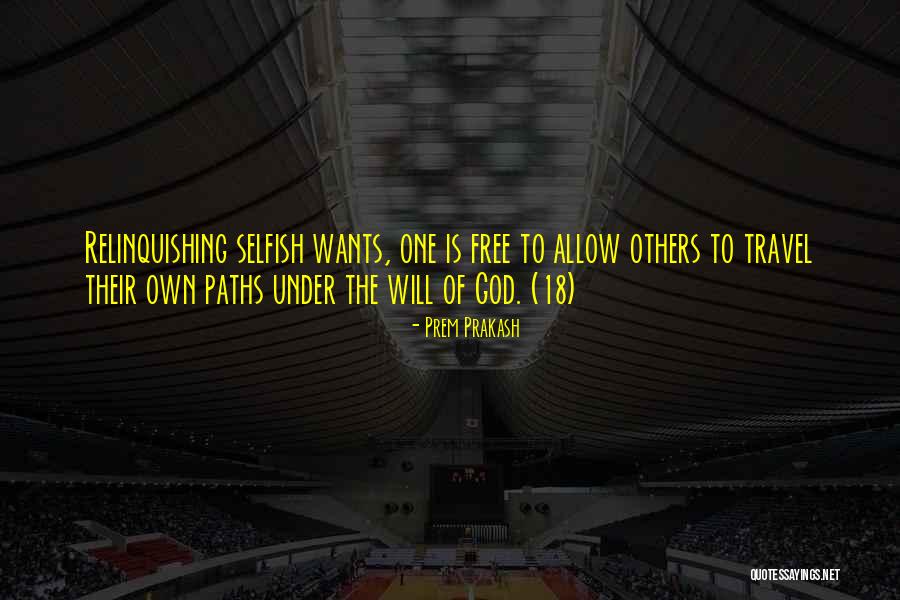 Relinquishing selfish wants, one is free to allow others to travel their own paths under the will of God. (18) — Prem Prakash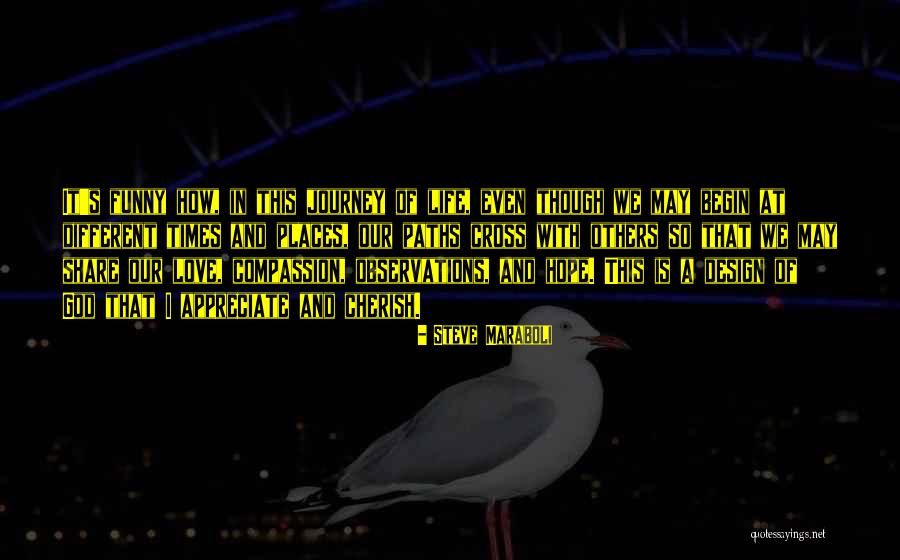 It's funny how, in this journey of life, even though we may begin at different times and places, our paths cross with others so that we may share our love, compassion, observations, and hope. This is a design of God that I appreciate and cherish. — Steve Maraboli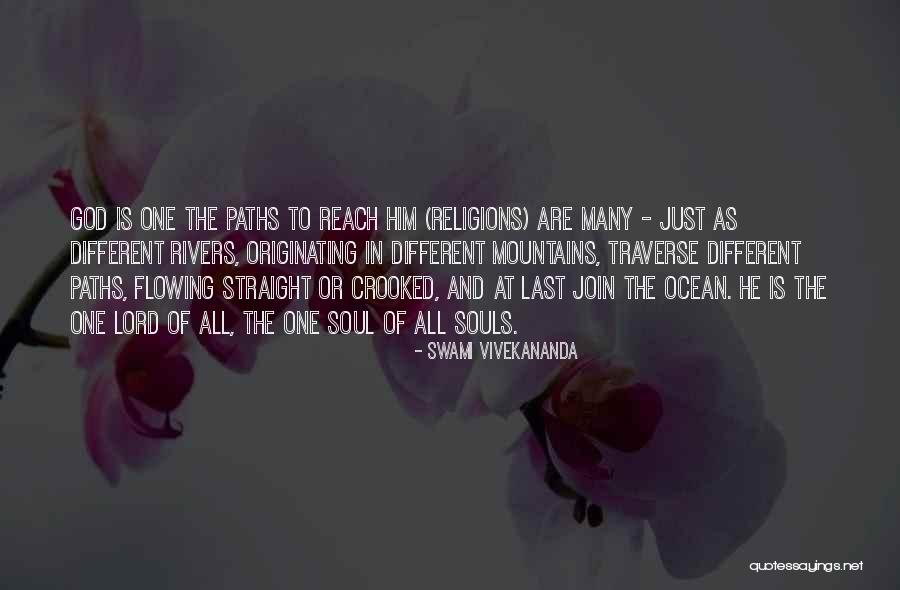 God is one the paths to reach him (religions) are many - just as different rivers, originating in different mountains, traverse different paths, flowing straight or crooked, and at last join the ocean. He is the one Lord of all, the one Soul of all souls. — Swami Vivekananda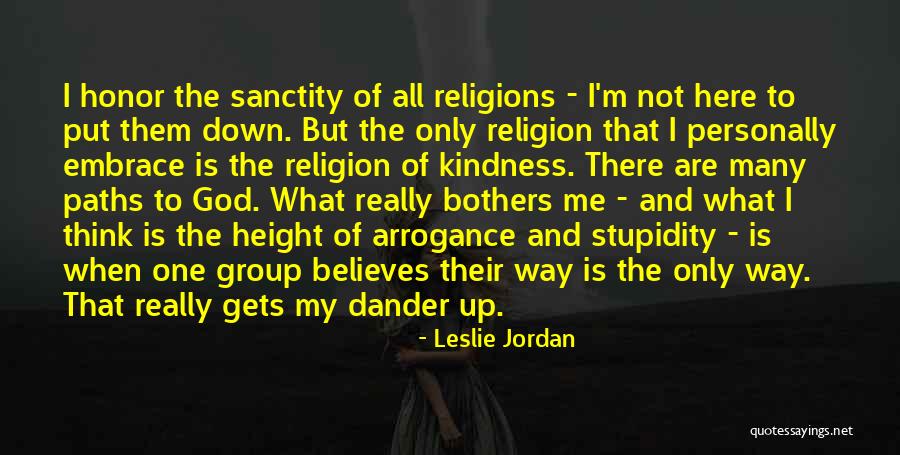 I honor the sanctity of all religions - I'm not here to put them down. But the only religion that I personally embrace is the religion of kindness. There are many paths to God. What really bothers me - and what I think is the height of arrogance and stupidity - is when one group believes their way is the only way. That really gets my dander up. — Leslie Jordan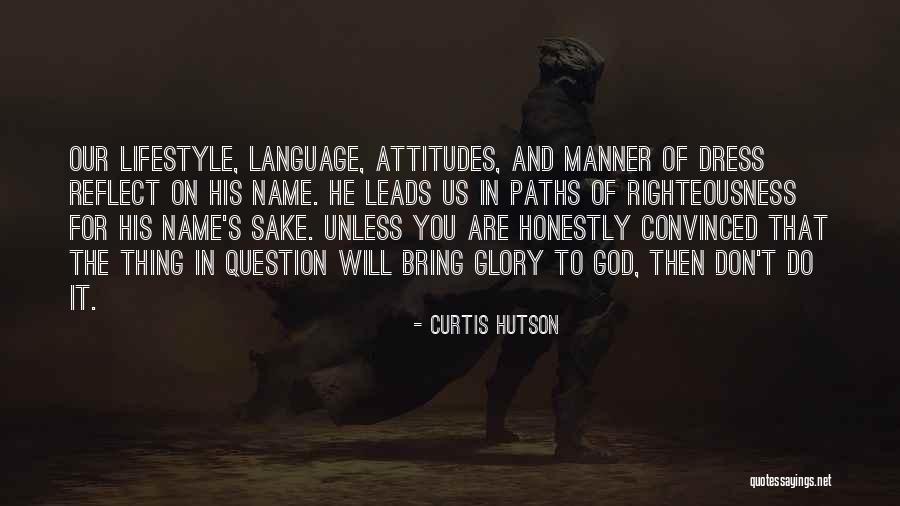 Our lifestyle, language, attitudes, and manner of dress reflect on His name. He leads us in paths of righteousness for His name's sake. Unless you are honestly convinced that the thing in question will bring glory to God, then don't do it. — Curtis Hutson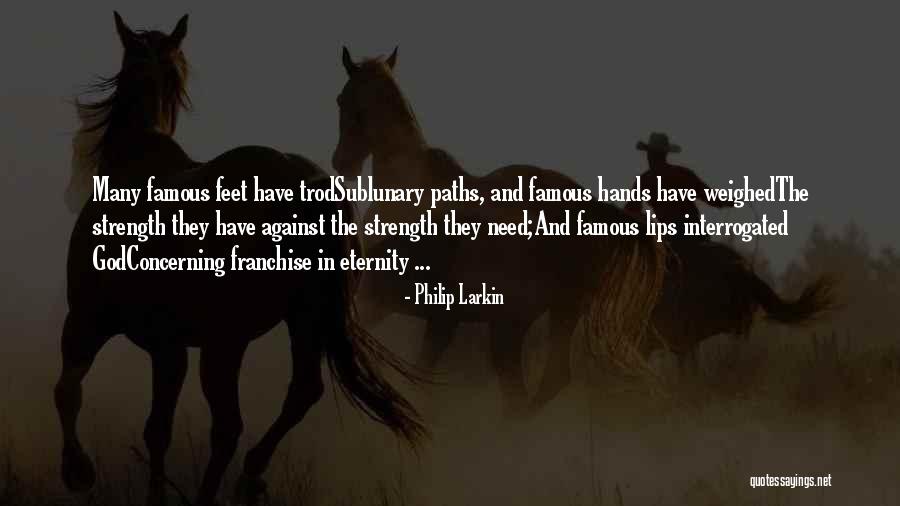 Many famous feet have trod
Sublunary paths, and famous hands have weighed
The strength they have against the strength they need;
And famous lips interrogated God
Concerning franchise in eternity ... — Philip Larkin