Manic Love Quotes & Sayings
Enjoy reading and share 20 famous quotes about Manic Love with everyone.
Top Manic Love Quotes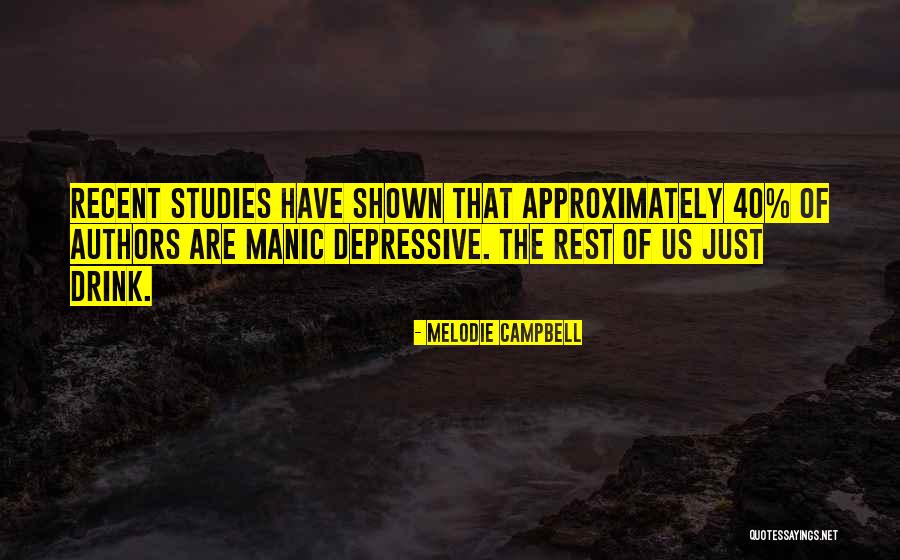 Recent studies have shown that approximately 40% of authors are manic depressive. The rest of us just drink. — Melodie Campbell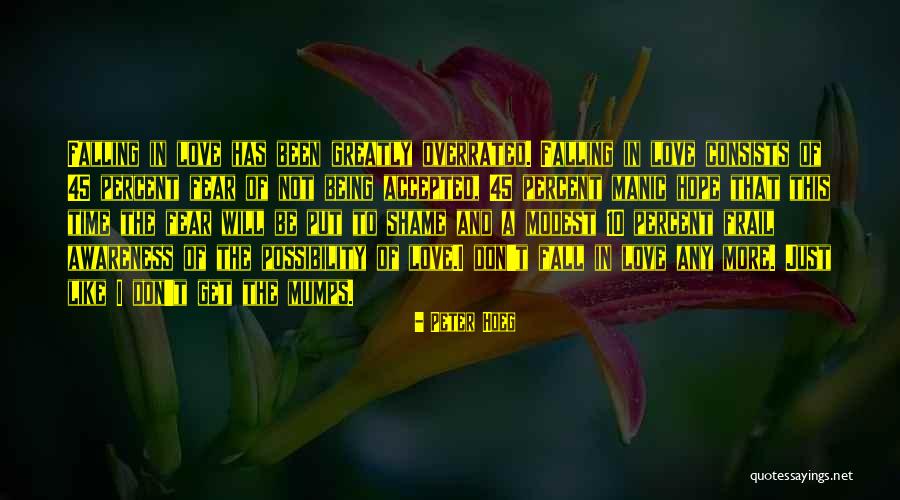 Falling in love has been greatly overrated. Falling in love consists of 45 percent fear of not being accepted, 45 percent manic hope that this time the fear will be put to shame and a modest 10 percent frail awareness of the possibility of love.
I don't fall in love any more. Just like I don't get the mumps. — Peter Hoeg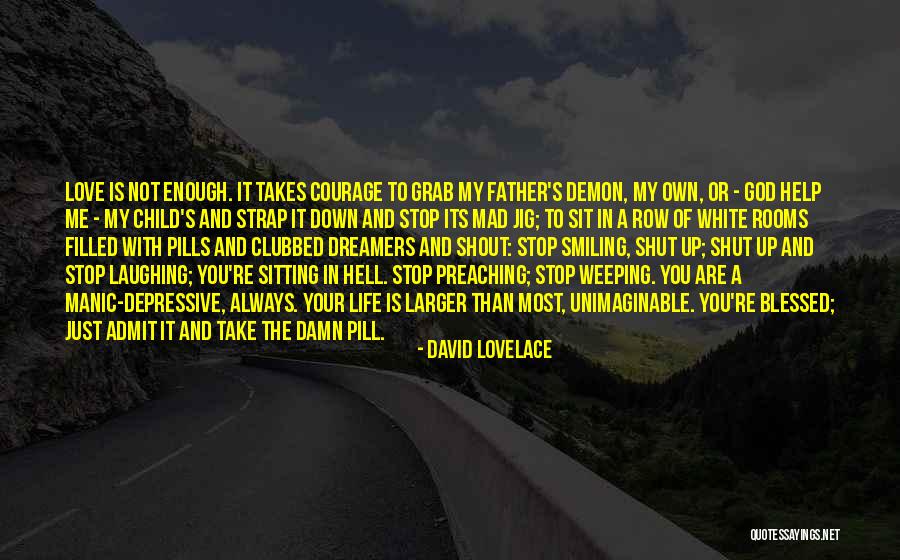 Love is not enough. It takes courage to grab my father's demon, my own, or - God help me - my child's and strap it down and stop its mad jig; to sit in a row of white rooms filled with pills and clubbed dreamers and shout: stop smiling, shut up; shut up and stop laughing; you're sitting in hell. Stop preaching; stop weeping. You are a manic-depressive, always. your life is larger than most, unimaginable. You're blessed; just admit it and take the damn pill. — David Lovelace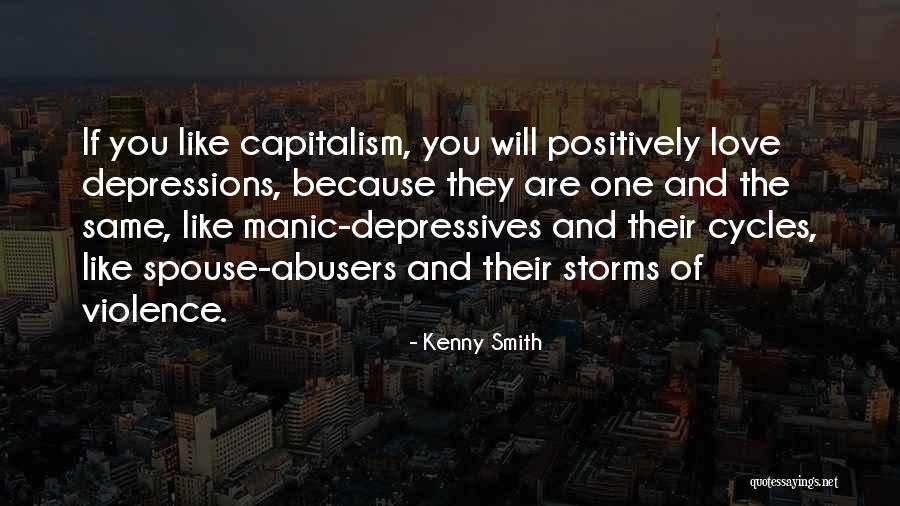 If you like capitalism, you will positively love depressions, because they are one and the same, like manic-depressives and their cycles, like spouse-abusers and their storms of violence. — Kenny Smith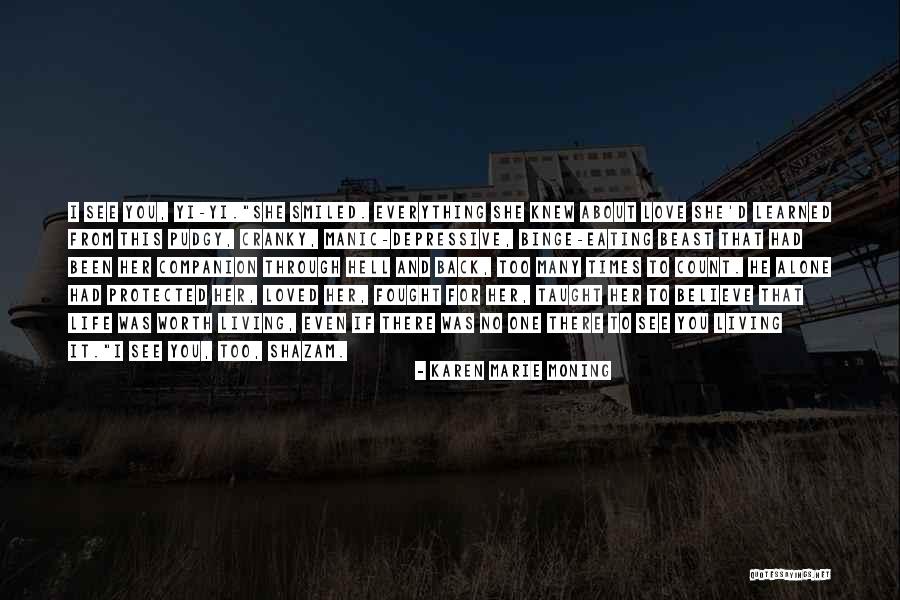 I see you, Yi-yi."
She smiled. Everything she knew about love she'd learned from this pudgy, cranky, manic-depressive, binge-eating beast that had been her companion through hell and back, too many times to count. He alone had protected her, loved her, fought for her, taught her to believe that life was worth living, even if there was no one there to see you living it.
"I see you, too, Shazam. — Karen Marie Moning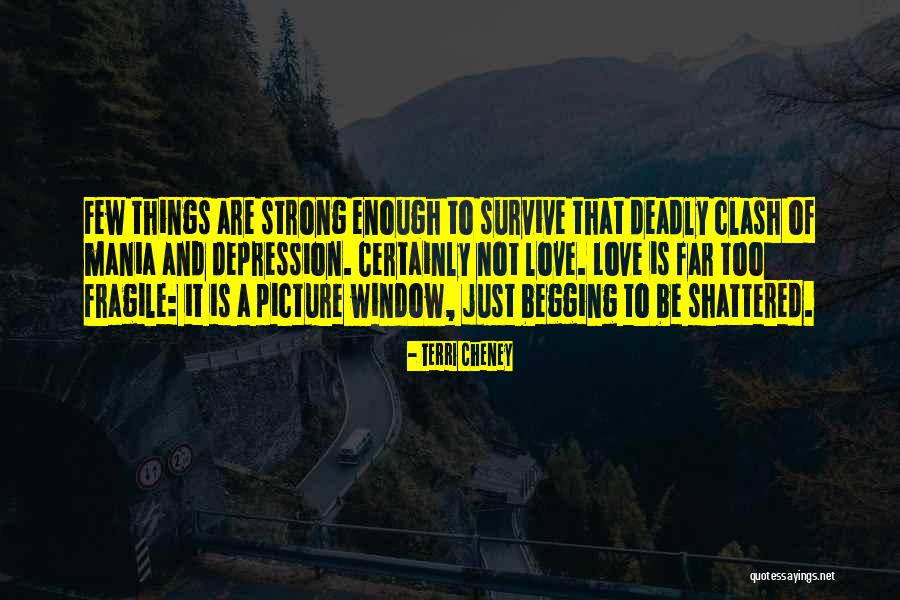 Few things are strong enough to survive that deadly clash of mania and depression. Certainly not love. Love is far too fragile: it is a picture window, just begging to be shattered. — Terri Cheney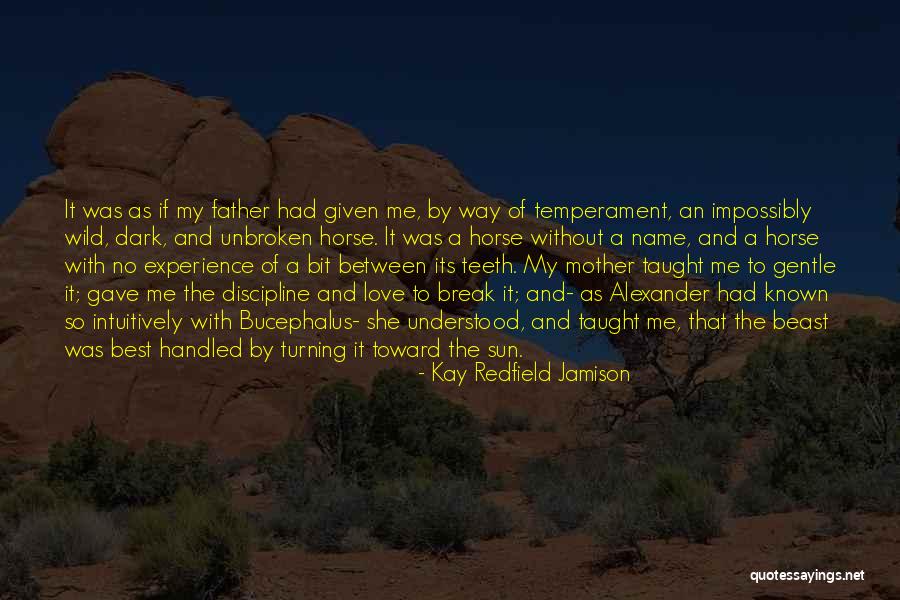 It was as if my father had given me, by way of temperament, an impossibly wild, dark, and unbroken horse. It was a horse without a name, and a horse with no experience of a bit between its teeth. My mother taught me to gentle it; gave me the discipline and love to break it; and- as Alexander had known so intuitively with Bucephalus- she understood, and taught me, that the beast was best handled by turning it toward the sun. — Kay Redfield Jamison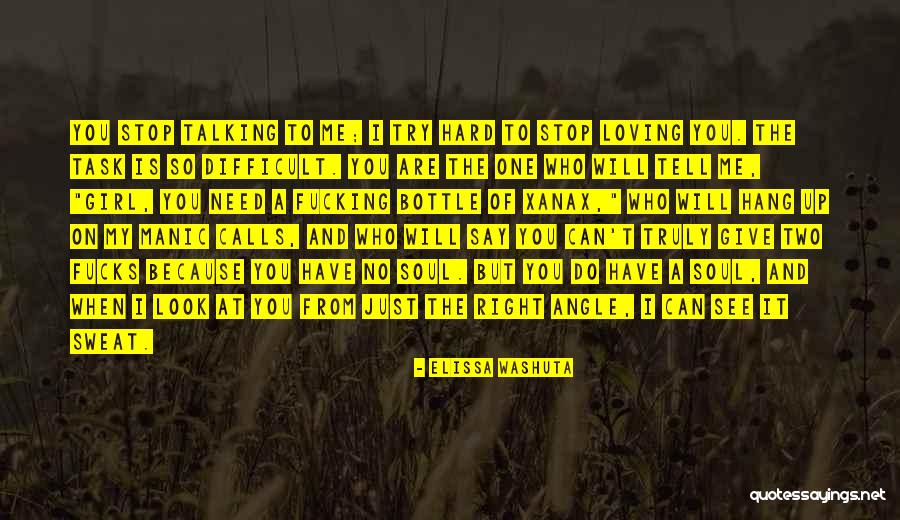 You stop talking to me; I try hard to stop loving you. The task is so difficult. You are the one who will tell me, "Girl, you need a fucking bottle of Xanax," who will hang up on my manic calls, and who will say you can't truly give two fucks because you have no soul. But you do have a soul, and when I look at you from just the right angle, I can see it sweat. — Elissa Washuta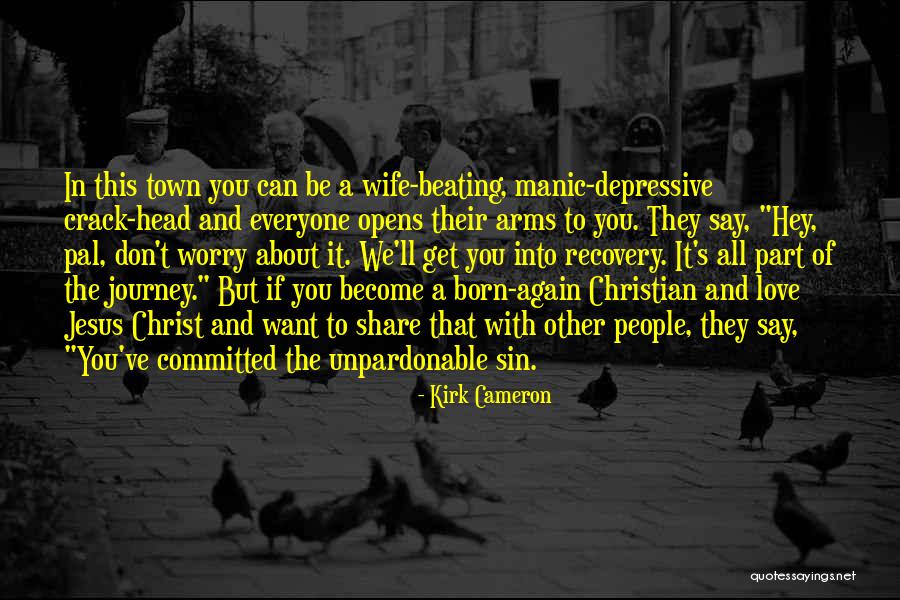 In this town you can be a wife-beating, manic-depressive crack-head and everyone opens their arms to you. They say, "Hey, pal, don't worry about it. We'll get you into recovery. It's all part of the journey." But if you become a born-again Christian and love Jesus Christ and want to share that with other people, they say, "You've committed the unpardonable sin. — Kirk Cameron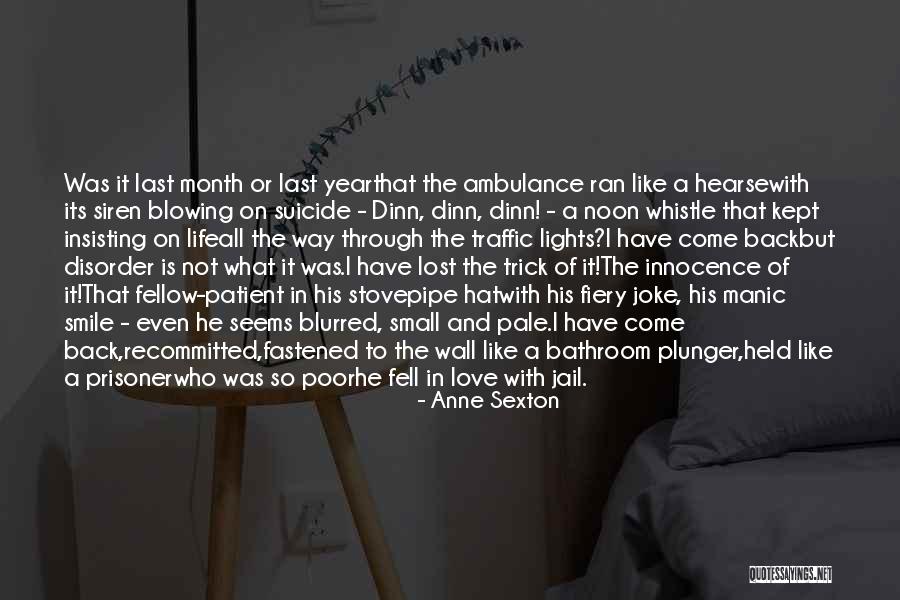 Was it last month or last year
that the ambulance ran like a hearse
with its siren blowing on suicide -
Dinn, dinn, dinn! -
a noon whistle that kept insisting on life
all the way through the traffic lights?

I have come back
but disorder is not what it was.
I have lost the trick of it!
The innocence of it!
That fellow-patient in his stovepipe hat
with his fiery joke, his manic smile -
even he seems blurred, small and pale.
I have come back,
recommitted,
fastened to the wall like a bathroom plunger,
held like a prisoner
who was so poor
he fell in love with jail. — Anne Sexton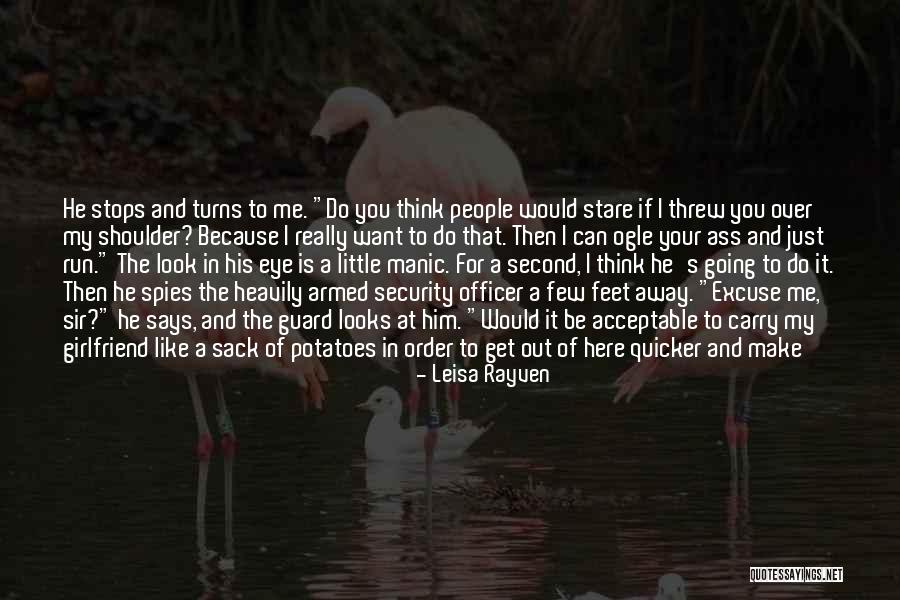 He stops and turns to me. "Do you think people would stare if I threw you over my shoulder? Because I really want to do that. Then I can ogle your ass and just run."
The look in his eye is a little manic. For a second, I think he's going to do it. Then he spies the heavily armed security officer a few feet away.
"Excuse me, sir?" he says, and the guard looks at him. "Would it be acceptable to carry my girlfriend like a sack of potatoes in order to get out of here quicker and make sweet love to her?"
The guard's mouth moves, but he resists smiling. "No, sir, that would not be acceptable."
"Piggyback?"
"Nope."
"Put her on a trolley?"
"No."
"You're no fun."
"So my wife keeps telling me. — Leisa Rayven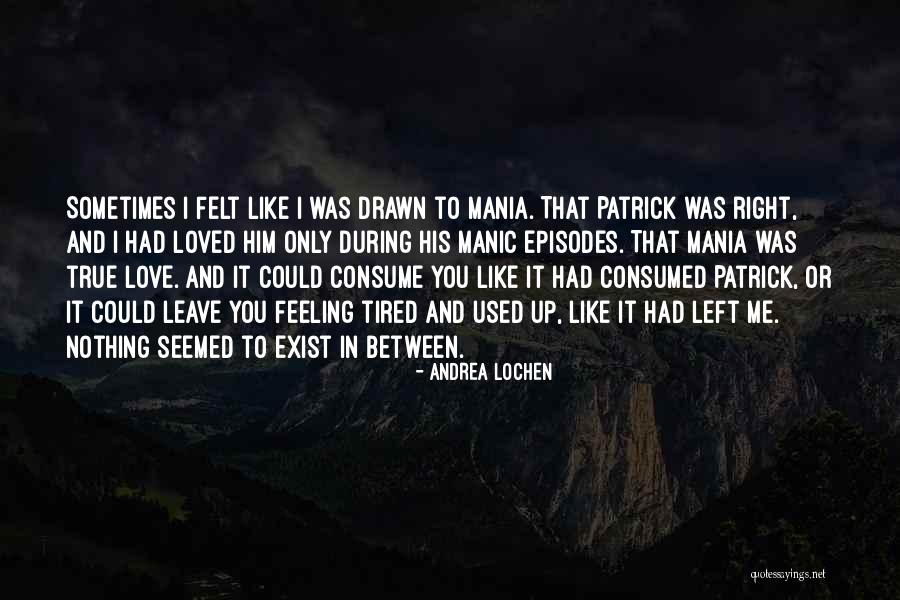 Sometimes I felt like I was drawn to mania. That Patrick was right, and I had loved him only during his manic episodes. That mania was true love. And it could consume you like it had consumed Patrick, or it could leave you feeling tired and used up, like it had left me. Nothing seemed to exist in between. — Andrea Lochen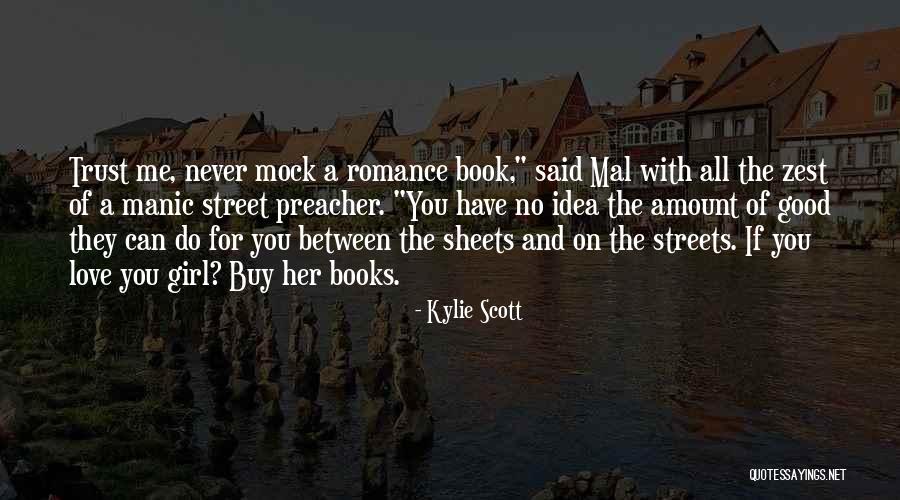 Trust me, never mock a romance book," said Mal with all the zest of a manic street preacher. "You have no idea the amount of good they can do for you between the sheets and on the streets. If you love you girl? Buy her books. — Kylie Scott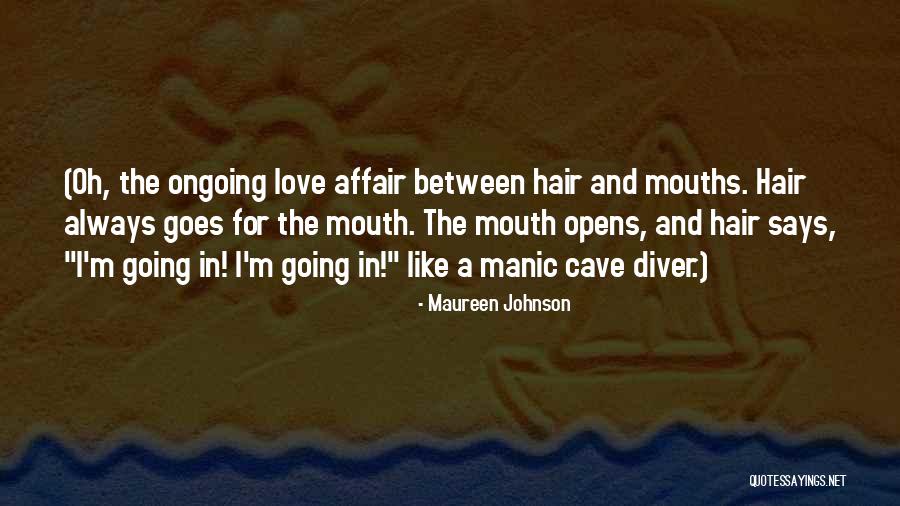 (Oh, the ongoing love affair between hair and mouths. Hair always goes for the mouth. The mouth opens, and hair says, "I'm going in! I'm going in!" like a manic cave diver.) — Maureen Johnson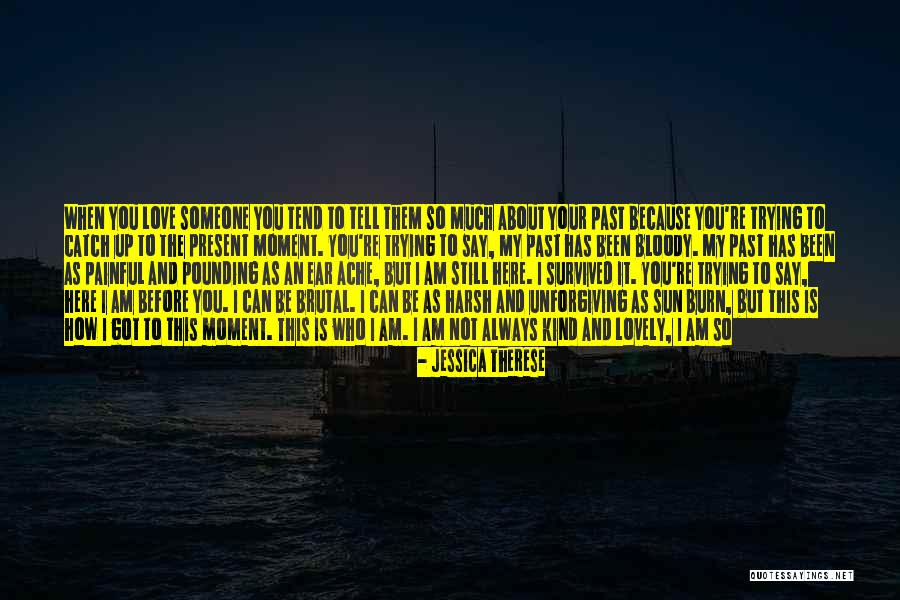 When you love someone you tend to tell them so much about your past because you're trying to catch up to the present moment. You're trying to say, my past has been bloody. My past has been as painful and pounding as an ear ache, but I am still here. I survived it. You're trying to say, here I am before you. I can be brutal. I can be as harsh and unforgiving as sun burn, but this is how I got to this moment. This is who I am. I am not always kind and lovely, I am so often fierce and cutting and unforgiving. I have made some mistakes I'm still trying to forgive myself for. Please accept it. Please try to love me for it. Here is the muscle and bone of me. It's frightening. It's a roller coaster. Here is the meat of me, after I've shed my skin, after I've left the cicada shell behind. It's manic. It's a monster, but it will try to love you well. It will try to leave fingerprints all over you. — Jessica Therese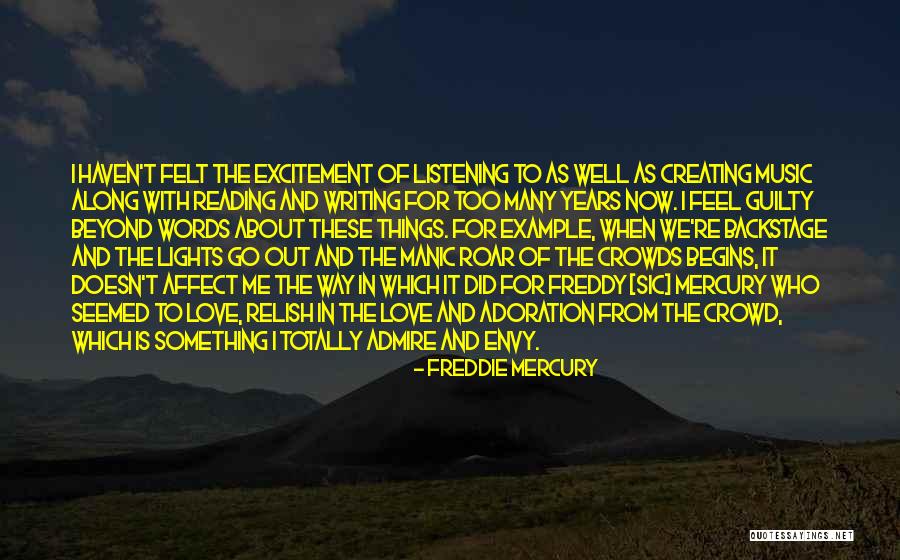 I haven't felt the excitement of listening to as well as creating music along with reading and writing for too many years now. I feel guilty beyond words about these things. For example, when we're backstage and the lights go out and the manic roar of the crowds begins, it doesn't affect me the way in which it did for Freddy [sic] Mercury who seemed to love, relish in the love and adoration from the crowd, which is something I totally admire and envy. — Freddie Mercury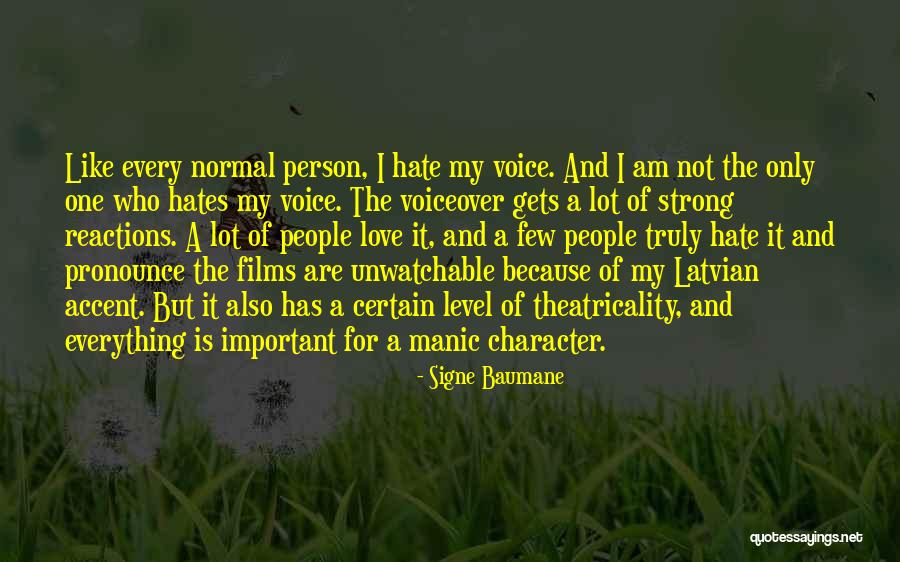 Like every normal person, I hate my voice. And I am not the only one who hates my voice. The voiceover gets a lot of strong reactions. A lot of people love it, and a few people truly hate it and pronounce the films are unwatchable because of my Latvian accent. But it also has a certain level of theatricality, and everything is important for a manic character. — Signe Baumane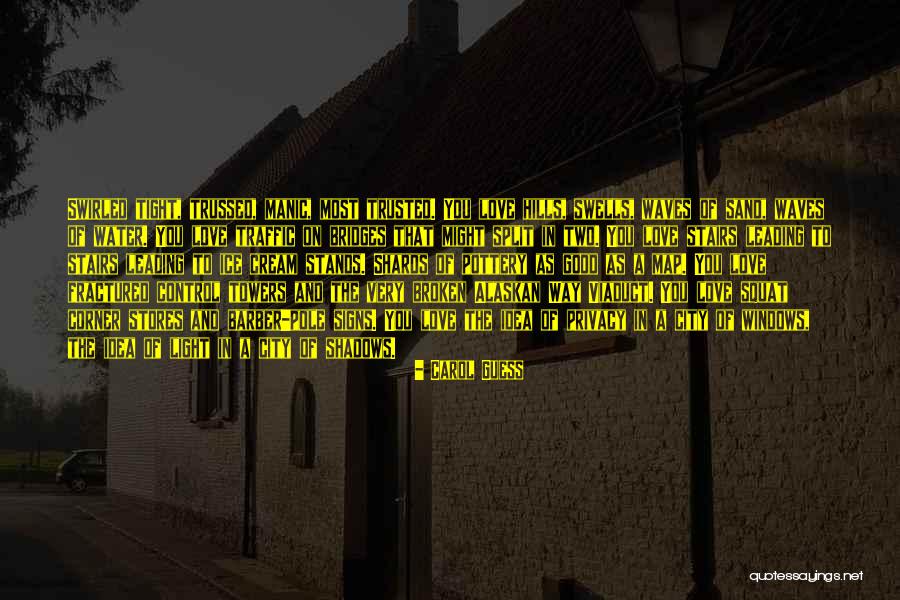 Swirled tight, trussed, manic, most trusted. You love hills, swells, waves of sand, waves of water. You love traffic on bridges that might split in two. You love stairs leading to stairs leading to ice cream stands. Shards of pottery as good as a map. You love fractured control towers and the very broken Alaskan Way Viaduct. You love squat corner stores and barber-pole signs. You love the idea of privacy in a city of windows, the idea of light in a city of shadows. — Carol Guess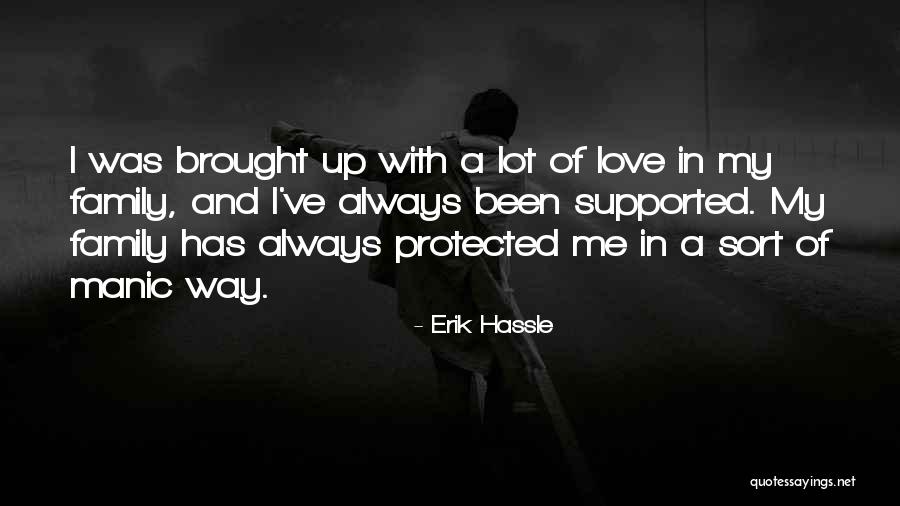 I was brought up with a lot of love in my family, and I've always been supported. My family has always protected me in a sort of manic way. — Erik Hassle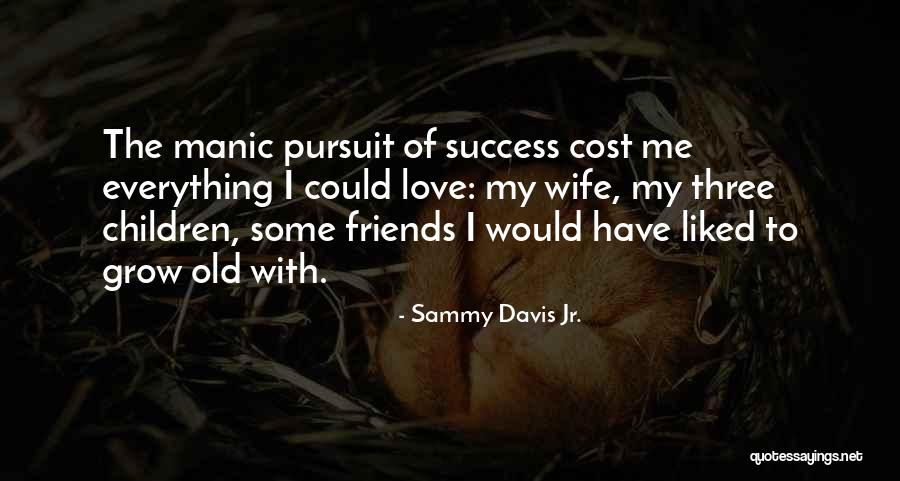 The manic pursuit of success cost me everything I could love: my wife, my three children, some friends I would have liked to grow old with. — Sammy Davis Jr.