Making Peace With Past Quotes & Sayings
Enjoy reading and share 48 famous quotes about Making Peace With Past with everyone.
Top Making Peace With Past Quotes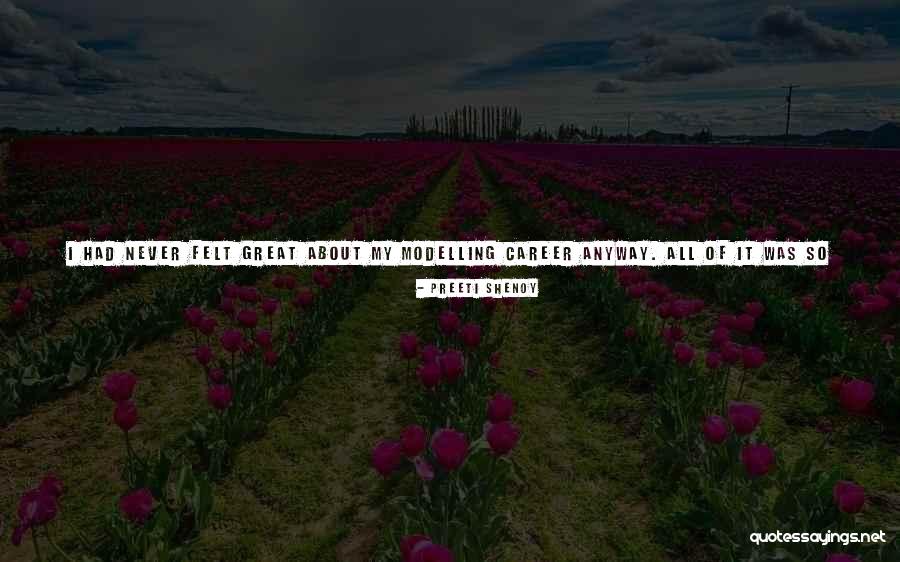 I had never felt great about my modelling career anyway. All of it was so fake, so make-believe. But look at the people here. How warm they are. How genuine. I have never had any of this before. I feel wealthier than when I was making all that money modelling in Mumbai, You are right about your observation. This life does give me my peace. — Preeti Shenoy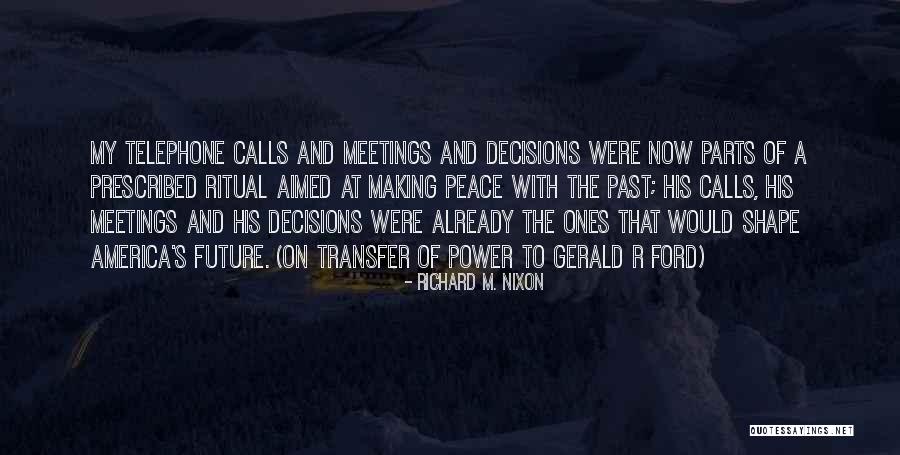 My telephone calls and meetings and decisions were now parts of a prescribed ritual aimed at making peace with the past; his calls, his meetings and his decisions were already the ones that would shape America's future. (On transfer of power to Gerald R Ford) — Richard M. Nixon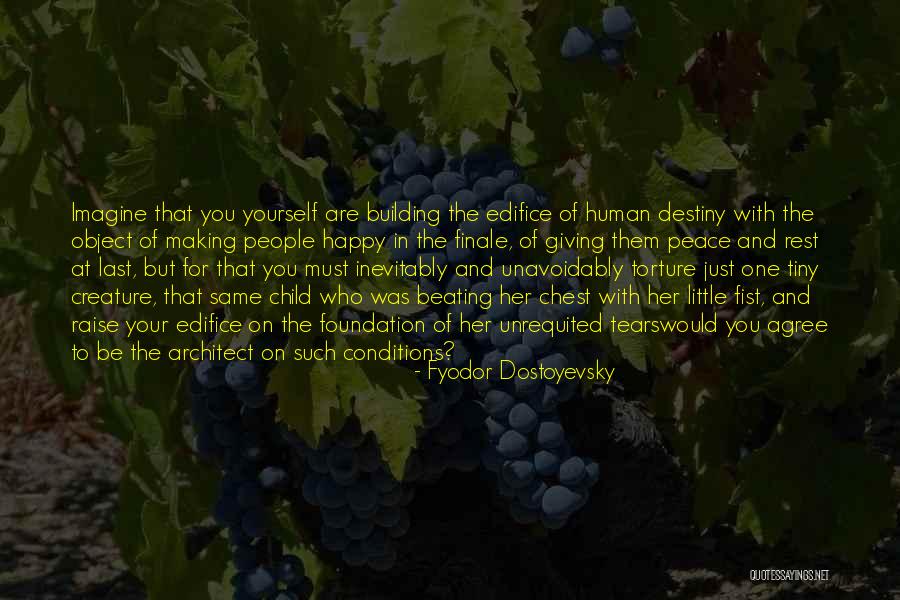 Imagine that you yourself are building the edifice of human destiny with the object of making people happy in the finale, of giving them peace and rest at last, but for that you must inevitably and unavoidably torture just one tiny creature, that same child who was beating her chest with her little fist, and raise your edifice on the foundation of her unrequited tears
would you agree to be the architect on such conditions? — Fyodor Dostoyevsky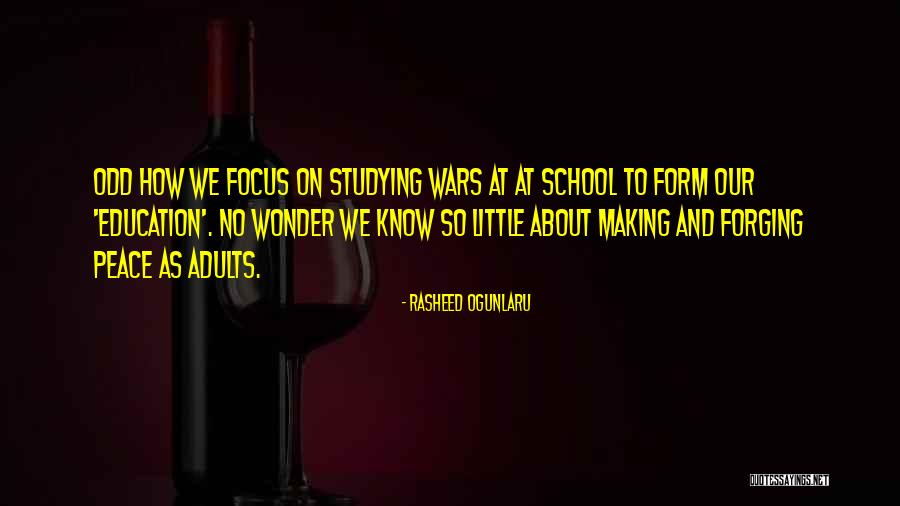 Odd how we focus on studying wars at at school to form our 'education'. No wonder we know so little about making and forging peace as adults. — Rasheed Ogunlaru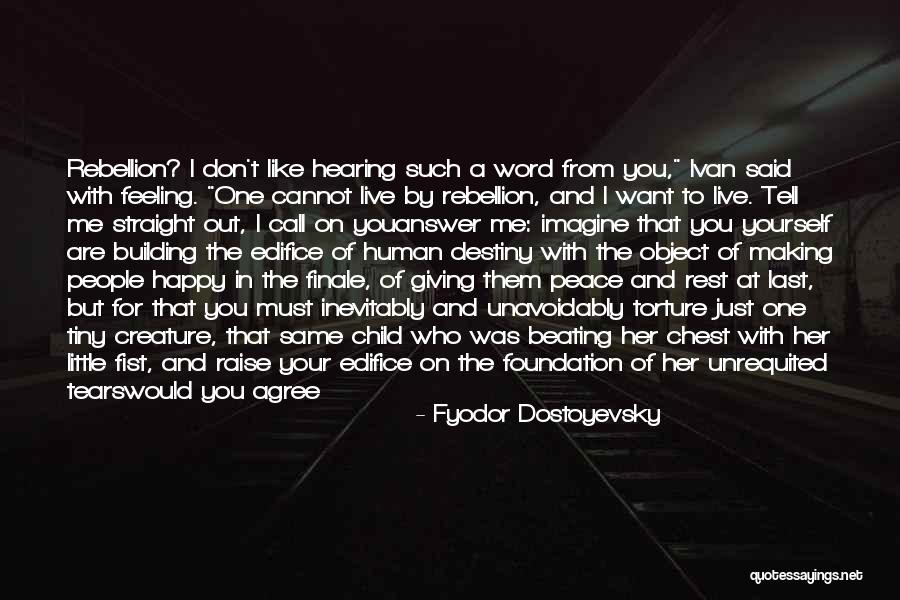 Rebellion? I don't like hearing such a word from you," Ivan said with feeling. "One cannot live by rebellion, and I want to live. Tell me straight out, I call on you
answer me: imagine that you yourself are building the edifice of human destiny with the object of making people happy in the finale, of giving them peace and rest at last, but for that you must inevitably and unavoidably torture just one tiny creature, that same child who was beating her chest with her little fist, and raise your edifice on the foundation of her unrequited tears
would you agree to be the architect on such conditions? Tell me the truth."
"No, I would not agree," Alyosha said softly.
"And can you admit the idea that the people for whom you are building would agree to accept their happiness on the unjustified blood of a tortured child, and having accepted it, to remain forever happy?"
"No, I cannot admit it. — Fyodor Dostoyevsky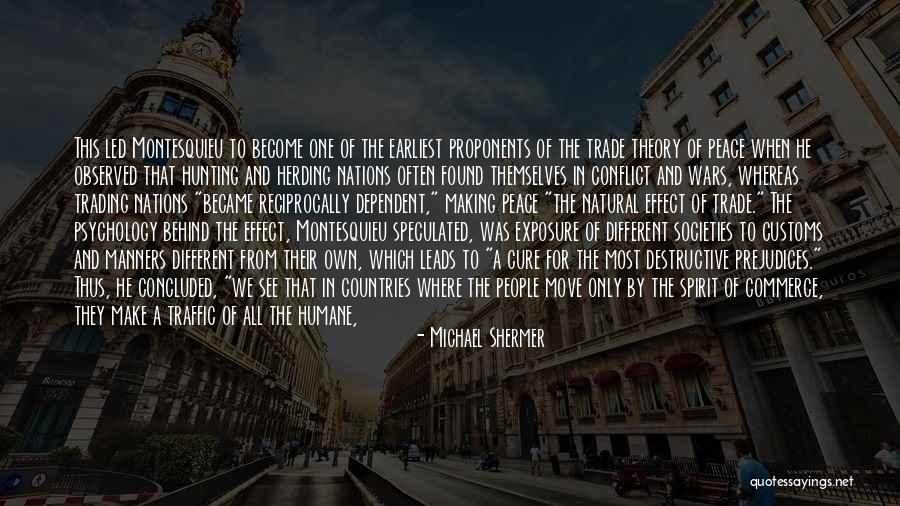 This led Montesquieu to become one of the earliest proponents of the trade theory of peace when he observed that hunting and herding nations often found themselves in conflict and wars, whereas trading nations "became reciprocally dependent," making peace "the natural effect of trade." The psychology behind the effect, Montesquieu speculated, was exposure of different societies to customs and manners different from their own, which leads to "a cure for the most destructive prejudices." Thus, he concluded, "we see that in countries where the people move only by the spirit of commerce, they make a traffic of all the humane, all the moral virtues. — Michael Shermer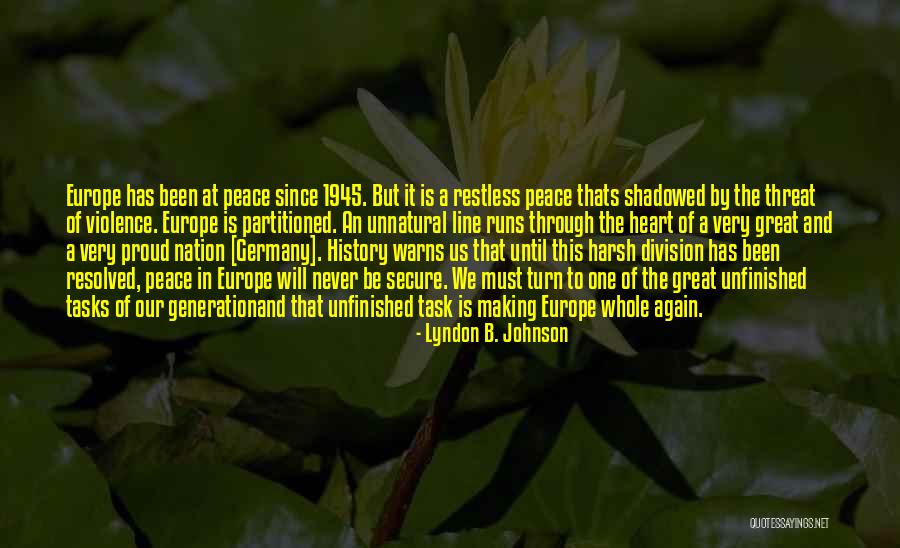 Europe has been at peace since 1945. But it is a restless peace thats shadowed by the threat of violence. Europe is partitioned. An unnatural line runs through the heart of a very great and a very proud nation [Germany]. History warns us that until this harsh division has been resolved, peace in Europe will never be secure. We must turn to one of the great unfinished tasks of our generationand that unfinished task is making Europe whole again. — Lyndon B. Johnson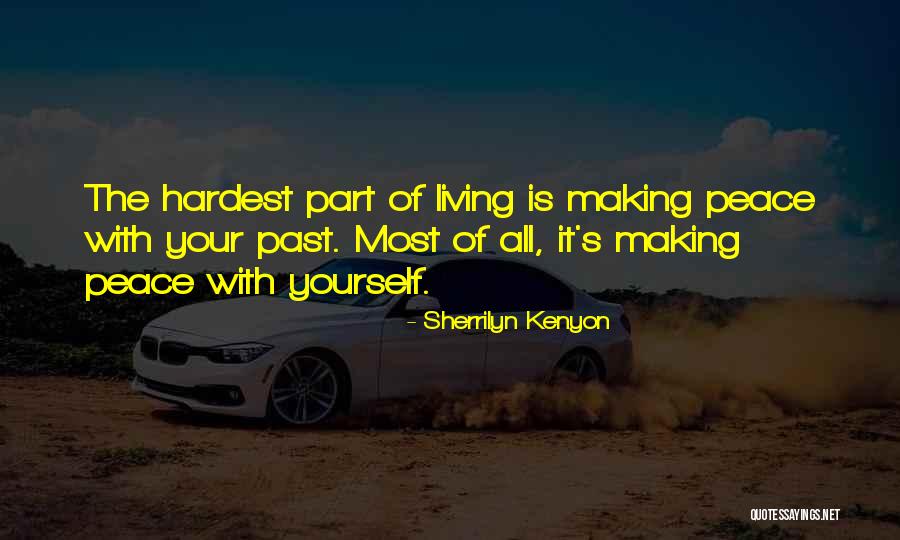 The hardest part of living is making peace with your past. Most of all, it's making peace with yourself. — Sherrilyn Kenyon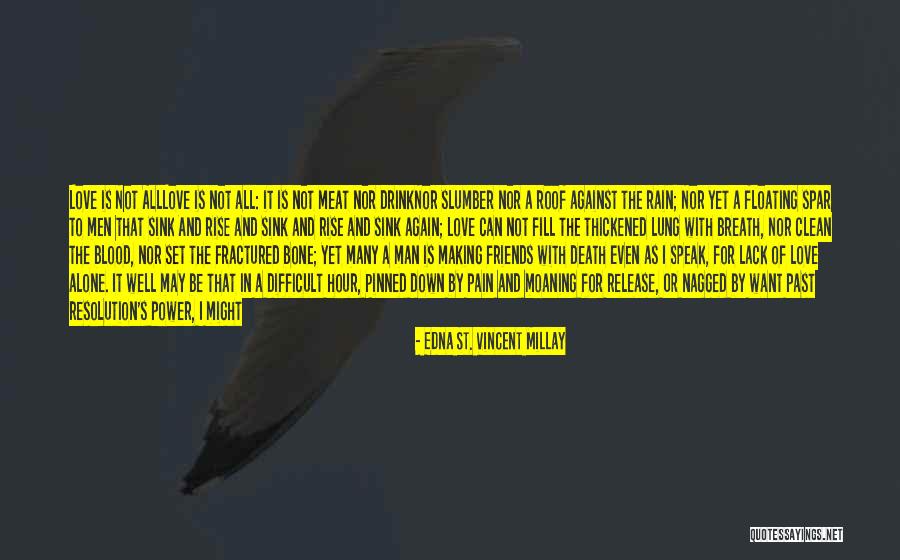 Love is Not All
Love is not all: it is not meat nor drink
Nor slumber nor a roof against the rain;
Nor yet a floating spar to men that sink
And rise and sink and rise and sink again;
Love can not fill the thickened lung with breath,
Nor clean the blood, nor set the fractured bone;
Yet many a man is making friends with death
Even as I speak, for lack of love alone.
It well may be that in a difficult hour,
Pinned down by pain and moaning for release,
Or nagged by want past resolution's power,
I might be driven to sell your love for peace,
Or trade the memory of this night for food.
It well may be. I do not think I would. — Edna St. Vincent Millay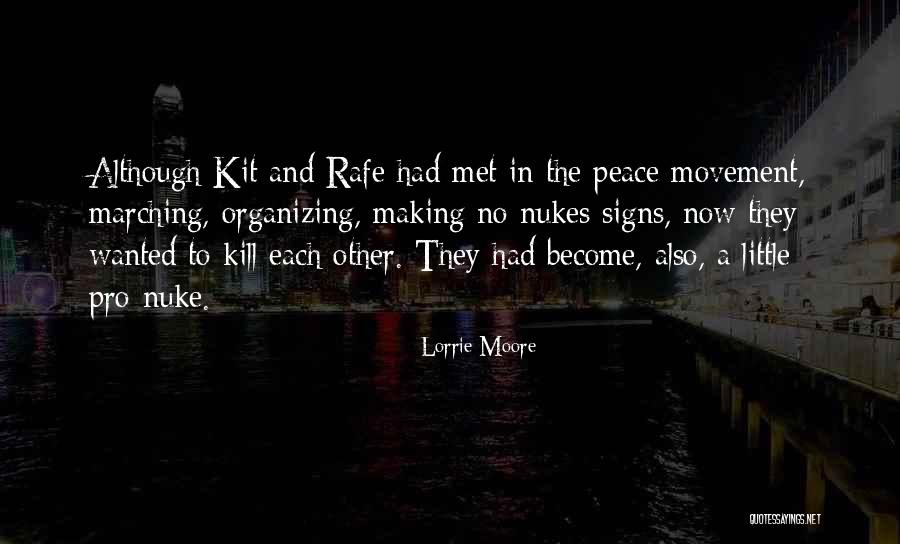 Although Kit and Rafe had met in the peace movement, marching, organizing, making no nukes signs, now they wanted to kill each other. They had become, also, a little pro-nuke. — Lorrie Moore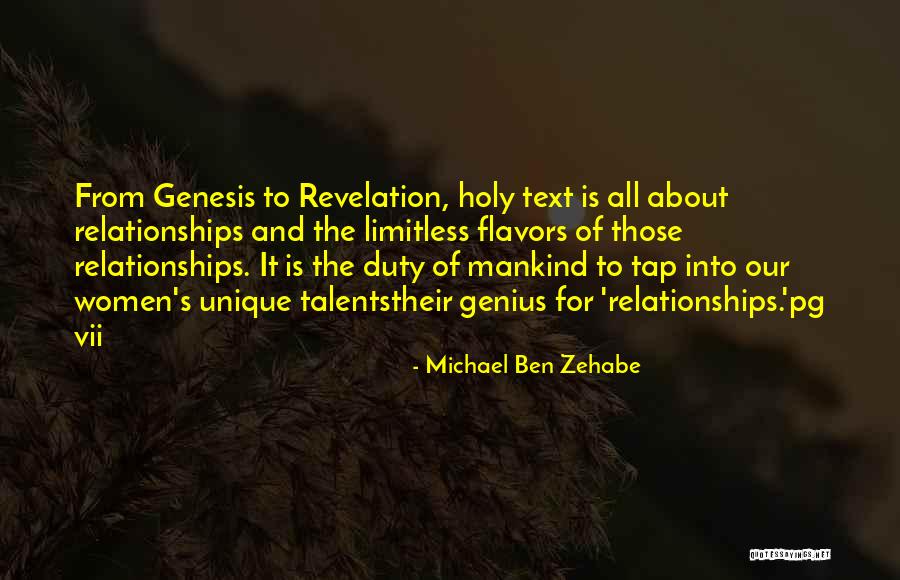 From Genesis to Revelation, holy text is all about relationships and the limitless flavors of those relationships. It is the duty of mankind to tap into our women's unique talents
their genius for 'relationships.'
pg vii — Michael Ben Zehabe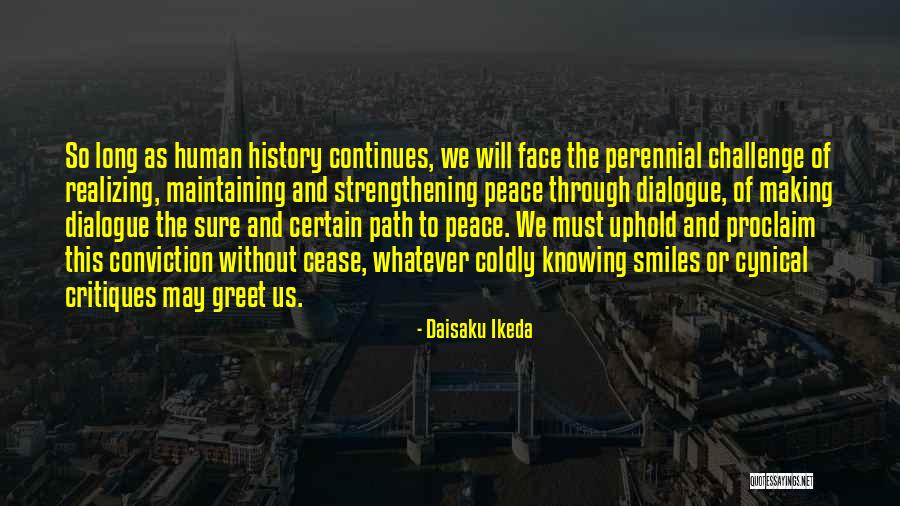 So long as human history continues, we will face the perennial challenge of realizing, maintaining and strengthening peace through dialogue, of making dialogue the sure and certain path to peace. We must uphold and proclaim this conviction without cease, whatever coldly knowing smiles or cynical critiques may greet us. — Daisaku Ikeda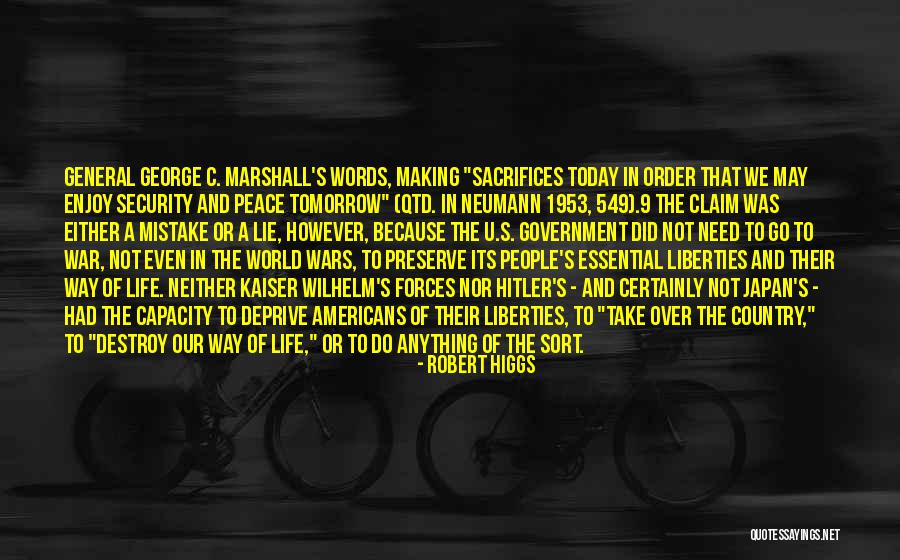 General George C. Marshall's words, making "sacrifices today in order that we may enjoy security and peace tomorrow" (qtd. in Neumann 1953, 549).9 The claim was either a mistake or a lie, however, because the U.S. government did not need to go to war, not even in the world wars, to preserve its people's essential liberties and their way of life. Neither Kaiser Wilhelm's forces nor Hitler's - and certainly not Japan's - had the capacity to deprive Americans of their liberties, to "take over the country," to "destroy our way of life," or to do anything of the sort. This country has always contained persecuted minorities, and it still does, but since 1789 the only government on earth that has had the power to crush the American people's liberties across the board has been the government of the United States. U.S. participation in World War I was — Robert Higgs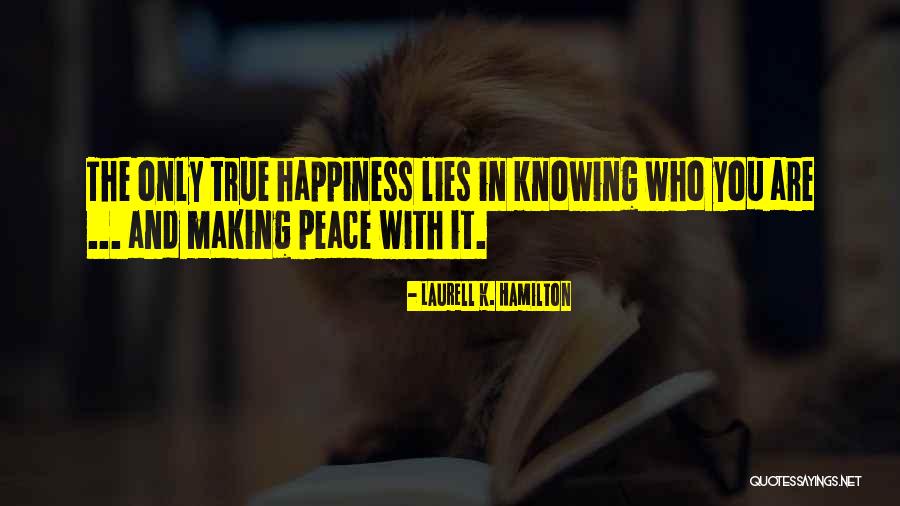 The only true happiness lies in knowing who you are ... and making peace with it. — Laurell K. Hamilton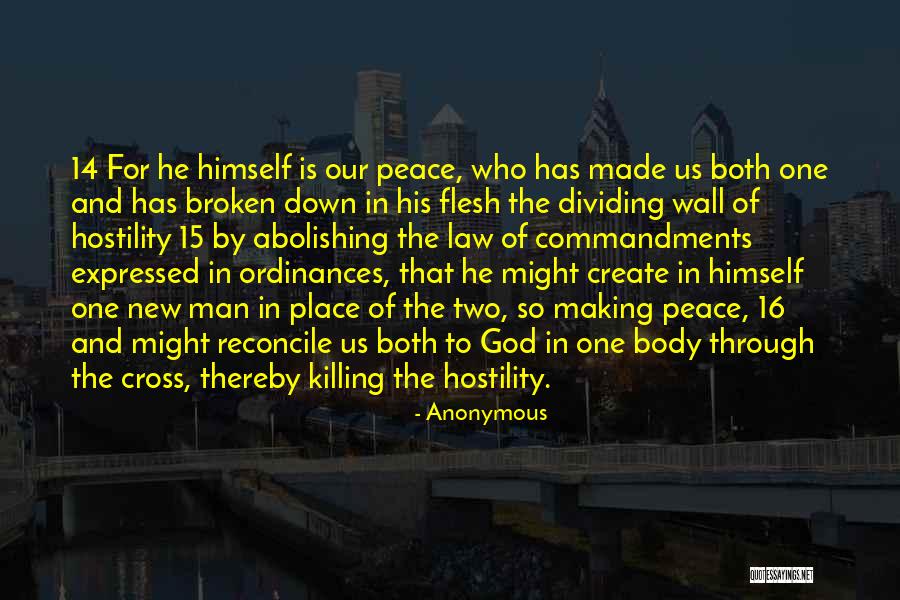 14 For he himself is our peace, who has made us both one and has broken down in his flesh the dividing wall of hostility 15 by abolishing the law of commandments expressed in ordinances, that he might create in himself one new man in place of the two, so making peace, 16 and might reconcile us both to God in one body through the cross, thereby killing the hostility. — Anonymous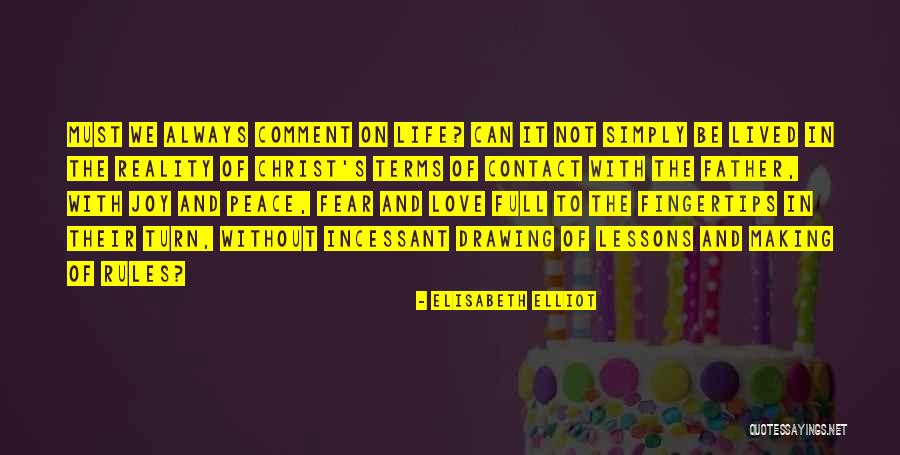 Must we always comment on life? Can it not simply be lived in the reality of Christ's terms of contact with the Father, with joy and peace, fear and love full to the fingertips in their turn, without incessant drawing of lessons and making of rules? — Elisabeth Elliot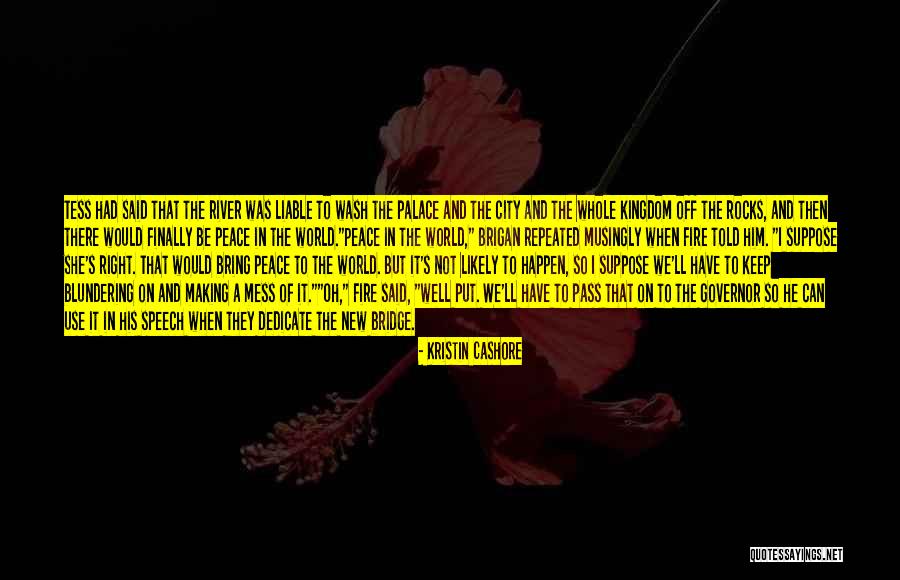 Tess had said that the river was liable to wash the palace and the city and the whole kingdom off the rocks, and then there would finally be peace in the world.
"Peace in the world," Brigan repeated musingly when Fire told him. "I suppose she's right. That would bring peace to the world. But it's not likely to happen, so I suppose we'll have to keep blundering on and making a mess of it."
"Oh," Fire said, "well put. We'll have to pass that on to the governor so he can use it in his speech when they dedicate the new bridge. — Kristin Cashore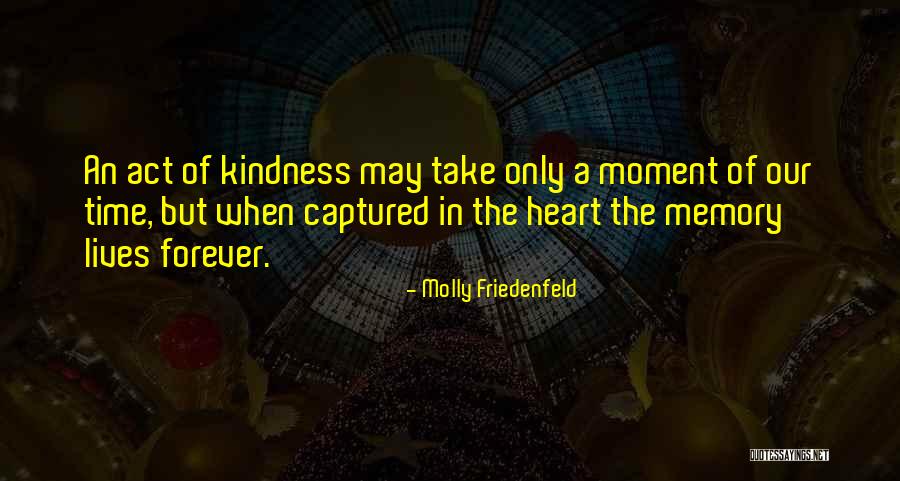 An act of kindness may take only a moment of our time, but when captured in the heart the memory lives forever. — Molly Friedenfeld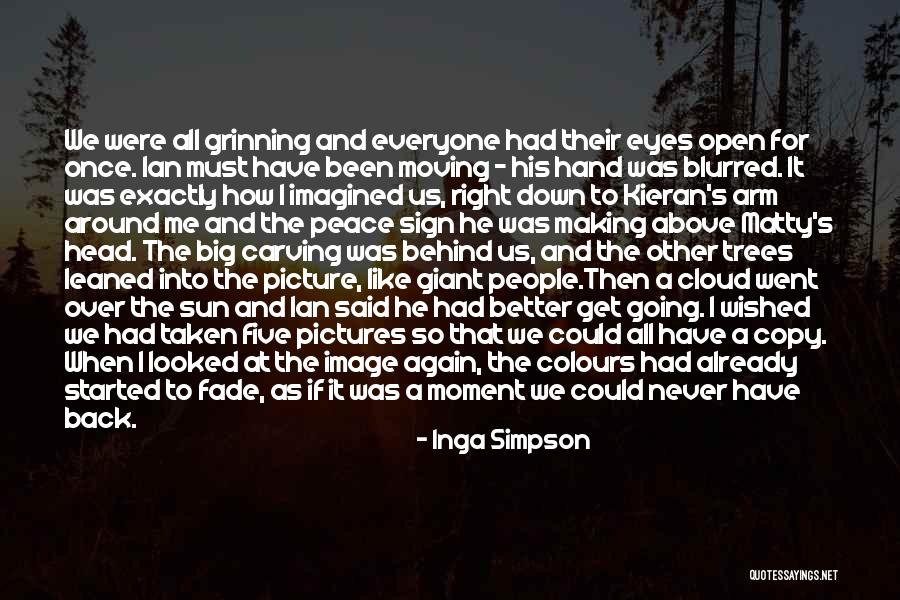 We were all grinning and everyone had their eyes open for once. Ian must have been moving - his hand was blurred. It was exactly how I imagined us, right down to Kieran's arm around me and the peace sign he was making above Matty's head. The big carving was behind us, and the other trees leaned into the picture, like giant people.

Then a cloud went over the sun and Ian said he had better get going. I wished we had taken five pictures so that we could all have a copy. When I looked at the image again, the colours had already started to fade, as if it was a moment we could never have back. — Inga Simpson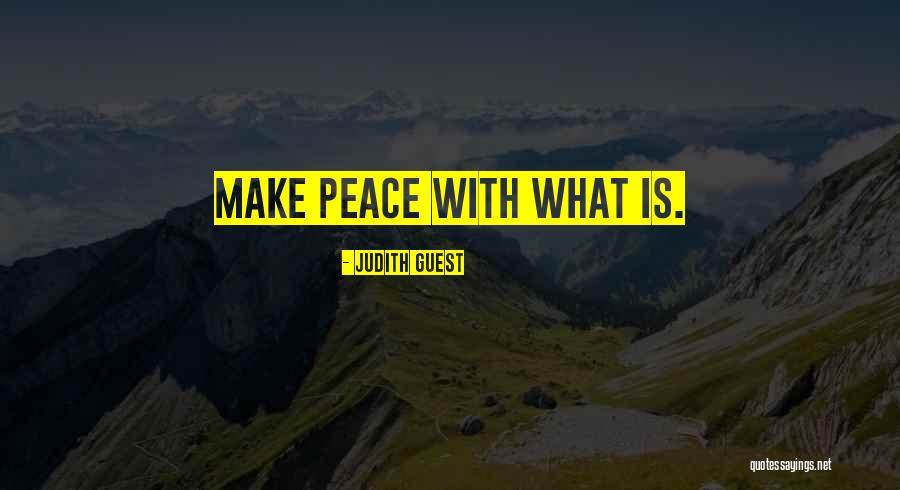 Make peace with what is. — Judith Guest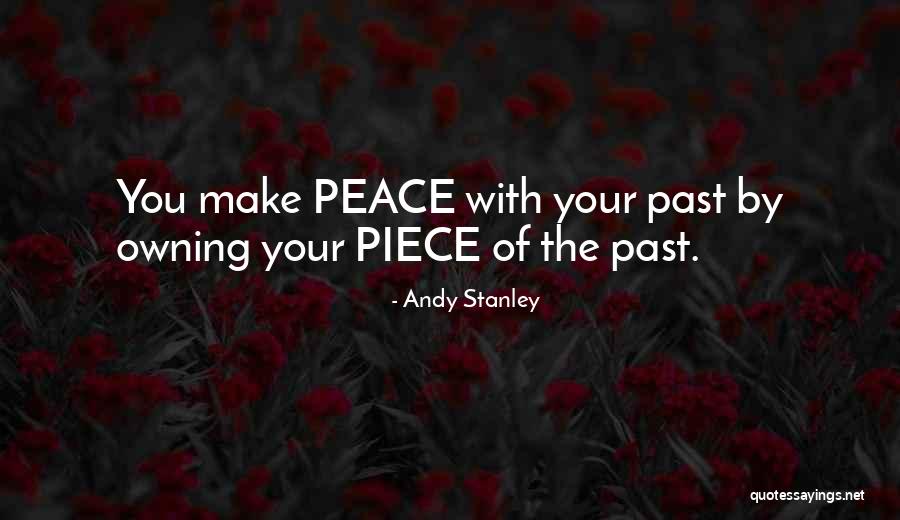 You make PEACE with your past by owning your PIECE of the past. — Andy Stanley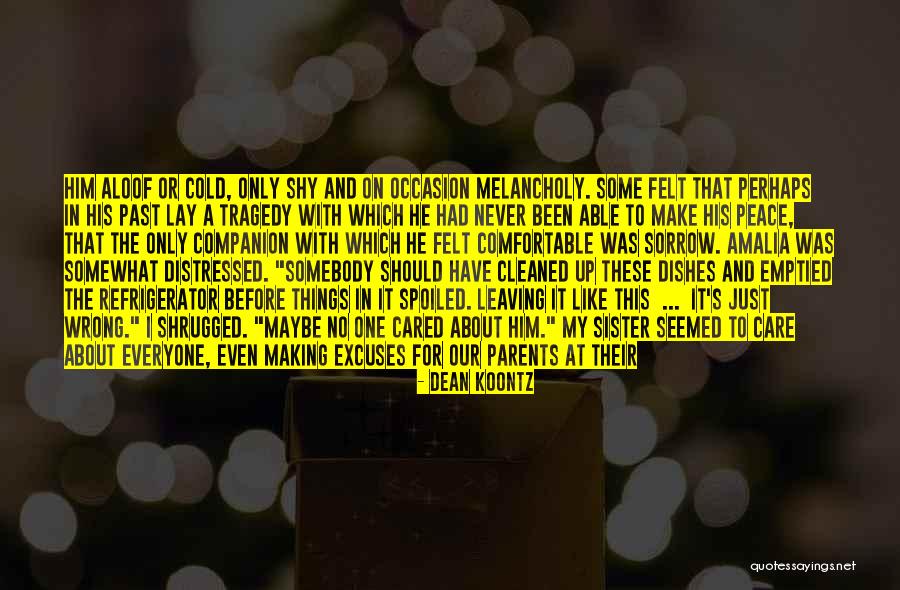 Him aloof or cold, only shy and on occasion melancholy. Some felt that perhaps in his past lay a tragedy with which he had never been able to make his peace, that the only companion with which he felt comfortable was sorrow. Amalia was somewhat distressed. "Somebody should have cleaned up these dishes and emptied the refrigerator before things in it spoiled. Leaving it like this ... it's just wrong." I shrugged. "Maybe no one cared about him." My sister seemed to care about everyone, even making excuses for our parents at their — Dean Koontz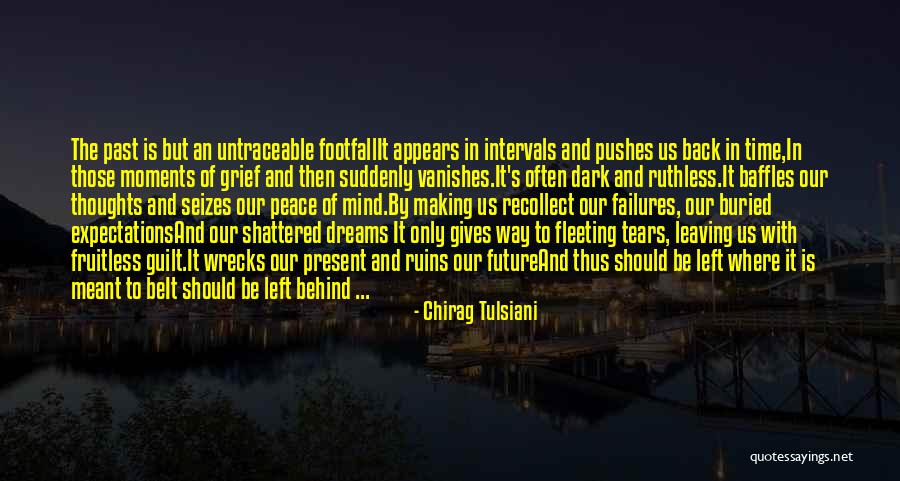 The past is but an untraceable footfall
It appears in intervals and pushes us back in time,
In those moments of grief and then suddenly vanishes.
It's often dark and ruthless.
It baffles our thoughts and seizes our peace of mind.
By making us recollect our failures, our buried expectations
And our shattered dreams
It only gives way to fleeting tears, leaving us with fruitless guilt.
It wrecks our present and ruins our future
And thus should be left where it is meant to be
It should be left behind ... — Chirag Tulsiani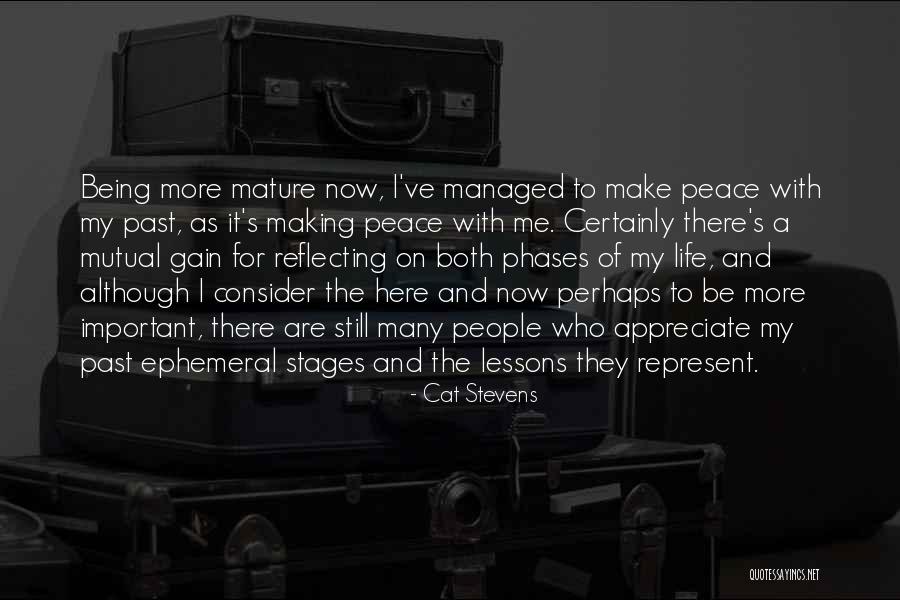 Being more mature now, I've managed to make peace with my past, as it's making peace with me. Certainly there's a mutual gain for reflecting on both phases of my life, and although I consider the here and now perhaps to be more important, there are still many people who appreciate my past ephemeral stages and the lessons they represent. — Cat Stevens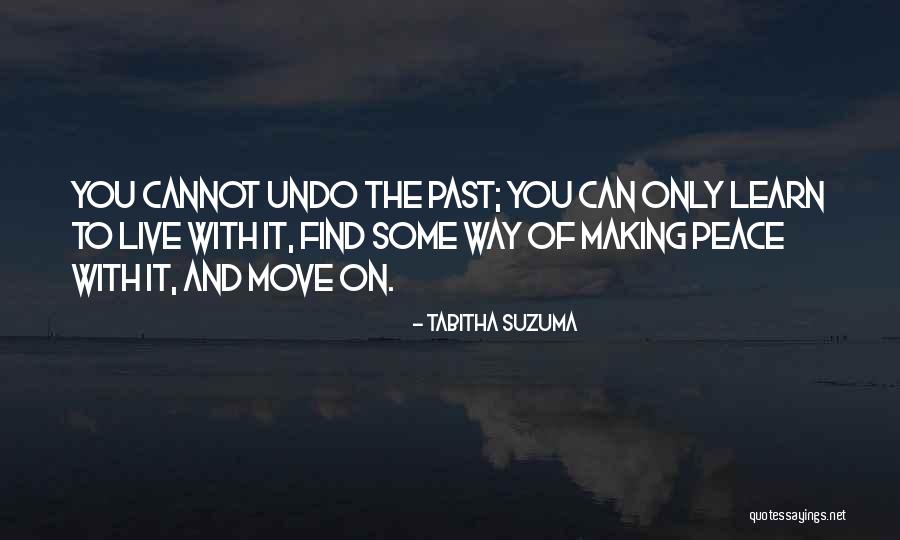 You cannot undo the past; you can only learn to live with it, find some way of making peace with it, and move on. — Tabitha Suzuma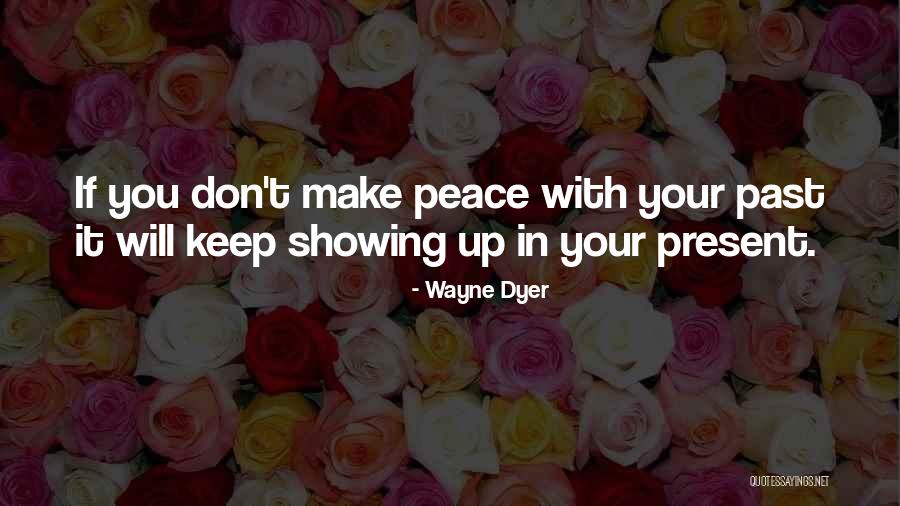 If you don't make peace with your past it will keep showing up in your present. — Wayne Dyer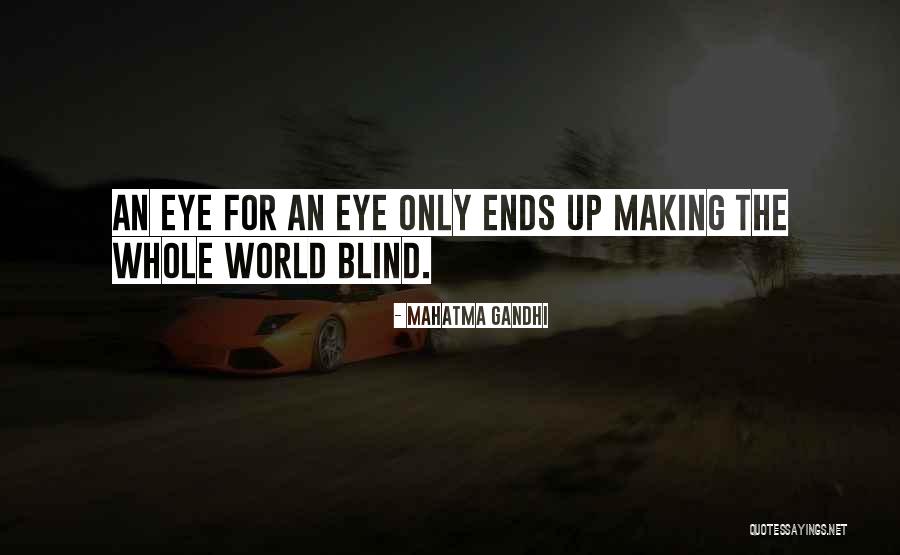 An eye for an eye only ends up making the whole world blind. — Mahatma Gandhi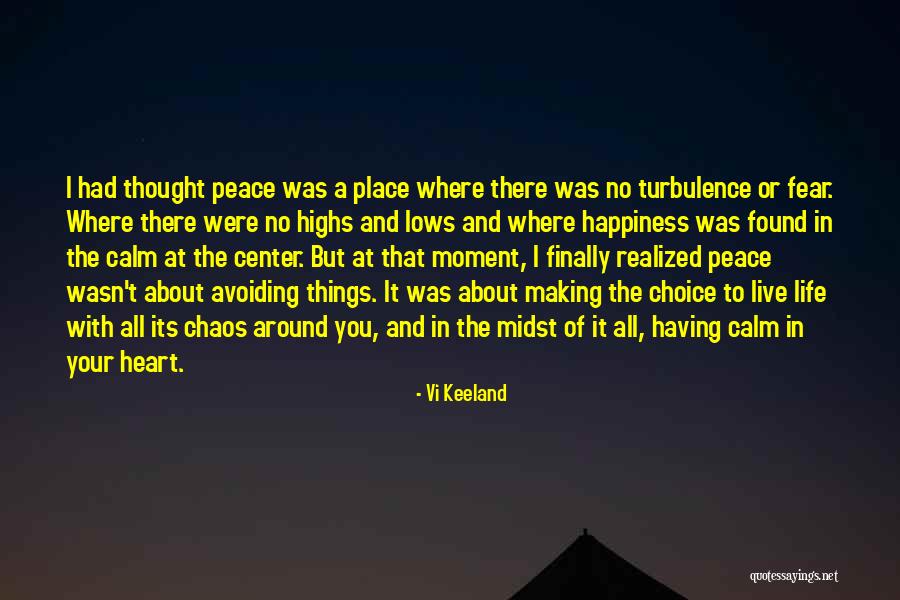 I had thought peace was a place where there was no turbulence or fear. Where there were no highs and lows and where happiness was found in the calm at the center. But at that moment, I finally realized peace wasn't about avoiding things. It was about making the choice to live life with all its chaos around you, and in the midst of it all, having calm in your heart. — Vi Keeland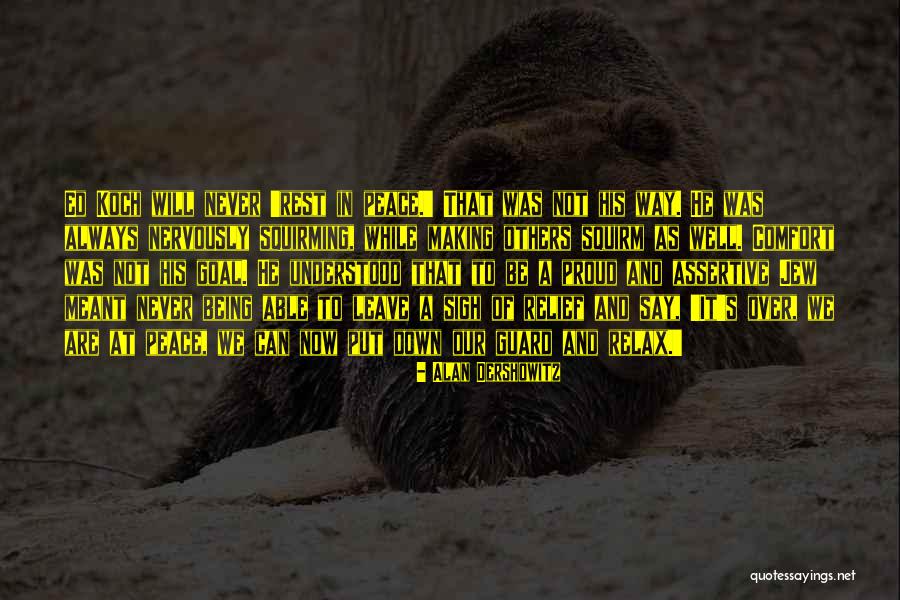 Ed Koch will never 'rest in peace.' That was not his way. He was always nervously squirming, while making others squirm as well. Comfort was not his goal. He understood that to be a proud and assertive Jew meant never being able to leave a sigh of relief and say, 'It's over, we are at peace, we can now put down our guard and relax.' — Alan Dershowitz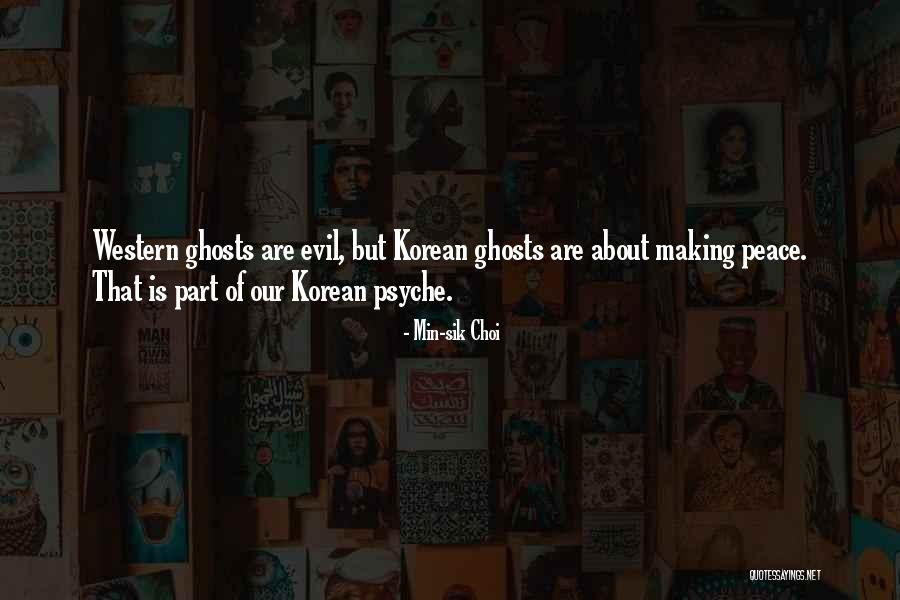 Western ghosts are evil, but Korean ghosts are about making peace. That is part of our Korean psyche. — Min-sik Choi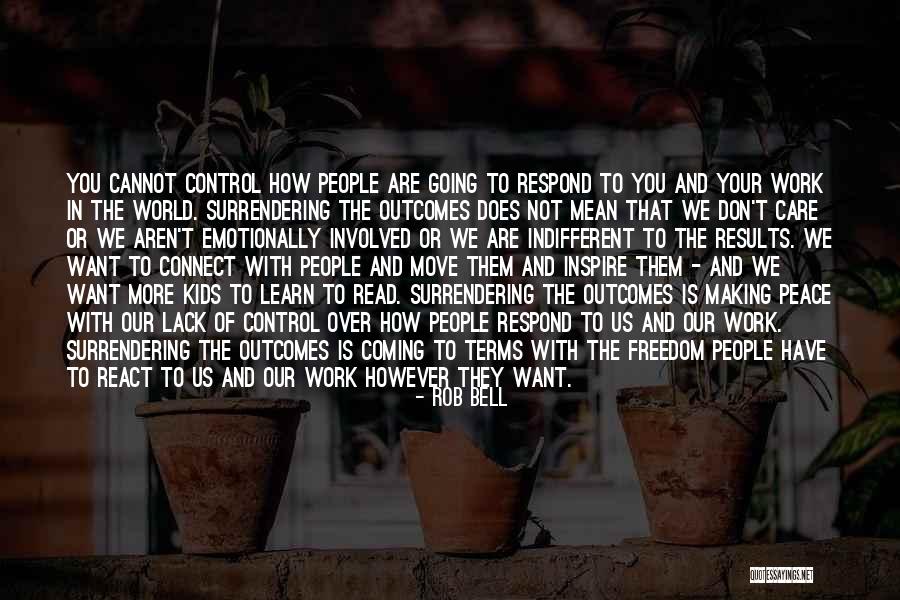 You cannot control how people are going to respond to you and your work in the world. Surrendering the outcomes does not mean that we don't care or we aren't emotionally involved or we are indifferent to the results. We want to connect with people and move them and inspire them - and we want more kids to learn to read. Surrendering the outcomes is making peace with our lack of control over how people respond to us and our work. Surrendering the outcomes is coming to terms with the freedom people have to react to us and our work however they want. — Rob Bell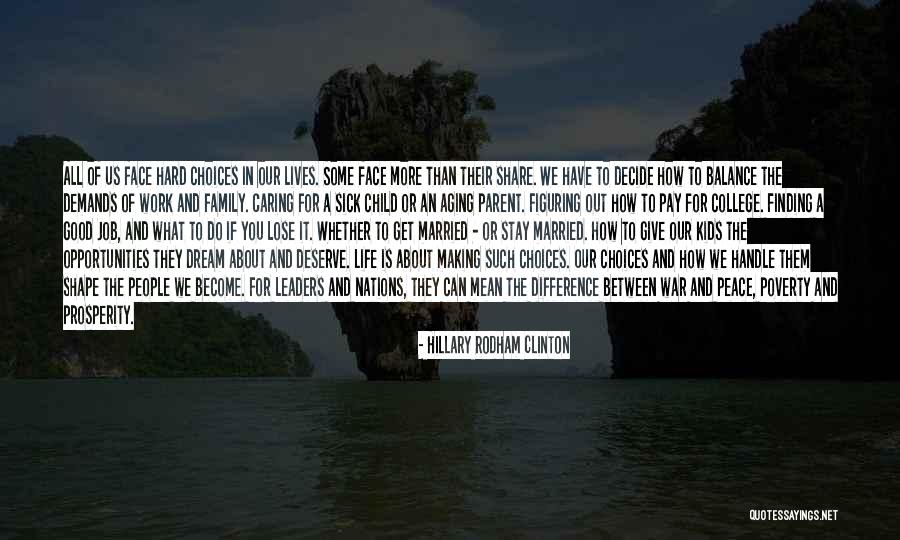 All of us face hard choices in our lives. Some face more than their share. We have to decide how to balance the demands of work and family. Caring for a sick child or an aging parent. Figuring out how to pay for college. Finding a good job, and what to do if you lose it. Whether to get married - or stay married. How to give our kids the opportunities they dream about and deserve. Life is about making such choices. Our choices and how we handle them shape the people we become. For leaders and nations, they can mean the difference between war and peace, poverty and prosperity. — Hillary Rodham Clinton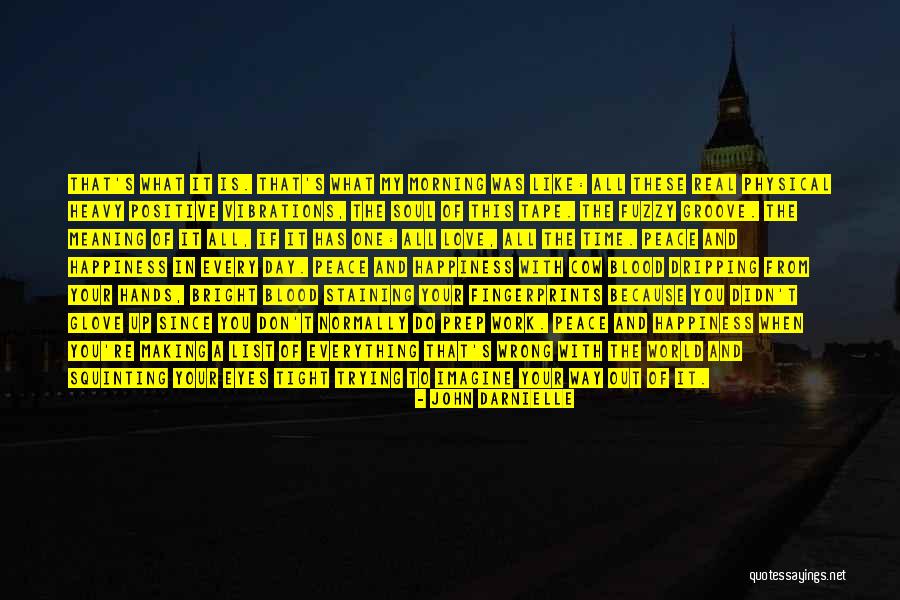 That's what it is. That's what my morning was like: all these real physical heavy positive vibrations, the soul of this tape. The fuzzy groove. The meaning of it all, if it has one: All love, all the time. Peace and happiness in every day. Peace and happiness with cow blood dripping from your hands, bright blood staining your fingerprints because you didn't glove up since you don't normally do prep work. Peace and happiness when you're making a list of everything that's wrong with the world and squinting your eyes tight trying to imagine your way out of it. Peace, peace, peace, happiness, happiness, happiness. — John Darnielle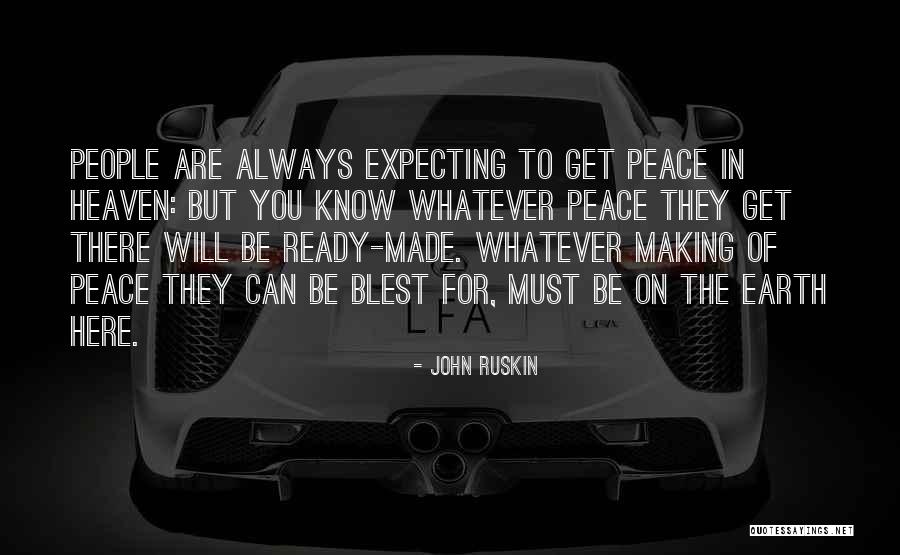 People are always expecting to get peace in heaven: but you know whatever peace they get there will be ready-made. Whatever making of peace they can be blest for, must be on the earth here. — John Ruskin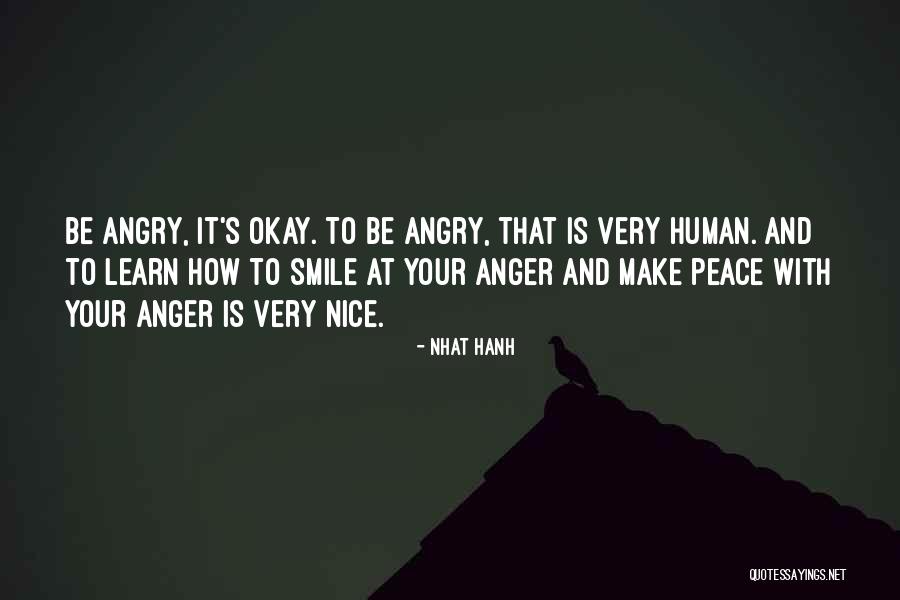 Be angry, it's okay. To be angry, that is very human. And to learn how to smile at your anger and make peace with your anger is very nice. — Nhat Hanh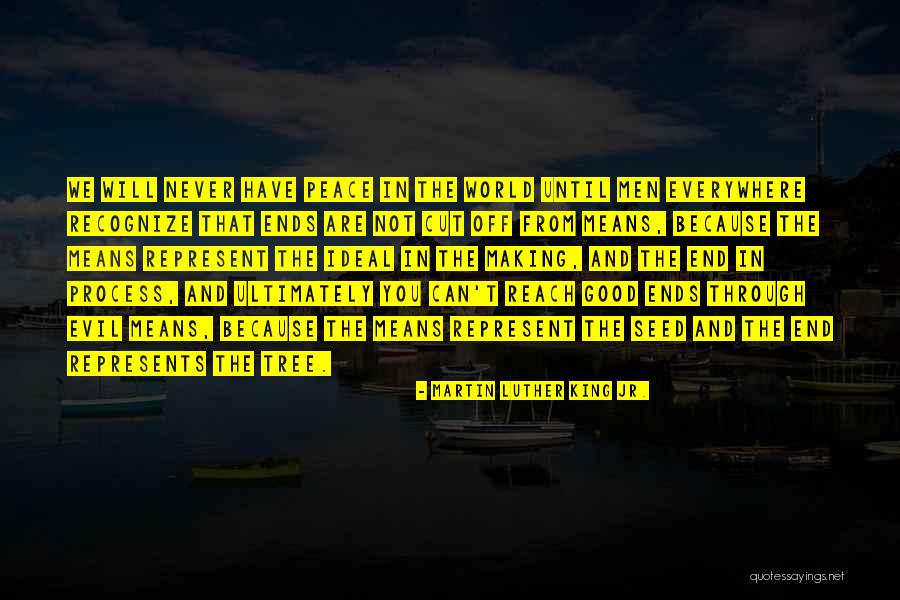 We will never have peace in the world until men everywhere recognize that ends are not cut off from means, because the means represent the ideal in the making, and the end in process, and ultimately you can't reach good ends through evil means, because the means represent the seed and the end represents the tree. — Martin Luther King Jr.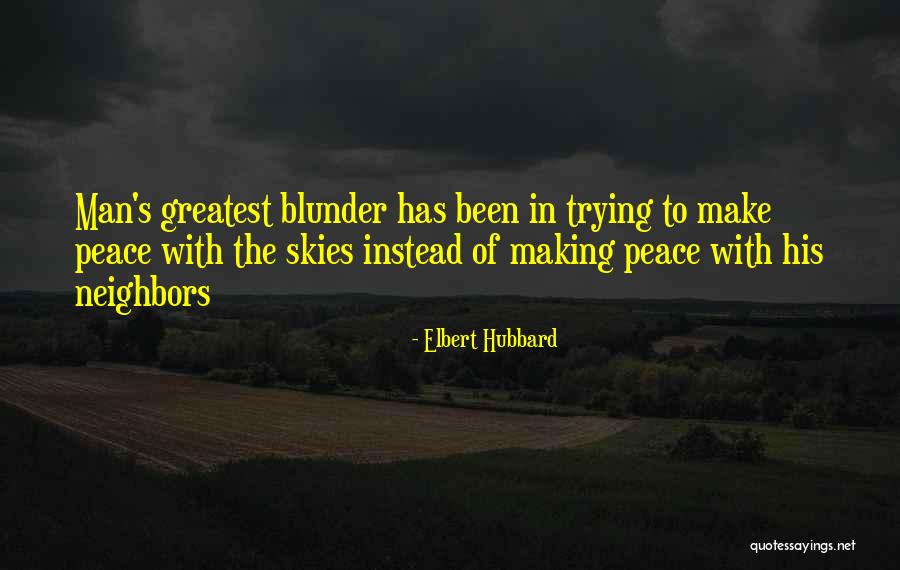 Man's greatest blunder has been in trying to make peace with the skies instead of making peace with his neighbors — Elbert Hubbard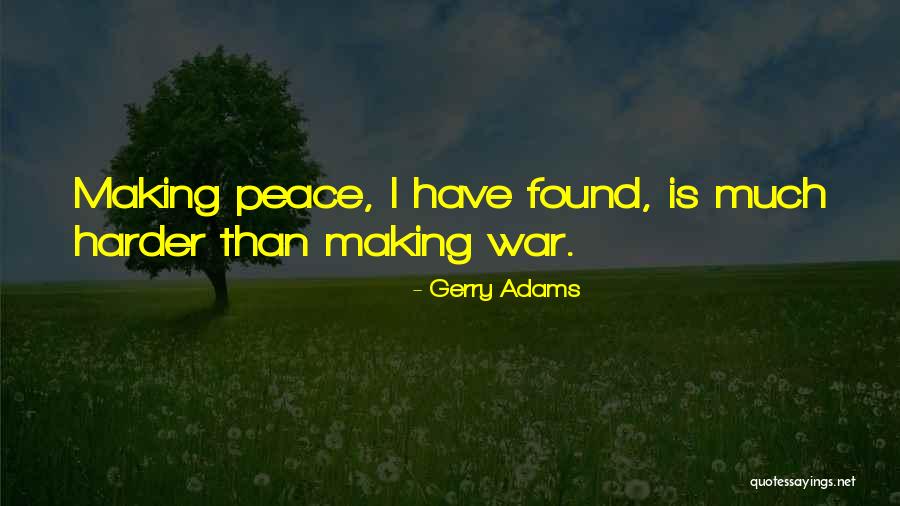 Making peace, I have found, is much harder than making war. — Gerry Adams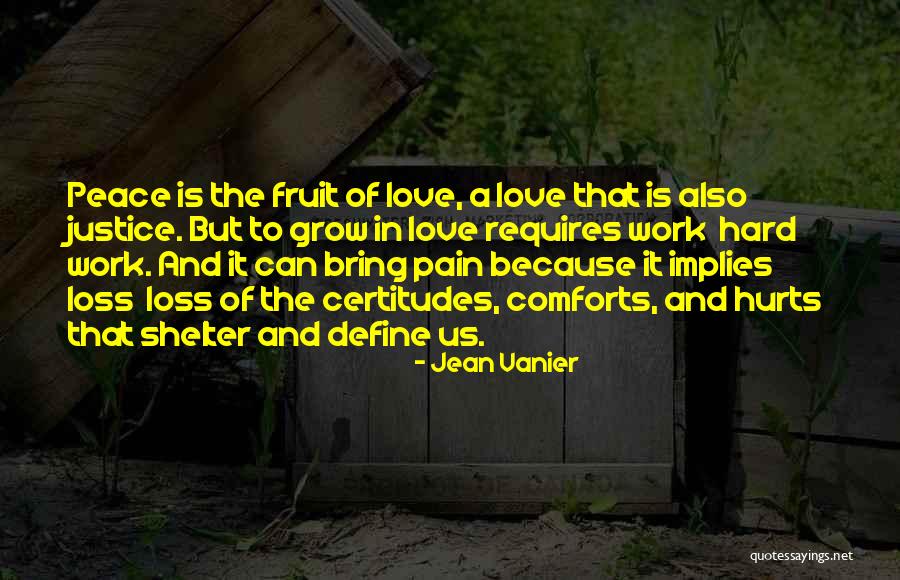 Peace is the fruit of love, a love that is also justice. But to grow in love requires work
hard work. And it can bring pain because it implies loss
loss of the certitudes, comforts, and hurts that shelter and define us. — Jean Vanier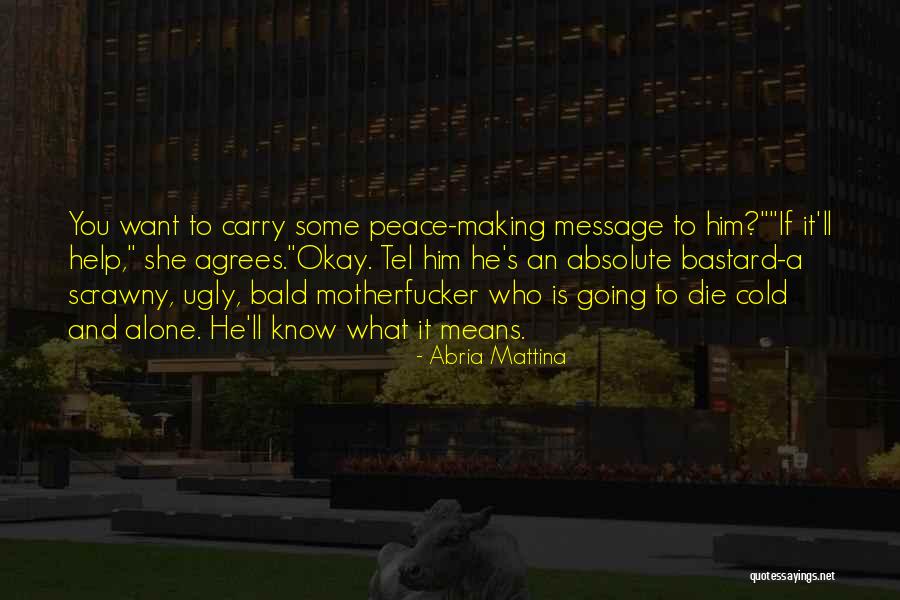 You want to carry some peace-making message to him?"
"If it'll help," she agrees.
"Okay. Tel him he's an absolute bastard-a scrawny, ugly, bald motherfucker who is going to die cold and alone. He'll know what it means. — Abria Mattina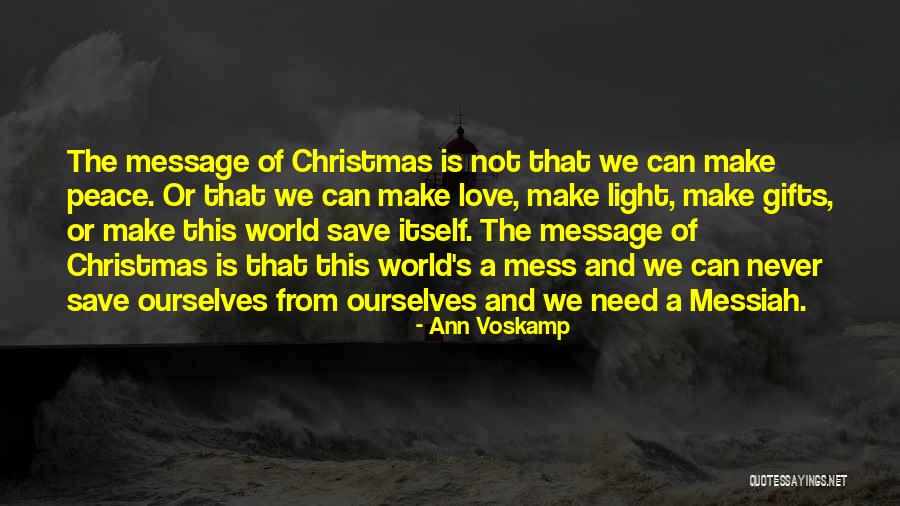 The message of Christmas is not that we can make peace. Or that we can make love, make light, make gifts, or make this world save itself. The message of Christmas is that this world's a mess and we can never save ourselves from ourselves and we need a Messiah. — Ann Voskamp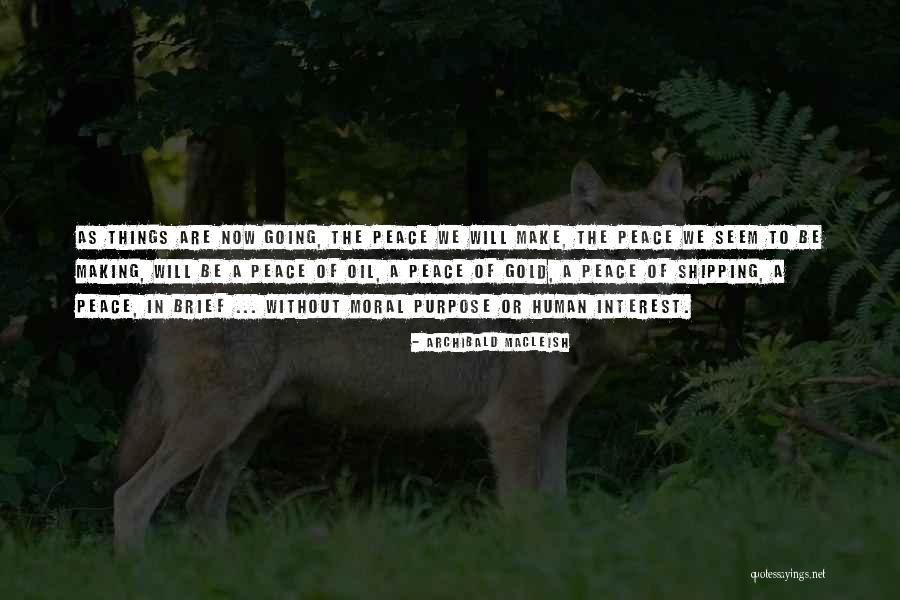 As things are now going, the peace we will make, the peace we seem to be making, will be a peace of oil, a peace of gold, a peace of shipping, a peace, in brief ... without moral purpose or human interest. — Archibald MacLeish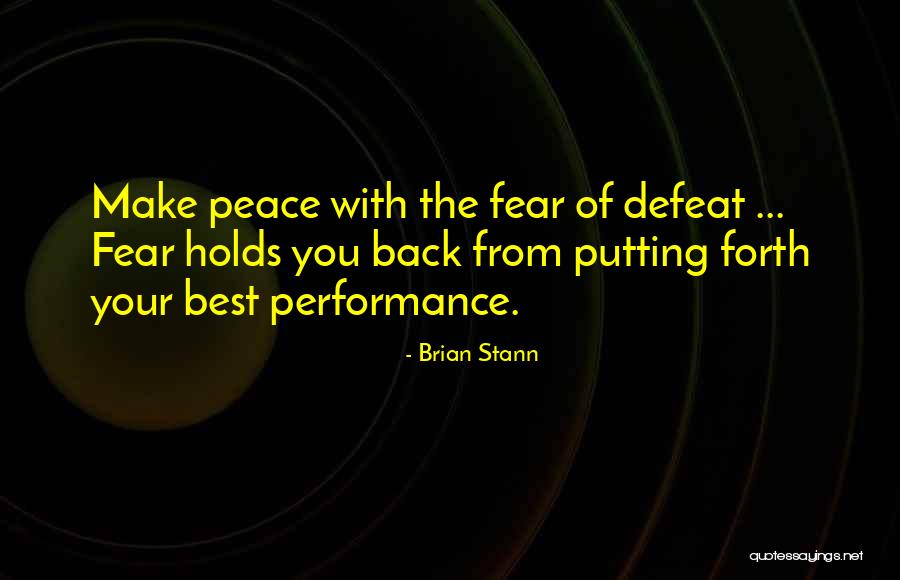 Make peace with the fear of defeat ... Fear holds you back from putting forth your best performance. — Brian Stann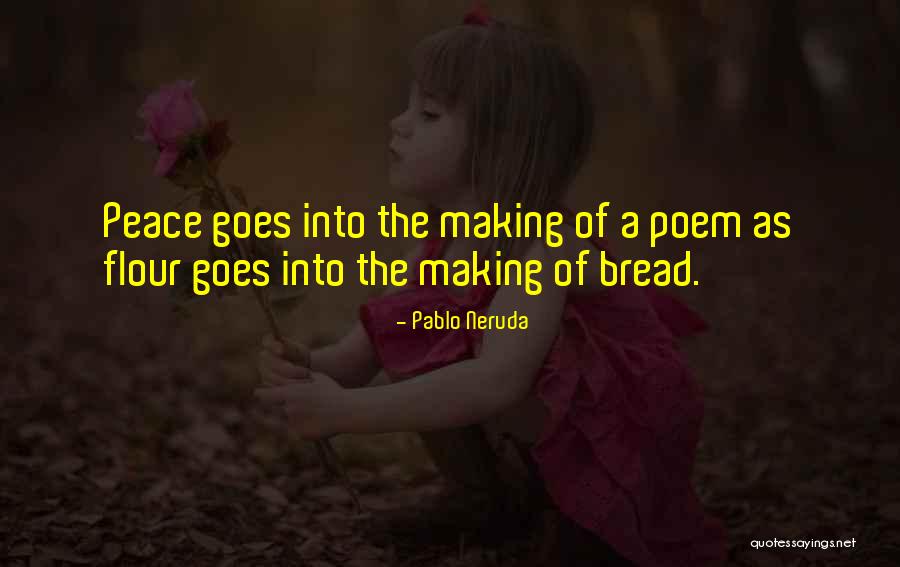 Peace goes into the making of a poem as flour goes into the making of bread. — Pablo Neruda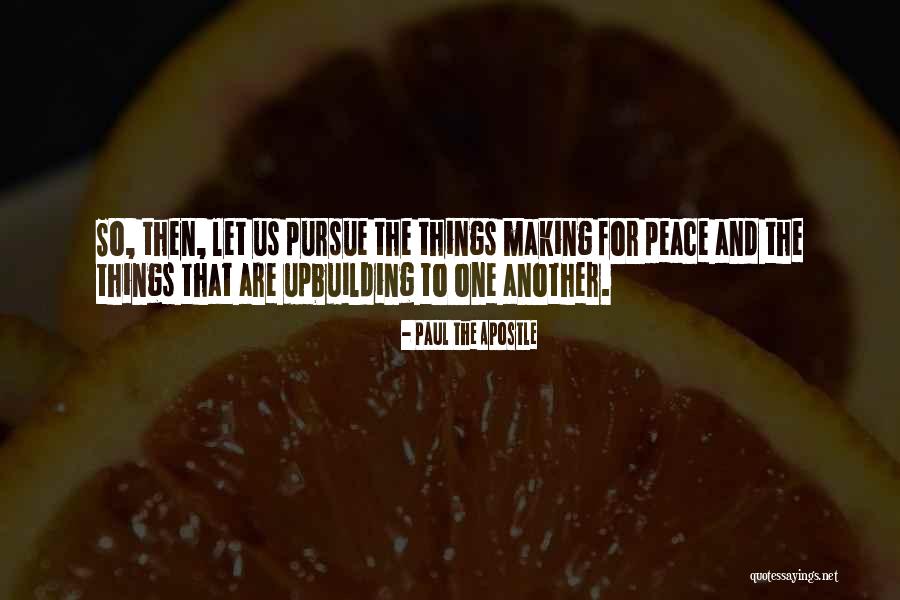 So, then, let us pursue the things making for peace and the things that are upbuilding to one another. — Paul The Apostle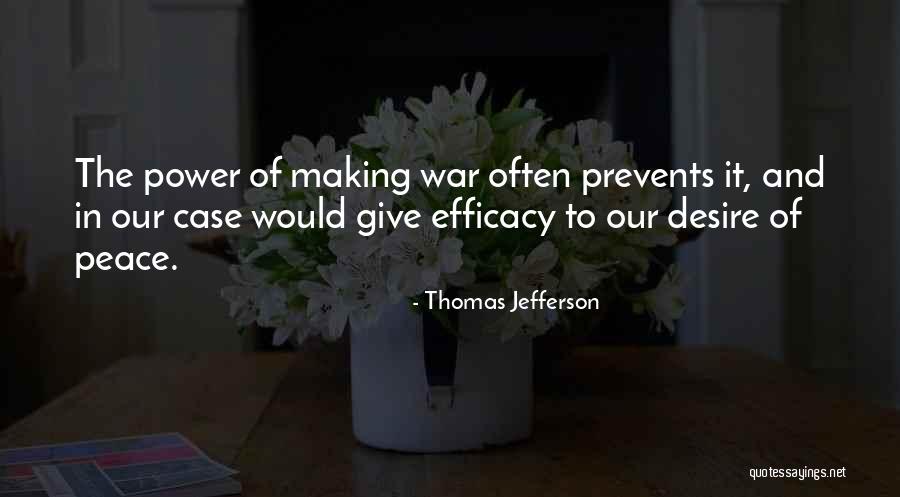 The power of making war often prevents it, and in our case would give efficacy to our desire of peace. — Thomas Jefferson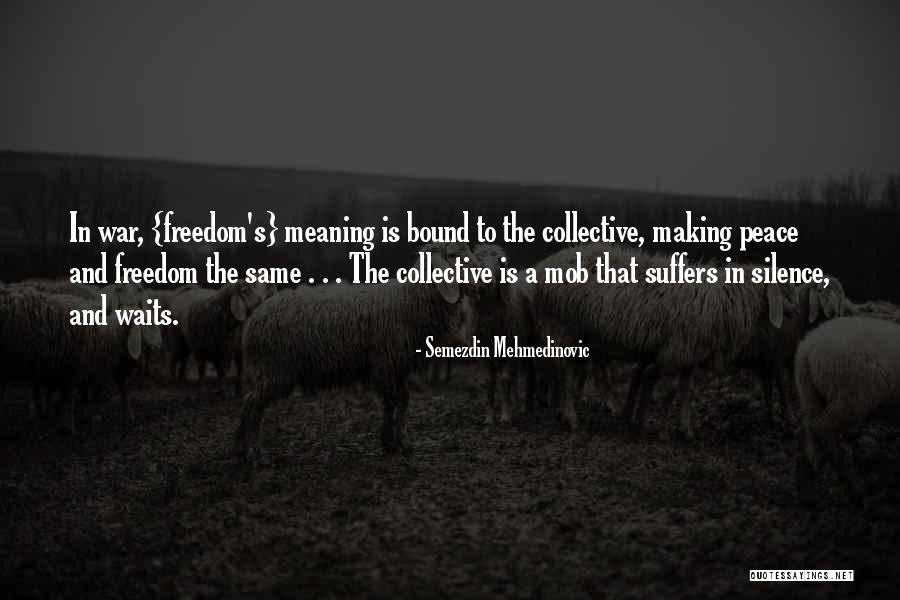 In war, {freedom's} meaning is bound to the collective, making peace and freedom the same . . . The collective is a mob that suffers in silence, and waits. — Semezdin Mehmedinovic